This post contains affiliate links, which means that if you click on one of the product links, I'll receive a small commission. Thank you so much for clicking through and helping to support this little blog business of mine! Read more about our site, privacy, and disclosure policies here.
Make lunchtime and snack-time a breeze with these 50+ awesome lunch AND snack ideas both grownups and kids are sure to love!
Admittedly, this summer has felt like a bit of a blur, with a huge move from North Carolina to Massachusetts, a new home, new city, even finding a new grocery store is an adventure in the city. Plus, we've had so many visitors helping us move-in and explore our new home.
Now that we're just weeks away from each of our girls' first day(s) of school – preschool for Emmeline and kindergarten for Scarlett, at brand new schools, no less (😭) – I'm realizing just how much we've been in summer/vacation mode. Getting back into a routine should be interesting!
Not only do I want to get the girls back to a more normal school routine; early wakeups, earlier bedtime, lunch every day around the same time mid-day, dinner around the same time every night, etc., but I also have to get myself back on a routine. Part of that routine: taking care of the girls packed lunches and snacks (and this year, times two since Emme is starting preschool!) the night before; or if I'm really on a roll: meal prepping lunches for the kids for the whole week.
I've already stocked up on our favorite washable and dishwasher-safe school labels from Minted and this year, we're trying out a combination of Bentgo Kids Bento Boxes, Bentgo Fresh Bento Boxes, and OmieBox Bento Boxes (that I'm super excited about since they have a built-in insulated and leak-proof hot and cold thermos food jar!) for school lunches. I'm also thinking of snagging this Sandwich Sealer and Decruster (or this one) to turn the kids' sandwiches into homemade "Uncrustables."
As for these 50+ awesome school lunch AND snack ideas, I've broken it down into two categories: school (and grownup) lunchbox ideas (a.k.a., real food that can easily be paired with fruits and veggies and/or a snack or dessert) and morning and after-school snack ideas, since kids in particular need every day yummy and healthy lunch options for school, and depending on whether you have a preschooler or not, may also need a morning snack in addition to the much-needed afternoon healthy snack.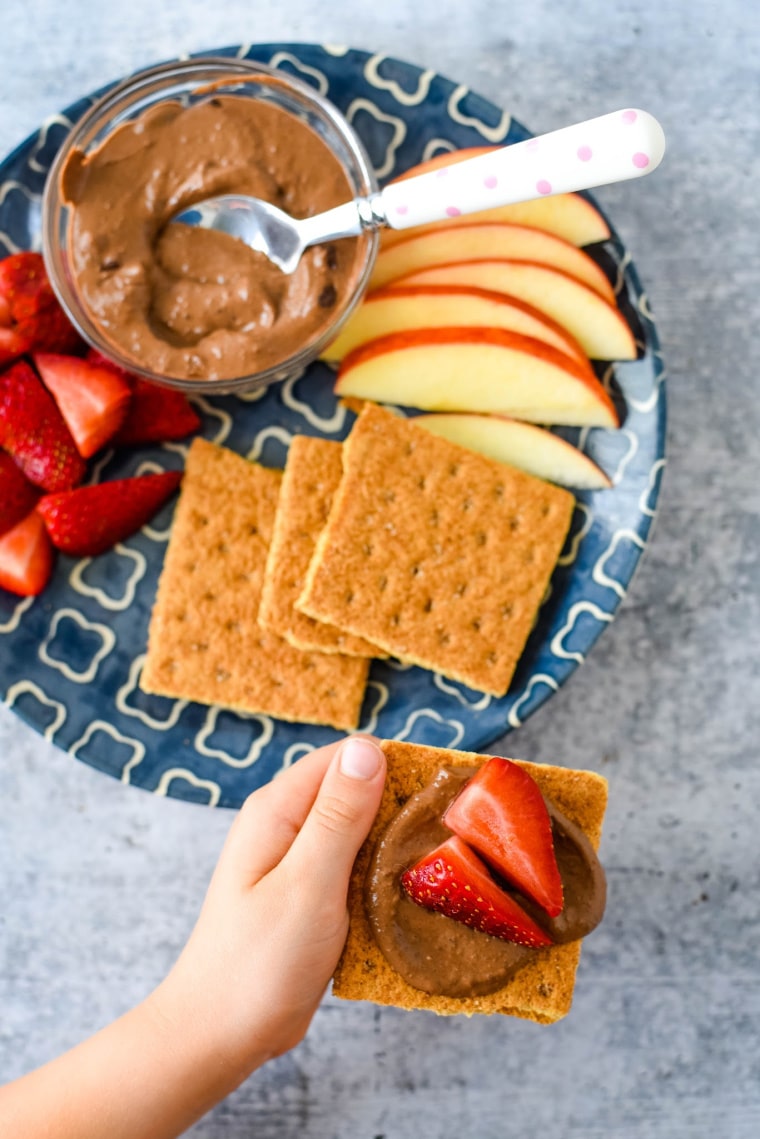 50+ Awesome Lunch AND Snack Ideas Your Kids Will Love
I'm so excited to have an arsenal of awesome lunch and snack ideas for the coming school year, and I've gotta say, HUGE thanks to my blogging buddies for sharing some really amazing, delicious, kid-approved, and surprisingly healthy lunch and snack time options. I mean, brownie batter dip that tastes just like it's namesake but is secretly packed with good for you ingredients like peanut butter, greek yogurt, and black beans; how genius is that?! There are some really great ideas here and I hope it helps you with all things packed lunch and snacks!
Lunch Ideas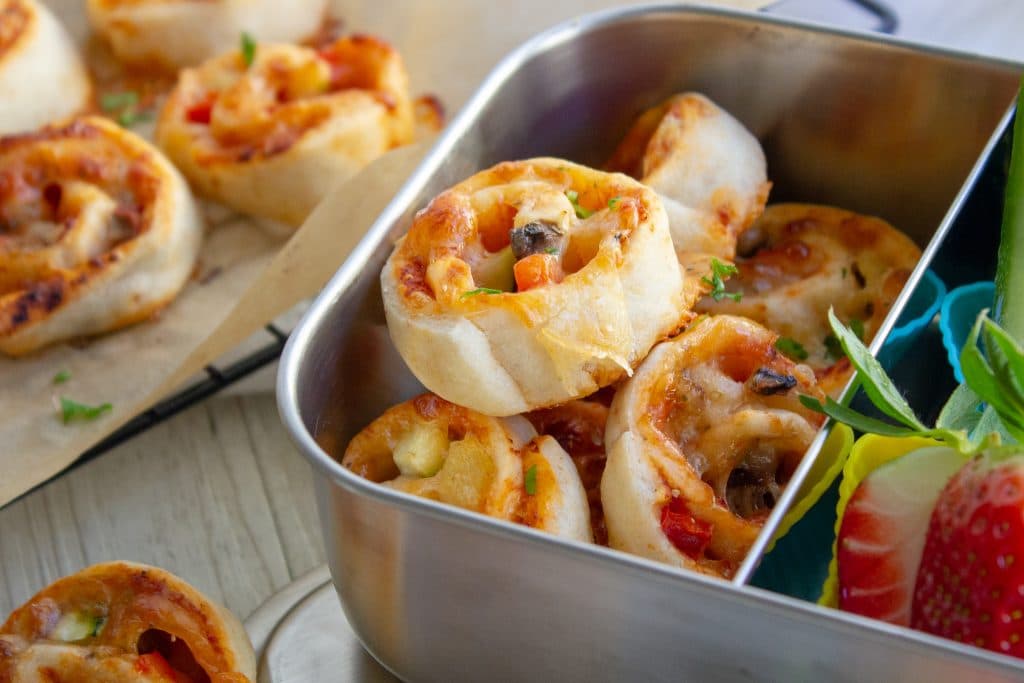 One thing that is sure to bring excitement to school lunches is homemade pizza scrolls. They look fun and they taste great.
The Vegetarian Taco Wraps are a simple, kid-friendly lunch. Packed with protein from black beans and Mexican flavours, this recipe will become a favourite.
Hand pies are all the rage these days. Pack one of these tuna hand pies in your kiddos lunch for a great change-of-pace.

This pizza dippers are easy to make and a huge hit with kids!
Making your own Pizza Lunchable – a.k.a., a deconstructed pizza – is super easy and kids love it!
These tasty ham and cheese pinwheels make quick work of a school lunch. Here's how to make them kid-friendly and fun for even the pickiest eaters.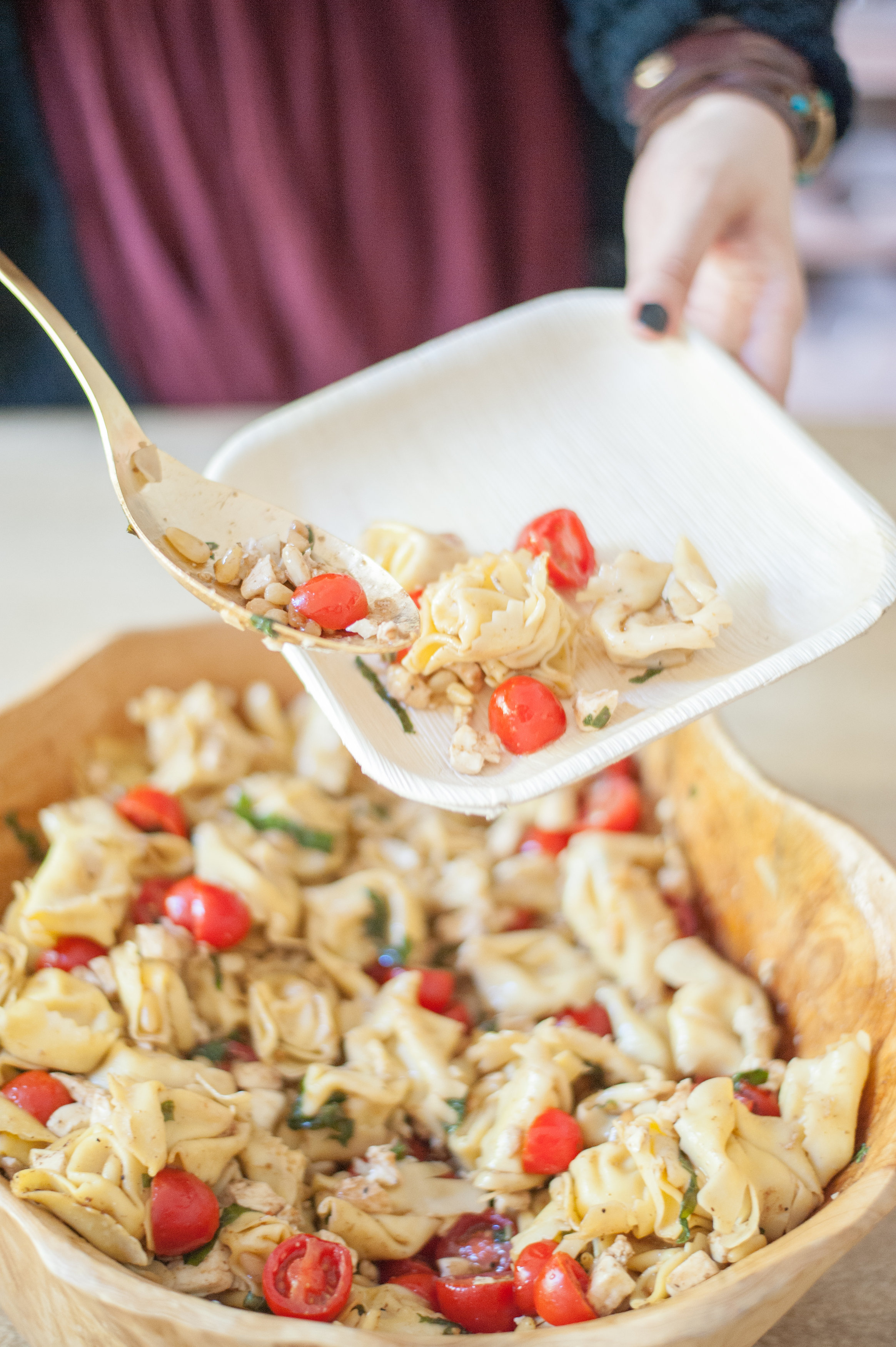 This caprese tortellini pasta salad can be served warm or cold; I'm still undecided on which variation I love more! Tortellini are tossed with toasted pinenuts (which add such great depth and a bit of crunch), fresh mozzarella and grape or cherry tomatoes, and a homemade balsamic vinaigrette dressing. This spin on caprese salad never tasted so good.
Pizza is everyone's favorite! These pizza pinwheels are a fun and yummy school lunch idea.
With this Chicken Taco Bento Box Lunch idea your child will get protein, veggies, fruit, dairy and carbs along with a lot of FUN as they create their own little chicken taco cups!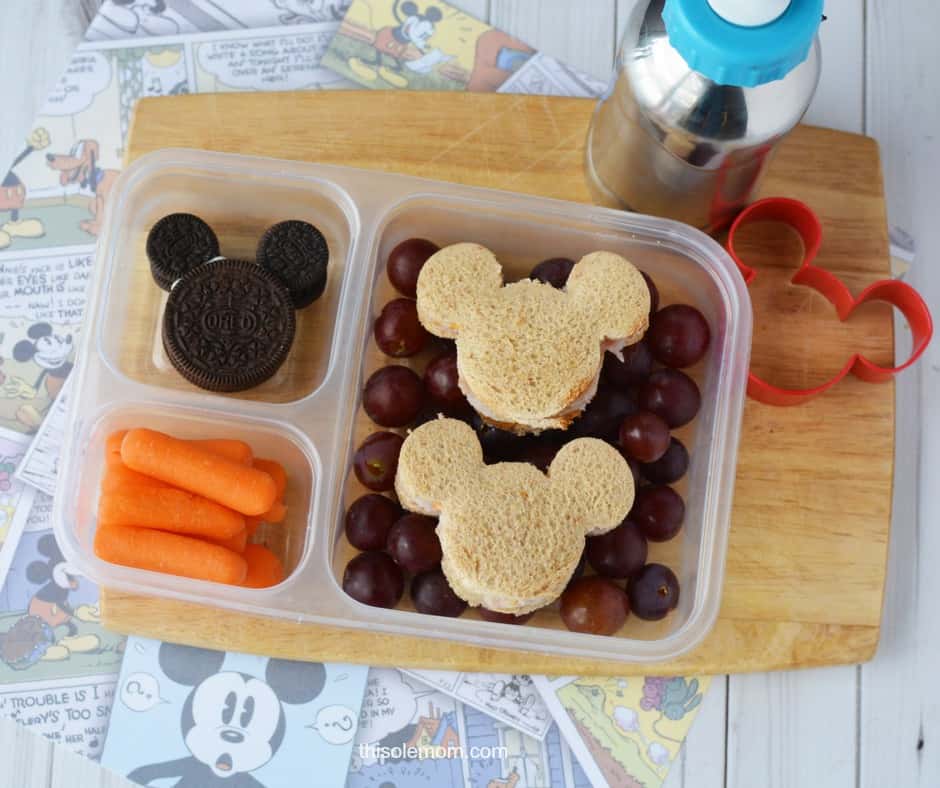 If your kiddos are Disney fanatics, this adorable and simple Mickey Mouse Snack Lunch is the perfect lunch to totally delight them at lunchtime.
If you're looking to find some fun new additions to the lunch box routine for back-to-school, this Southwest Turkey Wrap recipe with a tangy homemade sauce is a great way to spice things up a bit.
This easy and delicious ground chicken chili is one of our family's favorite meals, and the best part: it all comes together in an Instant Pot or crockpot. Serve this made ahead chili with yummy toppings and a side of cornbread and you've got yourself an incredible, hearty, healthy, and simple meal that doubles as great leftovers.
Ham and cheese scrolls (or pinwheels) are the perfect bite sized snack for kids and adults alike. Made with two ingredient dough (no yeast), they're easy to prepare and are ready in less than 30 minutes! Pop them in lunchboxes throughout the week or freeze for a fun weekend snack.
This roasted carrot hummus recipe is vegan-friendly, lactose- and gluten-free. It's so versatile you can spread it, use it as a dip with vegetables like carrot sticks, sliced bell peppers, snap peas, and cucumber slices, pita chips or crackers, or as a condiment with any main meal or snack. Kids will gravitate to it and you can play with so many different flavours.
Cucumber pinwheels, or cucumber and cream cheese sandwich rolls, are always a huge hit, no matter where or when you serve them. Great for picnics, bbqs, school lunches, or afternoon tea!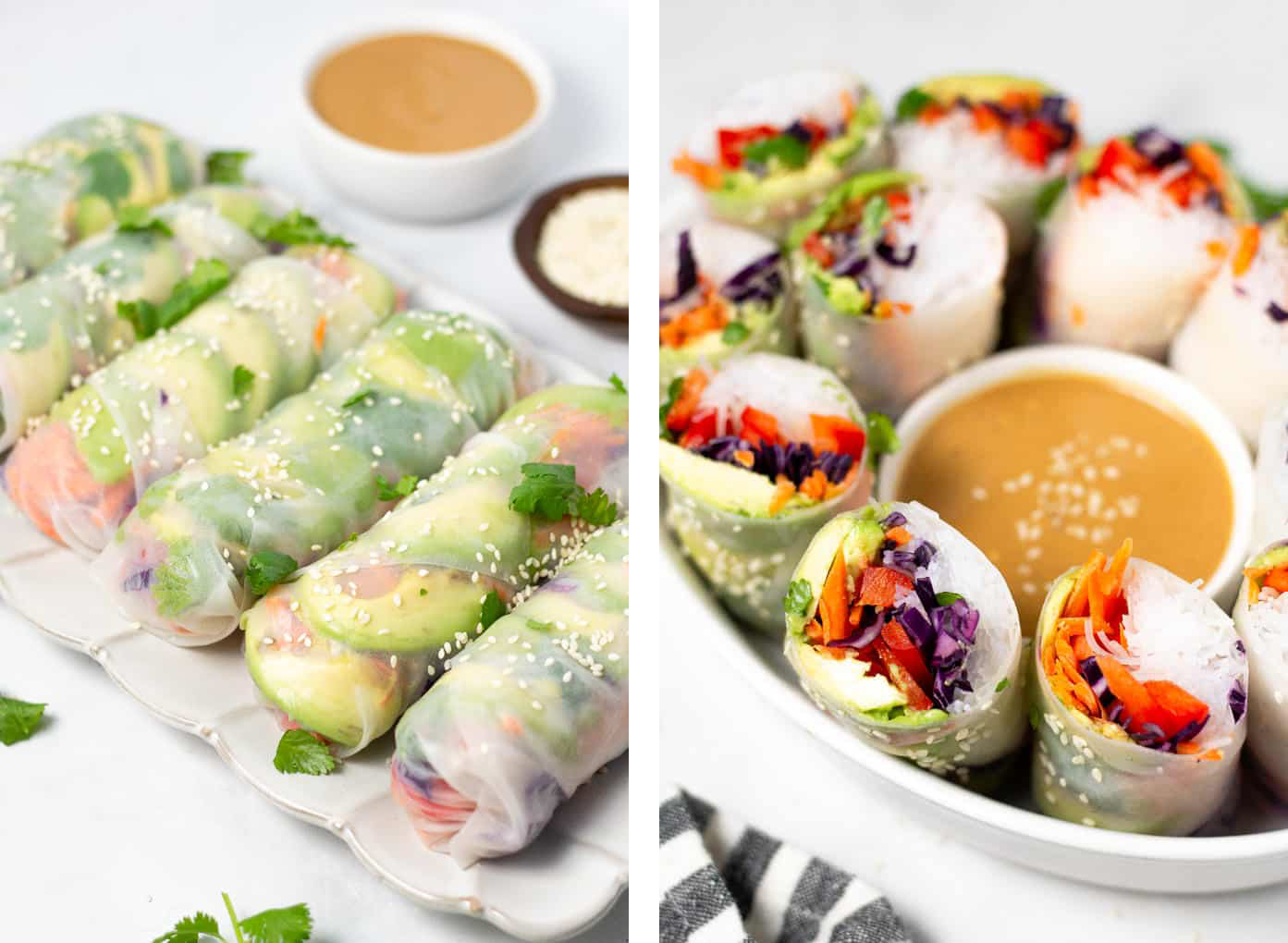 These veggie spring rolls are fresh, flavorful and fully loaded! They'll take just 20 minute to throw together and will stay fresh in the fridge all week. Don't even get me started on this creamy, dreamy tangy peanut sauce – you'll want to put it on everything!
Veggie Pizza Recipe and other back to school essentials for the lunch box. Pack your kid's lunch box like a pro with this yummy recipe.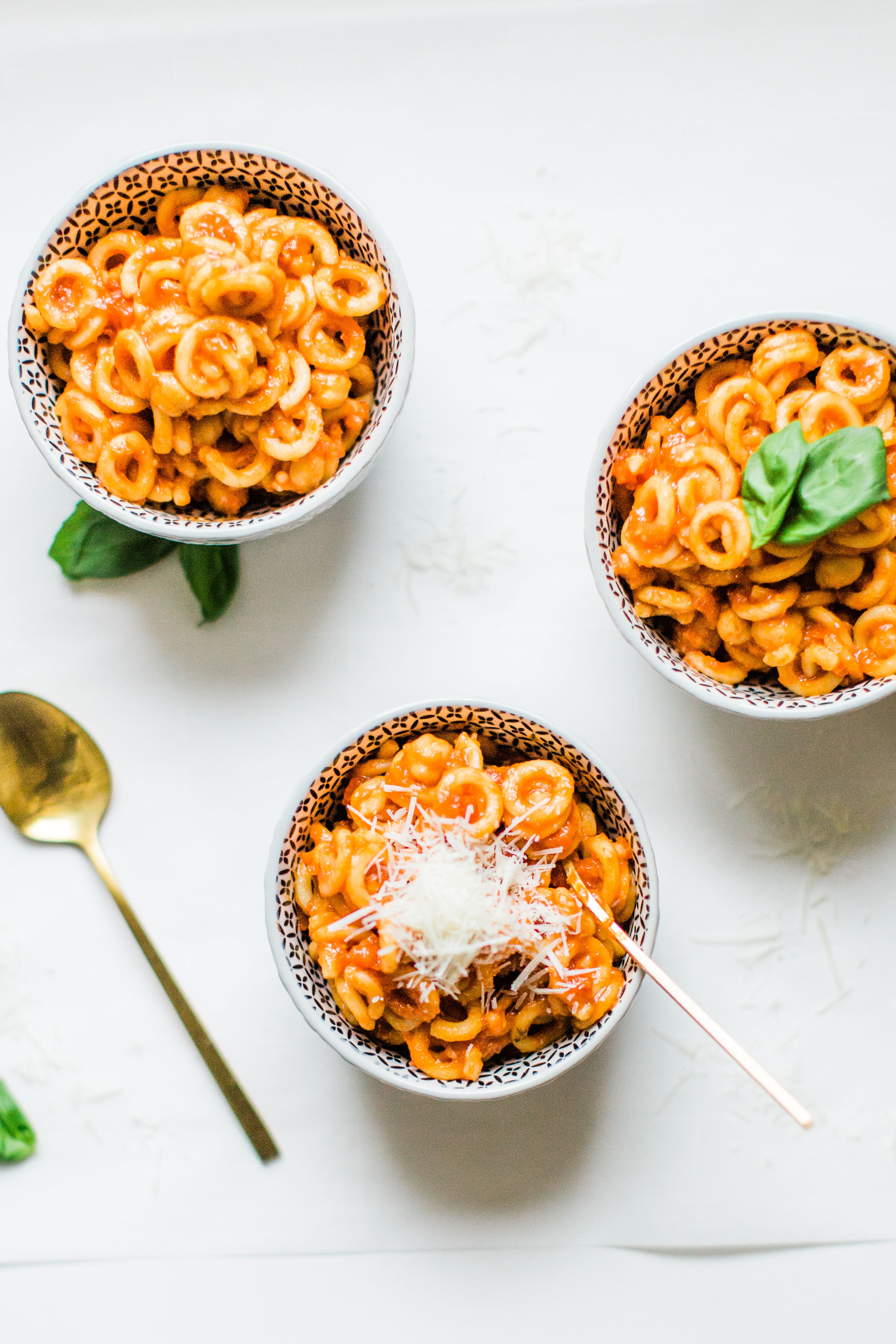 Looking for a delicious one-pot 30-minute vegetarian dinner your whole family will love? Pasta e Ceci; a.k.a., the classic Roman recipe for hearty pasta and chickpeas are the modern day healthy Spaghettios. And OH MY GOSH, they are good!
Give your mornings and lunches a healthy savory twist with these breakfast muffins. Packed with the goodness of veggies, these savory muffins are super delicious and might very well become your kids' new favorites.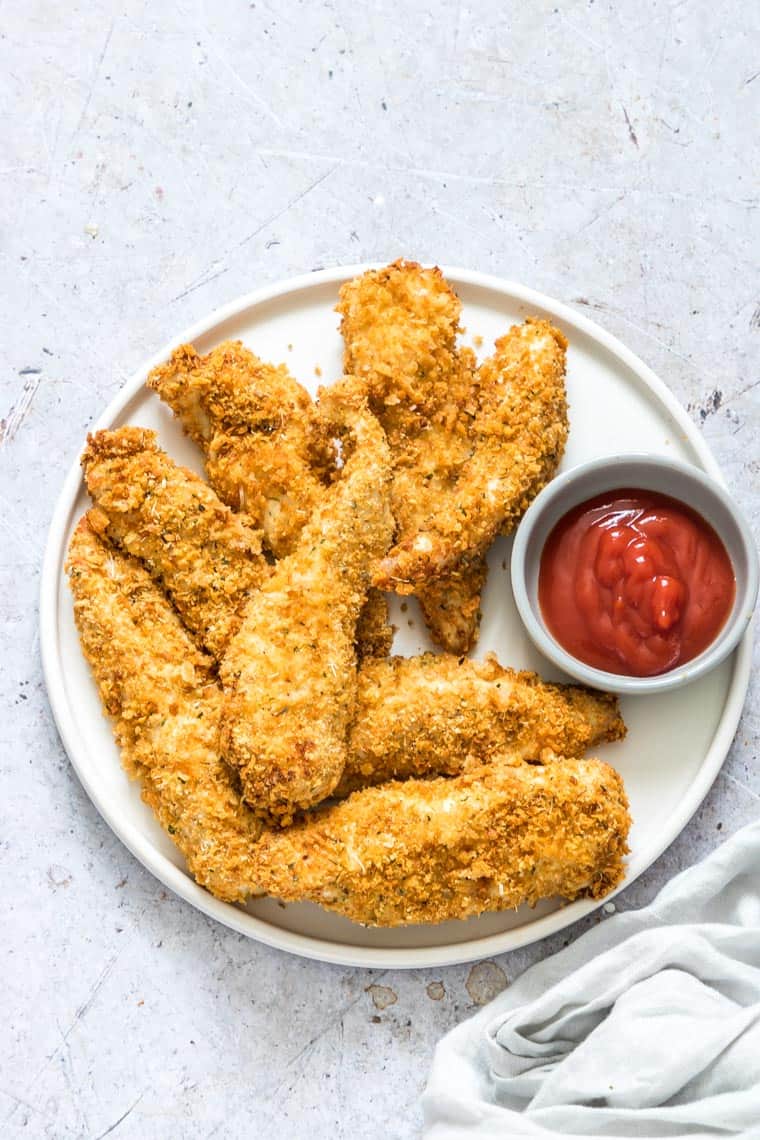 These golden crunchy easy Parmesan Breaded Air Fryer Chicken Tenders are ready in under 15 mins so it makes a great weeknight supper, lunch treat or snack. Serve with some baked fries, a simple salad or some mac and cheese.
This spin on classic tomato soup, made healthier, creamy, and protein-packed with the addition of white beans, will become an instant favorite in your family. Even better: serve the leftovers with grilled cheese, string cheese and pita, or cheese and crackers for lunch the next day!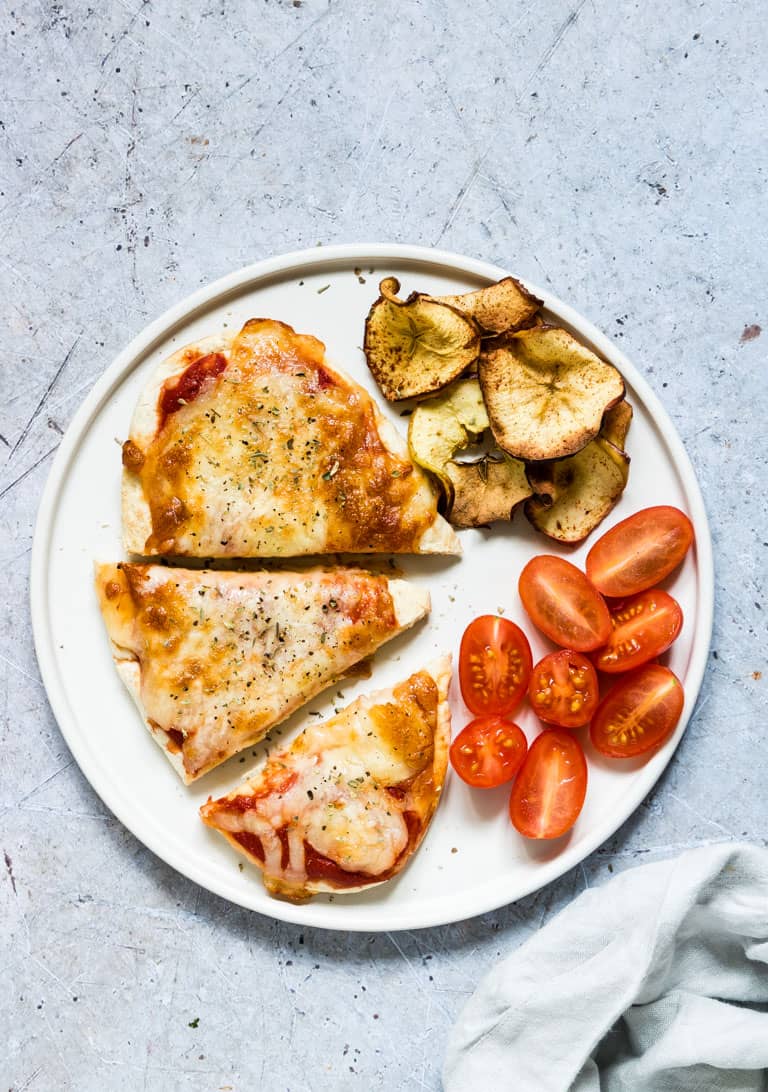 5 Minute Air Fryer Pita Bread Pizza is just the thing to serve up as a quick and easy weeknight supper, kid-approved snack or school lunch. All it takes is 3 everyday ingredients and almost no effort to enjoy delicious cheesy pizza goodness.
Morning and After-School Snack Ideas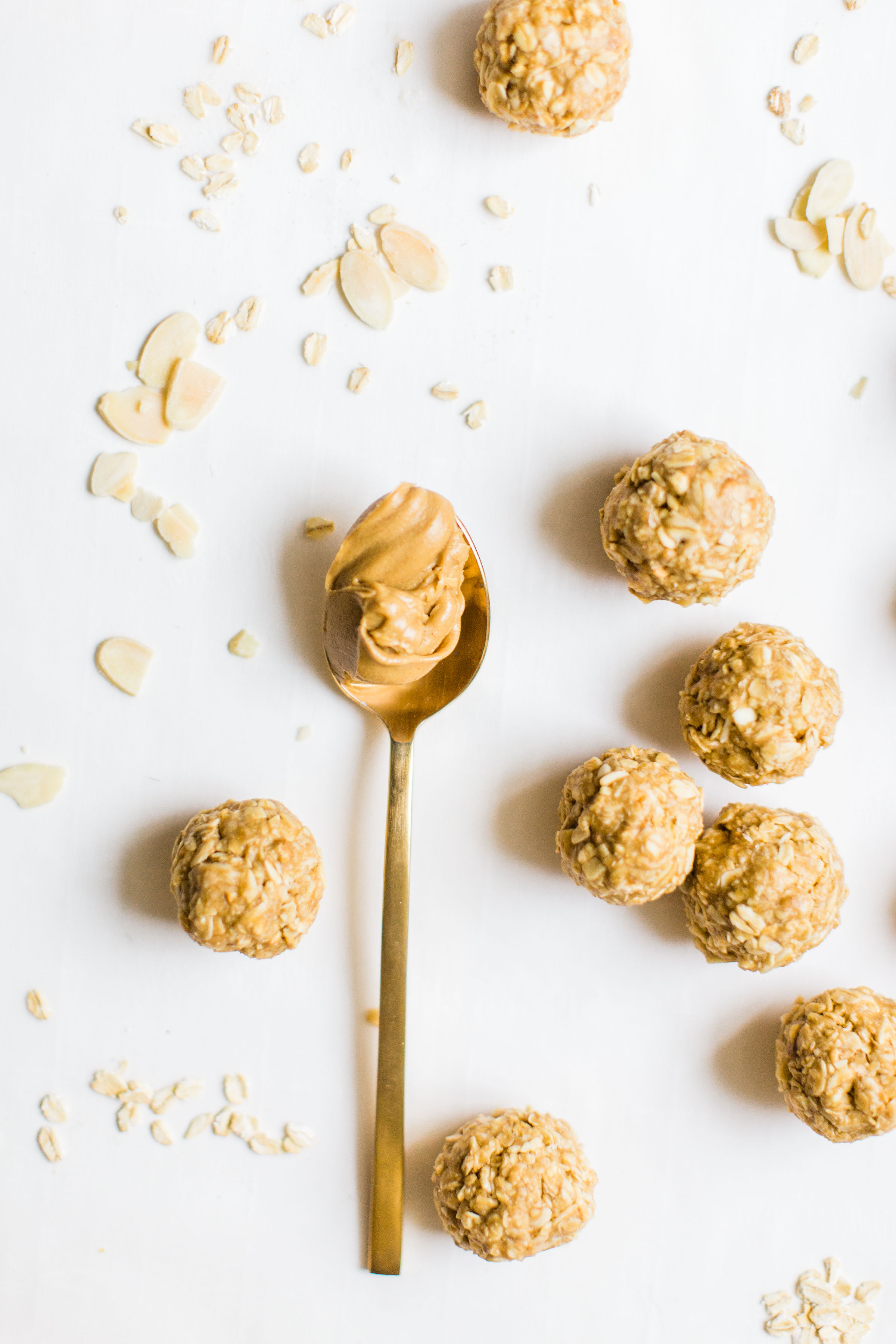 Say hello to your new healthy snack addiction: these no-bake energy bites are easy to make, the perfect combination of sweet and salty, have plenty of added protein thanks to the peanut butter, and kids absolutely love them because they're basically delicious no-bake cookies!
This apple sandwiches recipe is not only pretty, it's lots of fun to make (and eat)!  It's perfect for an after school snack or in a school lunchbox.  You can even let the kids get involved to help make them.  You can just prepare the apples and then let the kids take over for the fun part of the sandwich building!
This Tahini Chocolate Chip Banana Bread is perfect for an afternoon snack, breakfast or even dessert! All the goodness of banana bread plus that delicious nutty flavor from the tahini!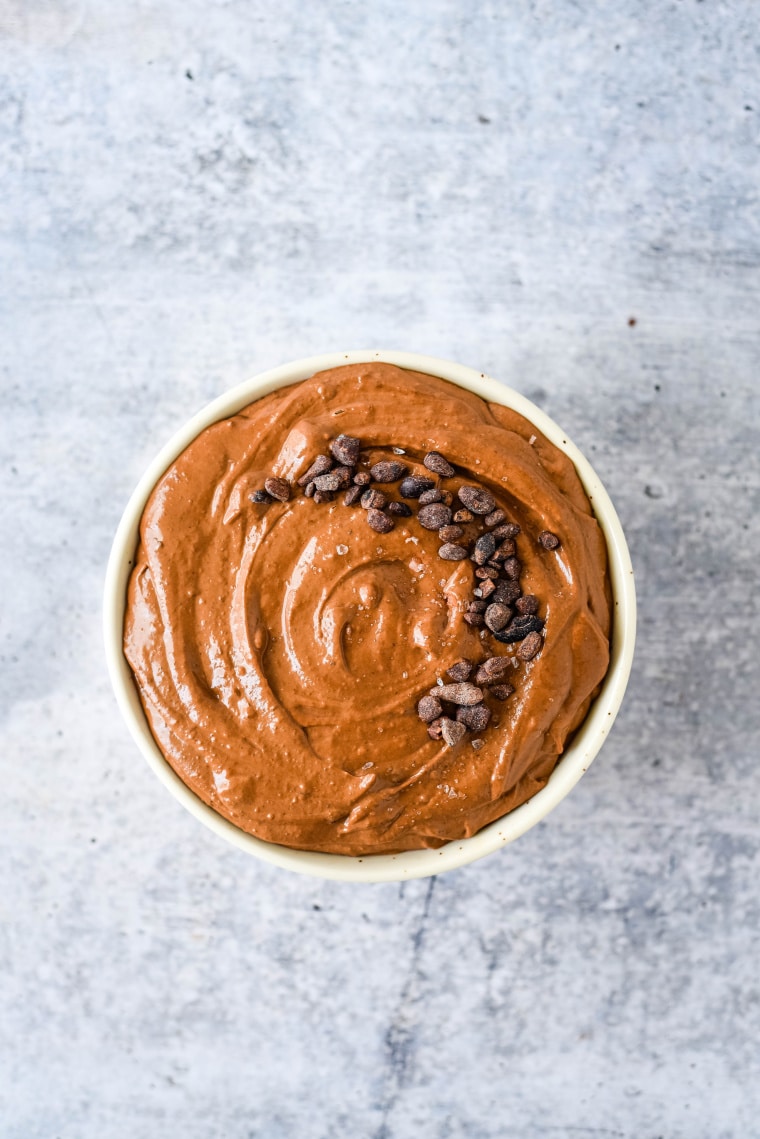 This dip is amazing! It tastes decadent, but is actually full of good for you ingredients like peanut butter, greek yogurt, and black beans, and kids will devour it!
These fruit and nut snack bars are tasty, chewy and crammed full of fruits, nuts and seeds. Taking less than an hour to make they make a great healthy snack in between meals.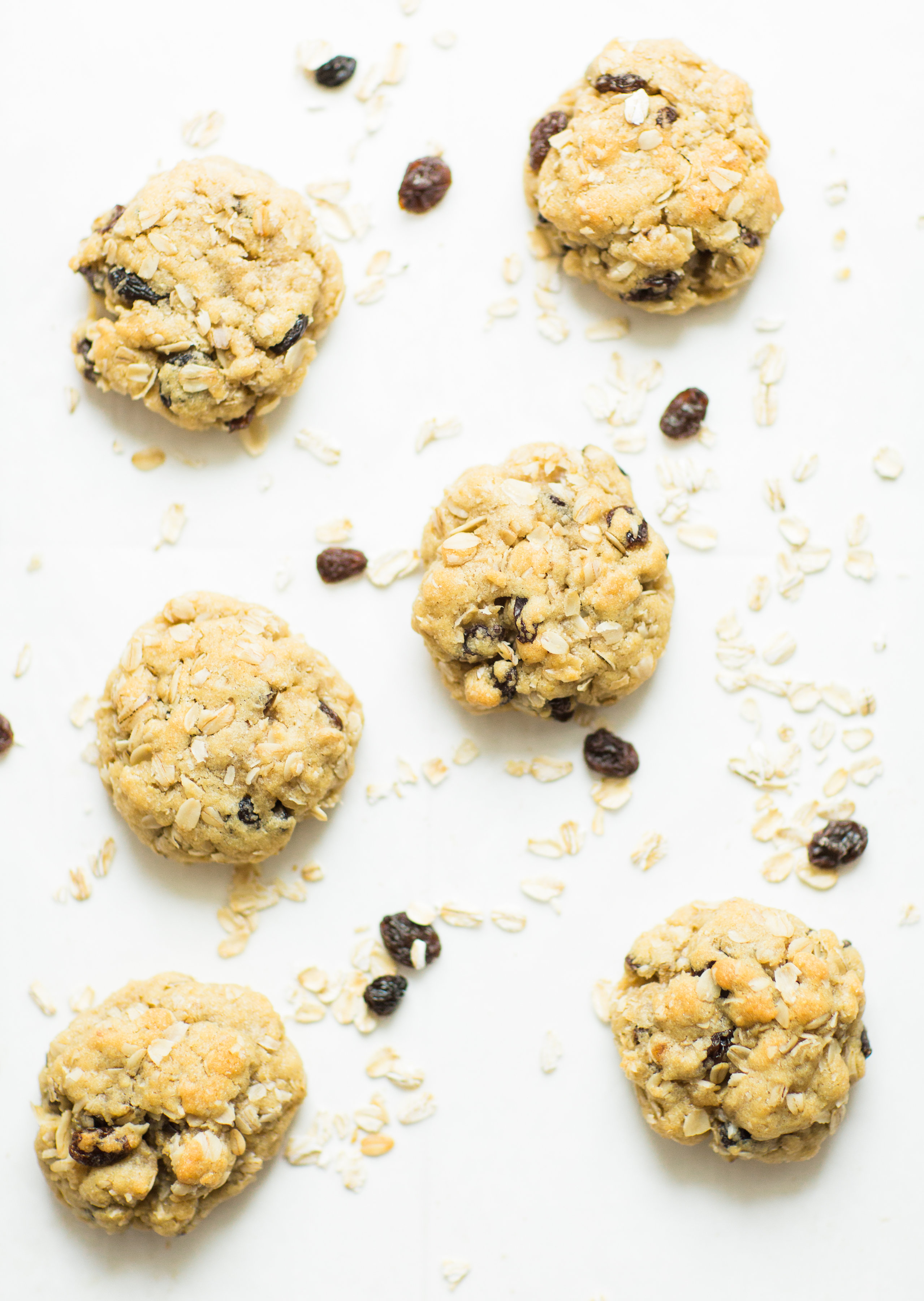 These are The. Best. Oatmeal. Cookies. Ever. Huge and soft at the center; sweet and buttery (though by some kind of baking wizardry, there's no butter in this recipe at all), with hints of vanilla that clings to your tongue in the most incredible way. Crispy on the outside and super soft on the inside, they taste just slightly under-baked, and that's exactly as it should be. These cookies are perfection.
Love carrot cake? Love banana bread? This cross between a delicious carrot cake and your favorite moist slice of classic banana bread is going to become a fast favorite.
Say hello to the very best peanut butter cookies around; don't let the three-ingredient thing fool you, this is the way to make the perfect peanut butter cookies. Plus, they're easy and fun to make with this kids!
This incredible applesauce snack cake is super easy to make – seriously, you can whip it up in minutes – is soft, fluffy, moist, and filled with fall spices, is topped with a rich cream cheese frosting that's so good you may cry, andkids LOVE it.
This healthier banana cake is a total standout a winner. The cake is soft and moist and subtly sweet in the perfect way. And let me tell you, you'll never be able to tell at all that this cake doesn't have any dairy or eggs.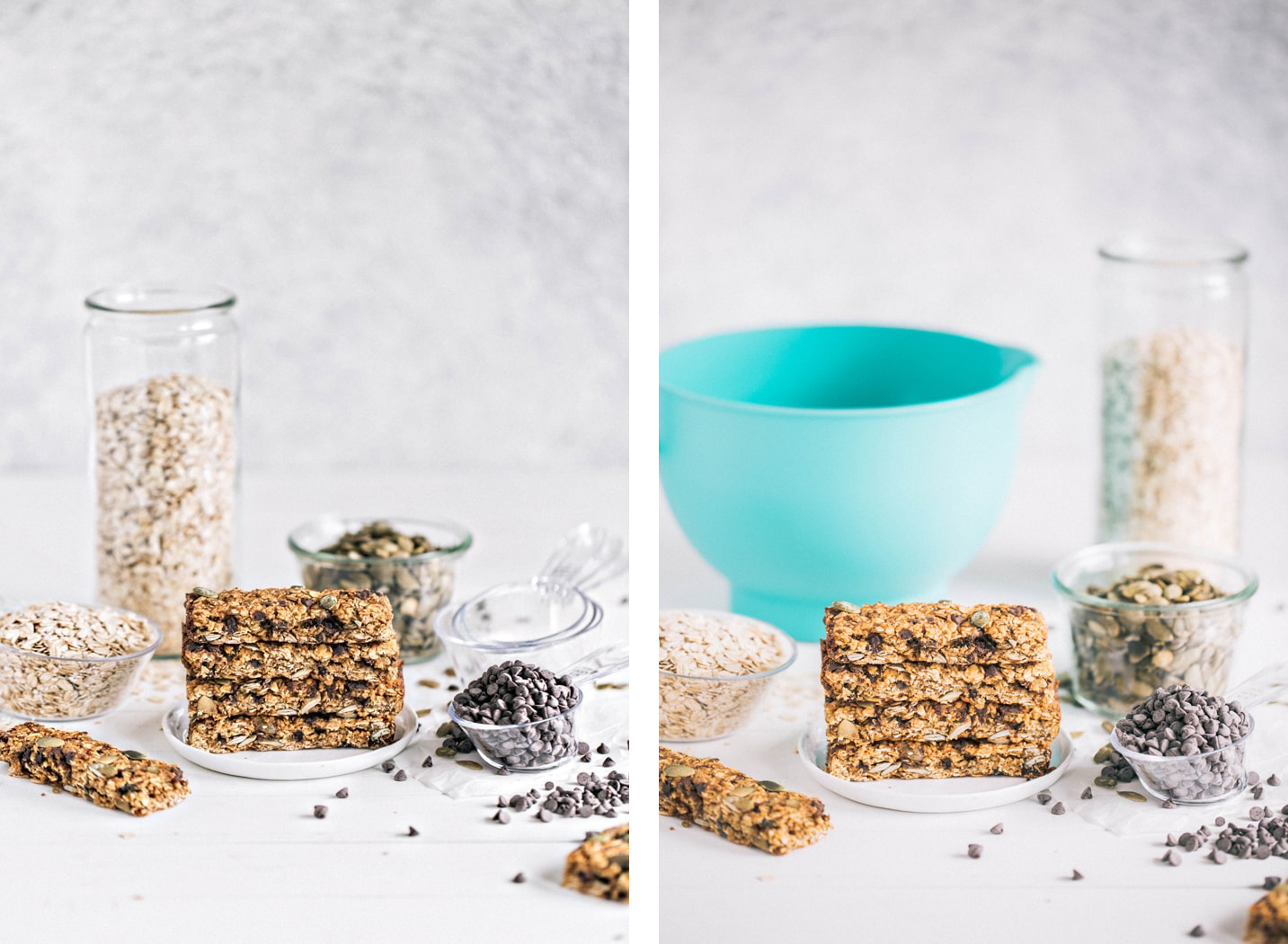 Celebrate fall with these easy to make Pumpkin Chai Chocolate Chip Granola Bars featuring oats, real pumpkin puree, chai spices, mini chocolate chips, and pepitas.
There chocolate Coconut Macadamia Energy Balls will help you satisfy your chocolate cravings with a mix of protein, healthy fats, and naturally sweet dates and coconut.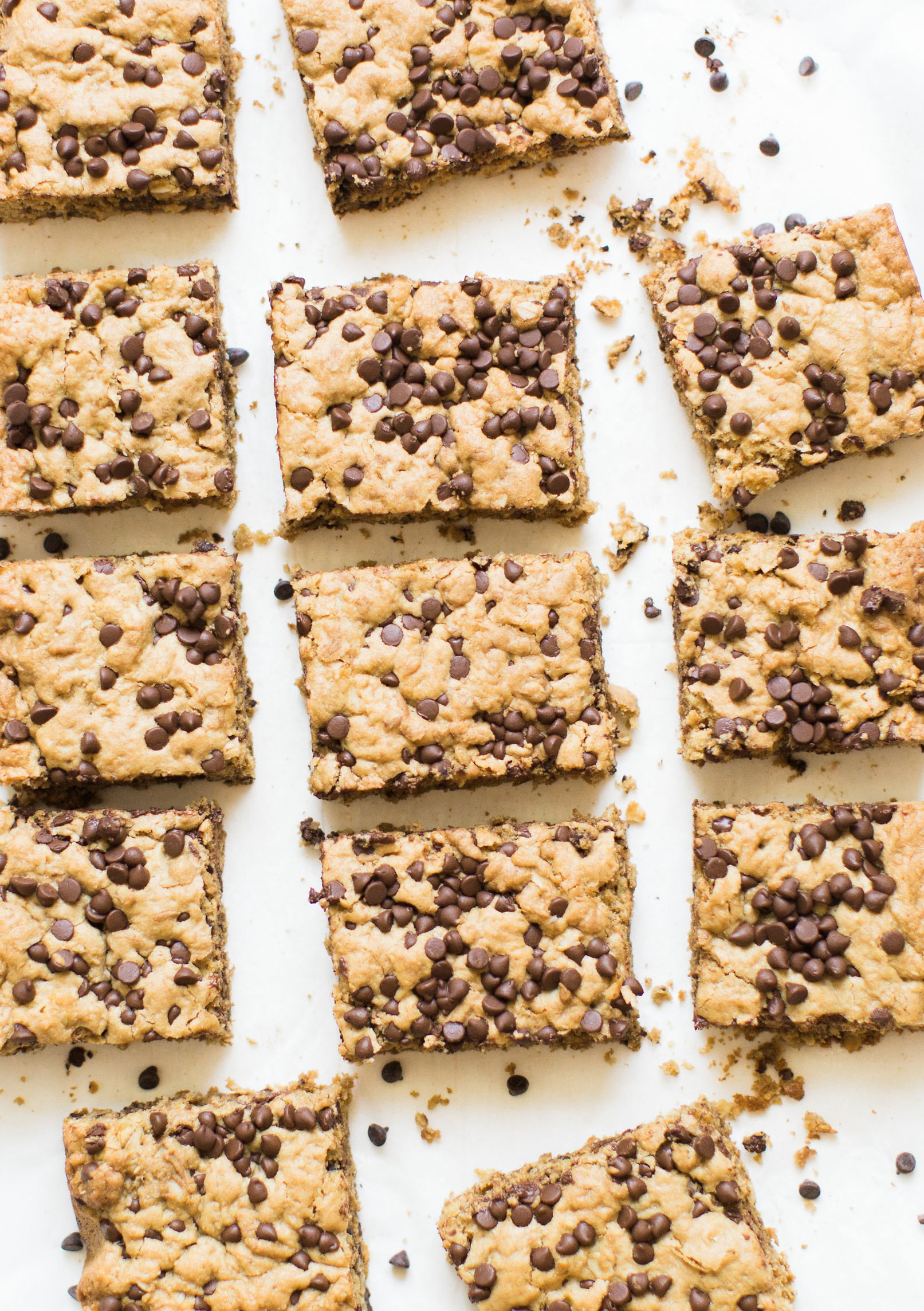 Delicious chocolate chip oatmeal cookies made extra simple by baking them up in a big batch of bars, these super moist chocolate chip oatmeal cookie bars are a favorite of our whole family, and for good reason! (I love them with dark chocolate chips.)
This homemade gingerbread granola bar is full of holiday spice and nourishing ingredients that is sure to satisfy!
Full of healthy fats and nutrients, this chocolate peanut butter avocado pudding is a satisfying, wholesome way to curb your sweet tooth; and fun fact: you'd never know there was even avocado IN the decadent chocolate pudding.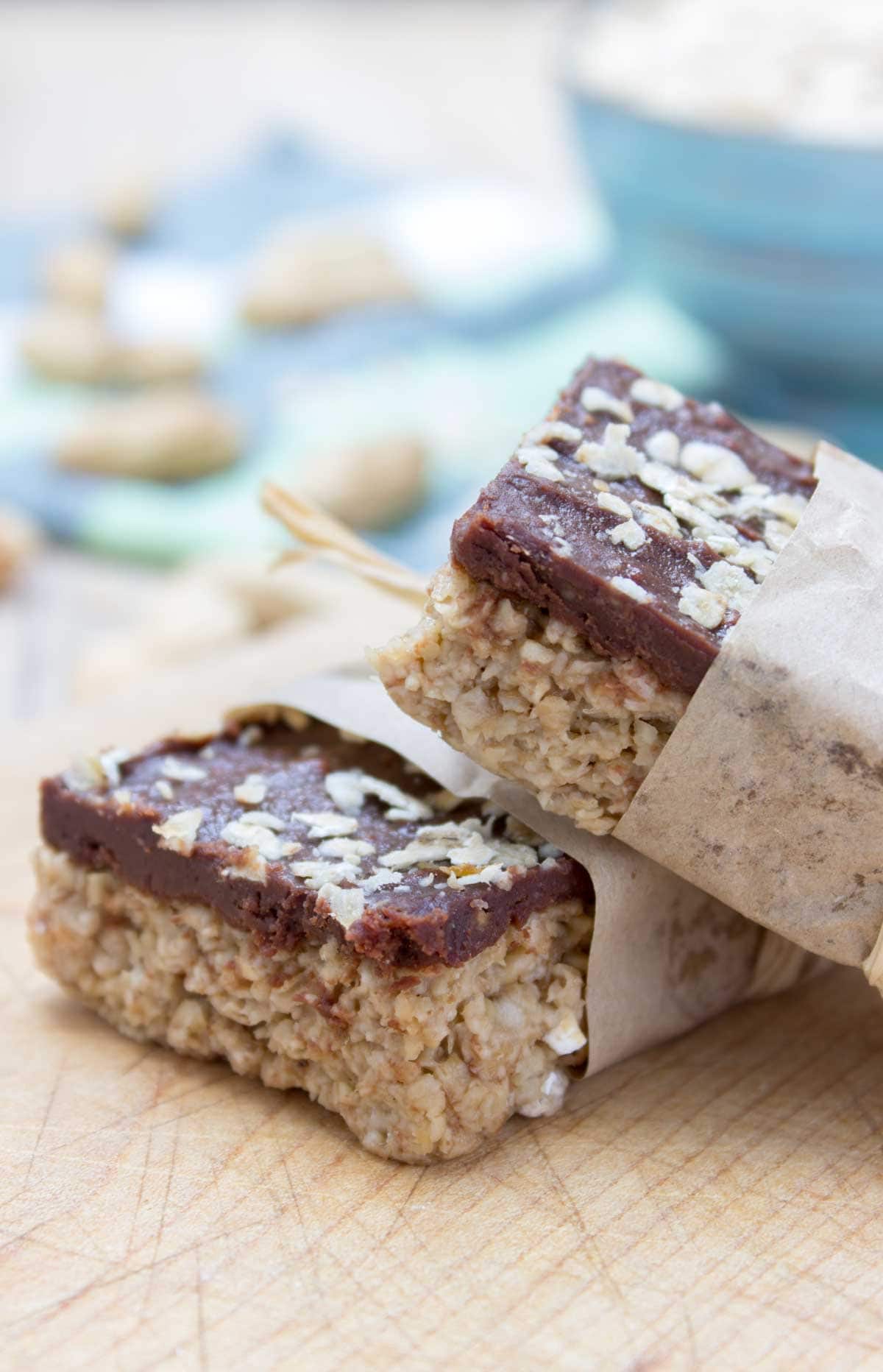 Protein-rich and delicious, No Bake Chocolate Peanut Butter Banana Oatmeal Bars are made with all HEALTHY natural stuff. These bars are vegan, refined sugar-free and gluten-free, packed with healthy dietary fibers and heart-healthy fats. A perfect midday bite, or post workout snack.
If you're craving all of that fall pumpkin goodness, but want to keep snack-time a little healthier, these naturally gluten-free, dairy-free, sweetened with maple syrup, pumpkin muffins, are where it's at!
These vegan chocolate chip cookies don't require any eggs, milk, or butter, and still miraculously taste just like classic homemade chocolate chip cookies!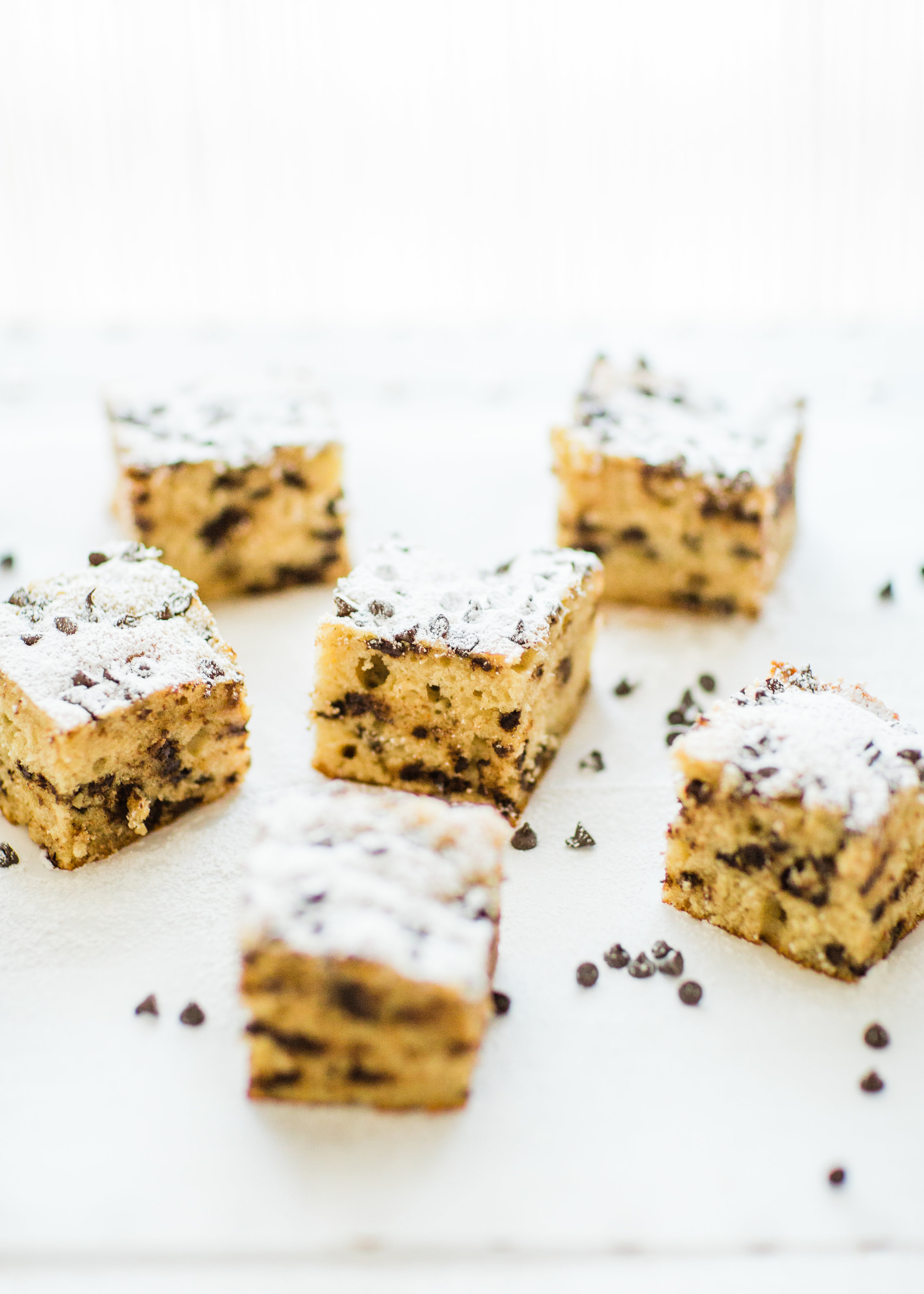 This chocolate chip snack cake is so simple, and so good. It's a classic, soft, buttery, heavenly, moist cake, with the perfect hint of vanilla-goodness; then it's amplified times about a thousand with little flecks of chocolate chips studded all throughout it. Every inch is warm, gooey, and incredible, especially with those mini chocolate chips bursting through every bite.
These 3-ingredient pop-tarts are super simple to throw together; they use a combination of store bought ingredients, and things you probably always have on hand. And bonus: you can make these as a fun afternoon activity with the kids!
Remember those classic peanut butter chocolate squares from the school cafeteria and at bake sales? They're even more delicious dairy-free!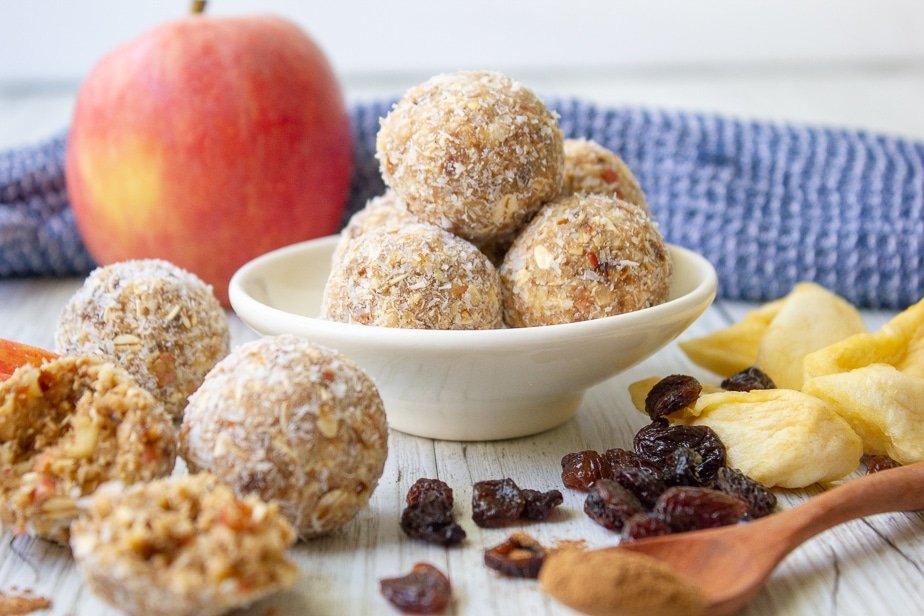 These apple pie bliss balls are full of flavor and are naturally sweetened with fruit with no added sugars. They are also great for school lunchboxes from an allergy awareness perspective as they're nut free.
These chewy and soft chocolate chip pretzel granola bars are a household favorite and totally delicious. Plus, they're fun to make and last for a good week or more (if you can keep them that long!)
Nutty and sweet, No-Bake Peanut Butter Energy Balls are a great and healthy simple snack. These energy bites are made with all natural ingredients, loaded with powerful superfoods and nutrients. Refined and added sugar-free, these bites are perfect kids lunchbox snack or energizing post-workout meal.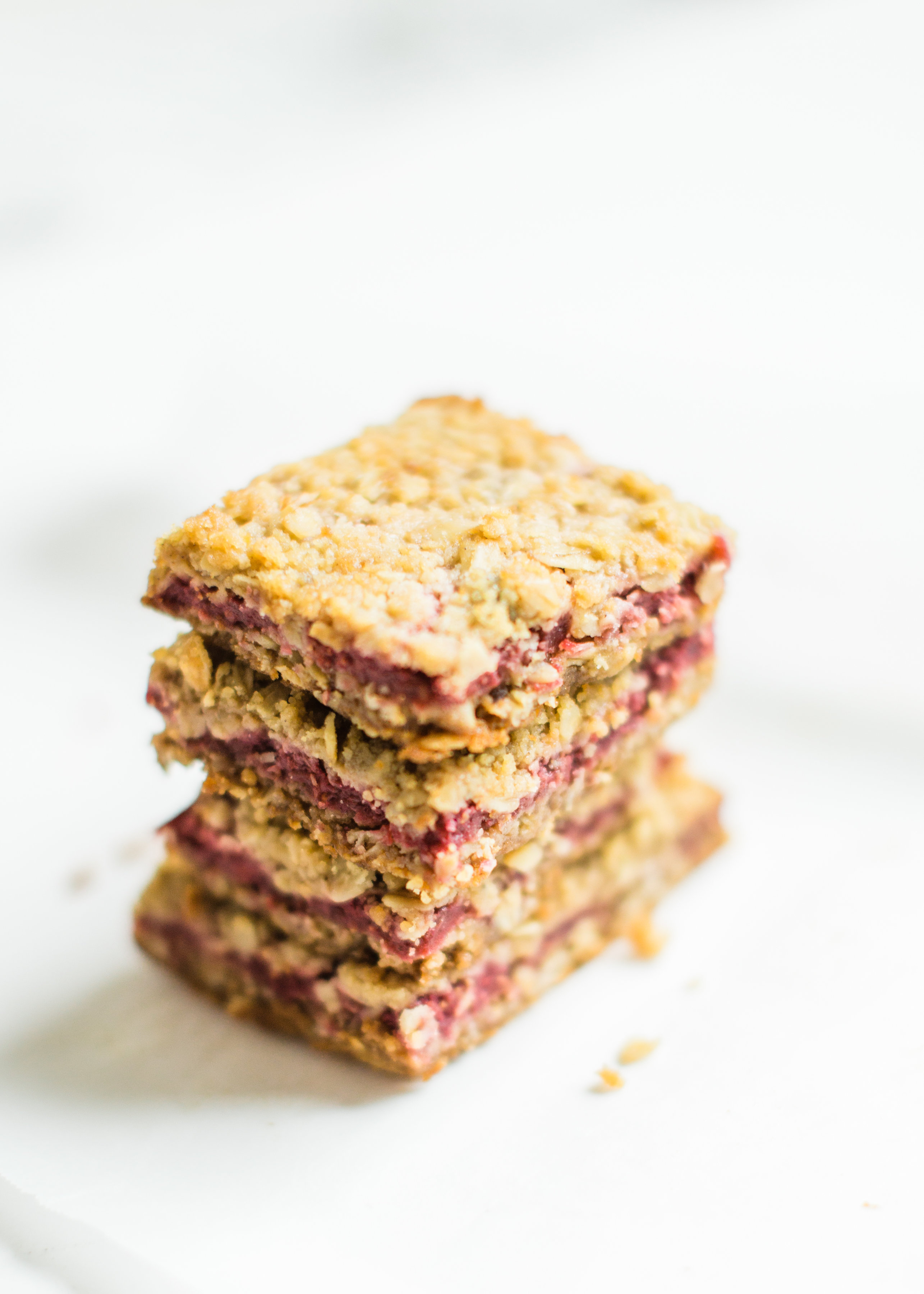 These raspberry crumb breakfast bars make for the most amazing dessert. The fresh raspberries cook down into an incredible jam-like filling and the crumb cookie base and topping is chewy, moist, buttery, and delicious. These breakfast cookie bars are a hit with absolutely everyone.
These no bake banana energy bars make a fantastic tasty snack that will help boost your energy levels and keep you fuller for longer. Stuffed full of healthy fruits, seeds and nuts, they're refined sugar free, making them a perfect healthy pick me up!
If you've been searching for a paleo, dairy-free, gluten-free and grain-free dessert to satisfy your sweet tooth, then look no further than these magical fudgy tahini brownies. They are totally incredible and totally guilt-free!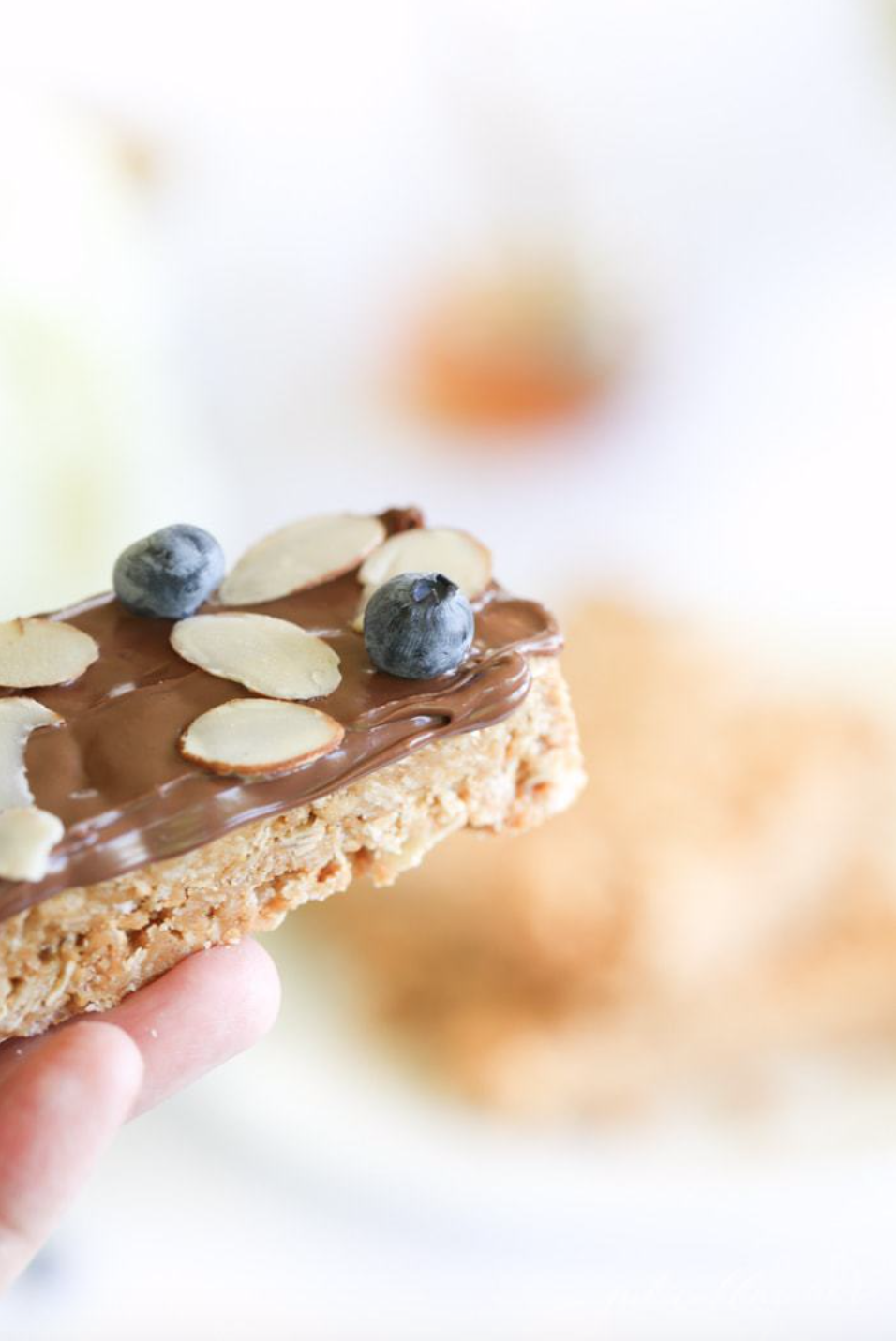 Learn how to make delicious No Bake Granola Bars in just 10 minutes with only 4 ingredients! These Peanut Butter Granola Bars are the perfect make-ahead breakfast or snack that you'll feel good about.
Healthy Air Fryer Apple Chips are like the best chip snack ever. These make a perfectly healthy snack when you are craving for something sweet plus it's a great way to consume a form of seasonal fruit instead of the not-so-healthy options.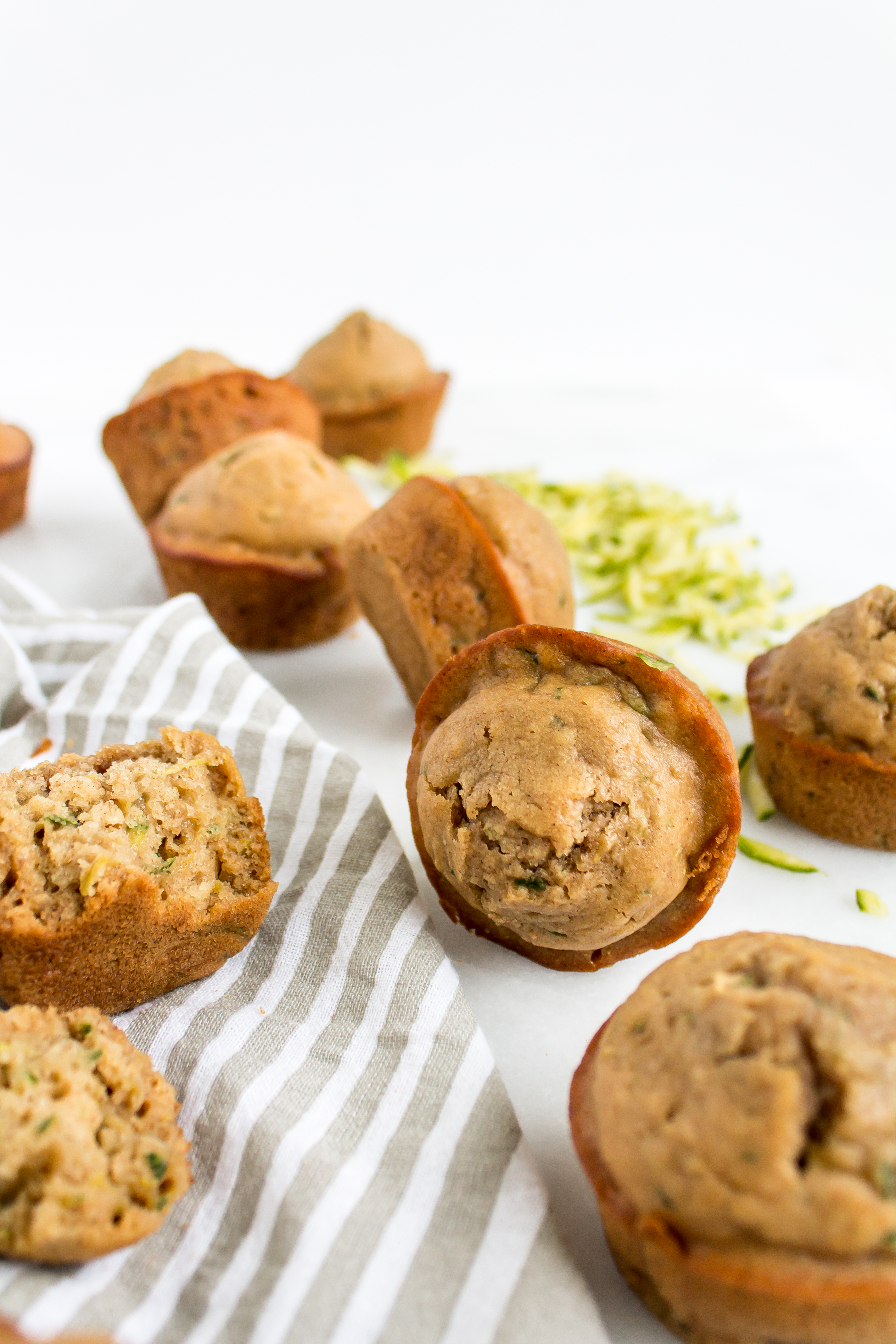 A zucchini muffin recipe that is not only easy but results in a totally fluffy, sweet, and delicately delicious muffin? And healthier too? Look no further!
Say hello to your new snack addiction: these no-bake energy bites are easy to make, are made with better-for-you ingredients, are dairy-free and gluten-free, and they taste like your favorite no-bake cookies!
Sheet pan chocolate peanut butter oatmeal cookie bars are simple to whip up, incredibly yummy, and can easily feed a crowd. In addition, these easy cookies are a total fan favorite!
These apple cinnamon muffins muffins are dairy-free (no butter or milk), gluten-free (they use a small amount of oat flour and old-fashioned oats instead of processed flour), and oil-free. But I promise you this: they are super moist, fluffy, and SO good!
This is hands-down our favorite homemade granola recipe. We use it in milk, to top yogurt parfaits, or just to eat by the handful. It's the best!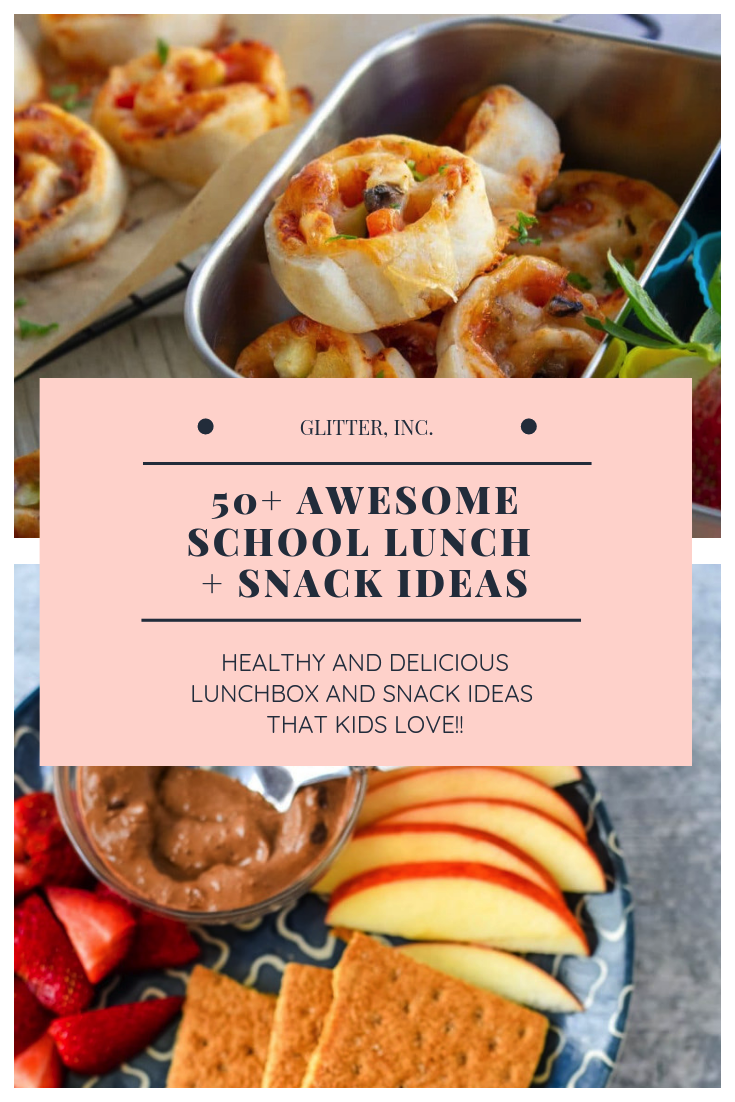 What about you? Do your kids have any lunchbox favorites that they love? Do you like finding school lunch and snack ideas online? I'm always looking for new lunch and snack ideas to keep the kids fed and happy.
SHOP THIS SCHOOL LUNCH AND SNACK IDEAS POST | CLICK LEFT & RIGHT ARROWS TO EXPLORE
And, don't miss it: Take the stress out of weeknight meal planning with these 50+ easy and delicious weeknight dinner recipes for busy parents. We're talking sheet pan meals, dinners that can be made in a crockpot or Instant Pot, one-pan dinners, skillet meals, and more; and all are family and kid-approved.
And if you loved these lunch and snack ideas, head to our recipe page to check out what else we're dreaming up in the kitchen!