This post contains affiliate links, which means that if you click on one of the product links, I'll receive a small commission. Thank you so much for clicking through and helping to support this little blog business of mine! Read more about our site, privacy, and disclosure policies here.
This is it: the vegan cream cheese frosting to swoop in and save the vegan baking day! If you're looking for a delicately sweet, smooth and creamy vegan frosting recipe, that also happens to be really easy to make (and takes just 4 ingredients!), this is IT.  But even if you're not vegan, this vegan cream cheese frosting is still ridiculously good and very much worth a try!
Baking is my love language. I bake when I'm happy, when I'm sad, to celebrate the little things and the big things, to celebrate friends and family, and often, just because. And over the years, I've managed to flex my baking muscle in the vegan arena as well. I love the challenge of baking by trial and error; and trust me, when it comes to turning classic dessert recipes into a vegan dessert, there have been many errors along the way. 🙈
If you're new here, Scarlett, our oldest daughter, was diagnosed with MPIES (Milk Protein Induced Enterocolitis Syndrome) as a baby, and since then, we've changed a lot of our eating habits and I've made a few tweaks in my baking to accommodate a dairy-free diet when I can. We're always experimenting with vegan and dairy free recipes, and I love being able to create yummy desserts that my daughter can happily enjoy.
One of the happiest discoveries in our kitchen, was finding out that most cakes can actually be made dairy-free; the trick, as it turned out, was trying to find a yummy frosting to pair with those cakes that also worked both as a dairy-free option and actually tasted GOOD.
These are a few of our go-to cake recipes (that also happen to be dairy-free and/or vegan!):
Applesauce Snack Cake (that happens to pair perfectly with this vegan cream cheese recipe!)
To be honest, though, cream cheese frosting was one of those things that I thought couldn't possibly work without the dairy. It's so delicately sweet and fluffy, that tang, that richness. And you know, a vegan world without that ridiculously delicious frosting goodness, well that's just sad.
Because I think we can all agree: some desserts practically BEG for a rich, smooth and creamy cream cheese frosting. I mean, red velvet cake, carrot cake, pumpkin spice cake, pumpkin cookies, applesauce cake, rich chocolate cake; the list goes on and on. Those desserts were MADE for cream cheese frosting … and they deserve a worthy vegan cream cheese frosting, dangit.
But here's the tricky part …
Don't ask me why, but so many vegan cream cheese frosting recipes are kind of duds. Whether they lack that richness, taste too coconut-y (from coconut oil), or flop in the texture department, a lot of vegan frostings are just MEH.
And yeah, I've tried A LOT of vegan frosting and vegan cream cheese frosting recipes on for size. While often, substitutions for traditional ingredients in frosting recipes, like swapping out almond milk for regular milk, work well, for some reason, vegan cream cheese frosting can be a bit more finicky without the right combination of ingredients.
Luckily, I think I've finally stumbled upon the perfect vegan cream cheese frosting recipe! One that is rich, delicately sweet, fluffy, creamy and smooth, and can be piled high; a.k.a., perfectly spreadable for cakes and cupcakes.
Aaaaand it takes just 4 ingredients and less than 5 minutes to make it!!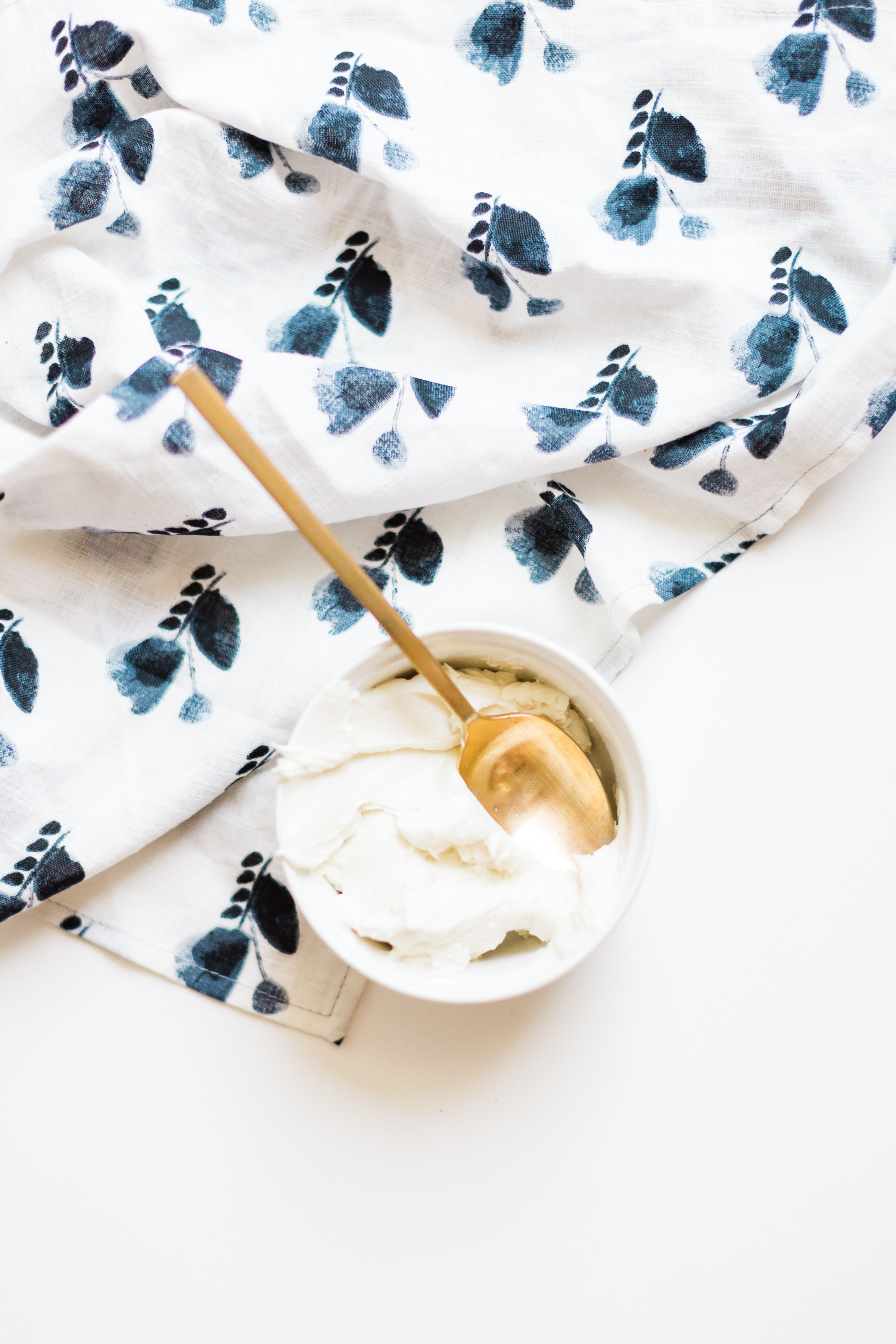 Vegan Cream Cheese
Frosting

vs. Dairy Cream Cheese

Frosting

Whether you're looking for a vegan cream cheese frosting recipe to cut out dairy or animal products for health reasons, allergy reasons, or simply because you've decided to give a great vegan frosting recipe a try, there are definite health benefits to skipping out on the dairy when it coms to frosting your favorite desserts.

Swapping out classic dairy-rich ingredients for better-for-you ingredients like almond milk, coconut oil, tofu or cashew based cream cheese, vegan butter, etc,, still results in a truly decadently delicious frosting. So while both vegan cream cheese frosting and dairy cream cheese frosting options are tasty (because duh, FROSTING), a vegan cream cheese frosting is 1,000% worth a try.
Ridiculously Good Vegan Cream Cheese
Frosting

Recipe
Ingredients
vegan butter

(softened to room temperature)

vegan cream cheese

(slightly softened; out of the refrigerator for about an hour)

sifted powdered sugar

vanilla extract
1/2 teaspoon lemon juice (optional, though I usually skip it)
What You Need
mixing bowl or stand mixer
mixer attachment, whisk, or hand mixer
measuring cups and measuring spoons
spatula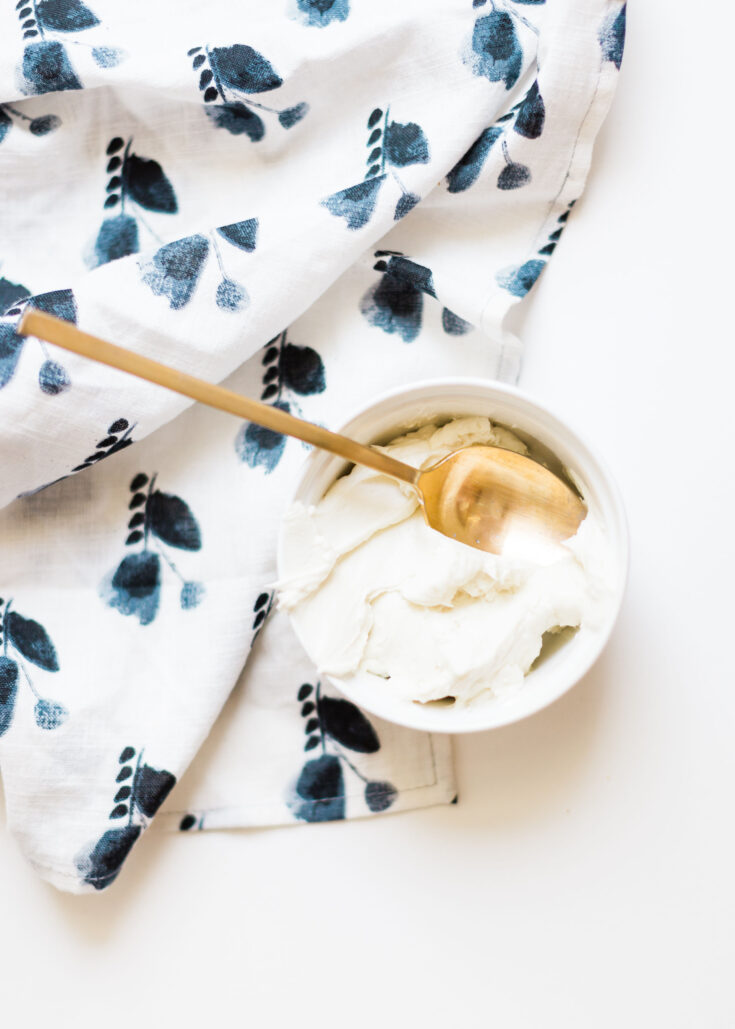 Yield:
Vegan Cream Cheese Frosting Recipe
Ingredients
1/2 cup vegan butter (softened to room temperature) (We like Earth Balance butter sticks; 1 stick equals 1/2 cup)
1 8-ounce container vegan cream cheese (slightly softened; out of the refrigerator for about 1 hour)
2 - 4 cups sifted organic powdered sugar
1 tsp. vanilla extract
Instructions
In a large mixing bowl or stand mixer, add softened vegan butter and beat or whisk vigorously until smooth. Then add vegan cream cheese and mix again until smooth and creamy.
Add sifted powdered sugar in 1 cup increments until frosting is thick and spreadable and is to desired sweetness.
Add in vanilla and stir to combine once more.
The perfect frosting will have a pretty thick, very smooth consistency; so keep adding powdered sugar until it reaches a good consistency.
Refrigerate cake or cupcakes after frosting to keep fresh. (Typically lasts up to 5 days.)
Notes
**This vegan cream cheese frosting will firm up slightly in the refrigerator as the vegan butter hardens again, so keep it at room temperature to spread it on your cakes or cupcakes, then chill your finished desserts in the refrigerator.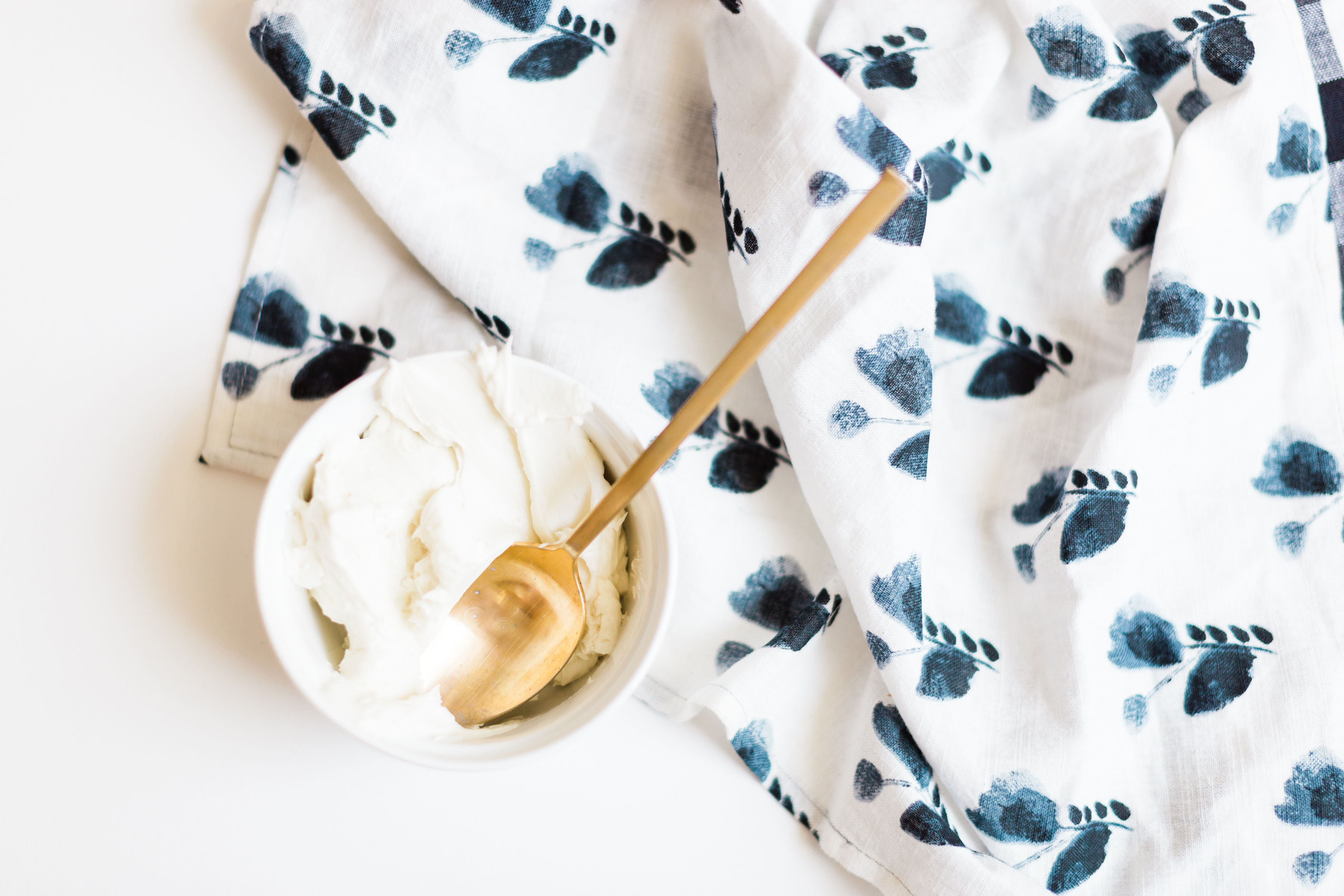 Use this vegan cream cheese frosting recipe to top your favorite vegan carrot cake, fluffy pumpkin cookies, decadently rich chocolate cake, red velvet cake, pumpkin spice cake, or a super yummy applesauce snack cake.
Or, you know, just eat it with a spoon. 😉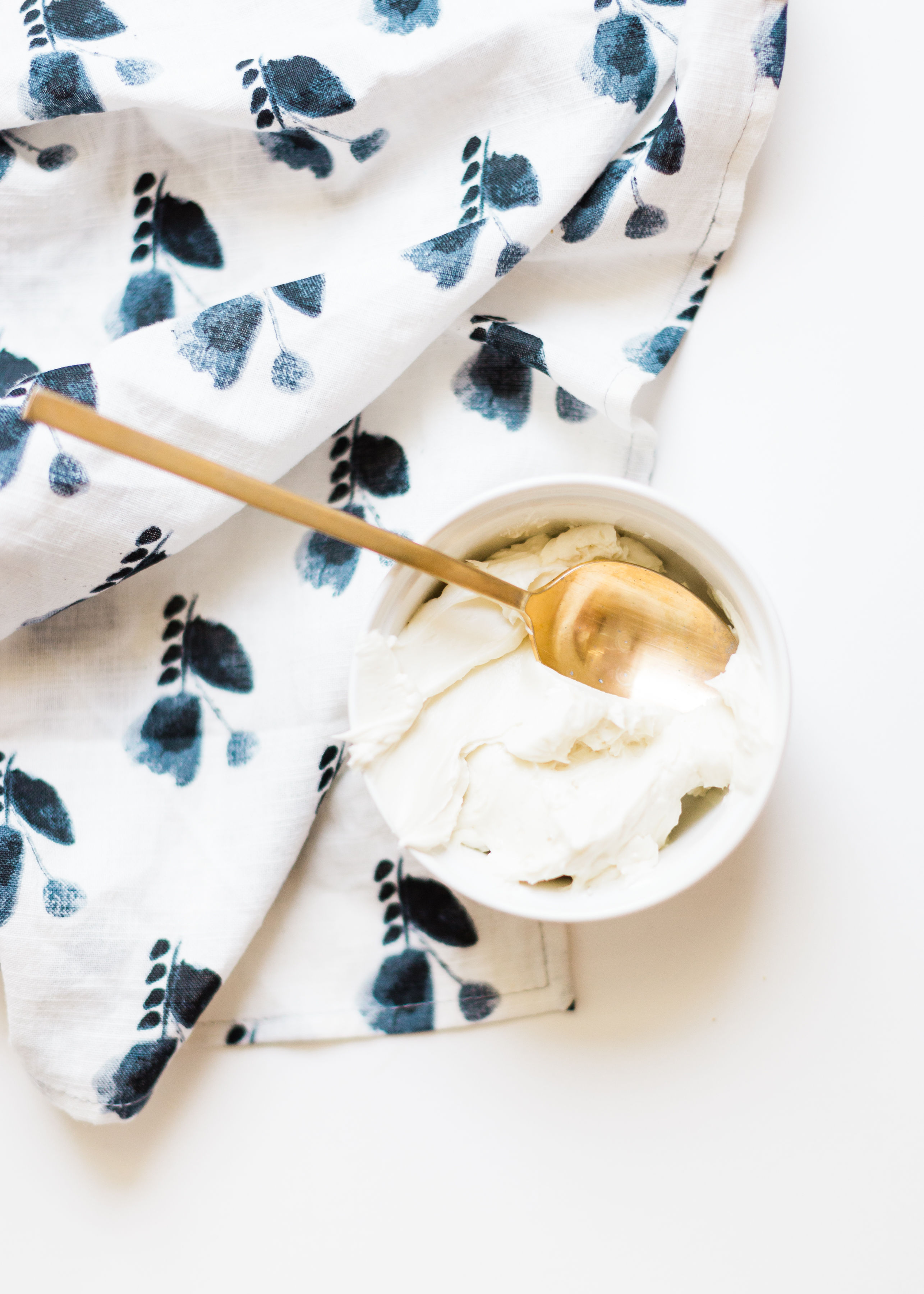 SHOP THE RIDICULOUSLY GOOD VEGAN CREAM CHEESE FROSTING RECIPE POST | CLICK LEFT & RIGHT ARROWS TO EXPLORE

Love any excuse to celebrate? Check out all of our parties here and head to our recipe page to take a peek at what else we're dreaming up in the kitchen! If you make your own vegan cream cheese frosting, be sure to tag me on social media (@glitterinclexi) so I can live vicariously through all of your yummy dessert creations!
Photos by Annie Timmons Photography for Glitter, Inc.