This post contains affiliate links, which means that if you click on one of the product links, I'll receive a small commission. Thank you so much for clicking through and helping to support this little blog business of mine! Read more about our site, privacy, and disclosure policies here.
Dinner is served! This easy and delicious ground chicken chili is one of our family's favorite meals, and the best part: it all comes together in an Instant Pot or crockpot. Serve this made ahead chili with yummy toppings and a side of cornbread and you've got yourself an incredible, hearty, healthy, and simple dinner.
Let's talk chili.
I don't know about you but I could eat soup all year long. It doesn't matter if it's 100 degrees outside or we're in the depths of an icey tundra, sometimes I just crave a warm comfort meal.
Now I know this may be controversial, but I've never actually liked chili. Which is weird; given my love for soup, all day, everyday. For starters, I don't like ground beef. I know; it's totally weird. I also could never find a chili with the balance of spices that really appealed to me. I don't love a ton of spice, and my kids and husband definitely don't. The beauty of chili, though, is that the spices are what really makes a chili unique.
These days, though, as a mom to two very busy little kids, and a husband who works A LOT, trying to get a healthy and filling meal on the table, in between craft projects, a blog to do list a mile long, and our massive upcoming move, I'm learning to rely on an arsenal of easy dinners. And chili just seemed like such a good idea.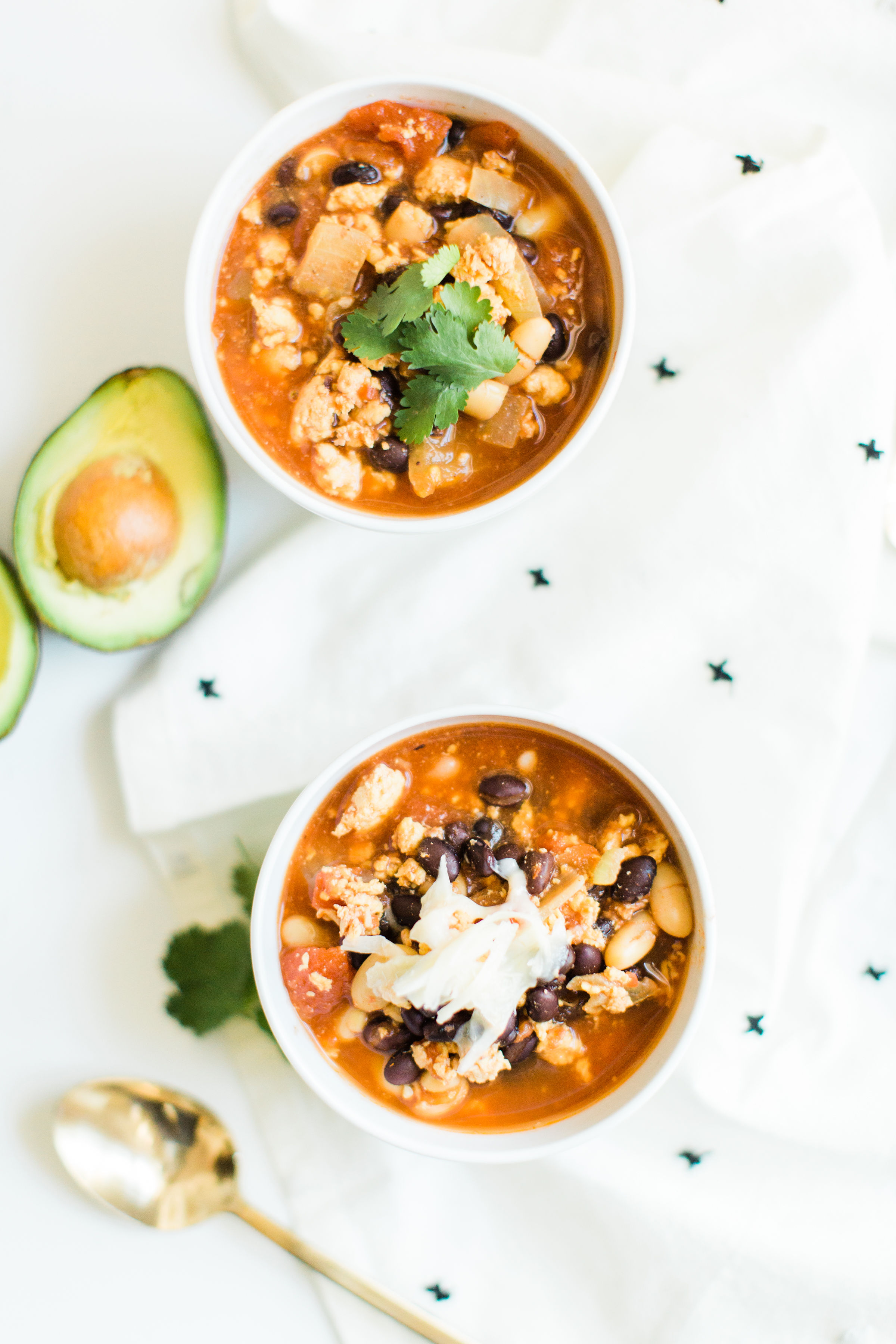 About a year ago I decided to give chili a try, with a few twists, of course; and thus, our family's absolute favorite easy and delicious ground chicken chili was born.
And because I've pretty much decided that anything easy, should also come with instructions for making it all in an Instant Pot, crockpot or slow cooker, I've tweaked and perfected the ground chicken chili to work beautifully in our beloved Instant Pot. You guys, any meal that can be thrown into one pot is my kind of meal. This easy and delicious ground chicken chili is a satisfying weeknight dinner at it's finest.
In true chili fashion, it's the mix of subtle and somewhat unexpected seasonings and spices that really take this hearty chili over the top. Call it my secret recipe, if you will. A secret recipe I'm sharing with the internet. You're welcome!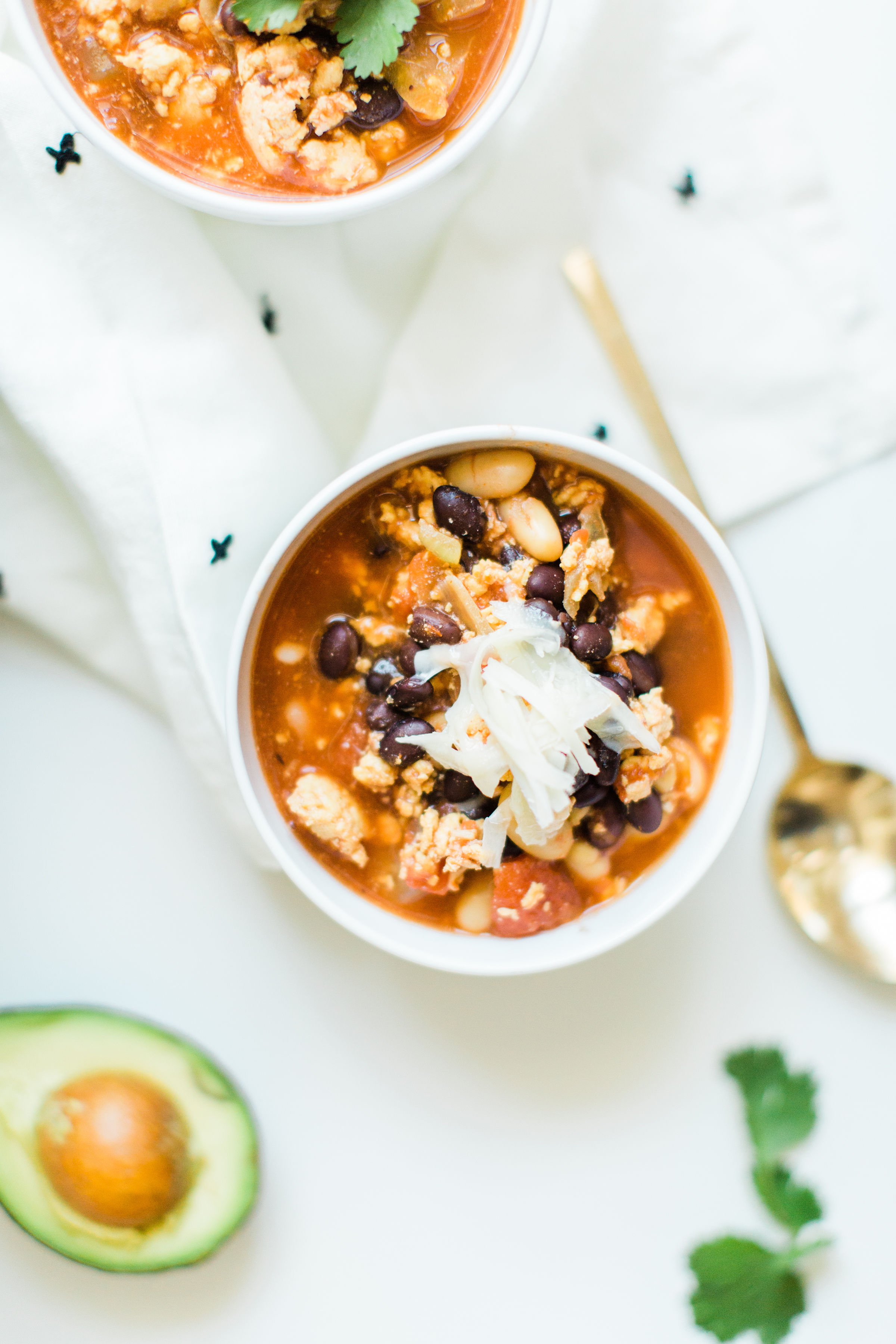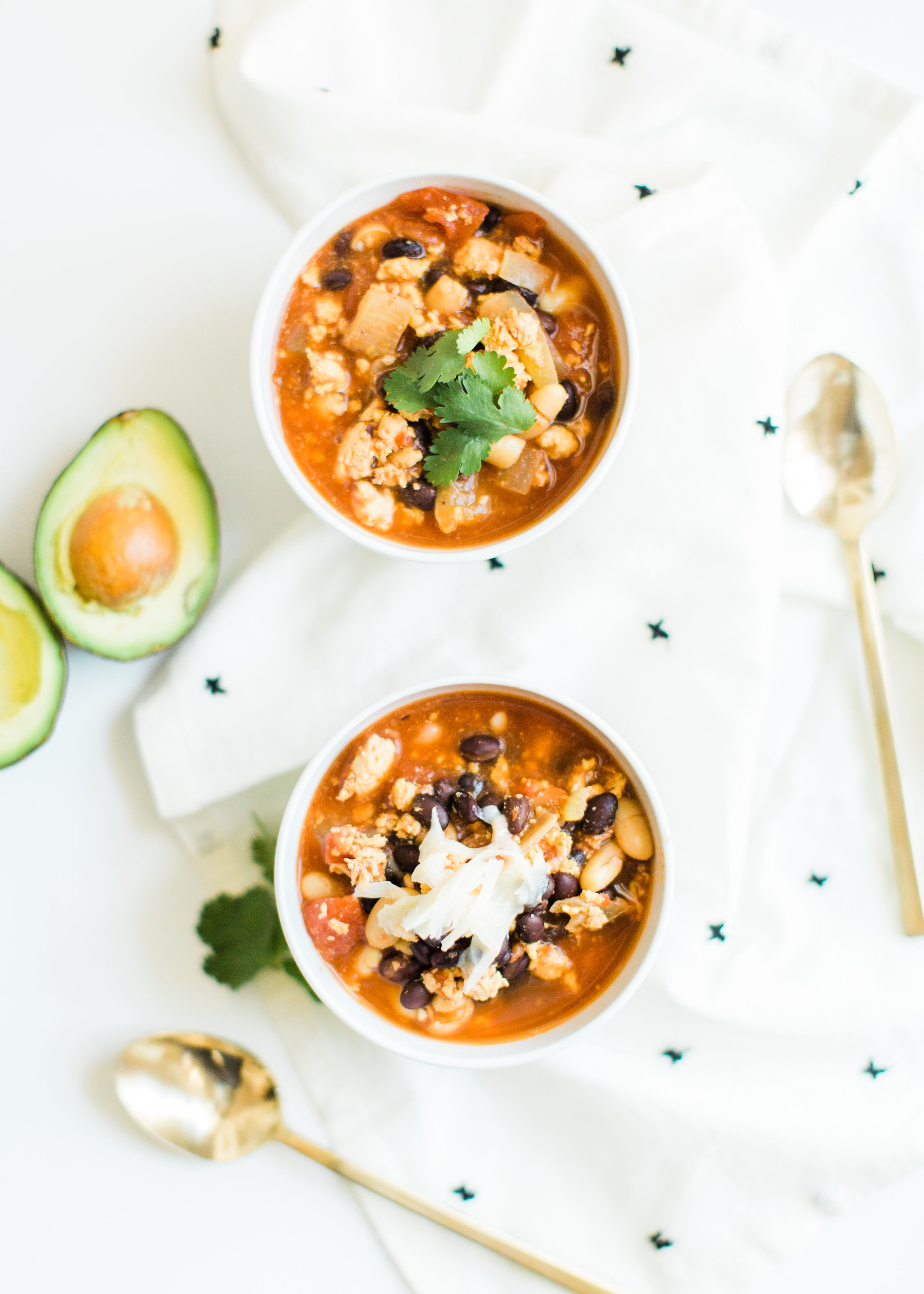 This easy and delicious ground chicken chili is made with healthy lean ground chicken, though you'd never know it was healthy from the taste of it.
Now if ground chicken isn't really your thing, this chili works SO well with ground beef or ground turkey. So don't hesitate to switch up your protein depending on what you and your family like.
I'll also often switch up the beans depending on what we have in the pantry and I typically add a bag of frozen corn to the mix because I can pretty much always convince my kids to eat any dinner that has corn in it. 😂
Because this is an instant pot style dinner, other than browning onions, and then chicken, in a little bit of oil and garlic; all of the other ingredients are dumped into your instant pot, and left to simmer away for hours until dinner comes out tasting like heaven. (And fret not, if you're short on time, I've got instructions for getting this meal done FAST in your Instant Pot as well!)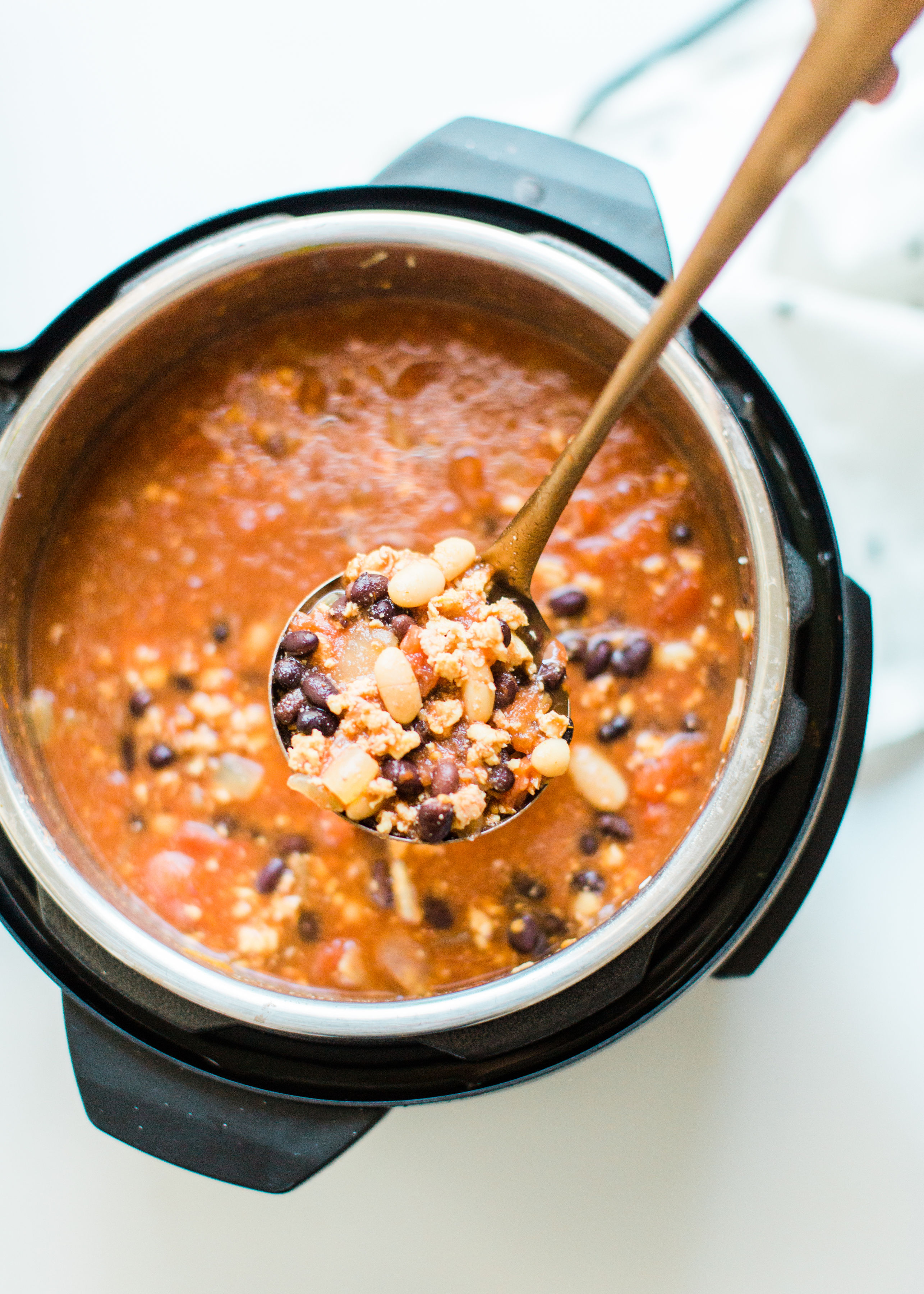 If you've been reading Glitter, Inc. for some time now, you'll probably know that ever since getting our Instant Pot, I've sort of fallen down the rabbit hole of Instant Pot and crockpot (a.k.a., slow cooker) recipes.
I love the ease of making dinner in one pot, typically in under twenty minutes, walking away, only to come back at the end of a busy day and having dinner ready and waiting. I'm amazed at how many delicious things you can make in a slow cooker, all while doing very little work. The Instant Pot pulls double duty because you can sear your meat first, and then let the slow cooker feature work it's magic.
We've discovered some really GREAT recipes that our whole family loves, including our picky four year-old. Like slow cooker chicken vegetable quinoa soup, copycat Trader Joe's vegetarian Harvest Chili, easy crockpot tortilla-less creamy chicken enchilada soup, crockpot chicken marsala, and 3-ingredient Trader Joe's thai coconut curry chicken.
And of course, this easy and delicious Instant Pot ground chicken chili.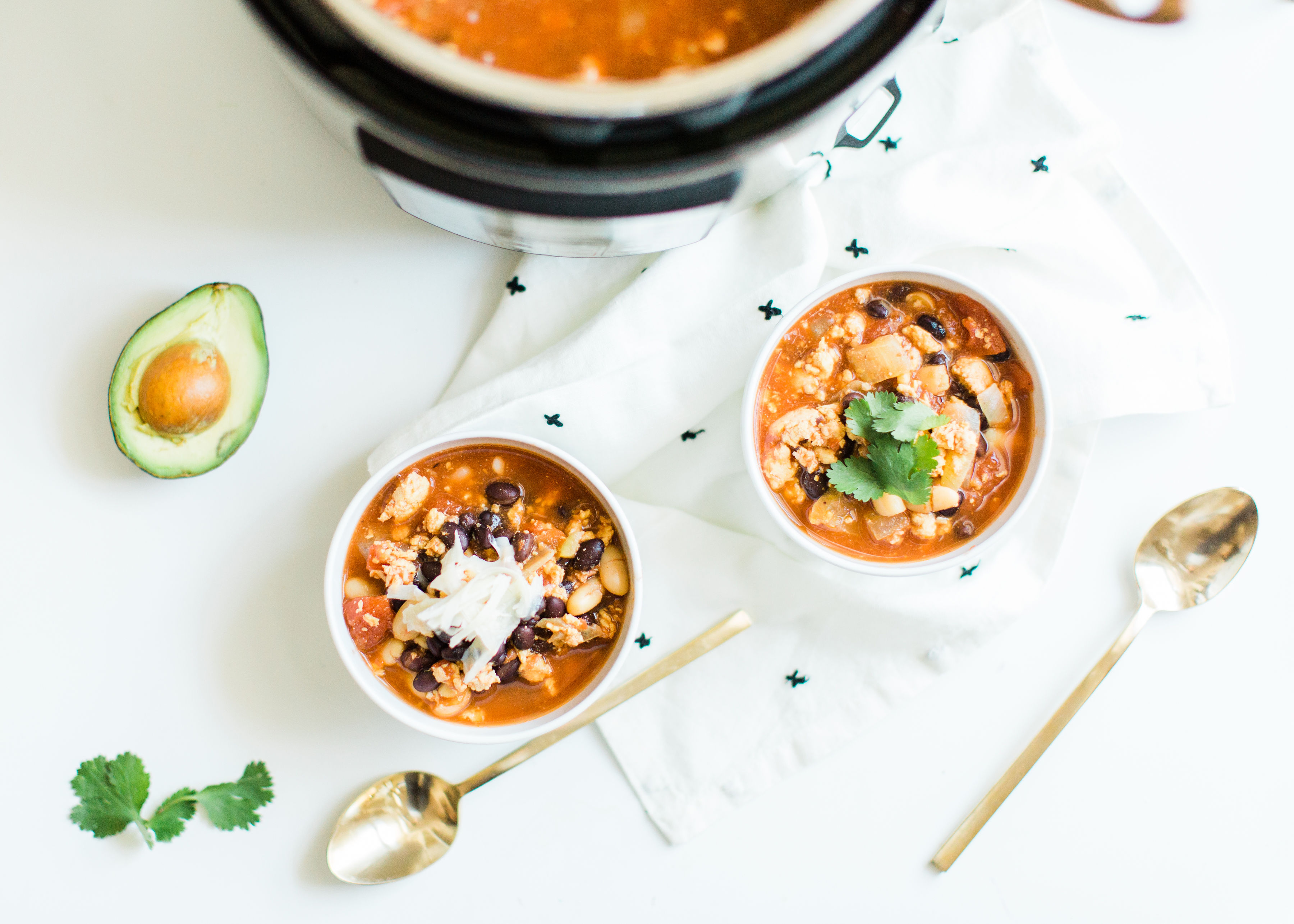 By the way, if you're looking for even more crockpot and instant pot recipe inspiration, I have a bunch of Instant Pot, crockpot and slow cooker favorites saved to this board on Pinterest.
Now let's talk about this incredibly rich and yummy ground chicken chili …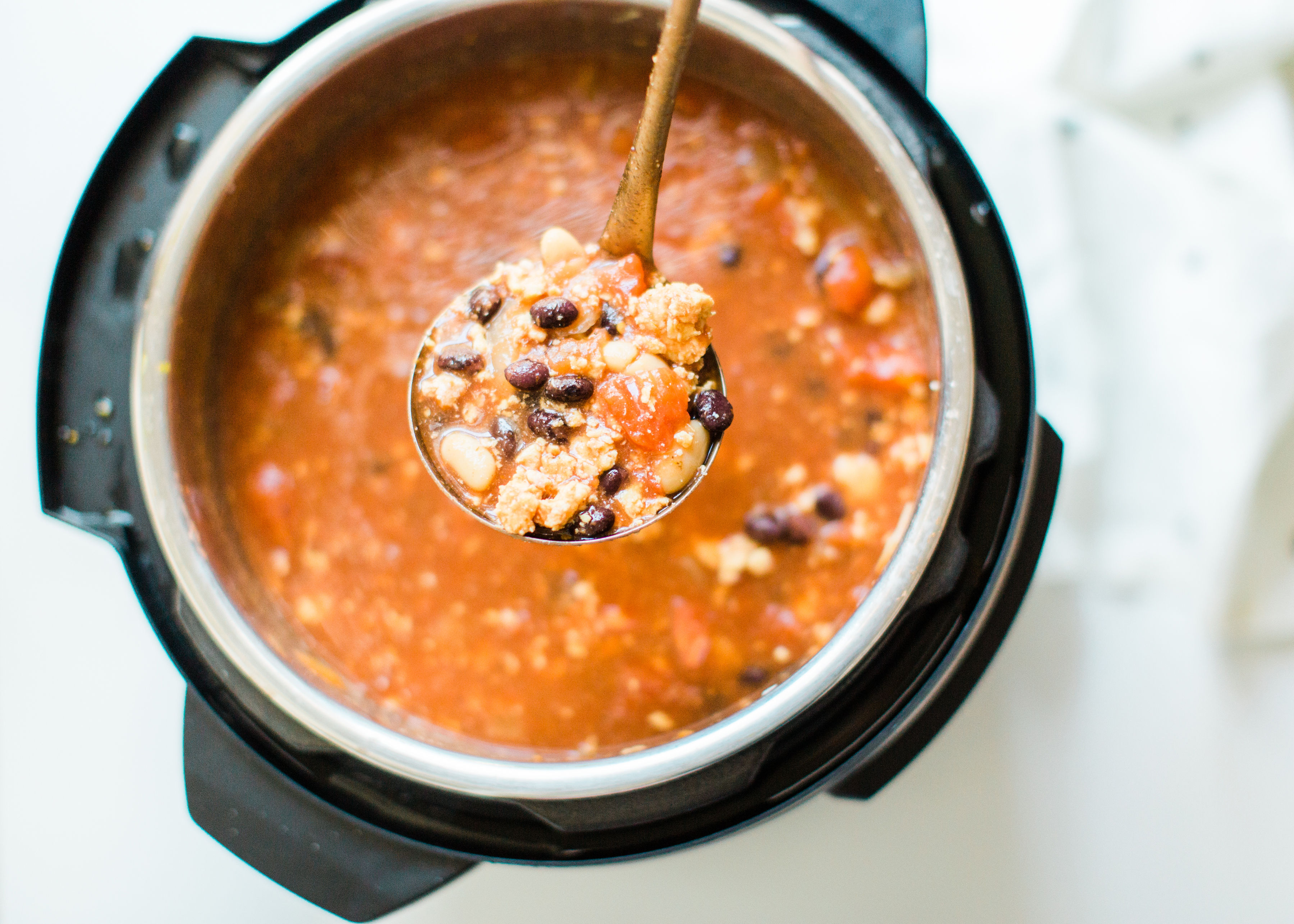 You can make every step of this delicious chicken chili in your instant pot, or in a regular soup pot.
And, fun fact, it's actually a healthier recipe (just a little olive oil goes in at the start and can easily be replaced by an even lower calorie cooking spray), that is still totally delicious.
When I make chili, I like to put out bowls of toppings like shredded cheddar cheese, cilantro, and sliced or cubed avocado. I'll also often make a quick cornbread to serve with it. This is hands-down one of my family's favorite meals; kid-approved and all.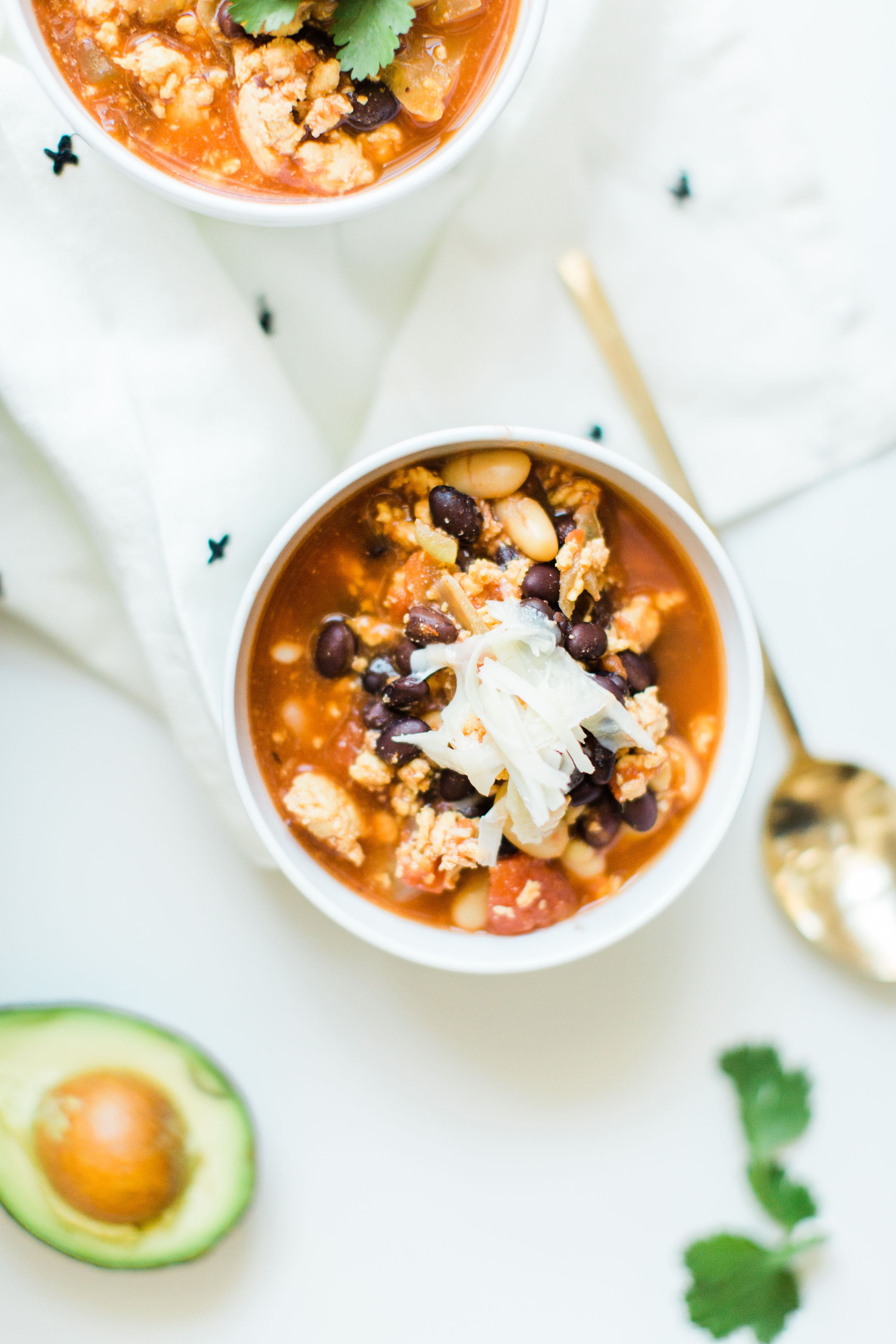 How to Make Our Family's Favorite Easy and Delicious Ground Chicken Chili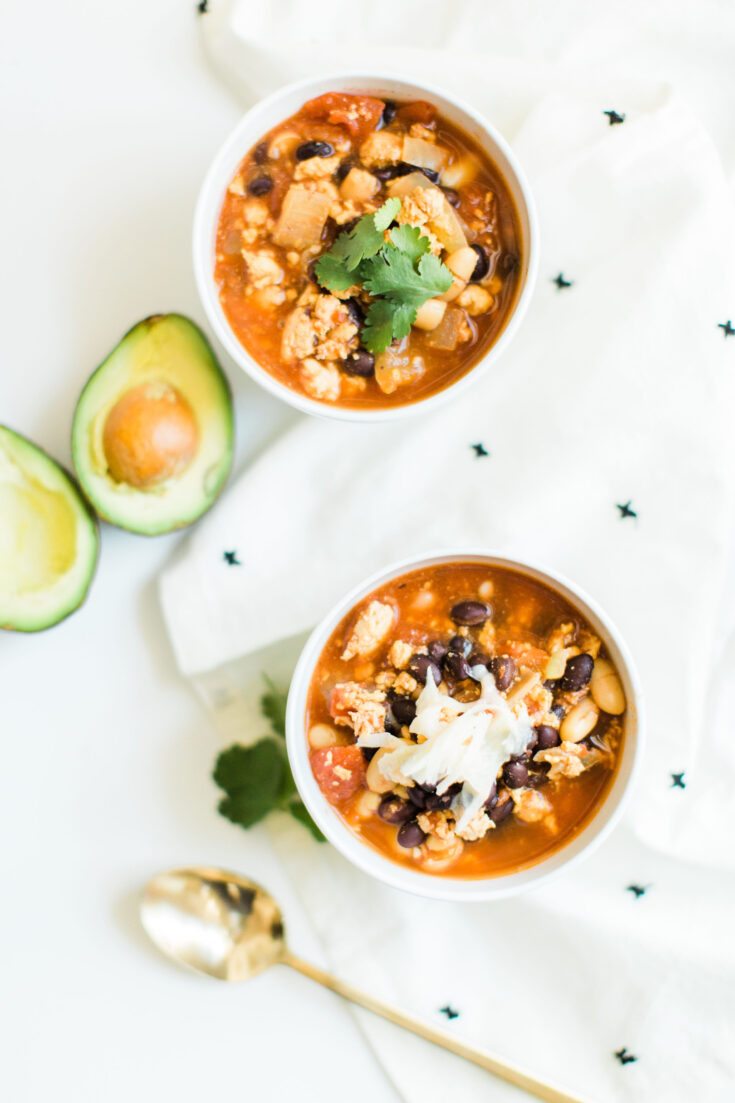 Yield:
Easy and Delicious Ground Chicken Chili
Ingredients
approx. 2 tablespoons of olive oil (or cooking spray)
approx. a pound and a half of ground chicken (or ground beef or ground turkey)
1 medium sweet or yellow onion, peeled and diced
2 cloves of garlic, peeled and diced
48 oz chicken broth
1 or 2 28 oz can of crushed or diced tomatoes (I love San Marzano, but any type works.)
6 oz can of tomato paste
2 cans of regular or seasoned black beans, drained
1 can of cannellini beans, drained
14 oz bag of frozen corn (optional)
salt and pepper to taste
1 teaspoon cinnamon
2 teaspoons cumin
1/2 teaspoon of nutmeg
1 teaspoon garlic powder
1 - 2 teaspoons chili powder (optional)
1/8 teaspoon cayenne pepper (optional)
1 - 2 teaspoons Sazon Tropical seasoning* (optional)
Instructions
Set your Instant Pot to the meat setting and sauté a little less than 2 tablespoons of olive oil, the whole diced onion, and the diced garlic. If you use a soup pot or large Dutch oven, do the same over medium heat. Stir frequently until garlic and onions are softened and the onions are translucent.
Add in raw ground chicken, sprinkle in a little bit of salt and pepper, and using a wooden spoon, break up the ground meat as it cooks. Be sure to cook the ground chicken through.
Once the ground meat is cooked through, switch your Instant Pot to the slow cook setting, or lower the temperature on your stovetop, pour in the chicken broth, canned beans, crushed or diced tomatoes, corn (optional), tomato paste, and all seasoning. I like to add just a little bit of salt, adding in more at the end to taste. Allow to cook on low for at least 2 - 3 hours. (You can also cook this chili on the pressure cook setting in your Instant Pot if you're short on time: to do this, cook on High Pressure for about 10 minutes, let it naturally release the pressure for another 10 minutes, and then finish with a quick release.)
Serve with toppings like shredded cheddar cheese, cilantro, avocado, and sour cream, or even a side of cornbread, and watch your family devour this chili!
Notes
*I am obsessed with Sazon Tropical seasoning. It's something used really commonly in Miami cooking and adds the perfect amount of salt and latin flair to food. It is not at all spicy, just super flavorful, and adds a really nice touch to rice and soups.
Freezer-Friendly Instructions: The ground chicken chili can be frozen for up to 3 months. Reheat it on the stovetop over medium-low heat until hot. (The chili will thicken up a bit when frozen, so you'll likely need to add some chicken or vegetable broth when reheating.)
.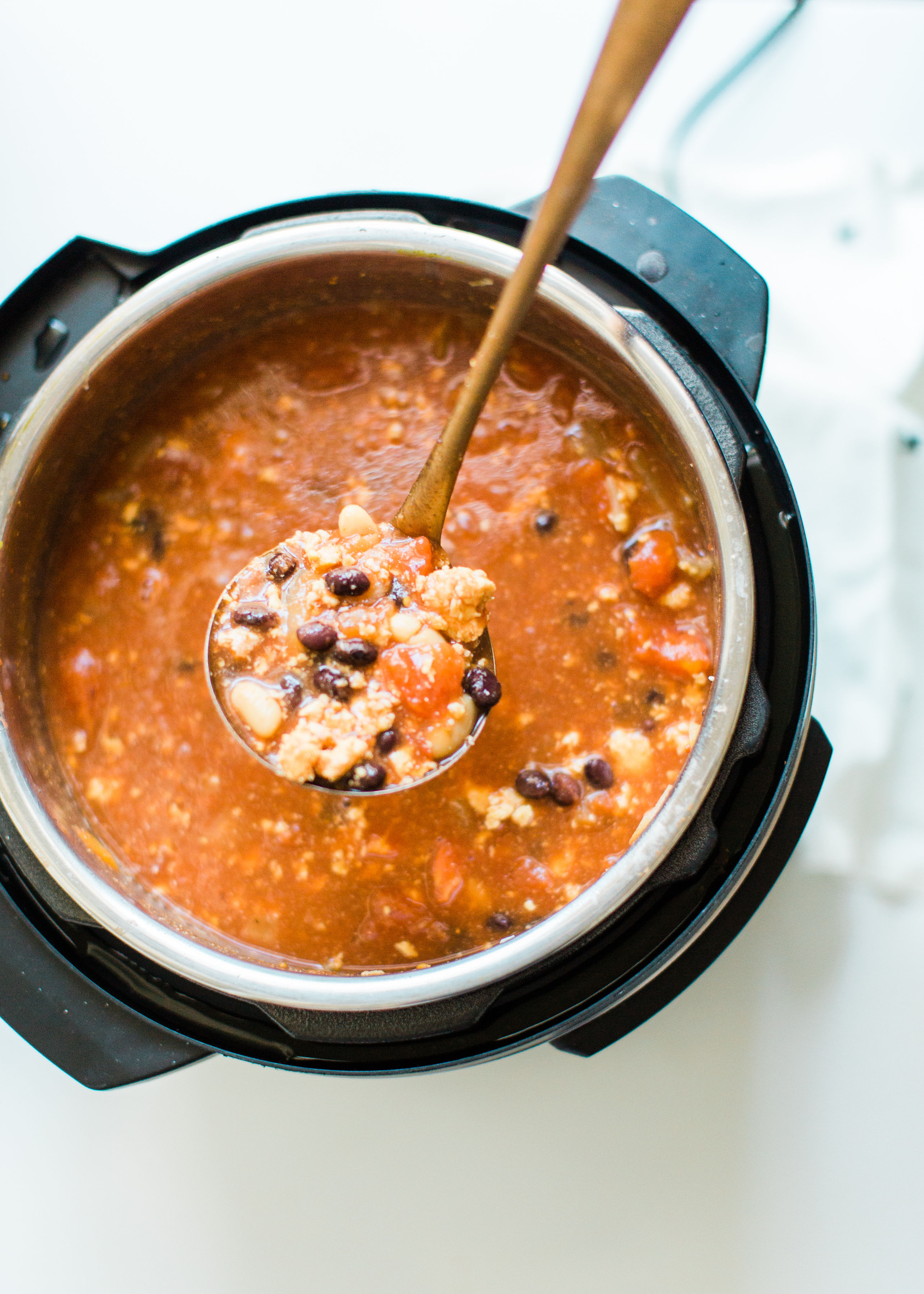 Are you a fan of the Instant Pot? Any favorite Instant Pot or crockpot recipes I should know about?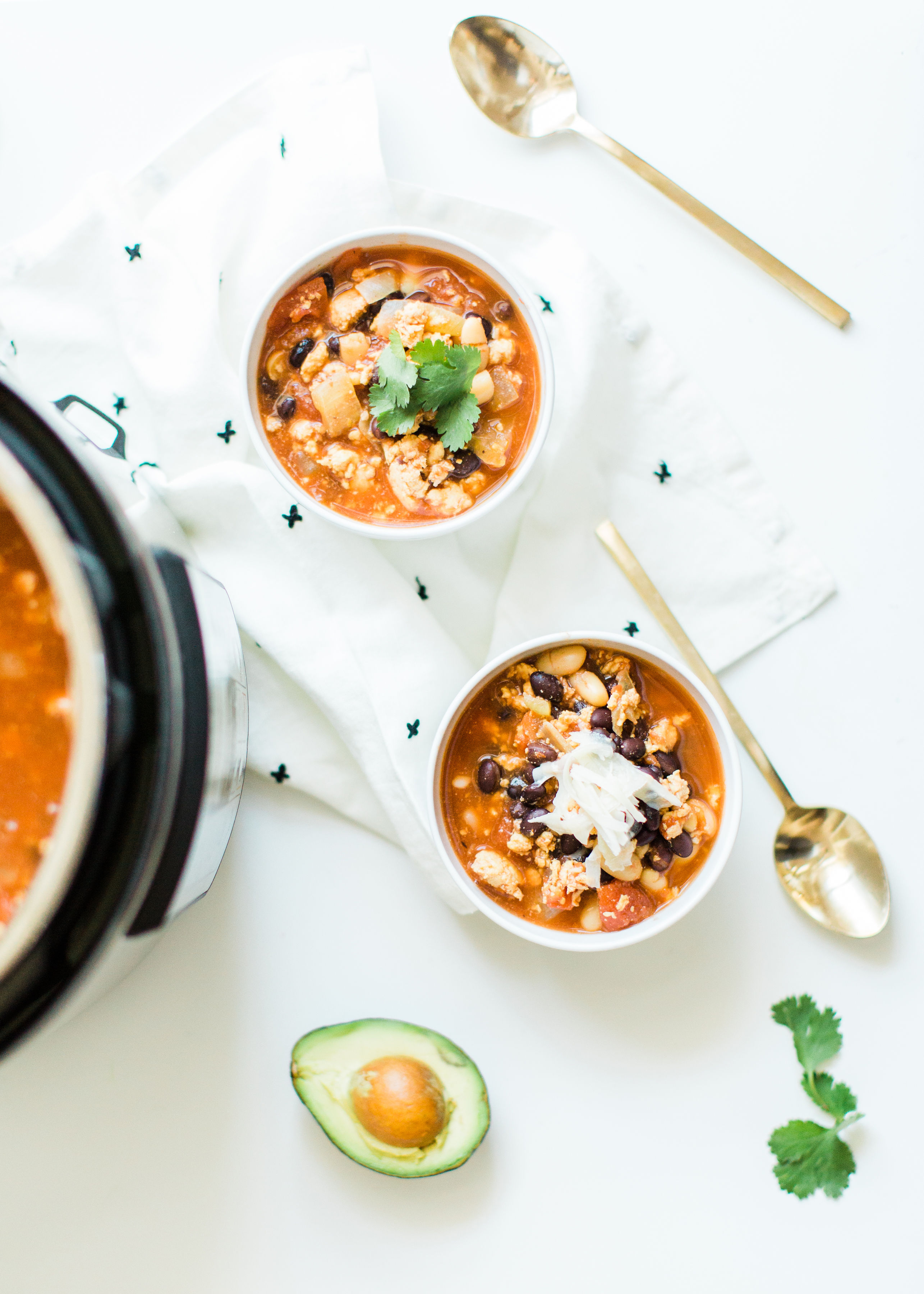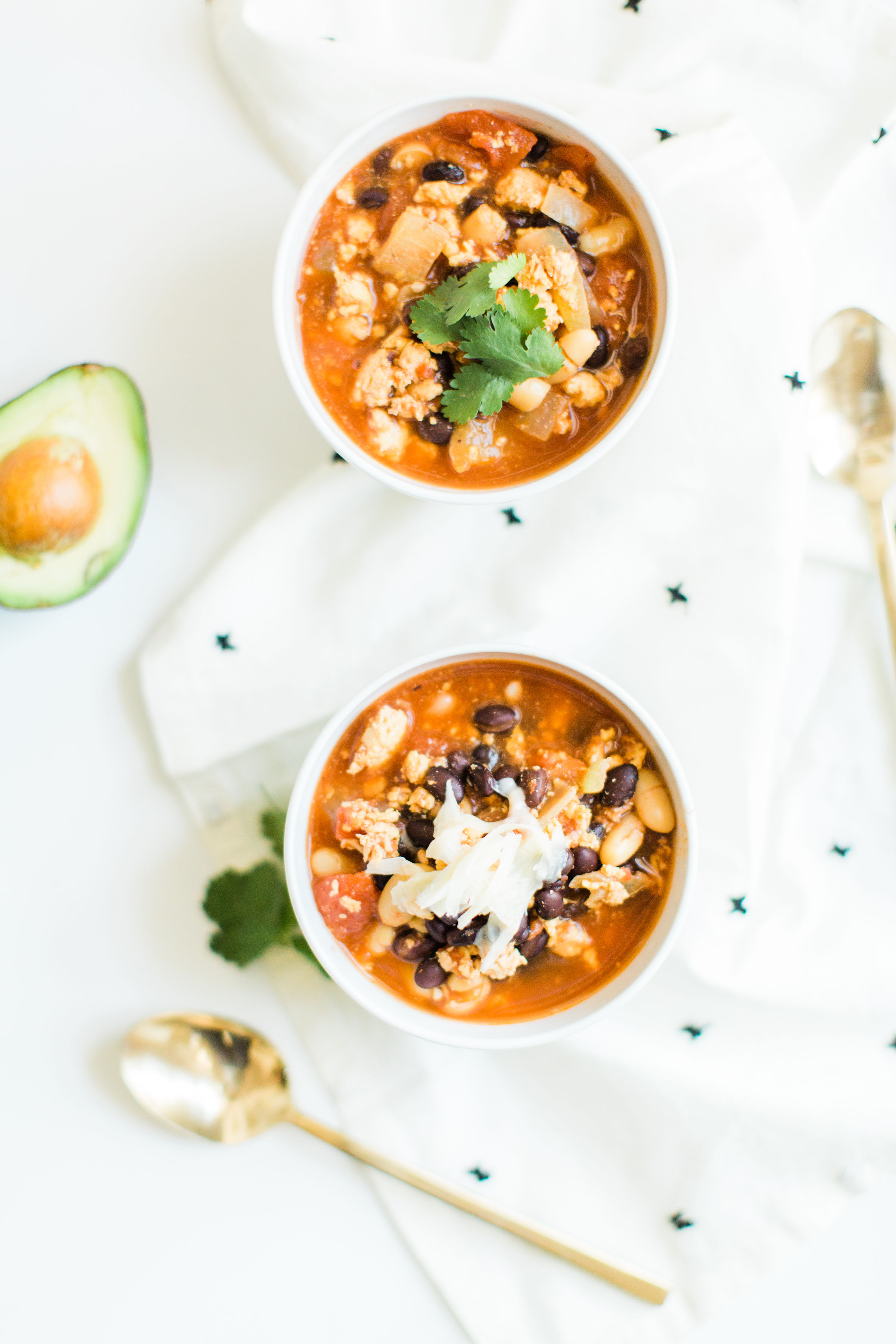 Love this recipe for ground chicken chili? Head to our recipe page to check out what else we're dreaming up in the kitchen! And if you're looking for more delicious dinners, these are a few of our favorite things to serve up for supper, including a vegetarian harvest chili that is insanely good.
SHOP THE CROCKPOT GROUND CHILI RECIPE POST. CLICK LEFT & RIGHT ARROWS TO EXPLORE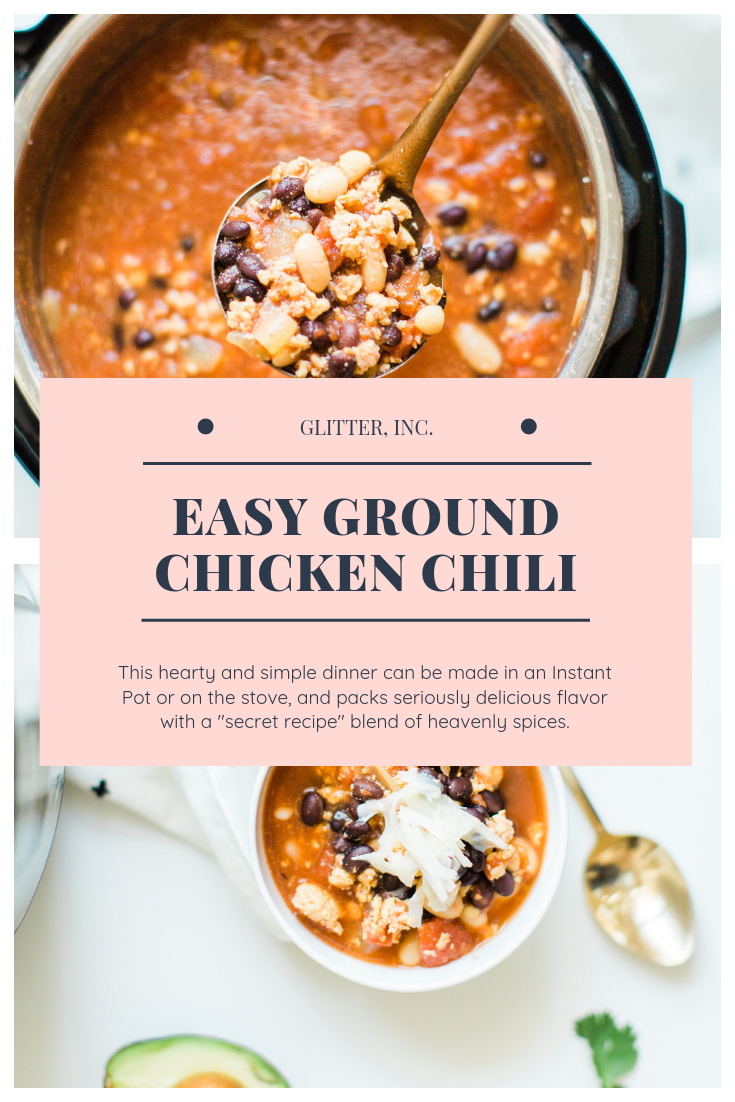 Photos by Annie Timmons Photography for Glitter, Inc.