This post contains affiliate links, which means that if you click on one of the product links, I'll receive a small commission. Additionally, as an Amazon Associate I earn from qualifying purchases. Thank you so much for clicking through and helping to support this little blog business of mine! Read more about our site, privacy, and disclosure policies here.
Summer is so close I can almost taste it. Today it was in the 80s and though it was good and hot, I kind of relished the sunshine. Curling up with a great summer read out on our back deck with a giant glass of iced tea (plus my faithful Stanley cup full of water and likely a forgotten cup of cold coffee too; because I am a drink hoarder after all), sounds like my ideal summer day.
Naturally, with that summer sunshine in mind, I'm rounding up a few great books to read this summer.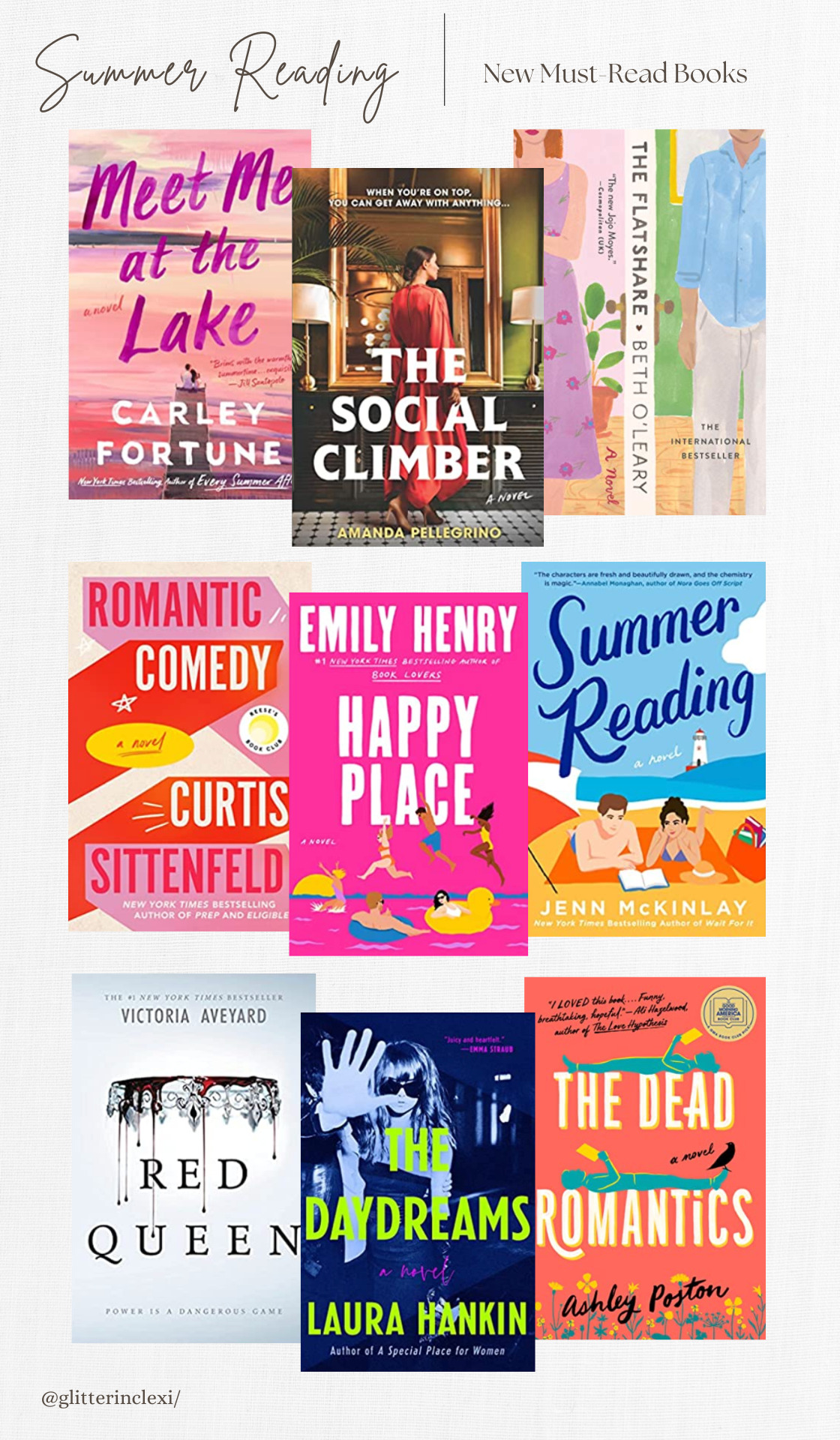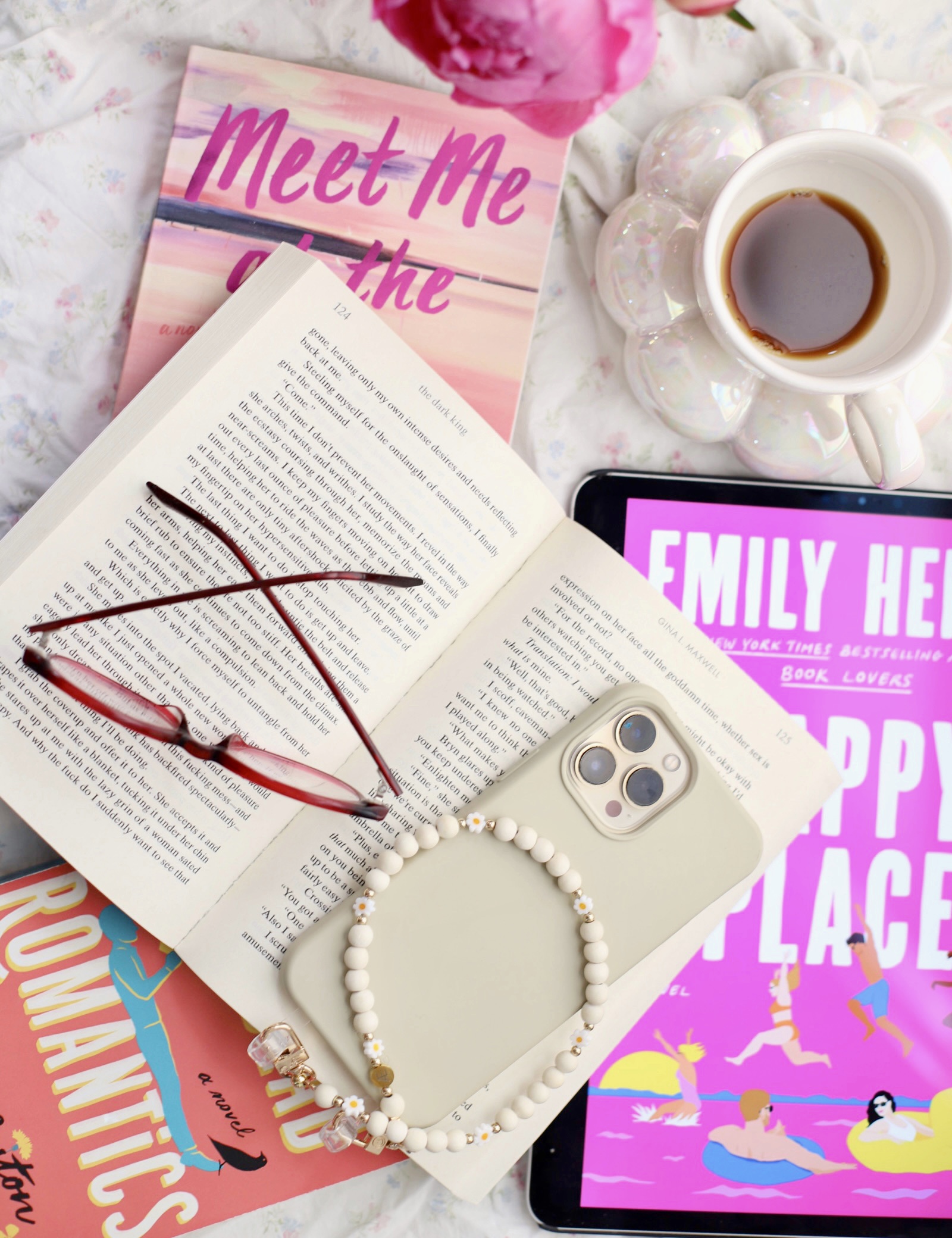 9 New Books to Read This Summer; a.k.a., the Best Summer Beach Reads
This one is actually sitting on my nightstand as we speak, ready for me to dive right in. I'll keep you all posted!
From Amazon:
A random connection sends two strangers on a daylong adventure where they make a promise one keeps and the other breaks, with life-changing effects, in this breathtaking new novel from the New York Times bestselling author of Every Summer After.

Fern Brookbanks has wasted far too much of her adult life thinking about Will Baxter. She spent just twenty-four hours in her early twenties with the aggravatingly attractive, idealistic artist, a chance encounter that spiraled into a daylong adventure in the city. The timing was wrong, but their connection was undeniable: they shared every secret, every dream, and made a pact to meet one year later. Fern showed up. Will didn't.
At thirty-two, Fern's life doesn't look at all how she once imagined it would. Instead of living in the city, Fern's back home, running her mother's lakeside resort—something she vowed never to do. The place is in disarray, her ex-boyfriend's the manager, and Fern doesn't know where to begin.
She needs a plan—a lifeline. To her surprise, it comes in the form of Will, who arrives nine years too late, with a suitcase in tow and an offer to help on his lips. Will may be the only person who understands what Fern's going through. But how could she possibly trust this expensive-suit wearing mirage who seems nothing like the young man she met all those years ago. Will is hiding something, and Fern's not sure she wants to know what it is.
But ten years ago, Will Baxter rescued Fern. Can she do the same for him?
Buy Meet Me at the Lake.
I can't stop hearing about this book and will definitely be adding it to my beach bag this summer.
From Amazon:
When you're on top, you can get away with anything…
It's the week before her wedding, and all of Eliza's meticulous planning is about to pay off. She's become the exact type of woman who would marry into the prominent, blue-blood Walker family – Ivy League credentials, a high-powered PR job, and a designer label wardrobe.
But as the big day approaches, secrets from Eliza's past attending an Evangelical college start to throw her true motives into question. Who exactly is Eliza Bennett and what does she really want?
Written in a breakneck pace, capturing the glittering, privileged world of the one-percenters, THE SOCIAL CLIMBER is a gripping novel of one woman's determination to seek justice at any cost.
Buy The Social Climber.
I actually just started reading Beth O'Leary's books maybe 6 months ago and The Flatshare was actually my gateway book. The writing is SO good, the characters are SO charming, and the stories are heartwarming in all of the right ways. I'm a total Beth O'Leary fan now, and you should be too!
From Amazon:
What if your roommate is your soul mate? A joyful, quirky romantic comedy, Beth O'Leary's The Flatshare is a feel-good novel about finding love in the most unexpected of ways.
Tiffy and Leon share an apartment. Tiffy and Leon have never met.
After a bad breakup, Tiffy Moore needs a place to live. Fast. And cheap. But the apartments in her budget have her wondering if astonishingly colored mold on the walls counts as art.
Desperation makes her open minded, so she answers an ad for a flatshare. Leon, a night shift worker, will take the apartment during the day, and Tiffy can have it nights and weekends. He'll only ever be there when she's at the office. In fact, they'll never even have to meet.
Tiffy and Leon start writing each other notes – first about what day is garbage day, and politely establishing what leftovers are up for grabs, and the evergreen question of whether the toilet seat should stay up or down. Even though they are opposites, they soon become friends. And then maybe more.
But falling in love with your roommate is probably a terrible idea…especially if you've never met.
Buy The Flatshare.
I have long been a fan of Curtis Sittenfeld. Prep remains one of my all-time favorite books, so I was eager to dive into Romantic Comedy. It did not disappoint. I got a deep dive behind-the-scenes look at SNL (the story is centered around a fictionalization version of the powerhouse late night show), and the characters were so interesting. There was also a very awesome love story that I couldn't stop myself from falling for. Such a good read.
From Amazon:
Sally Milz is a sketch writer for The Night Owls, a late-night live comedy show that airs every Saturday. With a couple of heartbreaks under her belt, she's long abandoned the search for love, settling instead for the occasional hook-up, career success, and a close relationship with her stepfather to round out a satisfying life.
But when Sally's friend and fellow writer Danny Horst begins dating Annabel, a glamorous actress who guest-hosted the show, he joins the not-so-exclusive group of talented but average-looking and even dorky men at the show—and in society at large—who've gotten romantically involved with incredibly beautiful and accomplished women. Sally channels her annoyance into a sketch called the Danny Horst Rule, poking fun at this phenomenon while underscoring how unlikely it is that the reverse would ever happen for a woman.
Enter Noah Brewster, a pop music sensation with a reputation for dating models, who signed on as both host and musical guest for this week's show. Dazzled by his charms, Sally hits it off with Noah instantly, and as they collaborate on one sketch after another, she begins to wonder if there might actually be sparks flying. But this isn't a romantic comedy—it's real life. And in real life, someone like him would never date someone like her . . . right?
With her keen observations and trademark ability to bring complex women to life on the page, Curtis Sittenfeld explores the neurosis-inducing and heart-fluttering wonder of love, while slyly dissecting the social rituals of romance and gender relations in the modern age.
Buy Romantic Comedy.
One of the most highly anticipated reads of the summer, it feels like author Emily Henry can do no wrong when it comes to the quintessentially, utterly devour-able beach read.
From Amazon:
A couple who broke up months ago pretend to still be together for their annual weeklong vacation with their best friends in this glittering and wise new novel from #1 New York Times bestselling author Emily Henry.

Harriet and Wyn have been the perfect couple since they met in college—they go together like salt and pepper, honey and tea, lobster and rolls. Except, now—for reasons they're still not discussing—they don't.

They broke up five months ago. And still haven't told their best friends.

Which is how they find themselves sharing a bedroom at the Maine cottage that has been their friend group's yearly getaway for the last decade. Their annual respite from the world, where for one vibrant, blissful week they leave behind their daily lives; have copious amounts of cheese, wine, and seafood; and soak up the salty coastal air with the people who understand them most.

Only this year, Harriet and Wyn are lying through their teeth while trying not to notice how desperately they still want each other. Because the cottage is for sale and this is the last week they'll all have together in this place. They can't stand to break their friends' hearts, and so they'll play their parts. Harriet will be the driven surgical resident who never starts a fight, and Wyn will be the laid-back charmer who never lets the cracks show. It's a flawless plan (if you look at it from a great distance and through a pair of sunscreen-smeared sunglasses). After years of being in love, how hard can it be to fake it for one week…in front of those who know you best?
Buy Happy Place.
From Amazon:
When a woman who'd rather do anything than read meets a swoon-worthy bookworm, sparks fly, making for one hot-summer fling in New York Times bestselling author Jenn McKinlay's new rom-com.
For Samantha Gale, a summer on Martha's Vineyard at her family's tiny cottage was supposed to be about resurrecting her career as a chef, until she's tasked with chaperoning her half-brother, Tyler. The teenage brainiac is spending his summer at the local library in a robotics competition, and there's no place Sam, who has dyslexia, likes less than the library. And because the universe hates her, the library's interim director turns out to be the hot-reader guy whose book she accidentally destroyed on the ferry ride to the island.
Bennett Reynolds is on a quest to find his father, whose identity he's never known. He's taken the temporary job on the island to research the summer his mother spent there when she got pregnant with him. Ben tells himself he isn't interested in a relationship right now. Yet as soon as Sam knocks his book into the ocean, he can't stop thinking about her.
An irresistible attraction blossoms when Ben inspires Sam to create the cookbook she's always dreamed about and she jumps all in on helping him find his father, and soon they realize their summer fling may heat up into a happily ever after.
Buy Summer Reading.
I actually just finished Red Queen (the audiobook version) and I really liked it. Victoria Aveyard has made a name for herself in the YA world on TikTok, and honestly, the book is solid proof she knows what she's doing. There was good character development, solid twists and turns (albeit somewhat expected, though still well done), and I can't wait to read the next book in the series (always a good sign!)
From Amazon:
Graceling meets The Selection in debut novelist Victoria Aveyard's sweeping tale of seventeen-year-old Mare, a common girl whose once-latent magical power draws her into the dangerous intrigue of the king's palace. Will her power save her or condemn her?
Mare Barrow's world is divided by blood–those with common, Red blood serve the Silver- blooded elite, who are gifted with superhuman abilities. Mare is a Red, scraping by as a thief in a poor, rural village, until a twist of fate throws her in front of the Silver court. Before the king, princes, and all the nobles, she discovers she has an ability of her own.
To cover up this impossibility, the king forces her to play the role of a lost Silver princess and betroths her to one of his own sons. As Mare is drawn further into the Silver world, she risks everything and uses her new position to help the Scarlet Guard–a growing Red rebellion–even as her heart tugs her in an impossible direction. One wrong move can lead to her death, but in the dangerous game she plays, the only certainty is betrayal.
Buy Red Queen.
From Amazon:
A deliciously entertaining novel about the stars of a popular teen show from the early 2000s—and the reunion special, thirteen years after their scandalous flameout, that will either be their last chance at redemption, or destroy them all for good.
Back in 2004, The Daydreams had it all: a cast of innocent-seeming teenagers acting and singing their hearts out, amazing ratings, and a will-they-or-won't-they romance that steamed up fan fiction forums. Then, during the live season two finale, it all imploded, leaving everyone scrambling to understand why.
Afterward, the four stars went down very different paths. Kat is now a lawyer in Washington, DC. Liana is the bored wife of a famous athlete. Noah, the show's golden boy, emerged unscathed and is poised to become a household name. And Summer, the object of Noah's fictional (and maybe real-life) affections, is the cautionary tale.
But now the fans are demanding a reunion special. The stars all have private reasons to come back: forgiveness, revenge, a second chance with a first love. But as they tentatively rediscover the magic of the original show, old secrets threaten to resurface—including the real reason behind their downfall.
Will this reunion be a chance to make things right? Or will it be the biggest mess the world has ever seen? No matter what, the ratings will be wild.
Buy The Daydreams.
This is another book I can't wait to dive into (and is sitting in my tote bag as I type!)
From Amazon:
A disillusioned millennial ghostwriter who, quite literally, has some ghosts of her own, has to find her way back home in this sparkling adult debut from national bestselling author Ashley Poston.
Florence Day is the ghostwriter for one of the most prolific romance authors in the industry, and she has a problem—after a terrible breakup, she no longer believes in love. It's as good as dead.
When her new editor, a too-handsome mountain of a man, won't give her an extension on her book deadline, Florence prepares to kiss her career goodbye. But then she gets a phone call she never wanted to receive, and she must return home for the first time in a decade to help her family bury her beloved father.
For ten years, she's run from the town that never understood her, and even though she misses the sound of a warm Southern night and her eccentric, loving family and their funeral parlor, she can't bring herself to stay. Even with her father gone, it feels like nothing in this town has changed. And she hates it.
Until she finds a ghost standing at the funeral parlor's front door, just as broad and infuriatingly handsome as ever, and he's just as confused about why he's there as she is.
Romance is most certainly dead . . . but so is her new editor, and his unfinished business will have her second-guessing everything she's ever known about love stories.
Buy The Dead Romantics.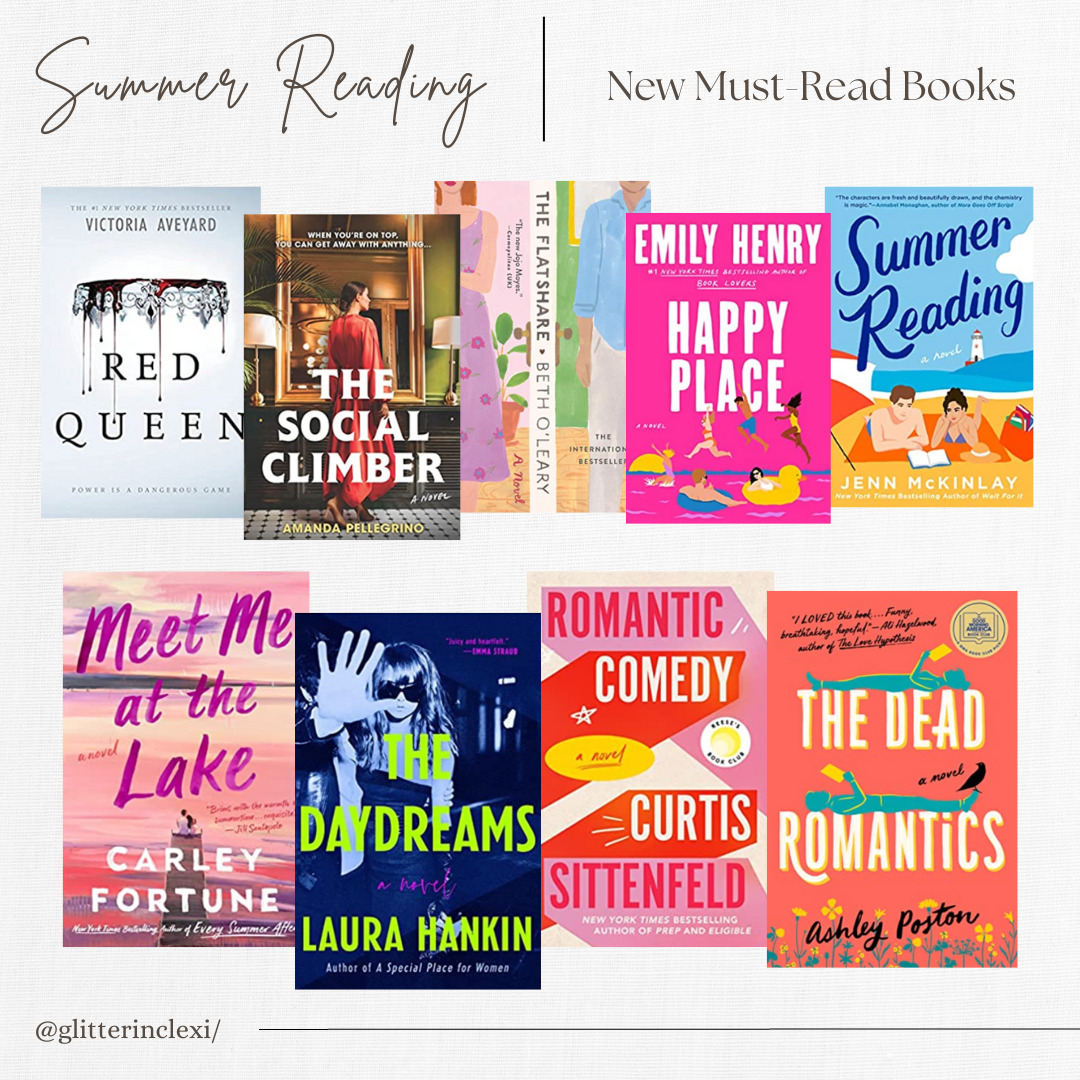 What are you reading this summer? Have you read any of these noteworthy beach reads? What did you think?
SHOP 9 NEW BOOKS TO READ THIS SUMMER | CLICK LEFT & RIGHT ARROWS TO EXPLORE

So grab a glass of iced tea, curl up outside, and dive into one of these must-read books this summer. Then head back to this post, or find me on social media (on Instagram, Facebook, and Twitter ), and let me know which book was a standout favorite for you. You can tell me what you think by tagging your picture and/or review with #GlitterBookClub on Instagram!