I wish I could properly put into words how amazing this chocolate chip snack cake is. Or how decadent it is. Or how something so simple could taste so darn good. But I'll do my best.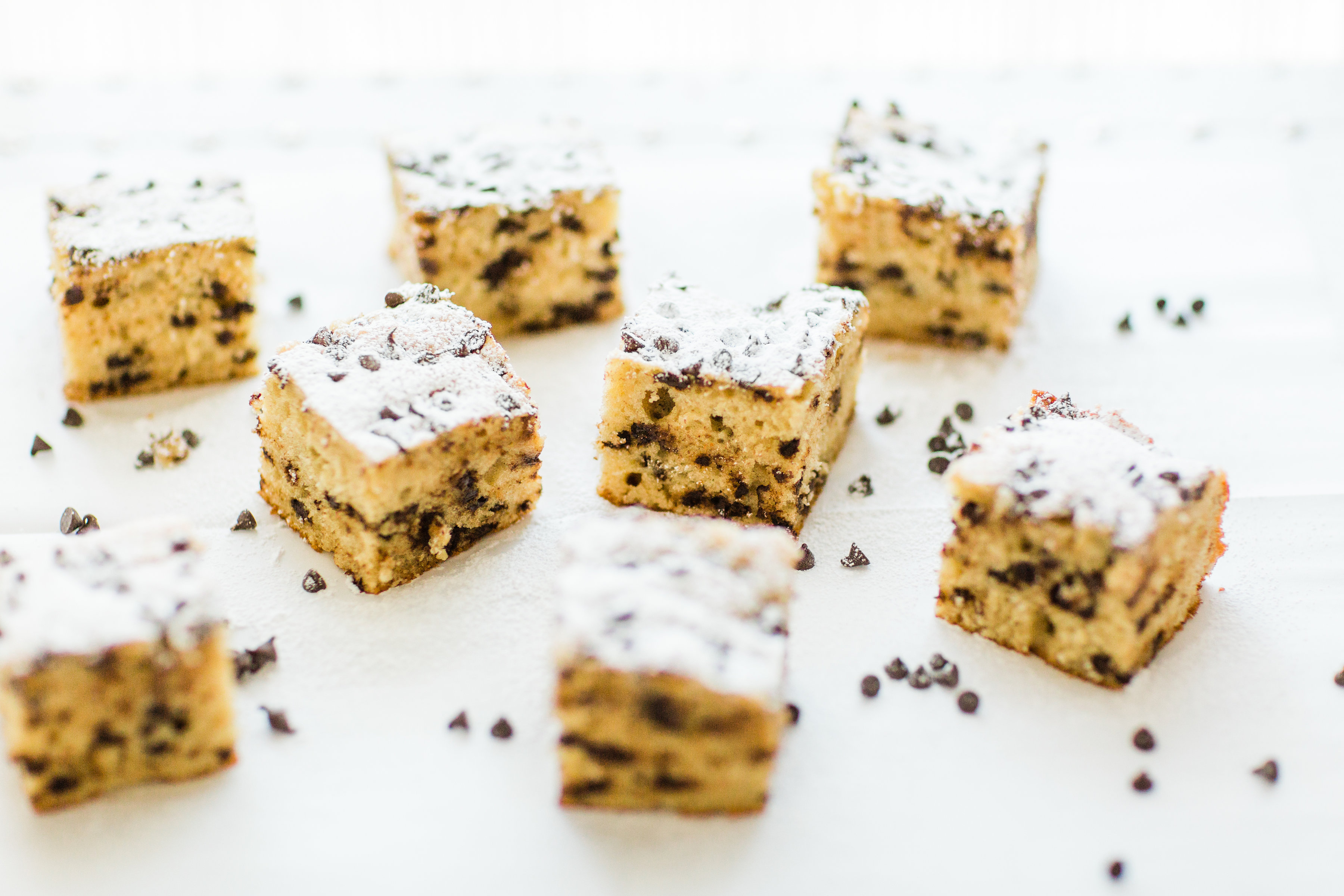 I should start by telling you that I'll admit, I've always loved a classic, buttery cake. Give me a sour cream or pound cake any day over something overly sweet. There's something about that rich sour cream taste in old-fashioned cake recipes that I can't get enough of. My husband, on the other hand, loves anything swirled in sugar, covered in sugar, dripped, stuffed, and drowned in sugar. Which makes this chocolate chip snack cake delightfully surprising, and quite literally, the best of both worlds. We both absolutely love it.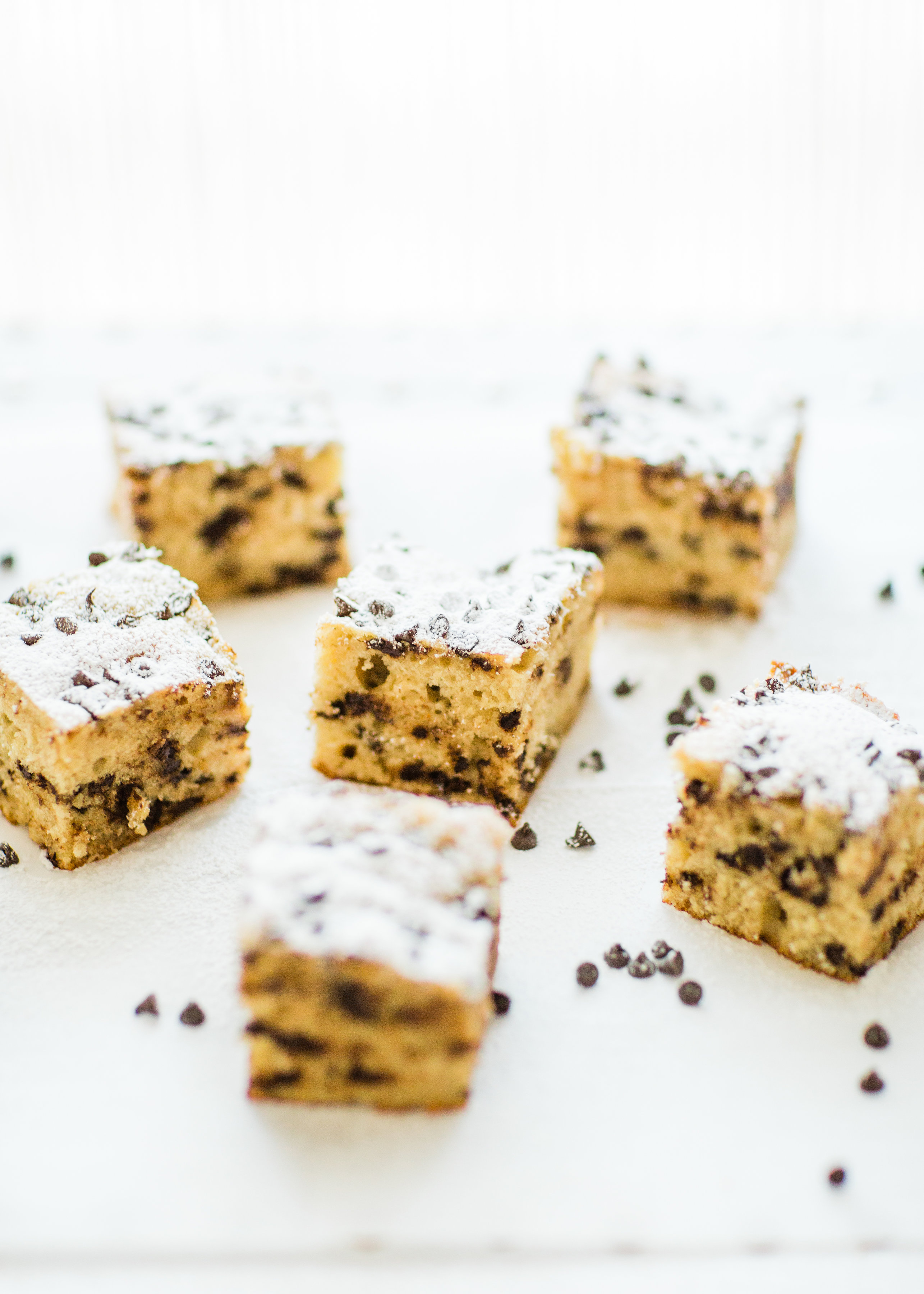 This chocolate chip snack cake is so simple, and so good. It's a classic, soft, buttery, heavenly, moist cake, with the perfect hint of vanilla-goodness; then it's amplified times about a thousand with little flecks of chocolate chips studded all throughout it. Every inch is warm, gooey, and incredible, especially with those mini chocolate chips bursting through every bite. We're talking warm, gooey, and incredible. Because although the cake is soft, fluffy and so moist at any temperature; served warm, every bite is filled with a heavy smattering of melty chocolate chips. It's positively scandalous. Seriously, good luck trying to let this cake cool before you dig in for a thick slice of heaven.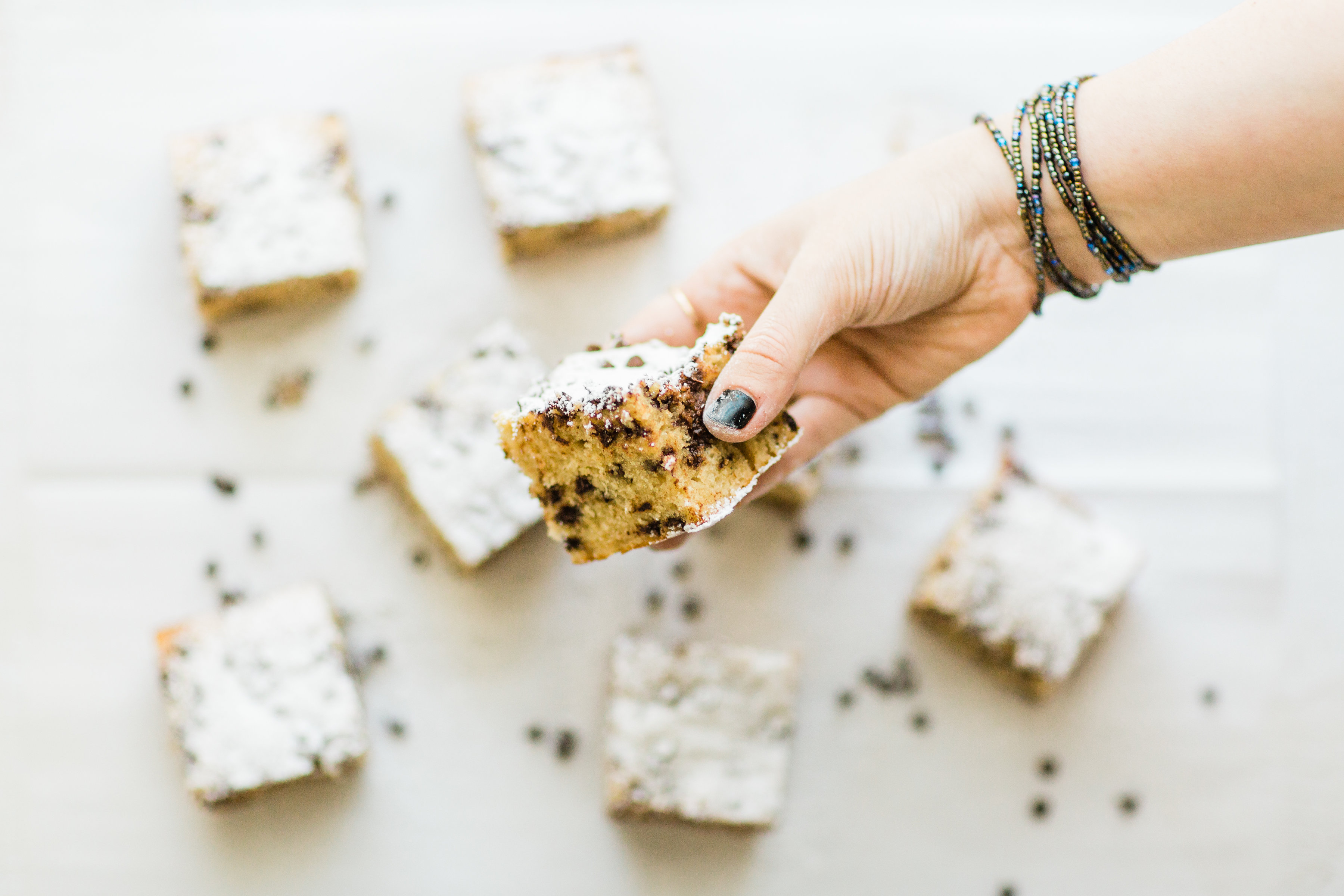 That's the beauty of a classic snack cake recipe I suppose. Without being overly complex or very involved at all, the end result is one of the most delicious cakes around. I'm not sure how something so simple can taste SO good, but it just does. It's easily a favorite cake recipe of mine.
And there's a bit of nostalgia to this snack cake. The little squares remind me of childhood. Aside from the sweet memories of my mom baking up a delicious cake, all warm and melty out of the oven, I love the "snack" like quality of this cake in particular. It's the perfect lunchbox cake, in perfect little squares.
Because it bakes up thick and fluffy in a square 8×8 inch baking pan, it's best to cut the cake into small, thick squares; perfect for snacking. Sneak a square into your little one's lunchbox, and you'll be the coolest mom in town. Then, once everyone is off for the day, serve yourself a square with a big cup of coffee and pat yourself on the back for being a baking wizard. (Even though, I promise you, this cake is not hard to make.)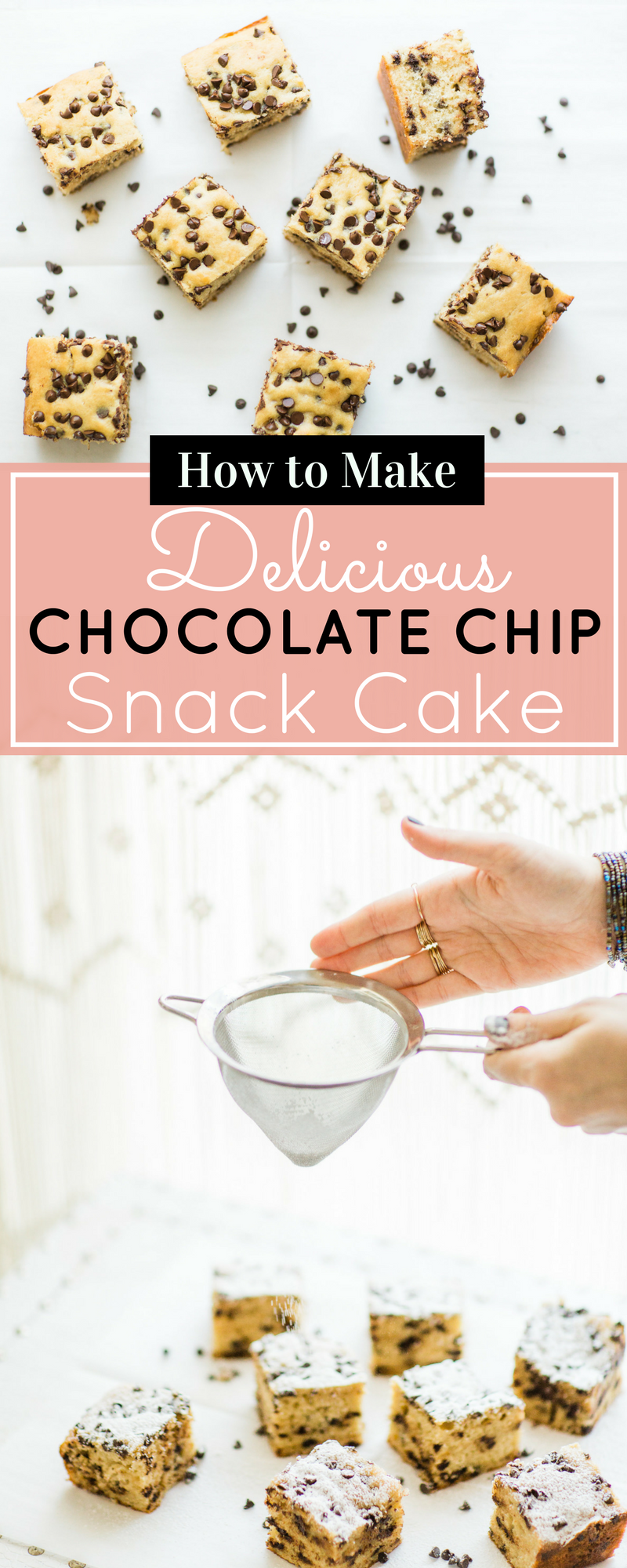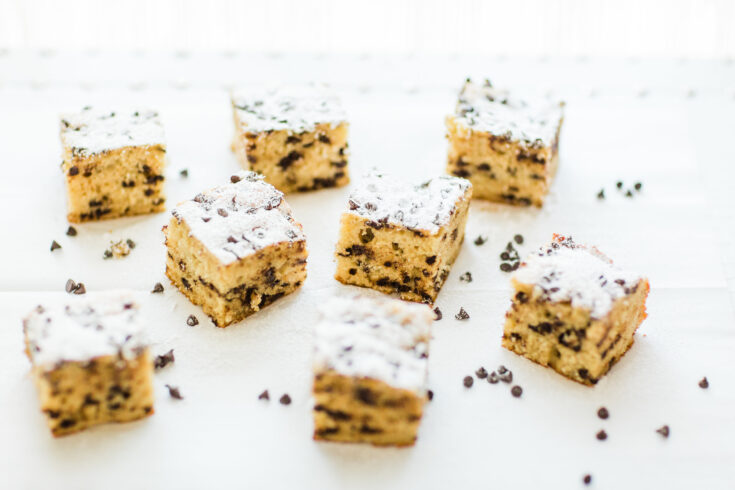 Yield:
Chocolate Chip Snack Cake
Ingredients
Snack Cake
1/2 cup butter, softened
1/2 cup granulated sugar
1/2 cup brown sugar
2 eggs
1 1/2 tsp vanilla
1 1/2 cups all purpose flour
1/2 tsp baking soda
2 tsp baking powder
1/2 tsp cinnamon
1/4 tsp salt
1 cup of greek yogurt or sour cream
1 cup semi-sweet chocolate chips
Vanilla Glaze (Optional)
3/4 cup powdered sugar
1-2 tbsp milk or water
1-2 drops of vanilla
Instructions
Preheat your oven to 350 degrees and grease a 8×8 inch square baking pan with either butter or baking spray.
In a large mixing bowl, cream together butter and sugars with an electric mixer until fluffy. Add in eggs one at a time, beating well and scraping down the sides of the bowl between each addition. Once all of the eggs have been added, beat on high until fluffy. Beat in vanilla.
In a small mixing bowl, whisk together flour, baking soda, baking powder, cinnamon and salt.
Add 1/3 of the dry ingredients to the wet ingredients and mix on low until just combined. Add in 1/2 of the greek yogurt or sour cream and mix until just combined. Add another 1/3 of the dry ingredients and mix on low to just combine. Add in remaining yogurt or sour cream and mix to just combine. Scrape down the sides of your bowl and add the last of the remaining dry ingredients and beat on low just until there are no lumps in your batter, being careful not to over-mix.
With a spatula fold in 3/4 cup of the chocolate chips. Pour batter into prepared cake pan and top cake batter with the remaining 1/4 cup of chocolate chips.
Bake for 30-40 minutes or until the top is light golden brown and the center of the cake springs back to the touch. Remove from the oven and set on a wire rack to cool.
Allow the cake to cool for at least ten minutes (I know it's tough!) and then cut and serve in squares. The cake really is incredible warm out of the oven, so we never really let it cool for very long. 😉
OPTIONAL Vanilla Frosting: Whisk together icing sugar and water until smooth. You want a fairly runny, pourable consistency, so add more water or icing sugar to achieve that. Pour the glaze over top of the cake and allow it to set while the cake cools a bit.
Recipe adapted via The Sweet and Simple Kitchen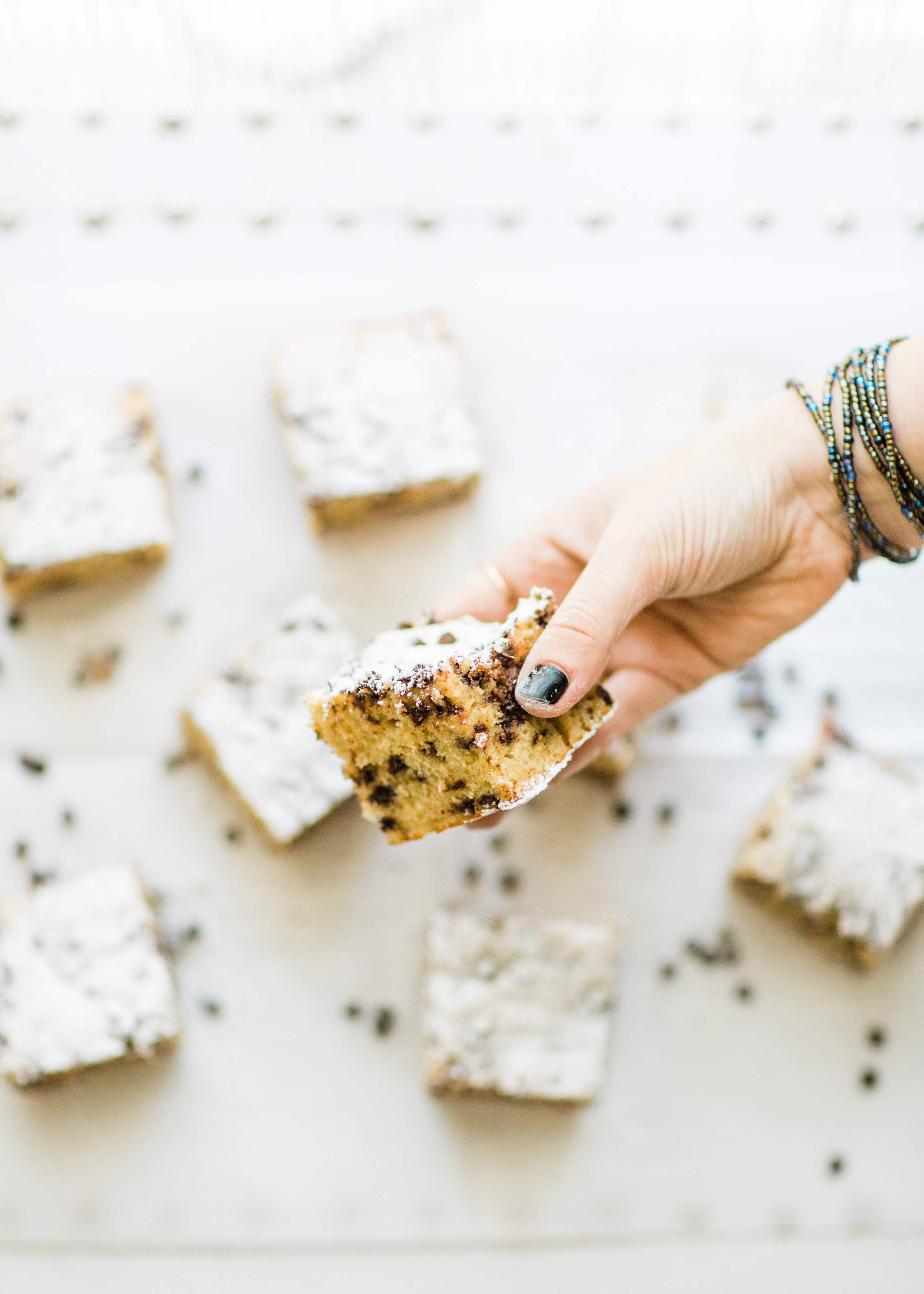 This chocolate chip snack cake stores really well – be sure to keep it in an airtight container to lock in all of that moisture.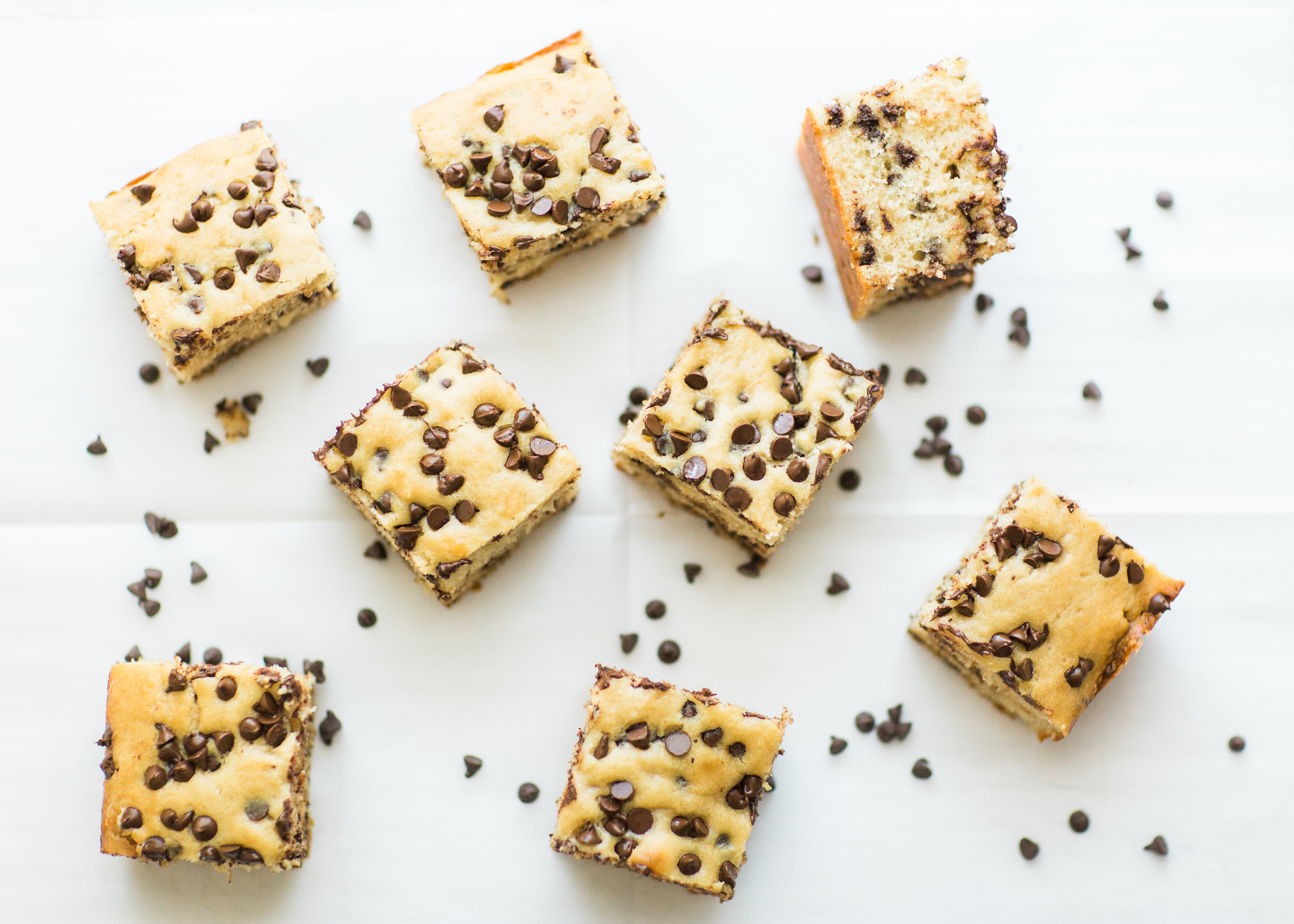 Just look at all of that chocolate!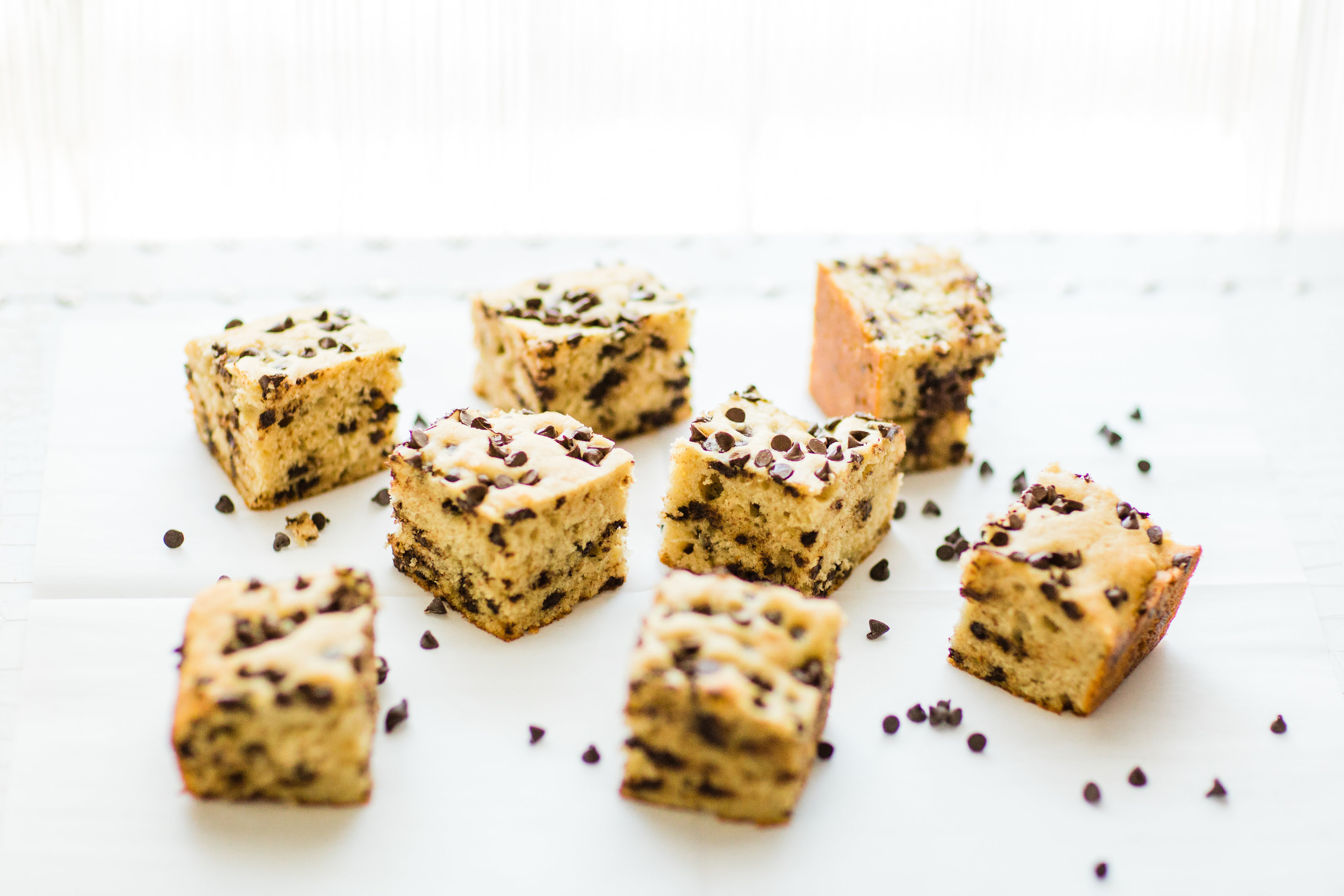 I'm probably going to have to make this again. As in, right now.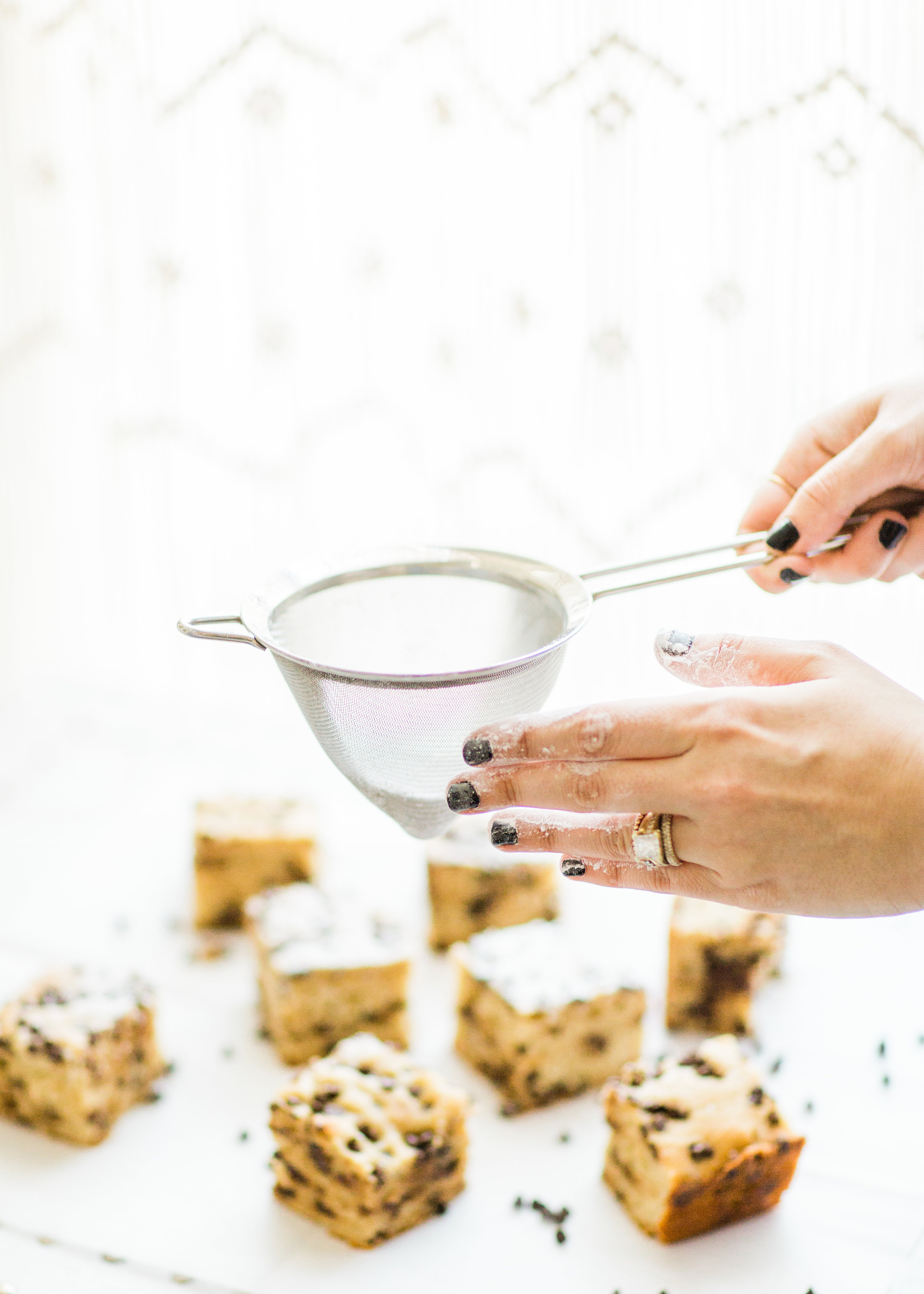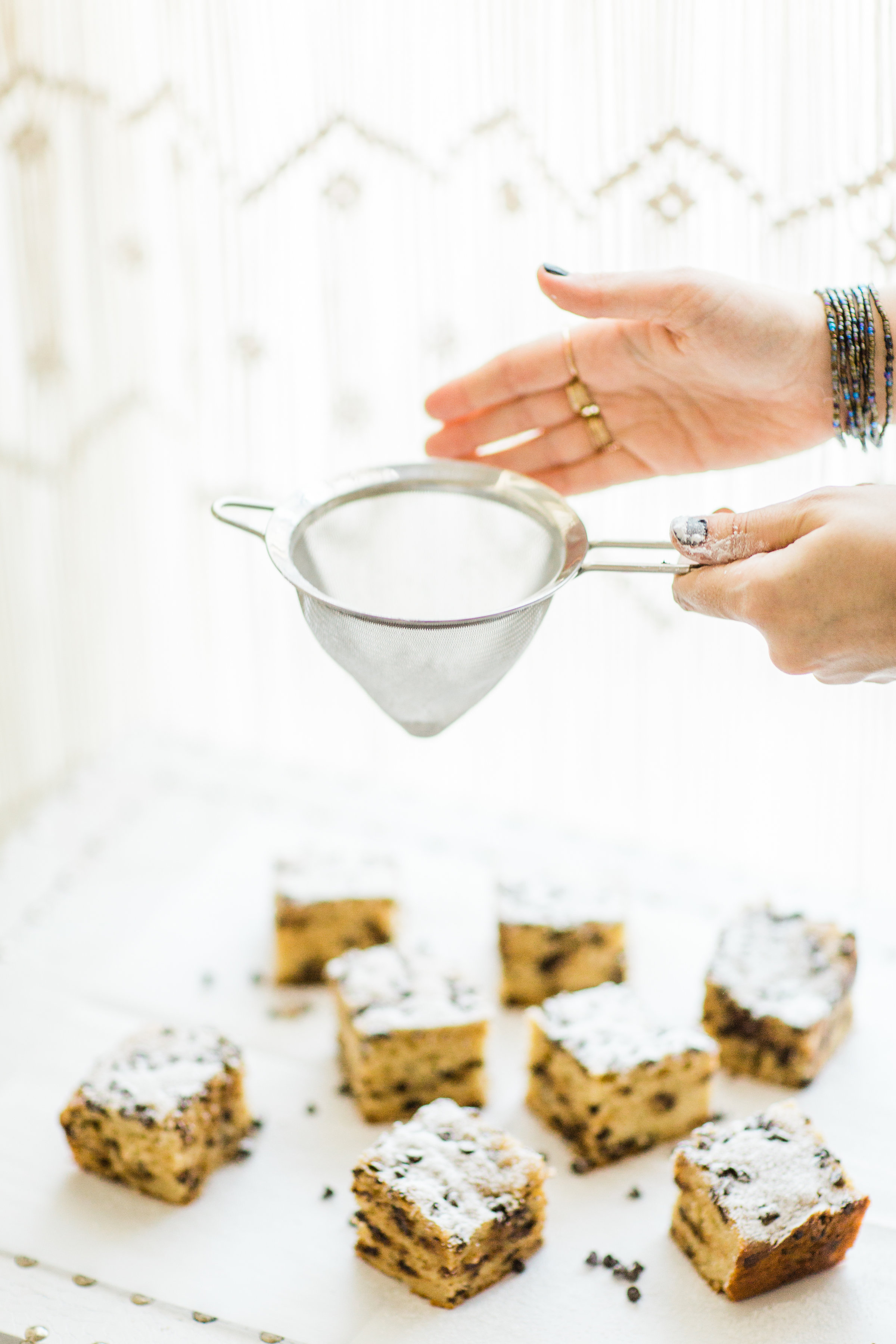 You can also add a vanilla glaze to this cake, though I typically make it without it (mostly because everyone wants to dig in the second this cake comes out of the oven!). A dusting of powdered sugar works beautifully on this cake – because it's plenty sweet and moist all on it's own. If you're dreaming of that vanilla glaze, just whisk together 3/4 cup of powdered sugar, 1-2 tablespoons of milk or water, and a couple drops of vanilla, and pour over your warm-out-of-the-oven cake.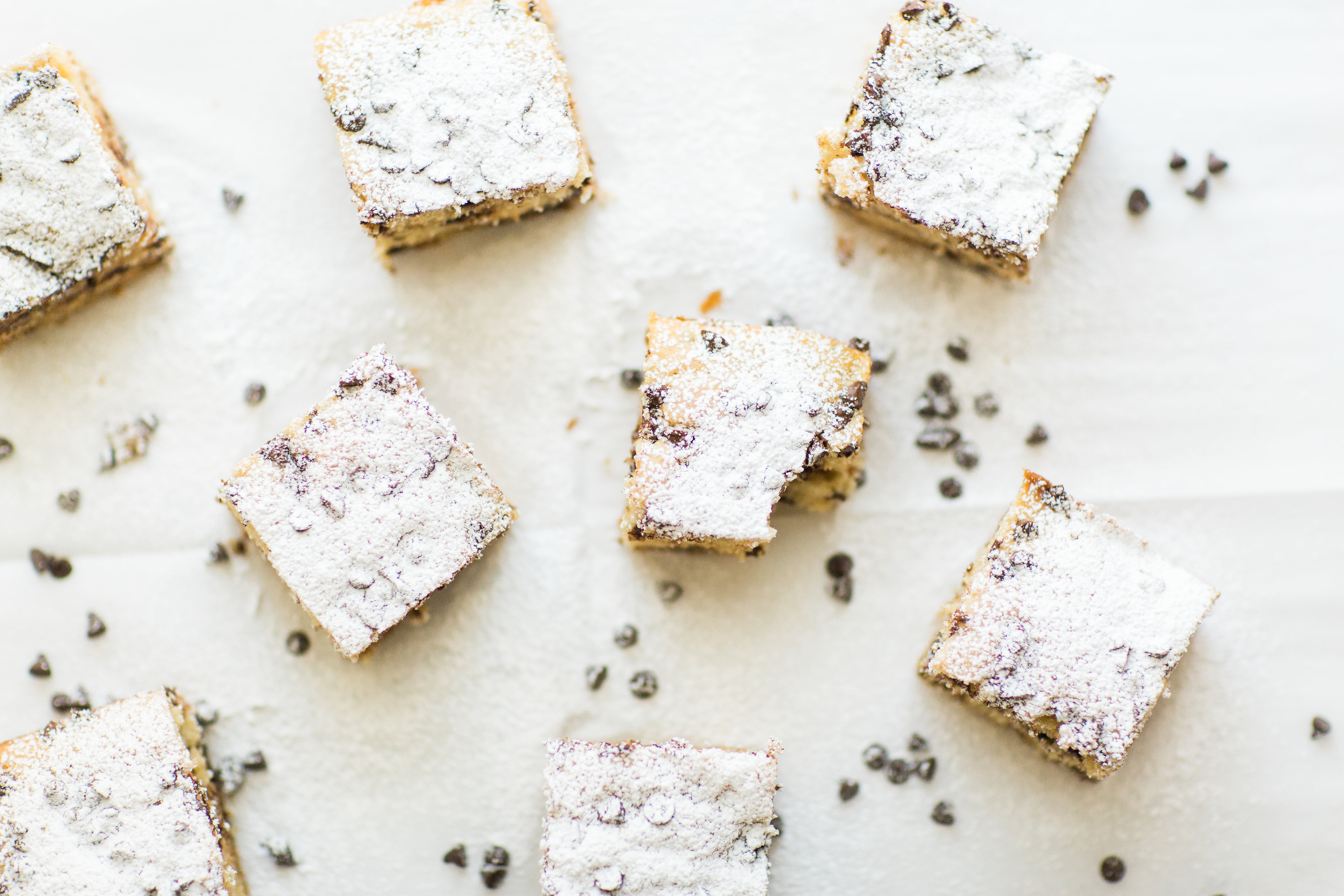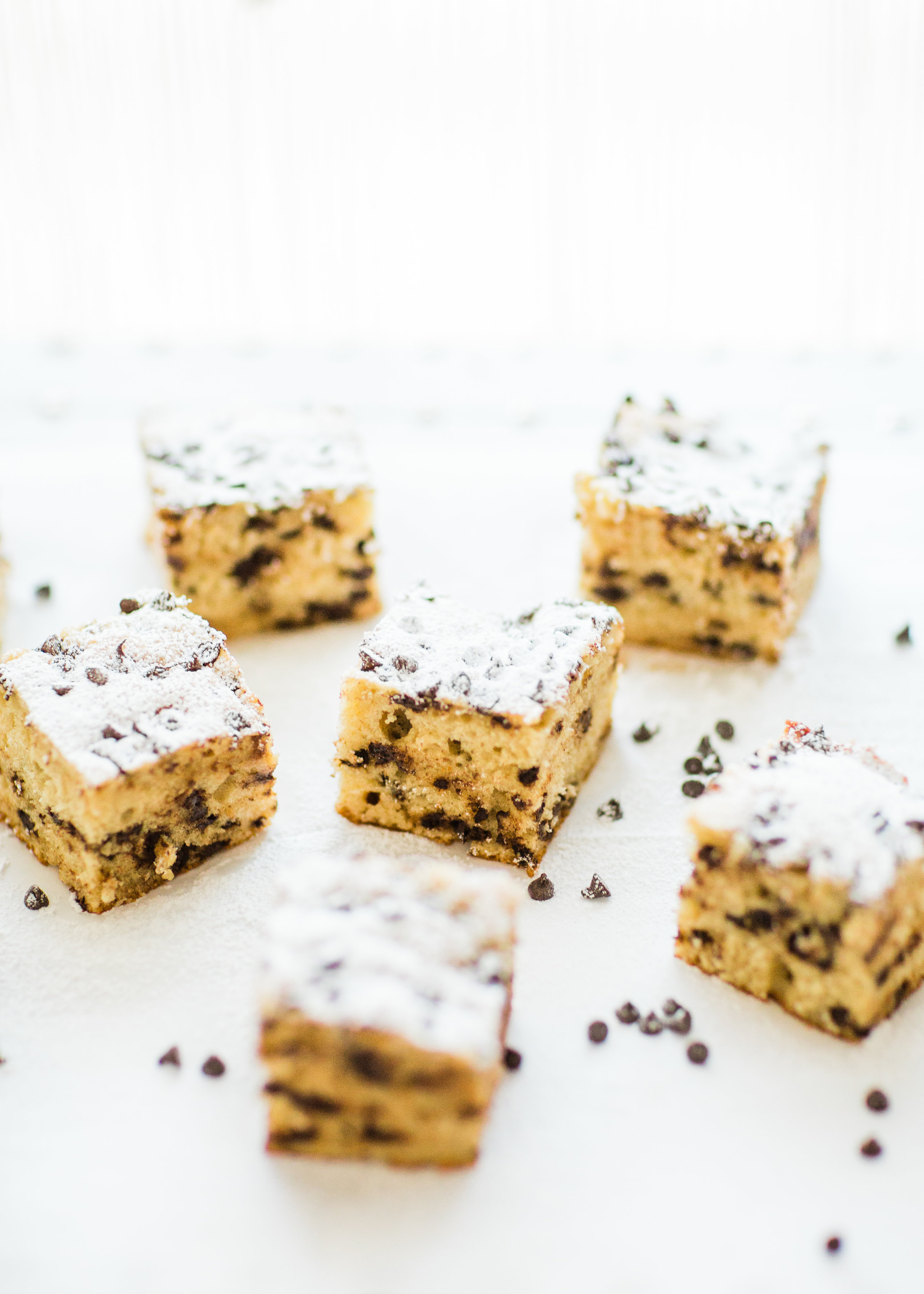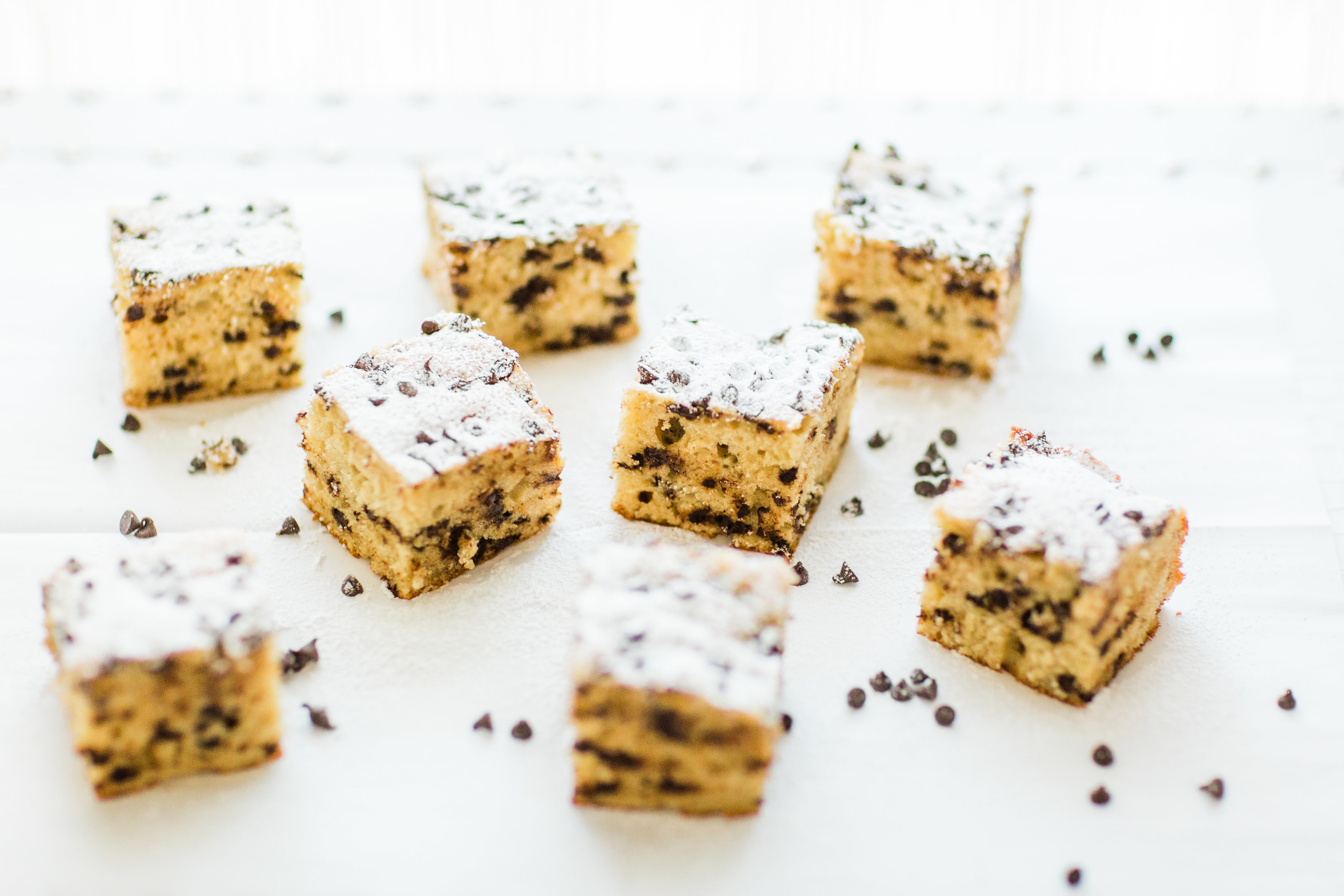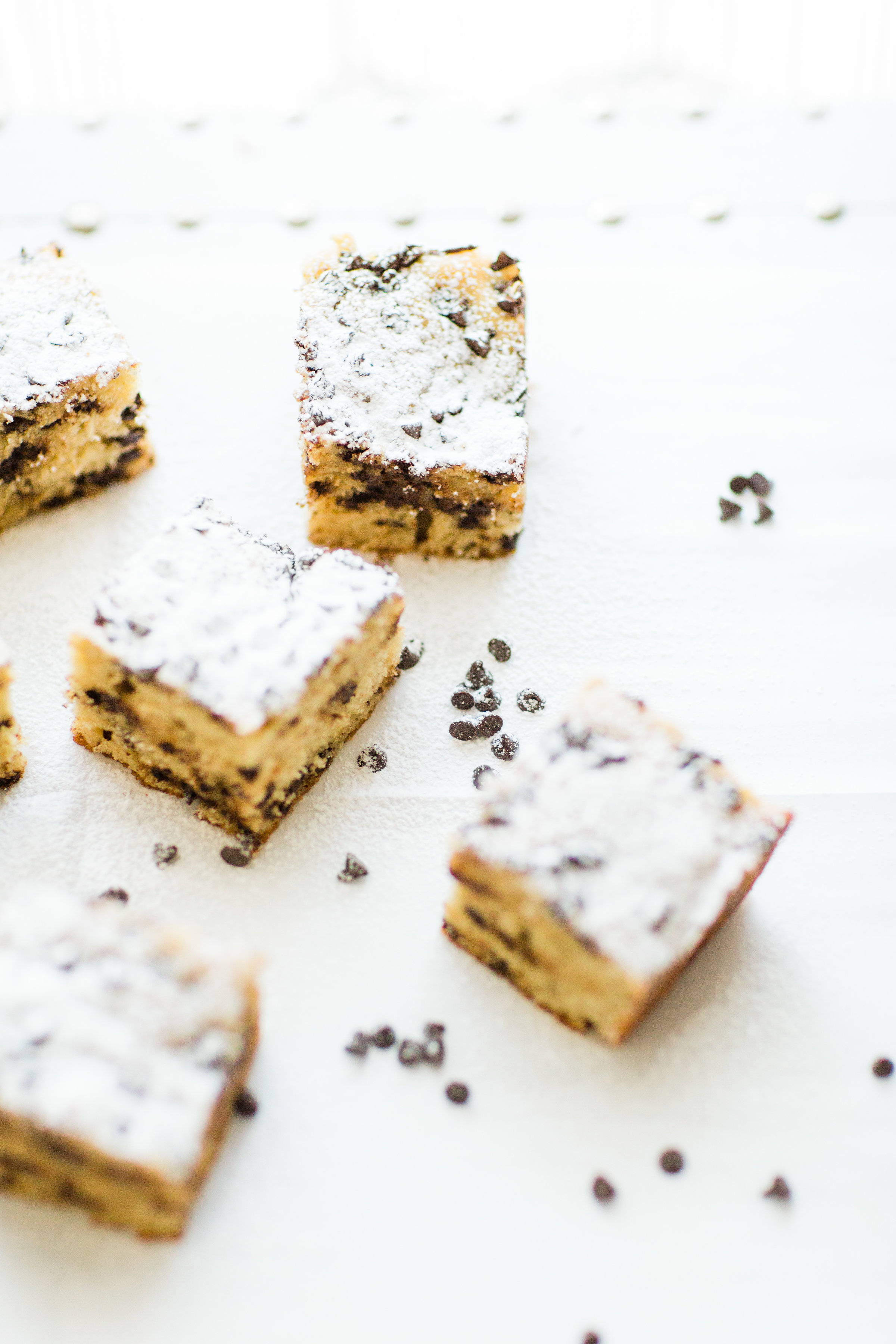 You really can't go wrong here.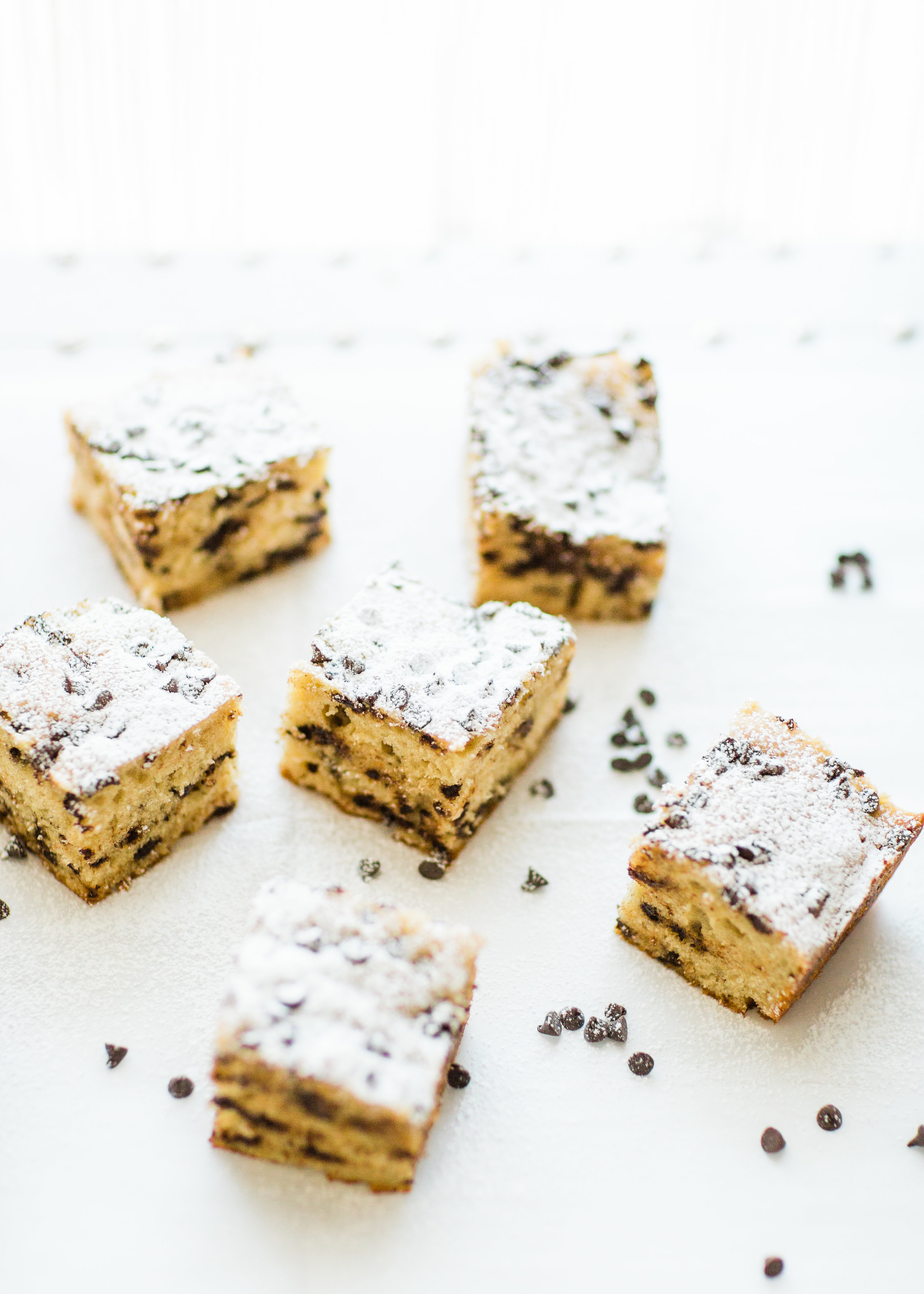 If you make your own chocolate chip snack cake, be sure to tag me on social media (@glitterinclexi) so I can live vicariously through all of your sweet creations!
Love this cake? Head to our recipe page to check out what else we're whipping up in the kitchen!
Photos by Annie Watts Photography for Glitter, Inc.
This post contains affiliate links, which means that if you click on one of the product links, I'll receive a small commission. Thank you so much for clicking through and helping to support this little blog business of mine! Read more about our site, privacy, and disclosure policies here.