This post contains affiliate links, which means that if you click on one of the product links, I'll receive a small commission. Thank you so much for clicking through and helping to support this little blog business of mine! Read more about our site, privacy, and disclosure policies here.
Looking for a delicious one-pot 30-minute vegetarian dinner your whole family will love? Pasta e Ceci; a.k.a., the classic Roman recipe for hearty pasta and chickpeas are the modern day healthy Spaghettios. And OH MY GOSH, they are good!
A few months back I stumbled upon a recipe over on Smitten Kitchen called pasta e ceci; a.k.a., pasta and chickpeas. I was intrigued by the classic Roman recipe, and kept thinking my girls would go crazy for the little O-shaped noodles. I loved the idea of a healthier version of Spaghettios. A classic I totally loved growing up, but one that I haven't been able to give my girls since our oldest, Scarlett, can't have any milk protein (yep … there's dairy in Spaghettios … Whomp, whomp).
In addition to being totally adorable, this recipe is the perfect weeknight (or easy weekend) dinner because it can be made in about 30 minutes all in one pot, is vegetarian but still full of good protein from the addition of chickpeas, and kids LOVE it. Seriously, our girls absolutely gobbled this easy dinner up. And I may be just as obsessed as they are.
That's my kind of meal!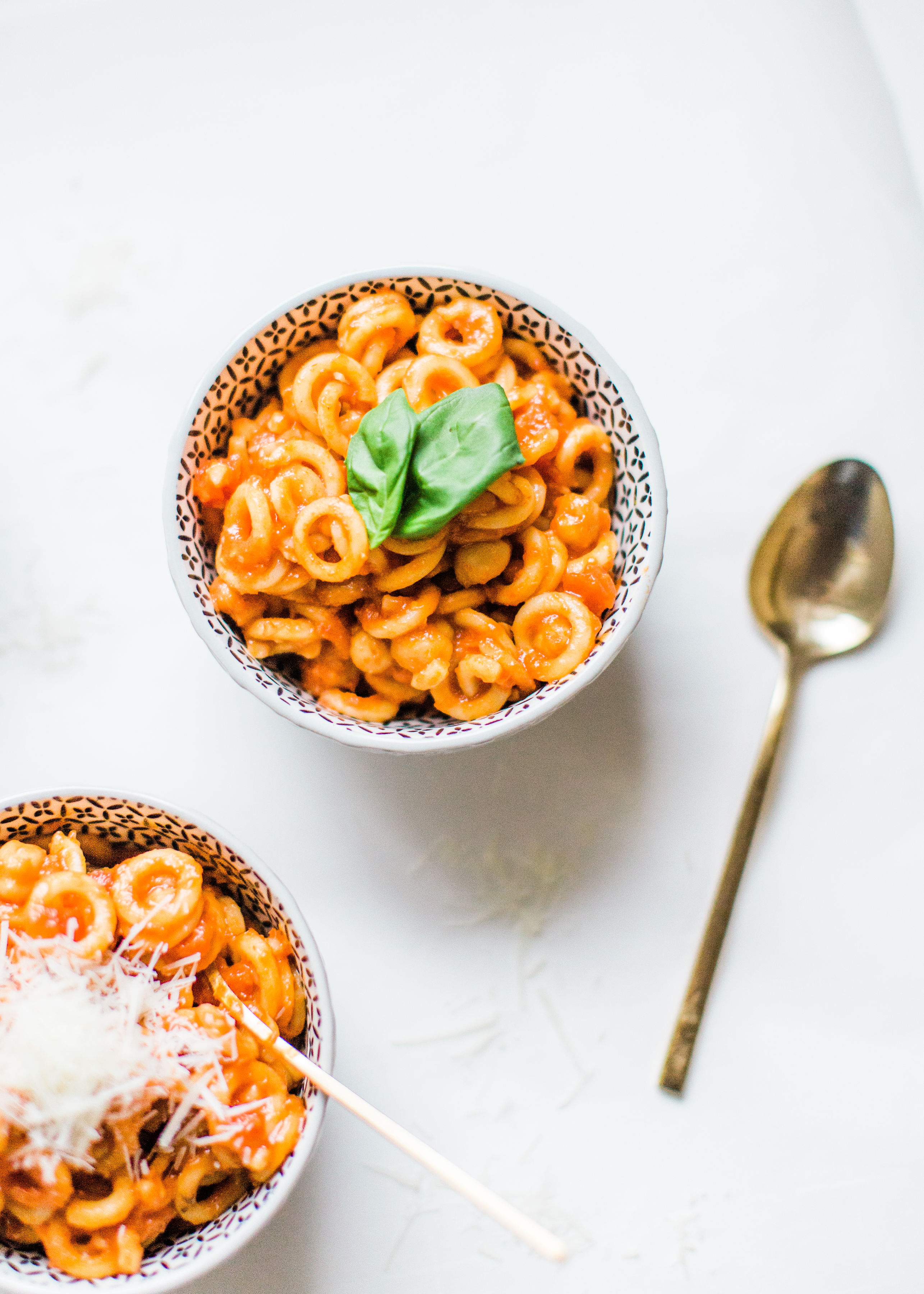 Finally, one very cold day of late, I decided to try my hand at these one-pot healthier grownup Spaghettios, as I took to calling them. I got lucky, and found a bag of the pasta Os, a.k.a., annellini, at our local Fresh Market. Of course, once I was back home I realized that Amazon actually carries bags of the pasta as well.
I'm a chickpea fanati! Also, things like garlic, tomato puree, and crushed tomatoes are pretty much always in our pantry. Winning.
The whole dish comes together really easily and honestly, the result is just so darned good. I'm kind of amazed that something so simple can taste so rich and flavorful.
Cooking the raw pasta and chickpeas in the water, tomatoes, and garlic all at once creates a hearty, thick, stew-like tomato sauce that coats everything so well. Despite my picky four year-olds insistence that she doesn't like chickpeas, she ate her whole bowl. If you've got a picky eater on your hands – particularly one who refuses a lot of protein – pasta e ceci might be your parenting/dinner-time secret weapon.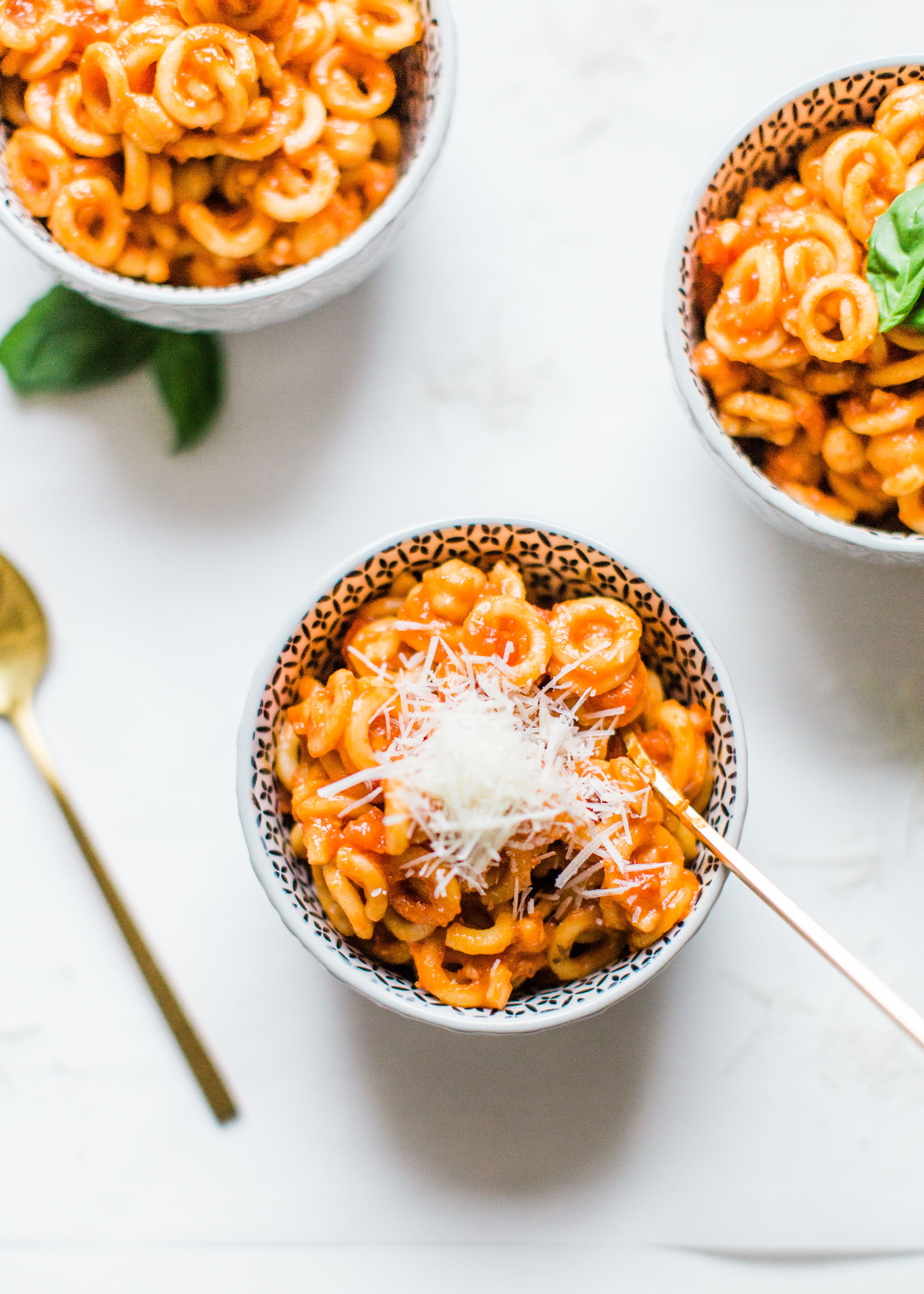 If you really want to up the flavor, throw a rind of parmesan in the pot while everything is cooking (and remove before serving), or top your bowl of pasta e ceci with a healthy sprinkling of shaved parmesan. Obviously, if you want to keep the dish vegan (rather than just vegetarian), skip the cheese.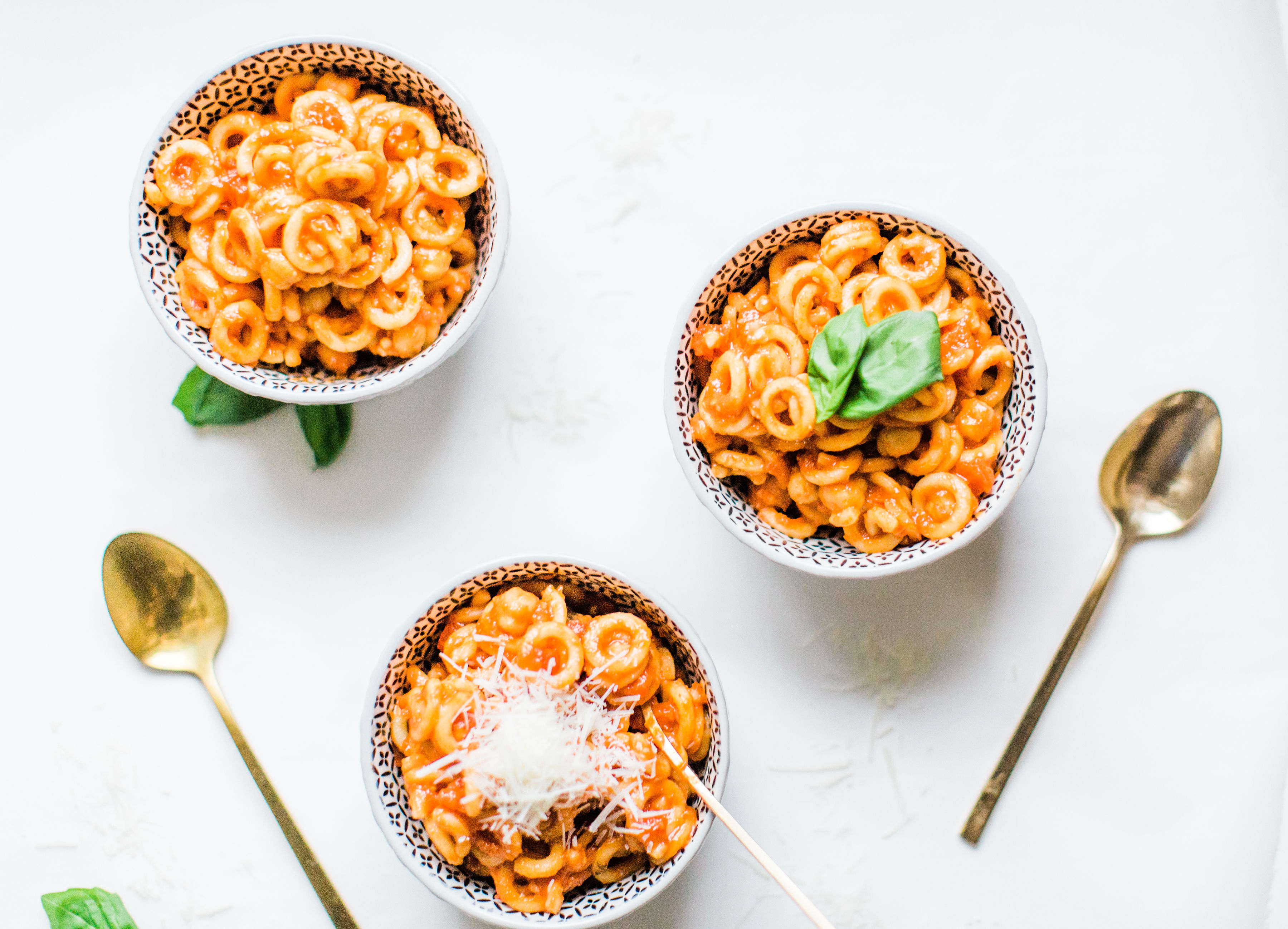 Now let's talk about how to make this simple meal!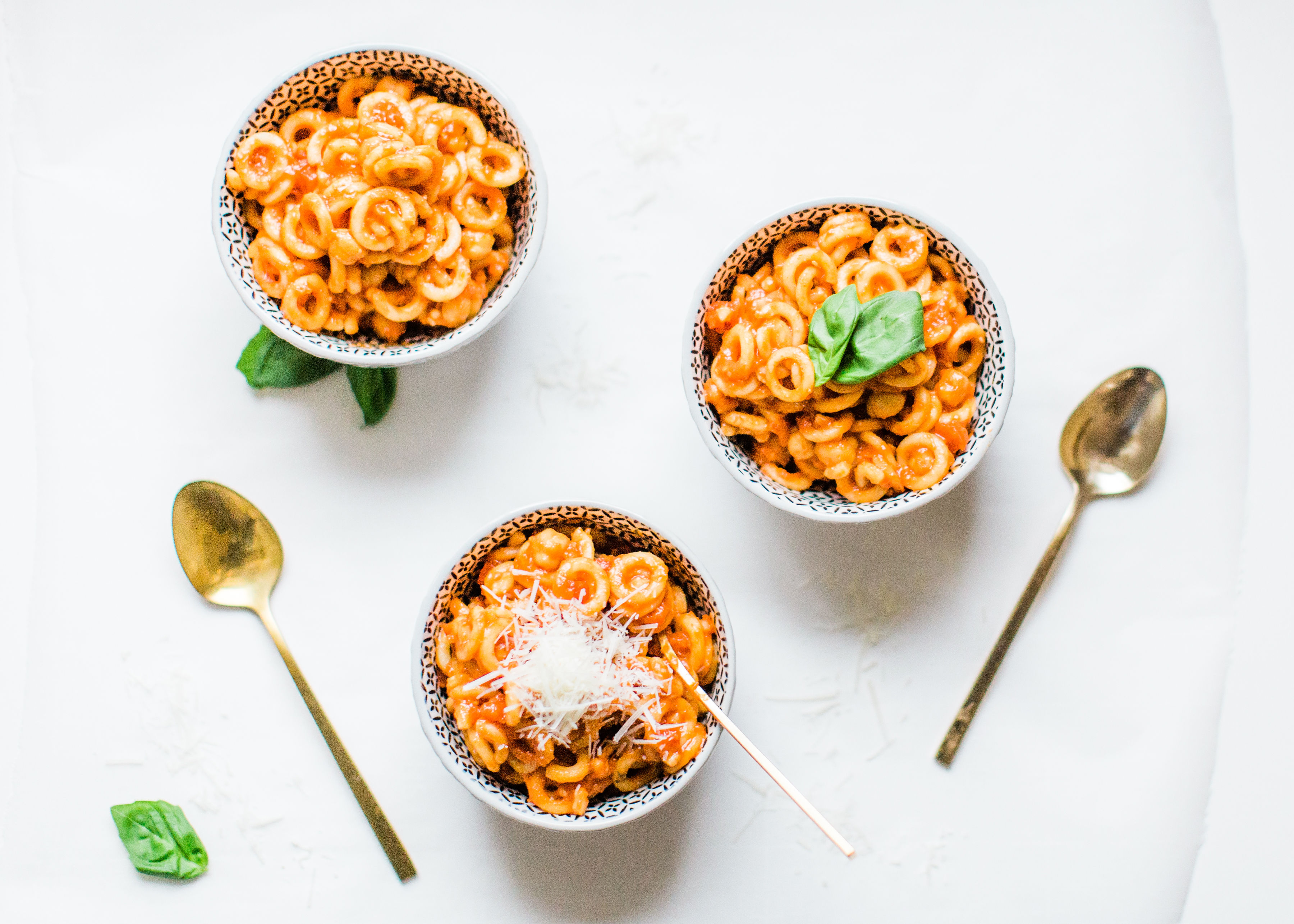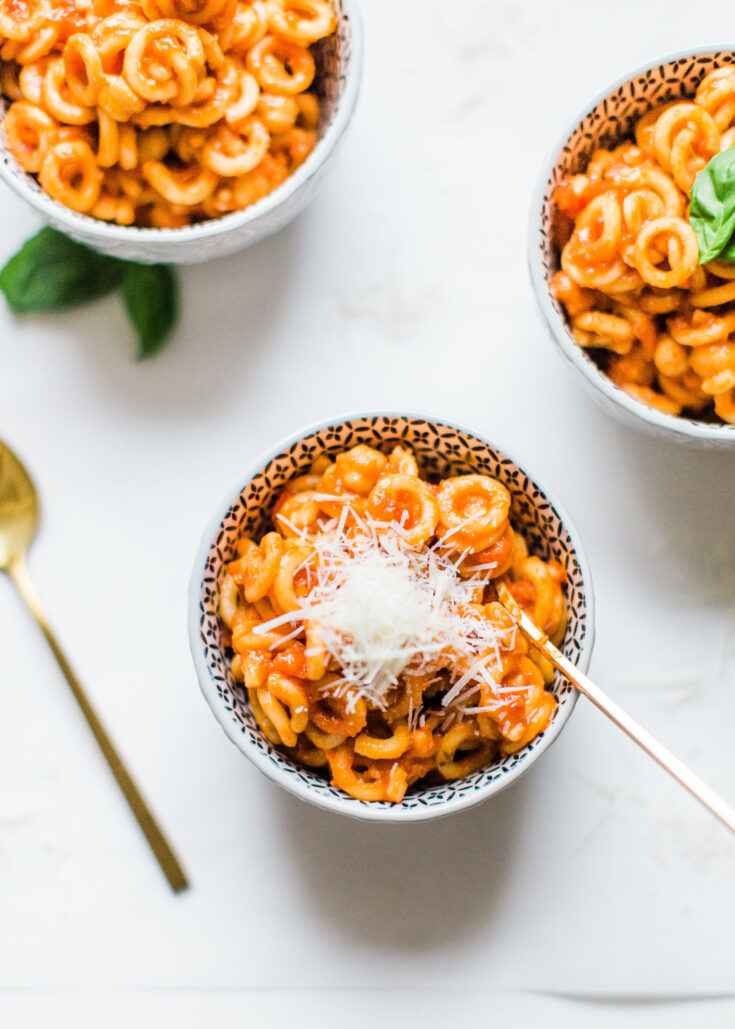 Yield:

4-5 servings
Pasta e Ceci; a.k.a., Pasta and Chickpeas
Ingredients
2 tablespoons olive oil
2 cloves garlic, peeled and diced
1 small can of tomato paste
1-2 teaspoons kosher salt, plus more to taste
Freshly ground black pepper, to taste
1 or 2 15-ounce cans of chickpeas*, drained and rinsed (about 1 1/2 to 3 cups cooked chickpeas)
1 bag of uncooked annelini pasta (or another small shape, like ditalini) 
1 large can of diced tomatoes (I like to use San Marzano)
2 to 3 tablespoons of butter or vegan butter, optional
6 cups of water
Instructions
In a large heavy-bottomed pot, heat 2 tablespoons of olive oil. Add diced garlic and cook, stirring until it becomes lightly, barely browned but very fragrant.
Stir in the tomato paste, salt, and pepper and cook them with the garlic for about 30 seconds or so.
Add the drained chickpeas, pasta, diced tomatoes, and water. Stir to scrape up any browned bits on the bottom of the pot, lower the heat, and simmer until the pasta is cooked and a lot of the liquid has been absorbed, about 30+ minutes.** As the water starts to get absorbed, you can also throw in about 2 to 3 tablespoons of butter. (We use vegan Earth Balance Butter Sticks.) Taste and adjust seasoning and ladle into bowls.
Notes
*If you or your kids don't like chickpeas, you can use canellini beans or small white beans instead.
**If you find your pasta isn't completely softening, you can always add more water and cover with a lid to help speed up the absorption. 
Recipe adapted via Smitten Kitchen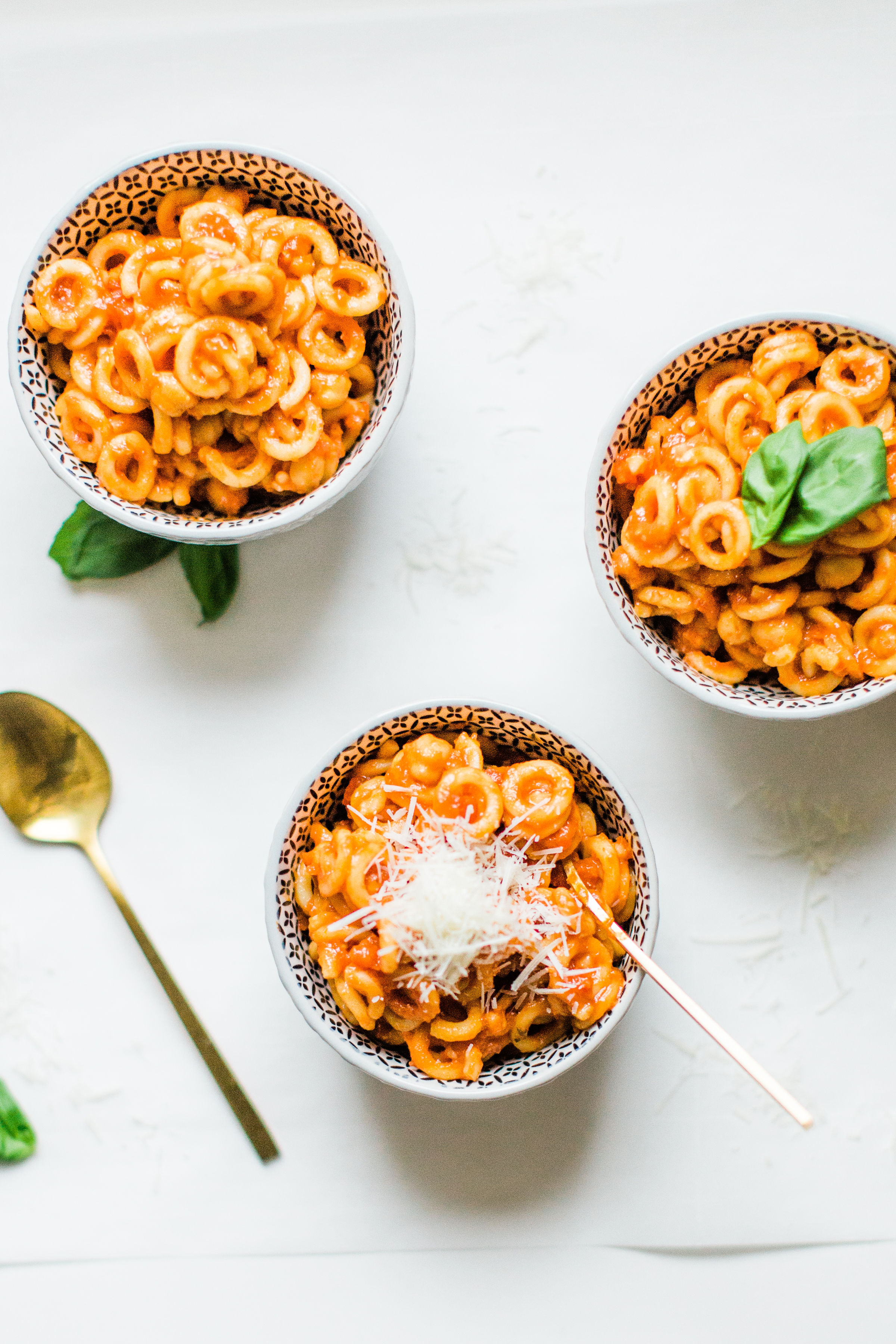 NOTE:
This recipe is GREAT as leftovers, can easily be put in a thermos for kids' lunches, etc.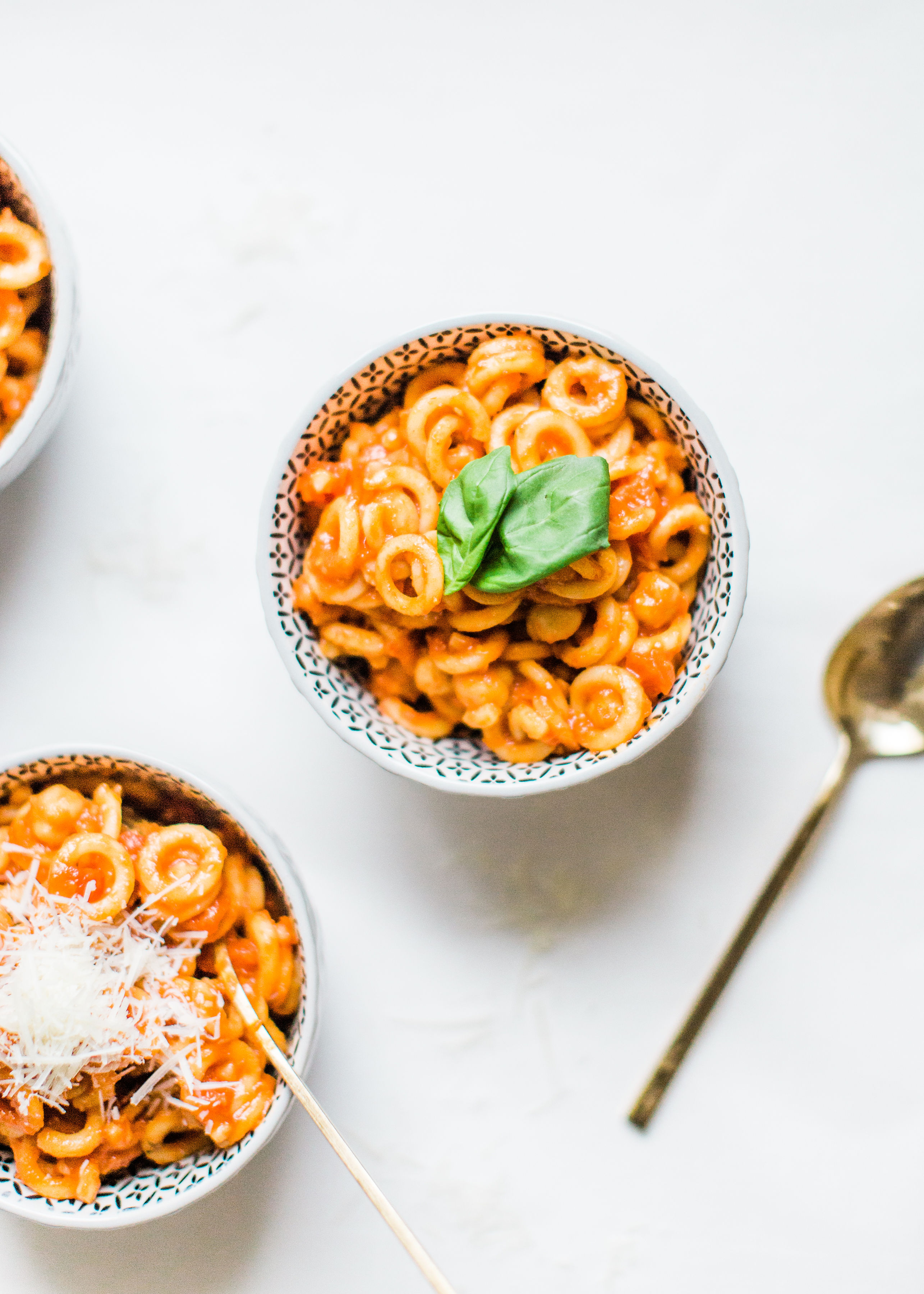 SHOP THE HEALTHY SPAGHETTIOS RECIPE POST CLICK LEFT & RIGHT ARROWS TO EXPLORE
If you make your own pasta e ceci, be sure to tag me on social media (@glitterinclexi) so I can live vicariously through all of your yummy creations! Also, if you love these healthy Spaghettios, head to our recipe page to check out what else we're dreaming up in the kitchen. We have plenty of kid-friendly dinner inspiration!
Photos by Annie Timmons Photography for Glitter, Inc.