This classic tomato soup post contains affiliate links, which means that if you click on one of the product links, I'll receive a small commission. Thank you so much for clicking through and helping to support this little blog business of mine! Read more about our site, privacy, and disclosure policies here.
Looking for an easy and delicious healthier soup for dinner tonight? Look no further than this spin on classic tomato soup, made healthier and protein-packed. It will become an instant favorite!
Lately, I've gotten in the habit of creating meals for "Meatless Mondays;" a.k.a., a vegetarian dinner every Monday night. Meatless Mondays are great because we cut down on costs with these meals, and eat healthier. It's been SO cold here this winter, so soup has been on the menu plenty; especially because soup is something that can easily be made vegetarian, but still remain filling and delicious. This healthier classic tomato soup is extra incredible because … surprise: it's packed with protein!
How, you might ask? There's a secret ingredient!
The very thing that makes this classic tomato soup thick and creamy, is actually not cream at all …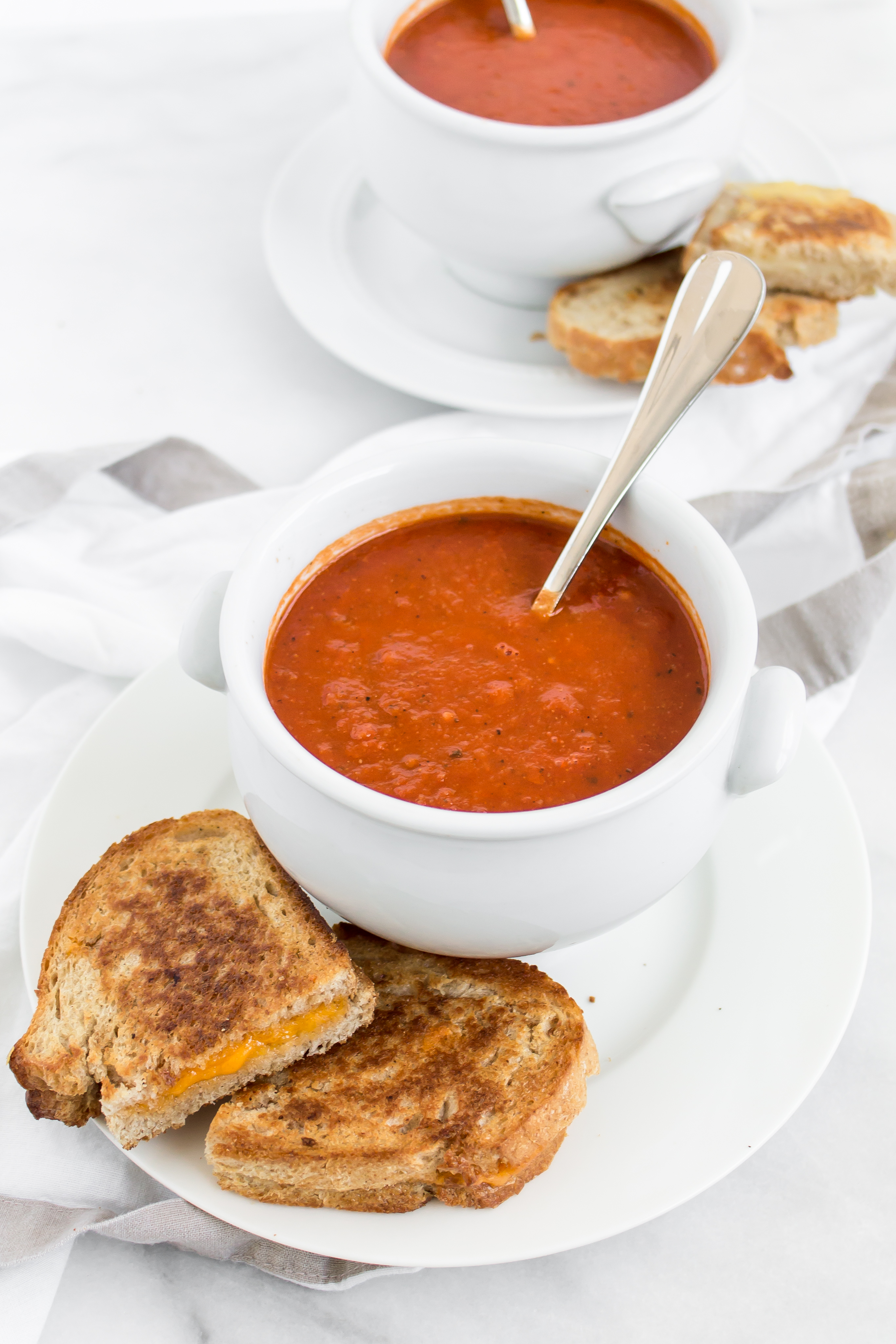 The secret ingredient is white beans! Yep, you read that right; this creamy classic tomato soup is actually dairy-free. I mean, how cool is that?
And let me just say, I LOVE tomato soup. Always have. Tomato soup is an easy, delicious, classic dish. The warm familiar flavor makes any dinner or lunch extra cozy. Filled with spices, and thickened with white beans instead of cream, this classic tomato soup is a healthy take on the warm comfort food we all know and love.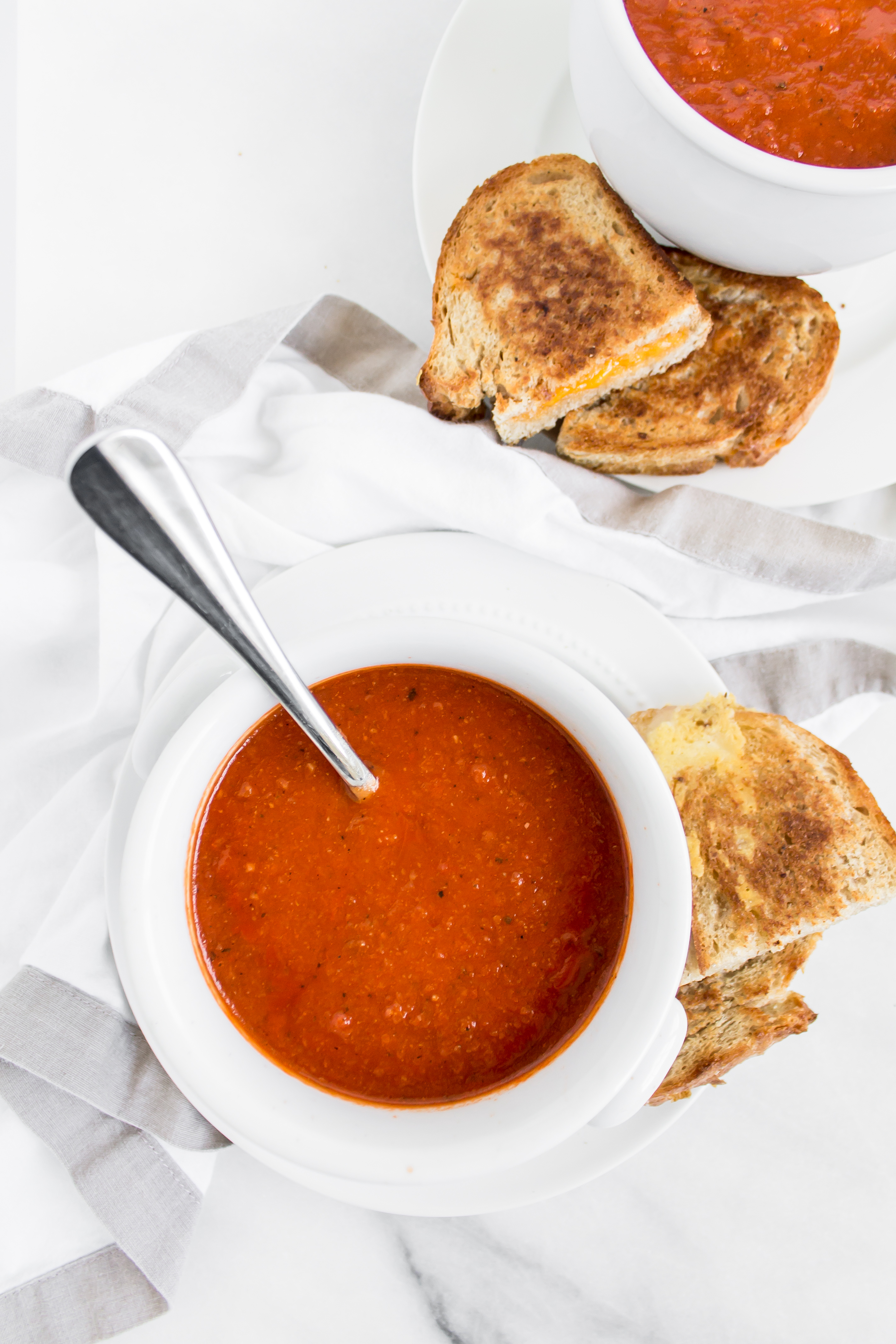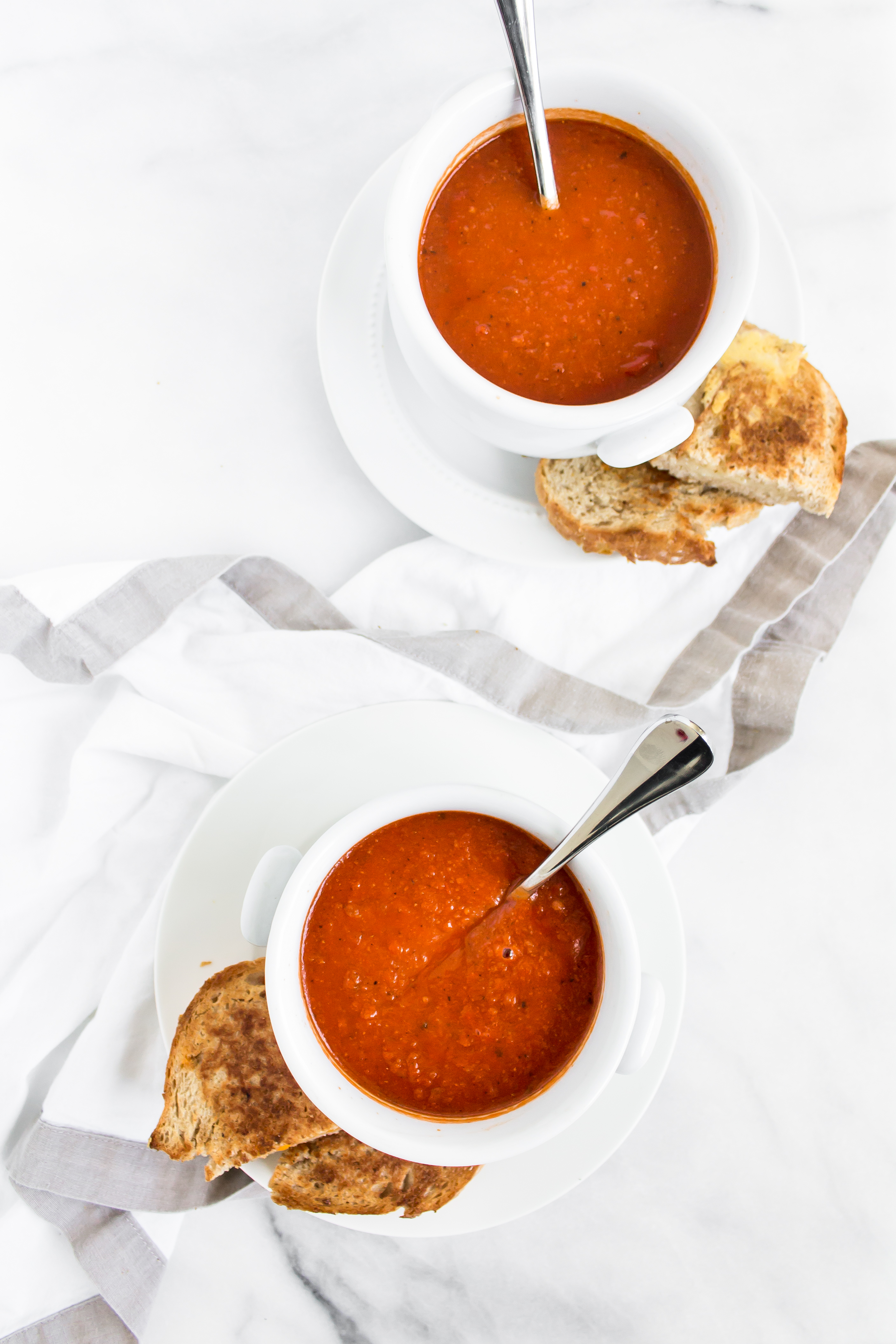 Since we're all about easy dinners over here, we broke down the recipe with easy instructions on how to make your healthier classic tomato soup either on a stovetop or in a slow cooker (like a Crockpot) or Instant Pot.

Yield:
Healthier Classic Tomato Soup (With Slow Cooker + Instant Pot Instructions)
Ingredients
4 tablespoons olive oil
1 sweet onion, diced
½ teaspoon salt
½ teaspoon pepper
¼ teaspoon dried basil
¼ teaspoon dried oregano
¼ teaspoon dried thyme
¼ teaspoon paprika
3 garlic cloves, minced
3 tablespoons tomato paste
2 28-ounce cans diced or crushed tomatoes
4 cups chicken or vegetable stock
2 15-ounce cans white beans, drained and rinsed
Instructions
Heat the olive oil in a large pot on the stove over medium-low heat. When it is warm, add the onions, salt, pepper, dried herbs, and paprika, and stir together. Cook for about 5-6 minutes, or until the onions are translucent.
Add the garlic and tomato paste and stir to combine the tomato paste with the other ingredients. Cook for another 5 minutes, stirring every now and then.
Add the cans of tomatoes and chicken or vegetable stock. Increase the heat to medium or medium-high and allow the mixture to boil. When the soup begins to boil, reduce the heat and bring it to a simmer for about 20-30 minutes. Add the white beans. Use an immersion blender to blend all of the tomatoes and white beans until the soup is smooth. If you don't have an immersion blender, carefully pour the soup into your blender (you may need to do this in batches) and blend until smooth. If you want a thicker consistency, continue to let the soup simmer after blending. The longer you simmer the more water will evaporate, and the thicker the soup will be. If you like the consistency as is, serve right away with grilled cheese or crackers!
Notes
To make this in a slow cooker:
Follow the instructions above until you finish cooking the onions, spices, garlic, and tomato paste. Pour those prepared ingredients into a crockpot and add the tomatoes, stock, and beans. Let the mixture cook on low for 7-8 hours or on high for 3-4 hours. If too much liquid evaporates, you may need to add additional stock. The soup should be simmering. Once the soup has simmered in the slow cooker, use an immersion blender to blend all of the ingredients together.
For an instant pot:
Use the simmer feature to cook the onions, spices, garlic, and tomato paste. Add the tomatoes, stock, and beans, and then cook either on the slow cook setting or on the meat/stew setting (for up to one hour.) Once cooked through, use an immersion blender to blend all of the ingredients together.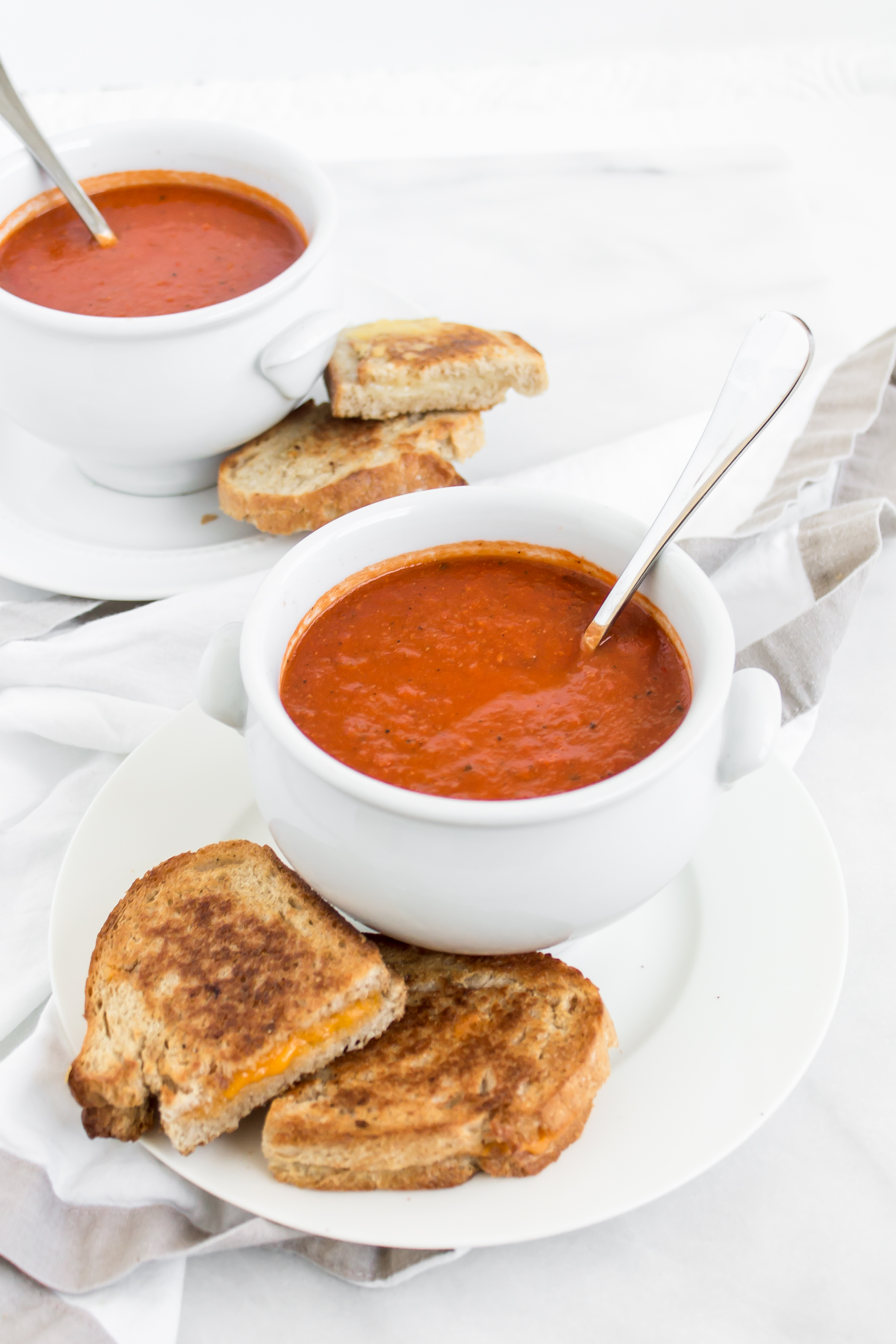 SHOP THE POST | CLICK LEFT & RIGHT ARROWS TO EXPLORE
If you make your own healthier classic tomato soup, be sure to tag me on social media (@glitterinclexi) so I can live vicariously through all of your yummy creations!
Love this classic tomato soup? Head to our recipe page to check out what else we're whipping up in the kitchen!
Photos and Recipe by Hope Woodhouse for Glitter, Inc.