This post contains affiliate links, which means that if you click on one of the product links, I'll receive a small commission. Thank you so much for clicking through and helping to support this little blog business of mine! Read more about our site, privacy, and disclosure policies here.
Delicious chocolate chip oatmeal cookies made extra simple by baking them up in a big batch of bars, these super moist chocolate chip oatmeal cookie bars are a favorite of our whole family, and for good reason!
I LOVE these chocolate chip oatmeal cookie bars, guys. I'm thinking about singing from the rooftops about how much I love these cookie bars. And I make them so often because, well, everyone loves these chocolate chip oatmeal cookie bars. Yep, they're our favorite.
Turning cookies into cookie bars is also a slam dunk move. It cuts way down on prep time, and they still come out yummy every single time.
And can we talk about the winning combination here? Chocolate and oats were sort of just made for each other, ya know? Plus, these dark chocolate chip oatmeal cookie bars are unbelievably moist and packed with oats and whole wheat flour and dark chocolate chips which are full of antioxidants, so they're maybe, sort of … err … healthy-ish? Yep, I'm running with it. But not actually running. Really, I'm just sitting on my sofa, eating cookie bars. I promise I'll try again in the new year. 😂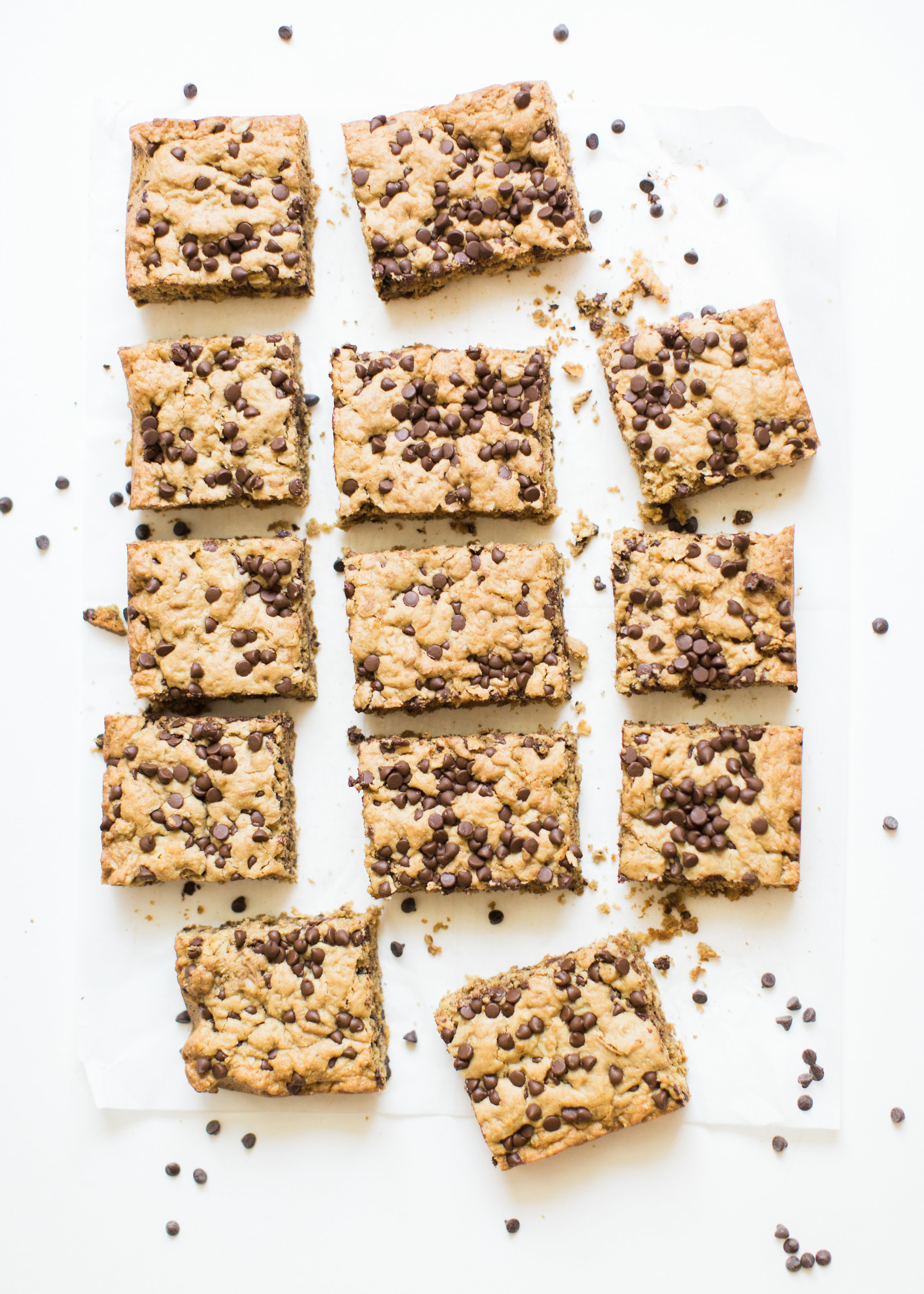 Our favorite chocolate chip oatmeal cookie bars are awesome for bringing to a party, cutting up into squares and putting in lunches, giving a tin of these as a gift, etc., because they travel so well.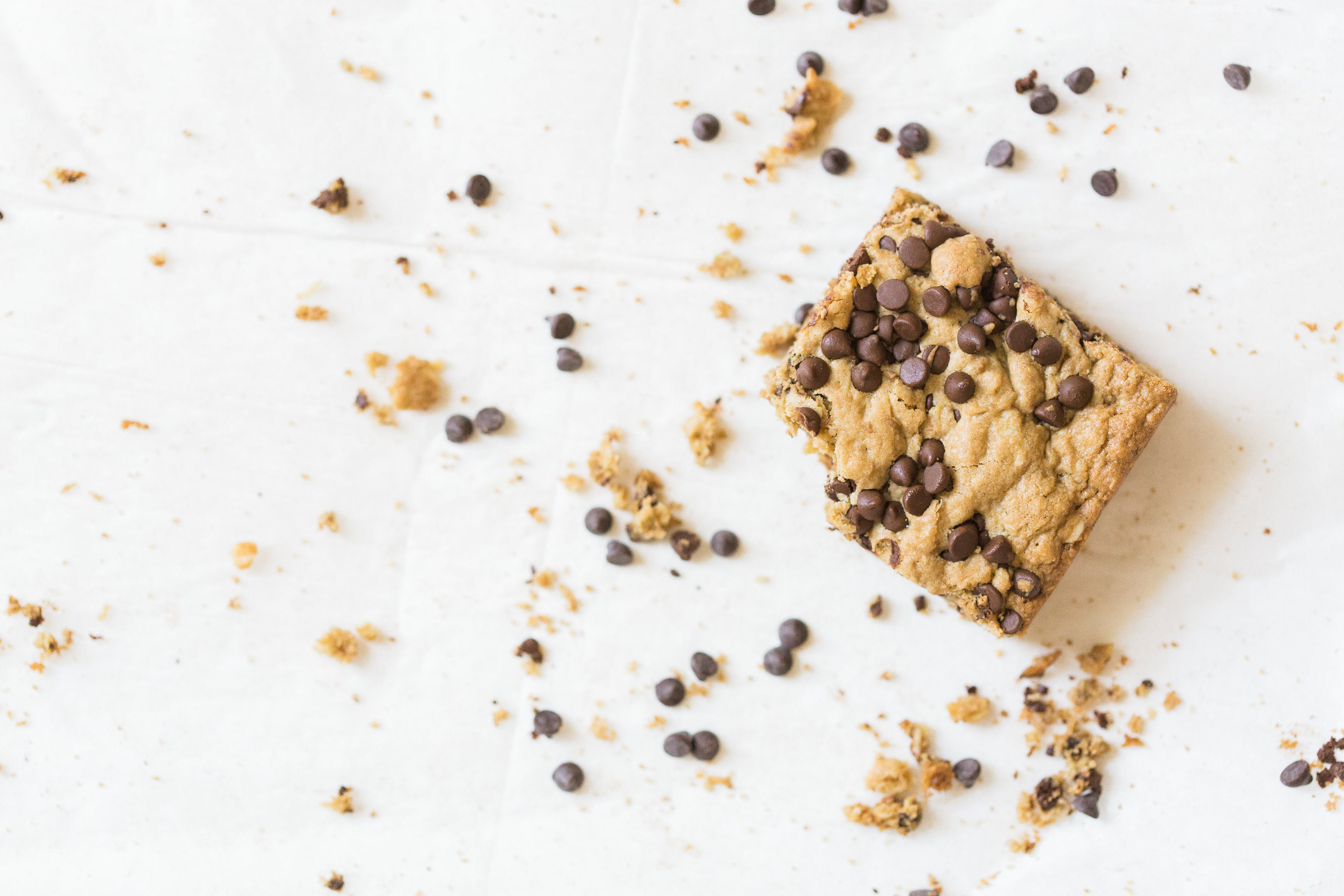 Once Scarlett, our oldest daughter, was diagnosed with MPIES (Milk Protein Induced Enterocolitis Syndrome), we changed a lot of our eating habits and I made a few tweaks in my baking to accommodate a dairy-free diet. (We're always experimenting with vegan and dairy-free recipes, in case you're interested.) These chocolate chip oatmeal cookie bars are incredibly moist, delicious, and can easily be made dairy-free. #momwin
By the way, one of my secrets for yummy chocolate dairy-free desserts are these amazing chocolate chips. I use Dairy-Free Chocolate Chips (by Enjoy Life). The Enjoy Life Chocolate Chips are easily our favorite; they're gluten-free, dairy-free, nut-free, and soy-free, and totally delicious. Also, they bake and melt incredibly well. Even Target carries them!
For this batch, we used the teeny tiny mini semi-sweet chocolate chips, and every single bite was packed with warm flecks of dark, rich chocolate. OMG, yum. Dark chocolate chunks also work GREAT in these cookie bars, but honestly, throw in whatever chocolate you have on hand and you'll love the outcome. It's chocolate, guys.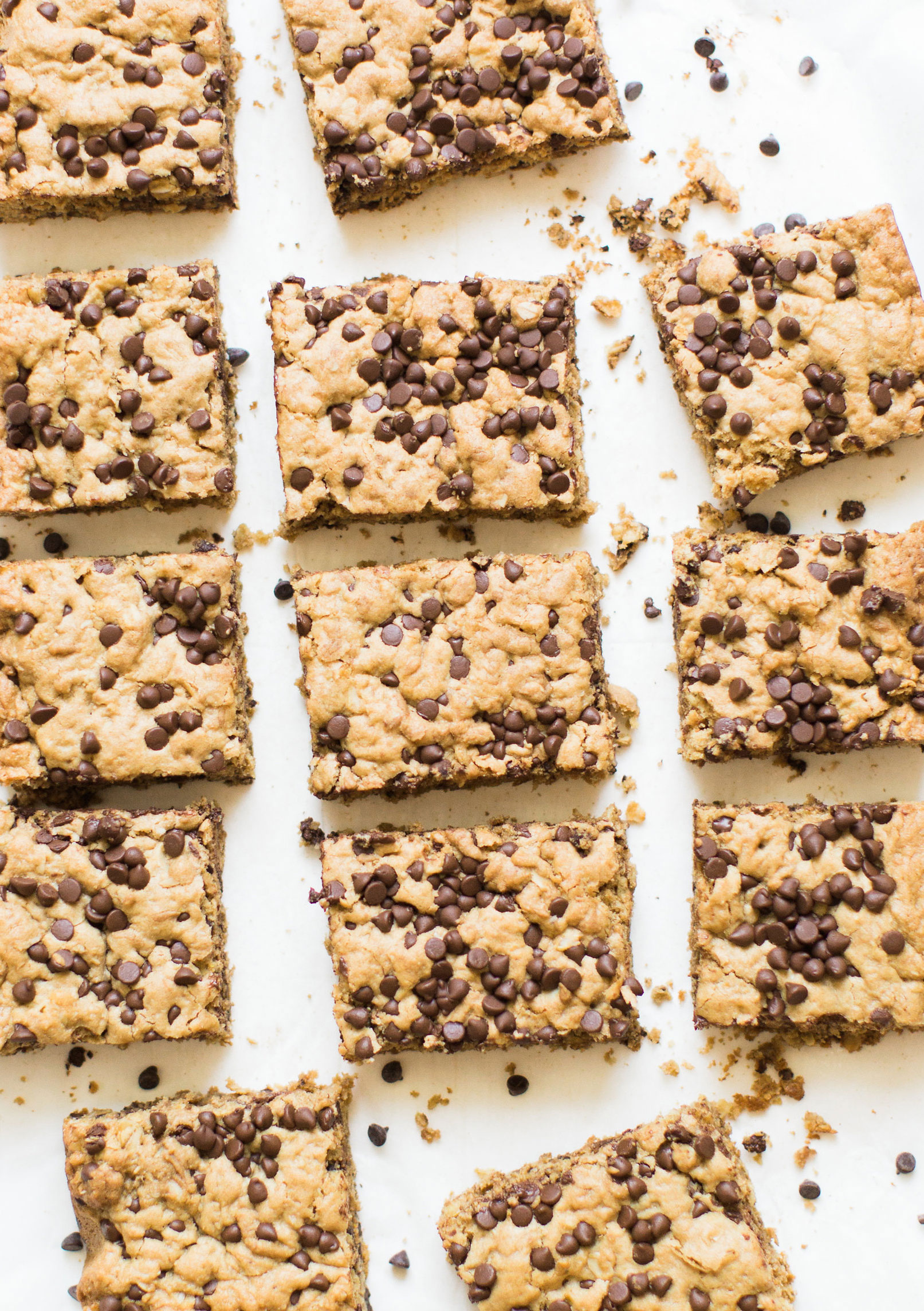 And don't fret at the lack of butter in a cookie; these bars thrive off of the coconut or canola oil – the oil really makes these bars incredibly moist – no butter needed. They are somehow perfectly soft, perfectly crumbly and really simple to make.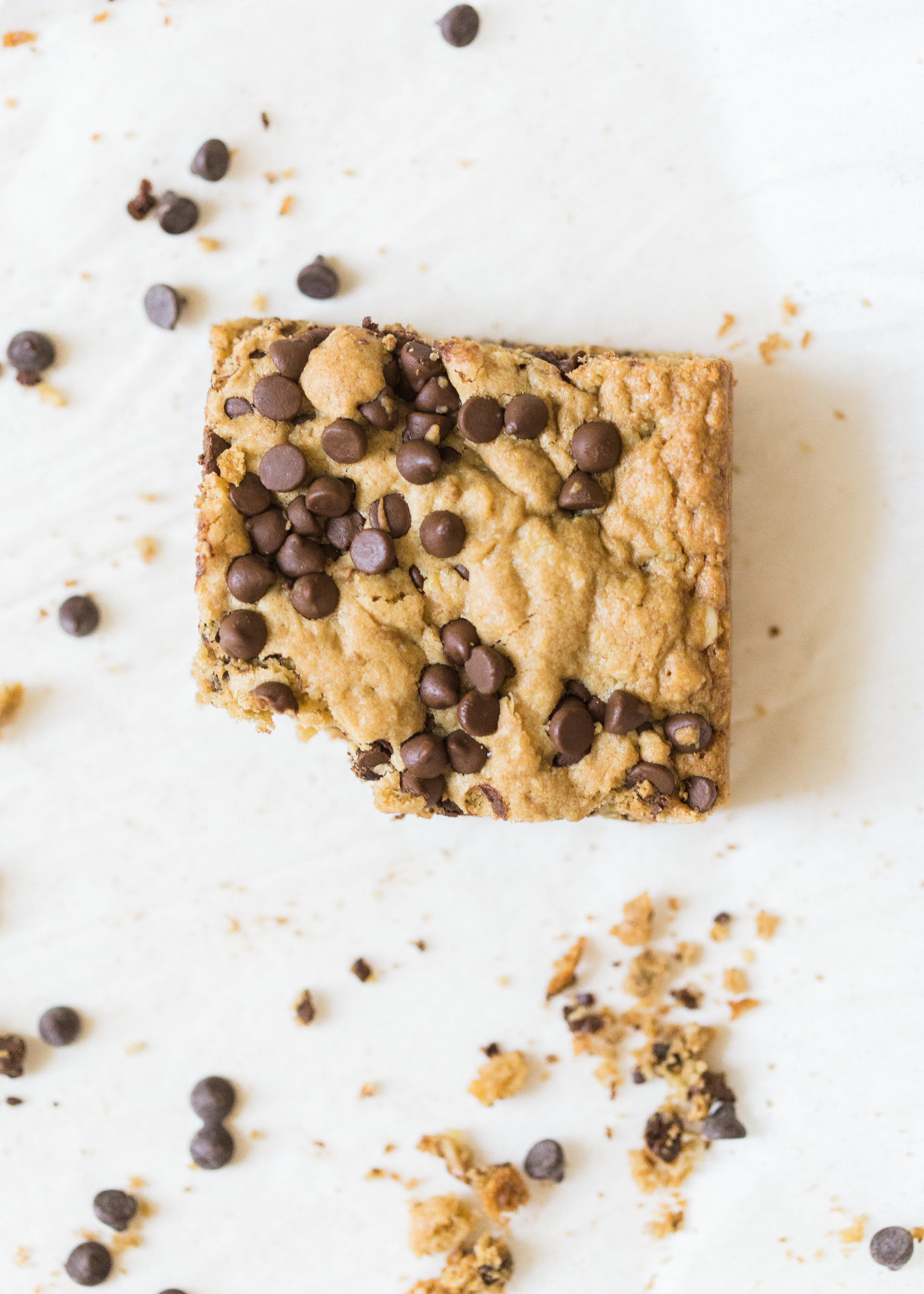 How to Make Our Favorite Chocolate Chip Oatmeal Cookie Bars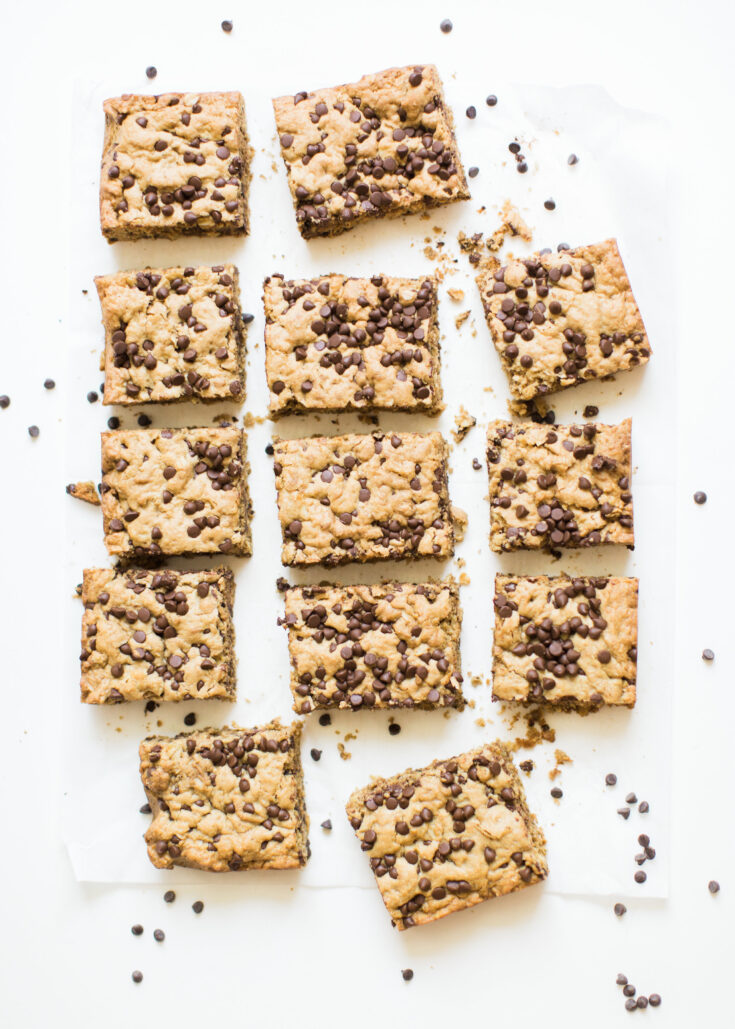 Yield:

18 bars
Chocolate Chip Oatmeal Cookie Bars
Ingredients
2 1/2 cup old fashioned oats
1 cup all-purpose flour
1 cup white whole wheat flour or whole wheat pastry flour
1 cup brown sugar
1 teaspoon baking soda
1/2 teaspoon salt
1 cup coconut oil, melted (or you can use canola oil)
2 eggs
1 tablespoon vanilla
1 1/2 cups chocolate chips, dark or milk works great in these (8 ounces)
Instructions
Preheat the oven to 350 degrees.
Grease a 9×13 inch baking dish or line with foil or parchment paper.
In a large mixing bowl or bowl of a stand mixer, add the oatmeal, flour, brown sugar, baking soda, salt, melted coconut oil or canola oil, eggs and vanilla and beat until combined and the dough holds together (the dough will seem oily, this is good). Mix in about 1 cup of the chocolate chips and stir once more.
Turn half the batter out into your prepared pan, pushing the dough into pan. Sprinkle on the remaining dark chocolate chips and then place the remaining half of the dough over the chips and press again. Some of the chips will most likely be sticking out and that is fine; don't worry about it looking perfect. If desired you may even add more chocolate to the top.
Bake for about 20-25 minutes, just be sure not to over-bake. (I tend to bake for about 20 - 22 minutes.) Allow bars to cool in the pan for at least 30 minutes before slicing and serving.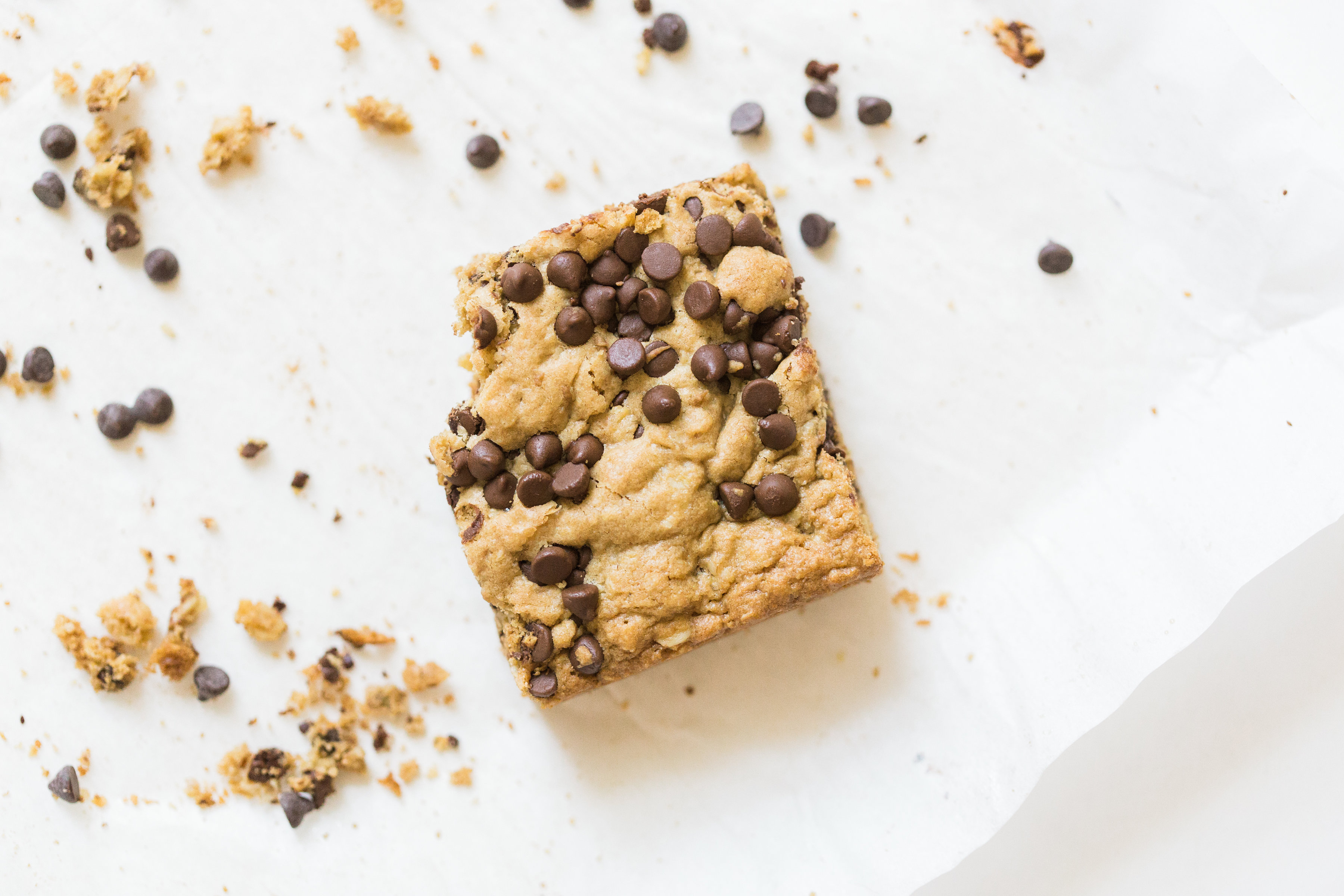 NOTE: Be sure not to overcook these – they are at the very best just a tad under-cooked and doughy.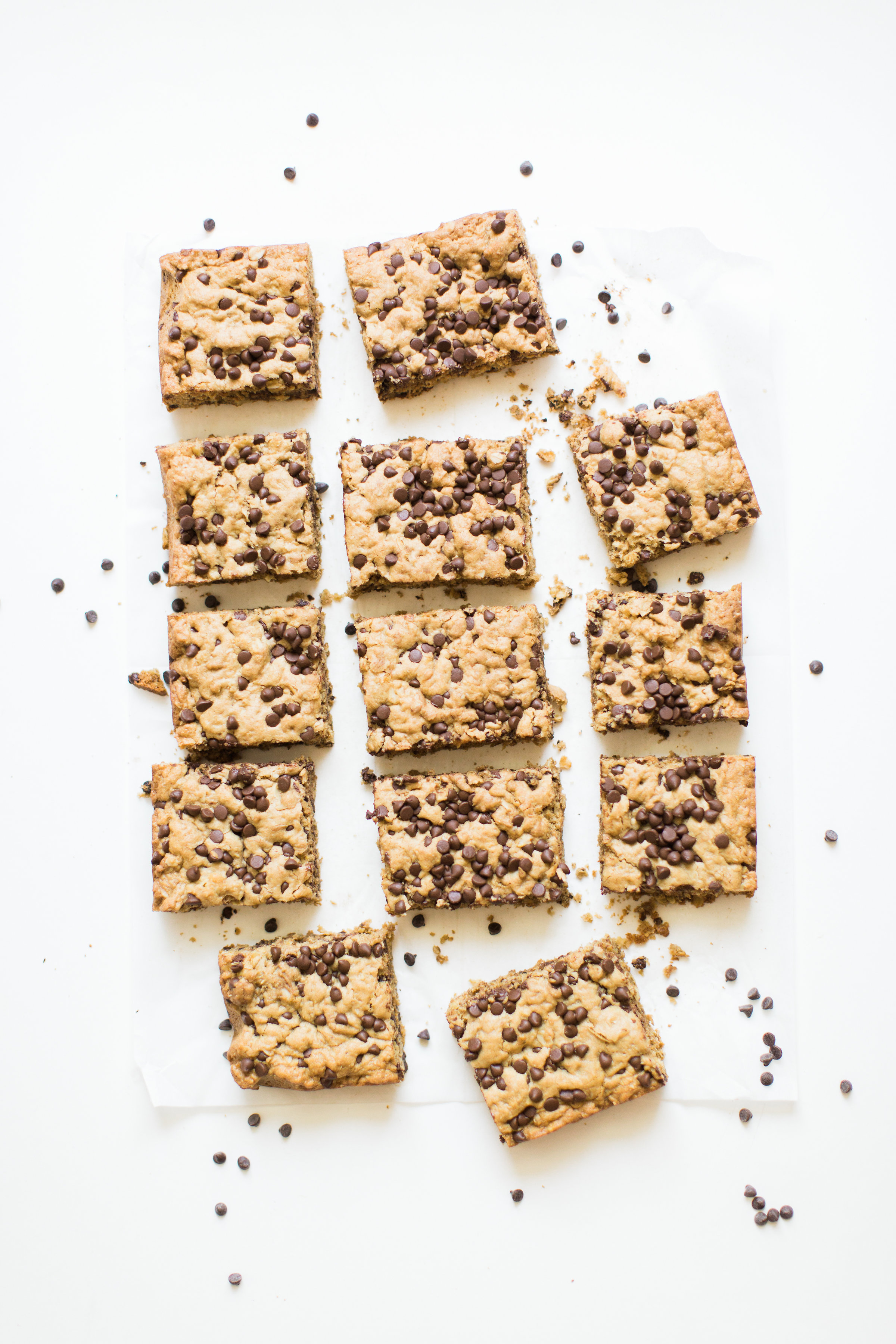 These chocolate chip oatmeal cookie bars taste amazing served warm, cold, or room-temperature, and last several days in the refrigerator in a sealed container. They also make a great party treat, if you're up for sharing.
SHOP THE OATMEAL COOKIE BARS RECIPE POST | CLICK LEFT & RIGHT ARROWS TO EXPLORE
Love these amazing chocolate chip oatmeal cookie bars? Head to our recipe page to check out what else we're dreaming up in the kitchen! 
Photos by Annie Timmons Photography for Glitter, Inc.