This post contains affiliate links, which means that if you click on one of the product links, I'll receive a small commission. Additionally, as an Amazon Associate I earn from qualifying purchases. Thank you so much for clicking through and helping to support this little blog business of mine! Read more about our site, privacy, and disclosure policies here.
Host the most epic Wings of Fire dragon birthday party for your kids with this awesome dragon party inspiration! Plus, print out our Free printables to make your dragon birthday party extra memorable!
At the end of the summer, our our oldest daughter had her 9th birthday party! Her request: A Wings of Fire inspired dragon party at the Lego Discovery Center in Boston.
If you have an 8+ year old, you may have heard of the Wings of Fire book series. The Wings of Fire books are hugely popular in the Boston area. Our oldest daughter can't get enough of all things dragons and the Wings of Fire series.
As soon as she asked for a book-themed party, I was 1,000% on board. Be still, my book-ish heart.
Wings of Fire Dragon Birthday Party Inspiration
In case your kiddo has also requested a Wings of Fire, dragon themed birthday party, I thought this roundup of all of the best dragon party inspiration might just help you out!
I'm also including the Wings of Fire Dragon Birthday Party PRINTABLES that I created on Canva, in case you're also hosting your own kids' dragon birthday party and happen to one looking for a few extra adorable dragon activities. These FREE printables work well for either a Wings of Fire party OR a general dragon themed party.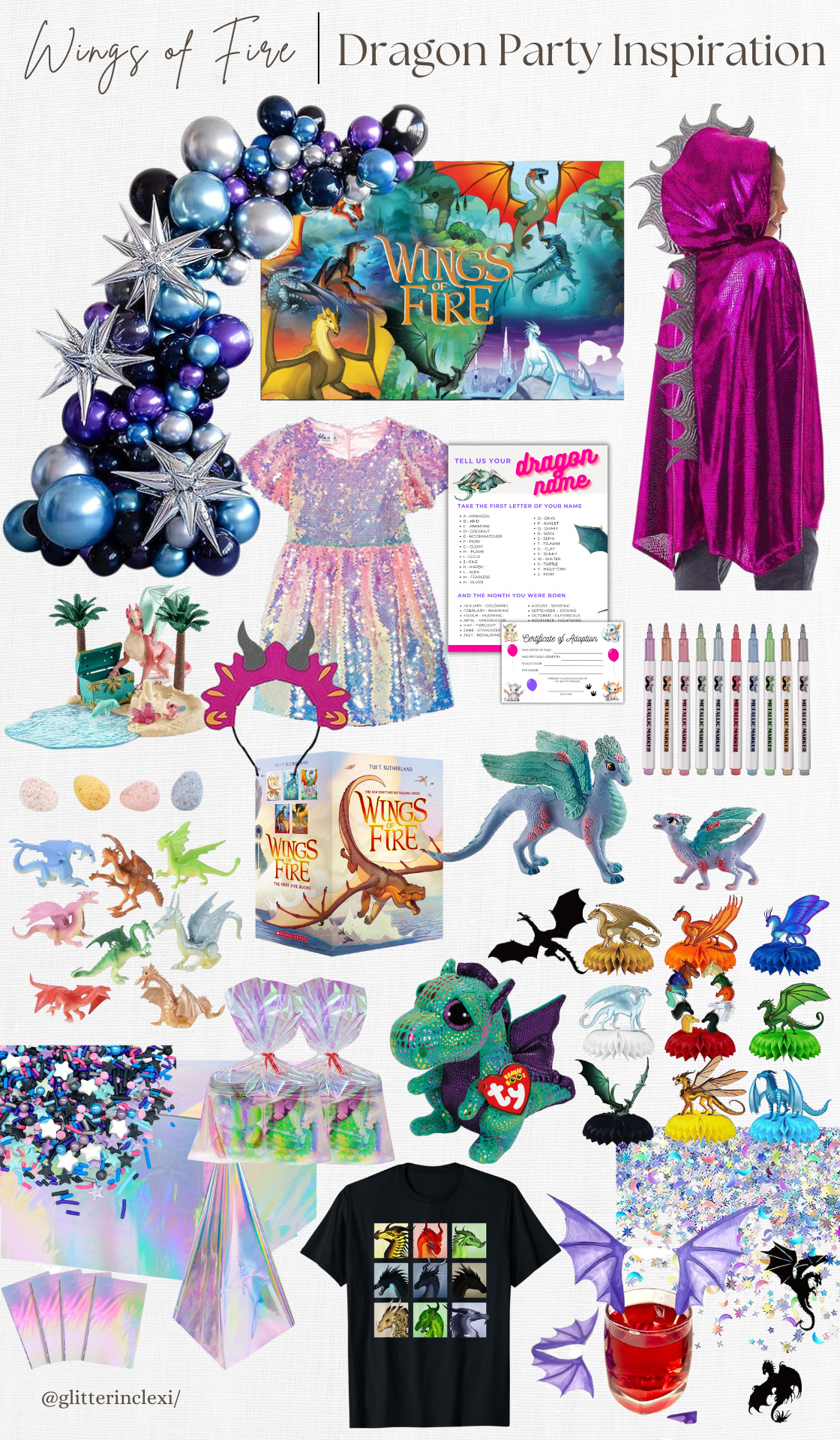 Free Wings of Fire Dragon Birthday Party Printables
For Scarlett's Wings of Fire Dragon Party, I wanted to create a few printables to add to the fun. I love creating printables for parties because it really customizes the party. Printables are an affordable and sweet way to add a little something special to a kids party.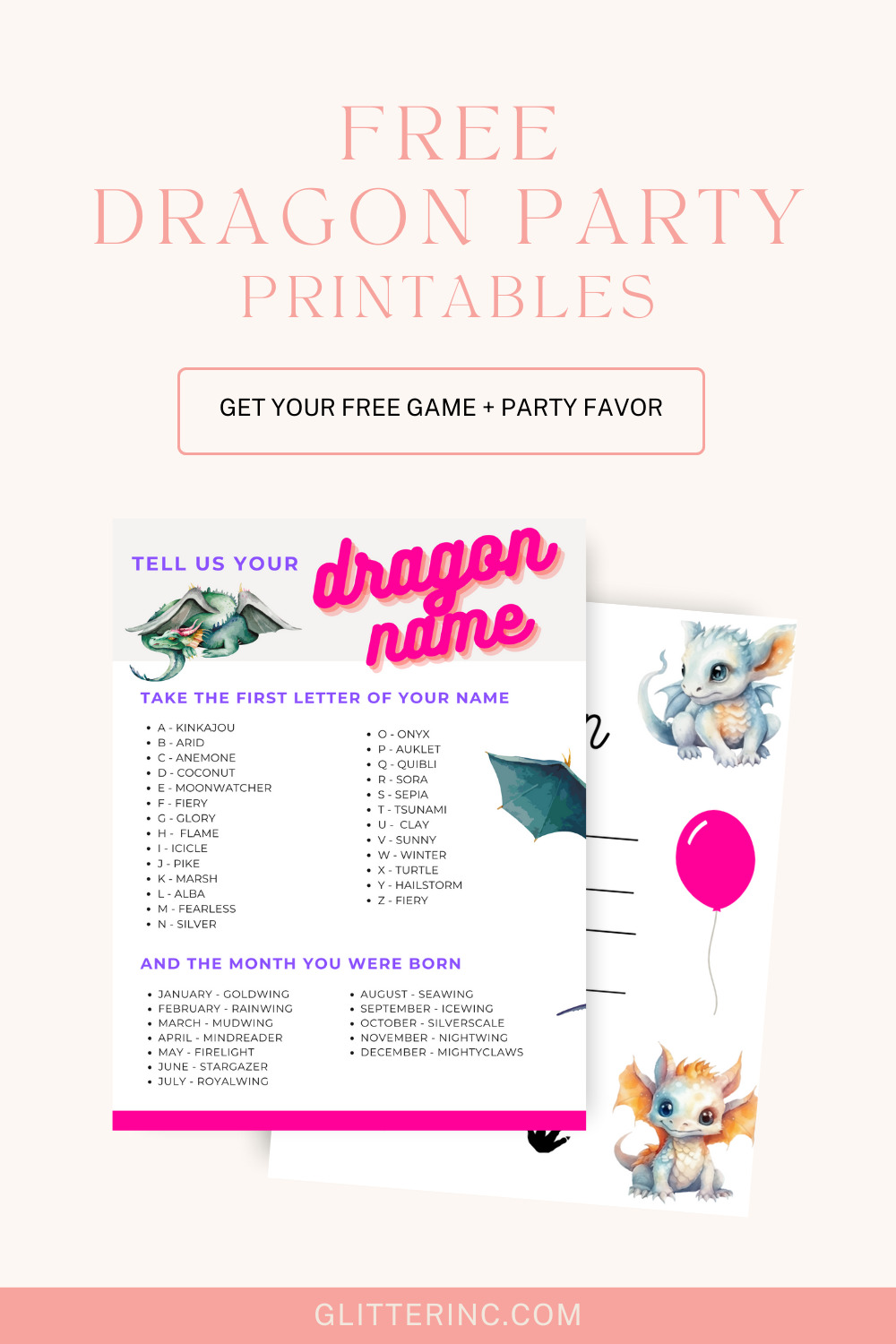 Wings of Fire Dragon Birthday Party DRAGON NAME Printable
We created our own easy Dragon Name printable using Canva and chose dragon names from the Wings of Fire books.
On the day of the Wings of Fire dragon party, the kids had such a great time putting together their own dragon names. The dragon activity turned out to be such a simple way to add a little magic to the event.
You could easily print this DRAGON NAME printable and either frame it, stick it in a clipboard, or just lay a few copies out on the kids tables for everyone to check out.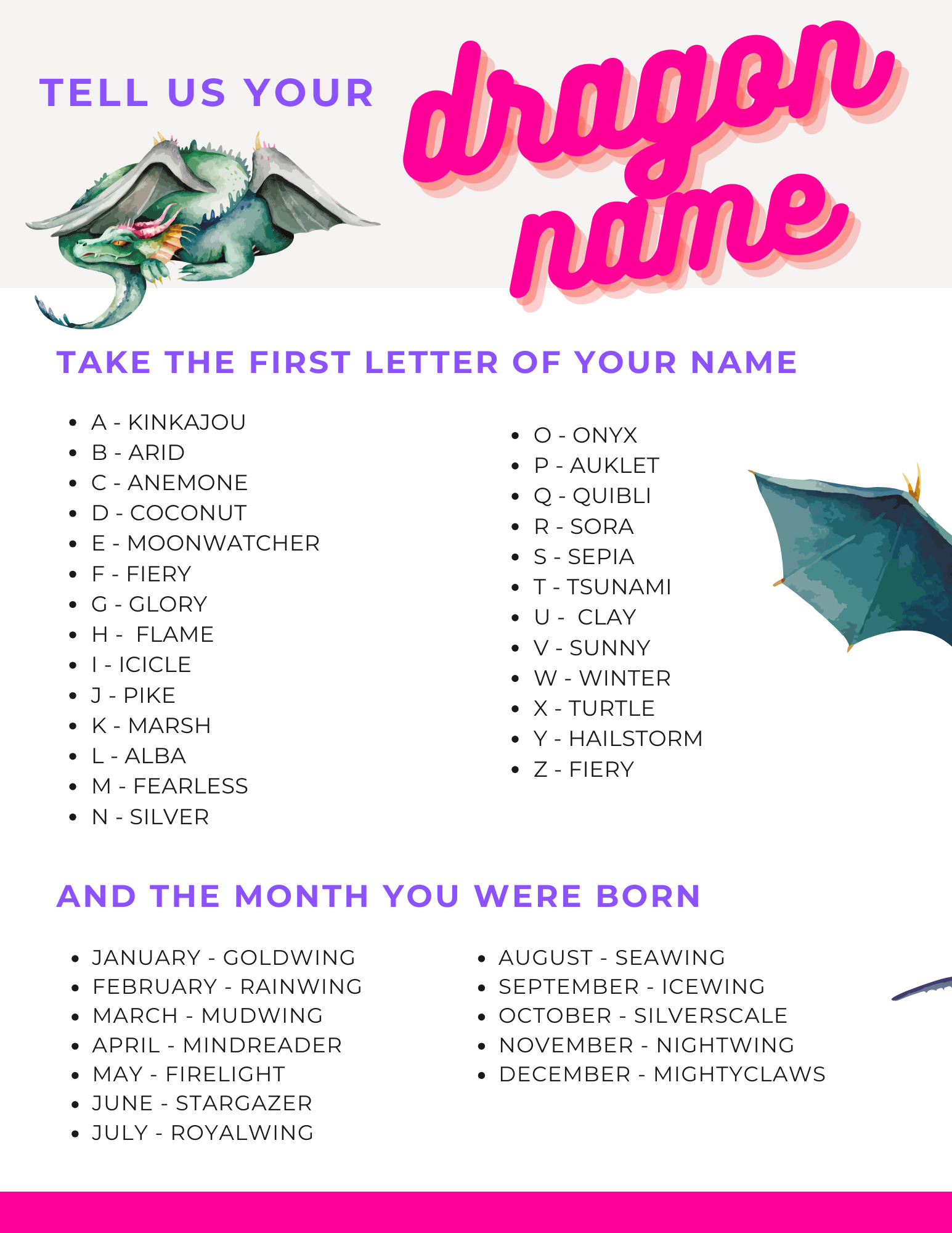 CLICK HERE TO PRINT THE WHAT IS YOUR DRAGON NAME BIRTHDAY PARTY FREE PRINTABLE

Wings of Fire Dragon Birthday Party ADOPT-A-DRAGON CERTIFICATE Printable
The party favor at Scarlett's Wings of Fire Dragon Birthday Party was one of these adorable Ty Beanie Boos Dragons for each guest. To add to the adorable-ness, we created and printed these Adopt-a-Dragon Dragon Certificates for each of the party guests to fill out to go along with their new stuffed dragon.
We set out cute metallic markers (these metallic markerss are beautiful and our girls use them for everything!) We also put out enough adopt-a-dragon certificates so that every kid could fill out their own dragon certificate. The idea was that each party guest could fill out and take home a dragon certificate along with their stuffed dragon.
This adorable activity and party favor was hands-down the biggest hit of the party!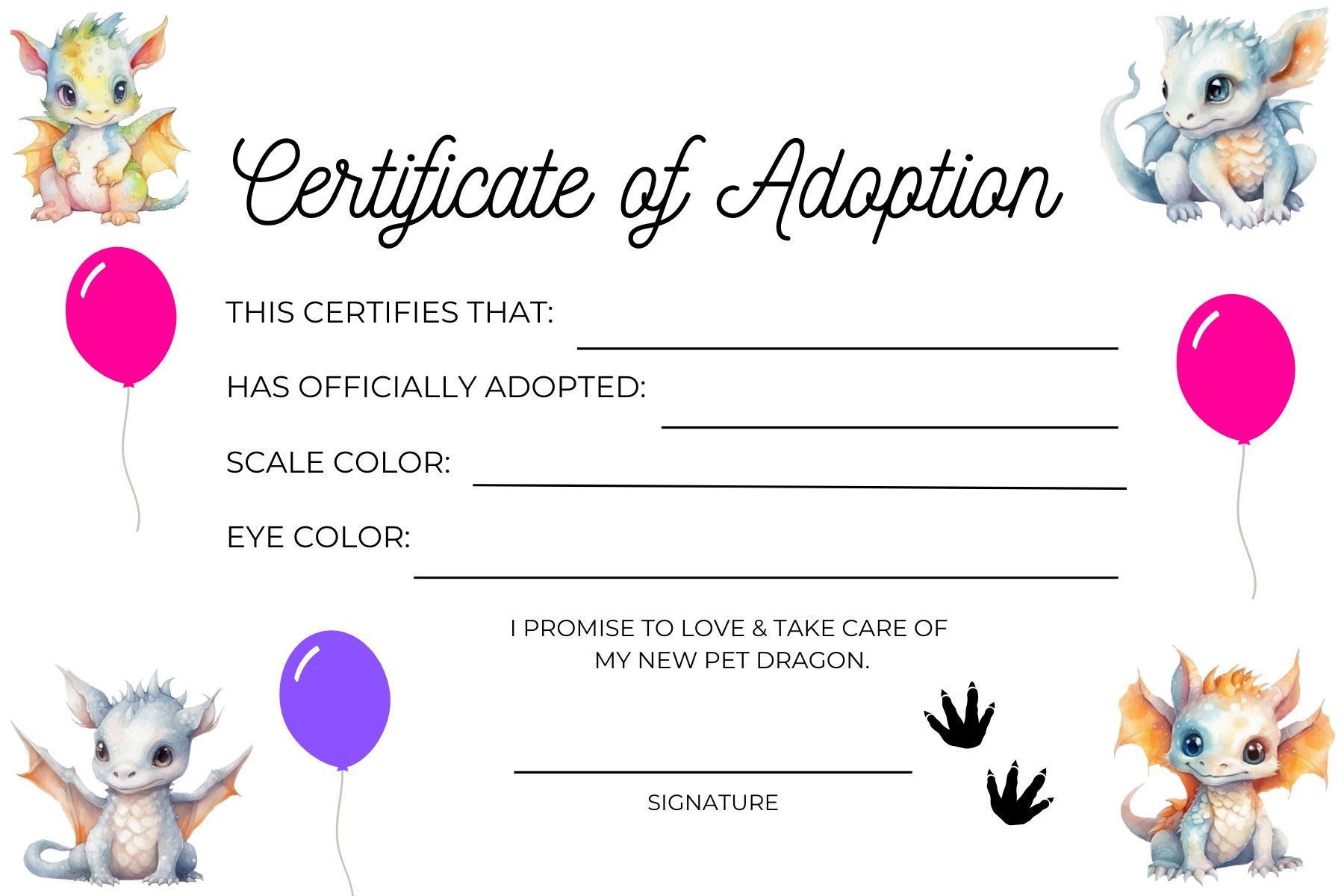 CLICK HERE TO PRINT THE ADOPT-A-DRAGON CERTIFICATE
So there you have it: all of the adorable inspiration for a Wings of Fire Dragon Party, including the cutest free dragon printables!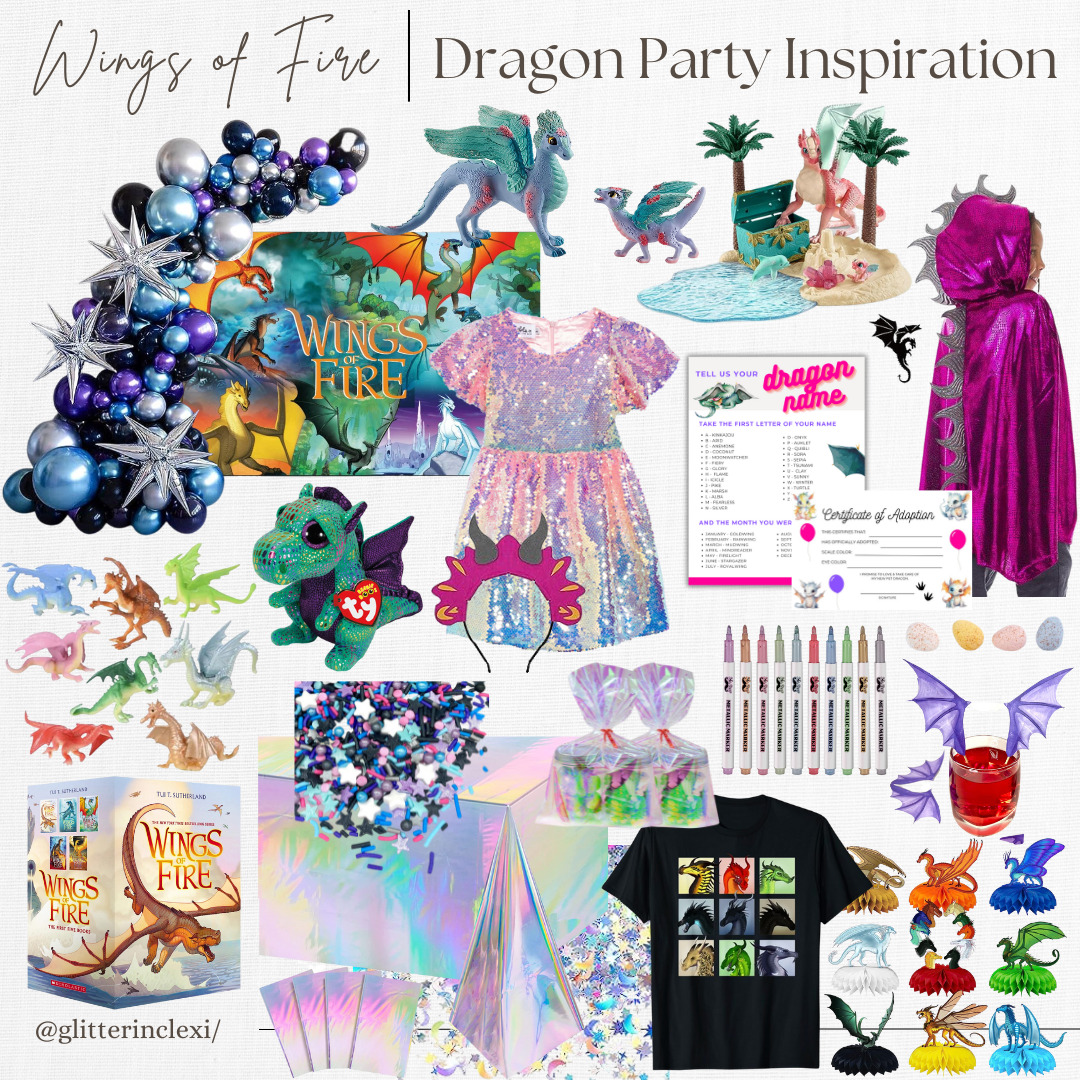 SHOP THE WINGS OF FIRE DRAGON KIDS BIRTHDAY PARTY INSPIRATION POST | CLICK THE IMAGES TO SHOP

IF YOU LOVED THIS POST, YOU CAN SEE MORE OF OUR LIFE WITH THREE LITTLE GIRLS HERE OR FOLLOW ME ON INSTAGRAM TO SEE THE LATEST.
For More Party Inspiration, You May Also Like:
Groovy Kids Birthday Party Inspiration
Adelaide's Wildflower 1st Birthday Brunch Garden Party
Emmeline's 5th Birthday Costume Party
Scarlett's 8th Birthday Mermaid Splash Party
Scarlett's 3rd Magical Mermaid Birthday Party
Emmeline's Backyard Garden Party
Scarlett's First Birthday Bohemian Party
Scarlett's 2nd Birthday Festival Backyard Party
I hope I've helped inspire your next kids birthday party. Thanks for reading and happy celebrating! ✌️