Since throwing Scarlett's birthday party a few months ago, and after seeing the gorgeous photos Brandi took for us of the party, I've been meaning to share my tried-and-true caprese tortellini salad. It's the kind of dish I can always count on to whip together when guests happen to be coming over or I decide to throw a party. This caprese tortellini pasta salad can be served warm or cold; I'm still undecided on which variation I love more! Warm tortellini is tossed with toasted pinenuts (which add such great depth and a bit of crunch), fresh mozzarella and grape or cherry tomatoes, and a homemade balsamic vinaigrette dressing. It also happens to be delicious. Seriously, a spin on caprese salad never tasted so good.
Case in point: there was not a single speck left in the bowl after Scarlett's party (not even a lone pinenut), and I made an enormous amount of this caprese tortellini salad, plus plenty of other food. Truthfully, I'm always terrified there won't be enough food! I swear that's my worst party-throwing nightmare. Thankfully, this recipe can be doubled, tripled, go nuts. Happy eating!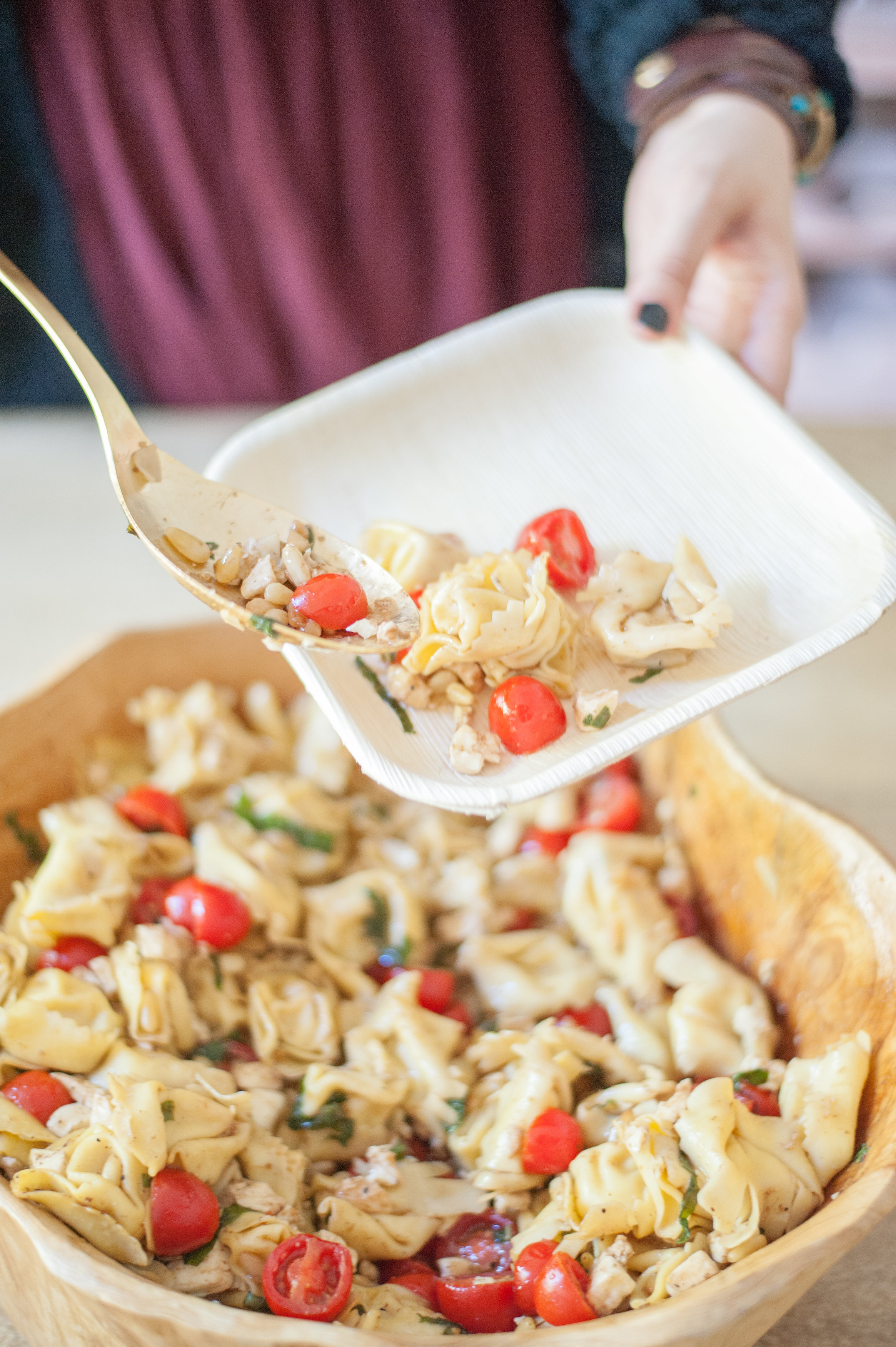 Caprese Tortellini Salad with Toasted Pinenuts, Fresh Mozzarella & Tomatoes
Serves 4 to 6
INGREDIENTS
To make the caprese tortellini salad …
2 (8.8-ounce) packages Tortellini (I like Ricotta or Ricotta-Spinach!)
balsamic vinaigrette dressing (recipe below)
3 cups of fresh cherry or grape tomatoes
2 cups of cubed fresh mozzarella or mini fresh mozzarella balls
1/2 cup chopped fresh basil
Pinenuts (toasted)
To make the balsamic vinaigrette dressing …
1/2 cup olive oil
1/4 cup balsamic vinegar
1-2 teaspoon honey (depending on sweetness level you prefer)
1 teaspoon Dijon mustard
1 shallot, minced
1 clove garlic, minced
salt and ground black pepper to taste
DIRECTIONS
Bring a large pot of salted water to a boil. Cook tortellini according to package instruction, about 14 minutes. Drain.
For the dressing: Meanwhile in a glass jar with a lid, combine the olive oil, balsamic vinegar, honey, Dijon mustard, shallot, garlic, salt, and black pepper. Replace lid on the jar and shake vigorously until well combined. Allow time to refrigerate.
Toast pinenuts on a parchment lined baking sheet at 350°F for a few minutes, until pinenuts are soft golden brown. Allow to cool.
Toss together the cherry tomatoes, mozzarella, chopped basil, toasted pinenuts and and cooled tortellini pasta in a large bowl. Pour in your dressing and fully toss to coat. (You can also add a little additional salt and ground black pepper to taste, and top with more chopped fresh basil.)
Serve either warm or chilled.
Photography: Brandi Leigh Photography