This post contains affiliate links, which means that if you click on one of the product links, I'll receive a small commission. Thank you so much for clicking through and helping to support this little blog business of mine! Read more about our site, privacy, and disclosure policies here.
If you've been searching for a paleo, dairy-free, gluten-free and grain-free dessert to satisfy your sweet tooth, then look no further than these magical fudgy tahini brownies. They are totally incredible and totally guilt-free!
Although we're going to call these brownies "fudgy tahini brownies" for accuracy's sake, really, they're MAGIC BROWNIES. Somehow, these decadent, rich, and fudgy brownies have no butter, flour, oil or refined sugar and are also paleo, dairy-free, gluten-free and grain-free. Like I said, magic brownies.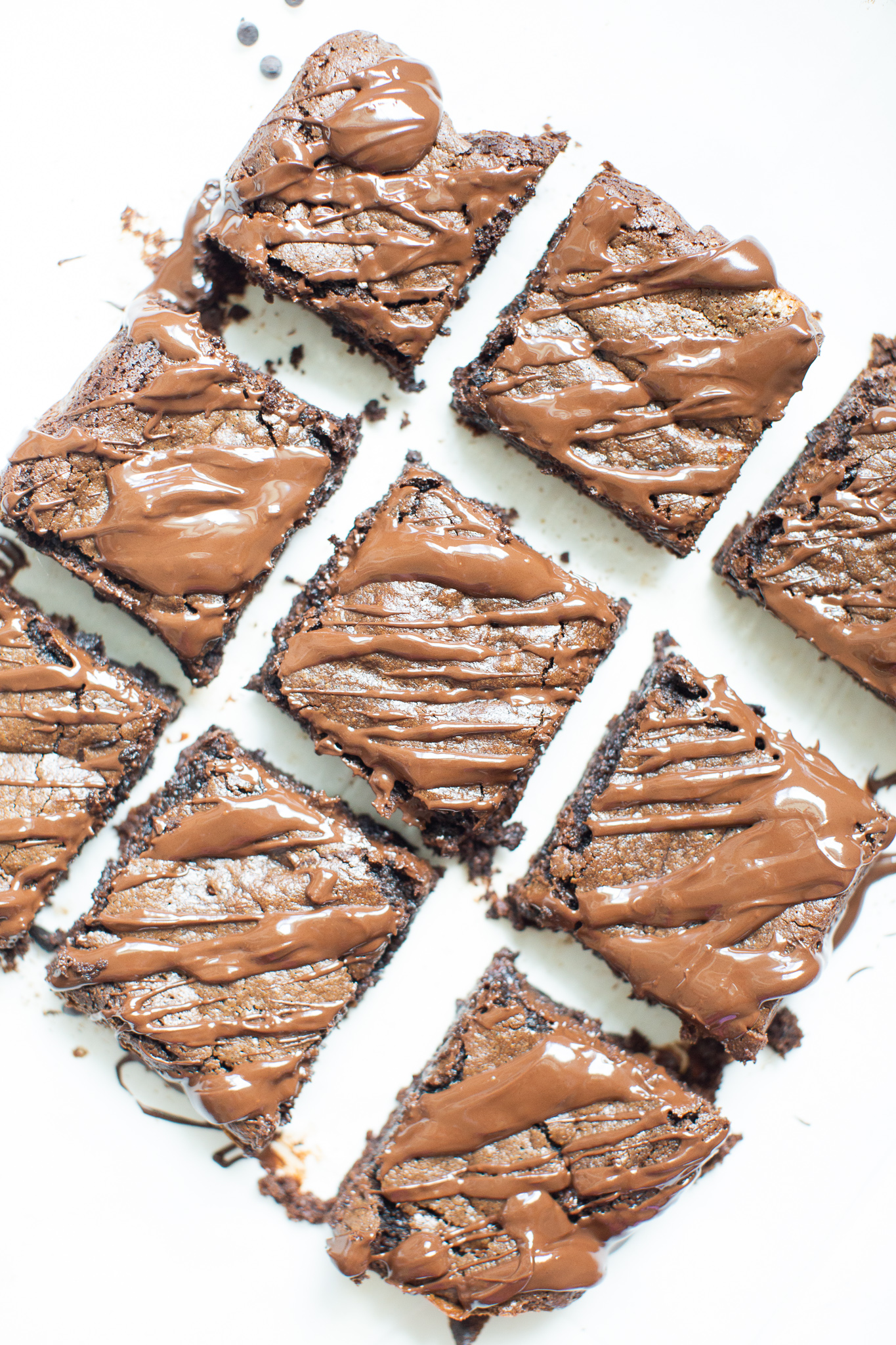 I'll admit, before making these brownies I was skeptical. Not only are typical brownie ingredients like flour and sugar replaced here with coconut flour and coconut sugar, but they pack a whole cup of tahini. Yes, tahini. But something happens when you combine all of these healthy ingredients, and the result is DELICIOUS.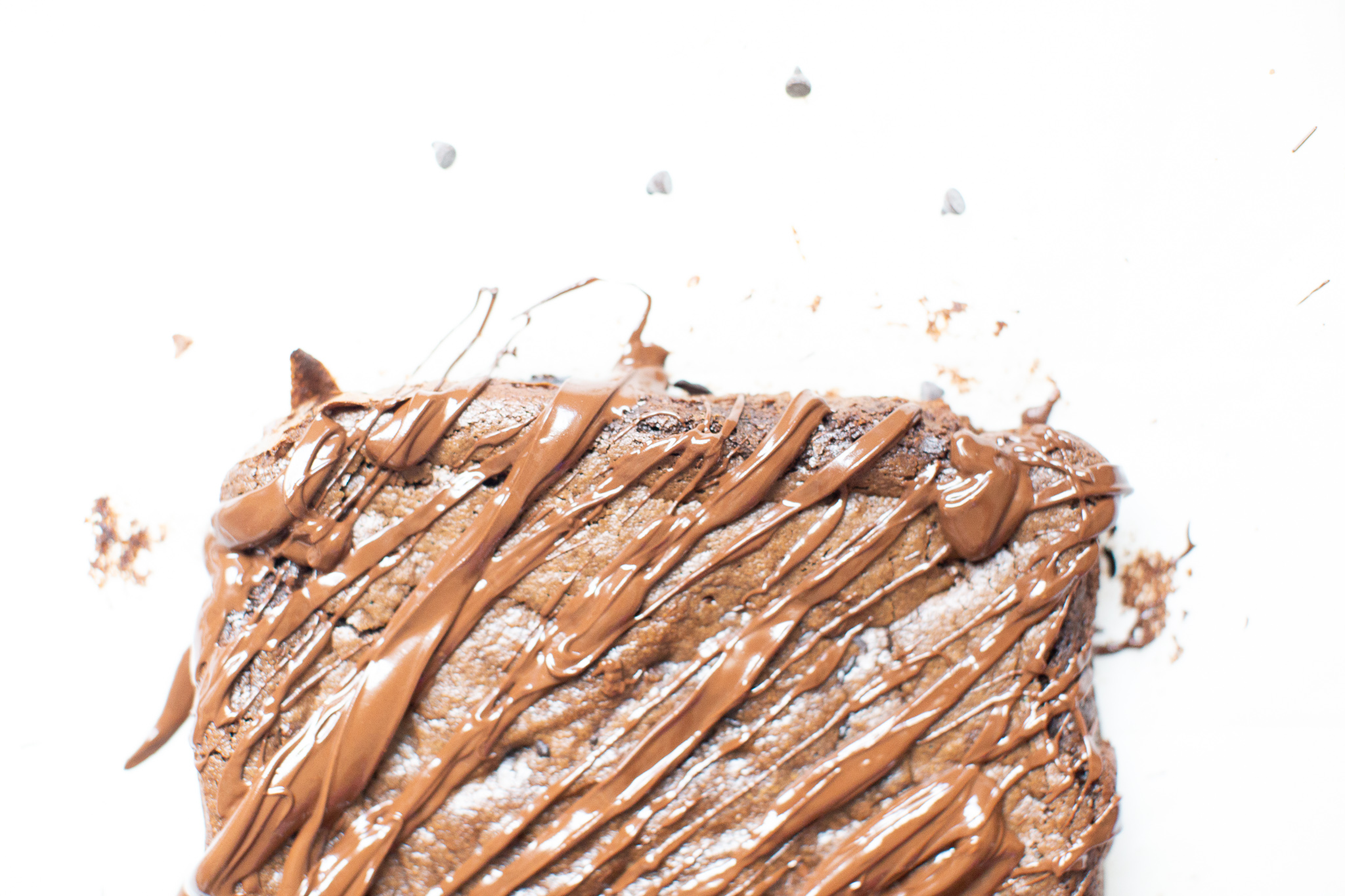 Seriously, you guys; these brownies are dense in the way that a perfect brownie should be, fudgy, perfectly sweet, and easily a contender for one of the best brownies I've ever had.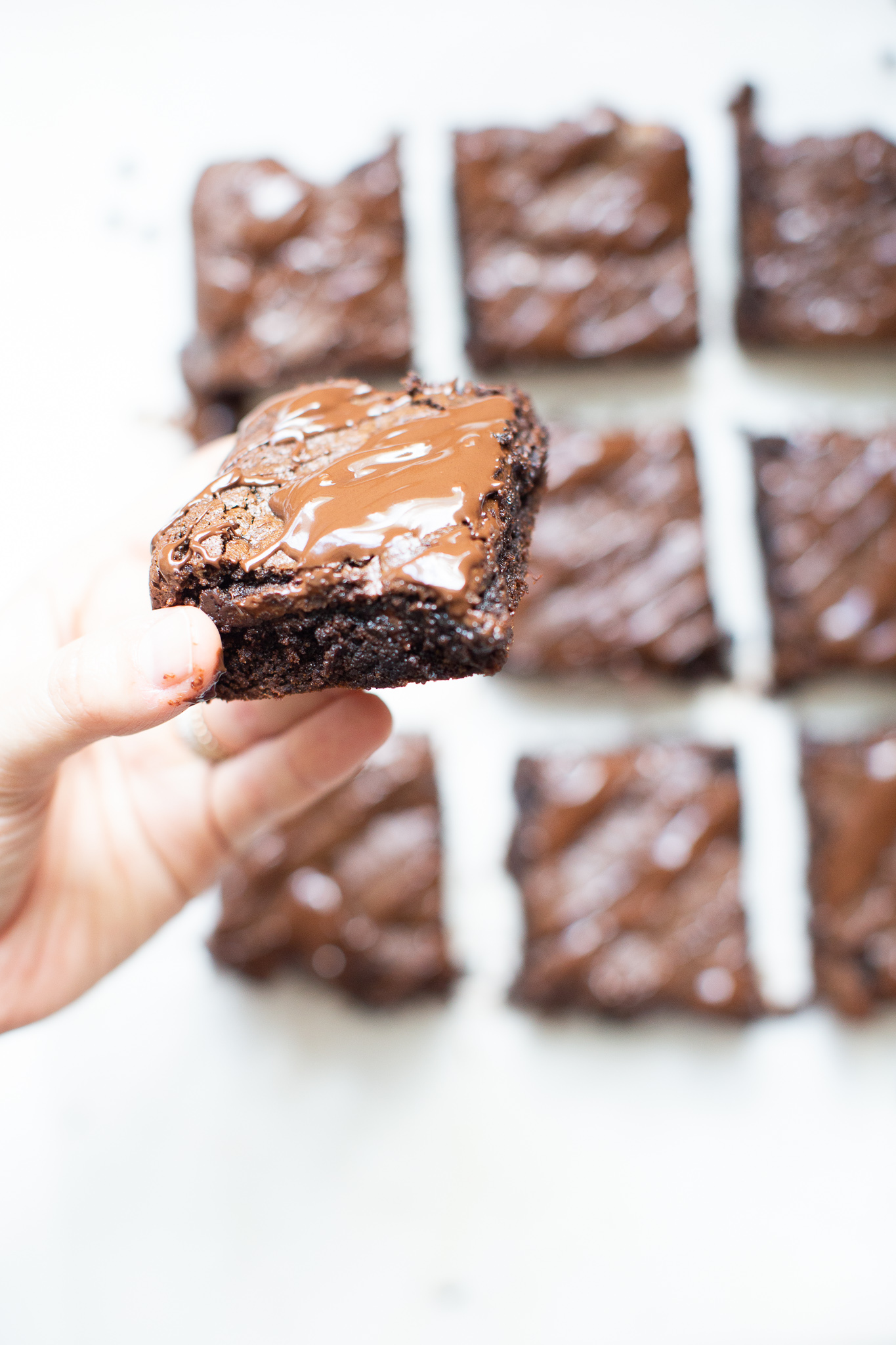 Do note: most likely, you're going to want to like the taste of tahini, a.k.a., sesame butter, to love these brownies. I'm sesame seed obsessed. I've always loved tahini. My husband, not so much. But, surprisingly, my husband LOVED these brownies. HE LOVED THEM. I'm not even sure he noticed there was anything different about them, let alone having tahini in them. (Fun fact: Trder Joe's sells a jar of tahini that happens to be really good and is under $5!)
Now if tahini isn't really your thing, sunflower butter has a similar consistency to tahini and works well as a substitute. I've also read that you can use a natural cashew or almond butter, and as soon as I try one of those I'll report back. But truly, use the tahini. It's crazy how well the tahini works in this recipe.
To make these fudgy brownies dairy-free, we use dairy-free chocolate chips. Our favorite are Enjoy Life chocolate chunks and chips; they're gluten-free, dairy-free, nut-free, and soy-free, and really delicious. They also bake incredibly well. Even Target carries them! Obviously, you can use regular semi-sweet chocolate here instead if you don't need to keep the recipe dairy-free. (Scarlett can't have any milk protein, so we're always experimenting with vegan and dairy-free recipes, in case you want to check them out!)
Also, if you don't have coconut sugar, you can use brown sugar, but of course, then your brownies won't be free of refined sugar.
Fudgy Tahini Brownies (That Are Paleo, Dairy-Free, Gluten-Free, and Grain-Free!)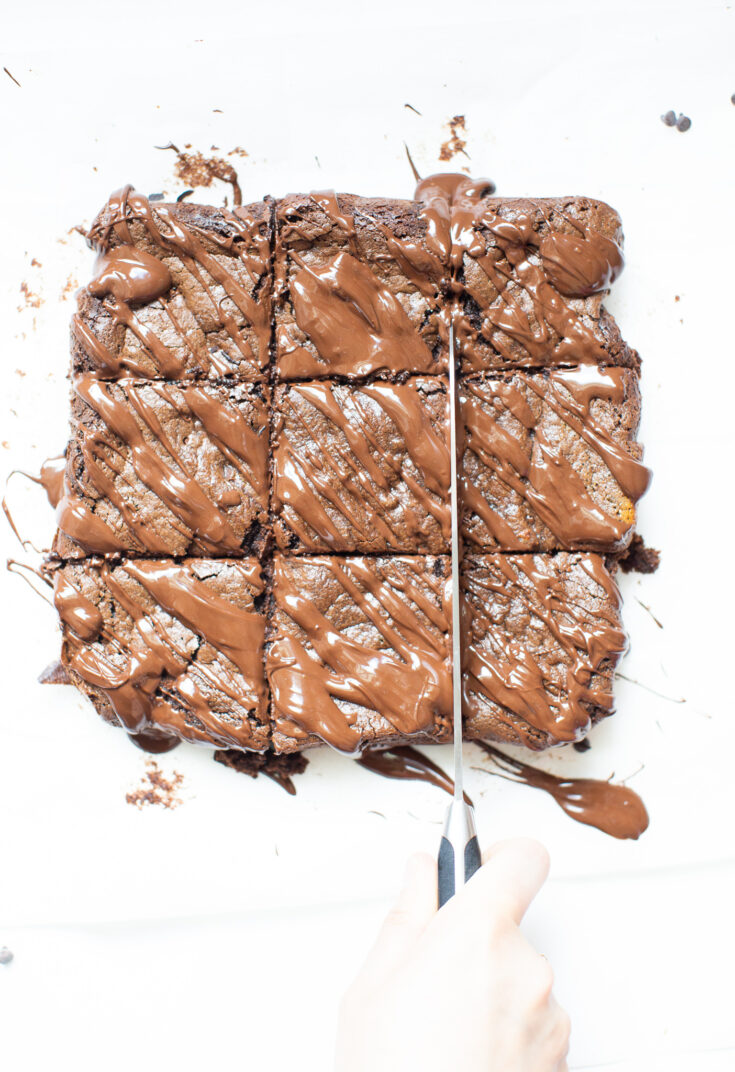 Yield:
Fudgy Tahini Brownies
Ingredients
1 cup tahini
1/2 cup coconut sugar
1/4 cup pure maple syrup
1 teaspoon vanilla extract
2 eggs
1/3 cup unsweetened cocoa powder
1 tablespoon coconut flour
1/2 teaspoon baking soda
1/4 teaspoon salt
1/3 cup chocolate chips (to keep these dairy-free, you can use Enjoy Life chocolate chips)
For the Chocolate Drizzle:
2 tablespoons chocolate chips (again, use Enjoy Life chocolate chips for dairy-free brownies)
1 teaspoon coconut oil (optional)
Instructions
Preheat oven to 350 degrees F. Grease a 9x9 inch baking pan with nonstick cooking spray.
In a large bowl, combine the tahini, coconut sugar, maple syrup, vanilla extract and eggs until smooth and well-combined. Gently fold in cocoa powder, coconut flour, salt and baking soda until batter is smooth. Fold in 1/3 cup chocolate chips into the batter. The batter will be rather thick.
Spread batter evenly in a prepared baking pan. If it's giving you trouble to spread and/or get out of the bowl (because it is on the thicker side), spray a rubber spatula with nonstick cooking spray beforehand. (You'll be amazed at how much this helps!). Bake for 22-30 minutes or until a toothpick inserted into the middle comes out clean or with just a few crumbs attached. Don't overbake!
After brownies have cooled a few minutes, prepare the chocolate drizzle either on a stove top or in the microwave. On a stove top: place a small saucepan over low heat, add chocolate chips and coconut oil and stir frequently until melted and smooth. In the microwave: place chocolate chips in a microwave safe bowl, and heat 30 seconds, remove and stir, heat another 30 seconds, remove and stir, and repeat until chocolate is melted and smooth. Generously drizzle your melted chocolate over the brownies. Slice into squares and serve!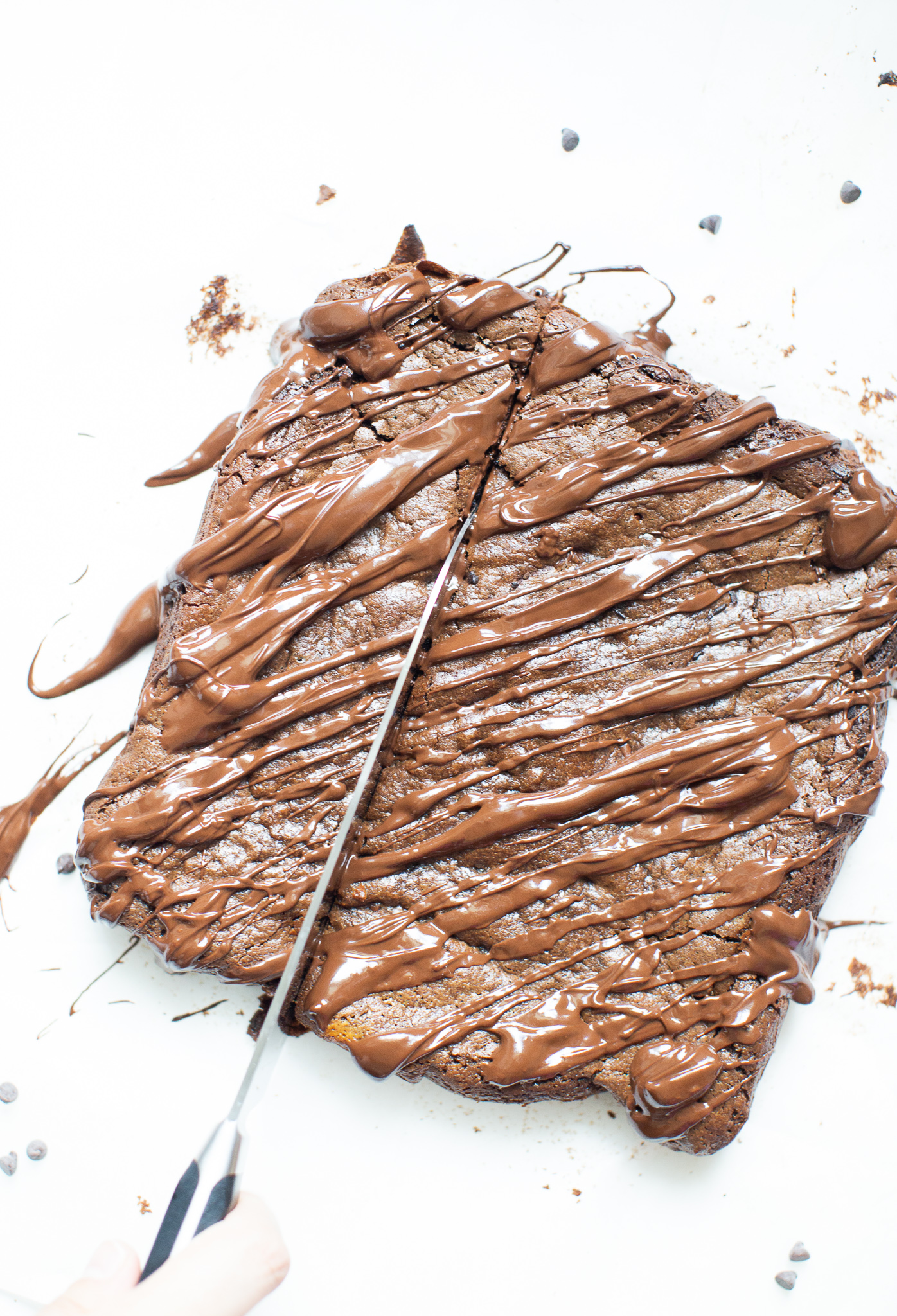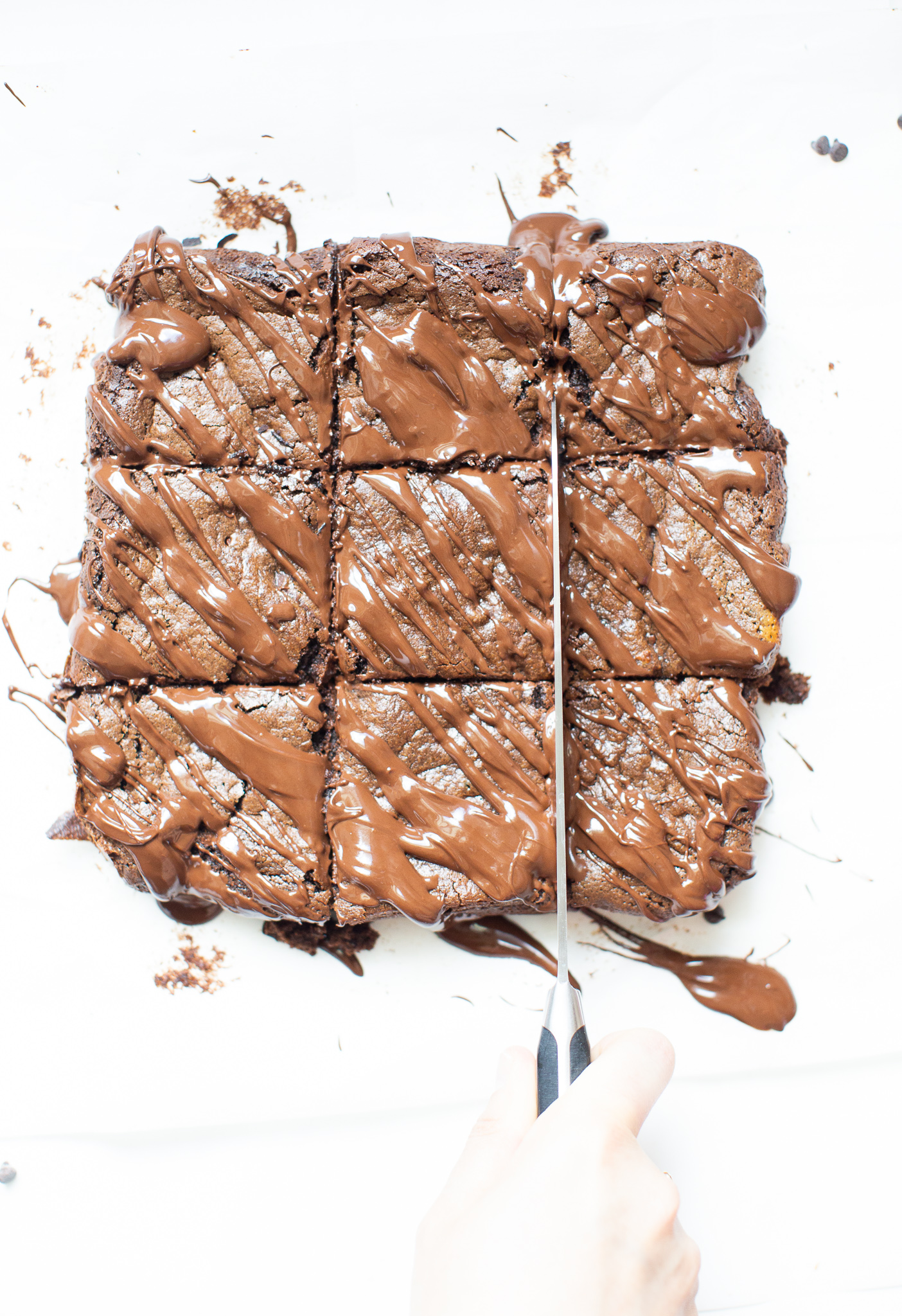 These brownies are also incredibly easy to make. If you're looking for a dessert for a crowd and need something simple, just throw all the ingredients in a bowl, mix, and pop 'em in the oven. And of course, don't forget to drizzle that melted chocolate on top … that's totally the pièce de résistance.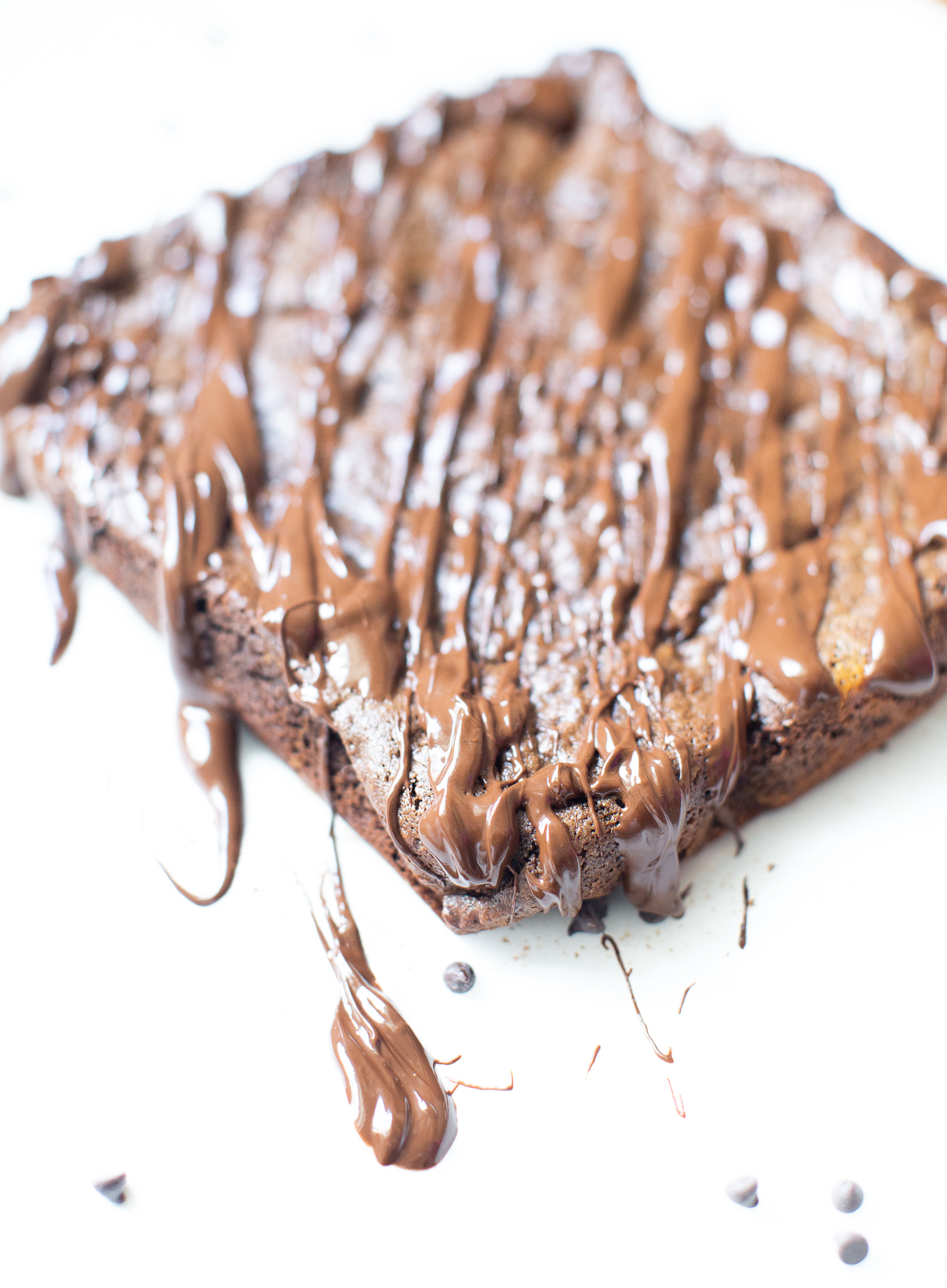 Clearly I'm going to have to make these again, stat.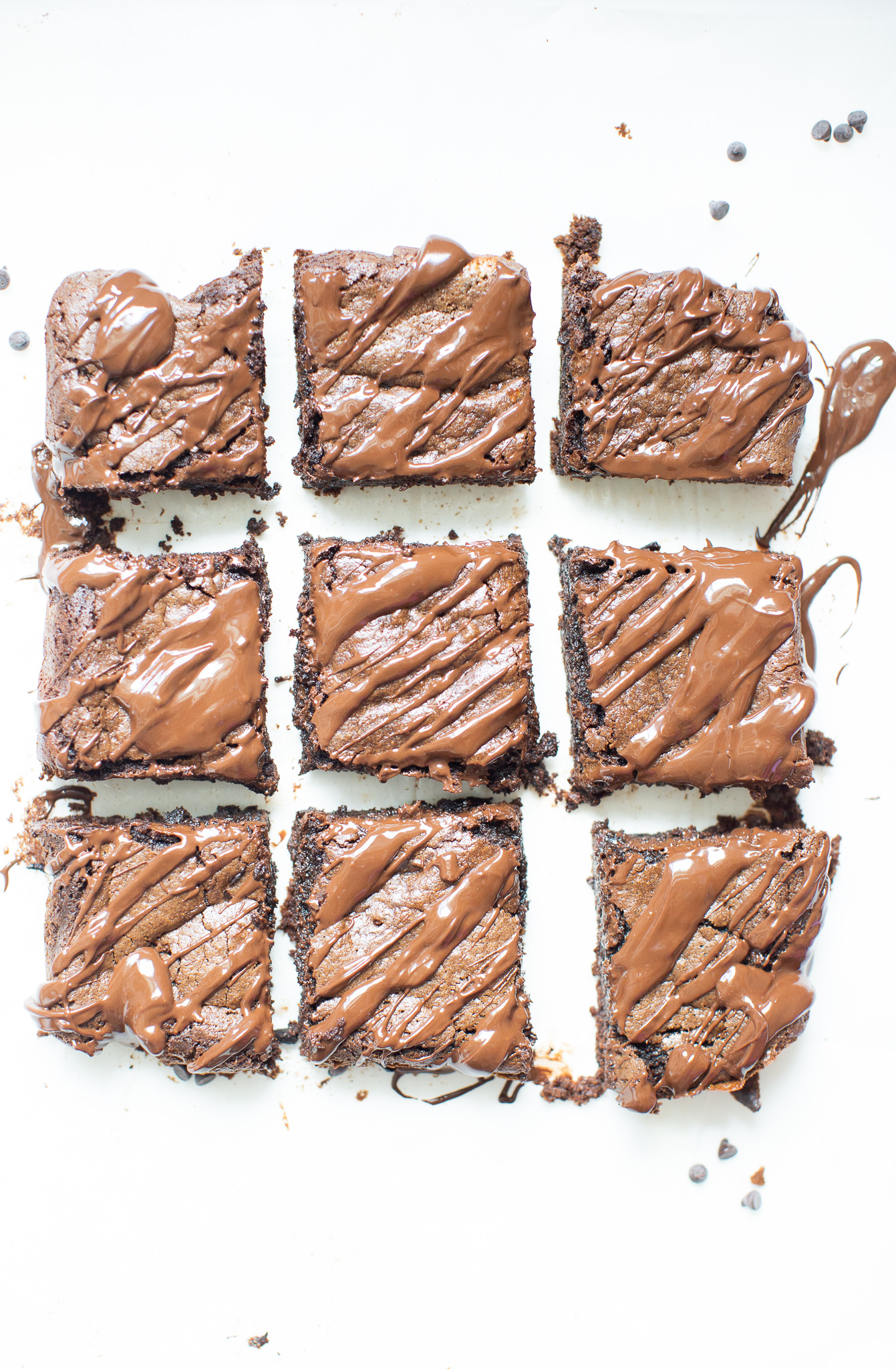 Mmmmm … chocolate.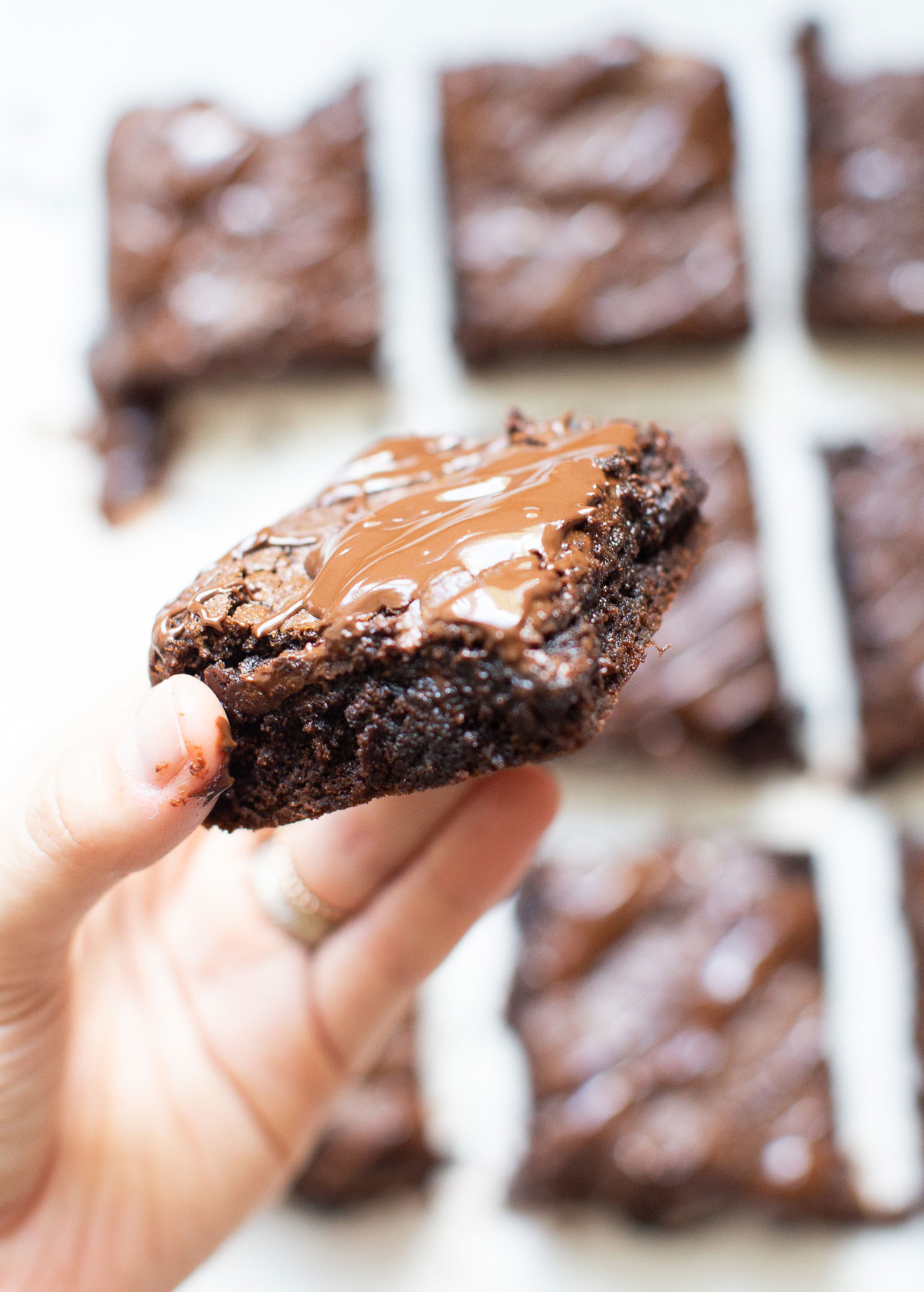 Love these healthy fudgy tahini brownies? Head to our recipe page to check out what else we're dreaming up in the kitchen!
SHOP THE FUDGY TAHINI BROWNIES RECIPE POST | CLICK LEFT & RIGHT ARROWS TO EXPLORE

Photography by Coffee Beans & Bobby Pins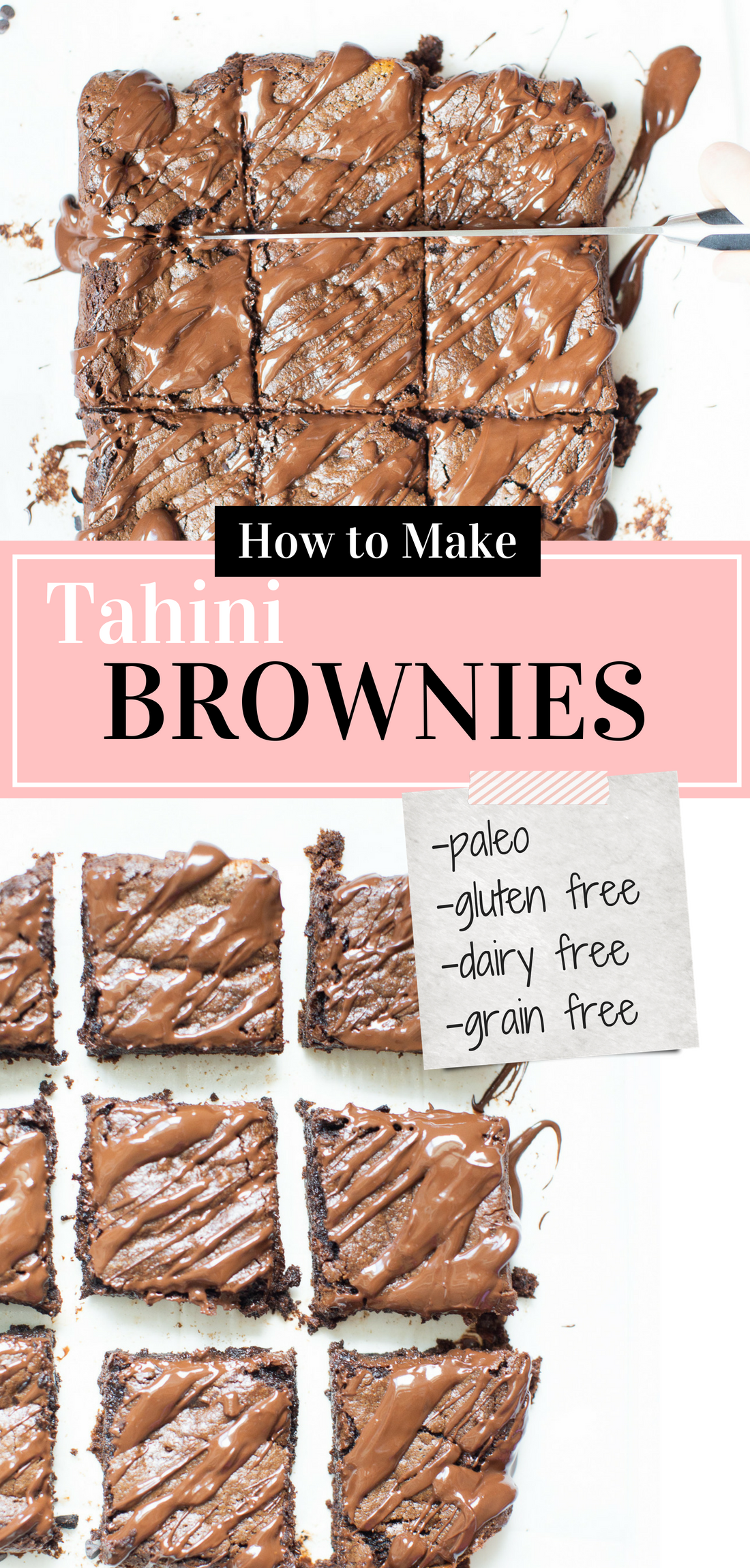 SaveSave
SaveSave
SaveSave
SaveSave
SaveSave
SaveSave
SaveSave
SaveSaveSaveSave