I made THE yummiest healthy gluten-free apple cinnamon and almond muffins this past weekend; so good in fact, that although I had every intention of sharing a different savory fall recipe this week, the muffins won out. These muffins are dairy-free (no butter or milk), gluten-free (they use a small amount of oat flour and old-fashioned oats instead of processed flour), and oil-free. But I promise you this: they are by no means flavor-free. Even my husband, who is generally wary of anything dubbed "healthy," and especially anything filled with fruit (ha, opposites attract), loved these muffins. Best of all though – my baby girl (who has a milk protein allergy) is in love with these muffins and keeps walking around, muffin chunk in hand, singing, "good" (well, more like "goooooooooood".) I am one happy mama.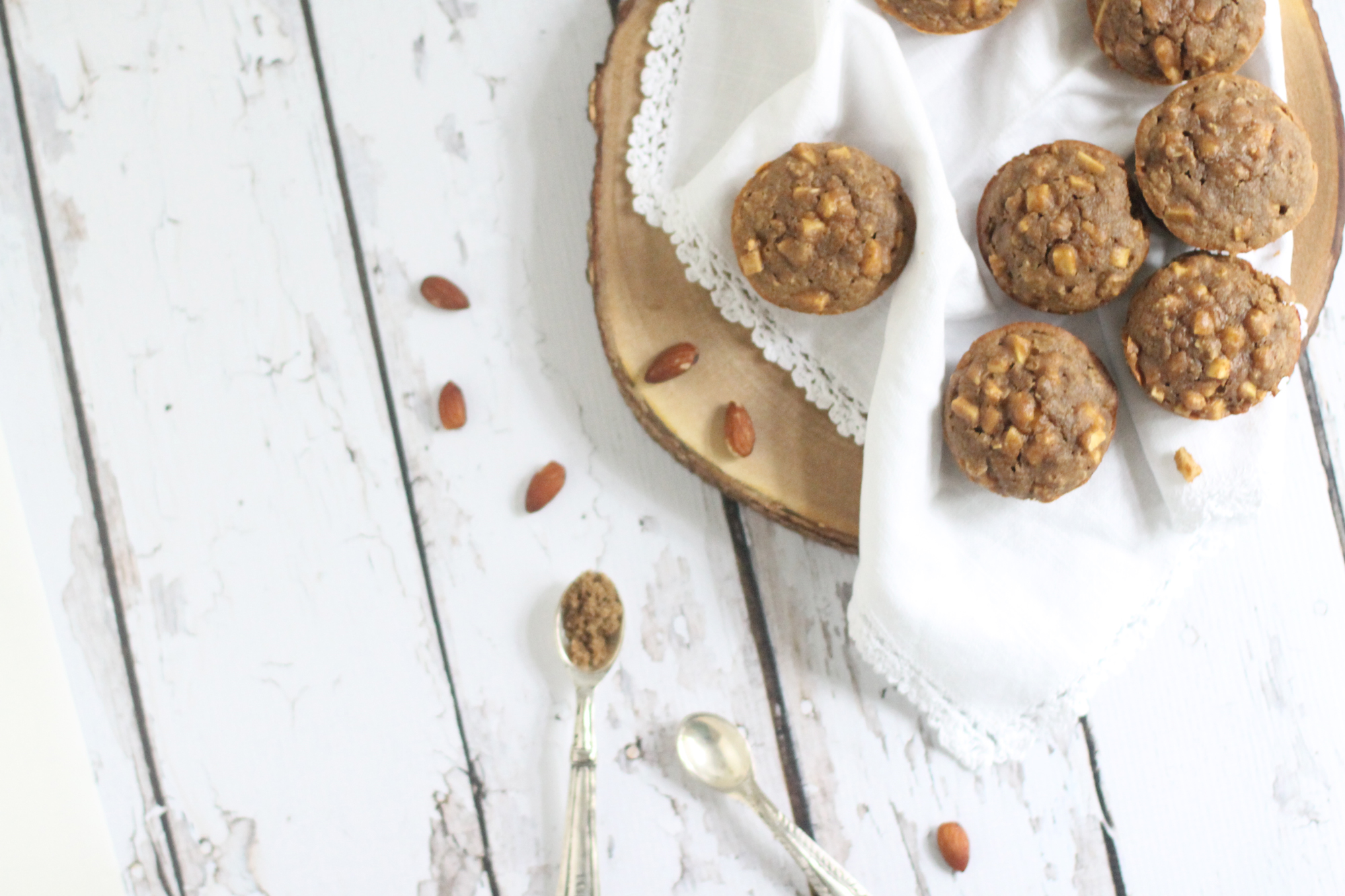 I was worried about creating a muffin without butter or oil; typically "healthy" desserts that use applesauce in place of fat taste like sadness. Seriously, healthy food can suck. There, I said it. But for some crazy recipe science reason, these healthy muffins come out magically moist, cakey, and delicious. The little bits of apple add the perfect bursts of sweetness, and if you wanted the extra crunch, you could always add 3-4 tablespoons chopped pecans to the mix. The hint of vanilla is so inviting, and the almond butter flavor is subtle and perfect.
Truth be told: this was my first time baking with almond butter and I couldn't be happier with the results. Sometimes almond butter intimidates me just a smidge – it has a distinct pastey almond flavor and texture, but baking with almond butter – it's the bees knees. Plus, it adds a bit of protein to these incredible muffins, making it a good dessert choice and an awesome grab-and-go breakfast. Muffins for breakfast are my happy place. It's like cake for breakfast, only totally justifiable. Happy snacking!
HEALTHY APPLE CINNAMON + ALMOND MUFFINS
Makes about 8 muffins.
INGREDIENTS
1/2 cup unsweetened apple sauce
1/2 cup almond butter (don't substitute peanut butter)
2 tablespoons honey
1 teaspoon vanilla extract
2 tablespoons brown sugar, lightly packed*
1 large egg
Pinch of salt
1/2 teaspoon baking soda
1/2 teaspoon baking powder
1/3 cup + 1 tablespoon oat flour (or old-fashioned oats that have been blended)
1/3 cup old fashioned oats
1/2 cup chopped tart apple (I used one medium-sized apple)
1 teaspoon lemon juice
1/2 – 1 teaspoon cinnamon
DIRECTIONS
Preheat the oven to 350 degrees F. Spray 8-9 cavities with nonstick spray and fill the other ones halfway up with water (ensures even baking).
Do not use muffin liners.
Beat together the applesauce, almond butter, honey, vanilla extract, and brown sugar in a large bowl. Beat in the egg.
Beat in the salt, baking soda, baking powder, and oat flour.
NOTE: I love using gluten-free oat flour (i.e., oat flour that is made without any cross-contamination of flour) but you can also make your own oat flour pretty easily. To make oat flour, take oats and pulse them in a blender or food processor until they are a flour-like consistency. Be sure to measure the oat flour AFTER blending and not before or the amounts will be off.
Beat just until combined.
Stir in the old-fashioned oats.
Remove the peel and core of an apple and finely chop the apple into small pieces. Mix with the lemon juice and then add the apples to the mixture and stir once more. Mix until just combined.
Using a cookie scoop, scoop two full scoops of the dough into each muffin cavity. If you want larger muffins only fill 8 of the cavities. If you'd rather have more muffins fill up 9.
Bake at 350 degrees for 16-18 minutes. (I baked mine for just over 16 minutes because I prefer ever-so-slightly under-baking these muffins; it makes them more moist and fluffy. Be sure not to over-cake.)
*If you want your muffins sweeter, increase brown sugar by 1-2 tablespoons, but I think these muffins are just the right amount of sweet.
Recipe adapted via Chelsea's Messy Apron