This post contains affiliate links, which means that if you click on one of the product links, I'll receive a small commission. Thank you so much for clicking through and helping to support this little blog business of mine! Read more about our site, privacy, and disclosure policies here.
Say hello to your new favorite healthy pumpkin muffins! If you're craving all of that fall pumpkin goodness, but would rather not pile on the calories (because we all know it's best to save the all-out carb-fest for Thanksgiving!), these naturally gluten-free, dairy-free, sweetened with maple syrup, pumpkin muffins, are where it's at!
I am so excited about these yummy, super moist, healthy pumpkin muffins. They are perfectly pumpkin-y, packed with pumpkin spice and everything nice, and are subtly sweet (thanks to maple syrup and a satisfying pinch of crunchy turbinado sugar on top.)  They're also surprisingly quick and easy to make (like, really easy), and they're made with ingredients that are probably already in your fall pantry. (I mean, everyone stocks up on canned pumpkin in October and November, riiiight?) Plus, because these yummy muffins use oat flour, rather than standard flour, they're also gluten-free, and almond milk, rather than regular milk, making them dairy-free; they're a whole lot healthier than your average pumpkin muffin.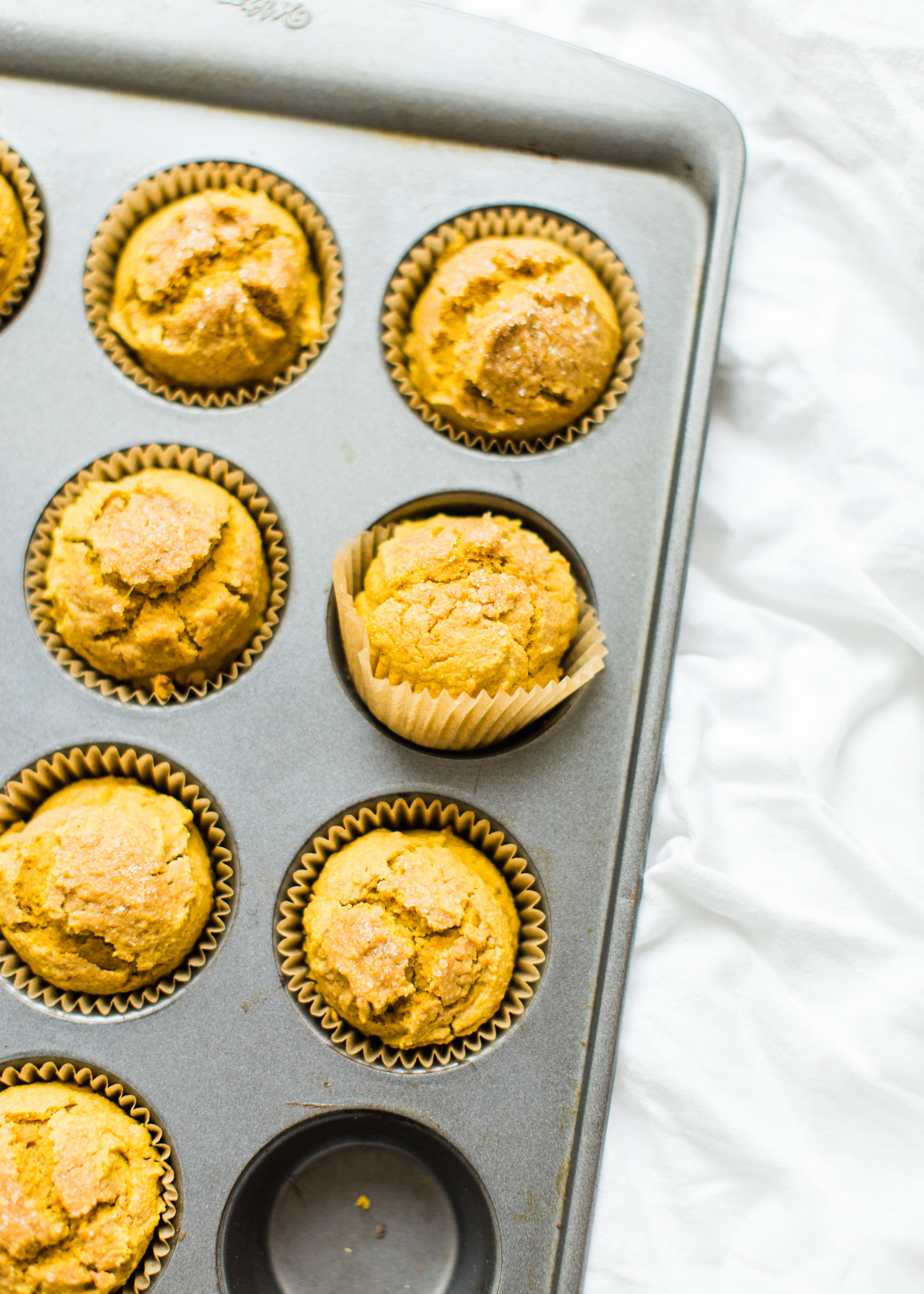 I think what impresses me most about this healthier pumpkin muffin recipe is that despite replacing the flour, skipping the dairy, and cutting way back on the fat, these muffins are still REALLY moist.
'Aint nobody got time for a dry muffin.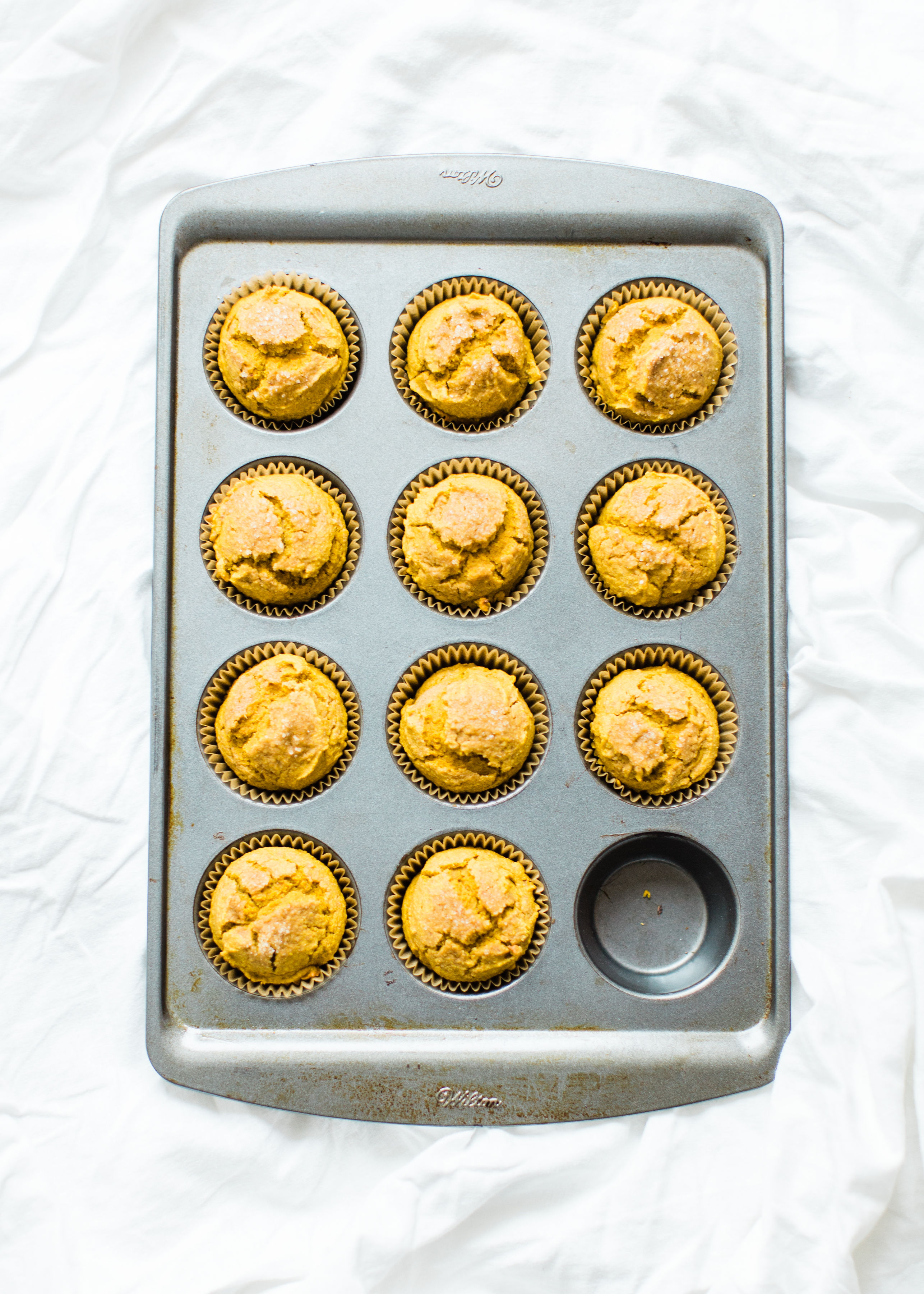 If you like your muffin a bit sweeter, I say double up on the natural sweetener; a.k.a., the maple syrup, and don't forget to top your pre-baked muffins with that turbinado sugar. I'm a big fan of an added sprinkling of sugar both because it gives the top of an already delicious muffin some satisfying crunch, and for these otherwise subtly sweet muffins, it gives them some extra sweet oomph. Yasss!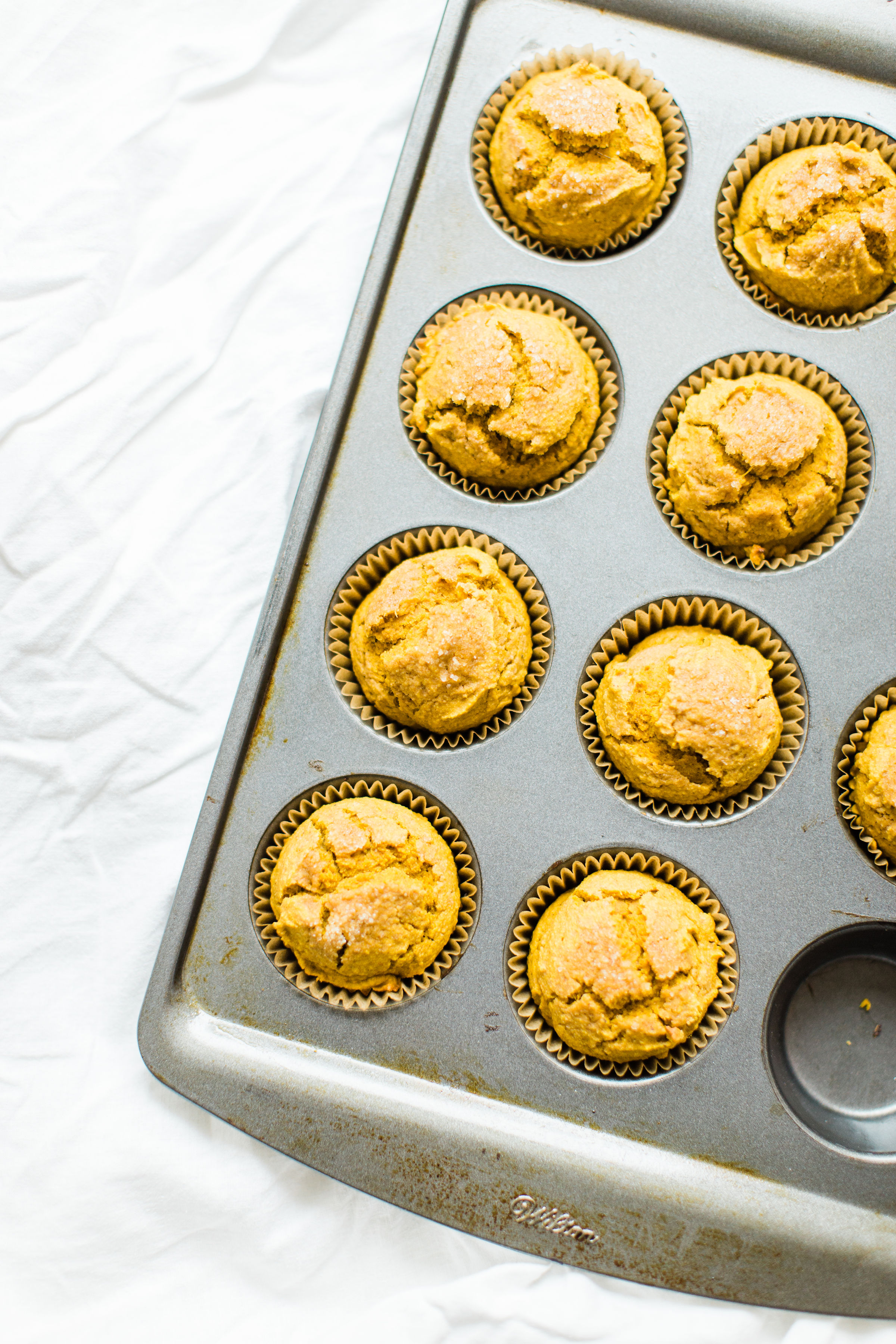 I love these healthy pumpkin muffins so much!
I've actually been squirreling them away. After baking up a dozen recently, I actually threw about half of the batch into an airtight container and tossed it into our freezer. Now, when I want one with coffee in the morning or with a cup of a tea for a little afternoon pick-me-up, all I have to do is grab a frozen muffin out of the freezer, stick it in the microwave for 30 seconds, and voilà: delicious healthy pumpkin muffins, any time.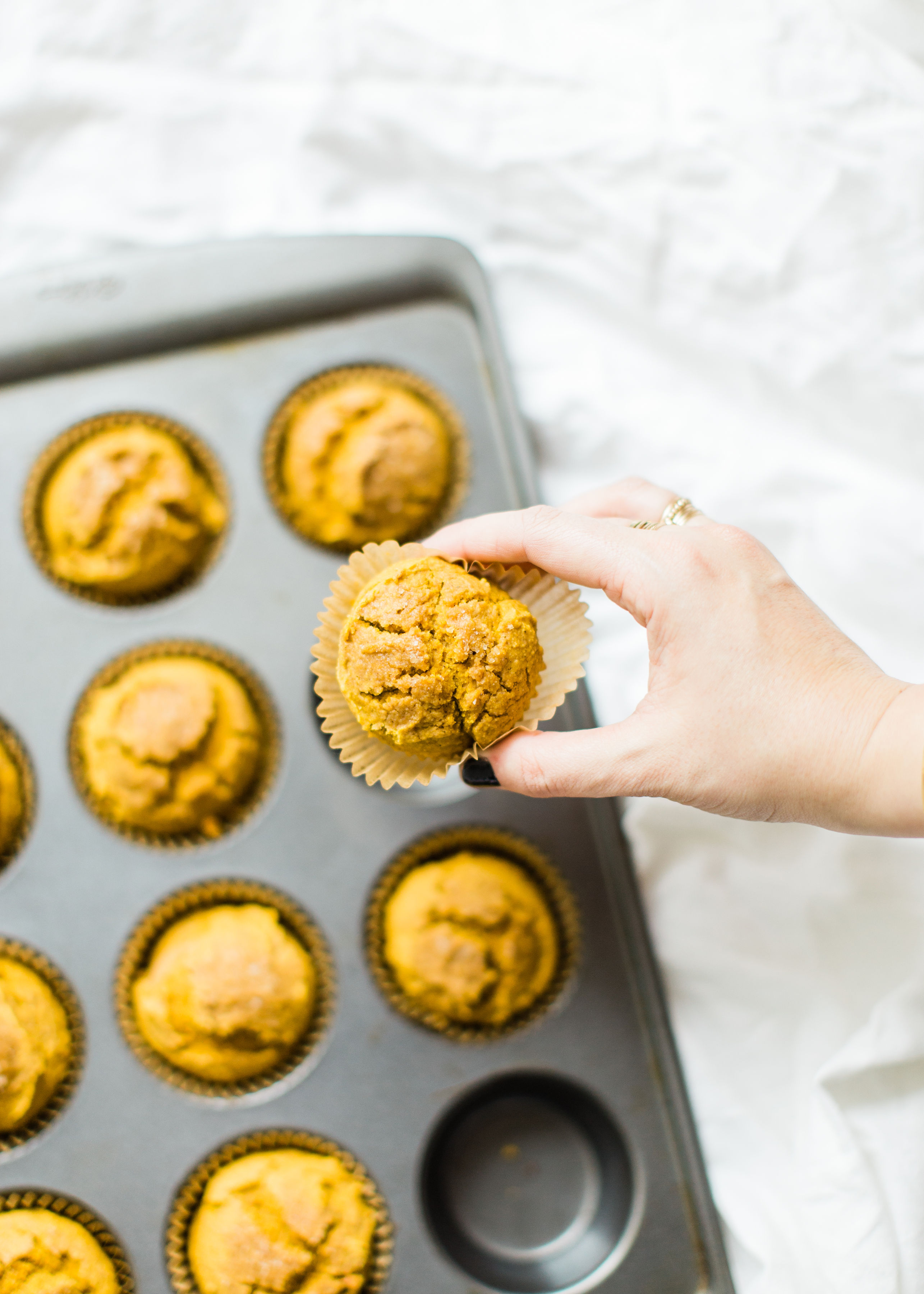 How to Make Healthy Pumpkin Muffins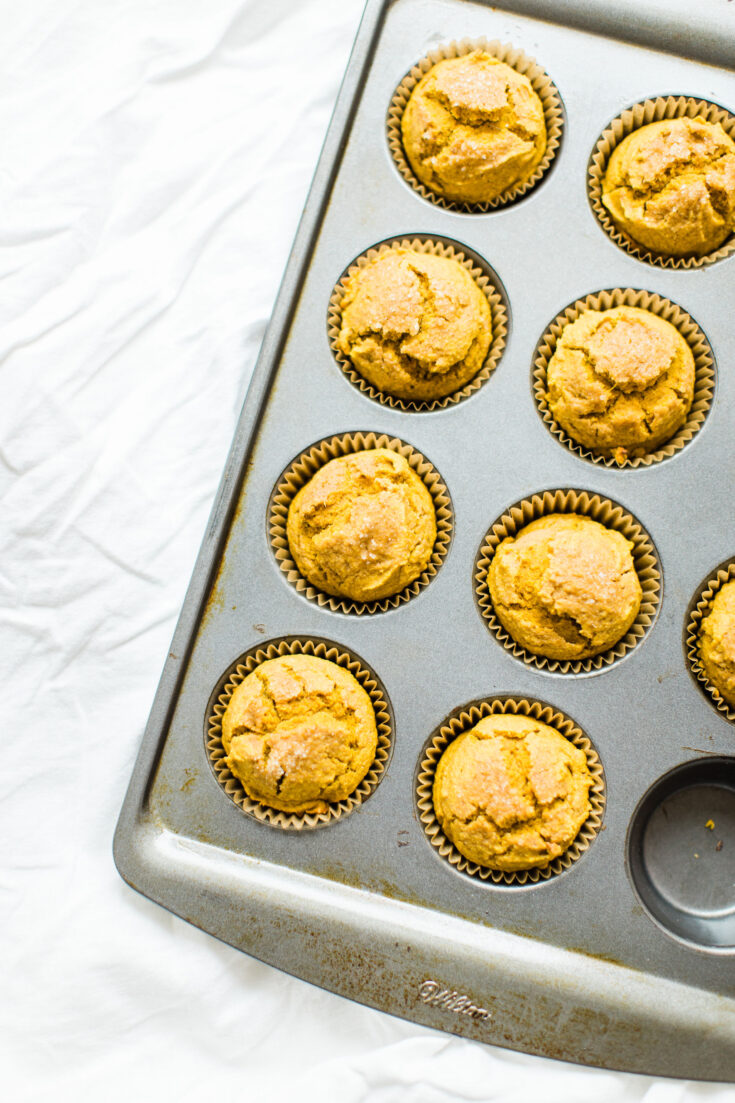 Yield:
Healthy Pumpkin Muffins
Ingredients
3 cups oat flour
1 tablespoon pumpkin pie spice (a.k.a., ground cinnamon, ginger, nutmeg, allspice, and cloves)
1 1/2 teaspoons baking soda
3/4 teaspoon salt
2 eggs
1 cup unsweetened almond milk, plain or vanilla
1 cup pumpkin puree
1/2 cup maple syrup (use up to 1 cup if you like your muffins sweeter)
3 tablespoons melted coconut oil (or any mild-flavored oil, like canola or peanut oil)
1 teaspoon vanilla extract
optional: turbinado sugar for sprinkling on top
Instructions
Preheat oven to 375°F. Line a 12-cup muffin pan with cupcake liners, or lightly grease with cooking spray. Set aside.
Combine oat flour, pumpkin pie spice, baking soda and sea salt, and pulse until the mixture is evenly combined. Set aside.
In a separate large mixing bowl, whisk together the eggs, almond milk, pumpkin puree, maple syrup, oil and vanilla extract until evenly combined. Fold the dry ingredients in with the wet ingredient mixture, and stir until the mixture is just combined. (Be careful not to over-mix.)
Portion the ingredients into prepared cupcake liners in the pan. Top each with a pinch of turbinado sugar .
Bake for 15-18 minutes, or until a toothpick inserted in the center of the muffins comes out clean. Remove from the oven and place the pan on a cooling rack for 5 minutes.
Serve warm. Or let the muffins cool to room temperature, then store in a sealed container for up to 3 days, or freeze for up to 3 months.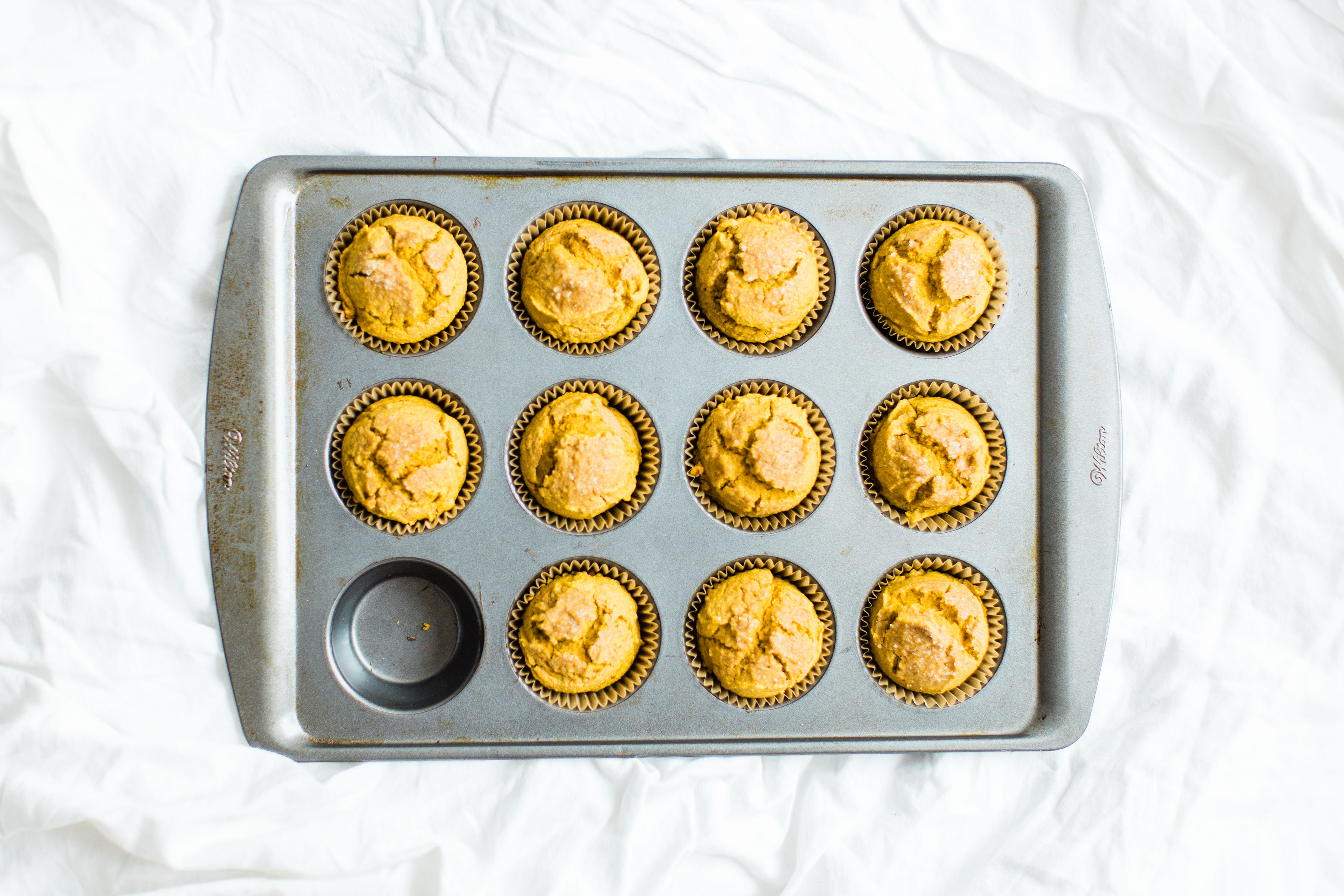 Mmmm … muffins.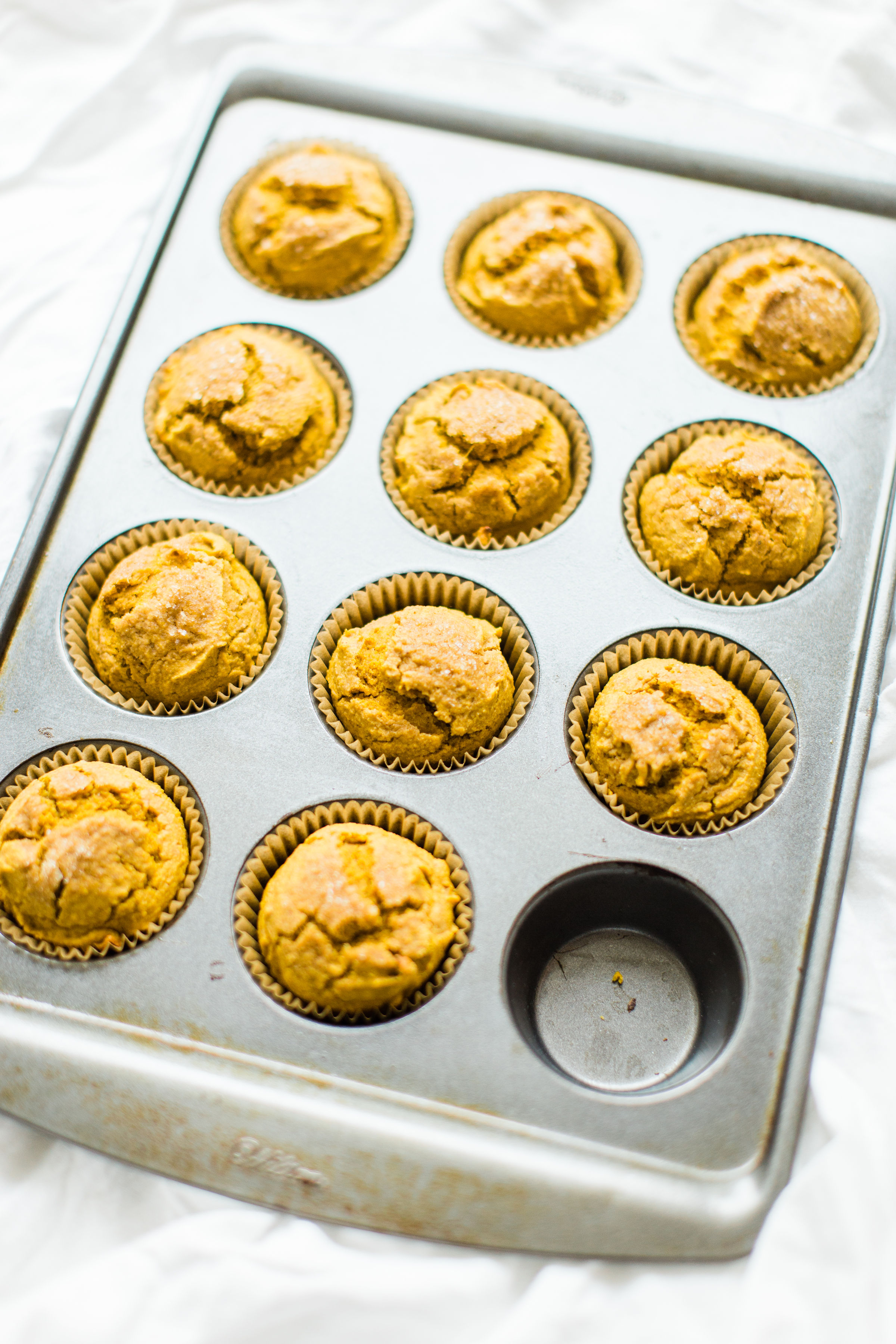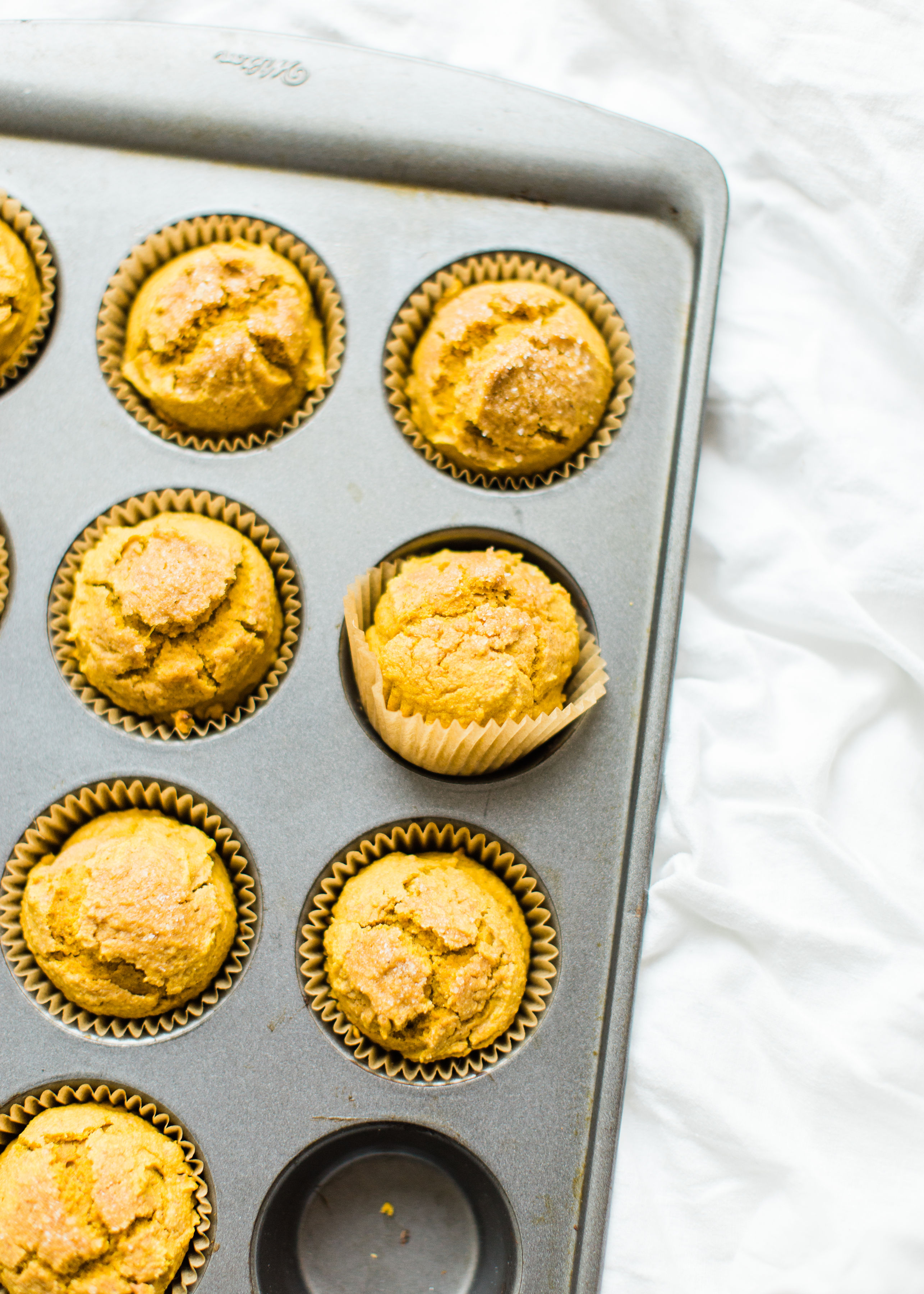 Love this recipe for healthy pumpkin muffins? Head to our recipe page to check out what else we're dreaming up in the kitchen. And if you're looking for more delicious fall recipes, perfect for this cold weather, this enormous list of fall recipes should do the trick!
SHOP THE HEALTHY PUMPKIN MUFFINS RECIPE POST | CLICK LEFT & RIGHT ARROWS TO EXPLORE
Photos by Annie Timmons Photography for Glitter, Inc.