This post contains affiliate links, which means that if you click on one of the product links, I'll receive a small commission. Thank you so much for clicking through and helping to support this little blog business of mine! Read more about our site, privacy, and disclosure policies here.
This incredible applesauce snack cake is super easy to make – seriously, you can whip it up in minutes – is soft, fluffy, moist, and filled with fall spices, is topped with a rich cream cheese frosting that's so good you may cry, and kids LOVE it. 
I've recently discovered something pretty magical in the kitchen: have you ever heard of applesauce snack cake? I love a classic cake, and an easy cake that I can whip up in 10 minutes, well that's all the better.
The rundown on this cake: it's soft, moist, apple-y, perfectly spiced, and smothered in cream cheese frosting = yaaaaaaassss.
Even better: this applesauce snack cake is kid-approved, and honestly, whether you slather it in rich cream cheese frosting, or simply cover it in a bit of powdered sugar and serve (like this amazing chocolate chip snack cake) – you're whole family is going to go crazy for this cake. I mean, yes, cream cheese frosting makes everything richer and more delicious (I mean … YUM), but dare I say, this applesauce cake stands up all on it's own and I may actually skip the cream cheese frosting altogether next time to save some time. Truly, the cake is that soft, fluffy, and moist … and filled with all of the glorious spices of fall.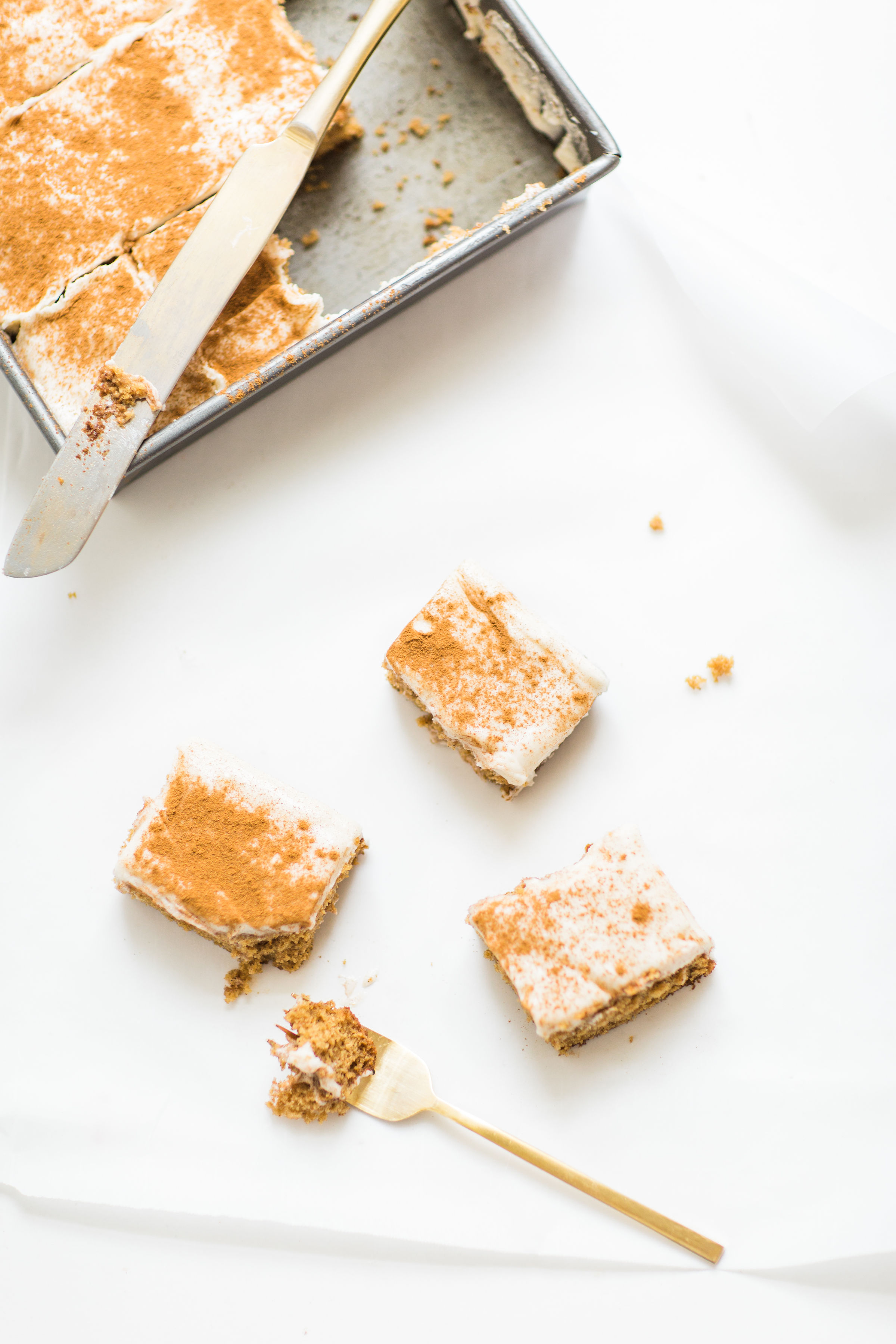 Guys, this applesauce snack cake is a winner.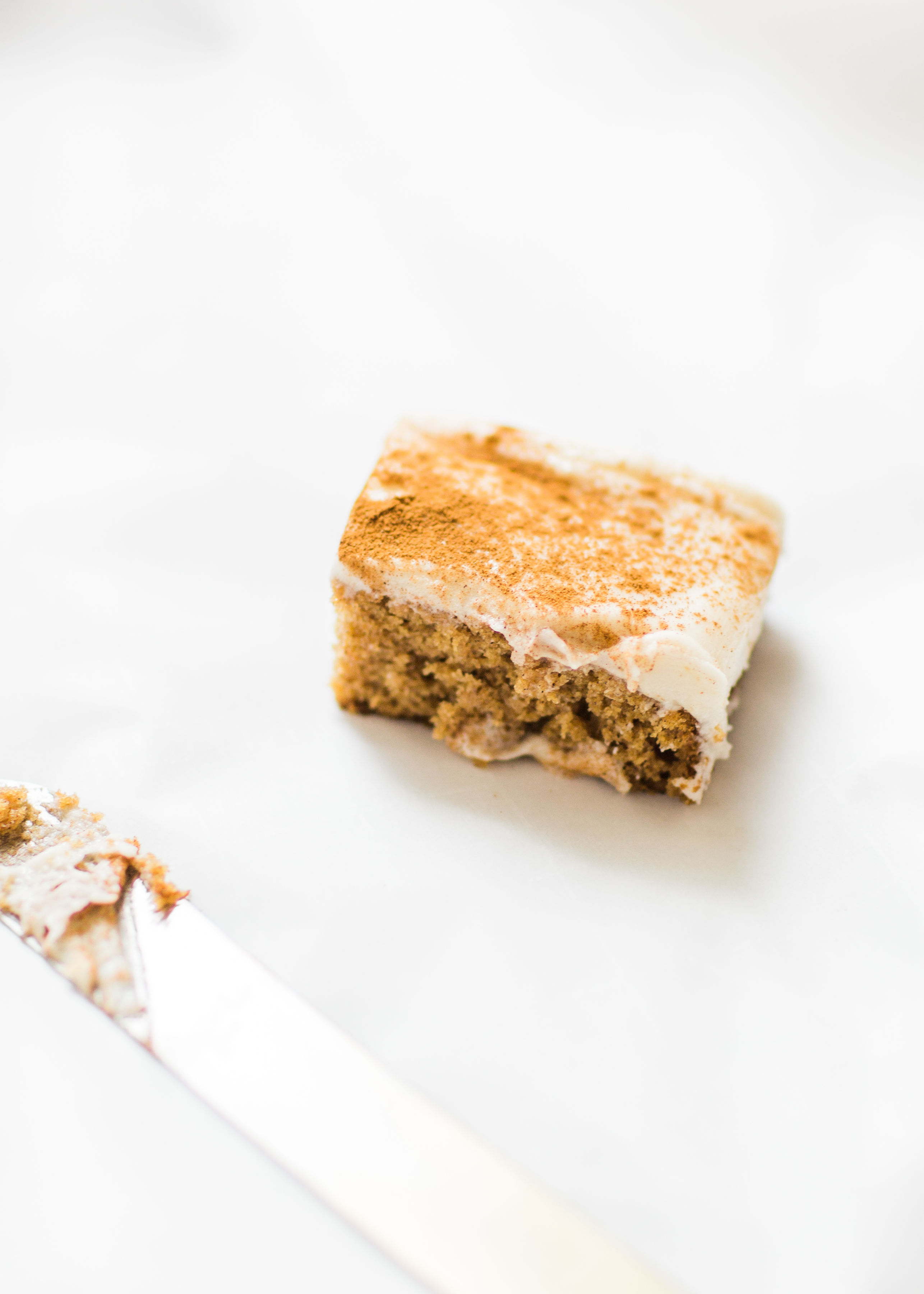 Never had snack cake before?
There's actually a bit of nostalgia to snack cake. Basically, snack cake is a simplified cake that can be made in a big sheet and cut into squares or rectangles – perfect to snack on. This cake just screams childhood. You probably had something similar growing up. Without being overly complex or very involved at all, the end result is one of the most delicious cakes around. I'm not sure how something so simple can taste SO good, but it just does. And because it bakes up thick and fluffy in a baking pan (hint: use a square 8×8 inch baking pan for even fluffier/taller squares), it's best to cut the cake into small pieces; perfect for snacking.
Sneak a piece into your little one's lunchbox, and you'll be the coolest mom in town. Then, once everyone is off for the day, serve yourself a slice with a big cup of coffee and pat yourself on the back for being a baking wizard. (Even though, I promise you, this cake is not hard to make.)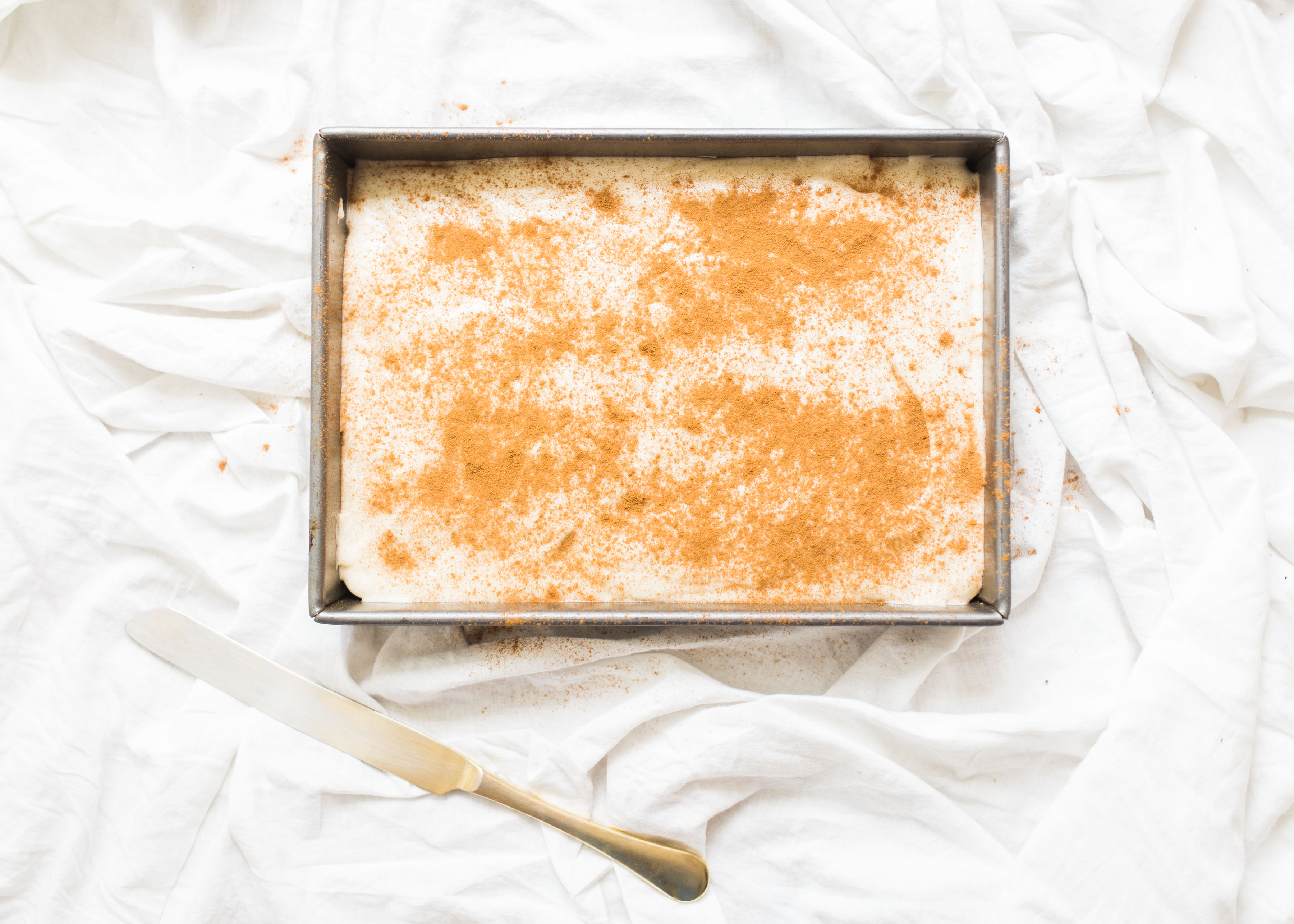 I actually stumbled upon the original recipe for this applesauce cake through my friend, Caitlin's blog, and I was all over it because the cake itself is actually dairy-free and pretty healthy as far as cake goes. What keeps the cake so moist is actually a combination of unsweetened applesauce and coconut oil; no butter or milk required. Plus, you use whole wheat flour, though you truly can't tell. For the cream cheese frosting, I just used a combination of vegan cream cheese (we like Miyoko's or Daiya) and soy milk (though almond milk would have worked just fine!) The result was totally delicious.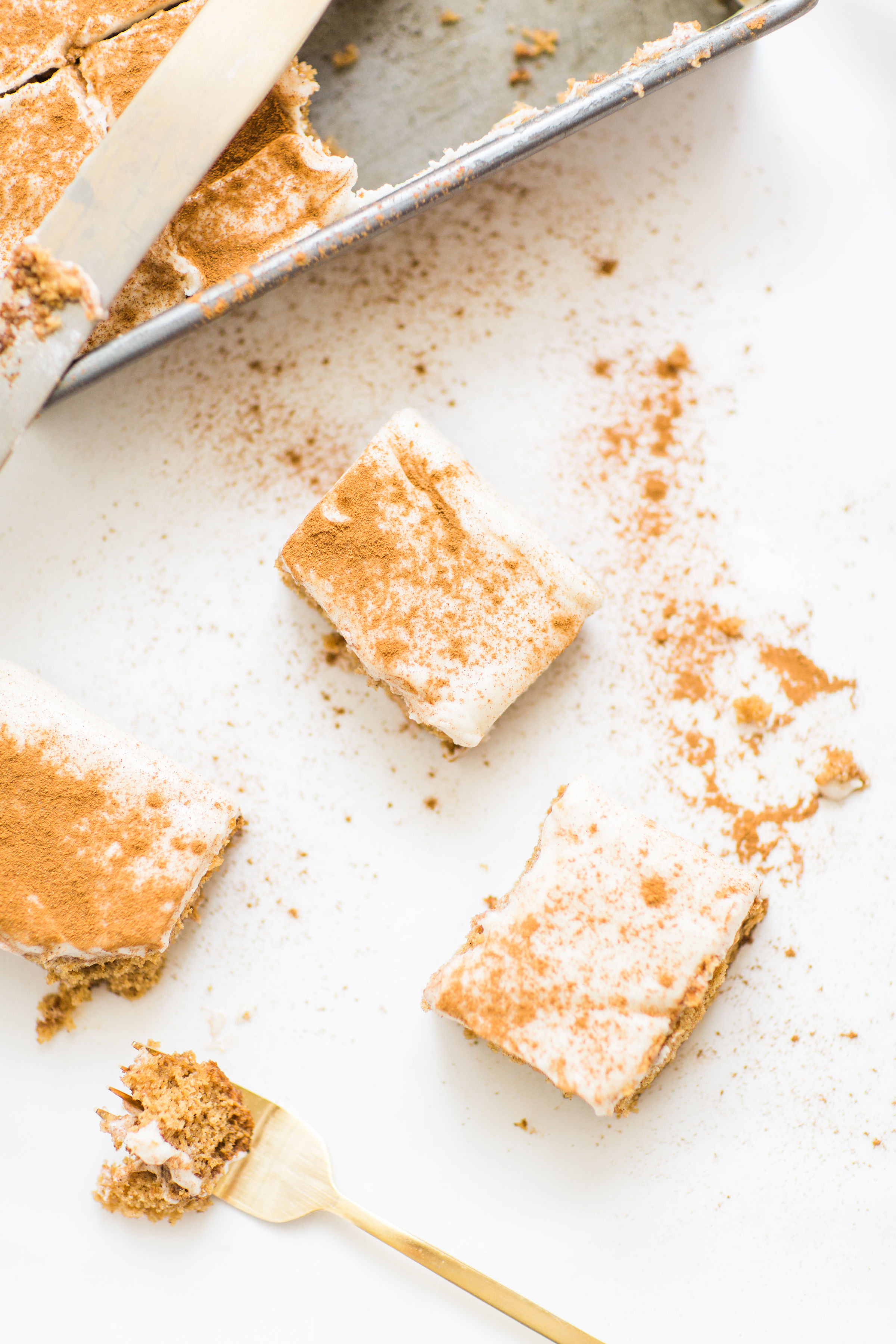 So let's jump right into the super easy recipe!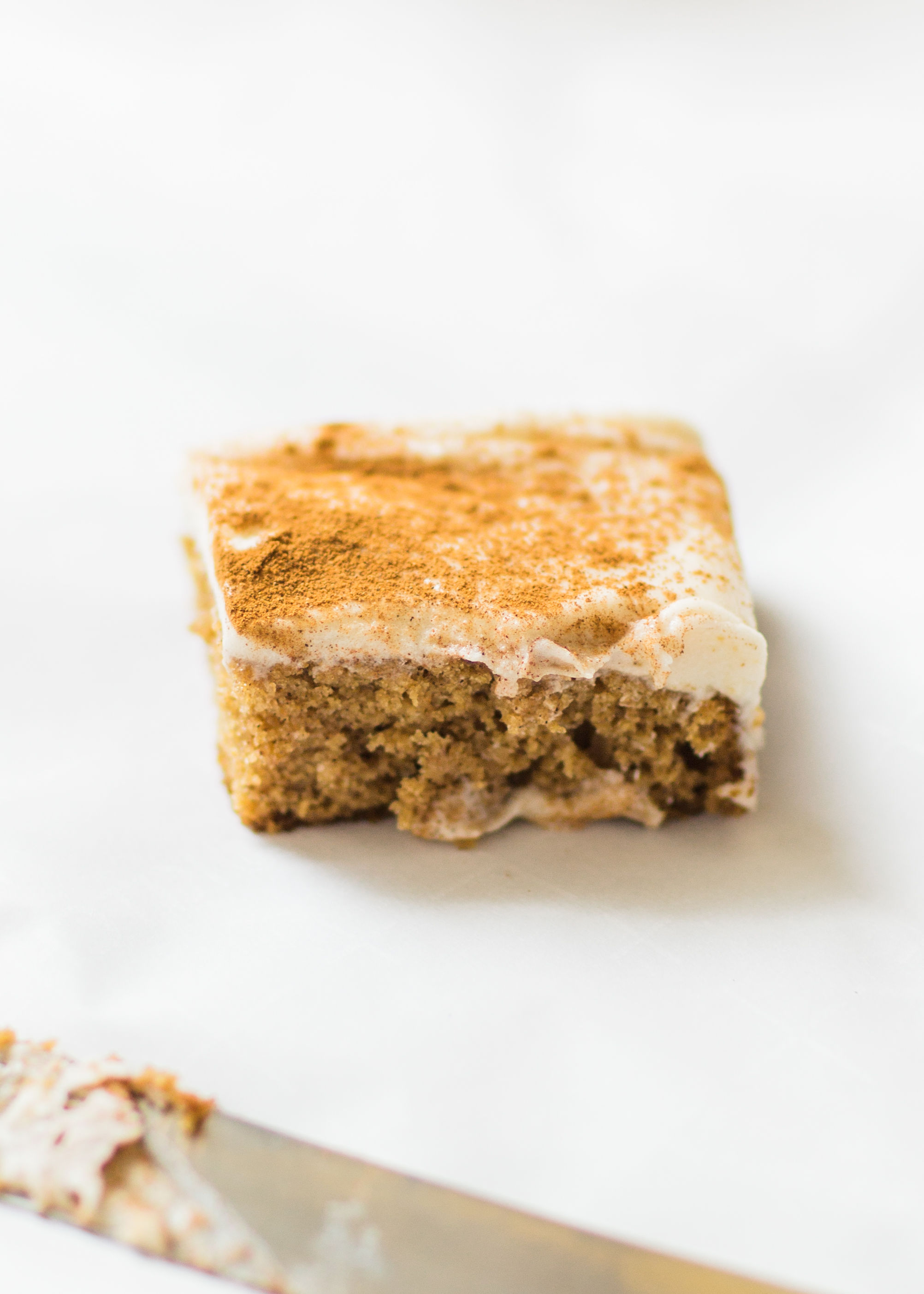 How to Make Applesauce Snack Cake with Cream Cheese Frosting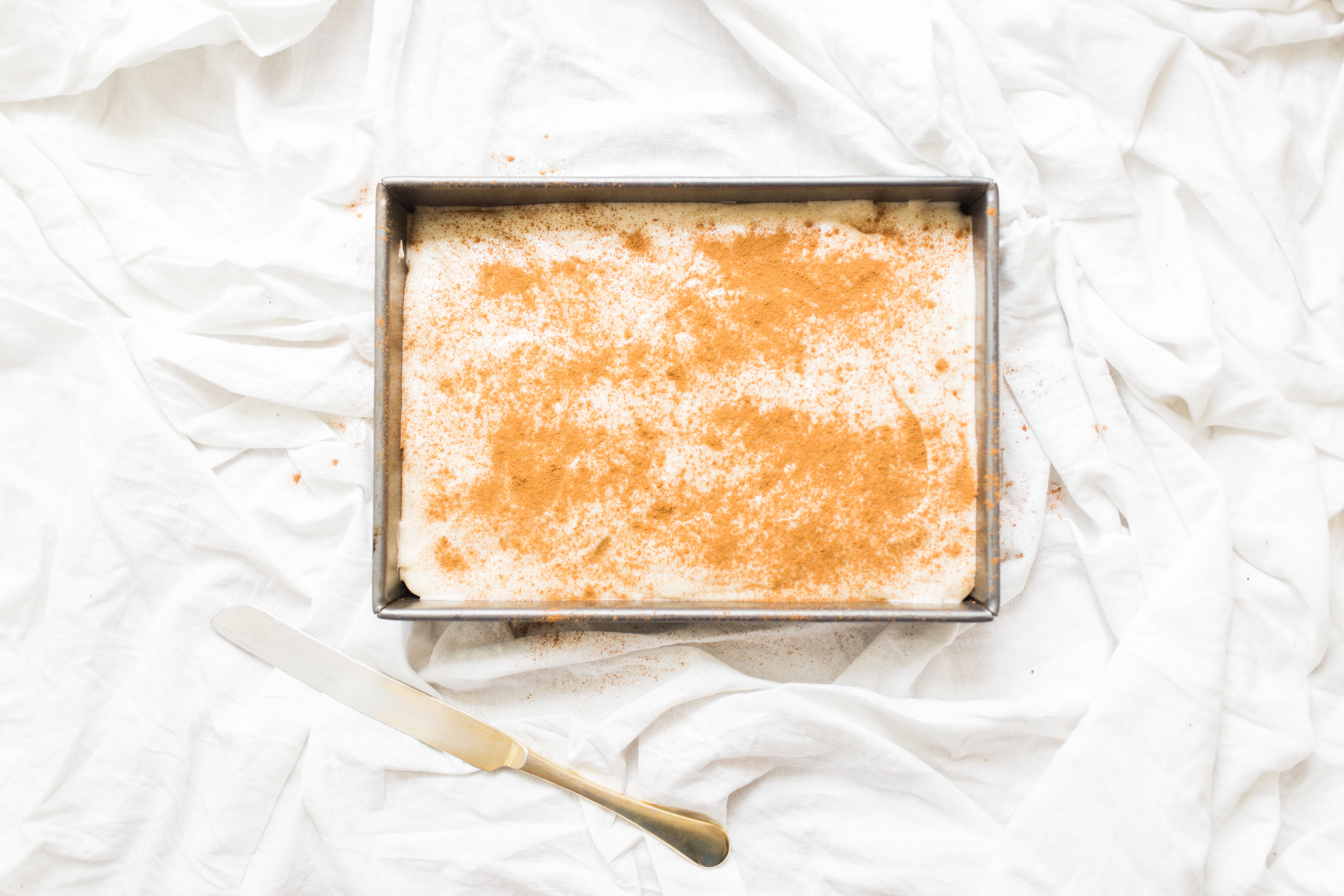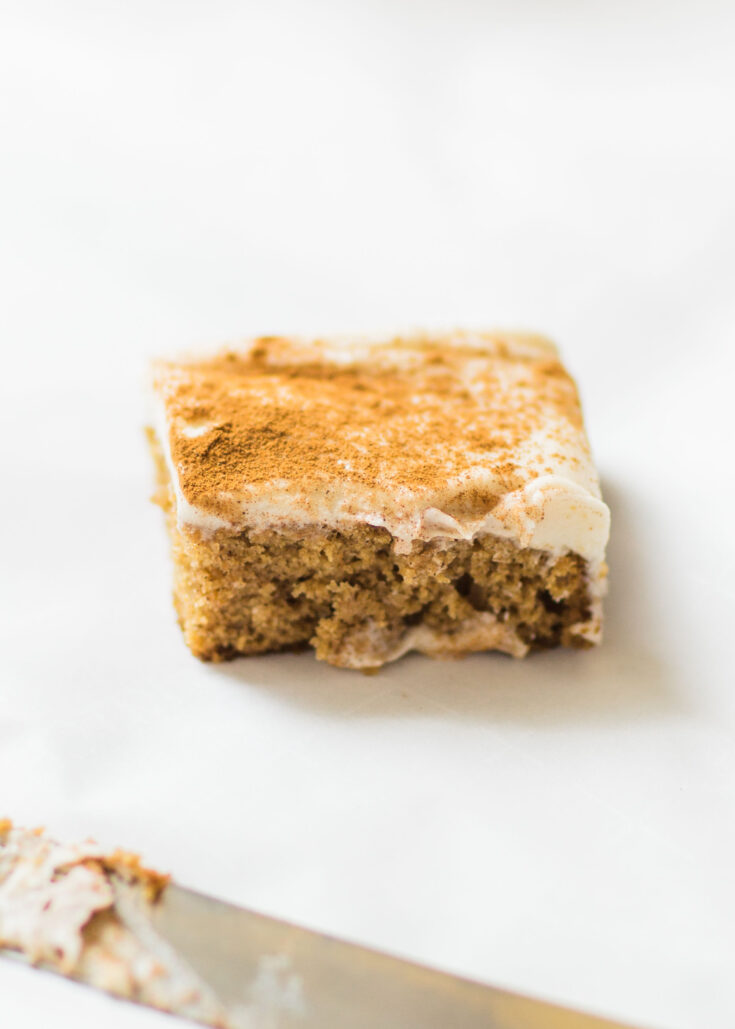 Yield:
Applesauce Snack Cake with Cream Cheese Frosting
Ingredients
Cake
1 cup coconut sugar or brown sugar
1 cup unsweetened applesauce
2 large eggs
1/2 cup melted coconut oil (or vegetable/canola oil)
1 tablespoon vanilla extract
1-1/4 cups white whole wheat flour (or regular white flour)
1 teaspoon baking soda
1/2 teaspoon baking powder
2 teaspoons ground cinnamon
1/2 teaspoon ground nutmeg
1/4 teaspoon ground cloves
1/4 teaspoon salt
Cream Cheese Frosting
8 oz cream cheese softened
1 cup powdered sugar
1 teaspoon vanilla extract
2-3 tablespoons milk (can use half-and-half cream, soy milk, or almond milk)
Ground cinnamon for topping (optional)
Instructions
Grease a 9x13 baking pan and preheat oven to 350 degrees Fahrenheit. Set aside.
In a large bowl, whisk sugar, applesauce, eggs, coconut oil, and vanilla until smooth. In a separate bowl, combine flour, baking soda, baking powder, cinnamon, nutmeg, cloves, and salt. Fold flour mixture into liquid until batter is just combined.
Spread batter into prepared pan and smooth top. Bake cake at 350 degrees for 20-25 minutes or until a toothpick inserted in the center comes out clean. Cool cake completely on a wire rack.
To make the frosting: In a large bowl, beat cream cheese, sugar, and vanilla until smooth and creamy. Beat in milk by the tablespoon until frosting is smooth and spreadable. (Just use enough to make the frosting smooth.)
Spread frosting on cooled cake and sprinkle cinnamon on top. Slice cake into squares and serve. Enjoy!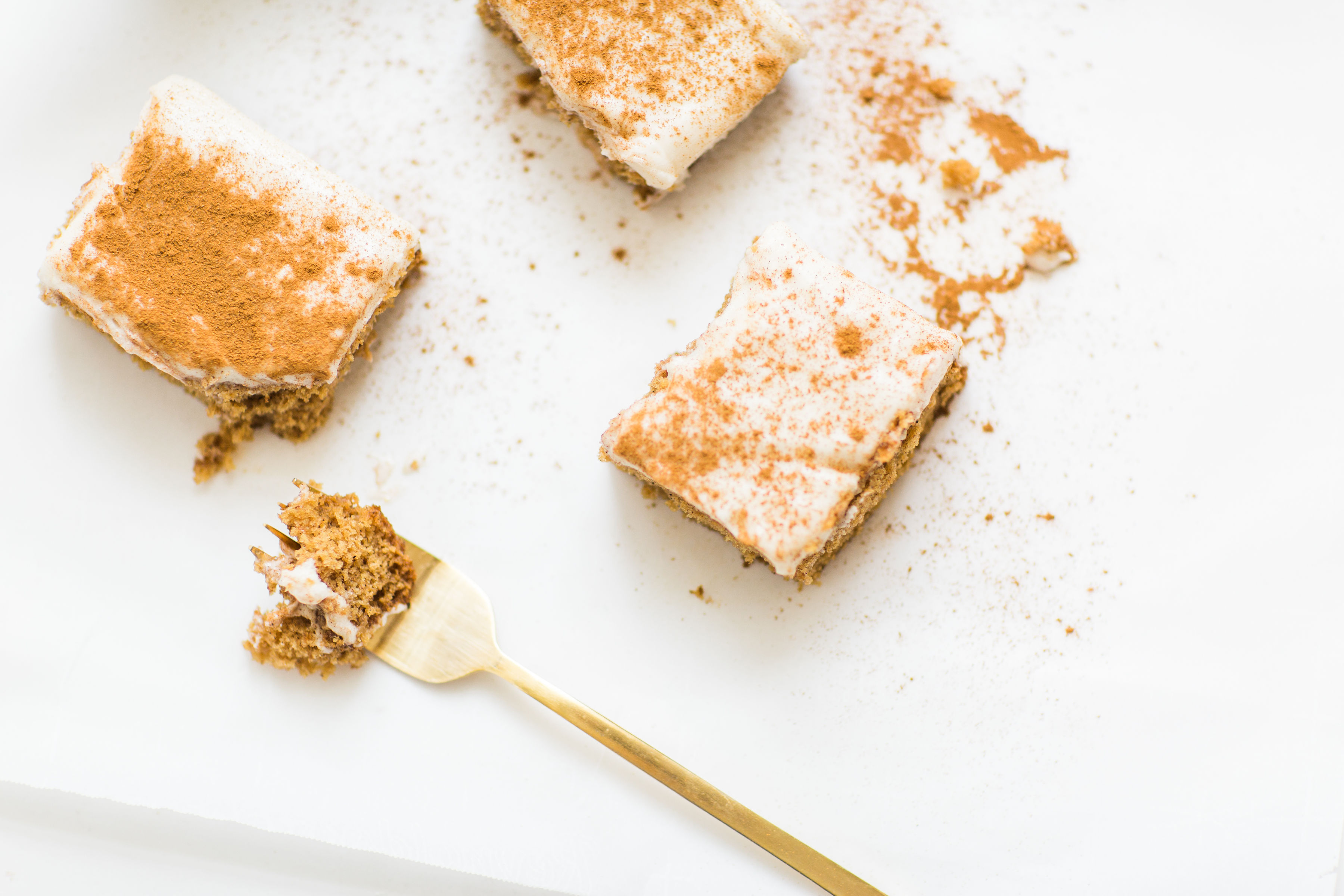 Because of the cream cheese frosting, you'll want to keep your leftover applesauce snack cake in the refrigerator. Be sure to keep it in an airtight container to lock in all of that moisture.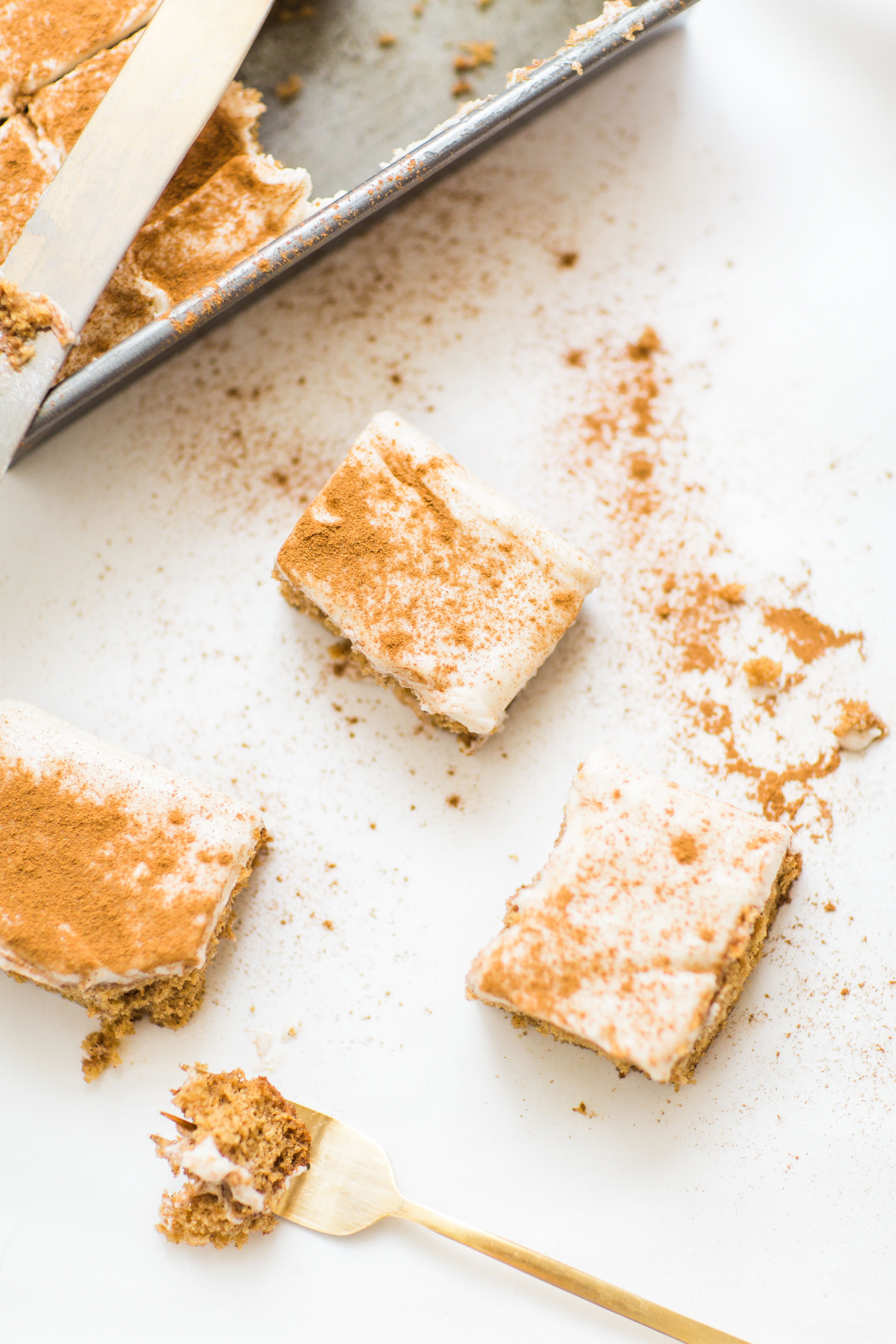 By the way, I like to shake cinnamon all over the top of the cream cheese frosting on this applesauce snack cake, but if your kids are picky eaters, I suggest skipping that step so that it just looks like CAKE; a.k.a., a kid-approved snack.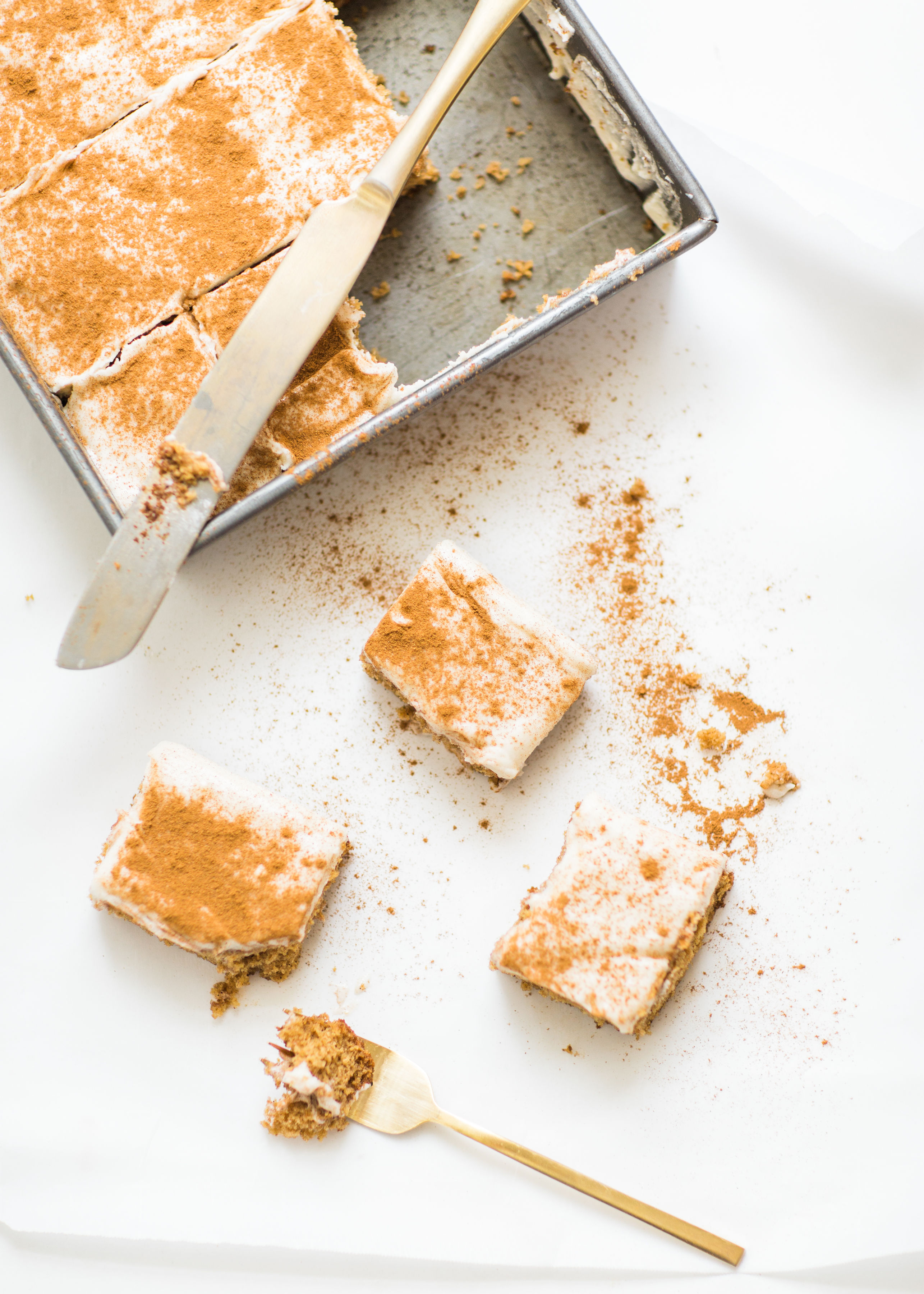 All of my resolve to cut calories these next few weeks leading up to the holidays is shaking.
Give me cake.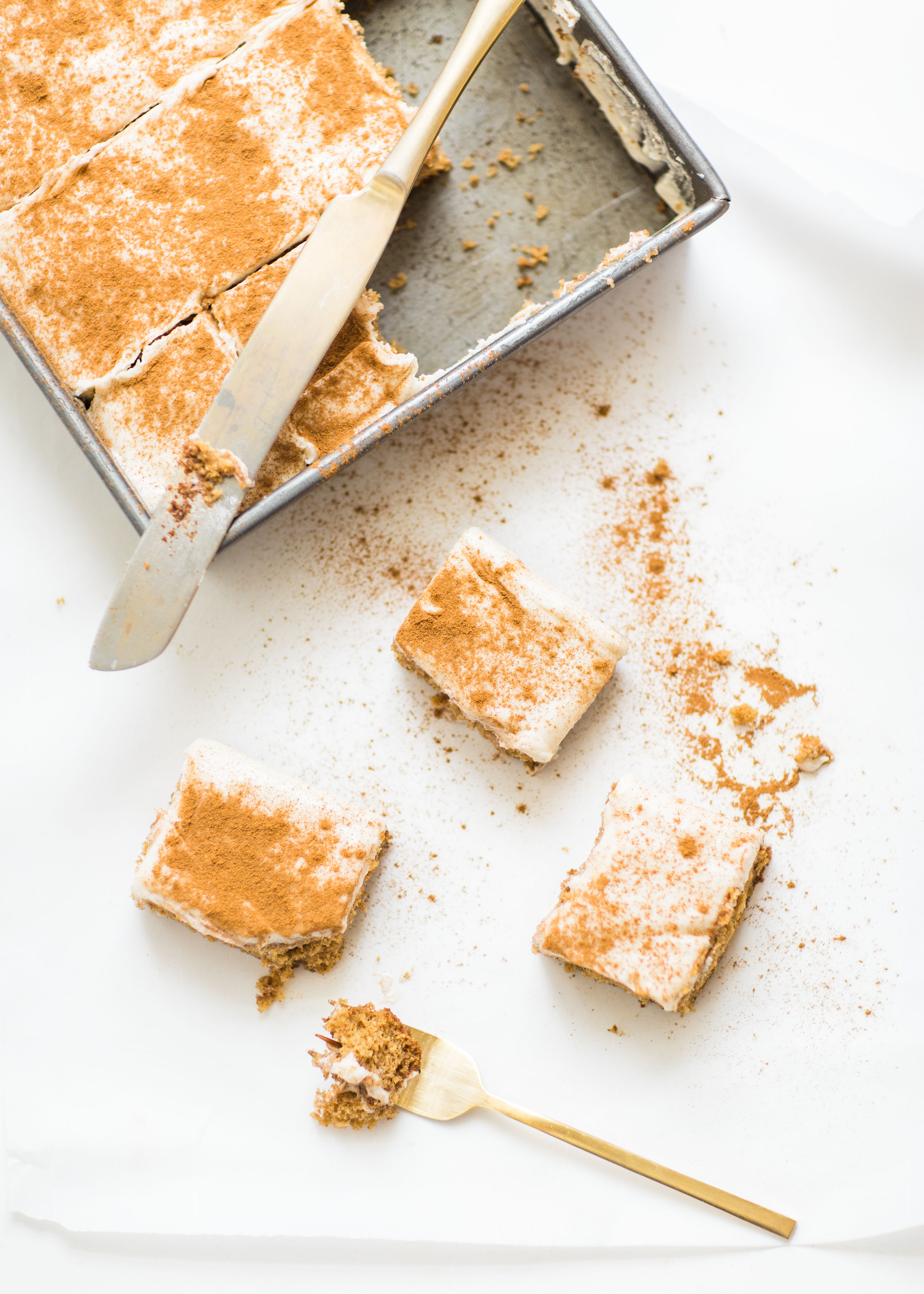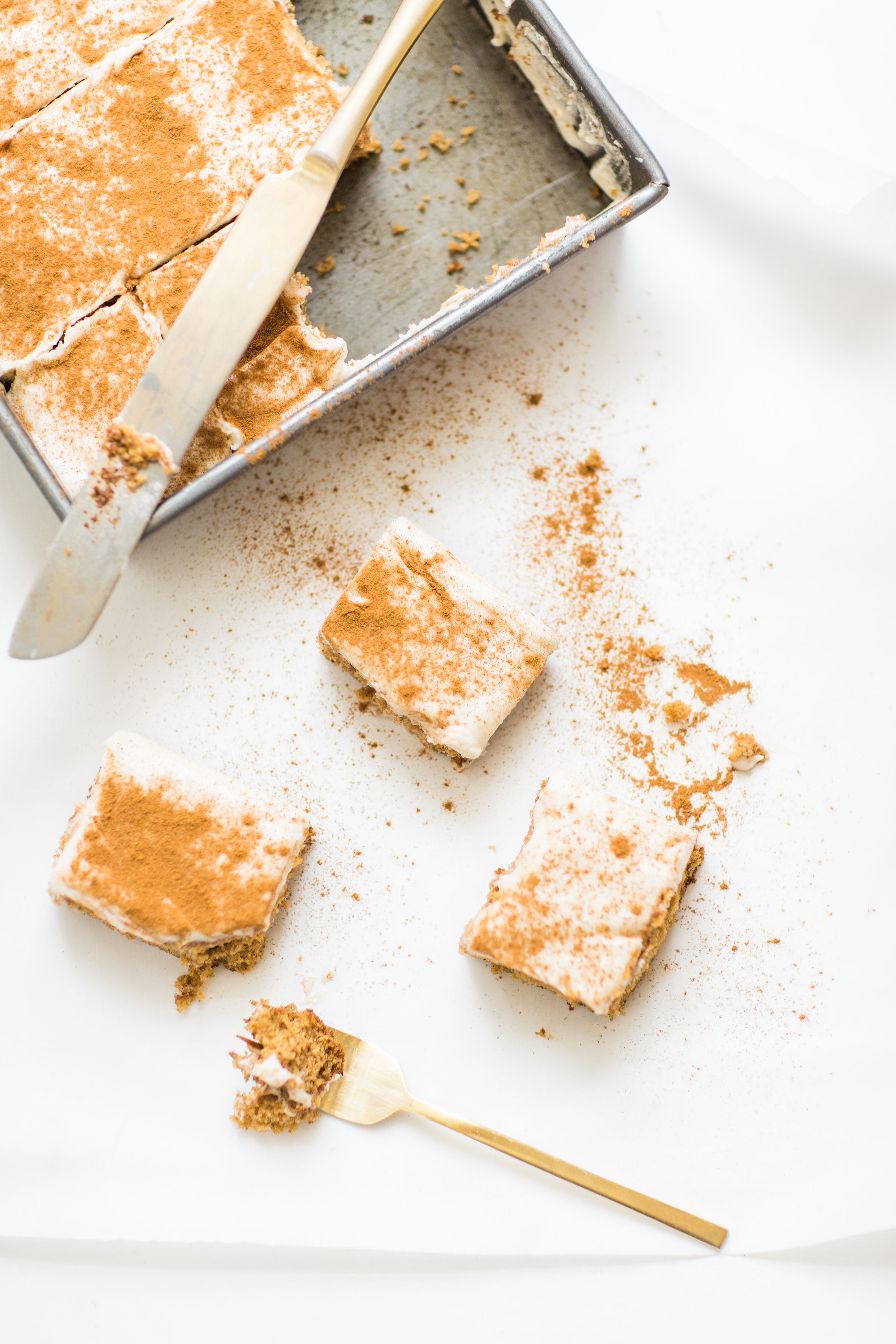 Have you tried making a cake using applesauce? It's actually a really great healthy substitute and it keeps your cake so moist! I'm a fan.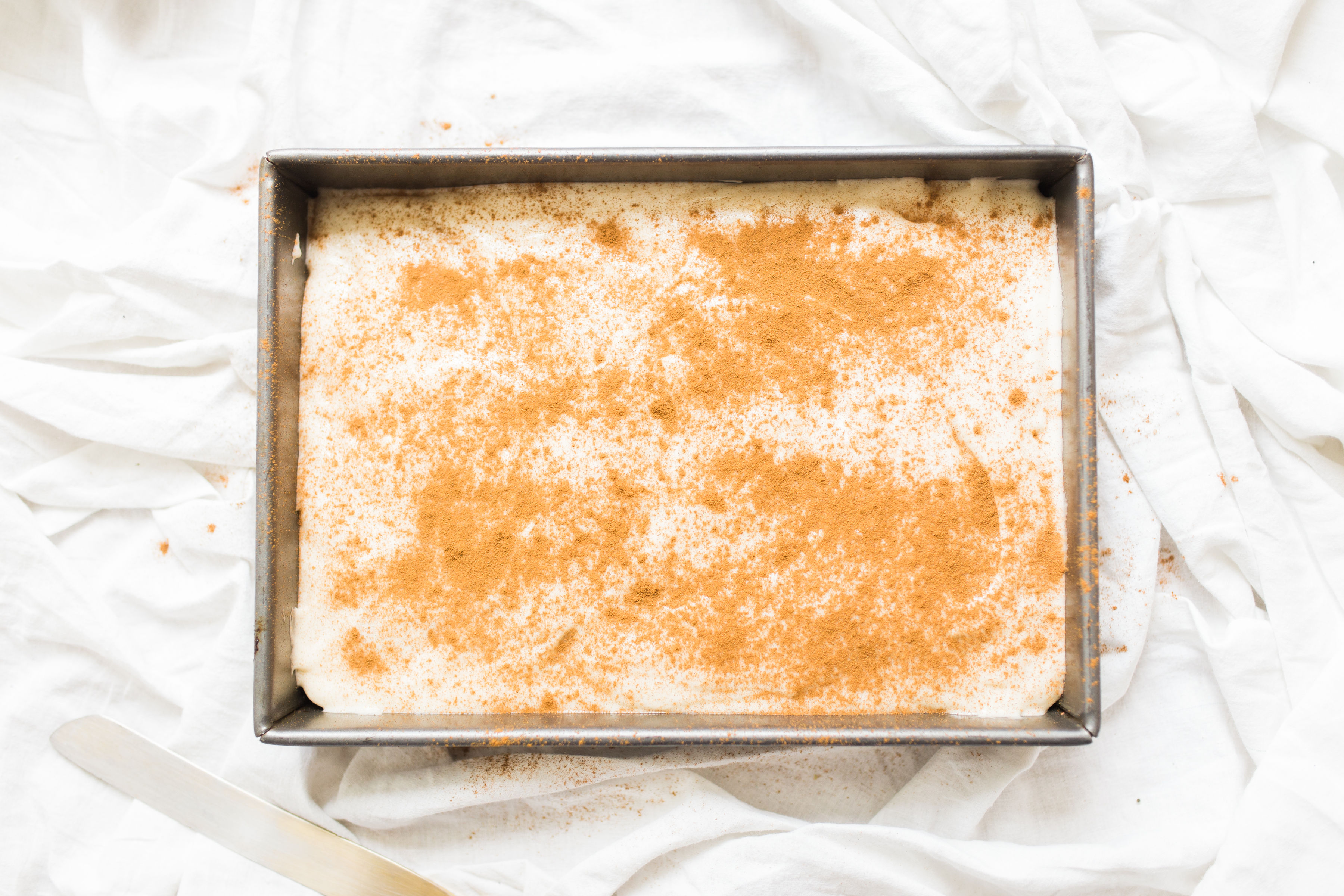 Happy snacking!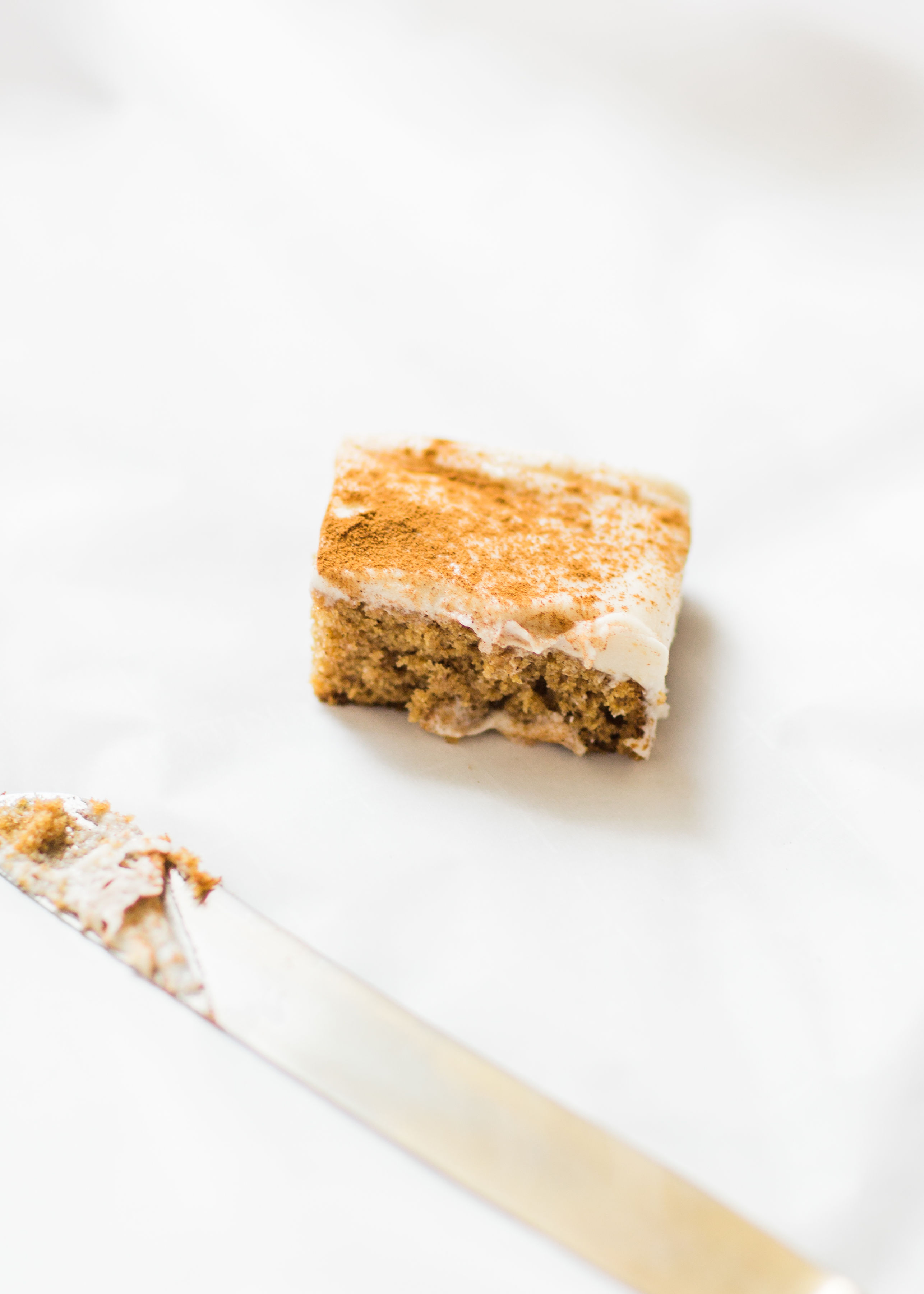 SHOP THE APPLESAUCE SNACK CAKE RECIPE POST | CLICK LEFT & RIGHT ARROWS TO EXPLORE
If you make your own chocolate chip snack cake, be sure to tag me on social media (@glitterinclexi) so I can live vicariously through all of your sweet creations! And, if you love this applesauce snack cake with cream cheese frosting, head to our recipe page to check out what else we're dreaming up in the kitchen.
Photos by Annie Timmons Photography for Glitter, Inc.