This post contains affiliate links, which means that if you click on one of the product links, I'll receive a small commission. Thank you so much for clicking through and helping to support this little blog business of mine! Read more about our site, privacy, and disclosure policies here.
These 3-ingredient homemade pop-tarts are super simple to throw together; they use a combination of store bought ingredients, and things you likely always have on hand in your kitchen. They're also super kid-friendly and make a great make ahead breakfast for school mornings!
My family has fallen hard for this simple homemade pop-tart recipe. These 3-ingredient pop-tarts are super simple to throw together; they use a combination of store bought ingredients, and stuff we always have on hand.
They're also a lot of fun to make with your family and kids. Oh, and did I mention they're totally yummy? To get your kids in on the action, just cut out your rectangles and let the little ones go to town filling and then decorating their own special pop-tarts. Scarlett loves topping hers with sprinkles and telling us exactly which ones are hers. The combinations are pretty endless and it's extra fun eating a pop-tart you made yourself.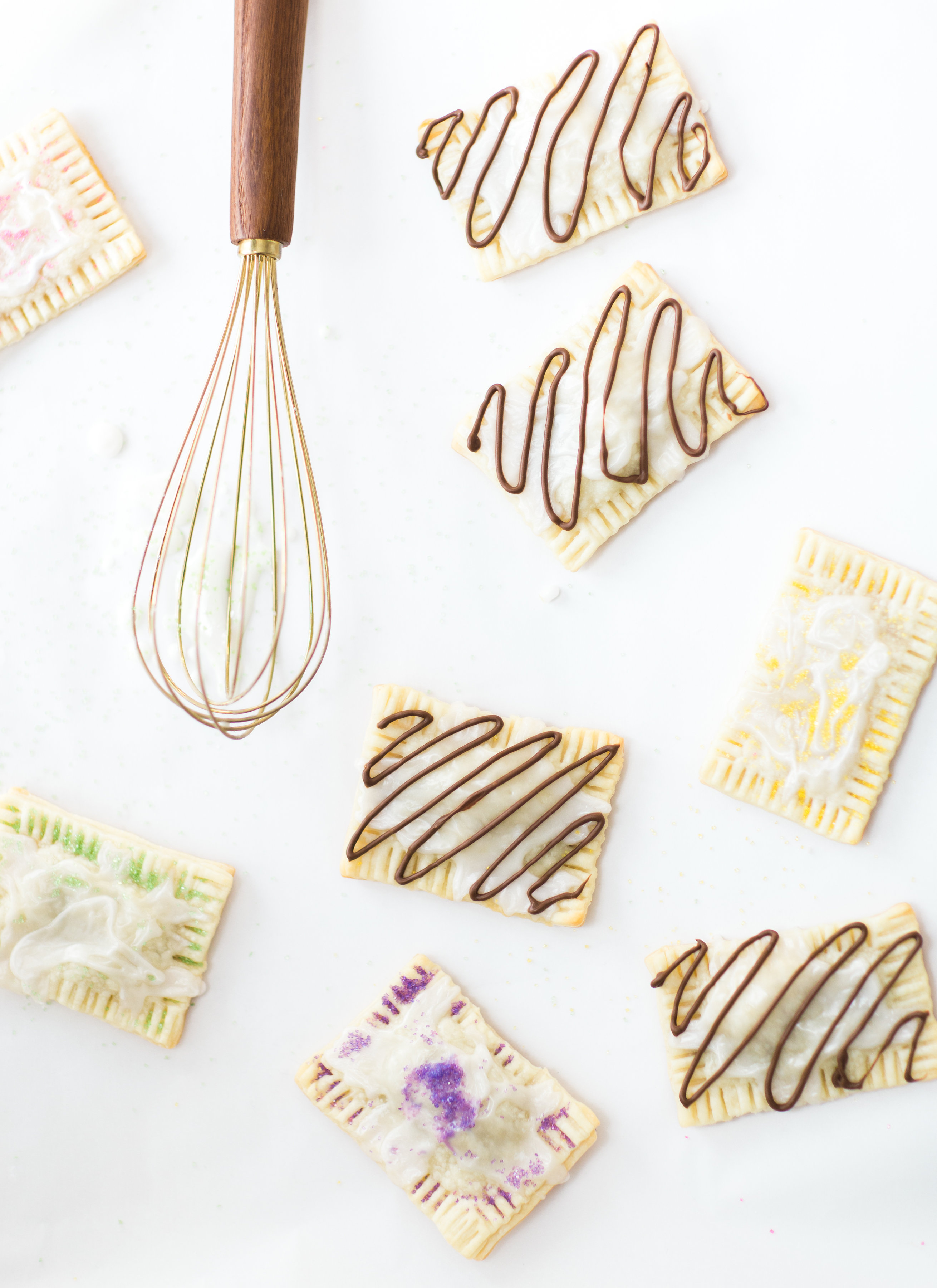 And the best part in my book about these 3-ingredient homemade pop-tarts? They can be made vegan, because most store bought pie crust has no dairy in it! (We use Pillsbury Refrigerated Pie Crust.)
I made two different milk-free, vegan versions of these homemade pop-tarts for Scarlett and she was SO excited. Her vegan versions had either jam inside or Dairy-Free Chocolate Chips* and marshmallow fluff; a.k.a., vegan s'mores pop-tarts. Both were then topped with a modified version of the frosting that's super simple to make; we just substituted almond milk.
(Scarlett is allergic to milk protein, so we're always experimenting with vegan and dairy-free recipes, in case you want to check them out!)
*We use Enjoy Life chocolate chunks and chips; they're gluten-free, dairy-free, nut-free, and soy-free, and totally delicious. They also bake incredibly well. Even Target carries them! Obviously, you can use regular semi-sweet chocolate here instead if you don't need to keep the recipe vegan or dairy-free.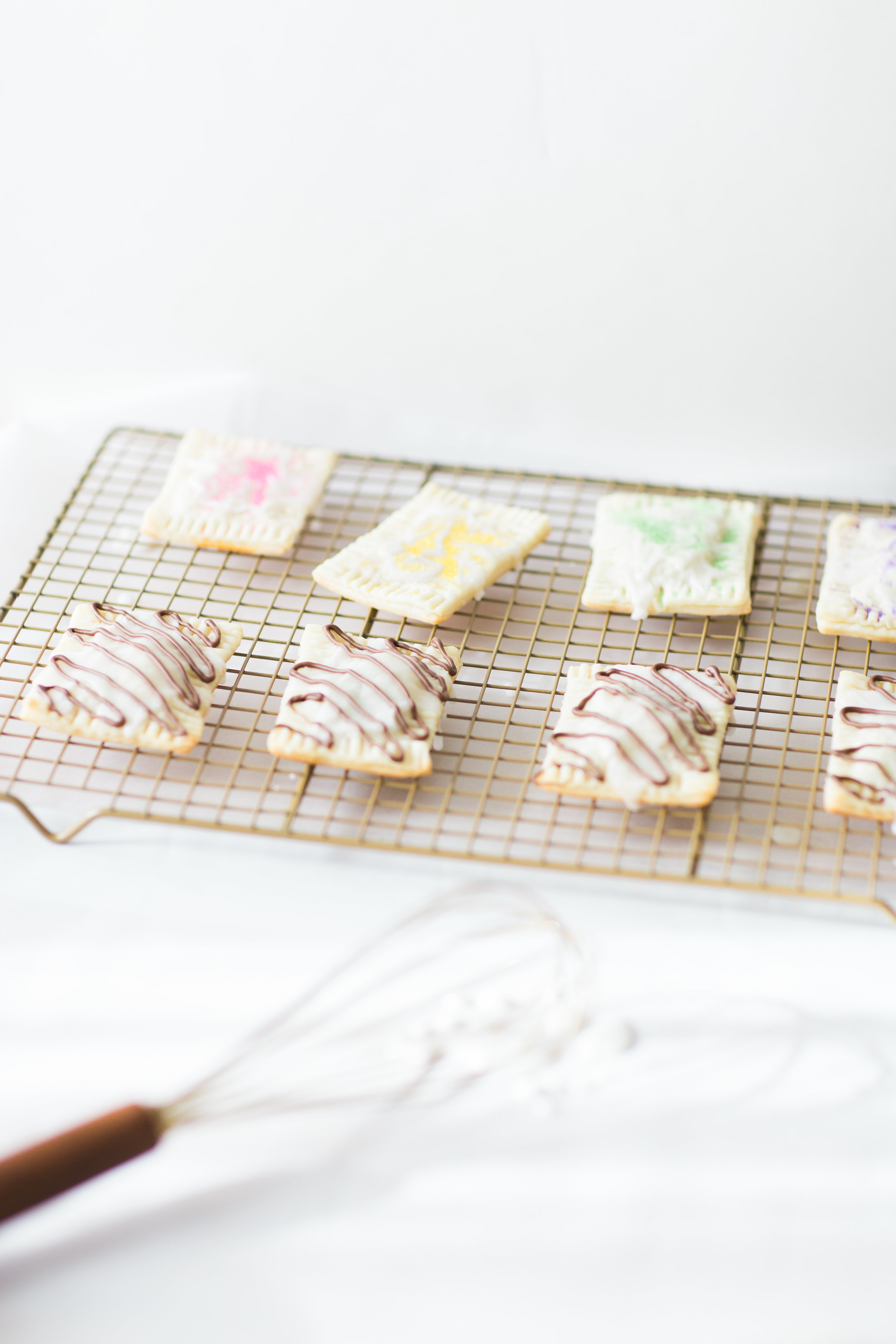 Now let's talk about how to make these awesome 3-ingredient homemade pop-tarts …

HOW TO MAKE HOMEMADE POP-TARTS
Makes 8-10 pop-tarts.
INGREDIENTS
Store bought refrigerated pie crust
Rectangle Cookie Cutter (or sharp knife)
Strawberry or Peach jam
Nutella (optional)
Marshmallow Fluff (optional)
Confectioners sugar
Milk (I used almond milk and it worked like a charm!)
Sprinkles (optional)
DIRECTIONS
Preheat oven to 425 degrees.
Using a rectangle cookie cutter or sharp knife, cut each pie crust into 8, fairly equal sized rectangles.
Lay half (about 8) of your rectangles on a greased or parchment lined baking sheet.
Top each rectangle with about a tablespoon or less of jam or marshmallow fluff and/or Nutella (leaving a perimeter of about a half an inch all the way around). Be sure not to overstuff or it will leak out as it is baking.
Lay the other halves of the rectangles on top of the 8 that you topped with jam, Nutella, etc., and using the tines of a fork, seal each pop-tart along all four edges.
Bake for approximately 10 minutes, or until crust is slightly golden brown.
Remove from oven, and let cool on the pan for a few minutes and then transfer to a wire rack.
For the Icing
In the meantime, mix a half a cup of confectioners sugar with a tablespoon of milk. (Consistency is key here; if your icing is runny, add a bit more sugar and if it's too thick, add a bit more milk. You want it spreadable/pourable.)
Spread or pour a bit of icing on top of each pop-tart (now on the wire rack) and top with sprinkles or drizzle with Nutella.
Recipe Adapted via Kozy & Co.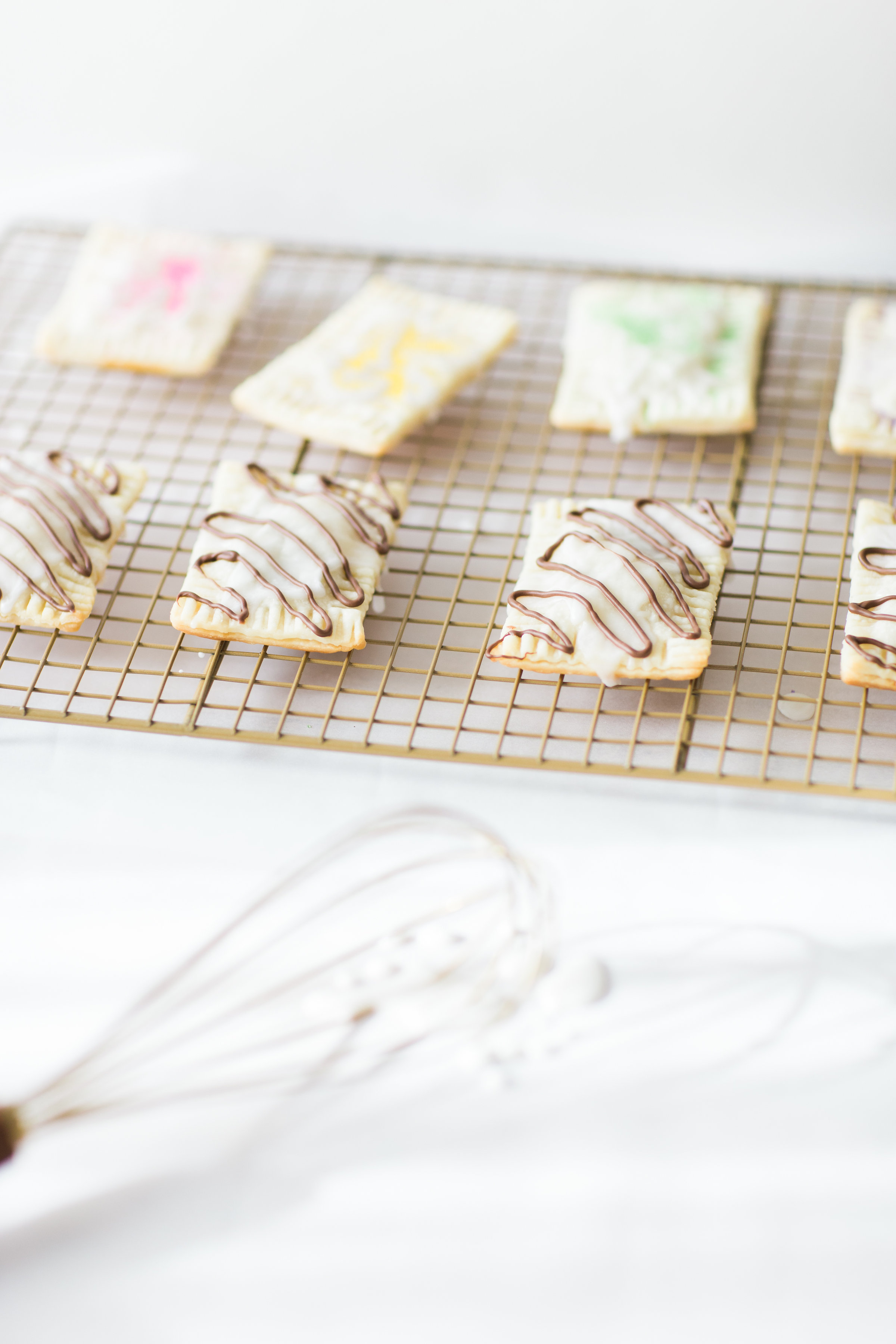 Hubby loved our version of s'mores pop-tarts. We filled our s'mores pop-tarts with a thin layer of marshmallow fluff and Nutella and then drizzled a little glaze and Nutella on top. (See above for Scarlett's vegan version.) The s'mores pop-tarts taste amazing still warm out of the oven.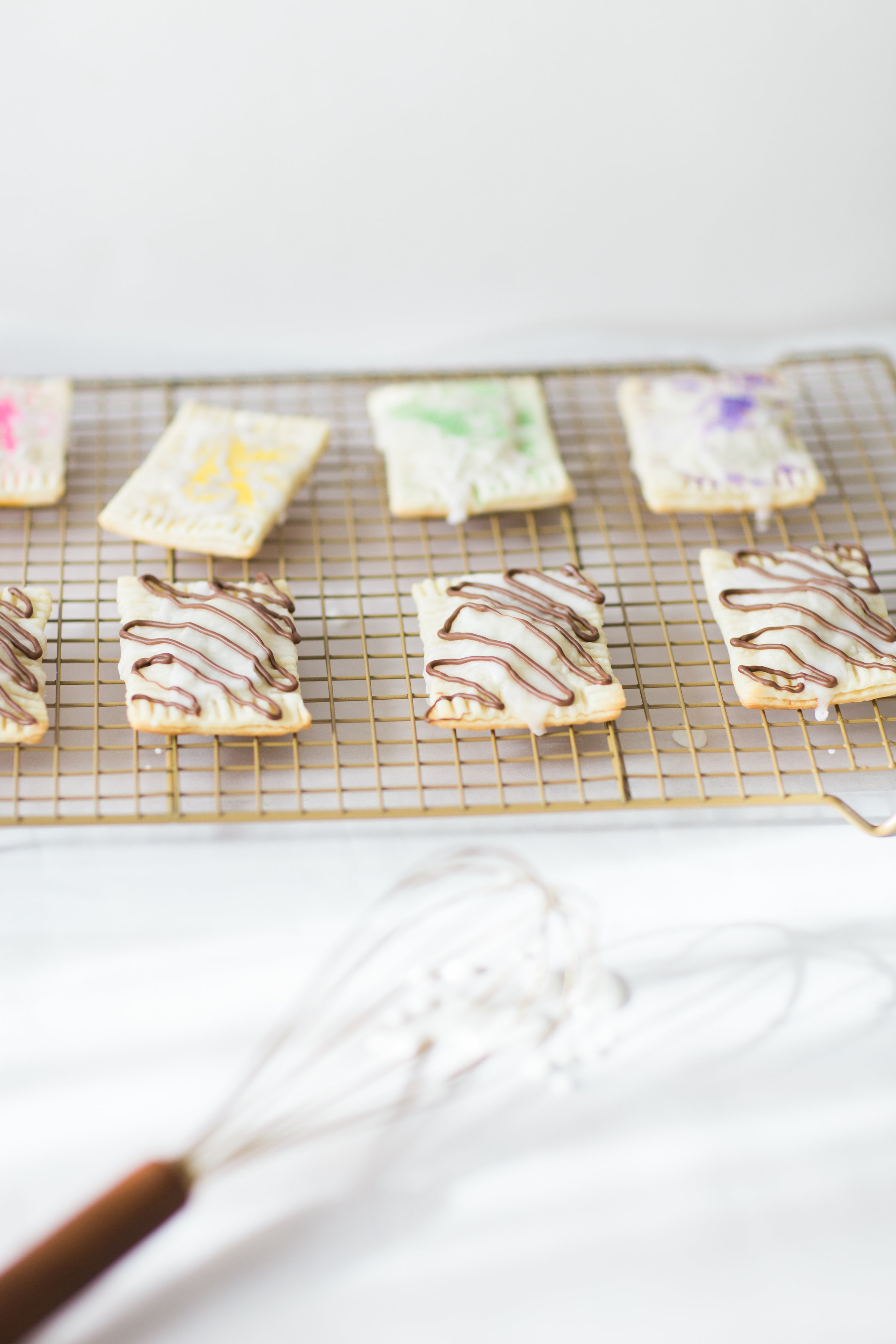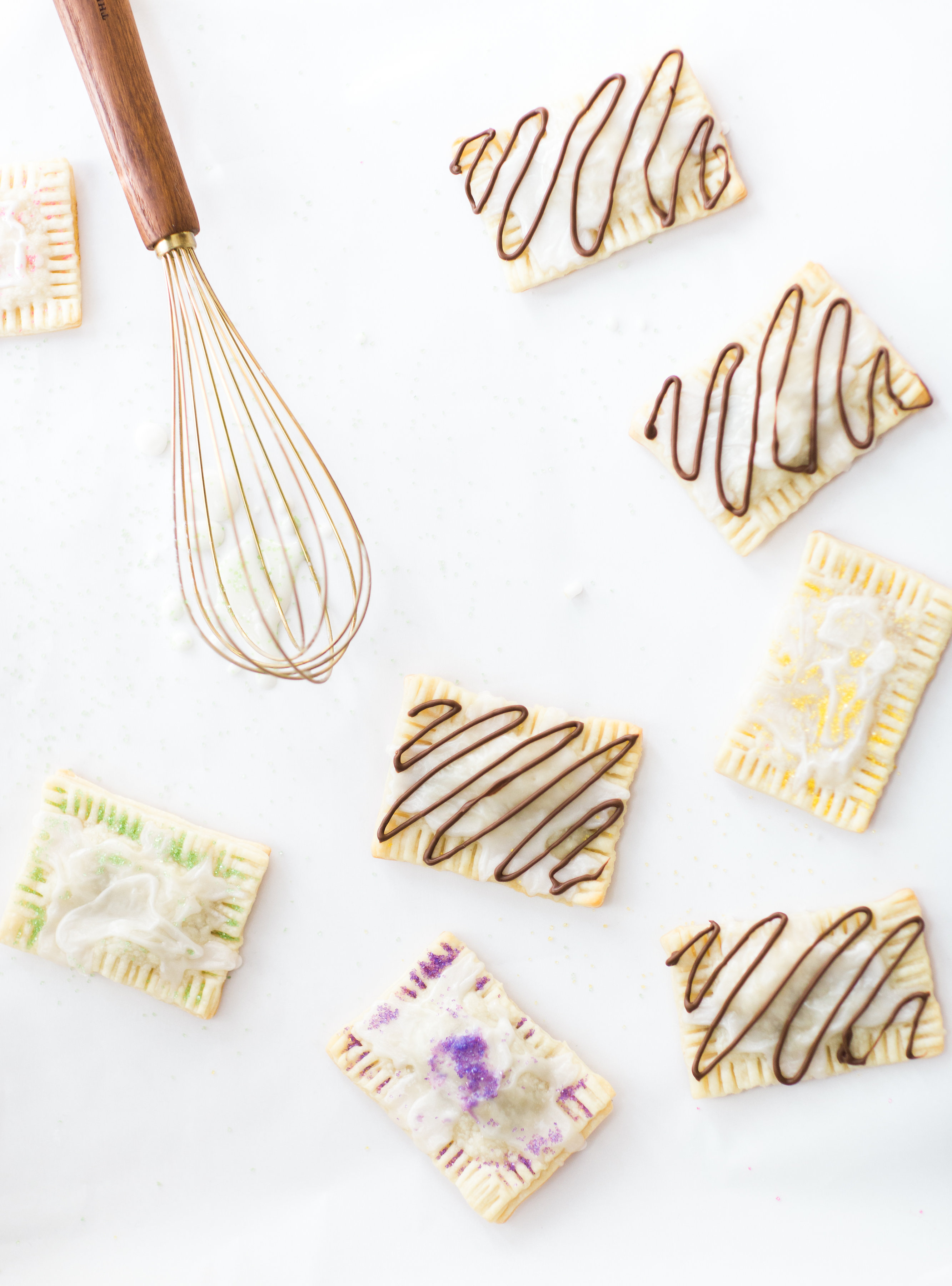 By the way, you can find both my gold whisk and gold wire cooling rack at Target.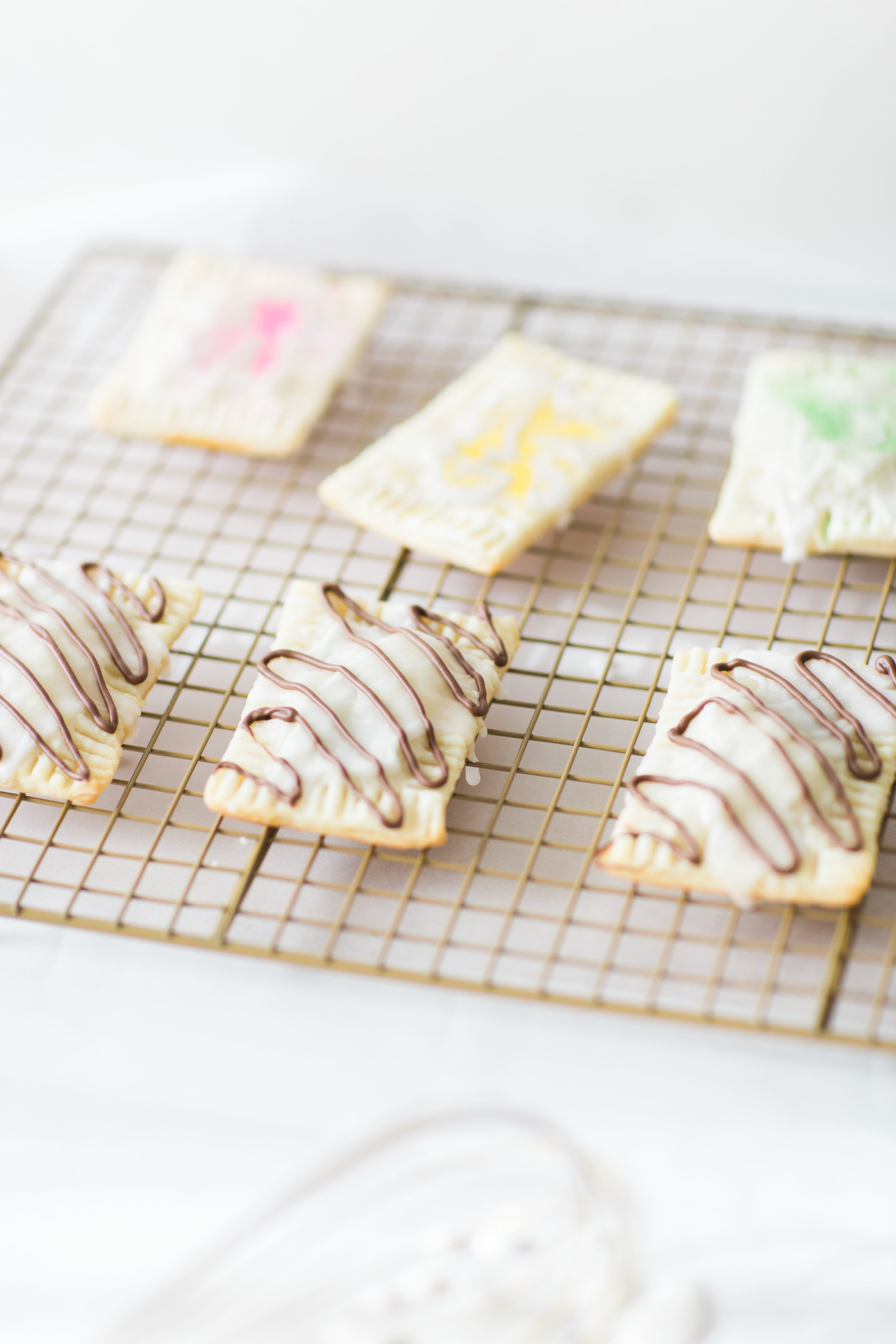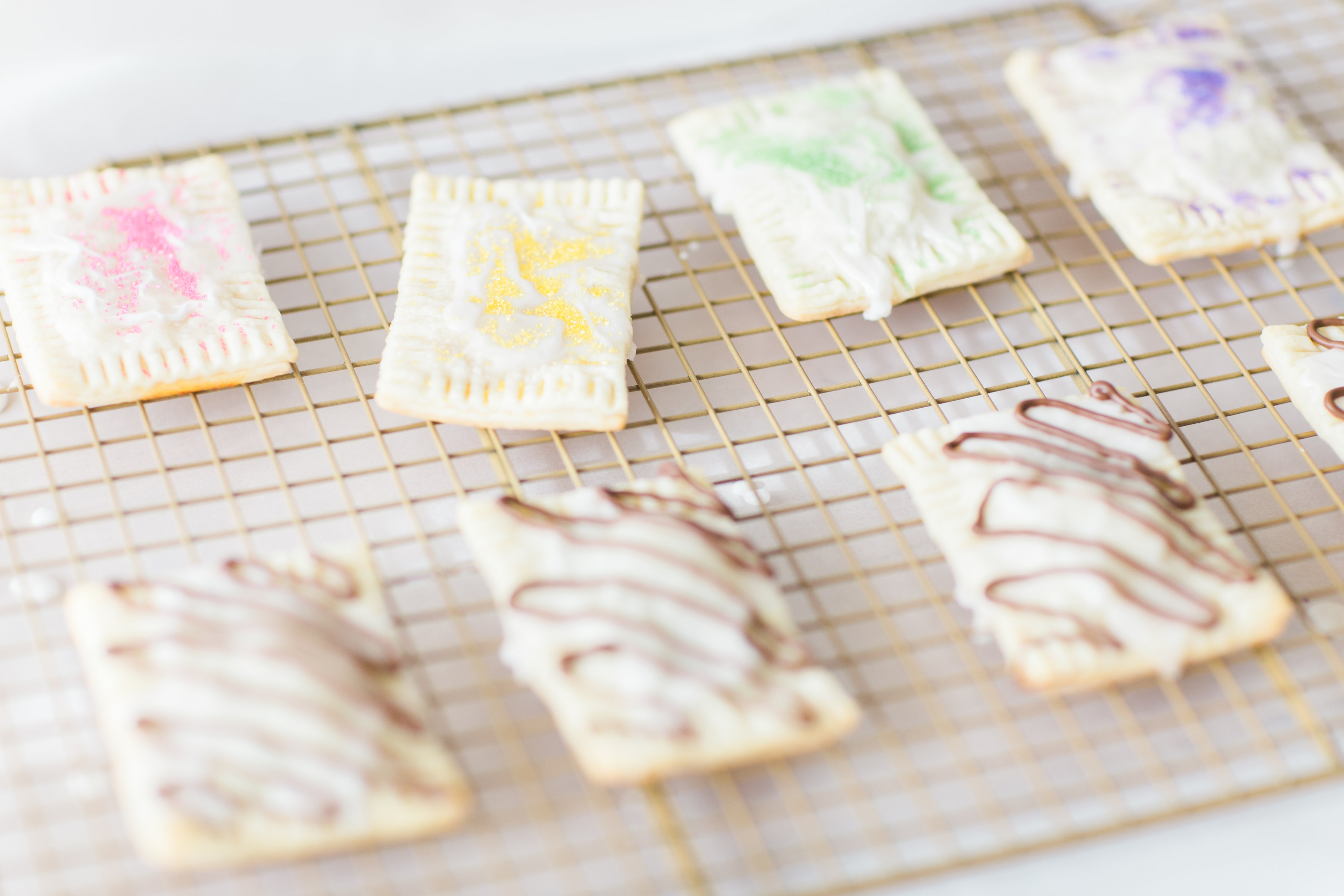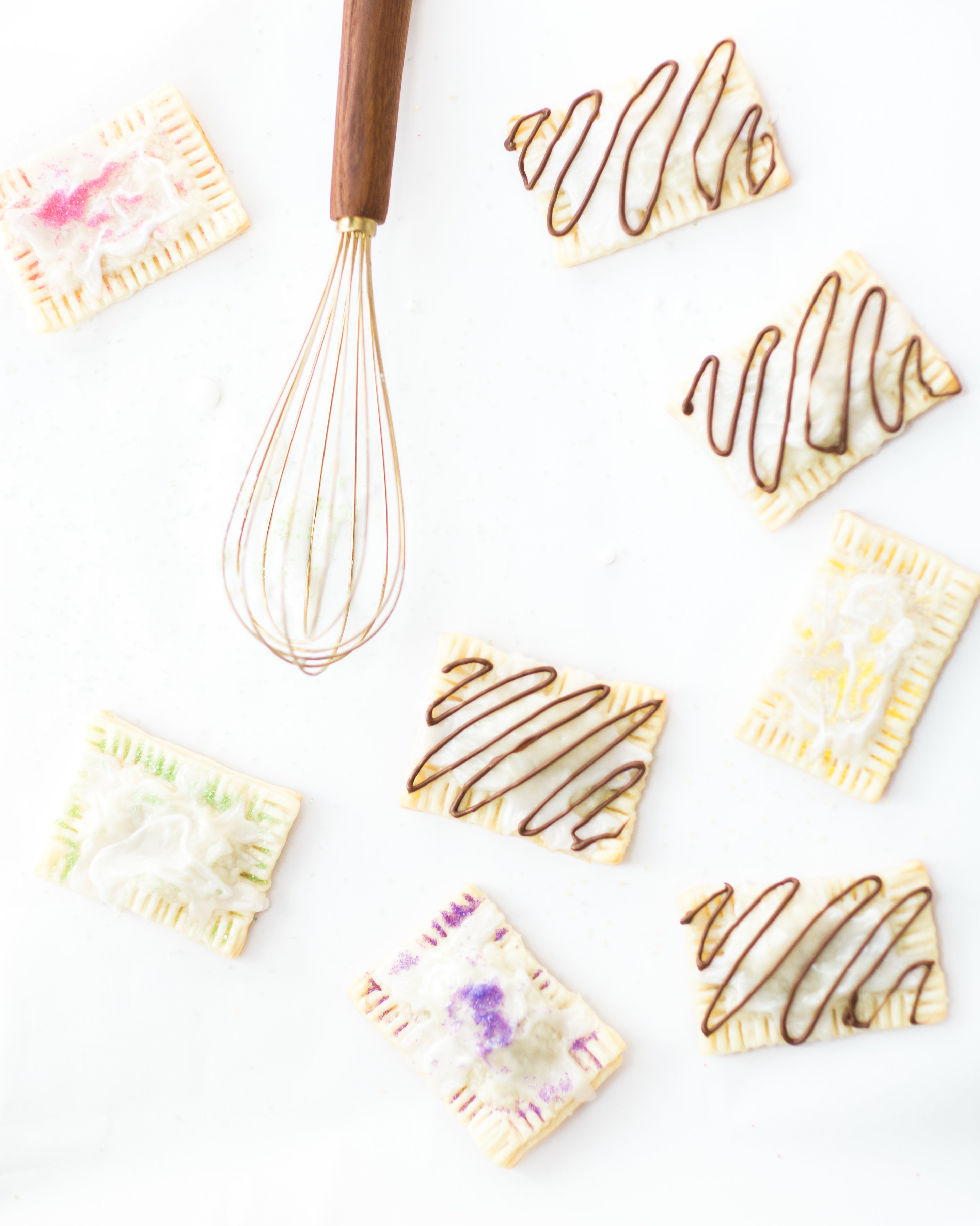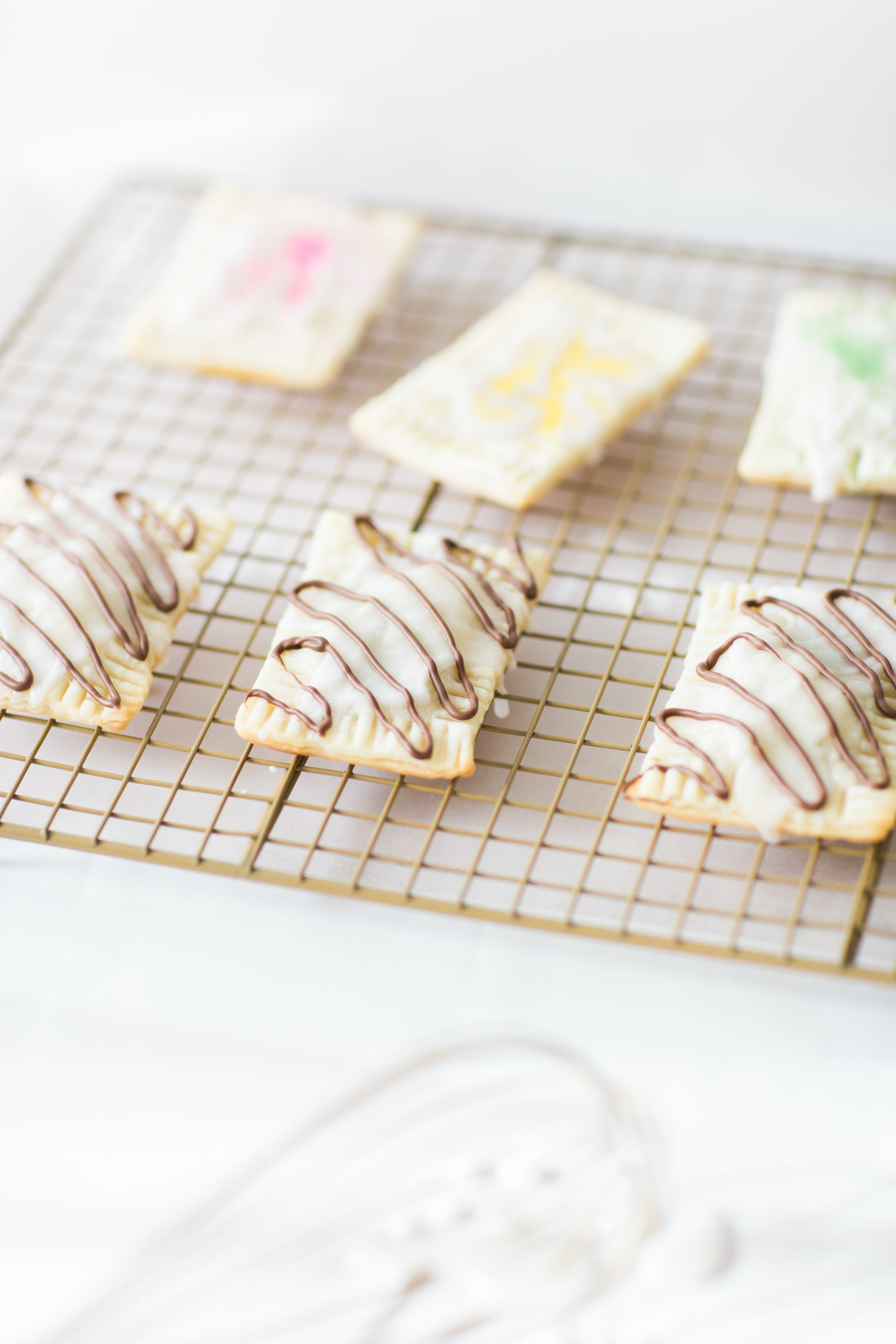 If you find yourself throwing together a batch of these 3-ingredient homemade pop-tarts, be sure to tag me on social media (@glitterinclexi) so I can live vicariously through all of your fun snacking!
Photos by Annie Watts Photography