This post has been sponsored by Tyson®. All thoughts and opinions are my own. This post contains affiliate links which means that if you click on one of the product links, I'll receive a small commission. Read more about our site, privacy, and disclosure policies here.
In a school lunch packing rut? Looking for non-sandwich back-to-school lunch ideas? I've got you covered with 20 lunch ideas that your kids will actually eat (that aren't your typical sandwich!) Plus, I'm sharing how I meal prep school lunch for the week, so that I don't have to stress every morning, searching for what to pack in the kids' lunch box.
Nothing will make you a more creative lunch-maker than having a picky eater for a child. Our oldest daughter, Scarlett, is the pickiest. Believe it or not, she doesn't even LIKE a peanut butter and jelly sandwich! I mean, really, who doesn't love peanut butter and jelly? I'll tell you who: my daughter. 😂
Now that I've been making school lunch for a very picky child for more than two years, I feel like I have a pretty good grasp on what things to pack that our oldest will actually eat. It can feel so frustrating to see the lunch you scrambled to make at 7am, just in time to get your kids out the door, come right back, barely eaten. And seriously, who knew packing school lunch for kids could be so stressful? Especially if you have more than one child to pack a lunch for. Of course, you also want to pack them something fun, delicious, and healthy; and most importantly, it needs to be something they will actually eat. The struggle is real, guys.
Well not anymore!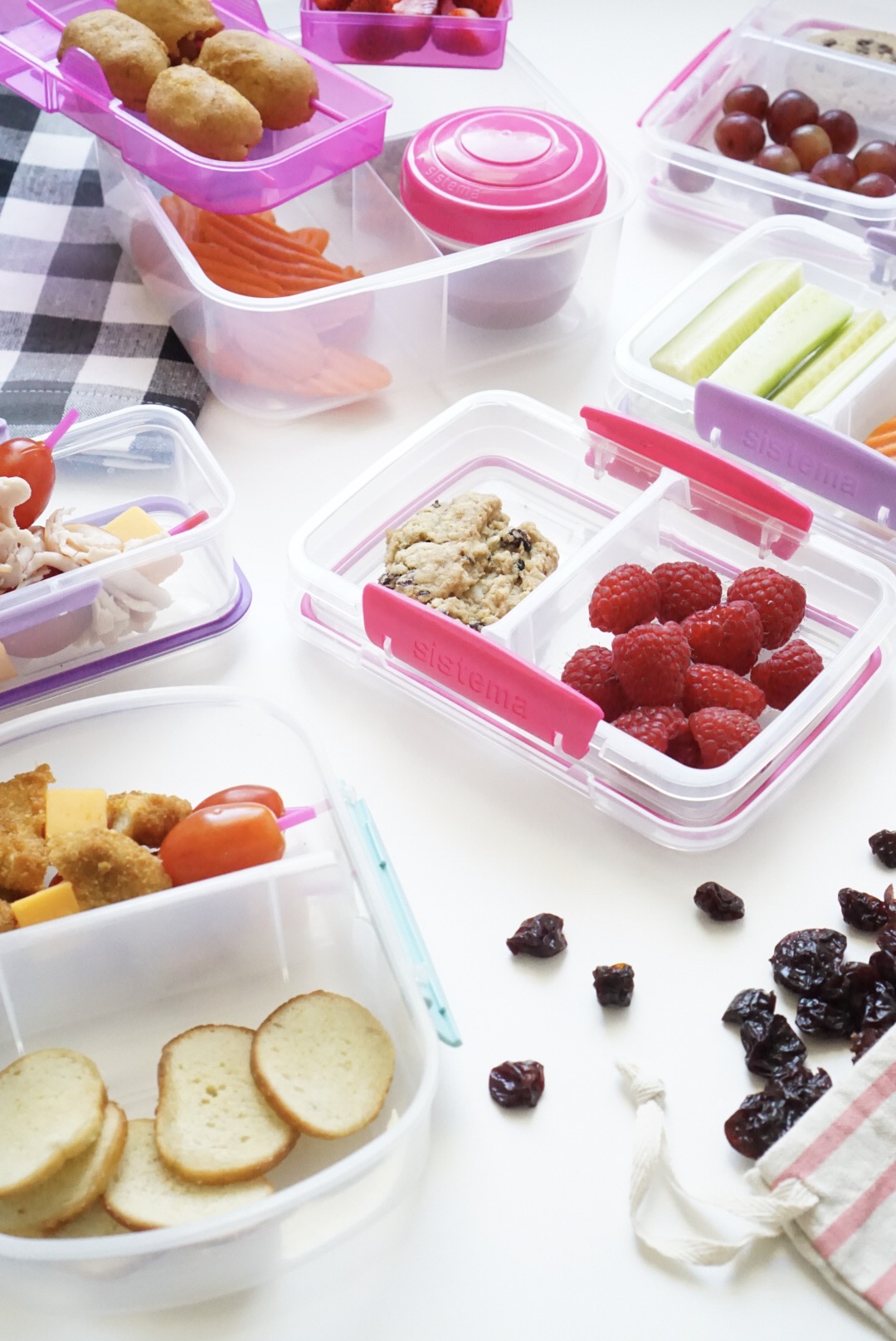 20 Lunch Ideas Your Kids Will Love + How I Meal Prep School Lunch for the Week
First things first, if your kiddos aren't eating the lunches you regularly make for them, start thinking about what YOU would want to eat for lunch. I think parents and kids alike get stuck in the same old lunch rut—sandwich, chips, apple, repeat—and mostly, your little ones are probably just tired of that.
Of course, I've seen the incredibly intricate "bento" style lunch boxes on Pinterest. I "ooh and ahh" over the creativity of the Pinterest moms, but truth be told, when I remember to make lunch for the week on a Sunday night at 10pm, the last thing I want to do is create tiny pandas out of sticky white rice and seaweed. Again, I'm OBSESSED with all of the cool moms who can pull those gorgeously creative lunches off, but this mama is forever multi-tasking, and just a wee bit tired on a Sunday night.
When you head to the grocery store, think about lunch prep and shop with that in mind. Brands like Tyson®, State Fair®, Hillshire Farm®, and Jimmy Dean® all offer awesome sandwich alternatives for yummy, quick-serve, protein-packed, and tasty meal solutions for the back-to-school lunch hustle. Plus, you can find all these brands at your neighborhood Kroger!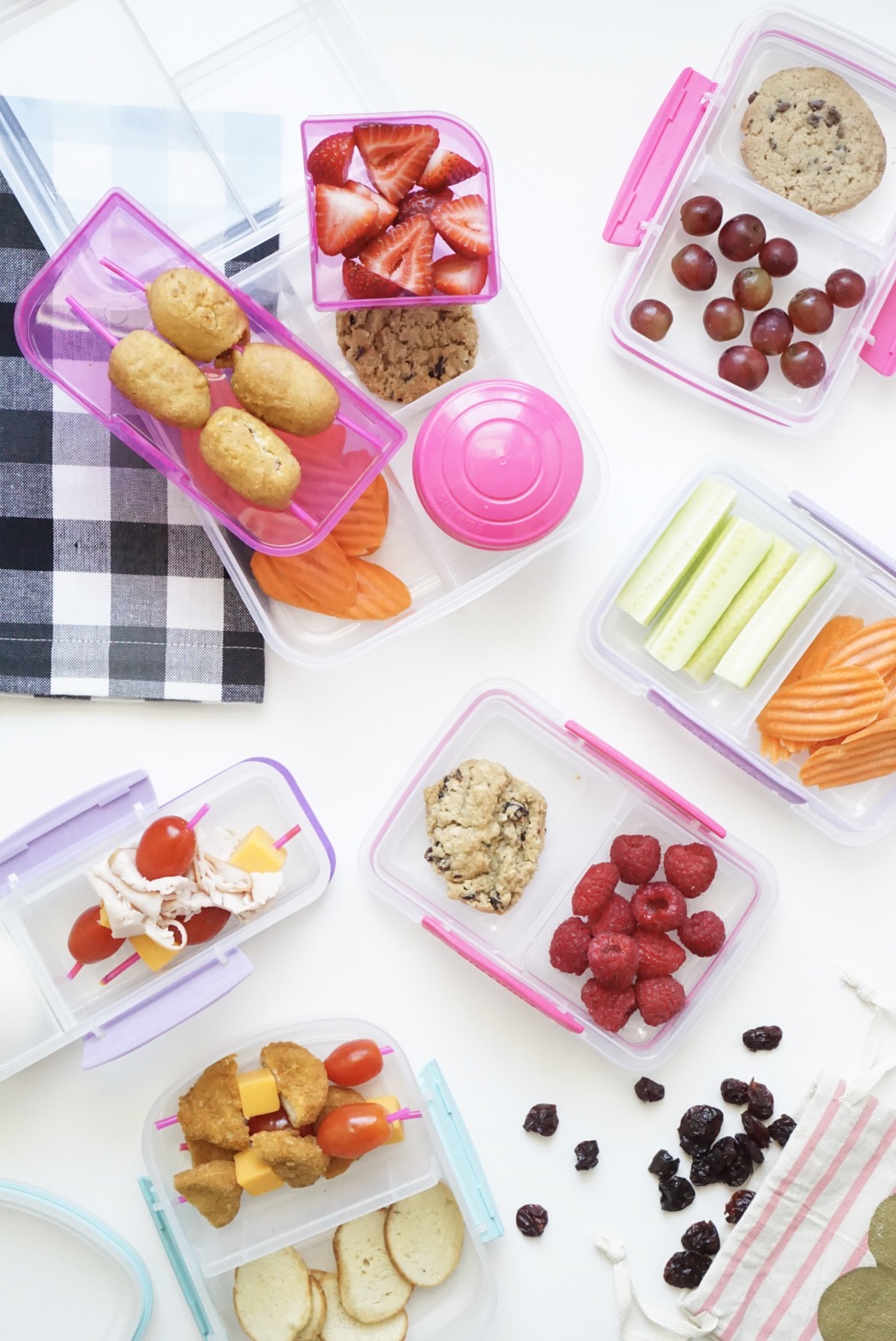 So let's talk simplified lunches, just what goes into a delicious lunch both you and your kids will love … and how I meal prep school lunch for the week: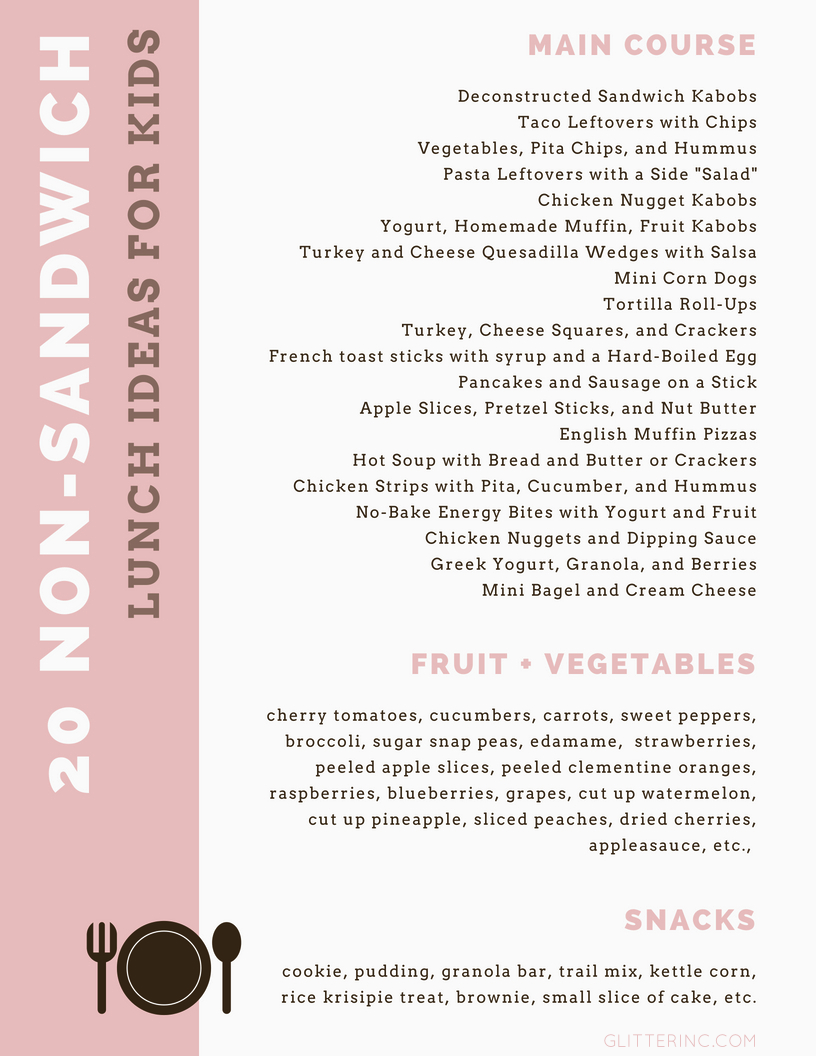 A Formula for the Perfect School Lunch
NOTE: If your kids don't like turkey, use ham or chicken or bologna instead. Swap vegetables and fruit to those you know your kids love. Allergic to peanuts? Use sunflower butter. The key is to use these ideas as inspiration and to modify, or trade out things out, as needed. This is just what I use as inspiration for easy and healthy lunches our own kids love!
My formula for the perfect lunch box is:
A main course with a healthy protein – That way I know they are getting a healthy, balanced meal that will keep them full until the end of the school day.
A vegetable – I put a vegetable in our oldest daughter's lunch every single day. Some days I have more success than others, but truthfully, encouraging veggies in every meal has made her a total vegetable lover. Cold/raw veggies she loves: cherry tomatoes, cucumbers, carrots, sweet peppers, broccoli, sugar snap peas, edamame, etc. Sometimes I include hummus or dressing to dip, but often, it's not even necessary.
A fruit – Lunch always has a fruit. I do typically peel and cut fruit for our daughter, because it's much more likely that she'll eat the cut up strawberries or peeled apple slice, etc. She also loves peeled clementine oranges, raspberries, blueberries, grapes, cut up watermelon, cut up pineapple, sliced peaches, dried cherries, applesauce (if I'm in a rush), etc.
Something crunchy

– This one is optional and really just depends on what "main course" is in the lunch. Our oldest loves certain crackers, pretzels, and pita chips.

Dessert

– I have a total sweet tooth and kind of feel like lunch isn't complete without a little something sweet. Everything in moderation! I bake a lot, so it's easy to include a homemade cookie or small slice of cake.
Having a lunch box formula or recipe to follow generally for a balanced lunch makes it easy for me to figure out what to pack, especially when I'm in a rush or haven't planned ahead.
Now let's talk specifics …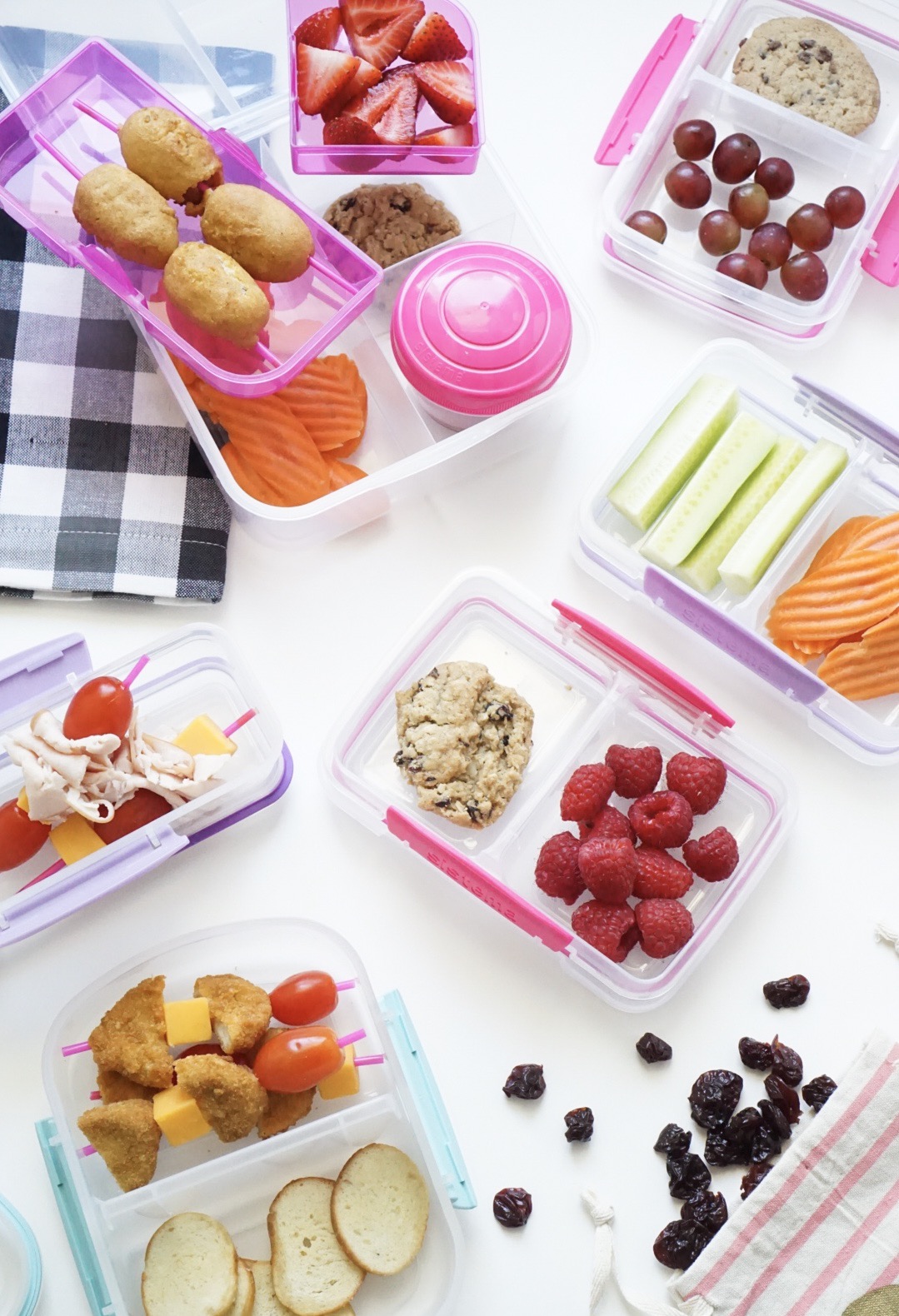 20 Non-Sandwich Lunch Ideas Your Kids Will Love
Protein-Packed Main Courses (that aren't sandwiches)
Deconstructed Sandwich Kabobs (I use a plastic stir straw as my kabob stick and arrange a piece of rolled up Hillshire Farm turkey, a cube of cheese, and a tomato or two.)

Tyson

®

Chicken Nugget

Kabobs (I don't know what it is about kabobs, but kids LOVE them! If I arrange chicken nuggets, and sometimes things like cheese cubes and veggies, on a drink stirrer—, a.k.a., kabob stick—, I have a way better chance of my daughter eating all of the nuggets. It's cute and fun, and kids love eating their lunch on a stick!)

Taco Leftovers (chicken, beans, etc.) with Chips and Salsa

Vegetables, Pita Chips, and Hummus

Pasta Leftovers with a Side Salad (a.k.a. I cut up carrots, cucumber sticks, and cherry tomatoes, and include a side of their favorite dressing to dip)

Yogurt, Homemade Muffin, Fruit Kabobs

Turkey and Cheese Quesadilla Wedges with Salsa (Make your quesadillas in the toaster oven or in a pan the night before using tortilla, Hillshire Farm turkey, and cheddar cheese.)

State Fair

®

Classic Corn Dogs

(I usually toast these in the morning and often put them on the drink stirrers. Throw in a side of ketchup, and they're a HUGE hit!)

Tortilla Roll-Ups (Though it's very similar to a sandwich, when I roll up a tortilla, a slice of Hillshire Farm turkey, and a slice of cheese, plus a little honey mustard, then cut into pinwheels, you'll see way more results; a.k.a. your kids will love their lunch!)

Hillshire Farm

®

Turkey

, Cheese Squares, and Crackers (There's something about a deconstructed lunch that kids love!)

French toast sticks with syrup and a Hard-Boiled Egg

Jimmy Dean

®

Pancakes and Sausage on a Stick

(Heat them up in the morning, and serve with cut up strawberries.)

Apple Slices, Pretzel Sticks, and Nut Butter

English Muffin Pizzas (Toast a split english muffin with a little tomato sauce, pieces of

Hillshire Farm

®

ham

, and mozzarella cheese.)

Hot Soup with Bread and Butter or Crackers and Cheese

Tyson

®

Frozen Grilled & Ready Chicken

(cooked in the morning) with Pita, Cucumber, and Hummus

No-Bake Energy Bites

with Yogurt and Fruit

Tyson

®

Chicken Nuggets

(cooked in the morning) and Dipping Sauce (like honey mustard or ketchup)

Greek Yogurt, Granola, and Berries

Mini Bagel and Cream Cheese
Kid-Favorite Fruit + Vegetables
cherry tomatoes
cucumbers, peeled and cut into sticks or circles
carrot sticks
sliced sweet peppers
broccoli
sugar snap peas
edamame
sliced strawberries
peeled apple slices
peeled sliced kiwi
peeled clementine oranges
raspberries
blueberries
grapes
cut up watermelon
cut up pineapple
sliced peaches
sliced plum
dried apples
dried apricots
dried cherries
applesauce
Snacks
cookie
cookie bar
pudding
granola bar
trail mix
kettle corn
rice cereal treat
fruit snacks
brownie
small slice of cake
chocolate-dipped pretzels
yogurt pretzels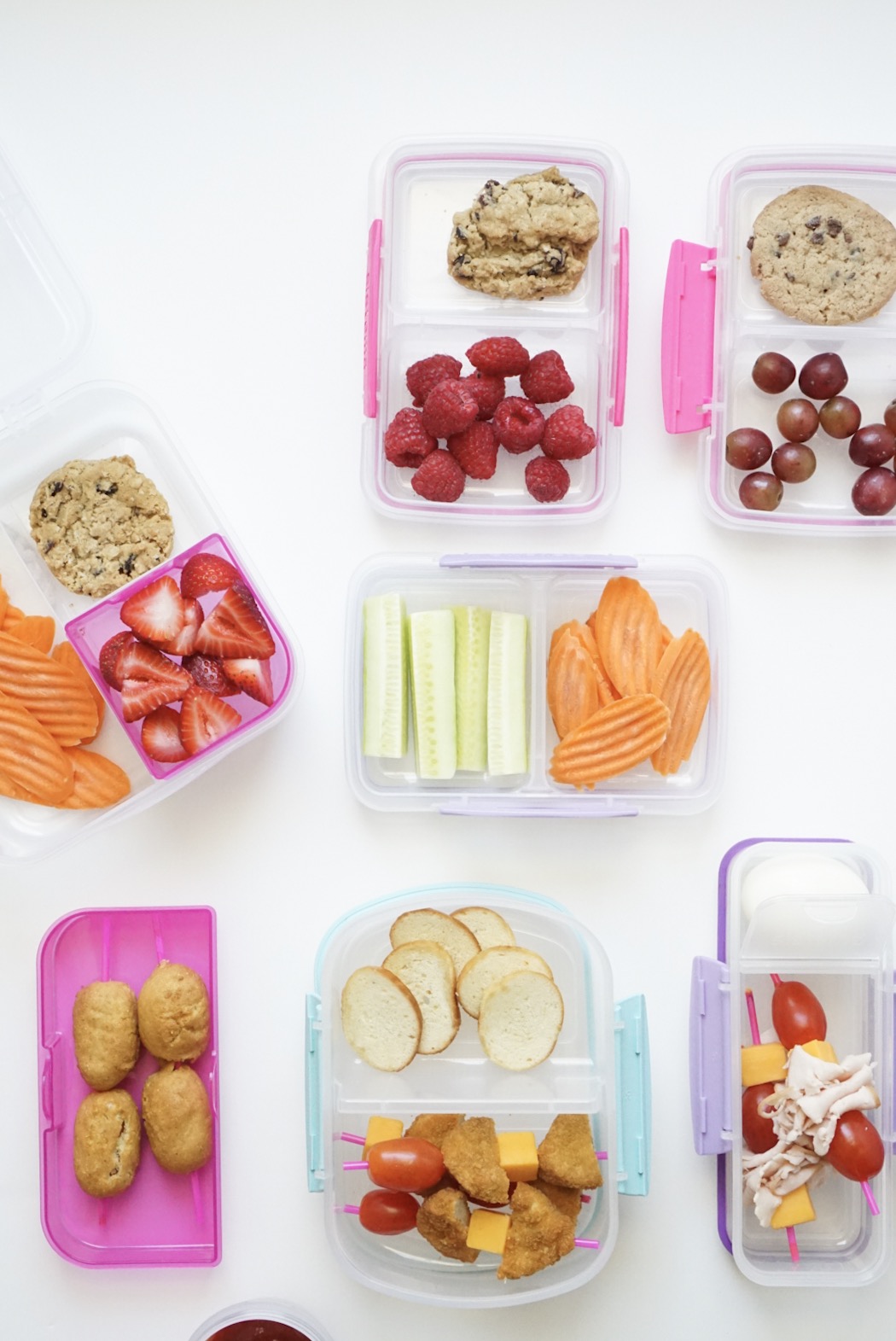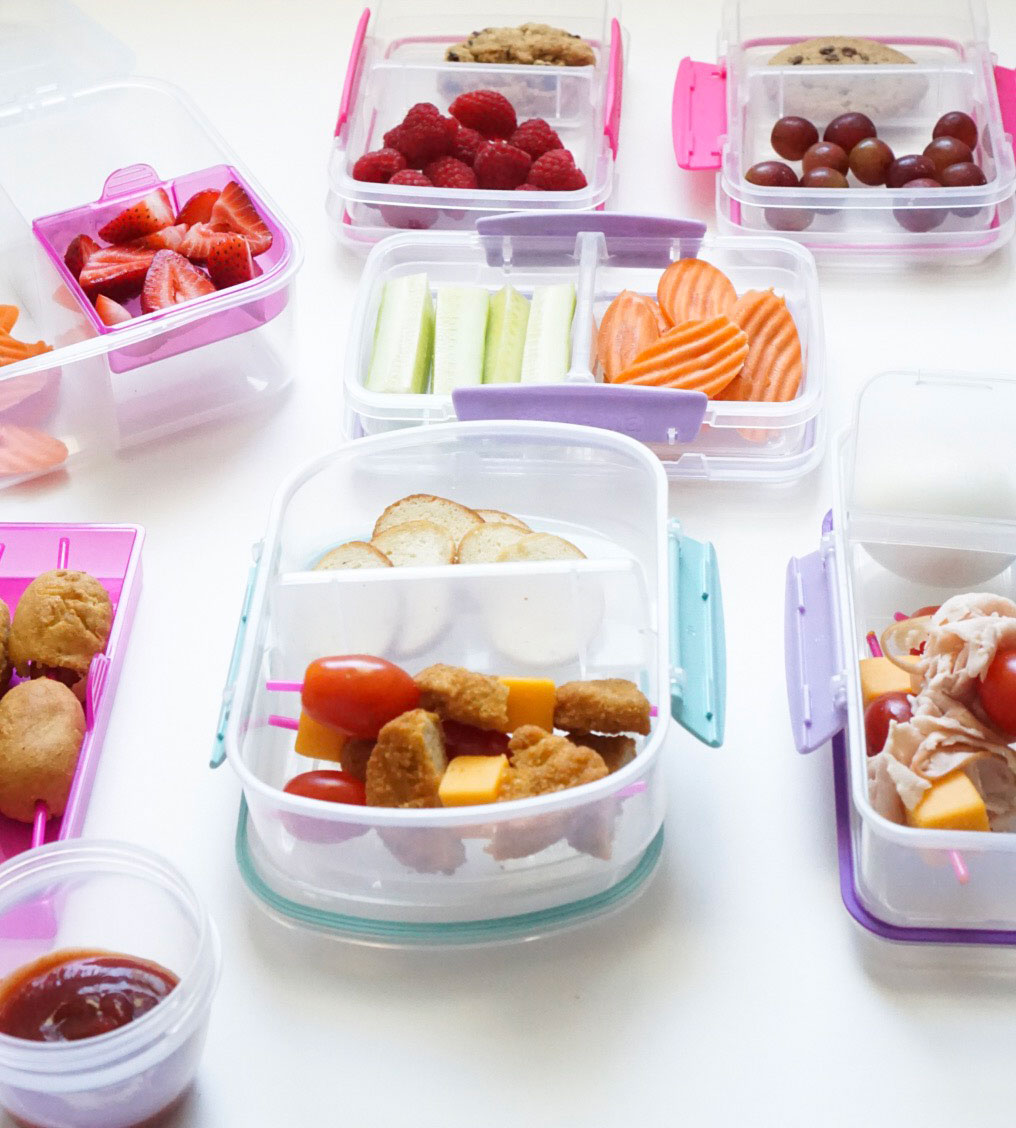 How I Meal Prep School Lunch for the Week
After I've made the "main course", I often lay out tupperware (enough for 5 days) and fill everything with "sides". Things like cut up fresh vegetables, cut up fresh fruit, fruit and yogurt squeeze pouches, and a cookie are always a hit. I bake a lot, so I typically portion out a homemade cookie or treat per lunch.
Then I just match up main courses with sides, pop everything into the lunch box the night before school or camp, and voilà!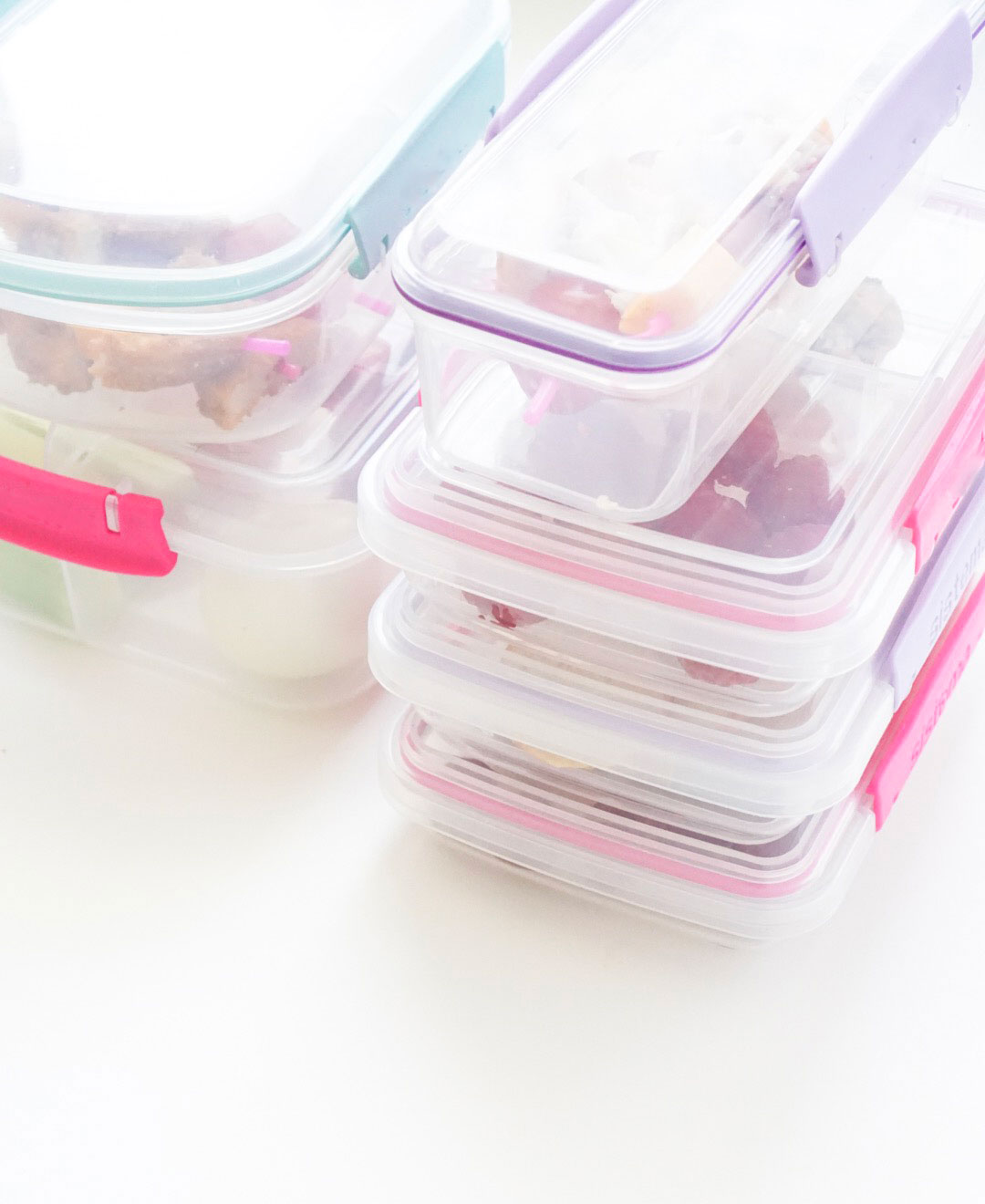 LUNCH PACKING TIP: It may seem silly, but buying a few "bento" style lunch boxes or tupperware can actually really help to motivate you to provide more options in your kids' lunches. Lunch boxes like this and this provide all of these great little compartments. You'll feel compelled to fill them, and your kids will be excited at all of the choices.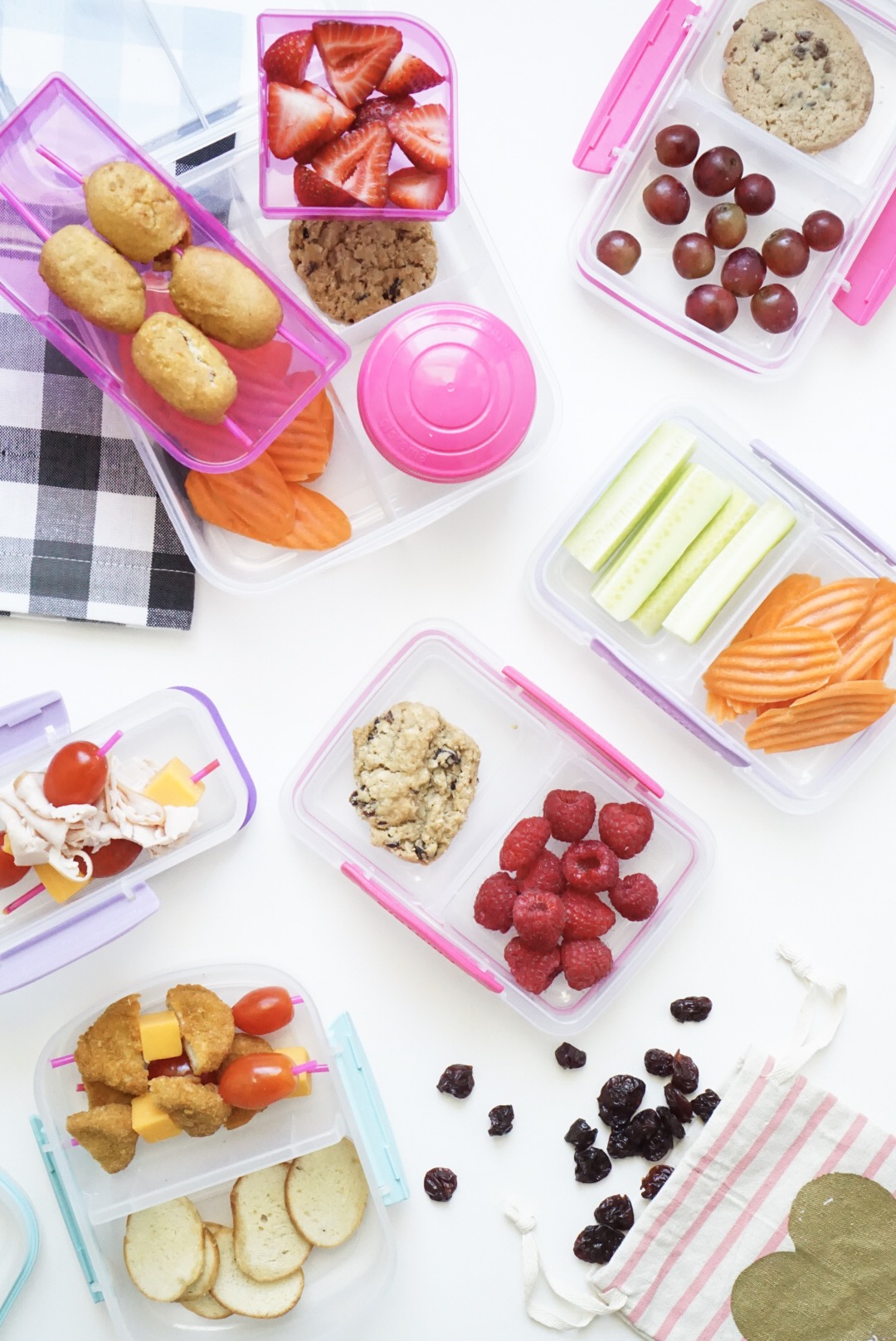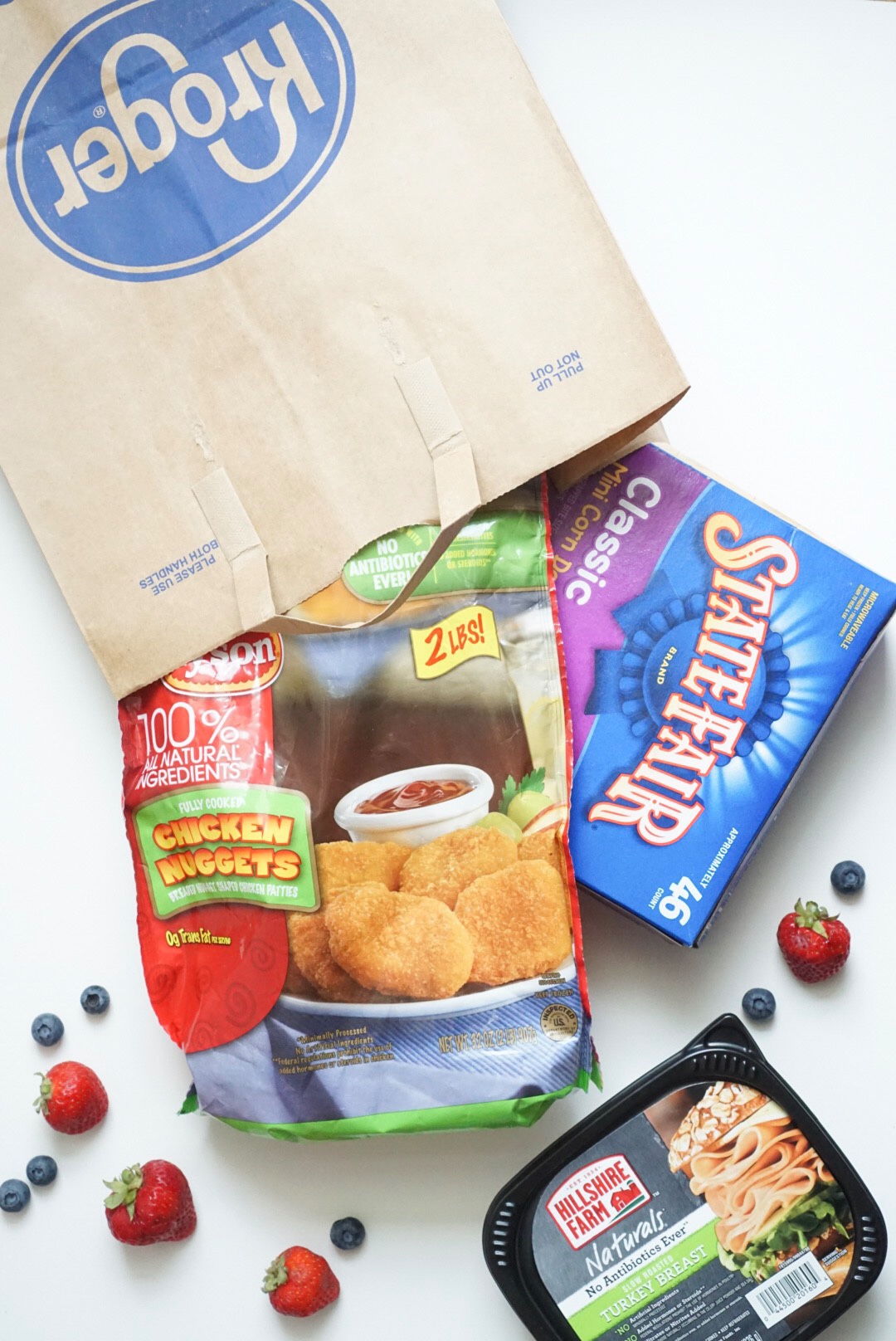 Don't forget, you can shop for brands like Tyson®, State Fair®, Hillshire Farm®, Jimmy Dean® at Kroger for back-to-school lunch prep.
Tyson® is also offering $6 towards a movie ticket at the register when you buy any 5 of these participating products in 1 transaction: State Fair® Corn Dogs, Tyson® Chicken Nuggets and Strips, Hillshire Farm® Lunchmeat, Hillshire Farm® Smoked Sausage, Jimmy Dean® Frozen Breakfast, Jimmy Dean® Fully Cooked Sausage and Simple Scrambles™ products between 7/25/18-8/8/18 (excludes online purchases)
For more meal planning help check out this Tyson weekly meal calendar here.Get ready to have the best lunch boxes on the block!
LOVE THESE EASY LUNCH IDEAS? HEAD TO OUR RECIPE PAGE TO CHECK OUT WHAT ELSE WE'RE WHIPPING UP IN THE KITCHEN!
SaveSave
SaveSave
SaveSave
SaveSave
SaveSave
SaveSave
SaveSave
SaveSave
SaveSave
SaveSave
SaveSave
SaveSave
SaveSave
SaveSave
SaveSave
SaveSave
SaveSave
SaveSave
SaveSave
SaveSave
SaveSave
SaveSave
SaveSave