I've made these vegan chocolate chip cookies a few times now – and shared a peek on my Snapchat; and after getting such a great response over there, I realized I should share the full recipe here! (By the way, you can follow along on snapchat → glitterinclexi (lots of fun behind-the-scenes there.) Back to the cookies … These are hands-down the best vegan chocolate chip cookies. You've got to try them!
I've mentioned before that our little girl was born with a milk protein allergy. Thankfully, it seems to be fading into a lactose intolerance, but over the months we've adapted and started incorporating a lot of really yummy vegan recipes into our repertoire to avoid the dairy. Plus, I've been trying to consume less dairy in my own diet, so trying out a few vegan recipes – especially in the dessert department – has been a welcome, and probably necessary, change. (You know, because dessert is totally necessary.)
This vegan chocolate chunk banana bread has become one of our family's favorites, but I knew I wanted a chocolate chip cookie recipe to rely on. Cookies are a staple in our house. Plus, we tend to have little friends over, etc., and I didn't want Scarlett to feel like she couldn't eat the snack that the other kids were having. It's funny how once they hit the "toddler" months, they're suddenly so aware of what everyone else is doing. The days of grabbing a snack I didn't have to share with Scarlett are long gone, so vegan chocolate chip cookies it is!
Lucky for us, Scarlett can eat eggs, but these vegan chocolate chip cookies don't use any eggs, milk, or butter, and still miraculously taste just like classic homemade chocolate chip cookies! Don't ask me how – it's total baking magic – but my goodness, are they good.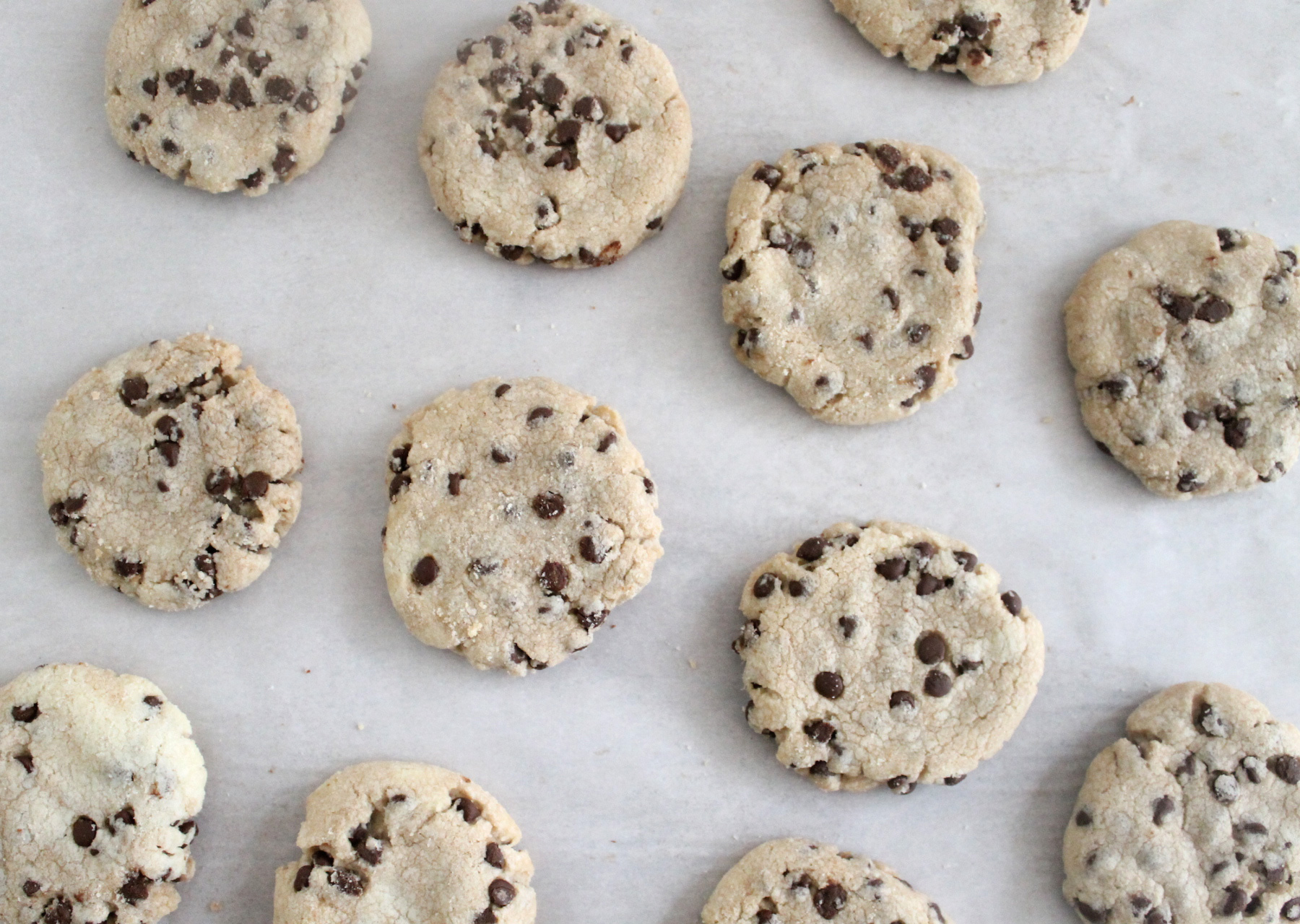 I've actually doubled the recipe each time I've made them and they still disappeared in about a weekend; they're that delicious! (Psst, 4 tablespoons equals a ¼ cup – in case you plan to double the recipe.)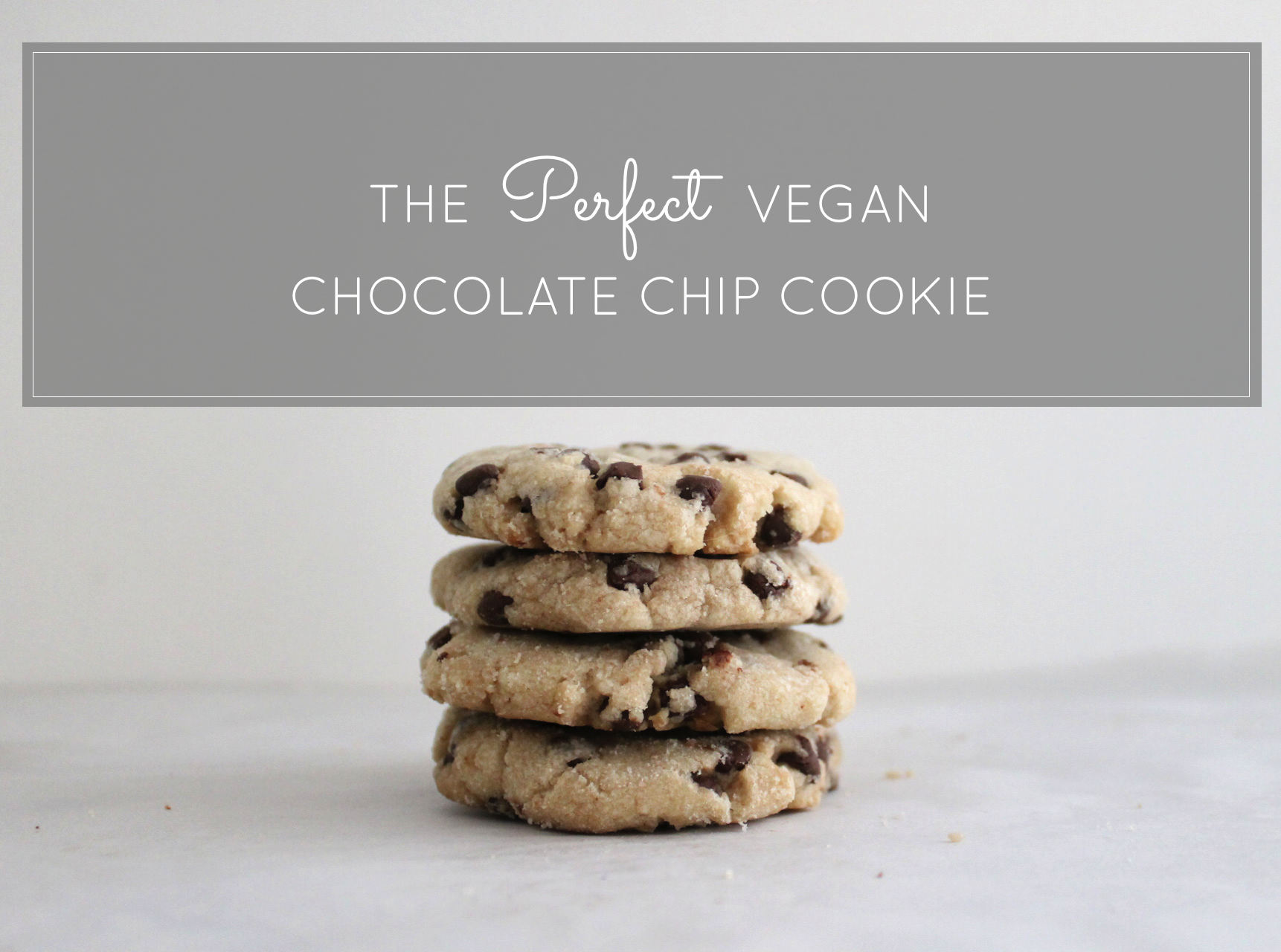 VEGAN CHOCOLATE CHIP COOKIES
Makes 20-22 cookies
INGREDIENTS
1⅛ cup all-purpose flour
½ tsp Baking Soda
¼ tsp salt
¼ cup +2 tbsp non-hydrogenated shortening (such as palm oil)
2 tbsp. vegetable oil (I used canola)
¼ cup +2 tbsp granulated sugar
¼ cup +2 tbsp light brown sugar (packed)
1½ tbsp non-dairy milk (I used almond milk)
¾ tsp vanilla
1 cup Dairy-Free Chocolate Chunks or Chips*
*I use Enjoy Life chocolate chunks and chips; they're gluten-free, dairy-free, nut-free, and soy-free, and totally delicious. They also bake incredibly well. Even Target carries them!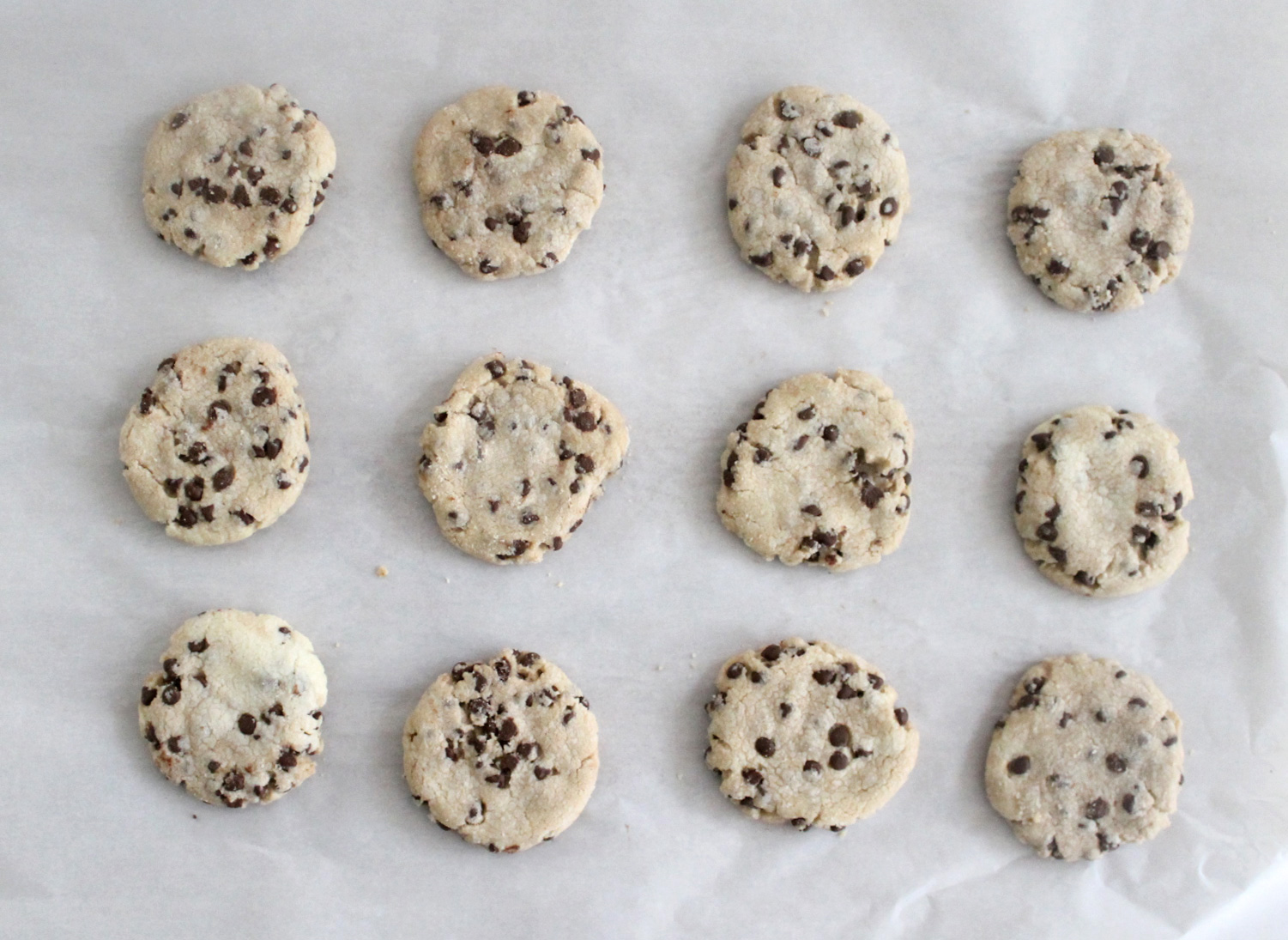 DIRECTIONS
Preheat oven to 350 Fahrenheit.
In a small bowl, combine flour, baking soda, and salt. Set aside.
Place shortening, canola oil and sugar in a mixer and combine until creamy, about 3 minutes.
Mix in non-dairy milk and vanilla.
Slowly add flour mixture until fully combined.
Fold in chocolate chips by hand.
Scoop rounded tablespoons of the cookie dough on a silpat or parchment paper, and gently press down each cookie ball. (Because these cookies don't have any butter, they don't melt down as a typical cookie would.)
Bake for 9 to 10 minutes.**
Enjoy!
**I like my cookies a drop under-baked (i.e., extra soft in the center), so I baked them between 9 and 10 minutes. Just be sure to watch your cookies so they don't overcook. Without butter or egg, these cookies won't really brown, so although they may look a bit raw at the end of your 9 to 1o minutes, it's a-okay. Remove them from the oven and allow them to cool. (They'll come together a bit more during the cooling process. That is, if you don't try to eat them piping hot and out of the oven from the get-go!)
Once you make this recipe, you're not going to want to make any other chocolate chip cookies. SO good.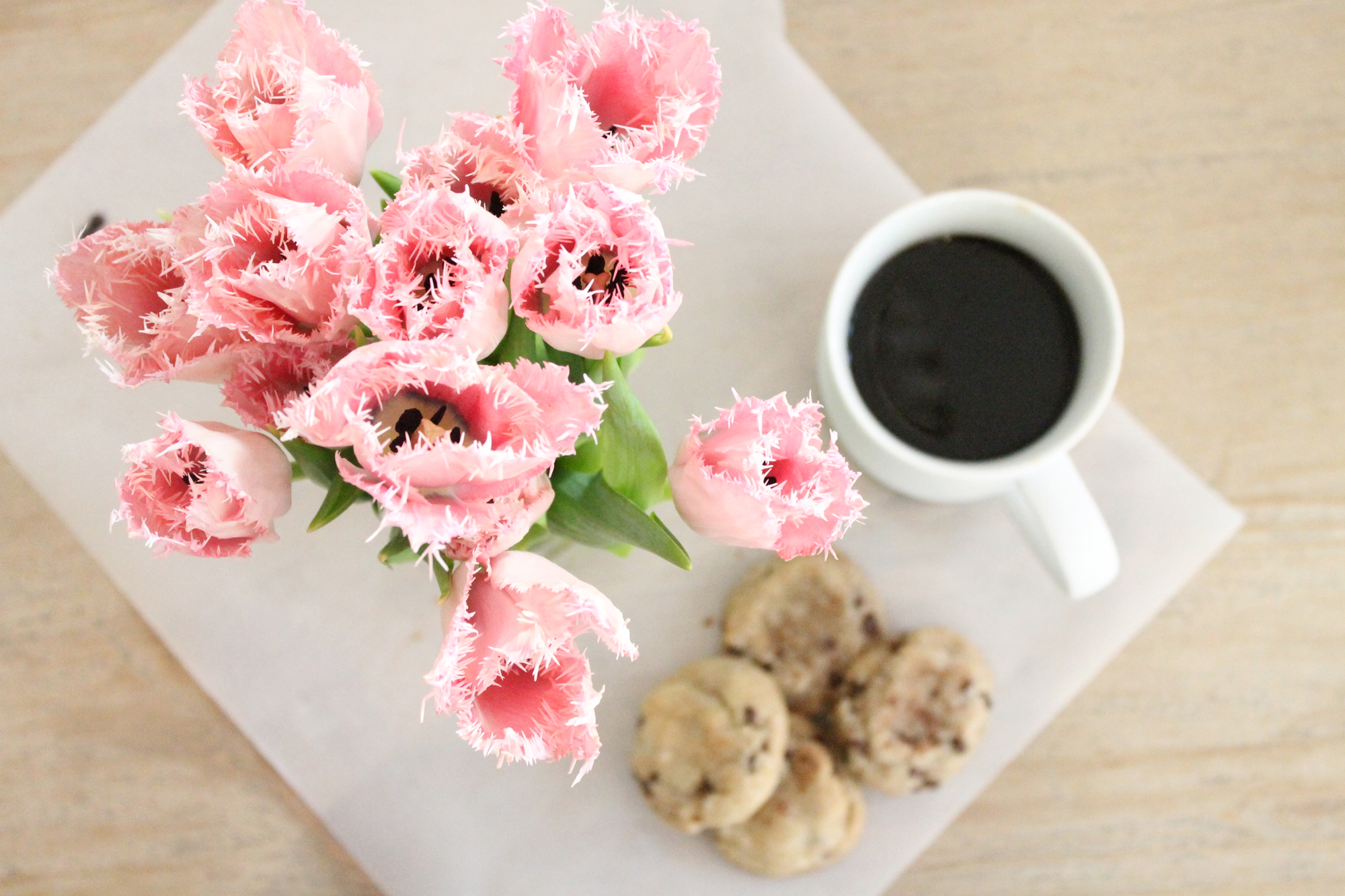 Recipe adapted via I Bake, He Shoots
This post contains affiliate links, which means that if you click on one of the product links, I'll receive a small commission. Thank you so much for clicking through and helping to support this little blog business of mine! Read more about our site, privacy, and disclosure policies here.