This post contains affiliate links, which means that if you click on one of the product links, I'll receive a small commission. Thank you so much for clicking through and helping to support this little blog business of mine! Read more about our site, privacy, and disclosure policies here.
These chewy and soft chocolate chip pretzel granola bars are a household favorite and totally delicious. Plus, they're fun to make and last for a good week or more (if you can keep them that long!)
Warm weather is here and I am all about no-bake snacks that kids (and grown-ups alike) will love. I stumbled across this chewy granola bar recipe, and made a few simple tweaks, to come up with a new household favorite. Between hubby and Scarlett, these dairy-free* soft chocolate chip pretzel granola bars were gone in a matter of days.
Hubby declared them "the best chewy granola bar recipe yet," so there's that.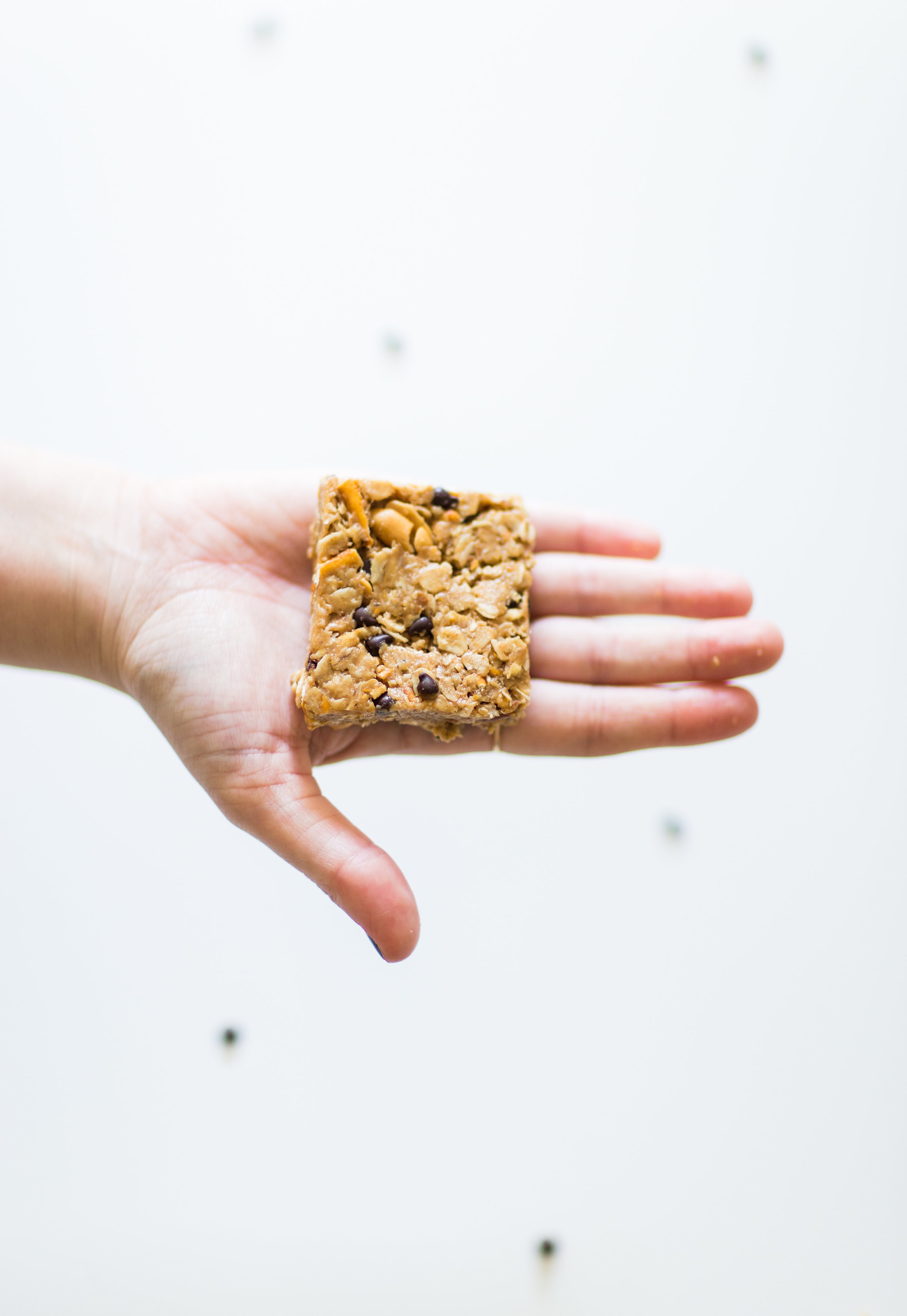 The texture to these granola bars is perfect – soft and chewy – and the saltiness from the pretzel and peanut butter plus the hints of sweet from the semi-sweet chocolate, makes these granola bars THE perfect snack. I actually cut our granola bars into "granola squares"; perfect for little hands.
*Scarlett can't have any milk protein, so we're always experimenting with vegan and dairy-free recipes, in case you want to check them out! While this recipe is not vegan because of the honey, it can be made dairy-free using dairy-free chocolate chips. We use Enjoy Life chocolate chunks and chips; they're gluten-free, dairy-free, nut-free, and soy-free, and totally delicious. They also bake incredibly well. Even Target carries them! Obviously, you can use regular semi-sweet chocolate here instead if you don't need to keep the recipe dairy-free.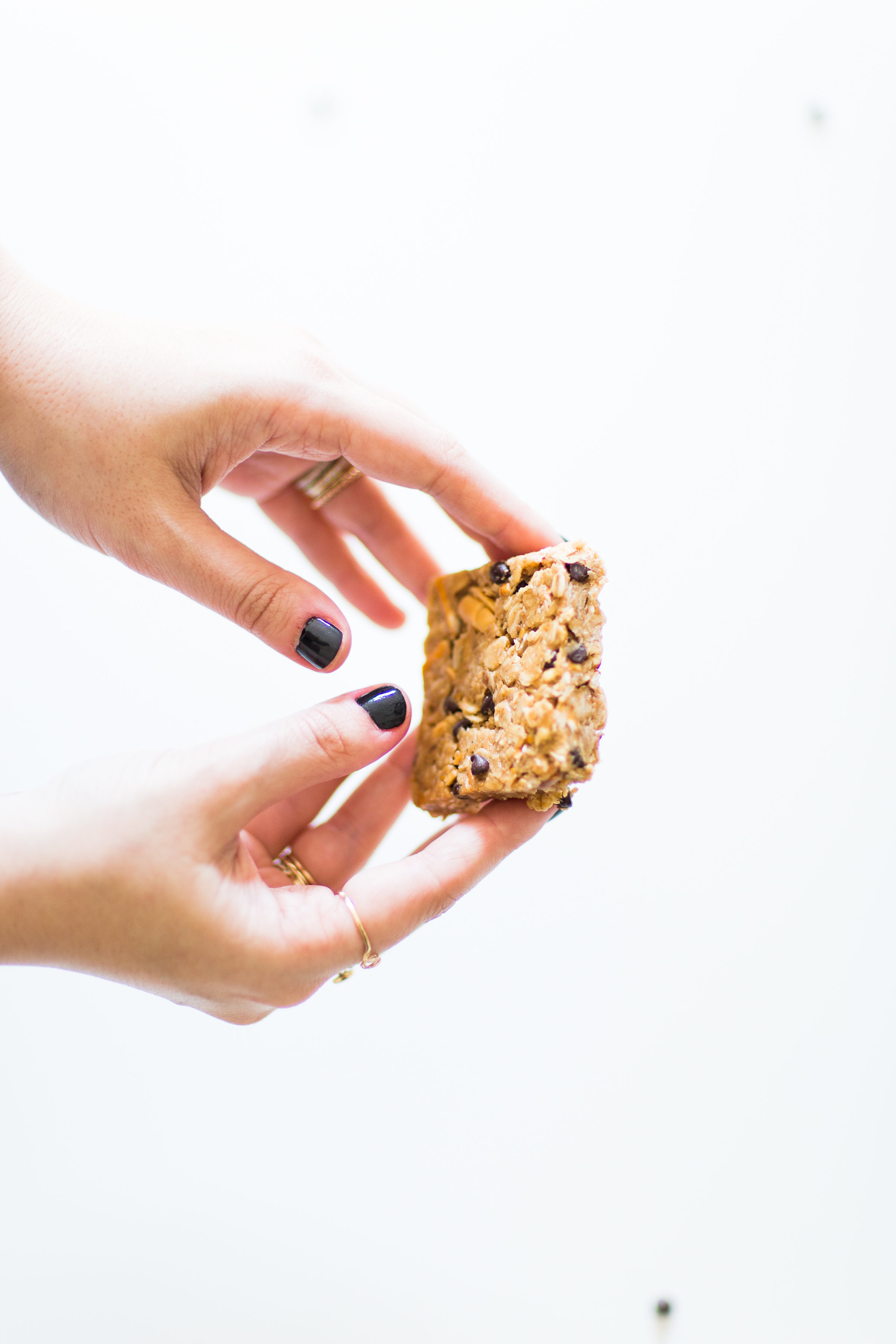 How to Make Our New Favorite Soft Chocolate Chip Pretzel Chewy Granola Bar Recipe
INGREDIENTS
2 cups rolled oats
2 cups twisted pretzels, crushed down to about 1 heaping cup
½ cup salted peanut halves
1 cup peanut butter (more as needed)
½ cup honey (more as needed)
1 teaspoon vanilla
chocolate chips (optional)
DIRECTIONS
Toss the oats, crushed pretzels, salted peanut halves, and chocolate chips (optional) together in a large bowl.
Stir the peanut butter, honey, and vanilla together in a separate bowl until smooth and creamy. Pour the mixture over the dry ingredients in the other bowl. Stir until combined.
Press the bar mixture into a 9×9 inch pan lined with parchment paper (9×13 will work – it will just yield wider, flatter bars). Freeze for 30 minutes. Pull out of the pan and cut into bars. You can also wrap the bars individually in freezer or parchment paper and ziploc bags for quick grab-and-go snacks. They can be kept in the refrigerator or freezer.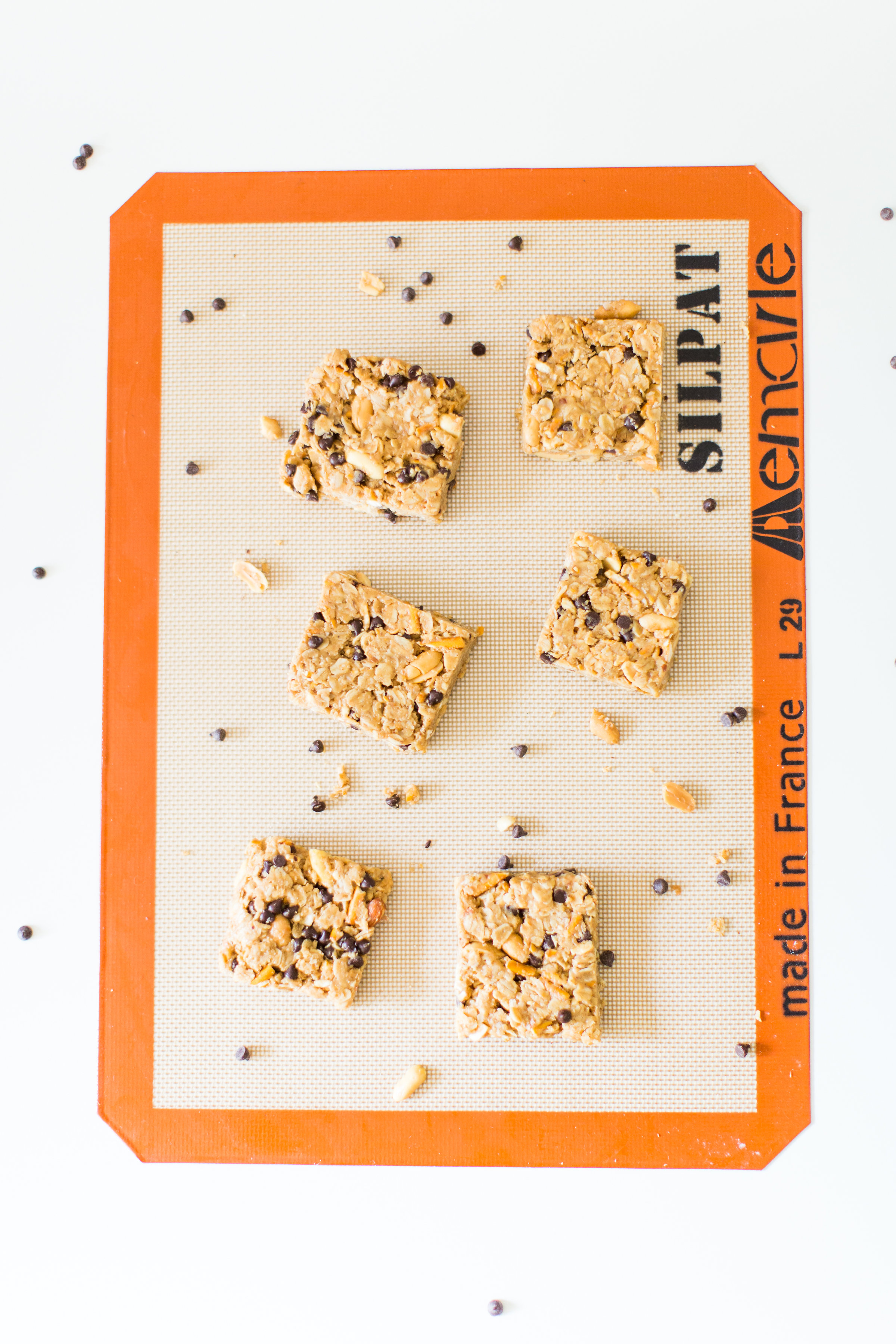 NOTES
If your bar consistency seems too dry or crumbly, add more peanut butter or honey, and add more oats or pretzels if the mix seems too sticky.
You can mix-in anything else you want to make these granola bars totally customized. (i.e., dried fruit, chocolate chips, more nuts, seeds, etc.)
Store-bought peanut butters like Jif or Skippy work best in this recipe because sometimes natural peanut butter is less sweet, less salty, and more oily. You can use natural peanut butter, just do your best to balance out the honey dry ingredients until you get the right consistency.
Recipe adapted via Pinch of Yum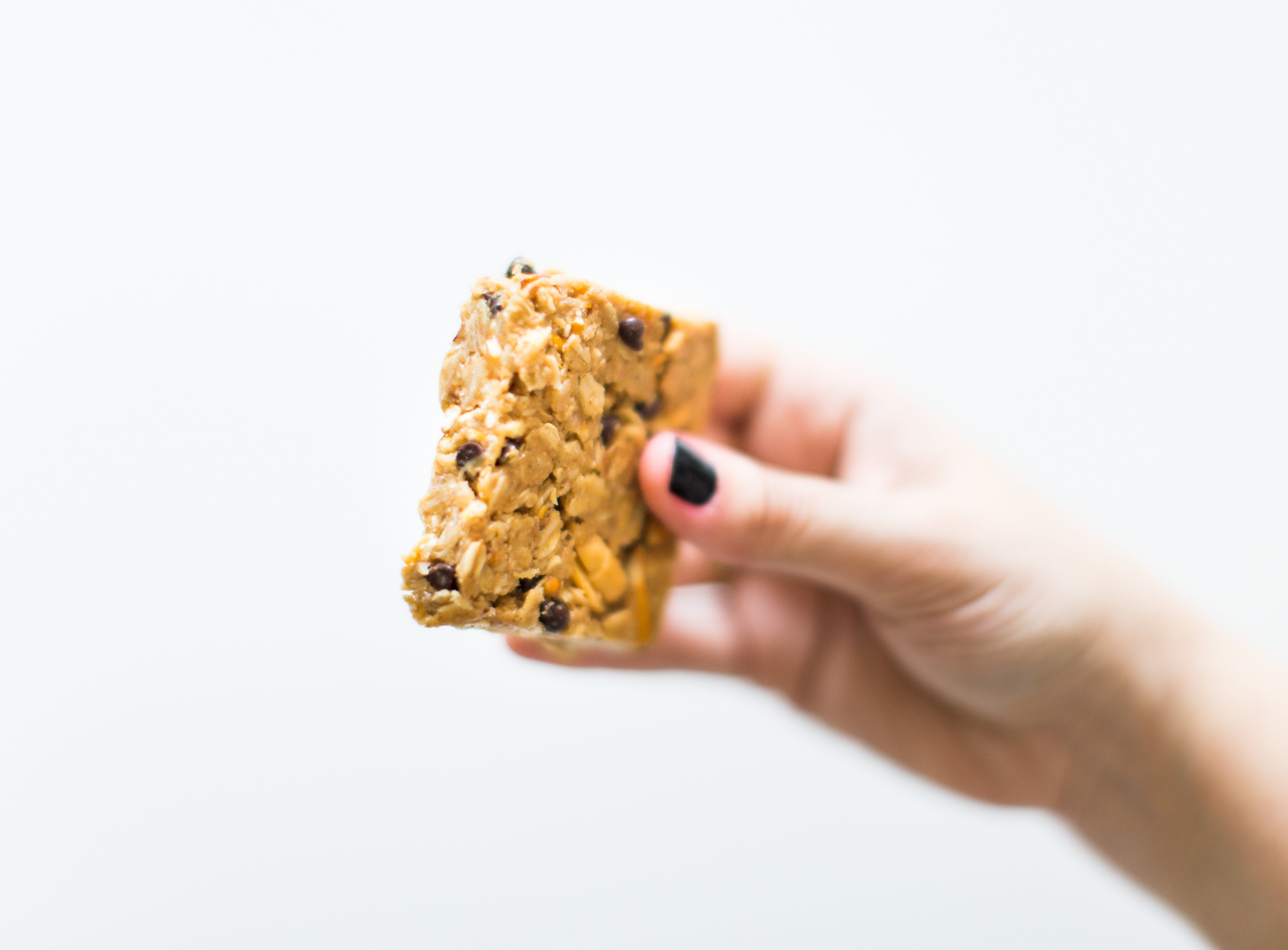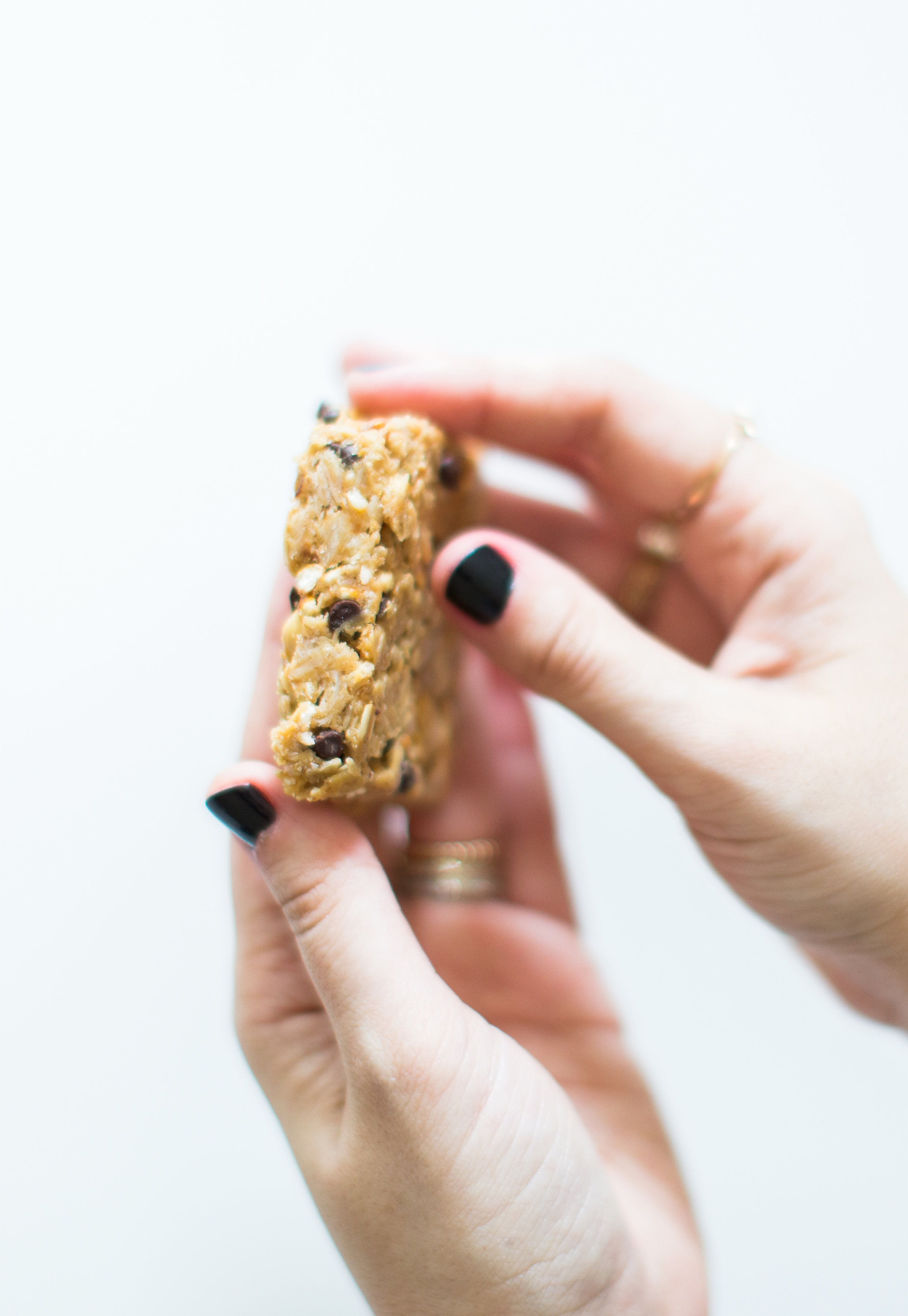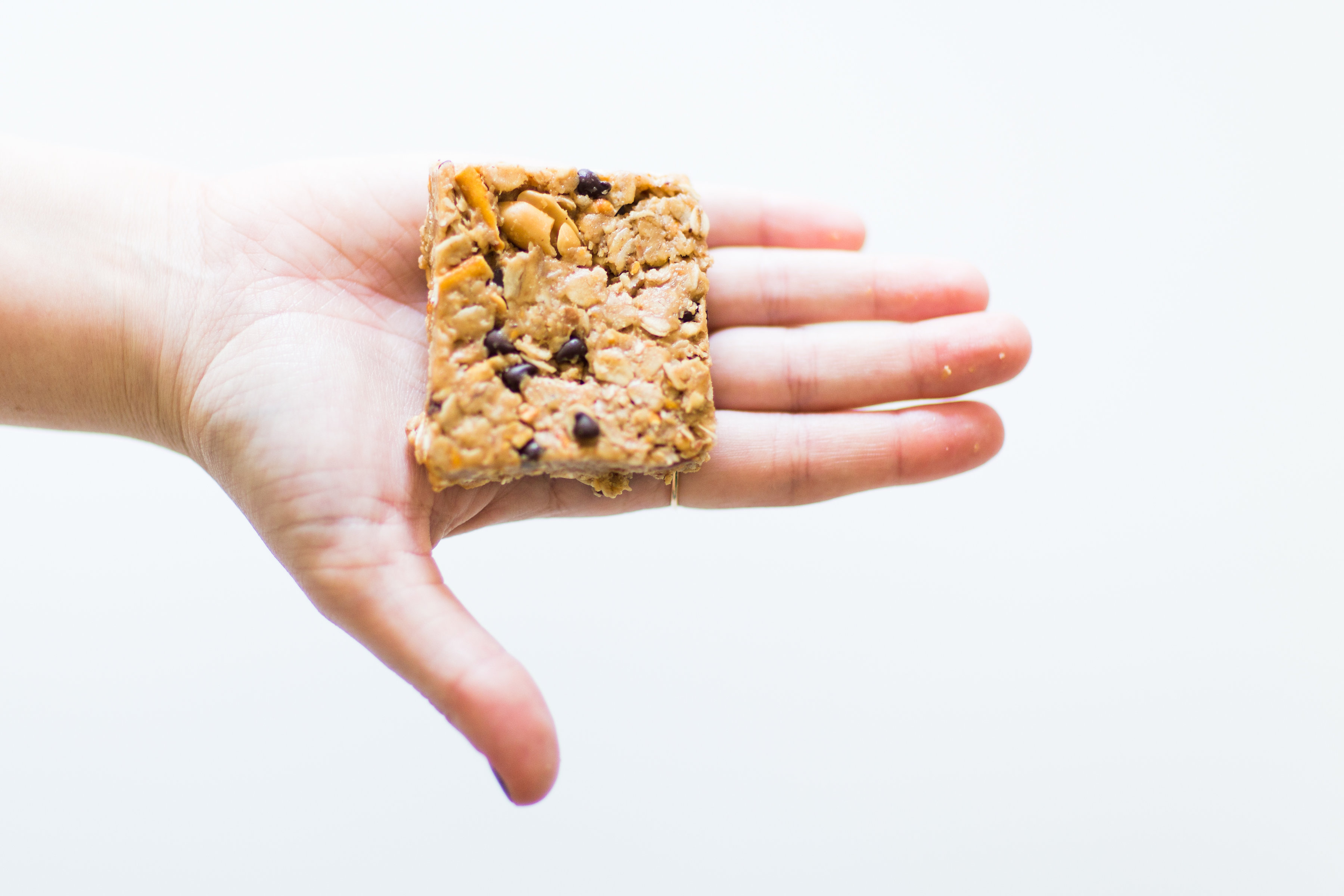 If you find yourself throwing together a batch of this chocolate chip pretzel chewy granola bar recipe, be sure to tag me on social media (@glitterinclexi) so I can live vicariously through all of your fun snacking!
Photos and Video by Annie Watts Photography