This post contains affiliate links, which means that if you click on one of the product links, I'll receive a small commission. Thank you so much for clicking through and helping to support this little blog business of mine! Read more about our site, privacy, and disclosure policies here.
Sheet pan chocolate peanut butter oatmeal cookie bars are simple to whip up, incredibly yummy, and can easily feed a crowd. In addition, these easy no-bake cookies are a total fan favorite!
I have a major thing for cookie bars. I love the simplicity of a great cookie bar. Sometimes, you just don't want to scoop out two dozen cookie balls, one by one. And trust me, when it comes to cookies, especially great cookies like these campy chocolate peanut butter oatmeal cookies, no one cares what shape or form the cookies take, so long as they get to devour them, and stat.
Cookie bars also feed a crowd, which is perfect for SO many occasions. And because these sheet pan chocolate peanut butter oatmeal cookie bars in particular are one of those recipes that just turns out well every time – soft and chewy and rich and delicious – it's a great standby dessert to make in a pinch any time you need to take a dessert to a gathering, serve up something sweet for a crowd, have a snack for a playdate, or add in a dessert at a party of your own. Also, I love gifting these bars since they stack up nicely.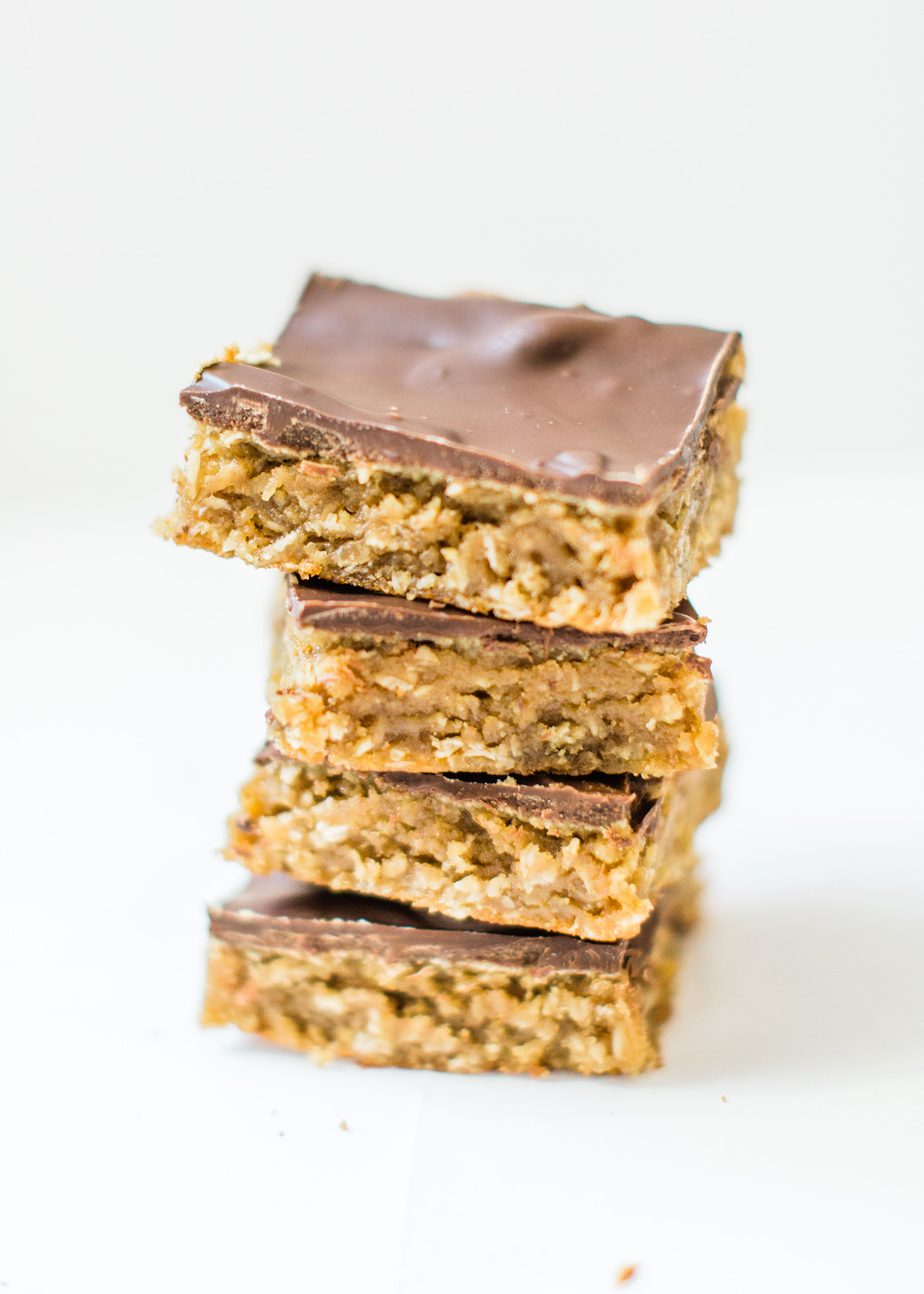 And, in case I haven't said it enough lately, chocolate and peanut butter were just meant to be. They're two total all-stars when paired together, and I'm not sure I've ever encountered a chocolate peanut butter dessert I didn't like. Also, the oatmeal gives them that perfect chewy texture and the chocolate coating is pretty epic.
Basically, your friends and family are going to adore these rich and delicious chocolate peanut butter oatmeal cookie bars, so get to baking!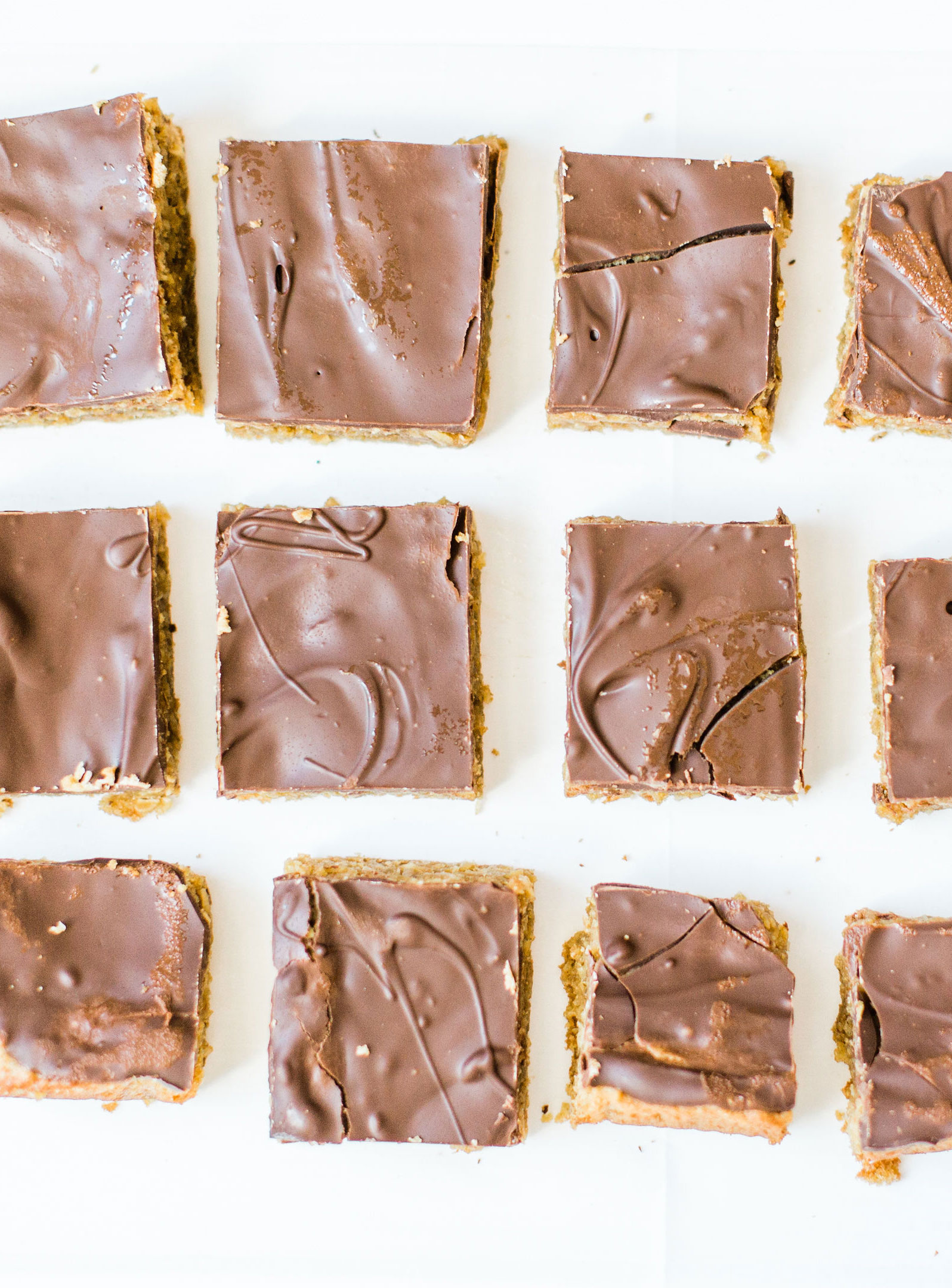 How to Make Sheet Pan Chocolate Peanut Butter Oatmeal Cookie Bars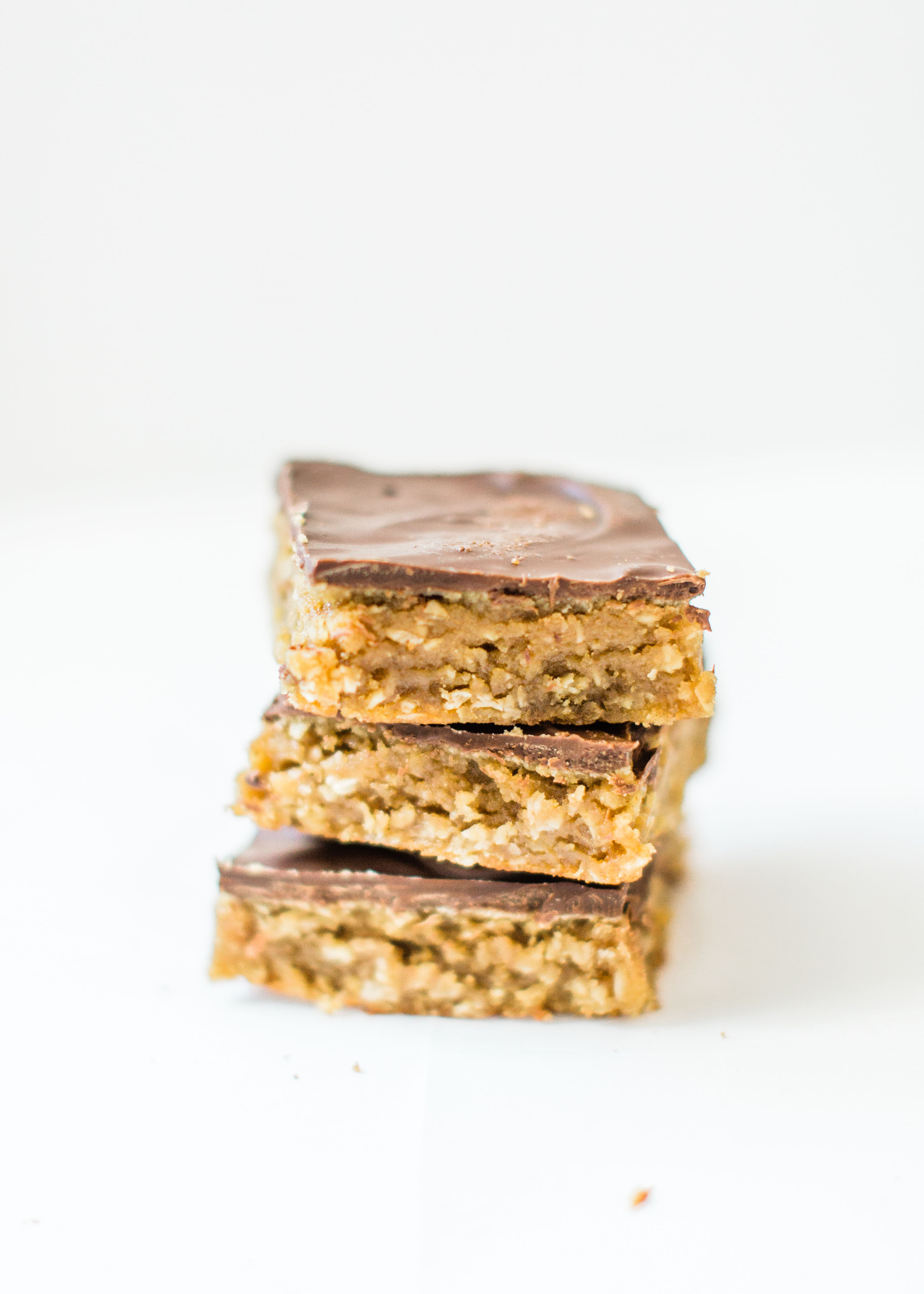 Yield:
Chocolate Peanut Butter Oatmeal Cookie Bars
Ingredients
2 cups old-fashioned or rolled oats
1/2 cup milk (soy milk and almond milk both work great here as well)
1 cup brown sugar
1 cup white sugar
1 cup butter - I used Earth Balance vegan butter and it worked great!
1 cup creamy peanut butter
2 eggs
1 teaspoon vanilla extract
1 teaspoon baking soda
1 3/4 cups all-purpose flour
1 package chocolate chips (2 cups) - milk, semi-sweet, or dairy-free chocolate chips all work well* 
Instructions
Preheat oven to 350 degrees F. Grease a large-rimmed cookie sheet or jelly roll pan.
In a small bowl, stir together the oats and milk. Set aside so that the oats can start to soften in the milk.
In a medium mixing bowl, cream together the sugars and the butter until fluffy.
Add peanut butter and incorporate.
Beat in the eggs one at a time.
Add vanilla and stir.
Stir in flour and soda.
Stir in oat and milk mixture. Batter will be sticky.
Spread batter into greased sheet pan. Bake for 20-25 minutes. The cookies should come out lightly golden but not too dark.
In the microwave, in a glass or microwave-safe bowl, melt chocolate chips. I like to melt chocolate by warming in thirty second intervals, stirring between each time in the microwave, until the consistency is smooth and melted.
Pour the melted chocolate over the top of the cookie bars, out of the oven. Use a spatula or the back of a spoon to carefully spread the melted chocolate over the bars.
Allow the chocolate-covered cookie bars to cool before cutting into squares.
Notes
Recipe adapted via Bless This Mess

*You really can use any chocolate chips you have on hand. These cookie bars taste amazing with milk chocolate, dark chocolate, semi-sweet chocolate, it's really just a preference thing.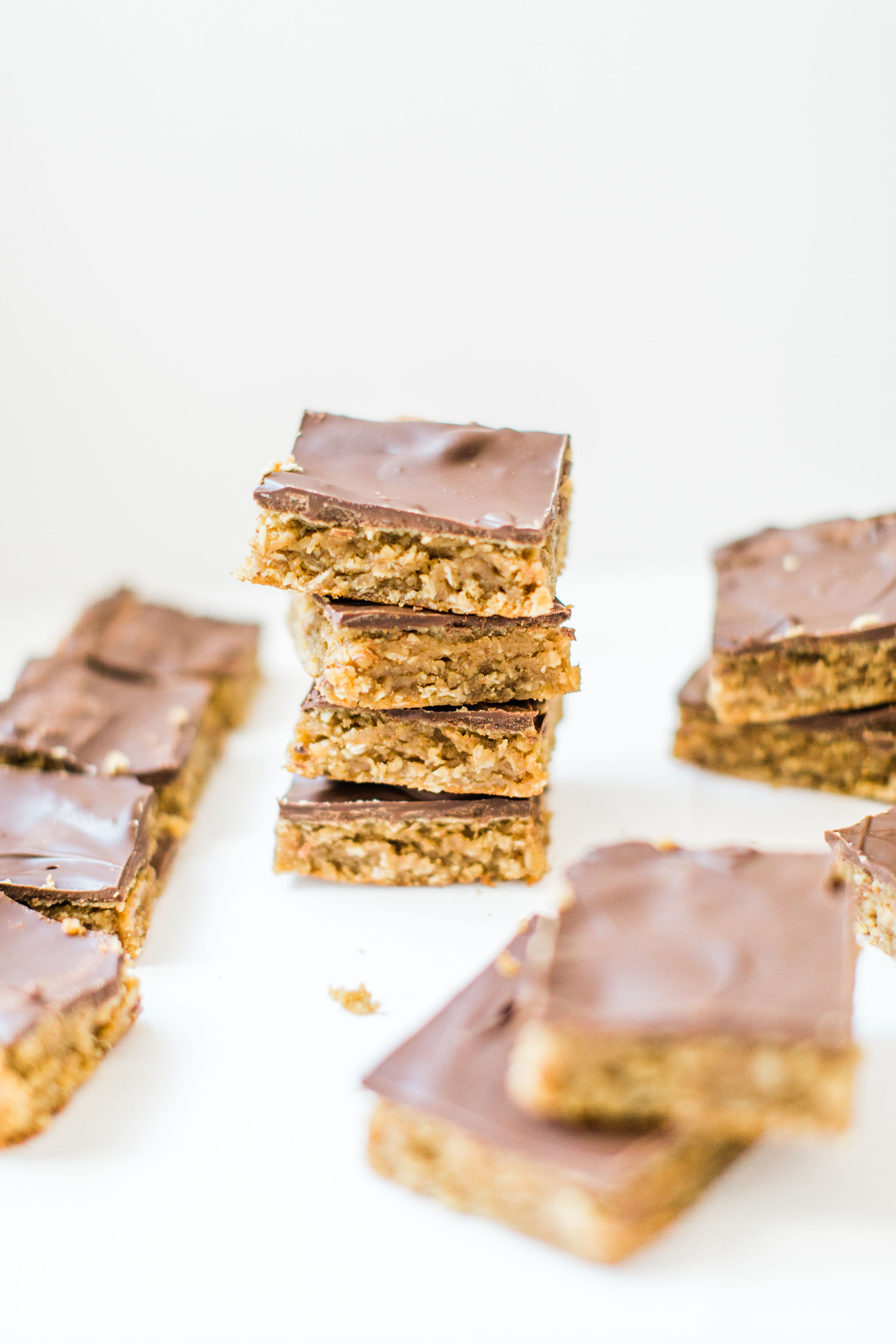 By the way, you may have noticed that we often adapt our recipes or offer solutions to recipes to bake up vegan and dairy-free treats. That's because our oldest daughter, Scarlett has MPIES (Milk Protein Induced Enterocolitis Syndrome). Over the years, we've changed a lot of our eating habits and I've made tweaks here and there in my baking to accommodate a dairy-free diet. We're always experimenting with vegan and dairy-free recipes, in case you're interested. Also, these chocolate peanut butter oatmeal cookies are incredibly moist, delicious, and can easily be made dairy-free; so basically, they're perfect.
One of my secrets for yummy chocolate dairy-free desserts are these amazing chocolate chips. I use Dairy-Free Chocolate Chips (by Enjoy Life). The Enjoy Life Chocolate Chips are easily our favorite; they're gluten-free, dairy-free, nut-free, and soy-free, and totally delicious. Also, they bake and melt incredibly well. Even Target carries them!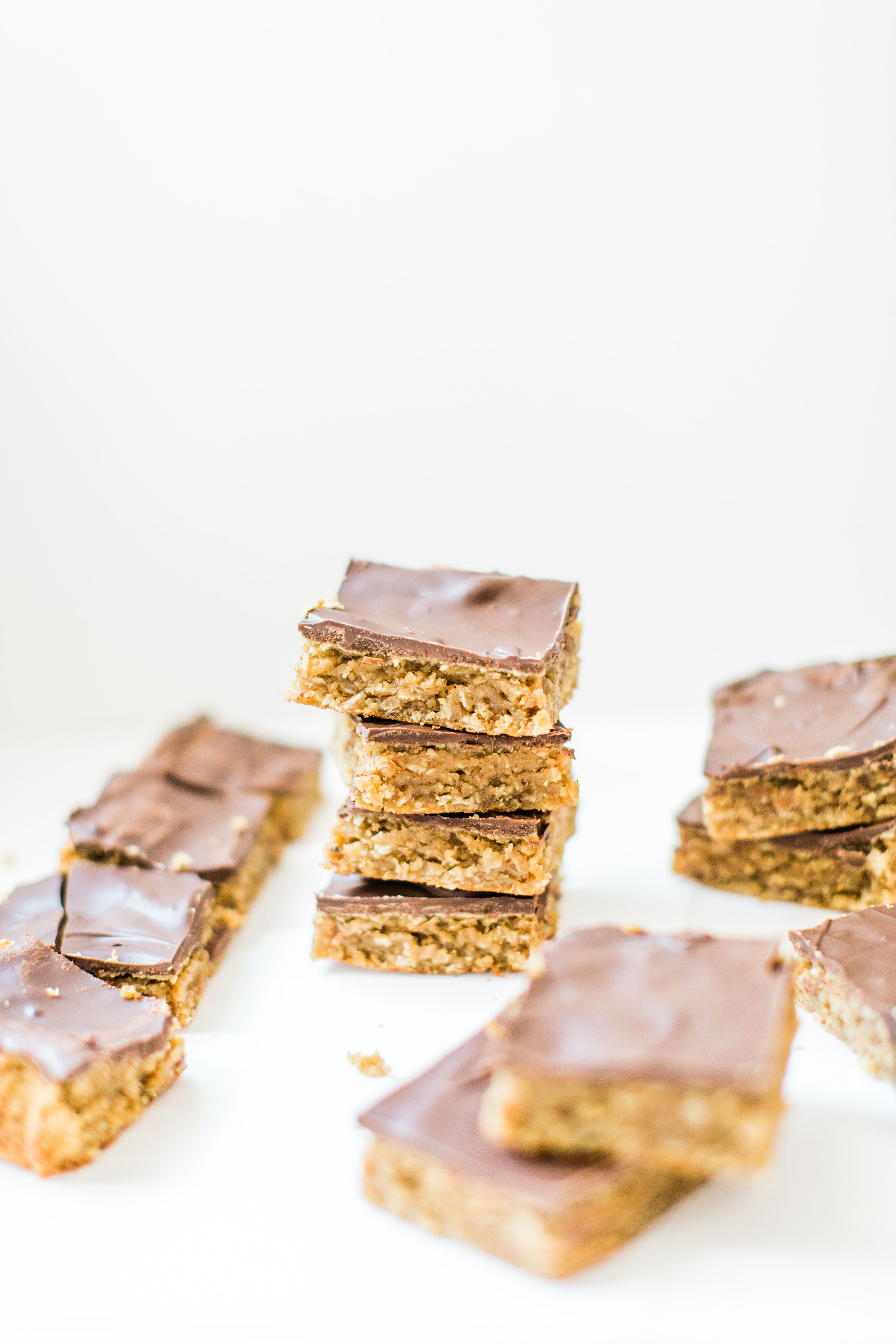 And speaking of chocolate, these chocolate peanut butter oatmeal cookie bars work great with milk chocolate, dark chocolate, semi-sweet, etc.; i.e., choose your favorite chocolate and roll with it. No matter what chocolate topping you go with, they're going to taste AMAZING.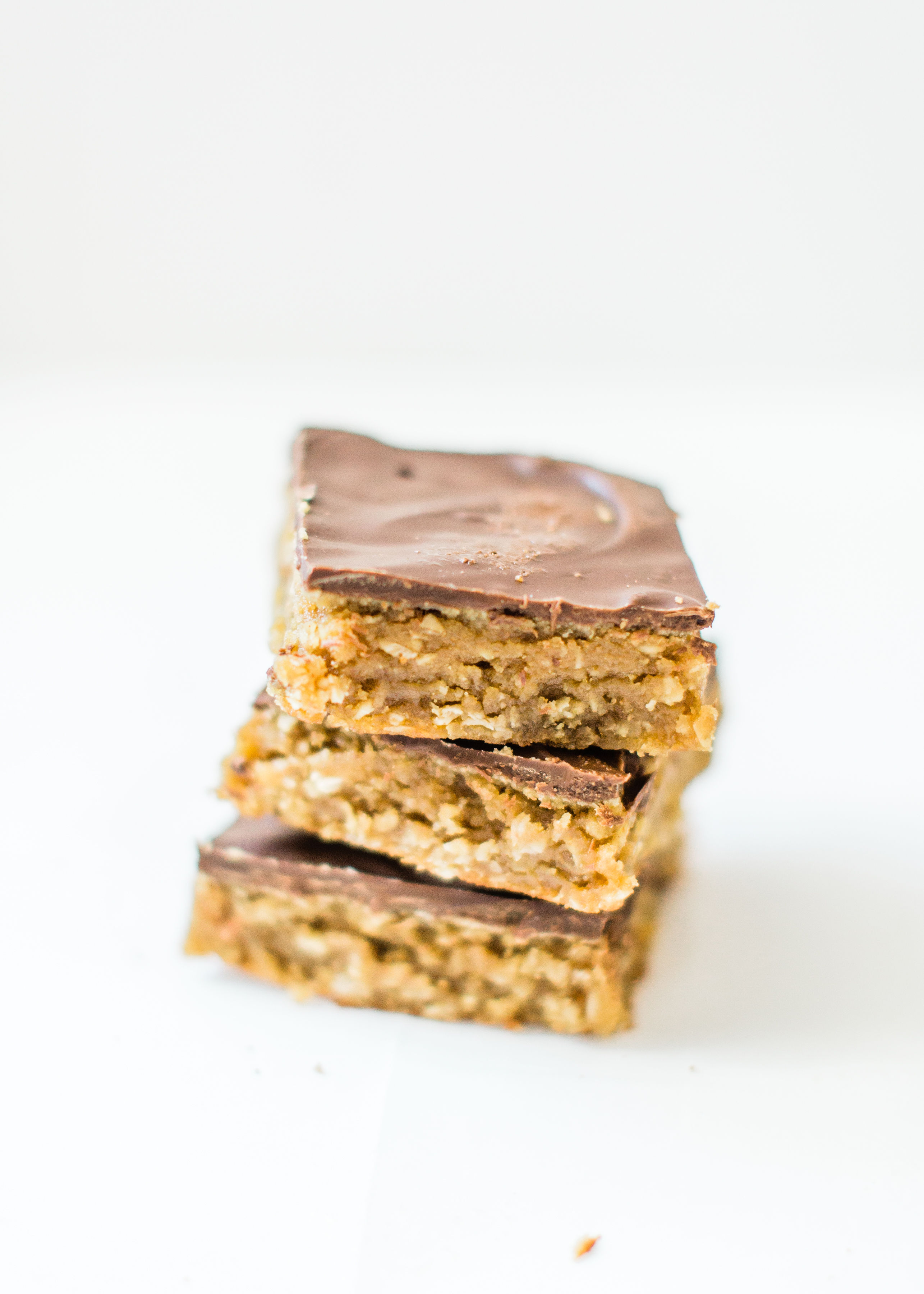 …
If you make your own chocolate peanut butter oatmeal cookie bars, be sure to tag me on social media (@glitterinclexi) so I can live vicariously through all of your sweet creations!
More Delicious Dessert Recipes from Glitter, Inc.:
our favorite chocolate chip oatmeal cookie bars
quick strawberry fruit bread with strawberry glaze (so good!)
the most incredible s'mores cookie cups
the best sugar cookies for decorating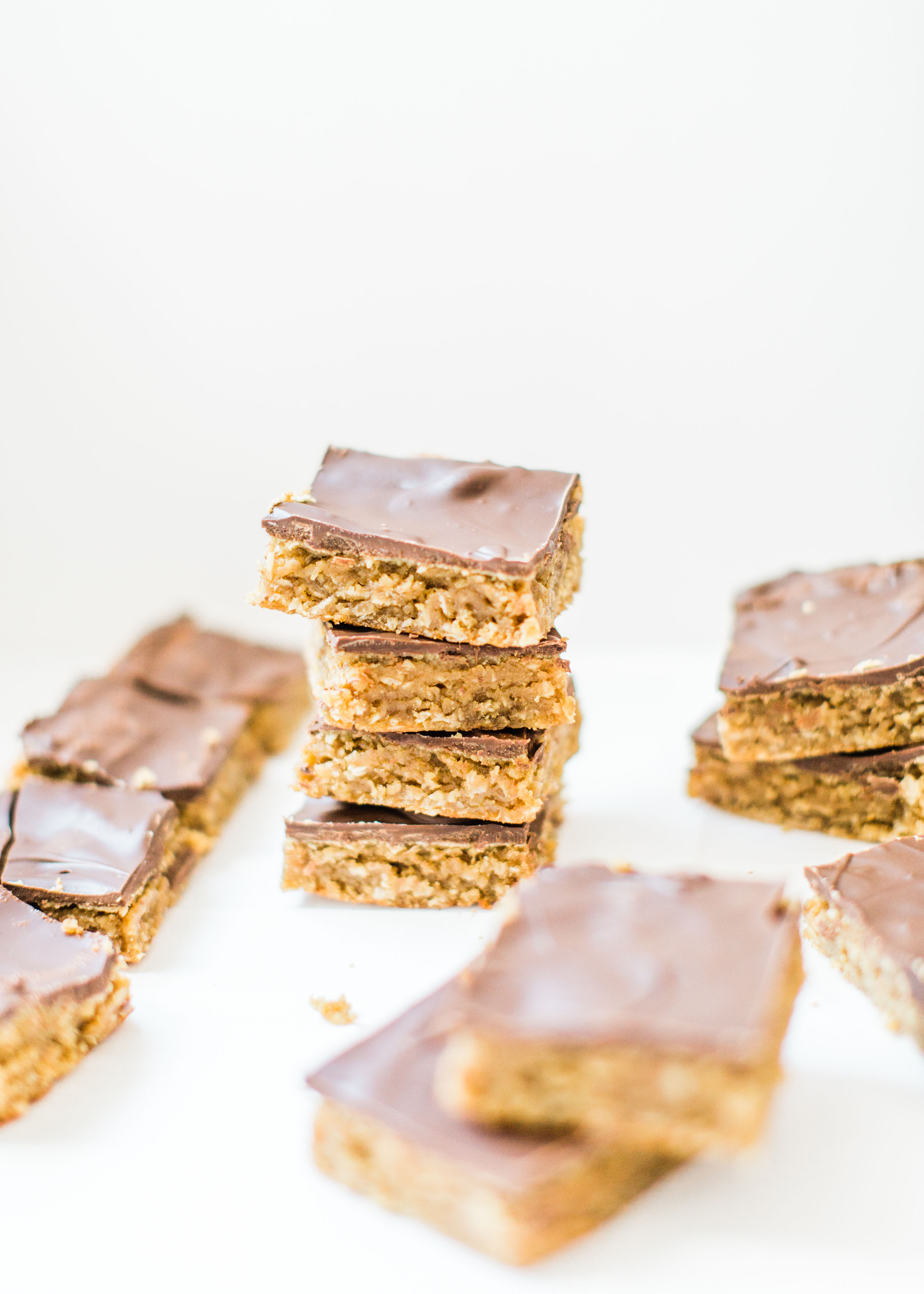 SHOP THE OATMEAL COOKIE BARS POST | CLICK LEFT & RIGHT ARROWS TO EXPLORE

Love these yummy chocolate peanut butter oatmeal cookie bars? Head to our recipe page to check out what else we're baking up in the kitchen!
Photos by Annie Timmons Photography for Glitter, Inc.