There are a few tricks to my tried and true amazing at-home clumpy (emphasis on clumpy) granola.  Think olive oil, an egg white (it works like magic!), and a little bit of love.  And here's the secret about granola, it's always best when you do it homemade.  I've tried a few bagged and boxed varieties that are o-kay, but nothing compares to fresh do-it-yourself granola, straight from the oven.  (Seriously, as I type this, a fresh batch is baking, and the entire living room and kitchen smells ah-mazing!)  Hubby and I are granola addicts, whether we eat it topped with milk or in a fruity yogurt parfait concoction, we're big fans of granola in this house.  I also love experimenting with granola – and because it's not like a cake or a cookie that needs to take shape with just the right proportion of ingredients, it's completely okay to mix it up each time.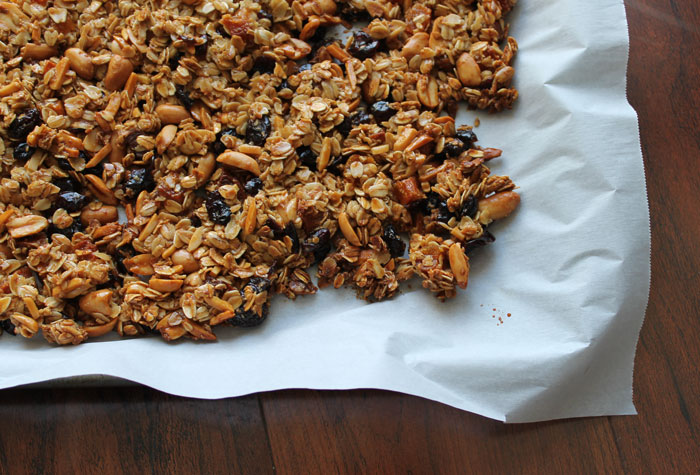 By the way, if clumpy granola just isn't your thing (which frankly, I do not get at all!), skip the egg white and occasionally stir your granola as it bakes, and you'll get mostly clump-free granola.  But that seems sad.  I say throw in the egg white, bake in a great big sheet, and break into clumps post-baking to your little hearts content!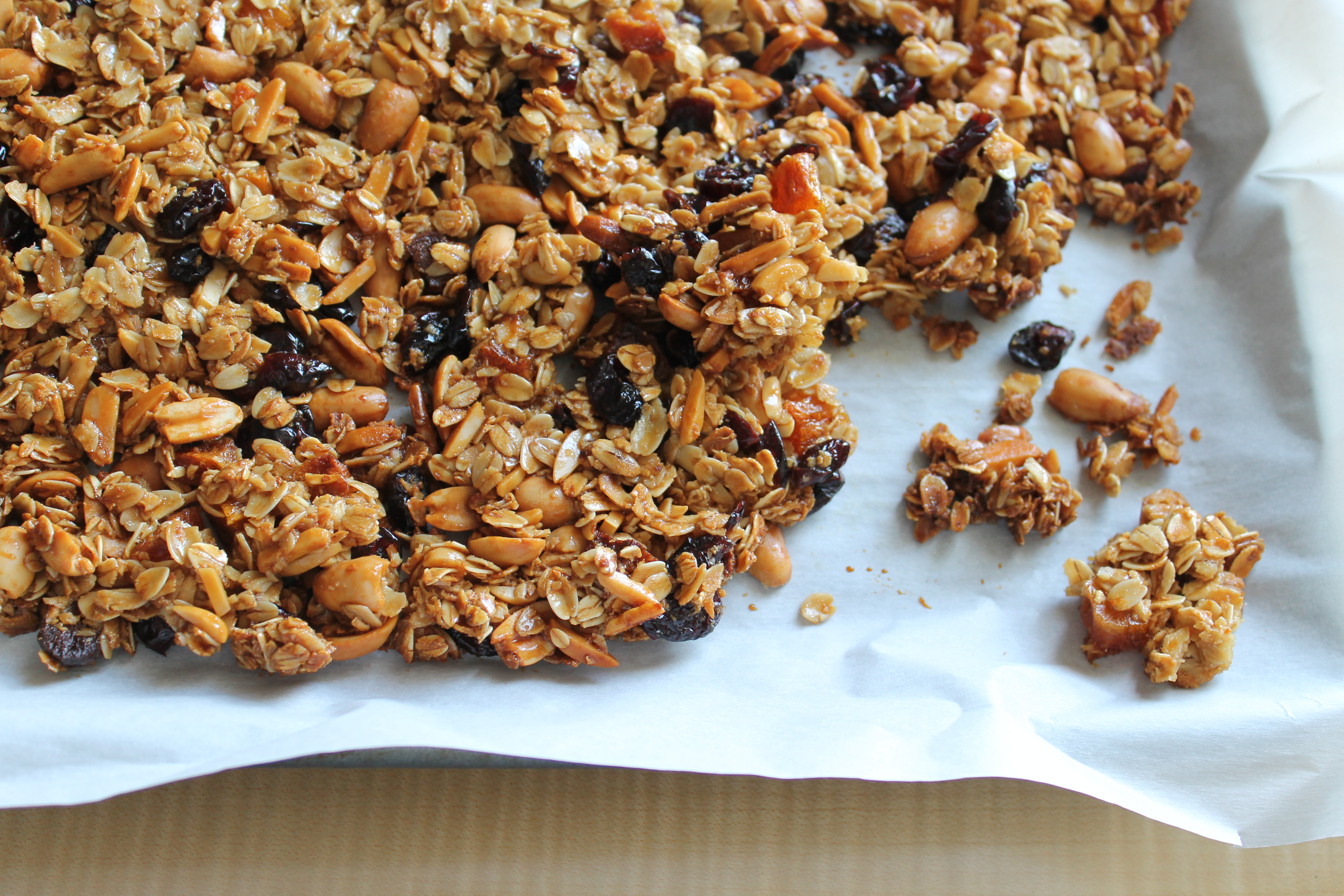 Perfect Clumpy Granola
Makes about 7 cups
INGREDIENTS
3 cups old-fashioned rolled oats
1/2 to 3/4 cup pure maple syrup (you can also use honey or Smucker's® Sugar Free syrup to keep the sugar content down)
1/2 cup extra-virgin olive oil
1/4 cup packed light-brown sugar (you can use up to a 1/2 cup if you like it extra sweet, or skip it all together, the syrup or honey keeps it sweet without the addition of sugar; or you can use 1/4 to 1/2 cup brown sugar instead of syrup if you like your granola a bit more dry)
Coarse salt (to taste)
Assorted dried fruit and nuts*
1 egg white – optional for added clumps (beaten well so that it's foamy and frothy)
*I love changing up my granola ingredients; this time I used:
Roasted peanuts (I just bought roasted peanuts in the shell, and peeled about a ½ cup)
Blanched Slivered Almonds (I used about ¼ cup and toasted them in the oven for about five – ten minutes just to add a little extra flavor)
Apricots (Chopped)
Craisins (dried cranberries)
You could also try: pumpkin seeds, sunflower seeds, pecan or walnut halves (left whole or chopped coarsely), unsweetened coconut chips, chocolate chips (I love using dark chocolate!), dried cherries, diced dried apples, etc.
DIRECTIONS
The directions for making your own granola are pretty simple: lots of stirring.  Stir the oats, nuts and/or dried fruit, brown sugar, salt, olive oil, and honey/syrup until well-coated.  Spread the wet granola mixture onto a sheet of parchment paper on a rimmed baking sheet (the parchment paper really helps; everything is pretty sticky), and bake at 300 degrees for about 45 minutes.  Everything should slowly bake up to a toasty crackle.
Tips for Making Your Granola Extra Clumpy:
Add a beaten egg white — make sure it's foamy and frothy — to your granola after you've mixed it all together. The protein in the egg will help bind the oats together, creating those perfect clumps.
Once you've spread the wet granola mixture onto a rimmed baking sheet with parchment paper, throw into the oven and resist the urge to stir.  Once the granola is out, let it cool completely and then break the sheet into clusters.
Serve as cereal with cold milk, on top of plain or vanilla yogurt, or eat by the fistful from a big Ziploc bag.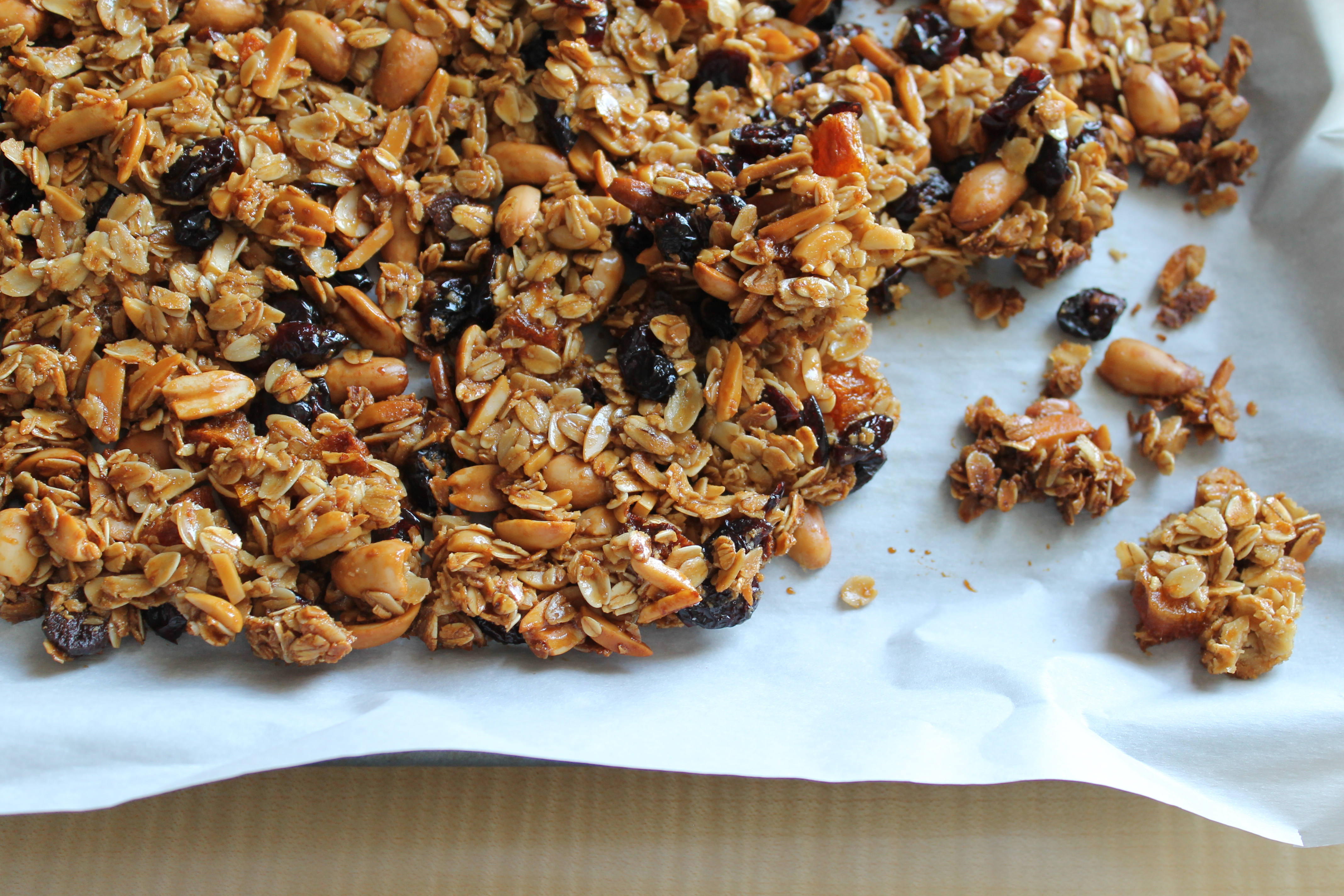 Clumpy Granola tricks via Food 52 // Recipe Loosely Adapted from Nekisia Davis' Olive Oil and Maple Granola (via Early Bird Foods' Farmhand's Choice Granola)