This post contains affiliate links, which means that if you click on one of the product links, I'll receive a small commission. Thank you so much for clicking through and helping to support this little blog business of mine! Read more about our site, privacy, and disclosure policies here.
Easy and Delicious Weeknight Dinner Recipes for Busy Parents
Take the stress out of weeknight meal planning with these 50+ easy and delicious weeknight dinner recipes for busy parents. We're talking sheet pan meals, dinners that can be made in a crock pot or Instant Pot, one pan dinners, skillet meals, and more; and all are family and kid-approved.
With back to school on the horizon, and a laundry list of things to do as summer comes to an end, the last thing most parents want to worry about is "what's for dinner". Trouble is, dinner, or what exactly dinner might be, comes up again and again … every single night. 🙈
Now I am all for family dinner (more on that here), but some nights, the stress of "what's for dinner" can feel like a whole lot of unnecessary added drama-rama.
And I love to cook. I mean, really love it.
But goodness knows, on long, hectic, exhausting days, juggling kids and work; easy and quick dinners are pretty much standard operating procedure around here. I mean, let's be real: most afternoons, I'm tired, hungry, and totally stumped on what to make for dinner, so I want EASY. Dinners don't need to be fancy in our house; so long as they are balanced, tasty, generally healthy, and well-received by the kids, I'm one happy mama.
I'm talking sheet pan meals, dinners that can be made in a crock pot or Instant Pot, one pan dinners, skillet meals, the list goes on and on. And have I ever got a giant list for you!!
See More Easy and Delicious Weeknight Dinner Recipes for Busy Parents: 55 Quick Family Meals on a Budget
How to Meal Plan (the easy way)
A Note on How We Meal Plan: Plan out your family meals at the beginning of each week based on the groceries you buy and what you already have in your pantry, fridge, and freezer. I try to jot down a menu – typically on my desktop post-it note or on my calendar (that I sync to my iPhone). Having a rough idea of what I'll be making each night helps to alleviate the typical stress and pressure of what to make for dinner, reminds me, for example, to take the chicken out of the freezer, etc., and keeps me from frantically ordering more expensive takeout when I feel like I can't figure out what to make for dinner.
Why Plan?
Remember, the meal plan list is flexible, but it's SUCH a huge help to have a general working idea and order to things. Most weeks, the meals are super simple, no-fuss recipes, with at least one or two slow cooker meals peppered in, and we have a lot of repeat favorites from week to week and month to month; but everyone is always really happy to have a yummy homemade dinner on the table.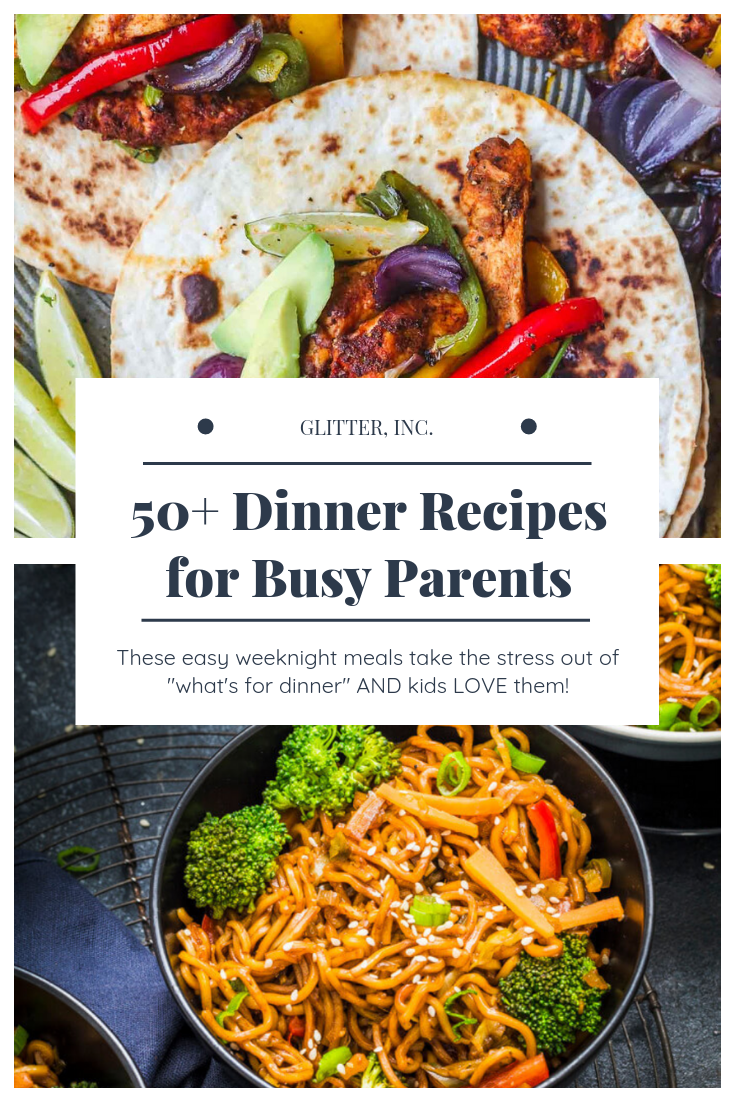 50+ Easy and Delicious Weeknight Dinner Recipes for Busy Parents
Without further ado, I'm sharing 50+ quick and delicious weeknight dinner recipes for busy parents. Most of these meals can be made in 20 minutes or less, many are super budget-friendly, and I'm hoping all of these recipes will be dinners your family will love. They're all either recipes that we've made often in our own home, or are recipes that friends have sworn by.
Get a jump start on the new school year, and plan to make easier, better dinners your whole family will love.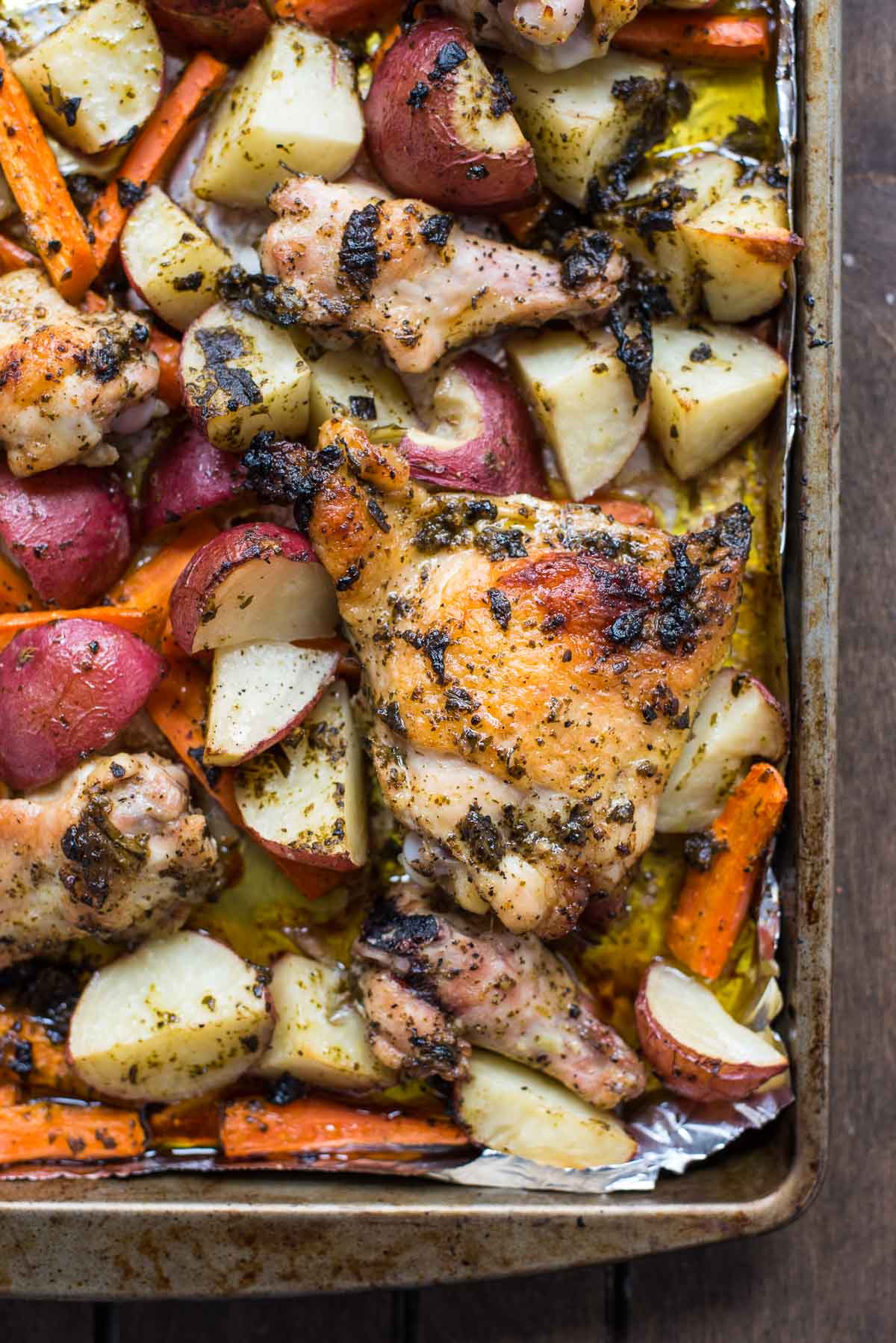 This Sheet Pan Pesto Chicken is on regular rotation at our house! It is so easy to prep and includes an entire meal on one pan. Kids and adults both love this one!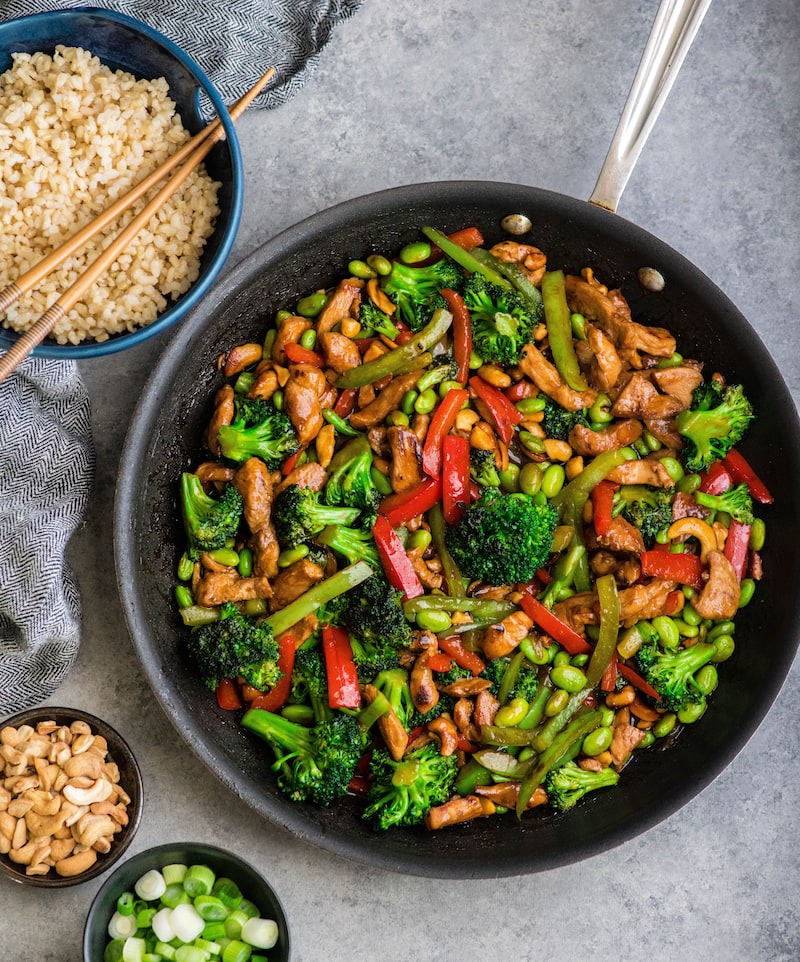 This Cashew Chicken Stir Fry is totally perfect when you want a quick and healthy dinner! It's loaded with protein, vegetables and is worlds better than takeout!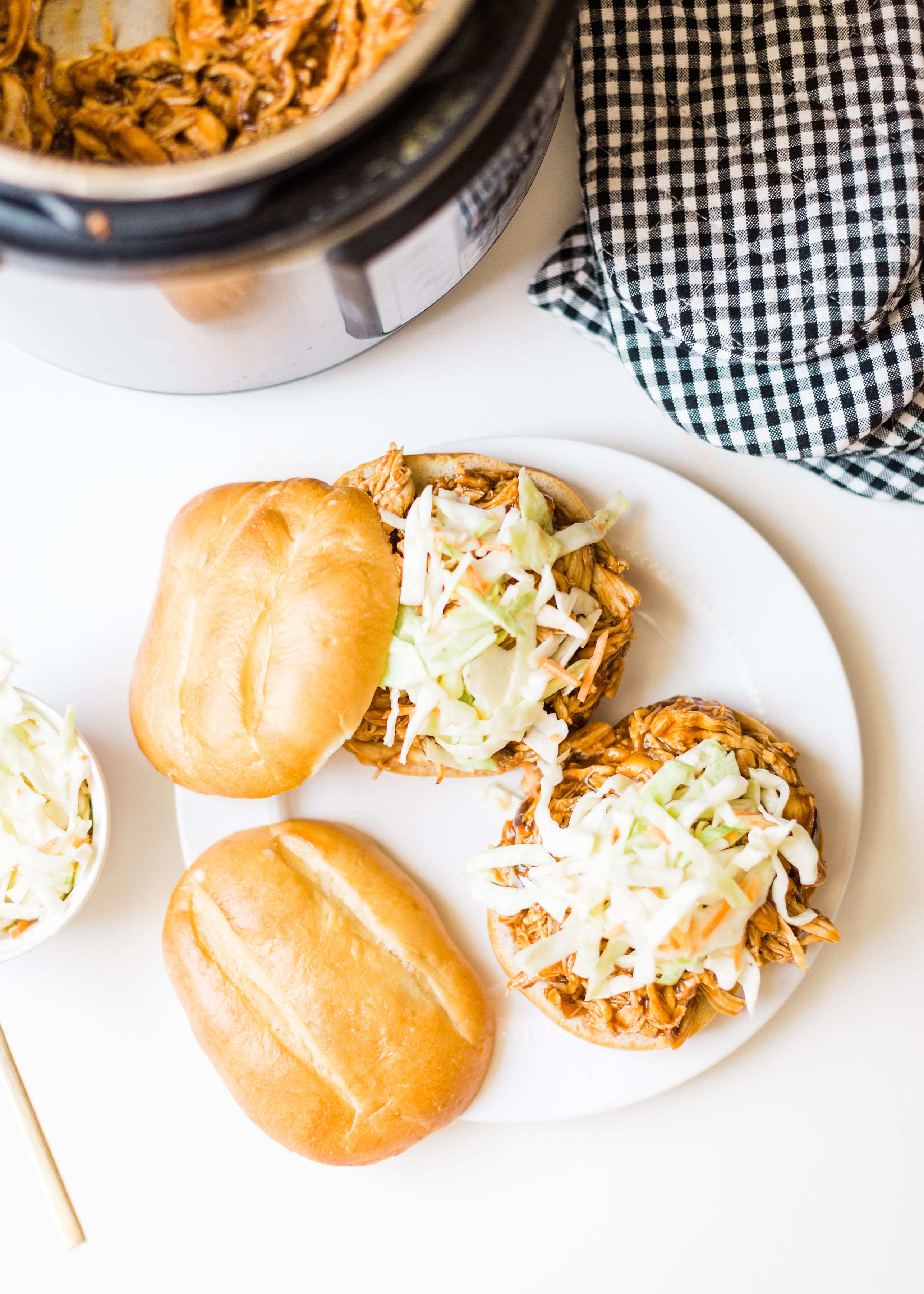 Skip the hot grill and make delicious, sweet, and tender barbecue pulled chicken in your slow cooker! Just throw a few ingredients right in the pot and let your crock pot or instant pot do the rest. Yum!
NOTE: Sometimes I'll make a big batch of the shredded barbecue chicken and serve it with corn on the cob or roasted sweet potatoes, other times I'll use the pulled chicken to top pizzas for the best ever at-home barbecue chicken pizzas, we also top salads with this pulled barbecue chicken (add corn, beans, tomatoes, avocado chunks, and ranch dressing … YUM!), and sometimes I'll make these yummy barbecue chicken sandwiches, topped with coleslaw, for a hearty and delicious BBQ chicken sandwich. Any way I serve it, everyone in the family approves!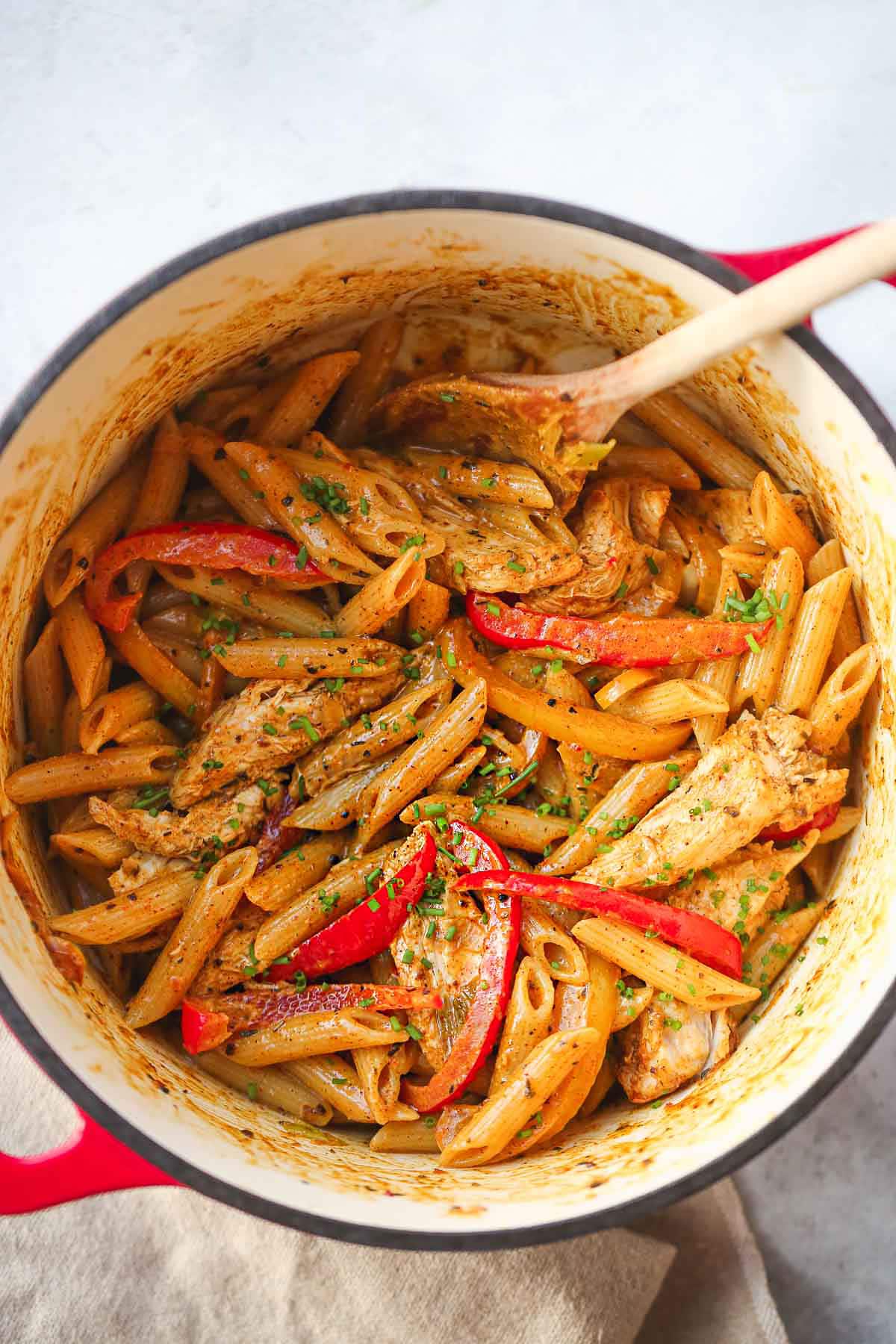 Rasta pasta is creamy pasta tossed with Caribbean style jerk chicken and sauteed bell peppers. This dish is so full of flavor, and makes a great weeknight dinner that can be made in just half an hour! It's creamy, rich, spicy, and cheesy.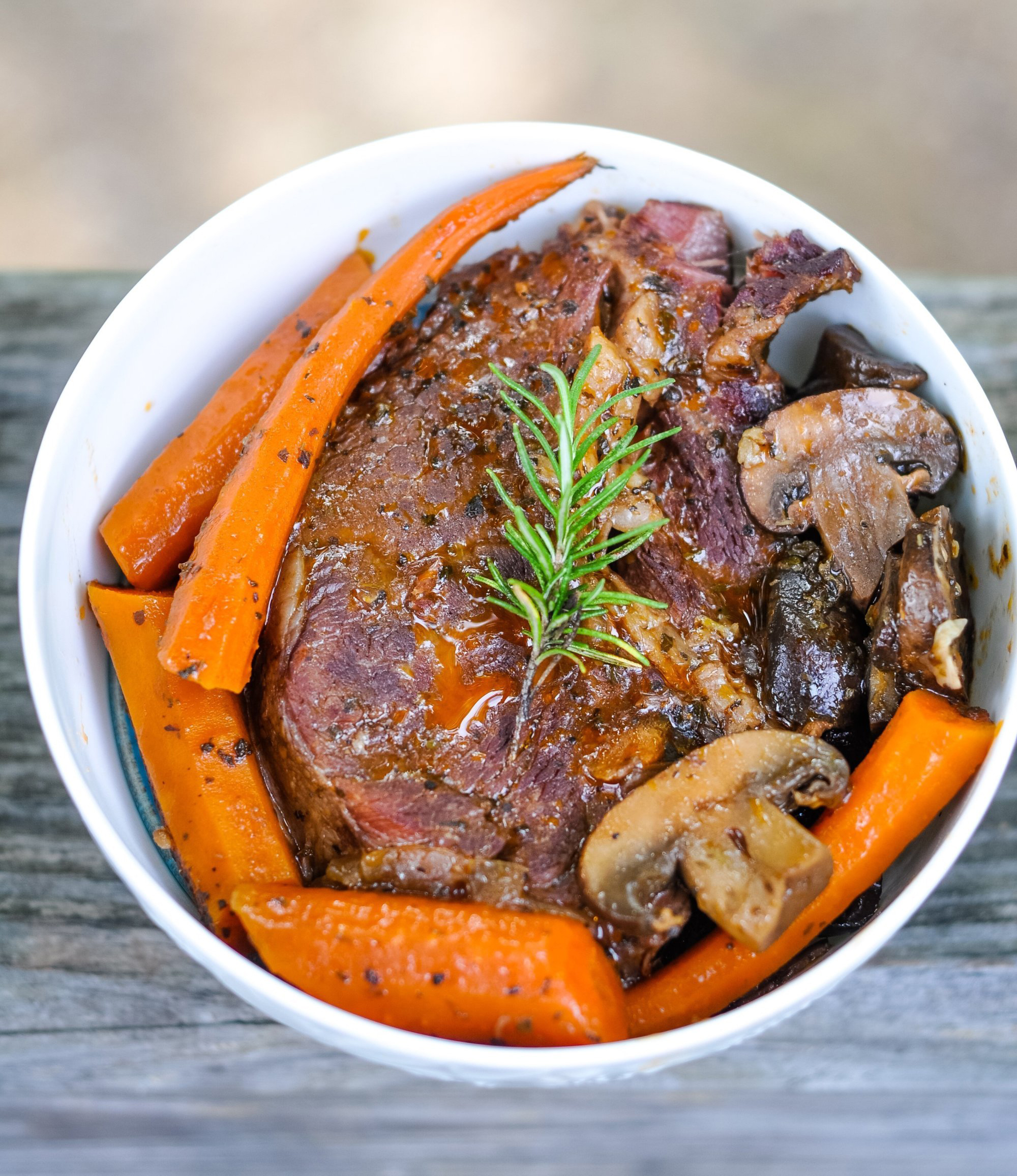 Slow Cooker Savory Italian Pot Roast
Savory, tangy, and mouthwatering, this Italian pot roast is a no fuss dinner, a.k.a., an easy Instant Pot or slow cooker dump meal that will impress all your friends and family! No more dry, bland pot roasts at family dinner – this one is literally bursting with flavor.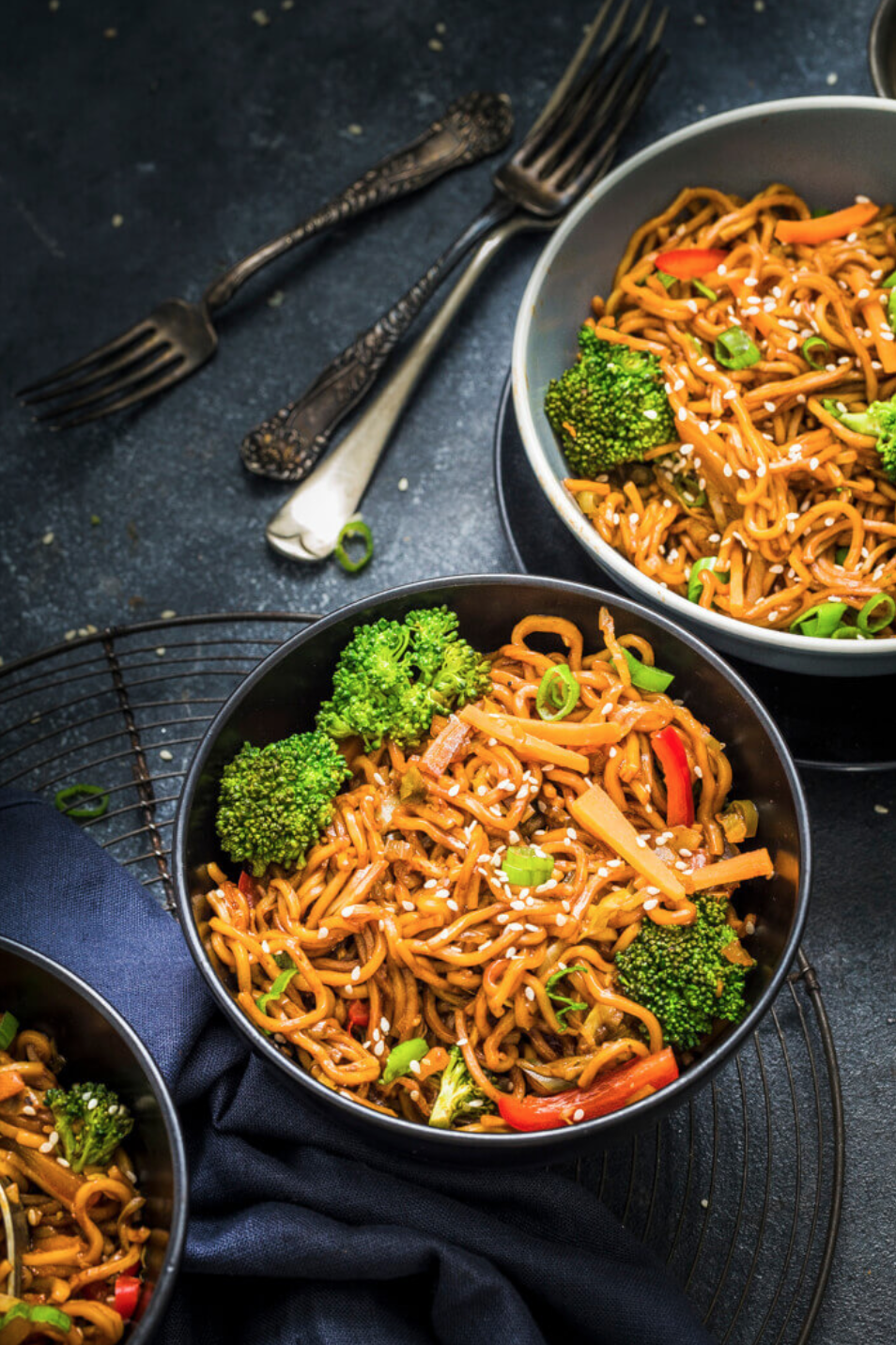 This Instant Pot Chow Mein ticks all the boxes for deliciousness, speediness and fuss free cooking for busy evenings!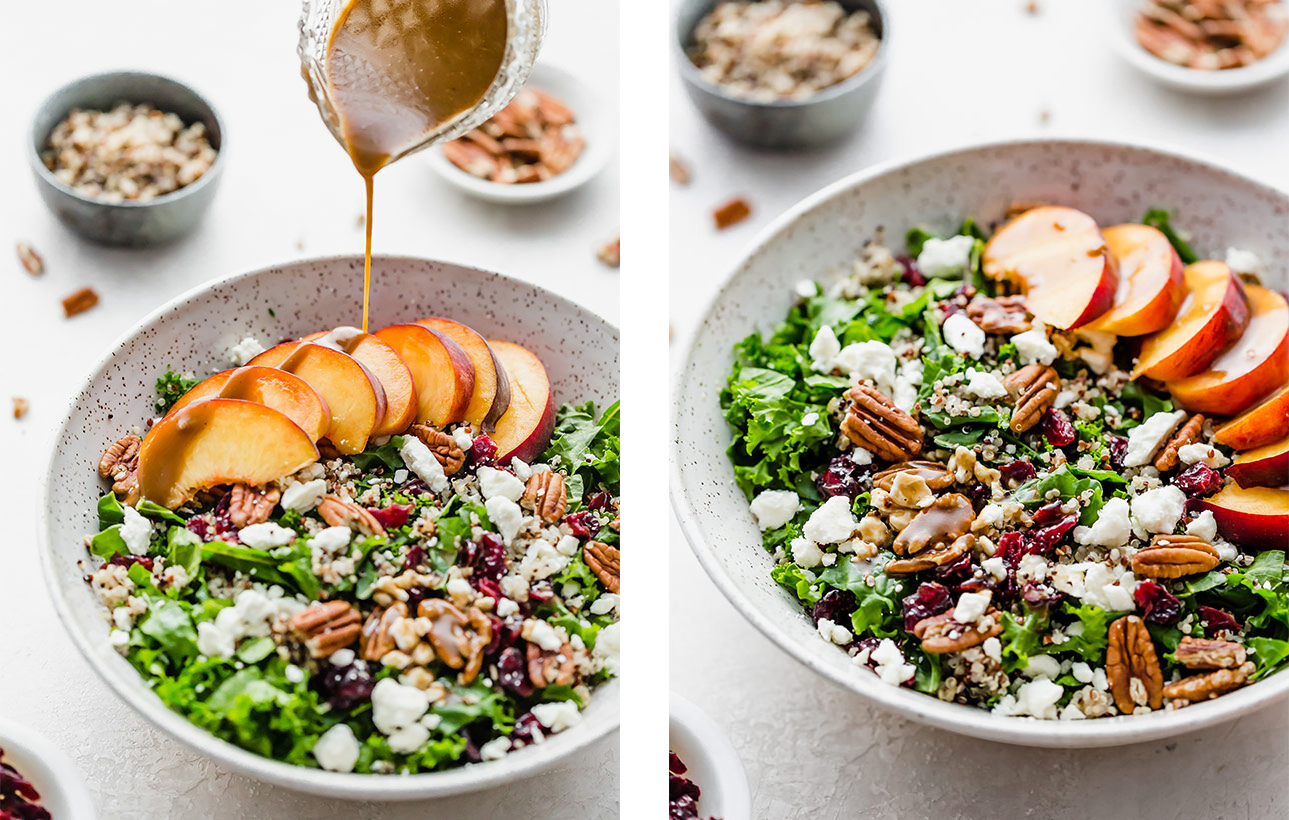 Healthy doesn't have to take forever, this kale and quinoa salad is nutritious, delicious, and easy to make!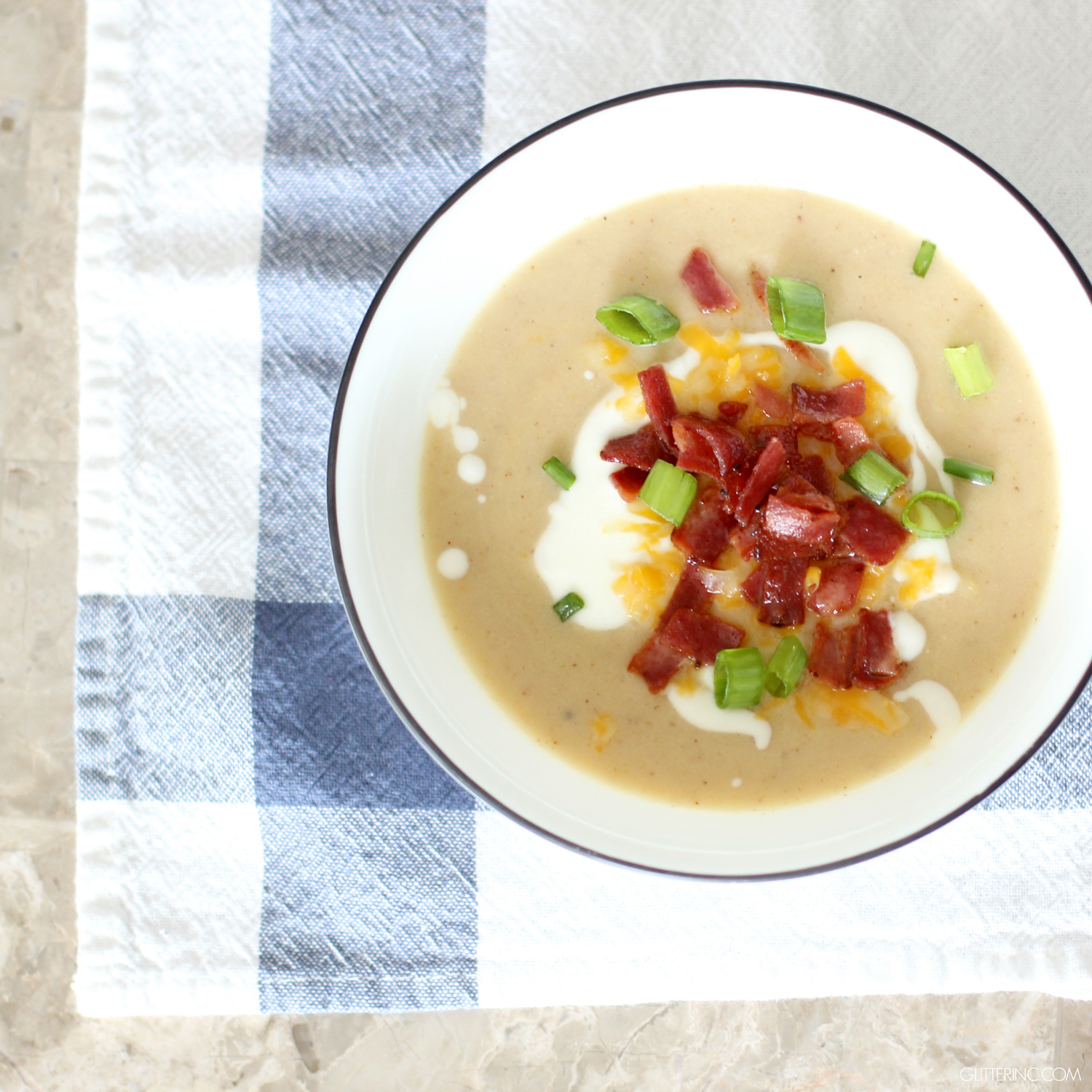 A "healthified" version of one of my favorites – loaded baked potato soup (using cauliflower instead of potatoes). This one tastes amazing.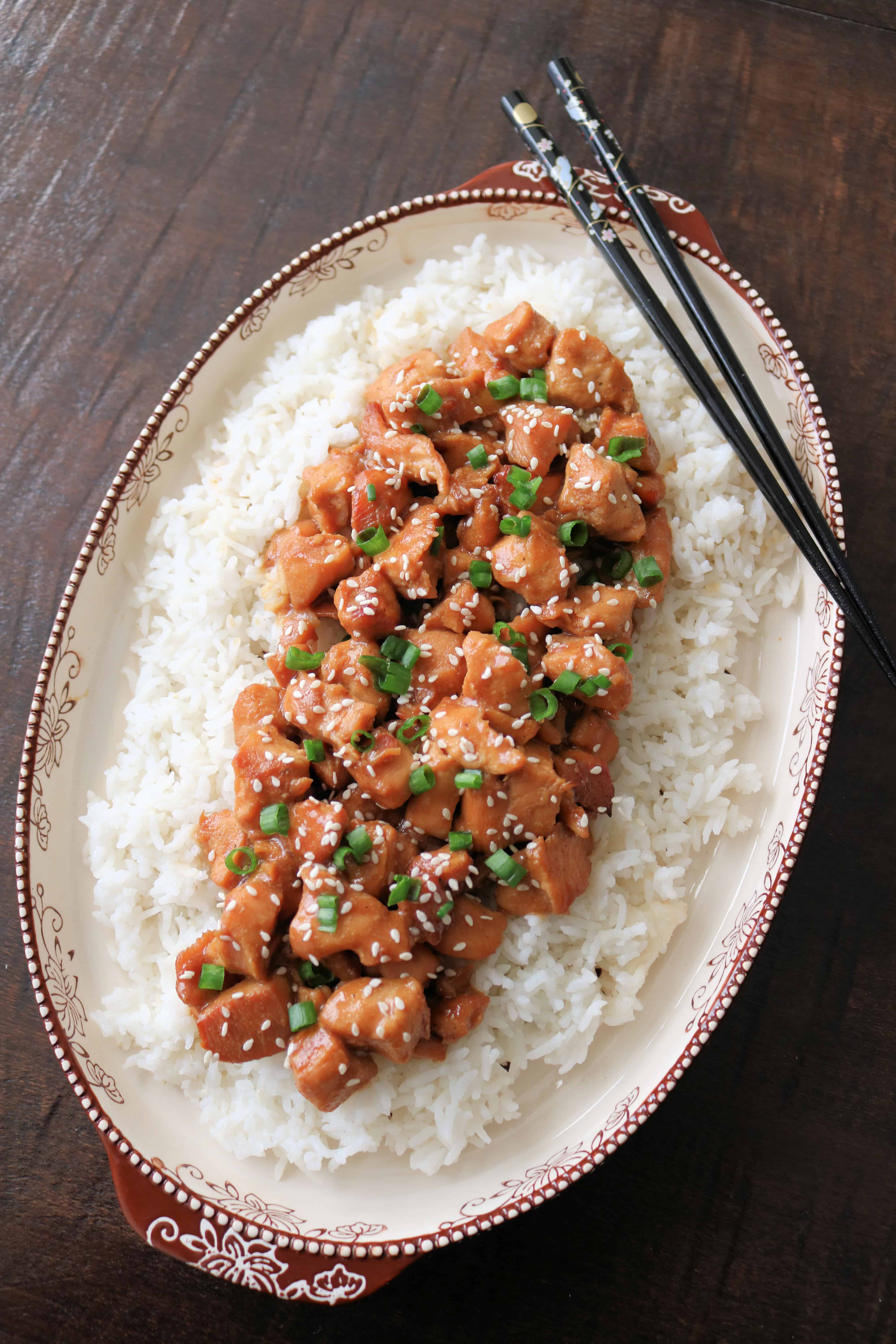 Satisfy your Asian take-out cravings with my delicious slow cooker honey sesame chicken. This sweet and savory chicken is easy to make and tastes great with rice or noodles!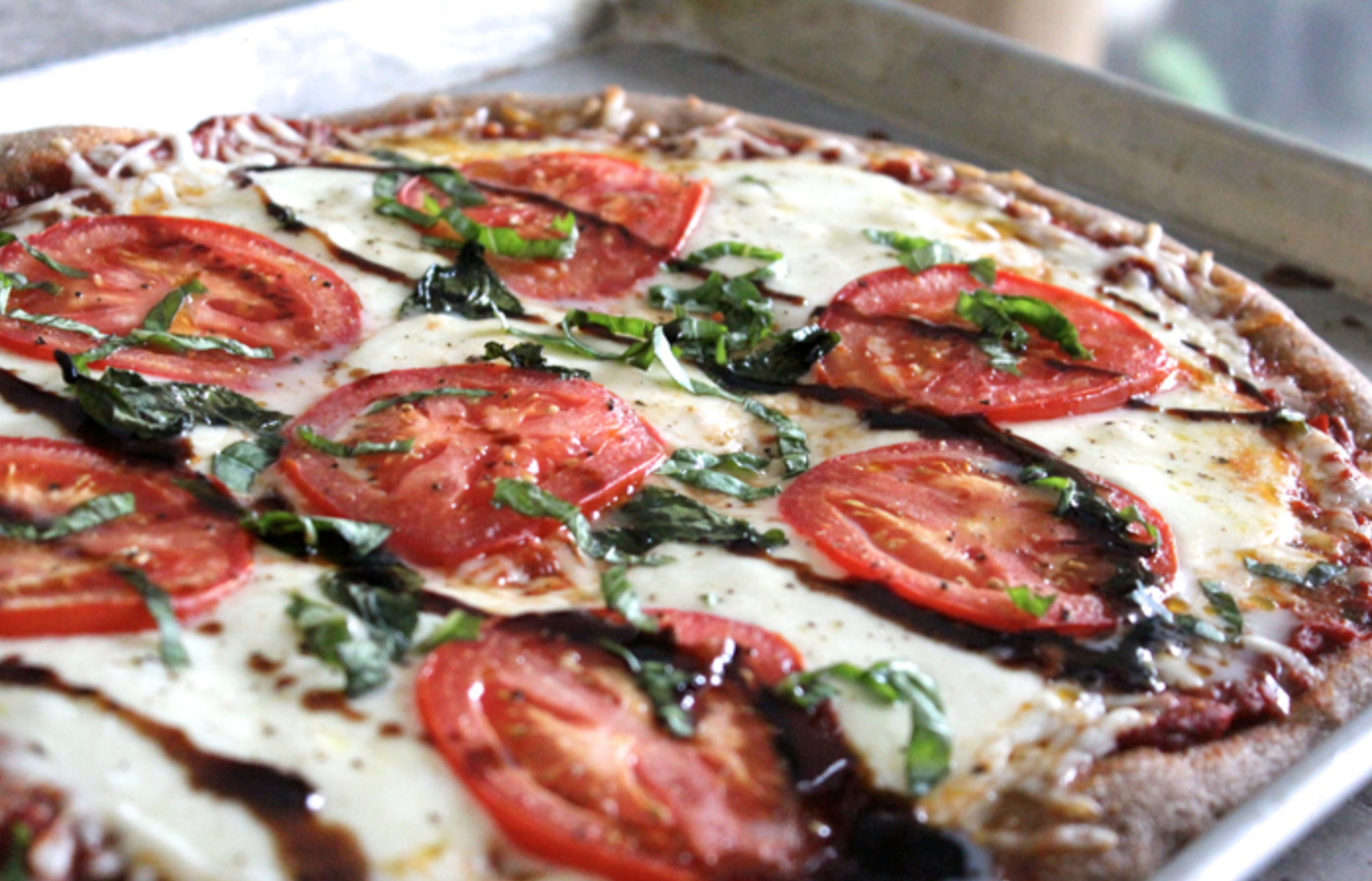 Our kids love pizza night, especially when we make our own. We buy the Trader Joe's pre-made pizza dough (extra easy), and top it with our favorite toppings. This caprese pizza with basil, fresh mozzarella, tomatoes, and a simple-to-make balsamic glaze is always a winner … and tastes amazing.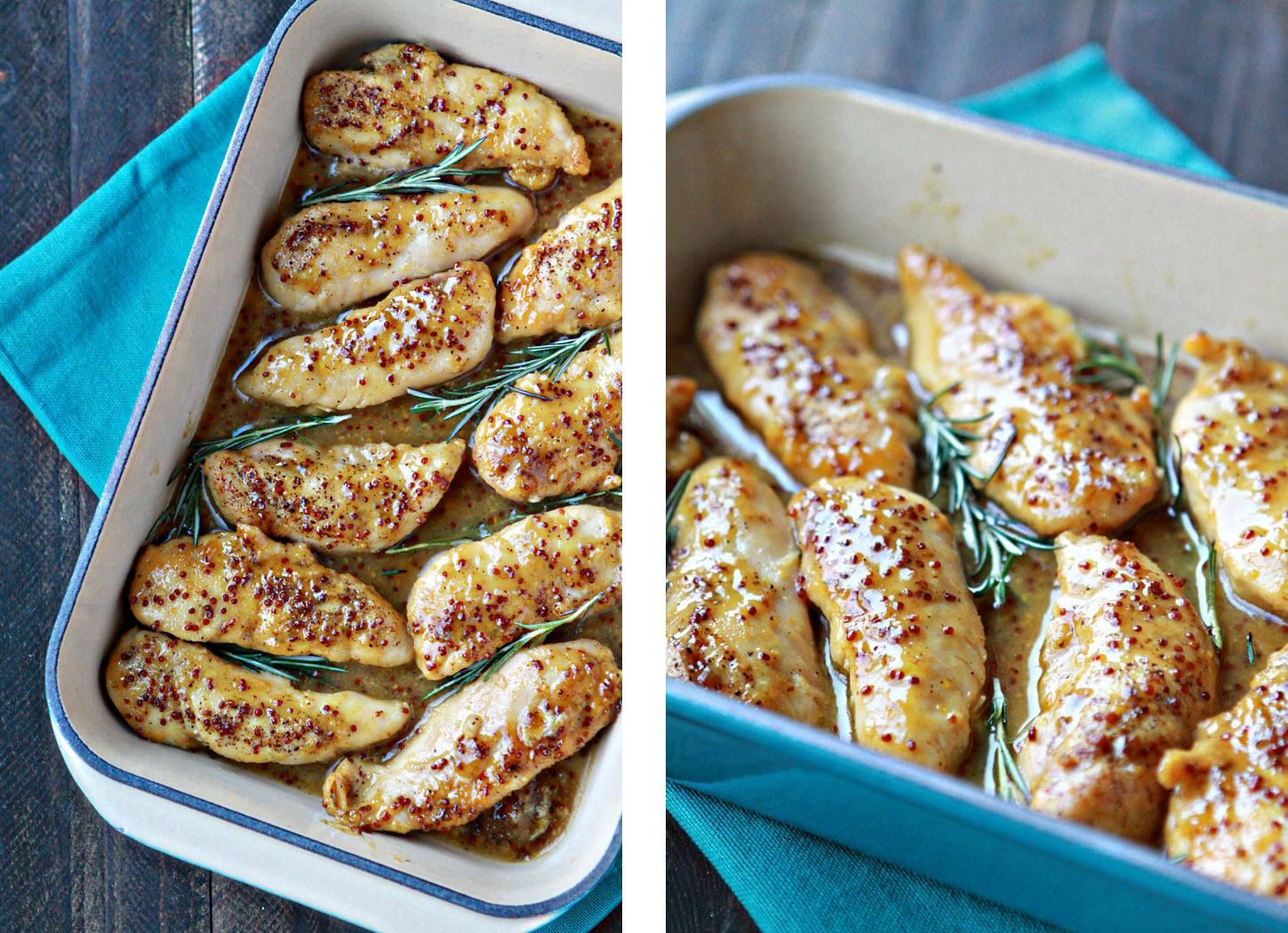 This simple dinner assembles in 5 minutes and can be prepped ahead. Super kid friendly but also great for company.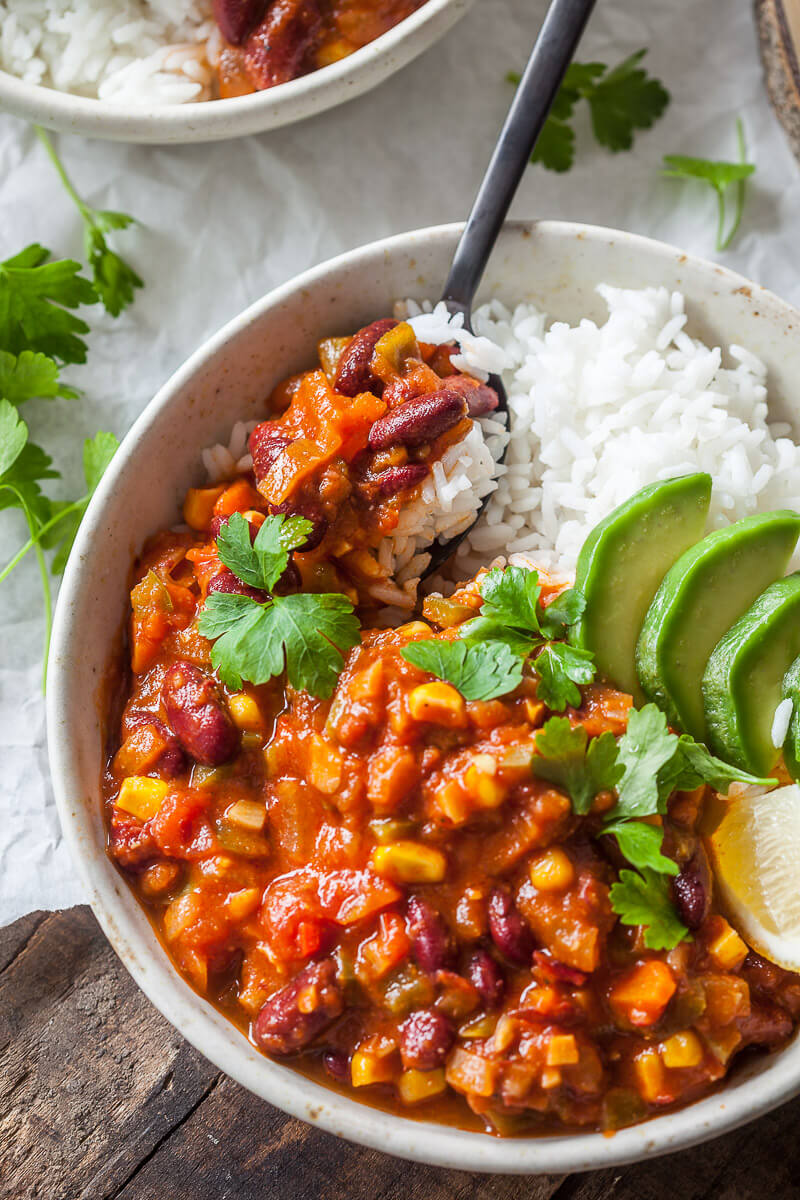 This Easy One-Pot Spicy Vegan Chili is packed with vegetables and ready in just 30 minutes. The perfect winter comfort food!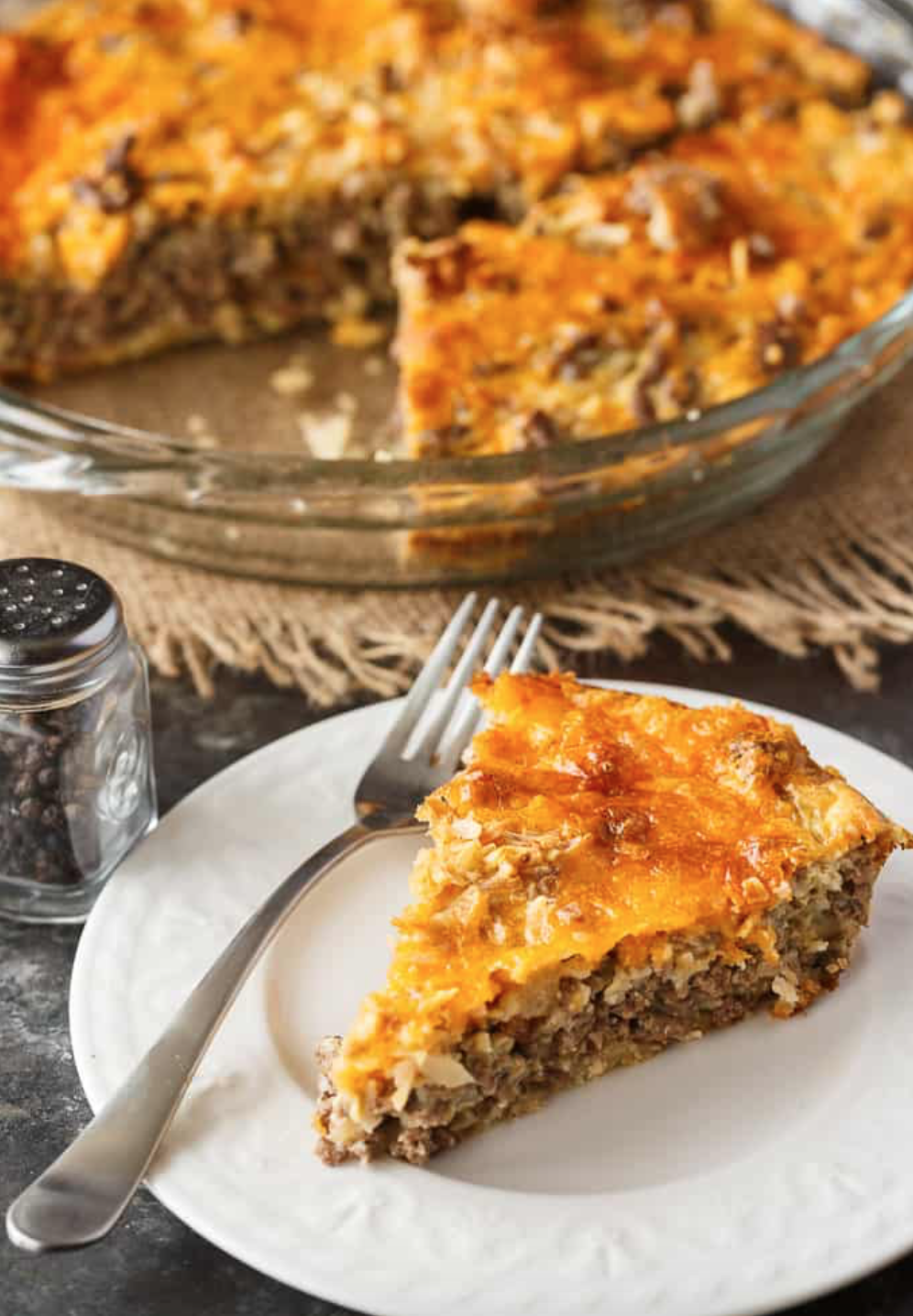 Impossible Cheeseburger Pie – Super easy and delicious! This yummy recipe is full of cheesy beefy flavor that everyone loves.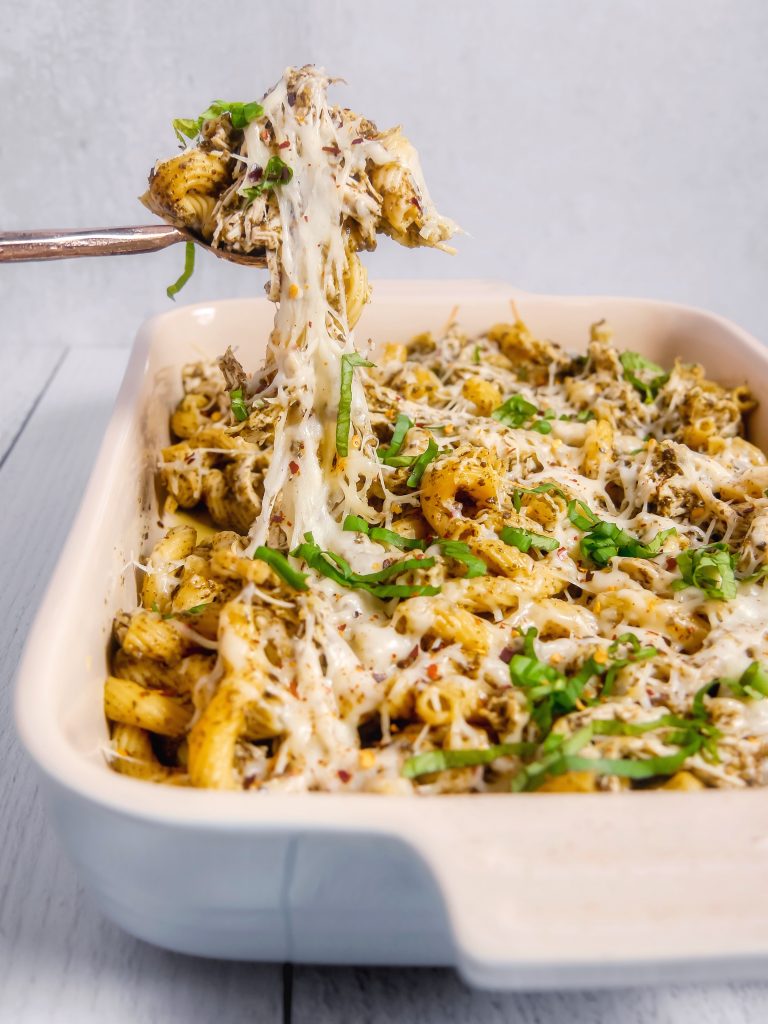 This pesto chicken pasta bake only needs 4 ingredients! Quick, easy, and perfect for the family.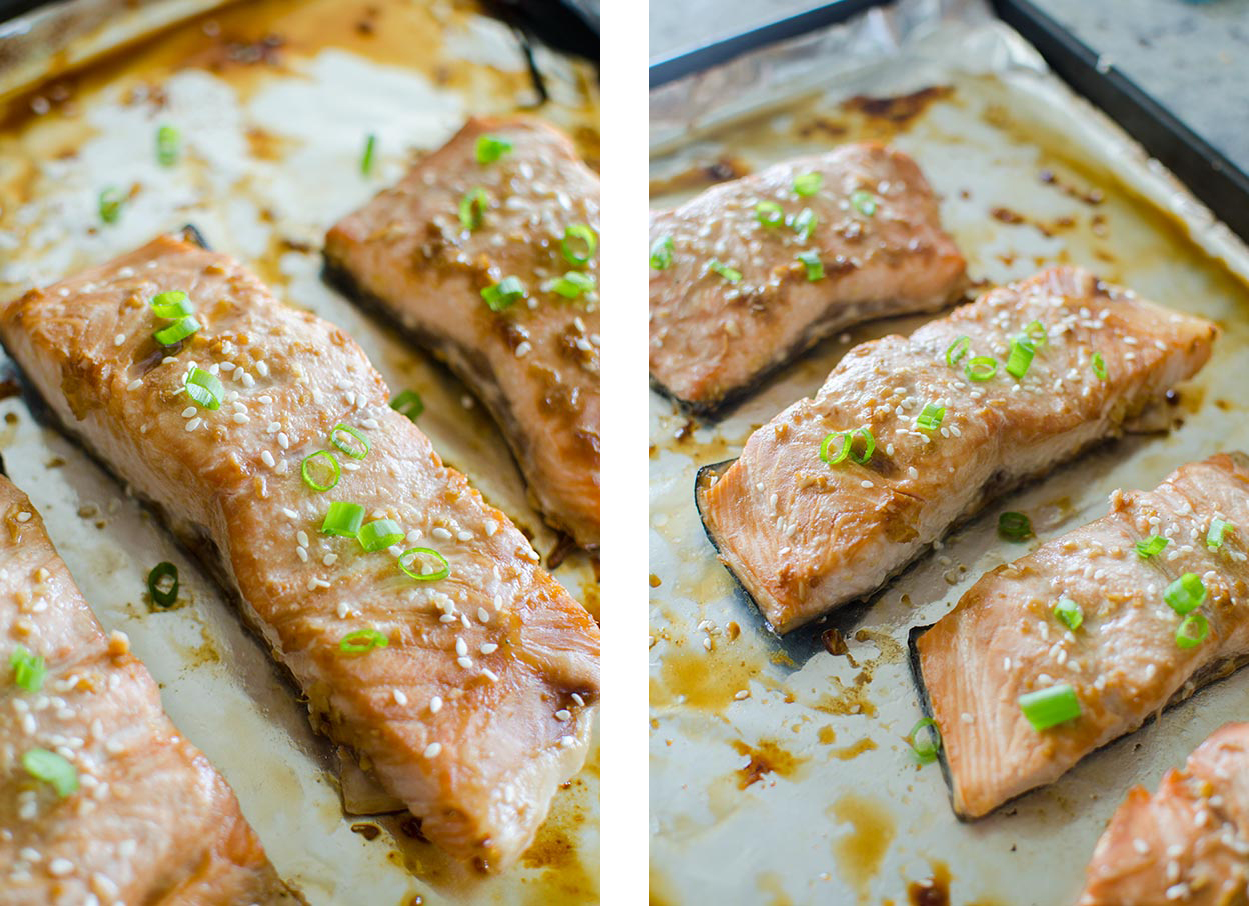 Get dinner together quickly with this simple recipe for roasted teriyaki glazed salmon with a homemade teriyaki sauce made with soy sauce, ginger and garlic. Make a quick batch of rice in the instant pot and pair it with a veggie like broccoli and you have yourself a super tasty dinner!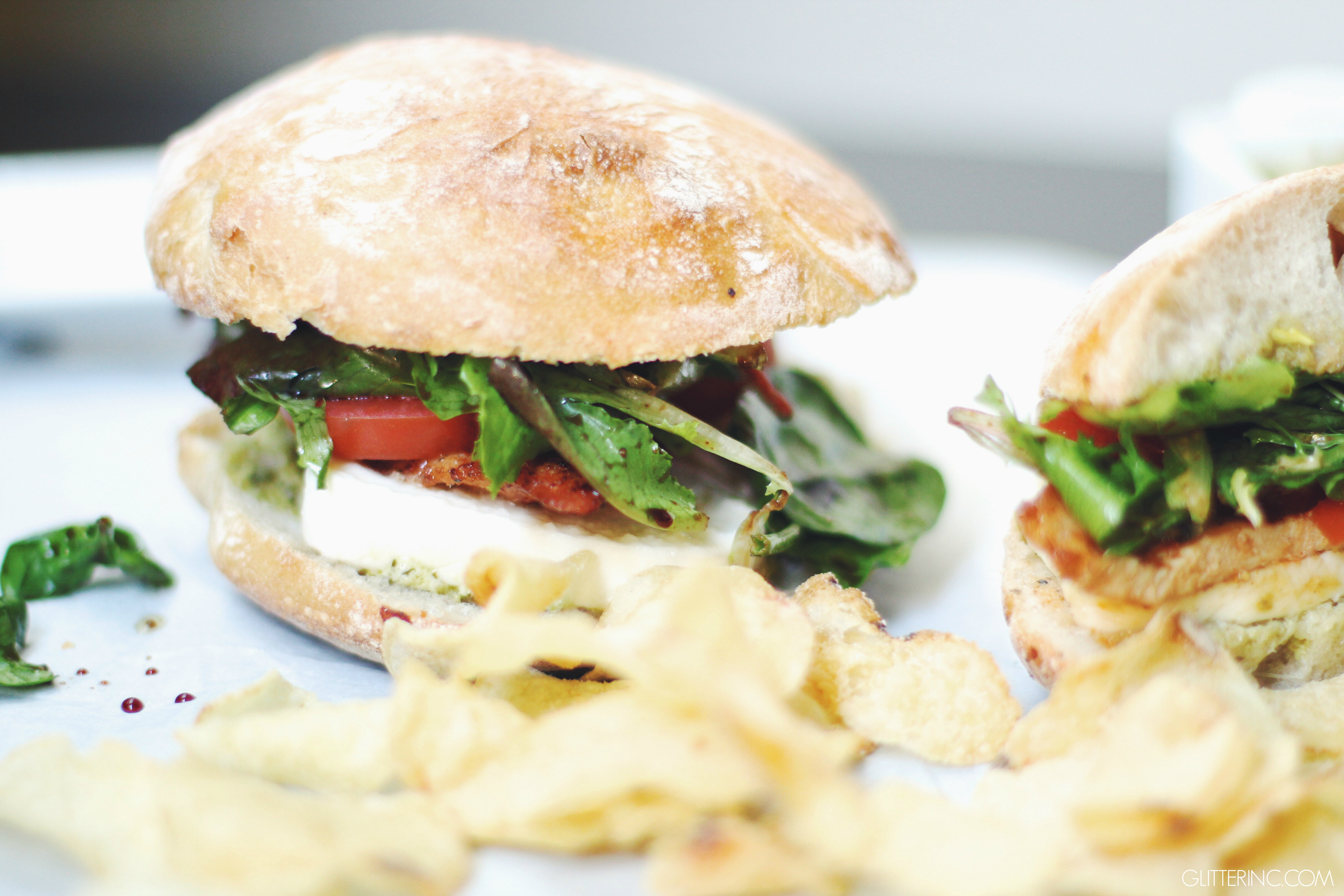 I am loving this recipe for Caprese Chicken Sandwiches on crusty ciabatta with Pesto Mayo. These sandwiches are crisp, filling, and full of bright flavors. Fresh mozzarella, Roma tomato slices, basil pesto, and balsamic greens transform the classic elements of a Caprese salad into handheld, hardy sandwich form. Honestly though, anything sandwiched between warm, crusty ciabatta bread will always be delicious in my book.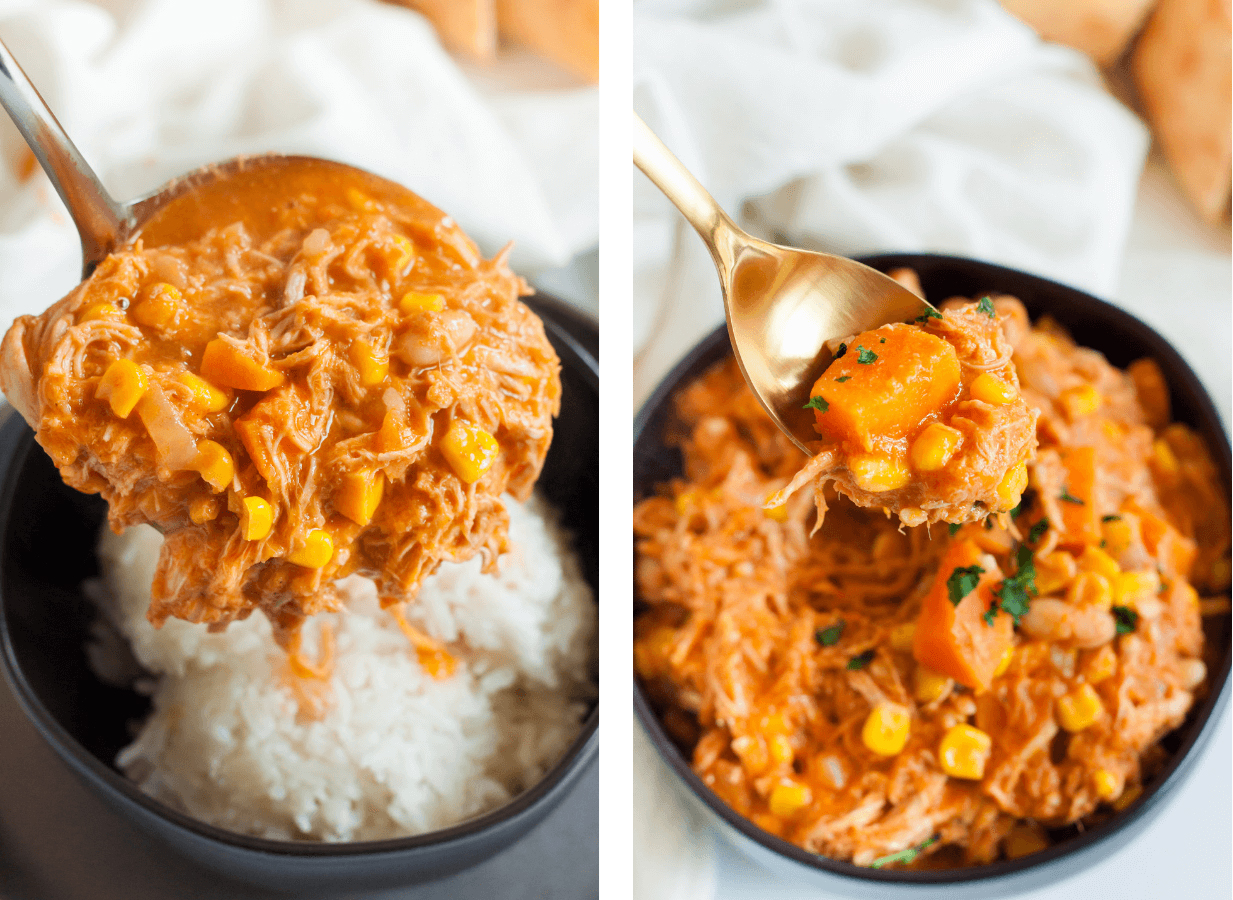 This groundnut soup (also called African Peanut Stew) is easy, cheap, and mostly healthy! It can be on the table in about 30 minutes!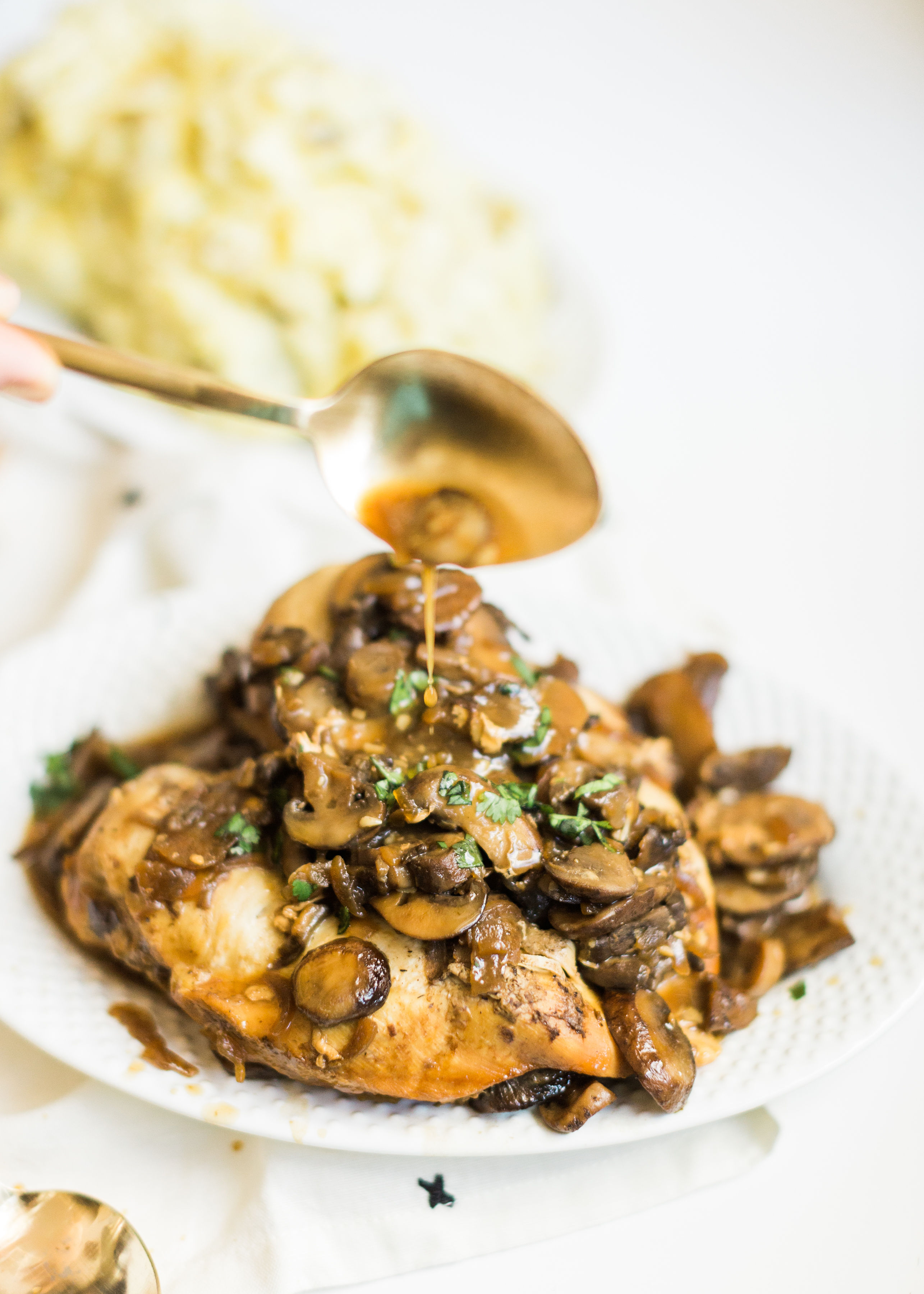 This easy and tender Instant Pot chicken marsala is an explosion of flavor – seared chicken breasts in a rich mushroom and onion gravy – all thrown together in minutes in your crockpot or instant pot – no extra pans required. Serve it with mashed potatoes for a knockout dinner the whole family will love!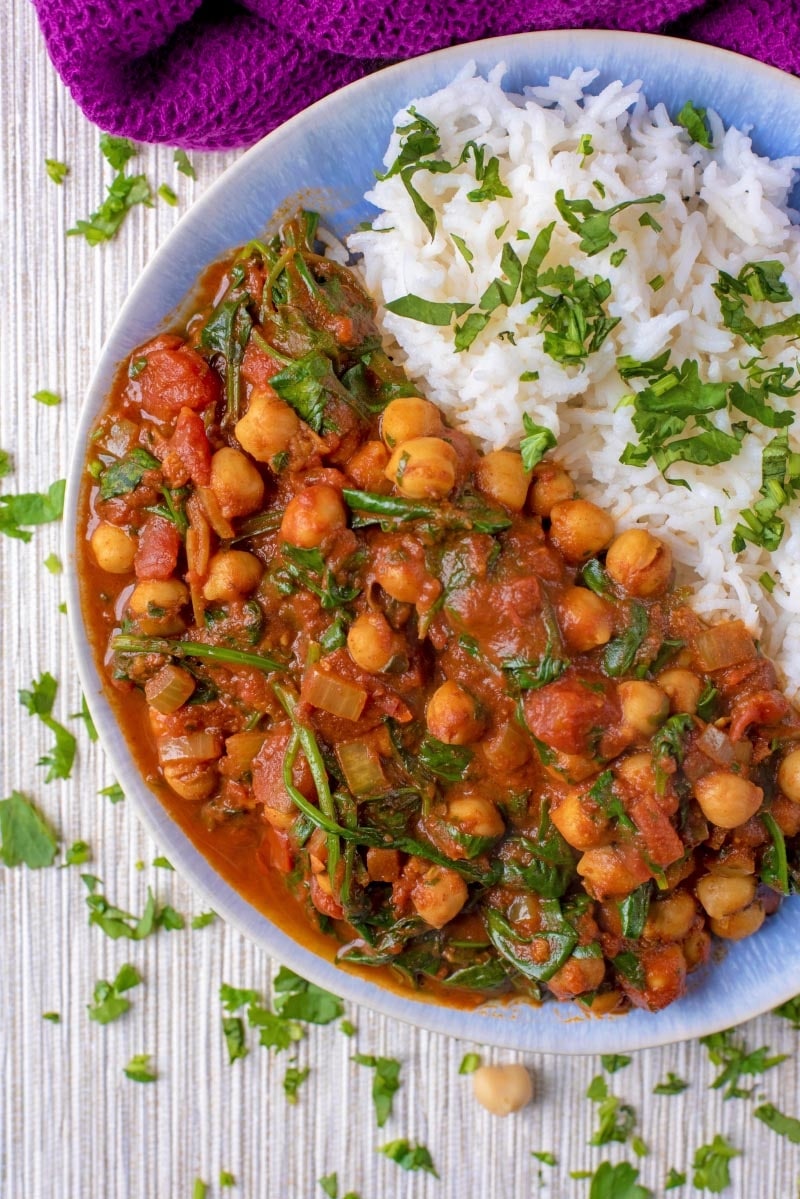 This spinach and chickpea curry is ready in just 10 minutes. Super healthy and protein packed, it uses mostly store cupboard ingredients and leftovers freeze really well too.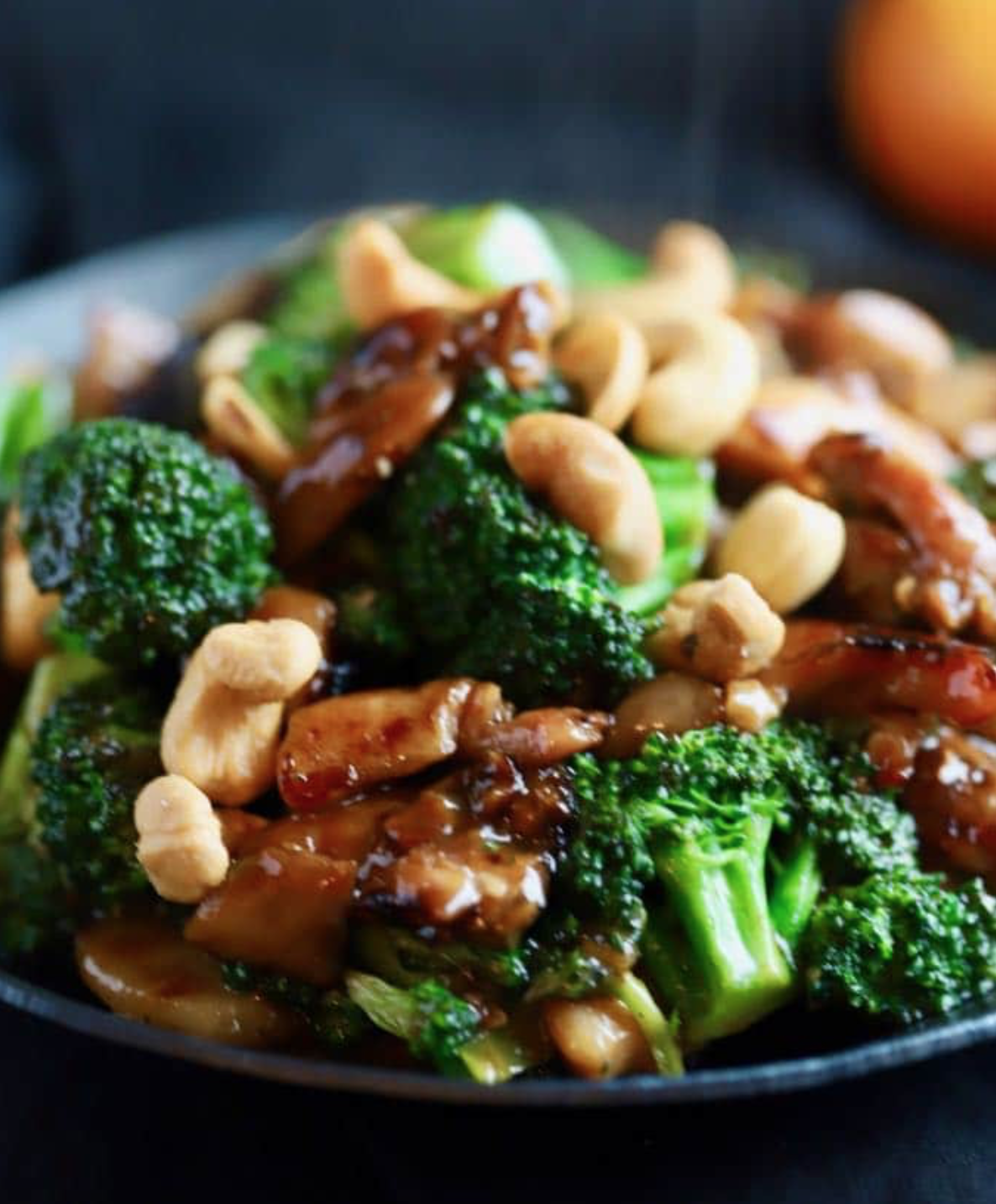 Go stir-fry crazy with this healthy, filling, and flavorful, Easy Chicken and Broccoli Stir Fry entrée! It's super easy to make and it's perfect for those nights when you are pressed for time. Believe it or not, you can have this delicious dish on the table in less than 15 minutes if you marinated the chicken beforehand!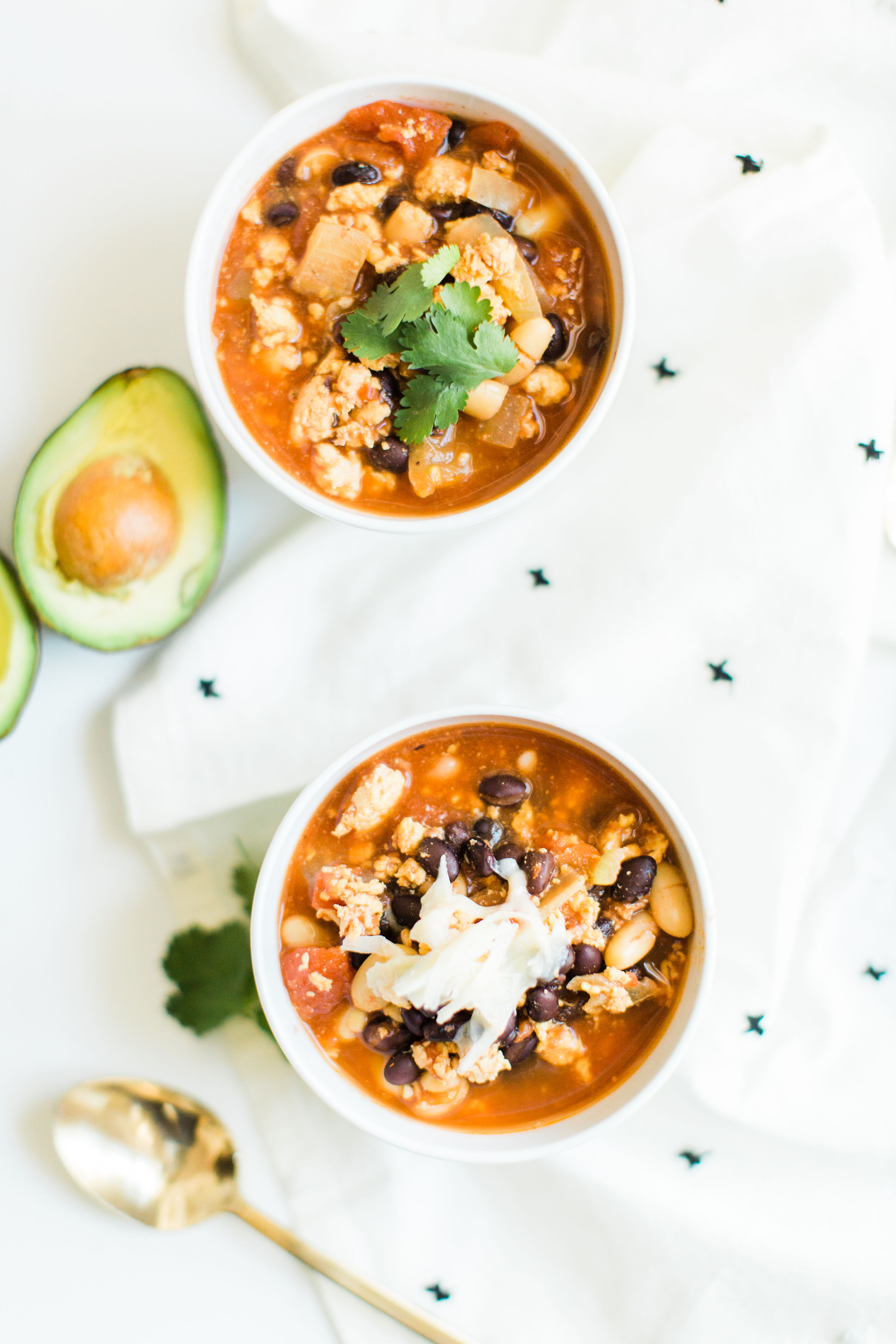 This super yummy ground chicken chili is one of our family's favorite meals, and the best part: it all comes together in an Instant Pot or crockpot. Serve this made ahead chili with yummy toppings and a side of cornbread and you've got yourself an incredible, hearty, healthy, and simple dinner.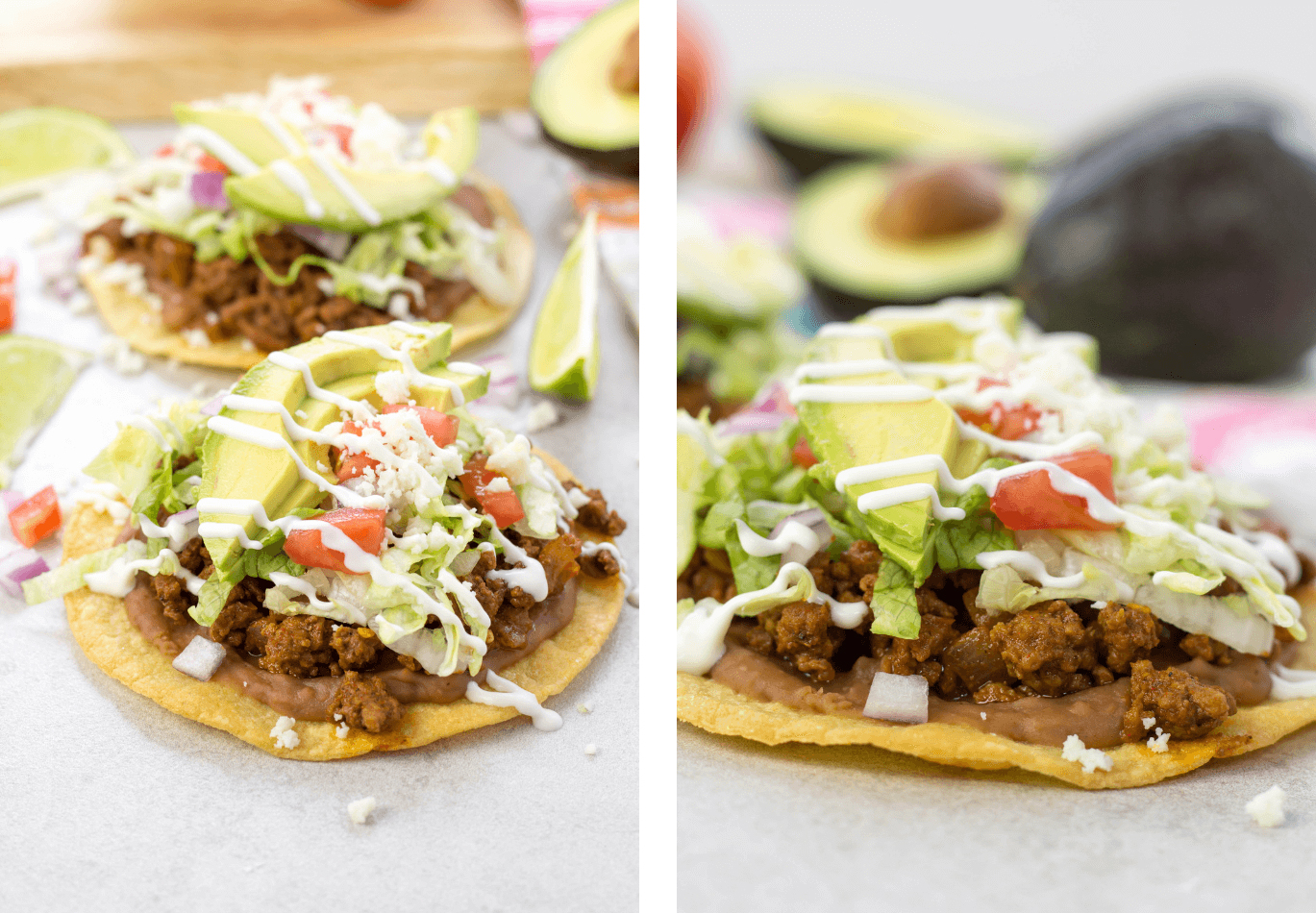 Ground Beef Tostadas are made with corn tortillas baked crispy with refried beans, seasoned ground beef, shredded lettuce, red onion, fresh tomatoes and avocados piled on top with a drizzle of crema and plenty of crumbled queso fresco cheese.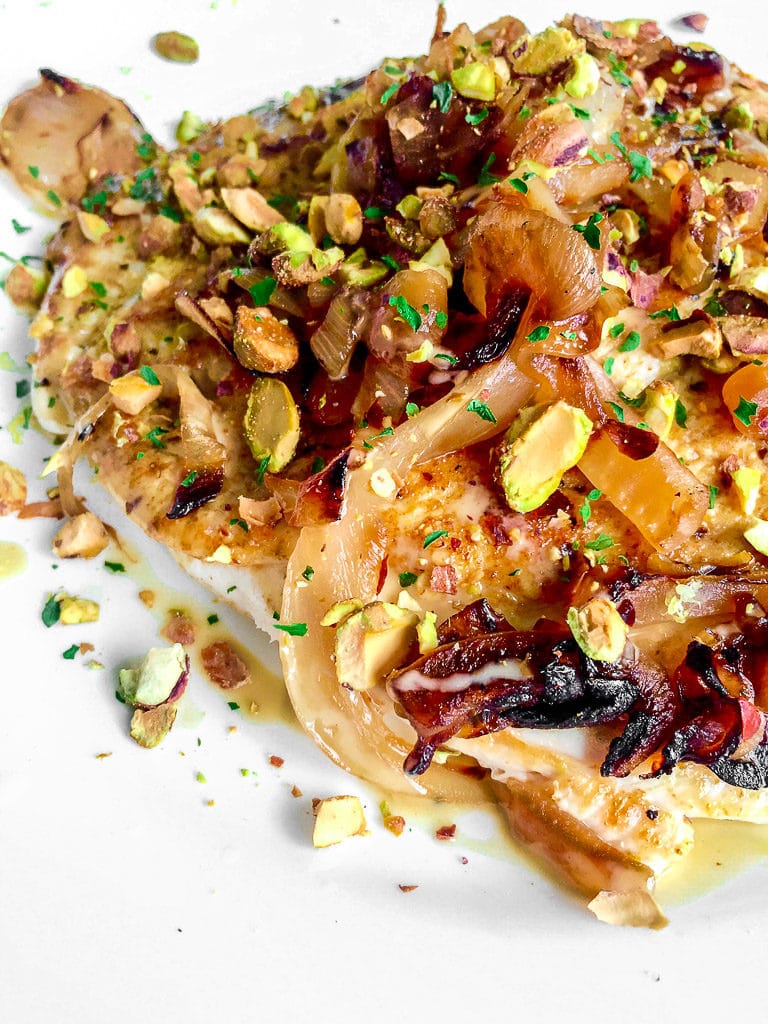 This Middle-Eastern inspired chicken with cumin dish is perfect for nights when you want something quick, healthy, and full of flavour.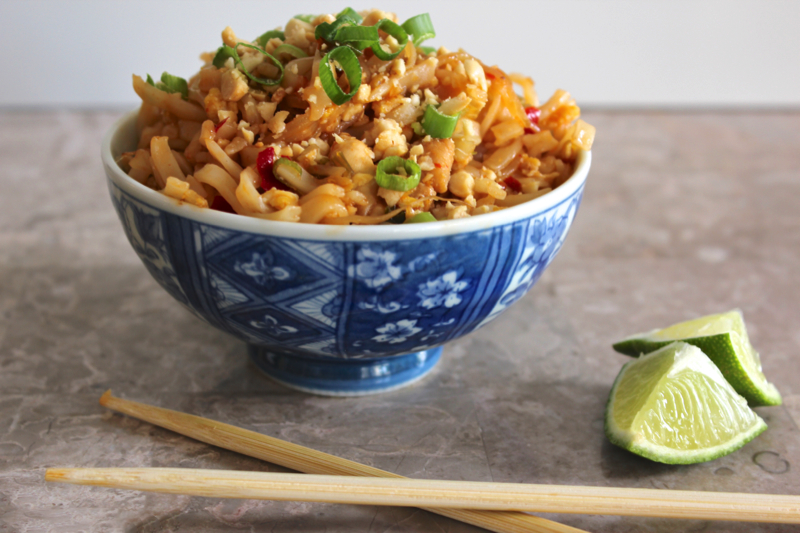 This is our go-to chicken pad thai recipe. Super simple to make and SO darned yummy; this one's a family fave.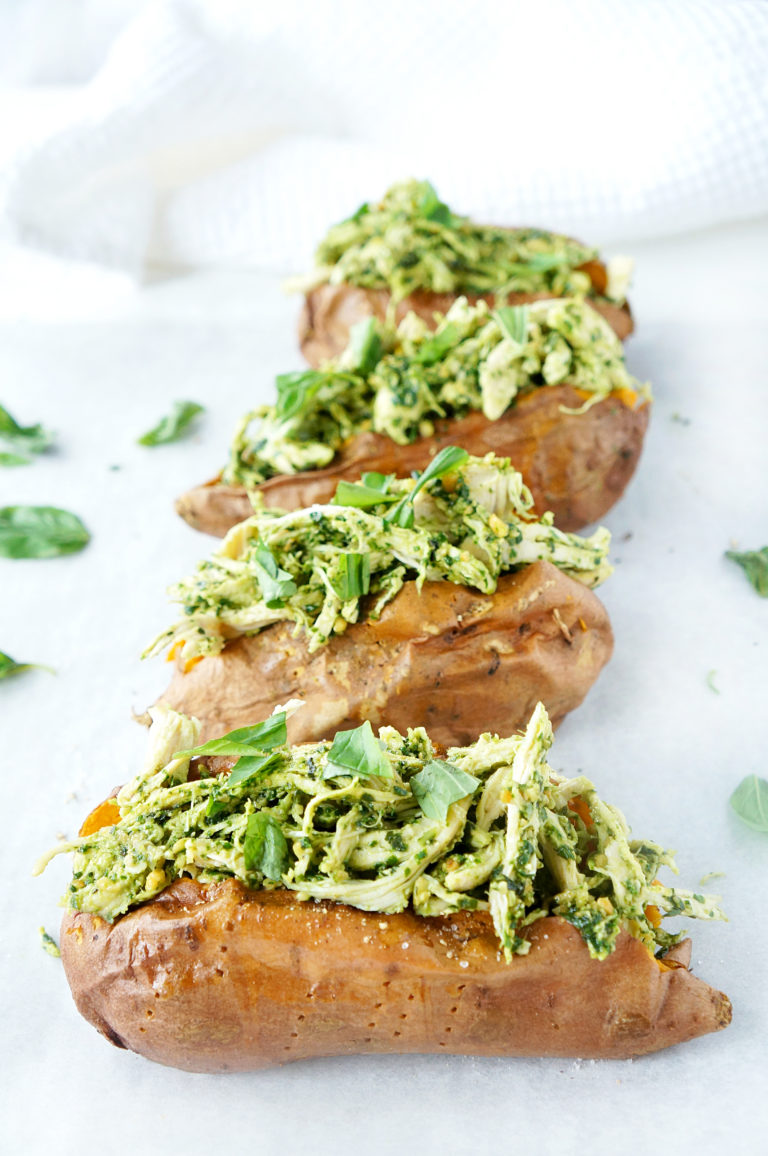 These pesto chicken stuffed sweet potatoes make the perfect easy and healthy meal for busy weeknights. Prep the pesto chicken ahead of time to save even more time! (And you can swap out the sweet potatoes for white potatoes if that's what your family prefers.) A family favorite recipe that you'll want to keep on the menu rotation every week!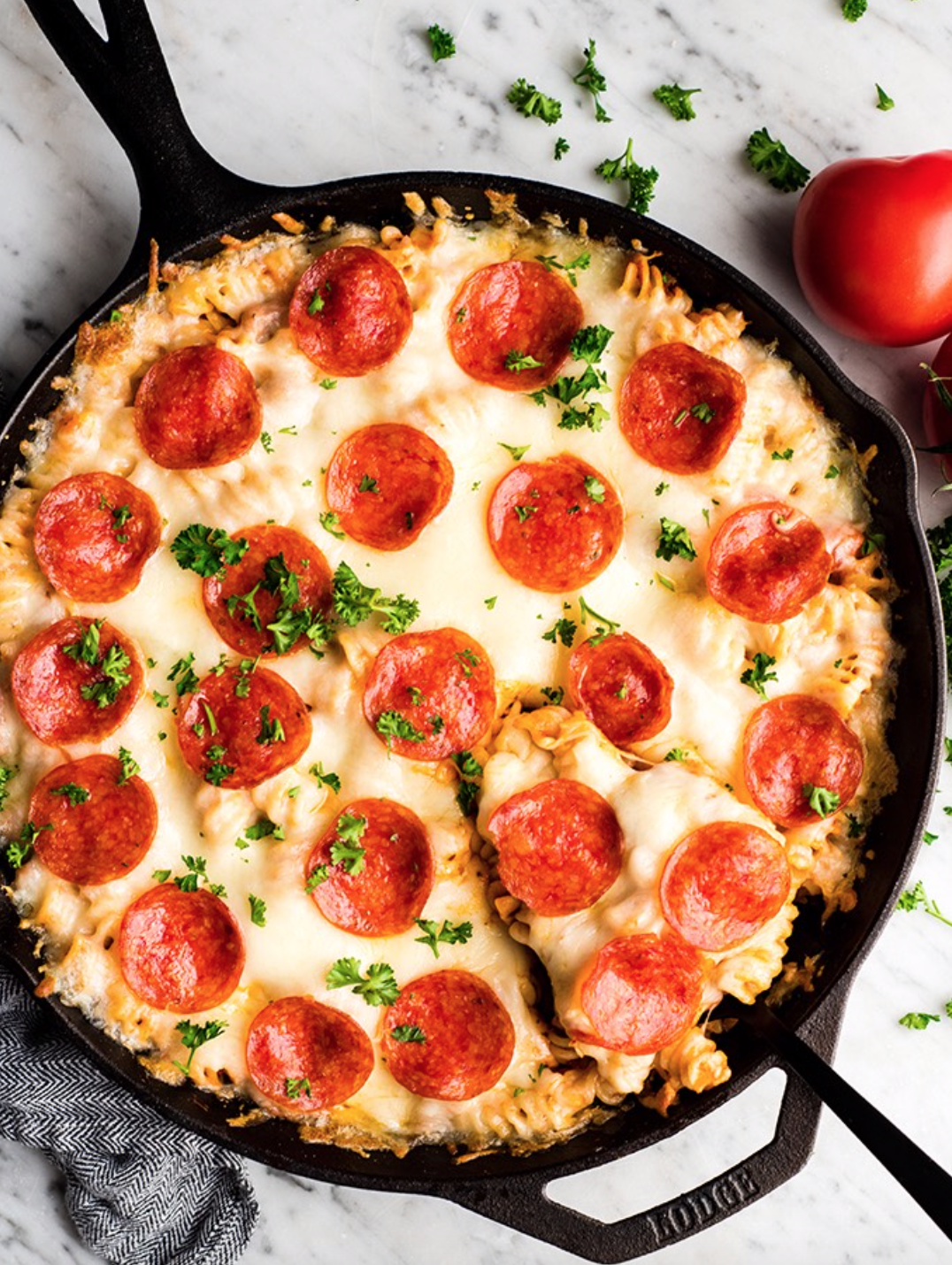 This Easy Pizza Casserole recipe is a family-favorite meal that is kid tested and husband approved! It's a great main dish to feed a crowd, only takes 10 minutes to prepare, and is made with 9 ingredients!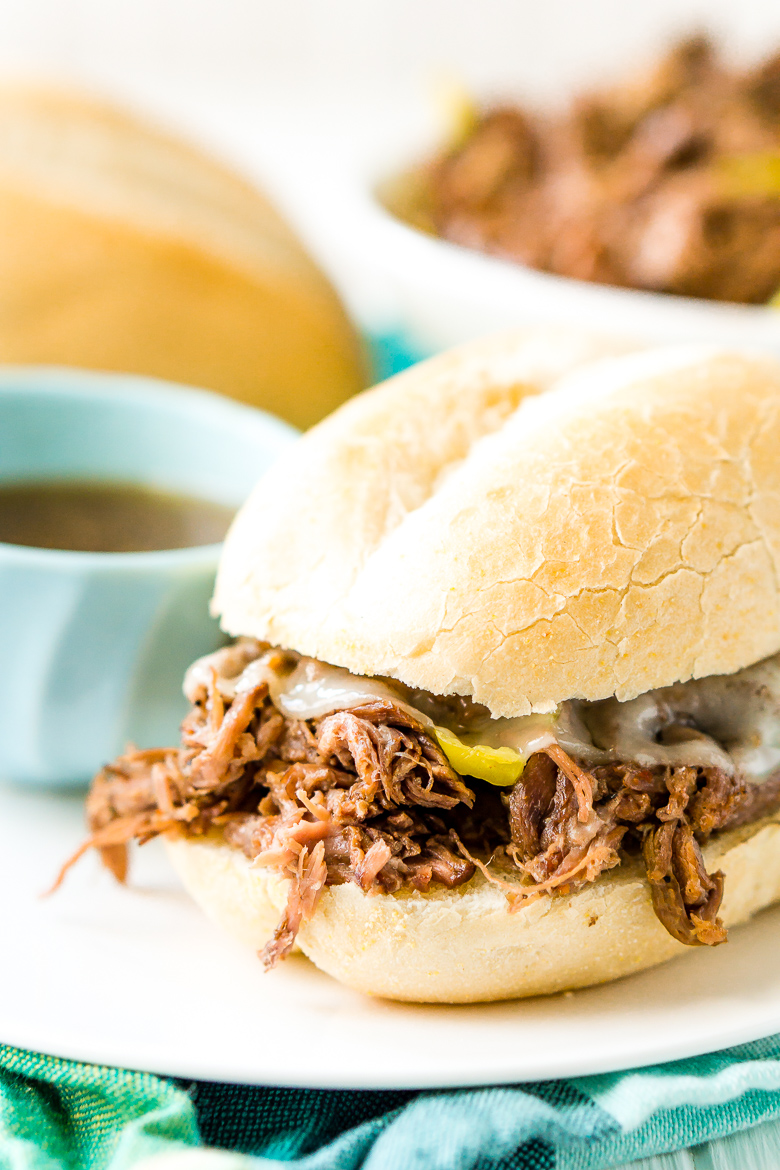 This Slow Cooker Italian Beef is an easy dinner recipe inspired by the Chicago staple that has so much flavor it will literally melt in your mouth! It's the perfect filling for a hearty Italian Beef Sandwich; put it on a sub roll, add pepperoncinis and provolone cheese, and serve it au jus for a scrumptious meal. You can also serve the beef with potatoes or rice.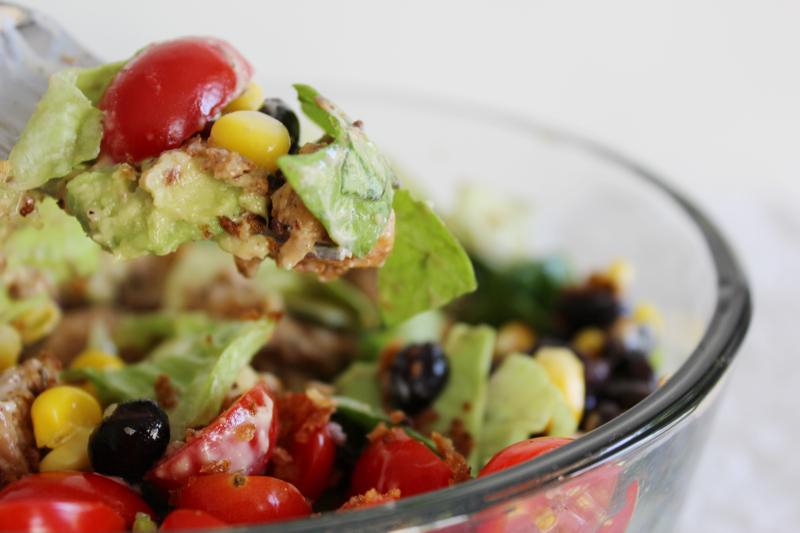 This is one of those salads that tastes great every time (the dressing is SO GOOD) and because it's a salad, it's really customizable; i.e., if you don't like spice, no need to make the chicken spicy, etc.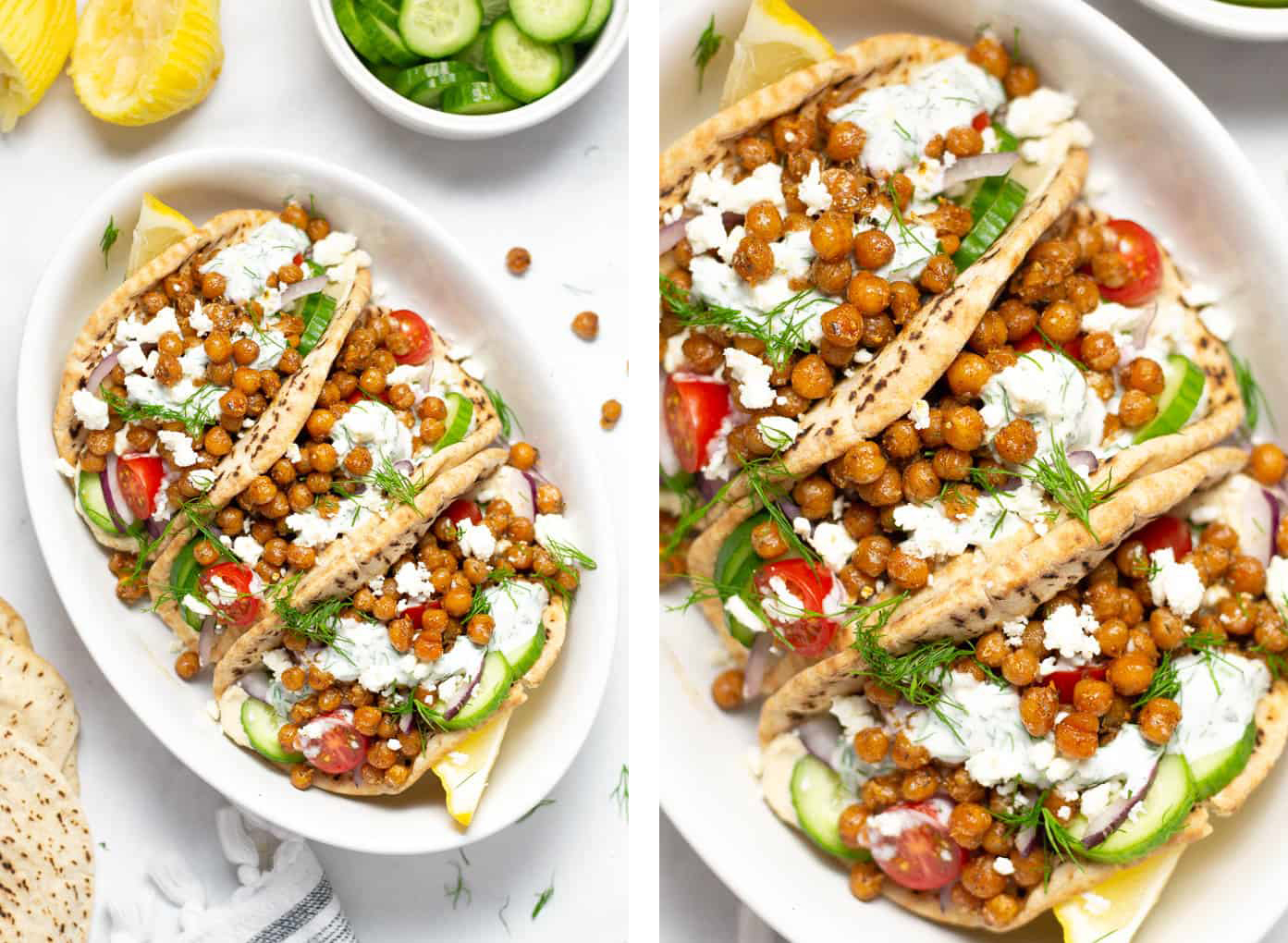 These chickpea gyros are a quick vegetarian dinner that takes just 10 minutes to cook on your stove top and only a few minutes to prep.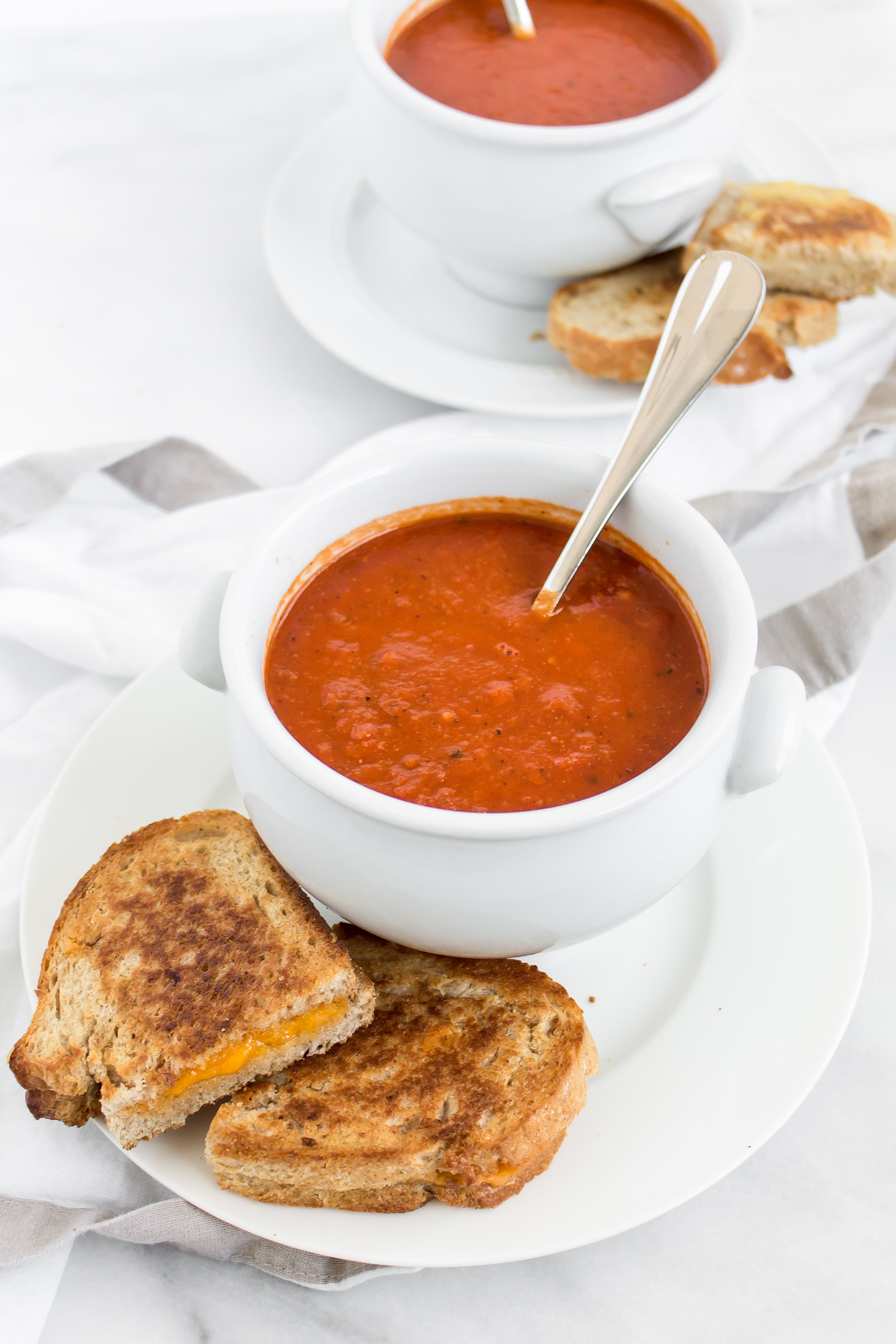 Looking for an easy and delicious healthier soup for dinner tonight? Look no further than this spin on classic tomato soup, made healthier and protein-packed. And, bonus: it can be made in a slow cooker or instant pot!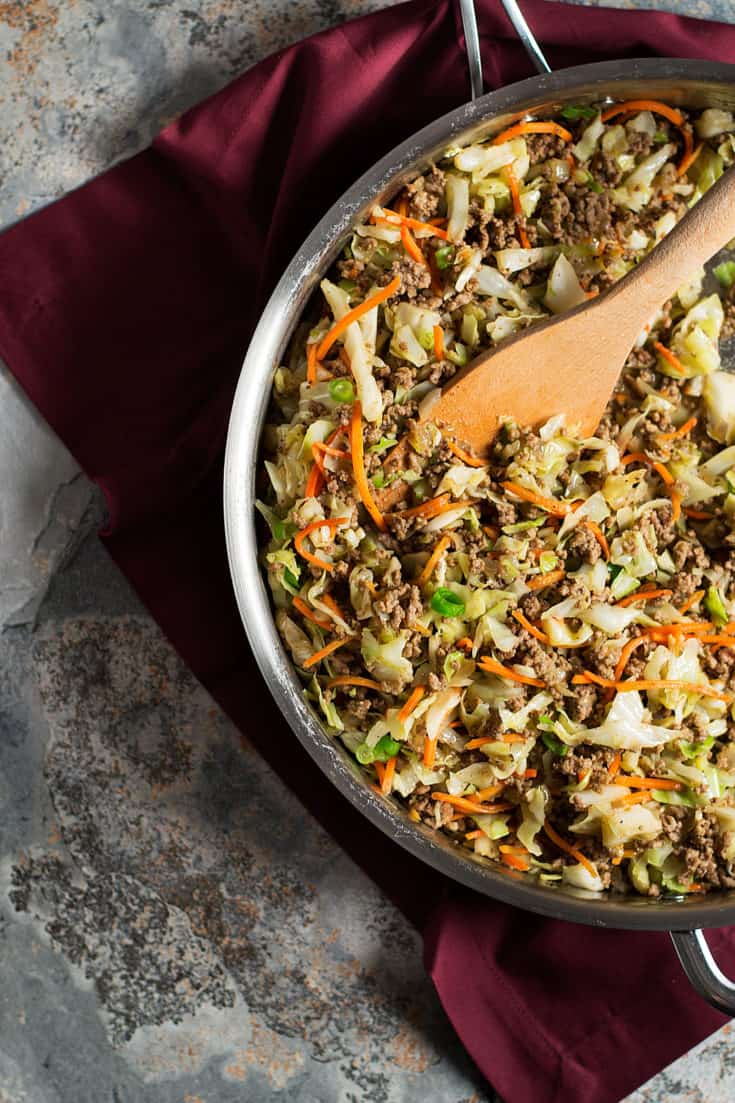 This Healthy Egg Roll in a Bowl (aka Crack Slaw) has all of the great flavor of Egg Rolls, is made in one pan, and it's a sure to please. It's also low carb, whole30, keto, paleo, and AIP.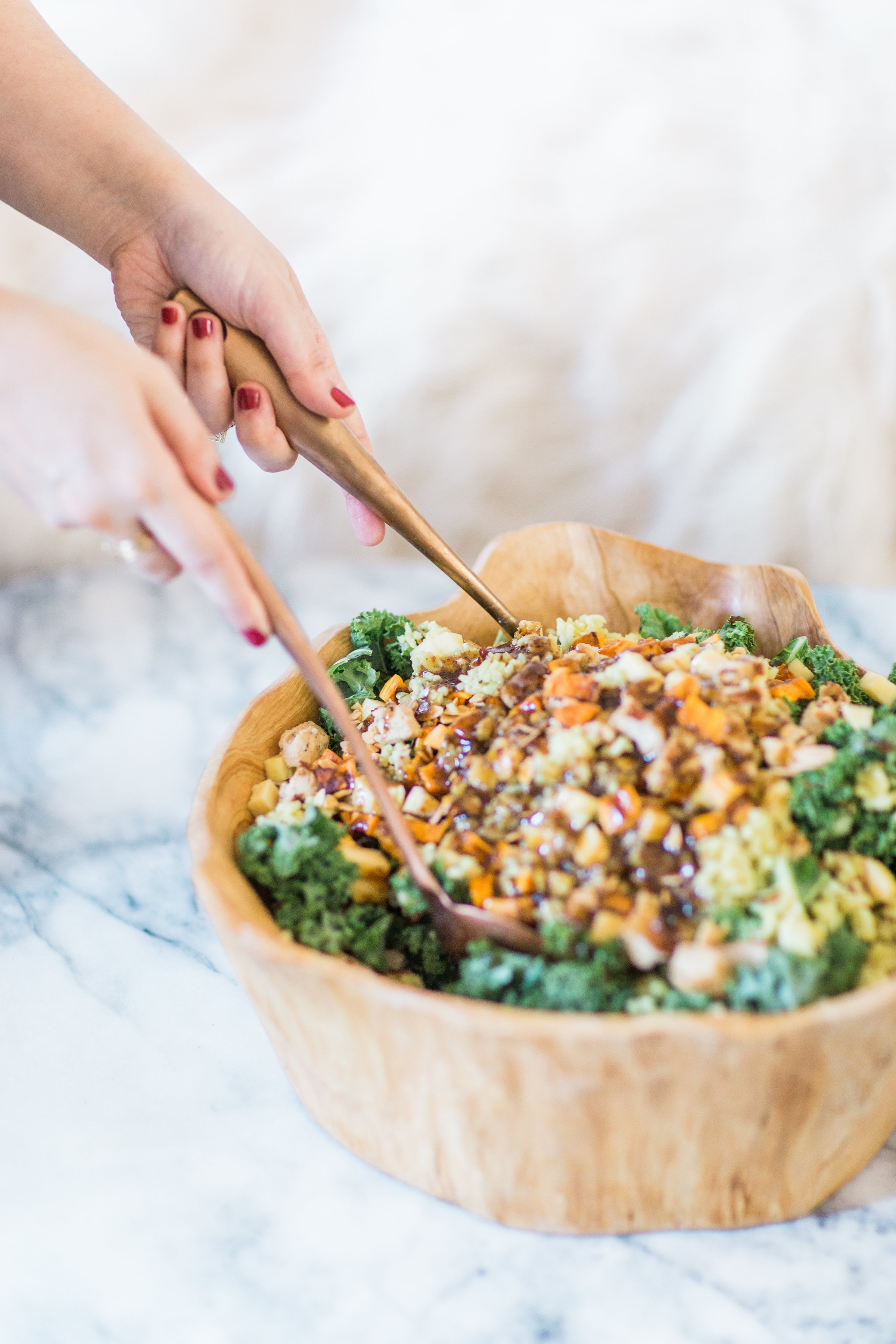 sweetgreen's harvest salad is easily one our favorite salads; and here's exactly how to make your own copycat sweetgreen version right at home.
Mouthwatering, delicious vegan sloppy joes are the perfect addition to your vegan sandwich collection! Look no further to satisfy your craving for comfort food, with a healthy, vegan twist.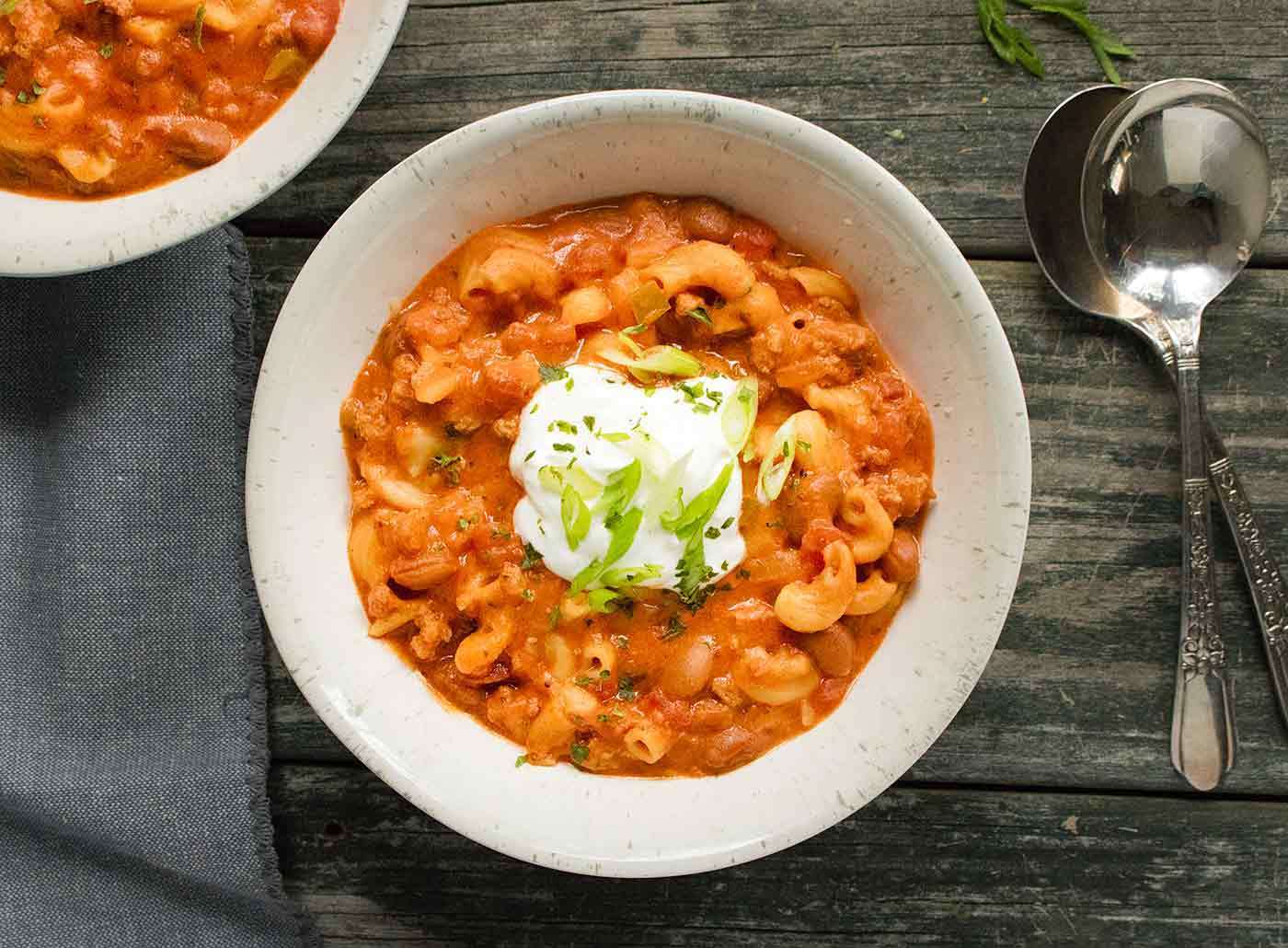 A hearty, hunger-crushing dish that's so easy to make in the pressure cooker, Instant Pot Chili Mac with turkey and cheese will become your go-to dinner.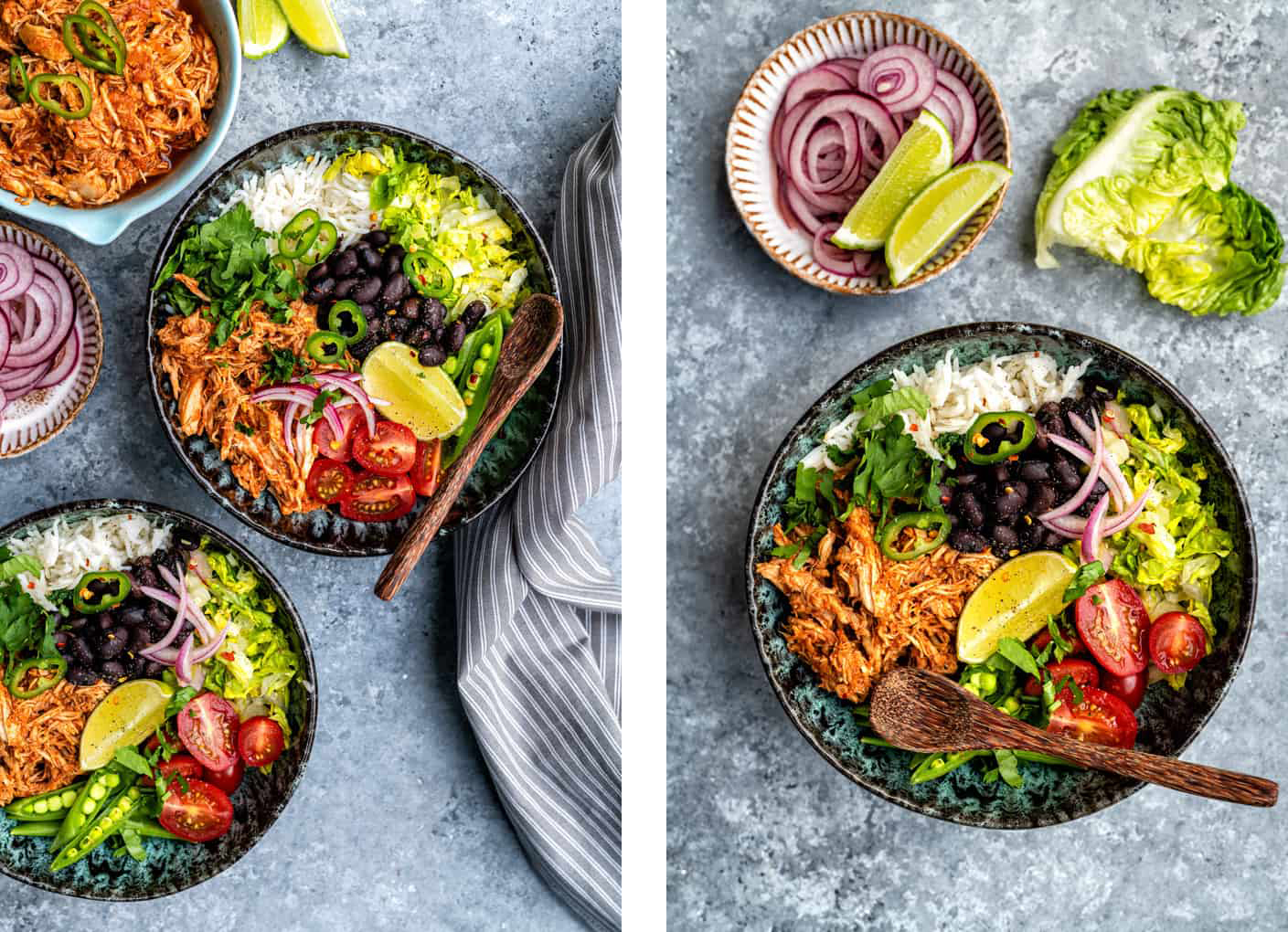 This Diet Coke Chicken (a.k.a Cola Chicken / Crockpot chicken/ Shredded Chicken) is kid-approved, mega tasty and so easy to prepare in your slow cooker, Instant Pot or the stove.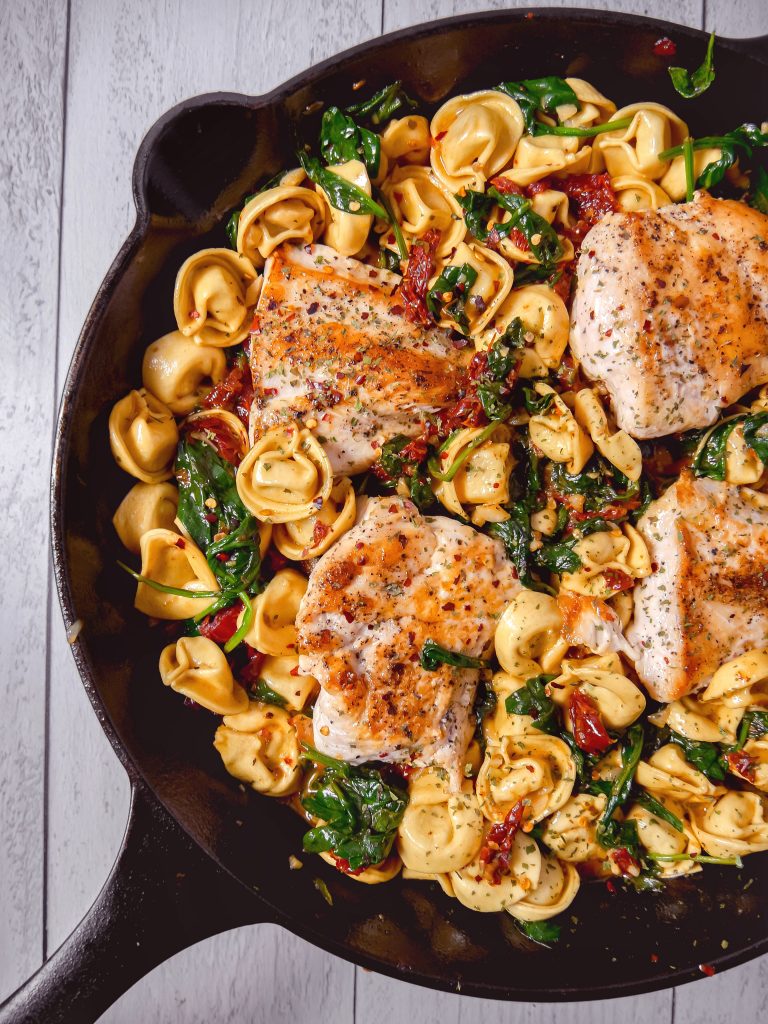 This Tuscan chicken with tortellini is quick, easy, and a kid favorite! It's full of delicious sun-dried tomatoes, spinach, and cheese tortellini.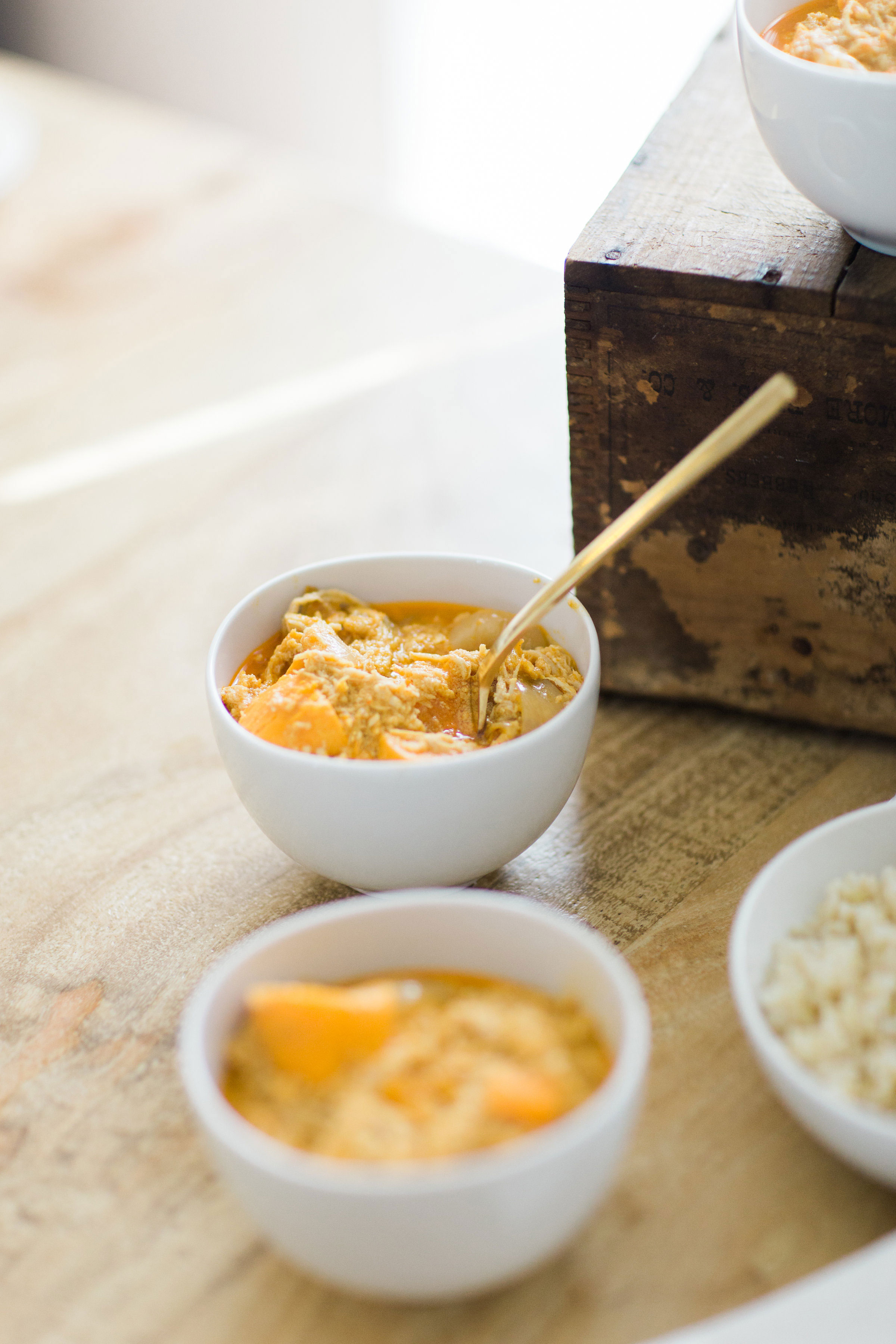 This 3-Ingredient Trader Joe's Thai coconut curry chicken recipe – in addition to being unbelievably easy to make – is one of our family's favorite recipes, any night of the week. I think it takes all of 5 minutes to prepare. Maybe less. And the very best part? The whole thing can be made in your slow cooker. As in, you throw all of the ingredients in, let it slowly cook up into something magical, lift the lid when you're ready to eat, and dinner is served!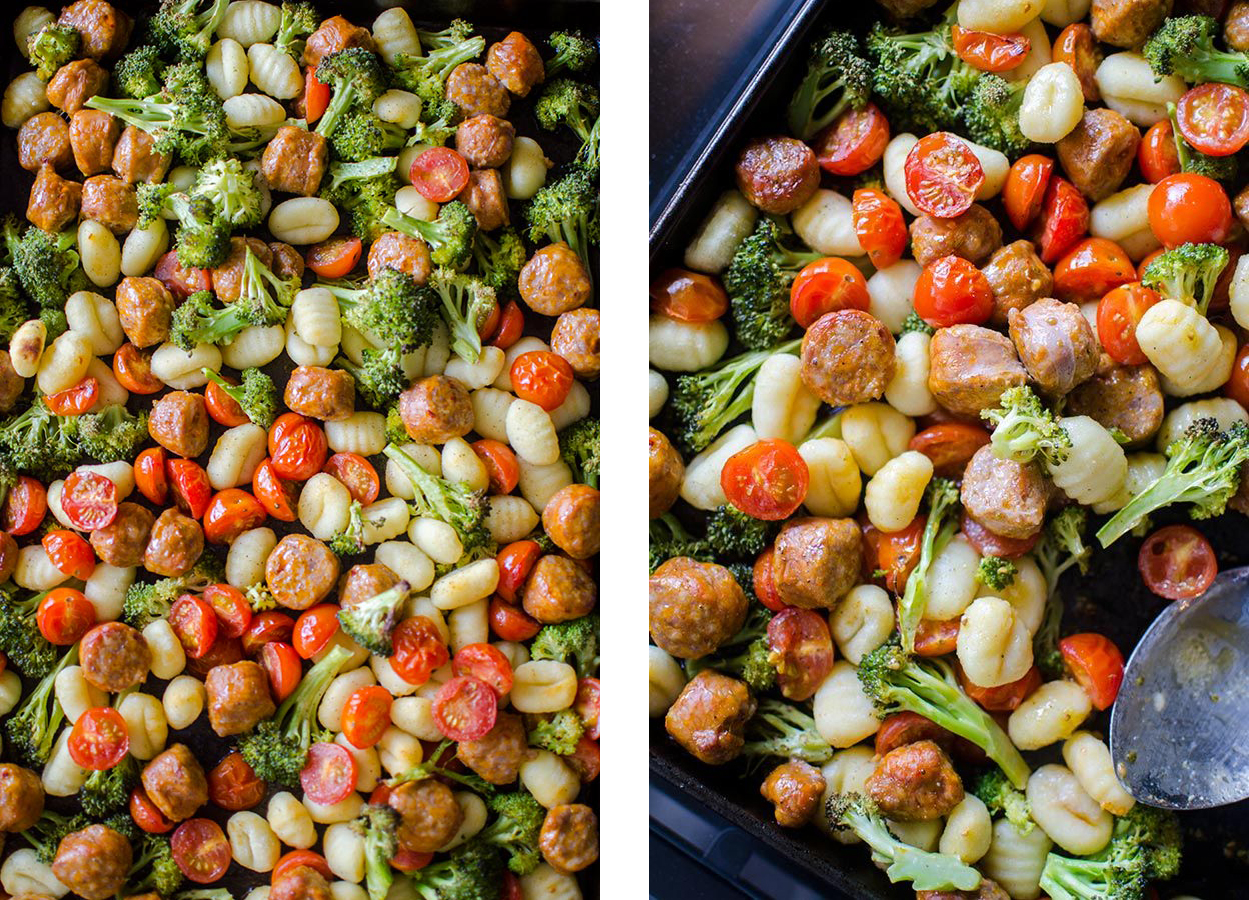 Sheet pan oven baked gnocchi with sausage and vegetables is a quick dinner that comes together in just 25 minutes and is made in one pan.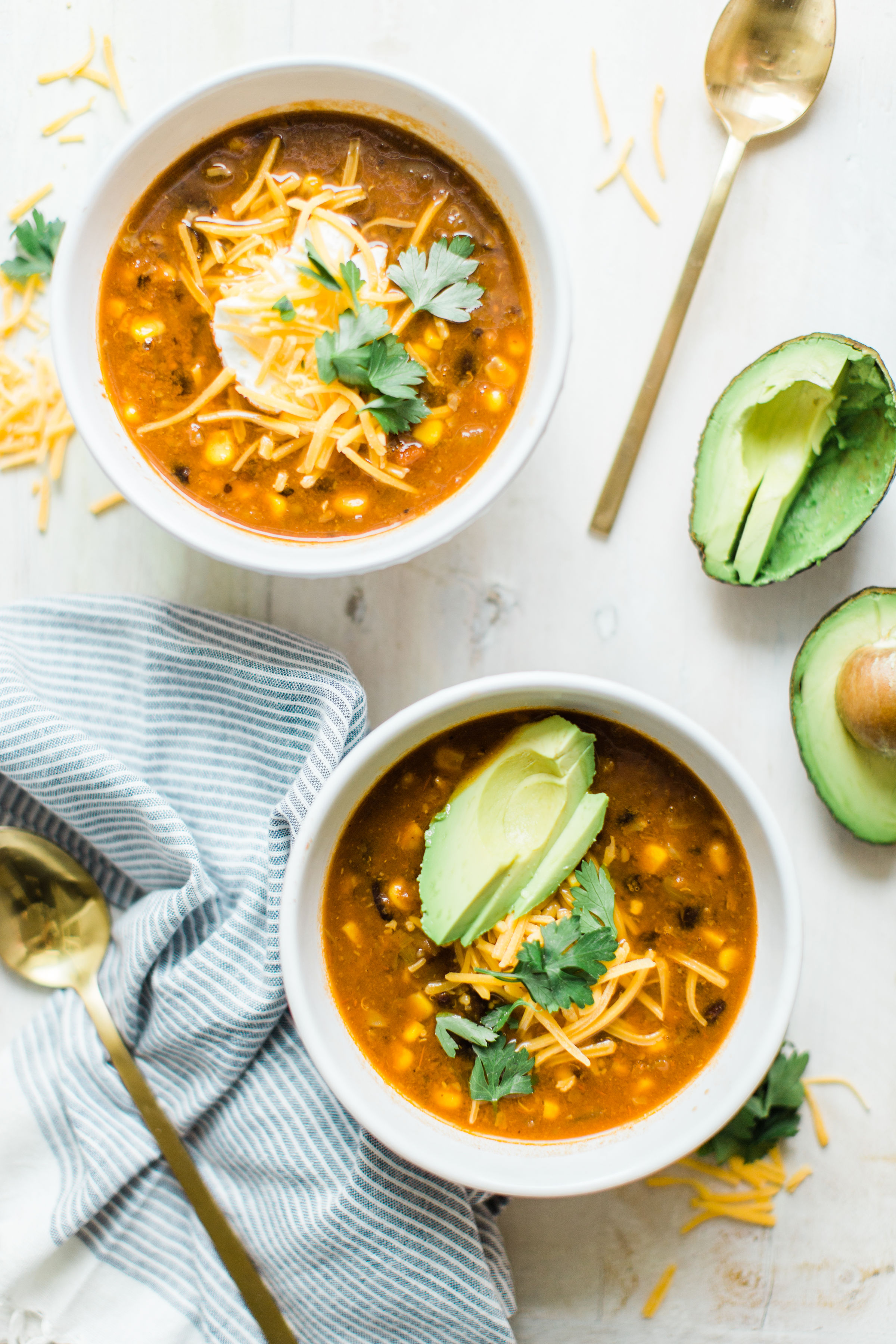 Obsessed with Trader Joe's Harvest Chili? Looking to whip up a delicious family dinner on a budget? Make your own easy copycat crockpot Trader Joe's harvest chili. (Say that three times fast!) This soup is vegetarian and so yummy.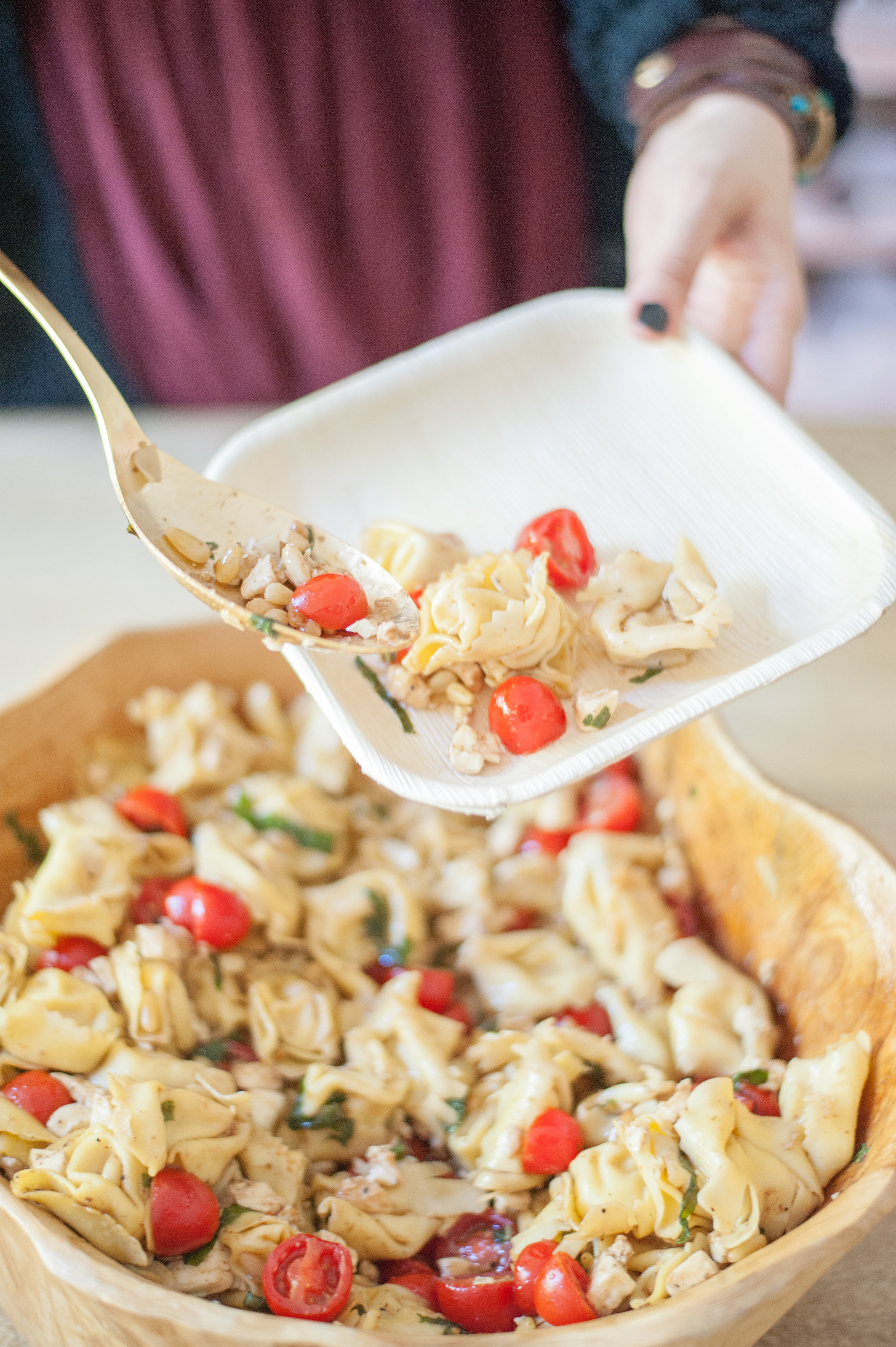 This tried-and-true caprese tortellini salad is the kind of dish I can always count on. This caprese tortellini pasta salad can be served warm or cold; I'm still undecided on which variation I love more! Warm tortellini is tossed with toasted pinenuts (which add such great depth and a bit of crunch), fresh mozzarella and grape or cherry tomatoes, and a homemade balsamic vinaigrette dressing. It also happens to be delicious. Seriously, a spin on caprese salad never tasted so good.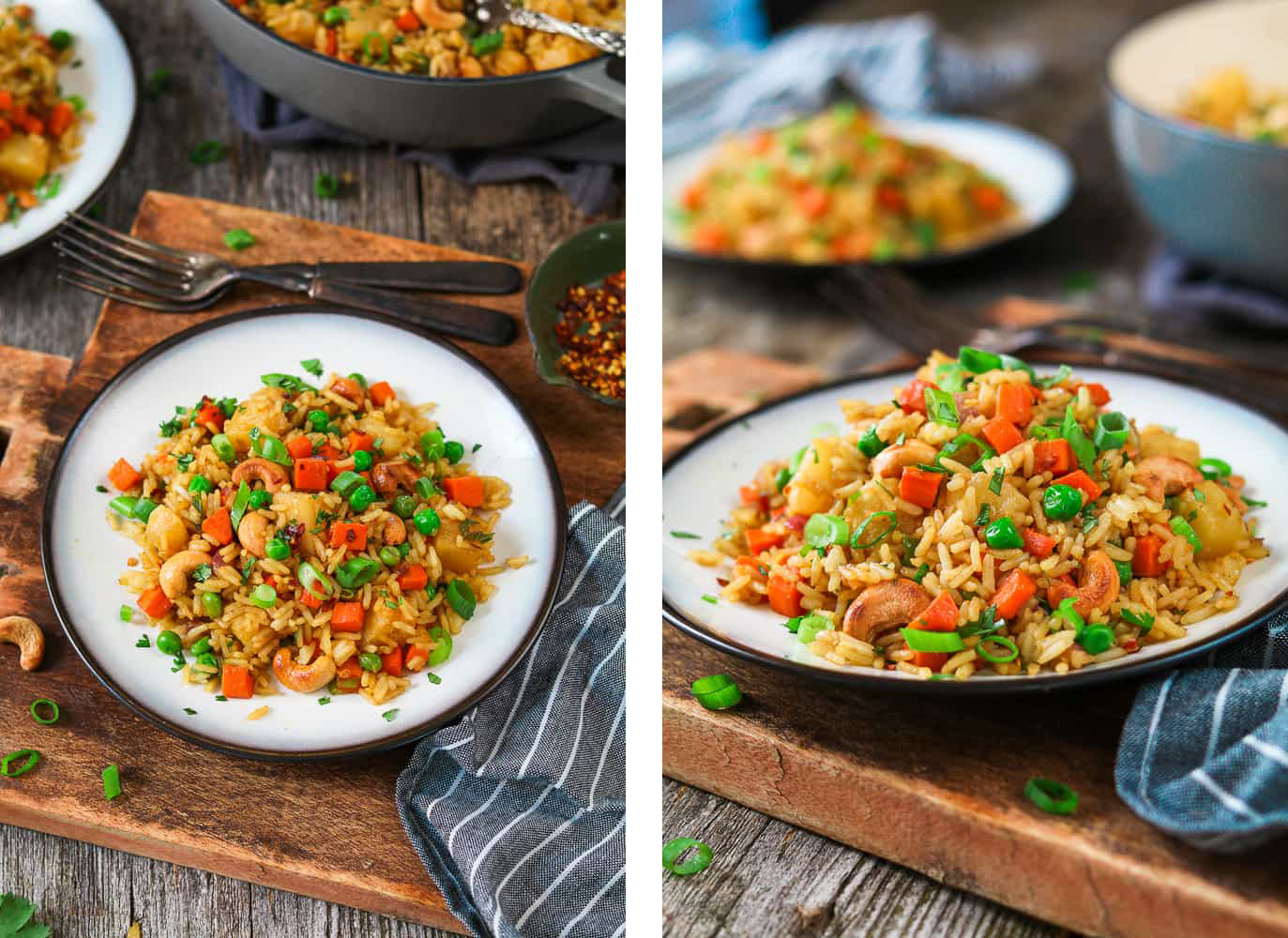 This Vegan Pineapple Fried Rice is sweet, savory and spicy! It's also so easy to make and takes just 30 minutes on the stove. I'd even add baked tofu for a protein-rich meal. Easy and delicious weeknight dinner recipes for busy parents AND environmentally-conscious citizens.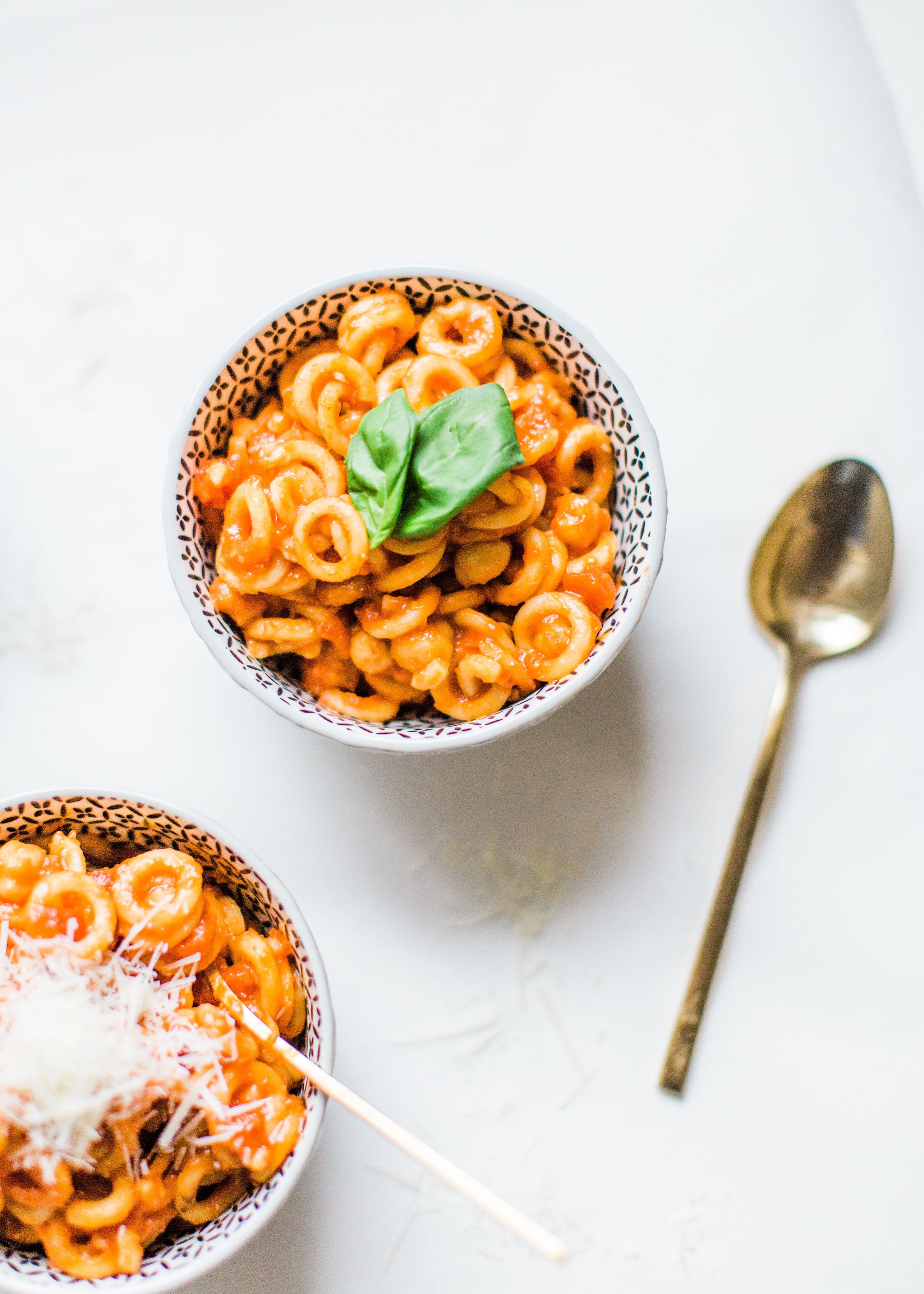 Looking for a delicious one-pot 30-minute vegetarian dinner your whole family will love? Pasta e Ceci; a.k.a., the classic Roman recipe for hearty pasta and chickpeas are the modern day healthy Spaghettios. And OH MY GOSH, they are good!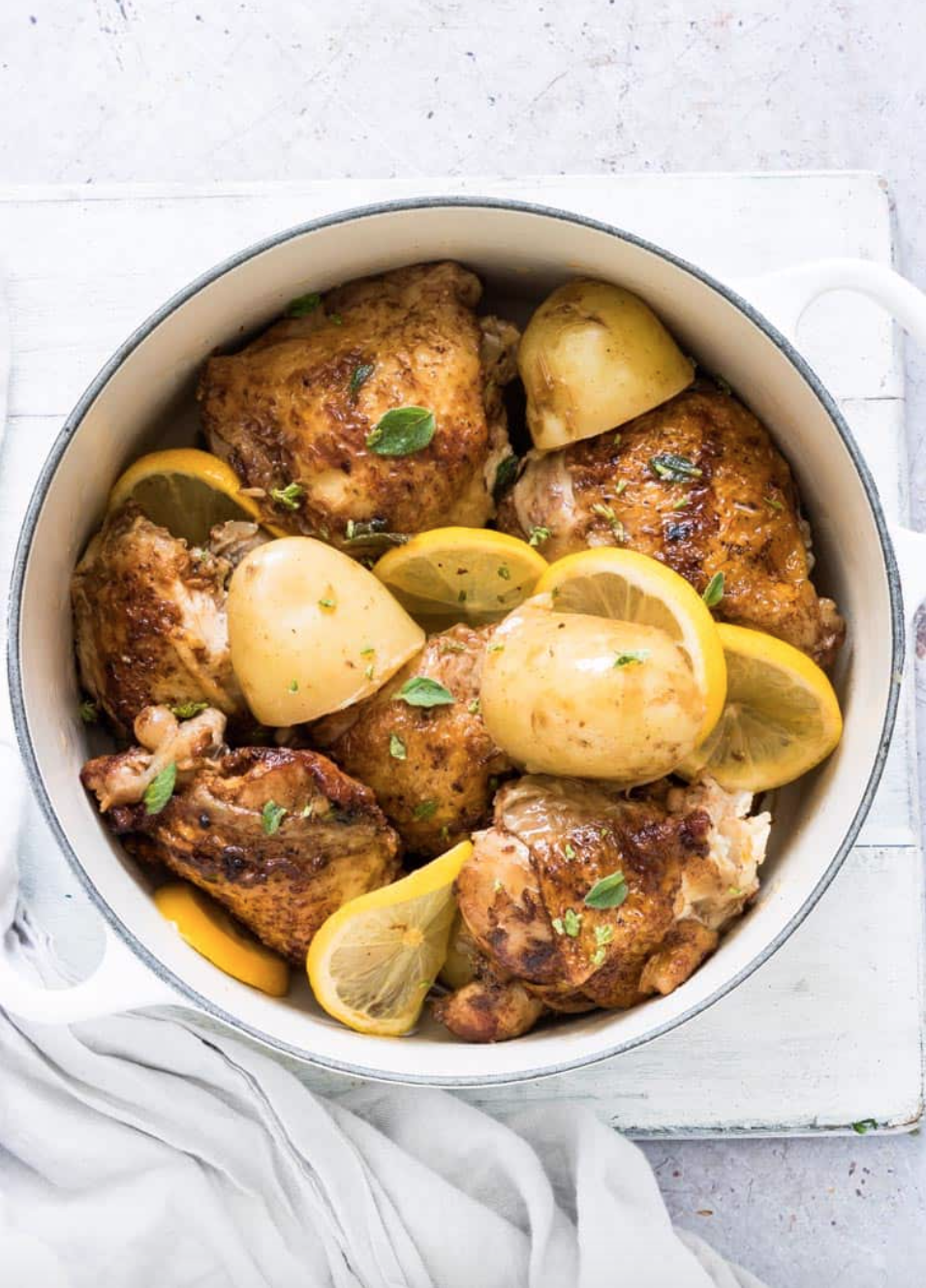 Mediterranean Instant Pot Chicken and Potatoes is a perfect family meal. This is a one-pot dish that is affordable, quick and easy to make, yet full of amazing Mediterranean flavors.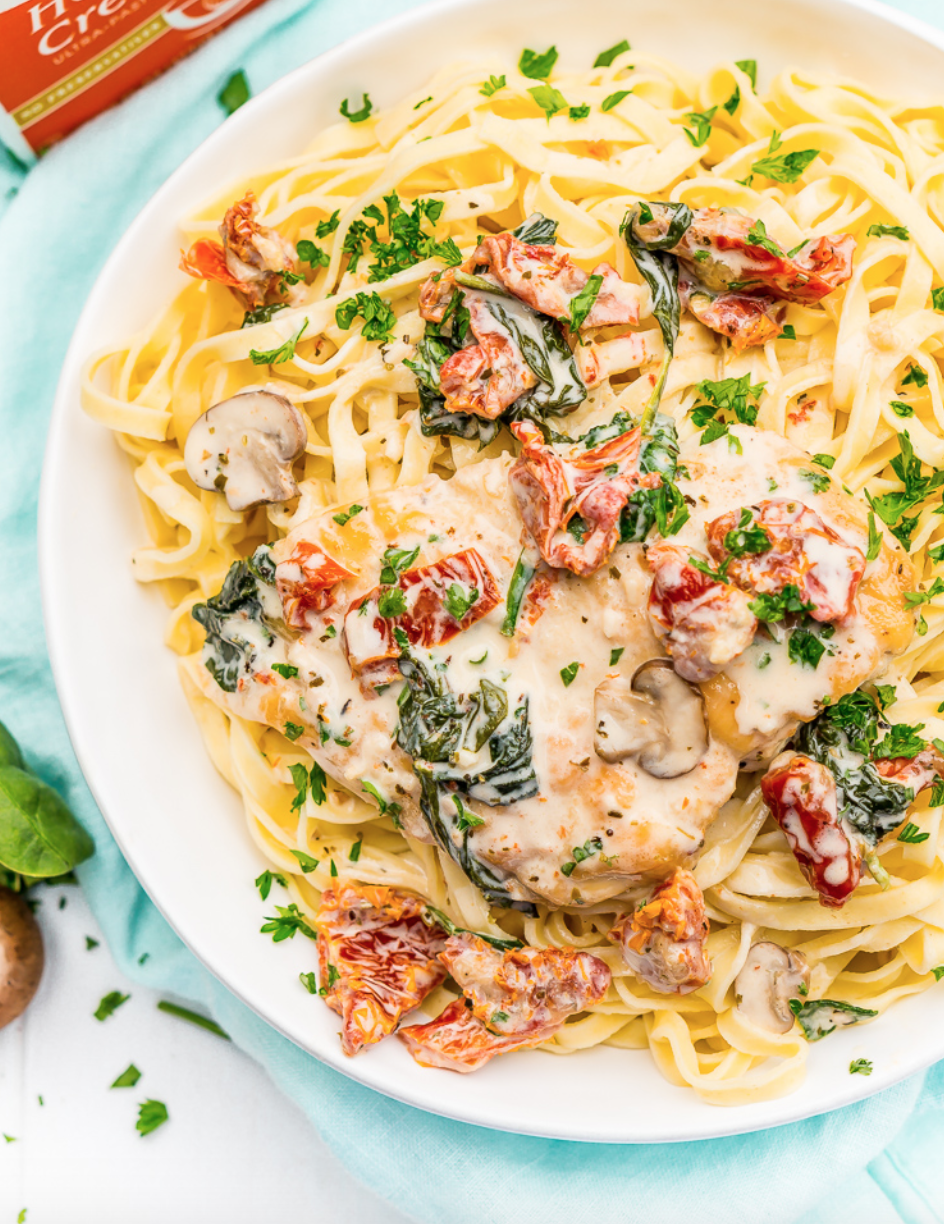 Creamy Tuscan Chicken is a gourmet homemade meal that takes just 30 minutes! Made with chicken, sundried tomatoes, spinach, mushrooms, spices, cheese, and heavy cream, this is a perfect family-friendly recipe to whip up on any night of the week.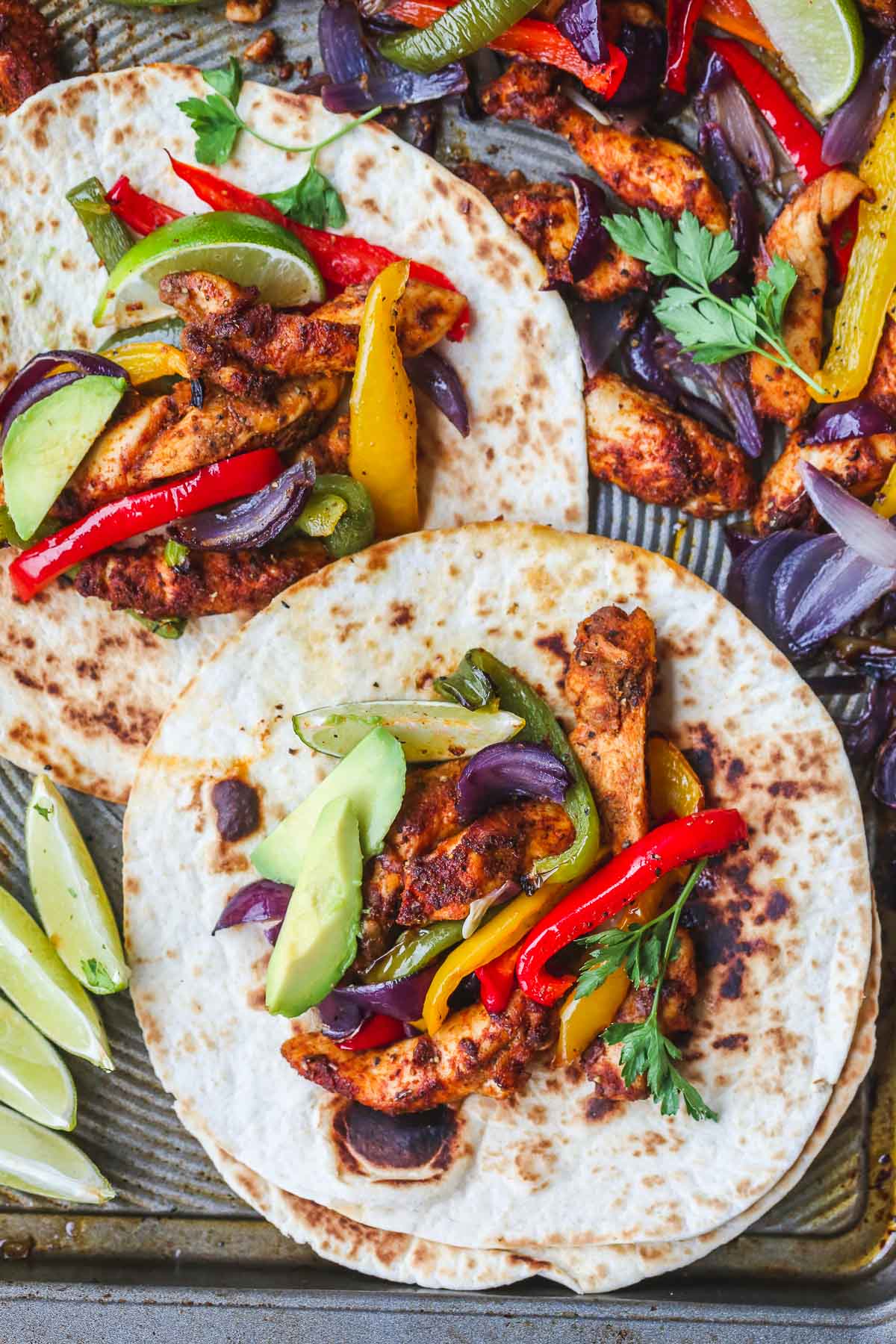 These baked chicken fajitas are so easy and quick to throw together, that they'll quickly become on your regular dinner rotation. They're healthy, full of flavor, low carb, paleo, low fat and whole30 compliant.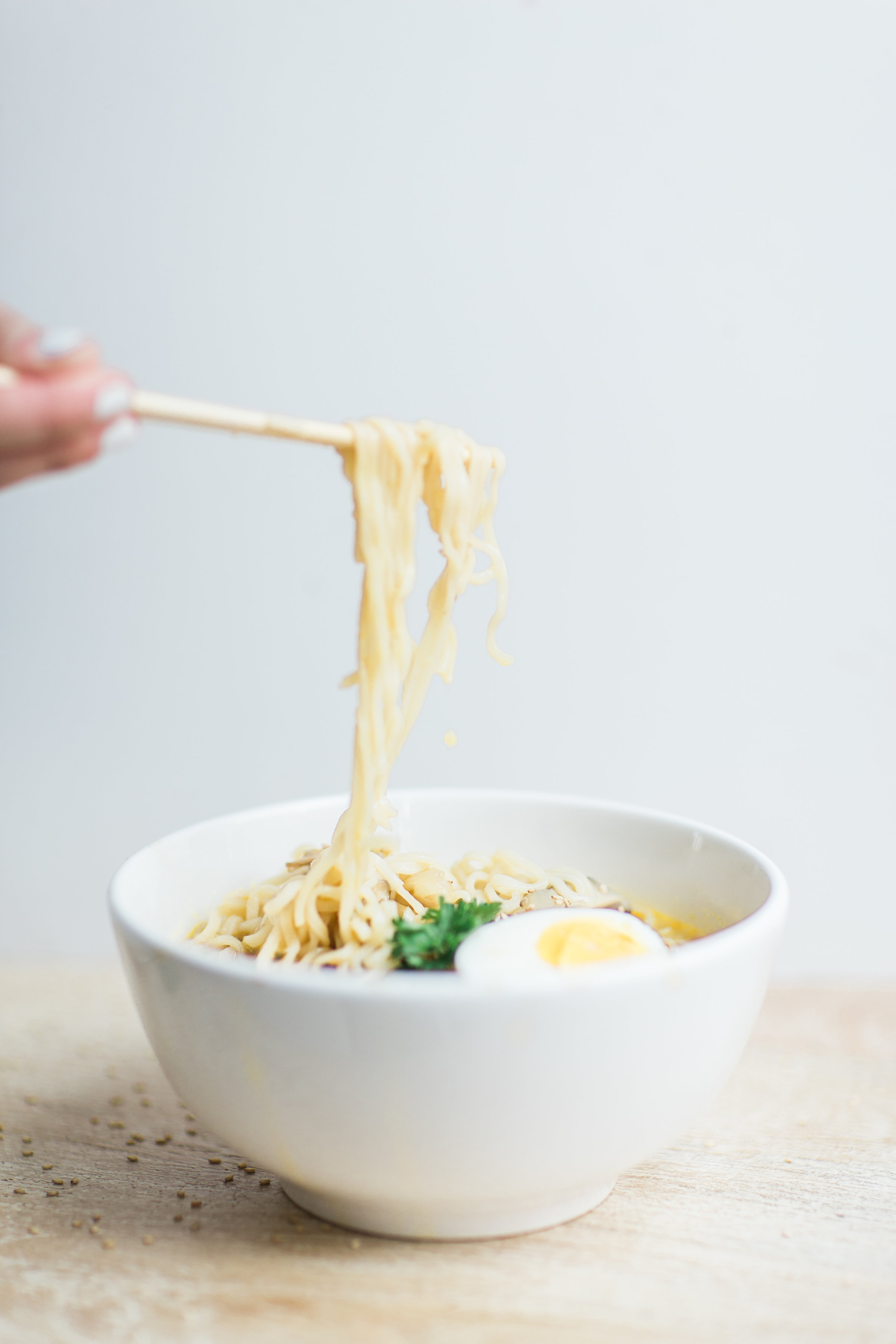 When you just want a bowl of hearty noodles (because, carbs) covered in endless topping options that give you the power to make a bowl your very own, this simple ramen noodles recipe (made in under 15 minutes) might just be the key to at-home ramen bliss.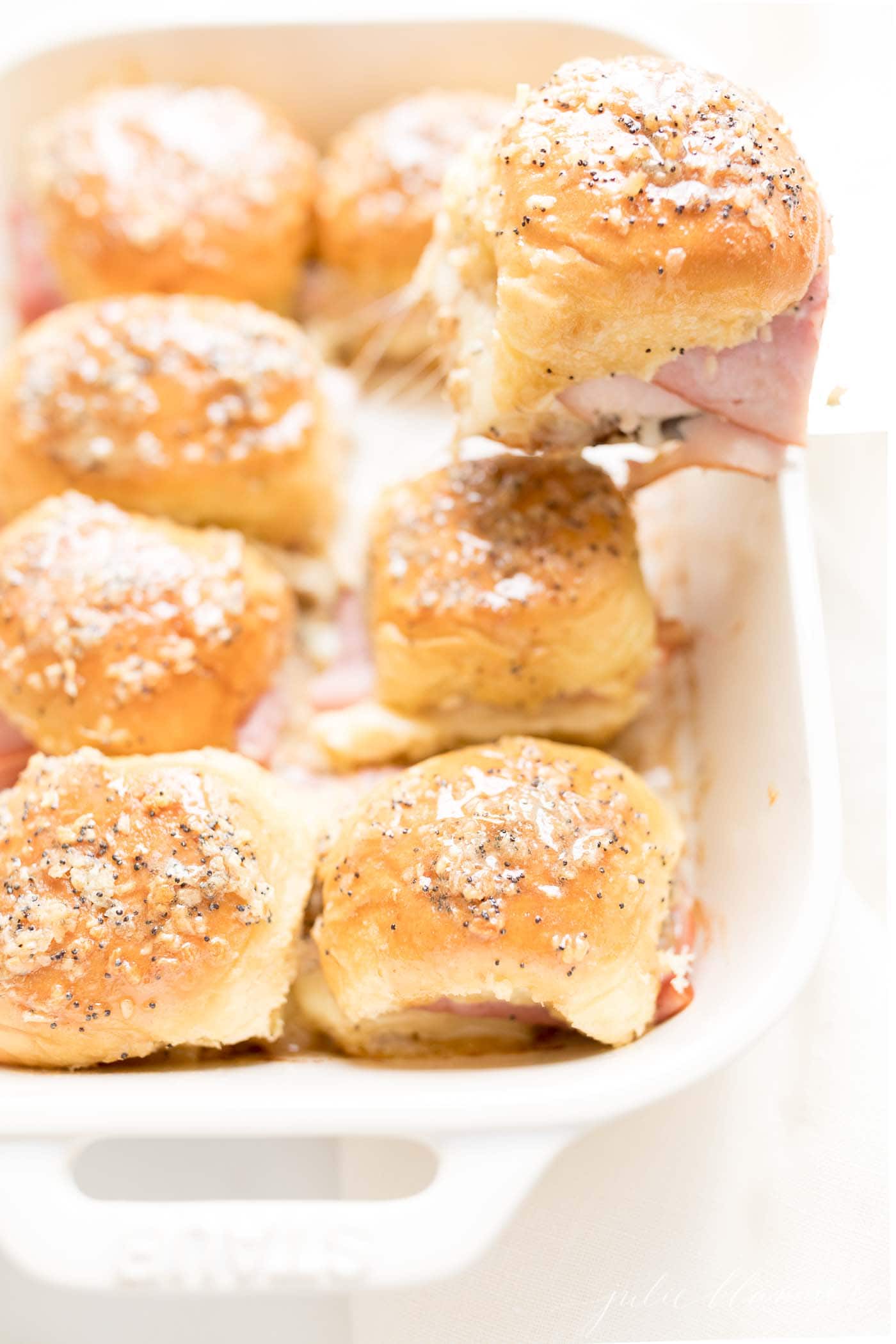 These melt in your mouth hot Ham and Cheese sliders are the ultimate comfort food! Super easy to make and kid friendly too!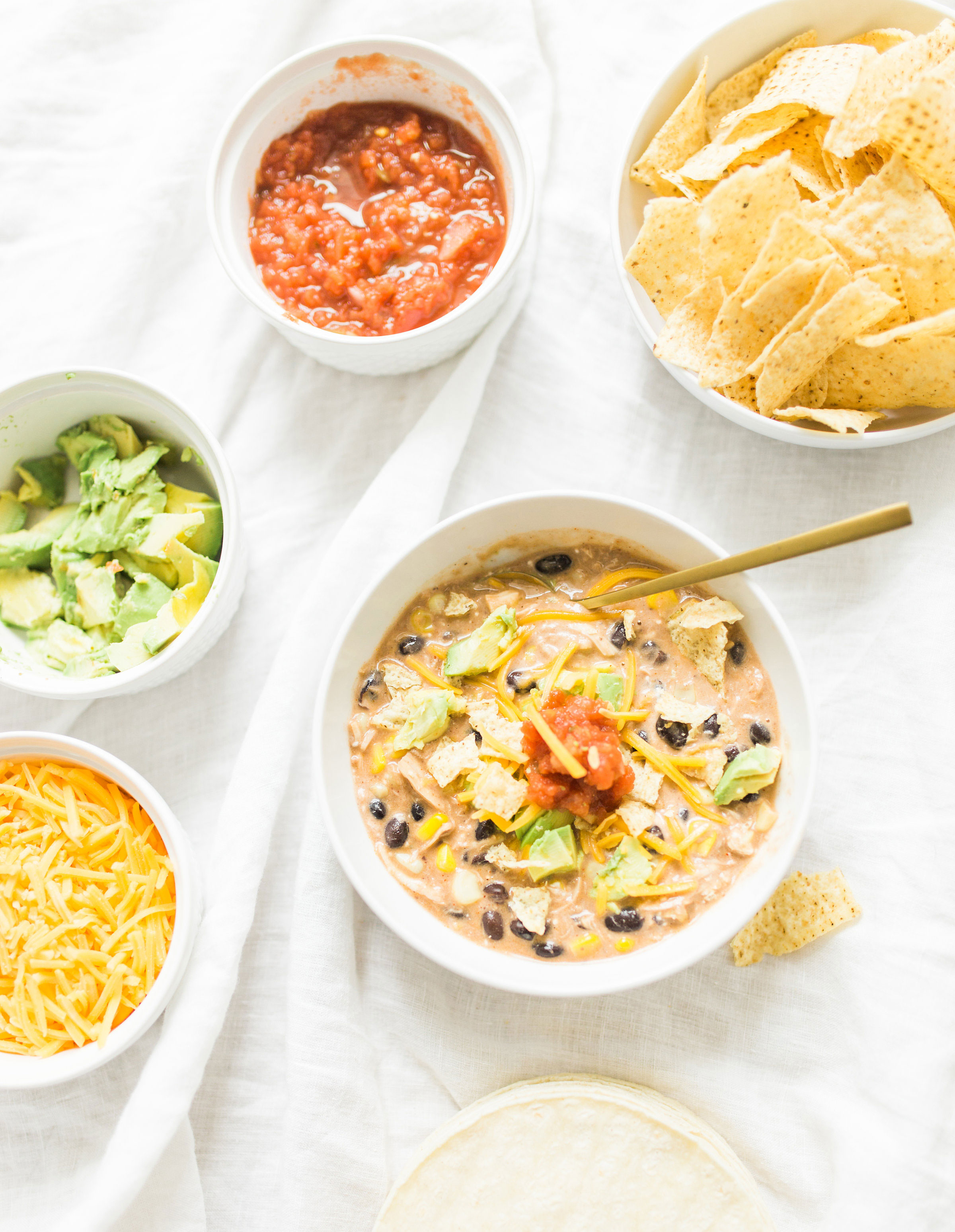 This easy tortilla-less creamy chicken enchilada soup can be made in a crockpot or Instant Pot – a.k.a., dump it and forget it. It's delicious, hearty, and our whole family loves to eat it with all of the taco fixings: shredded cheddar cheese, fresh avocado, cilantro, scallions, sour cream, salsa, chips, and a squeeze of lime. This is as yummy and simple as dinner gets!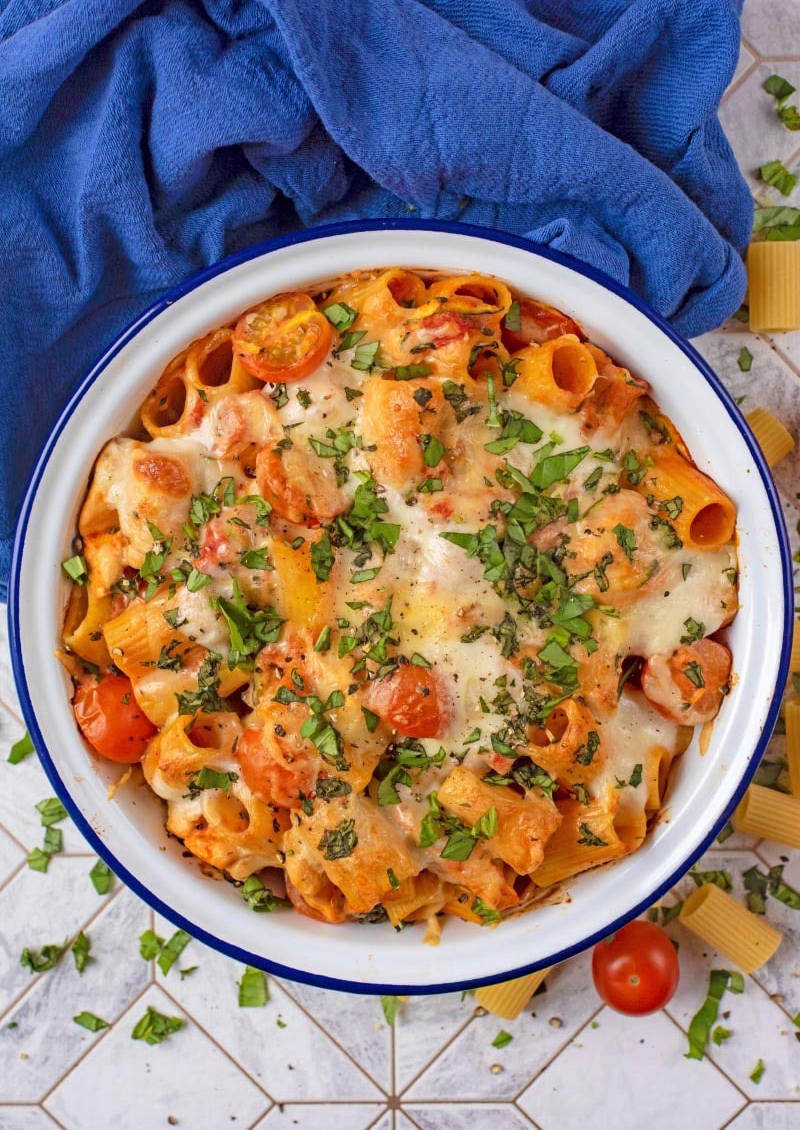 It doesn't get much more comforting than a creamy pasta bake. This creamy tomato and chicken pasta bake can be prepped in advance and then just put in the oven when you are ready to eat.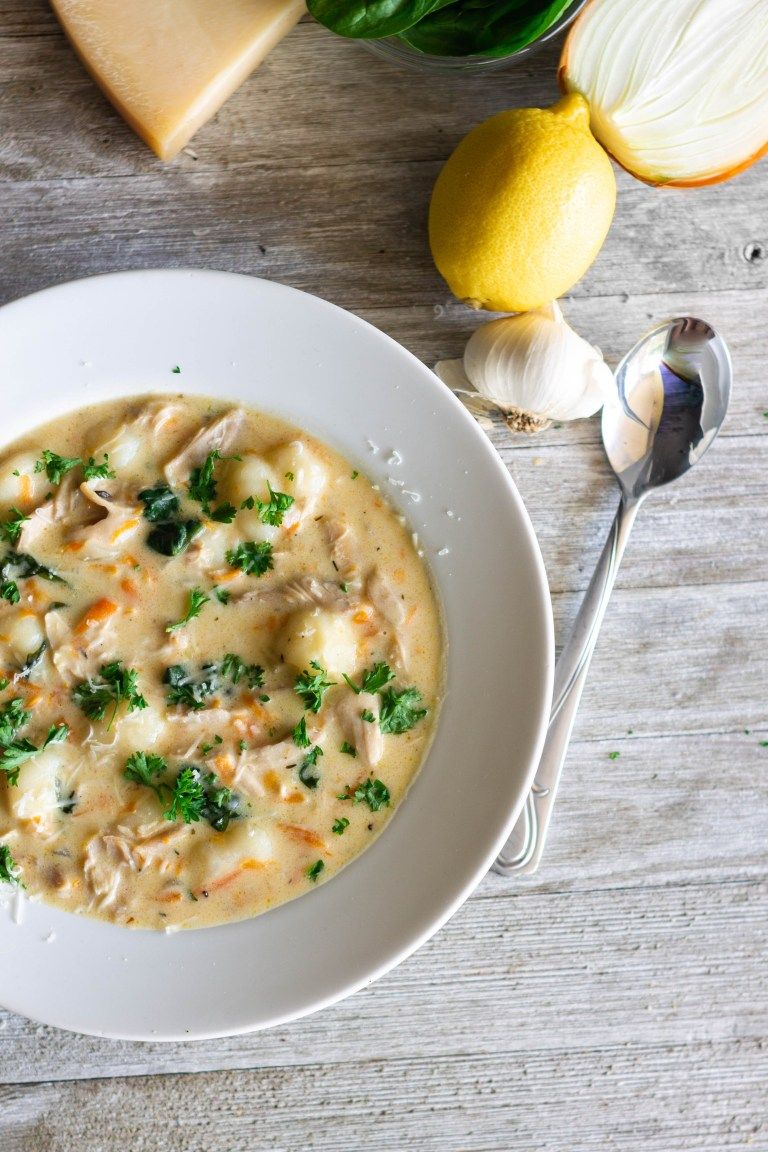 This quick and easy, one pot, comforting chicken and gnocchi soup is full of flavor, with herbs, spinach, shredded carrots, tender potato gnocchi, and chicken. This is better than Olive Garden's recipe, it knocks everyone's socks off.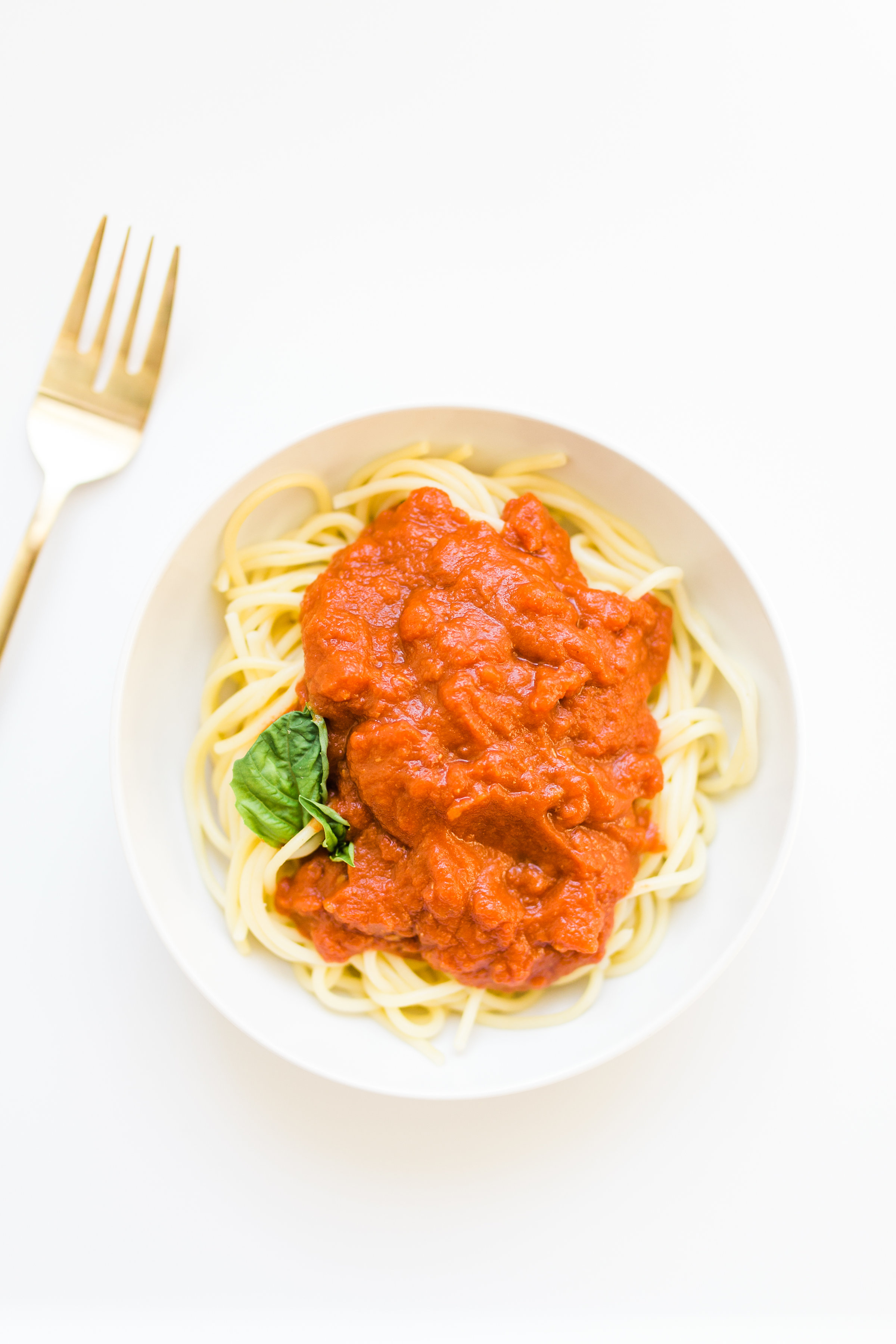 This delicious 3-ingredient tomato butter sauce, the one chefs and food bloggers alike adore, is unbelievably simple to make, produces a velvety rich sauce, and is sure to become a staple recipe in your kitchen.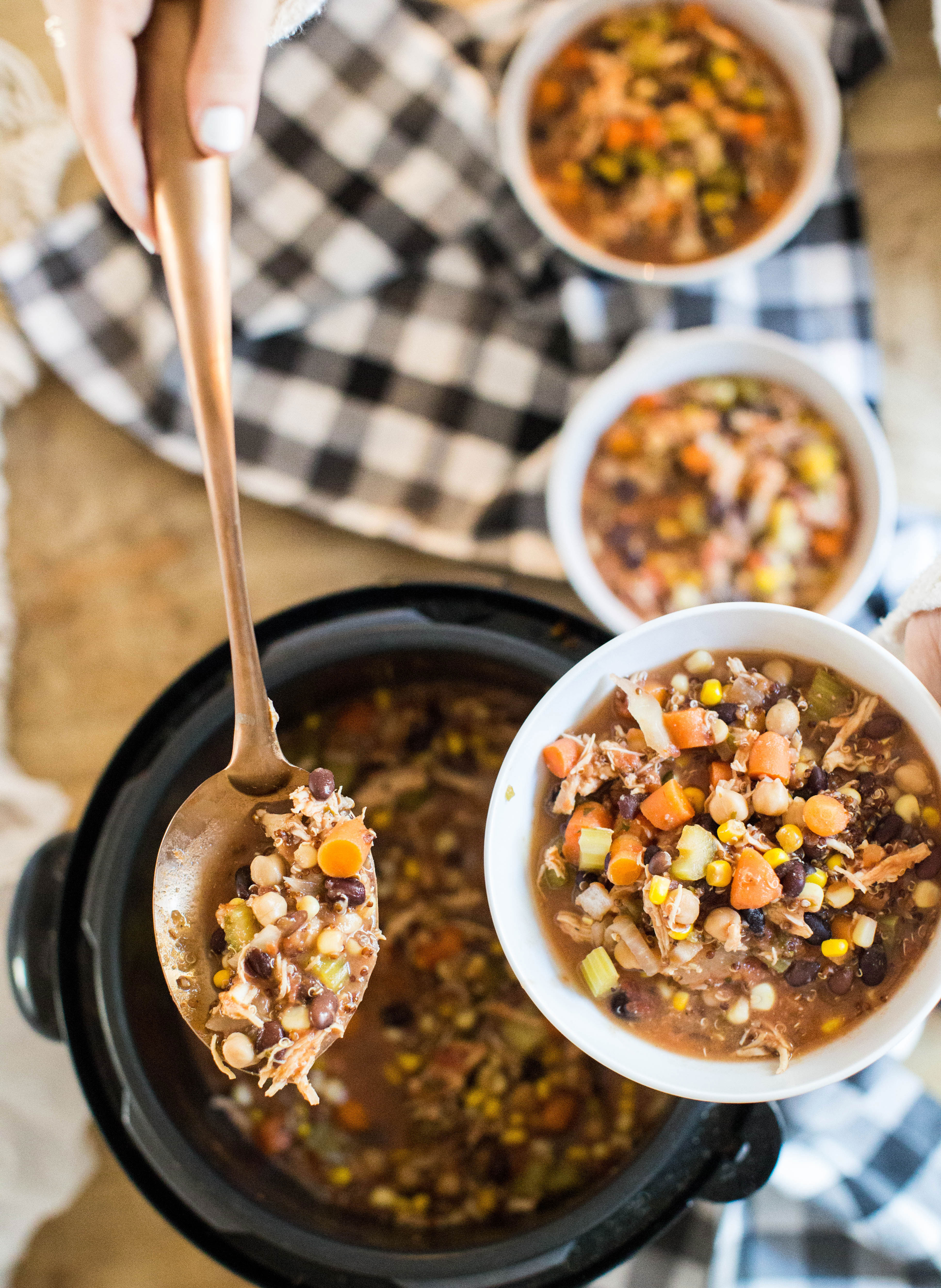 Our favorite crockpot chicken vegetable and quinoa soup is the perfect end to these easy and delicious weeknight dinner recipes for busy parents. It is healthy and hearty and requires so little work it's kind of embarrassing. This meal is packed with flavor, and tastes even more amazing topped with a bit of shredded cheddar cheese.
Add a few of these easy family-friendly recipes to your weekly meal planning list, and take the stress out of dinner!
What about you? What dinner recipes does your family love? Do you read cookbooks or find ideas online? I'd love to hear what your favorite meals are! I'm always looking for new ideas to keep the family fed and happy.
Love these ideas for weeknight dinners? Head to our recipe page to check out what else we're dreaming up in the kitchen!
SHOP THIS EASY AND DELICIOUS WEEKNIGHT DINNER RECIPES FOR BUSY PARENTS POST | CLICK LEFT & RIGHT ARROWS TO EXPLORE

Cover Photo: Cashew Chicken Stir Fry via Joy Food Sunshine