This post contains affiliate links, which means that if you click on one of the product links, I'll receive a small commission. Thank you so much for clicking through and helping to support this little blog business of mine! Read more about our site, privacy, and disclosure policies here.
Rounding up more than 100+ amazing recipes for the Jewish holiday of Passover, including a bunch of go-to, favorite Pesach recipes to make for Seder dinner, including appetizers, side dishes, and desserts, with plenty that works as great leftovers for the holiday week to follow.
The Jewish holiday of Passover (or Pesach) is nearly here. And though we typically keep it low-key because of my husband's work schedule, I still enjoy making a bit of a fuss over the holiday. I love carrying on holiday traditions with my own little family and recipes that have been passed on from generation to generation. Our girls love the celebration of it all and I love the process of cooking and baking for something extra special.
Of course, I've already started to plan the menu for our seder, though I'm still on the hunt for a few fun recipes to add into the mix.
Classics like matzo ball soup and charoset are a must. I also plan on making a big matzoh ball soup and trying out a new salmon recipe, plus our family-favorite mashed potatoes. And we always end with my favorite recipe for Zabar's famous candied matzoh brittle and some kind of honey cake or apple dessert.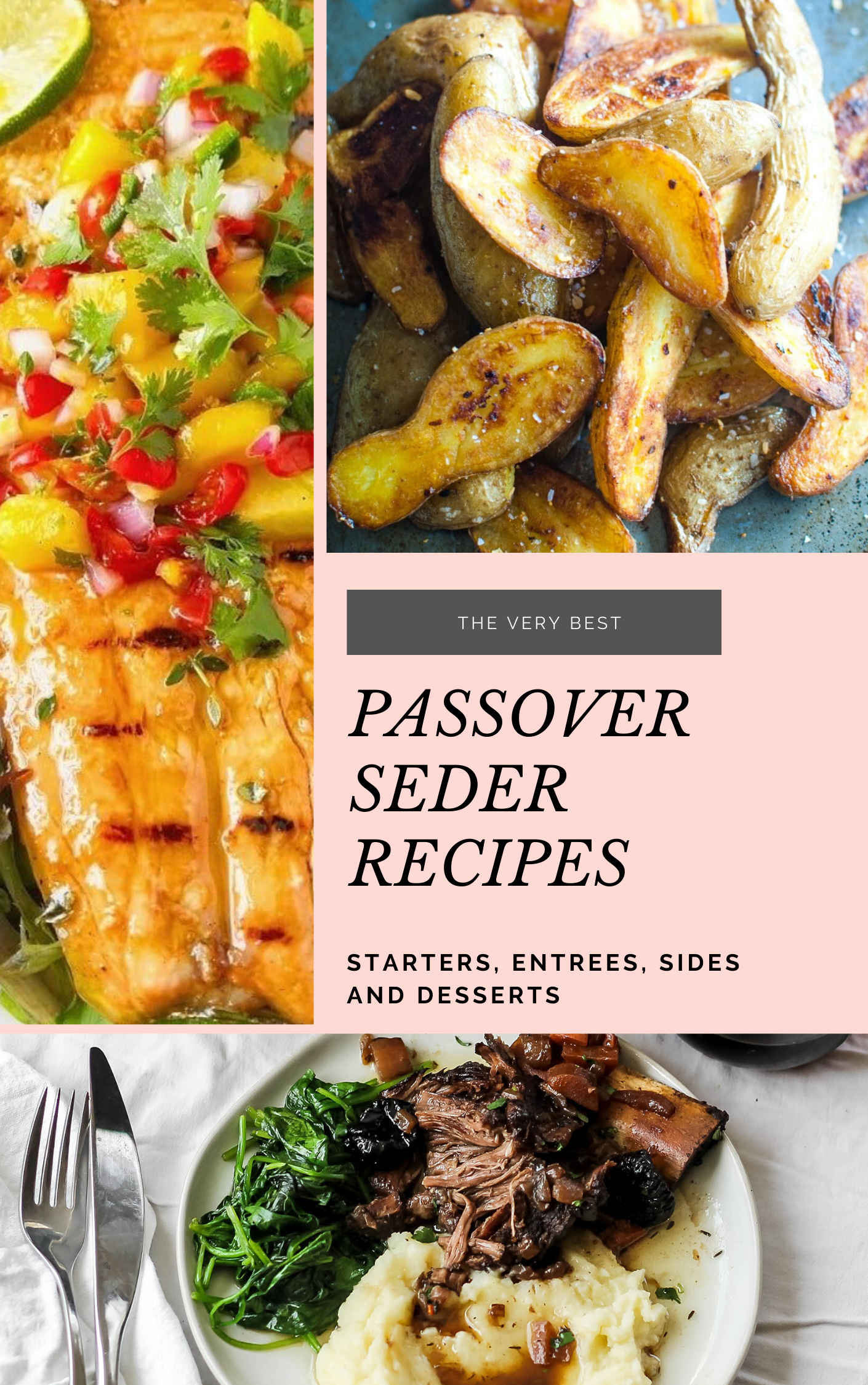 100+ Amazing Passover Seder Recipes
Over the years, I've found so many amazing recipes on my search for great Passover recipes. So I'm sharing a bunch of go-to, favorite Passover recipes to make for Seder dinner, plenty that work as great leftovers for the holiday week to follow.
PASSOVER SEDER STARTERS, SALADS, AND APPETIZERS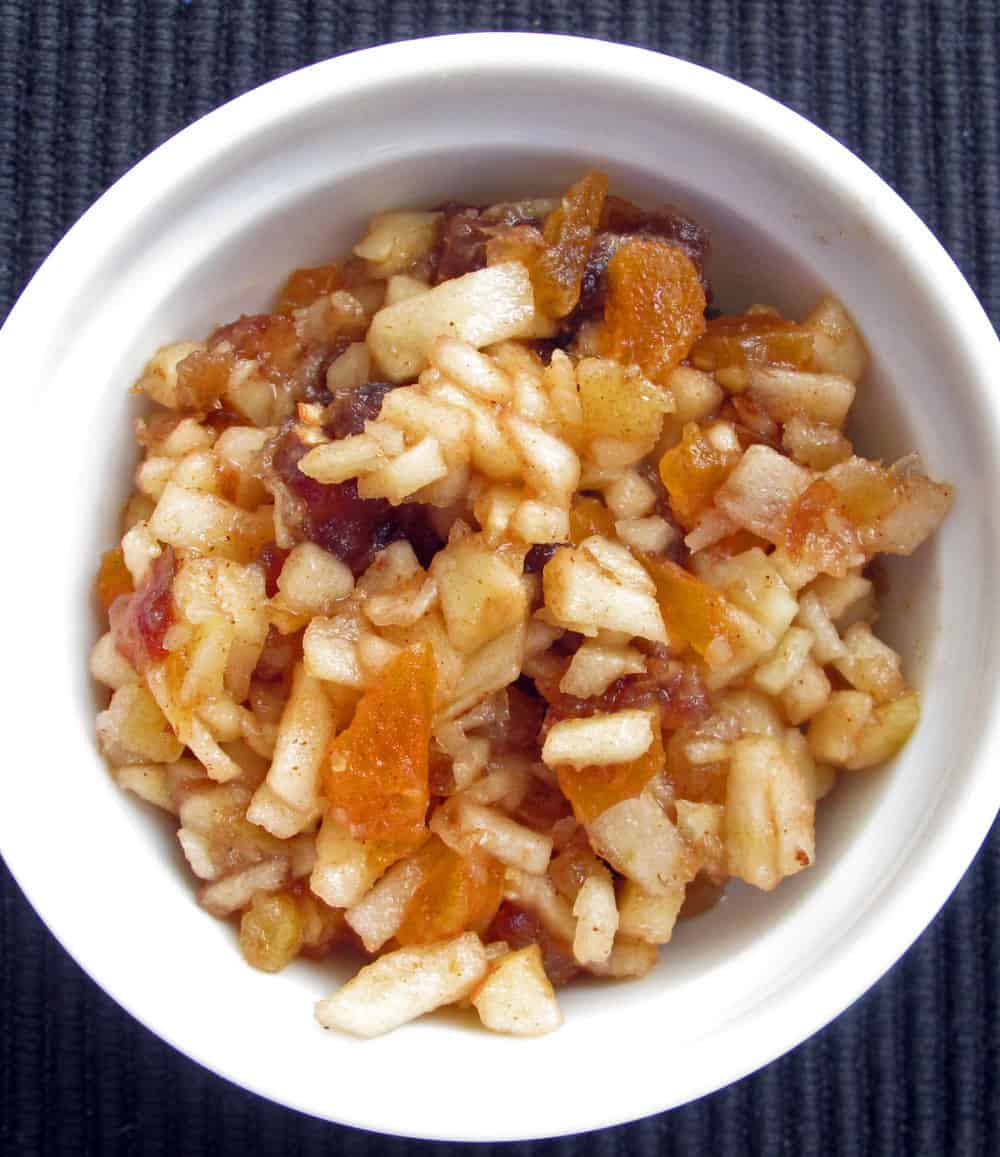 My family has always made an Ashkenazic (Eastern European) version, which is typically diced apples, walnuts and almonds, a bit of sugar and cinnamon, and sweet wine. My mom roasts the nuts before hand for extra flavor.
The other popular version of charoset – date and walnut spread – made with dates and walnuts is another perfect Passover Recipe for your Seder dinner. Easy to make and super delicious spread for matzohs.
This soup is very schmaltzy, full-bodied, and flavorful. (If you prefer a leaner, clearer broth, make the soup a day ahead, chill overnight, then skim the schmaltz from the surface of the soup before reheating.)
This quick salad is a cinch to whip up. Keeps for several days in the fridge and is a real crowd-pleaser.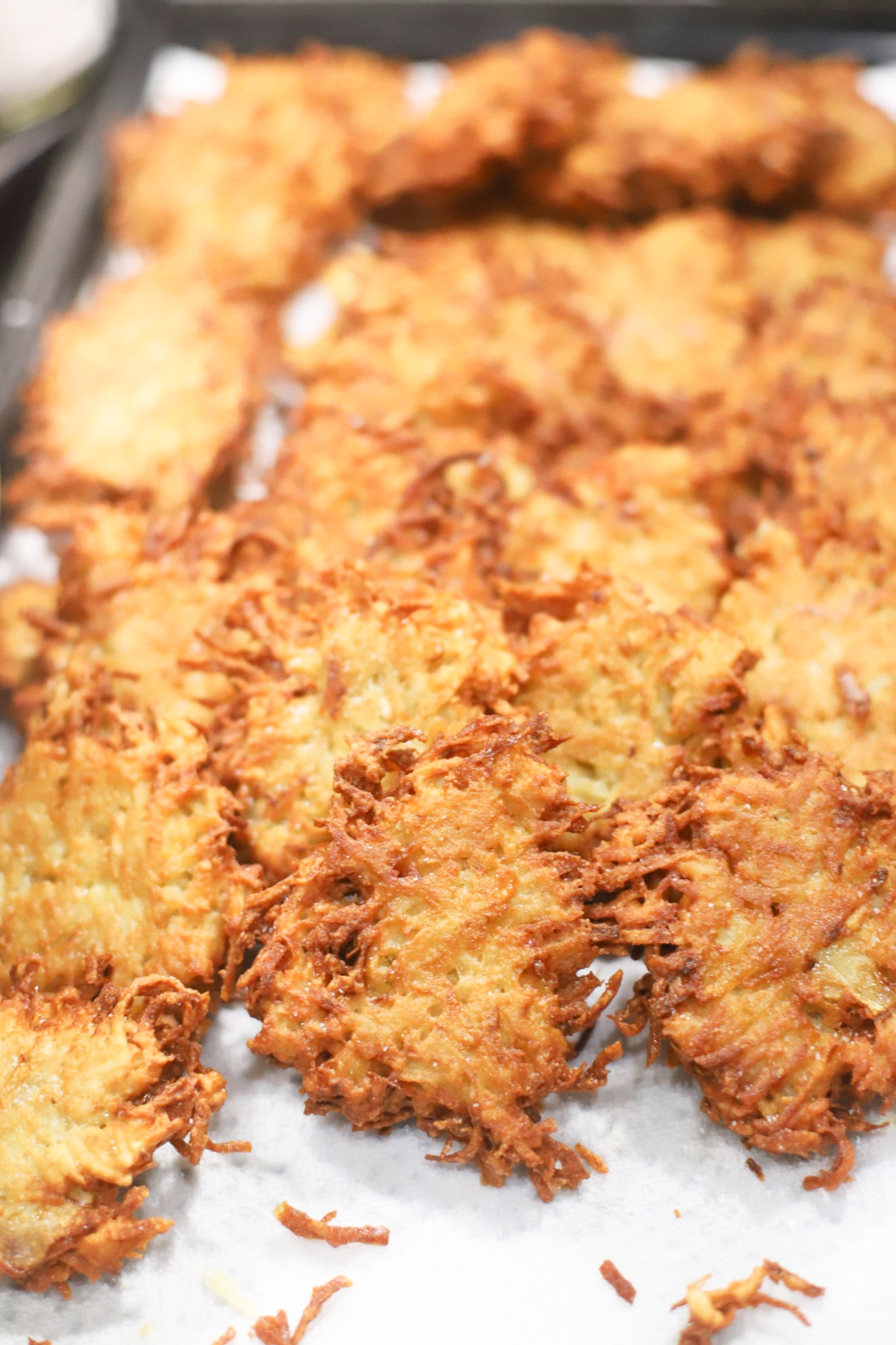 Picture above are my Dad's potato latkes. They are incredible and I will try to get that recipe up ASAP!
Crispy Potato Latkes are not just for Hanukkah. Make them with matzoh meal for the yummiest Passover dish!
While most kugels have cheese, this one uses only eggs to bind. So it can be eaten with meat kosher meals! Both sweet and savory at the same time, this caramel flavored kugel is perfect to complete your Passover meal.
Keep things light and colourful this Passover with this fresh and vibrant Rainbow Quinoa Salad that happens to be vegan as well.
PASSOVER SEDER MAIN DISHES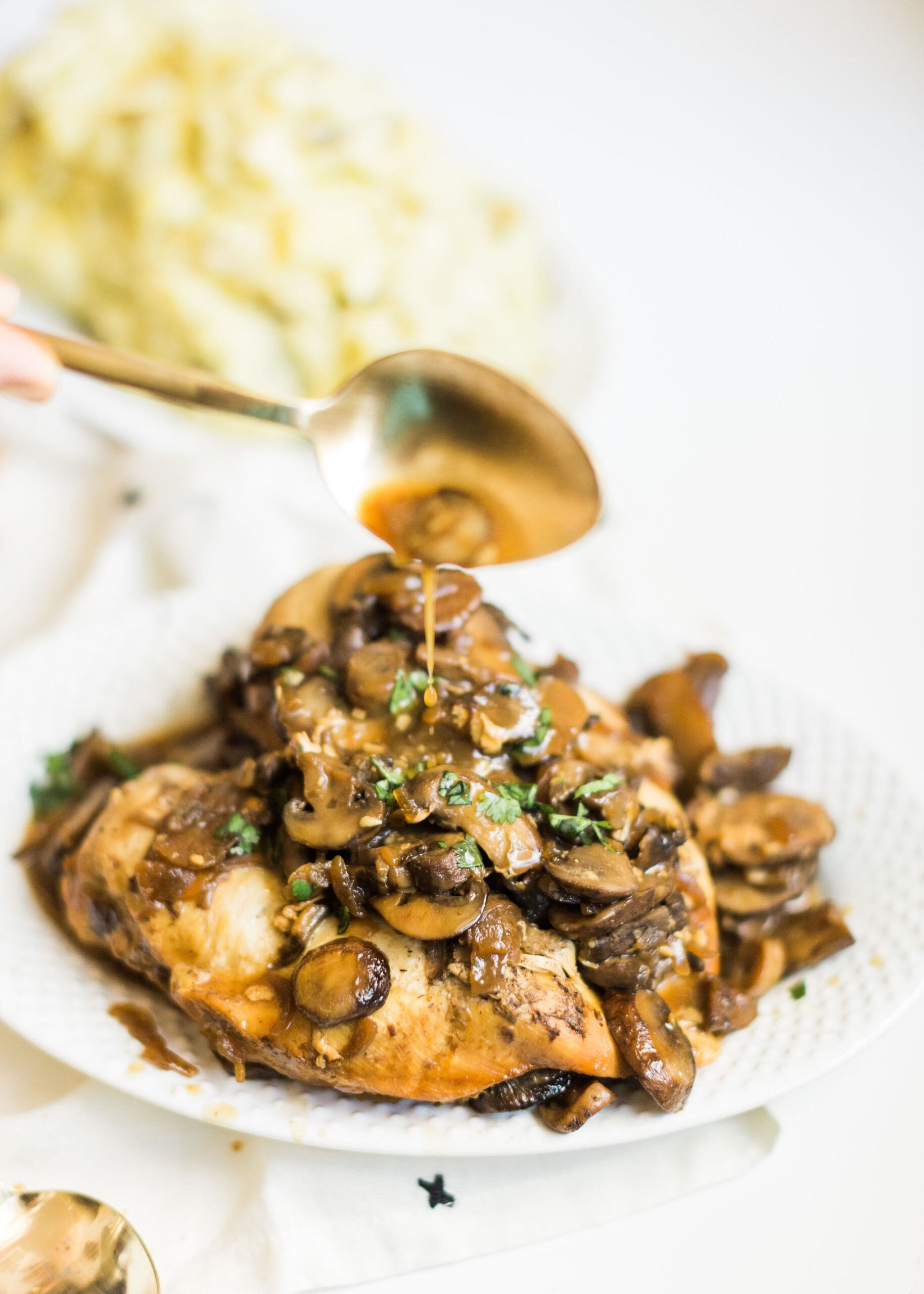 This easy and tender Instant Pot chicken marsala is an explosion of flavor – seared chicken breasts in a rich mushroom and onion gravy – all thrown together in minutes in your crockpot or instant pot – no extra pans required. Serve it with mashed potatoes for a knockout dinner the whole family will love!
Brisket is often the star of a traditional Passover meal. This crowd-pleasing rendition is oven-braised low and slow with red wine and aromatics. Root vegetables like carrots and parsnips cook in the same roasting pan, making this a one-pot meal.
I can now say from first-hand experience that Mamaleh's in Cambridge, MA – known for their Jewish deli classics – is delicious. Their classic brisket recipe is no exception.
This passover pie with sephardic roots uses matzo instead of pie dough. Filled with beef spiced with a bunch of cinnamon and cumin and will make your house smell better than thanksgiving. The fatty juices from the meat soak into the matzo and the result is a total crowd-pleaser.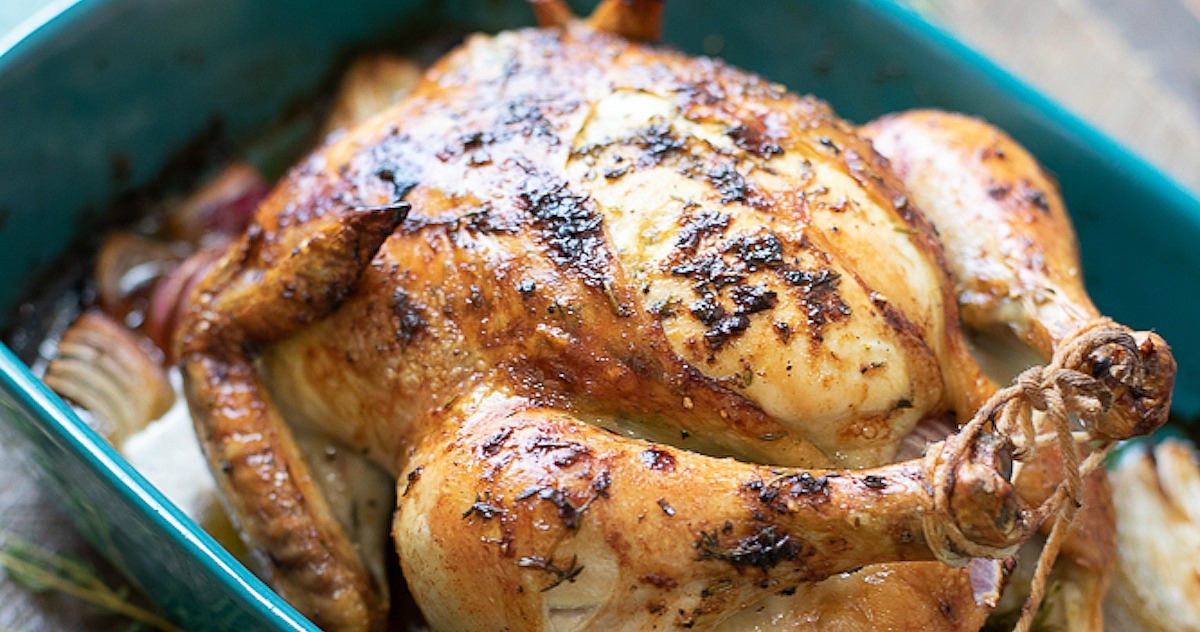 This roast chicken is always a hit, and makes your house smell heavenly while it cooks! It's especially perfect for the holidays.
This easy five ingredient baked salmon is going to be your weeknight go-to salmon recipe. The glaze is the perfect balance of spicy and sweet.
Honestly, schnitzel works for a great dinner all year long. But this particular schnitzel recipe is made special for Passover. So good served with a salad.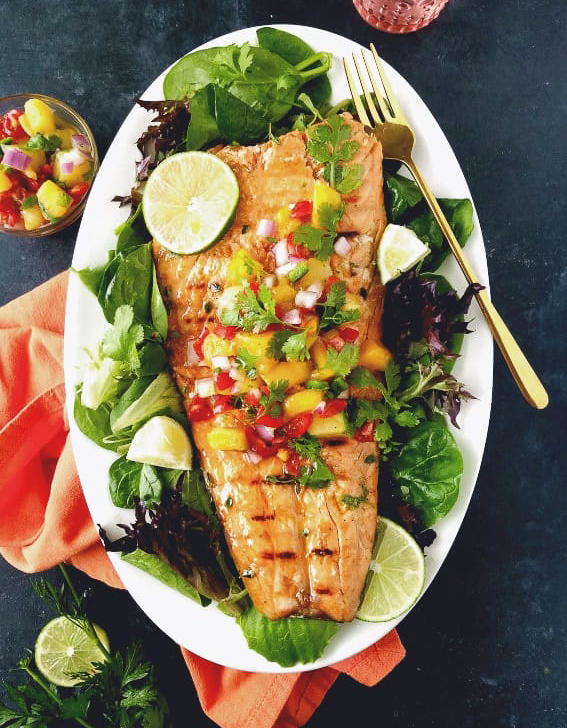 A healthy fish recipe perfect that is easy and quick to make using a few ingredients. It is perfect to celebrate Passover!
Mushroom bourguignon is a rich and hearty vegan dish of fresh vegetables and aromatic herbs simmered in a red wine sauce. Serve with garlic mash for a perfect Pesach dinner.
A hotdish is a casserole that contains meat, vegetables, and a starch. All held together by creamed soup and baked until hot. The one-pan meal is an upper Midwestern specialty. It's great when you're feeding a big group. This version features the star of practically every Jewish holiday feast—braised brisket—and potato tots, which may be the most popular hotdish topping.
Roasted to perfection and served over crispy potatoes, this roast chicken dish is totally perfect.
A sweet and savory main dish for a Passover seder or any time you want something decadently delicious for dinner.
Bonus points for a weeknight-friendly recipe like this that's also pretty enough to serve as a meatless holiday main.
PASSOVER SEDER SIDE DISHES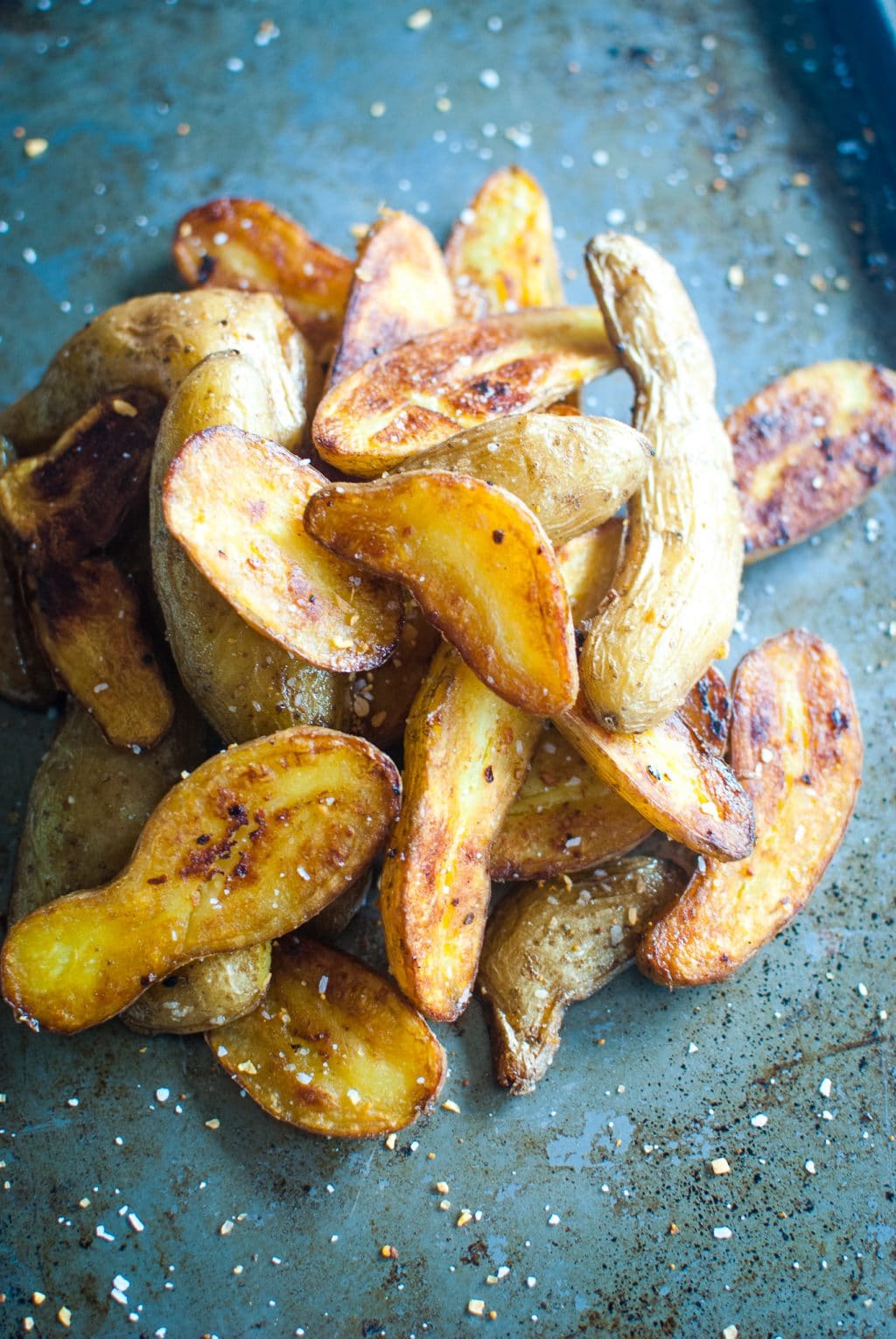 Sheet Pan Roasted Fingerling Potatoes are what every fall table needs as a side dish. Deliciously simple, extra crispy, and super easy to prepare!
One of my favorite side dishes: Sautéed Brussels Sprouts. This dish is sure to win over everyone at the table and be an instant hit on holidays.
Sheila Lukins and Julee Rosso's mashed potatoes have a cult following, though it's unclear whether this is due to their ease, their make-ahead friendliness, or the three kinds of dairy (butter, sour cream, and cream cheese).
(By the way, his recipe uses cream cheese to give the potatoes that extra richness, mayonnaise also works really well here.)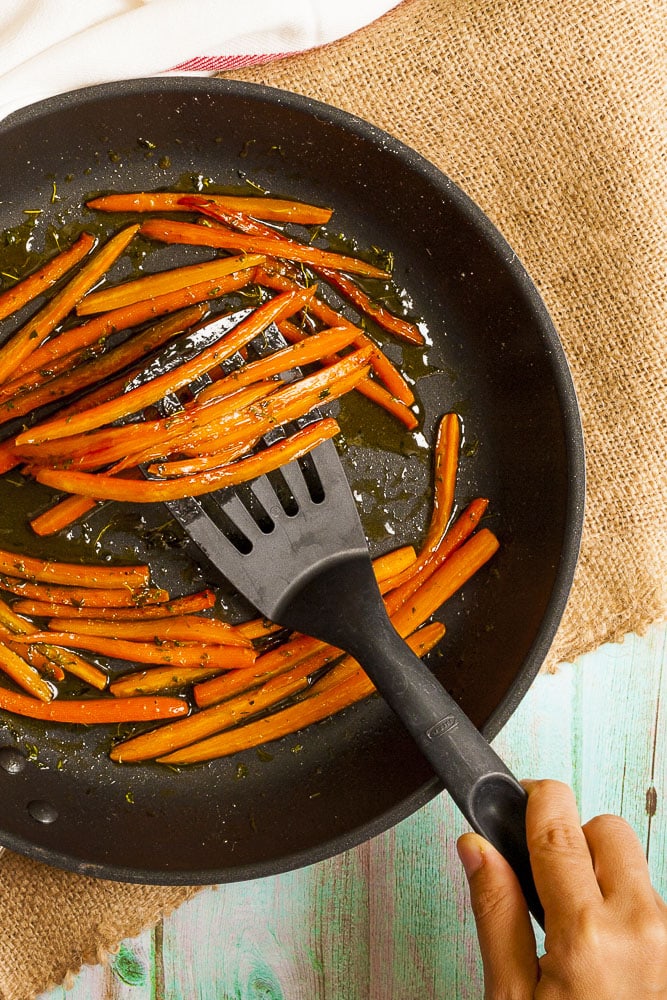 Sauteed carrots in Maple Thyme Glaze is a real crowd-pleaser not just among adults, but among kids as well. They can be such an elegant and delicious side dish to add to your dinner or holiday menu. They are easy to prepare and fit in most diets.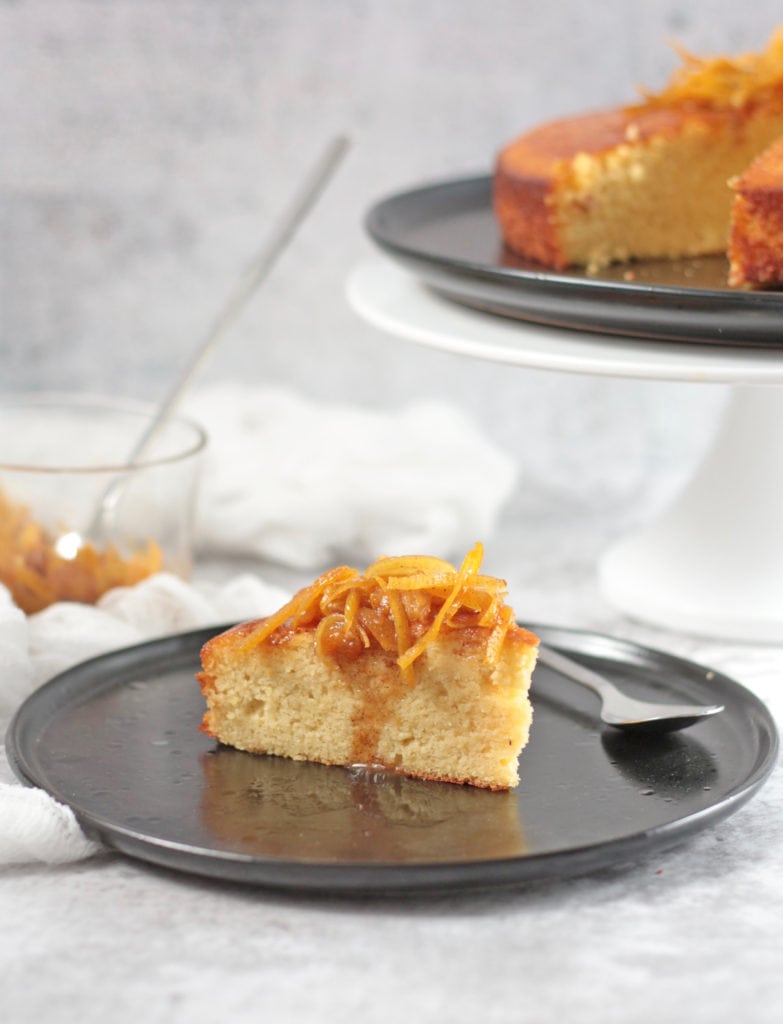 This Dairy Free Flourless Orange Cake with Almonds is the most delicious, light and moist gluten free cake. Made from scratch with fresh ingredients, it is the perfect Passover Cake recipe. Or simply a great flourless cake to enjoy every day of the year!
This super yummy cookie cake is simple to make in one bowl. Turns out chewy, delicious, and satisfying with notes of marzipan. Yum!
This Paleo Apple Cake is a beautiful and delicious gluten free cake. Made with almond flour and fresh apples, it is an excellent addition to your Passover Seder.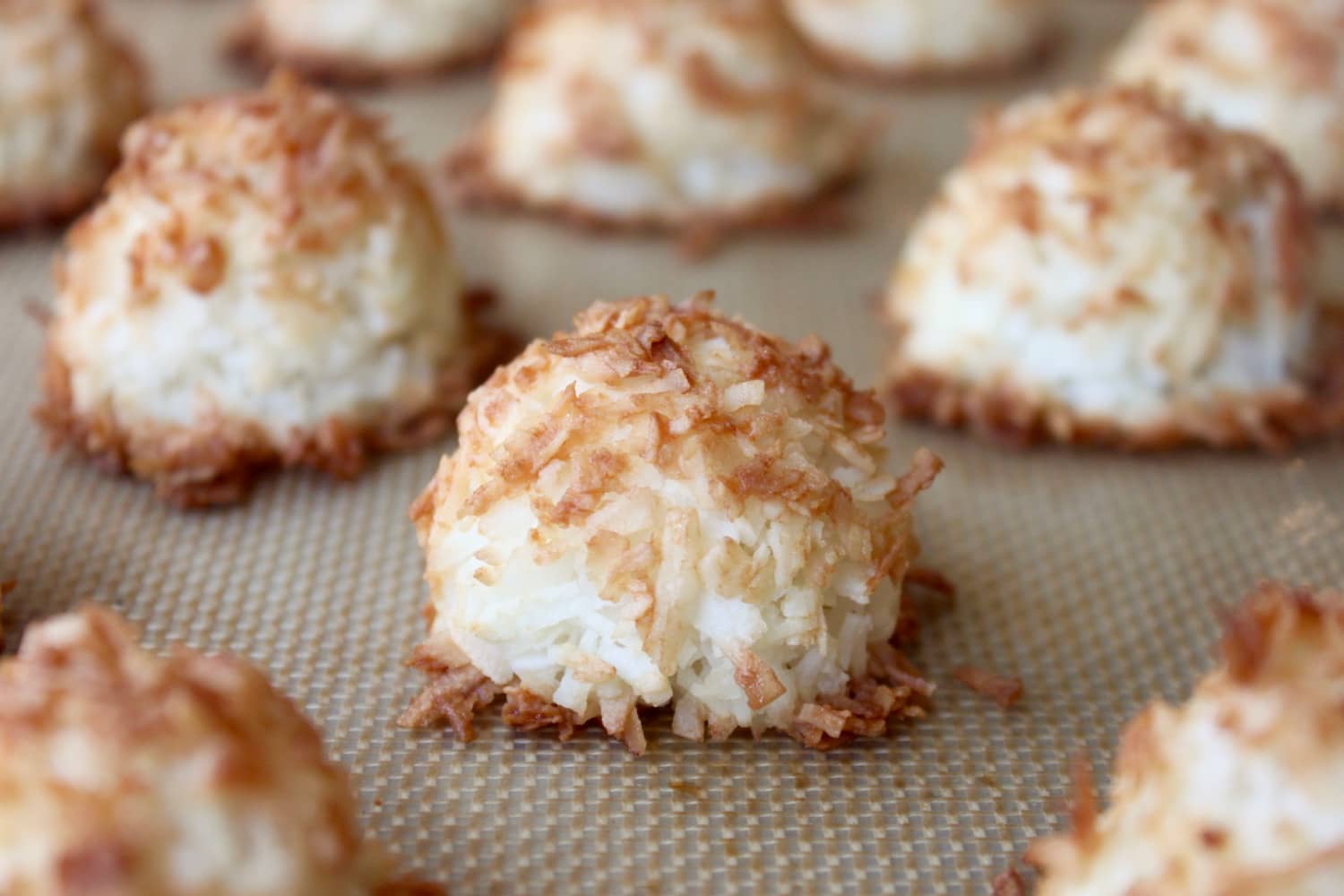 Paleo Coconut Macaroons are an easy, healthy Passover dessert. Made with just three ingredients, they are especially delicious dipped in dark chocolate.
If you love these classic cookies, you'll especially love your favorite tri-colored cookie made kosher-for-Passover.
This Passover treat is positively decadent. Not only is Zabar's Candied Matzoh Brittle is insanely addictive and delicious, it also happens to freeze and store really well, and you can easily make it ahead of time. Winning!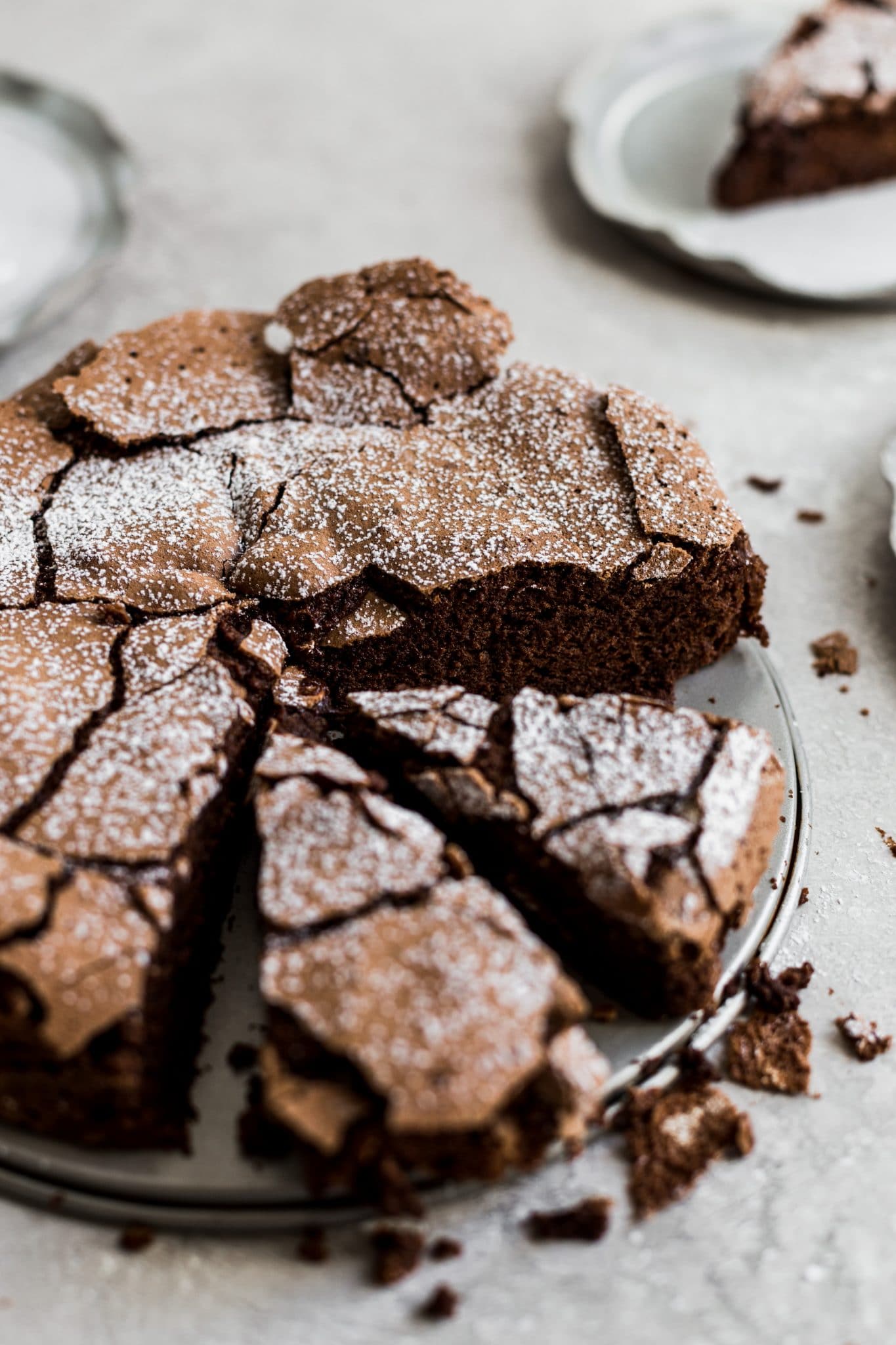 This flourless chocolate cake recipe has only 5 ingredients! Even without the flour it is still fluffy, spongey, and delicious. It's almost like magic. Perfect for passover or if you need a gluten free chocolate cake, this is the cake recipe you want.
A delicious and moist flourless orange almond cake made with whole oranges and almond meal! A simple gluten-free dessert that everyone will love.
Apple Meringue is the simplest and easiest of puddings to make! Soft pillowy meringue sits aloft a bed of stewed apples which contrast beautifully with the sweetness of the meringue!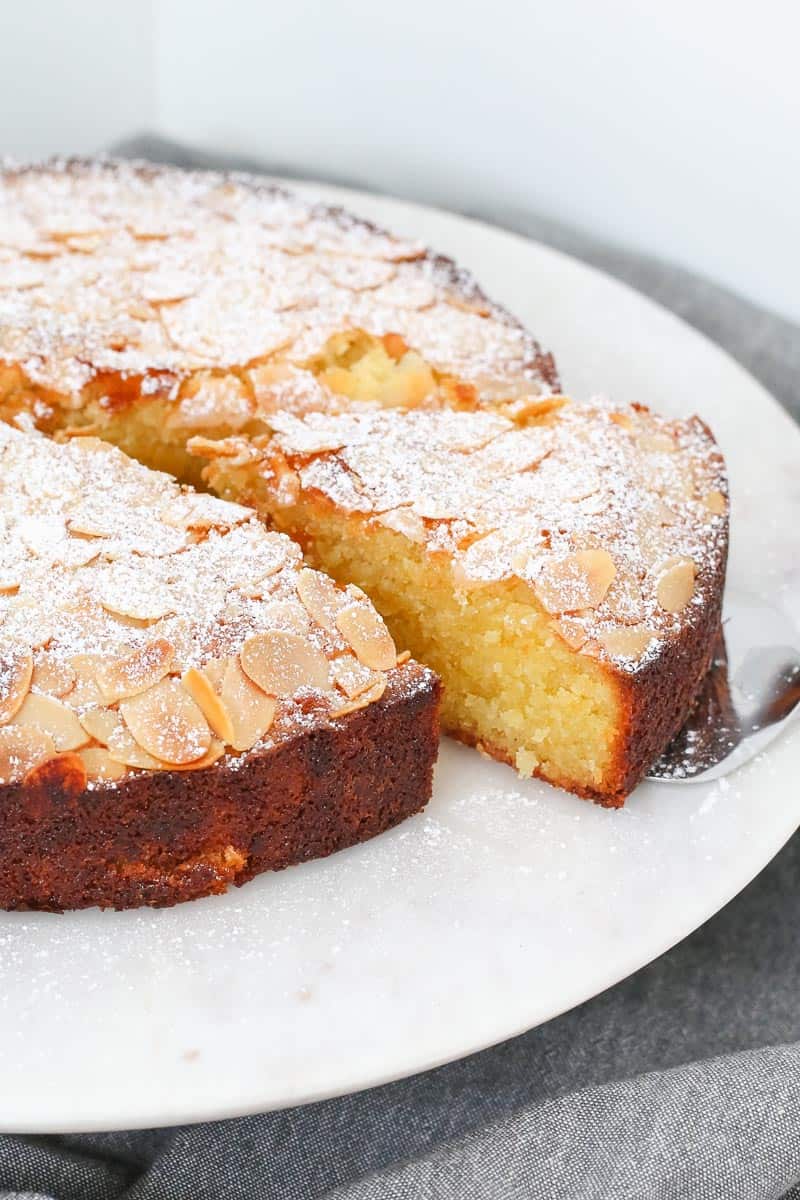 The easiest gluten-free almond and coconut cake recipe that takes just 10 minutes to prepare… and tastes AMAZING!
This super easy 3 ingredient flourless chocolate cake with chocolate ganache is a chocoholics dream. It's rich, moist and oh-so decadent.
This easy chocolate mousse recipe is super rich in flavor and of course it's all about the chocolate. So come on all you chocolate lovers. Time for some chocolate mousse, you'll love how easy it is to make this one!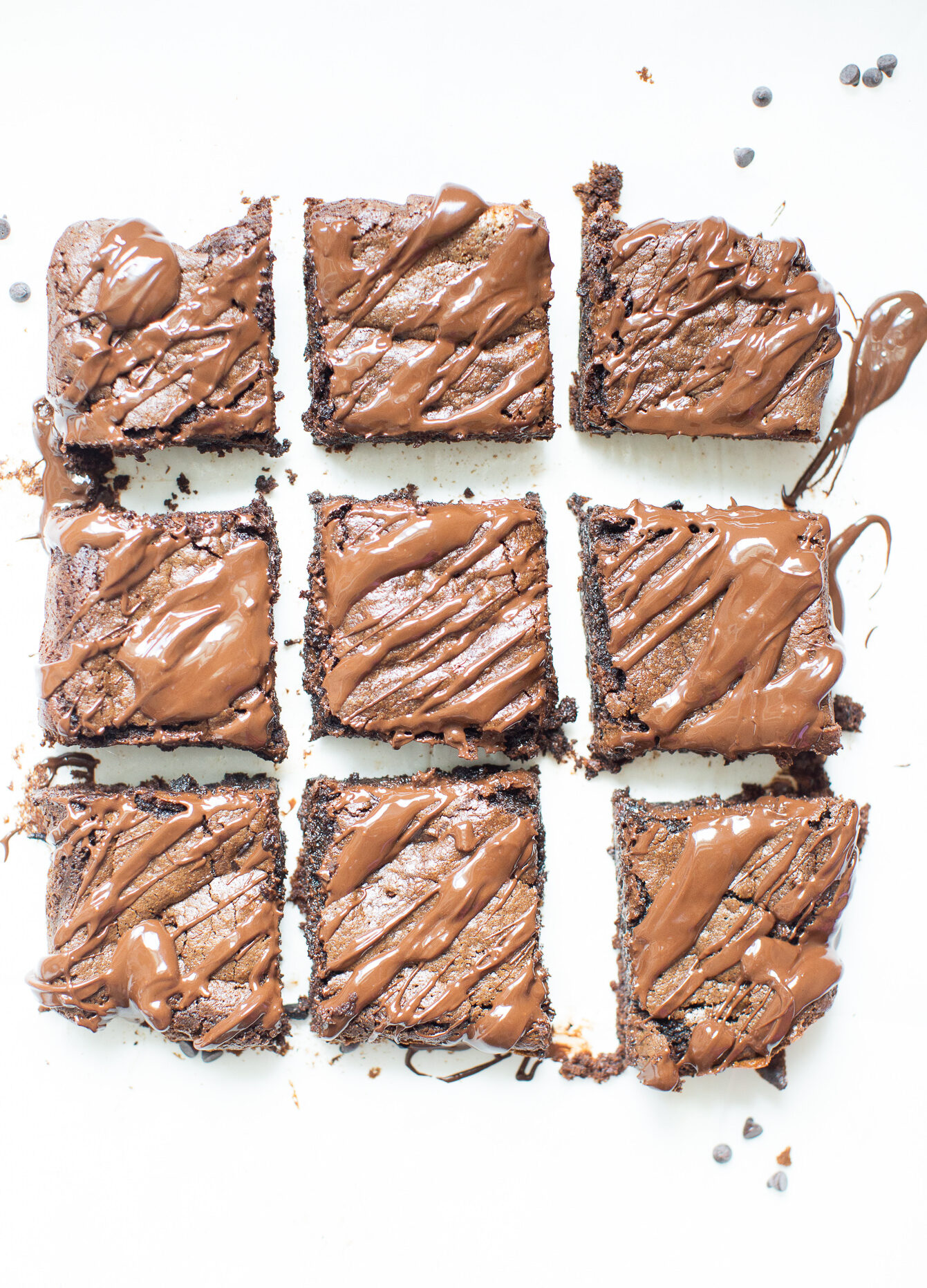 If you've been searching for a paleo, dairy-free, gluten-free and grain-free dessert to satisfy your sweet tooth, then look no further than these magical fudgy tahini brownies. They are totally incredible and totally guilt-free!
This simple and family-friendly holiday classic is back with an update! Just like the childhood classic you remember, these paleo and gluten free snickerdoodles are sweet, chewy, and utterly irresistible!
Martha Stewart's Chocolate Passover Cookies are a staple over the Passover holiday. The secret to making these unleavened chocolate cookies that are chewy and light is beaten egg whites until fluffy folded into the chocolate batter (plus chocolate chips, of course.)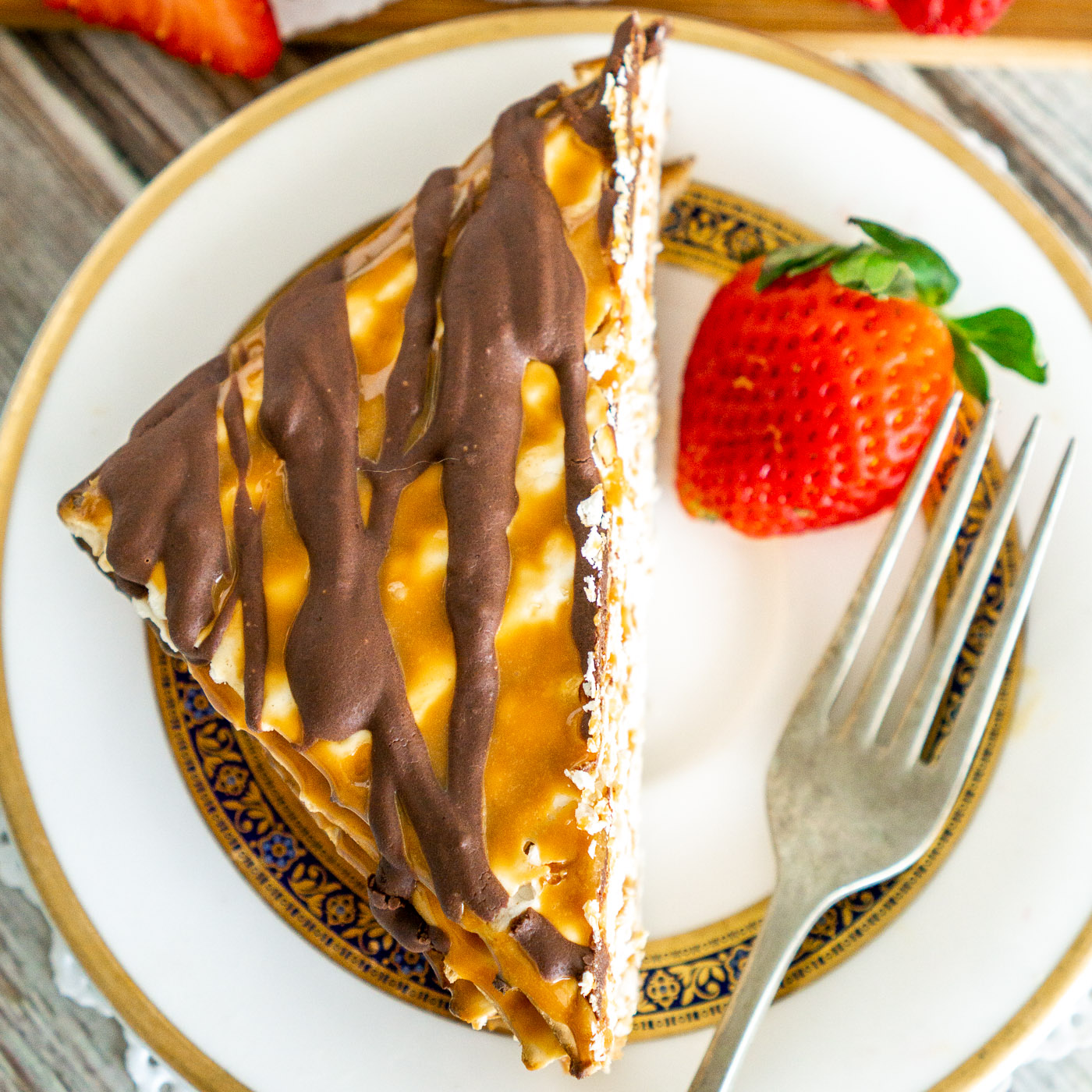 This easy Passover dessert has just 3 ingredients and takes 15 minutes to prepare. Layers of crispy matzo, rich and sweet dulce de leche. And a generous drizzle of chocolate on top makes an AMAZING matzo dessert.
Apples and cinnamon are a match made in heaven in this light and fluffy Passover cake. This Kosher for Passover cake is one you will actually want to eat.
Say hello to the very best peanut butter cookies around. And don't let the three-ingredient thing fool you. This is the way to make the perfect peanut butter cookies.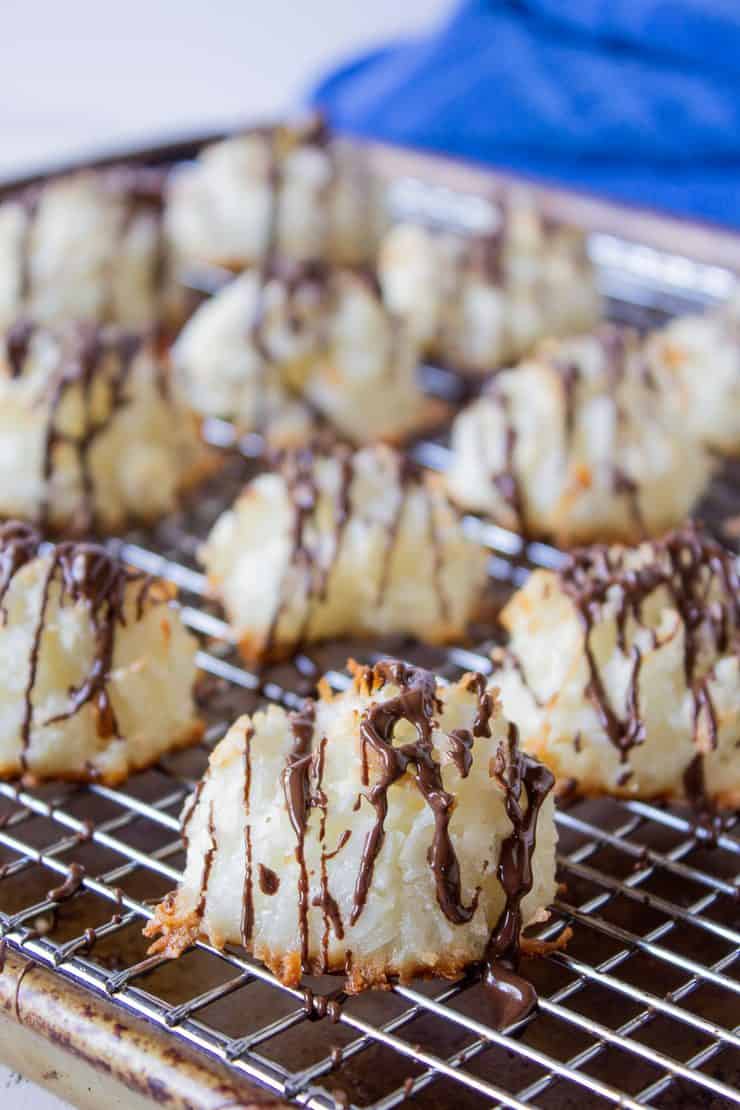 Coconut Macaroons are a gluten free cookie with a drizzle of chocolate. These delicious cookies are made with shredded coconut, egg whites and sugar. They are chewy on the inside and golden brown on the outside with just enough chocolate to make everything extra delicious.
These addictive fudgy Chickpea Flour Gluten-Free Brownies are easy to make using just one bowl! This gluten-free brownie recipe is grain-free, nut-free, refined sugar-free and vegan too! These gluten-free brownies also feature two surprise ingredients.
Flourless Orange and Almond Cakes are a great gluten-free dessert option. These orange almond cupcakes are light and moist with just the right amount of sweetness. Serve as is, or sprinkle some icing or powdered sugar on top.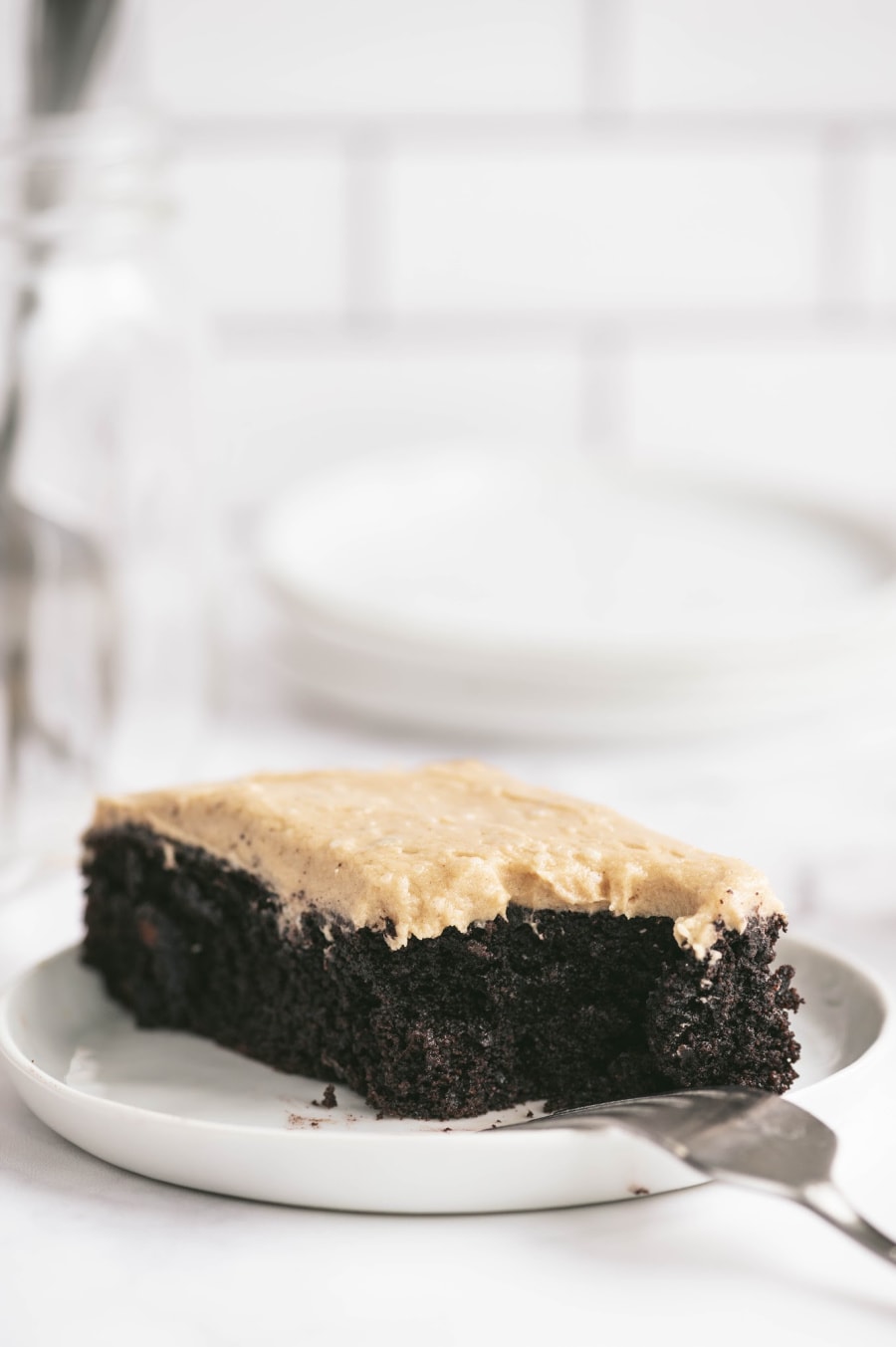 This Gluten Free Chocolate Cake with Peanut Butter Frosting is made with clean ingredients. A healthier alternative to traditional boxed cake mix. This almond flour based cake is dairy free, paleo, refined sugar free and grain free, too!
This moist Blood Orange Almond Flourless Cake is delicious and easy to make. The perfect Spring dessert to enjoy with tea and coffee. It's gluten free too.
Tiramusu for Passover! An indulgent dessert combining a light hazelnut sponge with clouds of whipped mascarpone cream, coffee and a thick dusting of cocoa powder.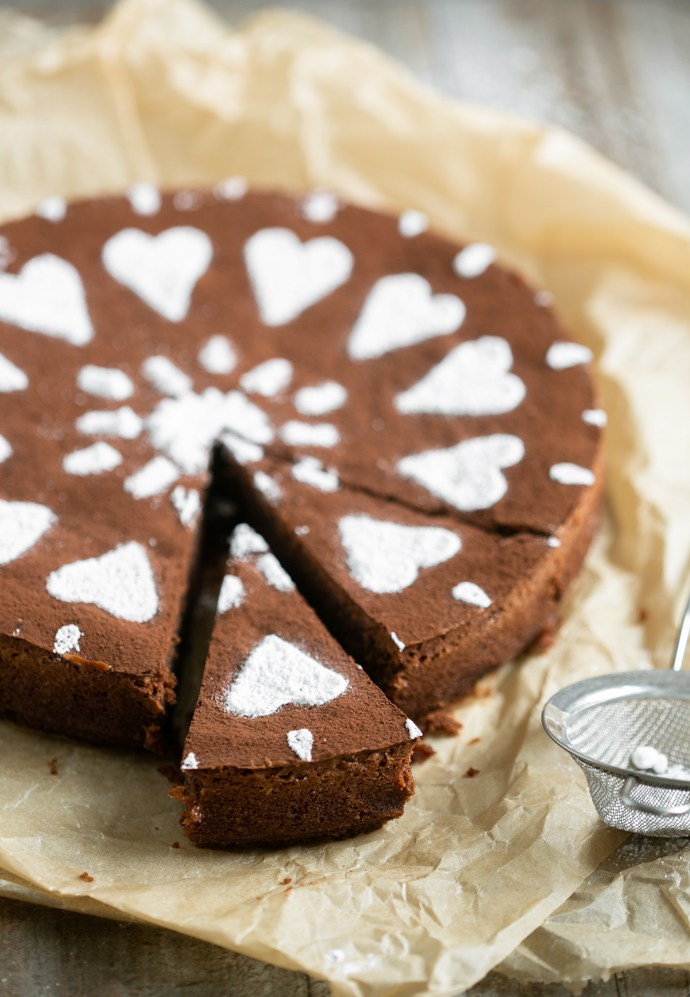 Italian Caprese cake is the BEST gluten-free chocolate cake ever created! Fudgy, rich and incredibly easy to make with simple ingredients.
These bright and delicious lemon bars are sure to put a smile on your face! Plus, they're totally gluten-free.
Super Fudgy Gluten-Free Date Brownies contain no added sugar and only require a food processor to make. They're the perfect healthy dessert that's ready in 30 minutes!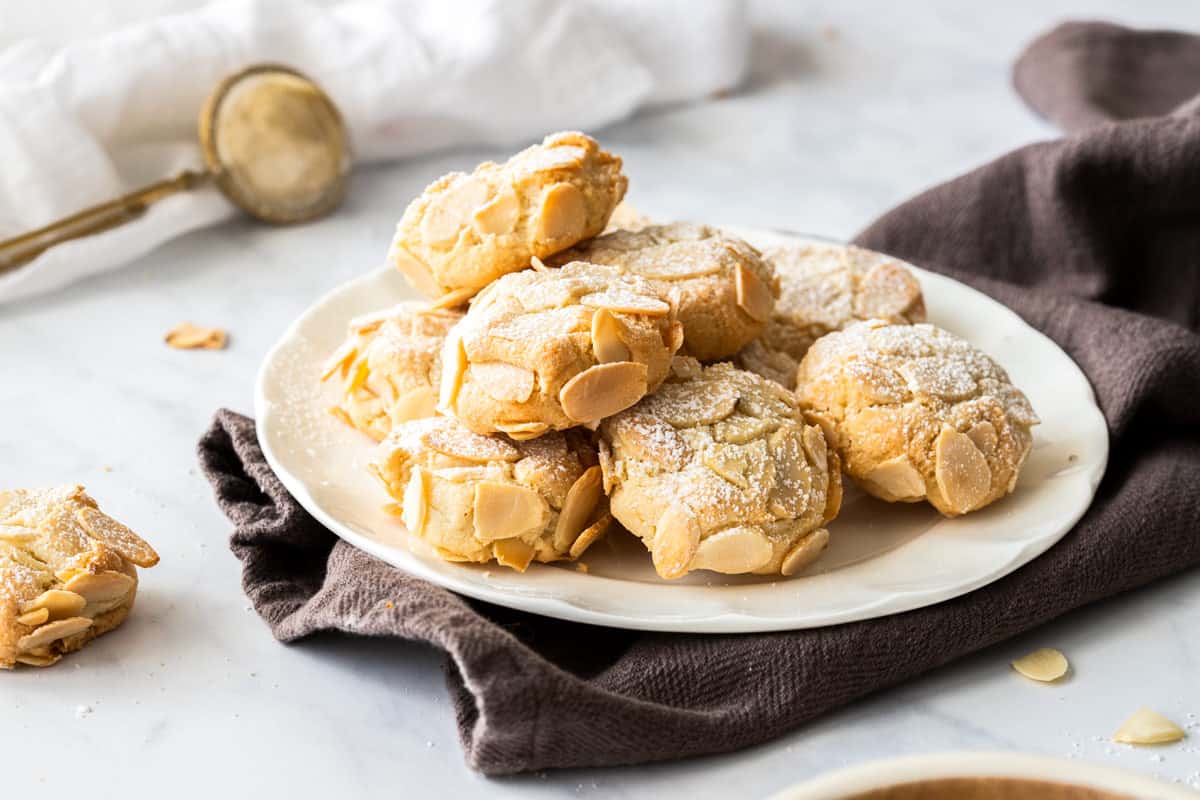 These Almond Cookies are an easy and delicious recipe to make. And best of all, they are both gluten-free and dairy-free.
These decadent flourless brownies are made with dark chocolate, which creates the most incredible gluten free brownies you've ever had! They are easy to make with just a handful of ingredients and are so rich and flavorful.
Learn how to make the best, soft, and chewy Almond Flour Chocolate Chip Cookies with this quick and easy recipe. A simple list of ingredients mixes together in minutes with no chilling required!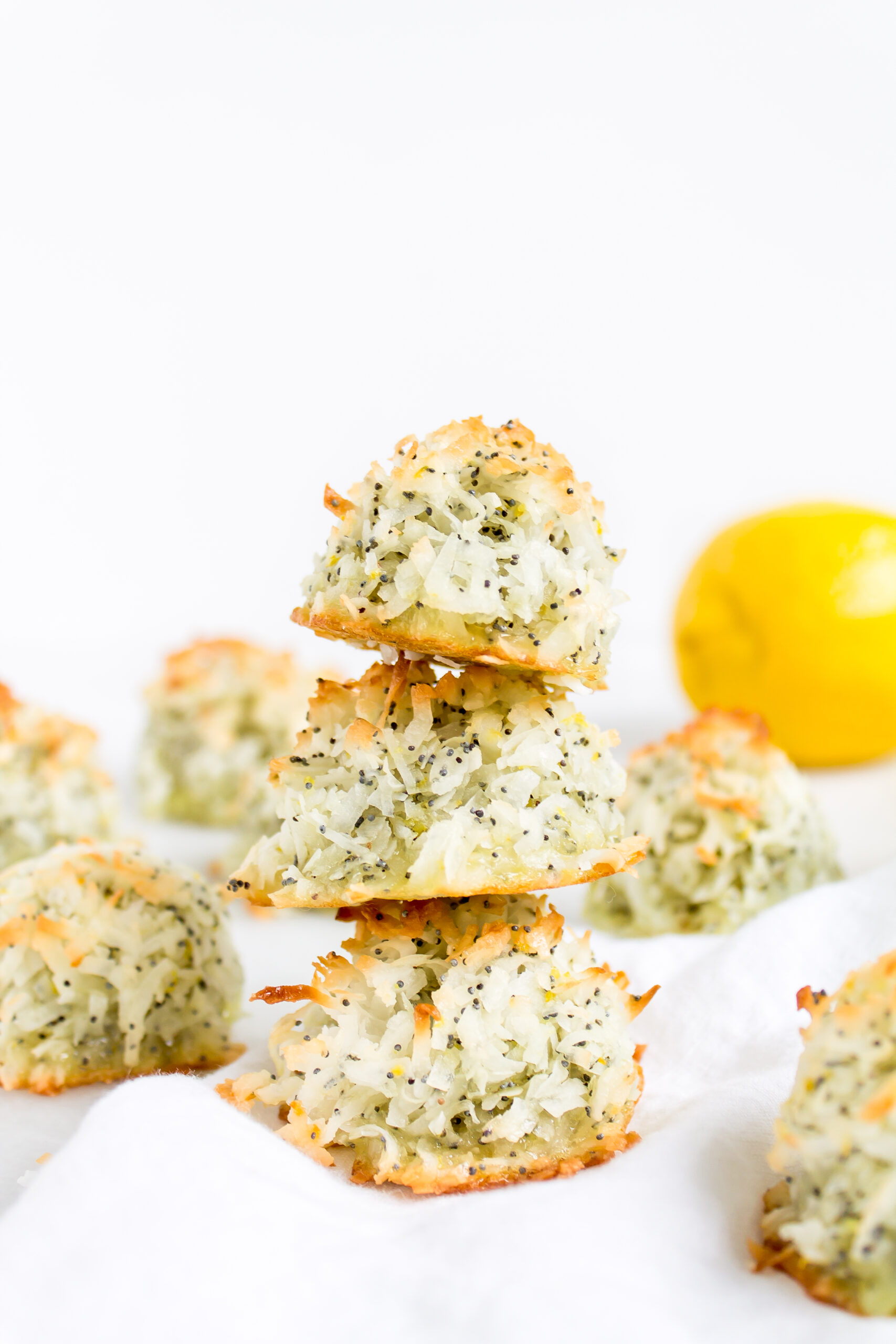 Looking for a delicious flourless cookie? Look no further than our unique, and delicious, lemon poppyseed coconut macaroons recipe.
This is a cake version of the chocolate-dipped coconut macaroons that are a Passover staple.
These blondies are gluten free, flourless, and delicious. These are almond butter blondies. And darn good almond butter blondies at that.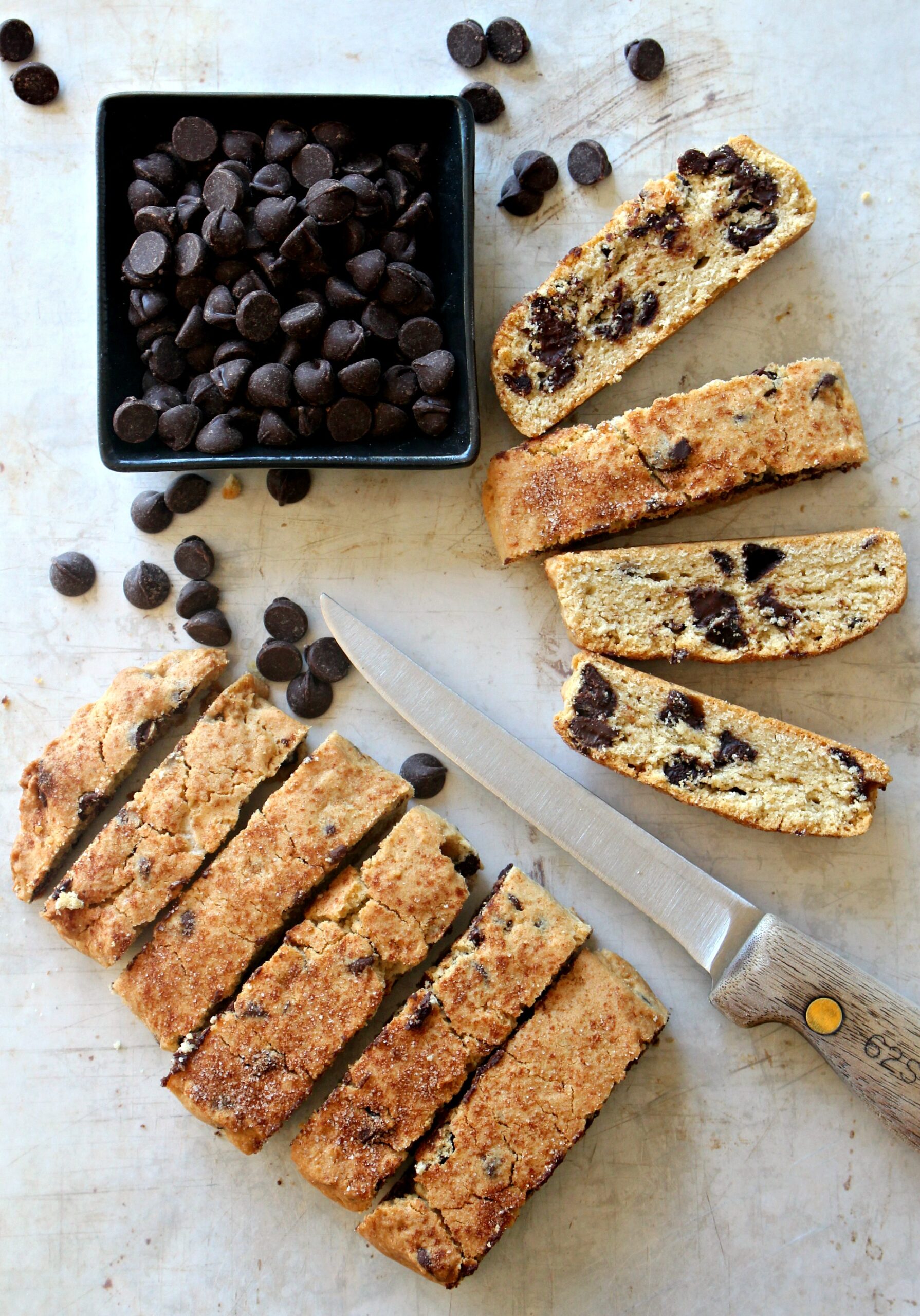 The recipe for The World's Best Passover Chocolate Chip Mandel Bread has been requested by everyone who has ever tried it! Mandel bread is a traditional Jewish cookie, related historically to the Italian biscotti, mandel bread (also known as mandelbrot or kamishbrot) is melt-in-your-mouth chocolate chip cookie that is more than slightly addicting!
Icebox matzo cake is an easy no bake dessert to serve during Passover Seder. Combine layers or matzos dipped in wine and top with chocolate icing.
Macarons are the ultimate coconut cookie. Slight crispness on the outside giving way to moist, chewy coconut inside. These particular balls of macaroon deliciousness are speckled with chopped dried apricot and cranberries. Then dipped in dark chocolate.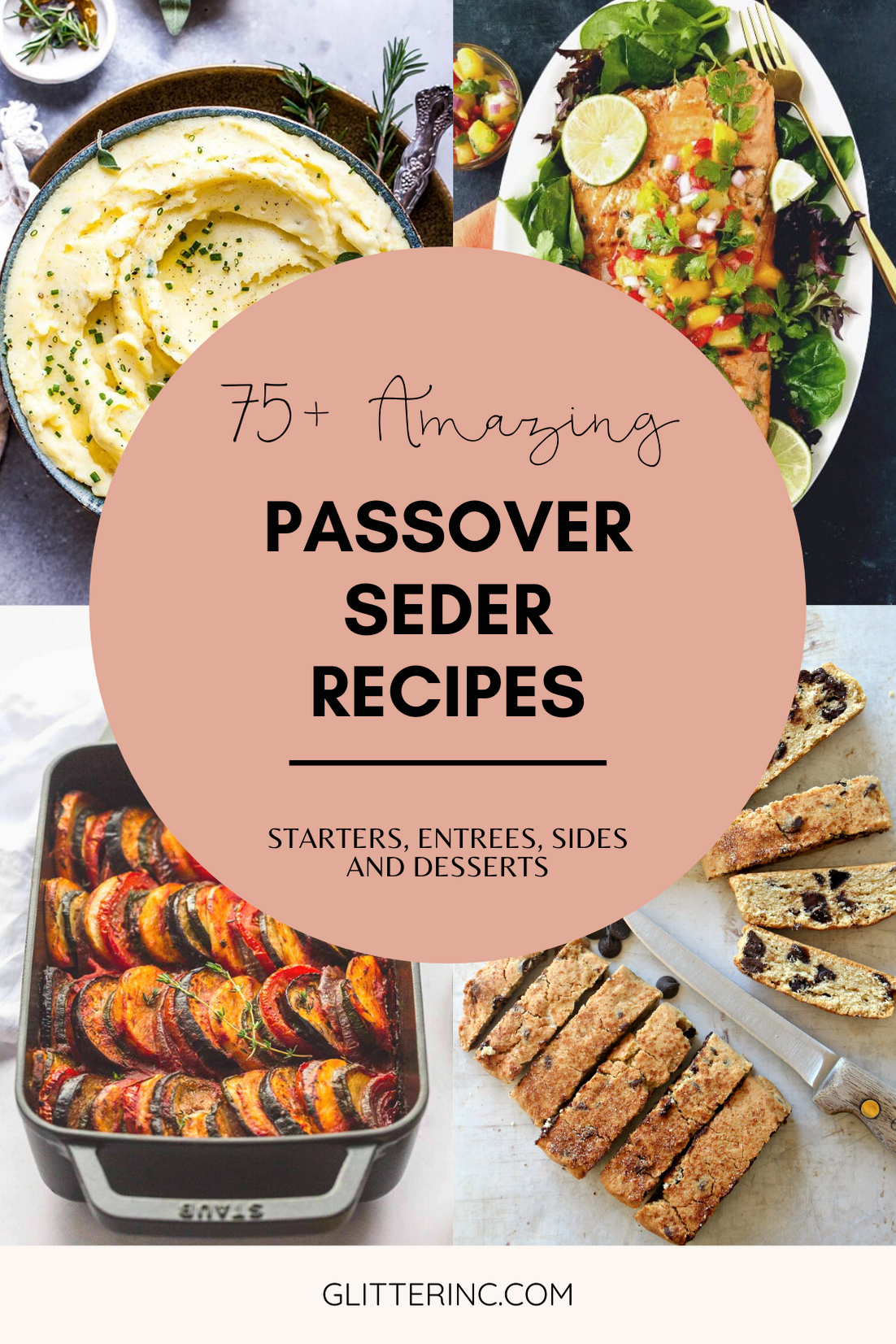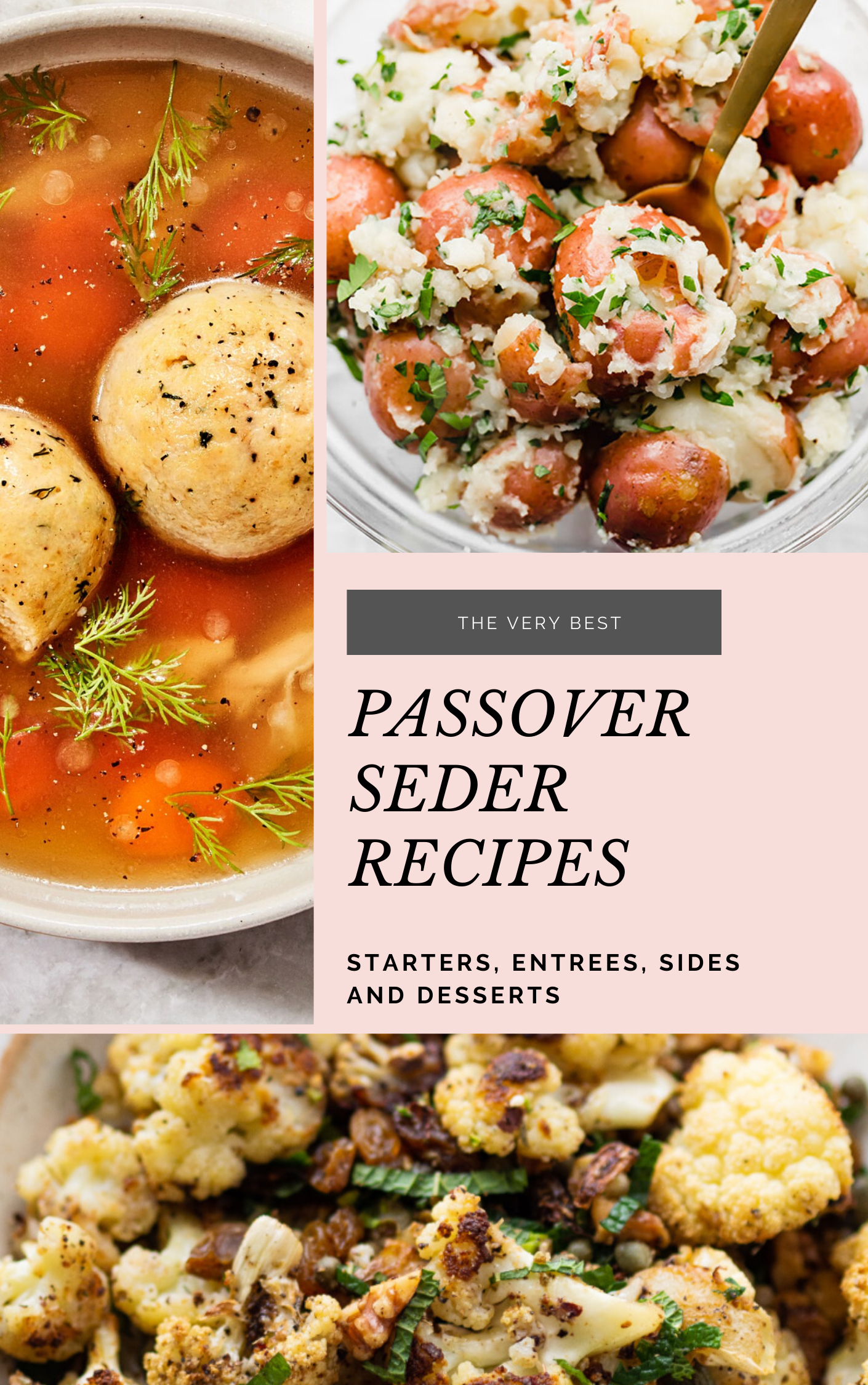 SHOP THE PASSOVER SEDER RECIPES POST | CLICK LEFT & RIGHT ARROWS TO EXPLORE

What are your favorite Passover seder recipes? Do you have any family favorite recipes passed on from generation to generation?
Be sure to head to our recipe page to check out what else we're dreaming up in the kitchen. If you make any delicious Passover recipes this year, tag me on social media (@glitterinclexi) so I can live vicariously through all of your delicious creations! Seriously, send those pictures my way!!