This post contains affiliate links, which means that if you click on one of the product links, I'll receive a small commission. Thank you so much for clicking through and helping to support this little blog business of mine! Read more about our site, privacy, and disclosure policies here.
Happy first day of fall, ya'll! In celebration of fall, we're making soup. Soup is one of the ultimate comfort foods, especially when topped with tons of melted cheese (French Onion, Broccoli Cheddar, Loaded Baked Potato – to name a few favorites.) These soups are known for being creamy and rich … and sadly, not so healthy. So when I came across the idea for a "healthified" version of one of my favorites – loaded baked potato soup (using cauliflower instead of potatoes), I knew I had to give it a try. Healthy loaded potato soup? What's not to love? Plus, this soup is perfect for fall (and winter), and with temperatures finally starting to drop, soup is on the menu.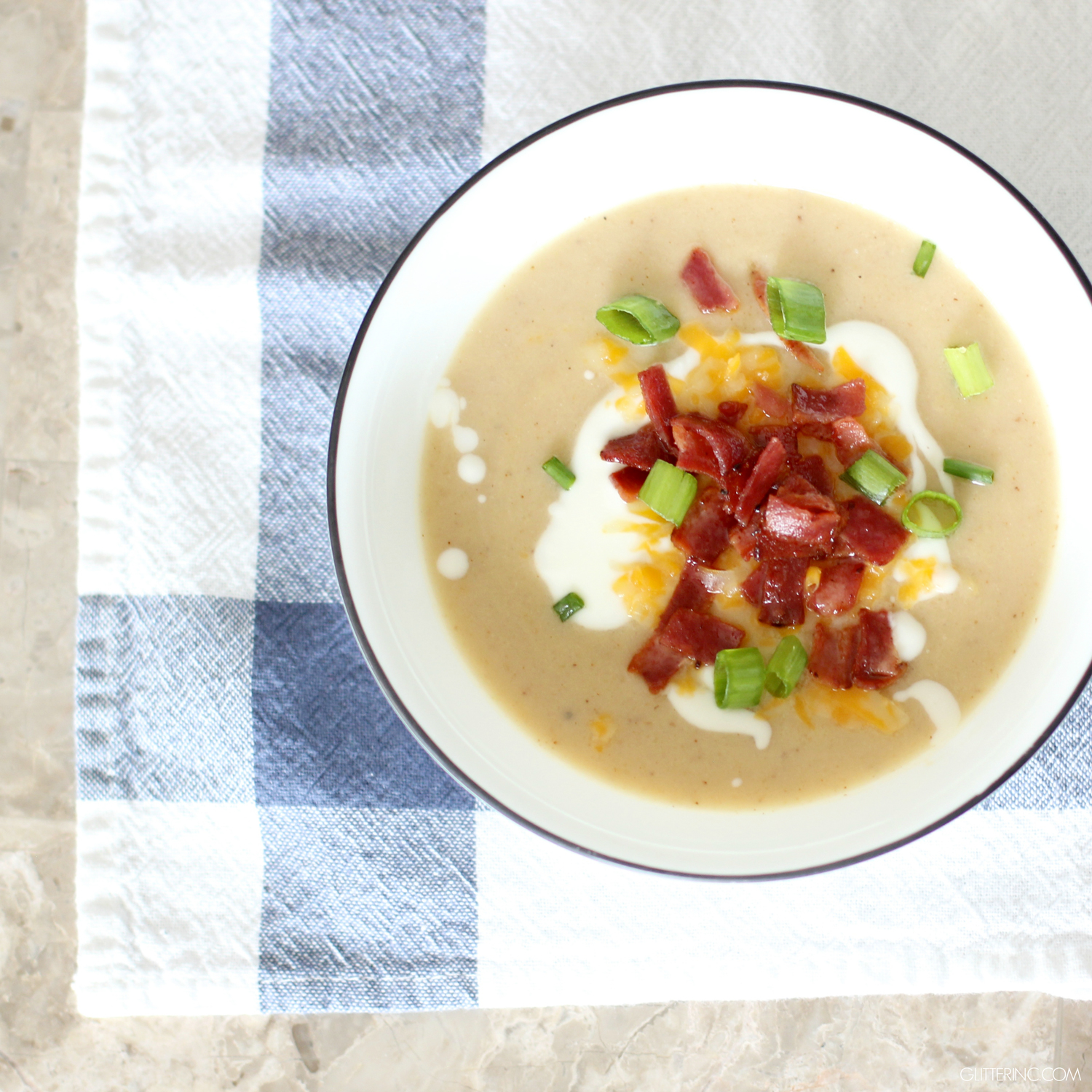 This low-carb loaded cauliflower soup is a lighter – yet arguably just as delicious – spin on traditional "Loaded Baked Potato Soup." It's all of the things you (and I) love about the original – covered in crispy bacon, gooey cheese, sour cream, and green onions. However, there's one big difference – it uses cauliflower as a substitute for potatoes!
Cauliflower is often overlooked for being slightly flavorless, but it's such a versatile ingredient. It's a blank canvas that can transform into so many different dishes, based on the flavors you add to it. Not to mention, it's so much easier to prep and cook than a potato. With all of these benefits, I guarantee Loaded Cauliflower Soup will become a go-to weeknight dinner in no time.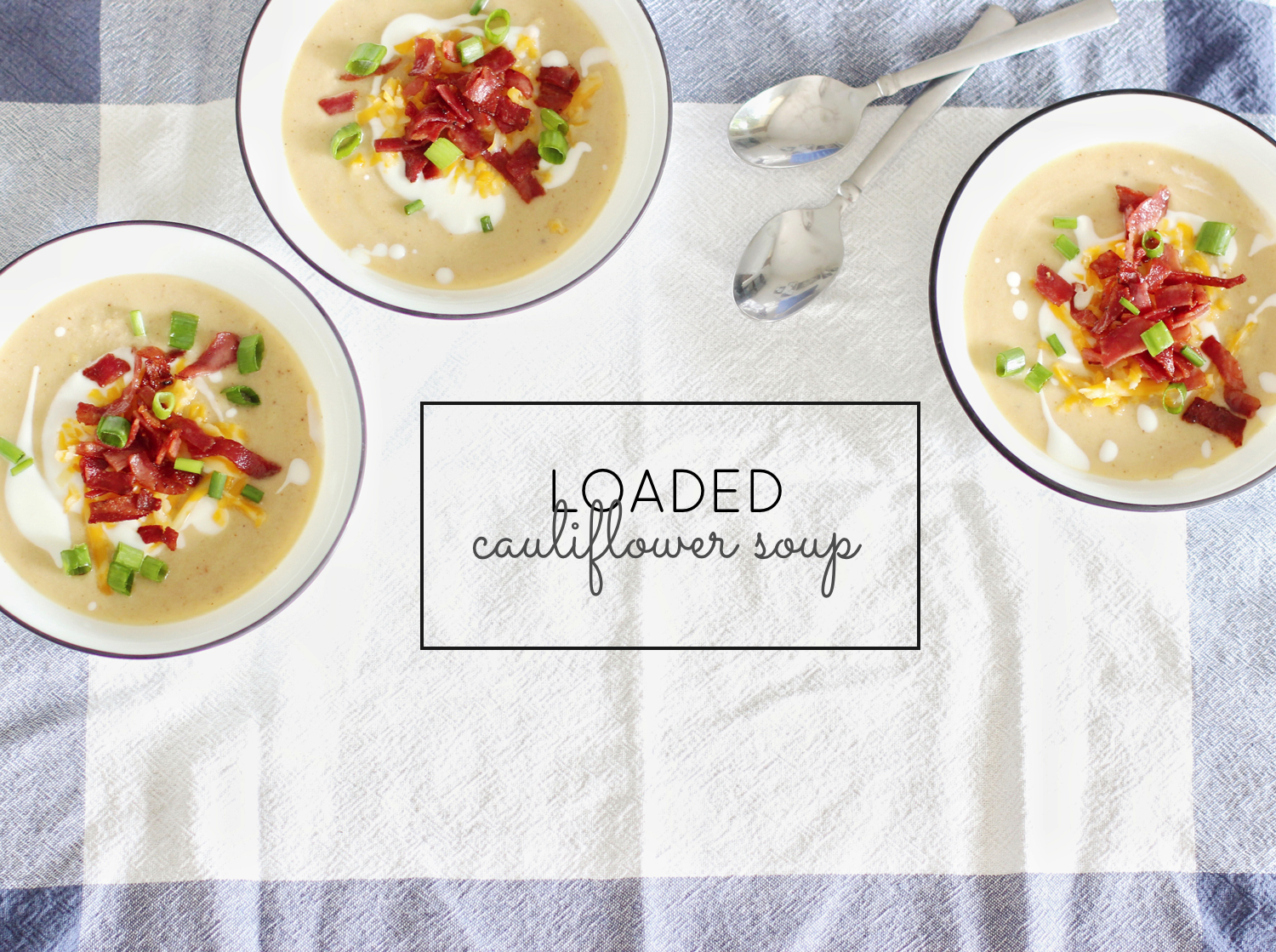 LOADED CAULIFLOWER SOUP
Serves 4.
INGREDIENTS
1 medium head of cauliflower (about 6 cups florets)
3 tbsp. olive oil
1/2 tsp. salt
1/2 tsp. black pepper
6 slices cooked turkey bacon, chopped
1/2 large onion, chopped
2 cloves garlic, chopped
4 cups chicken stock
2 sprigs green onion
1/2 cup colby jack cheese, grated
1/3 cup sour cream
DIRECTIONS
Preheat your oven to 425 degrees and chop the cauliflower. On a large baking sheet, coat the cauliflower in 2 tbsp. of olive oil and season with salt and pepper. Roast for 45 minutes, flipping the cauliflower pieces halfway through cooking.
As the cauliflower roasts, heat up a large pot with the remaining 1 tbsp. of olive oil. Add the sliced turkey bacon once hot. When the bacon is crisp, remove it from the pot and set it aside (for topping the finished soup.)
Add the chopped onion along with the white ends of the green onion into the remaining olive oil and bacon grease. Cook until translucent (about 4 minutes.) Then, add in the garlic and cook for another 2 minutes.
Next, add in the chicken stock and bring the whole mixture to a boil. Once bowling, lower the heat and add in the roasted cauliflower pieces. Simmer everything on low heat, covered.
After the 15 minutes are up, puree the soup with an immersion blender (or in a regular blender – very carefully, and in two batches at a time. Be sure to remove the middle lid and cover with a thick towel, so that heat is able to escape as the soup blends.)
Place the smooth cauliflower soup back into the pot and reheat, adding in a heaping spoonful of sour cream and a handful of cheese for added creaminess!
Serve the soup in four bowls, and top generously with turkey bacon, extra cheese, sliced green onion, and sour cream. Dig in!
Recipe adapted via Sprinkled Side Up
Special thanks to Rachel of Sugar-Coated Inspiration for this amazing recipe! (Check out all of Rachel's posts for Glitter, Inc., here.)