This post contains affiliate links, which means that if you click on one of the product links, I'll receive a small commission. Thank you so much for clicking through and helping to support this little blog business of mine! Read more about our site, privacy, and disclosure policies here.
Our favorite crockpot chicken vegetable and quinoa soup is healthy and hearty and requires so little work it's kind of embarrassing. This meal is packed with flavor, and the whole family is obsessed.
I don't know about you, but for our family, easy dinners are the name of the game. I've always been a big fan of cooking, but the busier we get, the harder it is to open up a recipe book and throw together an elaborate meal to serve on a random Monday night.
We've had this crockpot meets rice cooker meets pressure cooker (a.k.a., an Instant Pot) in our pantry for years. Seriously, we got a slow cooker as a wedding gift and never opened the box … and we've been married six years. I know, I know. Clearly, I have a screw loose. Little did I know, the most magical kitchen contraption ever sat unused and unloved in our overcrowded pantry for all these years. I can't fathom what I was thinking – or not thinking – by ignoring this mystical machine.
Anyhoo, I saw all the rage ALL over the internet about this fabulous pot (and why everyone loves a slow cooker and/or crock-pot so much), and I decided to take the leap … and OPEN the box. I started researching and trying recipes like a madwoman. I think I served hubby and Scarlett dinner out of a crockpot for two weeks straight. It was like a black hole of simple dinners. Basically, the beauty of an Instant Pot or crockpot, is that you essentially throw all of your ingredients in, set the machine to cook for several hours, and walk away. By dinner time, you have a tasty dinner. Granted, there are some crockpot meals that require a little more TLC; i.e., browning meat and veggies first, cooking in stages, etc., but I steered clear of those recipes, because, you know, if I'm going to attempt to make my life easier with a slew of crockpot dinners, I plan on doing it the EASY way.
On our Instant Pot dinner recipe journey, I discovered a few GREAT recipes, and over the next few months, I'll share our favorites here, with some tweaks of course. (Because I just can't help myself.)
Now let's talk about that crockpot chicken vegetable and quinoa soup …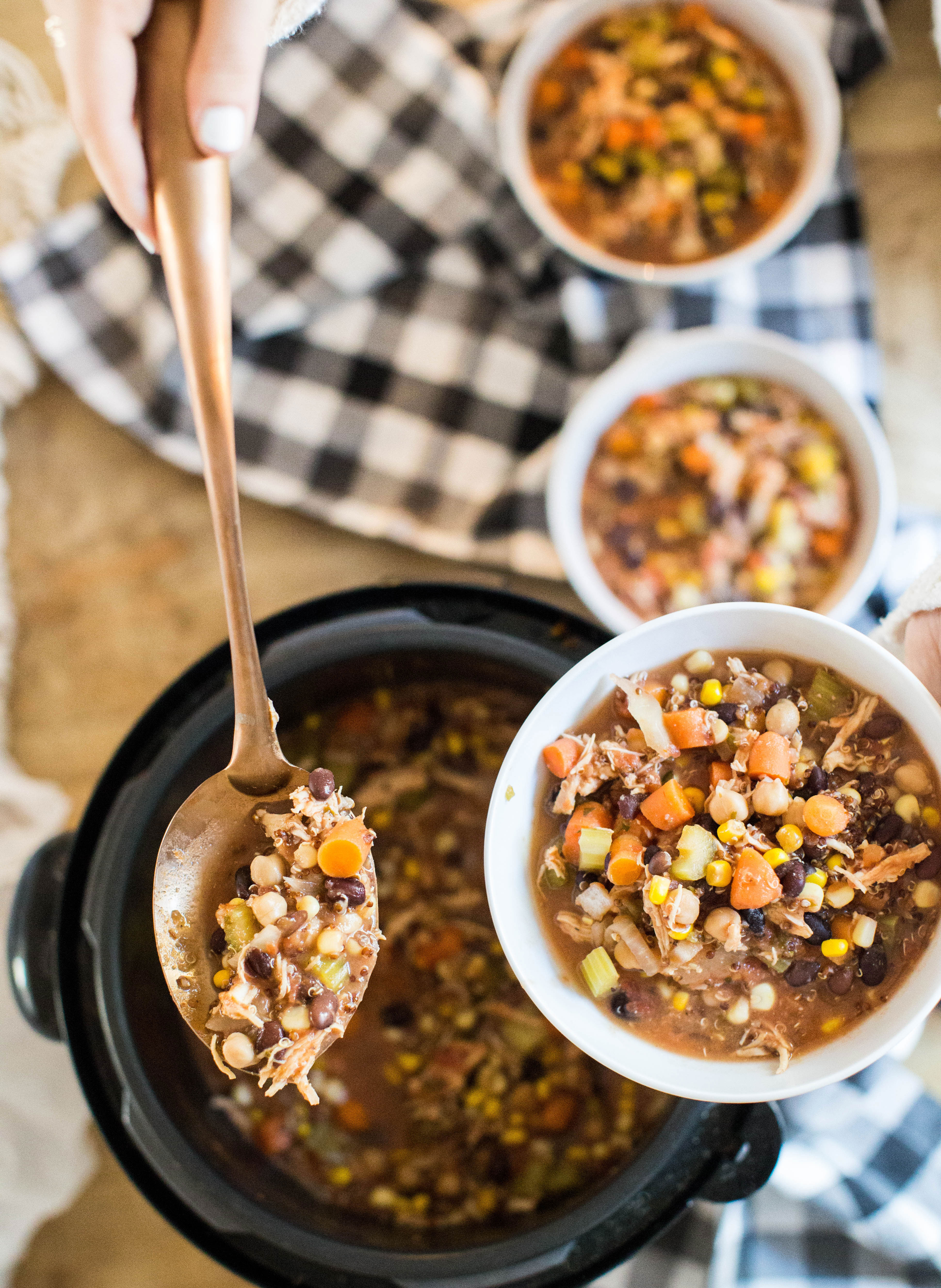 First up is a variation on the crockpot chicken veggie quinoa soup from Chelsea's Messy Apron. This dinner is definitely of the "empty out your fridge and pantry" variety. Our favorite crockpot chicken vegetable and quinoa soup is healthy and hearty and requires so little work it's kind of embarrassing. I tweaked a few components to the original recipe, after a bit of trial and error, and my entire family is obsessed with the results.
You can really use just about any vegetables you happen to have on hand, though I do try to keep the carrots, onion, celery, and corn (because the little one loves it!) a constant, and I pretty much always have those hanging out in the back of our refrigerator produce drawer and pantry anyway. I also always tend to add a lot of beans – typically some combination of either black beans, white beans, and/or chickpeas. Adding in frozen veggies like corn and carrots works well too.
We've tried the recipe using first a can of diced tomatoes with green chiles (like Ro-Tel) and it was great, but then I got this wild idea to make the soup with a tub of fresh salsa we had forgotten about, and that resulted in a crockpot chicken vegetable quinoa soup that was even more flavorful. Both work, but if you've got the salsa on hand, go for it! You can thank me later.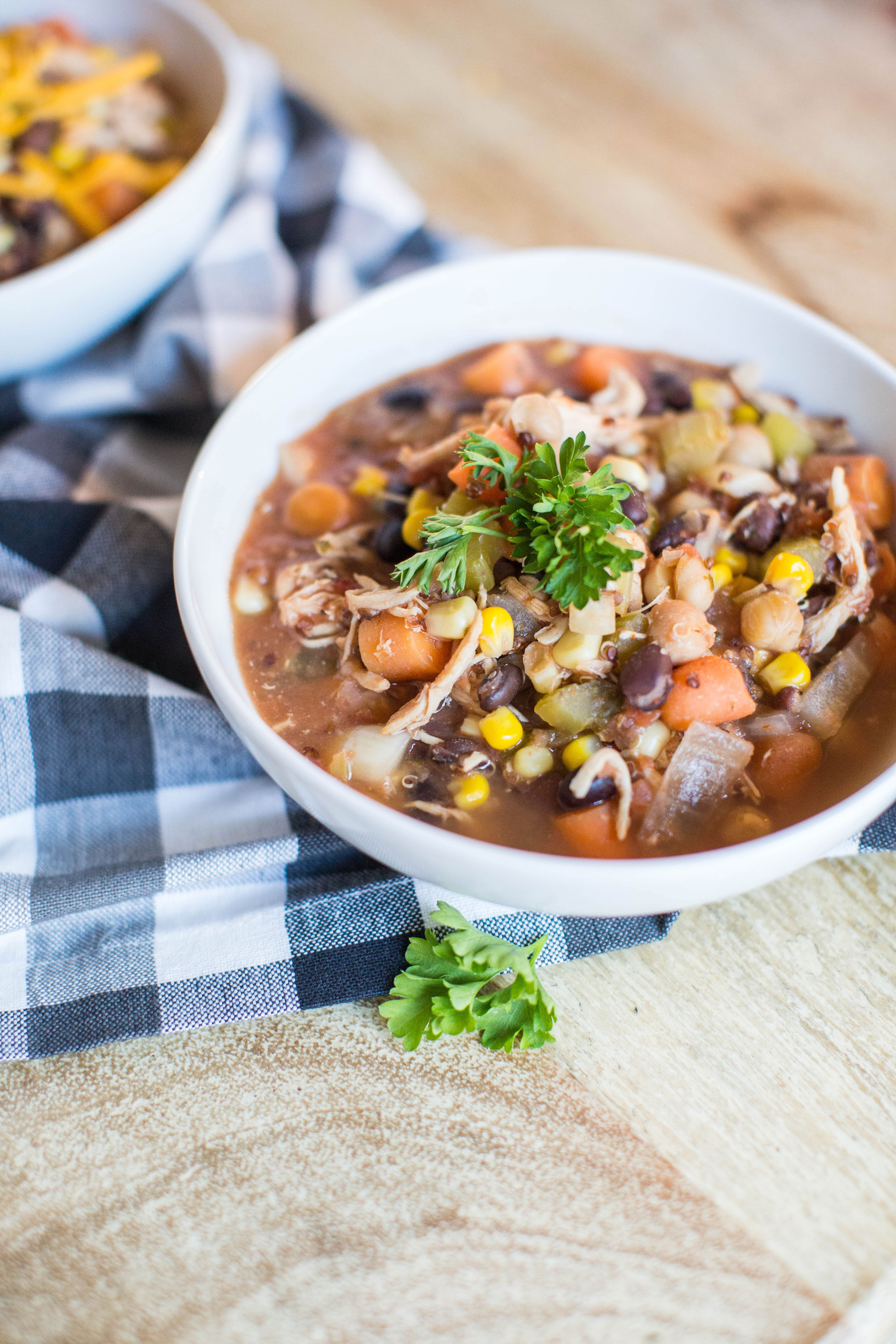 SLOW COOKER CHICKEN VEGETABLE QUINOA SOUP
Prep Time: 10 mins
Cook Time: 6 hr
Servings: 6-8
INGREDIENTS
1 pound (approx. 2 large) boneless skinless chicken breasts
2 cans of beans (we use some combination of black beans, pinto beans, white beans, and/or chickpeas)
1 can corn OR 1 bag of frozen corn
1/2 cup thinly sliced carrots
1/2 cup thinly sliced celery 2 stalks
1/3 cup diced yellow onion
3/4 cup quinoa
1 container of fresh salsa OR a can of diced tomatoes with green chiles (like Ro-Tel)
1 can (6 ounces) tomato paste
2 teaspoons minced garlic
5 cups chicken broth/stock
1/2 cup orange juice or extra broth
Salt and pepper
1-2 leaves bay (optional)
1 teaspoon chicken seasoning blend or 1 teaspoon chicken bouillon
1 teaspoon oregano
1/2 teaspoon paprika
Optional Toppings: sour cream, shredded cheddar cheese, fresh cilantro, fresh lime wedges
DIRECTIONS
Trim the fat off the chicken breasts. Cut each breast into 3 large even pieces.
Place the chicken breasts chunks in the bottom of a large crockpot.
Add in the drained and rinsed beans, drained corn, thinly sliced carrots (you want them to cook all the way through), sliced celery, diced onion, quinoa (rinse if not pre-rinsed to remove the bitter saponin coating), undrained container of fresh salsa OR can of diced tomatoes with green chiles (such as Ro-Tel), tomato paste, minced garlic, chicken broth/stock, and orange juice (or extra broth).
Add about 1 teaspoon of salt (or to taste) and 1 teaspoon of pepper (or to taste), bay leaves, chicken seasoning or bouillon, oregano, and paprika. Just use your favorite soup seasonings here. The idea is that crockpot soups tend to really soak everything up, and need a little extra seasoning to maintain that rich flavor.
Give everything a good stir and then cover and cook on high for 5 hours or until the chicken easily shreds. The longer it cooks, the more liquid the quinoa absorbs, but I prefer to cook it for awhile so that the veggies (like the carrots and celery) cook all the way through and the flavors really meld.
Remove the chicken and shred. (I'm a big fan of throwing all of the cooked chicken chunks into my mixer, and mixing it for a few minutes – shreds it perfectly every time!) Return shredded chicken to the crockpot and cook for another hour.
Remove the bay leaves and then enjoy the soup topped with optional toppings such as fresh cilantro or parsley, fresh lime, sour cream, and/or shredded cheddar cheese.
NOTE: For a "brothier" soup just add a few extra cups of chicken broth.
Also, I'm a big fan of throwing all of the ingredients for a crockpot meal – veggies, raw chicken, everything but the broth – into a gallon ziploc bag until we're ready to cook it. I'll write in permanent market on the bag how long it needs to cook in the crockpot and how much broth to add, store it in the freezer; then when we're ready to make it, just take it out, let it thaw, throw the contents in the crockpot, and BAM – a few hours later we have dinner!
Recipe adapted via Chelsea's Messy Apron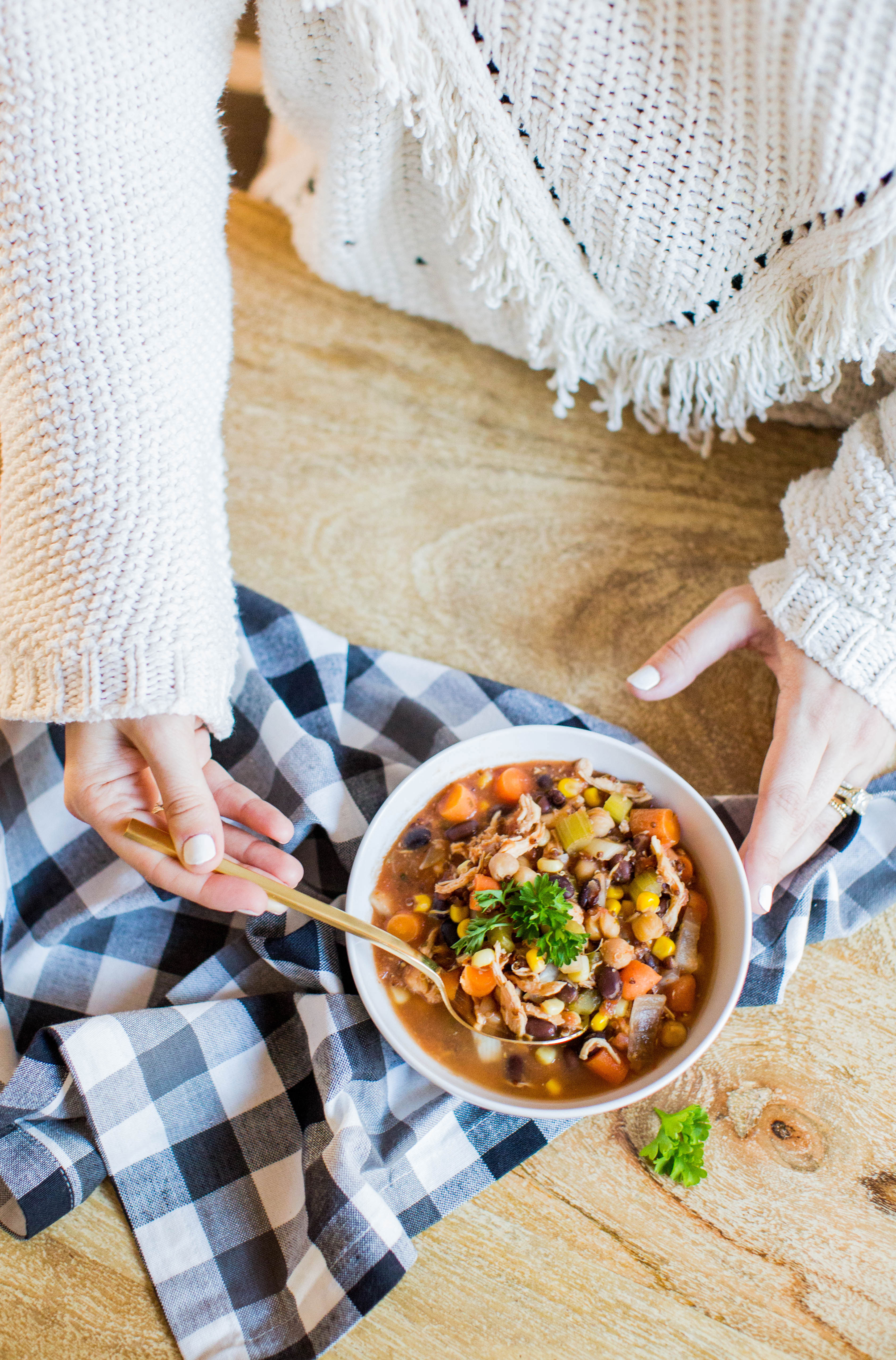 You can keep this soup healthy by eating it just the way it is or topping it with a bit of fresh parsley or cilantro or a squeeze of lime, but it also tastes great topped with shredded cheddar cheese or a dollop of sour cream.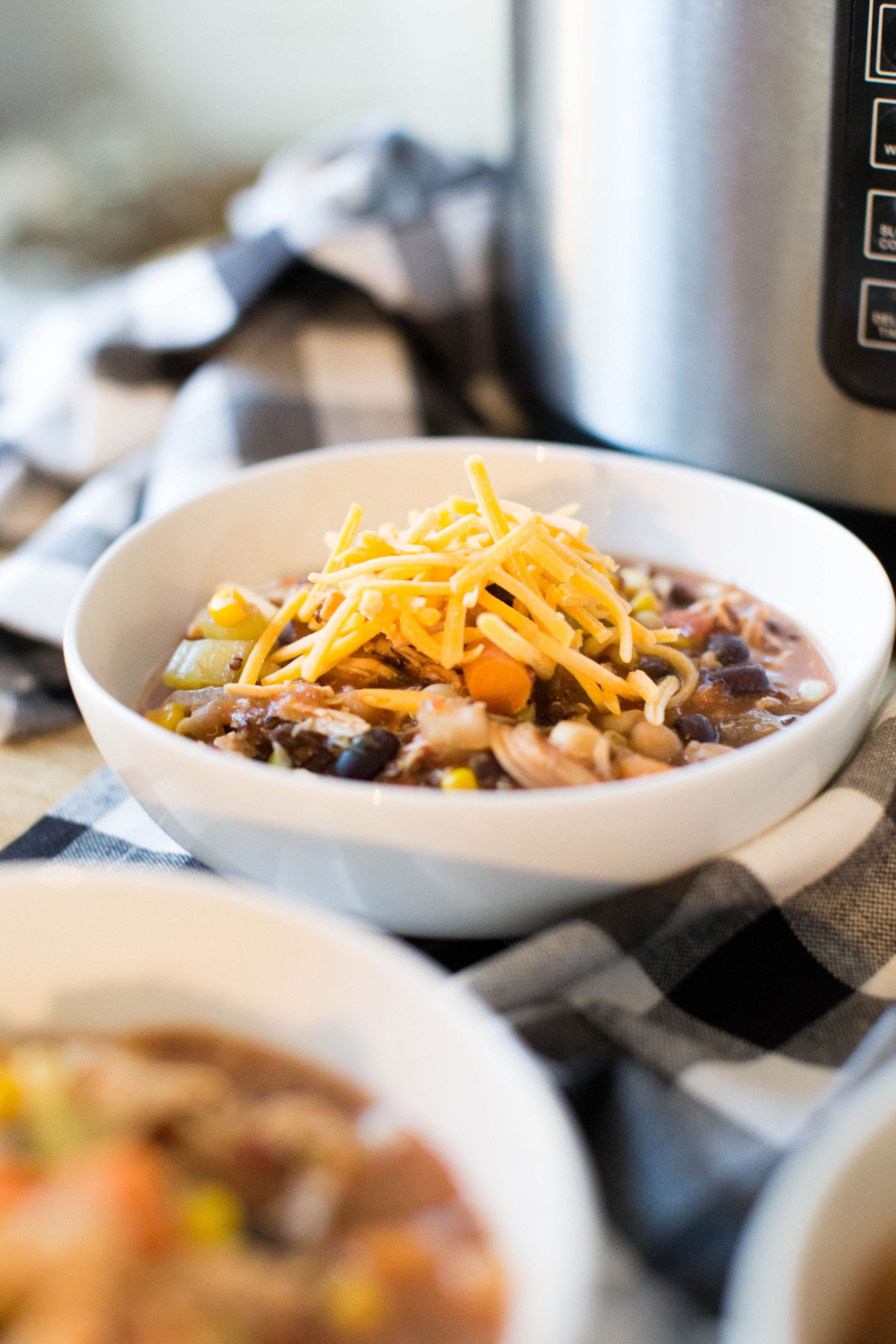 Our toddler absolutely LOVES this crockpot chicken vegetable and quinoa soup. It's super flavorful, is packed with healthy ingredients, and everything cooks down really soft with a hint of sweetness (thanks to the carrots and corn.) Both hubby and Scarlett always ask for seconds of this soup and considering how little effort the entire meal took, I call that a serious MOM WIN.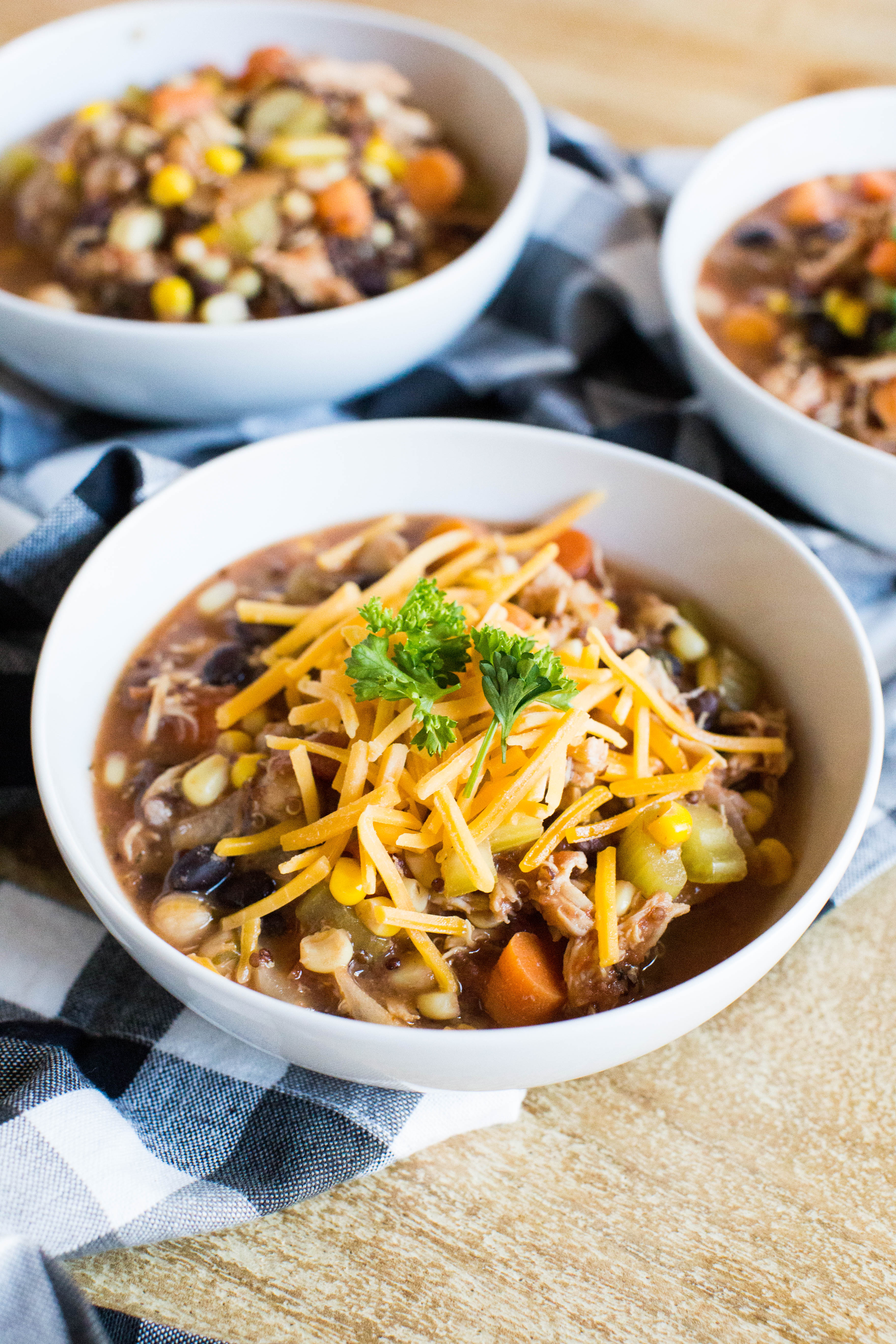 How about you? Have you hopped on the Instant Pot bandwagon yet? What other crockpot meals do you love? Send me your suggestions!
And if you love this post, check out all of our great recipes here. Especially our 3-Ingredient Trader Joe's Thai Coconut Curry Chicken and No-Fuss Apple Crisp – both made in a slow cooker!
You can find our favorite slow cooker here.
Photography by Coffee Beans & Bobby Pins