On a kick to find new and different dinner options (like these 10 favorite one-pot dinners), I am loving this recipe for Caprese Chicken Sandwiches on crusty ciabatta with Pesto Mayo. These sandwiches are crisp, filling, and full of bright flavors. Fresh mozzarella, Roma tomato slices, basil pesto, and balsamic greens transform the classic elements of a Caprese salad into handheld, hardy sandwich form. Honestly though, anything sandwiched between warm, crusty ciabatta bread will always be delicious in my book.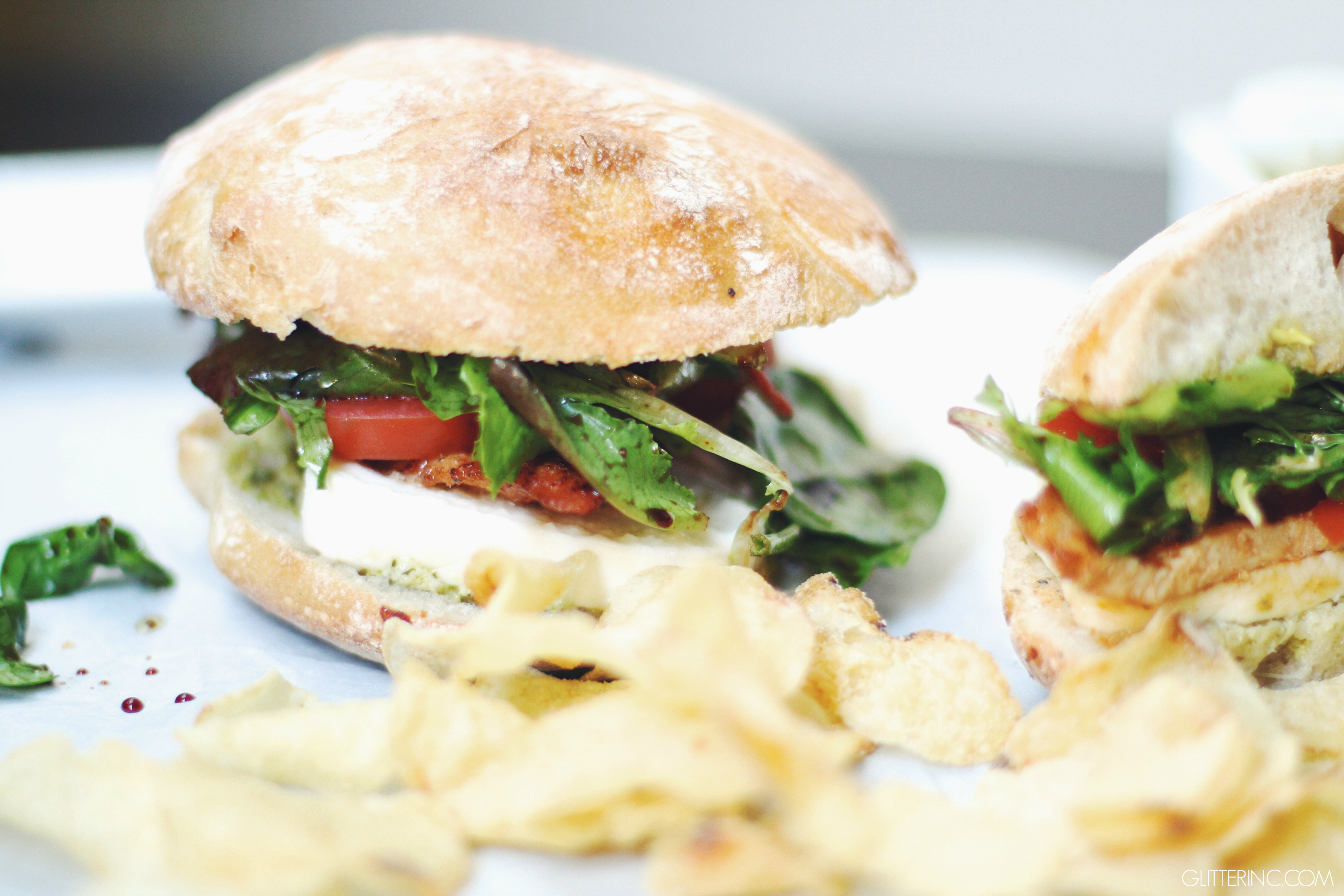 The best part about this Caprese sandwiches, is that it's incredibly simple and quick to whip up for your weekday lunch or dinner. Other than sautéing the chicken, all you really need to do is slice, assemble, and eat! To make things even easier, you can pick up a store bought jar of basil pesto (I love Trader Joe's brand.) Mixing the pesto with a bit of mayonnaise makes a perfect spread to compliment the Italian flavors going on in this sandwich. You can even prepare these sandwiches for your lunch the night before, so that everything's ready to go by morning. You'll definitely thank yourself when lunch rolls around!
So without further ado, here's how to make caprese chicken sandwiches on crunchy ciabatta bread with balsamic greens and the best ever pesto mayo …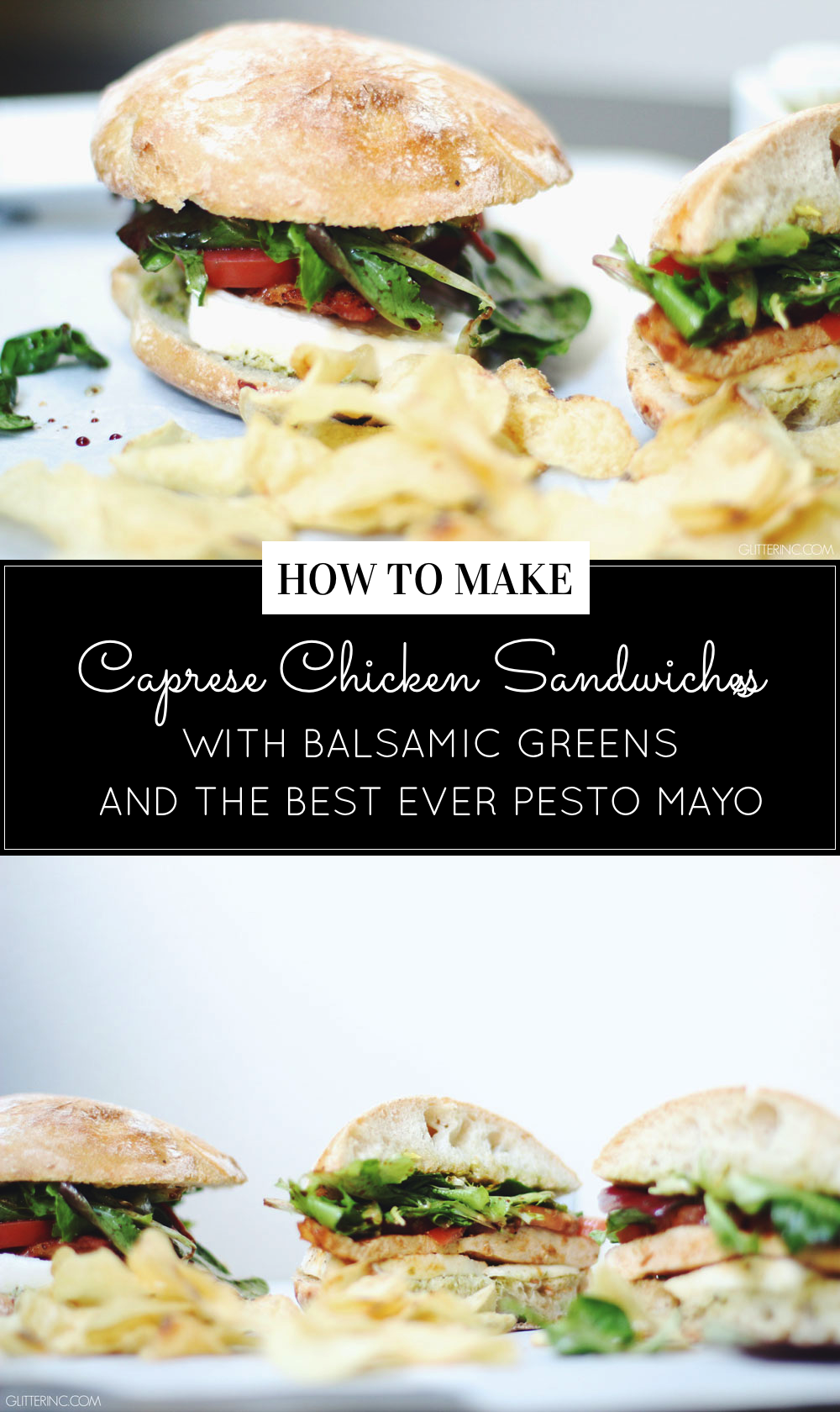 CAPRESE CHICKEN SANDWICHES WITH PESTO MAYO
Serves 2.
INGREDIENTS
2 thinly sliced chicken breasts
Smoked paprika
Garlic powder
Cayenne pepper
1 tablespoon olive oil
2 ciabatta rolls
1 tablespoon mayonnaise
2 tablespoons basil pesto
4 slices of fresh mozzarella
1 Roma tomato
1 cup mixed greens
Balsamic vinegar
Pepper
Salt
DIRECTIONS
1. Heat 1 tablespoon of olive oil in a skillet over medium heat.
2. Season the chicken breast with smoked paprika, garlic powder, a sprinkle of cayenne pepper, salt, and pepper. Cook through, set aside, and cover with tinfoil.
3. Preheat your oven to 375 degrees and place the ciabatta bread directly on the rack. Bake for about 5 minutes, until crisp on the outside & warm and chewy on the inside.
4. While the bread heats, stir together the mayonnaise and pesto until combined. Then, slice the fresh mozzarella and tomato and set aside. Lastly, drizzle the mixed greens with balsamic vinegar.
5. Finally, assemble the sandwiches. Slice the ciabatta rolls in half. Spread pesto mayo generously on each side of the bread. Place one thinly sliced chicken breast onto the bread. Layer on a couple of mozzarella and tomato slices. Top with balsamic greens, slice in half, and serve.
For Detailed Picture Instructions, click through the slideshow below.