This post contains affiliate links, which means that if you click on one of the product links, I'll receive a small commission. Thank you so much for clicking through and helping to support this little blog business of mine! Read more about our site, privacy, and disclosure policies here.
Obsessed with Trader Joe's Harvest Chili? Looking to whip up a delicious family dinner on a budget? Make your own easy copycat crockpot Trader Joe's harvest chili. (Say that three times fast!) This soup is vegetarian and so yummy.
A few weeks back we took the whole family to Trader Joe's. My girls love trying all of the samples, and Scarlett practically jumped out of the cart when she saw they were handing out her favorite Trader Joe's cornbread crisps. (I mean, have you had them? They're unbelievable. Seriously, stock up while you can.) Anyhoo, they were actually serving the cornbread crisps with their Harvest Chili. I was blown away by that little sample of their Harvest Chili.
Trader Joe's Vegetarian Harvest Chili
Packed with black beans, butternut squash, pumpkin, cauliflower, and sweet potatoes, this vegetarian chili was seriously good.
Now I'll admit, I cringed a little at the $4.49 price tag for a little container of soup because that would feed mayyyybe one person, but I picked one up anyway, determined to figure out just how they made this ridiculously delicious soup.
You see, we eat A LOT of soup in our house, especially in fall and winter. Soup, in my mind, is the perfect family dinner. It's inexpensive to make, easy to throw together, and everyone likes soup; a.k.a., it's a total crowd-pleaser.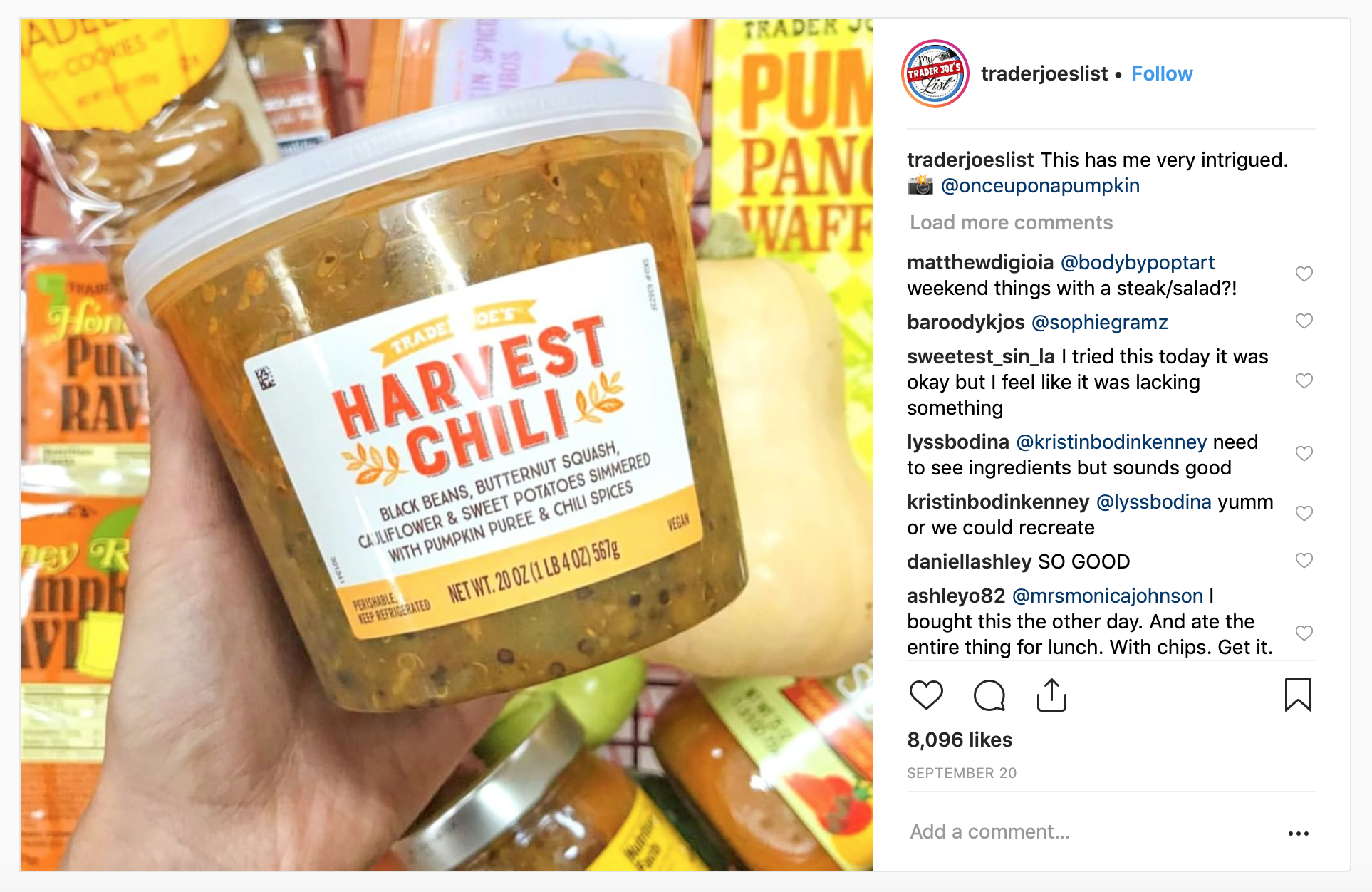 Copycat Crockpot Trader Joe's Vegetarian Harvest Chili
Trader Joe's always seems to nail it with the pumpkin products, and their Harvest Chili is no exception.
Described as a chili that's made with black beans, butternut squash, cauliflower, sweet potatoes and simmered with pumpkin puree and chili spices, it tastes like a somewhat traditional vegetarian chili with a little hint of pumpkin. It's really delicious, totally hearty, and like I said, I was determined to recreate it as an easy family meal.
And of course, every easy family meal – especially in this house – starts in a crockpot (or instant pot) or on a sheet pan! Easy dinners are the best. 🙌🏻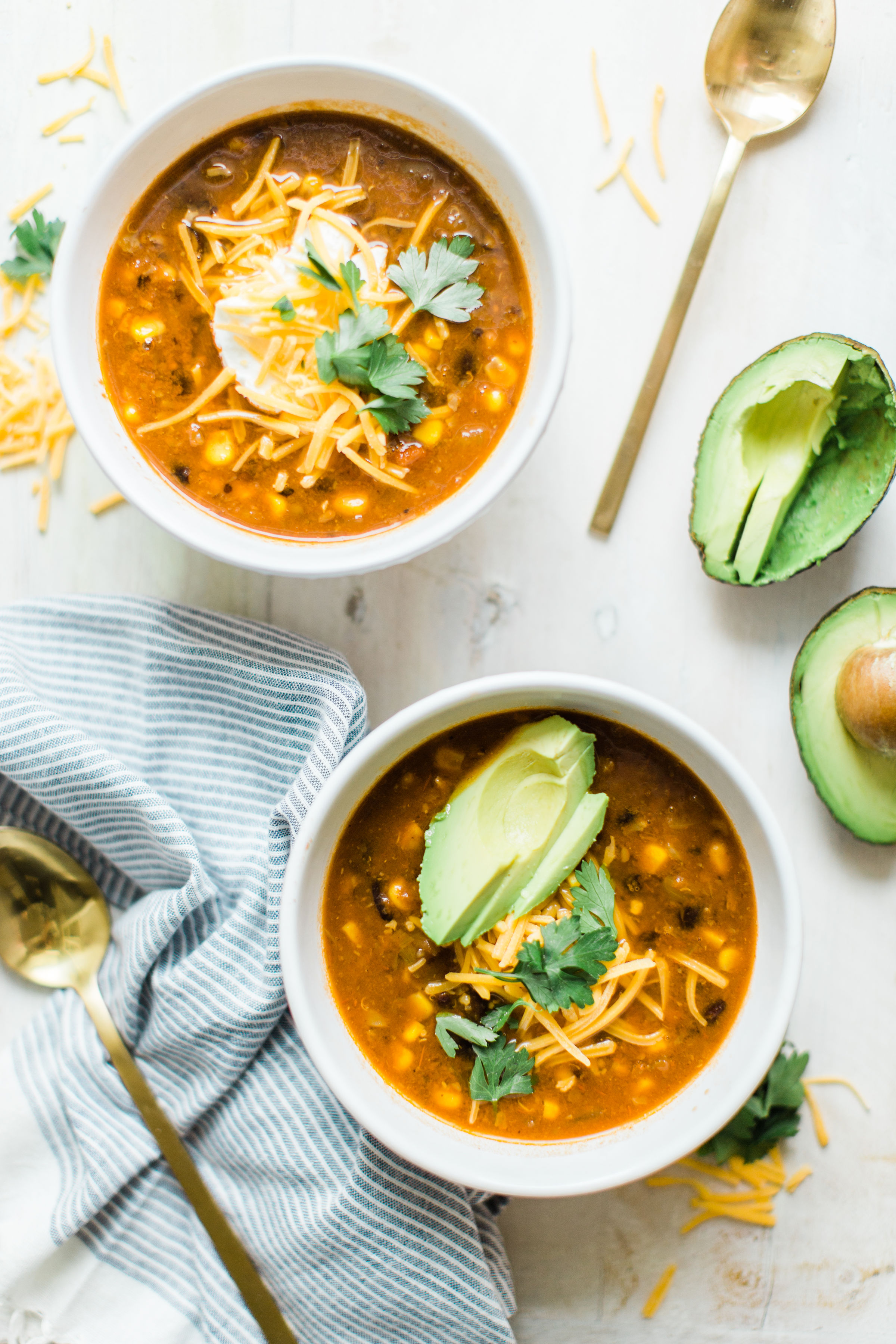 I'm SO excited with how our version of copycat Trader Joe's vegetarian Harvest Chili turned out, and even better, it can be made in a crock pot or Instant Pot.* Easy family dinner for the win!
UPDATE, February 2022: Now that Trader's Joe's Harvest Chili is no longer available because it is a seasonal item (i.e., Trader Joe's only seems to sell it in the fall months), I am SO happy to have this recipe because we can make it all year long!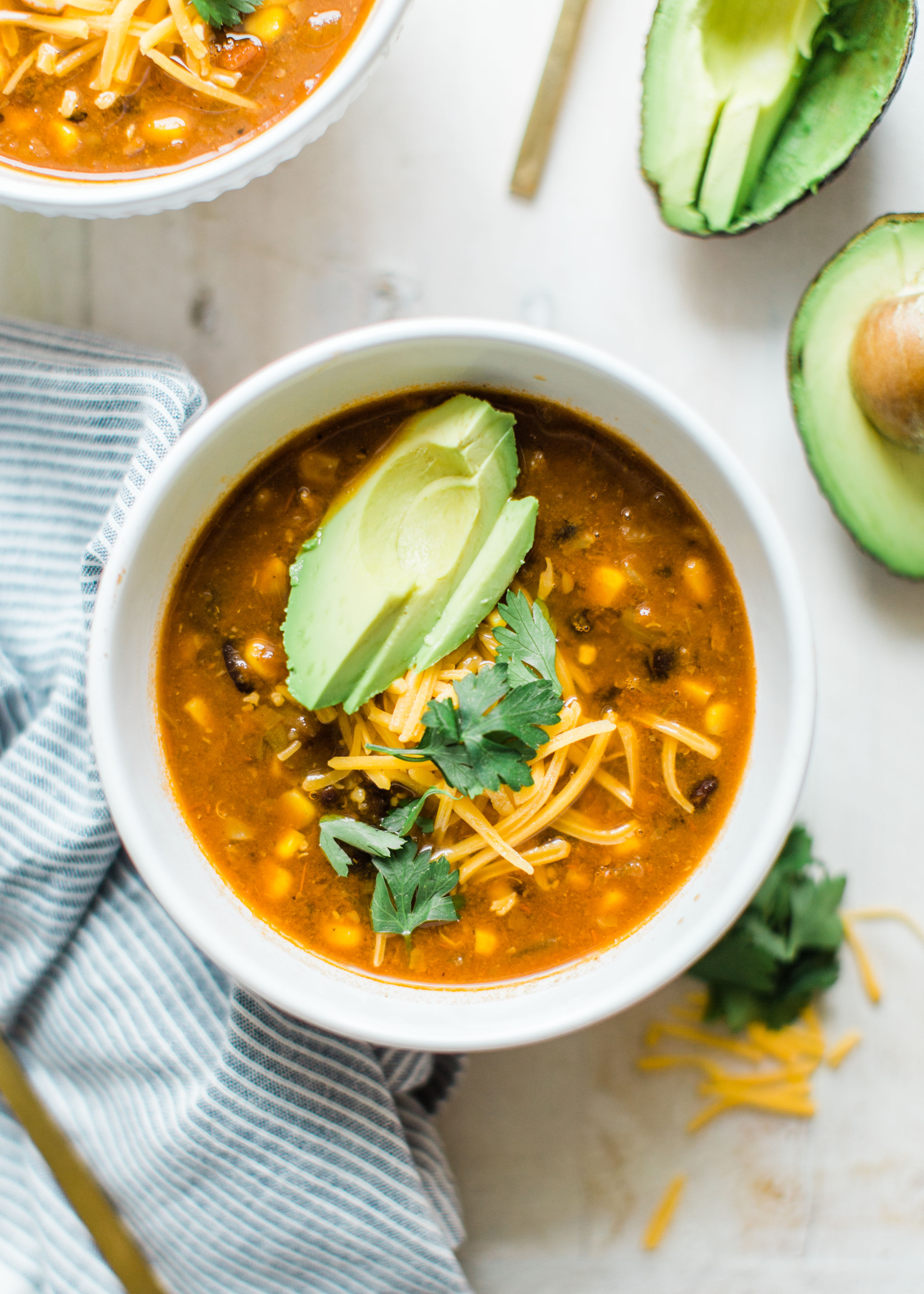 A little about my instant pot/crockpot obsession:
*Ever since getting our Instant Pot, I've sort of fallen down the rabbit hole of Instant Pot and crock pot (a.k.a., slow cooker) recipes. (Psst … I have a bunch of Instant Pot and slow cooker favorites saved to this board on Pinterest.) I'm amazed at how many amazing things you can make in a slow cooker, all while doing very little work.
If you haven't yet scooped up an Instant Pot of your very own, it's time.
These things are all the rage for good reason. Sometimes, I'll really get into a kick and serve our family dinner out of our Instant Pot for weeks at a time. I'm talking never-ending simple dinners. And the best part: not one complaint from the family. I actually think the crockpot meals are my girls' favorite meals.
On this little Instant Pot dinner recipe journey of ours, I've discovered a few GREAT recipes that our whole family loves, including our picky four year-old. Like slow cooker chicken vegetable quinoa soup, easy crockpot tortilla-less creamy chicken enchilada soup, and 3-ingredient Trader Joe's thai coconut curry chicken. And today, I'm sharing the latest hit in our house: this copycat Trader Joe's vegetarian harvest chili.
But I digress …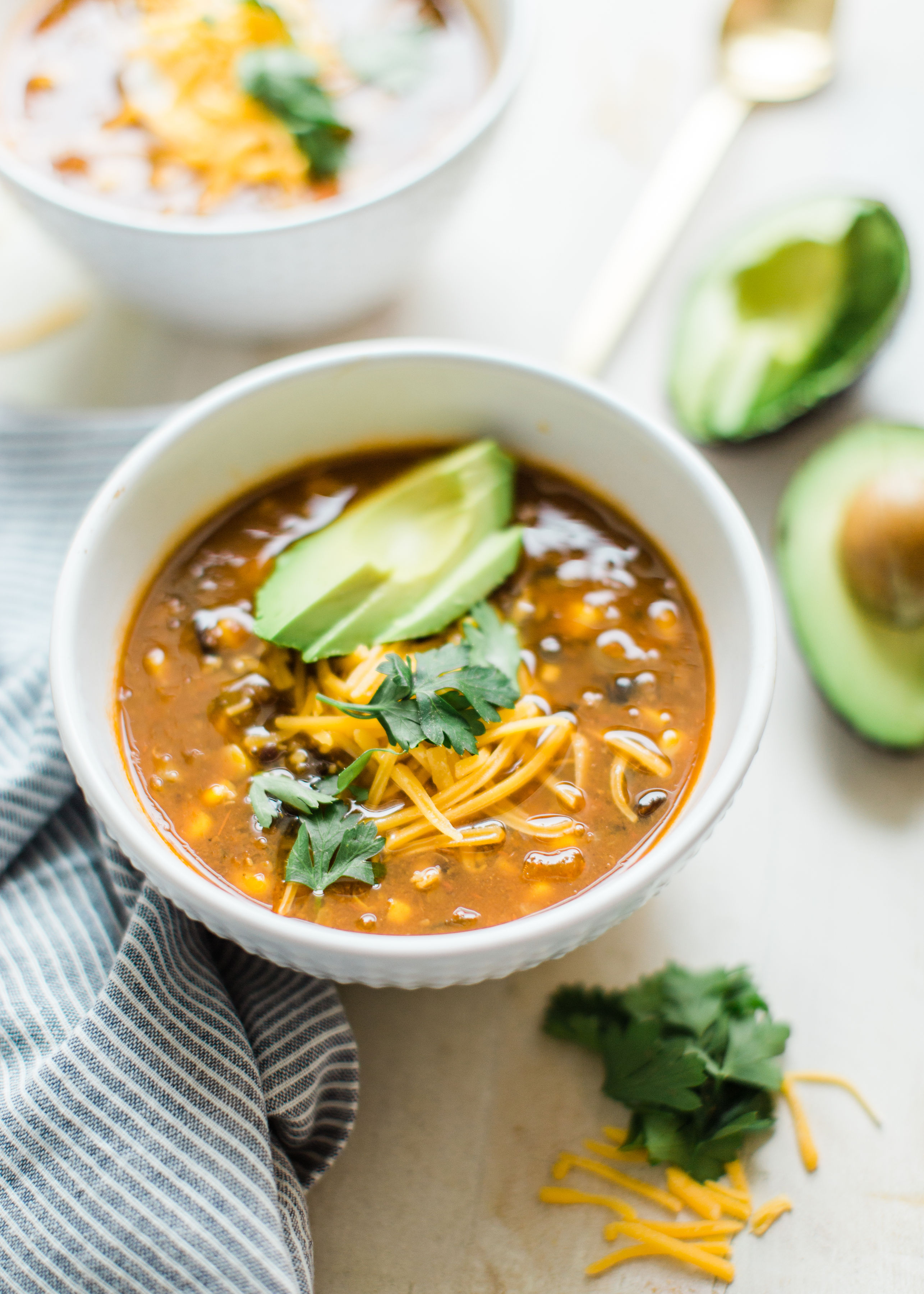 Finding Your Perfect Copycat Crockpot Trader Joe's Vegetarian Harvest Chili
This vegetarian harvest chili is hearty and filling, and so fragrant with all of those delicious chili spices. It's easily a one-pot meal, and I tend to make A LOT to guarantee leftovers. Soup is one of those things that always tastes even better the next day.
The beauty of any chili, is you can really spice it to your liking. For instance, I love adding a little cinnamon and nutmeg to our chilis, but if that's not your thing, skip it. If you like your chili a little spicier, add in a bit more chili powder and/or cayenne pepper. If you loathe cilantro, don't even add it. Customize your chili to just the way you like it!
You can also control how broth-y (soup-y?) your chili is by adding additional broth if you like your chili to have a bit more liquid. Otherwise, if you want to keep this mostly chili-like, stick to the measurements in the recipe below.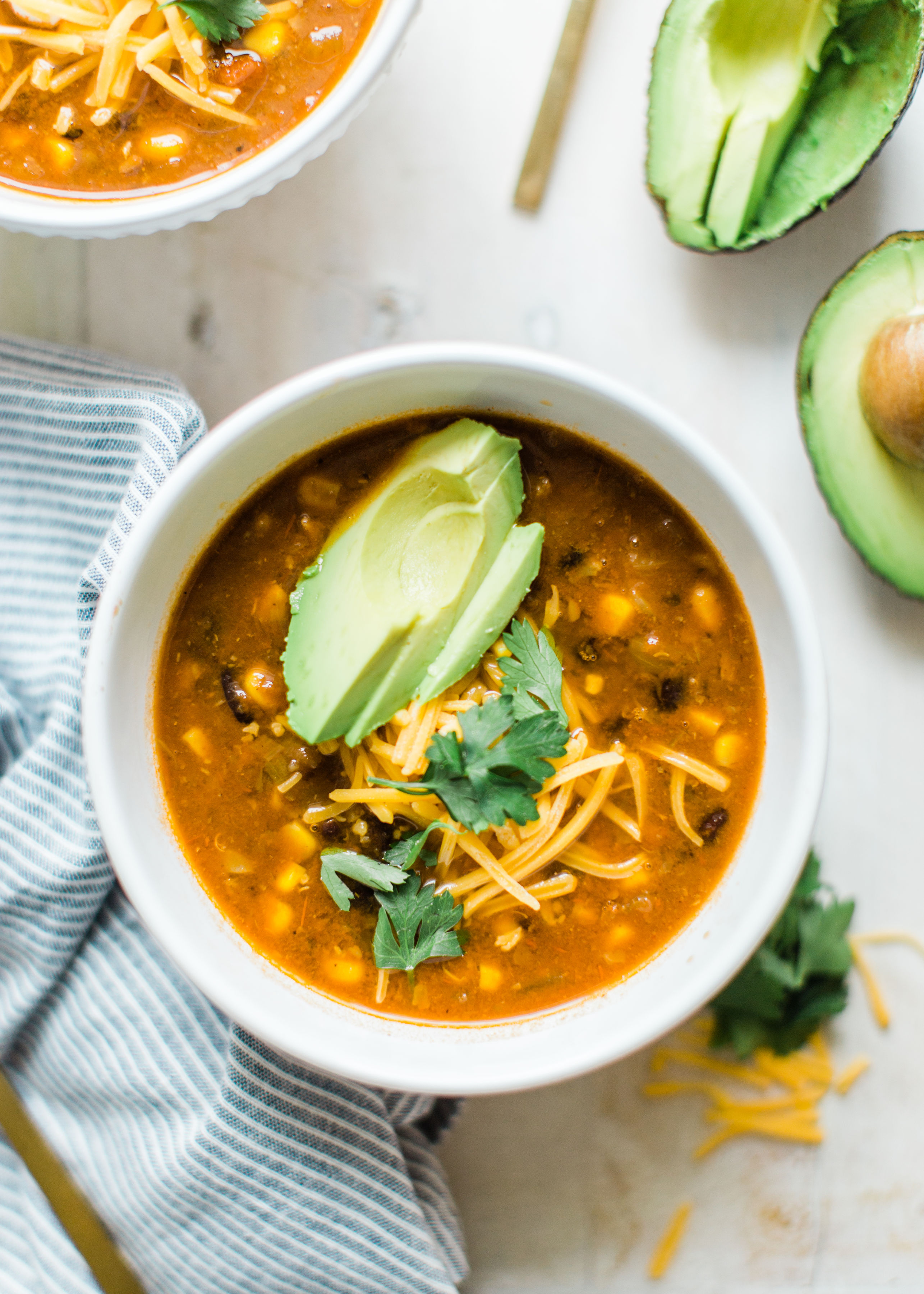 Also, because this is a crock pot style soup, other than browning the first few veggies – i.e., a mirepoix, a.k.a., diced onion, carrot, and celery in a little bit of oil and garlic – all of the other ingredients are dumped into your crock pot, instant pot, or soup pot, and simmer away for hours until everything tastes like heaven in a bowl.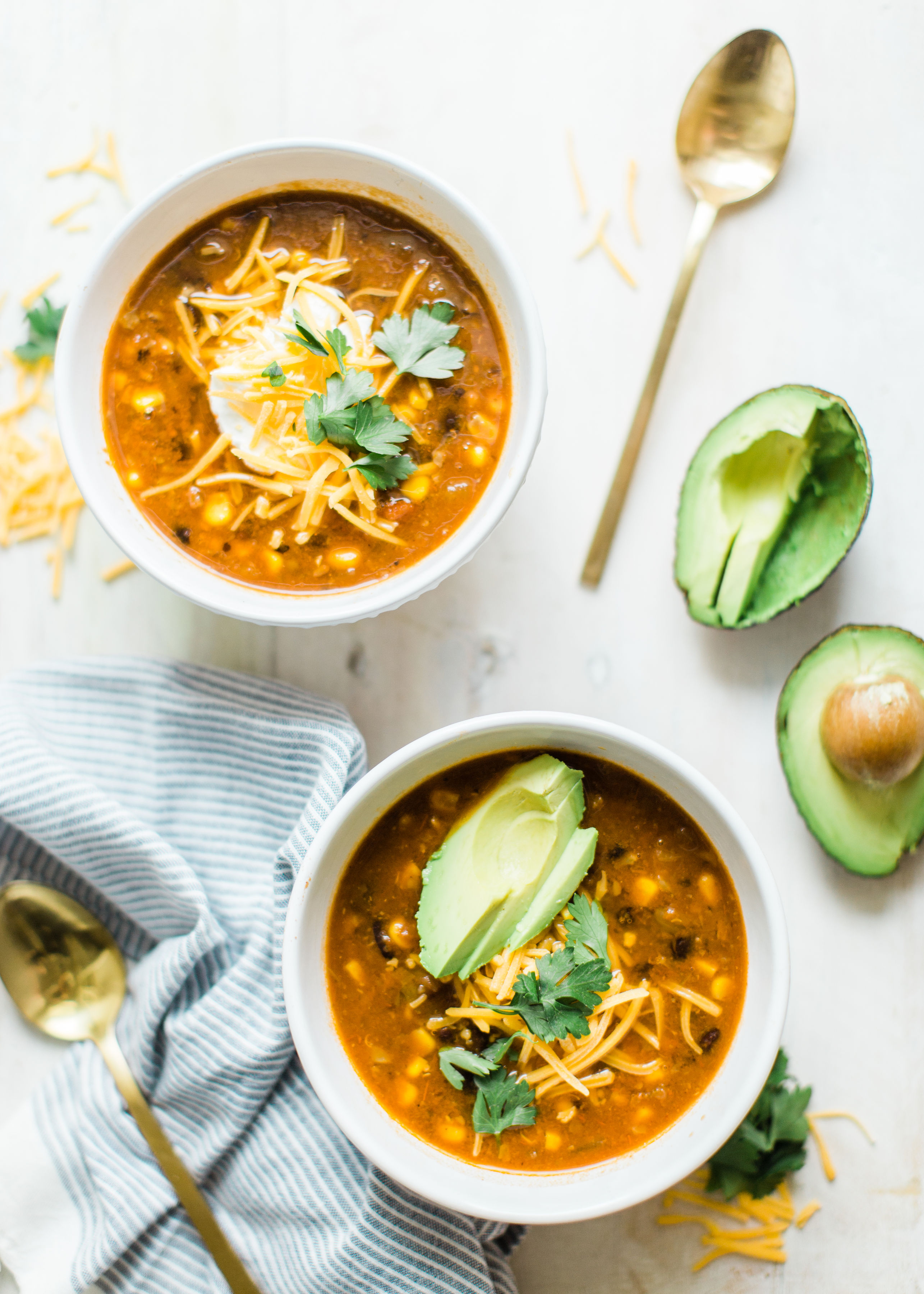 How to Make Copycat Crockpot Trader Joe's Vegetarian Harvest Chili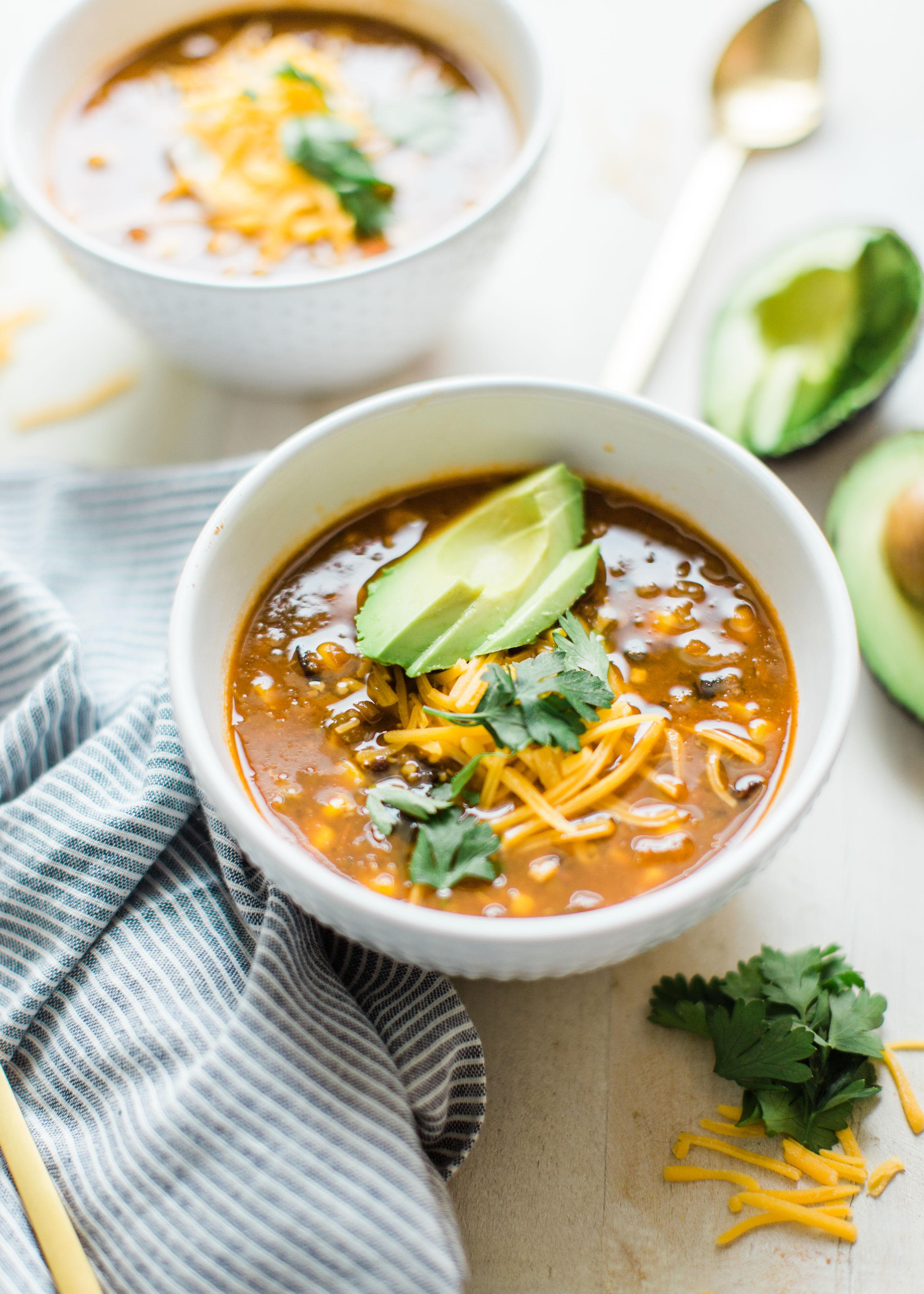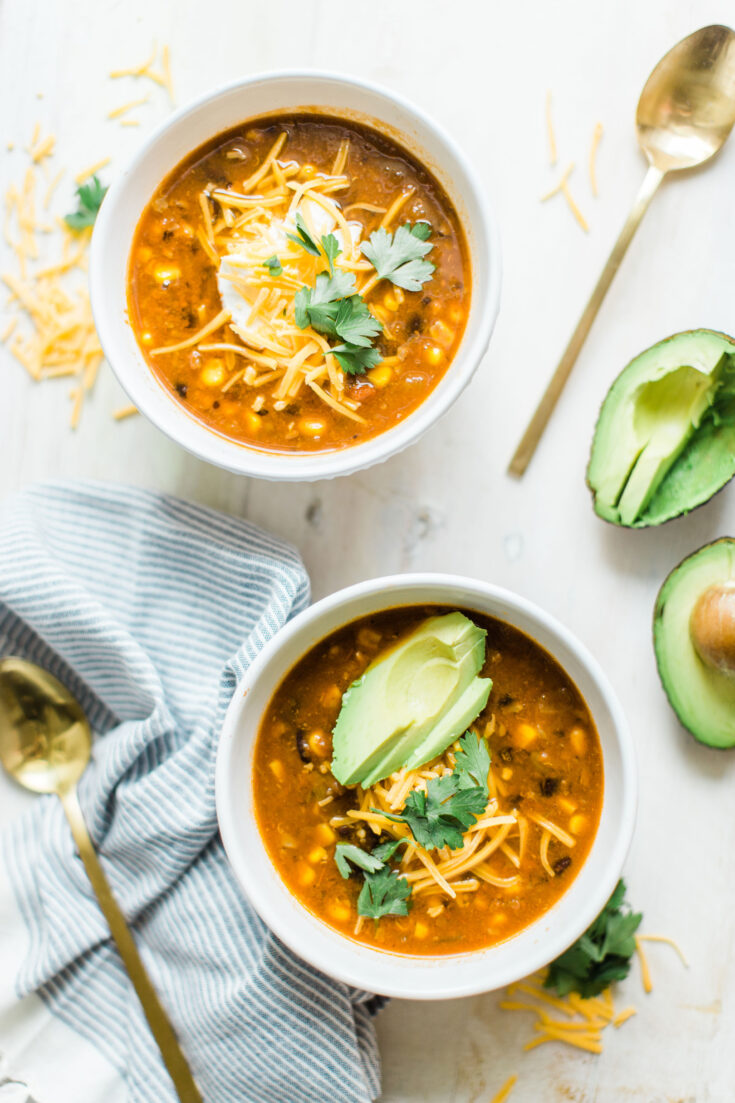 Yield:
Copycat Trader Joe's Vegetarian Harvest Chili
Ingredients
1 tablespoon olive oil or canola oil
1 tablespoon minced garlic)
1 large sweet onion, diced
2 large carrots, diced
2 stalks of celery, diced
1 large sweet potato, peeled and diced
butternut squash, diced (Grab the bag from Trader Joe's!)
2 cans of black beans, rinsed and drained
1 bag of frozen or fresh cauliflower florets (frozen riced cauliflower works as well)
1 pack of cooked lentils (again, love the bag from Trader Joe's from the refrigerated produce section)
1 cup of red quinoa
1 (15 oz) can diced tomatoes
1 (6 oz) can tomato paste
1 (15 oz) can pumpkin puree 
3 cups of water or vegetable broth (can add 1-3 cups more if you prefer more broth/soup)
handful of chopped cilantro
lime juice
sea salt and pepper to taste
Chili Spices Mix: (adjust to taste and use what you like)
2 teaspoons chili powder
1 teaspoon cinnamon (optional)
½ teaspoon of nutmeg (optional)
2 teaspoons oregano
1.5 teaspoons dried parsley
1 teaspoon cumin
1 teaspoon turmeric
1 teaspoon smoked paprika
½ teaspoon cayenne pepper
½ teaspoon coriander
Instructions
Heat olive oil and garlic in a large pot, deep frying pan, or right in your instant pot or crock pot over medium heat.
Add diced onion, carrots, and celery to pan/pot and cook until tender - the onions will start to look somewhat translucent, about 5 - 8 minutes.
Add water or broth, diced sweet potato, diced butternut squash, black beans, cauliflower, lentils, quinoa, diced tomatoes, tomato paste, pumpkin puree, and all spices and herbs to your softened onions, garlic, carrots, and celery, in your crock pot/instant pot or soup pan, and mix everything together. On the slow cooker setting, with the vent switched to the open position, cover with lid and turn to low for 7-8 hours, or high for about 4 hours. (If you make this in an Instant Pot, the soup should cook in about an hour on the SOUP setting; again, with the vent open. This method works really well too, you just made need to add a bit more broth.)
Serve with toppings and enjoy!
Notes
Remember, you can always add more broth as your chili is cooking, if you prefer it a bit more soup-y.

Optional: Top your harvest chili with diced avocado, cilantro, scallions, shredded cheese, sour cream, tortilla chips, cornbread crisps, etc. We also like to serve our chili with homemade cornbread.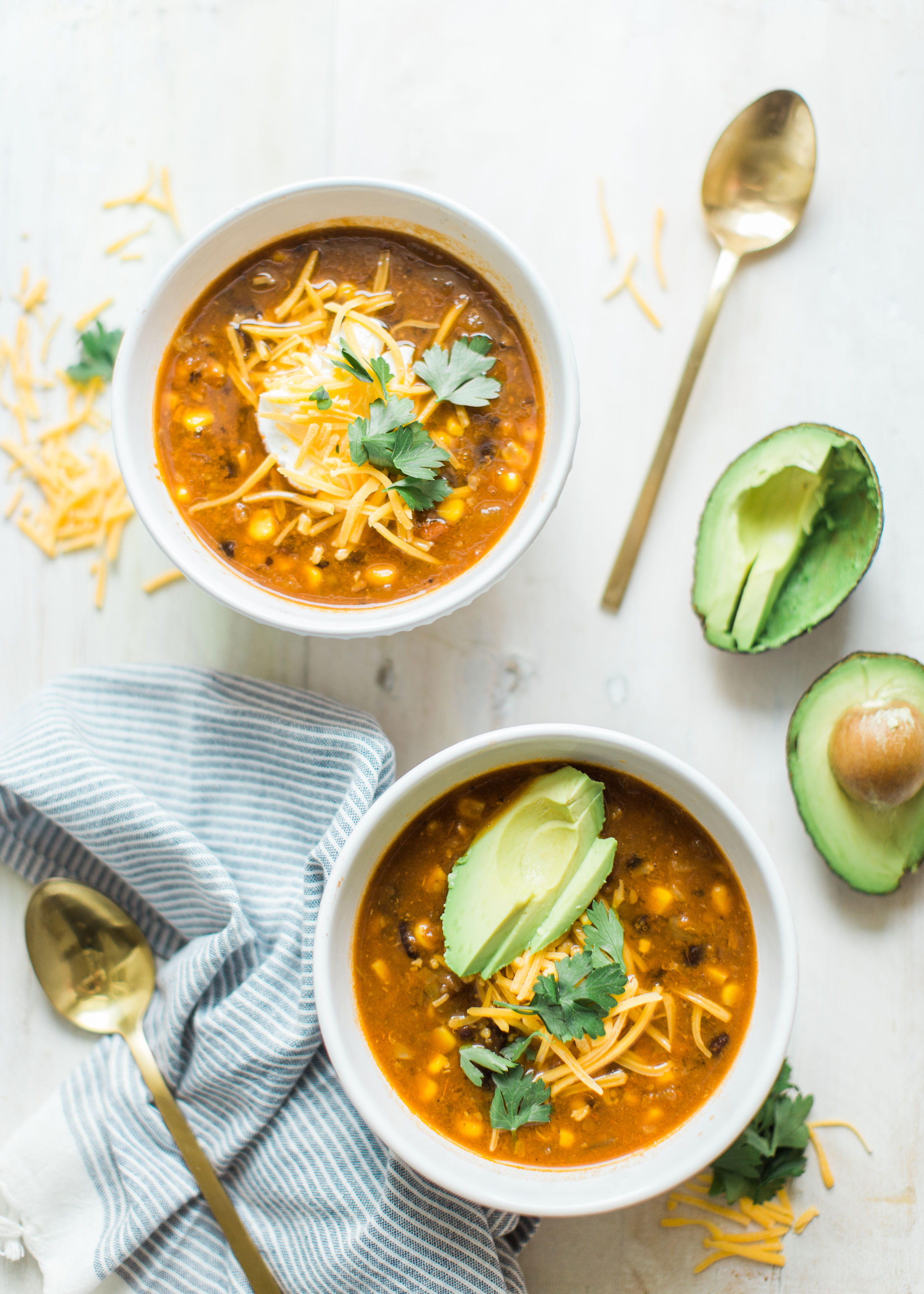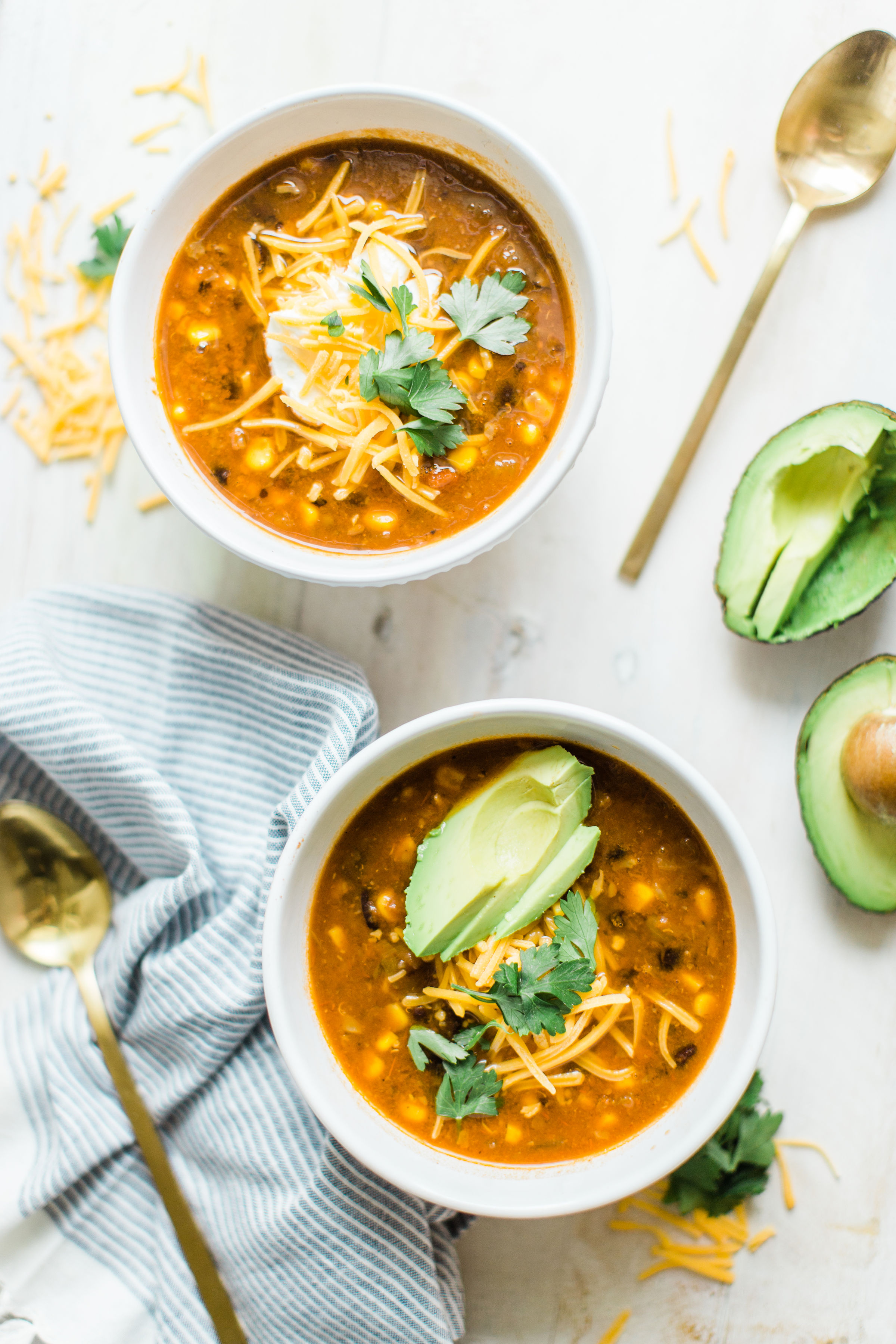 Love this recipe for Copycat Trader Joe's Vegetarian Harvest Chili? Head to our recipe page to check out what else we're dreaming up in the kitchen! And if you're looking for more delicious soups, perfect for this cold weather, we can't stop making all of these delicious soups.
SHOP THE COPYCAT TRADER JOE'S HARVEST CHILI RECIPE POST | CLICK LEFT & RIGHT ARROWS TO EXPLORE

Photos by Annie Timmons Photography for Glitter, Inc.