This post contains affiliate links, which means that if you click on one of the product links, I'll receive a small commission. Thank you so much for clicking through and helping to support this little blog business of mine! Read more about our site, privacy, and disclosure policies here.
This delicious 3-ingredient tomato butter sauce, the one chefs and food bloggers alike adore, is unbelievably simple to make, produces a velvety rich sauce, and is sure to become a staple recipe in your kitchen.
I'm not sure what took me so long to try the incredibly popular 3-ingredient tomato butter sauce, the one food bloggers and chefs alike obsess over, and perhaps the most famous recipe created by Marcella Hazan, the cookbook author who taught Americans to 2cook Italian food. (It may also be Marcella Hazan's simplest recipe with just 3 ingredients and a mostly hands-off set of instructions. Truly, you put three ingredients into a pot and let it simmer along on the stove. And better still, you can make the famed tomato butter sauce with ingredients you probably already have in your pantry.)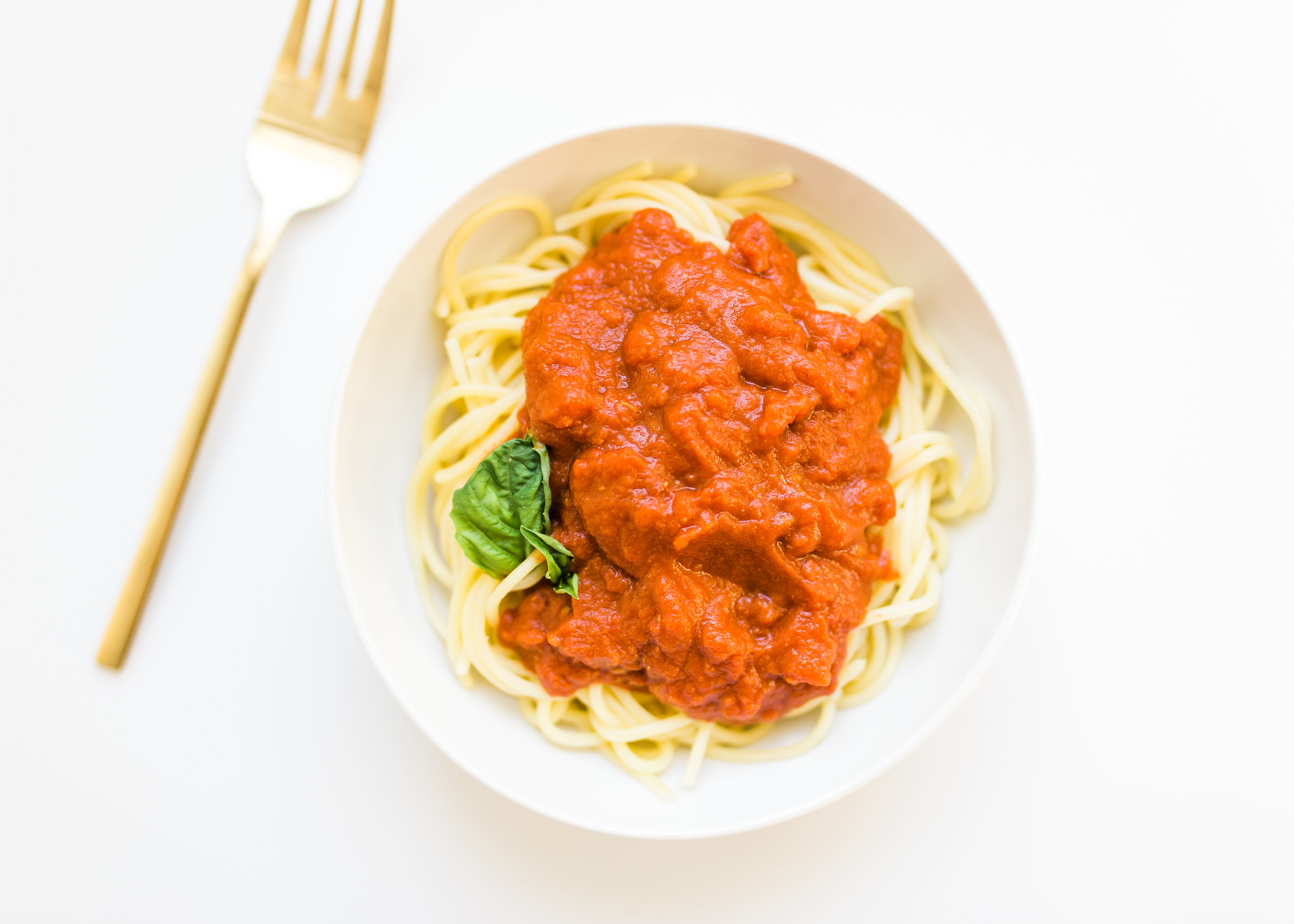 The Most Delicious 3-Ingredient Tomato Butter Sauce
It seemed so simple. And yet somehow the combination of a whole onion – that you actually discard after allowing it to merrily simmer away in the pot for 45-ish minutes, San Marzano tomatoes, and butter – turns into something magical. You'd think your tomato butter sauce came straight from a kitchen in Italy. But how can this be? How can a 3-ingredient pasta sauce taste so delicate, fresh, sweet, complex and absolutely heavenly?
I mean, of course every good tomato sauce has a hint of butter – my mom taught me that long ago; but the butter ratio in this uber famous butter tomato sauce gives the sauce an incredible velvety richness that will have you licking the pot clean. I'm not sure how just three simple ingredients can meld together to produce such a velvety rich pasta sauce, but the result is unreal. It's silky and robust and so delicious. This is the kind of pasta sauce you'll want to use forever more in every single Italian dish you make. It's THAT good.
Scroll on down for the 3-ingredient tomato butter sauce recipe …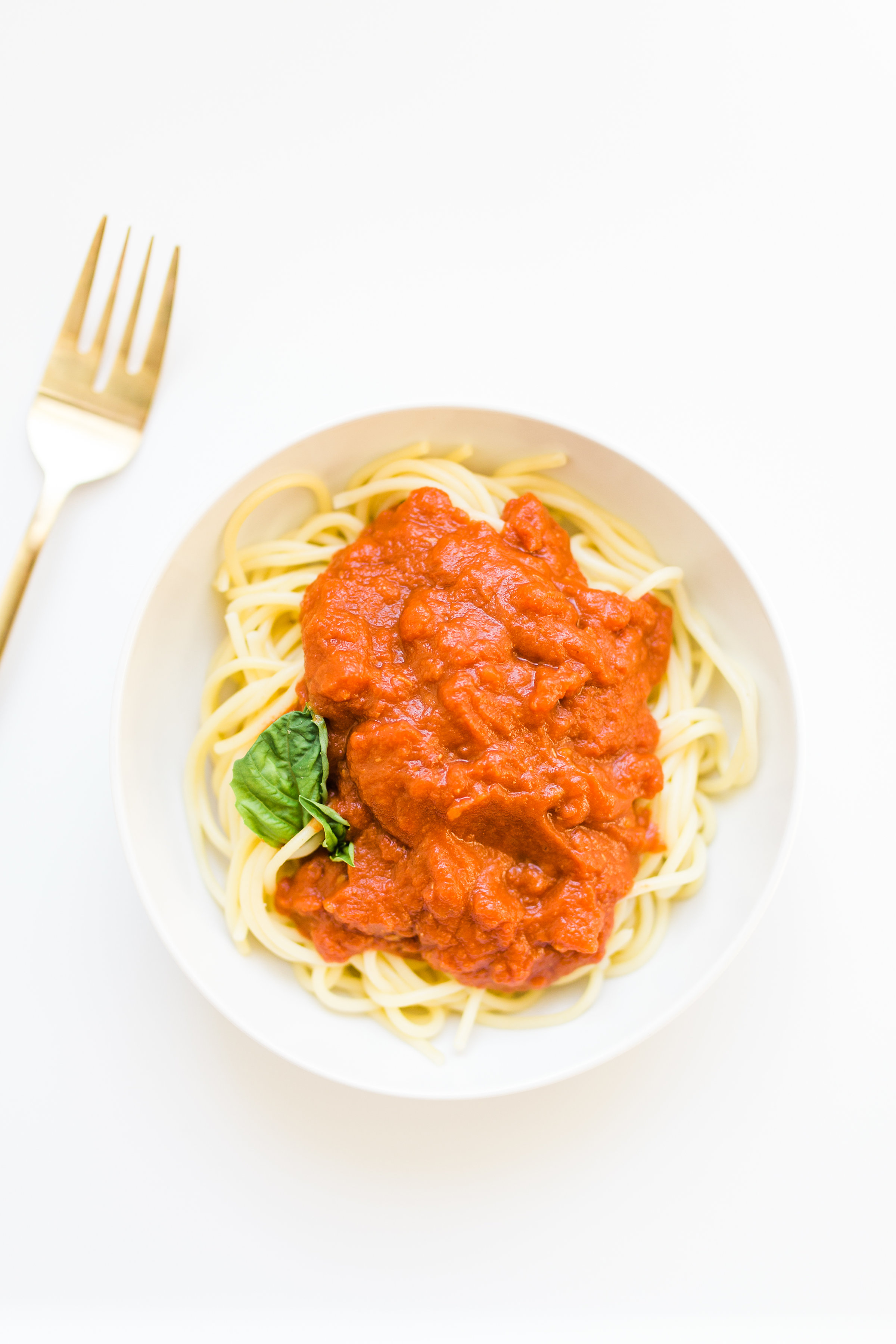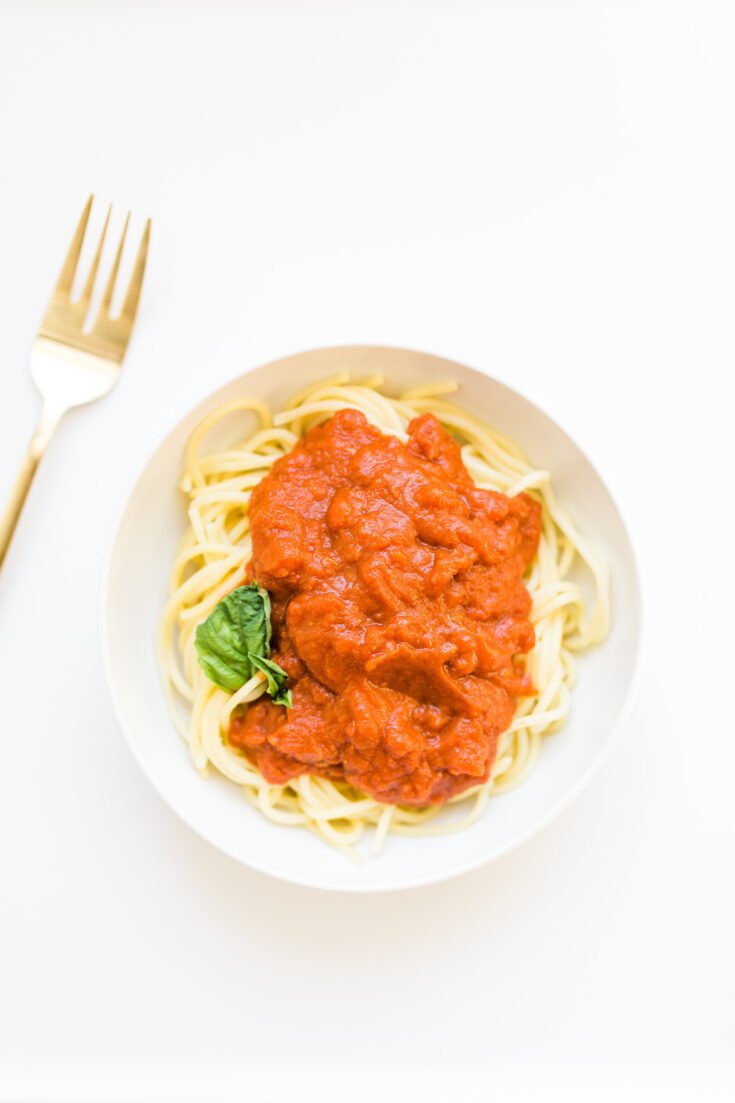 Yield:
3-Ingredient Tomato Butter Pasta Sauce
Ingredients
one 28-ounce can of San Marzano crushed or whole peeled tomatoes
5 tablespoons butter
1 medium sweet yellow onion, peeled and cut in half
Salt (optional)
Instructions
Combine your can of crushed tomatoes (or whole peeled tomatoes), butter and onion halves in a saucepan.
Place over medium heat and bring to a simmer. When the tomatoes begin to bubble, lower the heat to a slow but steady simmer. Cook, uncovered, for about 45 minutes, stirring every 10 to 15 minutes. Mash any large pieces of tomato with a spoon if you used whole tomatoes. Add salt as needed. (You'll cook the sauce until the tomatoes are no longer watery and the sauce has reduced. The sauce is done when there is no remaining liquid.)
Discard the onion before tossing the sauce with pasta.
Notes
This recipe makes enough sauce for a pound of pasta.
NOTE: If you like your tomato sauce a little sweeter, add a pinch of sugar to the sauce while cooking.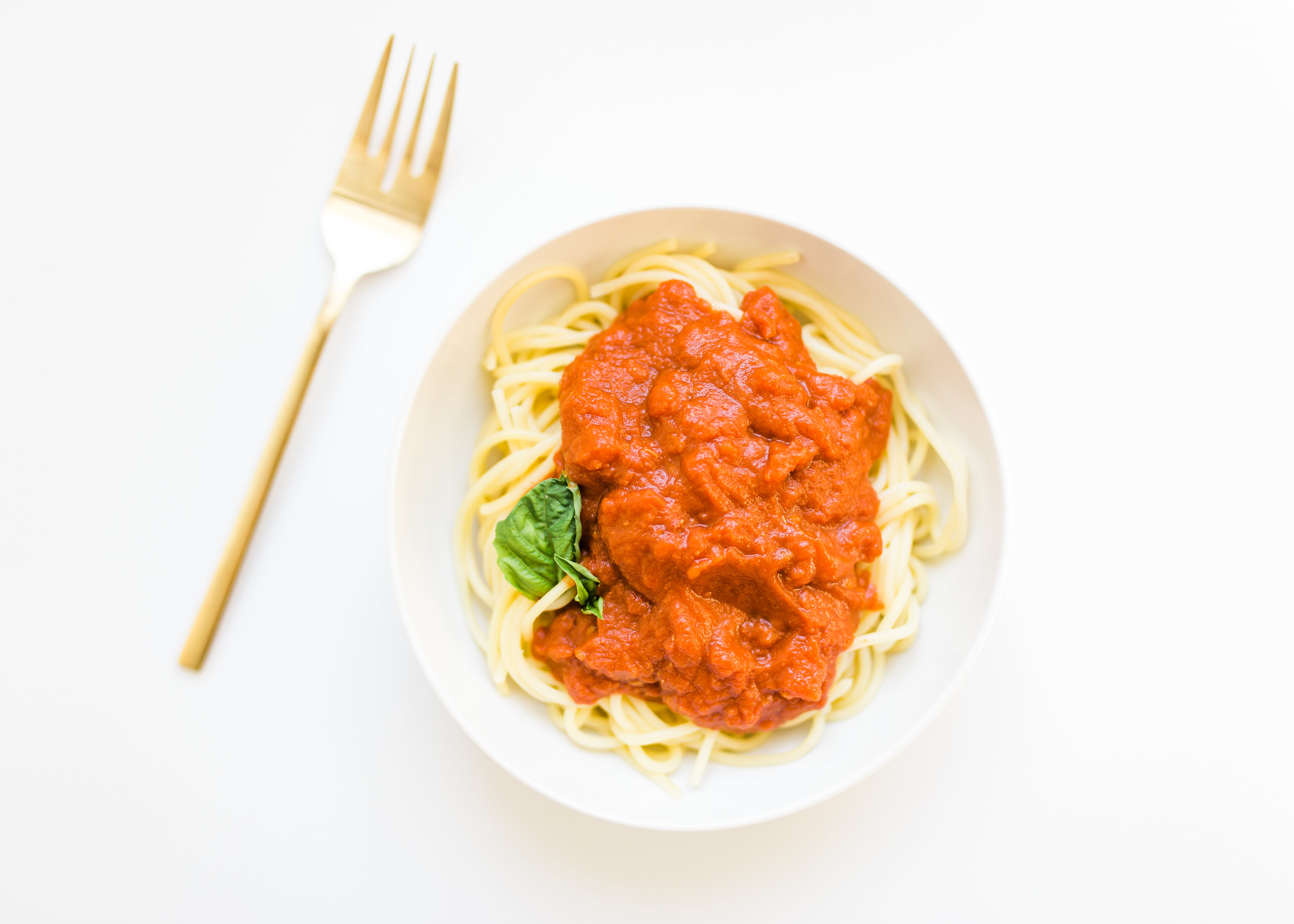 And I cannot stress enough how easy this tomato butter pasta sauce is to make. The onion is just peeled and cut in half, no chopping or slicing required. Pour your canned tomatoes into a pot, add your onion and butter, and break up the tomatoes with a wooden spoon while the sauce gently cooks.
Use canned San Marzano tomatoes. Just trust me on this one. They're the absolute best, and though they may cost a bit more at your local grocery store, San Marzano are so much more flavorful.
Bonus: Your sauce can be frozen and will taste just as good when thawed and reheated months later.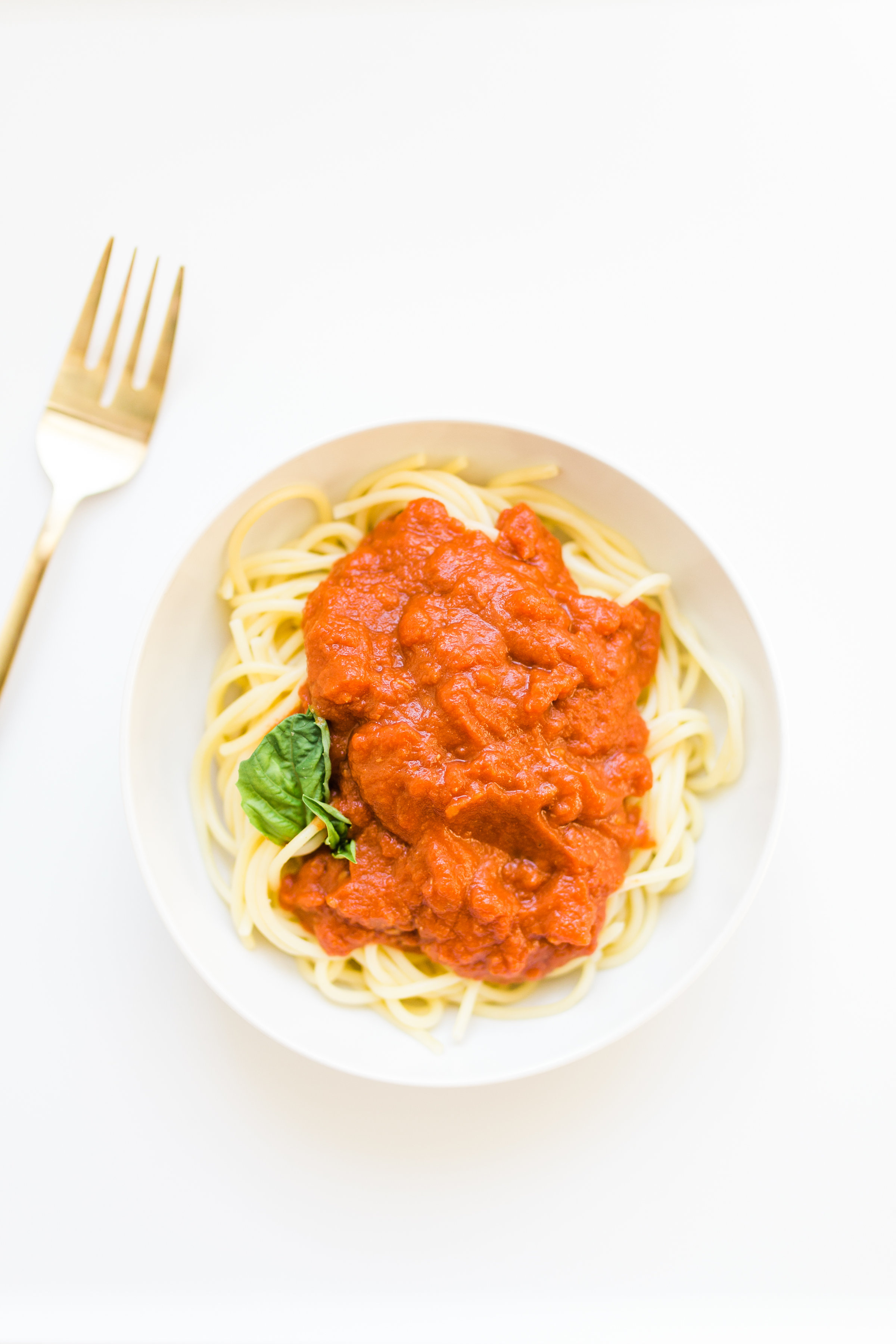 Serve with fresh basil and/or top with freshly grated or shaved Parmigiano-Reggiano.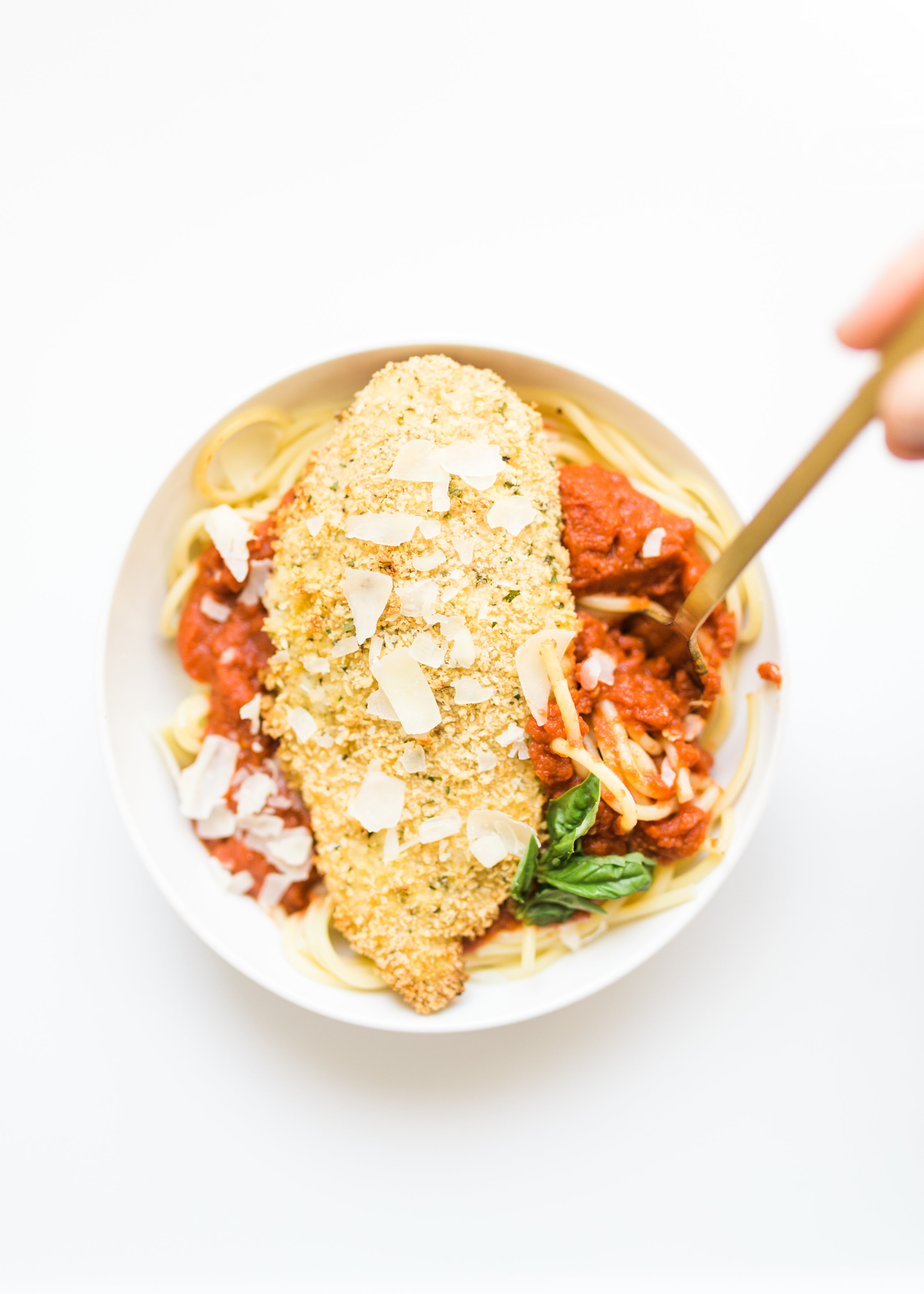 We also use this pasta sauce to make chicken parmesan, etc.
And it's the perfect pasta sauce to make for a dinner party because you can easily double or triple the recipe. (Just cook a bit longer.) Who doesn't love pasta? Plus it's delicious, inexpensive, and goes a long way for a group!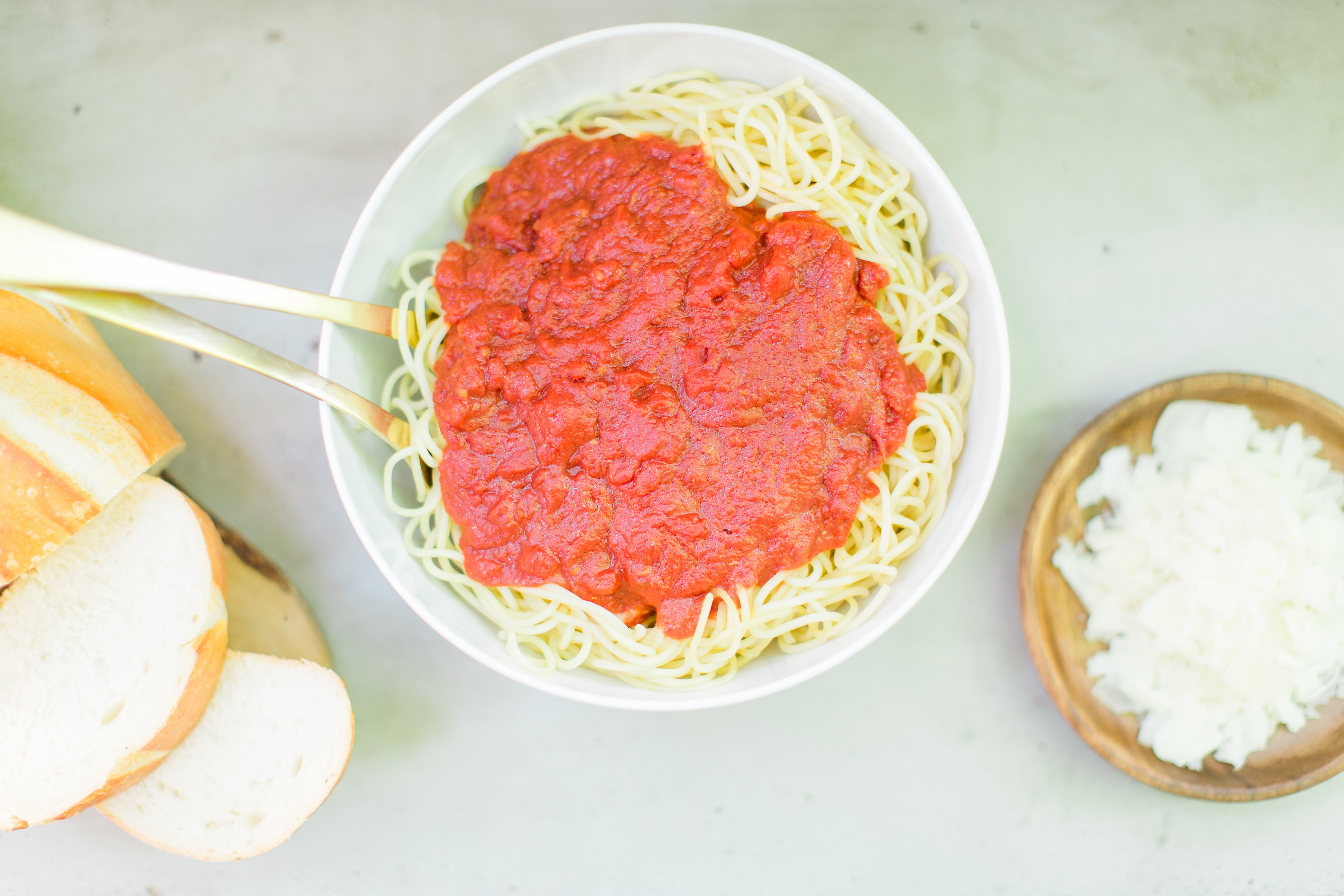 Have I convinced you to drop everything and make this 3-ingredient tomato butter sauce for dinner tonight?
Because you totally should.
SHOP THE TOMATO SAUCE POST | CLICK LEFT & RIGHT ARROWS TO EXPLORE

LOVE THIS 3-INGREDIENT TOMATO BUTTER PASTA SAUCE? HEAD TO OUR RECIPE PAGE TO CHECK OUT WHAT ELSE WE'RE WHIPPING UP IN THE KITCHEN!
Photos by Annie Watts Photography for Glitter, Inc.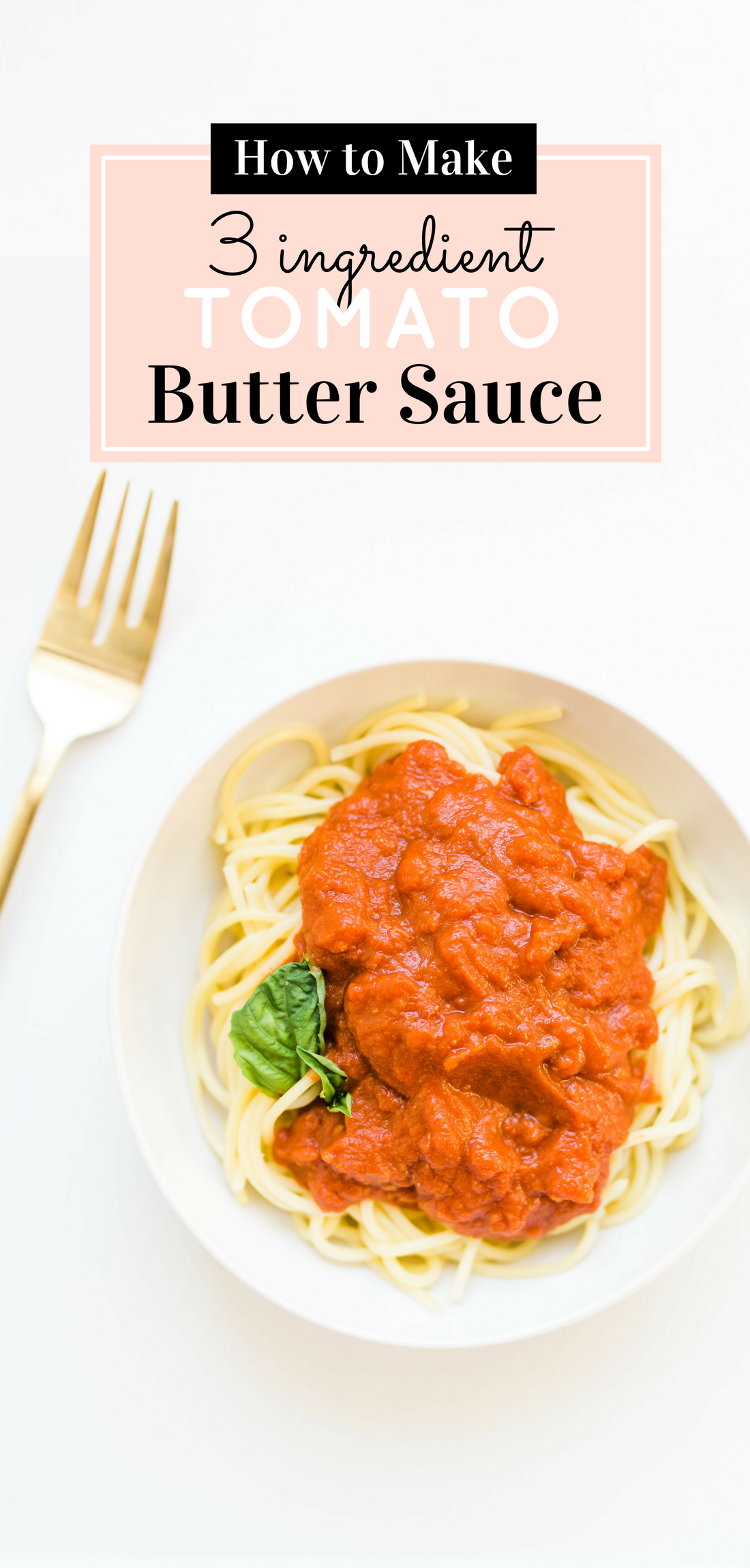 SaveSave
SaveSave
SaveSave
SaveSave
SaveSave
SaveSave
SaveSave