A few weeks ago I was wandering the grocery store while Scarlett was at school (isn't it amazing how much more leisurely a grocery shop can be without little ones in tow?) I stumbled upon boxed ramen broth – right where the chicken and vegetable broths are – and I did a double take. I had no idea ramen broth came packaged and ready to buy at the supermarket; but of course, I had to buy it. I mean, ramen is delicious, and at-home ramen noodles recipe sounds pretty awesome. Then I set off to get the rest of my ramen ingredients, focusing on a few favorites. Ramen noodles, of course, shitake mushrooms, bok choy, green onion, and eggs.
I am a ramen lover through and through, but despite loving to cook, I've never actually attempted homemade ramen because a traditional ramen broth can take hours and hours to make. To even the best chefs, making a truly fatty, salty, umami-dense rich ramen broth is a feat in and of itself. But the result is the ultimate meal-in-a-bowl and pretty near close to perfect comfort food.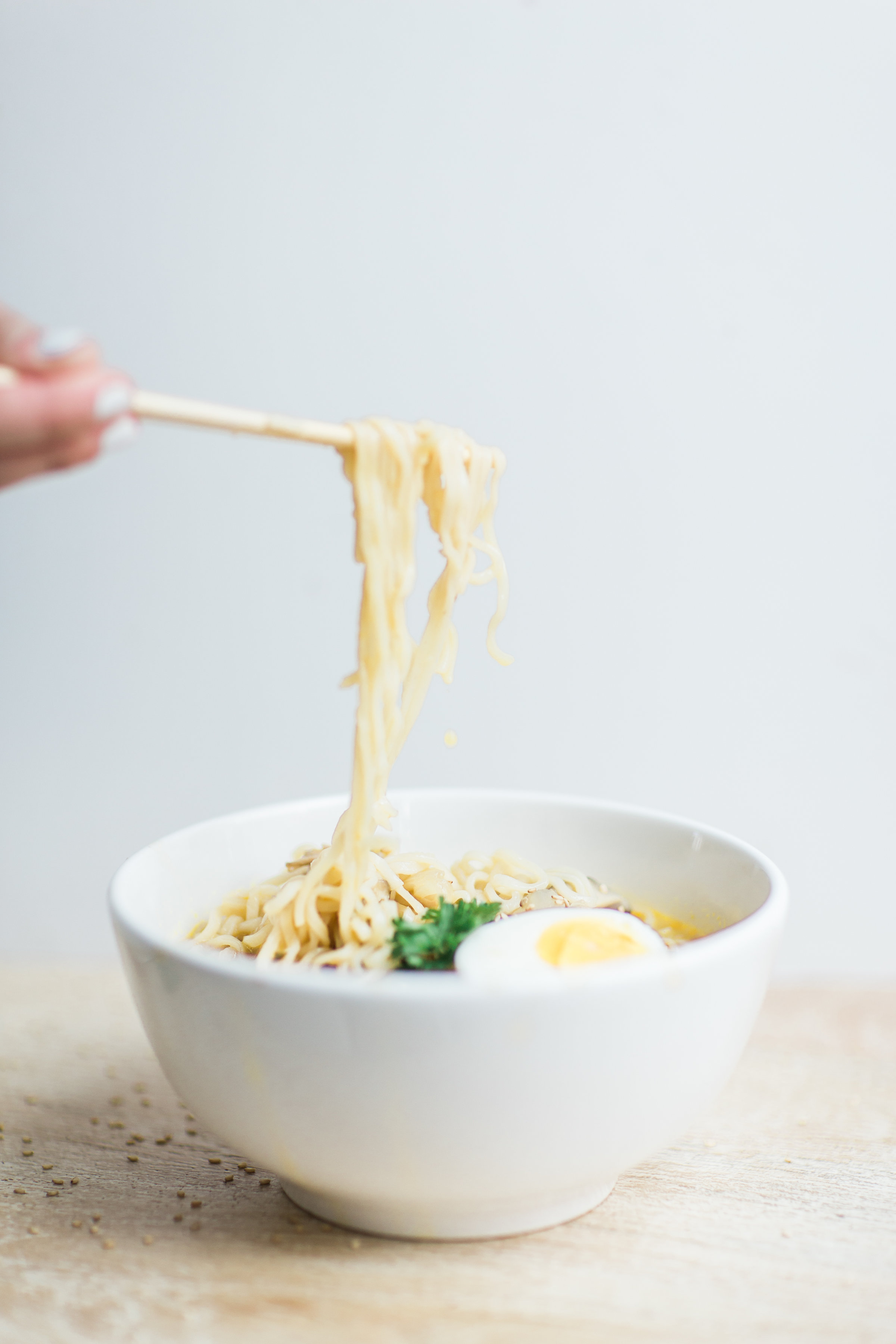 I'm not saying the original decadent ramen noodle dish isn't worth the trip to your favorite local ramen house, but when you just want a bowl of hearty noodles (because, carbs) covered in endless topping options that give you the power to make a bowl your very own – from the comfort of your sofa, I might add – this simple ramen noodles recipe in under 15 minutes might just be the key to at-home ramen bliss.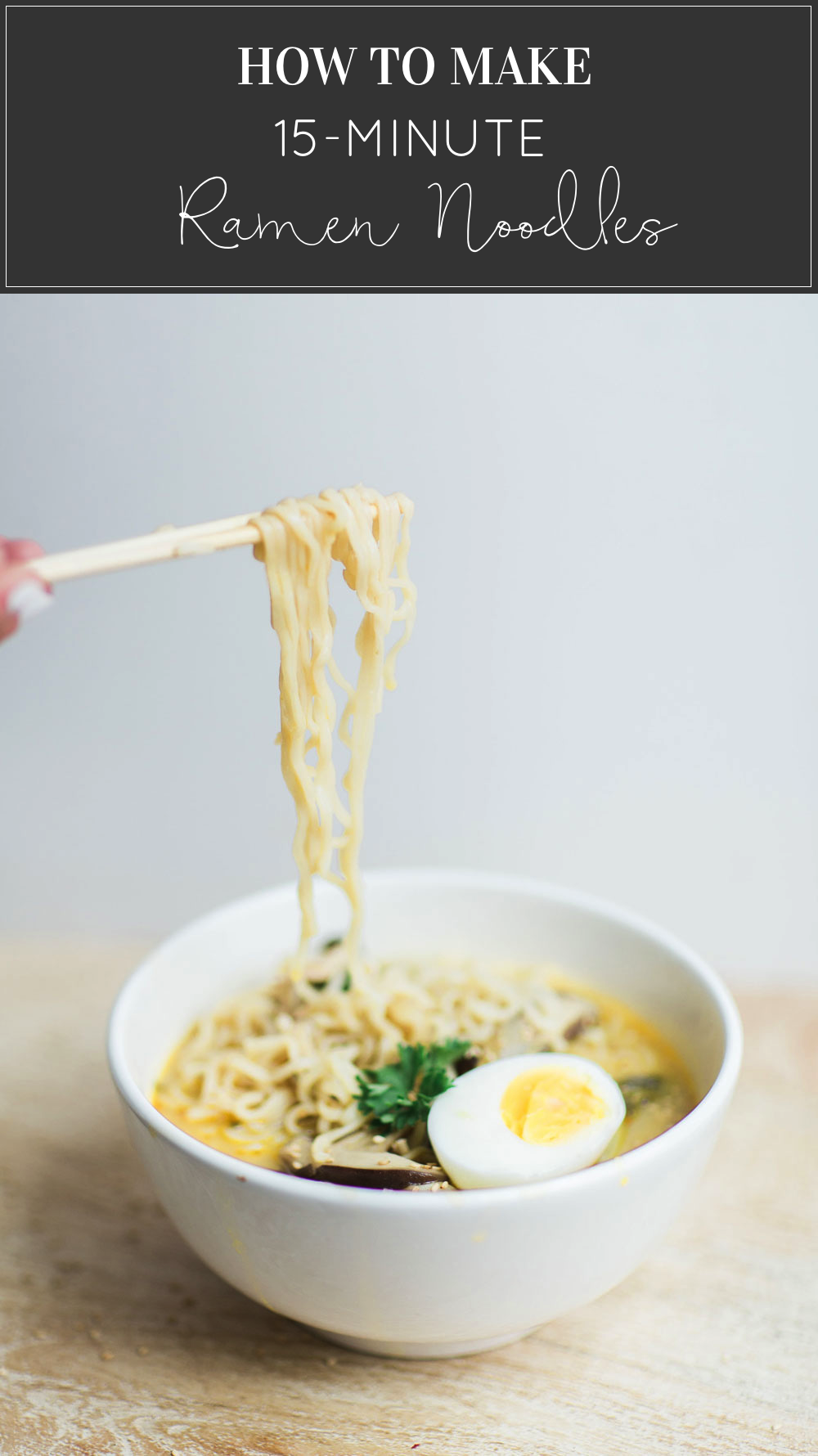 Ramen Noodles Recipe in Under 15 Minutes
Serves 2-4
INGREDIENTS
dried or fresh ramen noodles*, cooked as directed
ramen broth or vegetable broth
1 TB olive oil
2 green onions, sliced
1 cup shitake mushrooms, sliced
1-4 mini bok choy, quartered into long pieces
1 soft-boiled egg
sesame seeds
OPTIONAL TOPPINGS
bok choy
shitake or enoki mushrooms
pork belly or sliced roast chicken
scallions
bonito flakes
fresh spinach (blanch and squeeze all of the water out)
frozen spinach (defrost and squeeze all of the water out)
corn (canned, fresh or frozen)
bamboo shoots (canned or fresh) OR Bamboo Shoots in Chili Oil
dried seaweed
tofu (drained and cubed)
snow peas (blanched)
sliced Japanese fish cakes
fresh bean sprouts
chili oil
miso paste
soy sauce
sesame seeds
*I used dried ramen noodles for this, though admittedly, fresh ramen noodles are even better, but not quite as easy to find. Since falling for this soup, I've even ripped open one of those 25 cent instant ramen noodle packages and uses the noodles from the package, throwing away the spice pack. It all works.
DIRECTIONS
In a small pan, heat olive oil over medium heat, sauté fresh vegetables like onions, bok choy, and mushrooms until golden brown.
In a separate pot, heat your broth and cook noodles according to the package.
If you like having a soft-boiled egg on your ramen, boil your eggs for 5-6 minutes, no more. (I usually cook mine closer to medium, but is purely preference.)
Pour broth and noodles into bowls, followed by any protein and vegetables. Garnish with sesame seeds, and any soy sauce or chili oil, then place half the soft-boiled egg on top. Serve hot with chopsticks and a spoon.
NOTE: I went the pretty traditional route, topping my ramen noodles with shitake mushrooms, bok choy, green onion, a soft-boiled egg, and sesame seeds, but I'm looking forward to trying a whole variety of toppings as we add this simple dinner into our rotation. I'm definitely going to add sliced roasted chicken (something you can easily pick up pre-made at the grocery store) or tofu for extra protein in the future. Everyone loved having ramen at home, especially Scarlett, who was a big fan of slurping up the soft noodles.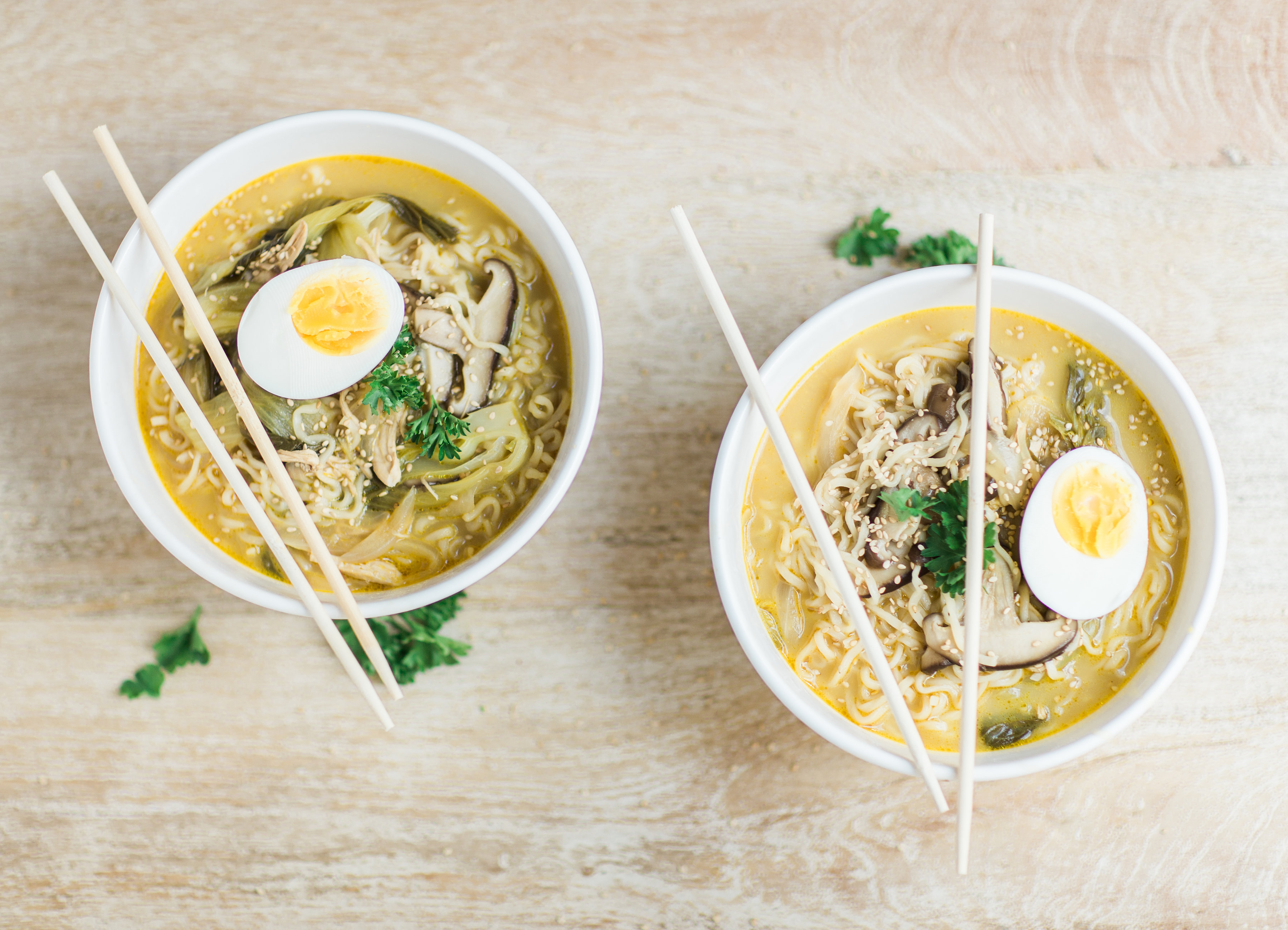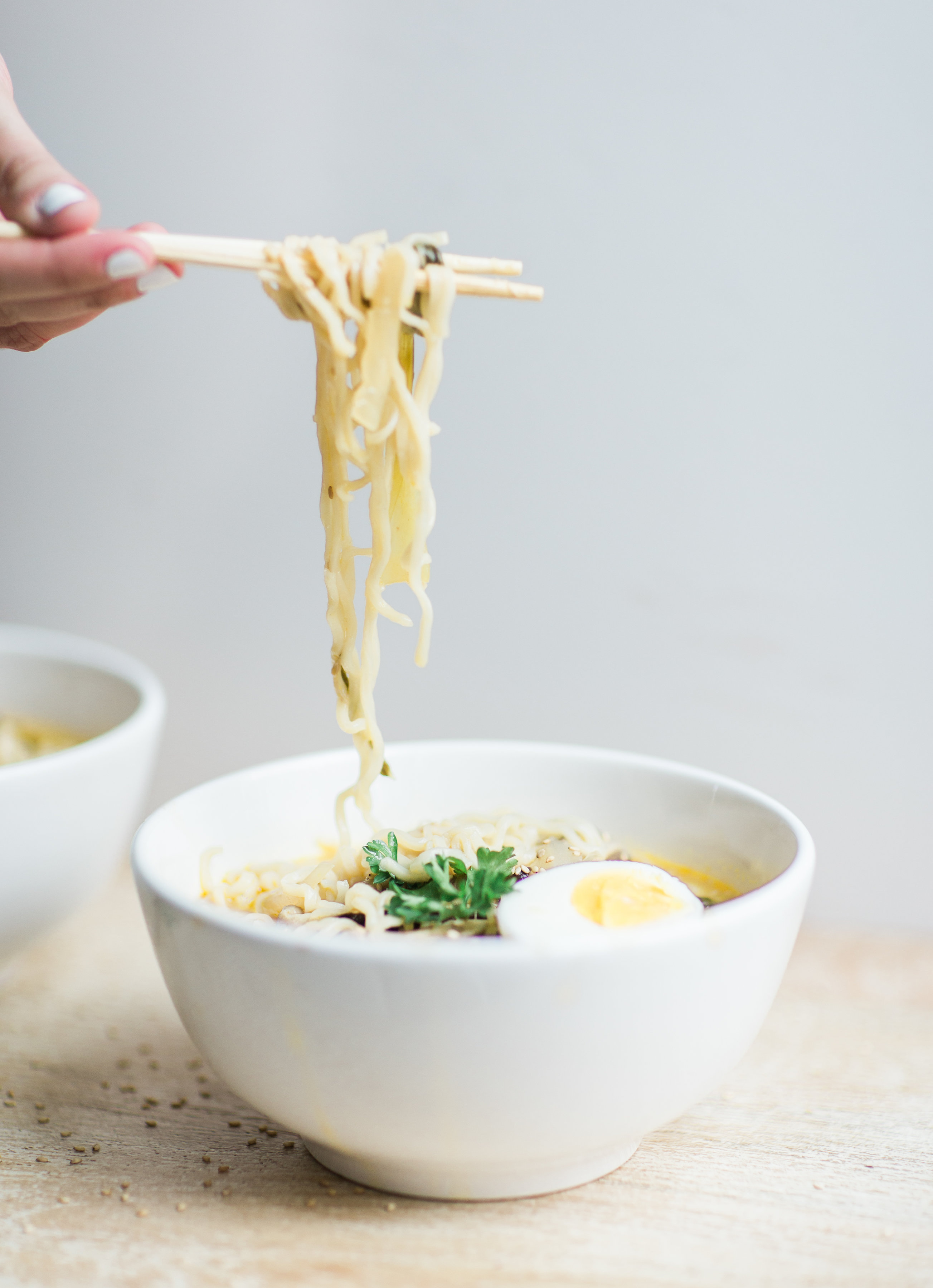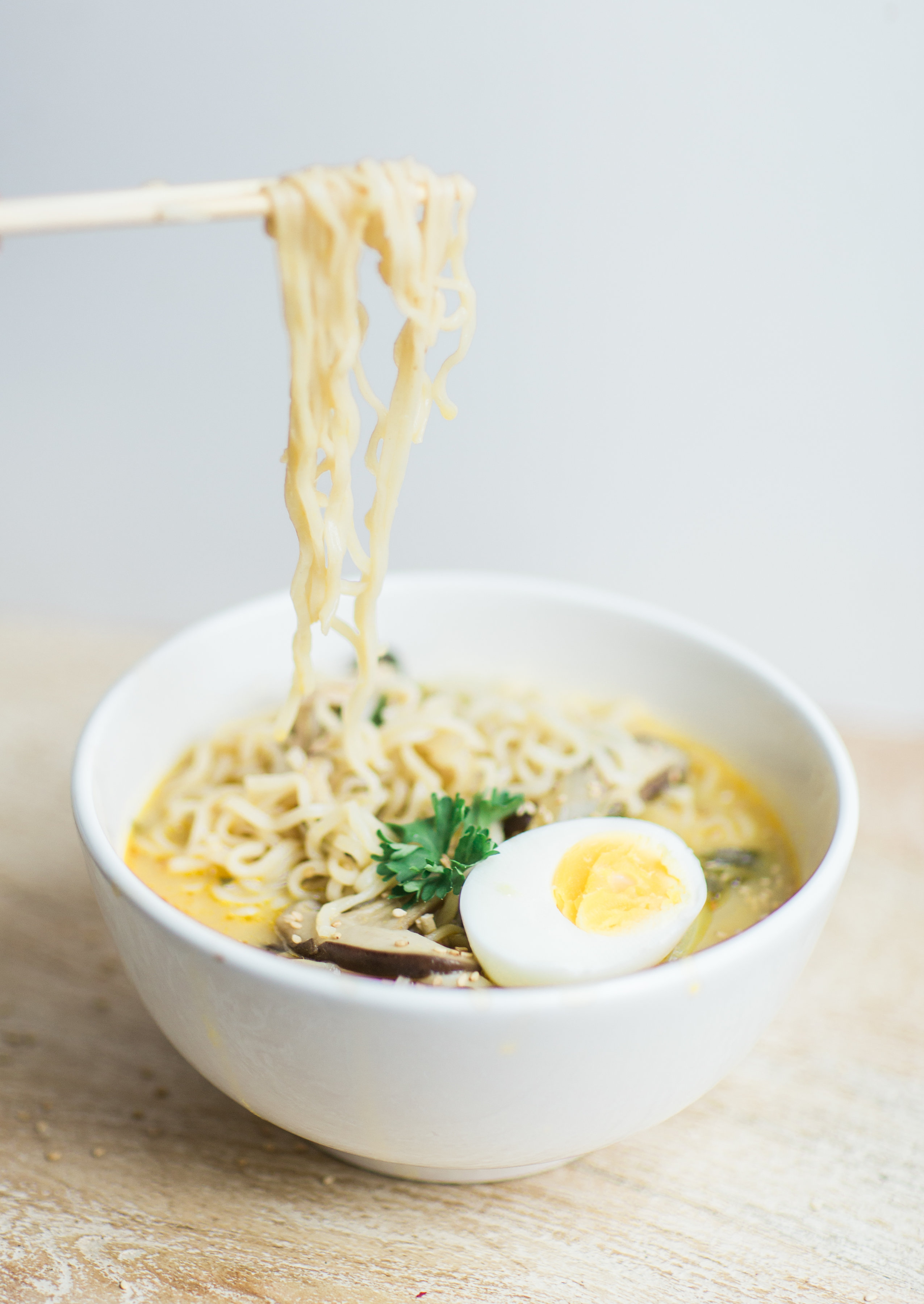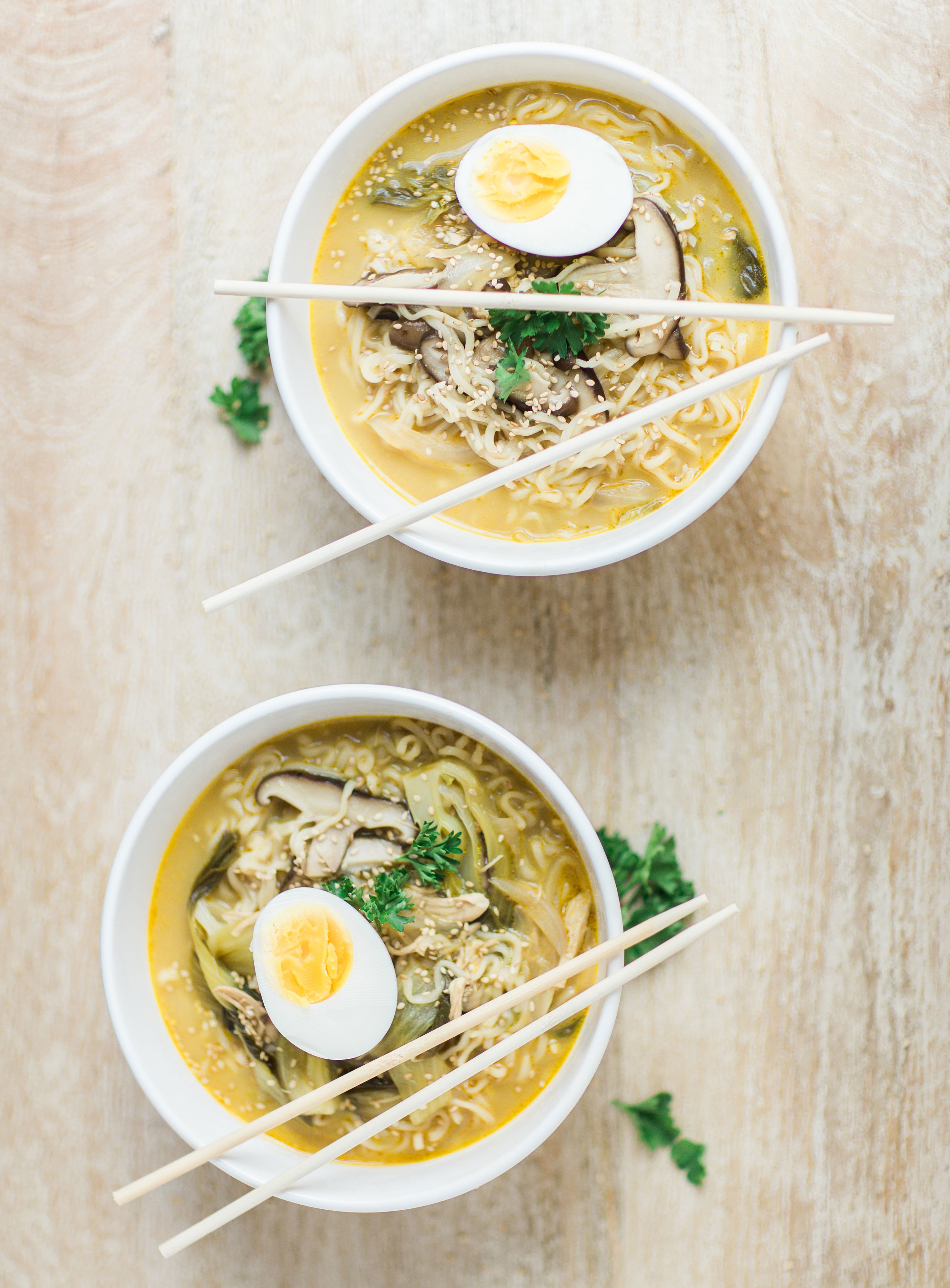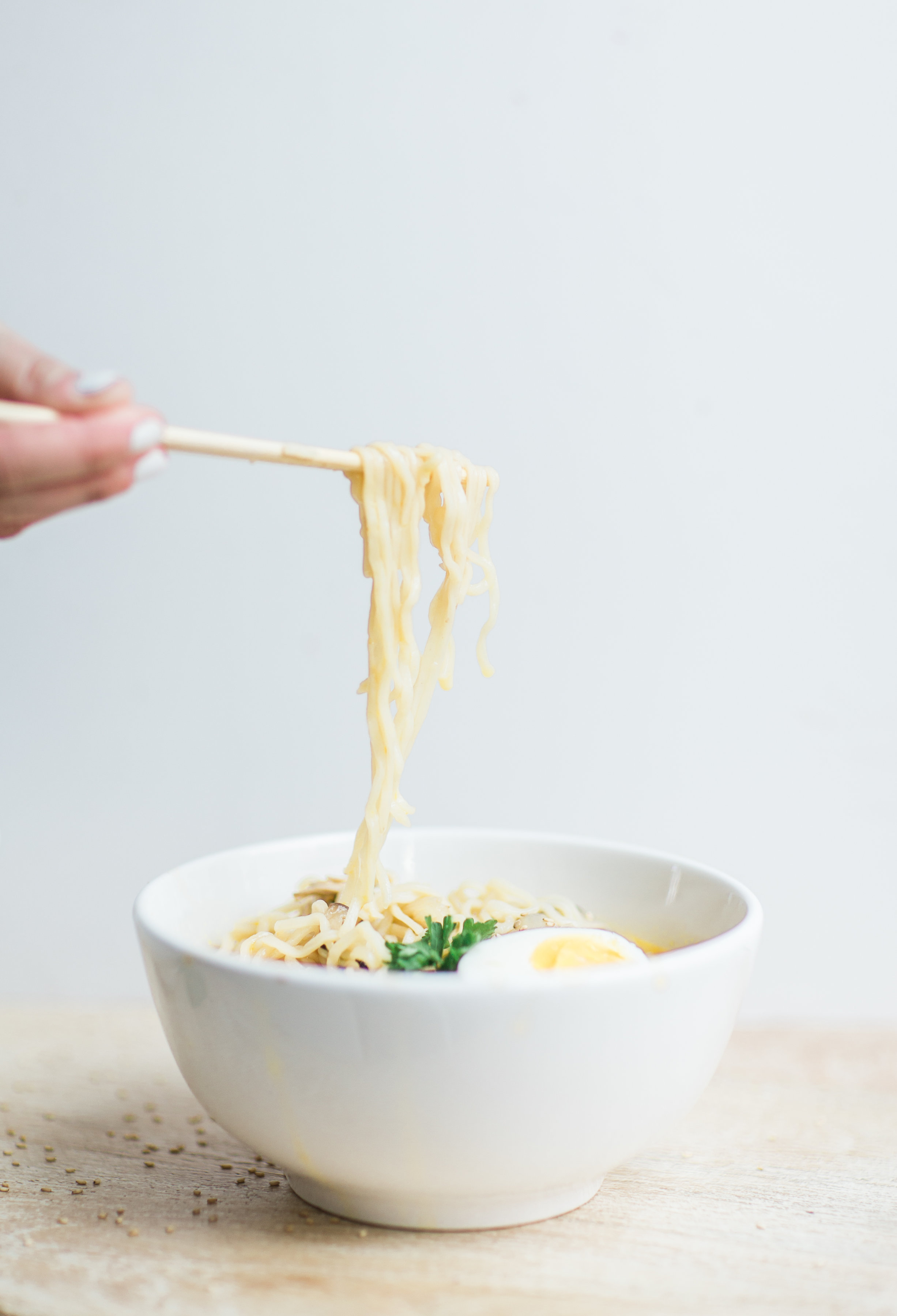 Happy slurping!
If you make your own simple ramen noodles recipe at home, be sure to tag me on social media (@glitterinclexi) so I can live vicariously through all of your delicious meals!
Photos by Annie Watts Photography
This post contains affiliate links, which means that if you click on one of the product links, I'll receive a small commission. Thank you so much for clicking through and helping to support this little blog business of mine! Read more about our site, privacy, and disclosure policies here.