This post contains affiliate links, which means that if you click on one of the product links, I'll receive a small commission. Thank you so much for clicking through and helping to support this little blog business of mine! Read more about our site, privacy, and disclosure policies here.
What better way to celebrate a big birthday than with a delicious, home-cooked meal? From lobster mac and Cheese to stuffed flank steak to homemade pizza to a whole roast chicken, here are 40 absolutely delicious birthday dinner ideas at home that that special person in your life will love.
The fall has become a season of birthdays for us. My own birthday is in September, followed by my brother's birthday in October, then our sweet baby girl, Emme's birthday, then my Dad's, and hubby's just yesterday. As fun as it is to go out to a celebratory birthday dinner, funny enough, my family, nine times out of ten, prefers a home-cooked meal, especially on special occasions and birthdays.
And I actually LOVE that; because truth is, as a busy mama to two little ones, sometimes a cozy night at home with my sweet family is exactly the kind of birthday celebration dinner we're all dreaming of. And I do love to cook, so the idea of making something extra special for birthdays sounds just right.
When it comes to making a birthday meal at home, try to plan a meal the birthday boy or girl would love. Think something decadent, splurge-worthy, or extra special like lobster tail, steak, a juicy burger, etc.
Comfort foods work great too! Never underestimate the power of a big bowl of pasta. 😉
Whether you're planning a birthday dinner at home with the family or a romantic dinner date night for two, these 40 birthday dinner recipes are sure to inspire you to cook up some delicious birthday dinners at home!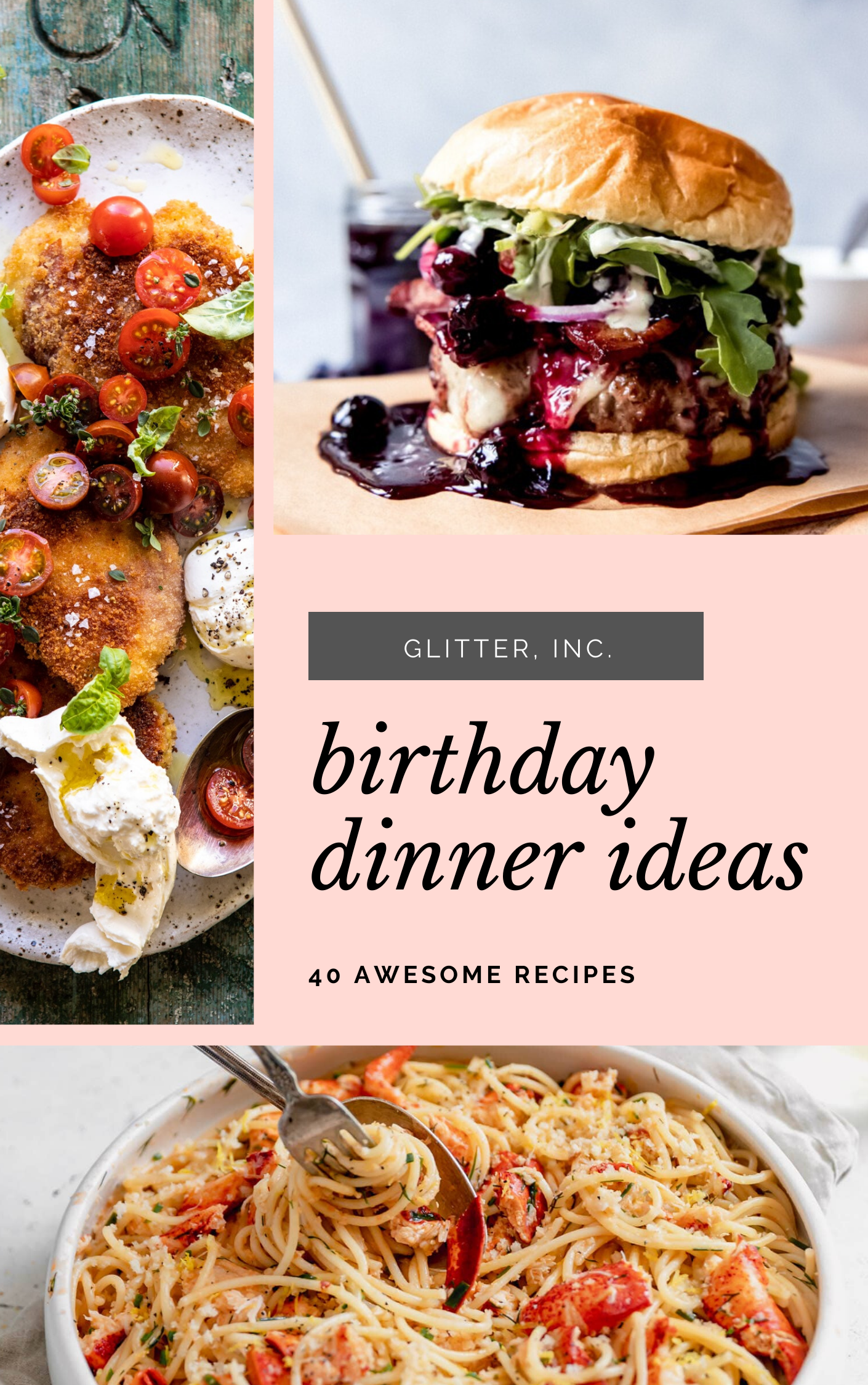 40 Birthday Dinner Ideas At Home
Here are 40 birthday dinner ideas to celebrate that special someone with a delicious home cooked meal. Happy cooking!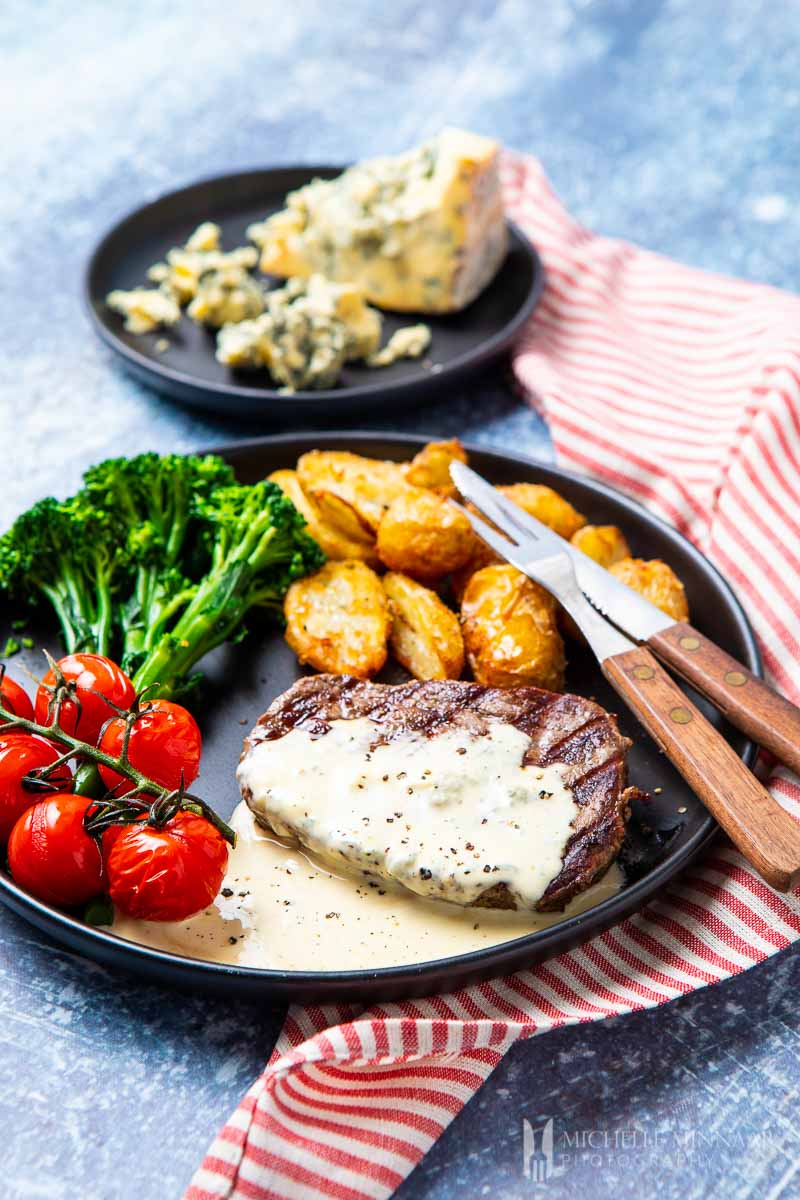 Who can say no to a rich and creamy sauce with steak? You have the perfect excuse to indulge on your birthday, right? This Blue Cheese Sauce is a super easy recipe to prepare as well!
One truly delicious birthday meal is crab alfredo – it's rich and decadent and delicious-of course!
Keeping things colorful and cozy today with this Sage Lemon Butter Chicken Piccata with Mashed Cauliflower. Lightly breaded chicken seared until golden with fresh sage, lemon, and butter. The chicken is finished in a simple white wine pan sauce with burst cherry tomatoes. It's simple but mouthwatering.
Lobster Mac and Cheese, with succulent pieces of wild caught fresh water lobster, is possibly the best macaroni and cheese recipe you'll find!
Possibly my husband's most perfect birthday dinner: this drool-worthy Bourbon Bacon BBQ Burger. As in, a burger made with bourbon, barbecue sauce, and bourbon roasted bacon. Ohhhhhhh yeah.
This chicken is seriously easy to make, yet looks and tastes like a million bucks.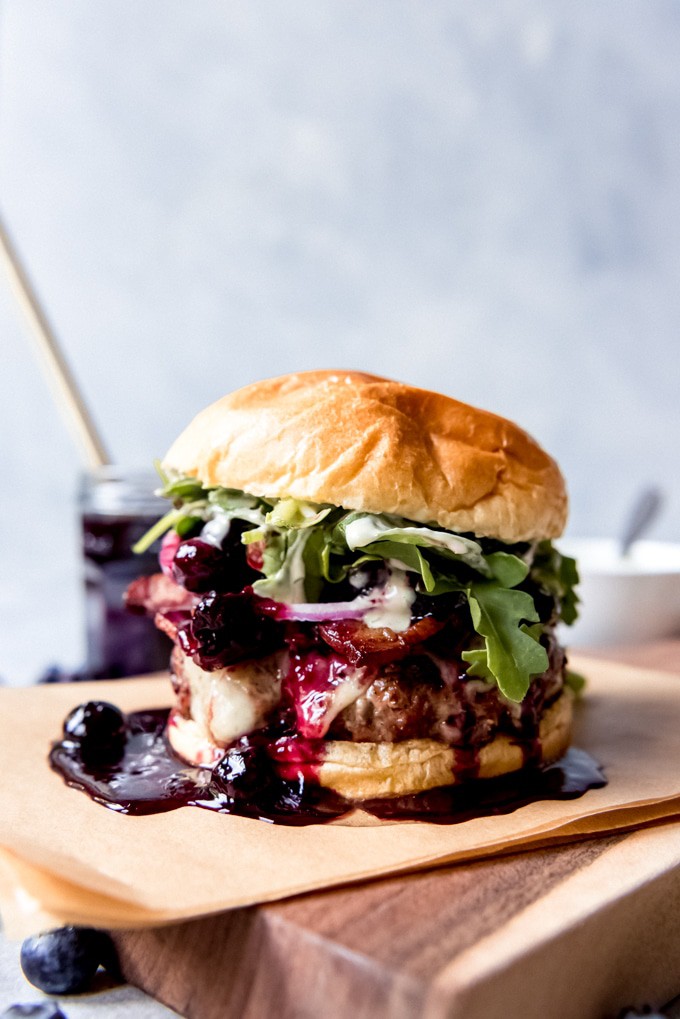 Who doesn't want to celebrate their birthday with burgers? This Blueberry Bacon Burger with Basil Aioli is perfect for a party!
Talk about comfort food, but with a decadent brown butter twist. Yum.
If you're looking for the best bacon wrapped pork chops recipe, you've found it! With only three ingredients, anyone can make this easy dinner!
Humble ingredients—eggs, noodles, cheese, and pork—combine to create glossy, glorious pasta carbonara.
Get fancy…ish with homemade Brown Butter Lobster Ravioli with Tomato Cream Sauce. Fresh pasta dough (or wonton wrappers to keep things easy) filled with a simple but delicious nutty browned butter lobster and ricotta cheese filling. Serve this homemade ravioli with a delicious creamy tomato basil sauce that truly compliments the delicate, buttery, herby flavors of the lobster.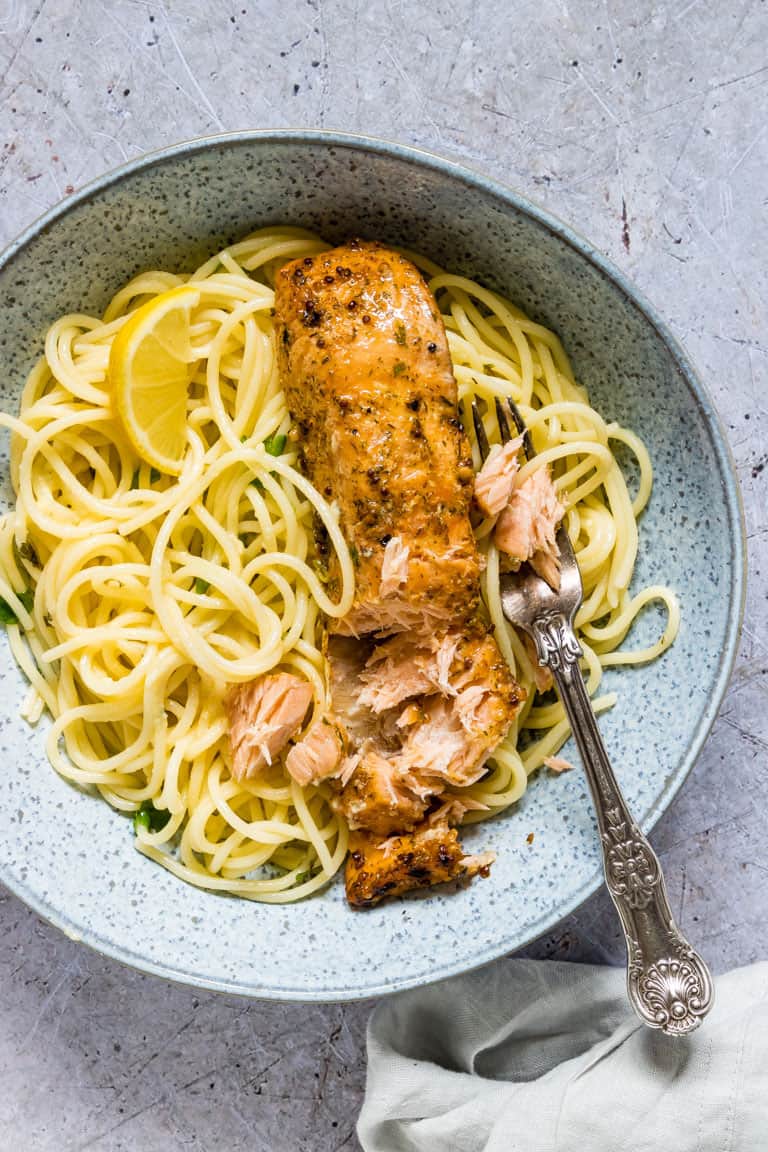 This Lemon Butter Salmon Pasta is quick, easy and simple and perfect for all things celebrations. The lemon butter sauce, drizzled over the salmon and pasta truly makes this dish stand out.
Flank steak pinwheels are cooked to the perfect temperature from edge to edge when you sous vide stuffed flank steak. This stuffed flank steak recipe will be one of your favorite recipes!
These fish tacos are loaded with fresh ingredients and perfectly seasoned plump fish. Don't skip the best fish taco sauce – a garlic lime crema that you will want it on all your tacos!
Warm spices like ginger, turmeric, cinnamon and cumin mixed with yogurt make the marinade for this simple whole tandoori roast chicken.
The classic southern dish – homemade shrimp and grits – simplified and amplified. I can't even with this dish.
Get the grill fired up for this dish, which features Yukon gold potatoes, beef tenderloin, bell peppers, and onions that are set on skewers and cooked over an open flame. Serve them with a chimichurri to complement the rich flavors.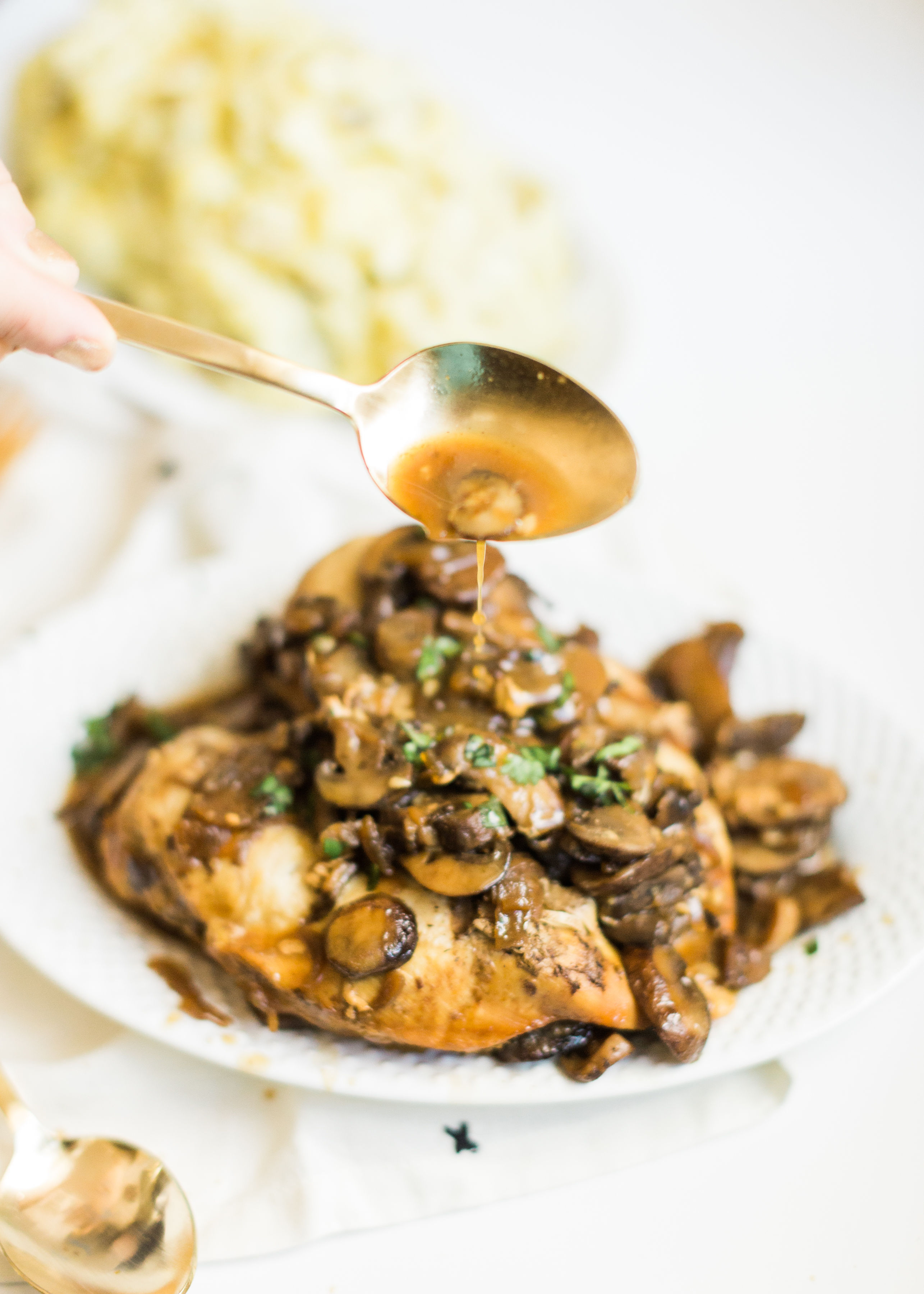 This easy and tender Instant Pot chicken marsala is an explosion of flavor – seared chicken breasts in a rich mushroom and onion gravy – all thrown together in minutes in your crockpot or instant pot – no extra pans required. Serve it with mashed potatoes for a knockout dinner the whole family will love!
These Honey Butter Blackened Scallops with Herby Polenta are simple and delicious. Pan seared scallops tossed with spices, honey, and a touch of butter, then served over a creamy herb swirled polenta.
Roasted garlic & caramelized onions deepen the flavors of this super addicting pasta recipe. The spicy parmesan kale chips are so fun and add a perfect crunch to this comforting pasta recipe.
This herb and butter roasted beef tenderloin so simple and flavorful and tender. It's just delicious and worthy of the center of your holiday table.
Can't hop on a plane to France? Re-creating those Parisian vibes at home is easier than you think with this showstopping recipe. Oh, and guess what? Cooked in a garlicky white wine sauce, you can have dinner ready and on the table in just thirty minutes. Just don't skimp on the lemon-herb aioli. Bon appétit.
Our kids love homemade pizza night, especially on birthdays. We buy the Trader Joe's pre-made pizza dough (extra easy), and top it with our favorite toppings. This caprese pizza with basil, fresh mozzarella, tomatoes, and a simple-to-make balsamic glaze is always a winner … and tastes amazing.
Braised beef shank pasta is easily one of the most delicious dishes you'll ever make, and wonderfully easy to recreate! This recipe for a fantastic beef shank pasta is comfort-food reinvented.
This Coconut Chicken Tikka Masala recipe is SIMPLE, but SO GOOD. Blending a quick homemade yellow curry paste, which becomes the base flavor and adding in coconut milk keeping things creamy, plenty of spice, makes it delish. It's served over rice…and there is naan for scooping too.
How to make Fettuccine Alfredo at home just like the Olive Garden and other Italian restaurants. A quick and easy alfredo sauce recipe that helps make the BEST homemade Fettuccine Alfredo!
Broiled lobster tail is a decadent, impressive, but easy-to-make dinner. The preparation isn't difficult and this meal can be made at home for a fraction of the cost of eating out.
Creamy Bacon Mushroom Thyme Chicken is honestly one of the best skillet meals you will ever make! Tender chicken with a creamy sauce with bacon, mushroom, and thyme. The flavor is out of this world!
Extra Crispy Basil Chicken Saltimbocca with Marinated Tomatoes and Burrata…that I love so much! Prosciutto-wrapped chicken breasts, breaded in Panko bread crumbs, then pan-fried in olive oil until lightly golden and crisp. Serve each piece of chicken with marinated cherry tomatoes and creamy burrata cheese.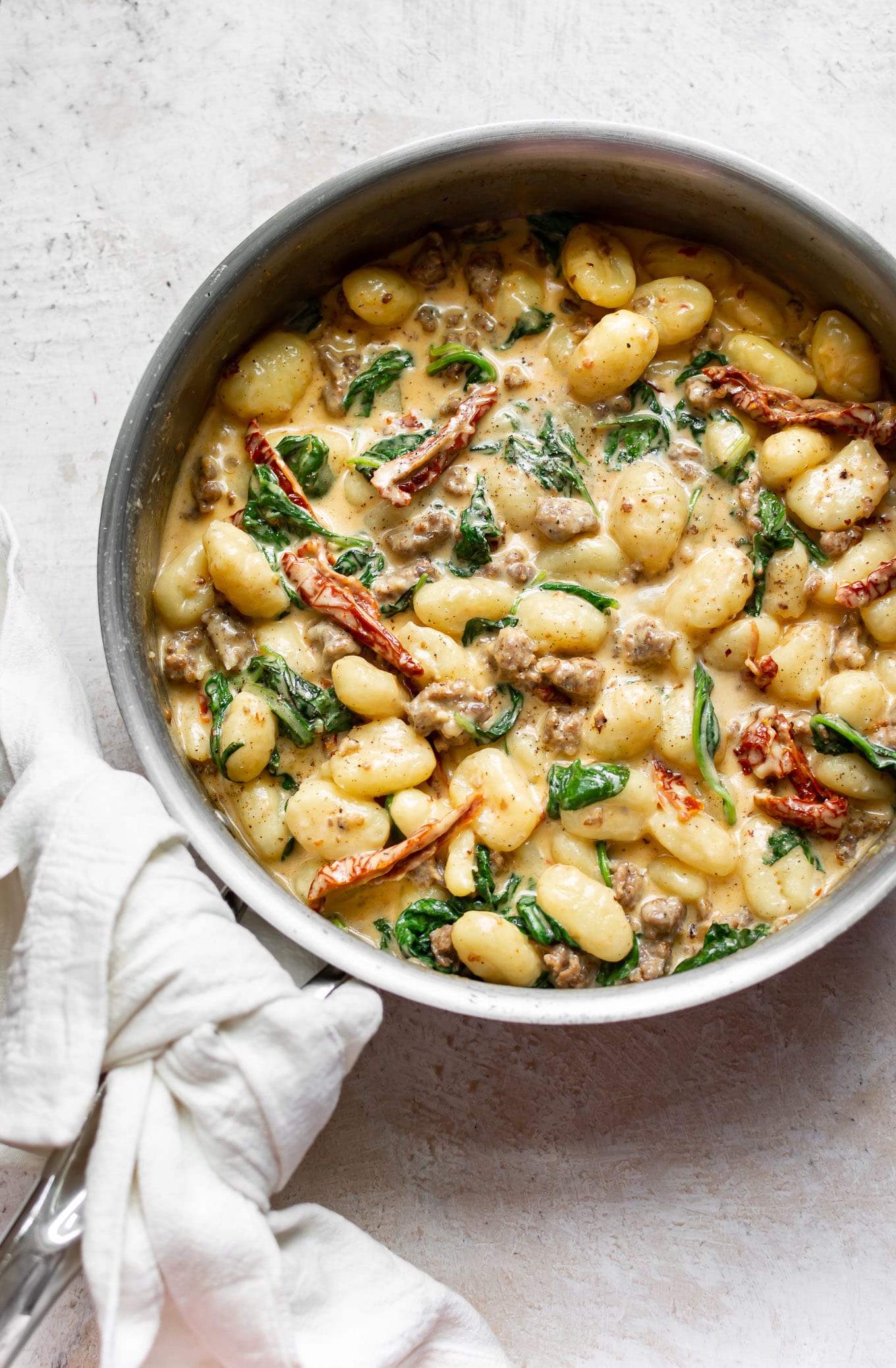 This creamy Tuscan sausage gnocchi is the ultimate comfort food! Italian sausage, sun-dried tomatoes, spinach, garlic, cream, and fresh basil make the most amazing sauce.
This dish has classic French flavors, wine, mushrooms, garlic and the best easy mashed potatoes to soak up all the sauce – which by the way is so good.
A unique take on another classic lobster meal- a lobster roll. This Lobster Roll Pasta has all the same flavors of a lobster roll: lobster, butter, lemon, and dill, in a delectable pasta. It even has breadcrumbs on top!
Juicy, crispy chicken cutlets taste indulgent, but Teigen explains that they basically count as a salad: "Whoever invented Milanese has some serious Jedi-mind-trick stuff going on. I mean, it's a salad. But on top of a fried chicken cutlet. It's like spa food. But it's fried chicken," she says.
Tangy, herbaceous, garlic-flecked chimichurri makes an ideal partner for jumbo shrimp. A quick toss in the verdant sauce, then sauté until pink and serve on a bed of creamy Parmesan polenta. This Italianate—or is it Argentine?—riff on shrimp and grits is more than the sum of its (delectable) parts.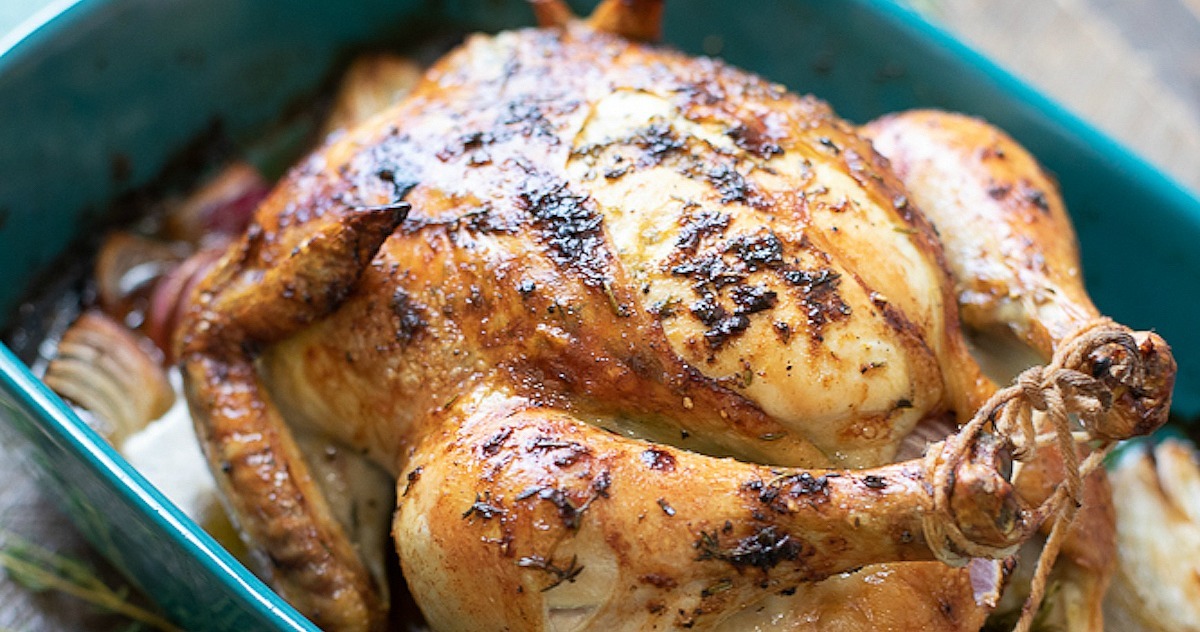 This roast chicken is always a hit, and make your house smell heavenly while it cooks!
With just 5 ingredients you can make this recipe for easy chicken cordon bleu recipe. Chicken, ham, Swiss cheese, an egg and bread crumbs are all you need.
This amazingly simple and delicious pad thai recipe comes together easily and happens to be one of our family's favorites. Super yummy.
Nothing says I love you like Steak Au Poivre! Pamper your loved one on their birthday with this standout dish.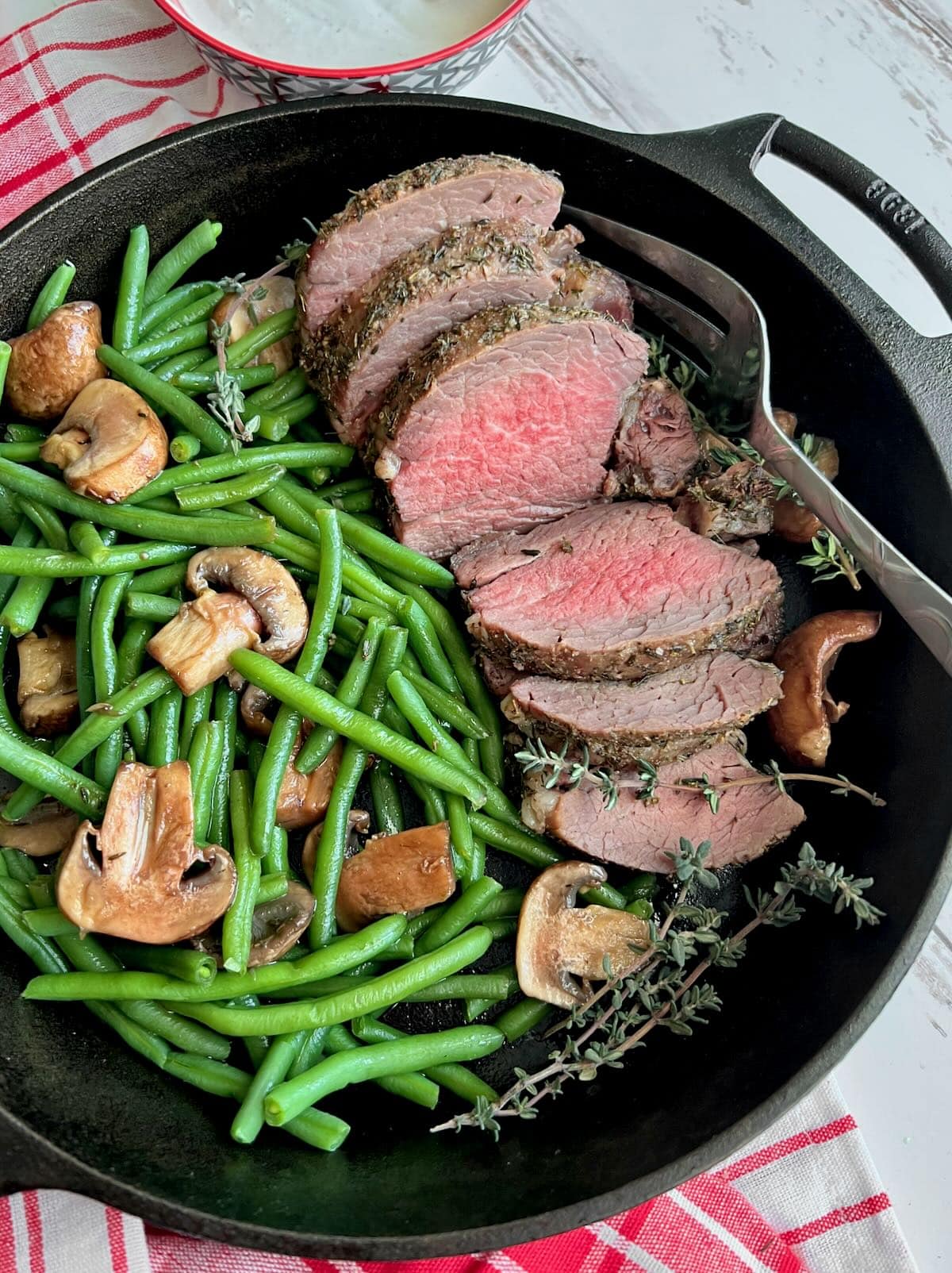 Cast Iron Beef Tenderloin is the easiest way to make something delicious and perfect for a dinner party or special occasion (like a birthday!) using just one skillet!
The freshest Garden Herb Shrimp Scampi Linguine with zucchini…plenty of garlic…and even a little wine. Pan-seared shrimp with garden-fresh herbs, lemon, black pepper, and plenty of butter…tossed with linguine pasta and zucchini. Best for when you're in need of a 30-minute dinner, but also need to impress your guests with something delicious.
The easiest garlic butter tomato baked chicken with mozzarella. It's a one pan recipe that comes complete with roasted sweet balsamic tomatoes, cooked chicken with melty mozzarella and the most fantastic sauce for your pasta!
What about you? What dinner recipes does your family make for birthdays? Any extra fun romantic dinner ideas you love? I'd love to hear what your favorite birthday celebration meals are! I'm always looking for new ideas since we have so many birthdays and special occasions.
Love these ideas for extra special homemade birthday dinners? Head to our recipe page to check out what else we're dreaming up in the kitchen!
SHOP THE BIRTHDAY DINNER IDEAS POST | CLICK LEFT & RIGHT ARROWS TO EXPLORE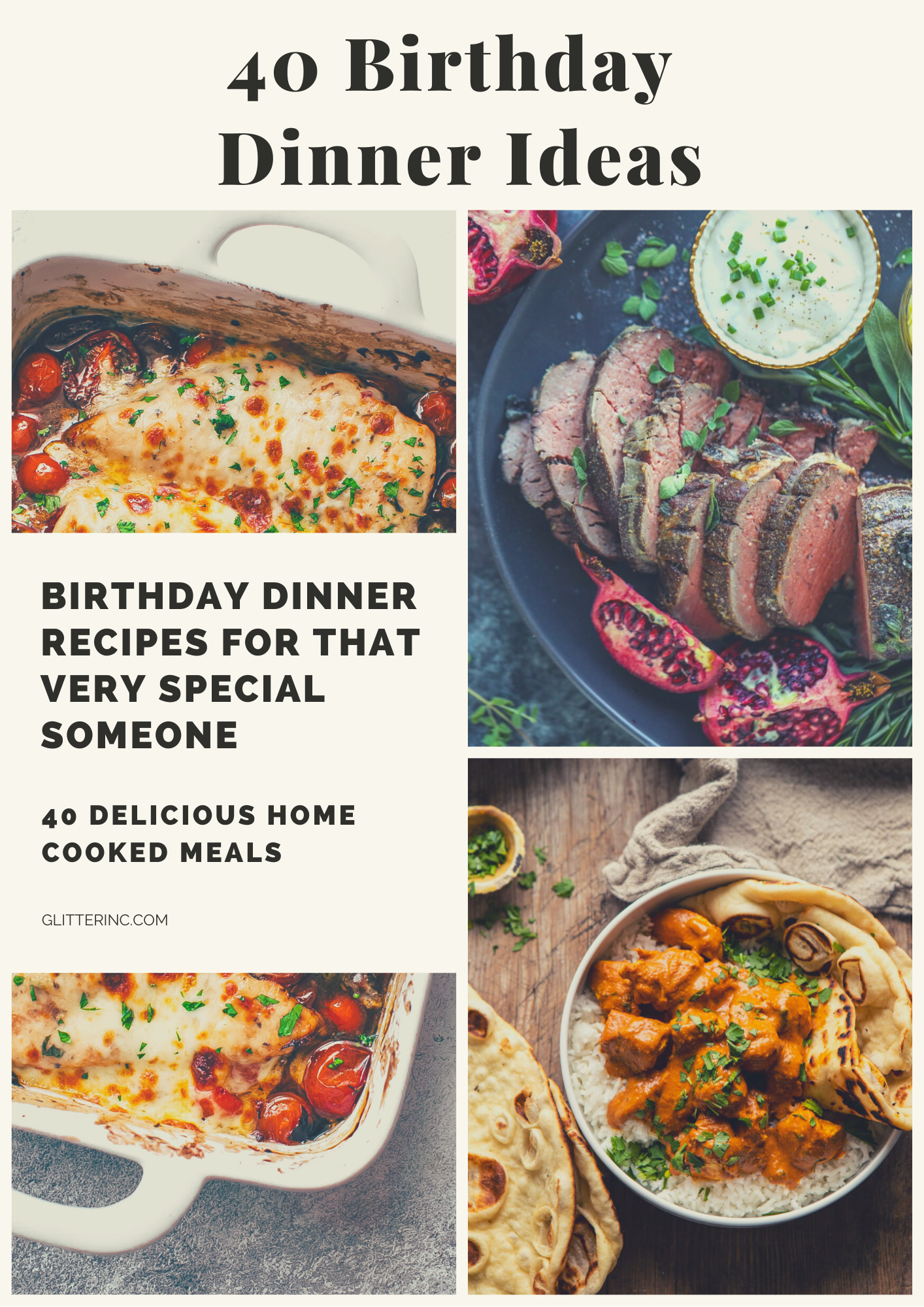 Cover Photo via House of Nash Eats — Red, White, and Blueberry Bacon Burger with Basil Aioli