This post contains affiliate links, which means that if you click on one of the product links, I'll receive a small commission. Thank you so much for clicking through and helping to support this little blog business of mine! Read more about our site, privacy, and disclosure policies here.
I keep an arsenal of super easy week nights meals up my sleeve at all times so that on days when I'm exhausted, but don't really want to spend the money to order in or take out, I can throw together dinner in a few simple steps. I love an easy family meal that doesn't cost a whole lot. I call that a dinner win.
Trader Joe's is one of my favorite go-to suppliers of easy dinner solutions. And this 3-Ingredient Trader Joe's Thai coconut curry chicken recipe – in addition to being unbelievably easy to make – is one of our family's favorite recipes, any night of the week. I think it takes all of 5 minutes to prepare. Maybe less. Just give yourself a little wiggle room on cook time; it tastes best when it has time to really cook down and soften.
And the very best part? The whole thing can be made in your slow cooker. As in, you throw all of the ingredients in, let it slowly cook up into something magical, lift the lid when you're ready to eat, and dinner is served! (By the way, this Instant Pot basically does it all – slow cooker, rice cooker, pressure cooker – and you'll love it.)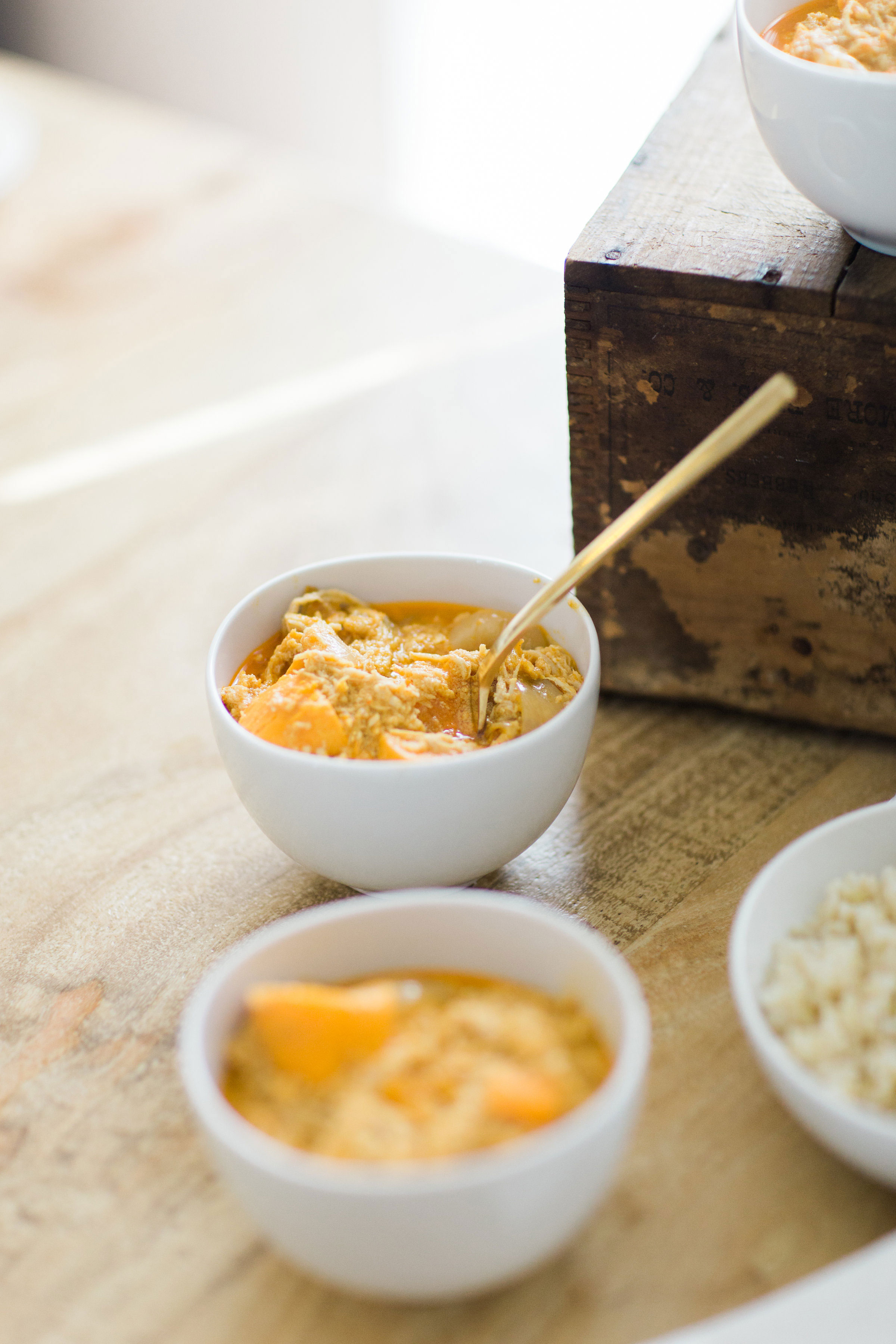 Sometimes, we'll eat this once a week, when we're really on a roll. Even the leftovers, re-heated in the microwave, are good. (Dare I say, better?) And the beauty of this coconut curry chicken recipe, is that you can easily add any veggies you have laying around, but it works just as well with just the chicken.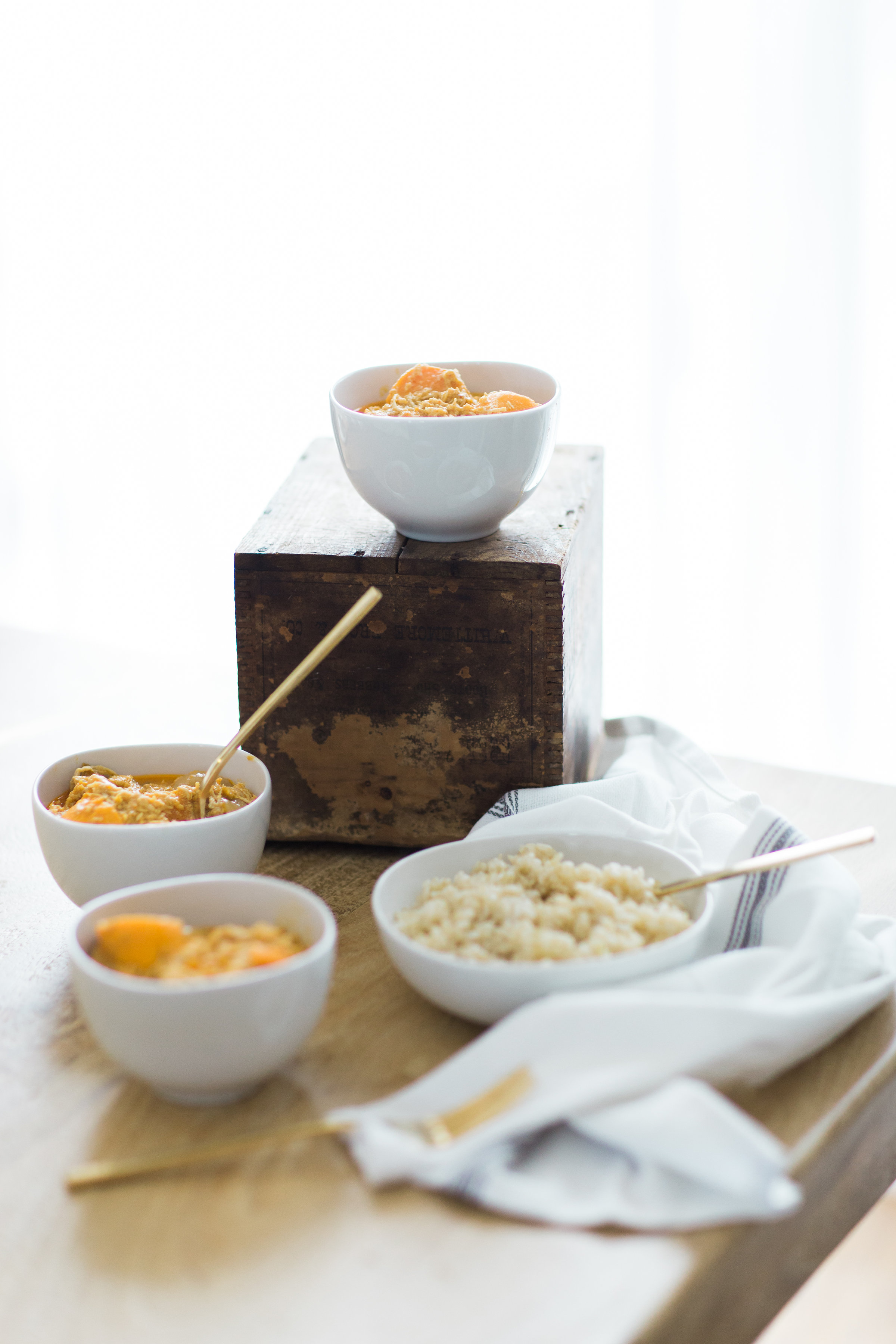 And seriously, this Thai coconut curry chicken recipe is stupid easy to make. I'm actually embarrassed to admit how easy it is to make, but I also wouldn't want to deprive you of your new favorite dinner that you can make in just a few minutes time. So, you know, pretend to be impressed …

3-Ingredient Trader Joe's Thai Coconut Curry Chicken Recipe
Makes 4 – 6 servings
INGREDIENTS
1 can lite coconut milk
1 package raw chicken breasts (3 per pack)
1 bottle Trader Joe's thai red curry sauce
optional: add sweet potatoes, onions, bell peppers, potatoes, chickpeas, etc.
Serve With:
2 bags of Trader Joe's frozen organic jasmine or brown rice
DIRECTIONS
Pour the coconut milk and curry sauce in a medium or large pot, stir together, and add in the whole raw chicken breasts. If you want to add other vegetables, you can throw those in now too. (I often use raw peeled sweet potatoes – cut in thirds or fourths, and a whole onion – cut into large chunks.) Cook over low heat for about two hours.*
When the chicken is cooked through, pull out the breasts and either shred it with two forks on a plate or shred it using a mixer (such a nifty trick!) and return to the pan. Allow it to simmer on the lowest heat setting until you're ready to eat. Serve with cooked rice.
That's it!
*FUN FACT: This also works really well in a slow cooker or crockpot – low heat for about 4-5 hours or until the chicken is completely cooked through.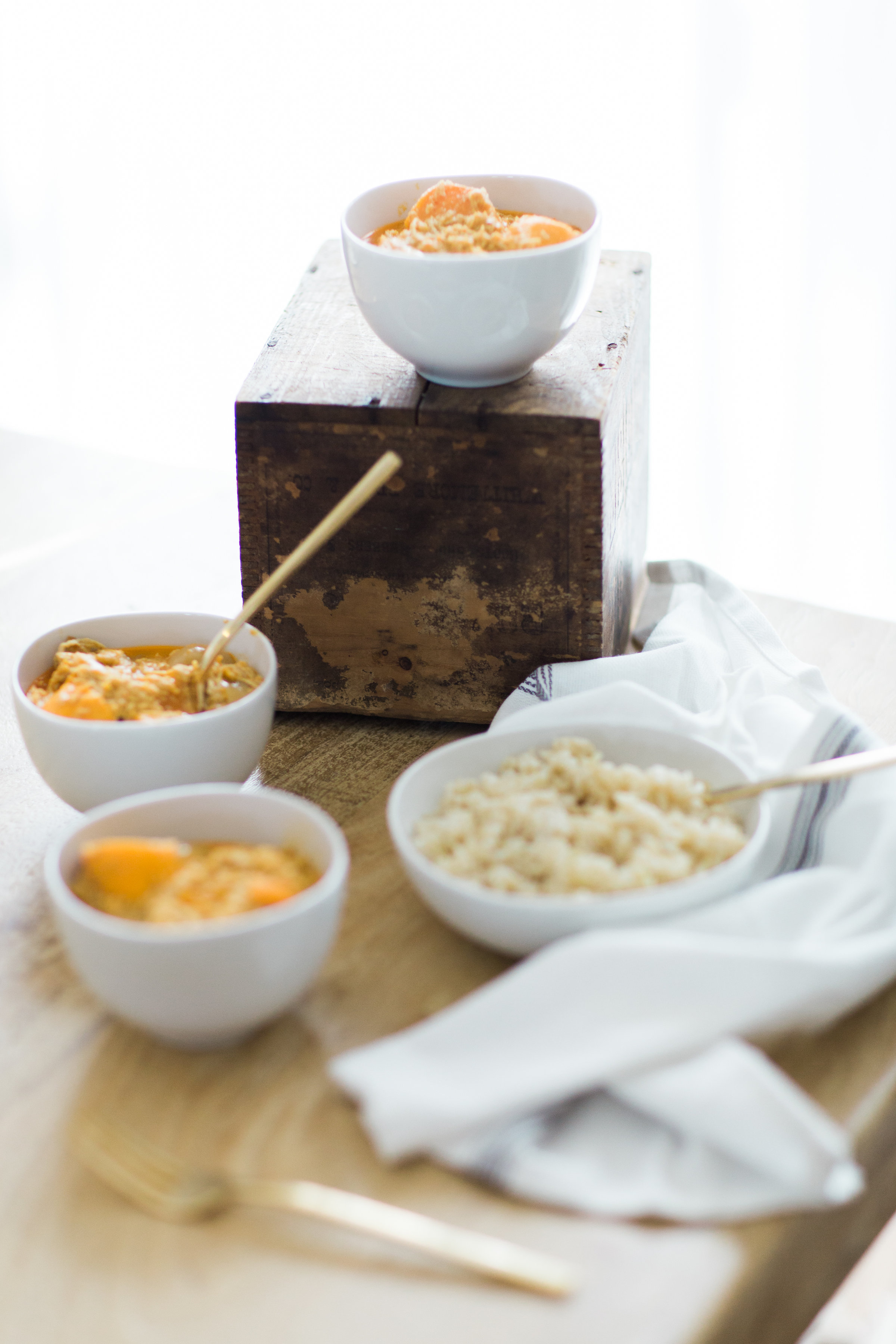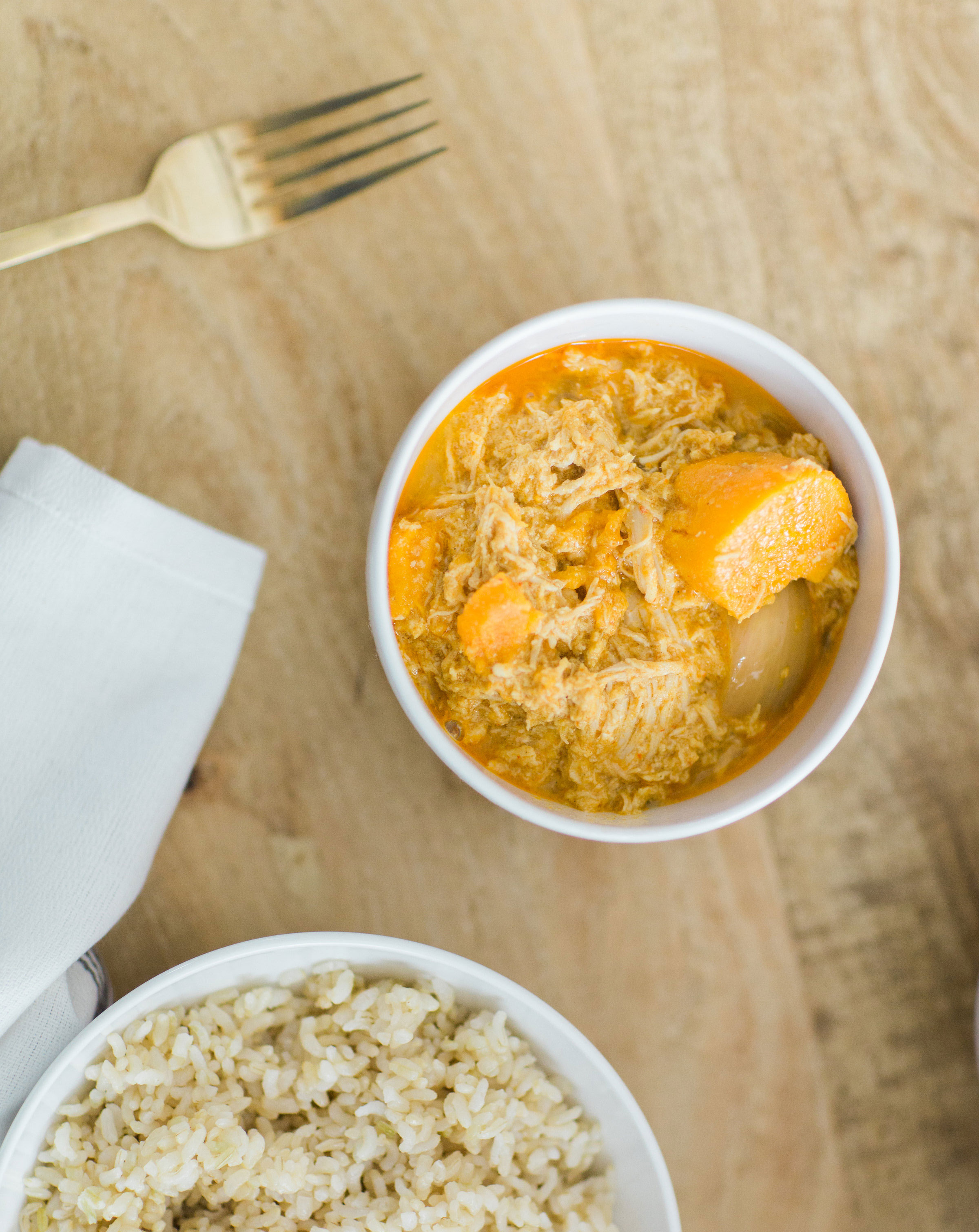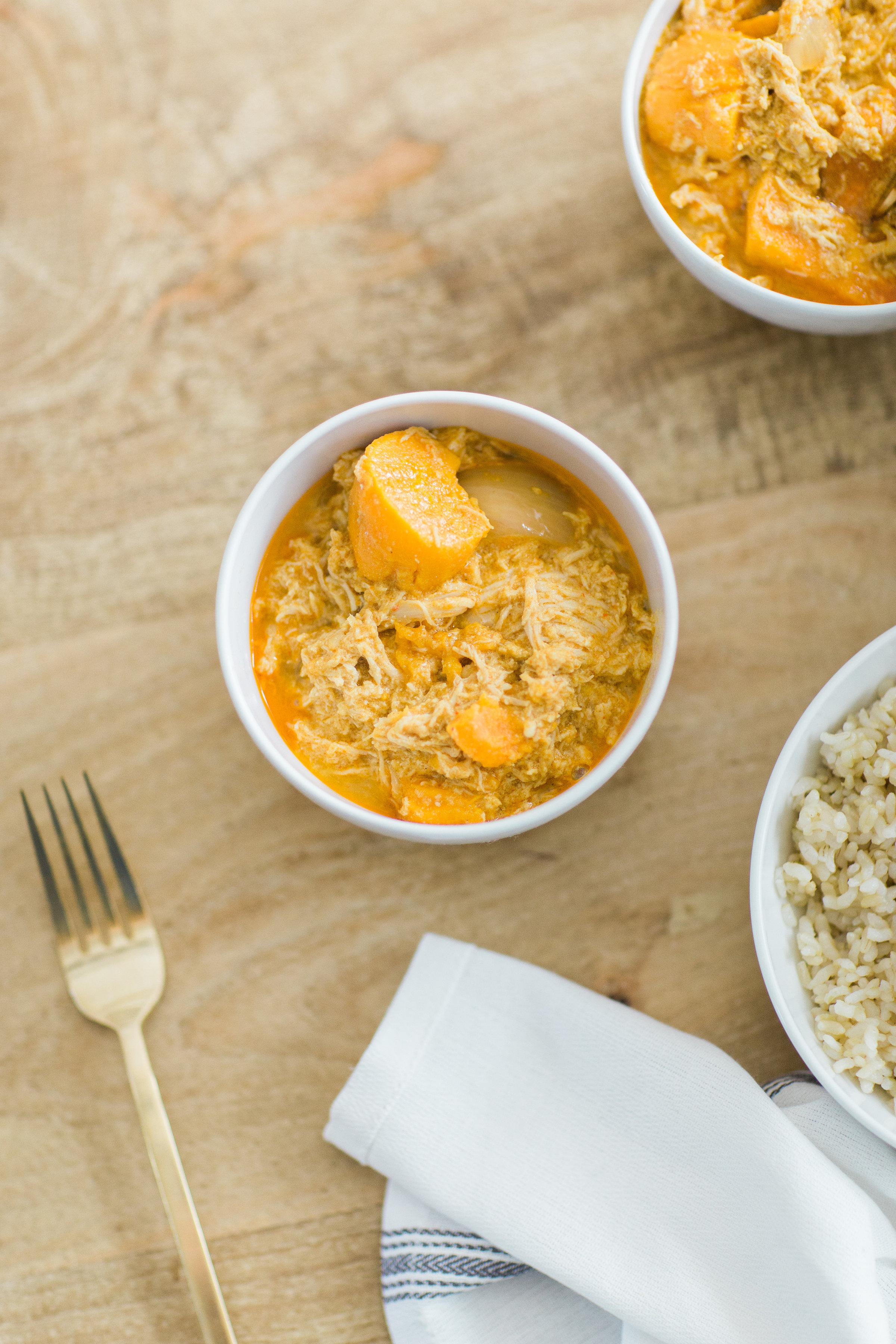 The chicken and any other veggies you cook down – in our case, typically sweet potato and onion – become so soft, sweet, and tender, you'll think you're eating at a fancy thai restaurant, rather than on your couch in yoga pants.
You're welcome!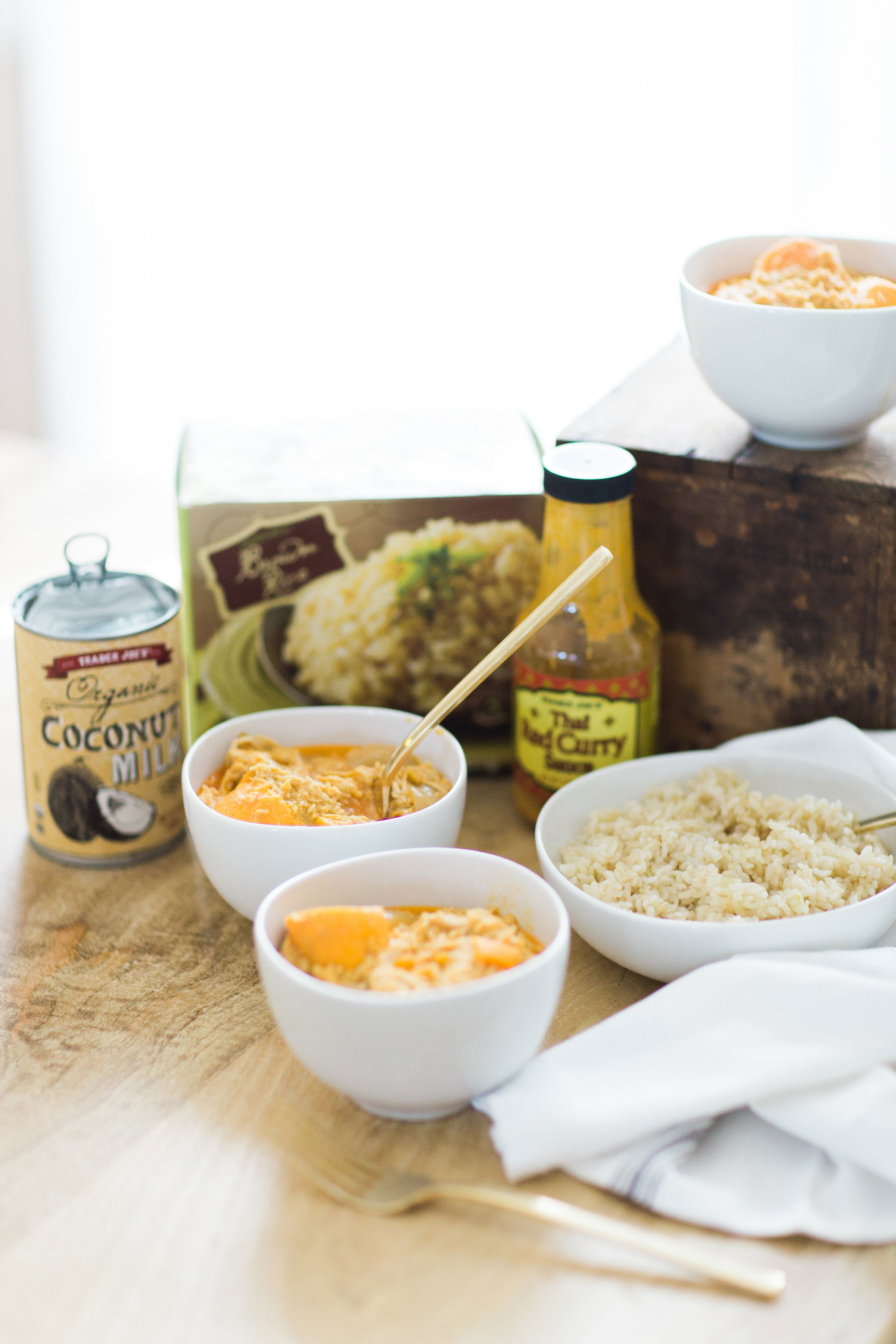 If you make your own 3-Ingredient Trader Joe's Thai Coconut Curry Chicken recipe, be sure to tag me on social media (@glitterinclexi). I love to see what fun variations everyone's using!
And if you love this post, check out all of our great recipes here. Especially our Hearty Chicken Vegetable and Quinoa Soup and No-Fuss Apple Crisp – both made in a slow cooker!
You can find our favorite slow cooker here.
And tell me – how about you? Have you hopped on the Instant Pot bandwagon yet? What other slow cooker meals and desserts do you love? Send me your suggestions!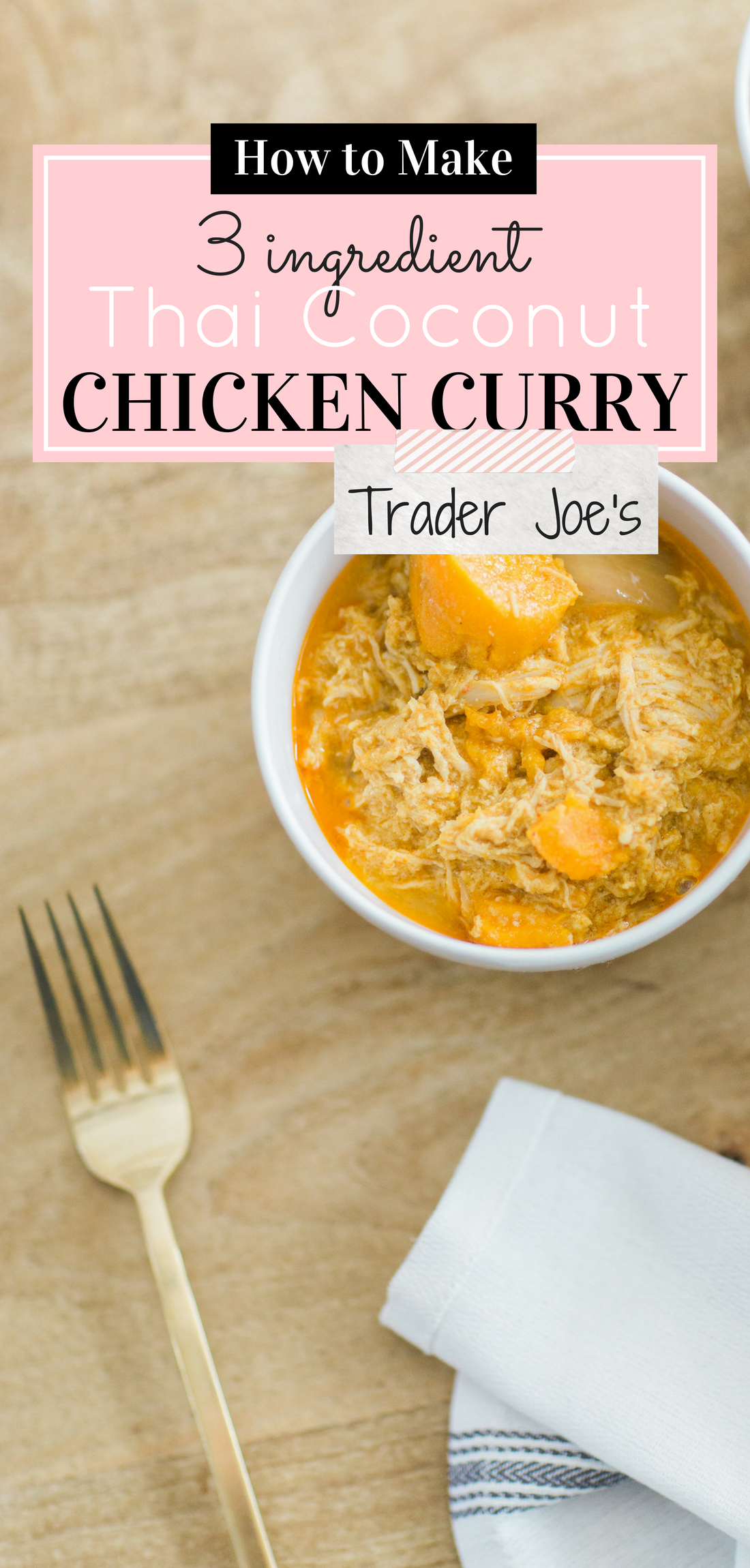 Photos by Annie Watts Photography