This post contains affiliate links, which means that if you click on one of the product links, I'll receive a small commission. Thank you so much for clicking through and helping to support this little blog business of mine! Read more about our site, privacy, and disclosure policies here.
Never fret over family dinner again with these 55 quick budget-friendly lazy weeknight meals that make meal prep and cooking a breeze. Bonus: your whole family will love them – kids included!
As parents of two little kids, we're always looking for dinners that are yummy, quick, and affordable. I love gathering the family together and sharing a meal, and most weeknights, and basically every weekend, we try to all sit together to have dinner.
I grew up in a family that always had dinner together – whether it was at the dining room table, a quick dinner before we all left for our own activities, or curled up on the couch watching Full House, we ate as a family. Family dinner is the best time to catch up on each other's days, and really see and hear one another without the noise of cell phones, computers, work, etc. And though some nights I'm tired, and some nights, when I'm extra busy with work and the kids, I'll ask hubby to pick something up on the way home, and of course, some nights, we can't manage to all eat at the same time because the girls are extra-tired or we're too busy, most nights, I try to make dinner.
So long as we eat together most nights of the week, I'm happy.
And when it comes to our family budget, I find that cooking at home is hands-down the most budget-friendly, frugal way to feed our family – especially with food allergies, picky eaters, and the like.
For the past few years, I've been combing Pinterest, mom groups on Facebook, and friends' favorite easy budget friendly meal ideas, to pull together a huge list of yummy recipes. And during this stage of life, easy and quick dinners are the name of the game; especially a great budget friendly meal that won't break the bank. Let's be real: most afternoons, I'm tired, hungry, and totally stumped on what to make for dinner, so I want EASY. Dinners don't need to be fancy in our house; so long as they are balanced, tasty, and generally healthy, I'm one happy mama. Give me alllllll of the comfort foods, crockpot and sheet pan dinner recipes!
Plus, as a growing family, keeping our monthly budget is key. For those of us with growing families, the grocery bill can be one the most expensive items in a weekly or monthly budget. Trying to strike a balance between eating healthy and keeping the grocery bill within budget can be tough. I swear, I'll never cease to be amazed at how expensive groceries can be – especially healthier items like meat and produce. But I'm one determined mama, and I love to cook, though time is never on my side; so quick family meals on a budget are a priority.
How to Meal Plan (the easy way)
Pro Tip: Plan out your family meals at the beginning of each week based on the groceries you buy and what you already have in your pantry, fridge, and freezer. I try to jot down a menu – typically on my desktop post-it note or on my calendar (that I sync to my iPhone). Having a rough idea of what I'll be making each night helps to alleviate the typical stress and pressure of what to make for dinner, reminds me, for example, to take the chicken out of the freezer, etc., and keeps me from frantically ordering more expensive takeout when I feel like I can't figure out what to make for dinner.
The list is flexible, but it's SUCH a huge help to have a general working idea and order to things. Most weeks, the meals are super simple, no-fuss recipes, and we have a lot of repeat favorites from week to week and month to month; but everyone is always really happy to have a yummy homemade dinner on the table.
So today, I'm sharing our go-to list of quick and delicious meals for families on a budget. Most of these meals can be made in 20 minutes or less, and I'm hoping all of these recipes will be dinners your family will love. Get a jump start on a less stressful new year, and plan to make easier, more frugal dinners your whole family will love.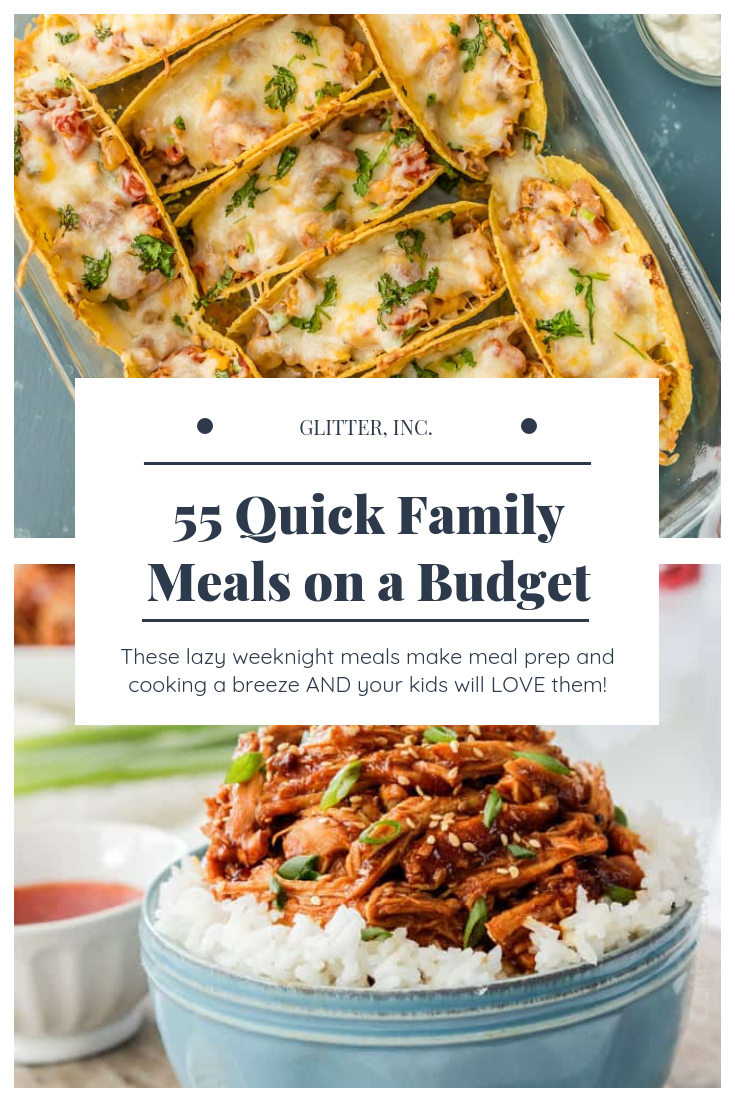 Oven Baked Spicy Chicken Tacos // Slow Cooker Asian Sweet Chili Sesame Chicken
Delicious Quick Family Meals On A Budget
These 55 quick family meals are just a starting off point. There's everything from chicken to pork to beef, and plenty of vegetarian and vegan options sprinkled in as well. I also like to tweak these recipe to fit our family. The girls go through picky phases, so I do try to adjust recipes to be sure they'll enjoy the dinners as well. We eat a lot of chicken, so often, for many of the beef recipes, I'll substitute chicken or ground chicken. I also typically keep cheese and dairy on the side, so that our oldest, who's allergic to dairy, can eat everything I make.
Basically, don't be afraid to customize these family meals to fit your family and lifestyle!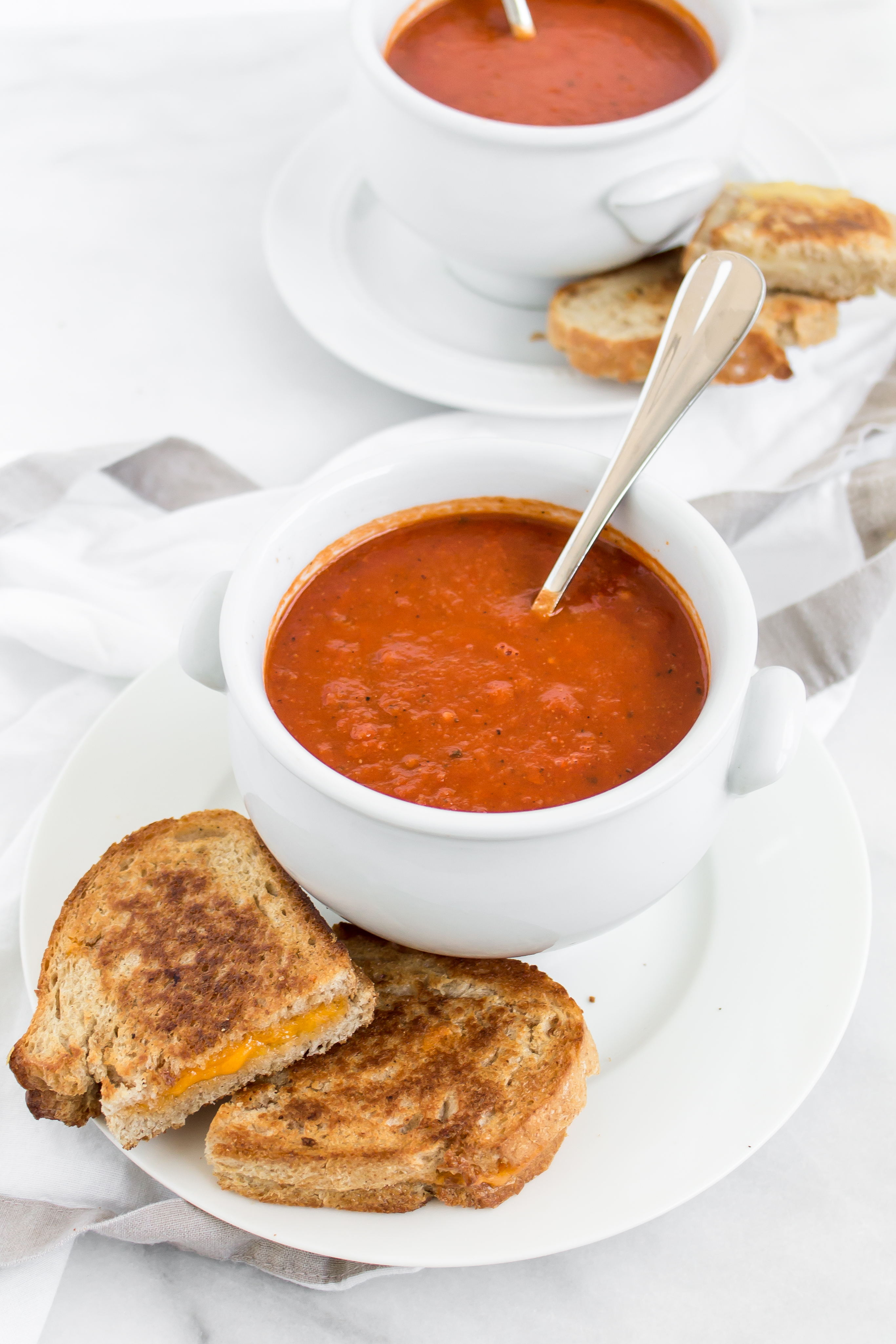 (The secret, protein-rich ingredient to this soup is white beans! Yep, you read that right; this creamy classic tomato soup is actually dairy-free. I mean, how cool is that?)
(These are on my must-try list!)
(Years ago, our paralegal shared this recipe with me, and I've been making it ever since. So good, so simple. Such a winner.)
(Definitely want to try this one, stat. It looks ridiculously easy to make. Chicken breasts are slow cooked in a sauce of coconut milk, peanut butter, garlic, lime juice, soy sauce, and honey; shredded and soaked in the yummy sauce some more.)
(We make this all of the time for burrito bowls and tacos.)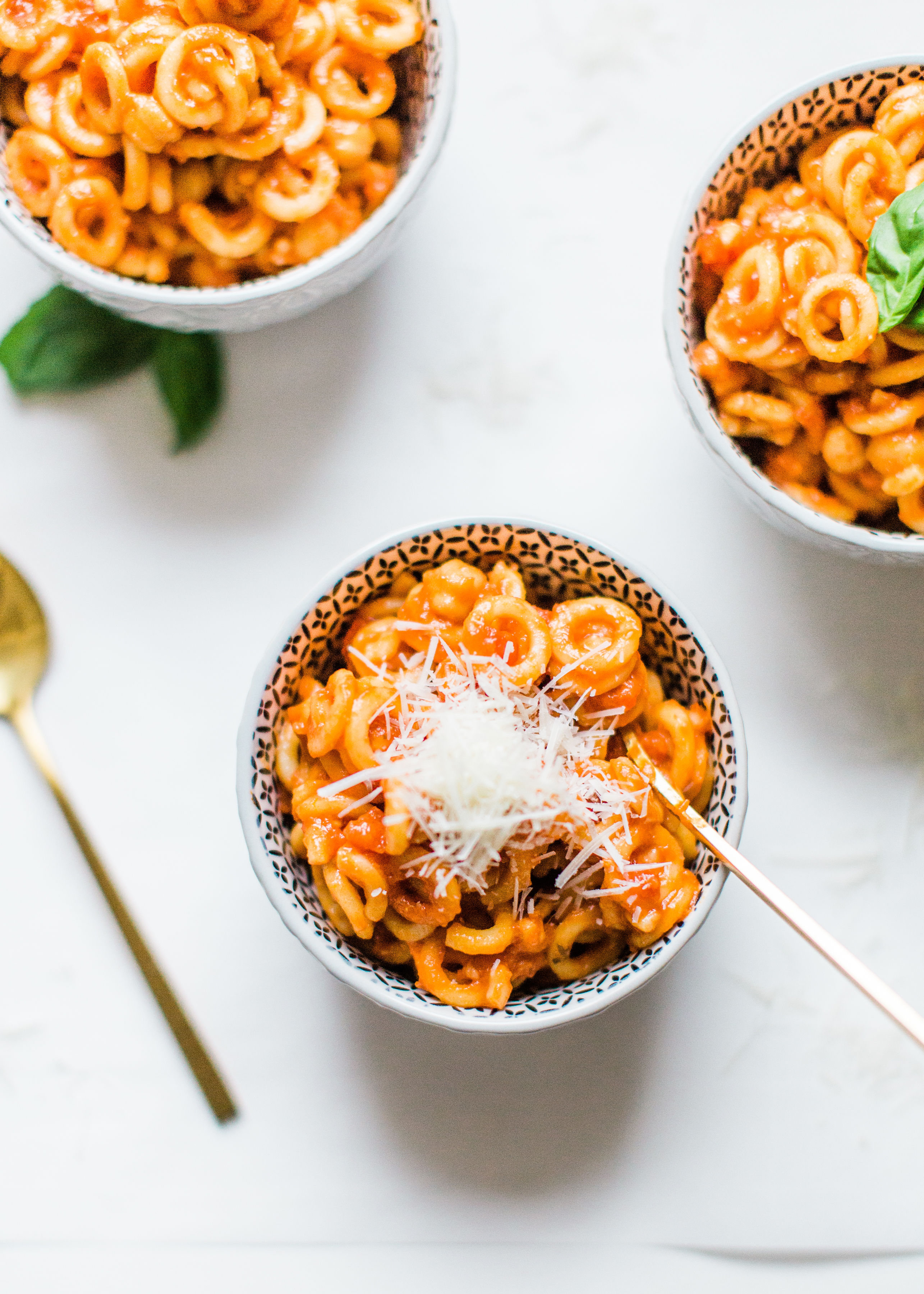 (a.k.a., the modern day healthy Spaghettios)
(This is one of our favorite recipes and we make it all of the time!)
(Another family favorite!)
(I make these chicken and dumplings – basically a hearty chicken stew – over and over and over again.)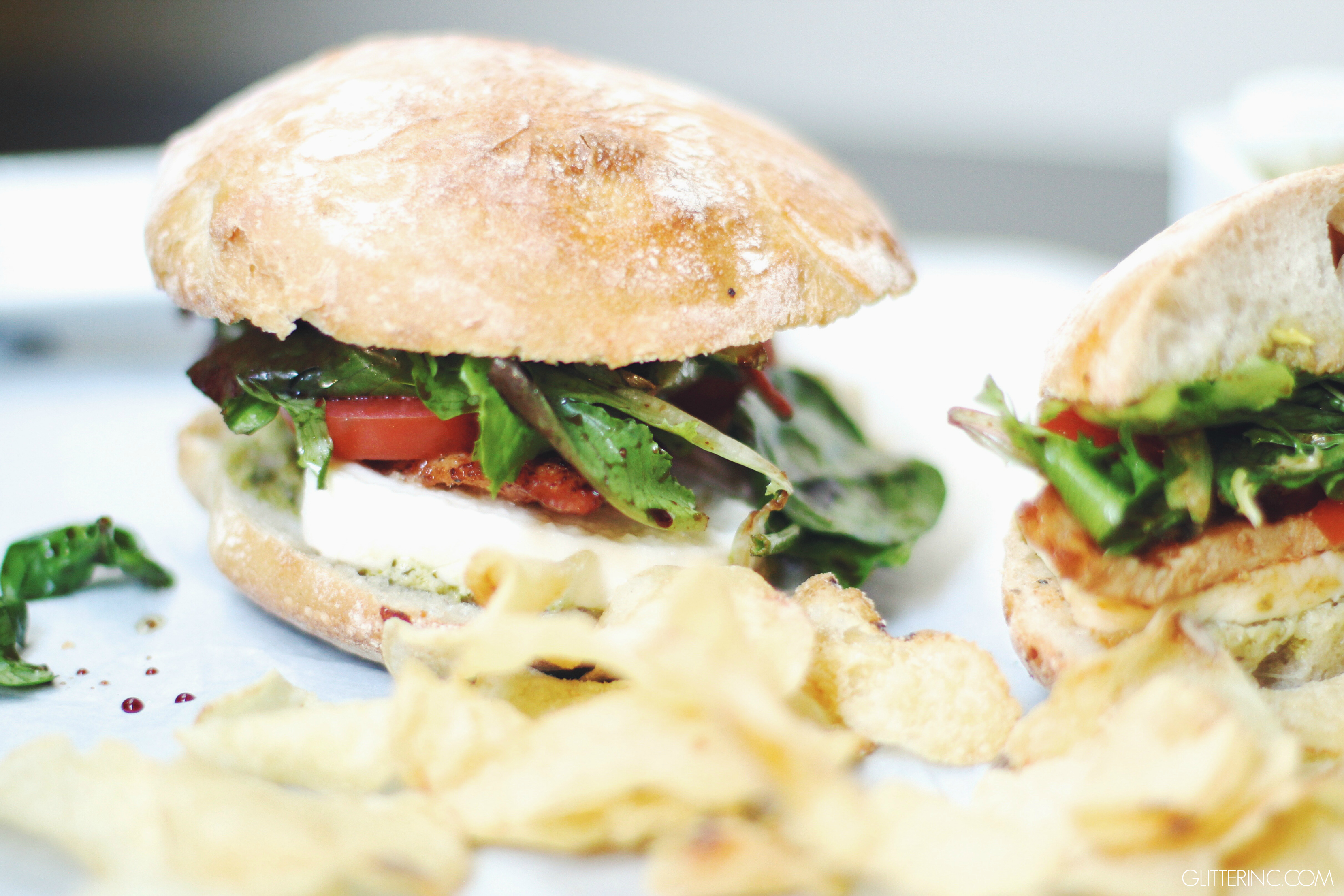 (We've made this one and it's really good!)
(Pair it with a salad and you have a really hearty vegetarian dinner!)
(When I first made this, I was worried whether our kids would like the curry, but the coconut milk keeps it smooth and sweet, and it's a big hit!)
(I make this simple tomato butter spaghetti sauce all of the time. Sometimes I add in ground chicken and make a "chicken bolognese" and other times it's just a big bowl of spaghetti with a salad; either way, it comes out delicious every single time and allows me to skip the jarred stuff.)
(Simple, delicious, and so much better than the canned stuff.)
(Cheap and easy, and totally customizable … great for picky eaters!)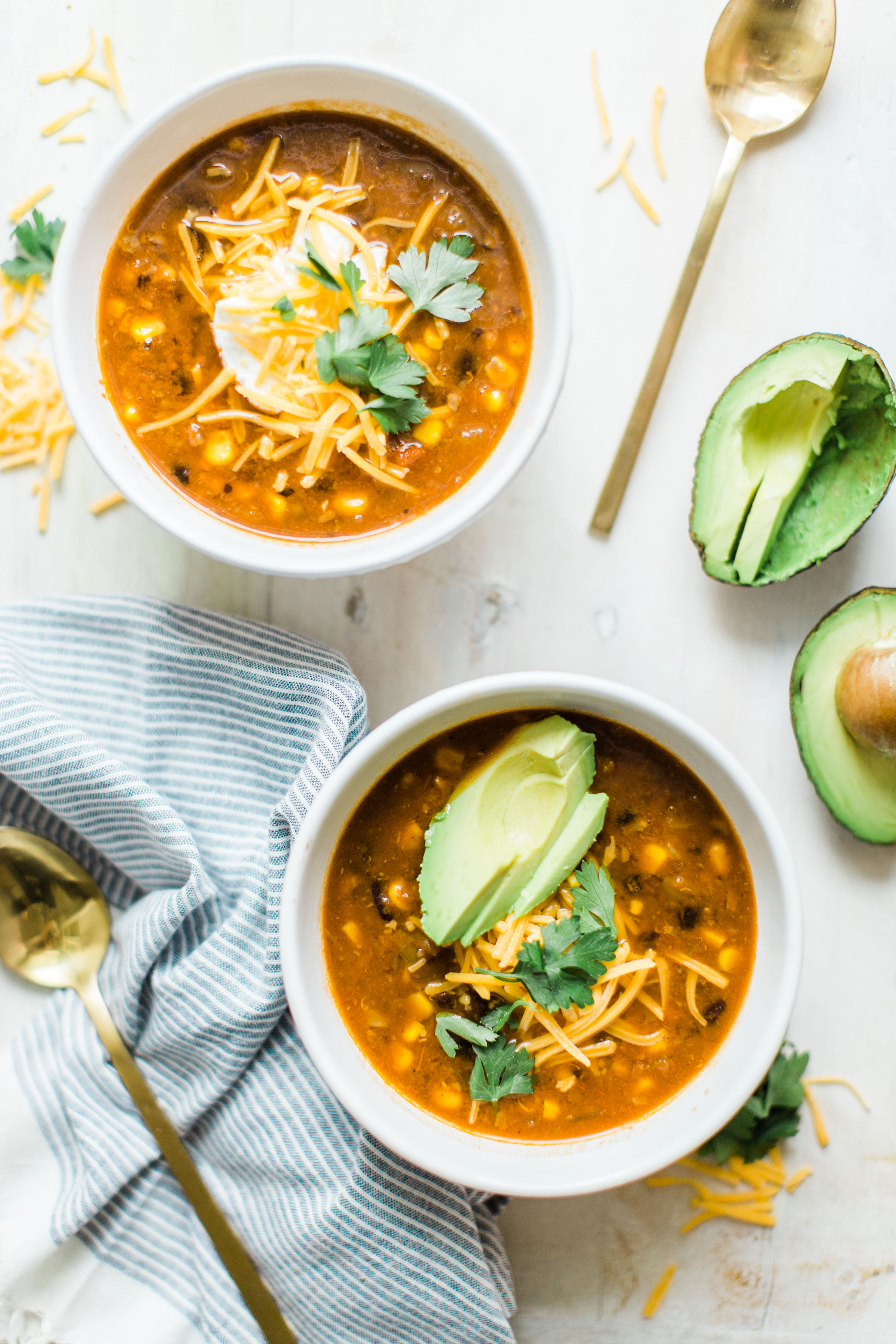 (All of this is baked on one cookie sheet pan … so clever. Also, healthy and delicious.)
(Another really yummy favorite in our house. Because our oldest can't have dairy, I'll often add the cream cheese and shredded cheddar after I've taken off her portion; I then serve hers with avocado and tortilla chips and she's a happy girl.)
(SO good!)
(If you're a fan of breakfast for dinner, then this one-skillet egg and potato bake is for you.)
(A family favorite and one of the best comfort foods.)
(Seriously, this is always a fail safe meal!)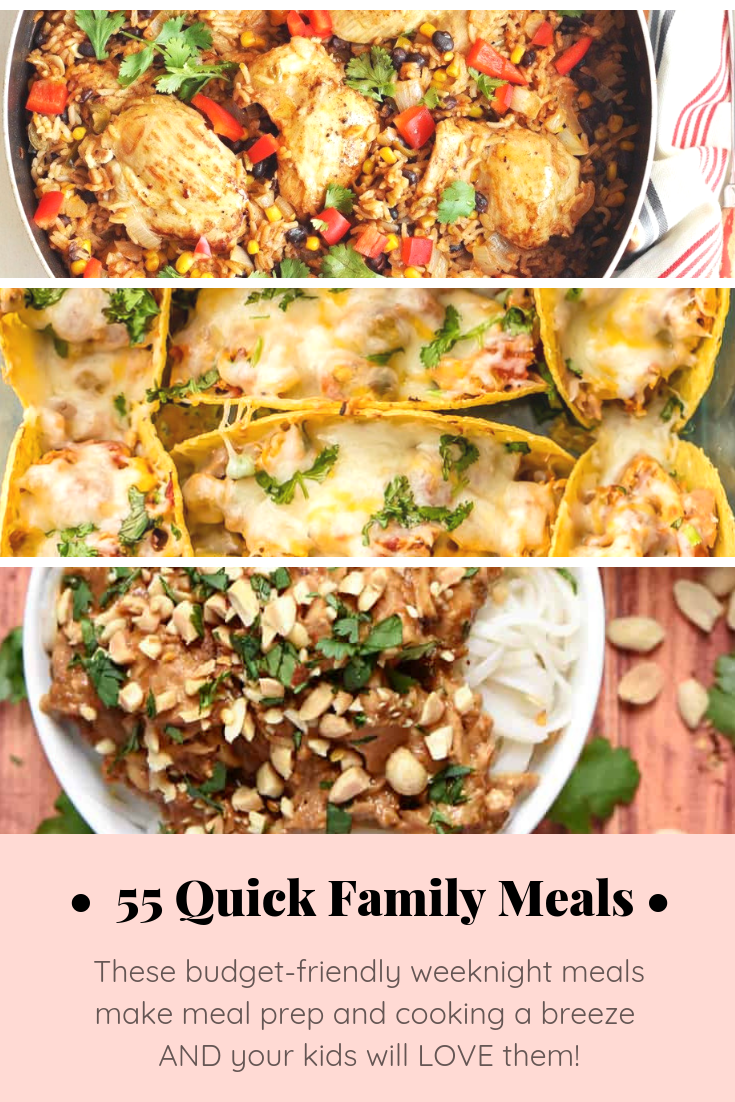 One-Pot Chicken and Mexican Rice // Oven Baked Spicy Chicken Tacos // Slow Cooker Thai Chicken with Peanut Sauce
SHOP THE QUICK FAMILY MEALS ON A BUDGET POST | CLICK LEFT & RIGHT ARROWS TO EXPLORE
Add these budget-friendly recipes to your weekly meal planning list, and start eating well for less money (and less stress!)
What about you? What dinner recipes does your family love? Do you read cookbooks or find ideas online? I'd love to hear what your favorite meals are! I'm always looking for new ideas to keep the family fed and happy.
Love these ideas for Quick Family Meals on a Budget? Head to our recipe page to check out what else we're dreaming up in the kitchen!