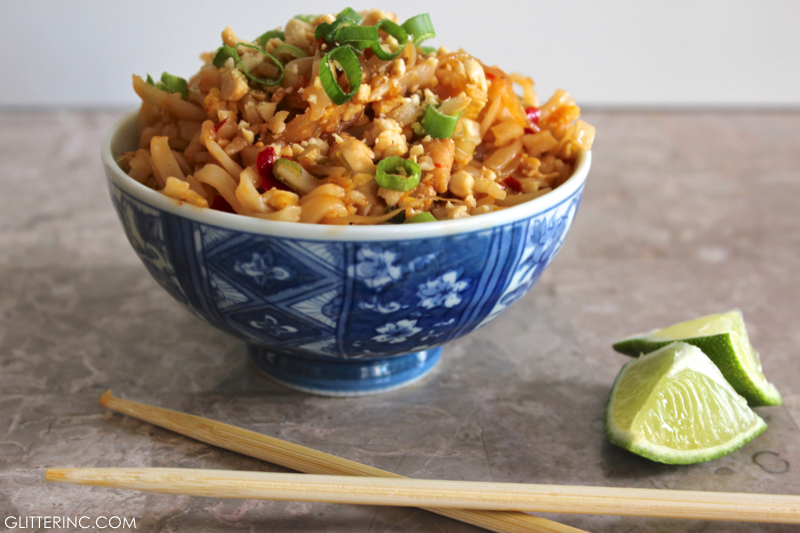 Next up in the "Maternity Leave" guest post series, an amazing and simple recipe for chicken pad thai:
I am a self-proclaimed pad thai lover, but I'll be the first to admit that though I cook all.of.the.time, I've always steered clear of homemade pad thai because a traditional pad thai is very step intensive … not perfect for a quick week-night dinner.  But the miraculous Rachel of of Sugar-Coated Inspiration created an amazingly simple and delicious pad thai recipe that can so-easily be thrown together any day of the week.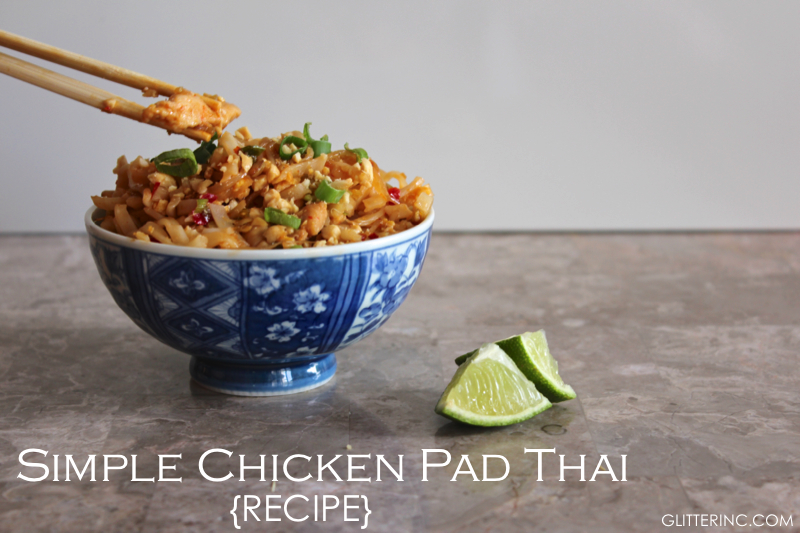 CHICKEN PAD THAI
Serves 4
INGREDIENTS
2 tbsp. olive oil
2 cloves garlic
1 lb. chicken
1 tbsp. soy sauce
(season with salt & pepper)
~~~
1 cup fresh bean sprouts
3 large green onions, chopped (plus extra for garnish)
1 tbsp. coconut sugar (or brown sugar)
½ tbsp. fish sauce
1 tbsp. lime juice
4 oz Sweet Chili Sauce
~~~
1 egg
2 pouches Thai Rice Stir Fry Noodles (Precooked, KA-ME brand)
¼ cup crushed peanuts (plus extra for garnish)
~~~
DIRECTIONS
Heat the oil in a deep saucepan with two cloves of garlic. Once the oil is hot, remove the garlic (used solely to flavor the oil). Cut the chicken into thin, bite sized pieces and season with salt & pepper. Add to the pan and cook through—pour the soy sauce onto the chicken while it cooks for added color and flavor. Remove from the pan.
Add the bean sprouts and green onions. Cook for about 3 minutes, until softened. Then add in the sugar, fish sauce, lime juice, and sweet chili sauce. (Be warned, fish sauce smells horrible … but it's an essential flavor in Thai food and adds depth of flavor to this dish, so don't be worried!) Remove the sauce and vegetables from the pan.
Next, cook the scrambled egg until it just firms up slightly, and then add the sauce and chicken back into the pan. Finally, add in your precooked noodles (they save so much time and taste great), and mix in the chopped peanuts.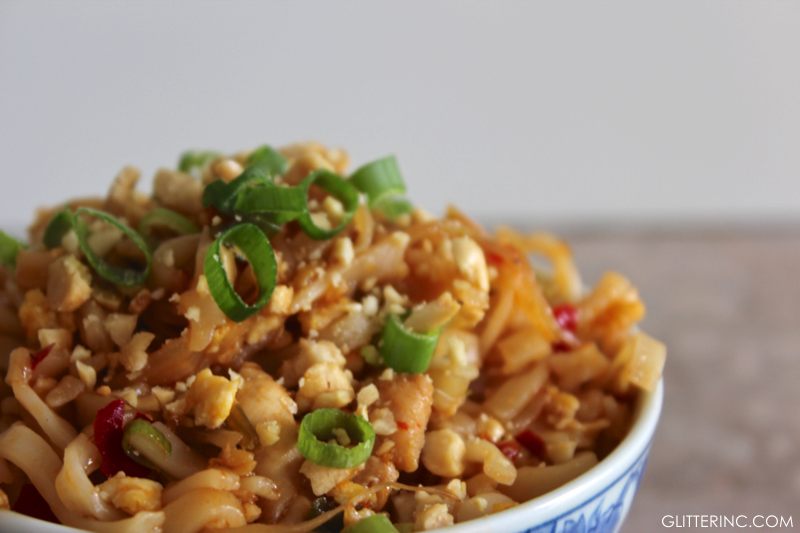 Serve with a garnish of green onion and crushed peanuts.