This post contains affiliate links, which means that if you click on one of the product links, I'll receive a small commission. Thank you so much for clicking through and helping to support this little blog business of mine! Read more about our site, privacy, and disclosure policies here.
This Southwest Salad with Spicy Chicken and Low-Fat BBQ Ranch Greek Yogurt Dressing is one of those salads that tastes great every time (the dressing is SO GOOD) and because it's a salad, it's really customizable; i.e., if you don't like spice, no need to make the chicken spicy, etc. The salad is packed with corn, black beans, cucumber, cherry tomatoes, fresh avocado, and topped with toasted panko breadcrumbs. SO good!
I actually love salad (the kind with too many toppings and yummy dressing, of course), and the end of Summer is the perfect excuse to throw together fresh and delicious salads.  Remember my round-up of Summer salad recipes?  I'm hooked.  This one is no different; it's the kind of salad you'll want to make all year long for lunch, dinner, you name it.  And hey, it's salad, so it's healthy!  Winning.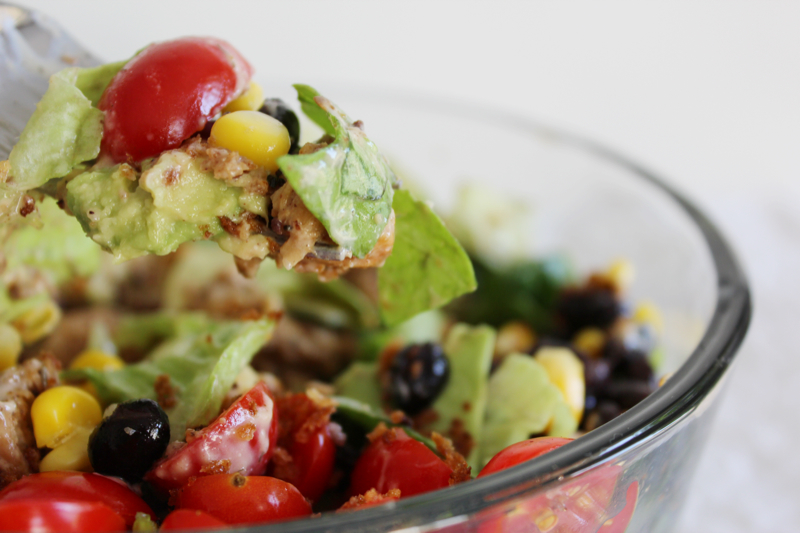 Today, Rachel of Sugar-Coated Inspiration is sharing her tried-and-true recipe for a super yummy Southwest Summer Salad.  From Rachel, "It's a salad that I make for myself all the time – it's quick, simple, and healthy."  Perfect.
This is the type of salad you'll find yourself coming back to all Summer long, and the beauty is, you can add and subtract ingredients as you go.
Southwest Salad with Spicy Chicken and Low-Fat BBQ Ranch Yogurt Dressing
Serves 2 people.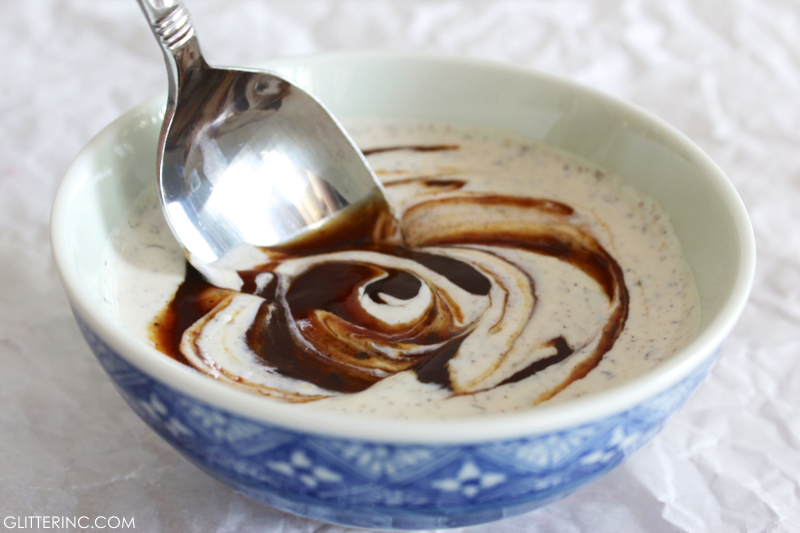 GREEK YOGURT RANCH DRESSING
2 tsp. dried dill
1 tsp. dried basil
½ tsp. dried celery seed
½ tsp. chili powder
¼ tsp. cayenne pepper
2 tsp. garlic salt
1 tsp. salt
1 tsp. pepper
Directions
Add 1 tbsp. of this seasoning mix to…
1 cup of plain, nonfat Greek yogurt
1 tbsp. white vinegar
1 tbsp. milk
Mix the spices together in a small bowl and add about 1 tbsp. of them into a jar with the Greek yogurt. To that, add the white vinegar and milk (add more milk until you reach your desired consistency—the dressing should be fairly thick, though). Shake or stir in the jar to combine. You may need to season with a bit more salt & pepper. Also, this will make more dressing than you need for the salad (but extra is always good to have)!
*Before serving the salad, pour some ranch into a bowl and mix in about 2 tbsp. of your favorite BBQ sauce—until the dressing turns a pale pink/orange color.
I love this recipe, because the dressing is so flavorful (without any mayo) and once mixed with the BBQ sauce, it's nearly impossible to tell that the dressing you're eating is practically non-fat.
Seasoning mix recipe adapted via 5 Dollar Dinners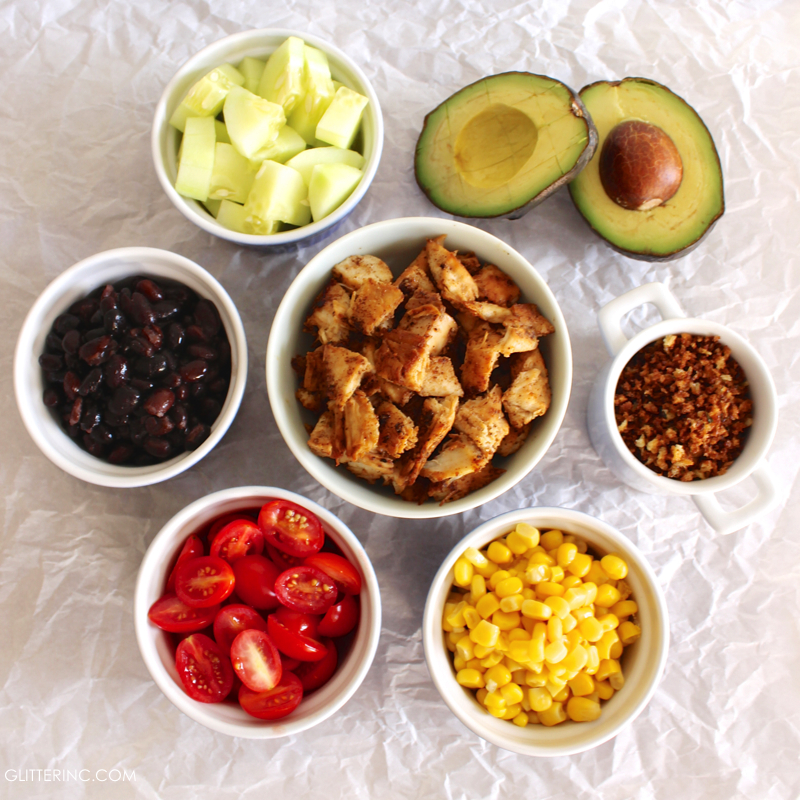 SALAD
Romaine Lettuce
Bibb Lettuce
Corn
Black beans
Cucumber
Cherry tomatoes
Hass avocado
You can add as much or as little of these ingredients to your salad as you'd like, depending on your taste preference.
Directions
In a bowl, combine both romaine and bibb lettuce. Use enough to fill a bowl that's as large as you would like your salad to be—I'd say I used about 3 heaping cups of lettuce combined. Then, top with corn, black beans, halved cherry tomatoes, bite-sized pieces of cucumber, and an avocado (smashed to the texture of guacamole). The avocado is really what makes this salad, for me, so I add the entire thing!
SPICY CHICKEN
2 thinly sliced chicken breasts
Cayenne pepper
Chili powder
Garlic salt
Sea salt
Pepper
Season the chicken breasts generously with the chili powder, garlic salt, sea salt, and pepper. However, sprinkle lightly with cayenne pepper if you don't want it to be too spicy! Cook the chicken in a pan with a bit of olive oil, and slice into cubes.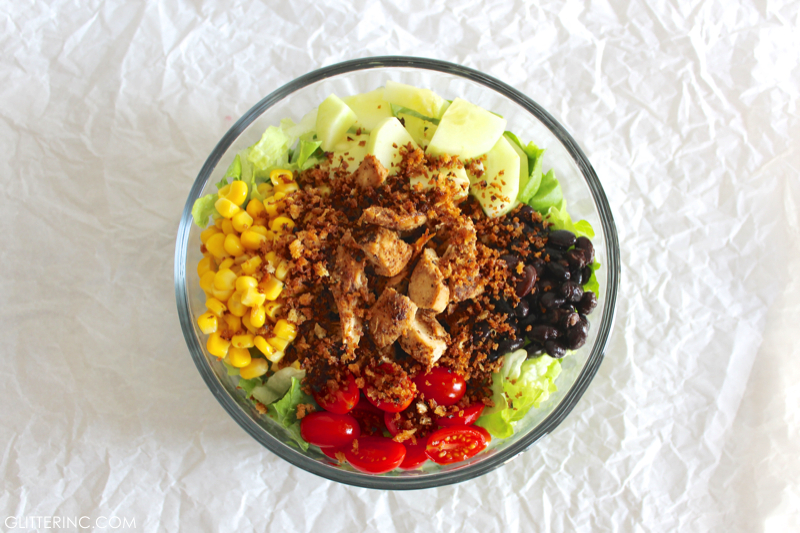 CRISPS
½ cup of seasoned panko breadcrumbs
About 2 tbsp. olive oil
In the same pan that the chicken was cooked in, heat the olive oil. Once heated, add the breadcrumbs. Make sure that all of them are slightly coated in oil. In about 3 minutes they should fry up and become a crisp, golden brown. They add a nice little crunch to the salad.
How good does this salad look?