This post contains affiliate links, which means that if you click on one of the product links, I'll receive a small commission. Thank you so much for clicking through and helping to support this little blog business of mine! Read more about our site, privacy, and disclosure policies here.
Skip the hot grill and make delicious, sweet, and tender barbecue pulled chicken in your slow cooker! Just throw a few ingredients right in the pot and let your crock pot or instant pot do the rest. Yum!
As a busy family with young kids, an easy dinner is definitely important for us. Anything that I can make quickly, that still tastes good and is mostly homemade is pretty perfect in my book.
This dinner in particular; a.k.a., the easiest slow cooker barbecue pulled chicken is on heavy rotation in our house. Our oldest, Scarlett, is a total fanatic for this BBQ pulled chicken and requests it almost weekly.
I mean, I've always loved barbecue pulled chicken; though truth be told, I just don't have the time to slow cook authentic barbecue pulled meat. This version – made in a slow cooker or Instant Pot, tastes totally amazing, and honestly, you'd never know it wasn't "real" barbecue. The slow cooker BBQ pulled chicken is sweet and savory, and is so tender and soft that it totally falls apart as you eat it.
And dare I say, it's likely the EASIEST barbecue pulled chicken you'll ever make. Slow Cooker meals are magical, I tell you.
Basically, it's too good not to share!
As for how I serve up this kid-approved dinner: Sometimes I'll make a big batch of the shredded barbecue chicken and serve it with corn on the cob or roasted sweet potatoes, other times I'll use the pulled chicken to top pizzas for the best ever at-home barbecue chicken pizzas, we also top salads with this pulled barbecue chicken (add corn, beans, tomatoes, avocado chunks, and ranch dressing … YUM!), and sometimes I'll make these yummy barbecue chicken sandwiches, topped with coleslaw, for a hearty and delicious BBQ chicken sandwich. Any way I serve it, everyone in the family approves!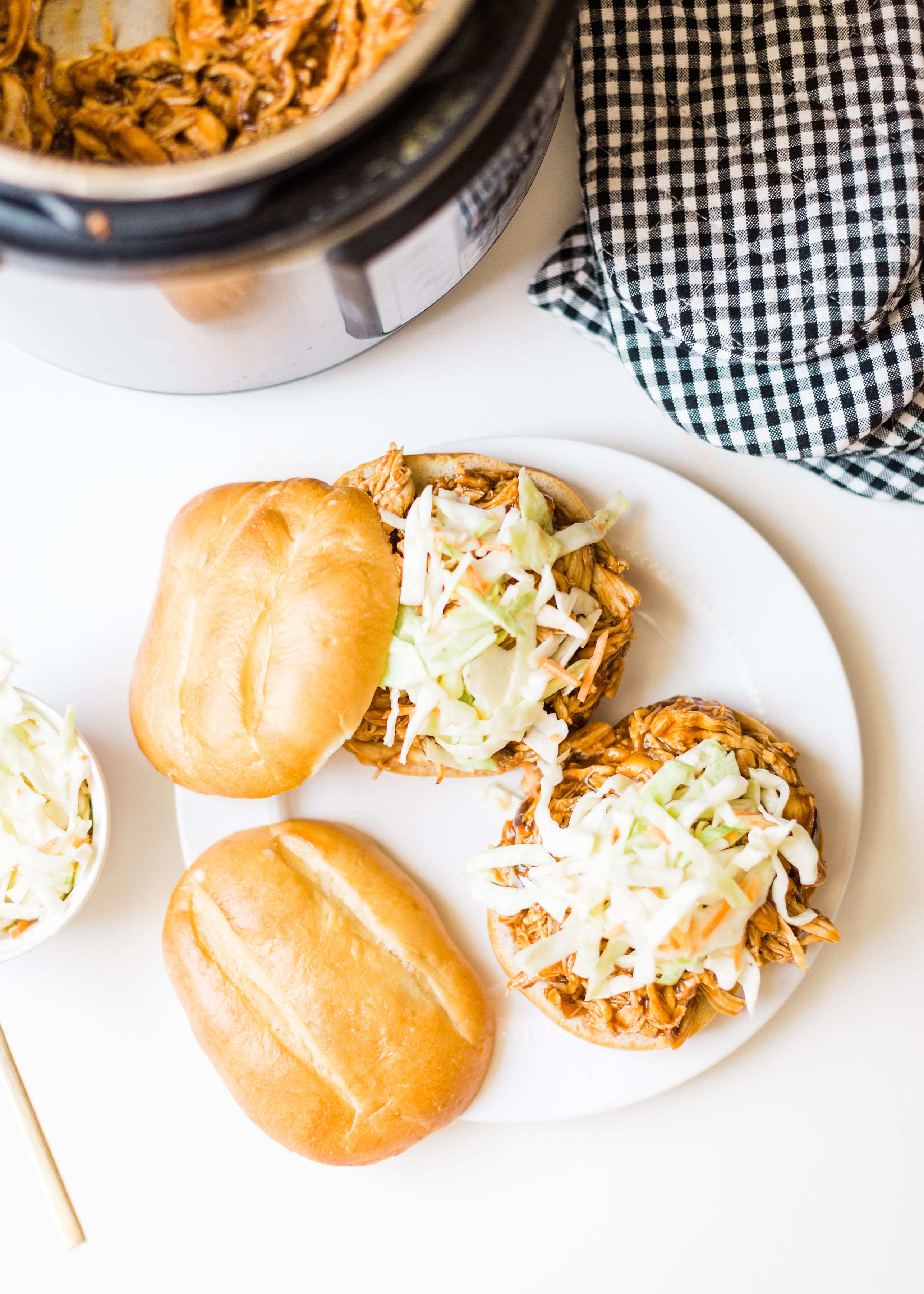 The recipe for this crockpot barbecue pulled chicken is SO tasty, super easy to make (really, it's CRAZY EASY), and the resulting pulled chicken really is such a versatile protein.
And of course, it's no secret that I la-la-LOVE our Instant Pot. Seriously, new to the Instant Pot/crockpot/slow cooker world? I've got PLENTY of recipes for you!
We've discovered some really GREAT slow cooker dinner recipes that our whole family loves, including our picky littles. A few dinner crowd-pleasers: slow cooker chicken vegetable quinoa soup, copycat Trader Joe's vegetarian Harvest Chili, easy crockpot tortilla-less creamy chicken enchilada soup, crockpot chicken marsala, 3-ingredient Trader Joe's thai coconut curry chicken, and delicious Instant Pot ground chicken chili.
By the way, if you're looking for even more slow cooker and instant pot recipe inspiration, I have a bunch of Instant Pot, crock pot and slow cooker favorites saved to this board on Pinterest.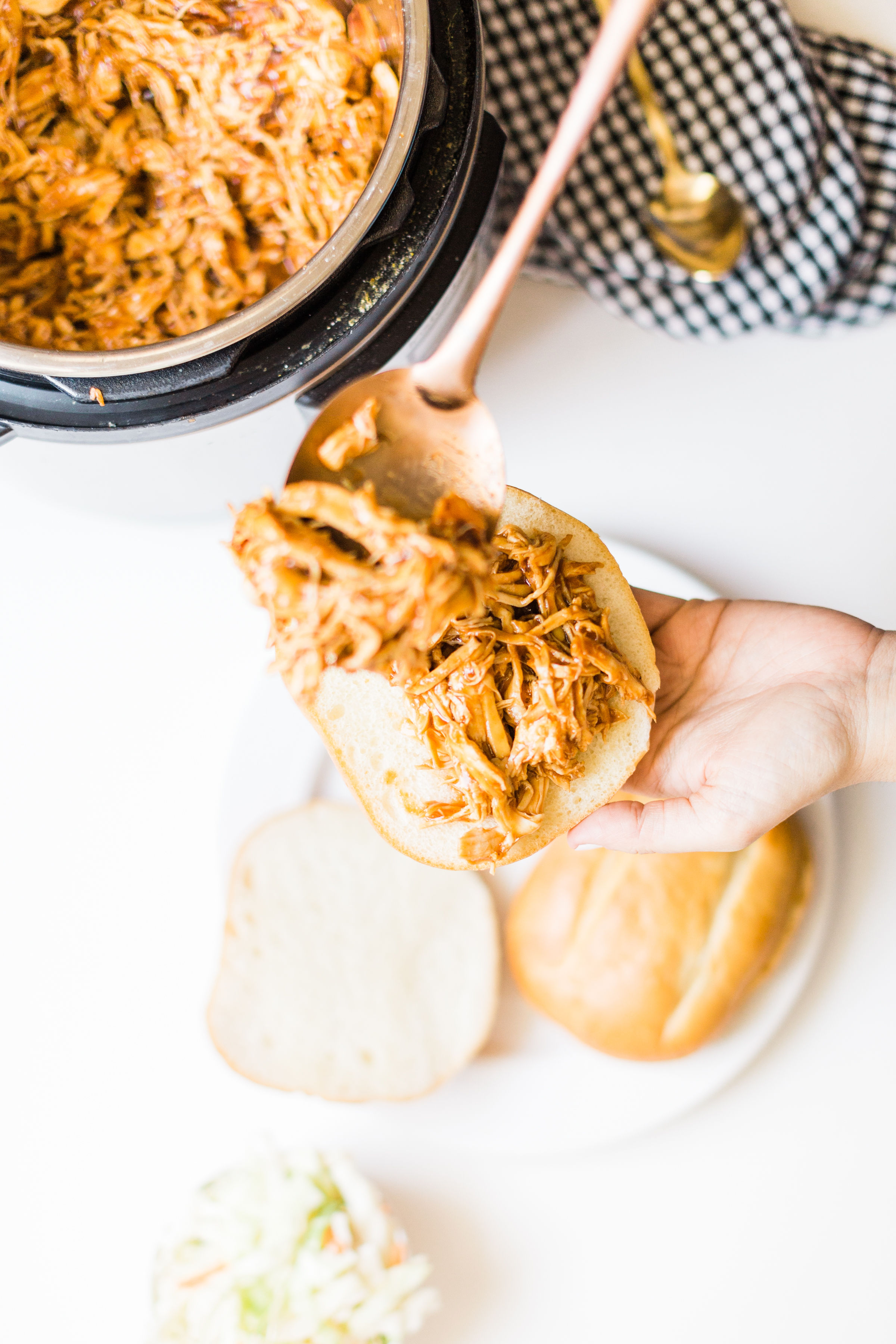 I adore the ease of making dinner in one pot, typically in under twenty minutes, walking away, only to come back at the end of a busy day and having dinner ready and waiting. I'm amazed at how many delicious things you can make in a slow cooker, all while doing very little work. The Instant Pot is extra magical, because even if you forget to prep hours before, the Instant Pot will cook your meal to tender deliciousness in MINUTES. This is most definitely some kind of kitchen sorcery, but I'll take it!!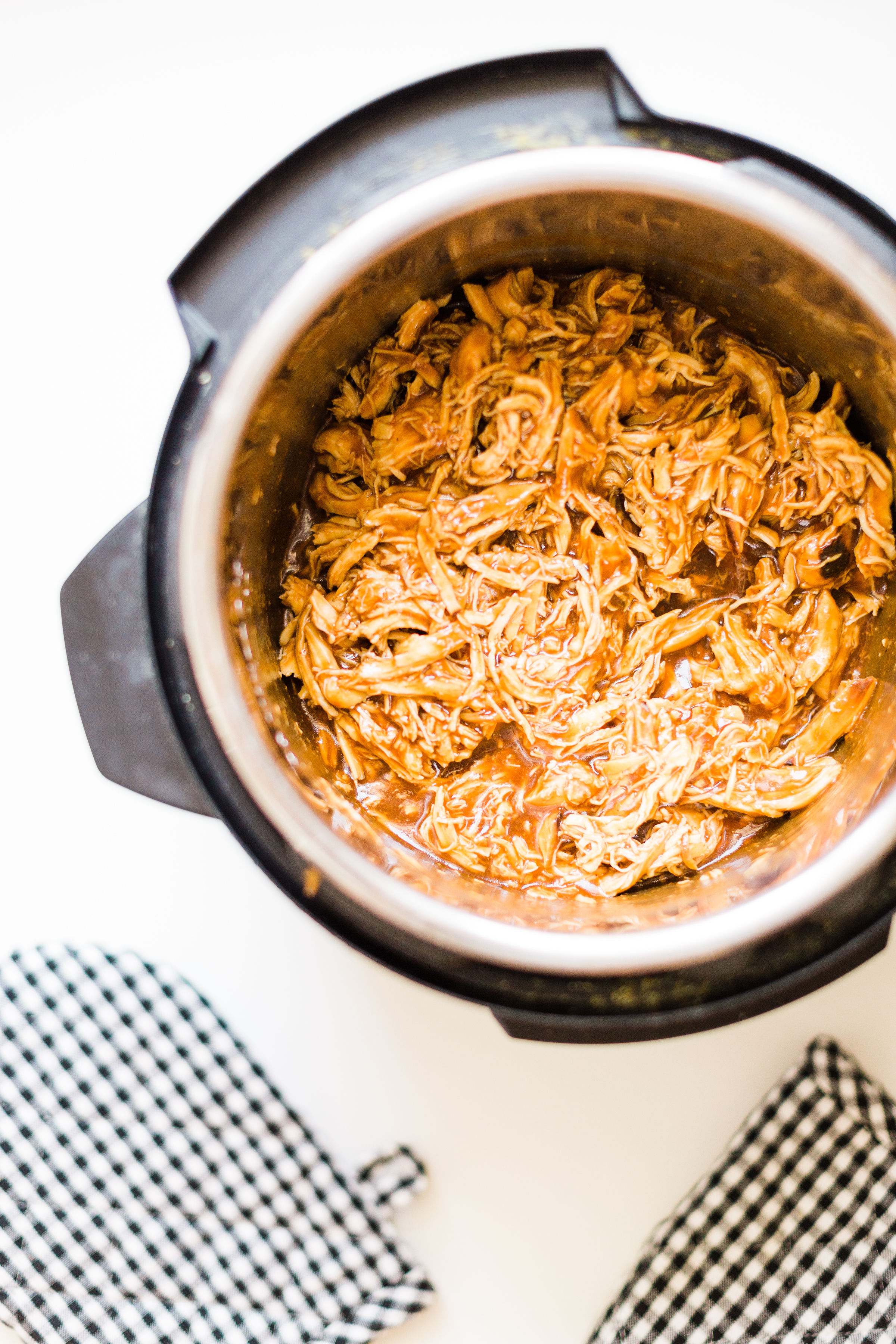 Other than making a big batch of the BBQ pulled chicken, everything else can be store-bought (or homemade! Whatever works for you!)
Pick up a few large sandwich rolls from the bakery at your local grocery store or neighborhood bakery, and a container of coleslaw, and assemble your sandwiches come dinner time.
The barbecue chicken sandwiches are awesome for cookouts, picnics, fun family dinners; the list goes on and on.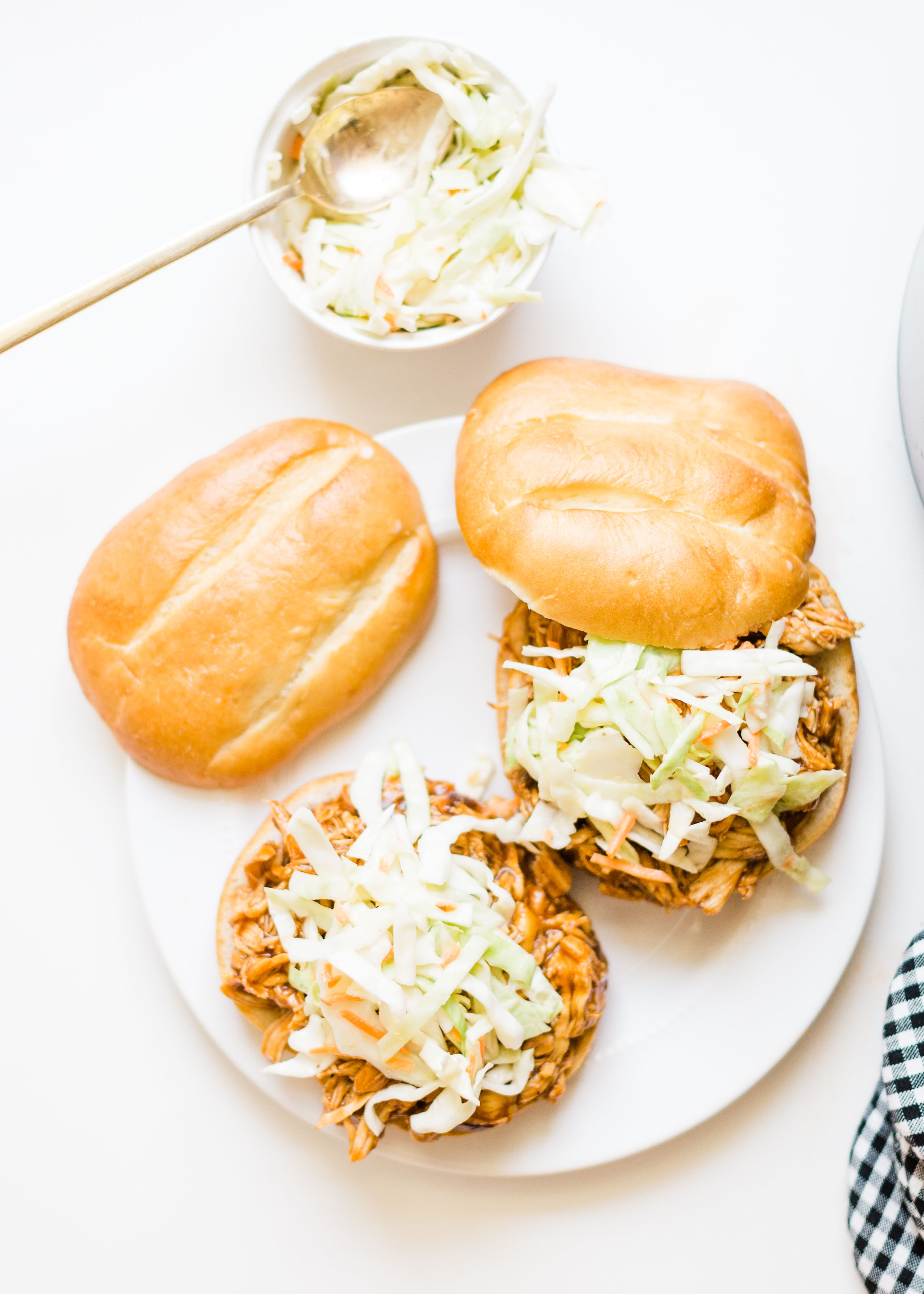 Now let's talk about our favorite slow cooker barbecue pulled chicken …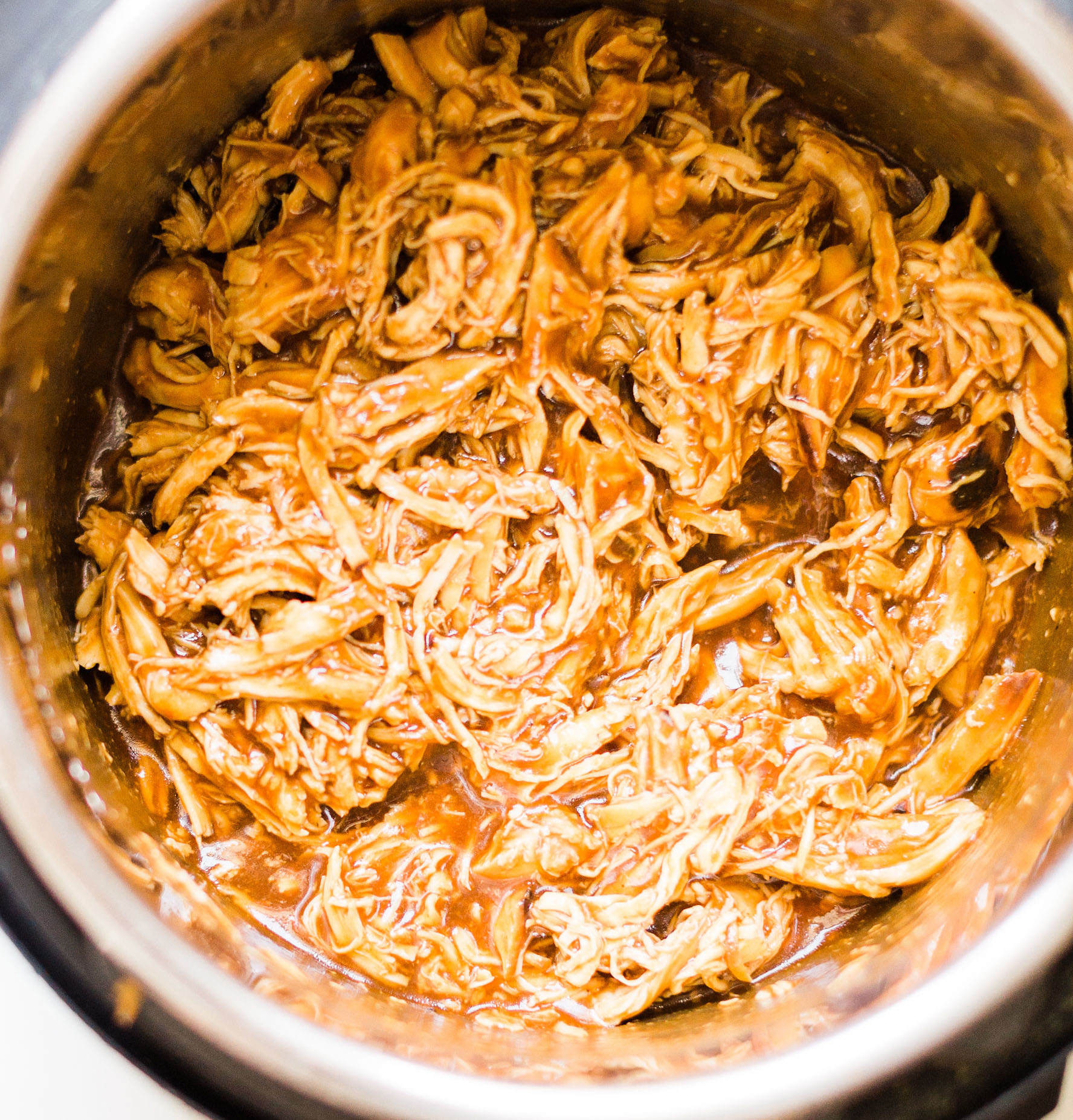 … that basically just requires TWO ingredients to make. 🙈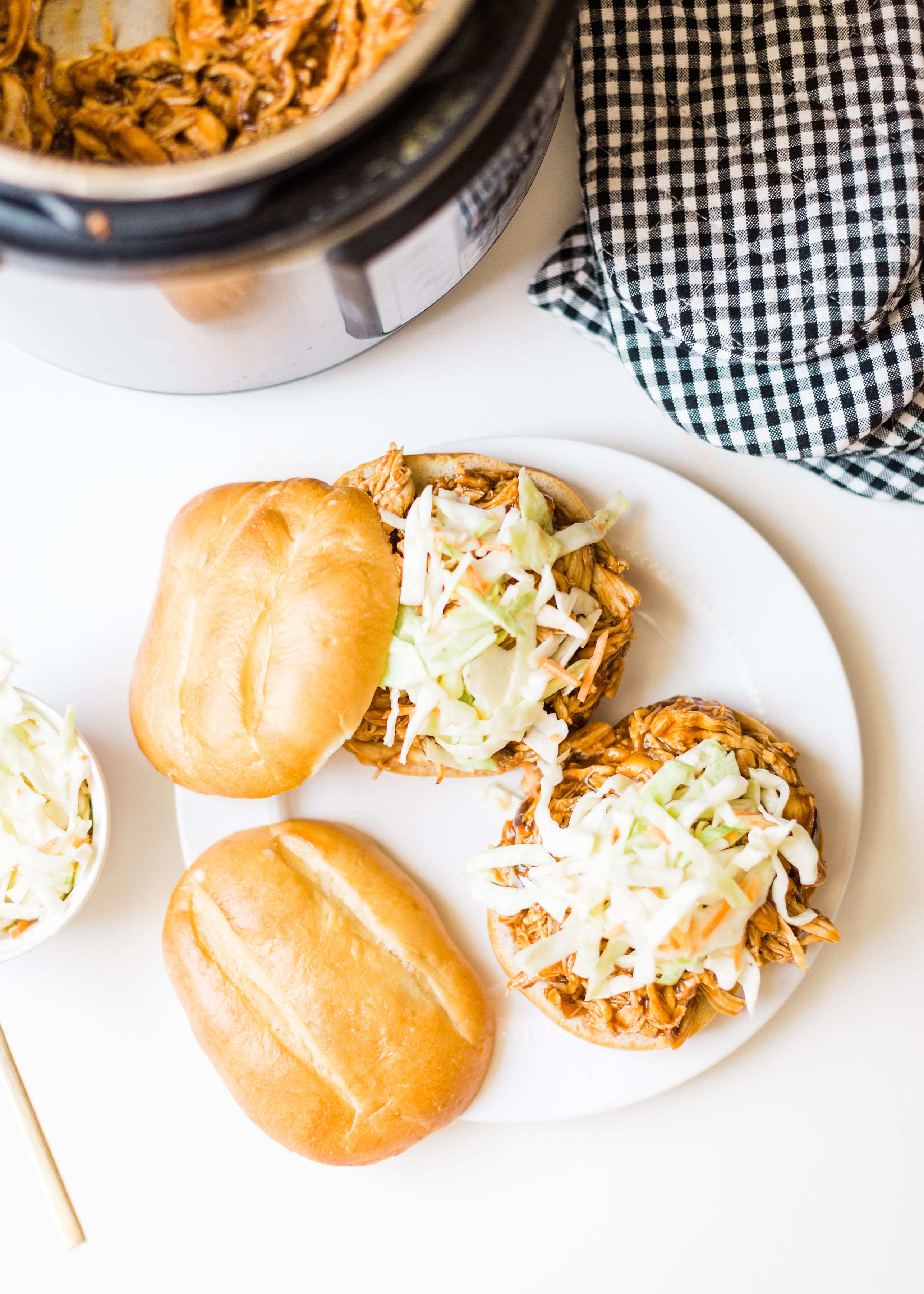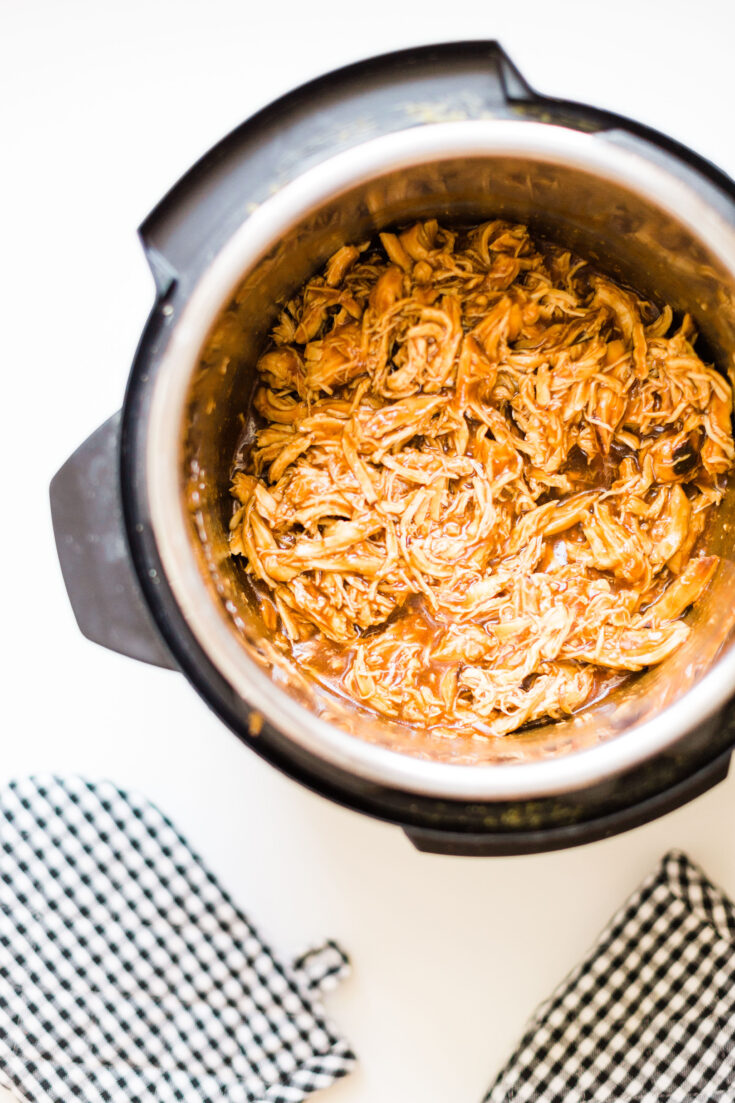 Yield:
Crockpot Barbecue Pulled Chicken
Ingredients
2 - 3 large boneless, skinless, chicken breasts
1 - 2 cups BBQ sauce (depending on how saucy you like your chicken)
garlic powder to taste
salt to taste
Instructions
Pour half of the barbecue sauce into the crockpot/instant pot/slow cooker, then place raw chicken breasts in.
Pour the remaining barbecue sauce over chicken, cover and cook on HIGH for about 4 hours.
When chicken is cooked through, remove breasts, one at a time, and shred with two forks. (Or you can shred them on low speed in a mixer.)
Put the shredded chicken back into the crockpot and stir. Sprinkle with a little garlic powder and salt to taste and allow to simmer for a few more minutes so that the shredded chicken soaks up all of that sauce.
To make the BBQ pulled chicken sandwiches: assemble the shredded chicken on sandwich buns and top with fresh coleslaw. You can also serve with a little extra barbecue sauce on the bun.
Serve and enjoy!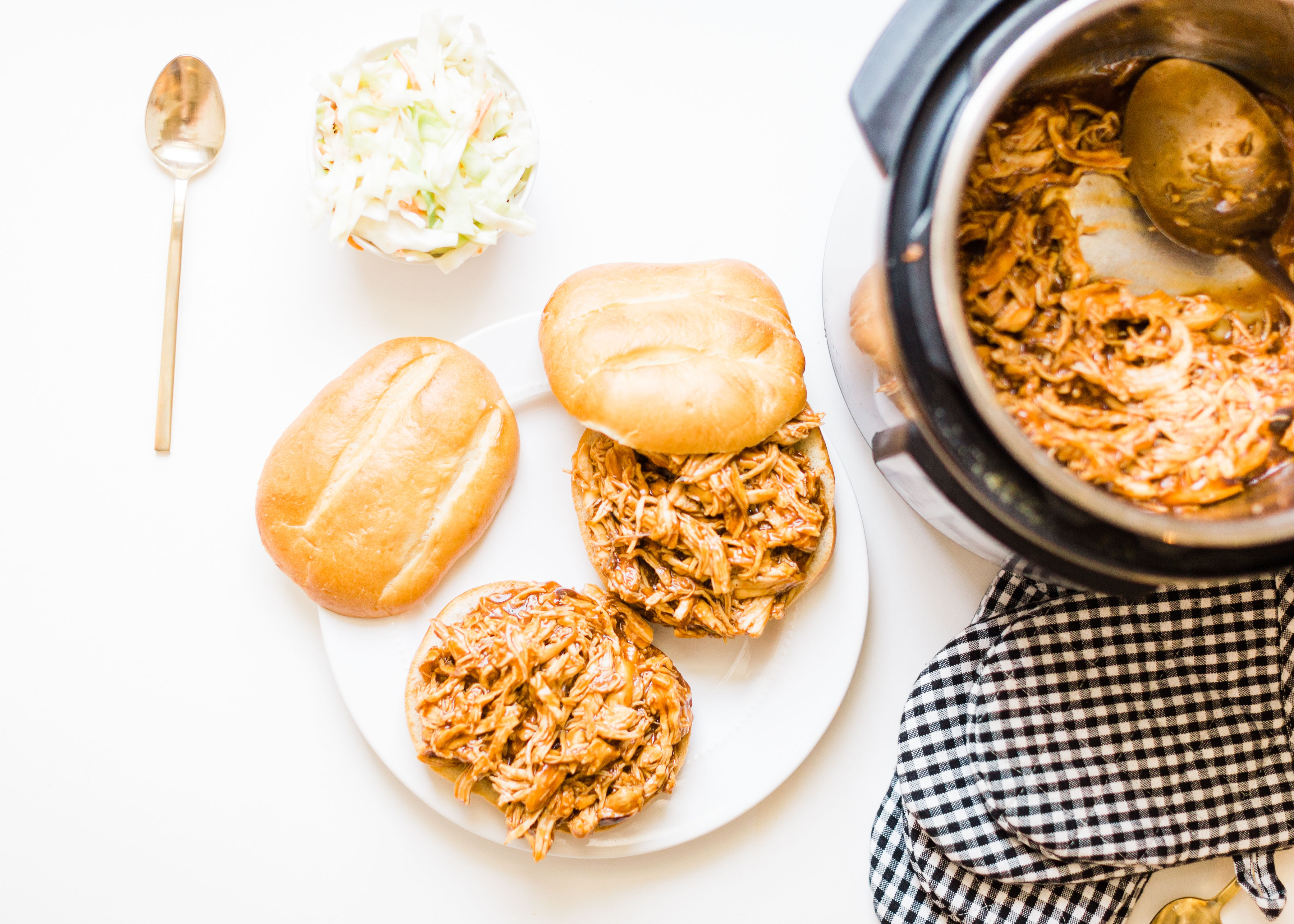 Definitely going to have to make this crockpot barbecue pulled chicken again this week now that I've stared at these pictures long enough. SO good!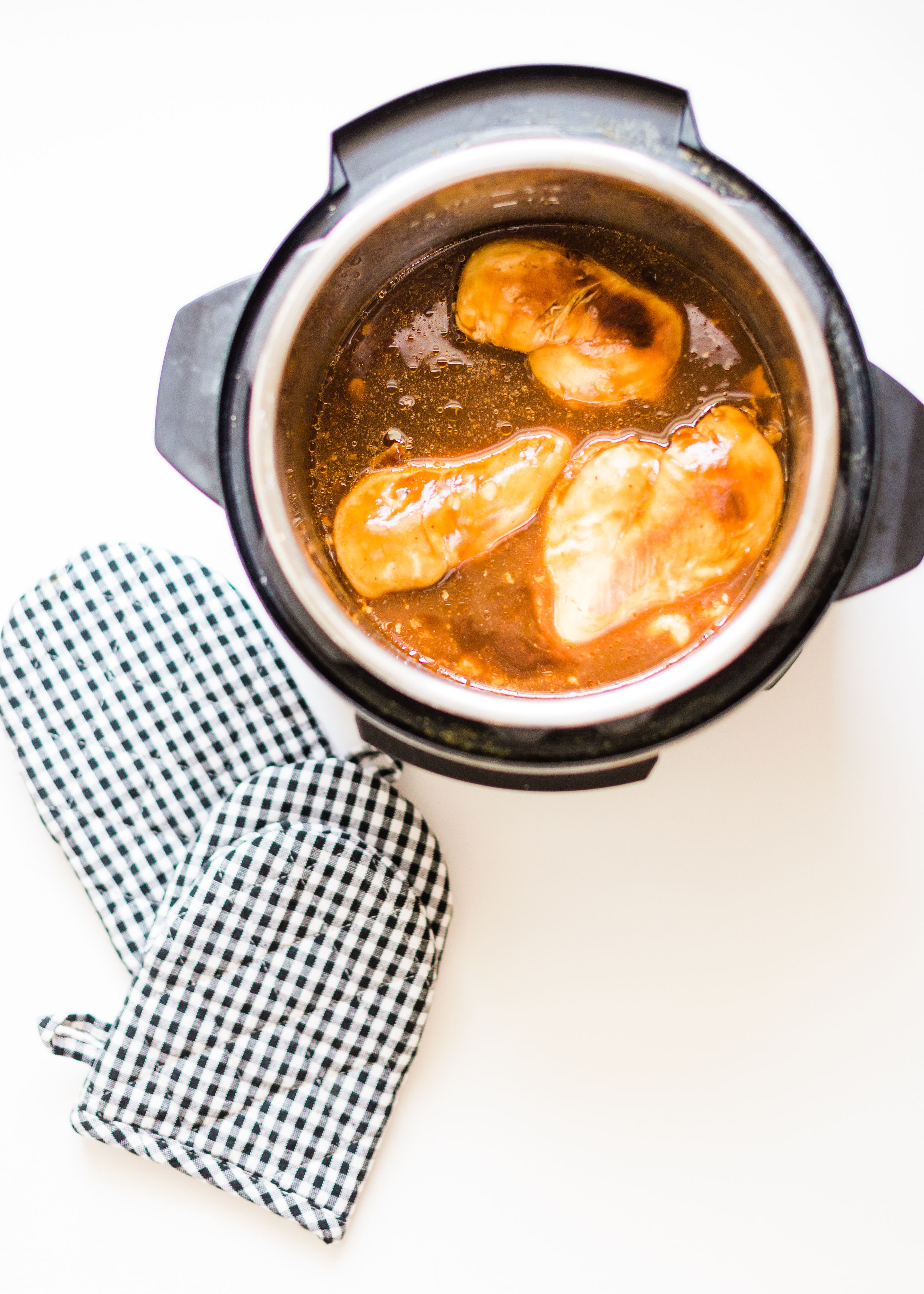 I love shredding the chicken so that it becomes "pulled chicken," but you can of course just serve the barbecue chicken breasts whole. Either way, it's delicious!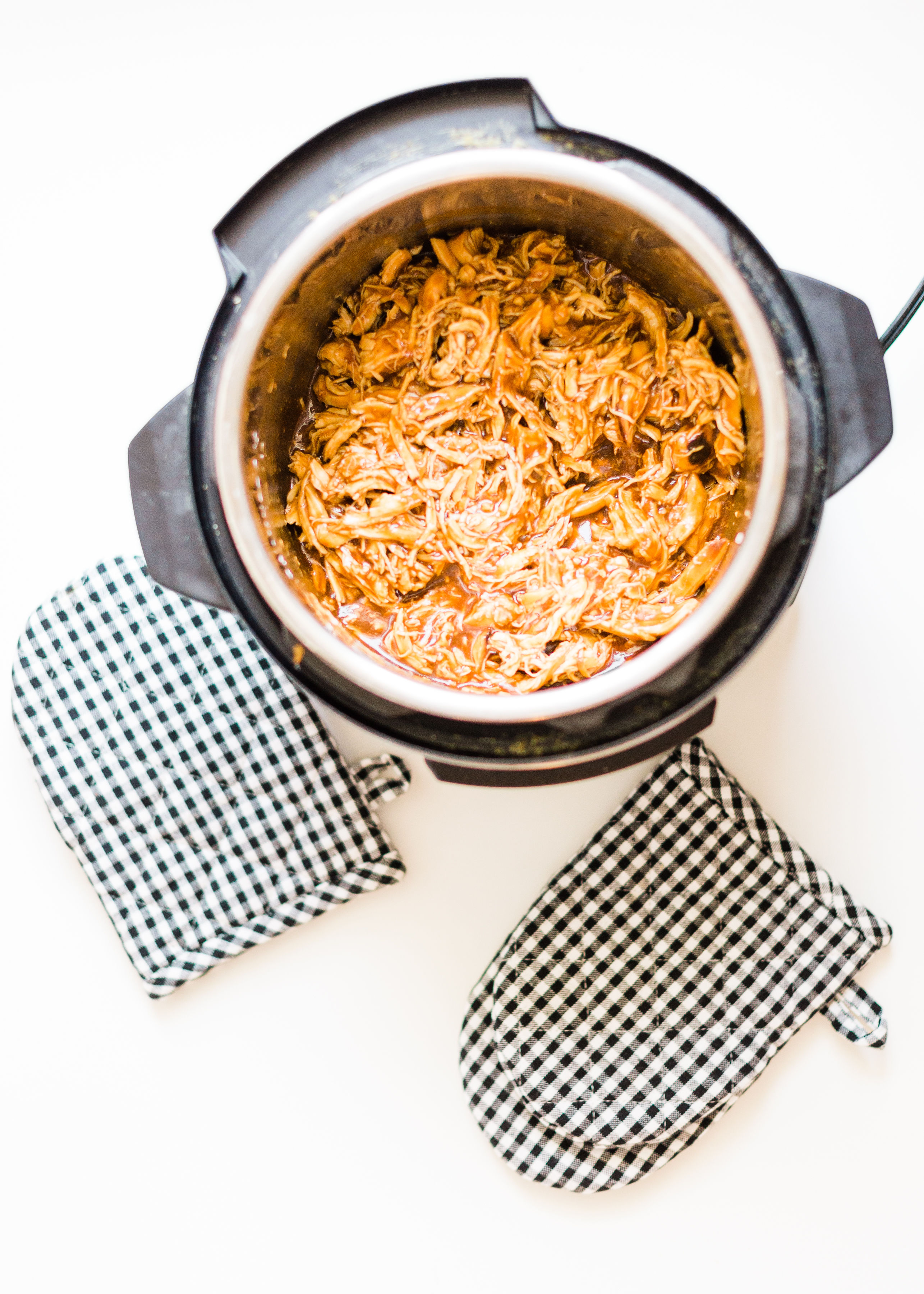 Two ingredients. Two ingredients to one really delicious dinner.
You really can't go wrong!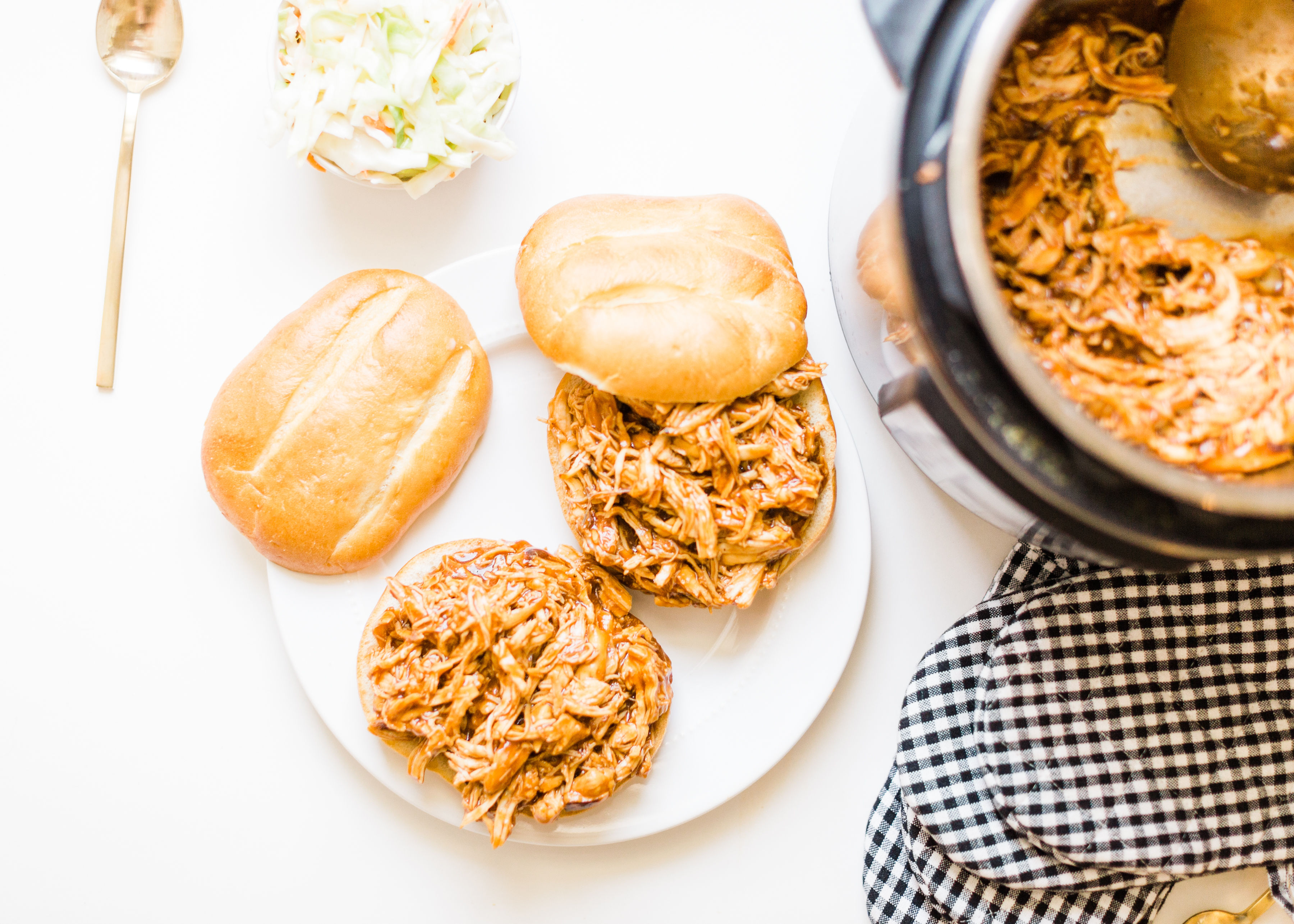 If you make your own easy crockpot pulled chicken, let me know in the comments!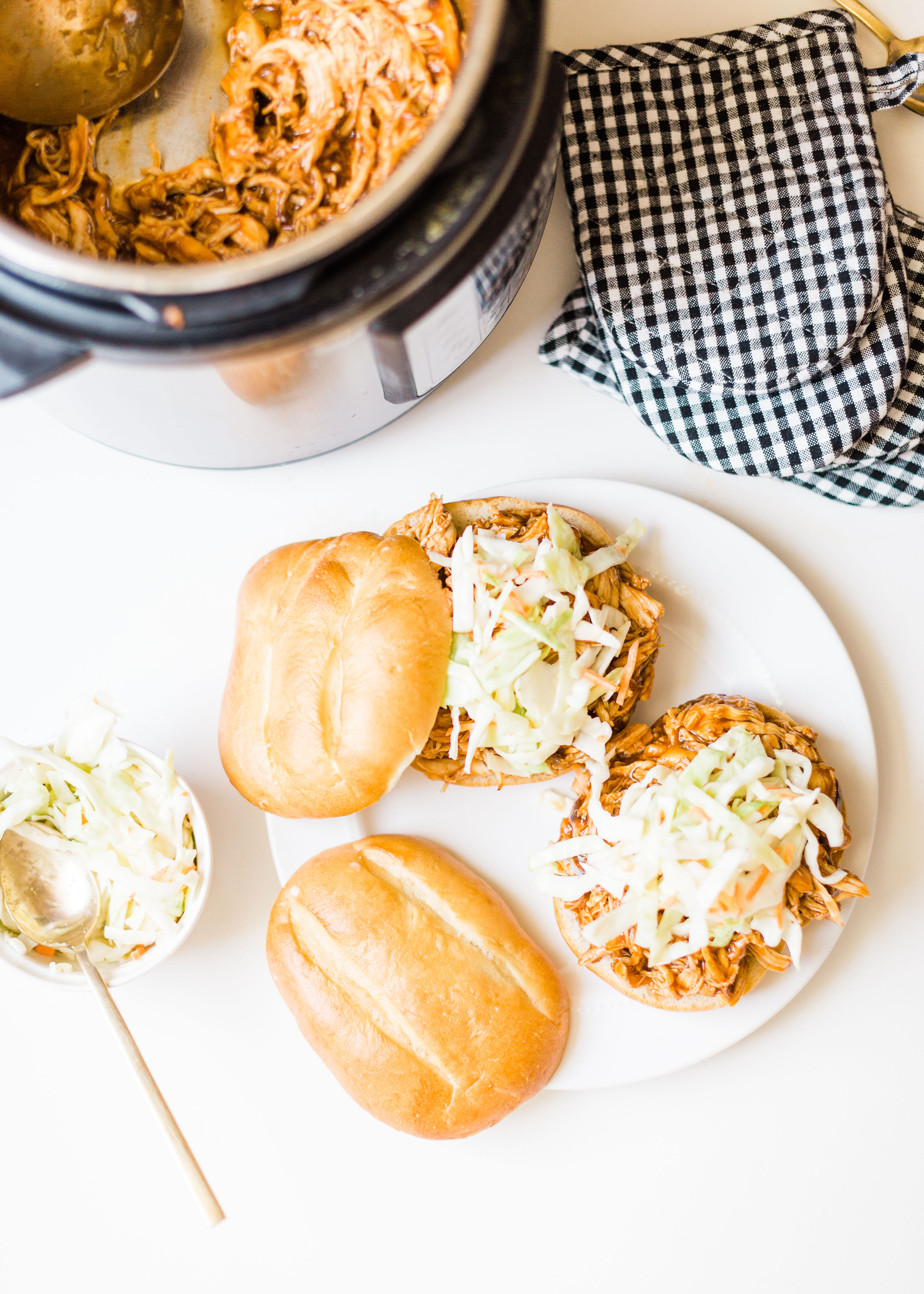 Are you a fan of the Instant Pot? Any favorite Instant Pot or crockpot recipes I should know about?
Love this recipe for crockpot BBQ pulled chicken? Head to our recipe page to check out what else we're dreaming up in the kitchen! And if you're looking for more delicious dinners, these are a few of our favorite things to serve up for supper.
SHOP THE CROCKPOT BBQ PULLED CHICKEN RECIPE POST | CLICK LEFT & RIGHT ARROWS TO EXPLORE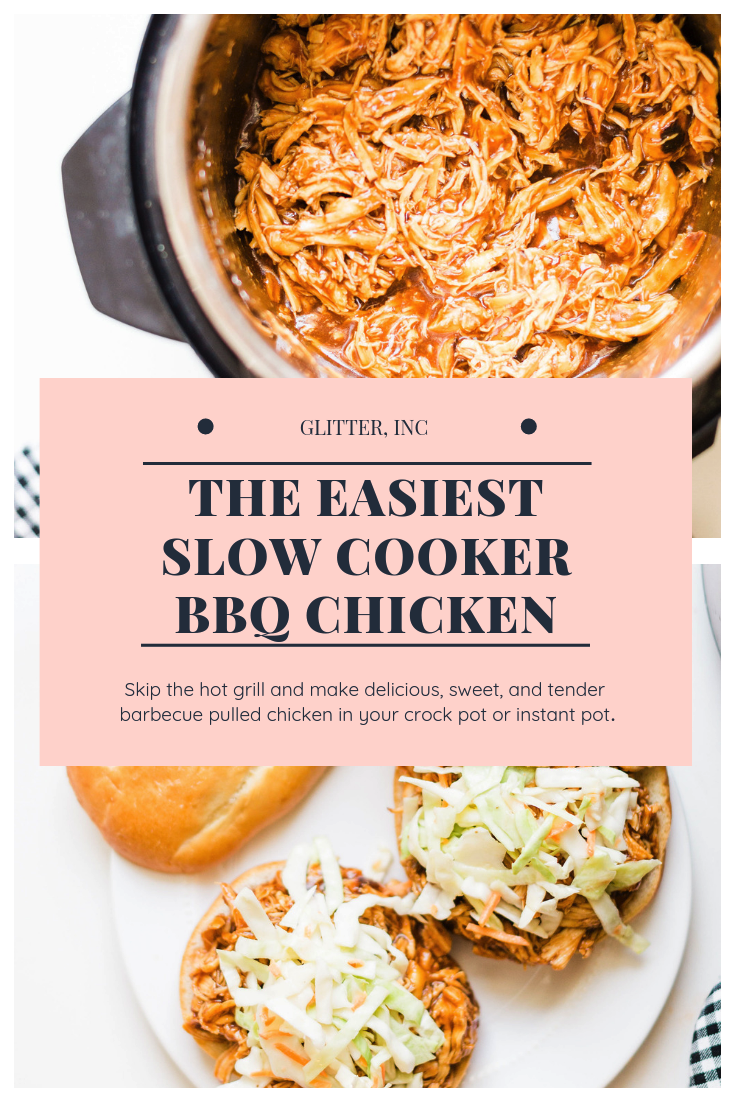 Photos by Annie Timmons Photography for Glitter, Inc.