This post contains affiliate links, which means that if you click on one of the product links, I'll receive a small commission. Thank you so much for clicking through and helping to support this little blog business of mine! Read more about our site, privacy, and disclosure policies here.
Need On-the-Go, Portable, make-ahead and Easy Breakfast recipes? This recipe roundup has got you covered with more than 50+ awesome breakfast ideas!
If there's any meal I really struggle with, it's breakfast. I fall into a rut of eating oatmeal or a bowl fo cereal nearly every morning – well, every morning that I actually remember to eat breakfast before noon – until I remember why I need to actually try to serve up a more thoughtful breakfast. 🤦🏻‍♀️
The truth is, I feel SO much better, healthier, and more alert, and actually am way more productive, when I eat a balanced breakfast. So even if it means planning ahead a bit more, or even prepping the night or weekend in advance, having an arsenal of on-the-go, portable, and make ahead breakfast recipes that I can rely on, is such a game-changer for me.
So I pulled all of my favorite awesome on-the-go breakfast recipes together – with plenty that can be made ahead of time – and then I went and surveyed a bunch of my food blogger buddies to do the same, and suddenly, I have 50+ really amazing breakfast ideas, with plenty of healthy options, protein-packed breakfast snacks, breakfast bars, and portable kid-friendly breakfast ideas, that I think you are going to love (and I know I am going to use!)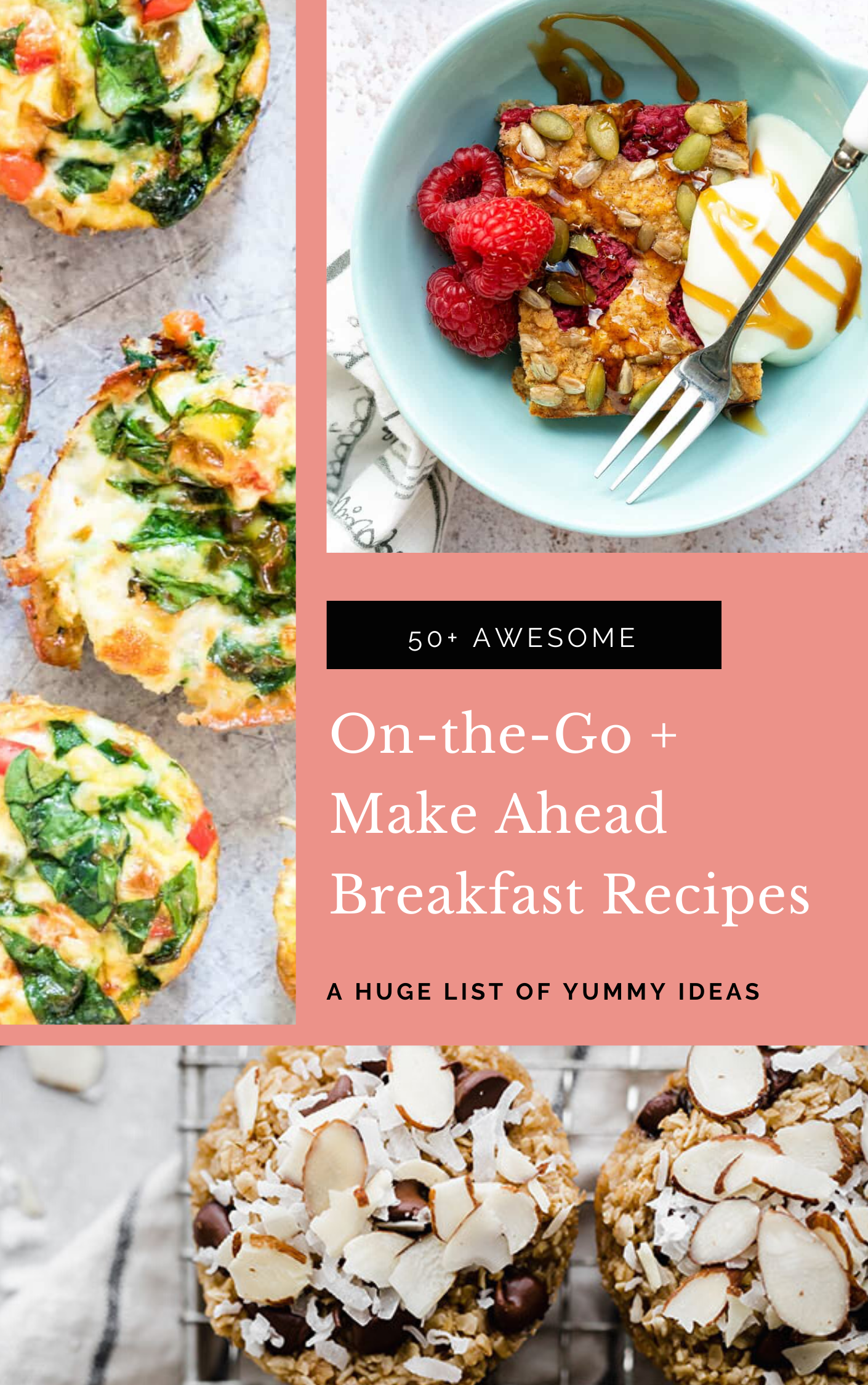 On-the-Go and Make-Ahead Breakfast Recipes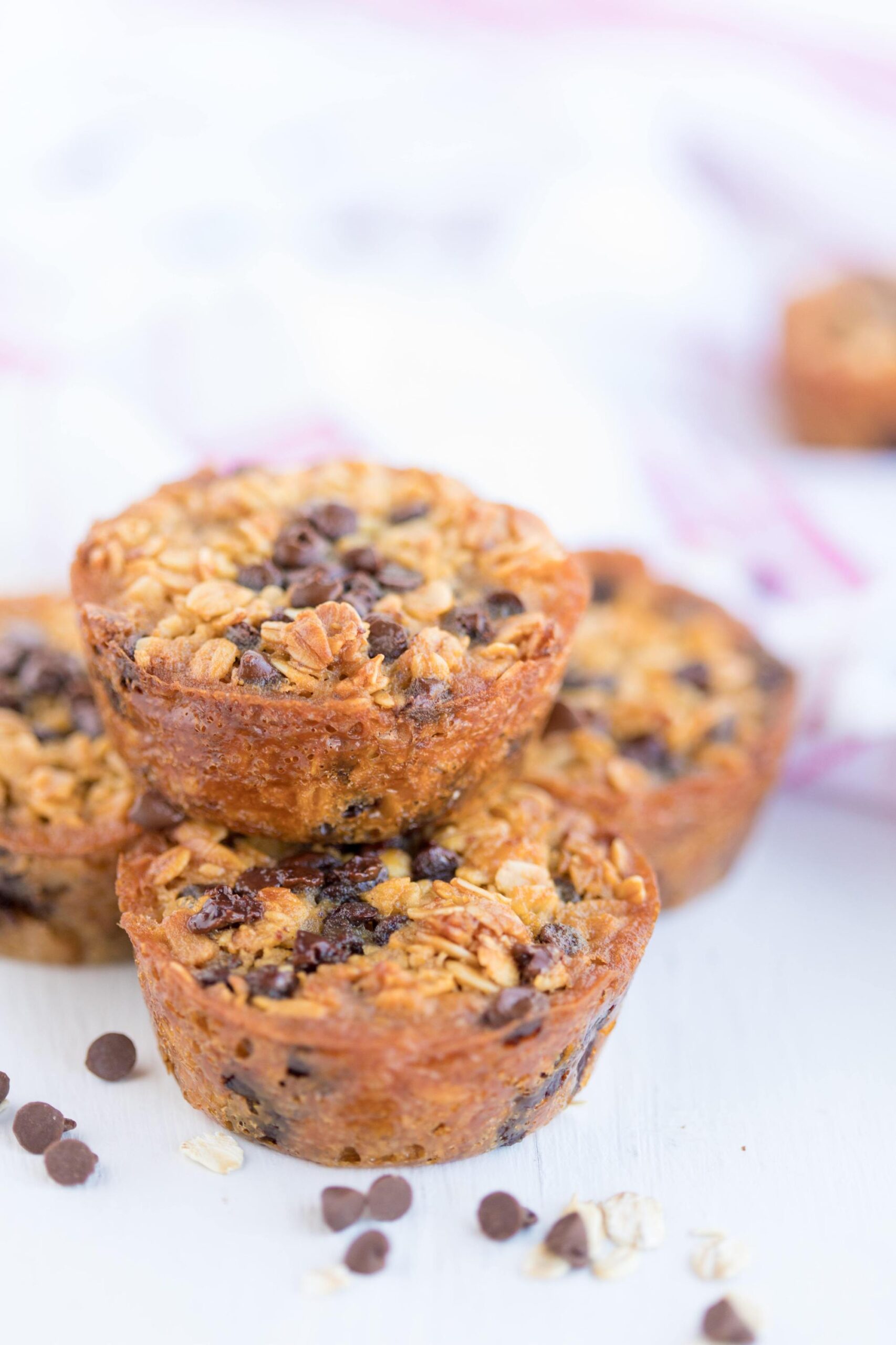 Baked Oatmeal Chocolate Chip Breakfast Cups are the perfect option for on-the-go breakfast! Swap out the chocolate chips for fruit, nuts, or spices for variety.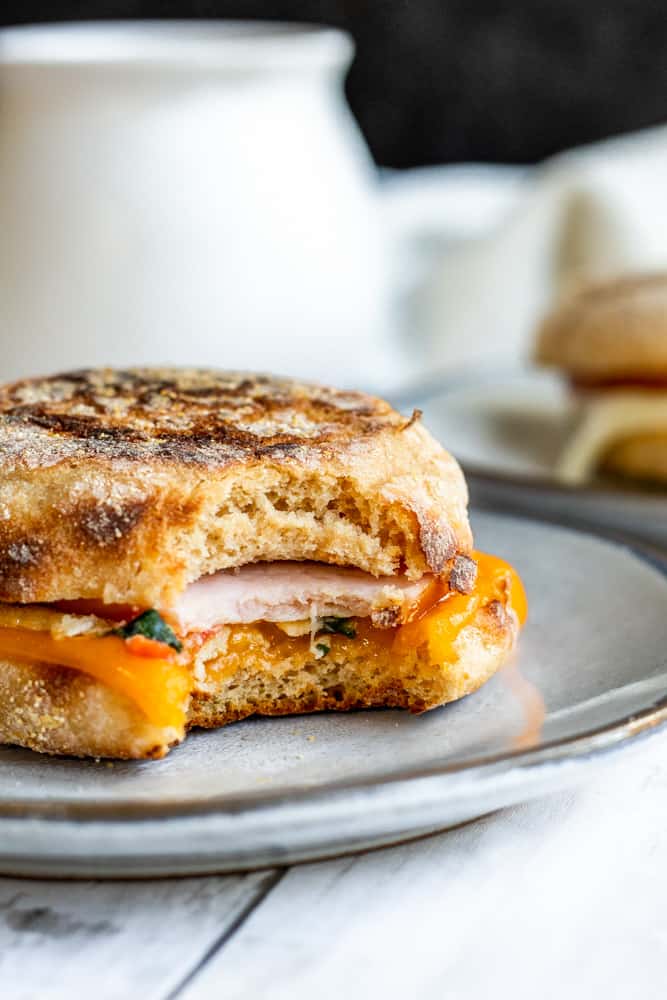 These make ahead breakfast sandwiches are perfect for a quick breakfast for both kids and adults! Bonus, these simple sandwiches are freezer friendly and great for meal prep!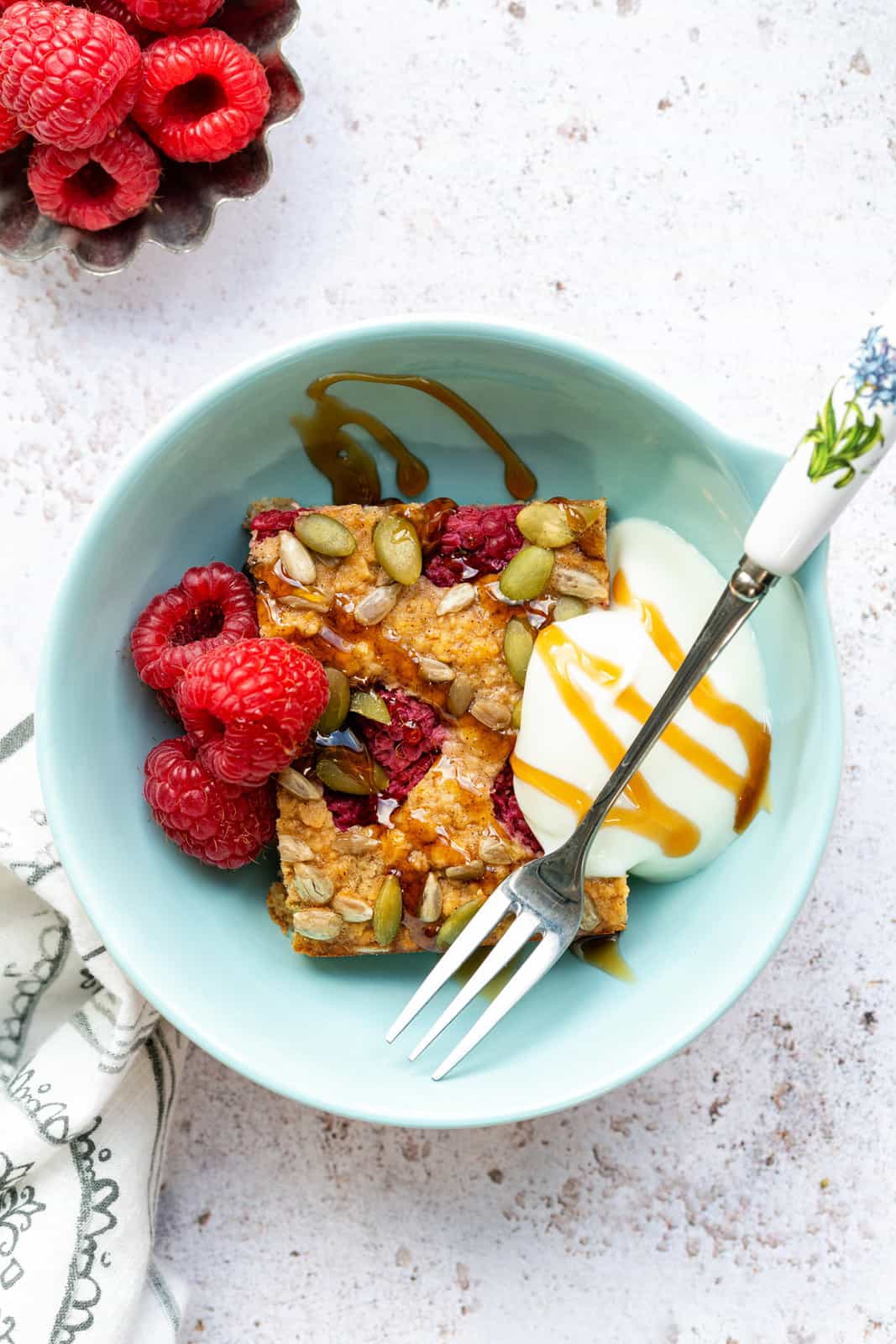 Baked Oats are the perfect healthy breakfast recipe! Easy to make ahead, delicious warm or cold and portable too. Top them with fresh fruit, nuts, or greek yogurt for a super filling and balanced morning meal.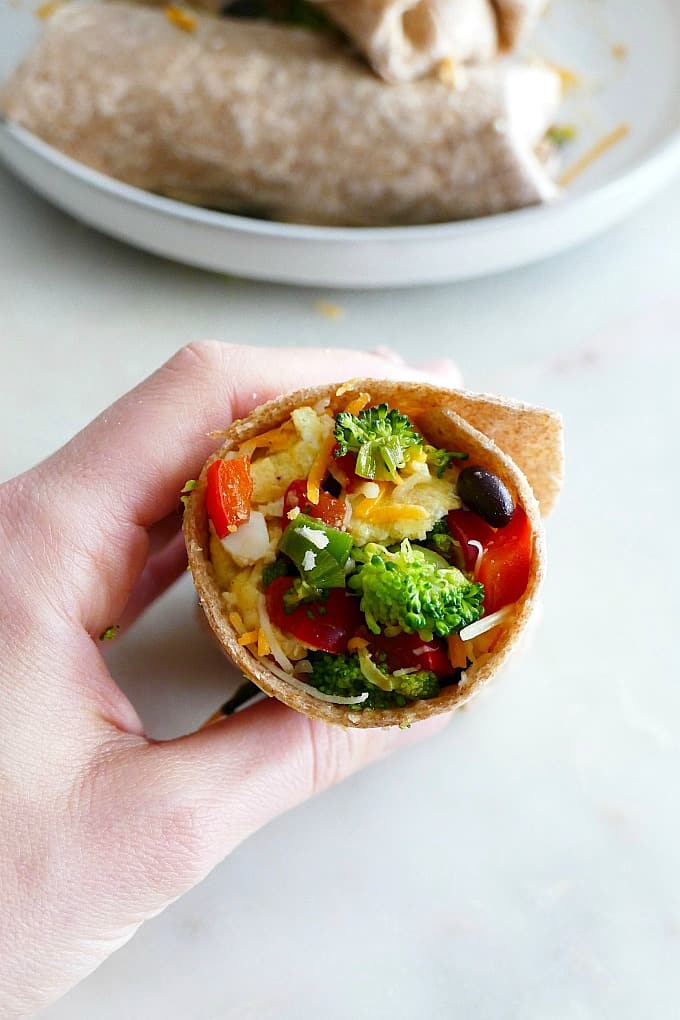 These veggie-loaded egg burritos are the perfect on-the-go breakfast to make in advance for busy morning!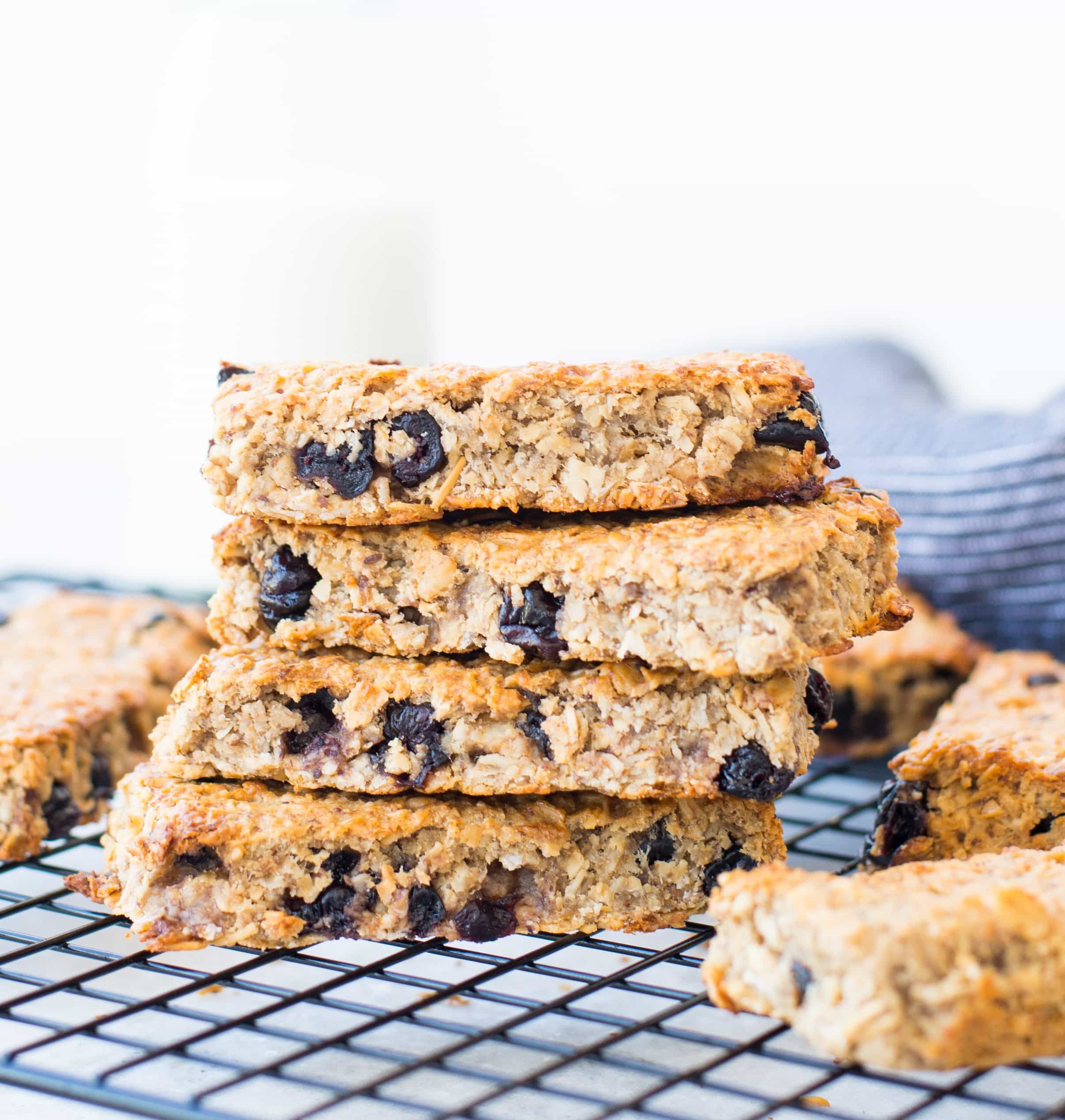 Healthy Blueberry Banana Granola bars = our new obsession at home. These soft and chewy homemade granola bars are gluten-free, vegan and refined sugar-free.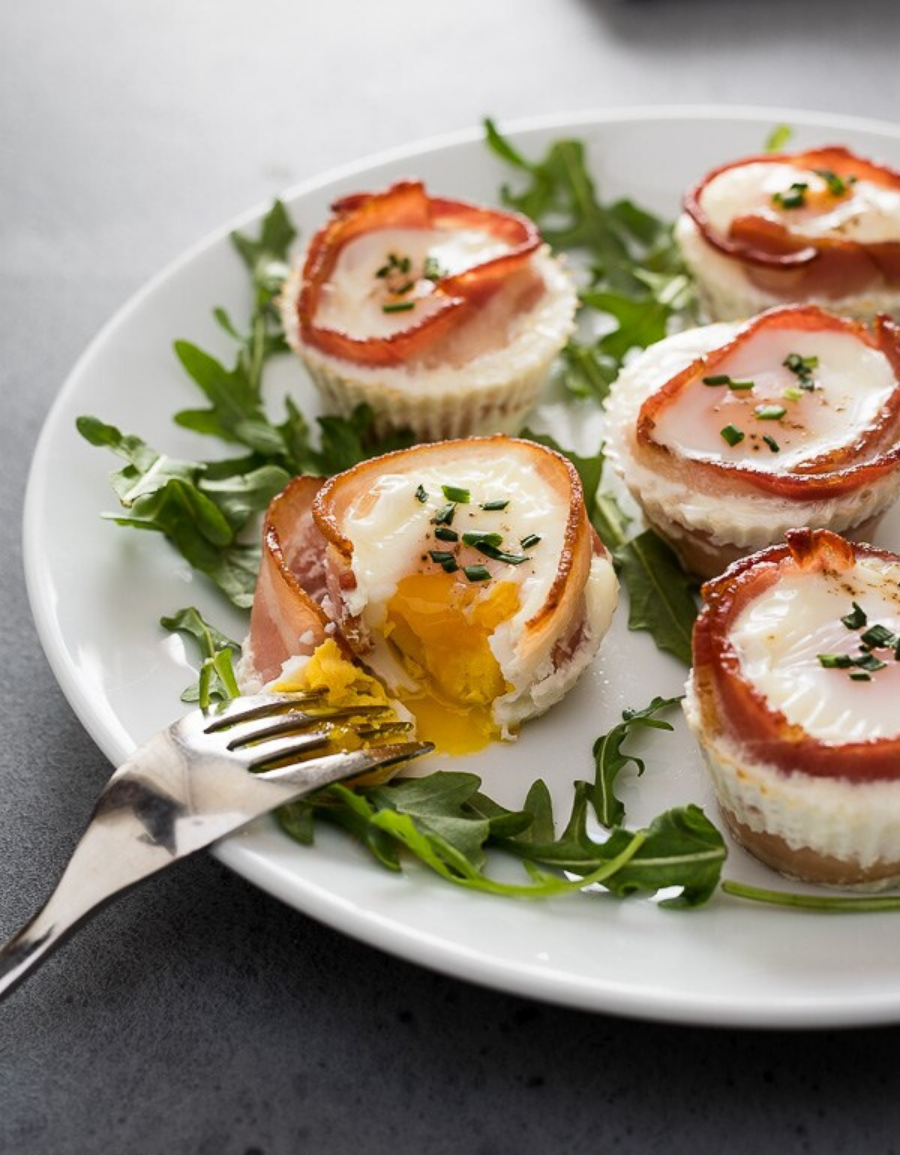 Egg and Bacon Breakfast Cups are a two ingredient, low carb recipe that's perfect for meal prep breakfast or make ahead brunch!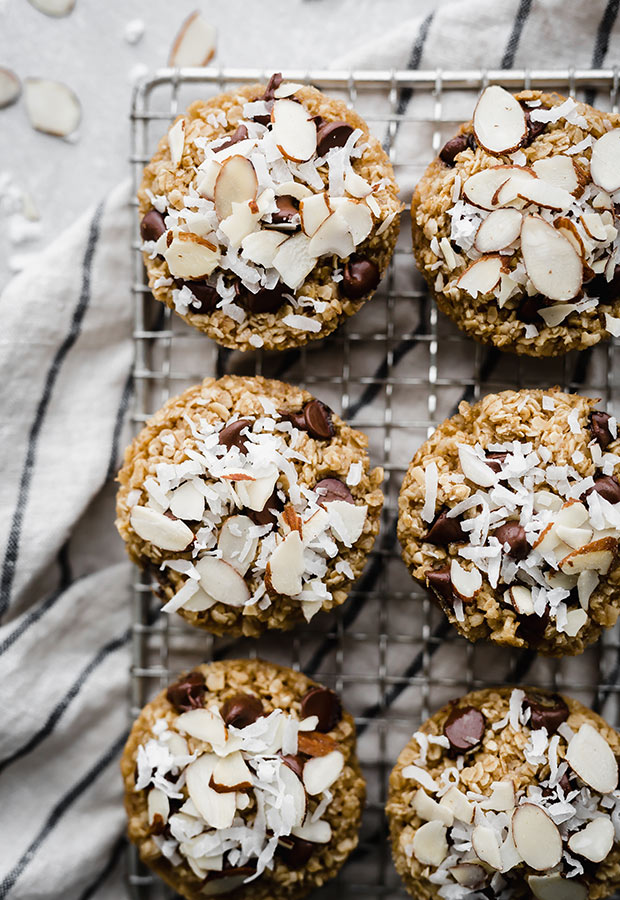 These Baked Oatmeal Cups are dairy free, gluten free, moist, filling, and a healthy breakfast option welcomed by children and adults!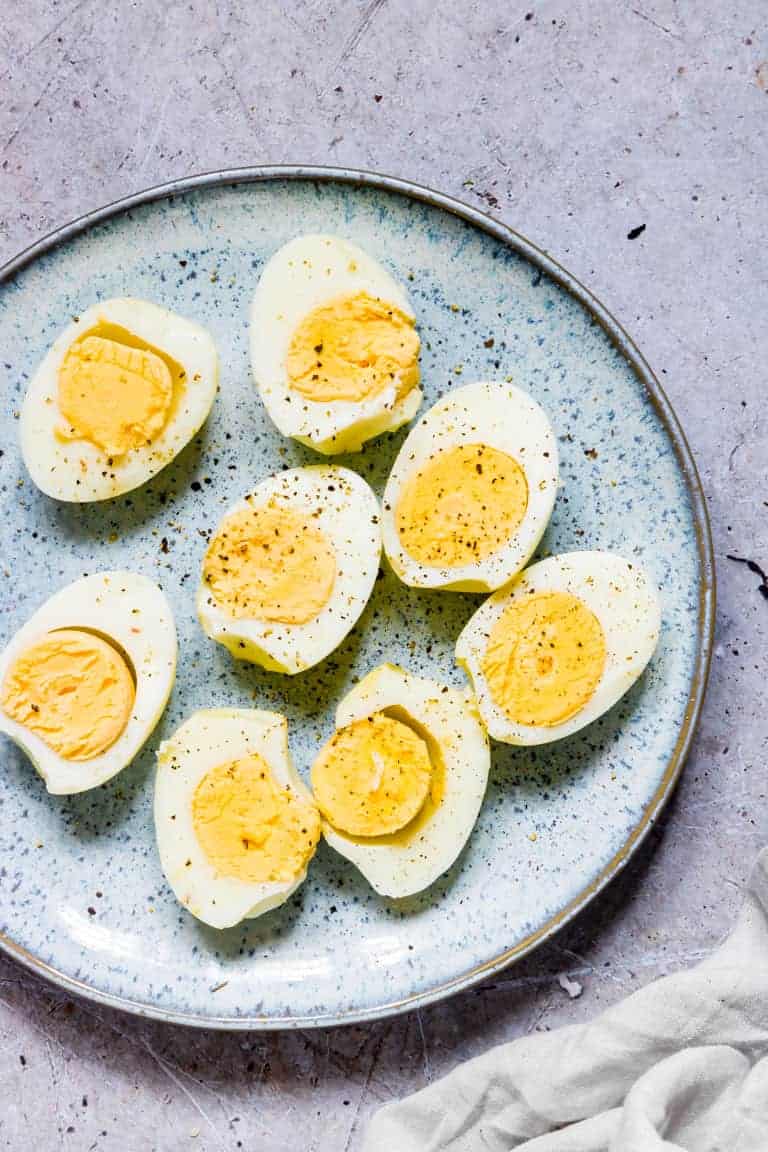 Air Fryer Hard Boiled Eggs are sooooo easy and convenient, you'll never want to make eggs any other way! Perfect for meal prep, healthy snacks, and as a protein-packed breakfast on the go.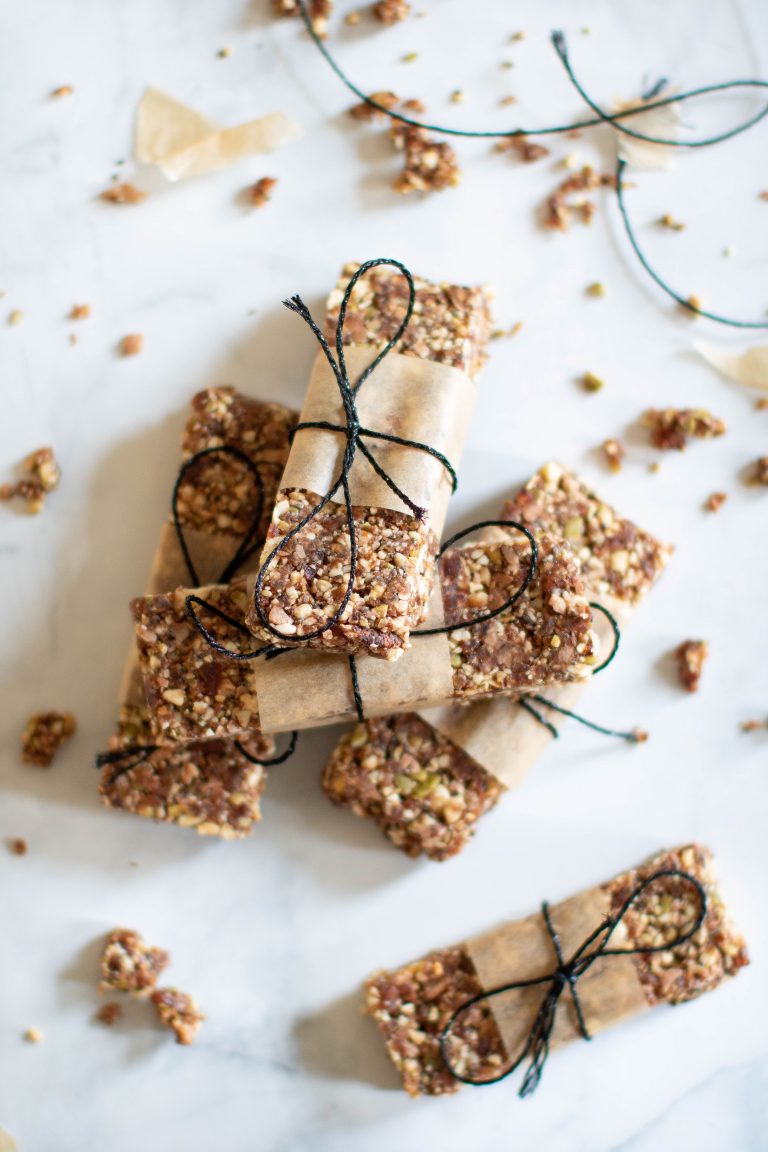 These No-Bake Cacao Date Loaded Energy Bars are loaded with nutrient-dense ingredients like Cacao, Cacao Butter, Dates, Chia Seeds, Cashew Nuts, Coconut Flakes, Pumpkin Seeds, and Maple Syrup. They make for an awesome packable snack, breakfast replacement, or dessert. Full of bold flavor, chewy, super easy to make, vegan and Gluten-Free.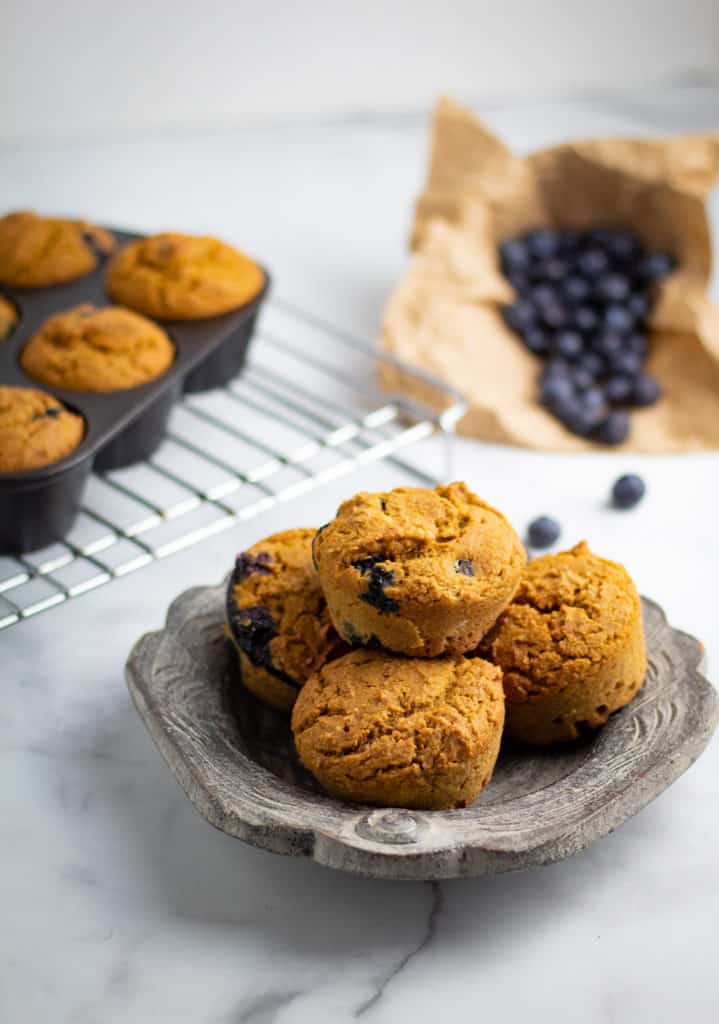 These vegan blueberry muffins are moist, fluffy, and packed with fresh blueberries. They're also perfect for an on the go breakfast. They are so good, no one will ever know they are healthy unless you tell them. And even then, they won't believe you!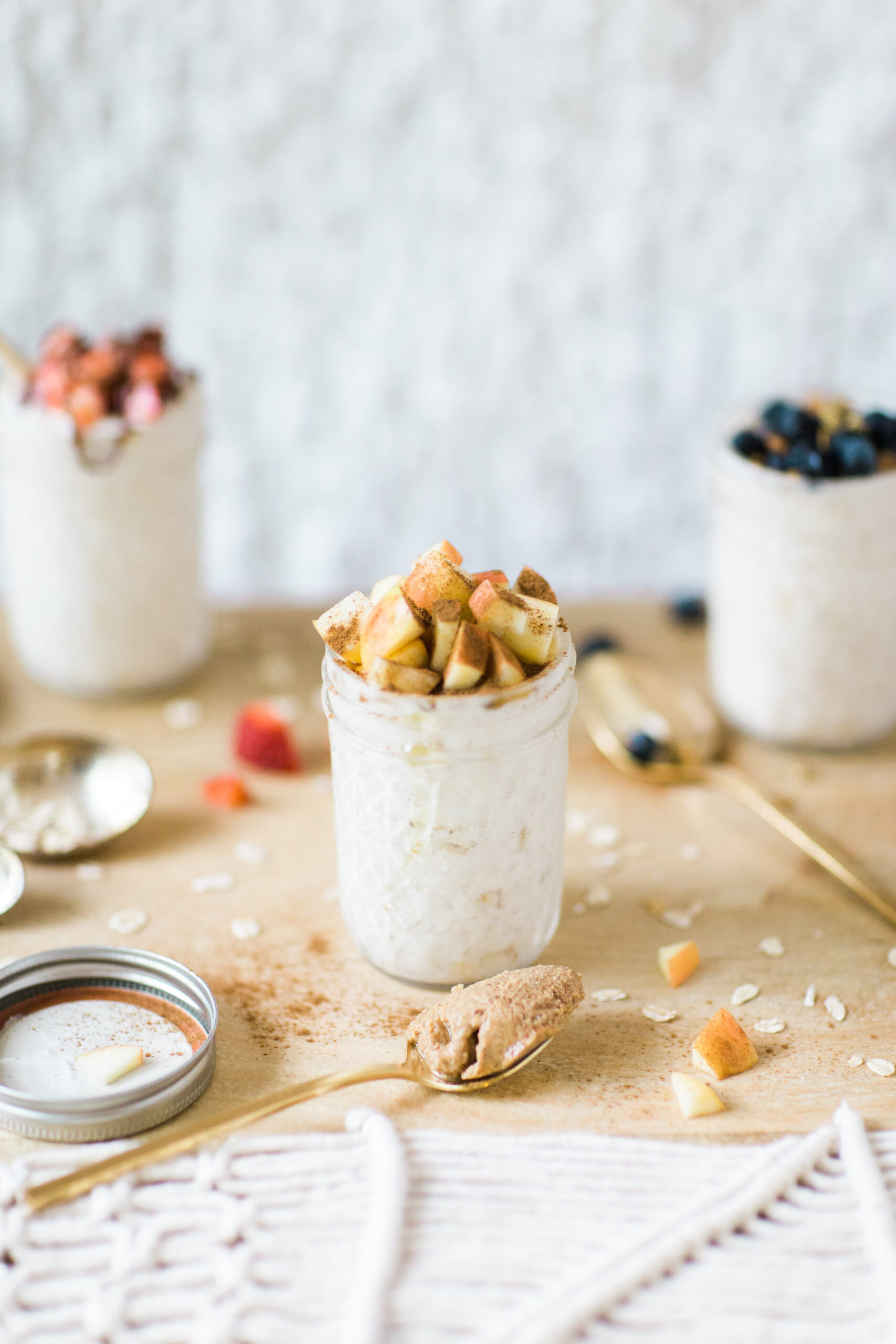 These simple overnight oats are super convenient and SO delicious! They are gluten free, vegan, and make for the perfect healthy breakfast option.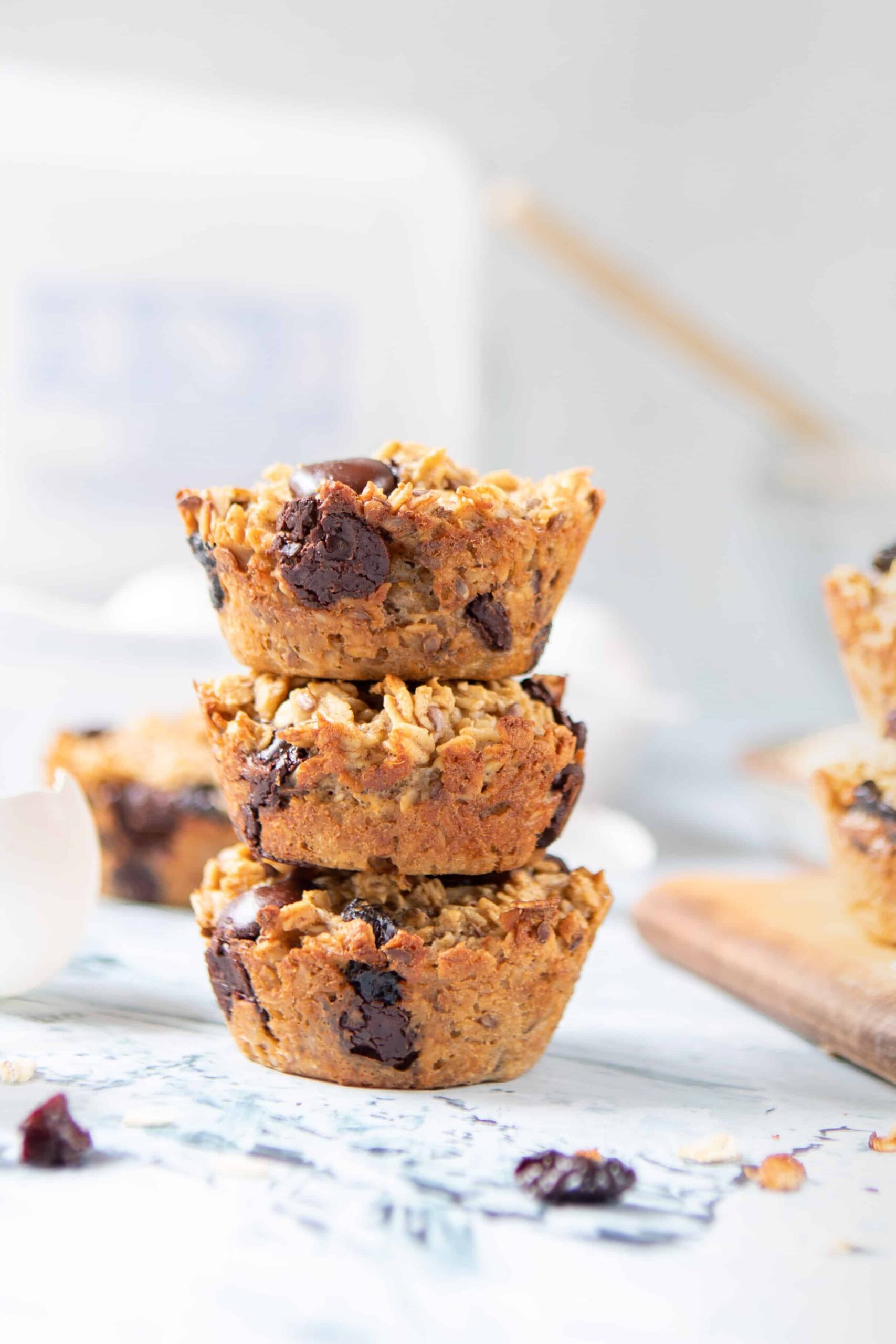 These cherry chocolate chip baked oatmeal cups are a fun new way to take oatmeal on the go, great for snacks, quick breakfasts and kid-friendly breakfasts on the go.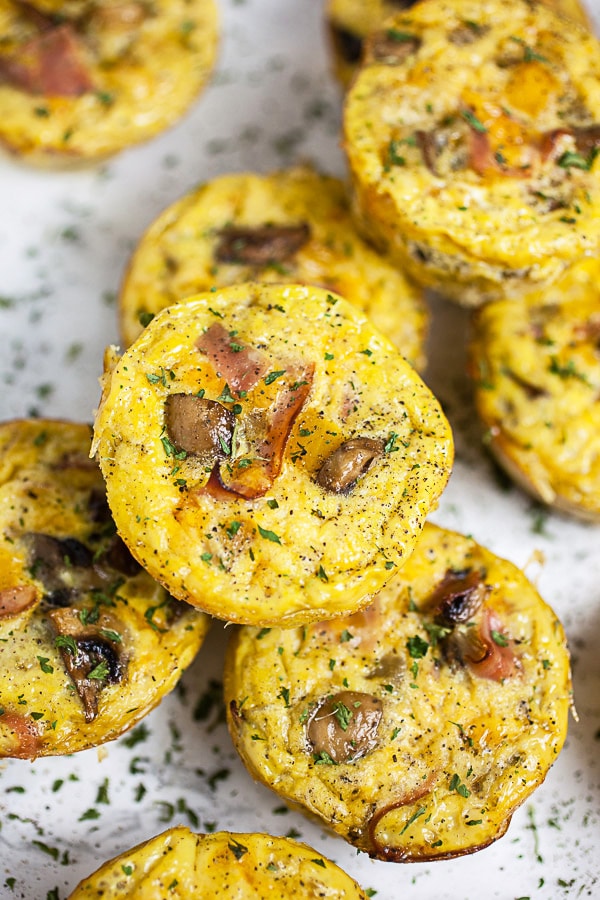 These Denver Omelette Egg Cups are easy to make and so flavorful. Make a batch and stick them in the freezer. The perfect grab and go healthy breakfast!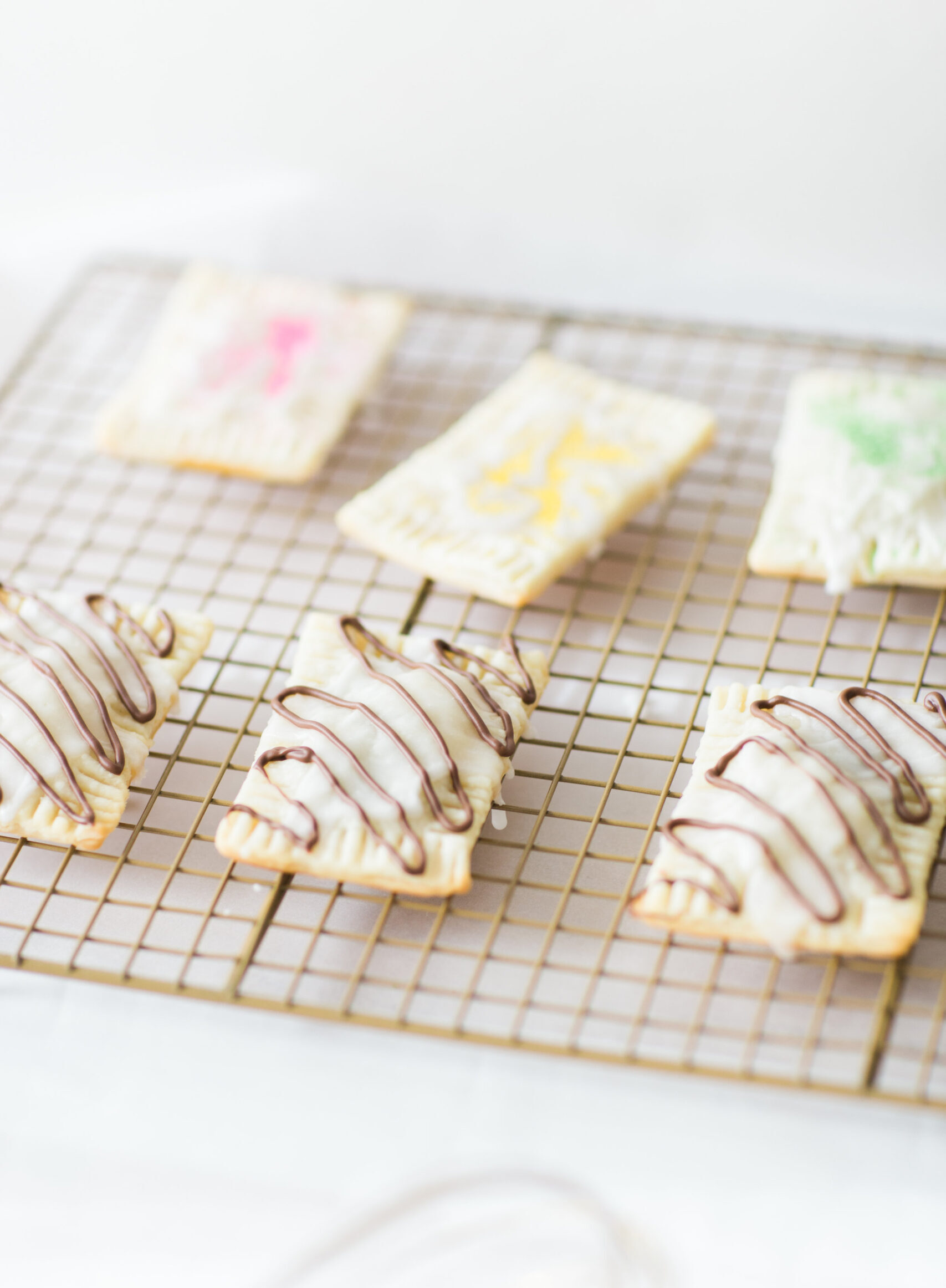 These 3-ingredient pop-tarts are super simple to throw together; they use a combination of store bought ingredients, and things you likely always have on hand in your kitchen. They're also super kid-friendly and make a great make ahead breakfast for school mornings!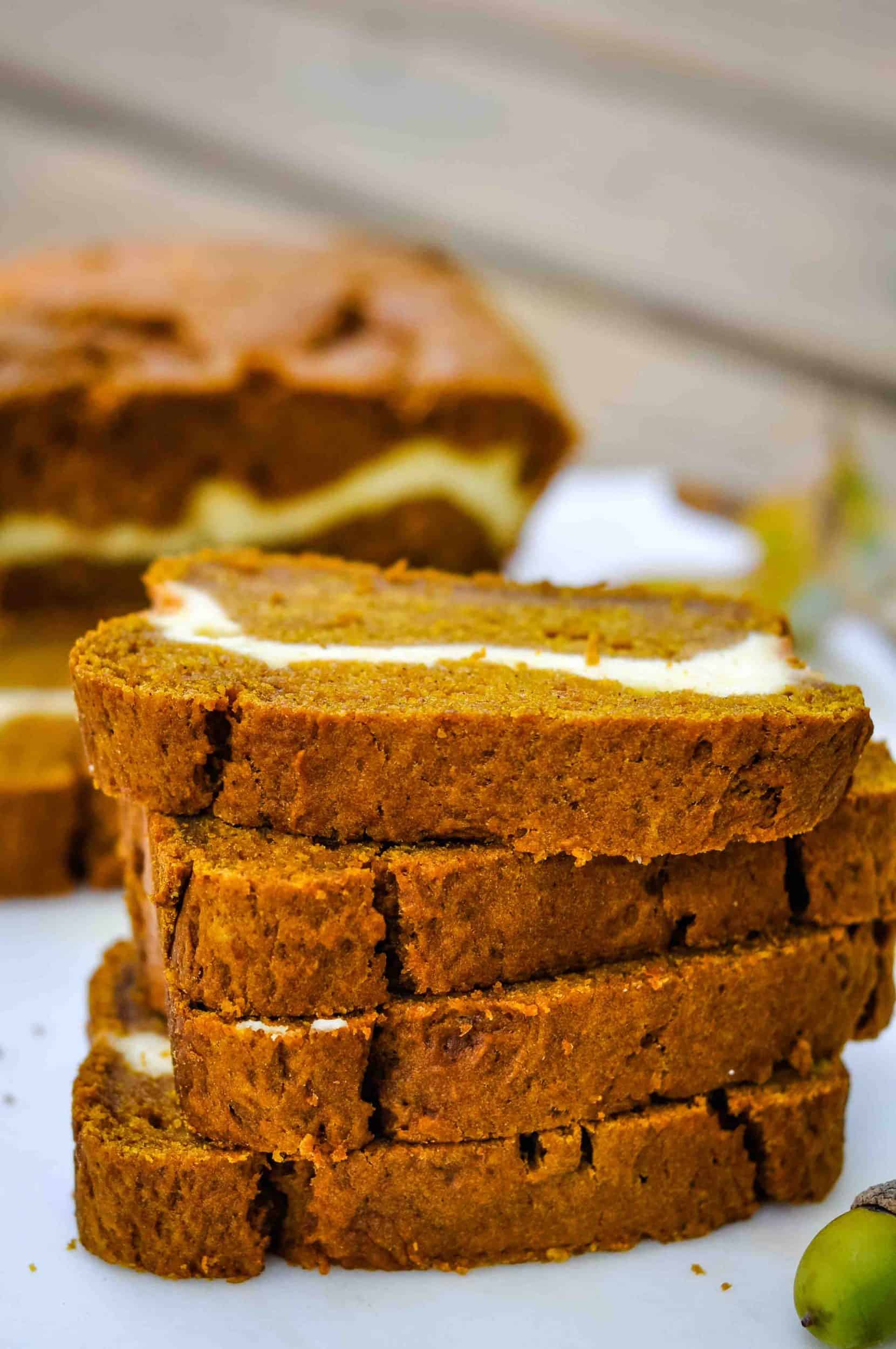 Soft and moist pumpkin spice bread and a decadent cream cheese filling come together to create the ultimate breakfast or snack!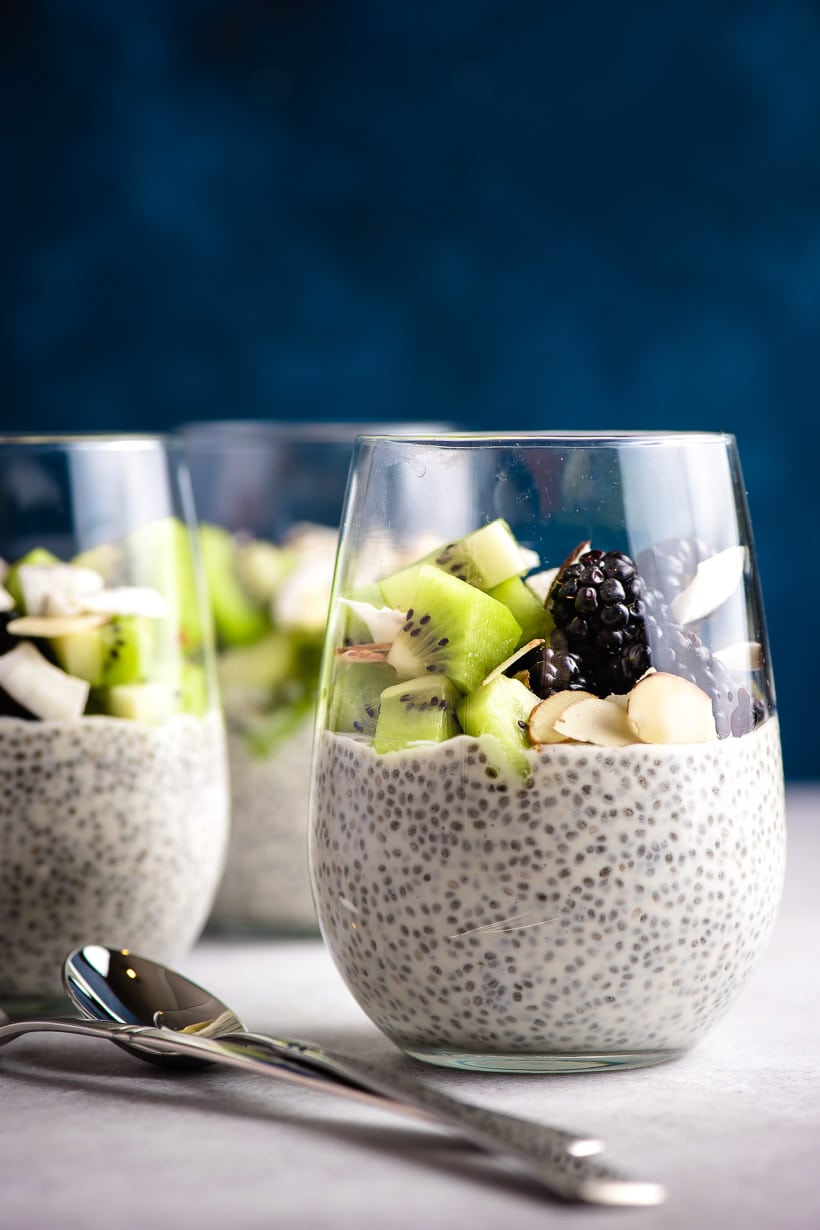 Overnight Chia Pudding with Fruit is the perfect make ahead breakfast. Go to bed at night and know breakfast is waiting in the fridge for you for the morning! Make it your own by adding your favorite nuts and fruit.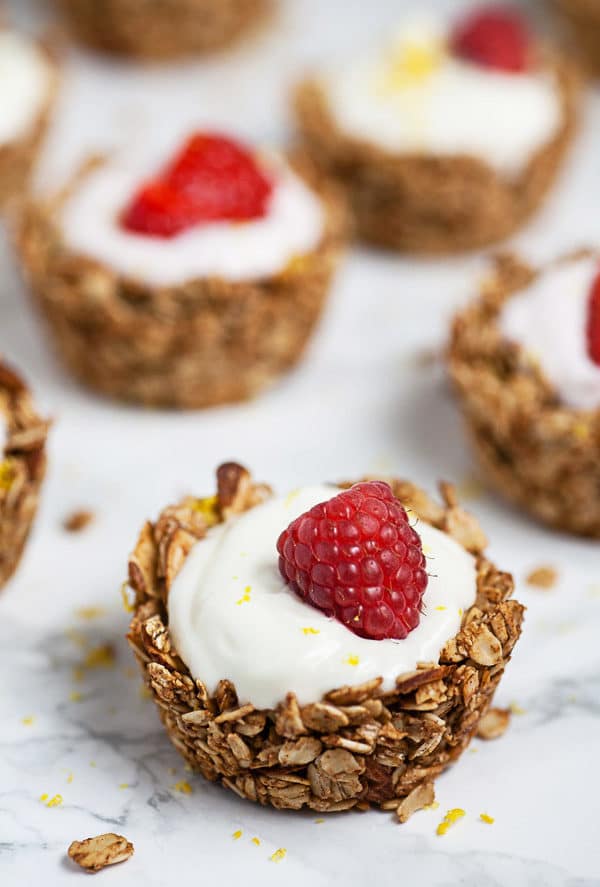 These Greek Yogurt Oatmeal Cups are an easy and healthy recipe for breakfast or brunch! The oats are baked until crisp and topped with creamy sweet yogurt.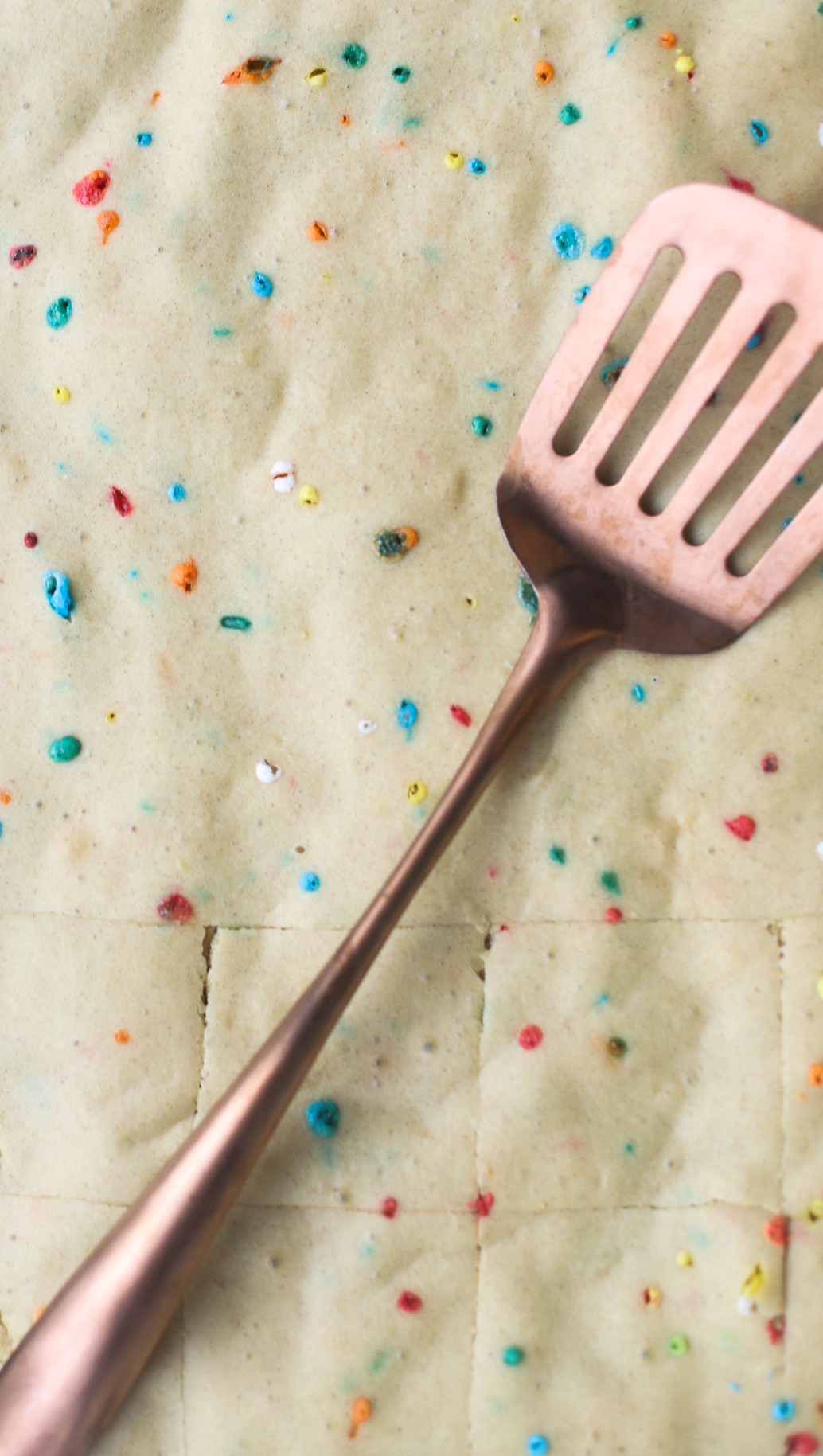 Homemade Sheet Pan Pancakes – a quick and simple breakfast recipe sure to seriously upgrade your morning pancake routine. Make these oven-baked pancakes any time you want delicious, fluffy pancakes for breakfast without all of the work. Give your kids cookie cutters and let them turn pancakes into their favorite adorable shapes for an extra kid-friendly brunch!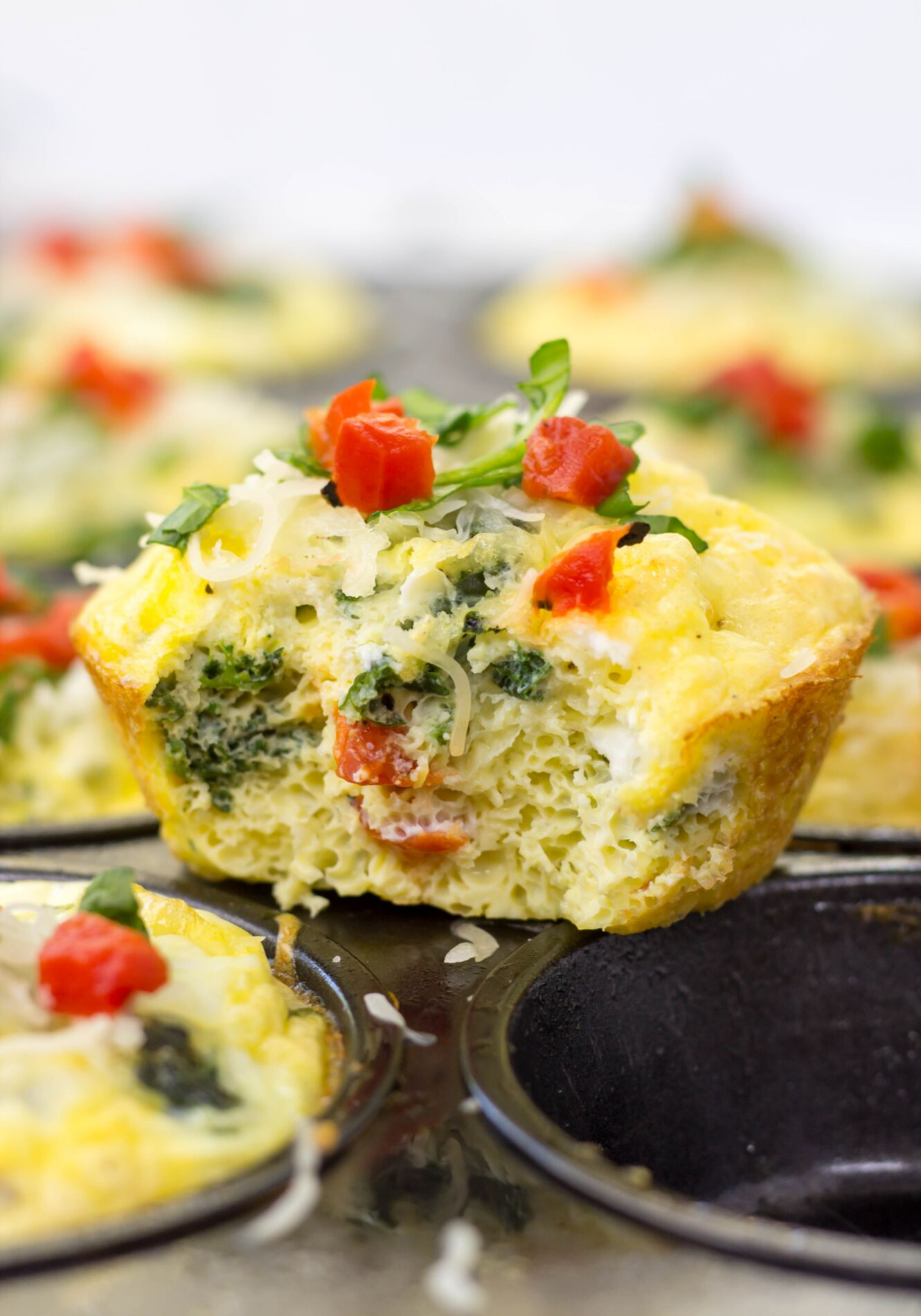 Roasted Bell Pepper and Spinach Egg Cups are a great meal prep breakfast loaded with egg, spinach, roasted bell peppers and mozzarella cheese.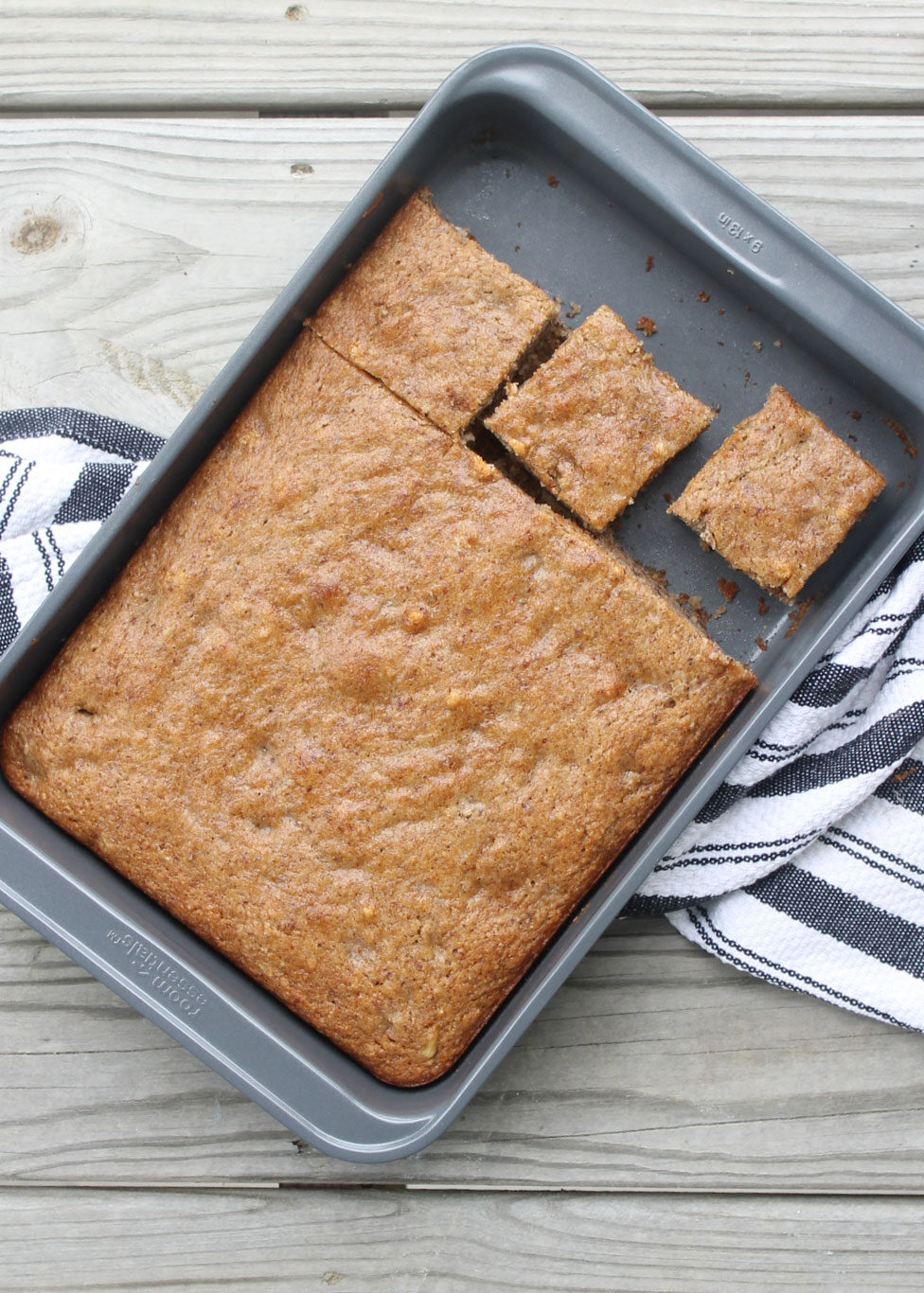 This healthier vegan banana cake is soft and moist and subtly sweet in the perfect way. And let me tell you, you'll never be able to tell at all that this cake doesn't have any dairy or eggs.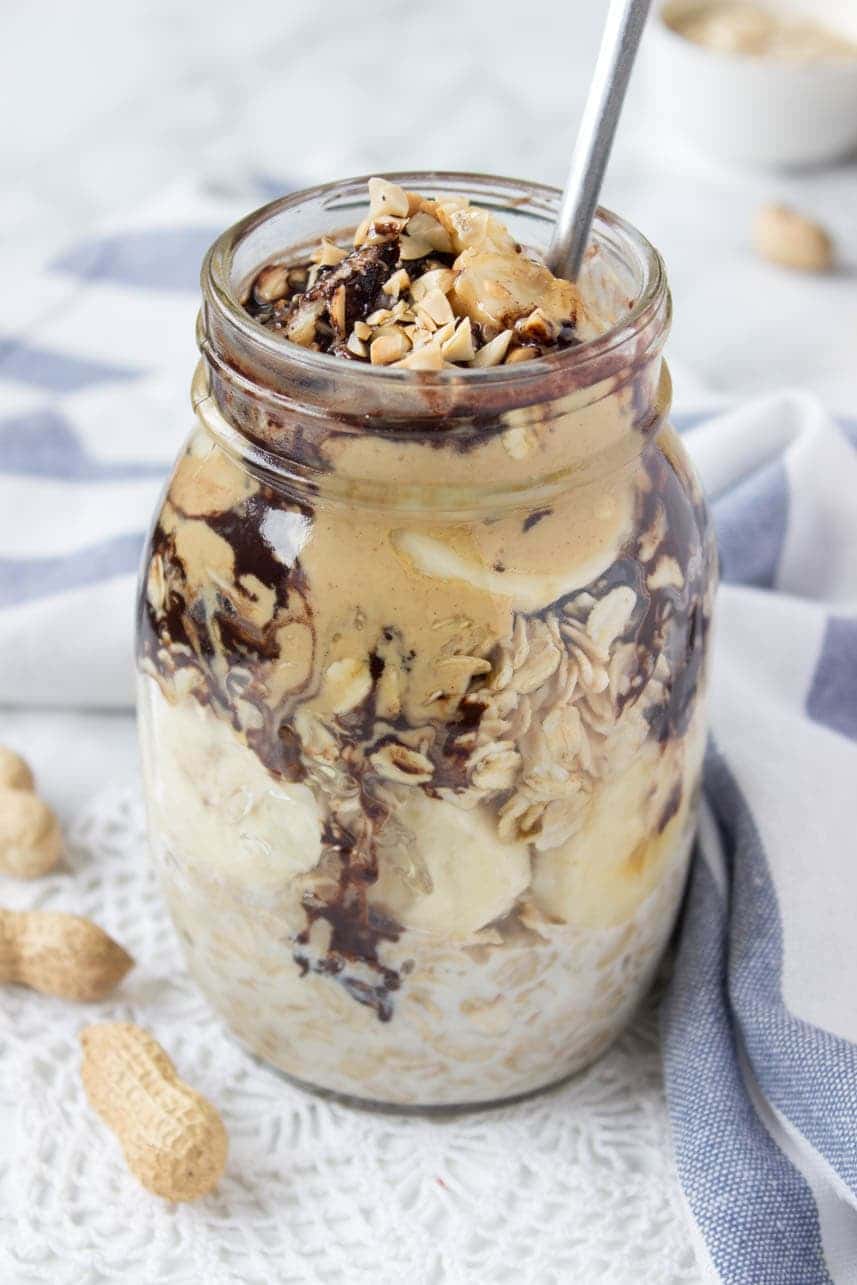 Energizing and delicious Peanut Butter Overnight Oats are great breakfast option. These oats are loaded with nutrients. It's super satisfying meal that is perfect for busy mornings.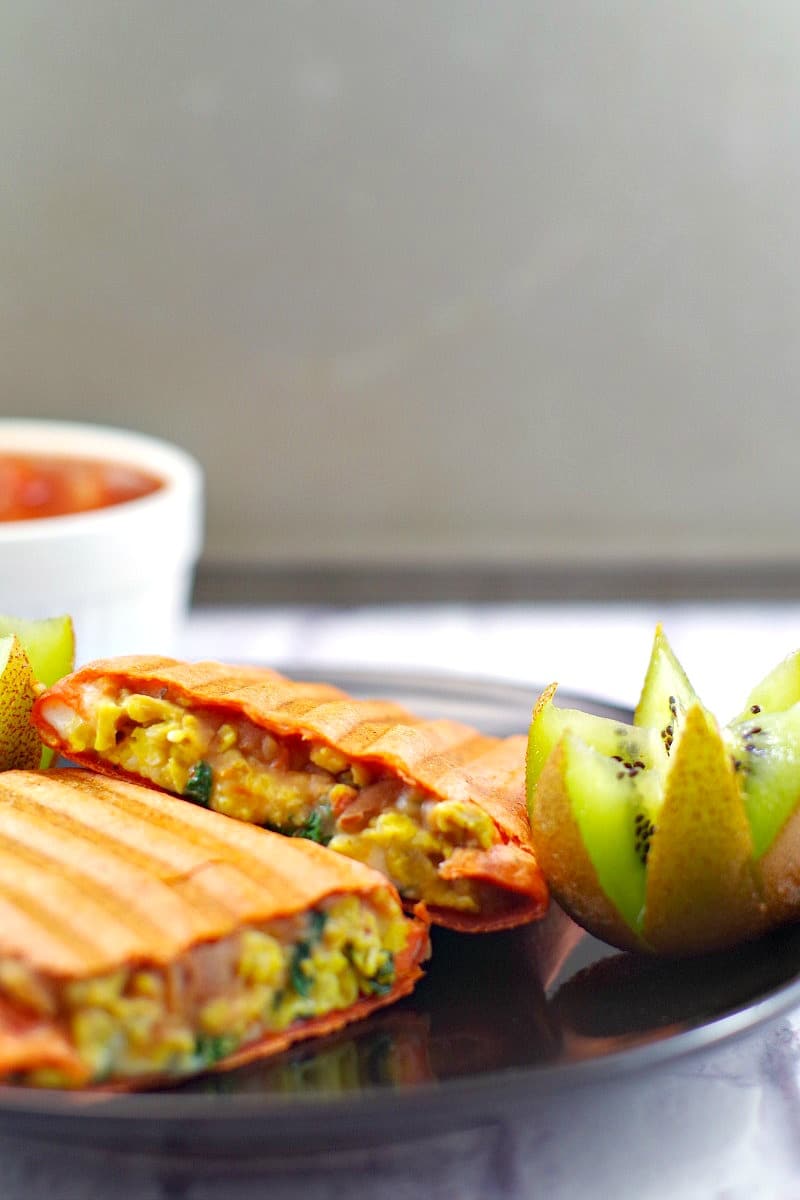 This easy, meatless, healthy breakfast burrito is full of protein, mediterranean flavors, make- ahead, freezable and a great brunch or breakfast potluck idea!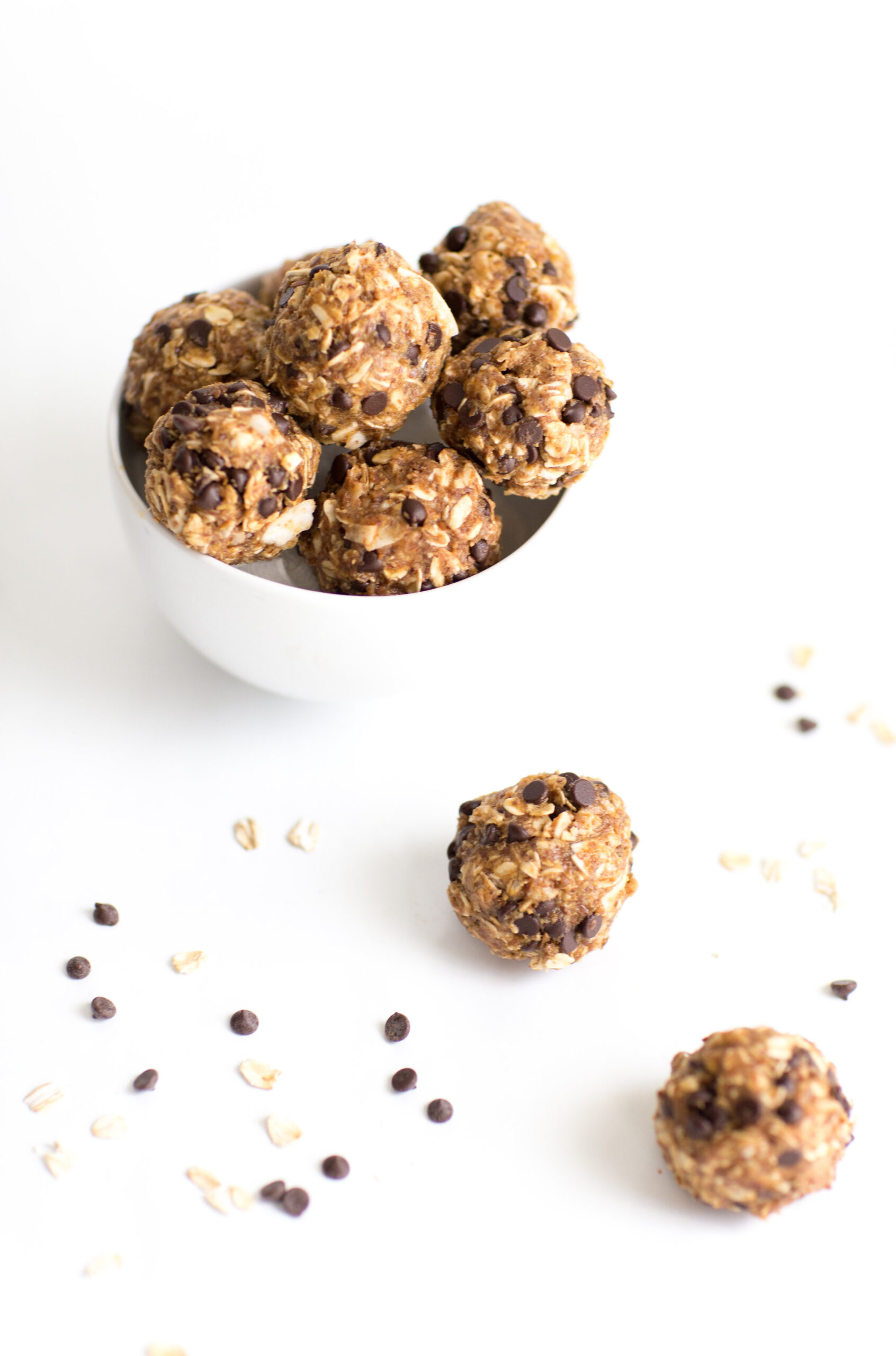 Say hello to your new make ahead breakfast and snack addiction: these no-bake energy bites are easy to make, are made with better-for-you ingredients, are dairy-free and gluten-free, and they taste like your favorite no-bake cookies!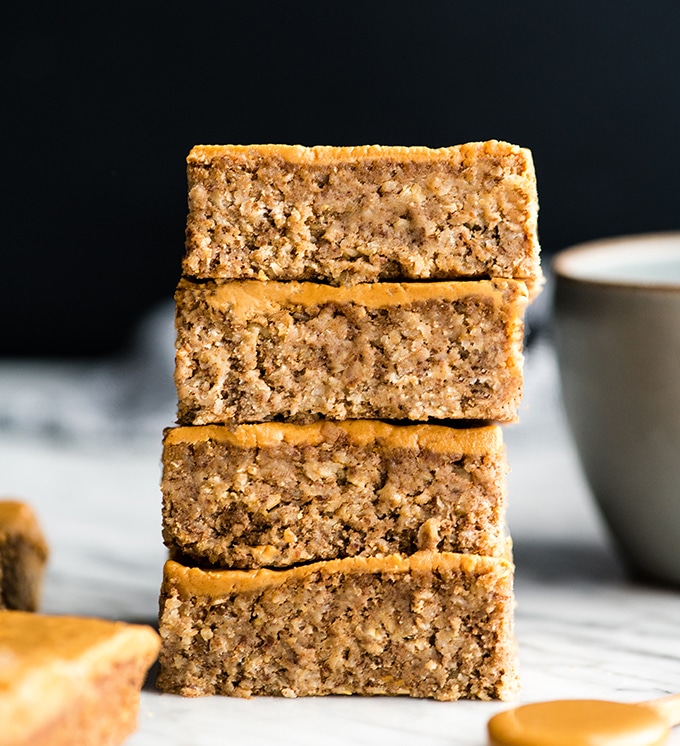 These are the BEST Healthy Breakfast Bars ever! I have eaten one every day for over a decade (seriously)! This easy recipe is made in one bowl in 30 minutes, and is loaded with fiber, protein & omega-3s to keep you full all morning long! Plus they're gluten-free, dairy-free, refined sugar free and vegan!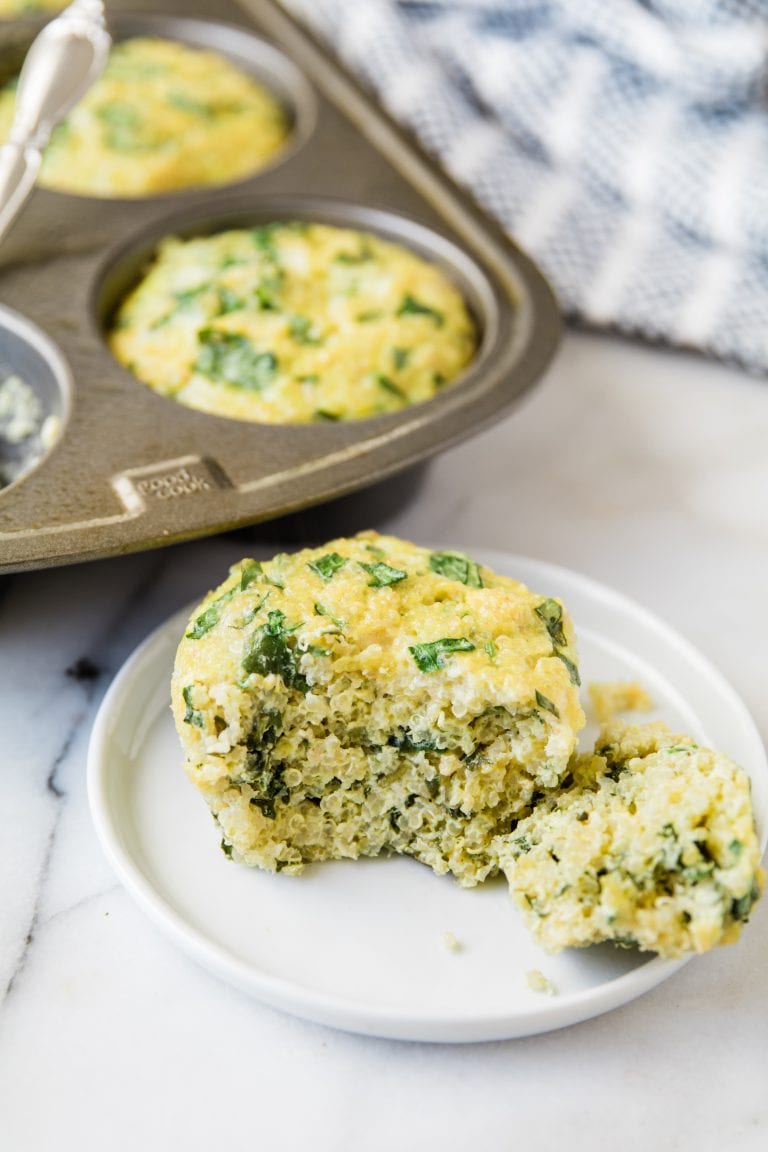 Quinoa Egg Breakfast Muffins are PACKED with protein and will keep you full all morning! Great for an on the go breakfast option or even if you want breakfast for dinner!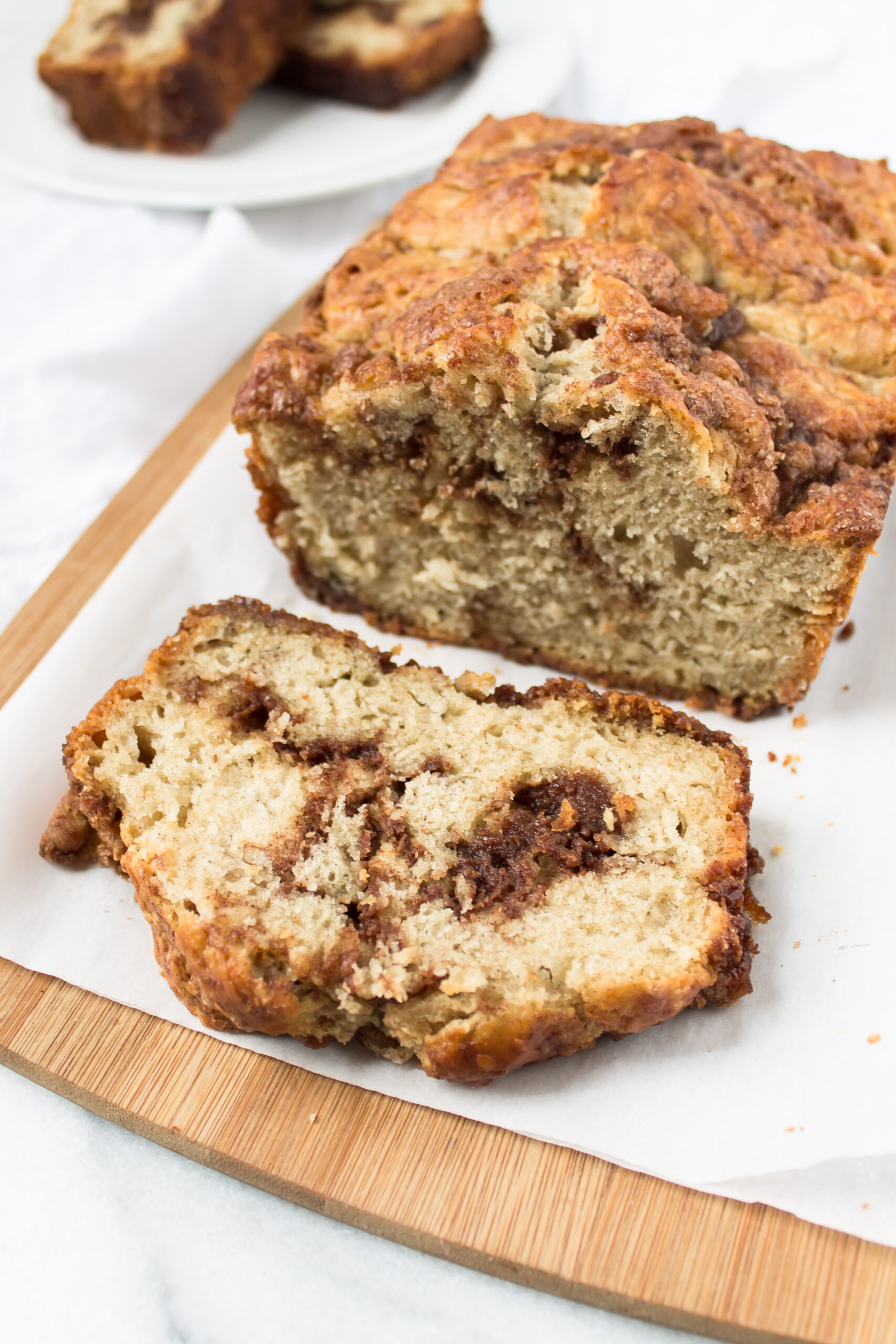 Cinnamon streusel scone bread. It's dessert bread, covered in streusel, with scone-like qualities … a.k.a., breakfast perfection.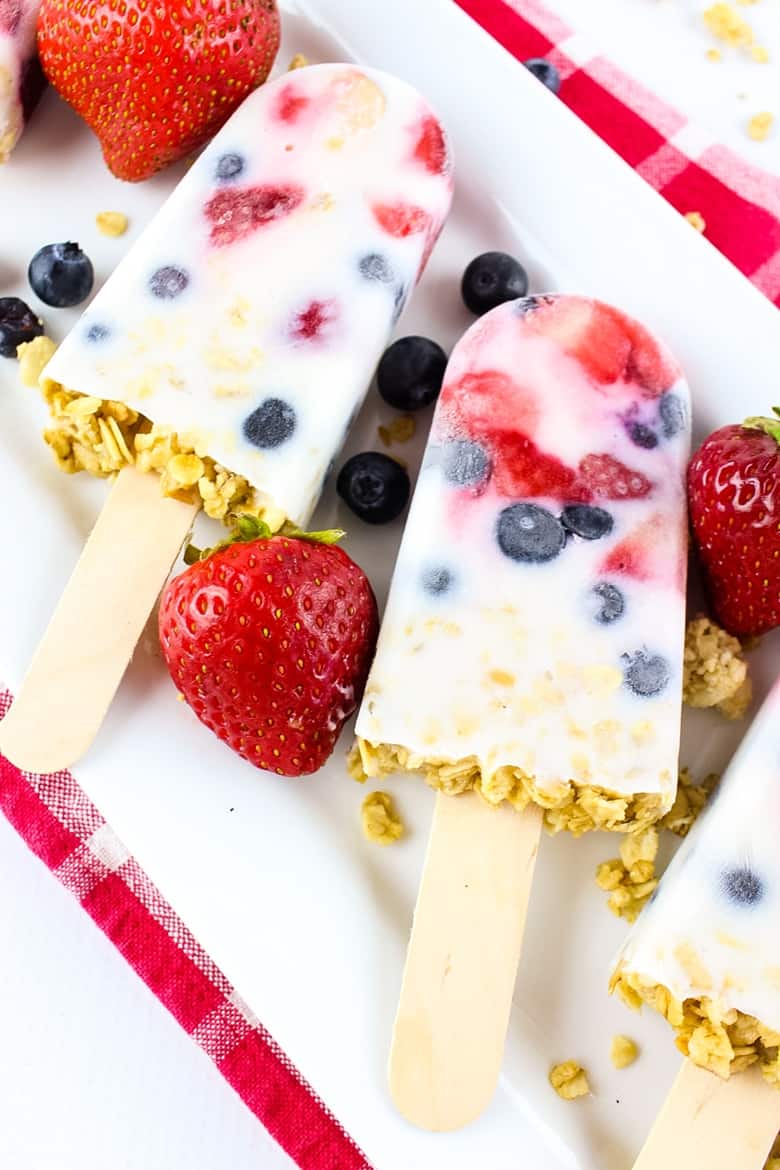 These easy yogurt popsicles are packed with fresh berries and granola, making them a tasty frozen breakfast to enjoy on-the-go on busy mornings.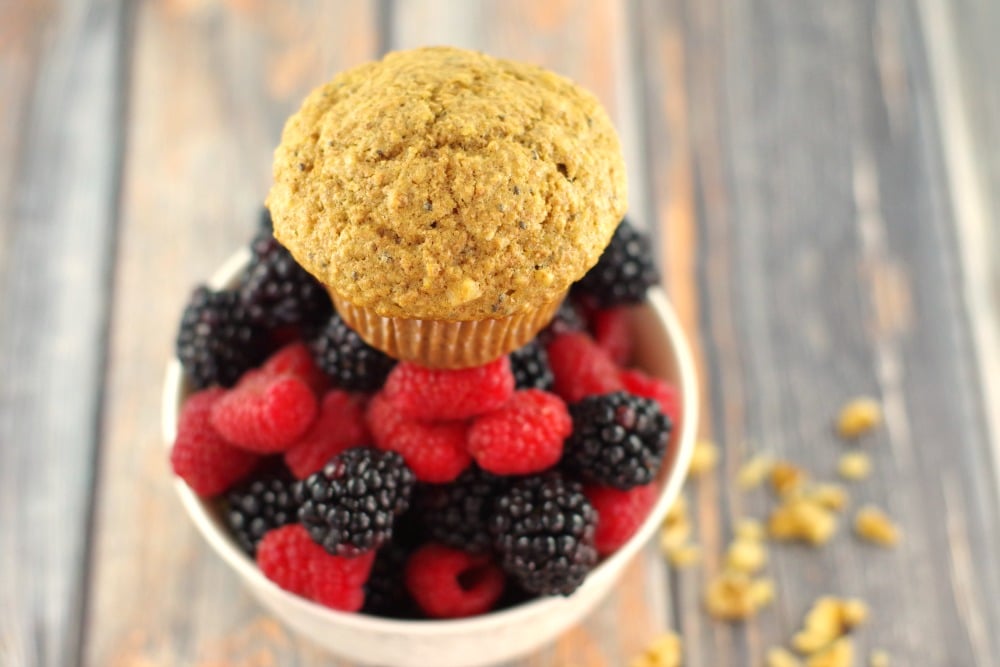 The best bran muffin you will ever eat – healthy, wholesome and delicious! A healthy bran muffin is a great start to your day when it's chock-full of real and wholesome ingredients like butter, wheat bran, chia seeds, wheat germ and walnuts.
These Chocolate Peanut Butter Overnight Oats are perfect for any peanut butter lover! You can prep the oats the night before, making for a quick on-the-go breakfast.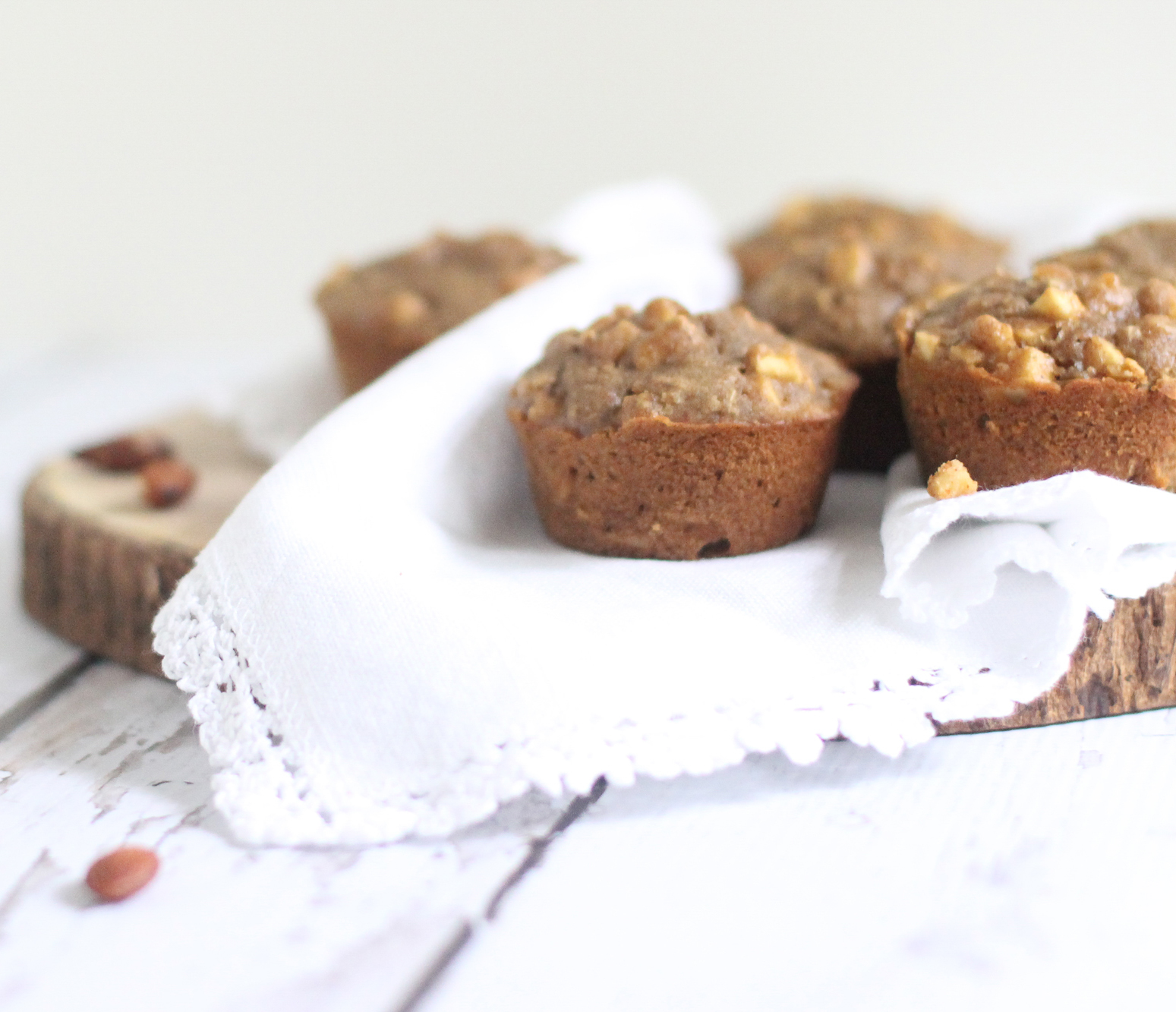 These Gluten-Free Apple Cinnamon and Almond Muffins are dairy-free, gluten-free (they use a small amount of oat flour and old-fashioned oats instead of processed flour), and oil-free. But I promise you this: they are totally delicious and the perfect on-the-go breakfast.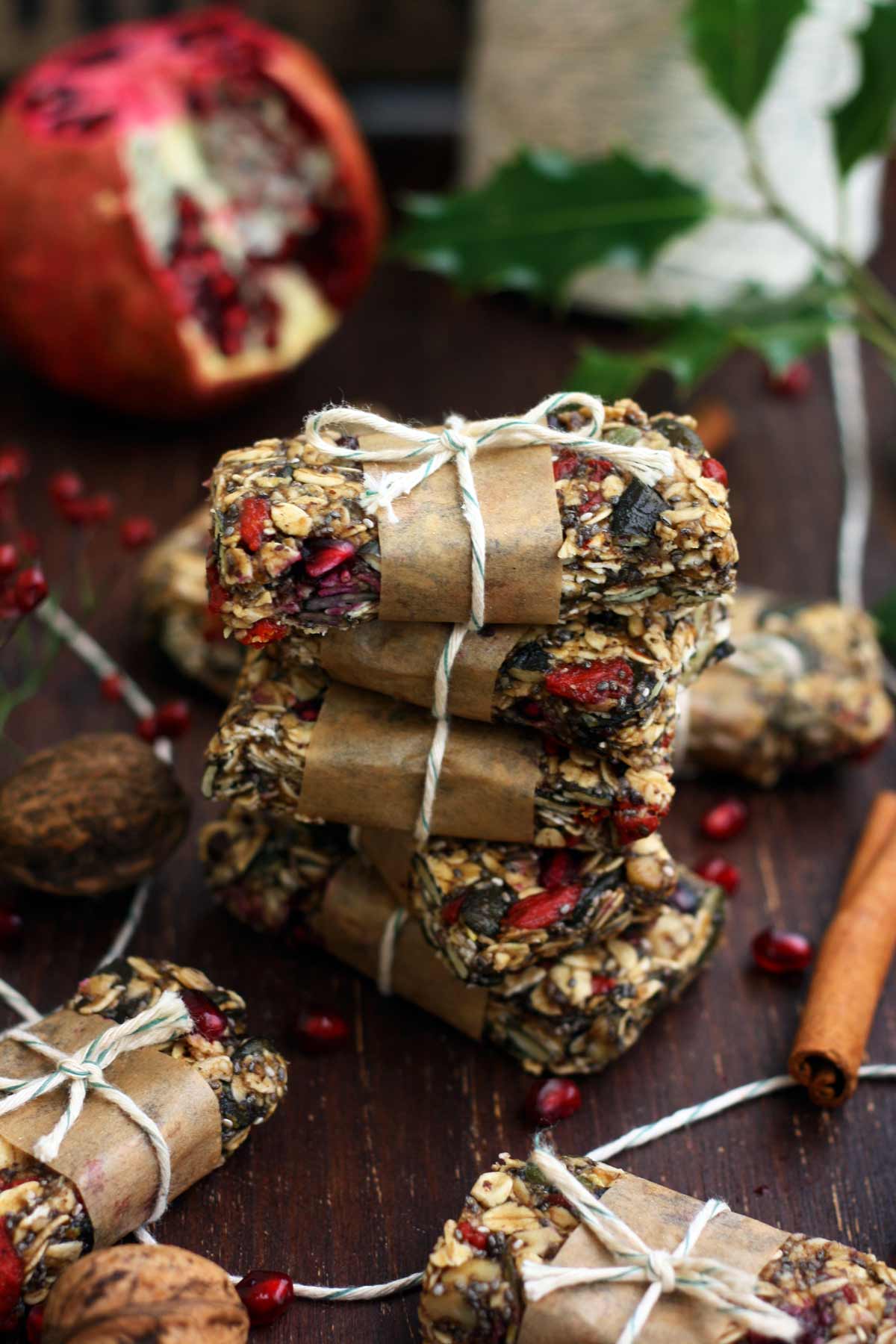 Healthy Chewy No Bake Granola Bars Recipe: The only recipe for granola bars you'll ever need. Easy, delicious and customizable portable snack or breakfast treat packed with nutrients and flavor!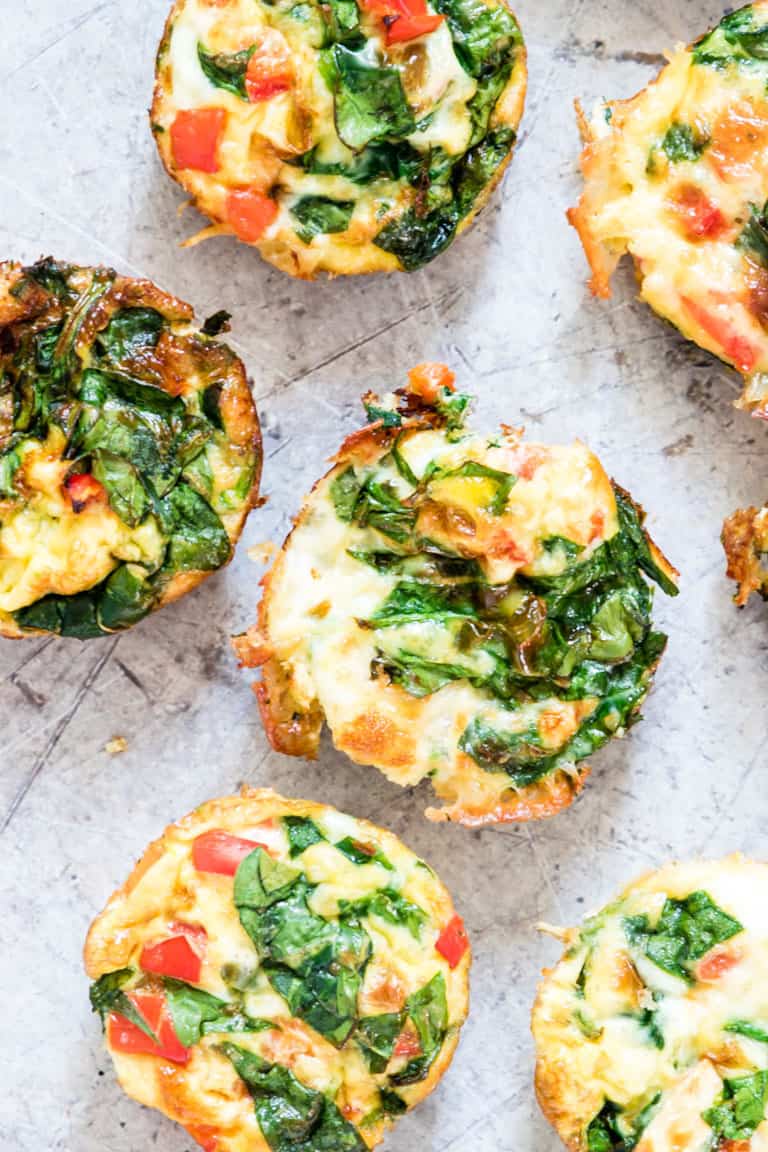 Looking for a quick and easy breakfast or snack choice? Try these pantry staple 6-Ingredient Veggie Egg Cups! They're ready in less than 30 mins and are suitable for Gluten-free and Keto diets.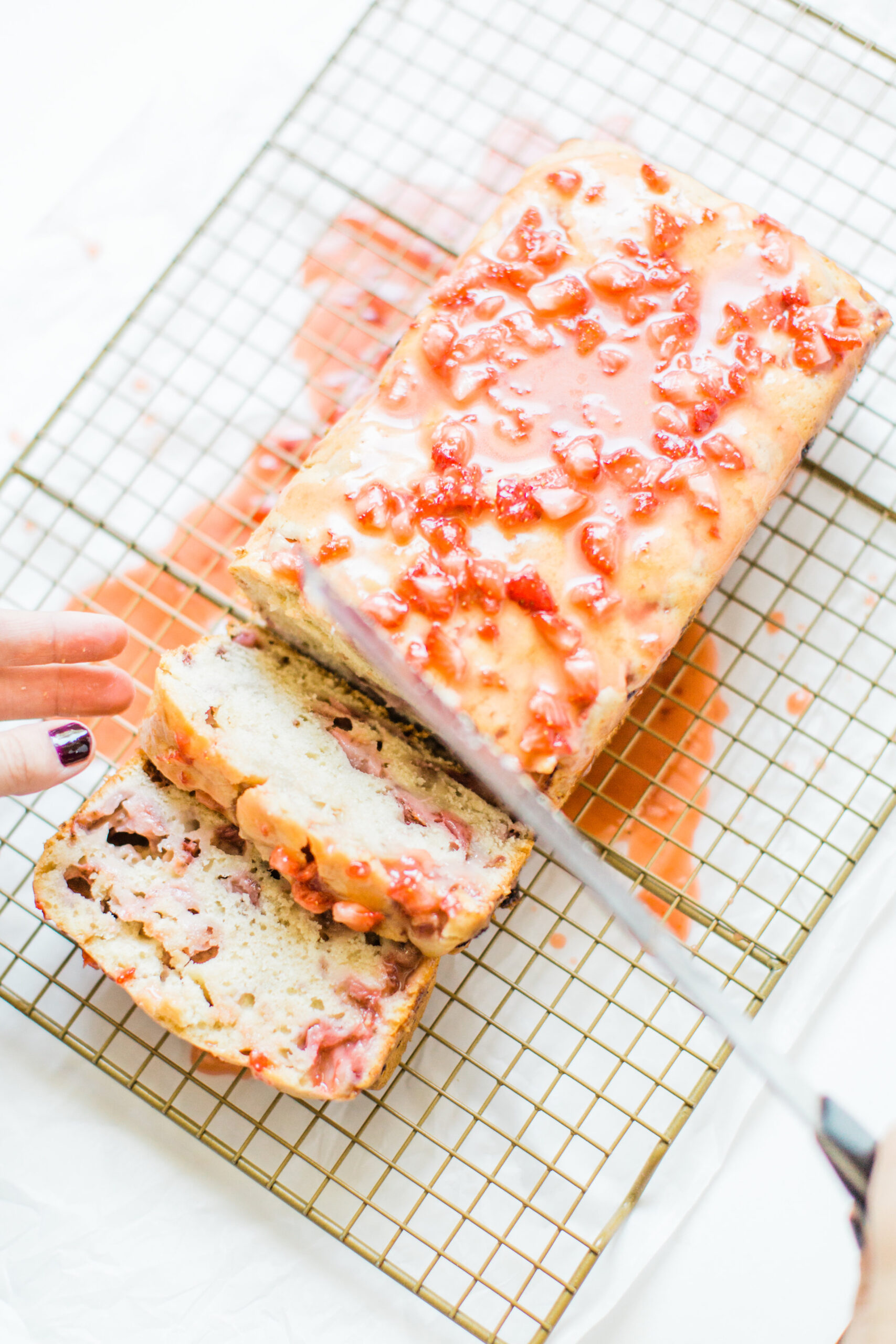 If you love strawberries, you are going to go crazy for this knock-your-socks-off easy and delicious strawberry bread with a decadent strawberry glaze. This quick bread recipe comes together in just 10 minutes, and will impress EVERYONE. (Skip the strawberry glaze if you want to keep this bread extra portable; it'll also cut down on the sugar.)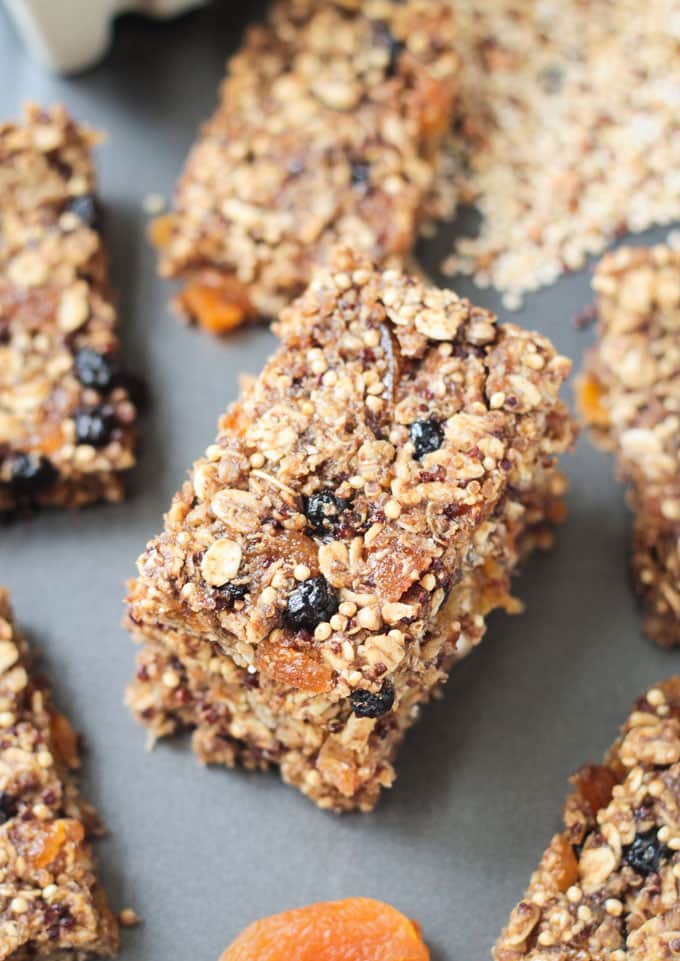 Ancient Grains Breakfast Bars – quick and easy and made with nutrient packed gluten free whole grains, these bars make a hearty breakfast or satisfying snack. Perfect for on-the-go. They're also nut-free which makes them great for school lunch boxes, too!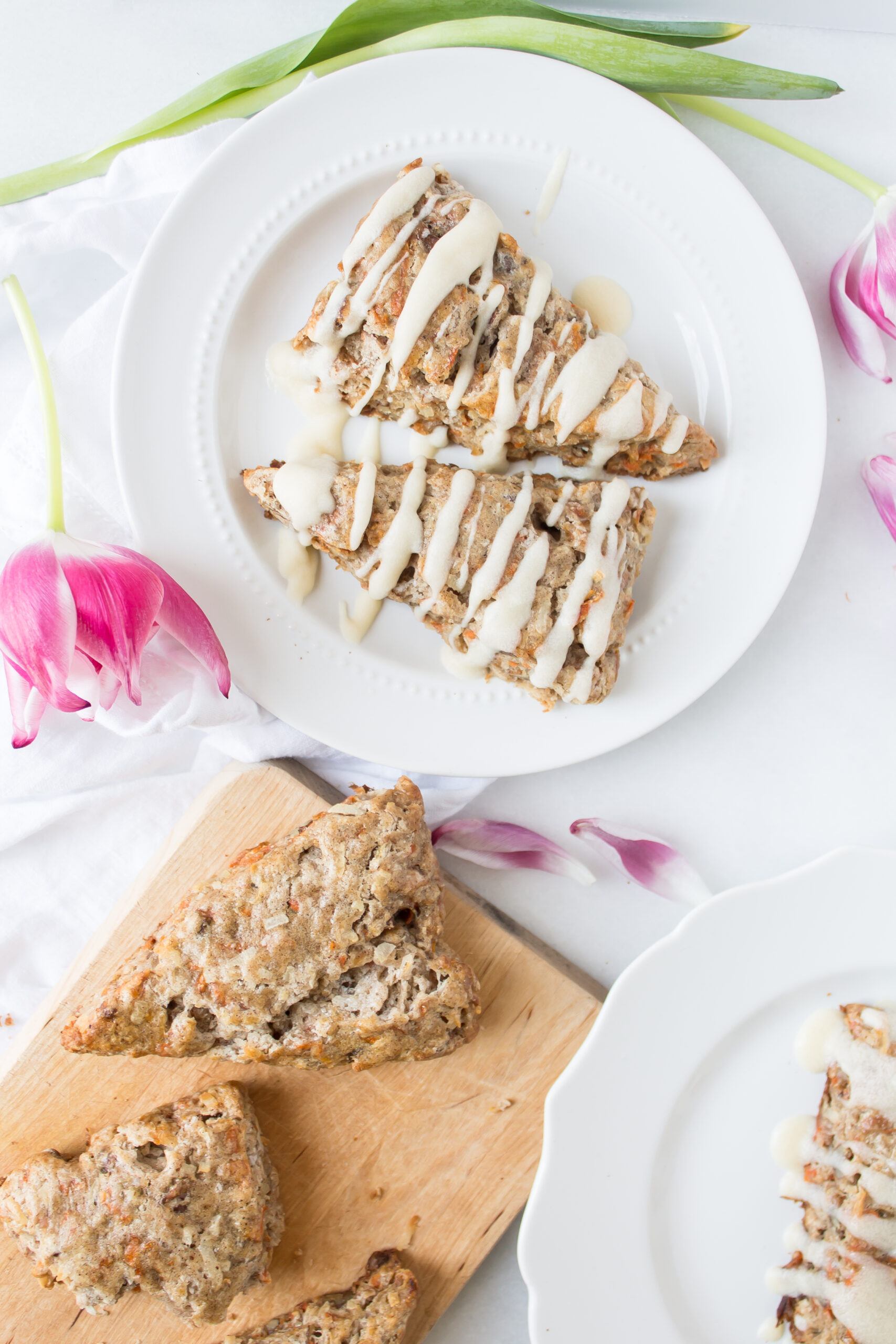 Say hello to the most amazing carrot cake scones with cream cheese glaze. It's carrot cake, turned into the perfect breakfast (or brunch) scone, and topped with a classic cream cheese frosting-style glaze.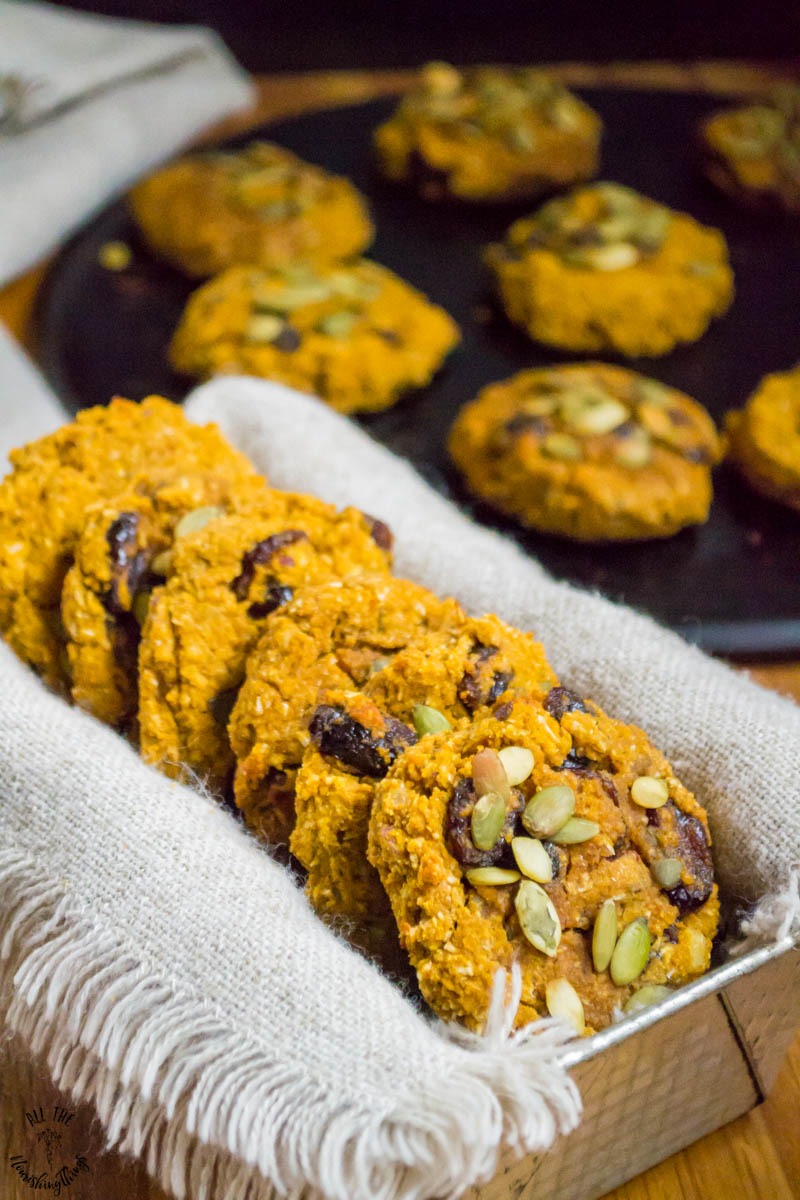 Add these Easy Pumpkin Breakfast Cookies to your breakfast rotation! They're paleo, vegan, and gluten-free, great for grab-and-go, and so filling!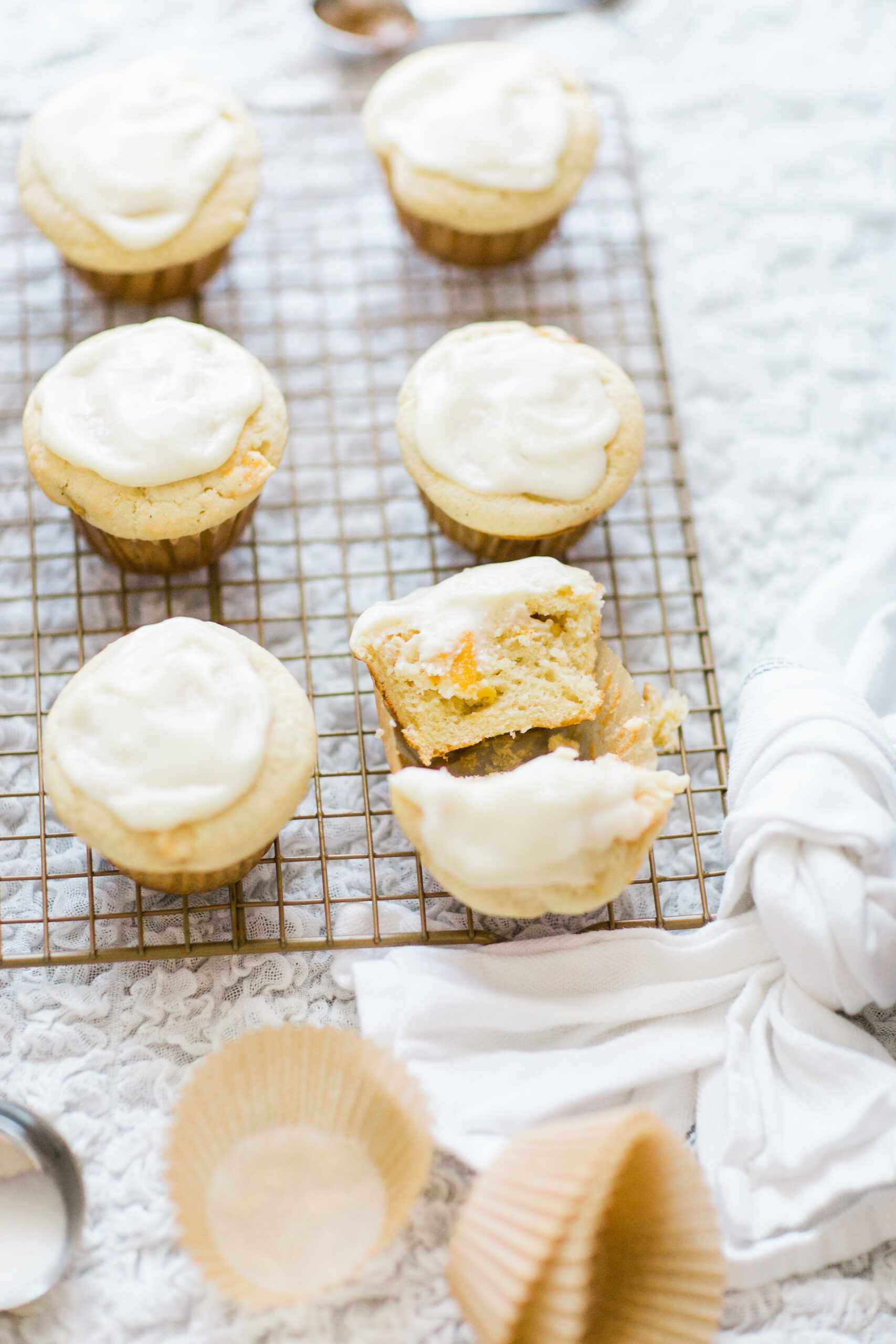 This recipe for peaches and cream muffins with a cream cheese frosting is one for the books. Moist, delicate, fruity peach muffins topped with a decadent cream cheese frosting; it's the perfect breakfast pairing.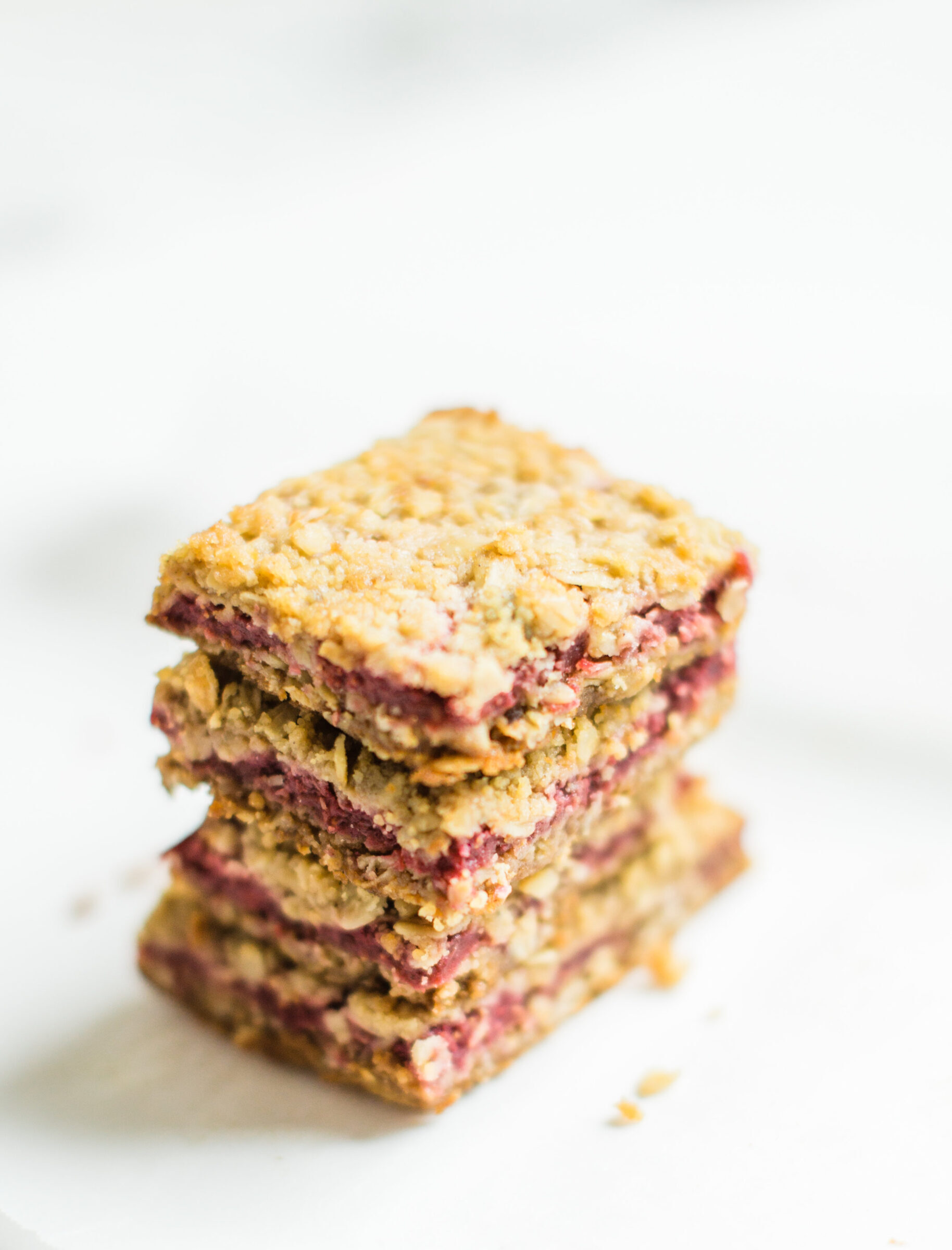 These raspberry crumb breakfast bars make for the most amazing dessert. The fresh raspberries cook down into an incredible jam-like filling and the crumb cookie base and topping is chewy, moist, buttery, and delicious. These breakfast cookie bars are a hit with absolutely everyone.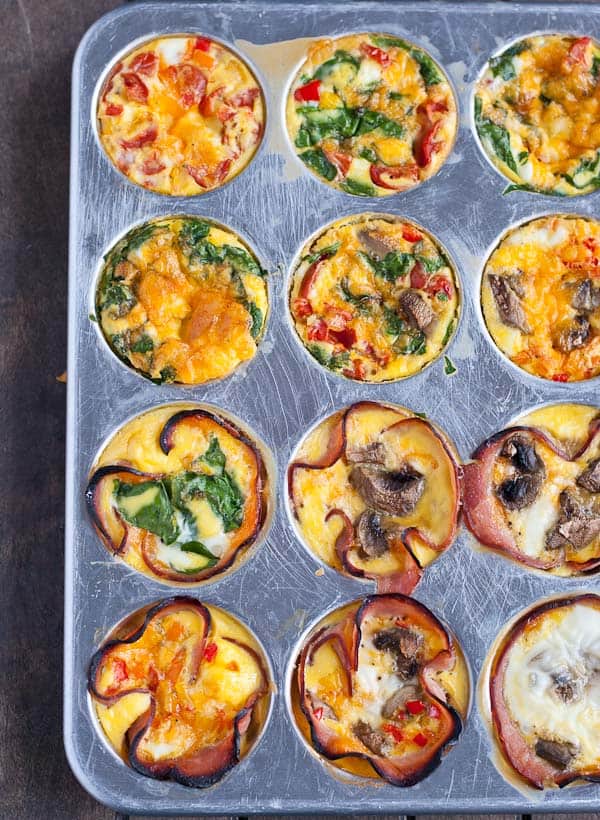 If you're looking for a quick, portable breakfast option, look no further than these Baked Egg Cups packed with ham, veggies, and cheese!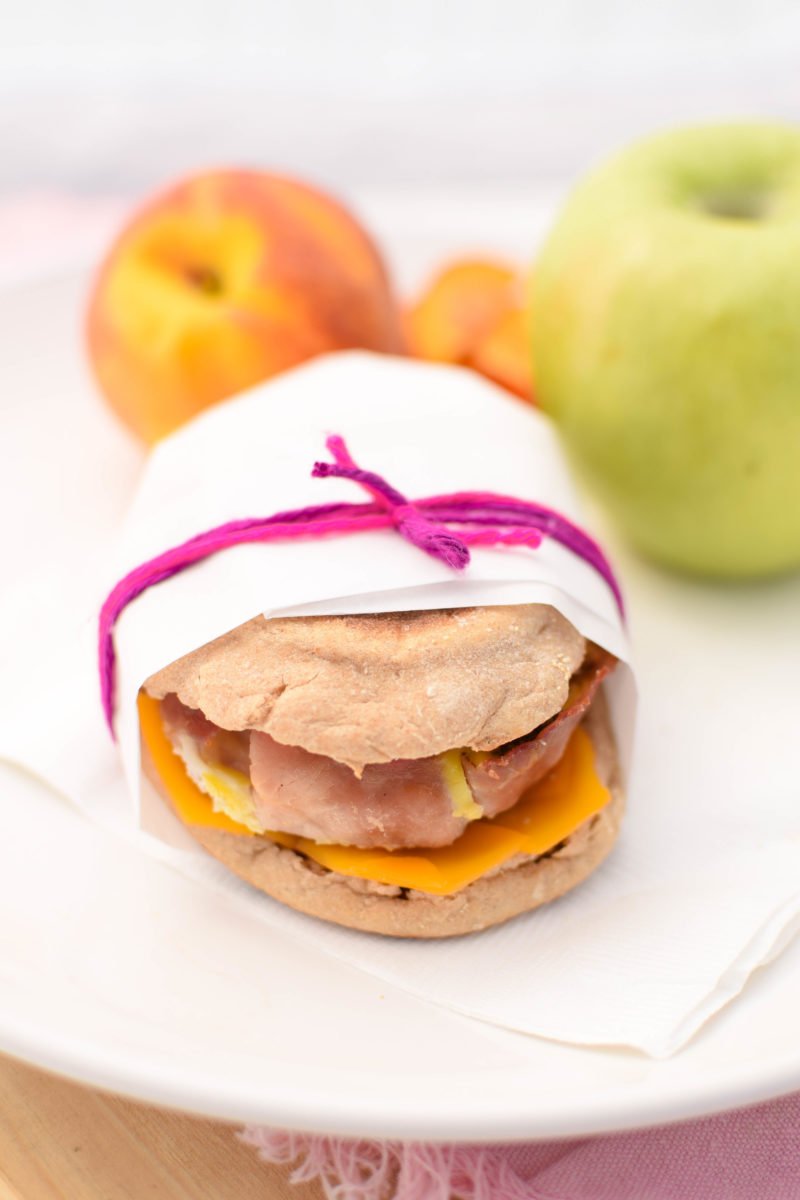 Make breakfast time great with these easy-to-make ahead Freezer Friendly Homemade Breakfast Sandwiches that can be easily customized to include different vegetables and flavors.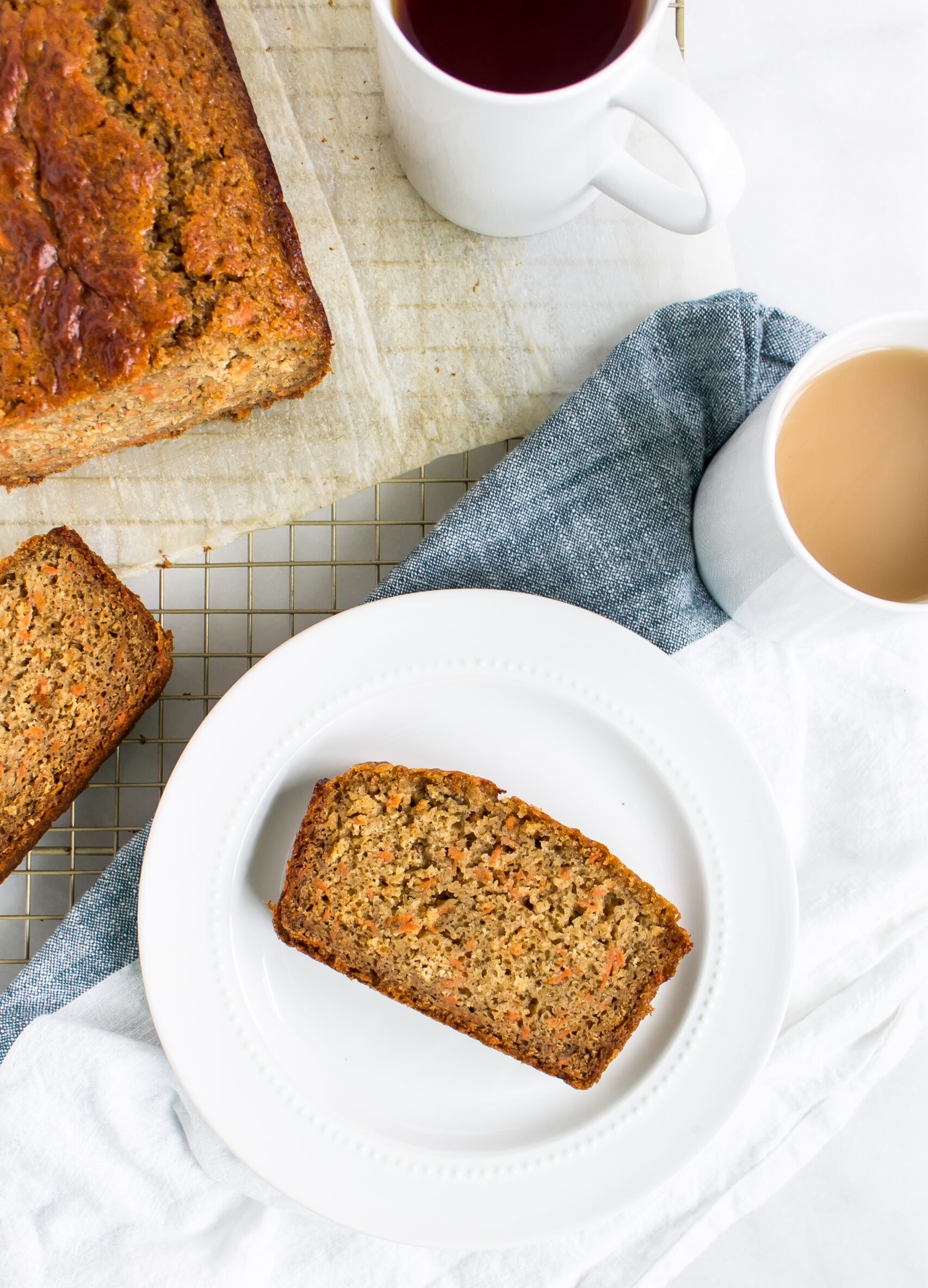 Love carrot cake? Love banana bread? This cross between a delicious carrot cake and your favorite moist slice of classic banana bread is going to become a fast favorite.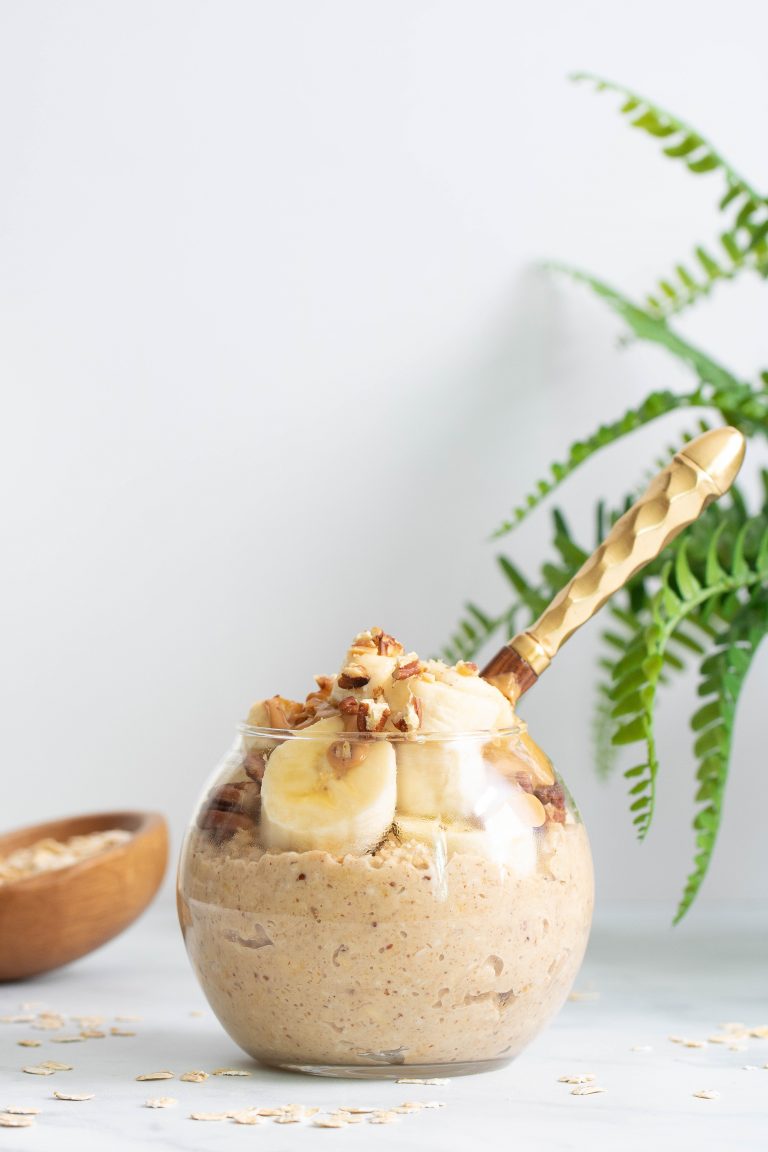 This Banana Peanut Butter Overnight Oats recipe is a healthy way to kick start your day and is beautifully textured. These Oats boasts it's creaminess, thickness from the thickly cut oatmeal used, and generous nutty flavor from the delicious peanut butter; which all create quite the experience in just one bowl. All vegan and Gluten-Free.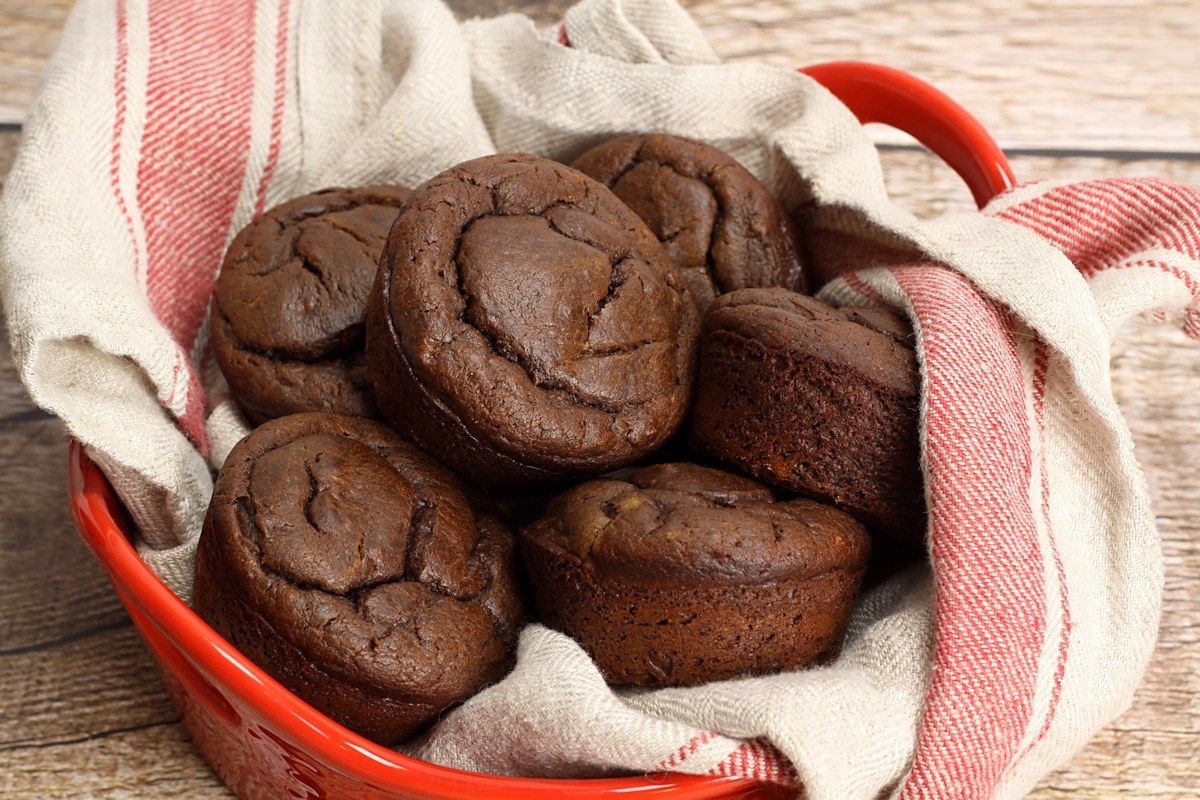 Chocolate peanut butter banana muffins are moist, crumbly, and full of flavor. They have just a hint of sweetness and make a great breakfast or snack on the go. Plus, they're gluten-free.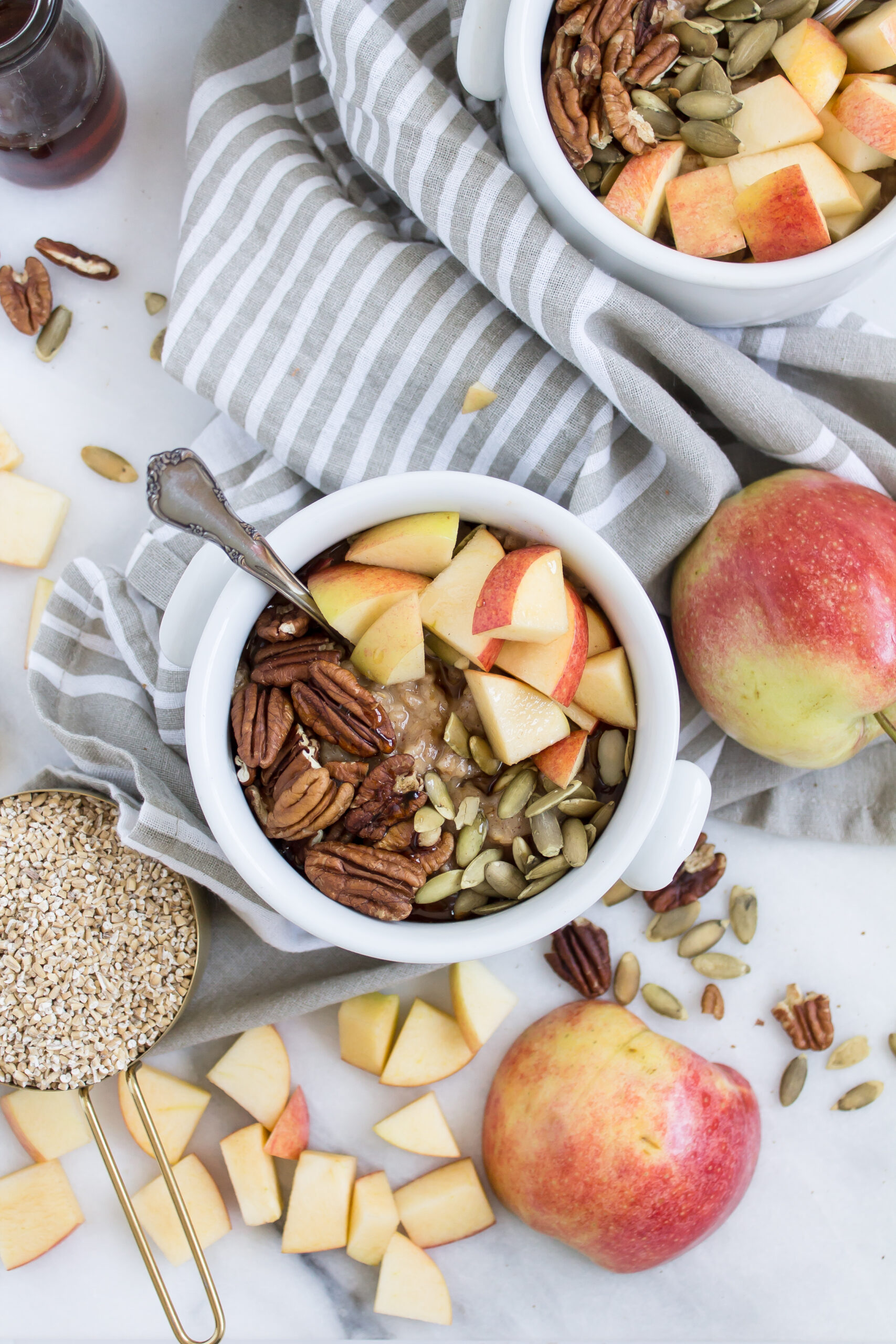 Slow cooker apple cinnamon steel cut oats are the easiest filling breakfast. They are hearty, delicious and healthy, with heaps of cinnamony flavor. Throw everything together overnight for the perfect breakfast on those busy mornings.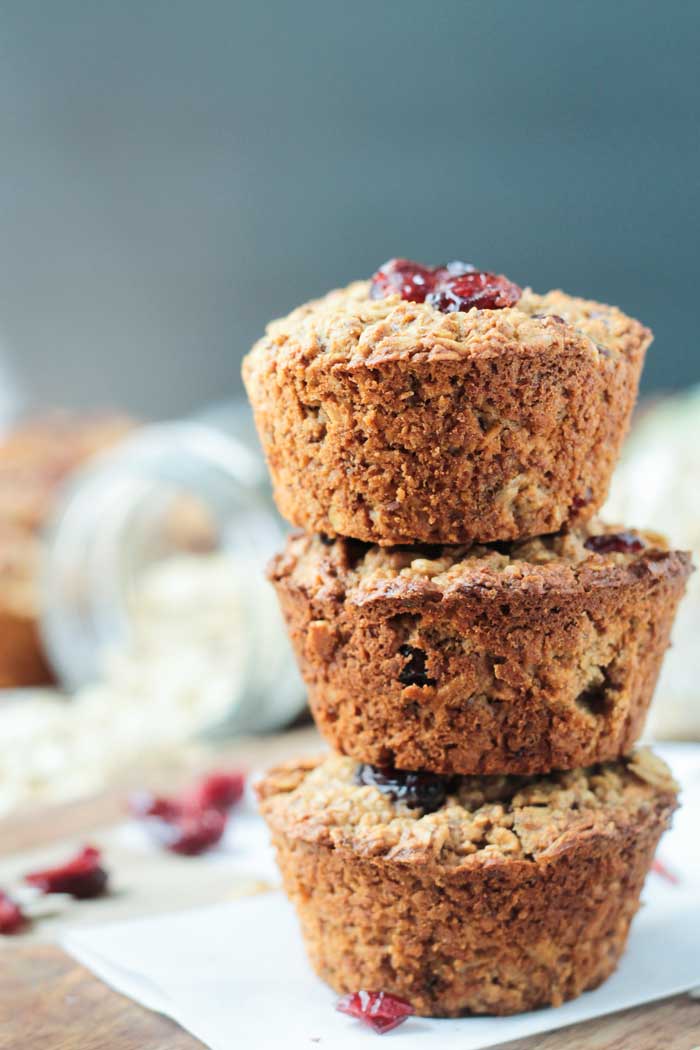 Baked Oatmeal Muffins with cranberries are the perfect on-the-go breakfast or snack. Perfectly sweet (yet refined sugar free!), packed with fiber and protein, and easily portable. Bake up a batch today!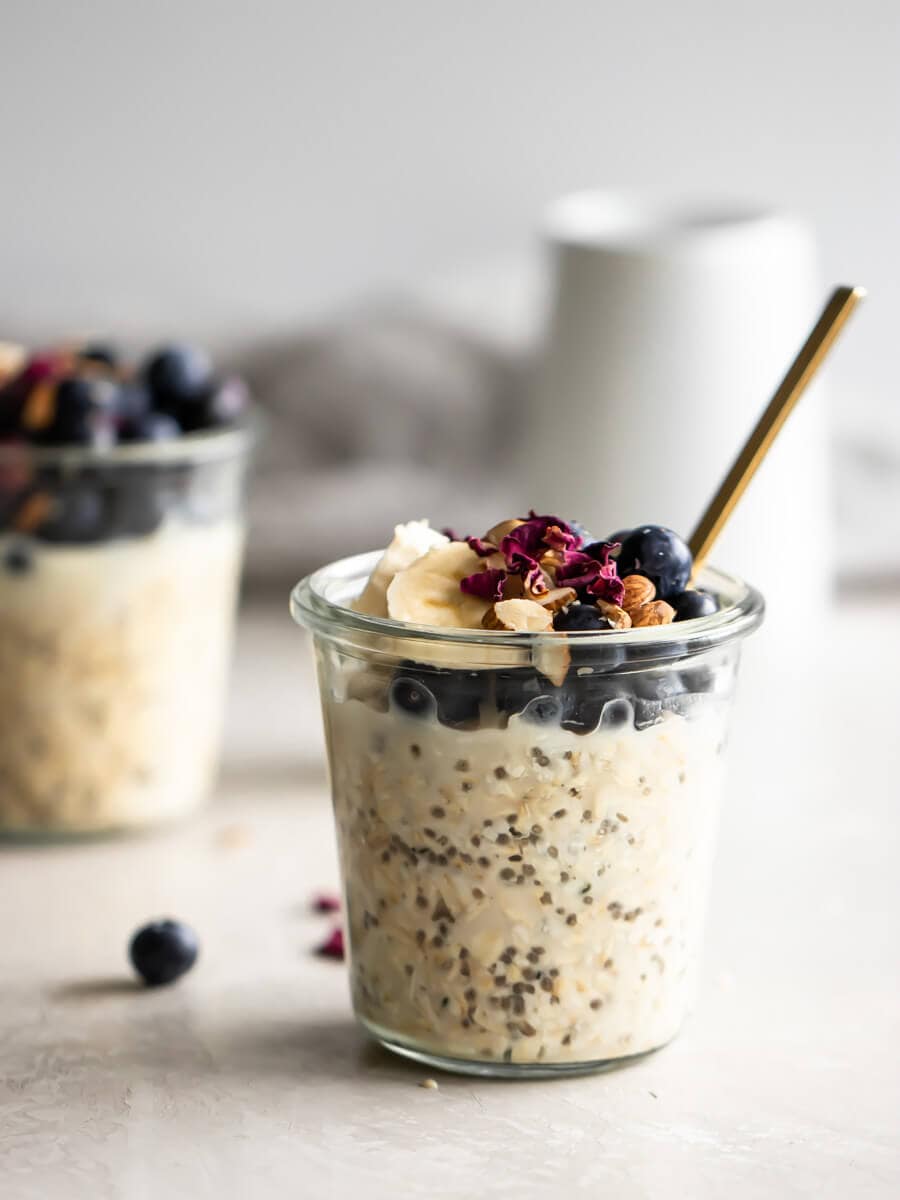 This delicious overnight oats recipe is the perfect make-ahead breakfast. Made with rolled oats, almond milk, and maple syrup, it's a tasty, portable, and a convenient breakfast you'll enjoy.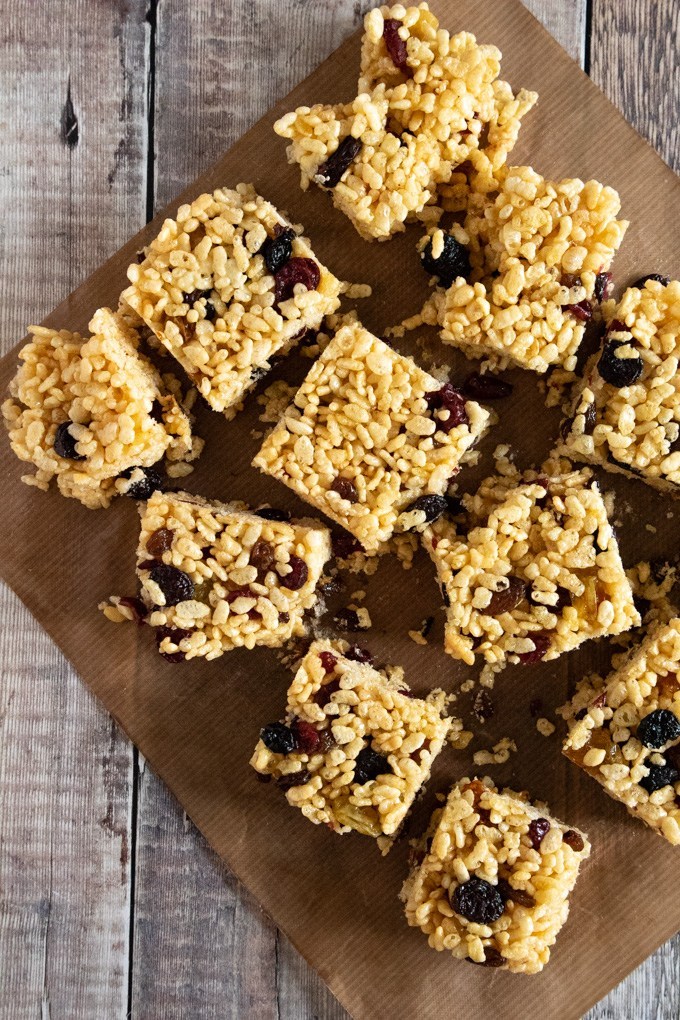 These Rice Krispie breakfast bars are light, sweet and a little crunchy. They're perfect for hitting the spot for starting the day on the run or as a mid-morning snack! You'll love them because they're easy, no-bake and delicious!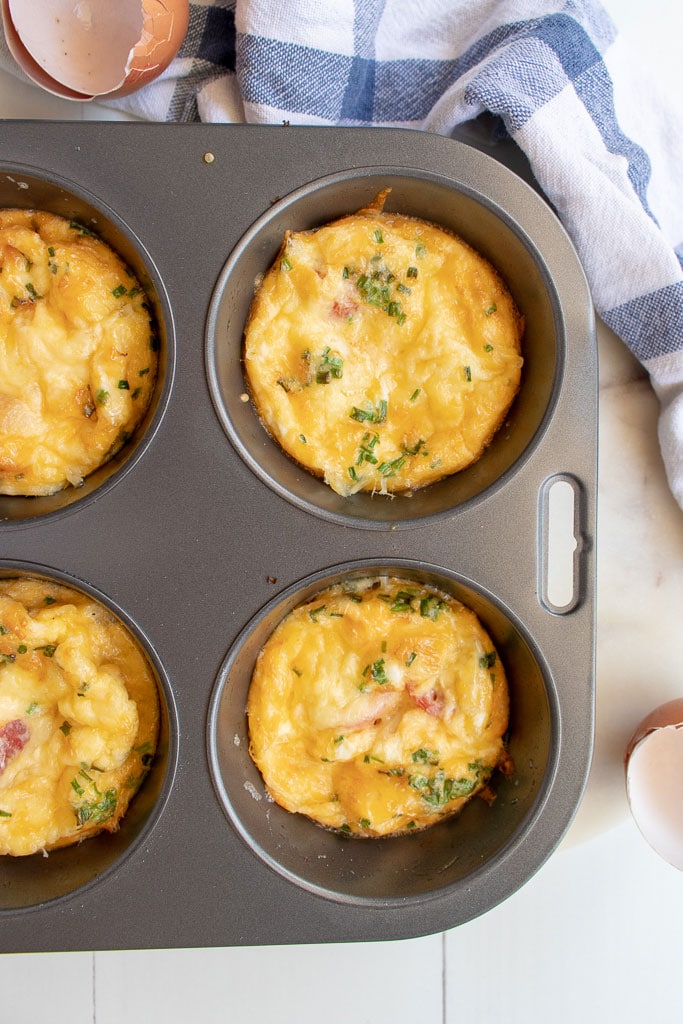 These three family friendly egg muffin recipes are full of flavour and goodness and they come together so quickly. They are perfect for breakfast, lunch or dinner. And by making them in a muffin tin they are perfectly portioned and ready to just grab and go for meals on the run!
NOTE: To microwave these pre-shaped egg cups, use a silicone muffin tray.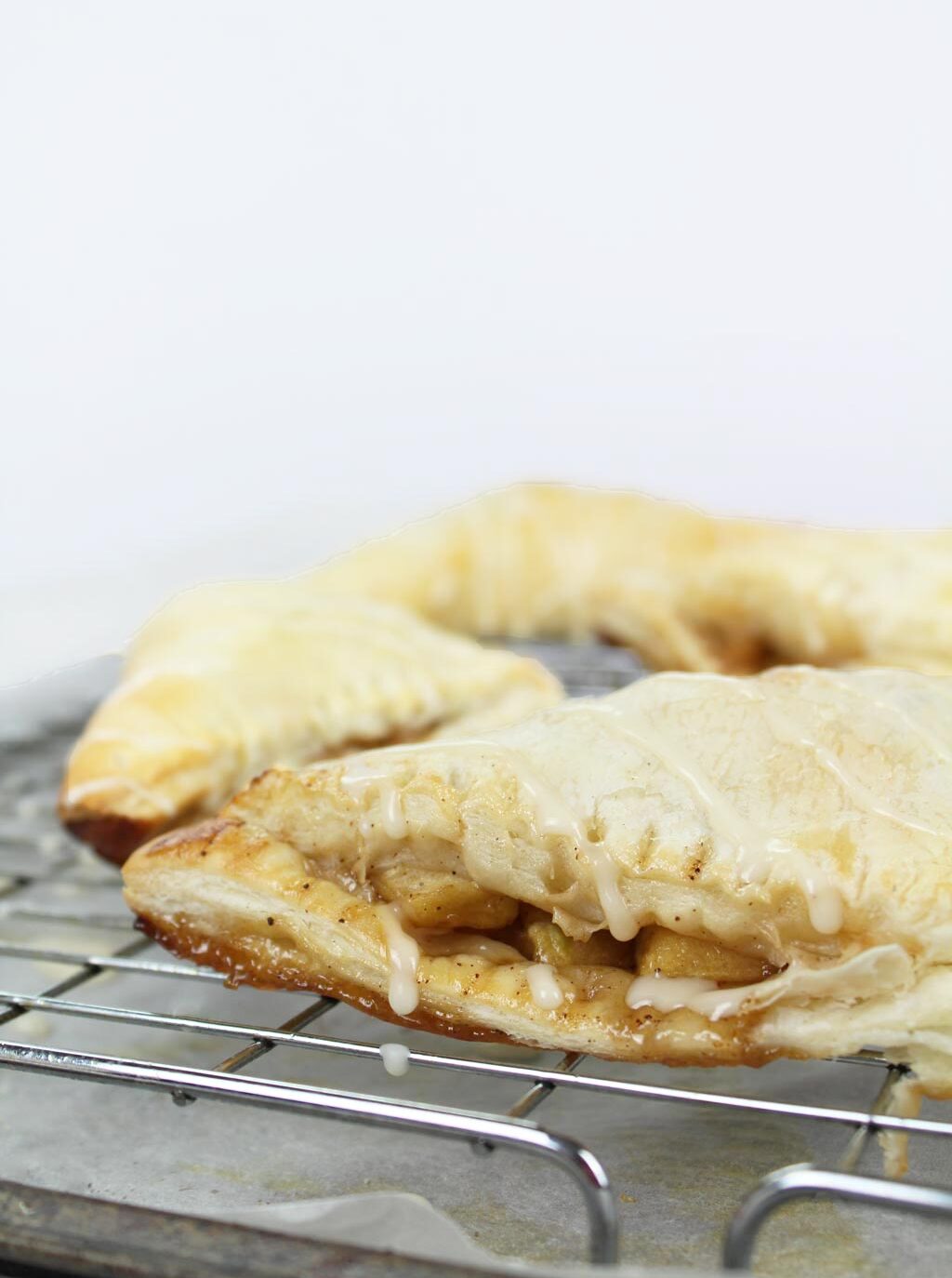 These vegan-friendly apple turnovers are great for grabbing in a rush. They're crispy, flaky and topped with a sweet vanilla glaze.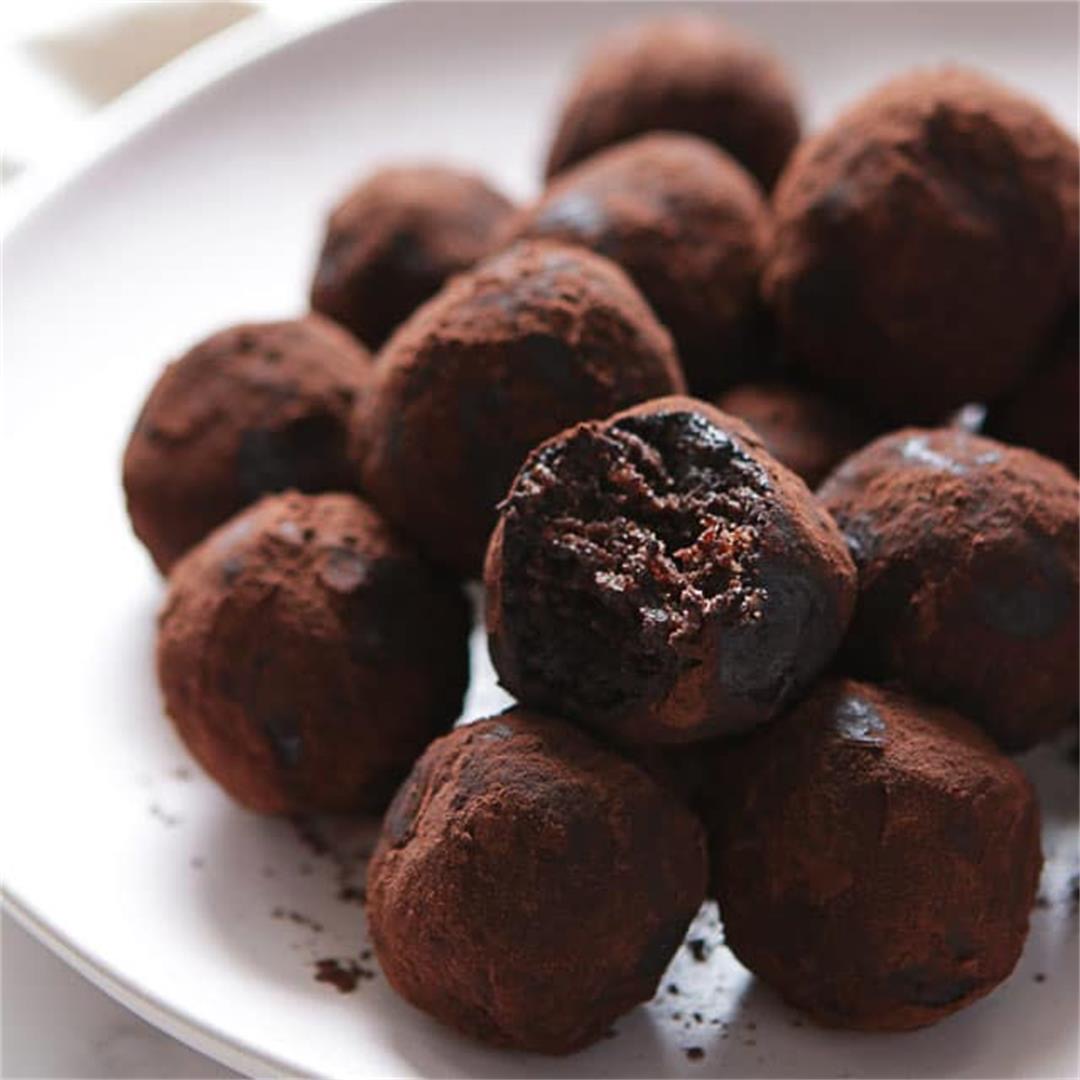 Naturally sweet, loaded with energy, these vegan chocolate peanut butter energy balls are delicious, healthy and perfect for breakfast, an after-school snack, or whenever you're needing a bit of a "pick-me-up" to your day. They are the perfect grab and go treat for any busy family.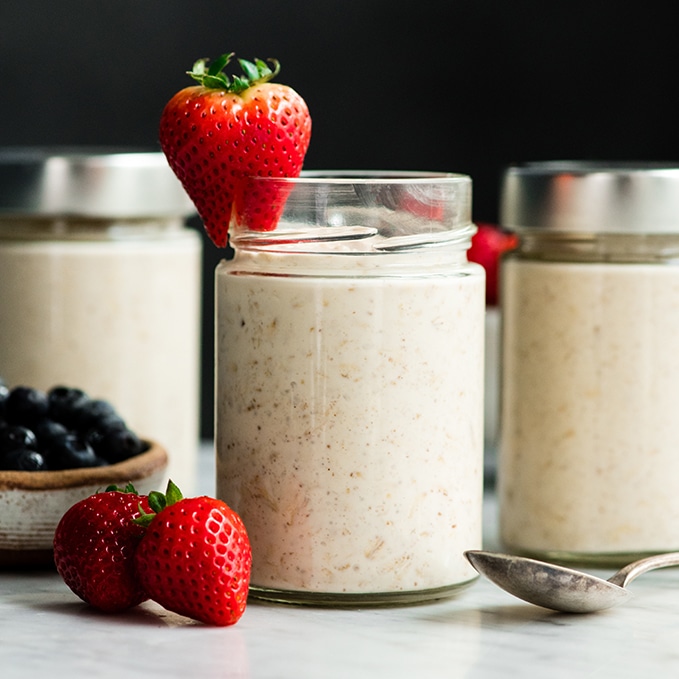 Easy Overnight Oats with Yogurt are a great healthy high-protein breakfast! This recipe only takes 6 ingredients and 5 minutes to prepare! Plus it's no-cook, gluten-free and can easily be made dairy-free!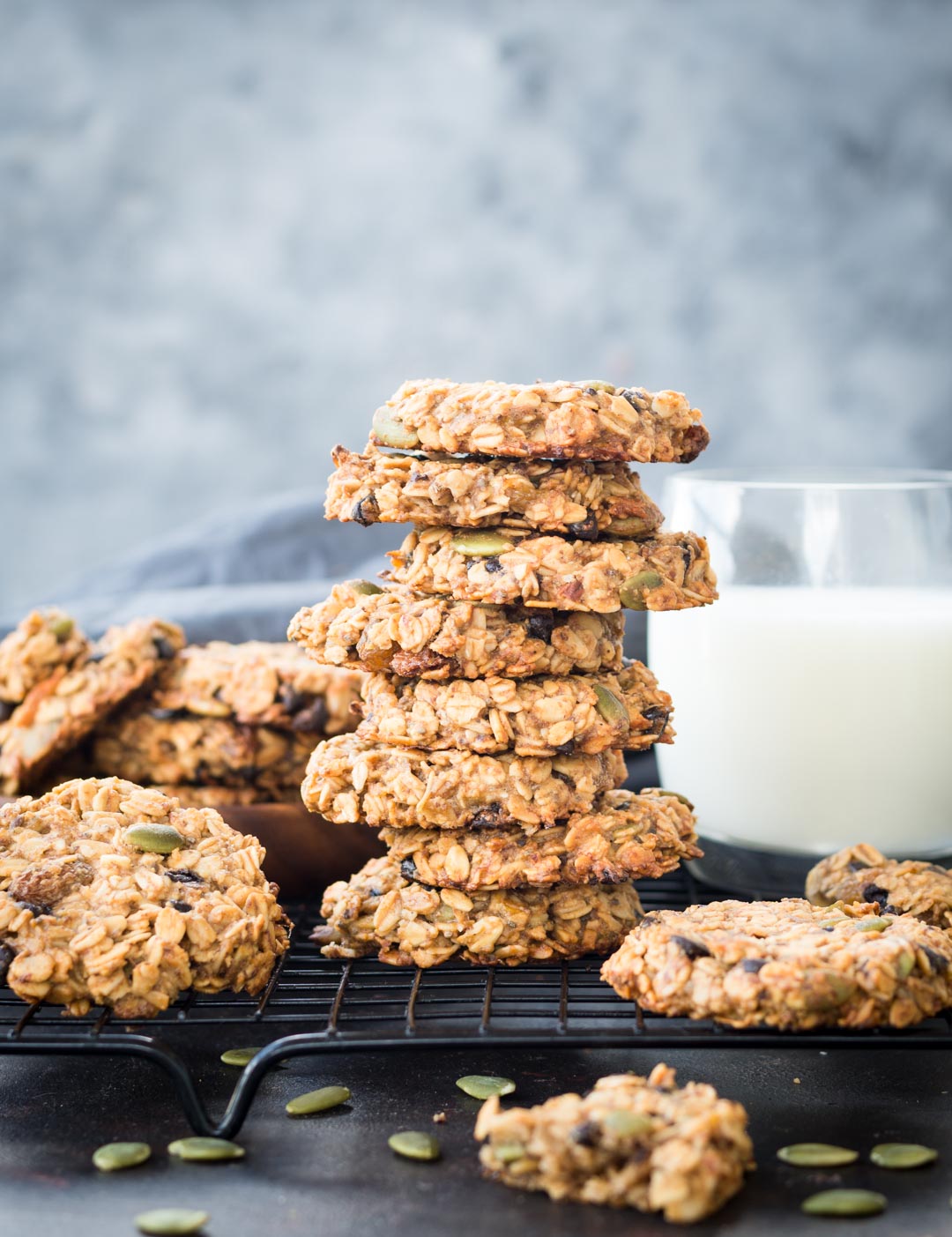 Easy and Healthy Breakfast cookies made with Rolled Oats, Banana, nuts, seeds. These are Vegan, Gluten Free and there is no refined Sugar in this.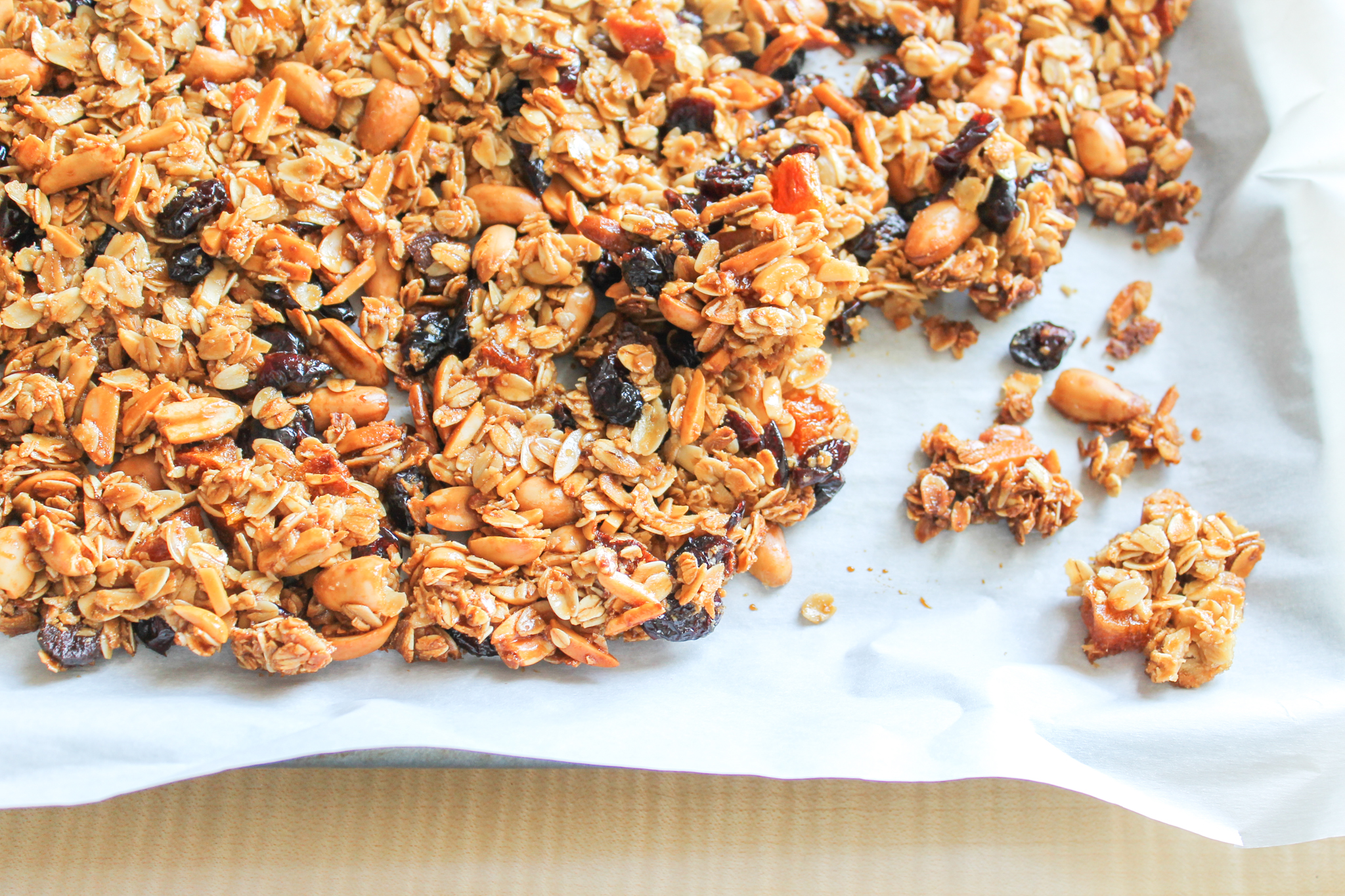 Sharing the easy steps for making perfect, clumpy, chewy granola every time. Eat it as a snack, top greek yogurt with a handful of granola, eat it like cereal with your favorite milk. It's the perfect breakfast staple.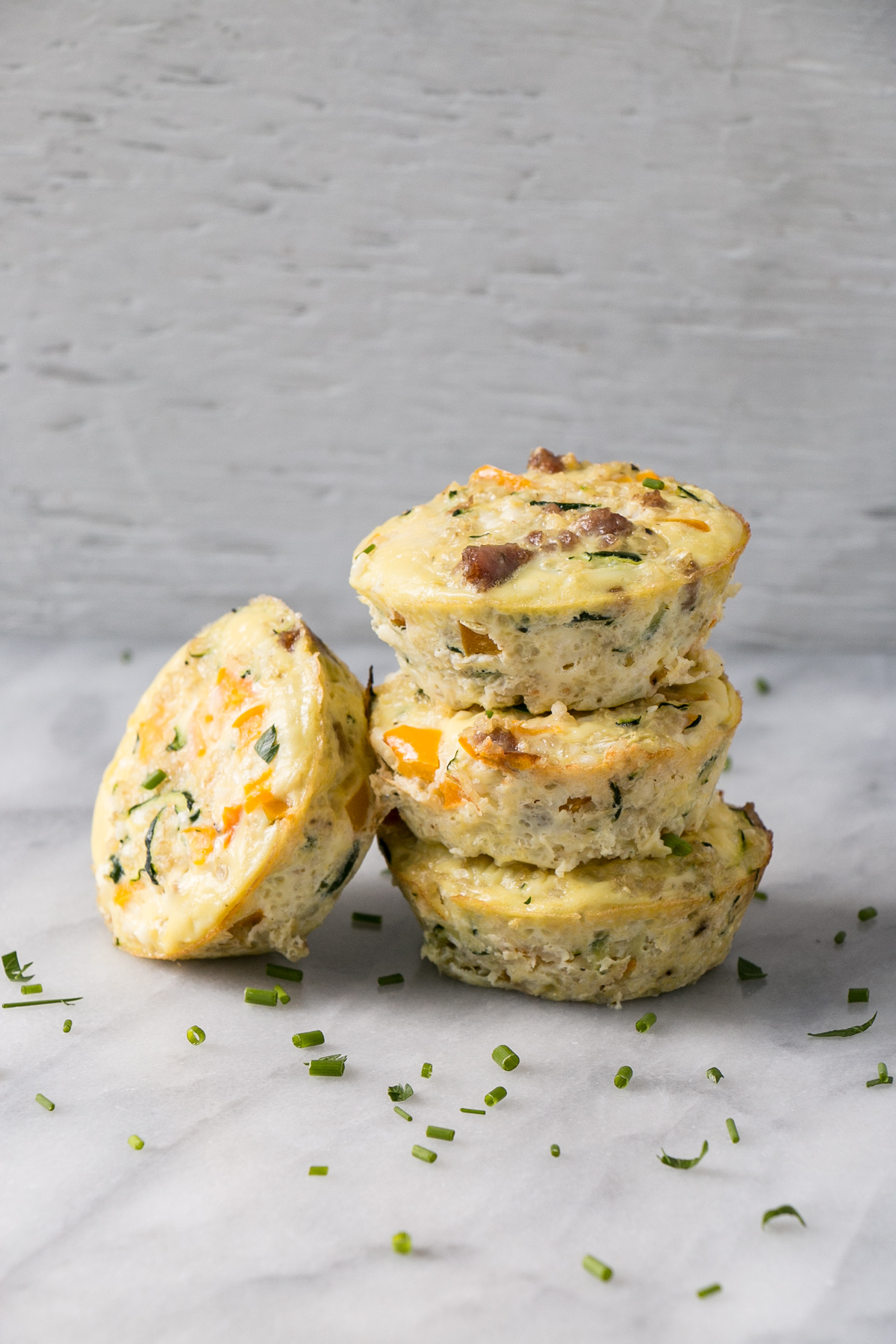 These Quinoa Frittata Muffins are a healthy, quick, and easy breakfast meal prep option! Packed with vegetables and healthy quinoa and completely satisfying. This quinoa recipe is a family favourite!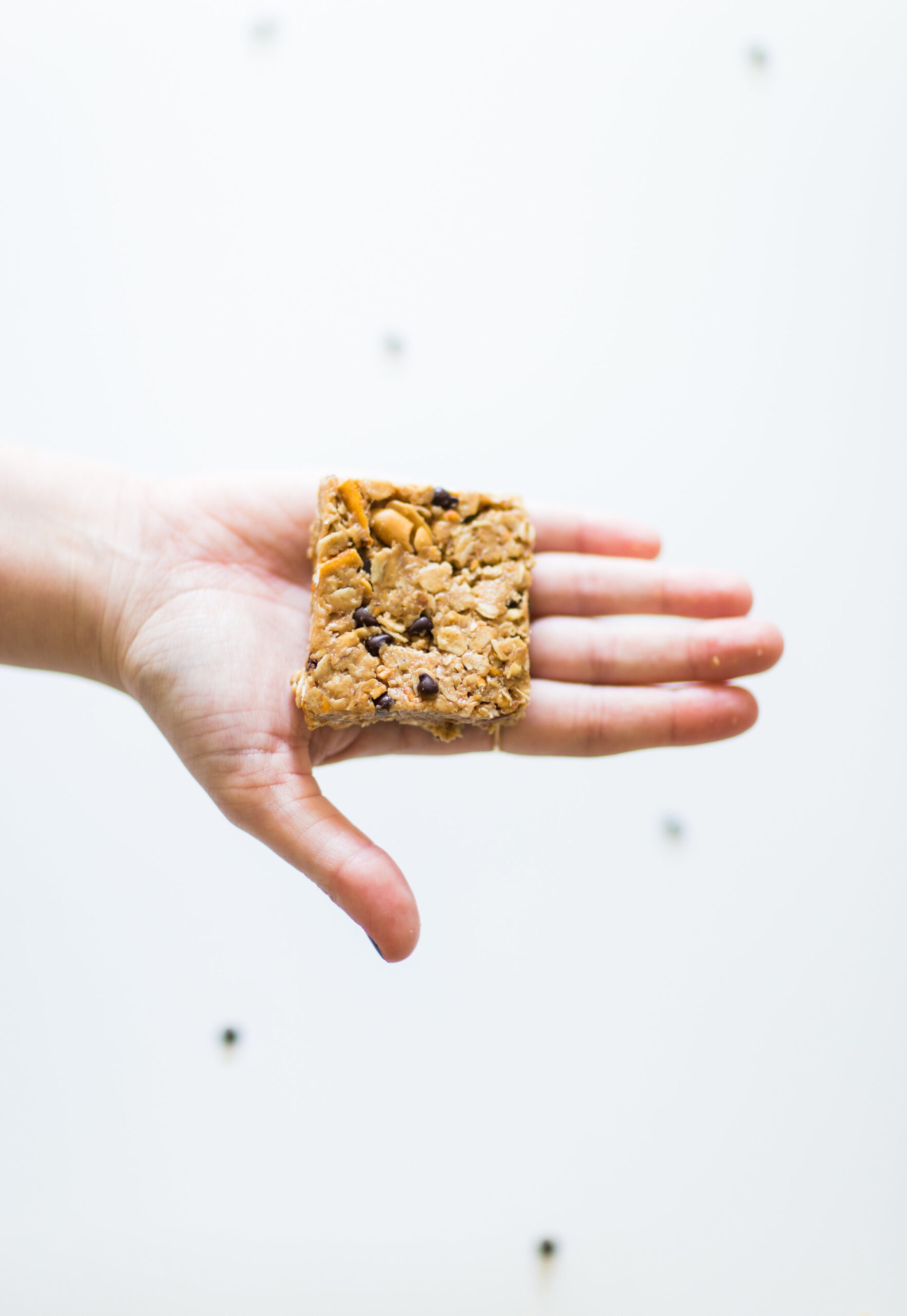 These chewy and soft chocolate chip pretzel granola bars are a household favorite and totally delicious. Plus, they're fun to make and last for a good week or more (if you can keep them that long!)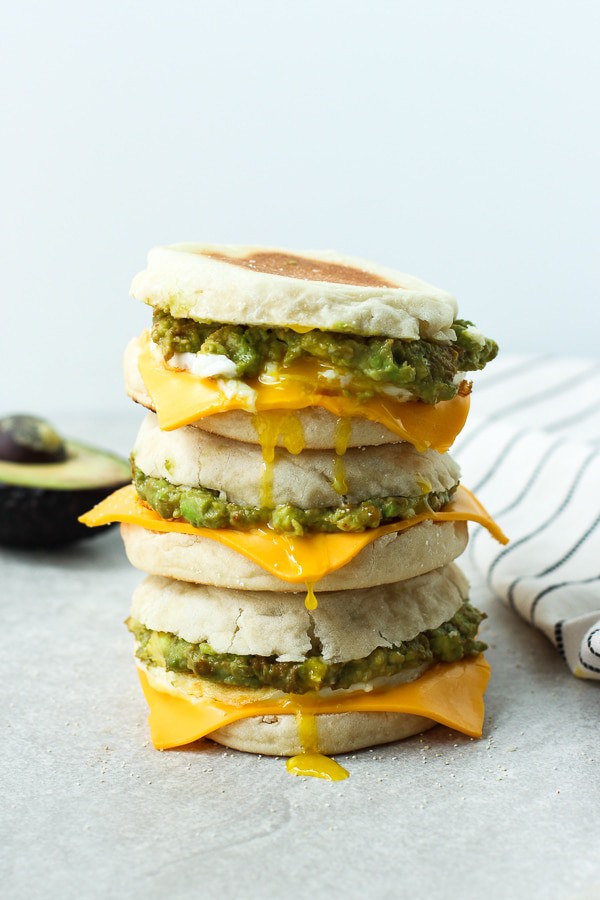 This English Muffin Breakfast Sandwich is easy to make, delicious, and perfect for meal prep! A grab-and-go breakfast that will actually fill you up!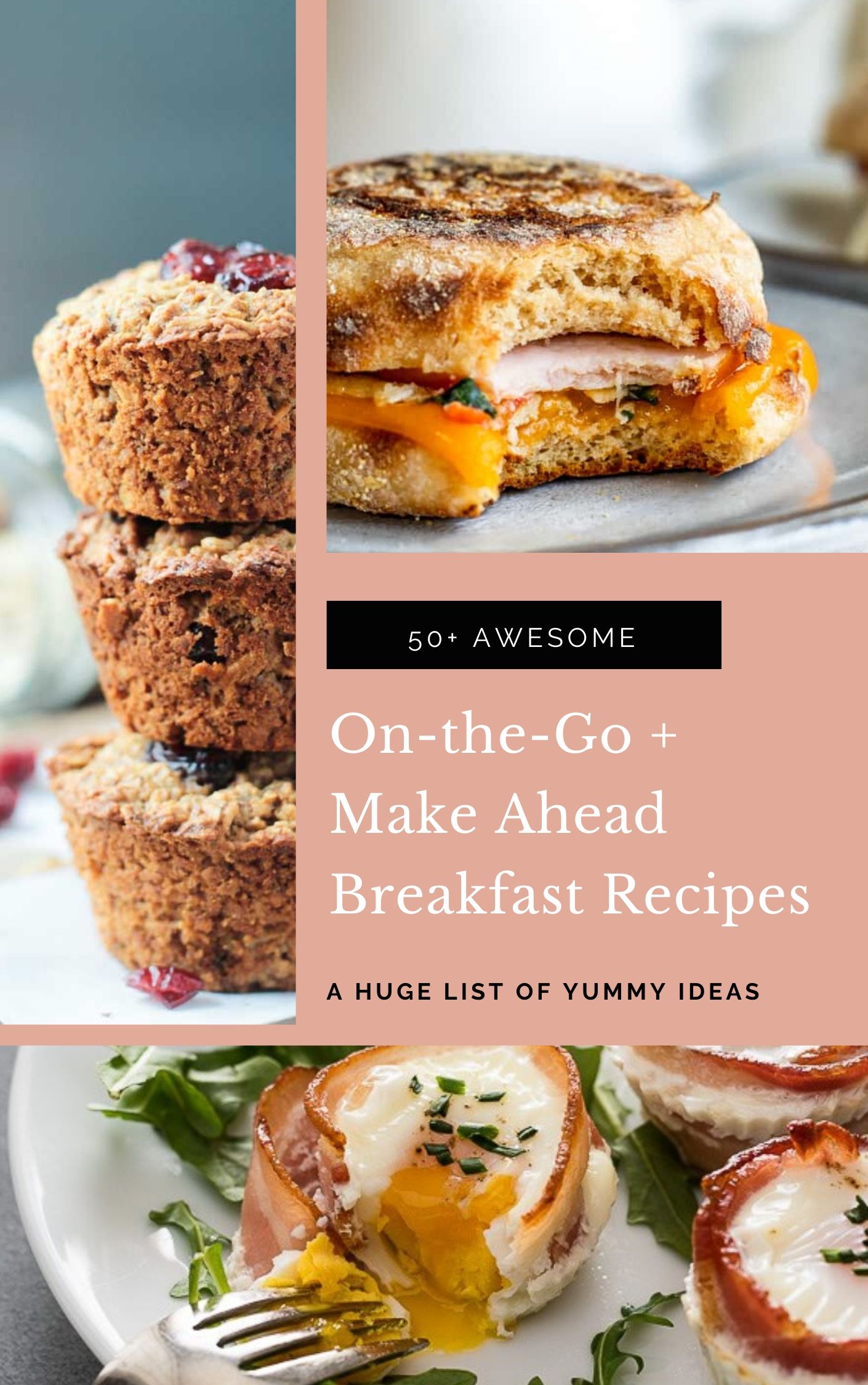 What about you? What easy breakfast recipes does your family love? I'd love to hear what your favorite simple and portable morning meals are! I'm always looking for new ideas!
SHOP THE BREAKFAST ON-THE-GO IDEAS POST | CLICK LEFT & RIGHT ARROWS TO EXPLORE
Love this Breakfast Recipes Roundup? Head to our recipe page to check out what else we're dreaming up in the kitchen!