Cinnamon streusel scone bread. It's dessert bread, covered in streusel, with scone-like qualities … and you know how I love cakes that pretend to be breads. (I had a real love affair with banana breads going for a while: our favorite milk chocolate chip banana bread, vegan chocolate chunk banana bread, and healthier vegan banana cake with almond flour.)
And I've said it before, I'll say it again: any dessert that begs for an accompanying cup of coffee is my kind of dessert. Plus, because this homemade cinnamon streusel scone bread is some variation of a scone and sweet bread, this totally counts as breakfast, which means CAKE for breakfast. 'Aint nothing wrong with that.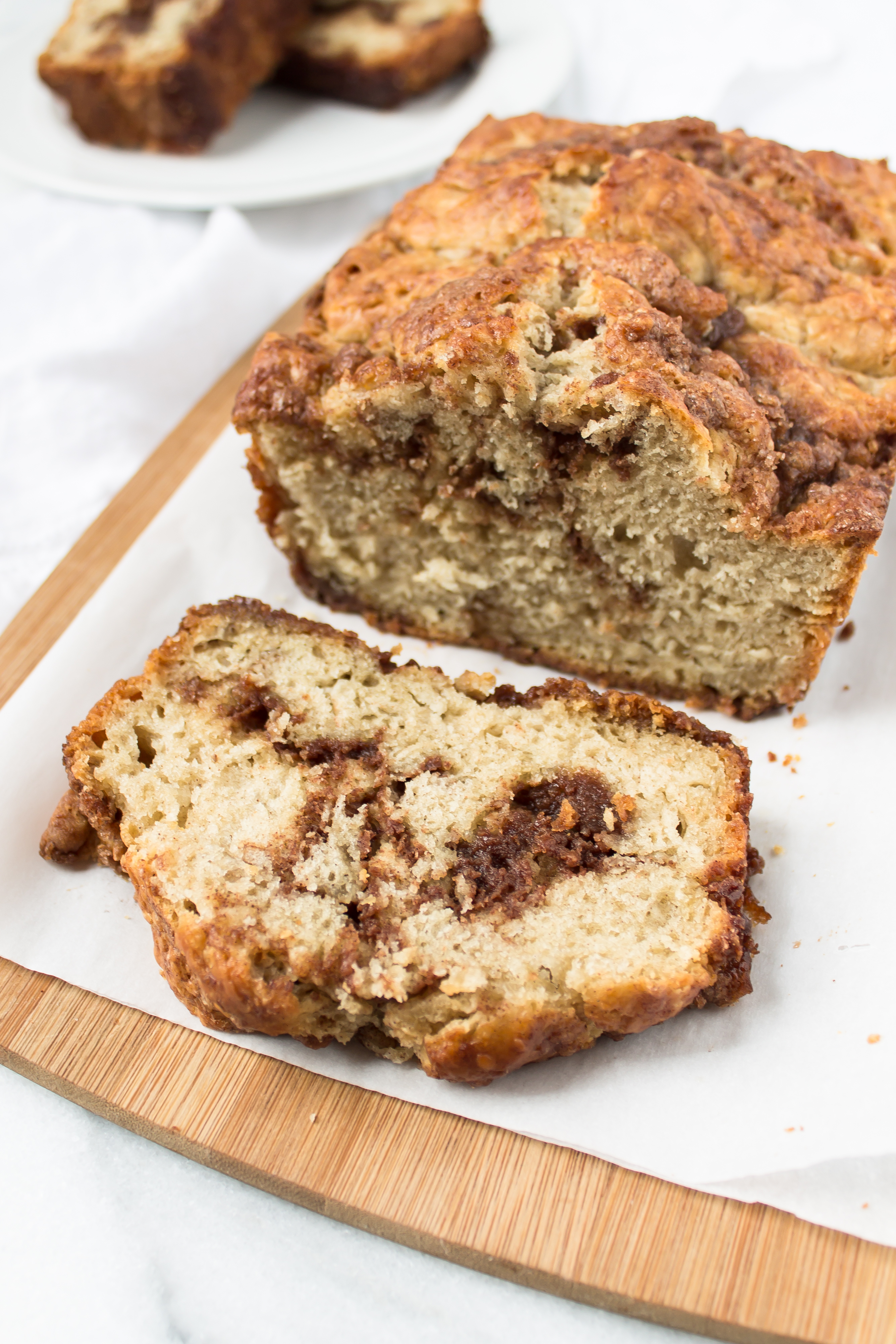 Our baker and food contributor, Hope, whipped up this dessert-bread-cake-hybrid and the result is AMAZING. Say hello to cinnamon streusel scone bread.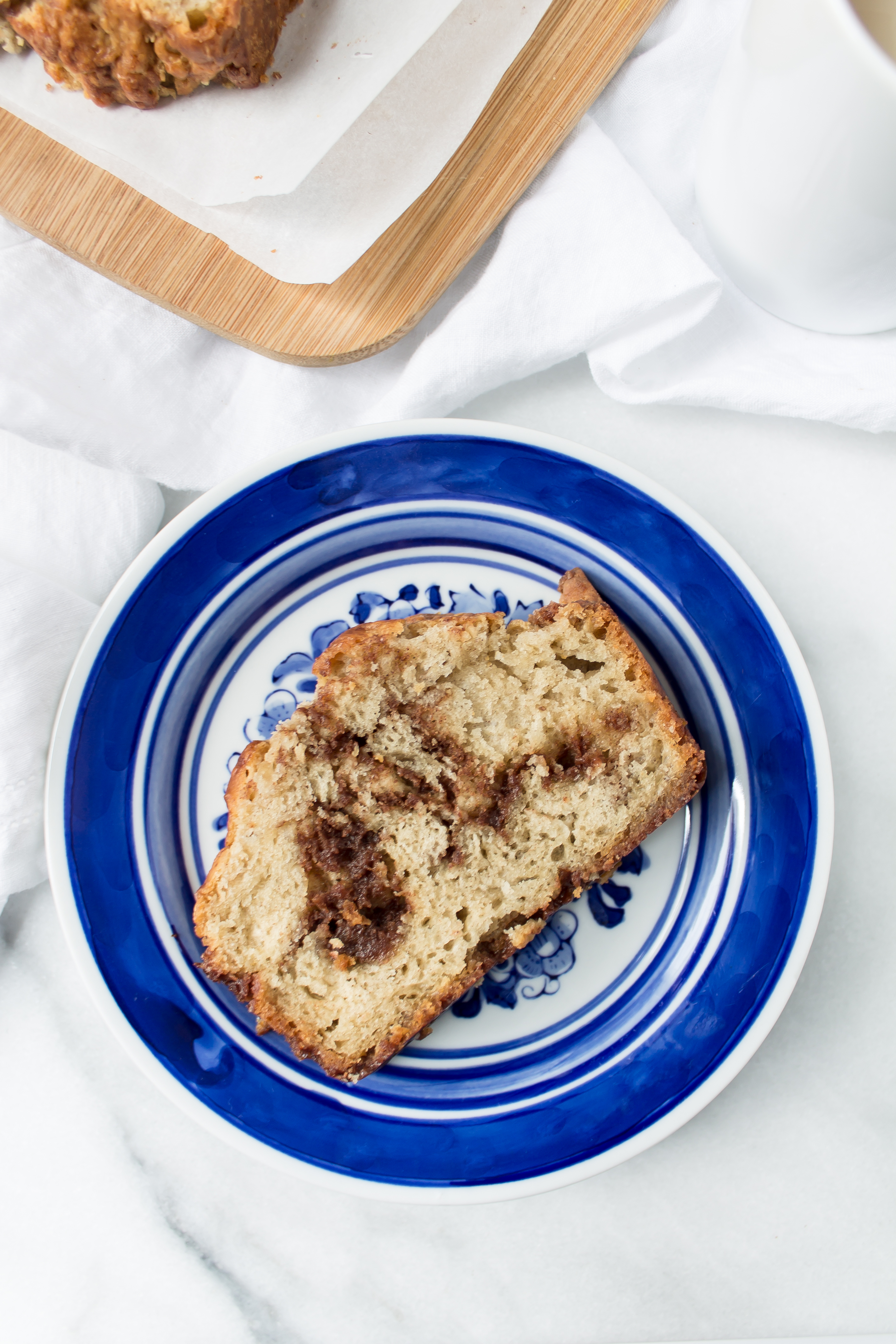 I'm so excited about this cinnamon streusel scone bread – it is one of my favorite recipes to date and has transformed my brunches! It has a crisp, crunchy exterior with a soft, pillowy inside, topped and filled with ribbons of cinnamon streusel. A combination of pull-apart bread, coffee cake, and scones, this cinnamon streusel scone loaf is amazing!

Homemade Cinnamon Streusel Scone Bread
INGREDIENTS
Scone Bread
2 cups all-purpose flour, plus more for dusting
1 tablespoon baking powder
½ teaspoon sea salt
2 tablespoons sugar
½ teaspoon cinnamon
¾ cups cold unsalted butter, cut into ¼-inch cubes*
2 large eggs
½ cup milk
½ teaspoon vanilla extract
½ teaspoon almond extract
Cinnamon Streusel Filling
4 tablespoons all-purpose flour
4 tablespoons granulated sugar
4 tablespoons brown sugar
2 teaspoons cinnamon
1 tablespoon heavy cream
1 tablespoon butter, melted
Egg Wash
1 egg + 1 tablespoon cream, beaten together
* I cut the butter in thirds lengthwise, turn the stick and cut it into thirds lengthwise again. I then cut ¼ inch sections all the way down the short side. This gives me smaller pieces of butter to start with, which allows me to handle the dough less.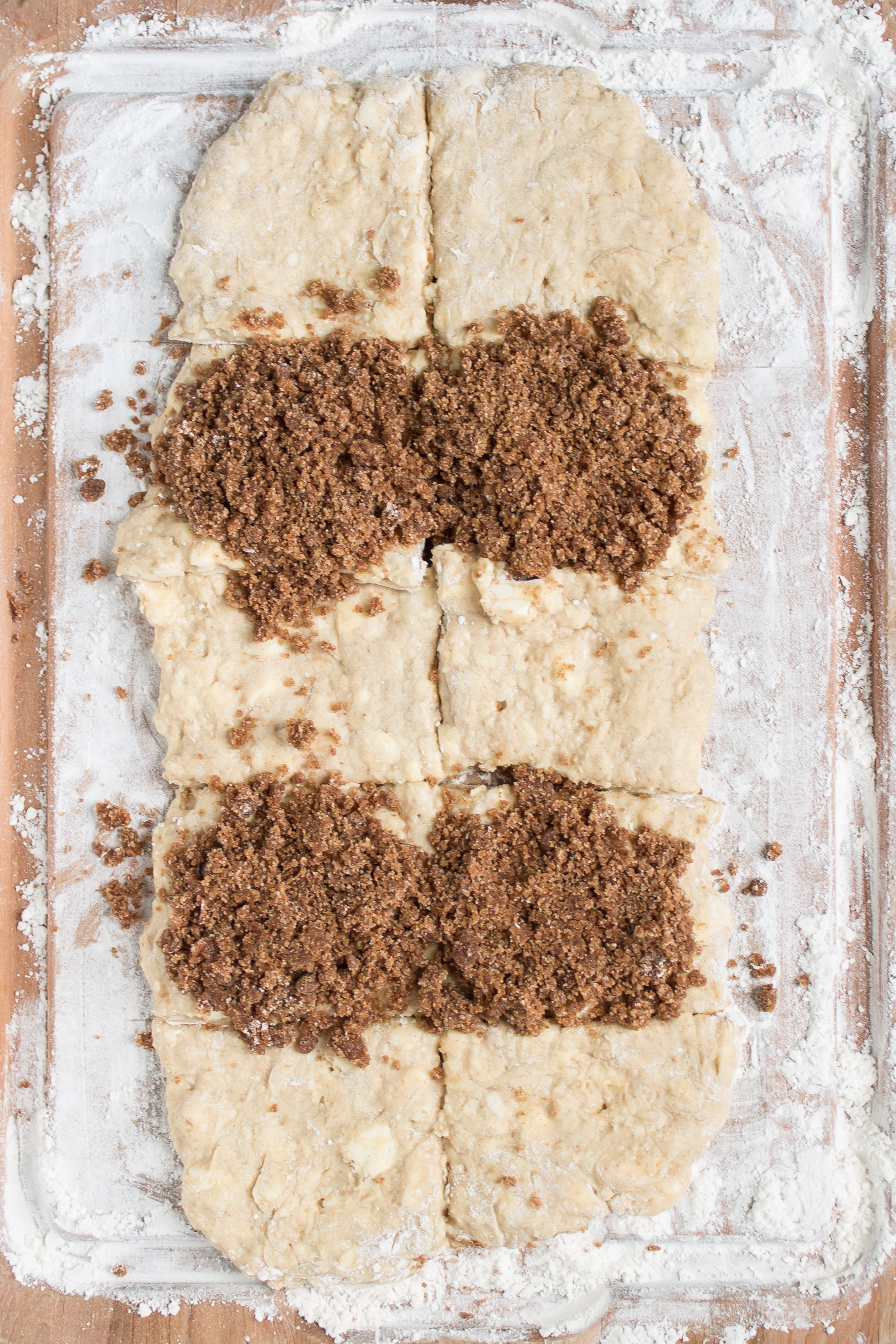 DIRECTIONS
To Make the Cinnamon Streusel
In a small bowl, stir together the flour, sugar, brown sugar, and cinnamon. Mix in the cream and melted butter. Set aside.
To Make the Scone Bread
Preheat the oven to 400 degrees F. Generously spray a 9 x 5 loaf pan with non-stick baking spray and set aside.
In the bowl of a food processor, combine the flour, baking powder, salt, sugar, and cinnamon. Add the butter cubes and pulse until the butter is the size of peas. Do not pulse too much – you don't want to overwork the butter and form clumps.
In a small bowl, whisk together the eggs, milk, and vanilla and almond extracts. Add the wet ingredients to the dry ingredients and stir until just combined, again being careful not to overwork the dough.
Transfer the dough onto a generously floured surface and pat it into about a 6 by 12 rectangle, or a long rectangle about 1-inch thick. Cut the rectangle in half lengthwise, then in 4 even pieces widthwise to give you 8 small rectangles. Sprinkle streusel on half of the dough pieces. Flip a non-streuseled piece of dough onto a streuseled piece and place them into the pan like a sideways lasagna. Continue to add the dough-streusel layers to the pan until it is full. Gently spread out the dough, if necessary, brush with egg wash, and sprinkle the top with the remaining streusel.
Bake the bread for about 40 minutes. Cover the loaf with aluminum foil and bake for another 10 minutes. This will allow the bread to continue cooking without the top burning. The bread is done when a toothpick inserted into the center of the bread comes out clean. Let the bread cool for at least 15 minutes, or until the pan is cool enough to touch. Invert the bread from the pan onto a cutting board. This bread is especially delicious when served warm.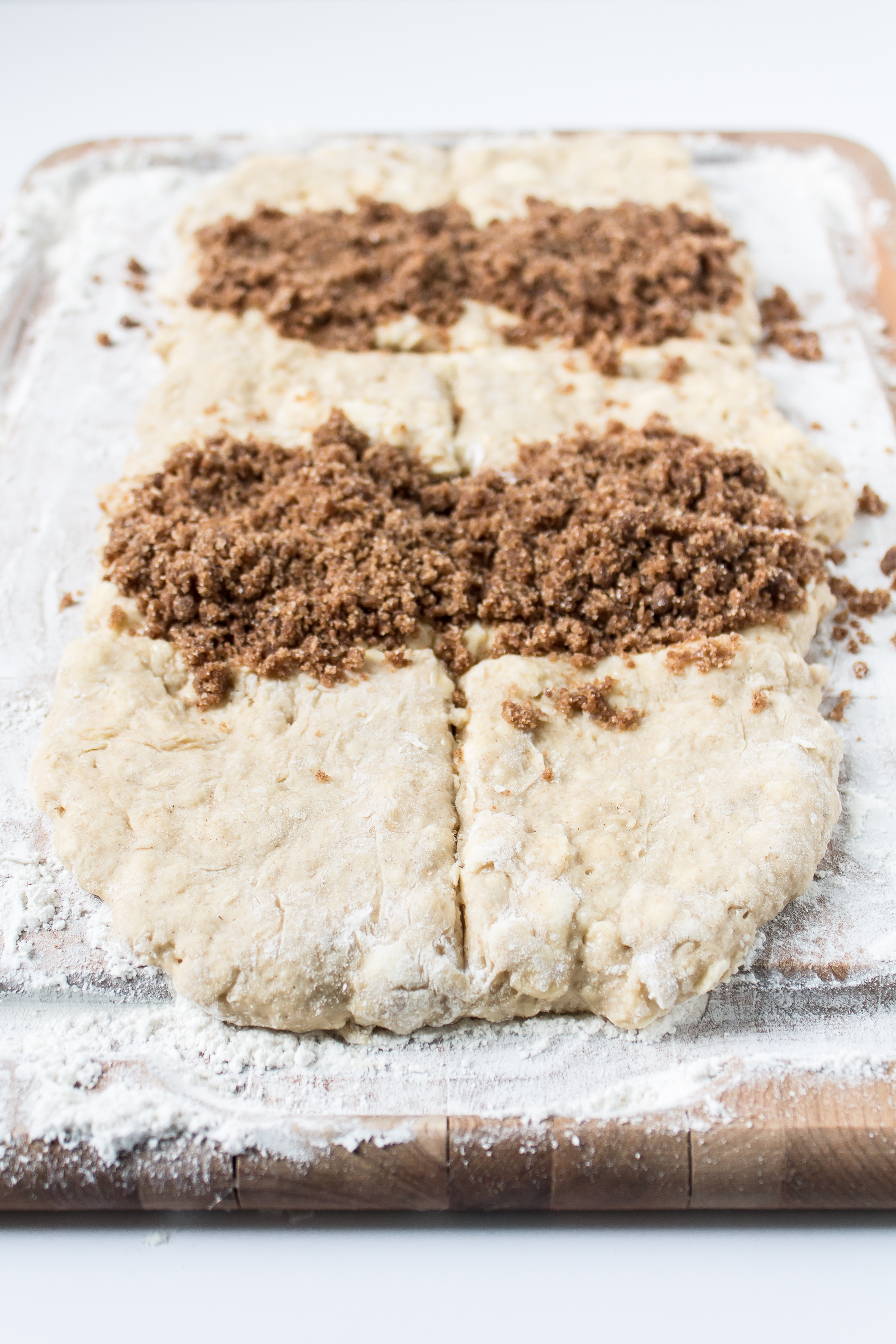 I mean, just look at that dough.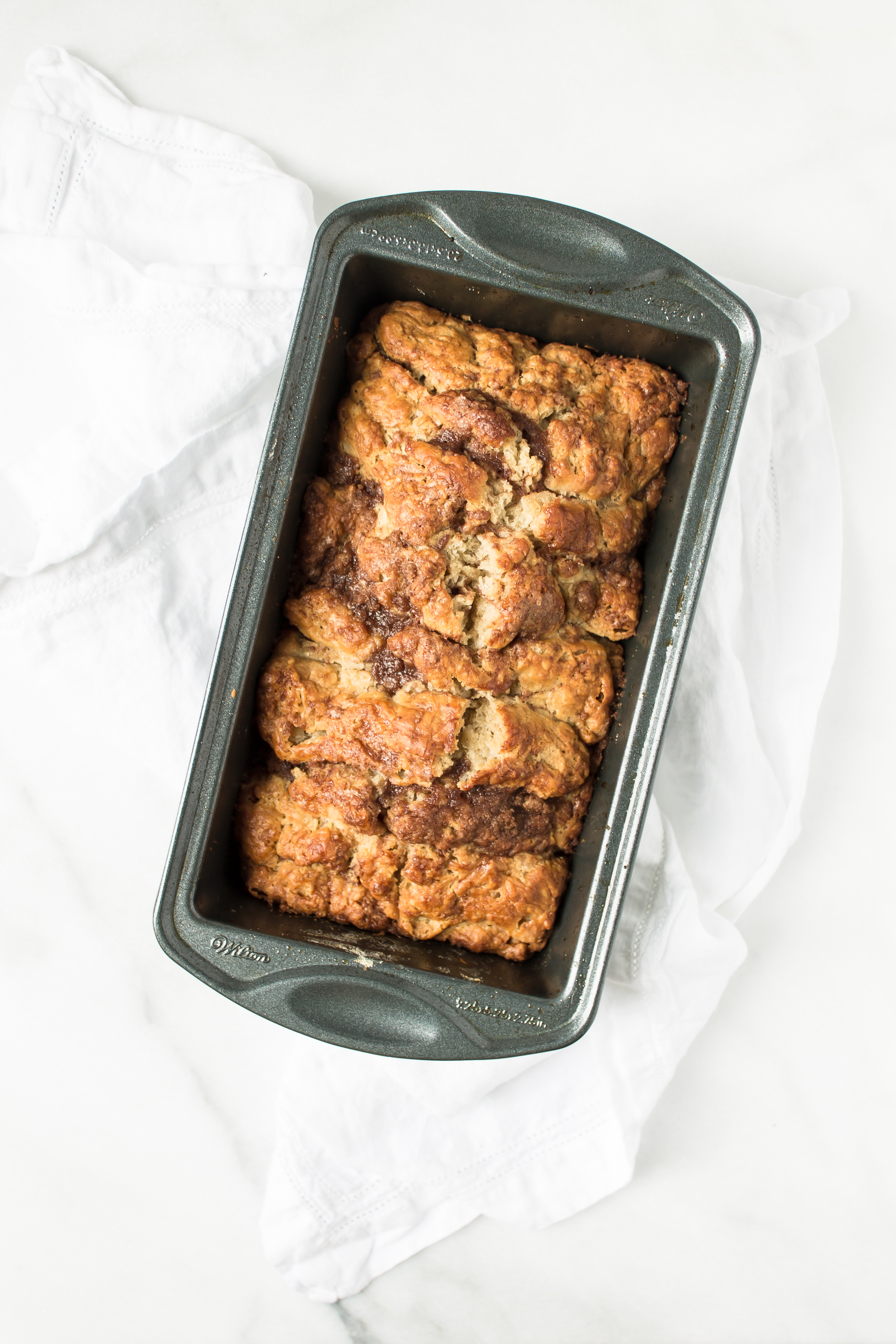 And the end result is moist, crumbly on the outside, and totally decadent.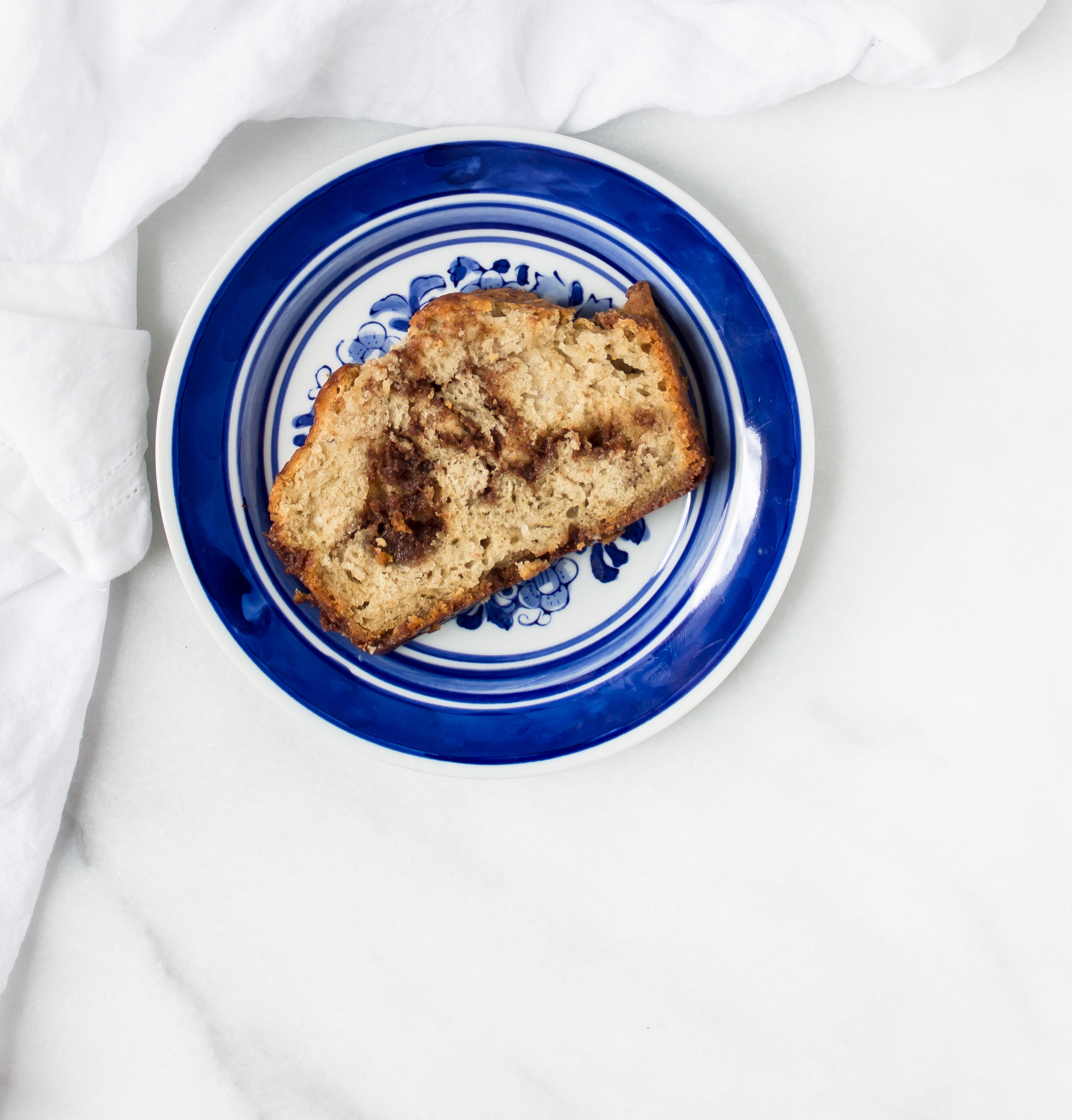 Yum.
Recipe and Photos by Hope Woodhouse of Pass the Cookies for Glitter, Inc.
Plus a few favorite blue and white kitchenware and dishes for Summer … | CLICK LEFT & RIGHT ARROWS TO EXPLORE
Love this recipe? See what we're making here.
This post contains affiliate links, which means that if you click on one of the product links, I'll receive a small commission. Thank you so much for clicking through and helping to support this little blog business of mine! Read more about our site, privacy, and disclosure policies here.