This post contains affiliate links, which means that if you click on one of the product links, I'll receive a small commission. Thank you so much for clicking through and helping to support this little blog business of mine! Read more about our site, privacy, and disclosure policies here.
Celebrate all things fall and make your own DIY caramel apple bar: the perfect easy dessert for Halloween, Thanksgiving, and everything in between!
I love putting together a great dessert bar, as evidenced here, and basically every other party I've thrown … well, ever. I love the ease of a dessert station – especially when you can add a mix of homemade goodies plus store-or bakery-bought sweet treats that don't require any baking or extra work, other than a little prep.
Sometimes, after creating a big meal or party, the last thing you want to do is focus on baking dessert after dessert. A dessert bar is the way to go for easy celebration sweets!
Why A Caramel Apple Bar is Perfect for Parties
And caramel apples, well, they're delicious, nostalgic, and so much fun. I mean, who doesn't anxiously await the local county fair to have one huge caramel apple? I also love that caramel apples just scream fall, and with Thanksgiving right around the corner, a simple dessert bar, like a DIY caramel apple bar, seems just right.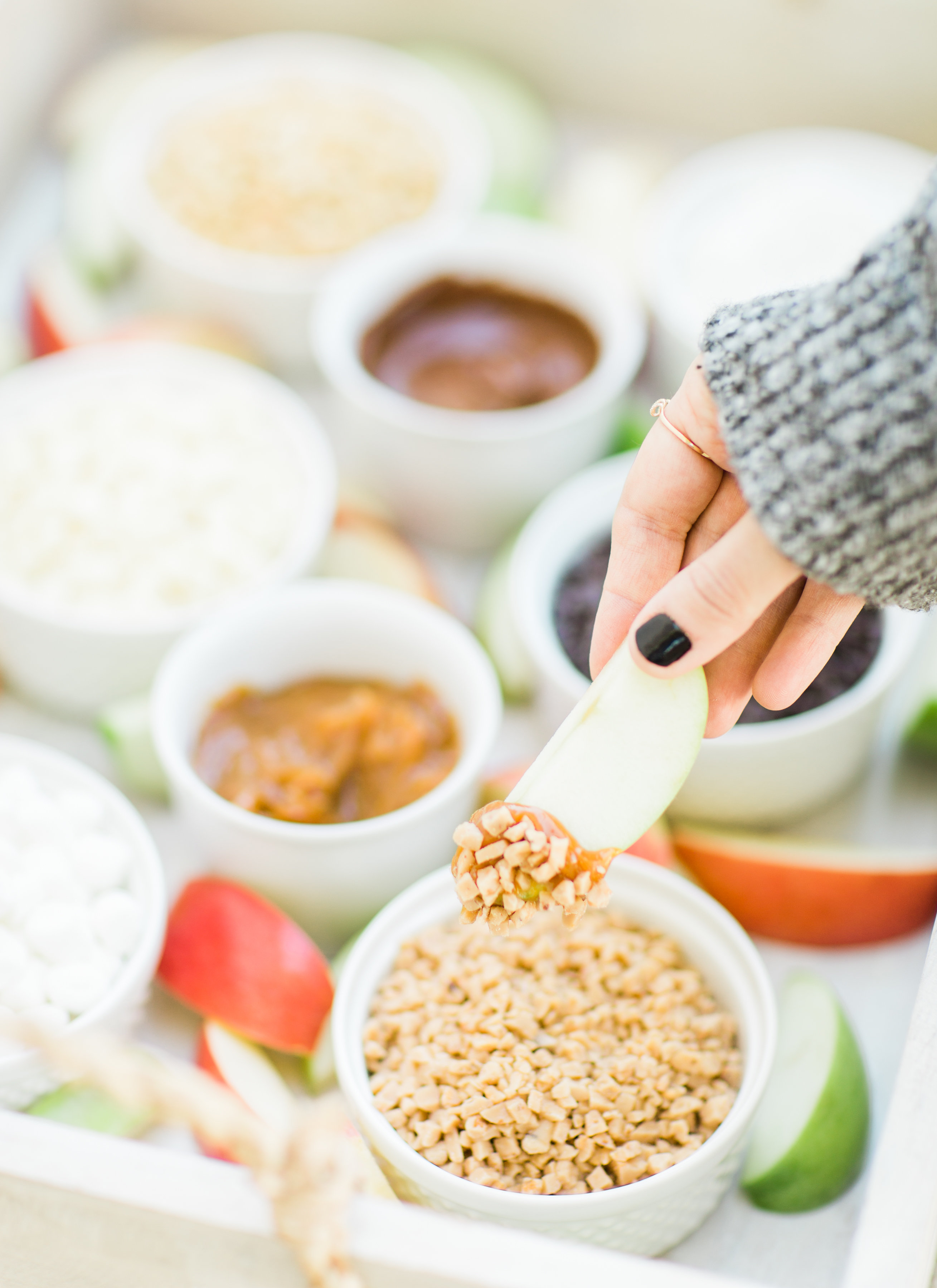 Dipping slices into your favorite sauces and toppings sounds kind of ideal, right? So the DIY caramel apple station it is.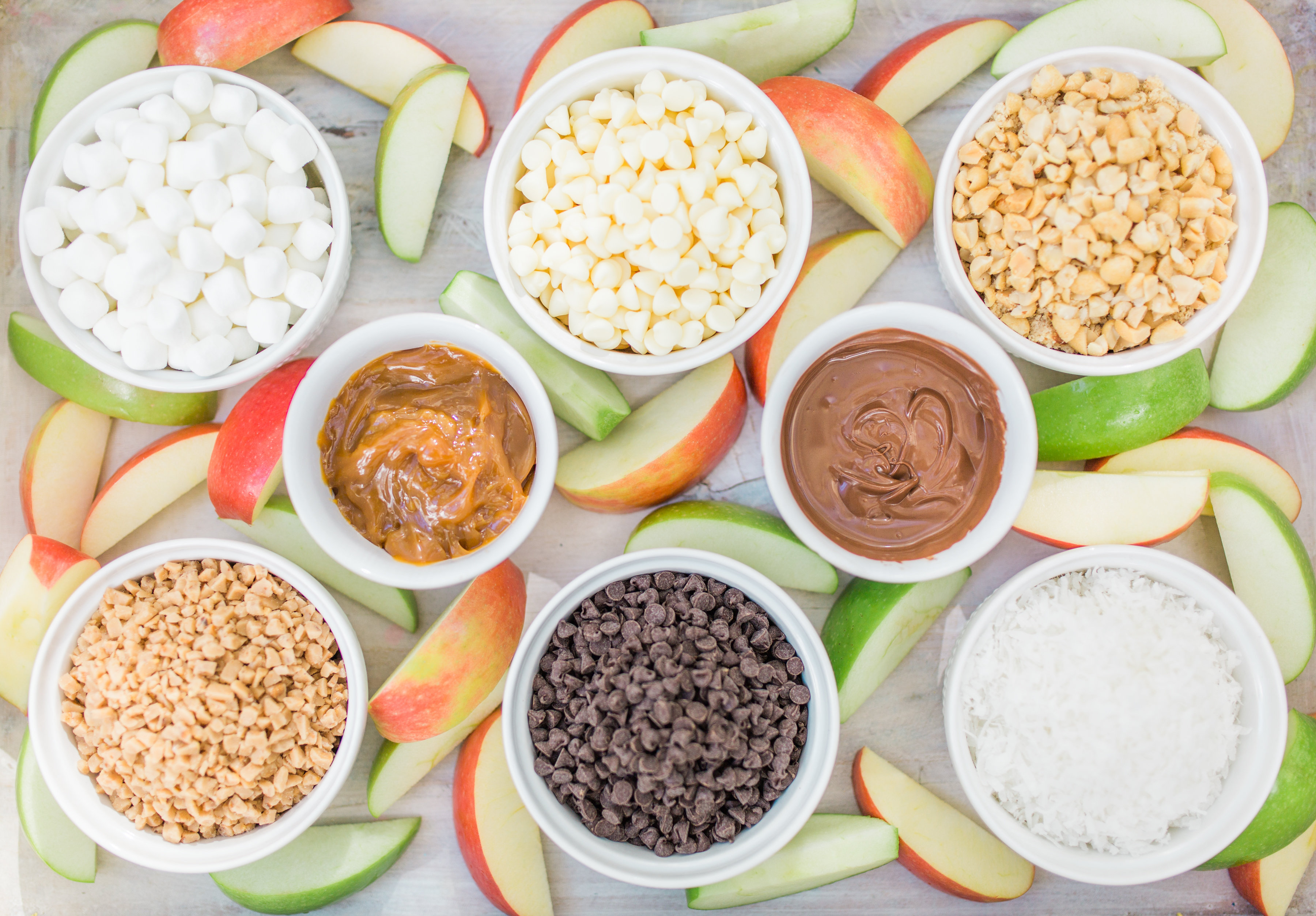 A DIY caramel apple bar is creative, inventive, and totally lets your guests play with their food, in the best kind of way. Basically, this is the kind of dessert station everyone will love and is perfect for the grownups, and especially the kids. We loved it so much (because of course we went to town on the leftovers after we shot these photos), I'm planning to serve up some variation of this the next time we have friends over. It's perfect for inviting friends and their kids over, but I'm also thinking this would be a big hit at book club.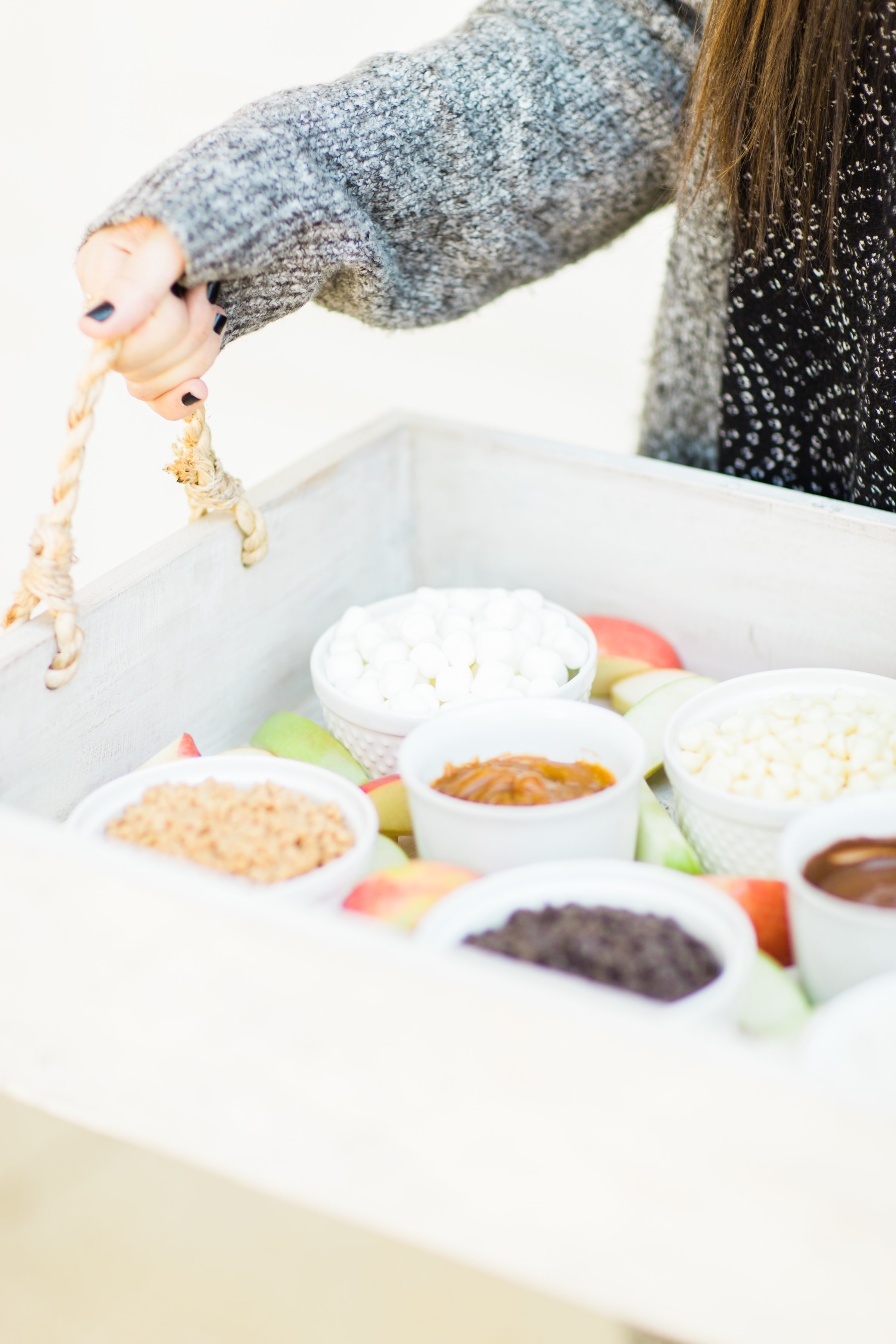 How to Make a DIY Caramel Apple Bar
With everyone's favorite topping and dipping options — like toffee bits, crushed peanuts, shredded coconut, and chocolate chips — a caramel apple bar has a little bit of everything. It's the easiest way to get really creative with your dessert, and the legwork to set up a DIY caramel apple bar is pretty minimal. Win, win.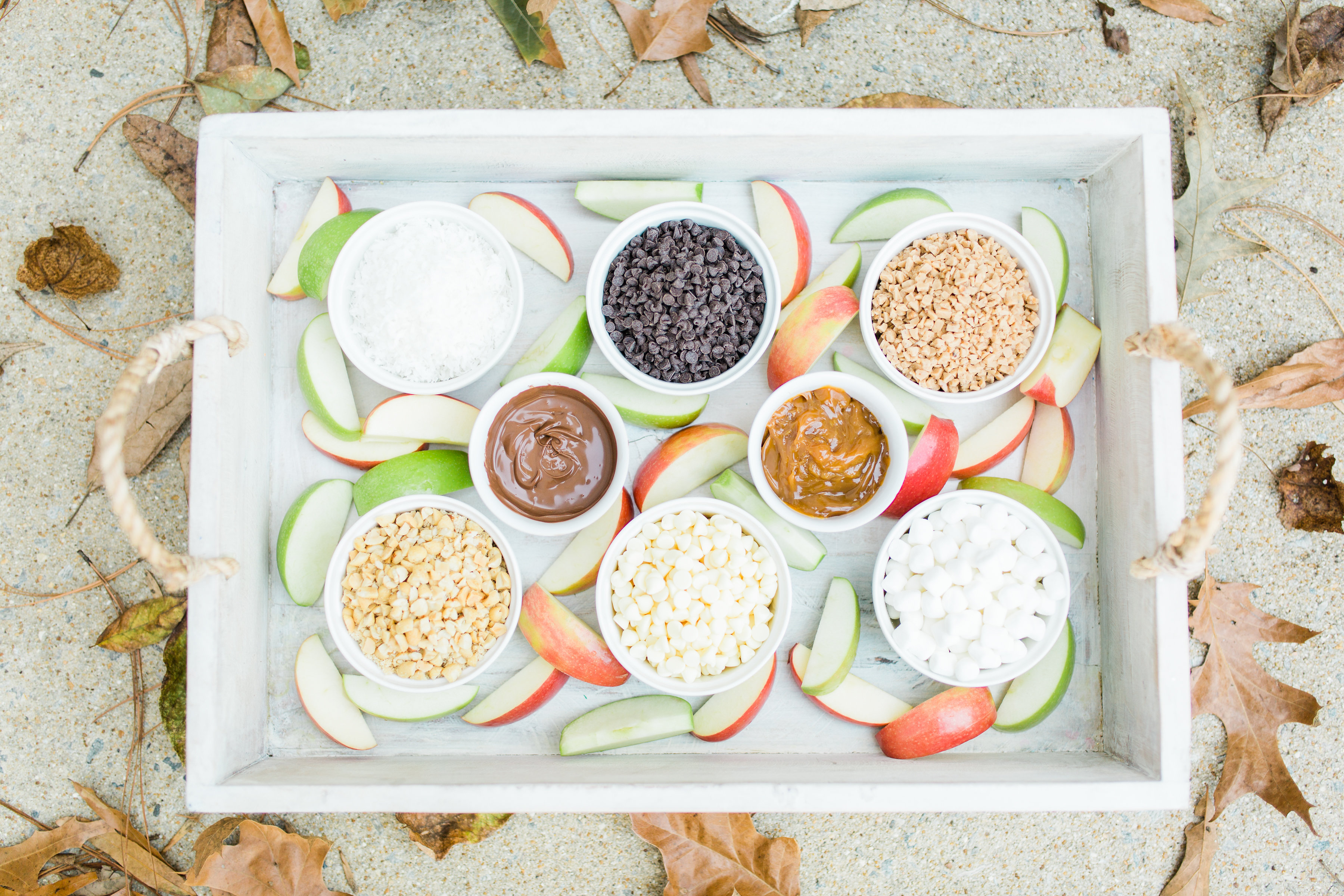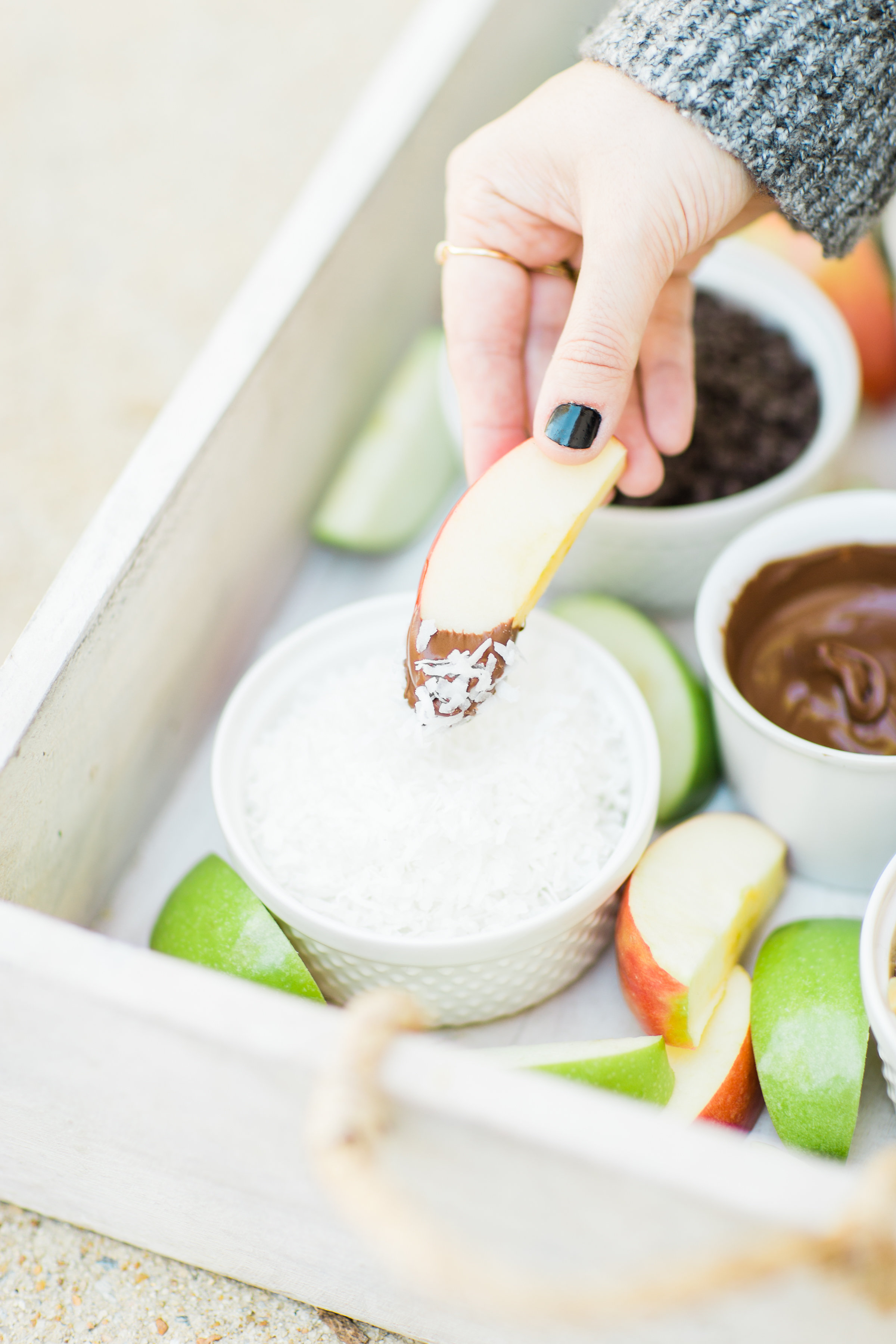 Keep reading to learn how to make your own super simple DIY caramel apple bar …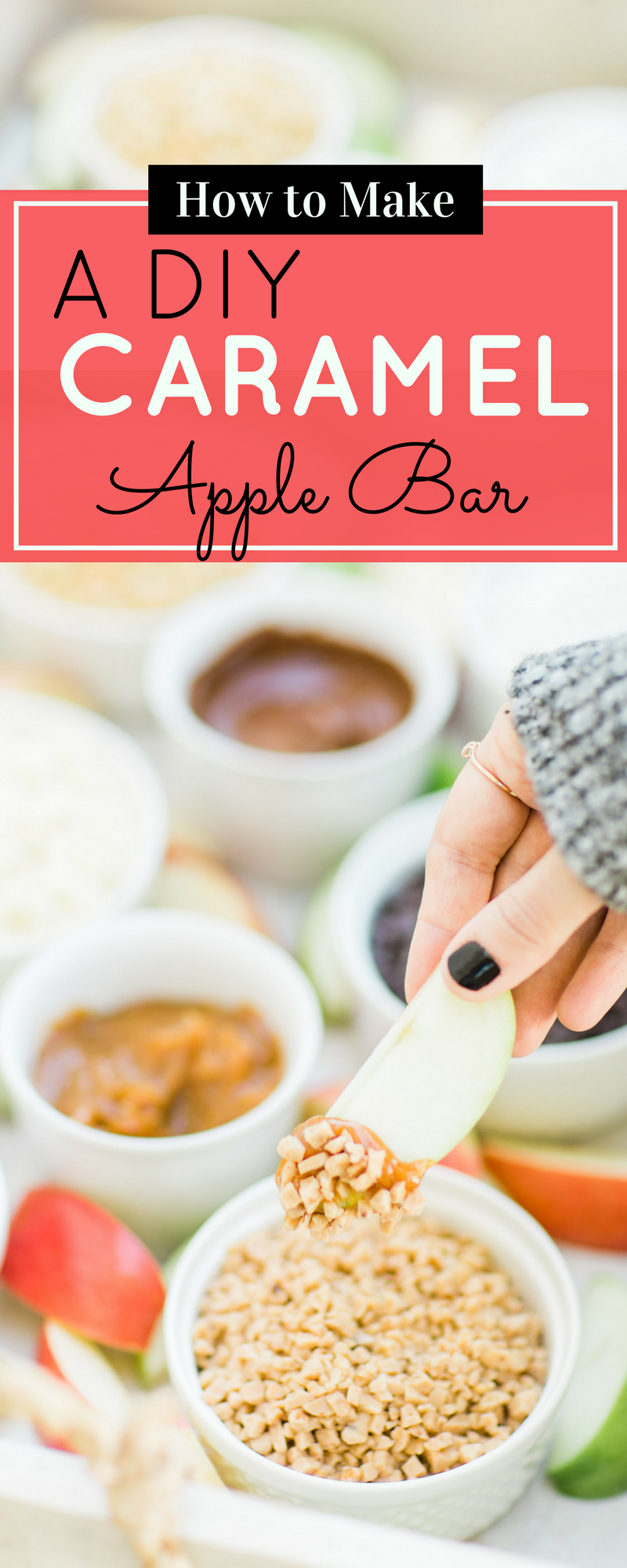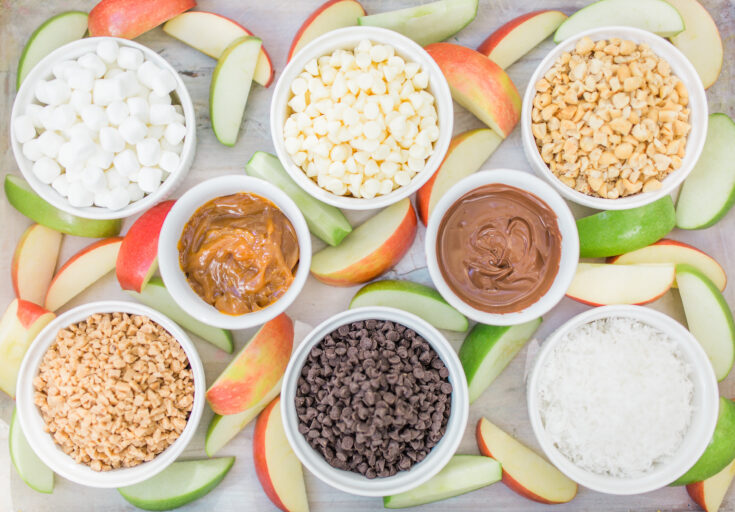 Yield:
How to Make a DIY Caramel Apple Bar
Ingredients
apples
melted chocolate (white, milk, and/or dark)
melted caramel, jarred caramel sauce, or cold caramel fruit dip (in the produce section at the supermarket)
Nutella
marshmallow sauce or fluff
crushed peanuts
chopped almonds or almond slivers
toffee bits
mini chocolate chips
peanut butter chips
mini M&M's
mini marshmallows
shredded sweetened coconut
crushed graham crackers
crushed pretzel pieces
sprinkles
Instructions
Cut apples into slices. I used a mix of large red and green apples. Store in an airtight zip-top bag, and spray a little lemon juice or lemon-lime soda on them, toss to coat, in order to keep them from browning too quickly. Try to serve within a few hours of cutting your apples.
Set out bowls of your dips (melted chocolate, Nutella, caramel sauce, etc.) and toppings (crushed peanuts, toffee, chocolate chips, etc.)
Serve with plenty of napkins - this is one sticky, sweet dessert!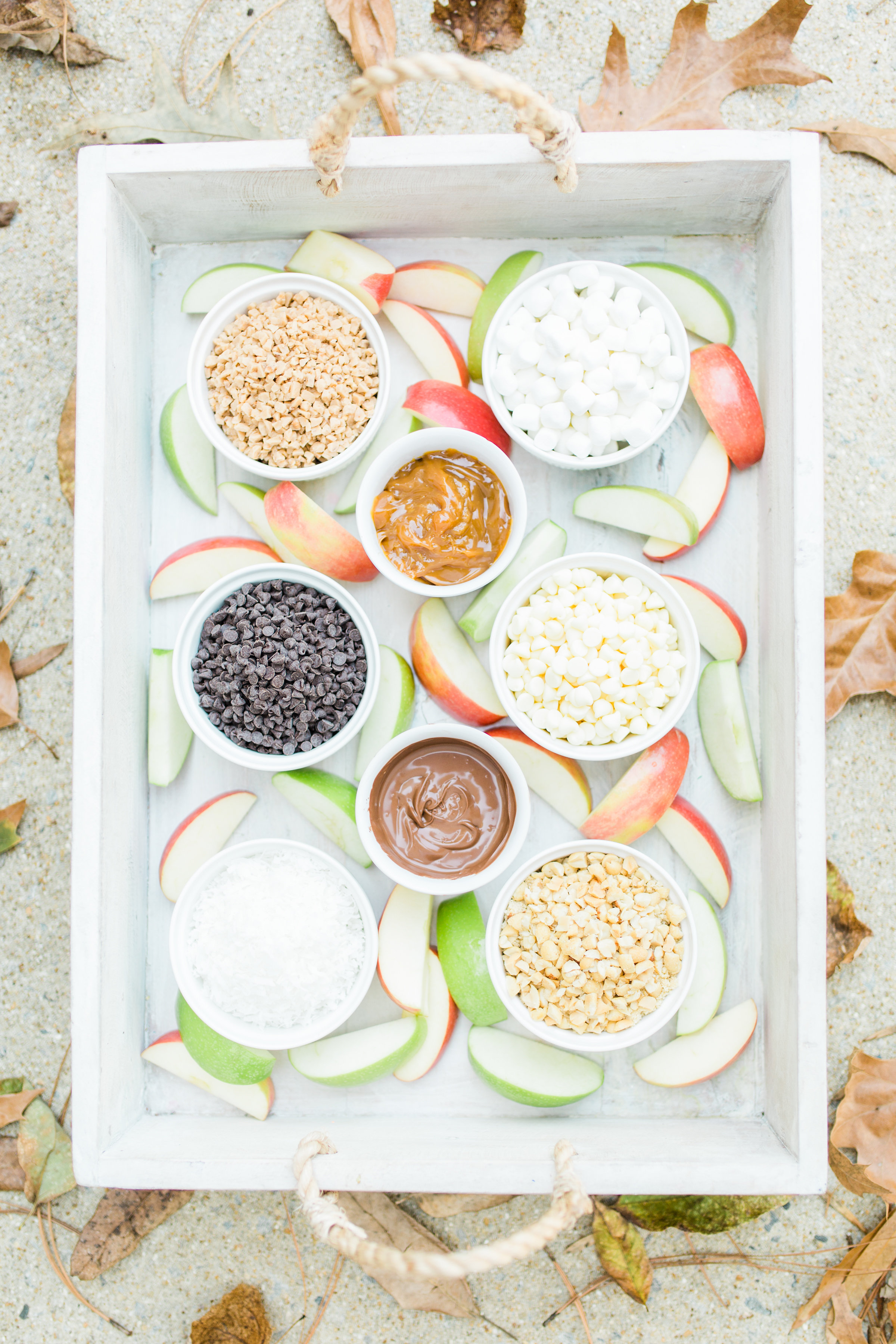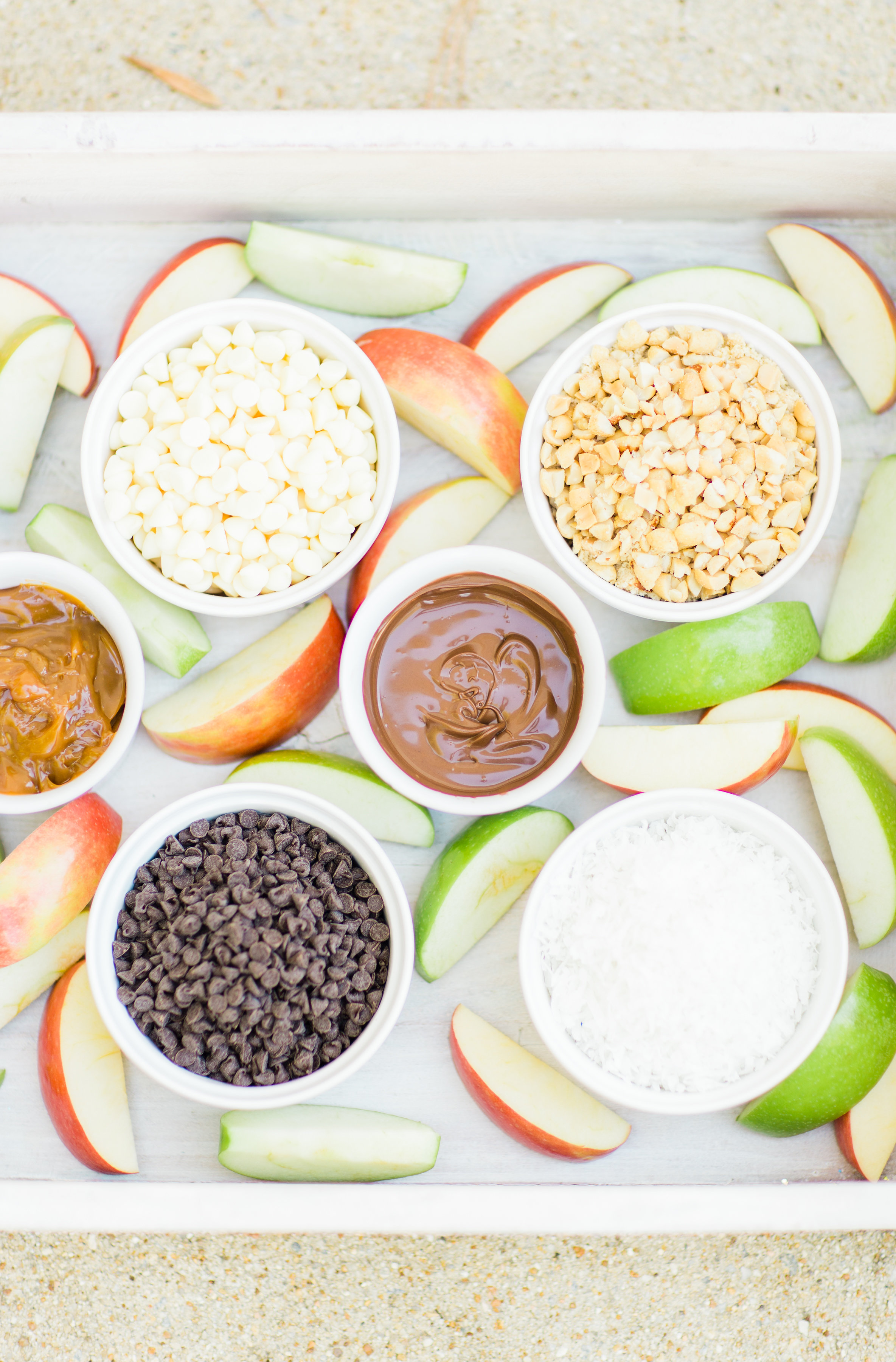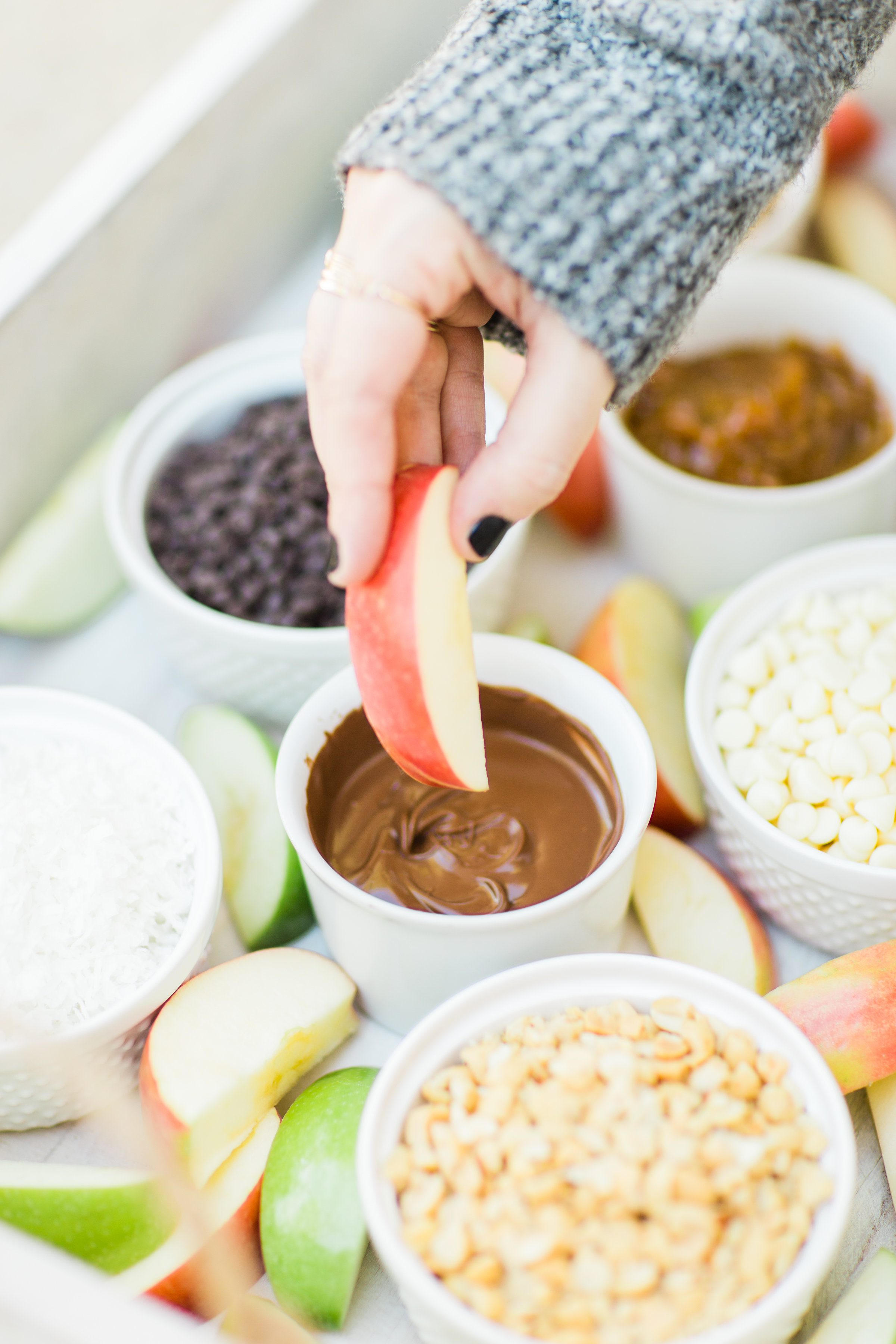 After putting together this DIY caramel apple bar, I had all of these other topping ideas; I'm thinking s'mores apples (a.k.a., adding crumbled graham cracker and marshmallow fluff to the mix), chocolate peanut butter pretzel apples (with melted chocolate, crushed pretzels, and peanut butter chips), and Nutella apples (because, Nutella.)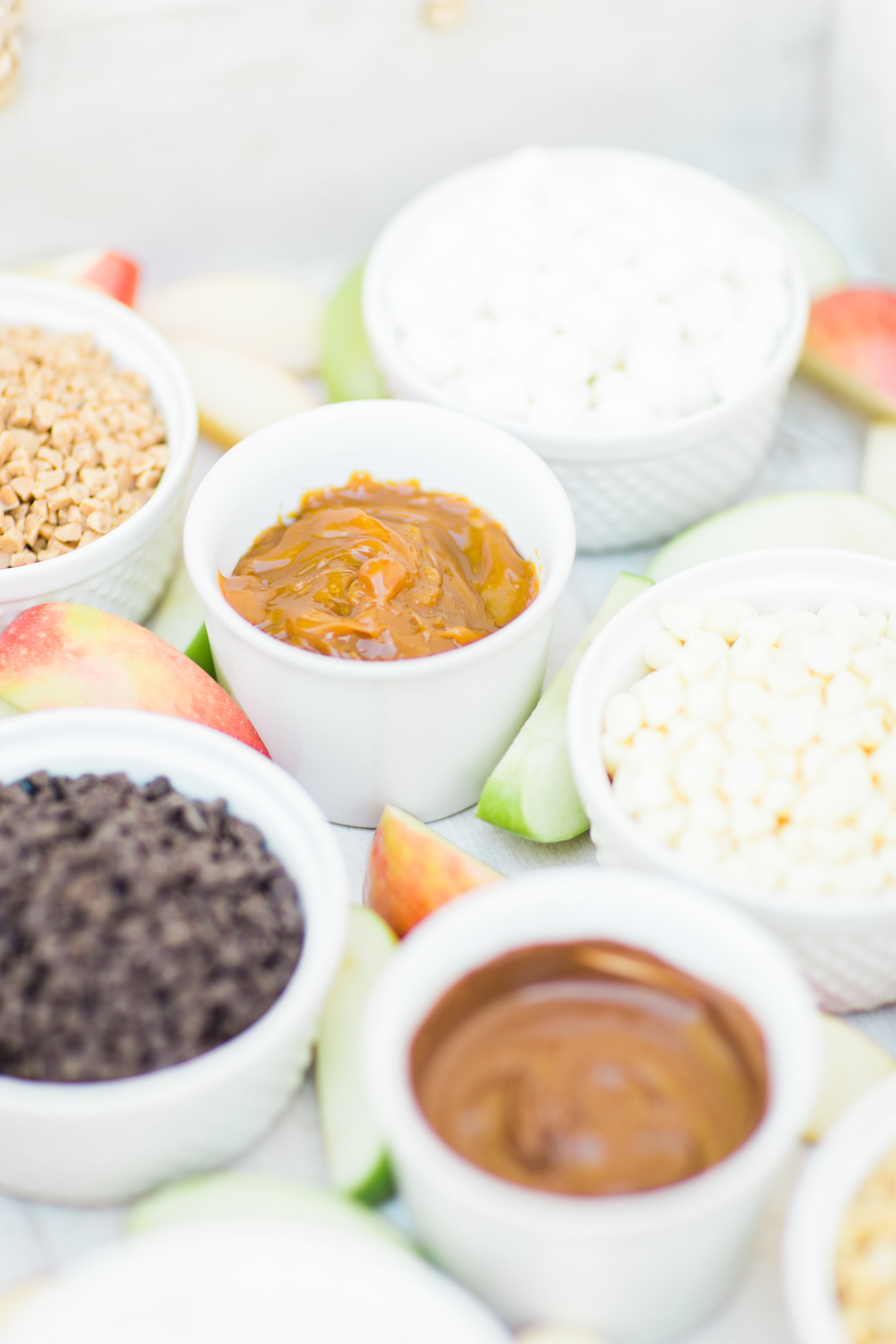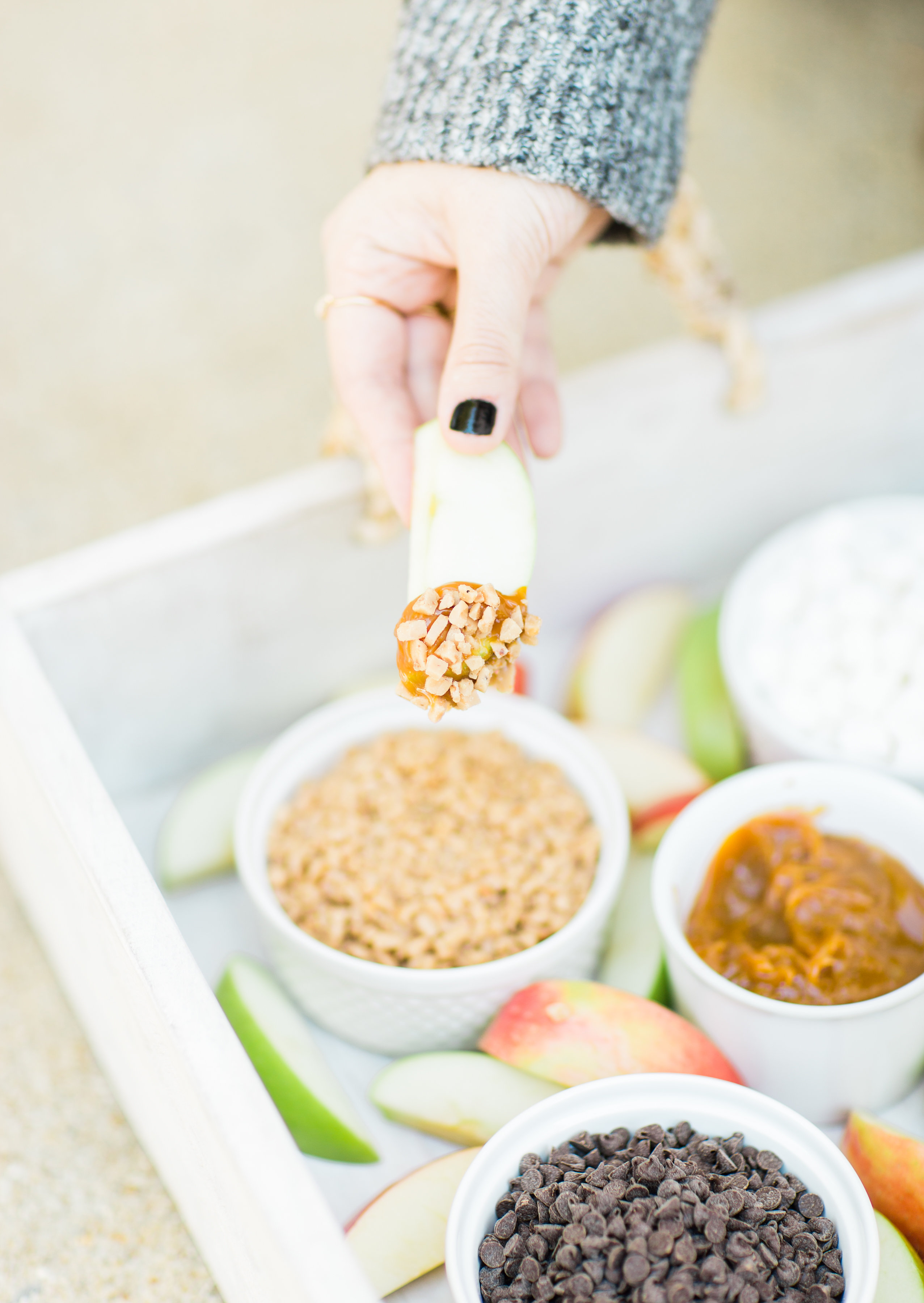 Tell me this isn't making you want to chop up on apple, break out the chocolate and various toppings, and get messy?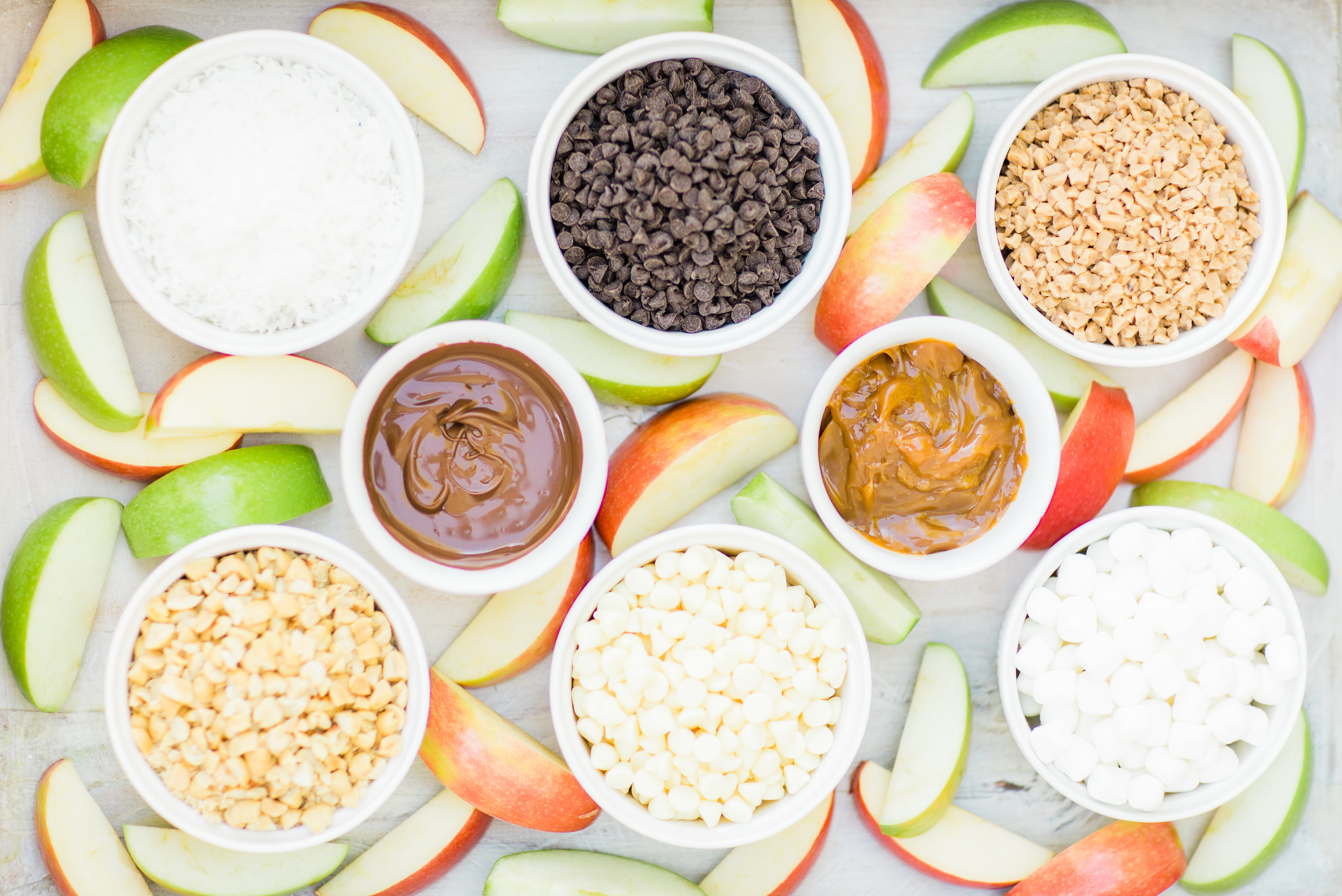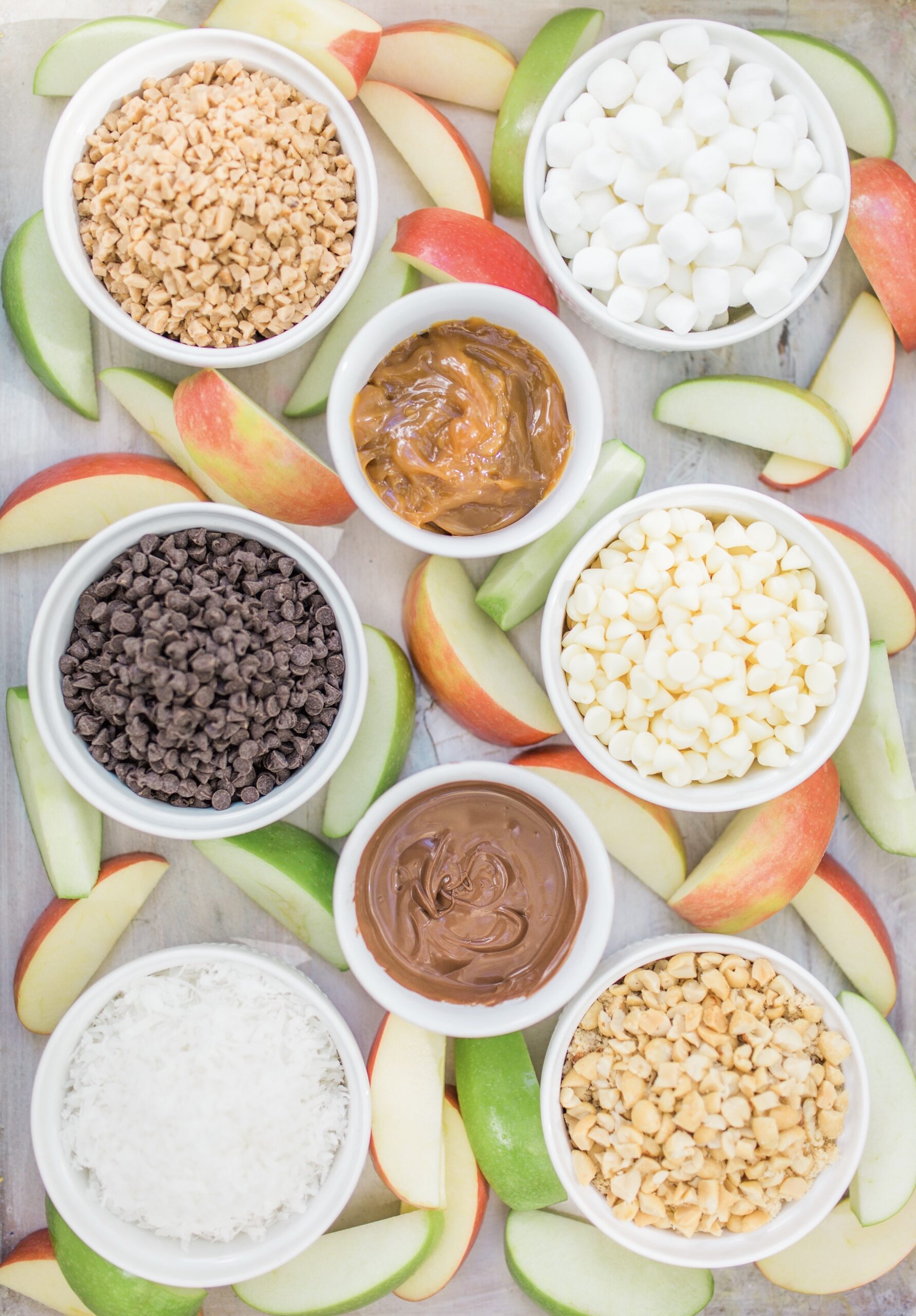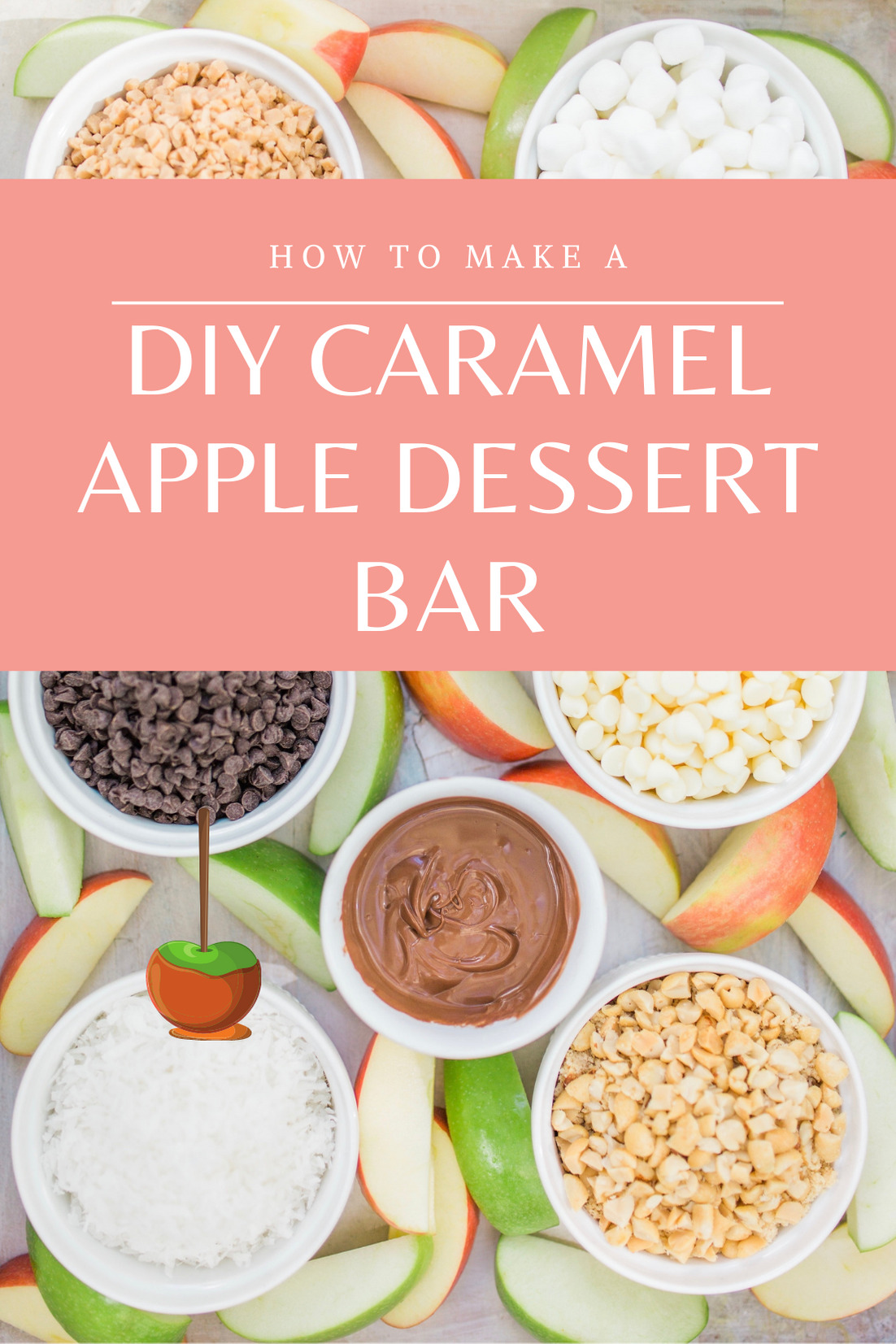 Love this DIY caramel apple bar? Head to our recipe page to check out what else we're dreaming up in the kitchen!
SHOP THE DIY CARAMEL APPLE BAR | CLICK LEFT & RIGHT ARROWS TO EXPLORE
If you put together your own DIY caramel apple dessert bar, be sure to tag me on social media (@glitterinclexi) so I can live vicariously through all of your sweet creations!
Psst … if you love apples, you have got to try our salted maple caramel apple pie, apple crisp shortbread bars, and slow-cooker apple crisp.
Photos by Annie Watts Photography for Glitter, Inc.