This post contains affiliate links, which means that if you click on one of the product links, I'll receive a small commission. Thank you so much for clicking through and helping to support this little blog business of mine! Read more about our site, privacy, and disclosure policies here.
If you love strawberries, you are going to go crazy for this knock-your-socks-off easy and delicious strawberry bread with a decadent strawberry glaze. This quick bread recipe comes together in just 10 minutes, and will impress EVERYONE.
I feel like the term "strawberry bread" is misleading here; it's cake y'all. It's ooey gooey, super moist, delicate, dreamy cake, with a perfectly crisp crust, and a decadent strawberry glaze that seeps all through the cracks in the top of the cake … and … there goes my diet.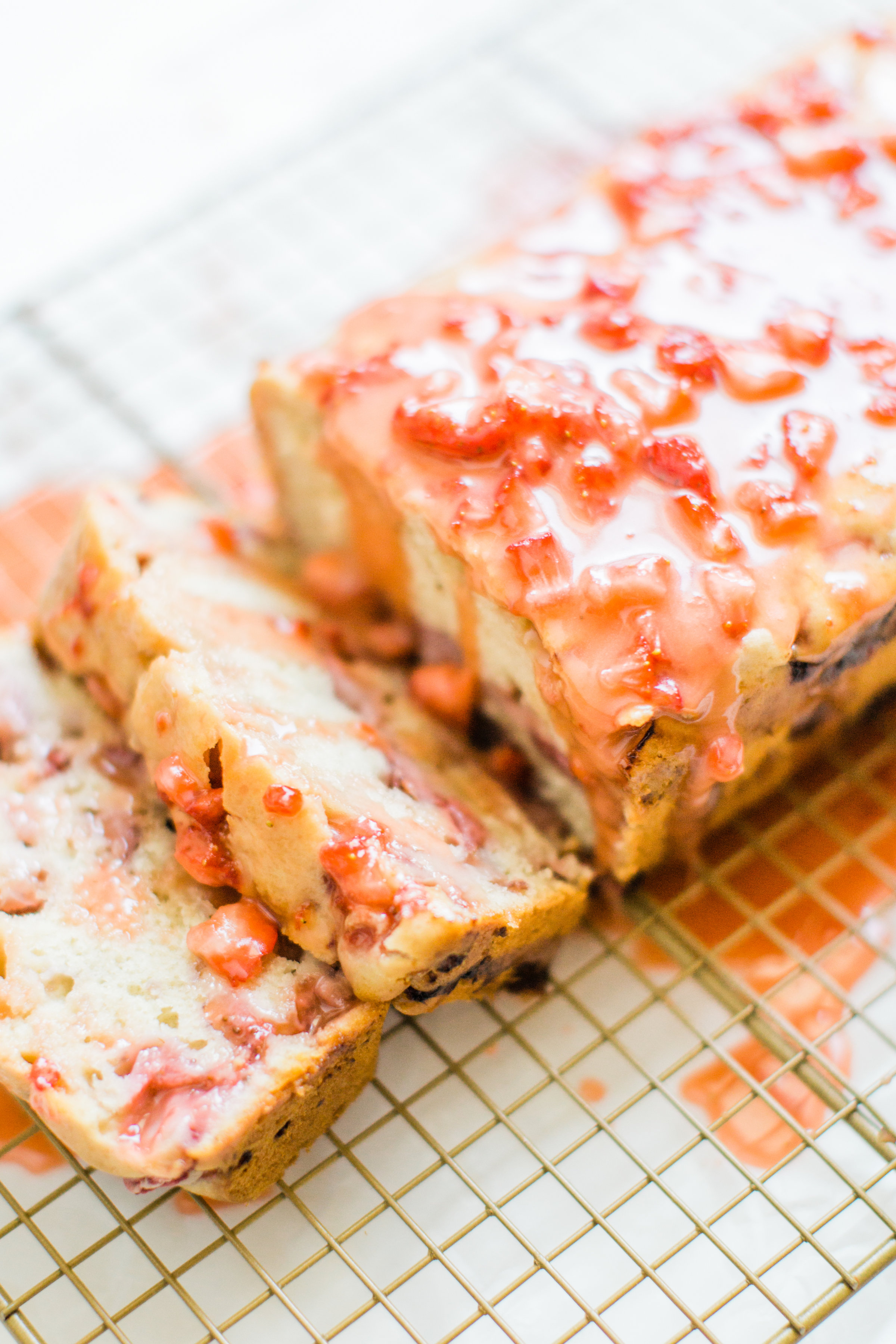 I've always had a soft spot for fruit breads. I love fruity desserts. My husband would choose chocolate (and white chocolate) all day, every day, but I am weird (or so he says), and prefer things like fruit crisps, crumbles, and fresh out of the oven fruit breads. I also don't like desserts that are cloyingly sweet. (Again, he totally does! Opposites attract, right?) This quick strawberry bread with strawberry glaze is the perfect happy medium.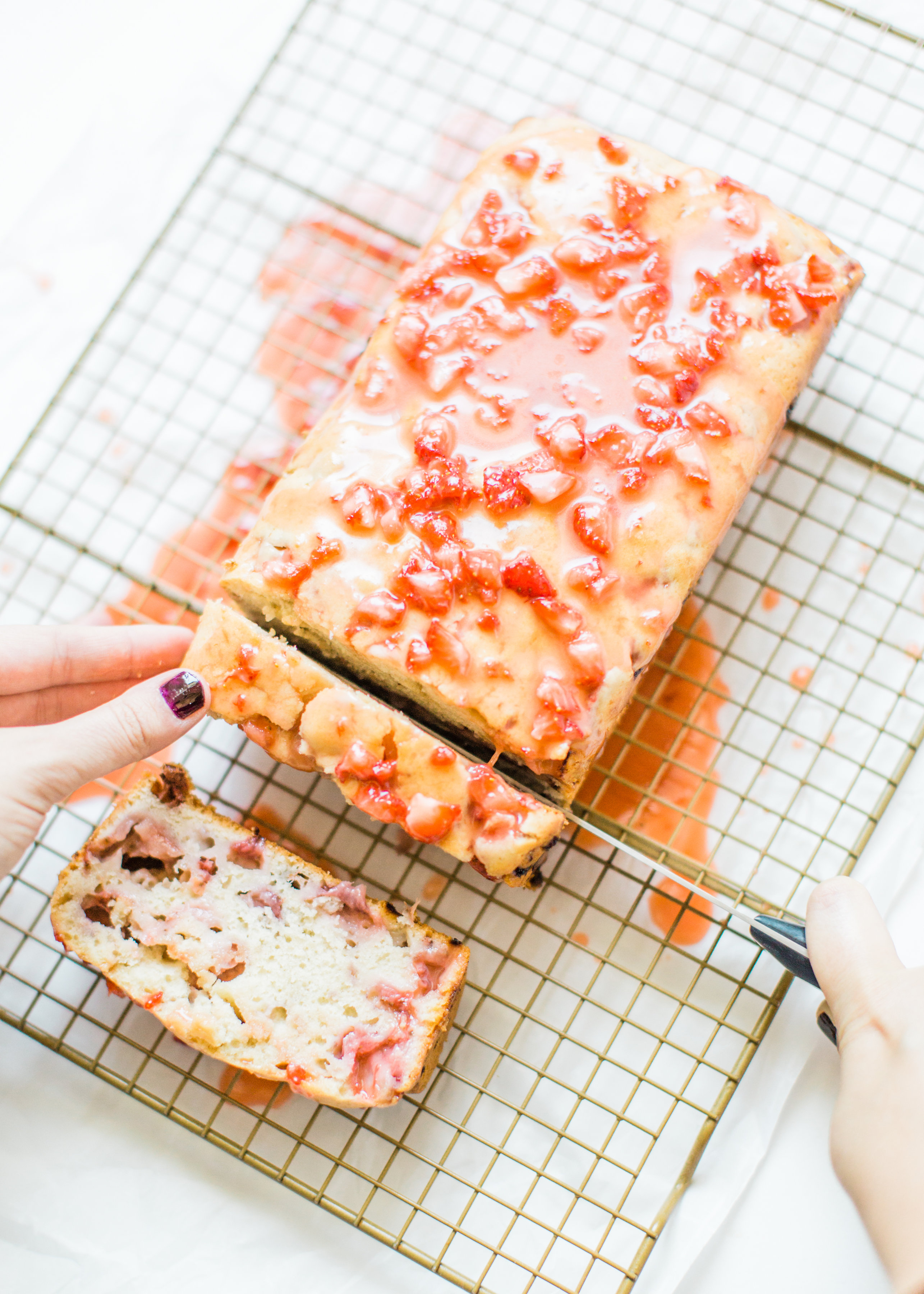 The cake itself is super moist and packed with juicy fresh strawberries. It tastes homemade in all of the best ways. Then there's that magical strawberry glaze. That glaze is heavenly. I might just start whipping it up and pouring it on everything. No lie, the strawberry glaze would make the PERFECT topping for vanilla ice cream, shortcake, french toast, biscuits, straight into my mouth, the list goes on and on.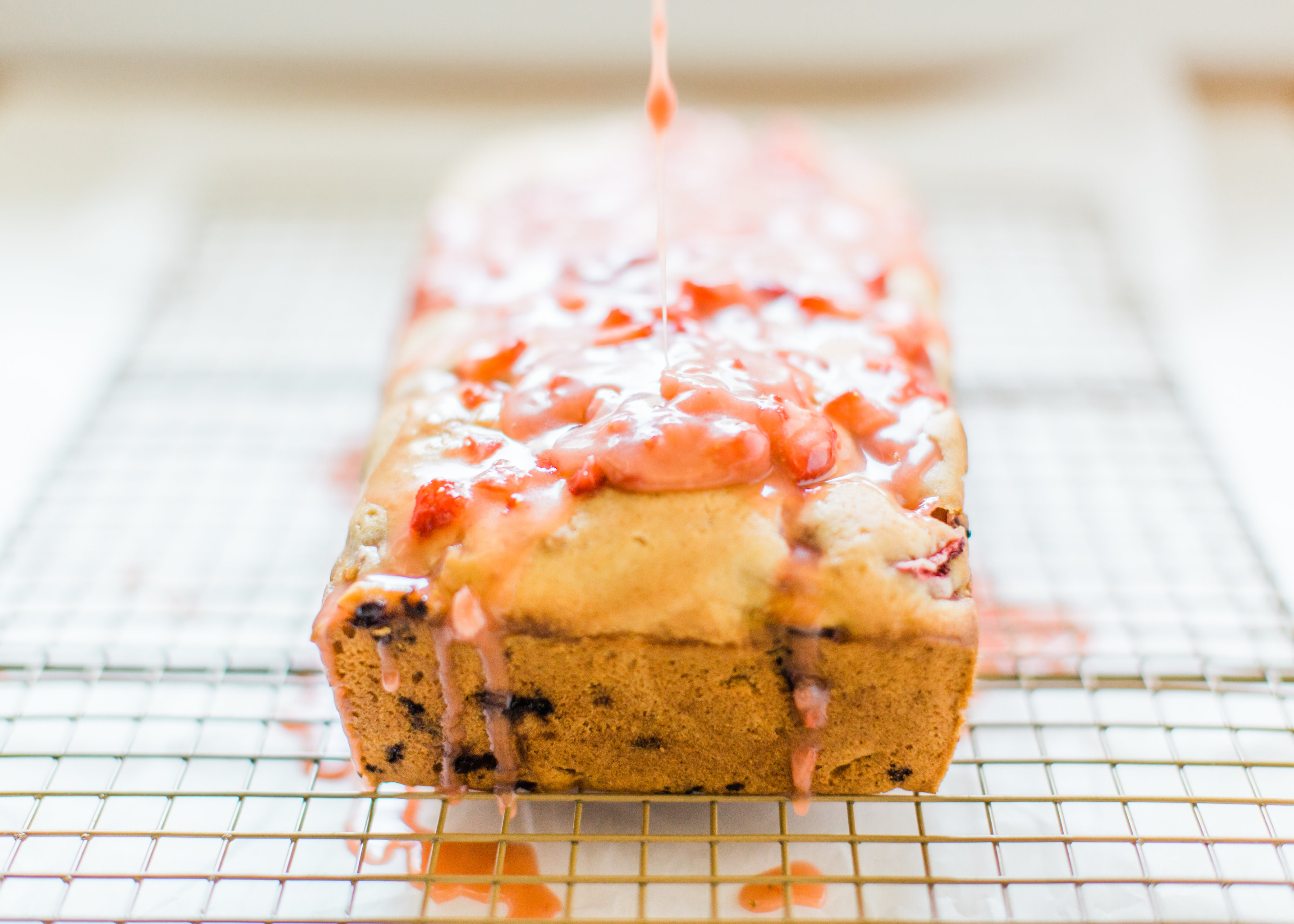 Now like most fruit-based desserts, fresh fruit can be kind of tricky, since it adds so much extra moisture. The finely diced strawberries work so well in this recipe, though; just be sure to stick somewhere between 2 and 2 1/2 cups of fruit here. Just keep in mind that the more fruit you add, the more moist the bread will be; so moist that it almost falls apart with that much fruit. I'm not saying that's a bad thing, buuuuut, if you plan to serve the cake bread at a party, or transport it to an event or as a gift (making you the best friend ever), I'd say stick with roughly two cups of diced strawberries (or whatever fruit you choose, diced small.)
Now let's get to that strawberry bread recipe!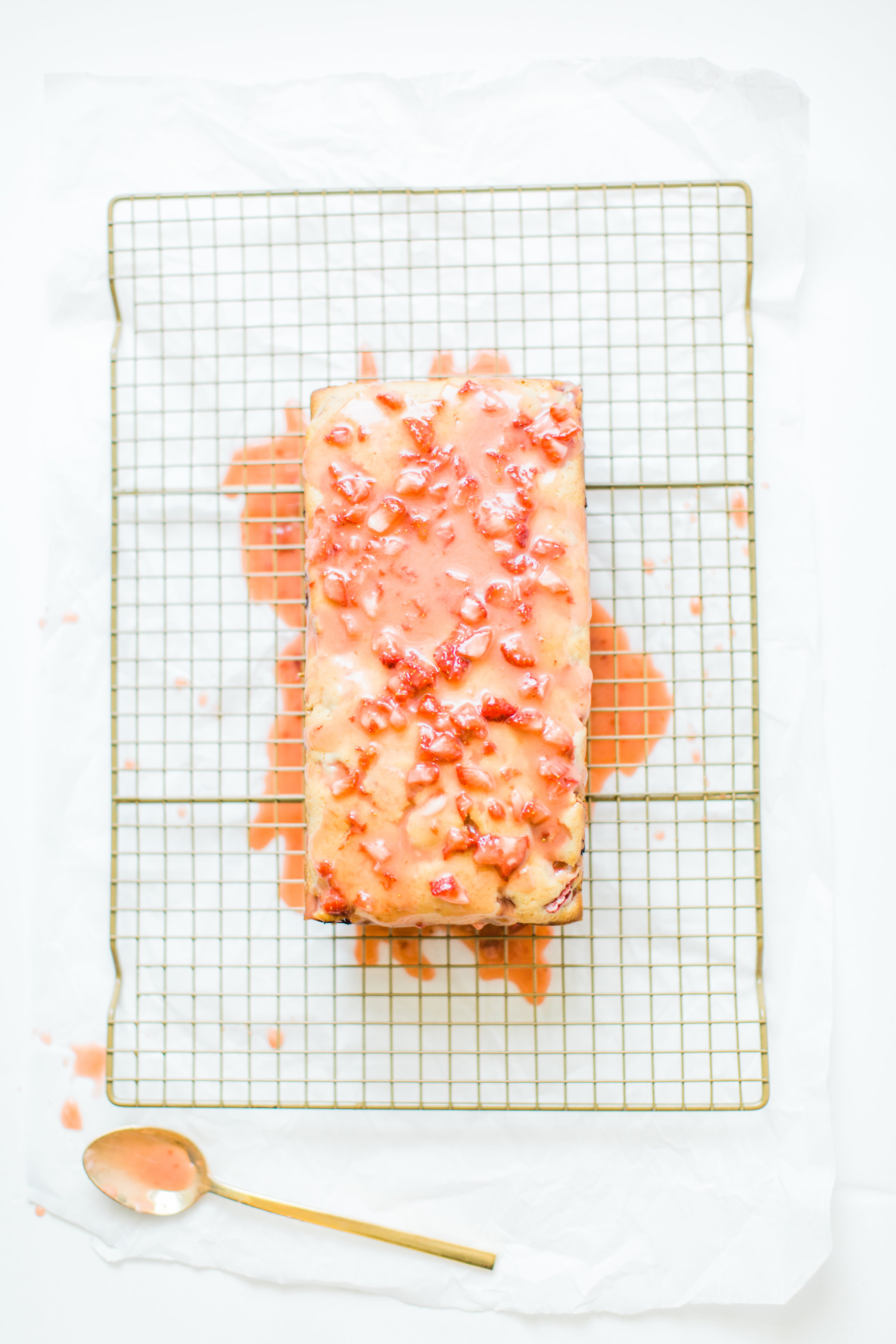 How to Make The Most Delicious Quick Strawberry Bread with Strawberry Glaze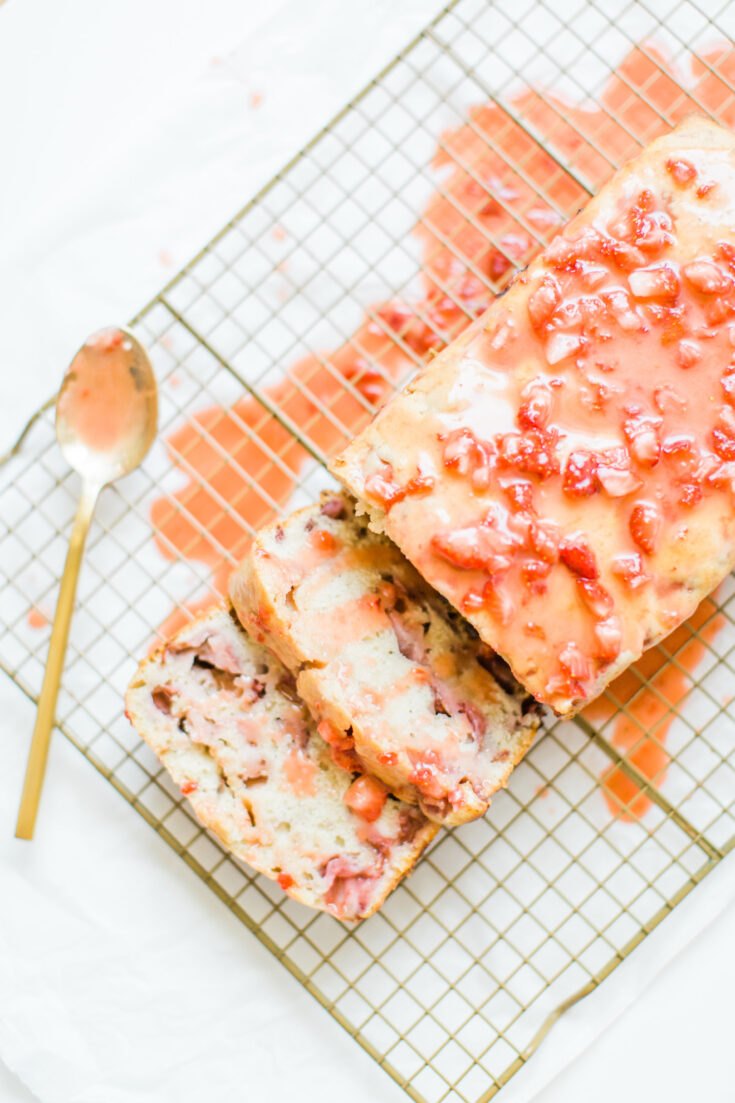 Yield:
Strawberry Bread with Strawberry Glaze
Ingredients
For the Bread:
3/4 cup granulated sugar
1/2 cup milk (or almond milk)
1/2 cup oil
1 large egg
1 teaspoon vanilla extract 
2 cups all-purpose flour
2 teaspoons baking powder
1/4 teaspoon salt
2 cups diced strawberries
2 tablespoons all-purpose flour
For the Glaze:
2 cups powdered sugar
2 tablespoons melted butter (I used Earth Balance to keep it dairy-free!)
1/3 cup finely diced strawberries
1/2 teaspoon vanilla extract 
Instructions
Preheat the oven to 350 degrees.
In a medium bowl, stir together the sugar, milk, oil, egg and vanilla. In a separate bowl, combine the flour, baking powder and salt. Add the dry ingredients to the wet ingredients and stir until just combined.
In a small bowl, toss together the strawberries and the 2 tablespoons of flour to coat the strawberries. Fold the floured strawberries gently into the batter.
Pour the bread batter into a greased 9"x5" bread pan. Bake at 350 degrees for 50-55 minutes. A toothpick inserted in the center of the bread should come out clean. Do not over-bake. Allow the bread to cool for 10 minutes, then remove the bread to a wire rack to cool completely.
To make the glaze, combine the powdered sugar, melted butter, diced strawberries and vanilla extract in a small bowl. Mix until it is smooth.
Once the bread is cool, spread the glaze on top of the bread. Slice and serve.
Notes
The glaze will be very thick and look like it is not mixing up, but if you keep mixing, it should create a nice creamy pink glaze as shown in my pictures. If it doesn't, you can add 1 tablespoon of milk or heavy cream, but in all likelihood, that will just make your glaze too runny. Trust me: the glaze will soften as it sits, since the sugar pulls out juices from the strawberries. If you do decide to add milk, keep this in mind when adding any milk and don't add too much!
Recipe Adapted via Tastes of Lizzy T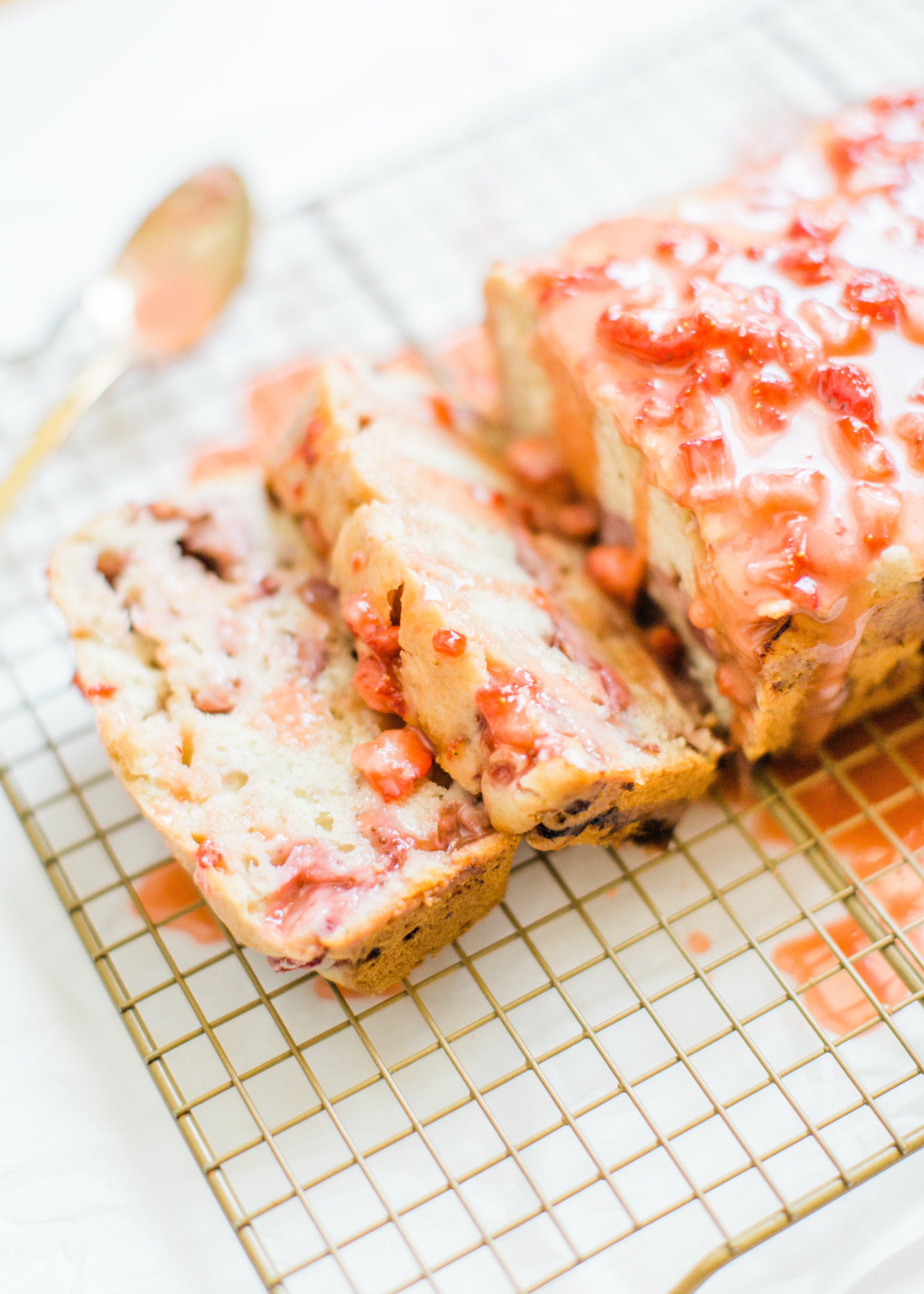 For starters, be sure to grease and flour your load pan (or spray with a good baking spray), so that your quick bread comes out of the pan easily.
Remember, as with all quick breads, to not over mix the batter. Mix the wet ingredients well, then mix in the dry ingredients just until they are combined; then gently fold in the strawberries. (Pro Tip: don't forget to toss the strawberries with flour so that they don't all sink to the bottom of the loaf).
Baking times vary a smidge depending on the size and shape of the pan (and whether the pan is glass or metal.) The quick strawberry bread should take *about* 50-55 minutes to bake. Be mindful not to open the oven too much when it's baking or the bread could collapse a bit in the middle. Use the oven light to check on your bread until it looks done, and then test it with a toothpick. (Your toothpick should come up dry, but moist.)
Allow the strawberry bread to cool in the loaf pan for about 15-20 minutes and then carefully turn it out onto a wire rack to cool completely.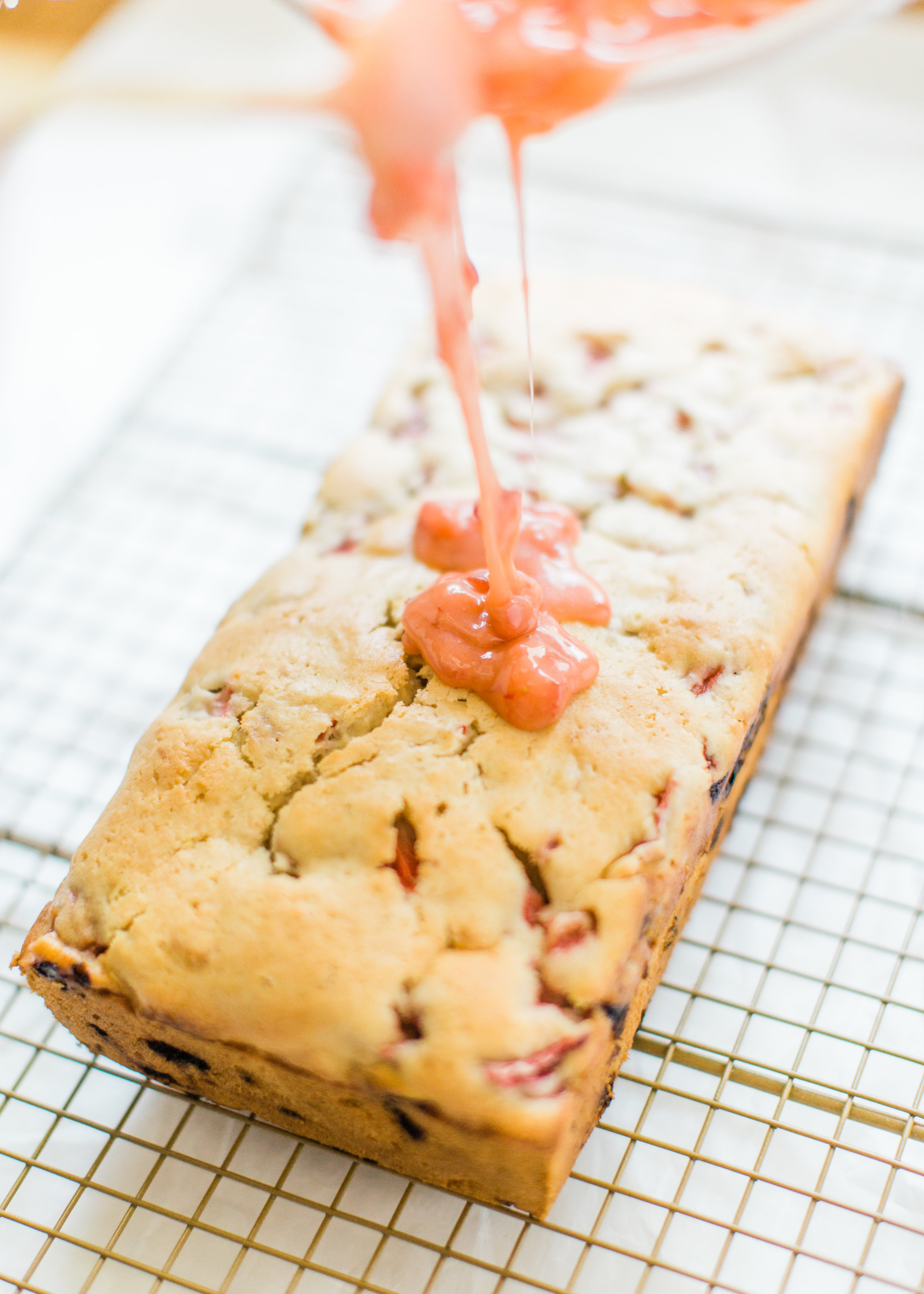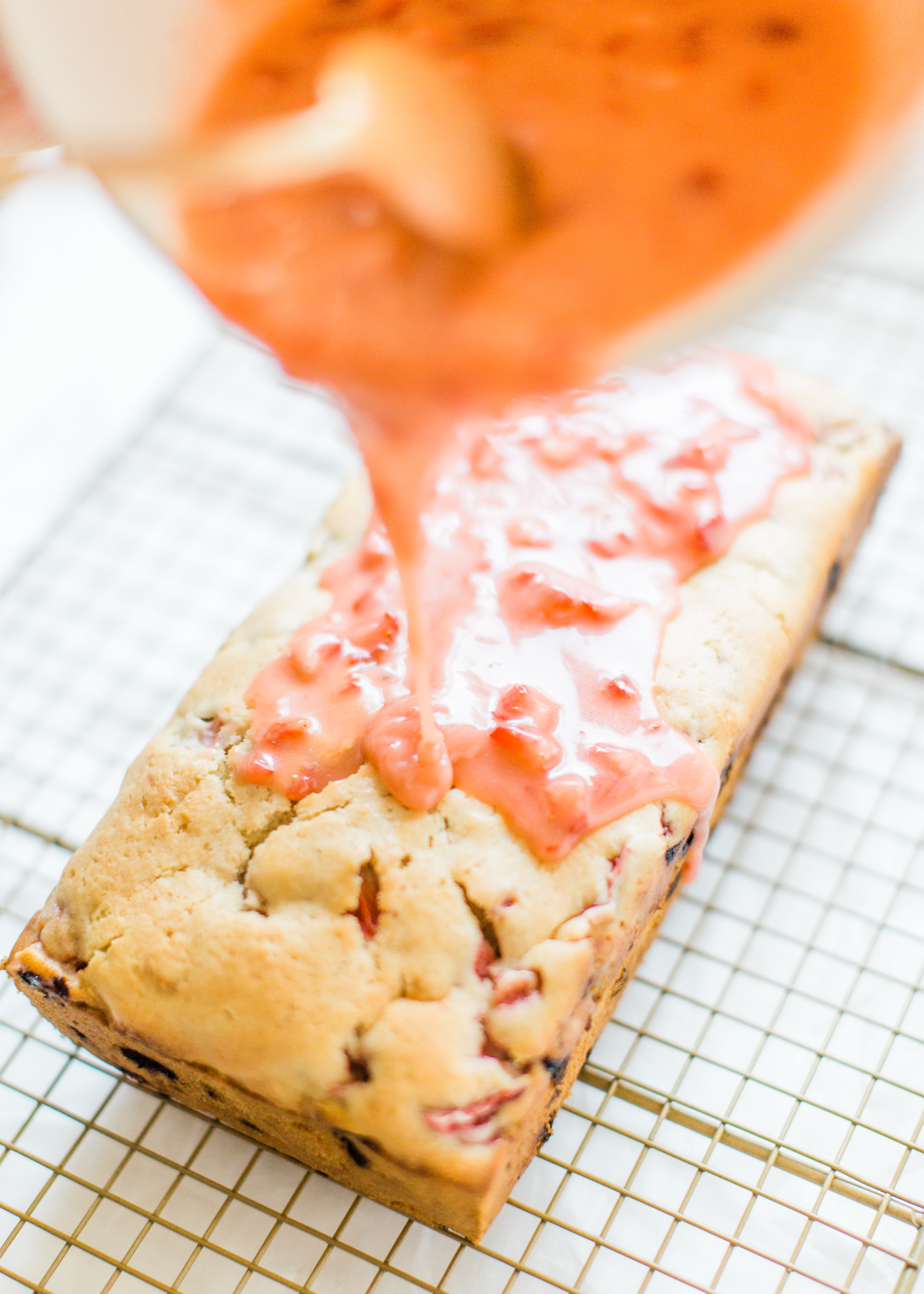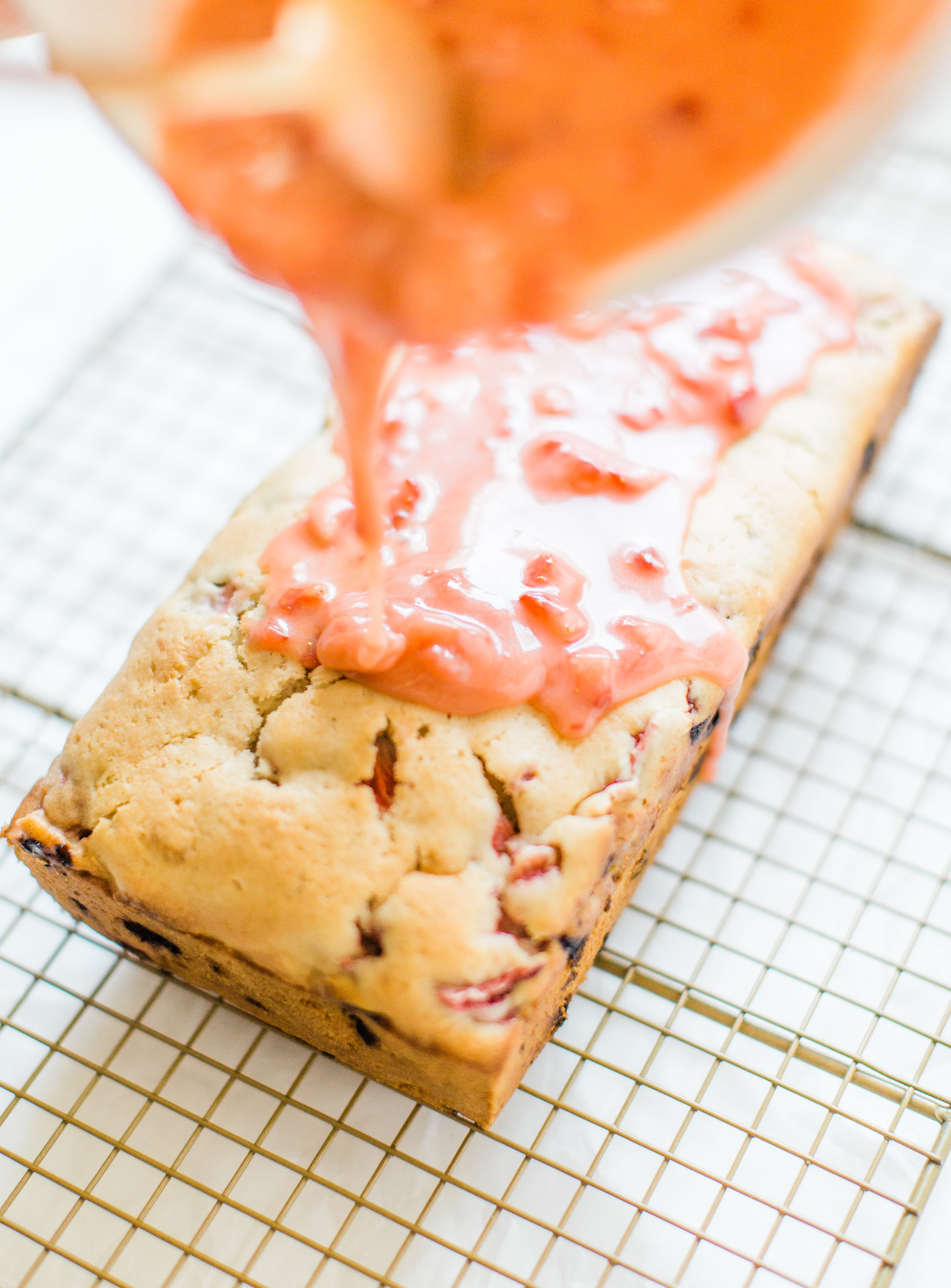 STRAWBERRY GLAZE
A few tips regarding the strawberry glaze:
Allow the bread to cool completely before you add the glaze or it will melt everywhere.
I didn't need to use any milk or cream to make the glaze spreadable, but it may depend on the juiciness of your strawberries. I used about 1/3 cup of freshly diced strawberries in this powdered sugar glaze. The glaze will be very thick and look like it is not mixing up, but if you keep mixing, it should create a nice creamy pink glaze as shown above. If it doesn't, add milk or heavy cream 1 tablespoon at a time. The glaze will soften as it sits too since the sugar pulls out juices from the strawberries. Keep this in mind when adding milk and don't add too much, if any at all!
Because of the fresh fruit in the glaze, you'll want to store the bread in the refrigerator.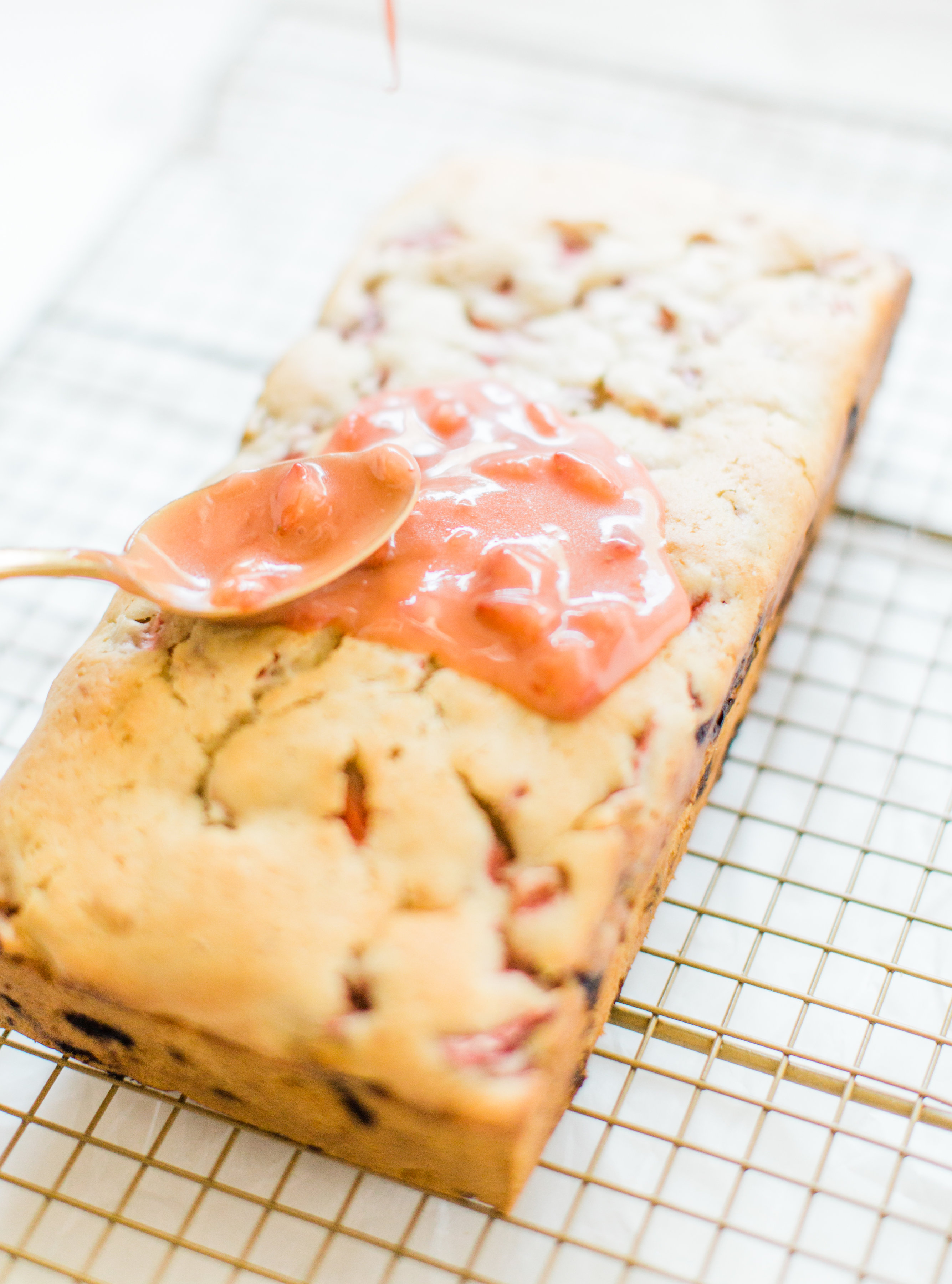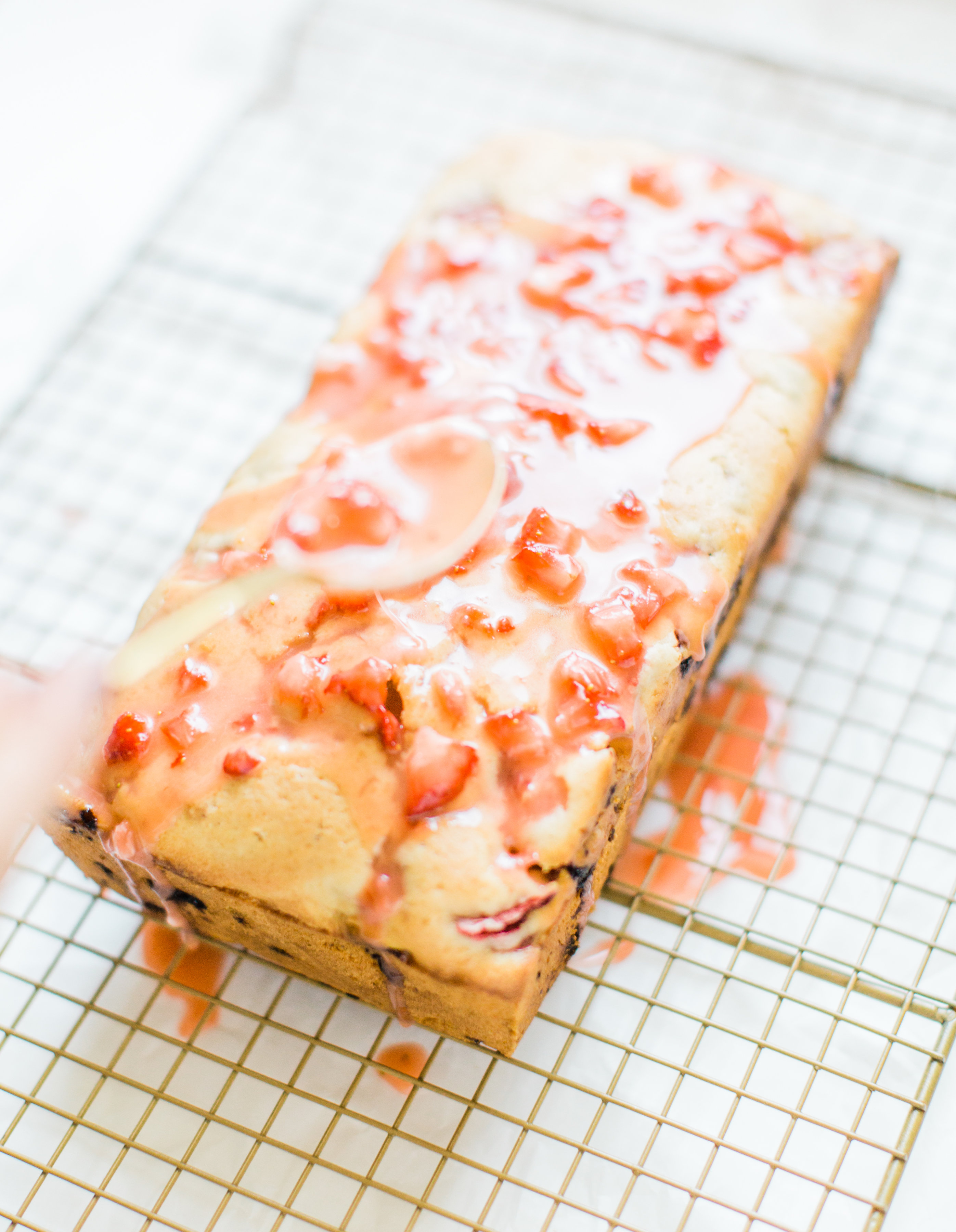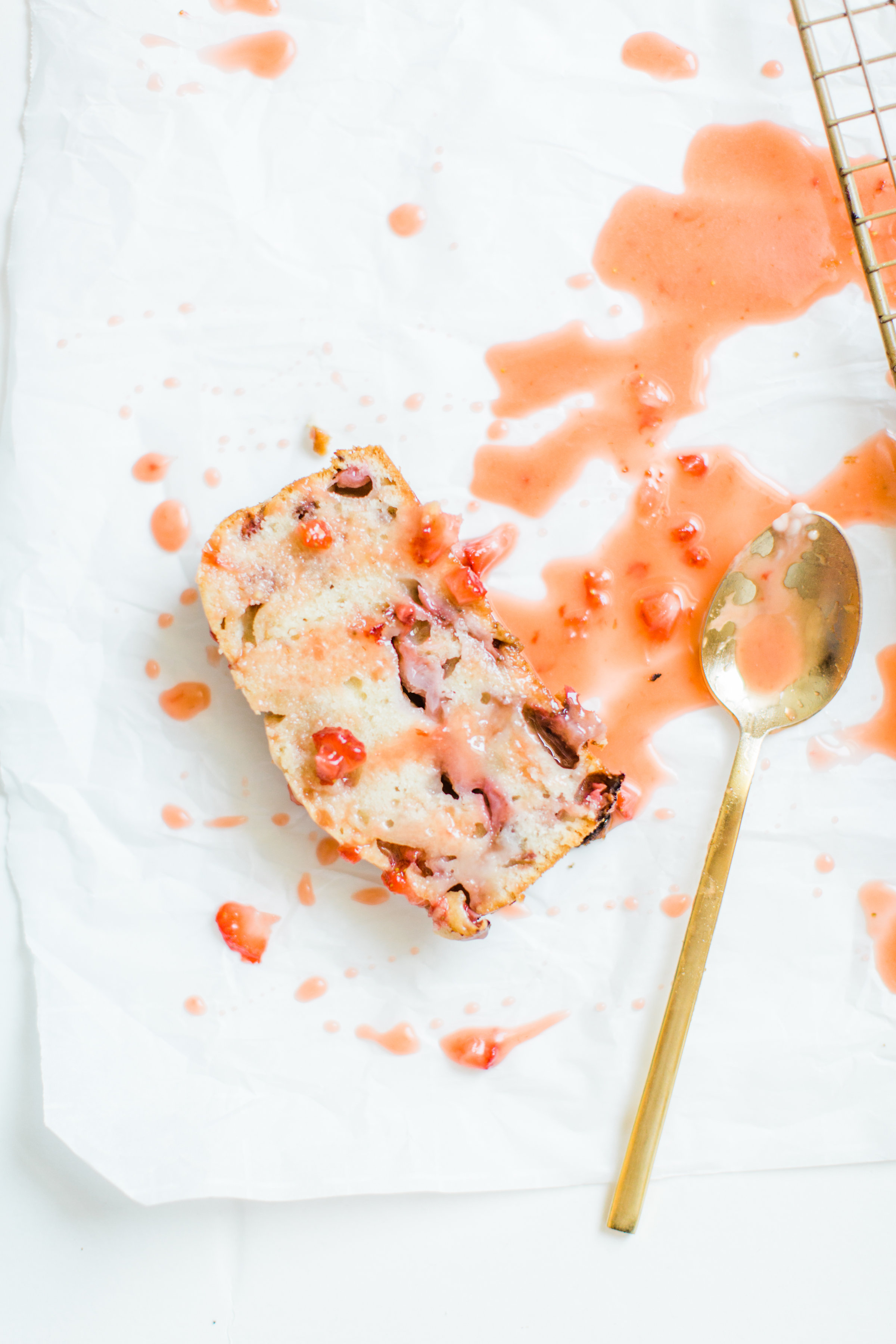 Obviously, you can cut back on the glaze, but in this house, we're alllll about that frosting.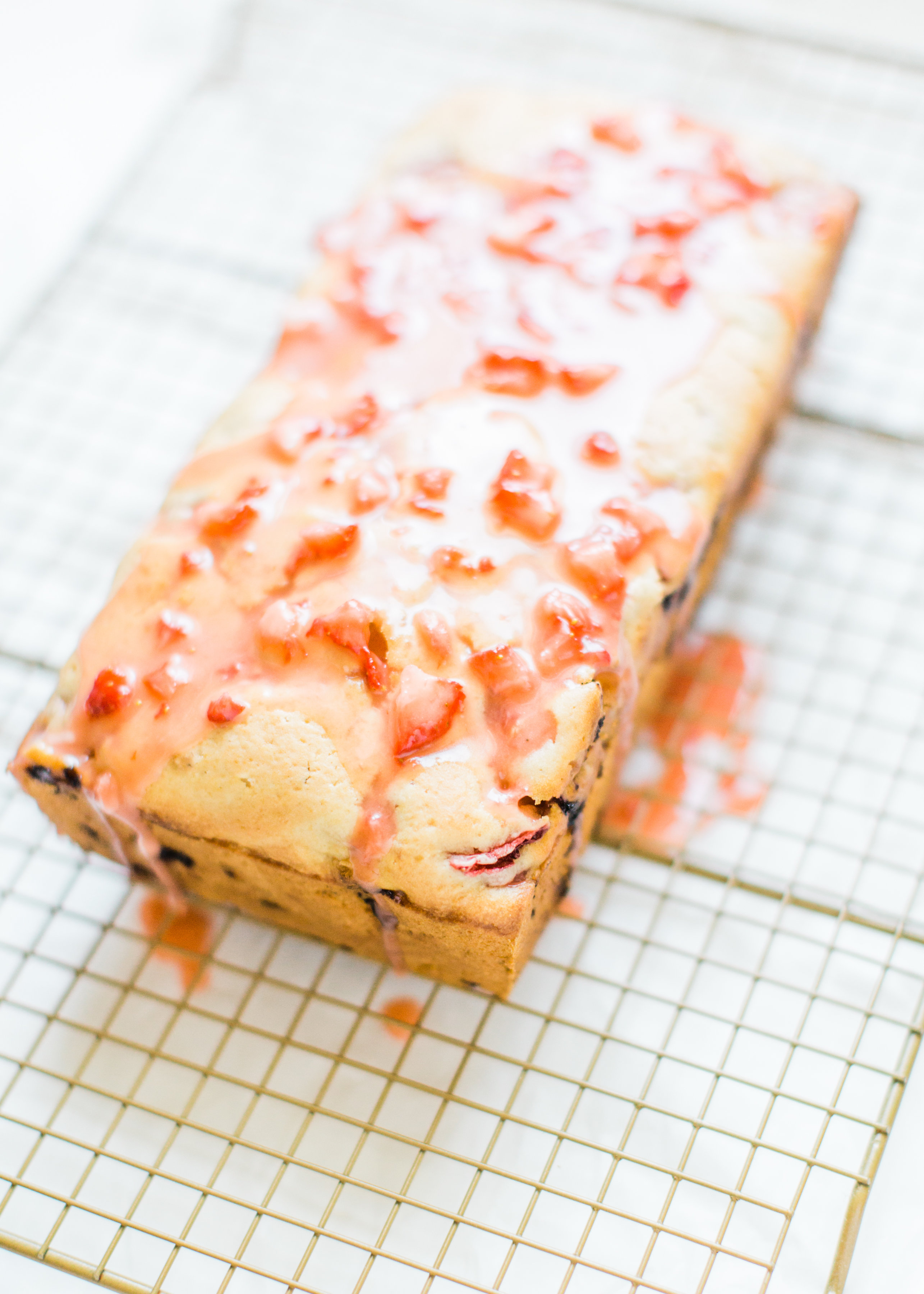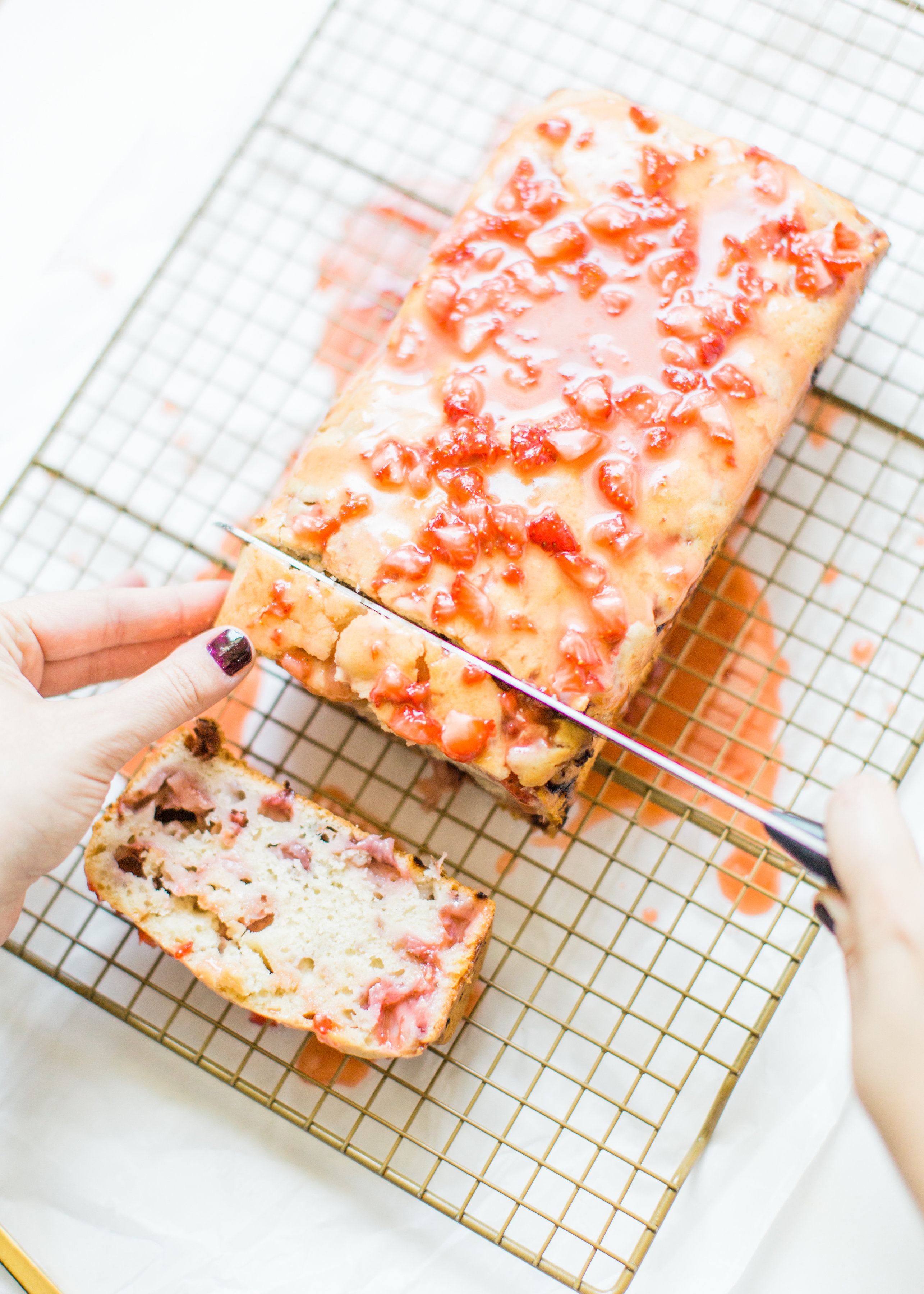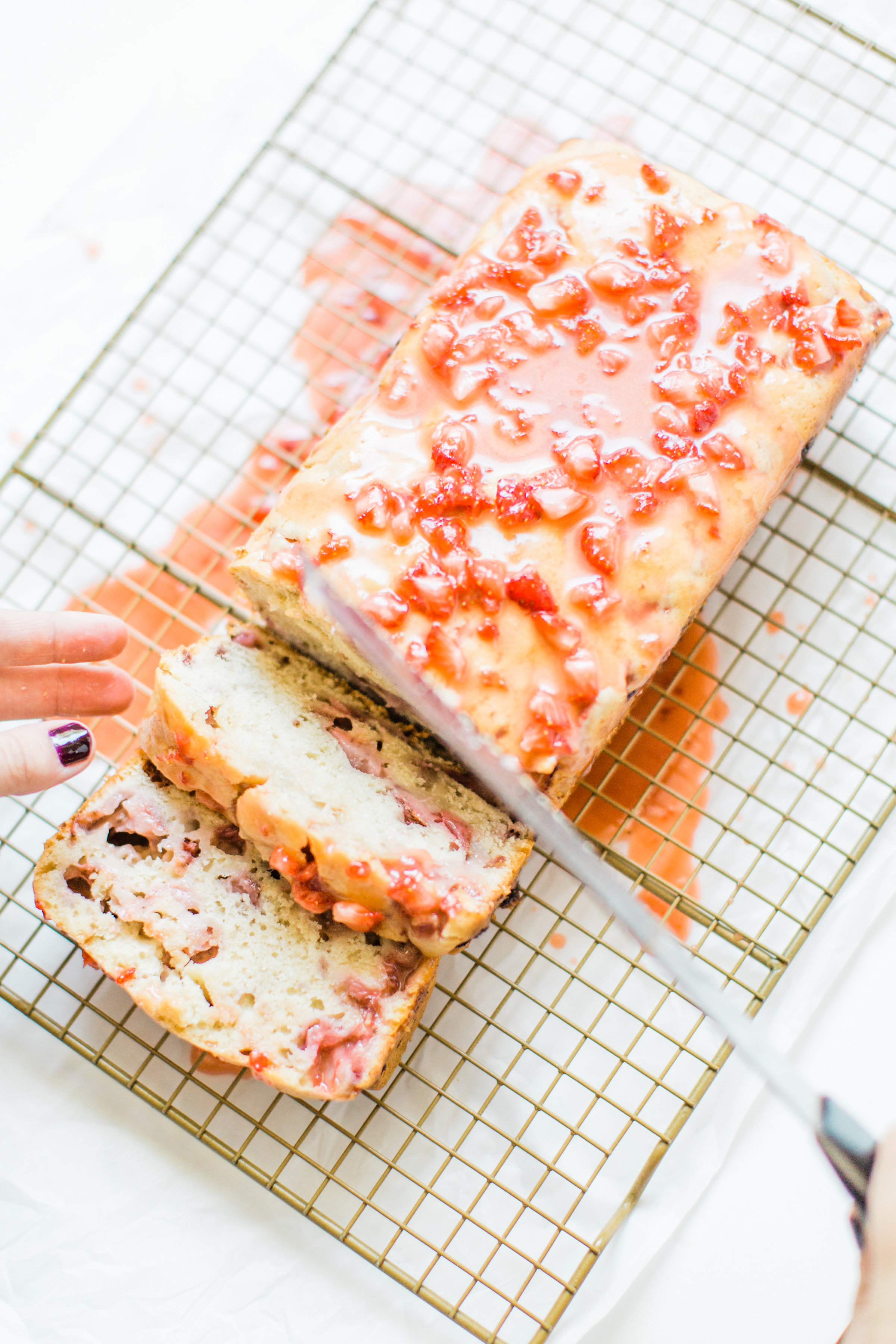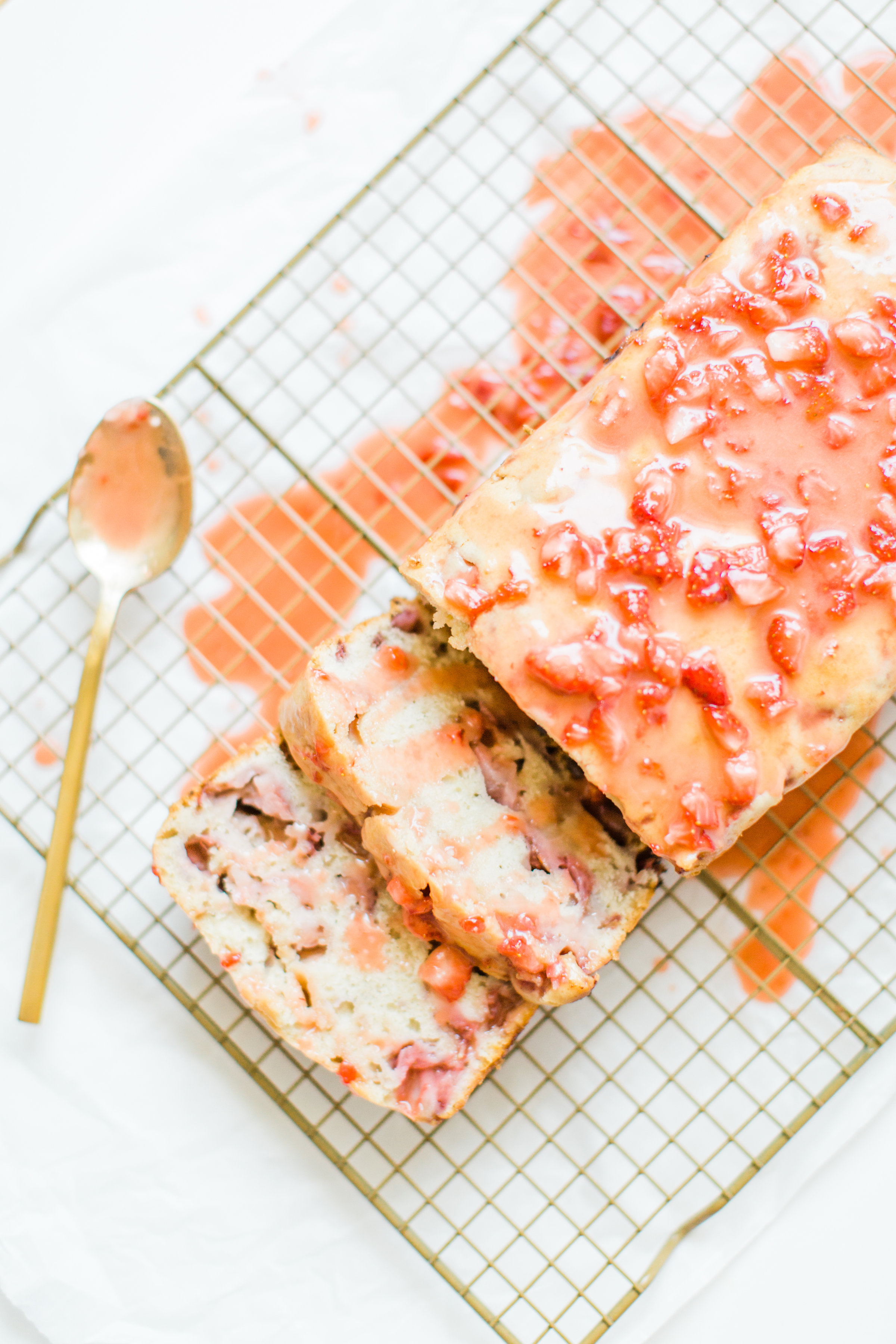 If you need a dessert hat's sure to be a hit: this quick strawberry bread with strawberry glaze is 100% it.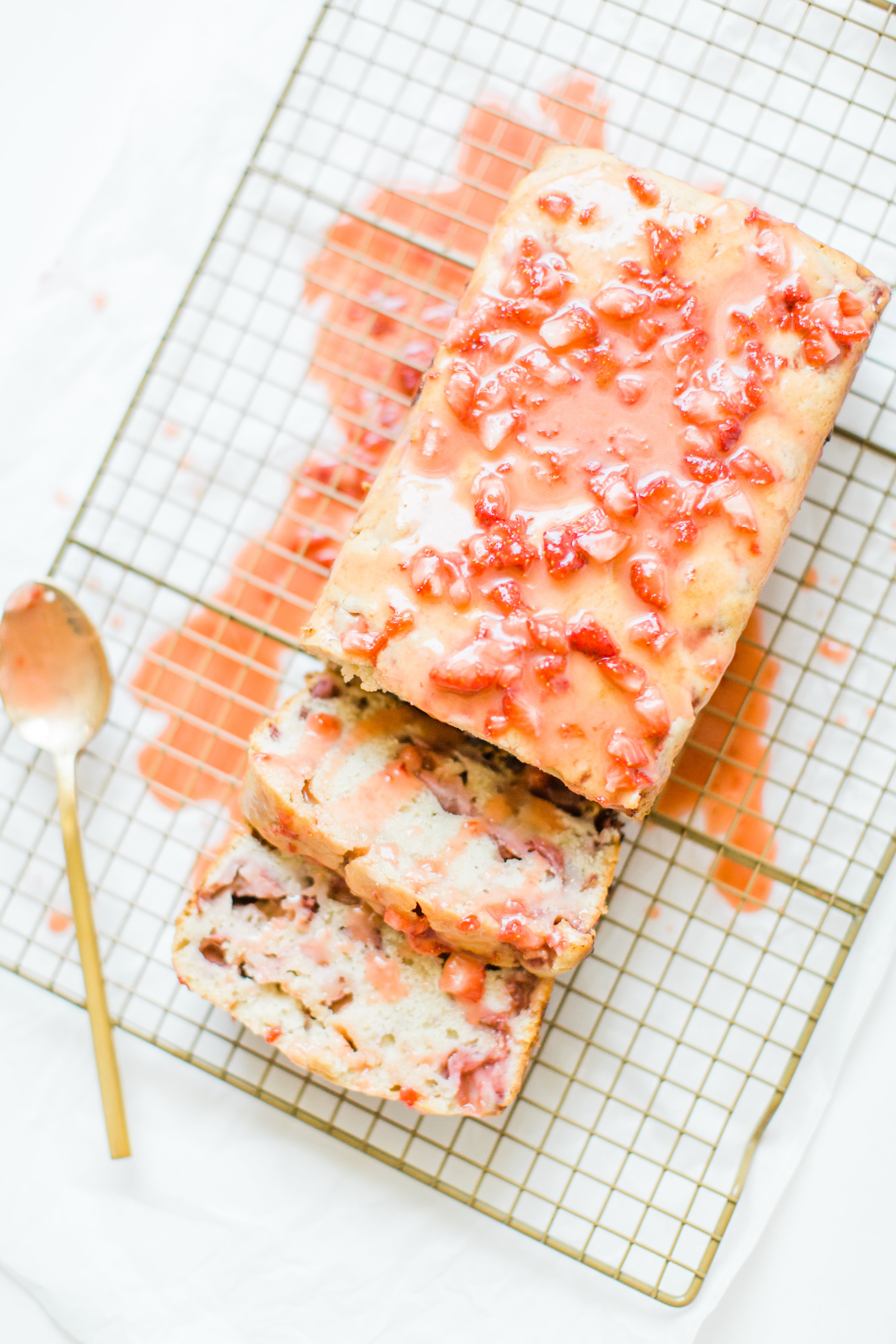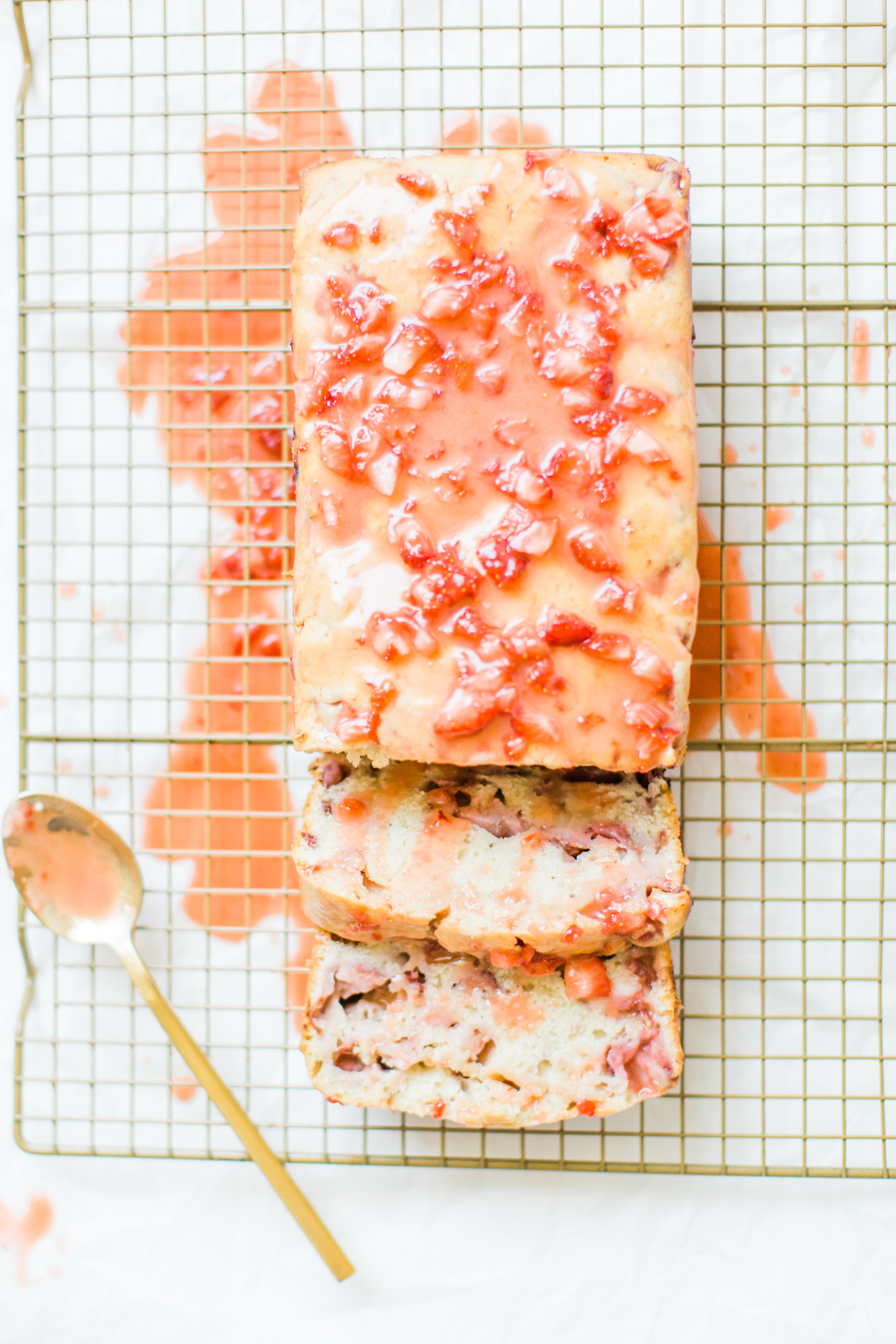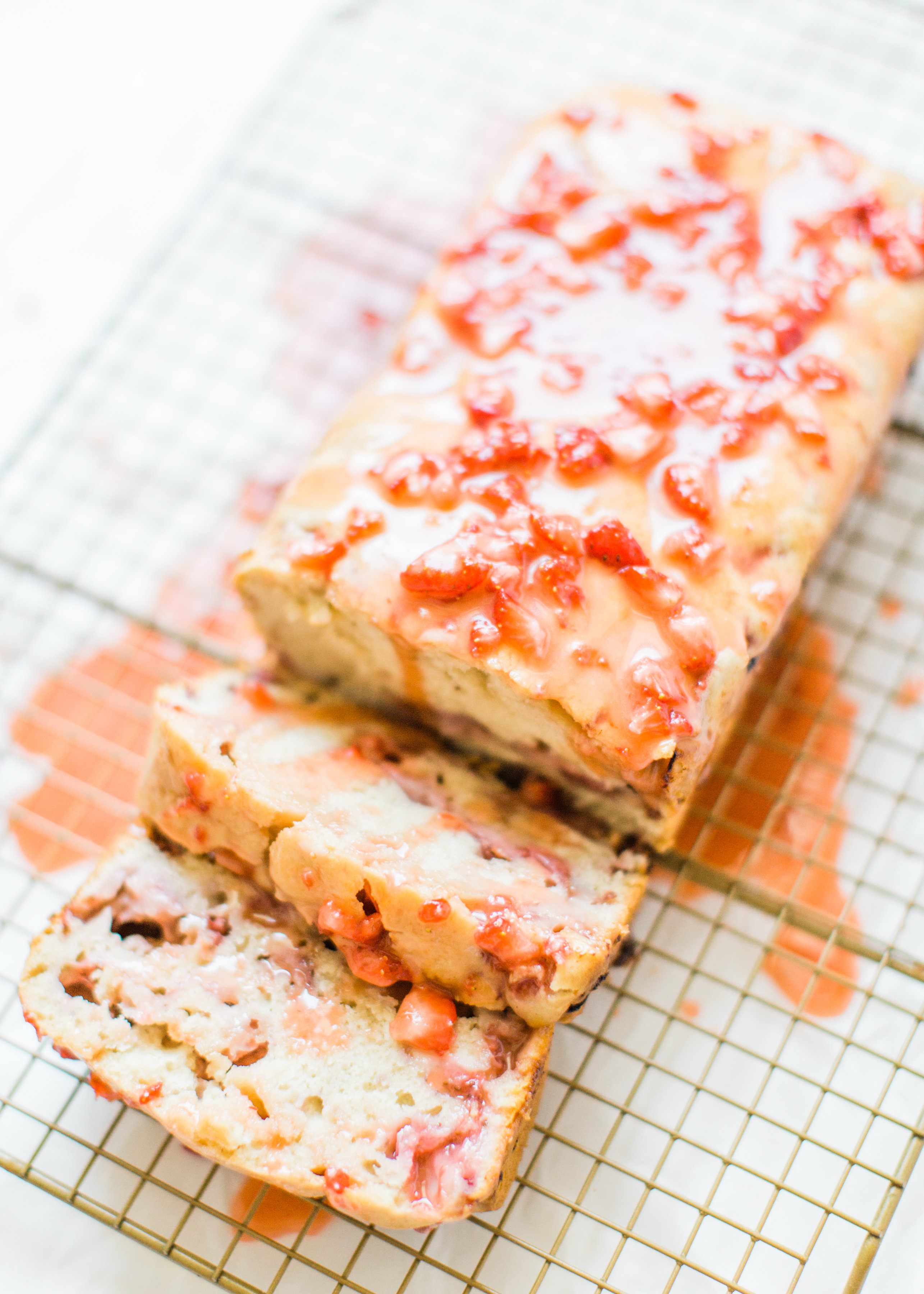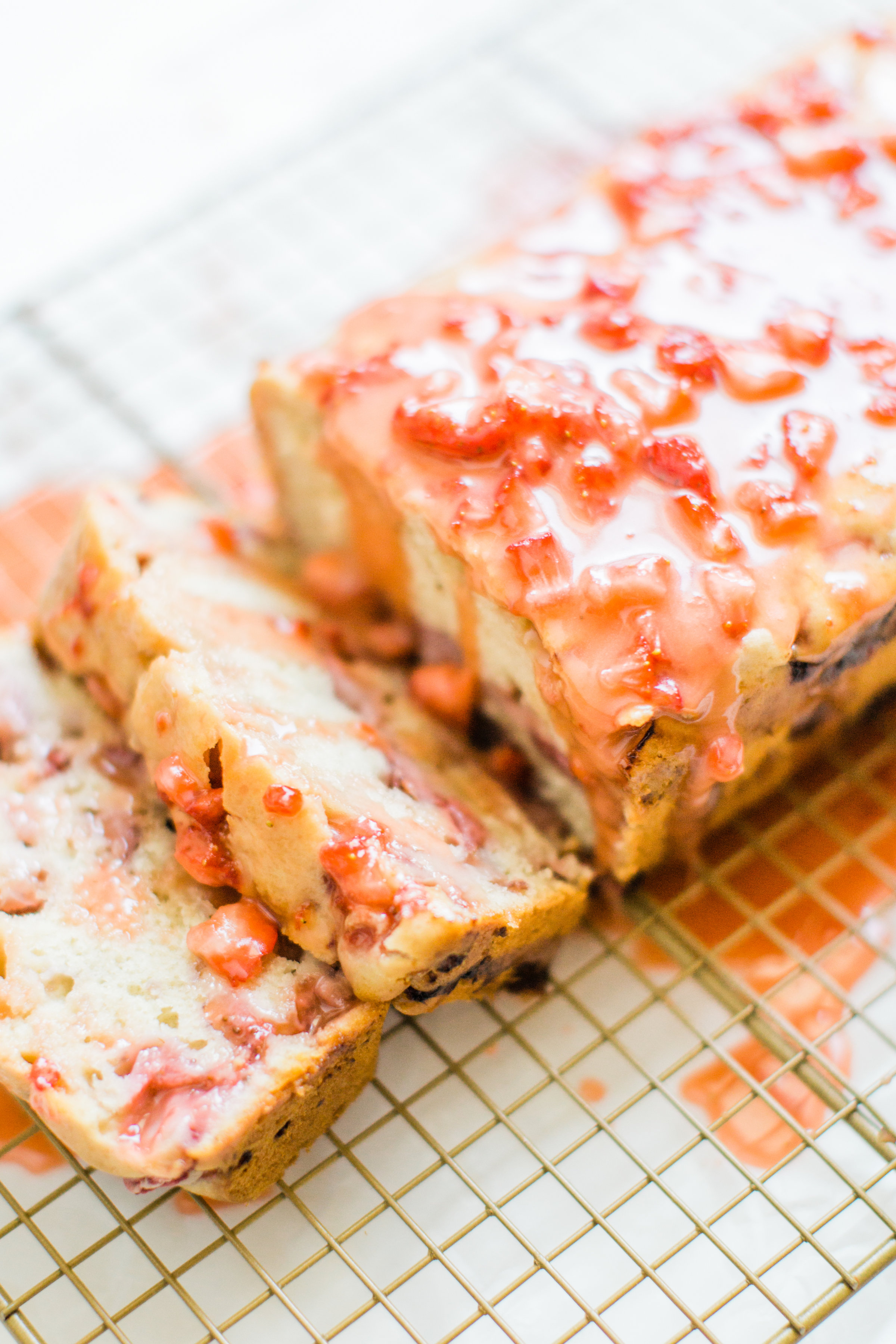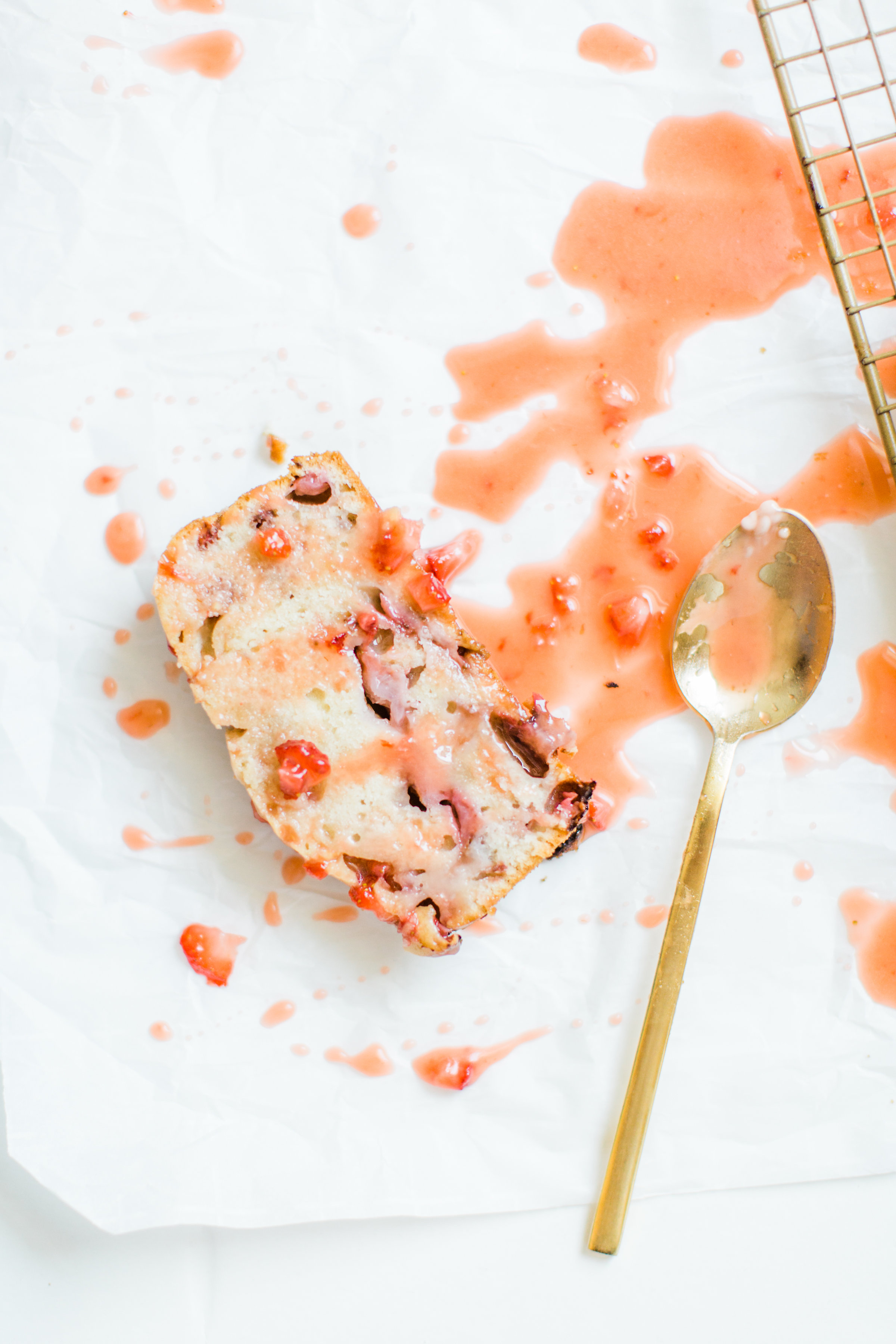 Love this quick strawberry bread with strawberry glaze? Head to our recipe page to check out what else we're dreaming up in the kitchen!
SHOP THE QUICK STRAWBERRY BREAD RECIPE POST | CLICK LEFT & RIGHT ARROWS TO EXPLORE

Photos by Annie Timmons Photography for Glitter, Inc.