This post contains affiliate links, which means that if you click on one of the product links, I'll receive a small commission. Thank you so much for clicking through and helping to support this little blog business of mine! Read more about our site, privacy, and disclosure policies here.
These simple overnight oats are super convenient and SO delicious! They are gluten free, vegan, and make for the perfect healthy breakfast option. Plus, we're showing you how to make overnight oats three ways – all delicious!
When it comes to resolutions, well, I'm just not very good at them. I like to give myself attainable goals. (i.e., 5 ways I plan to be happier in the new year.) And one of the ways I keep things attainable is by making sure they're EASY. If I try to add something complicated to my already busy routine, it's probably not going to stick. Something told me I was going to love overnight oats as I started seeing recipes pop up for them the last few months. I already love oatmeal and I'm always looking for healthy and simple breakfast options, because despite wanting to just guzzle nothing but coffee in the morning, breakfast really is the most important meal of the day. (My mom would be so proud!) But for someone reason, I was slow to try the overnight oats trend, and I've gotta say, I'm just bummed I missed out on all of that easy (and good-for-you) breakfast goodness!
Once you learn how to make easy overnight oats – and the recipe couldn't be easier – it will hands-down become your new breakfast obsession.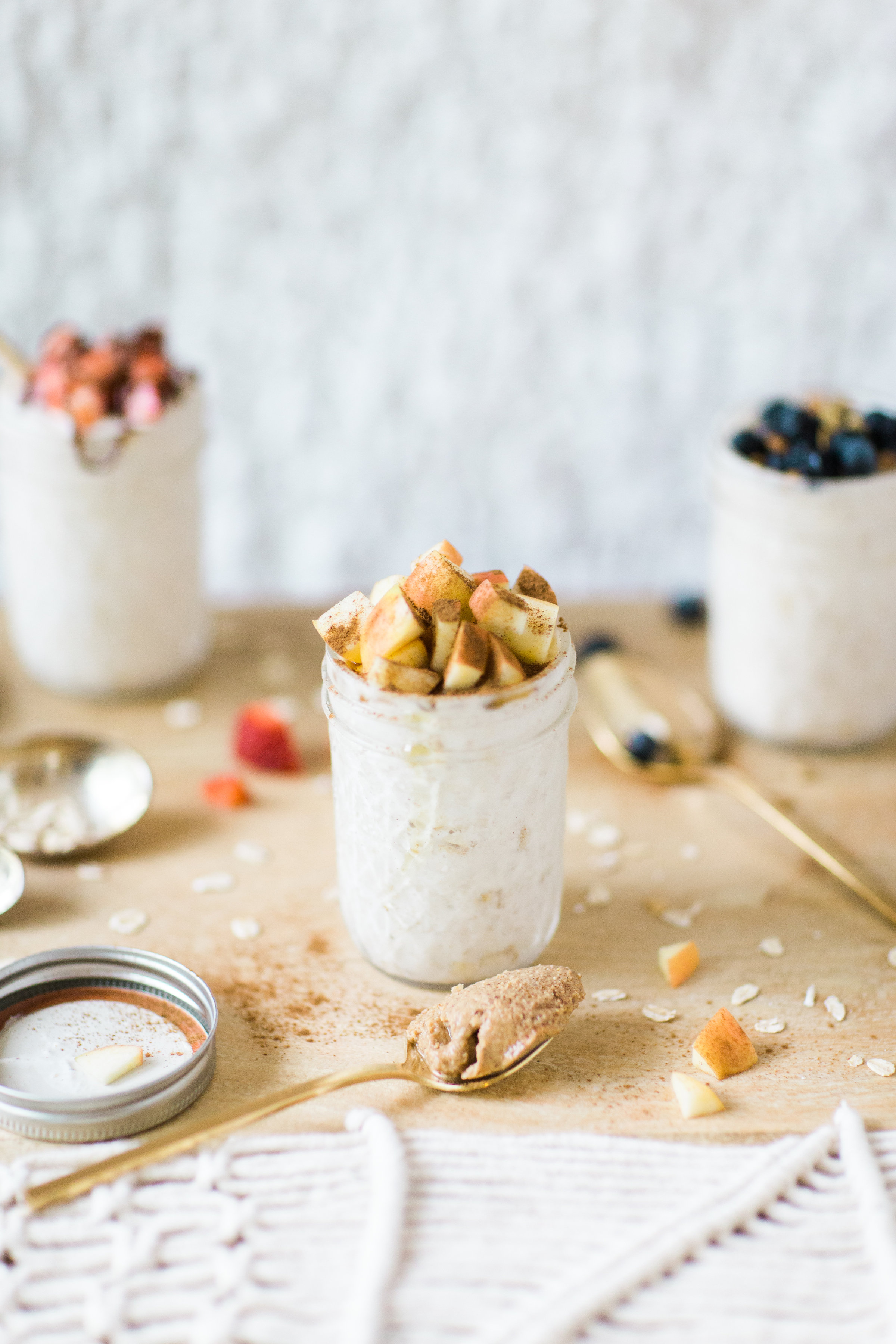 Because I'm so smitten, I'm bringing you THREE, yes 3, of my favorite overnight oats recipes. The mix-ins are pretty endless, giving you plenty of variations on breakfast. Things like mini dark chocolate chips, crushed peanuts, nut butters, jellies and jams, cocoa powder, fresh fruit, seeds; all of these make awesome additions to your overnight oats.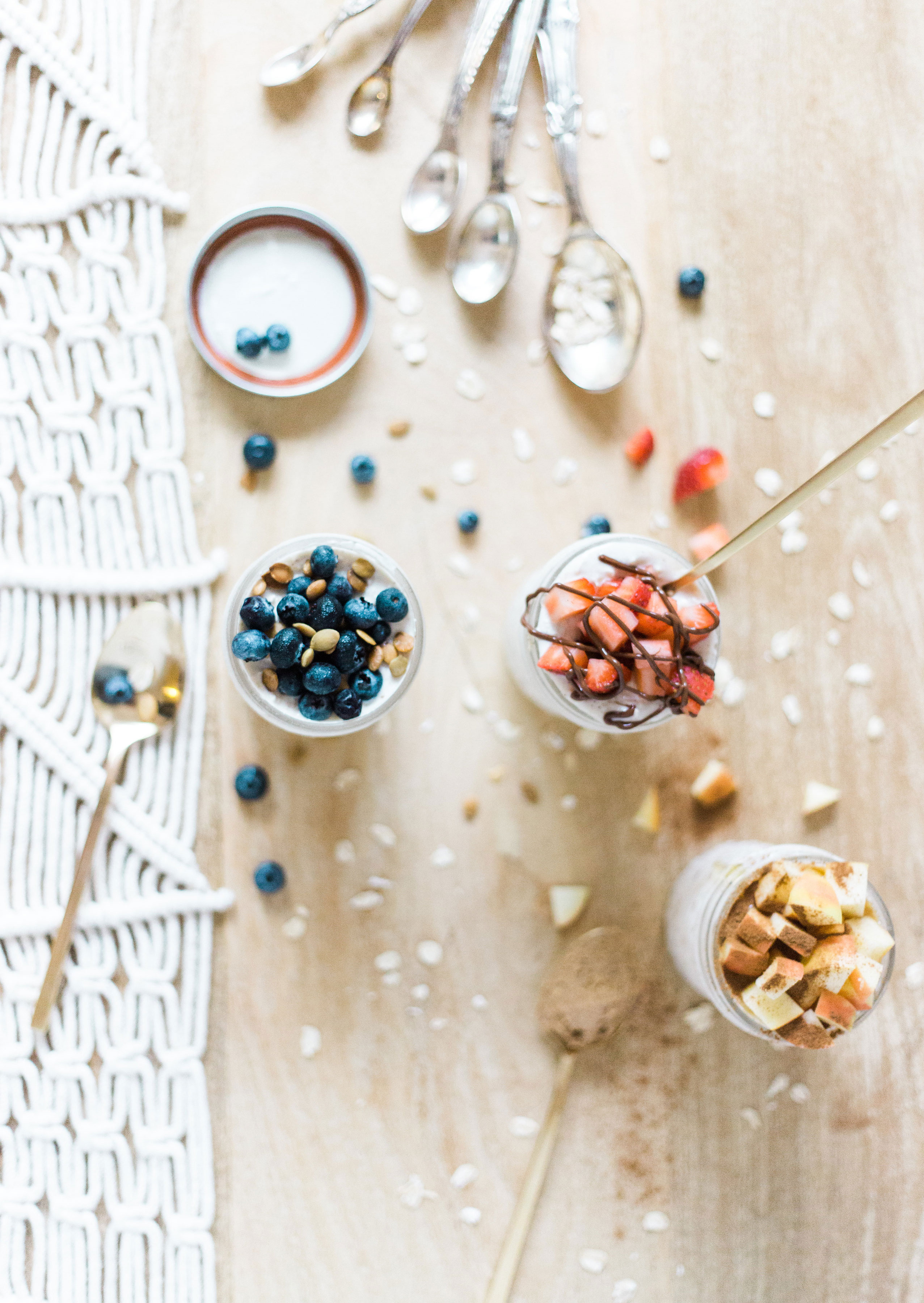 HOW TO MAKE OVERNIGHT OATS
SERVINGS: 1
PREP TIME: 8 minutes
COOK TIME: 4-5 hours, preferably overnight
INGREDIENTS
1/2 cup Quaker Oats Standard Old Fashioned Oats
1/2 cup fat-free milk or nut milk like almond or cashew
2 tsp. honey
DIRECTIONS
Put the rolled oats into your container or jar (I love these jelly jars!) and then add the milk and honey. No need to stir before placing the mixture into the fridge overnight. Seal the container and place in the refrigerator overnight, or for at least 4-5 hours so that the oats absorb all of the liquid.
The next morning, all you got to do is grab the oats from fridge, stir, and enjoy. (Yep, it's that simple.)
NOTE: You can either add in your flavors the night before, or make the simple version the night before and add your toppings the next morning. It's totally a personal preference!
You can eat this cold right out of the fridge or you can heat it up in the microwave for 1-2 minutes and enjoy hot. (I actually love it cold!)
The 3 ways I love eating my overnight oats are …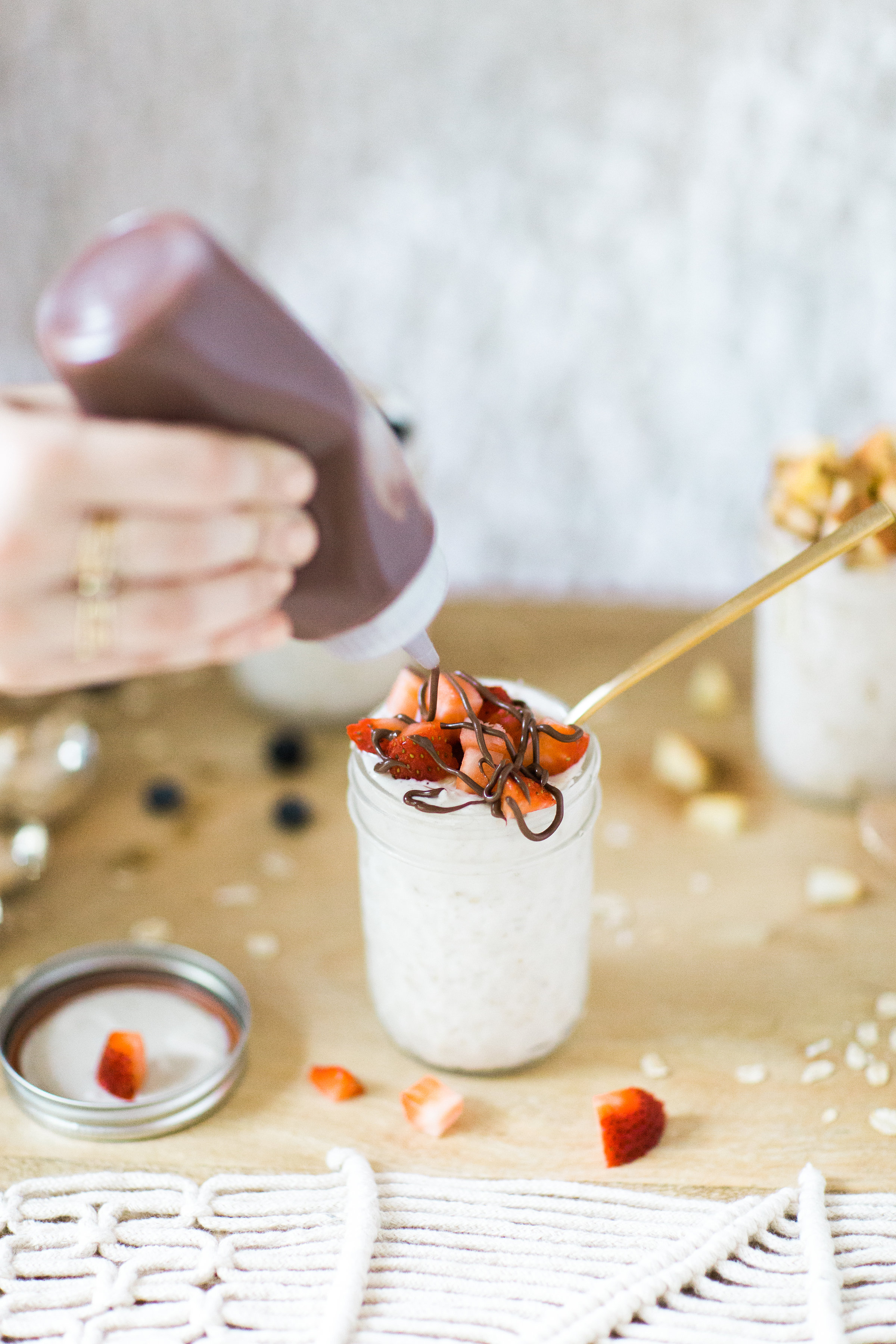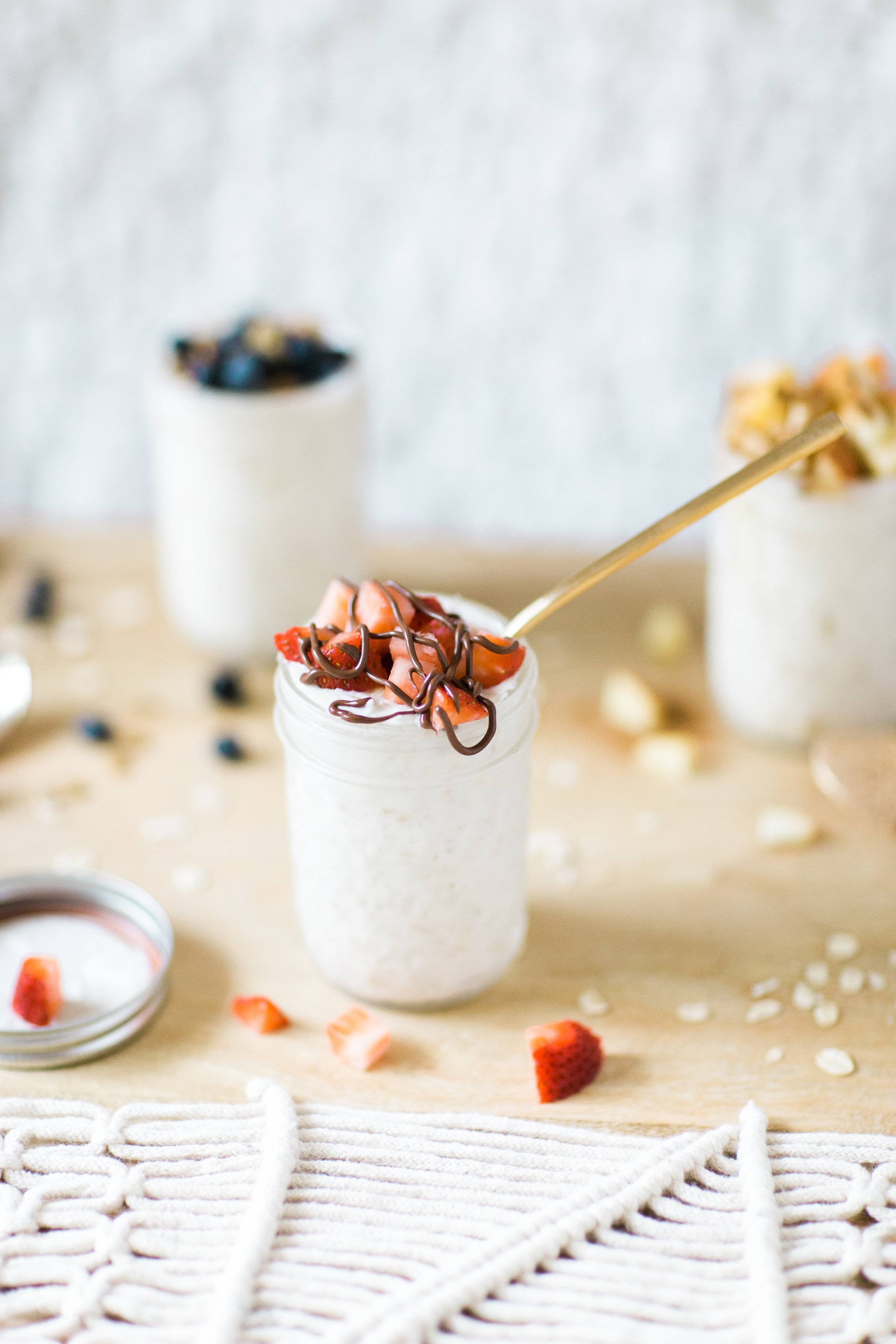 Strawberries and Nutella
Because sometimes you just need a little bit of chocolate (or Nutella.) I am strawberry fanatic, and the little drizzle of Nutella makes me feel like I'm eating a decadent dessert. SO good.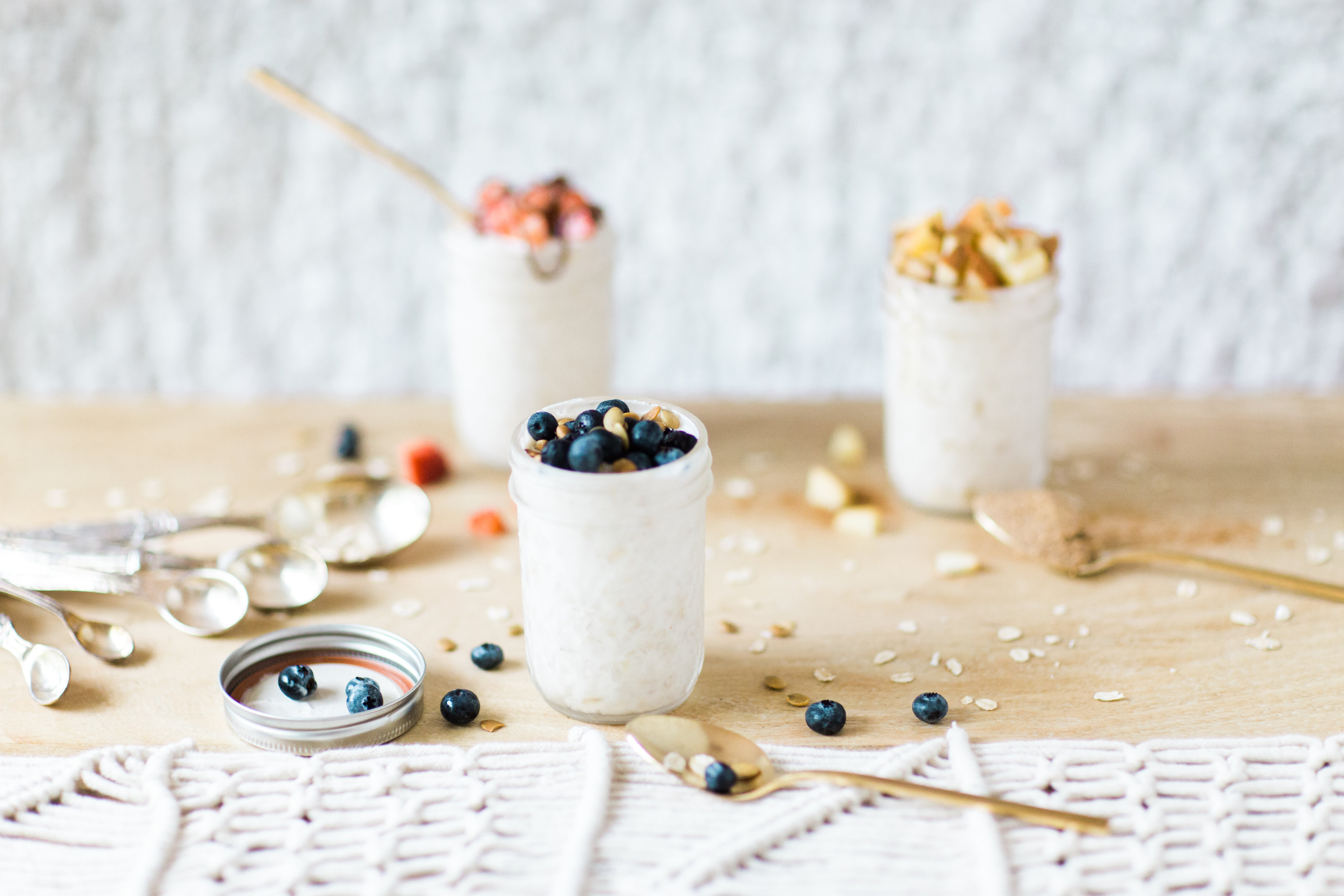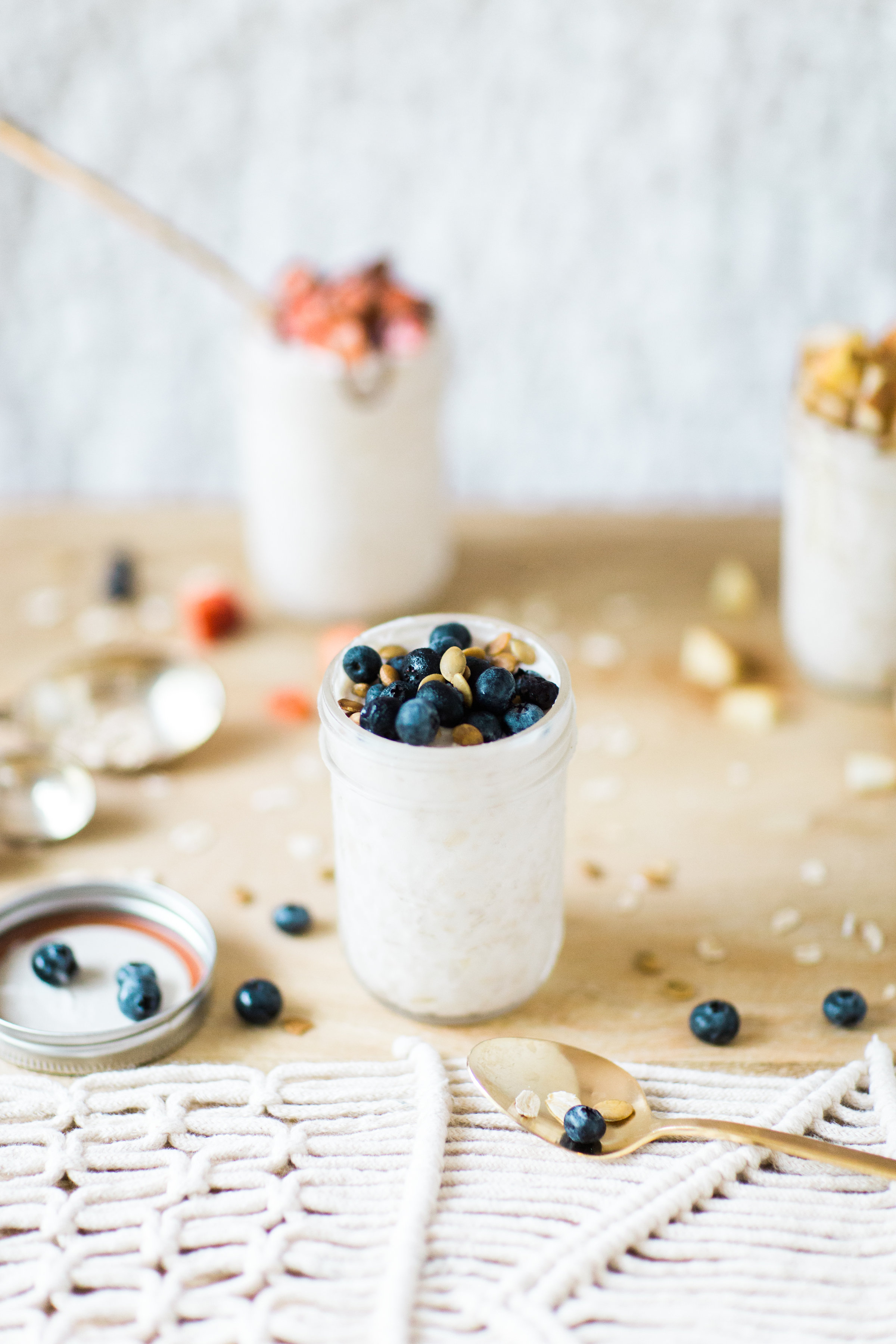 Blueberries and Pepitas
I love how nuts and seeds like pepitas (a.k.a., pumpkin seeds), crushed peanuts, almond slivers, walnuts, and sunflower seeds add that extra crunch to the overnight oats. Blueberries are lightly sweet and tart and pack plenty of fiber.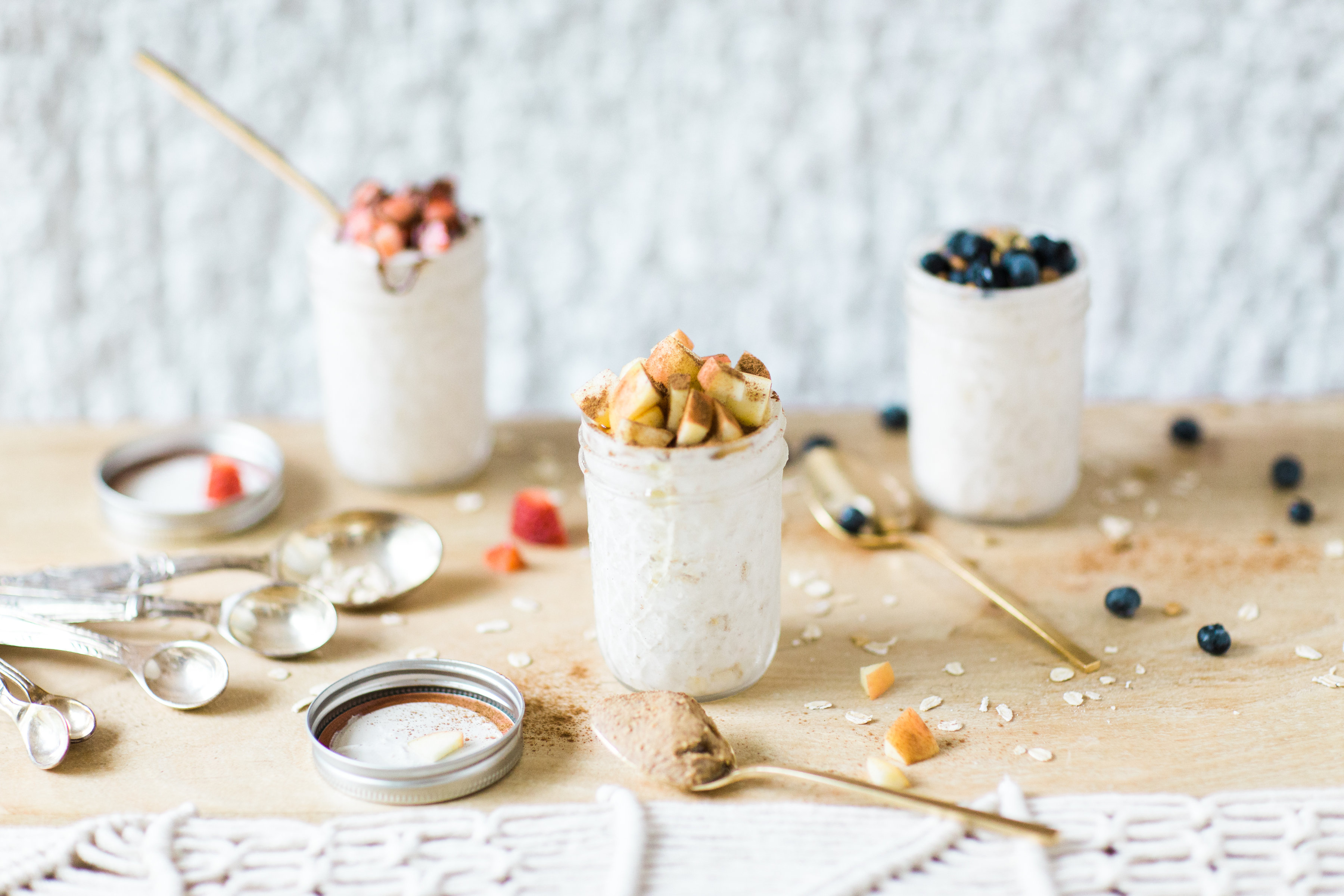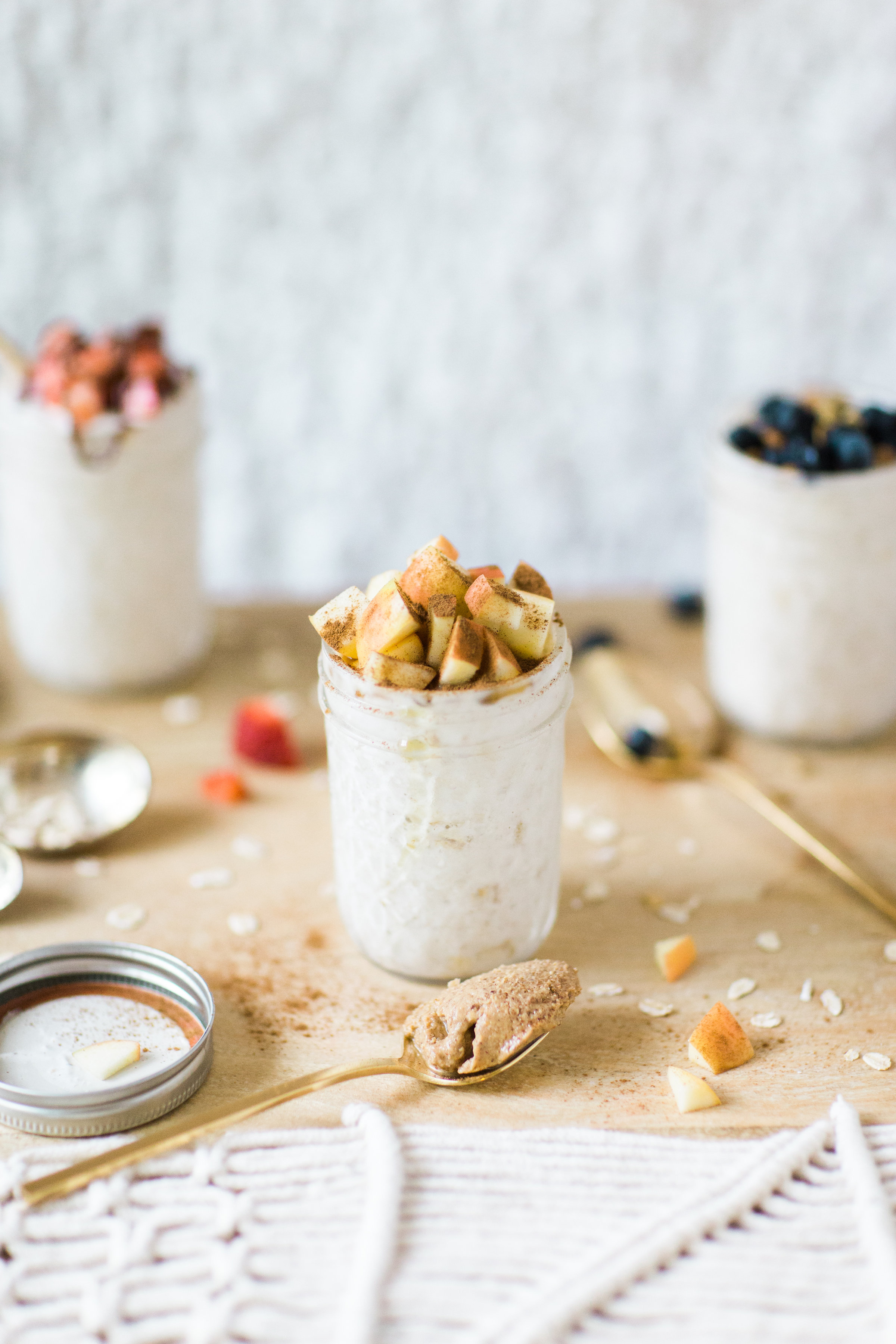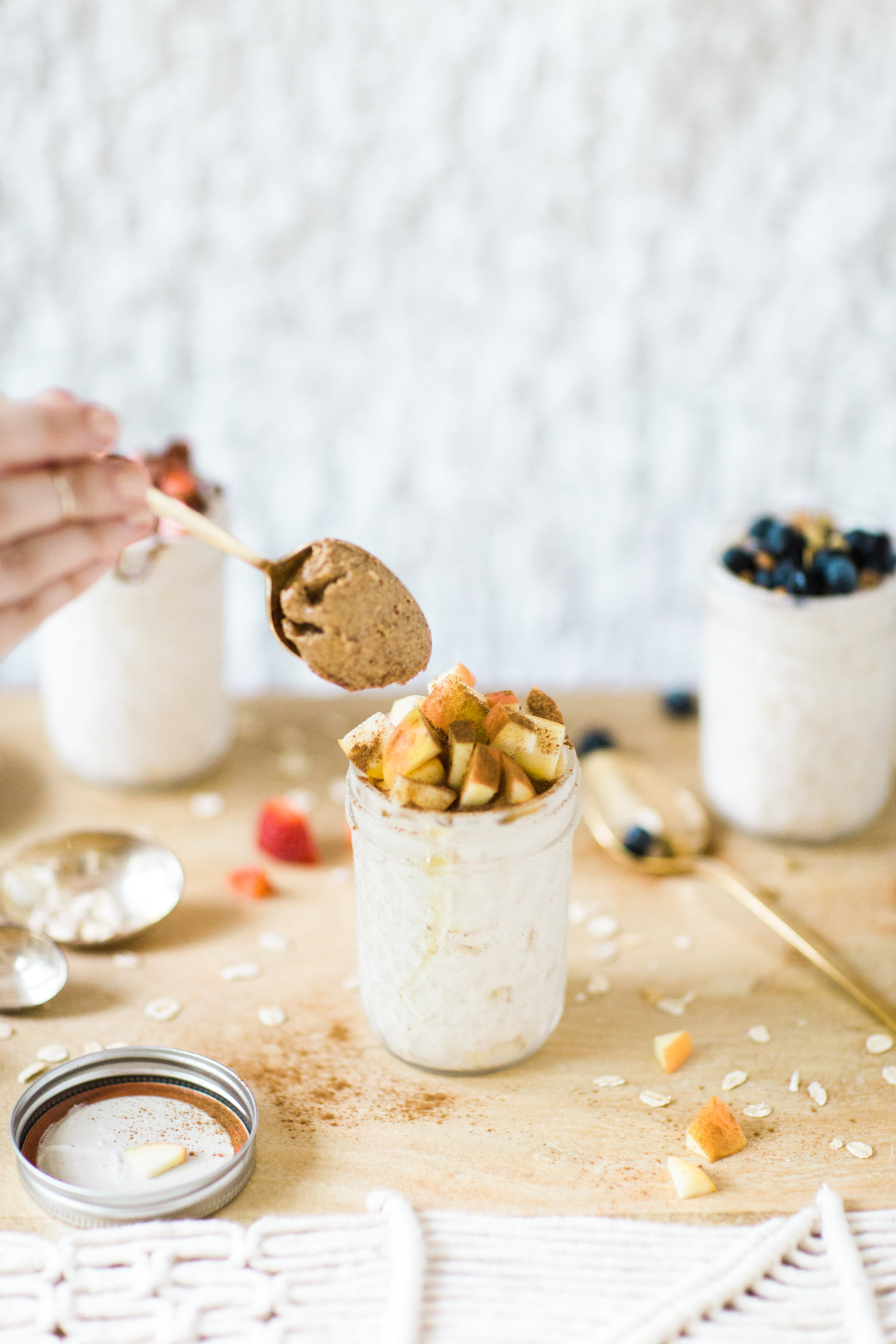 Apples, Almond Butter, and Cinnamon
This is one of my favorite combinations. I actually throw the diced apple chunks into the oats, milk, and honey the night before so that the apples soften a bit overnight as well. In the morning I just stir in a tablespoon of almond butter and top with cinnamon.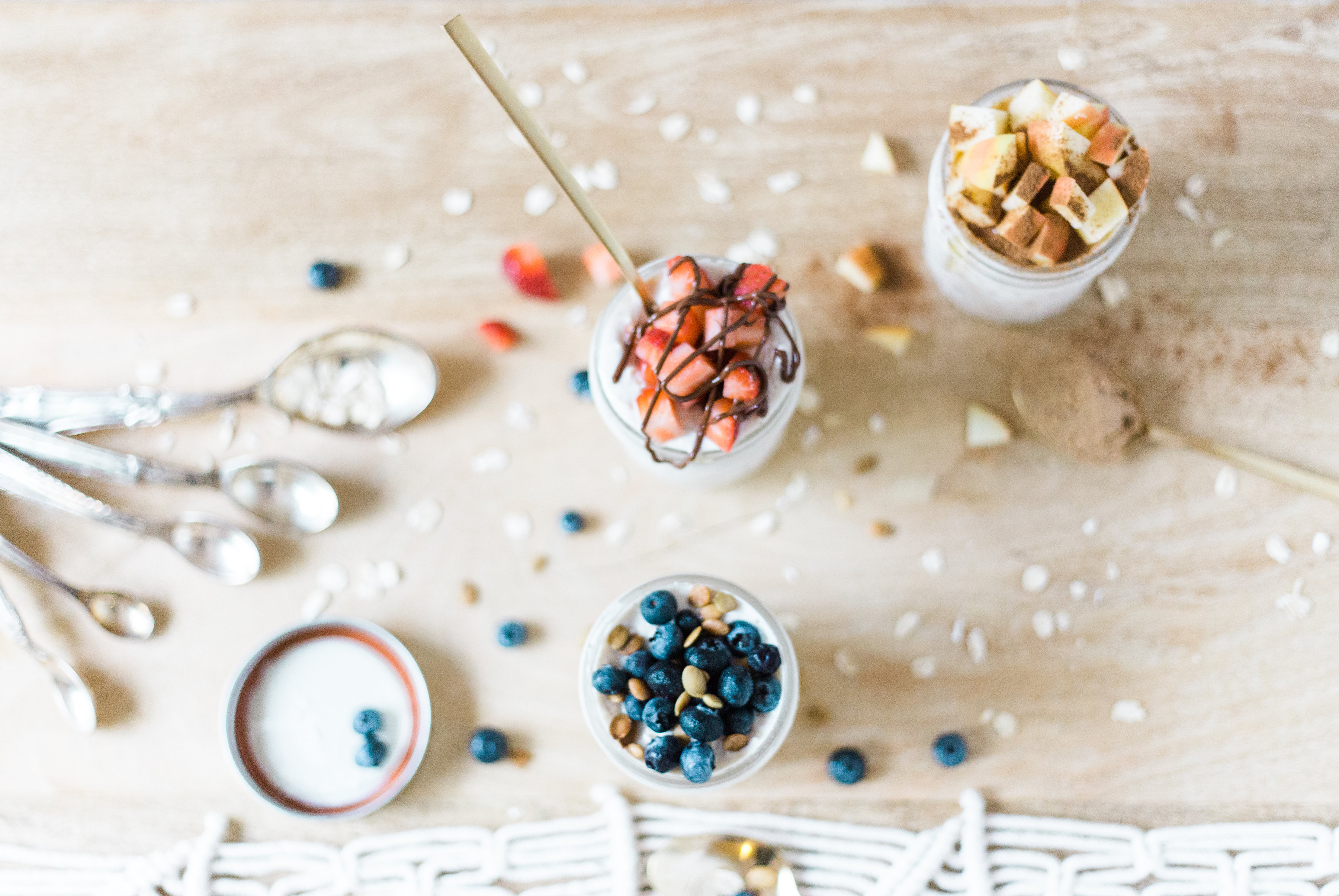 Have you tried overnight oats? Are you hooked yet? What are your favorite mix-ins or toppings?
SHOP THE POST | CLICK LEFT & RIGHT ARROWS TO EXPLORE

Photos by Annie Watts Photography