This post contains affiliate links, which means that if you click on one of the product links, I'll receive a small commission. Thank you so much for clicking through and helping to support this little blog business of mine! Read more about our site, privacy, and disclosure policies here.
One of the major perks of cold weather is getting to make and eat soup! Read on to find 100+ delicious family-approved soup recipes to make all fall and winter long.
I'm a HUGE fan of soup. I love making soup, eating soup, serving soup to the family, and of course, I love eating yummy soup leftovers the next day. (Ever notice soup tastes even better the next day?) I love that soup can be both hearty and still remain relatively healthy. In addition, soup really warms you from the inside out and fills your belly in the best kind of way. I swear, soup sometimes just feels good for the soul.
And of course, delicious one pot meals – like soup – make preparing dinner and clean up time a breeze. Most soups are dump-all-of-the-ingredients and let-simmer kind of meals, and goodness knows, I dig that. Soups are also perfect for feeding a crowd and make for amazing leftovers. Basically, soup is the perfect family meal, which is probably why I make at least one soup for dinner a week, especially through the colder months of fall and winter.
So now on to the soup! 🍲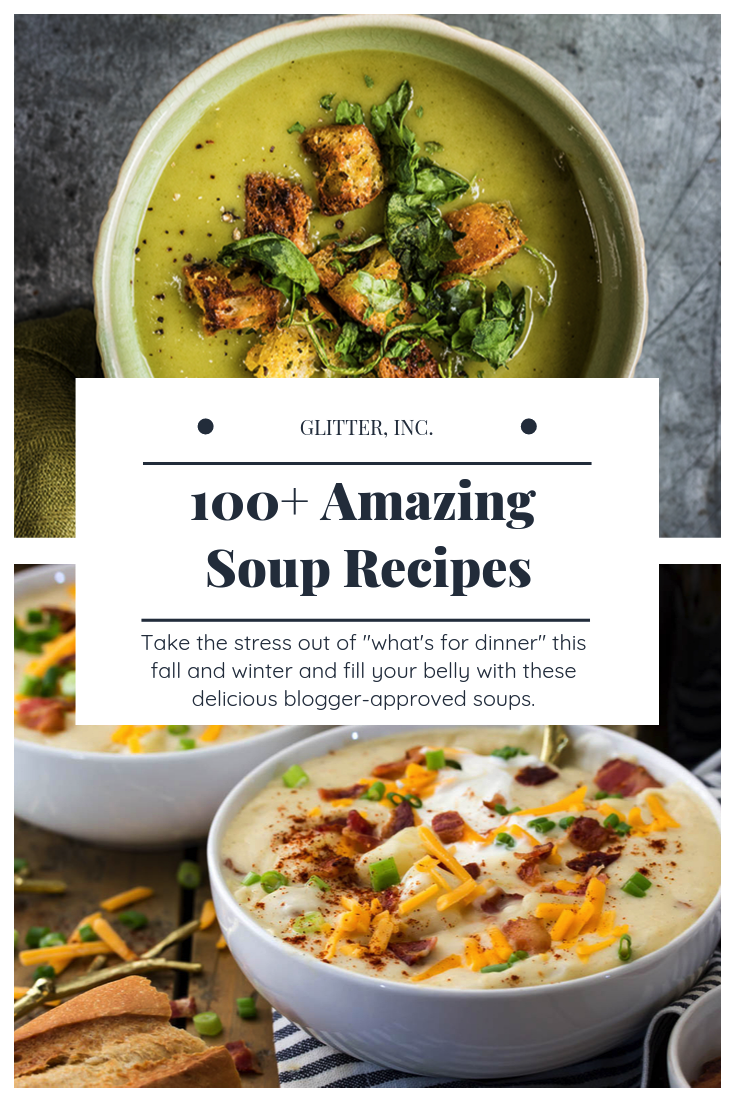 I'm so excited to have an absolutely enormous arsenal of awesome soup recipes for the coming cold seasons ahead (nearly 110 delicious soup recipes), and I've gotta say, HUGE thanks to my blogging buddies for sharing some really amazing, delicious, kid-approved, and surprisingly easy to make soup options.
There are some really great ideas here, including tried and true classics like chicken and dumplings, minestrone, goulash, lentil soup, creamy tomato soup, broccoli cheddar soup, etc., and some super fantastic and unusual soup recipes like Pho Ga, stuffed pepper soup, Sancocho, Caldo de Albondigas, Bak Kut Teh, borscht, etc., that you may not have tried yet (though will surely love!)
Moreover, there are vegan options, dairy-free options, keto options, and gluten-free options.
Plenty have instructions for making your soup in a slow cooker or instant pot, and none of these soup recipes are terribly labor intensive. (Three cheers for soup that is easy and absolutely delicious.)
So my hope is that this massive soup post helps you with meal planning!
Without further ado – here are 100+ incredible soup recipes for warming up all fall and winter long …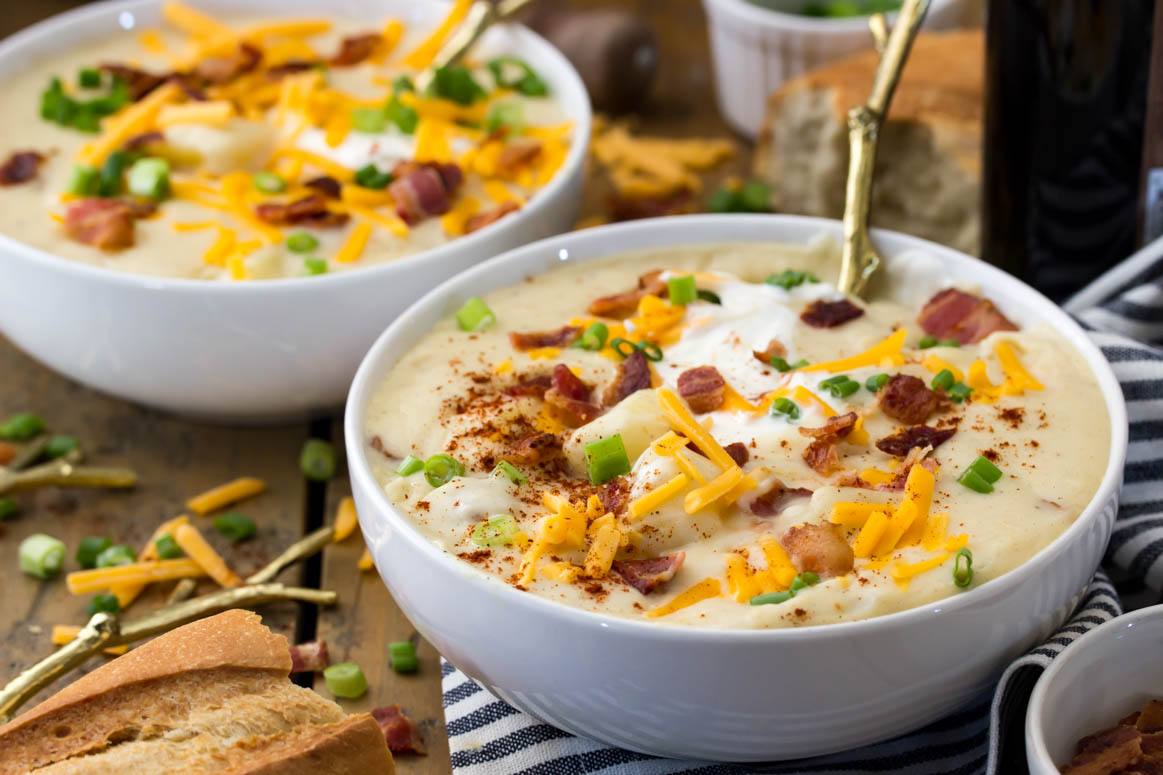 An easy and delicious creamy potato soup recipe that can be made in just one pot! Loaded with bacon and creamy potato goodness, this is a favorite comfort food in my household.
This Ginger Chicken Soup has such fresh flavors and is a nice twist on the traditional chicken soup recipe.
Instant Pot Chinese Pork Shoulder Soup made with baby bok choy, shittake mushrooms, and egg noodles in a rich broth seasoned with Chinese Five Spice.
Easy Southern Chicken and Dumplings is classic comfort food and a true family favorite. It's full of juicy pieces of chicken and tender, plump dumplings swimming in a delicious, hearty broth with carrots and celery thrown in for good measure.
This Loaded Dairy-Free Broccoli Cheddar Soup recipe is something truly spectacular. Loaded with broccoli, carrots, sweet corn, celery, onions, and topped with a generous amount of vegan mozzarella cheese (for added creaminess). To sum up, this recipe reminds you of comfort in a bowl.
This simple soup recipe will surprise you with savory layers of flavor! a bowl of comfort food that warms you to the core.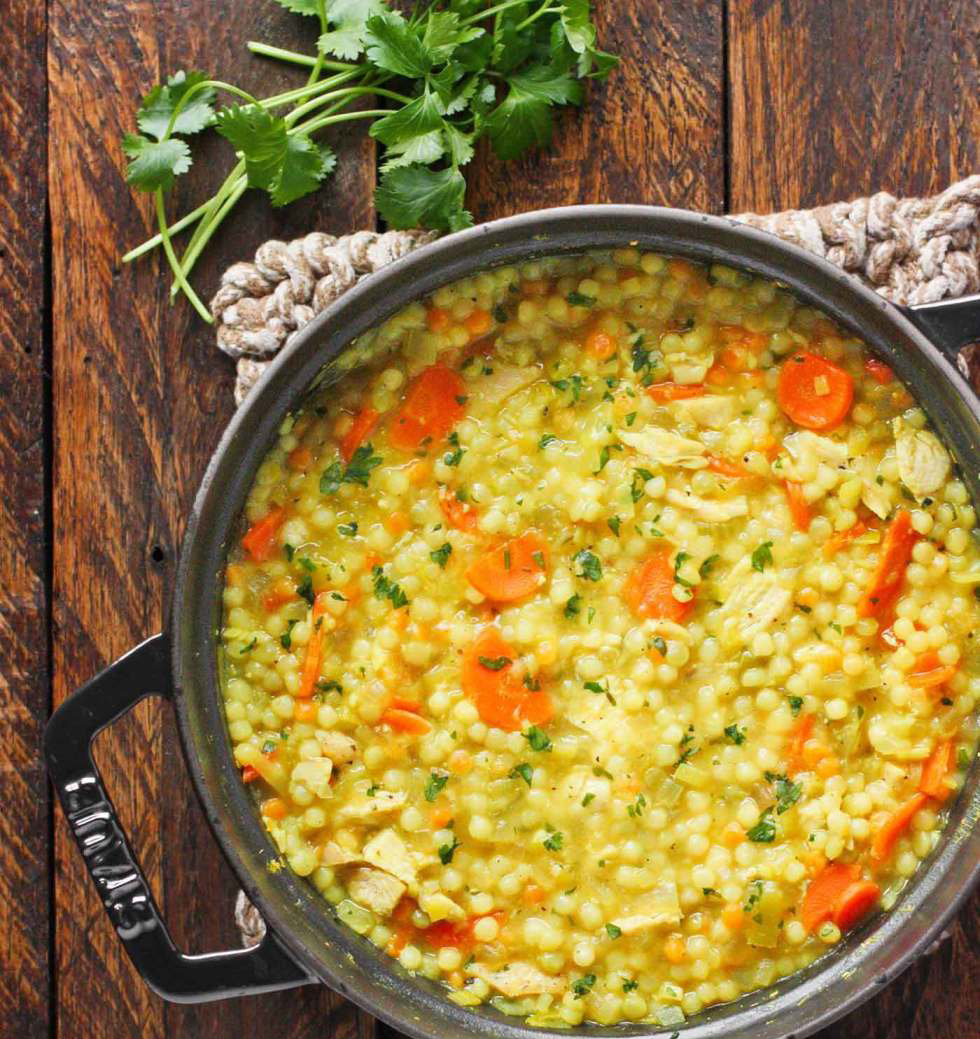 This is the best healthy chicken soup for when you're feeling a little sniffly and achy. Or just need a big comfort food hug! Couscous chicken soup is loaded with health-supporting ingredients like ginger, garlic, turmeric, and lemongrass. And its light and cheery flavor is comfort food at its best. (Now with Instant Pot instructions!)
Hamburger macaroni soup takes budget friendly ingredients and turns them into a rich and satisfying hearty soup in less than 30 minutes.
Easy Stuffed Pepper Soup is a hearty dinner that comes together in about 30 minutes. Delicious ground beef, onions and sweet bell peppers in a tomato broth and rice is a filling meal that the entire family will enjoy.
This delicious and cozy Thai Red Curry Soup is filled with protein, has tons of veggies and the creamy yum coconut milk gives it a smooth and velvety texture.
Vegan split pea soup is a hearty, satiating meal in a single pot. In addition, it's filled with carrots, onions, celery, garlic, and barley.
This beetroot soup is vibrant, smooth and full of flavour. You only need 6 ingredients for this smooth, creamy and tasty vegan or vegetarian beet soup.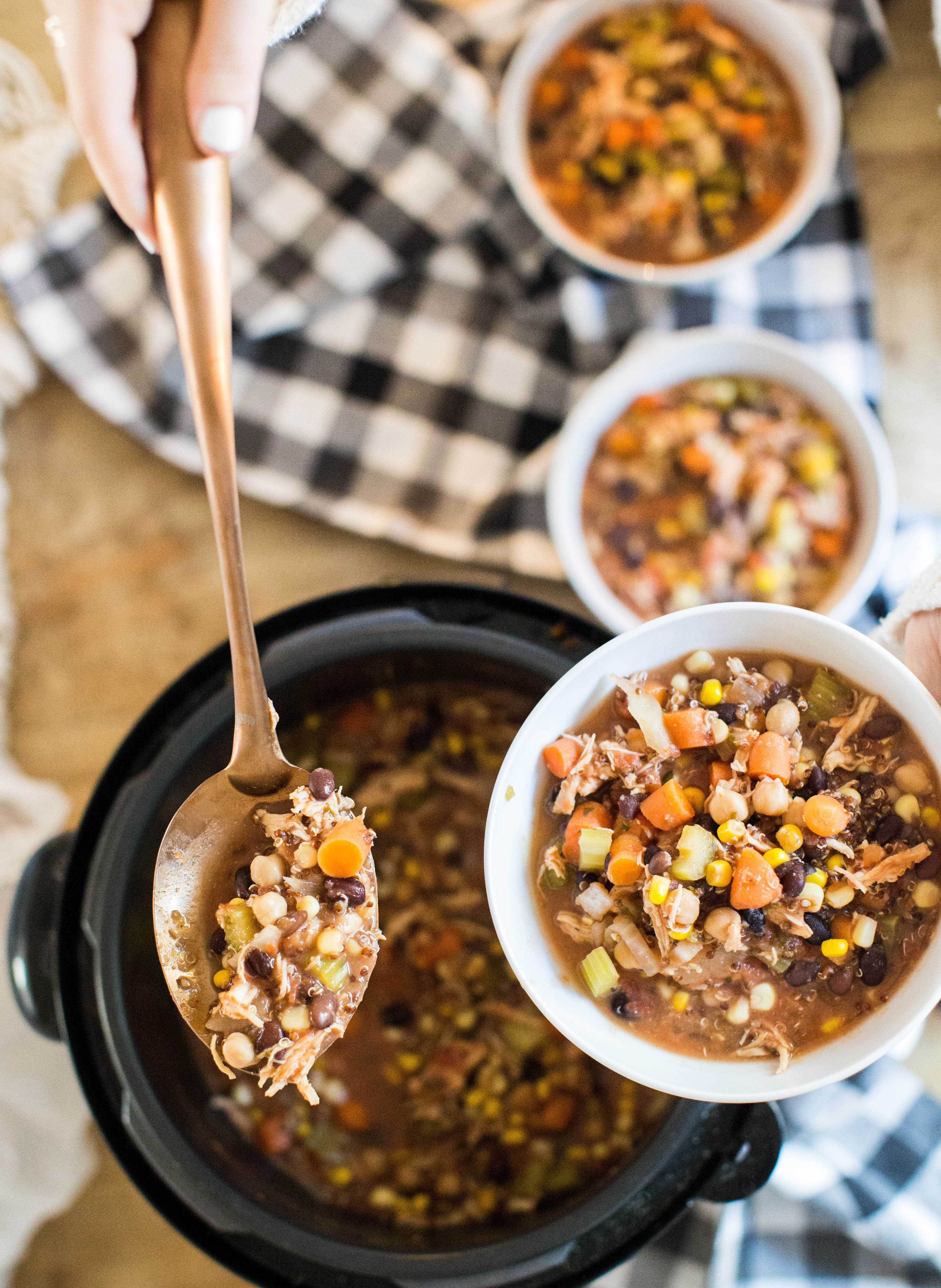 Our favorite crockpot chicken vegetable and quinoa soup is the perfect end to these easy and delicious weeknight dinner recipes for busy parents. It is healthy and hearty and requires so little work it's kind of embarrassing. This meal is packed with flavor, and tastes even more amazing topped with a bit of shredded cheddar cheese.
Gluten-free beef stew made in the Crock-Pot for an easy family dinner. This gluten-free dinner is an especially cozy winter meal! Perfect for a cold day!
This ham chowder combines chunks of ham, potatoes, corn and lots of cheese to make a creamy, hearty soup that families love.
Brazilian shrimp soup is known as moqueca de camarao and is a one-pot dish that can made in less than 20 minutes.
A delicious creamy chicken gnocchi soup with carrots, potatoes, mushrooms and spinach for a twist on the classic that can be enjoyed for dinner on a weeknight.
Make slow cooker brown rice chicken congee for the perfect comfort food this winter, loaded with fresh ginger and cooked in broth, water and soy sauce.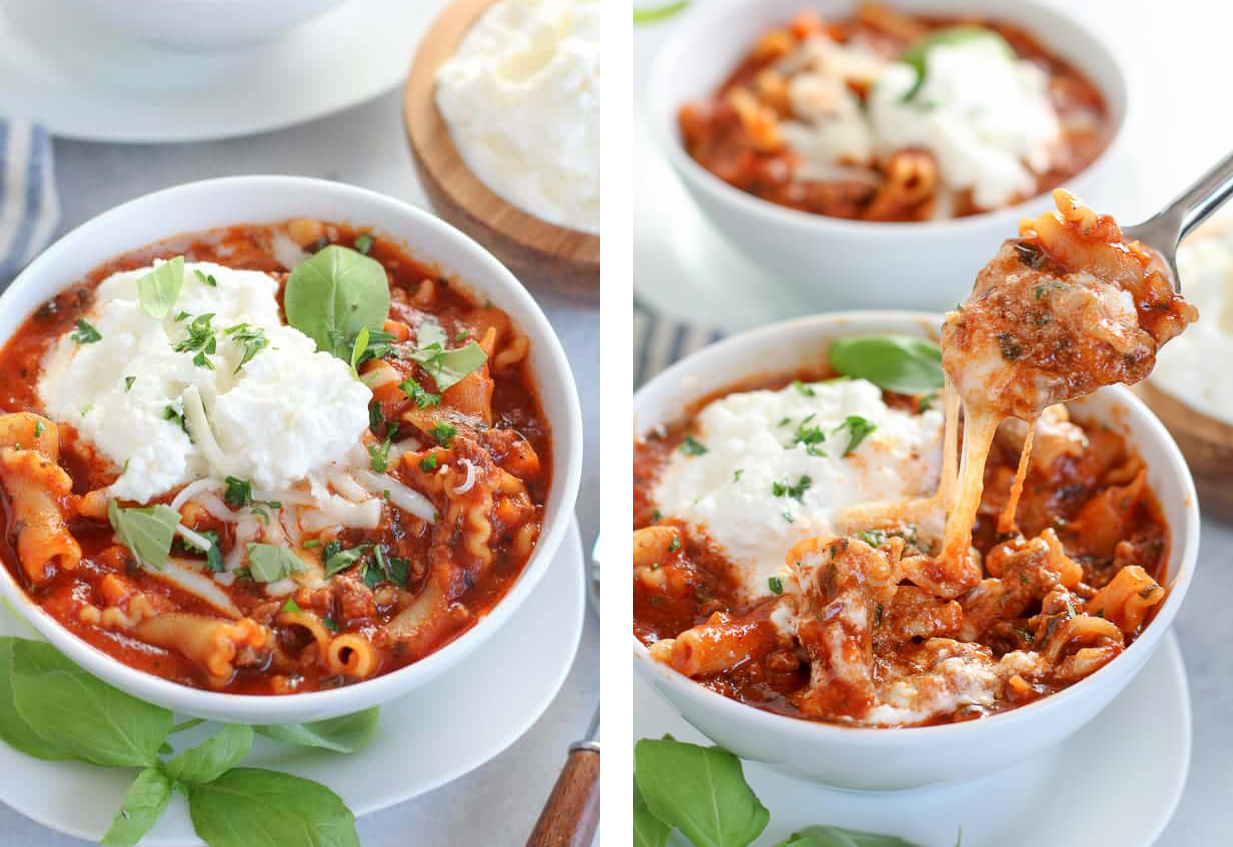 The easiest lasagna you'll ever make! This Lasagna Soup is filled with all the flavors of lasagna – ground beef, sauce, pasta, and lots of cheese! Made in one pot and in under an hour.
This Creamy Mushroom and Spinach Tortellini Soup is made in one pot and ready in just 30 minutes. Packed with fresh mushrooms, cheese tortellini, and baby spinach, this soup is creamy, comforting, and will warm you right up!
This is by far the best vegan Instant Pot Butternut Squash Soup ever. This dump and stir soup blends the nutty butternut squash and sweet tangy apples with a hint of fall spice, making it celebration worthy.
This Vegan Stuffed Pepper Soup is super simple, inexpensive, easy to make comfort food. It's thick, flavorful, and so filling. It's also totally vegan and prep time is about 15 minutes or less. Left to simmer in the slow cooker, it's ready when you are.
Pho Ga (Vietnamese Chicken Noodle Soup) is one of the classic dishes of Northern Vietnamese cuisine. Light yet flavorful, simple yet sophisticated, this fragrant noodle soup can warm your heart and soul.
This comforting and heart-warming White Bean Soup is packed with flavorful Mexican spices for a truly delicious vegan soup recipe that is healthy, easy to make and can be made with soaked or unsoaked dry white beans! Both Instant Pot pressure cooker and stovetop instructions are included for this spicy, smoky, keto friendly soup!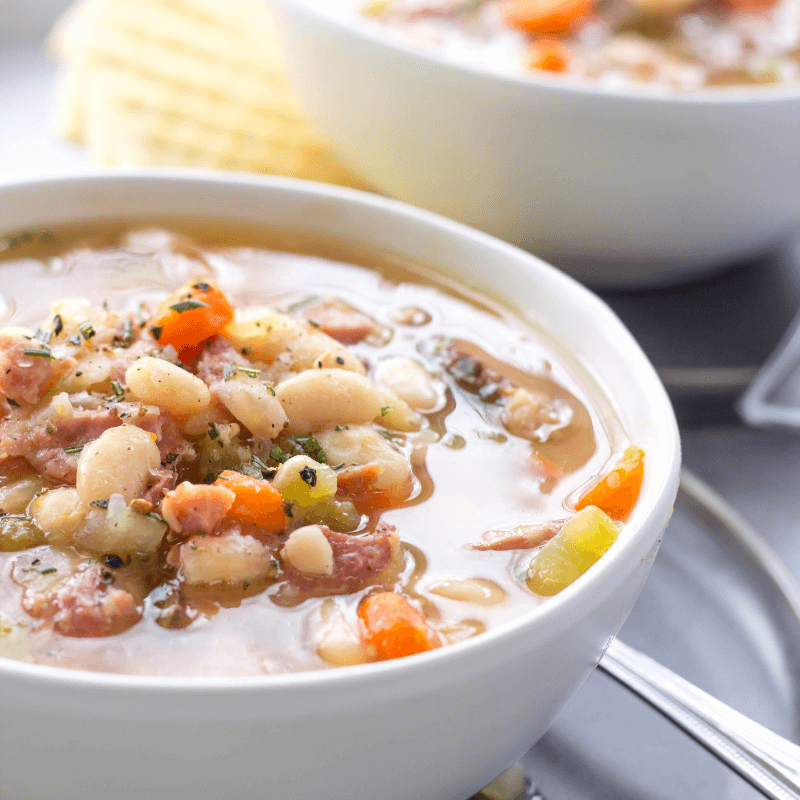 Slow Cooker Ham and Bean Soup is made with Northern beans, leftover ham and ham-bone, carrot, celery, chicken broth, yellow onion and fresh herbs for a flavorful slow cooked meal.
Nothing is better than a bowl of hearty, thick, and classic Instant Pot Creamy Potato Leek Soup on a chilly day! It is smooth, silky, quick, easy to make and delicious. This Instant pot soup is Cozy, comforting, Vegetarian and naturally gluten-free.
This vegan sweet potato soup is made even more delicious with a bit of maple syrup. This soup is so healthy, so delicious, and so simple to make. It uses just a few ingredients and, once the sweet potatoes are baked, takes only a few minutes to whip up in the blender.
Caldo de Albondigas (or Mexican Meatball Soup) is a delicious and satisfying dish that's perfect for cold winter nights. Mexican comfort food at its best.
This vegan pumpkin soup is made with pumpkin purée (homemade or canned), cauliflower, coconut milk, and rich, flavorful spices. Make it in less than 30 minutes in an Instant Pot! (Oven directions included.)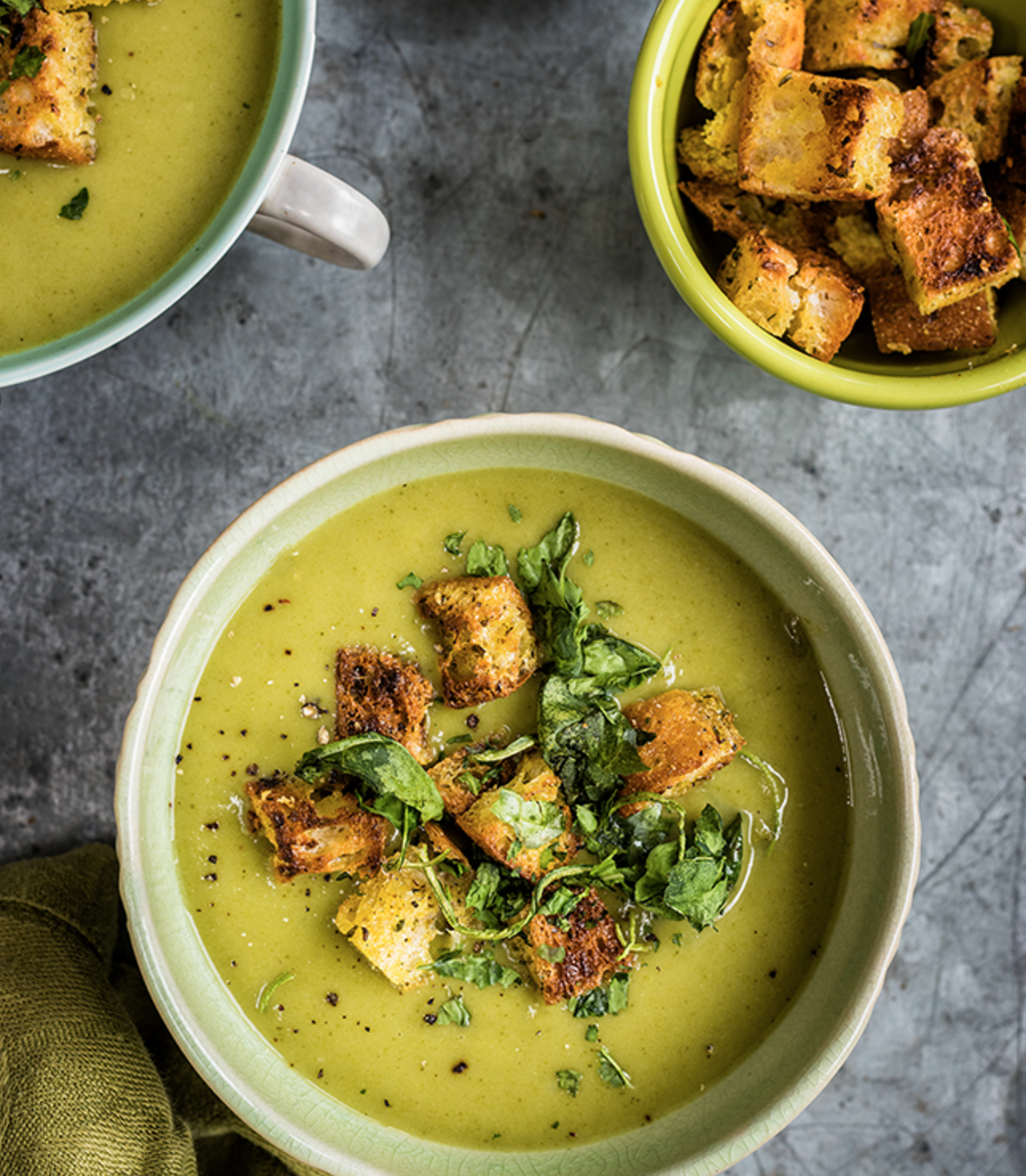 A vibrant soup full of goodness: spinach, zucchini, leeks, potato and coconut milk. Serve with garlic croutons for a quick meal.
Comforting cool weather soup with split peas, lentils, bacon and ham. Easy to make on the stovetop or in the pressure cooker.
This soup takes 15 minutes to make thanks to hummus! Yes, hummus! It's creamy, customizable and silky smooth!
Sancocho is a meats and vegetables stew, enjoyed in Latin America and the Spanish Caribbean islands. It's made of a variety of meats and starchy vegetables such as plantains, yuca and yautia, and served with a side of white rice and avocado.
This is a quick and easy pantry meal with a spicy kick! Hearty and satisfying for any night of the week!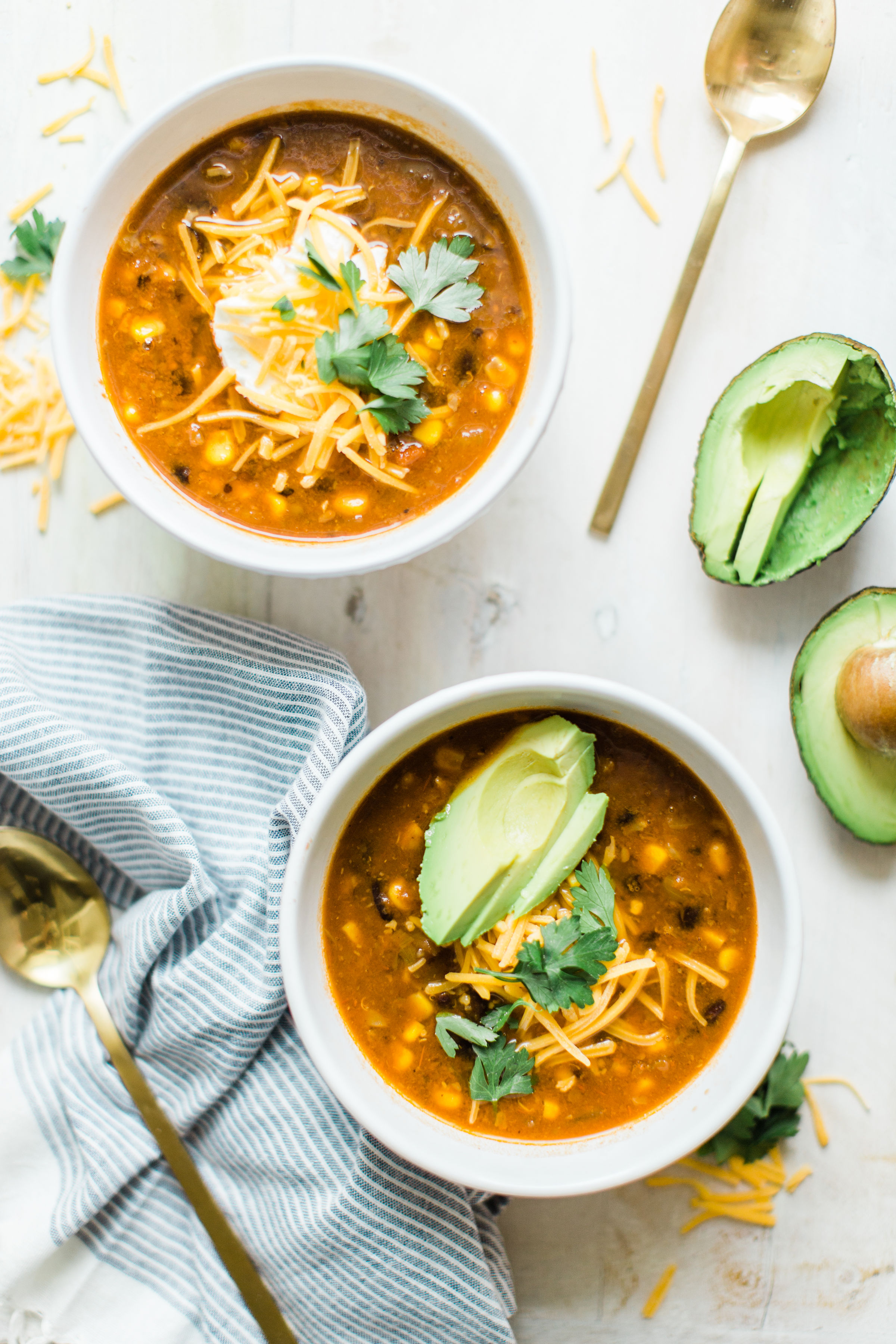 Obsessed with Trader Joe's Harvest Chili? Looking to whip up a delicious family dinner on a budget? Make your own easy copycat crockpot Trader Joe's harvest chili. (Say that three times fast!) This soup is vegetarian and so yummy.
Love beef stroganoff? Try it made as a soup! This hearty and heartwarming dish makes a wonderful meal. Super easy to make in the Instant Pot.
This Instant Pot 15 Bean Soup is vegan, hearty, delicious and a perfect for cool winter nights with a punch of smoky flavors in every bite!!
This is a great Vegan Lentil Soup recipe! Easily prep this comforting soup ahead of time or you can even freeze to enjoy later. This is naturally gluten-free as well.
Sweet Potato Cauliflower Soup – a creamy vegan soup made with whole food ingredients and minimal fuss to let the vegetables shine. Perfect for a weeknight.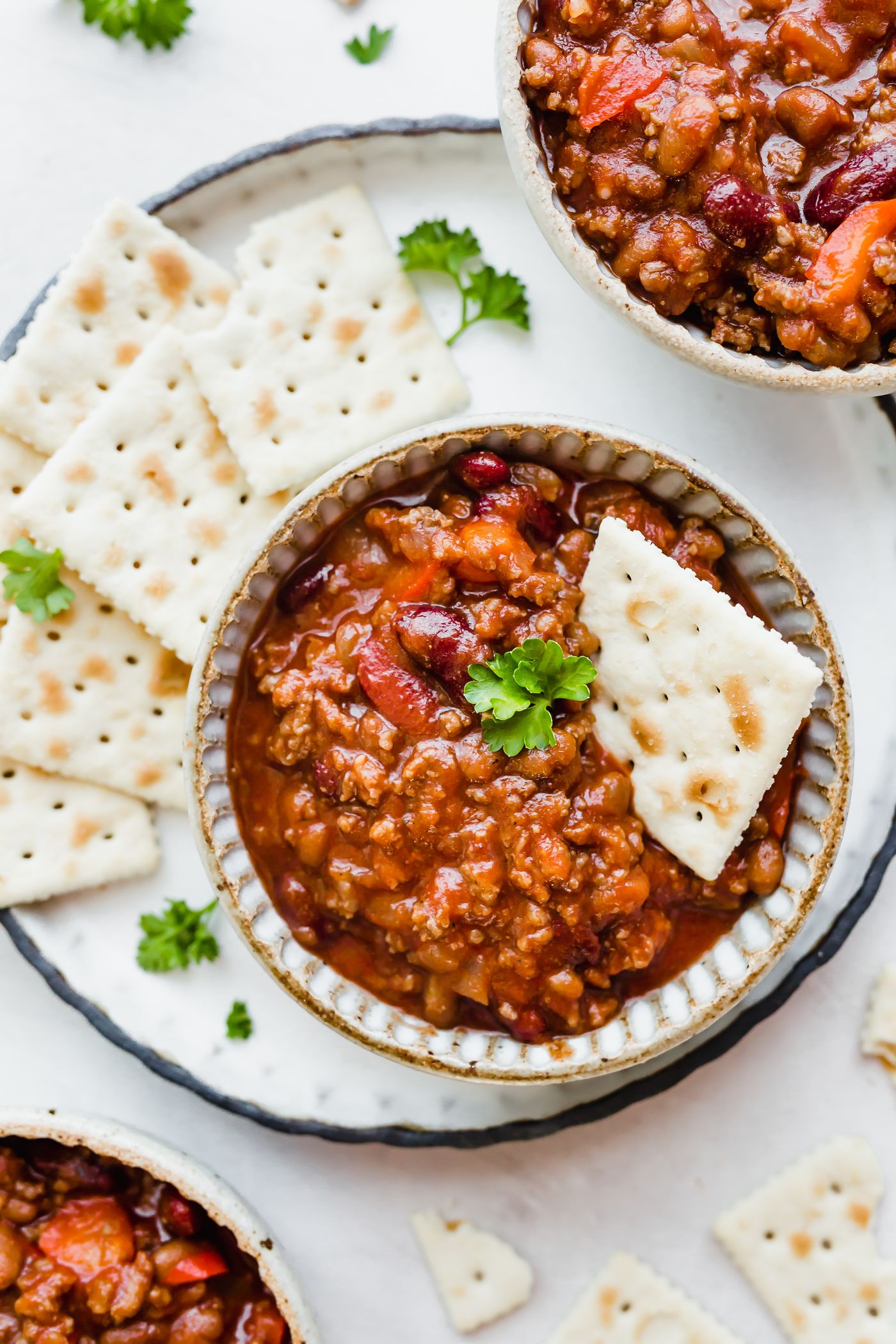 This is THE BEST Sweet and Spicy Chili EVER! This chili is loaded with delicious meat and the perfect blend of spices to deliver an award winning chili recipe!
Looking for an easy and delicious healthier soup for dinner tonight? Look no further than this spin on classic tomato soup, made healthier and protein-packed. And, bonus: it can be made in a slow cooker or instant pot!
This Potato Pepper Jack Soup is inspired by the famous pepper jack cheese that so many of us love! This potato soup recipe is loaded with vegetables and of course, delicious pepper jack cheese!
Flavorful and incredibly satisfying, this easy Greek Lentil Soup recipe is incredibly easy to whip up. A perfect one-pot soup that simmers slowly and is ready in about 40 minutes. This soup is a perfect winter or fall comfort food.
With bacon and cheese, this broccoli soup is comfort food at its finest!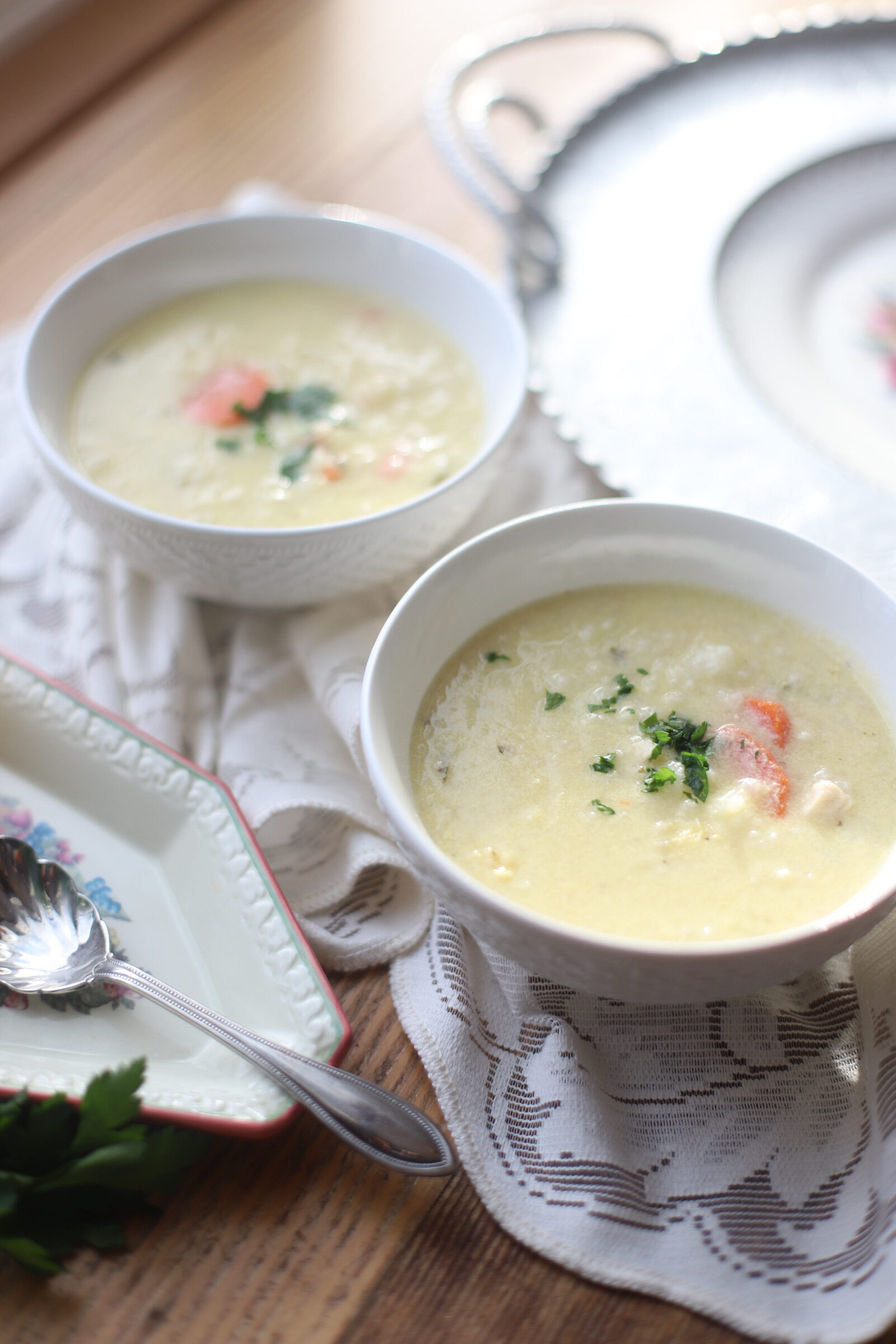 Chock full of hearty veggies, rice, and tender chicken in a bright lemony broth, this Greek lemon chicken soup is COMFORT in a bowl! Plus, it's a totally easy weeknight dinner because you can use a store-bought rotisserie chicken to make things just a little bit easier.
Traditional Vietnamese pho takes an entire day to make; this version only takes under an hour! Instant Pot Vegetarian Pho is perfect for a quick refreshing and comforting weeknight meal.
This warm and comforting Cabbage Soup recipe cooks up in less than 30 minutes. In addition to being a vegan cabbage soup recipe, it's also gluten-free!
An easy and delicious creamy sweet potato soup with a hint of curry. Perfect in fall and winter, this soup is a quick weeknight meal and freezes well too.
Tuscan Sausage Potato Soup is a rich and creamy soup perfect for busy weeknights! You won't believe how easy this soup comes together and has less than 10 ingredients!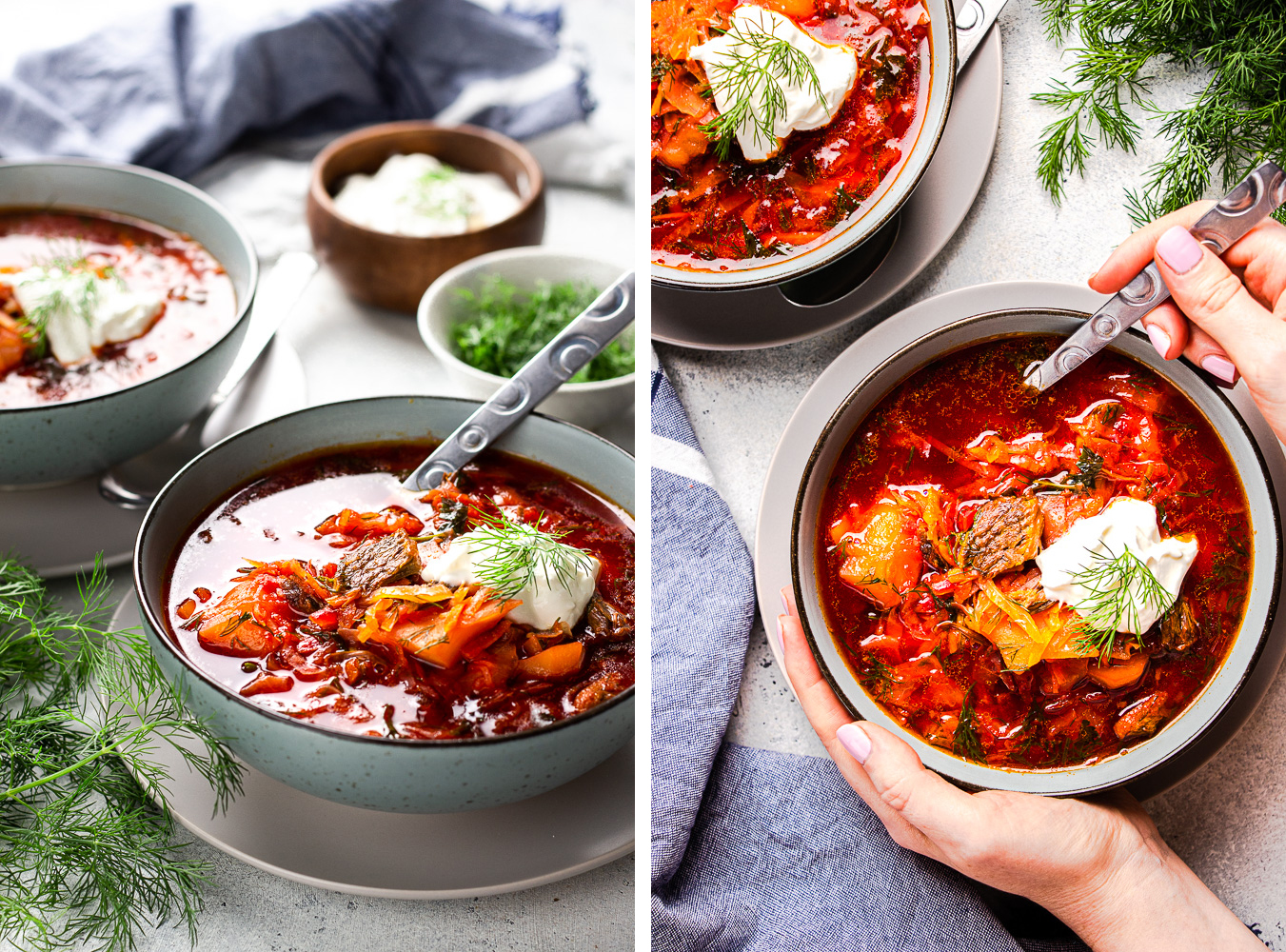 This traditional Borscht recipe is made with beef bone broth, beets, and cabbage. This delicious healthy soup is a great comfort meal for the Fall and Winter seasons!
Enjoy this dump & start recipe for Moroccan Chickpea Soup, a hearty and healthy vegan and gluten-free soup that combines creamy chickpeas with warm spices like cinnamon, cumin and coriander.
All the flavors of a taco in an easy one-pot meal. Beef, corn, black beans, green chiles, and taco seasoning make up this flavorful soup. Garnish with your favorite taco toppings – cheese, sour cream, avocado, or tortilla chips.
A super simple and easy tomato soup loaded with golden onions and tiny Acini di Pepe pasta, delivering bold wonderful flavor!
Instant Pot Chicken Soup with egg noodles is the best homemade soup made from scratch in a pressure cooker.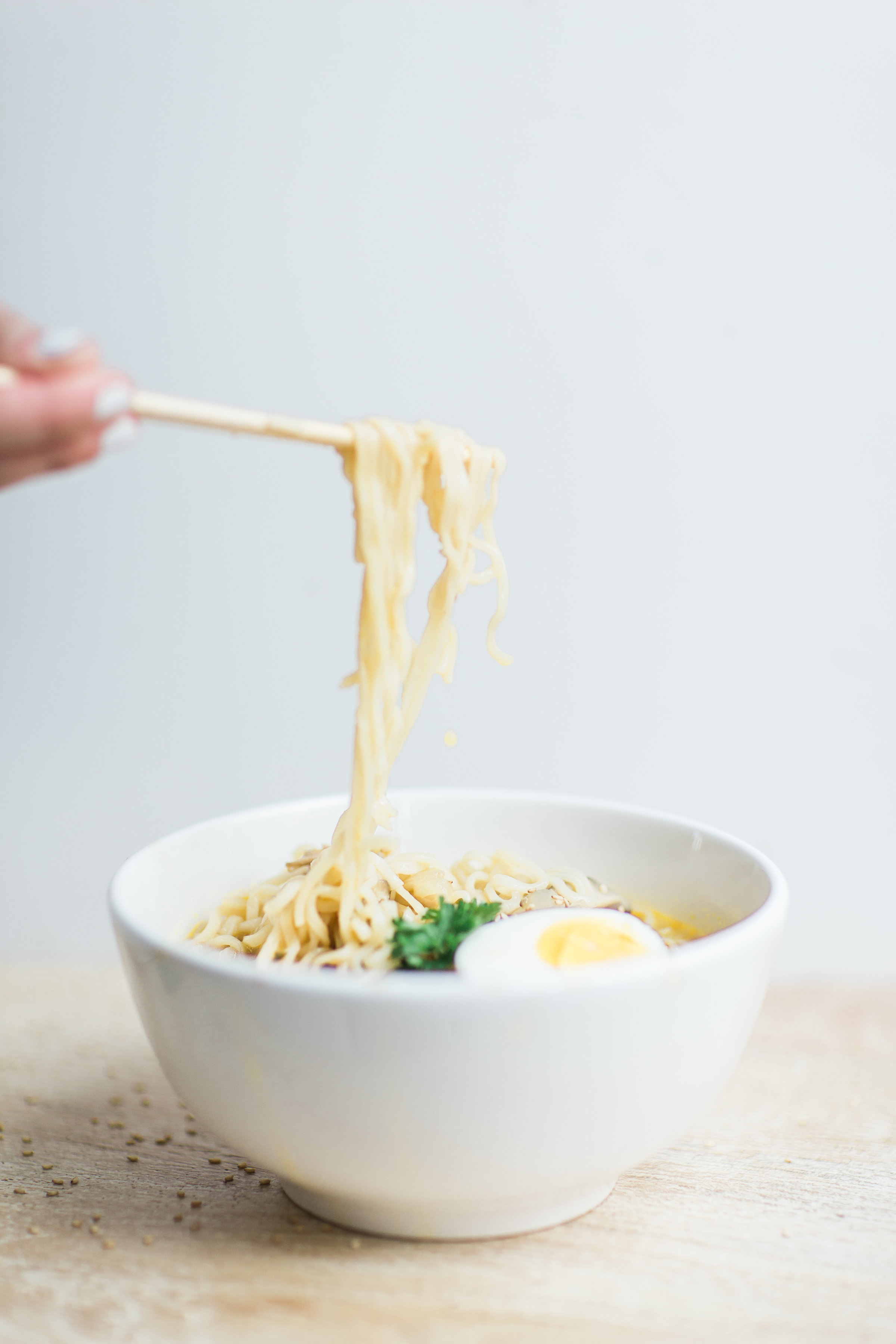 When you just want a bowl of hearty noodles (because, carbs) covered in endless topping options that give you the power to make a bowl your very own, this simple ramen noodles recipe (made in under 15 minutes) might just be the key to at-home ramen bliss.
Classic Thai chicken soup flavored coconut, shiitake mushrooms and a spicy kick from red curry! It's also keto and low-carb.
This spicy vegan beer chili is made with beans, peppers, tomatoes, and (of course) beer. It's an easy cold-weather stew that's perfect for Game Day and makes a perfect campfire chili!
Old fashioned Butter Bean Soup is quick, cheap and easy to make. Unlike most butter bean soups, this one has a smoky broth seasoned with bacon and Cajun spices. It's chock full of veggies like carrots, celery, tomatoes and onions. And it actually tastes better the next.
An easy, one-pot recipe for Cabbage Roll Soup that you can prep in about 20 minutes. Let it simmer on the stovetop for an hour or transfer to a crock-pot to slow cook for several hours. The end result is a rich, yet healthy soup packed with tomato, beef & veggie flavors similar to stuffed cabbage rolls but without all the work.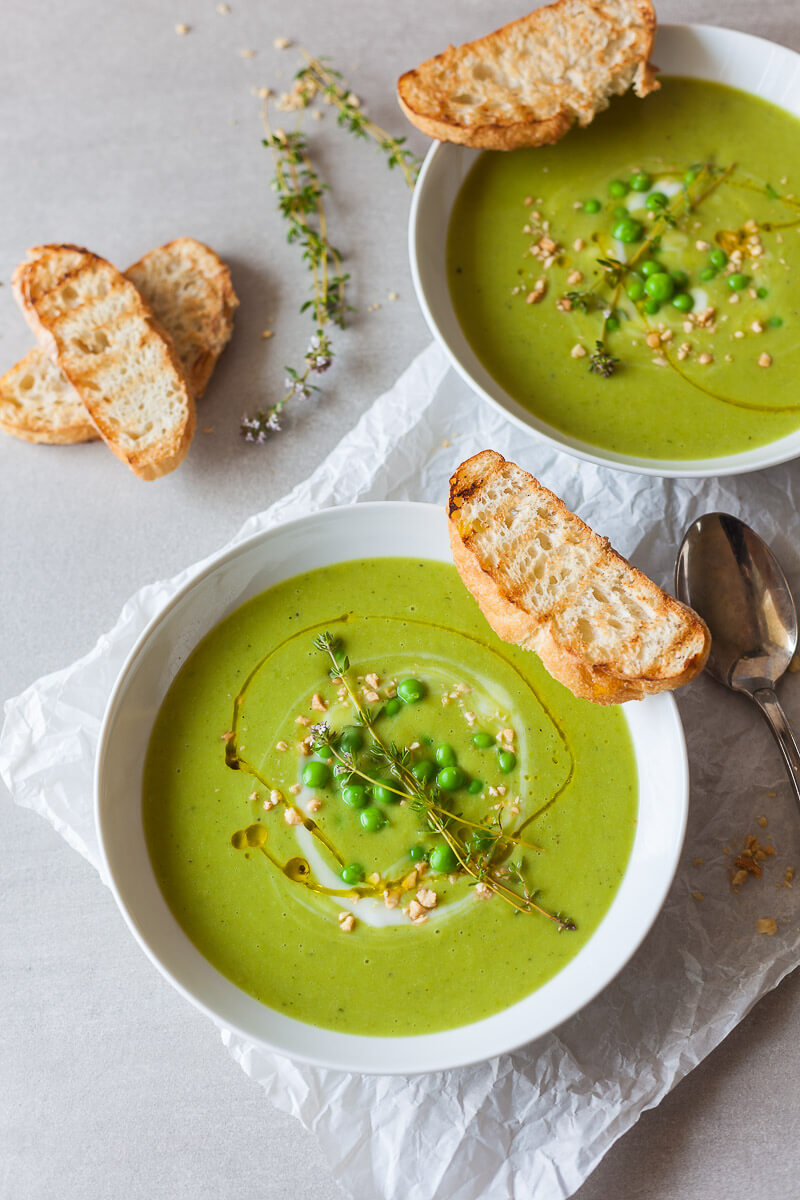 An easy radiant green Vegan Pea Soup that uses only 5 ingredients and 15 minutes to make a delicious meal!
This Indian-Style Yellow Lentil Stew can be whipped up in about 45 minutes with only 10 ingredients (not including pantry staples). The stew is 100% plant-based (vegan), oil- and salt-free, and gluten-free too.
This immune boosting and super easy to make Broccoli Soup is rich in flavor and full of SUPERFOODS. Delicious and loaded with beautiful spices – cinnamon, ginger and turmeric, fragrant and just amazing, this Spicy Broccoli Soup will warm you up from the inside out.
Slow Cooker Ham and Potato Soup is hearty, creamy, and very comforting! Warm-up during the cold days and cook it hassle-free with this easy crockpot recipe!
This Coconut Curry Pumpkin Soup recipe is bursting with amazing flavors, and can be on the table in less than 15 minutes. Made with homemade pumpkin puree, creamy coconut milk and red curry paste, this is the ultimate Fall comfort food!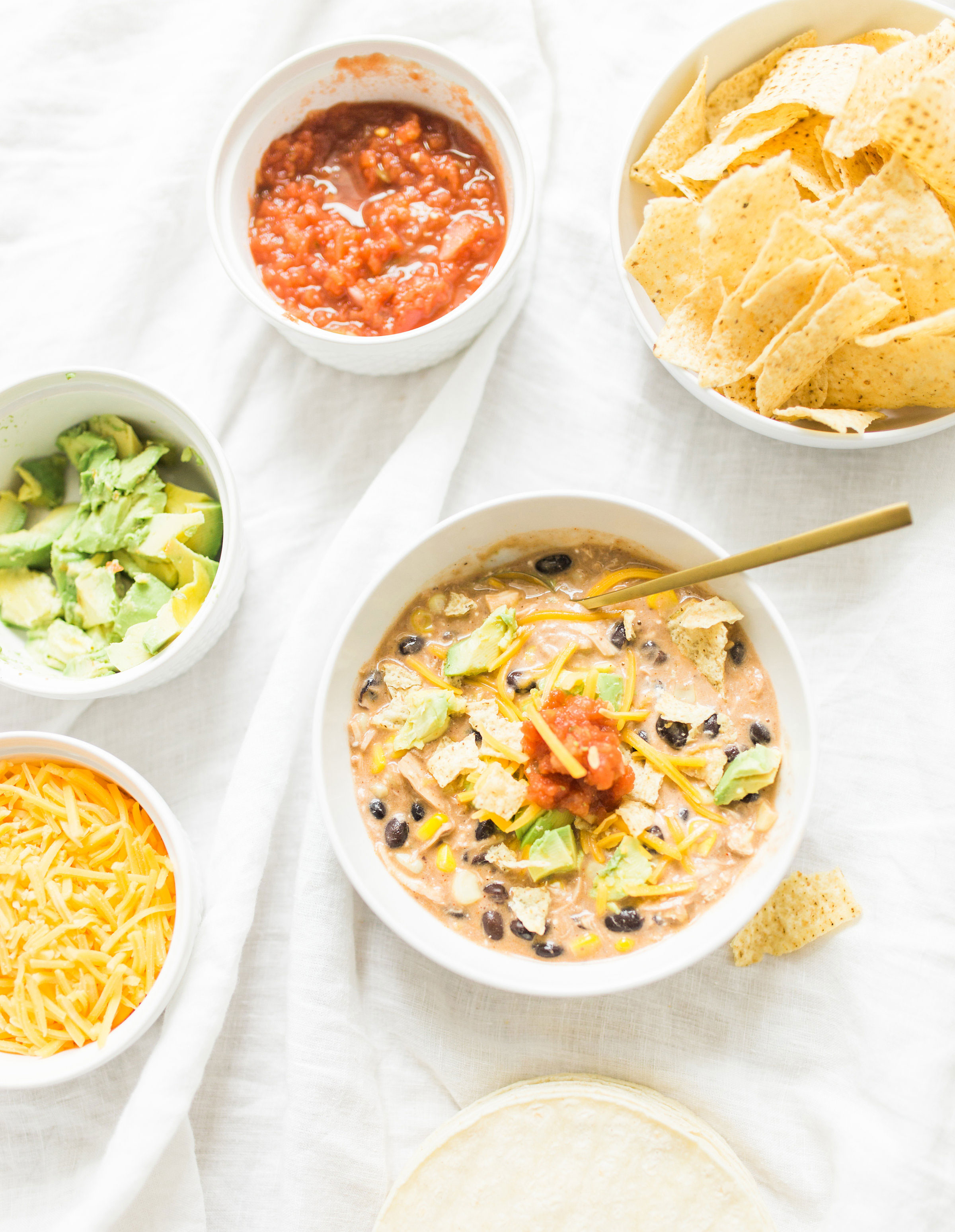 This easy tortilla-less creamy chicken enchilada soup can be made in a crockpot or Instant Pot – a.k.a., dump it and forget it. It's delicious, hearty, and our whole family loves to eat it with all of the taco fixings: shredded cheddar cheese, fresh avocado, cilantro, scallions, sour cream, salsa, chips, and a squeeze of lime. This is as yummy and simple as dinner gets!
Creamy Homemade White Bean Soup with Broccoli is an irresistible blend of smooth textured and nutty flavored cannellini beans and roasted broccoli, a nutritional powerhouse. Don't settle for bland white bean soup! With this flavorful recipe, you'll have everyone begging for seconds.
Easy, tasty, healthy, vegan, and gluten free, this Sweet Potato Soup will warm your soul and belly on a chilly day.
Bean with Bacon Soup recipe made with or without a ham bone. Hearty, packed with beans and bacon – so much flavor and perfect for a cold, winter day.
This Japanese carrot ginger miso soup is a great way to diversify your miso soup repertoir. Plus, carrot and ginger is the perfect combo for cold weather.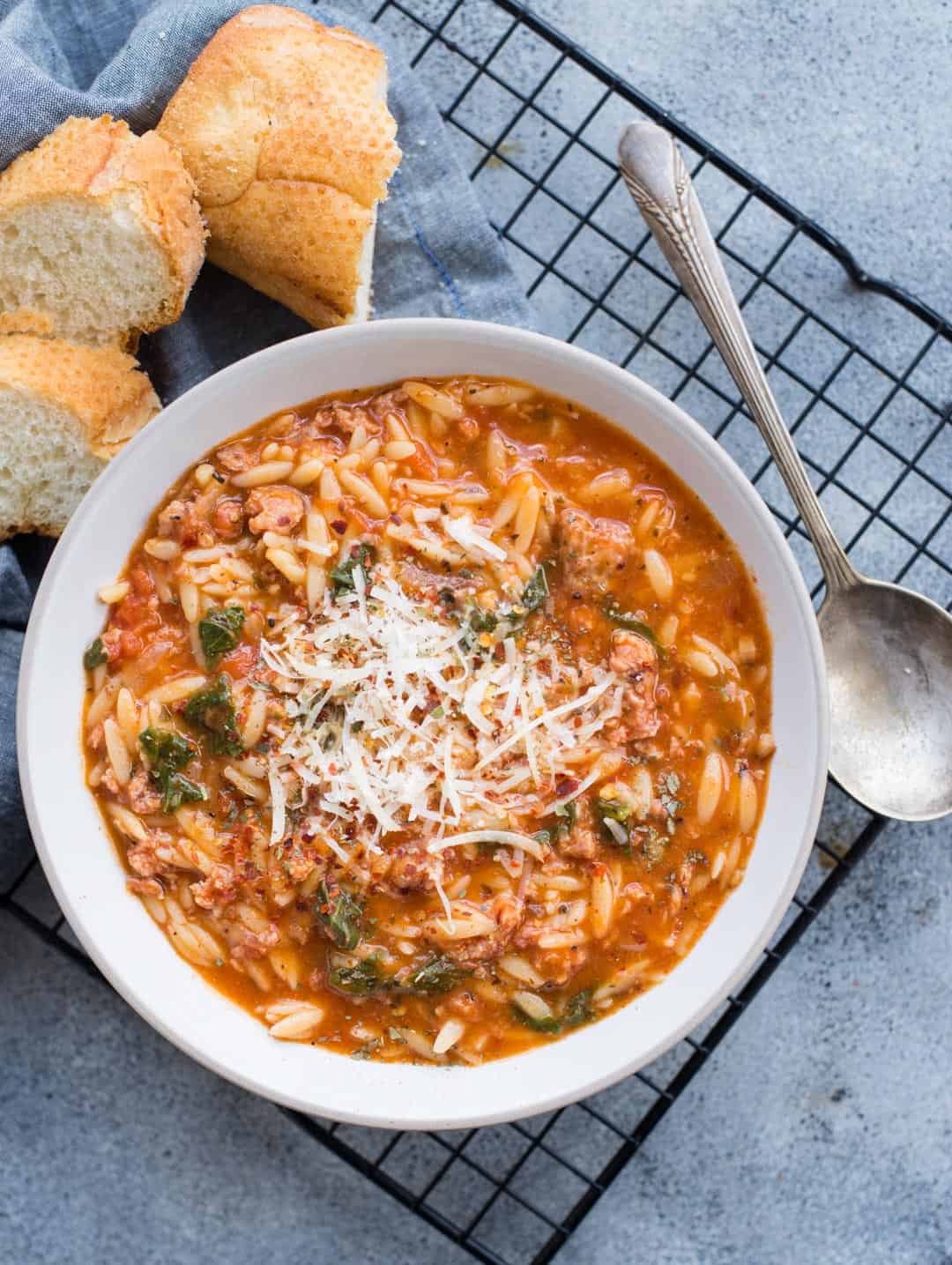 This One Pot Italian Sausage Soup with Orzo, Spicy Italian Sausage, Spinach in a rich tomato base is delicious and takes only 20 minutes to make.
Get this easy Copycat Zuppa Toscana Soup recipe from Olive Garden so you can enjoy the wonderful flavors of this sausage and potato soup at home! You won't believe how simple it is to make a zuppa toscana copycat yourself. This soup makes a great weeknight dinner your whole family will love!
Creamy vegan mushroom soup with lentils and brown rice is cozy and warming. The flavor is reminiscent of a mushroom stroganoff without the noodles or vegan risotto without the babying.
This African soup is loaded with sweet potatoes, red bell peppers, red kidney beans, fire-roasted tomatoes, ginger, cinnamon, and even peanut butter. It's like a wonderful party in your mouth!
This Bak Kut Teh recipe, or Pork Ribs Soup, is a traditional Singapore style dish commonly eaten for breakfast. It is deliciously meaty, peppery and so ultra comforting, and comes together quickly in the Instant Pot.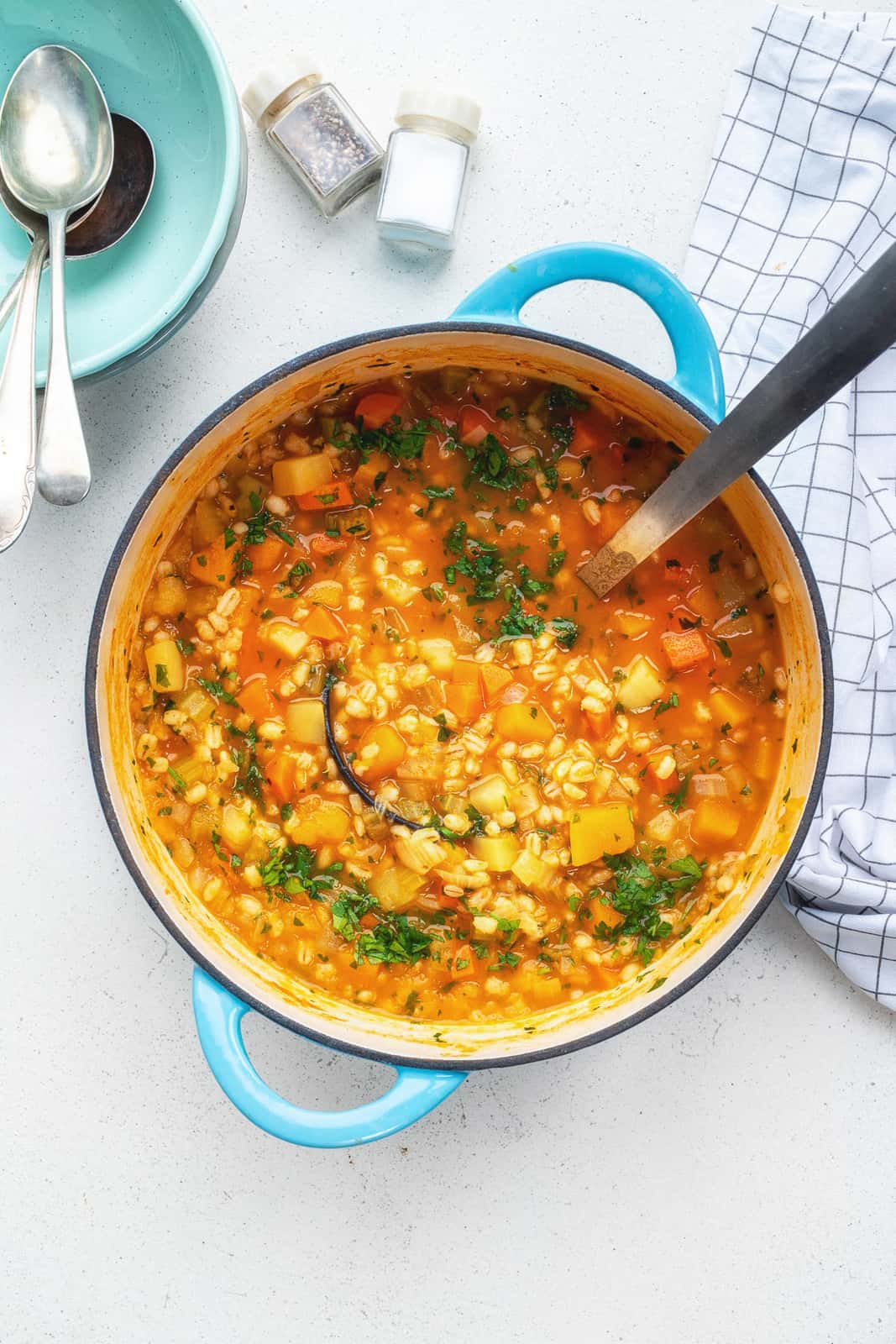 This hearty vegetable soup with barley is simply packed with plant-based goodness – make a big batch to warm up on chilly days.
An easy creamy chicken noodle soup recipe made on the stovetop using simple ingredients in about 90 minutes. This homemade soup uses a whole cooked rotisserie chicken, egg noodles, and fresh veggies and herbs, all of which add a ton of extra flavor. It's thick, hearty & cozy and really hits the spot when you have a comfort food craving or need a hot meal to warm your belly in cold weather.
This Healthy Sausage Kale Soup with Sweet Potatoes is a cozy fall soup made in the slow cooker! It's loaded with veggies and only takes 15 minutes of preparation!
This traditional Mexican soup has a slight spice to it and is sure to warm you up on a cold winter night!
This Instant Pot Meatball And Potato Soup Recipe is so crazy easy to make, it is almost ridiculous. Also, a big crowd-pleaser.
This Crockpot Minestrone Soup is packed with tons of veggies and nutrients and is a great soup to make for the week!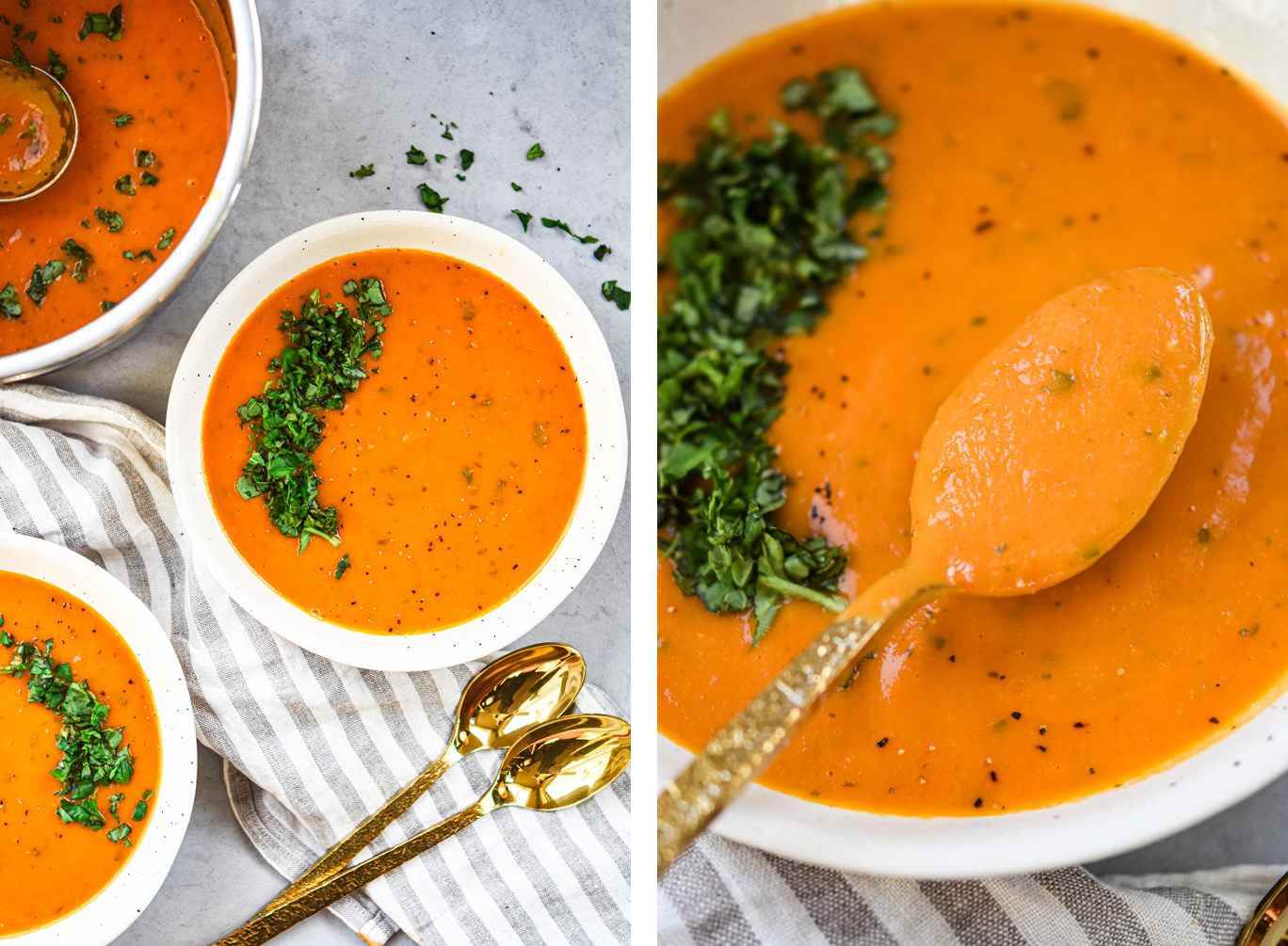 Simple Instant Pot Tomato Basil Soup is made with fresh ingredients, and is non-dairy. The fresh combo of tomato and basil, thickened with veggies and coconut milk, won't disappoint!
This is a creamy vegan roasted acorn squash soup with roasted carrots and fall spices is very easy to make. Its a soul-warming, toe tingling soup that will make you lick your bowl clean!
This comforting tomato tortellini soup is made in under 30 minutes and is delicious on its own or with a grilled cheese!
Hearty, comforting and delicious, this lemon chicken orzo soup hits the spot on a cold day!
With a hearty broth made with garlic, spices and bone broth, this low carb, Turkey Spinach Soup is so tasty and filling.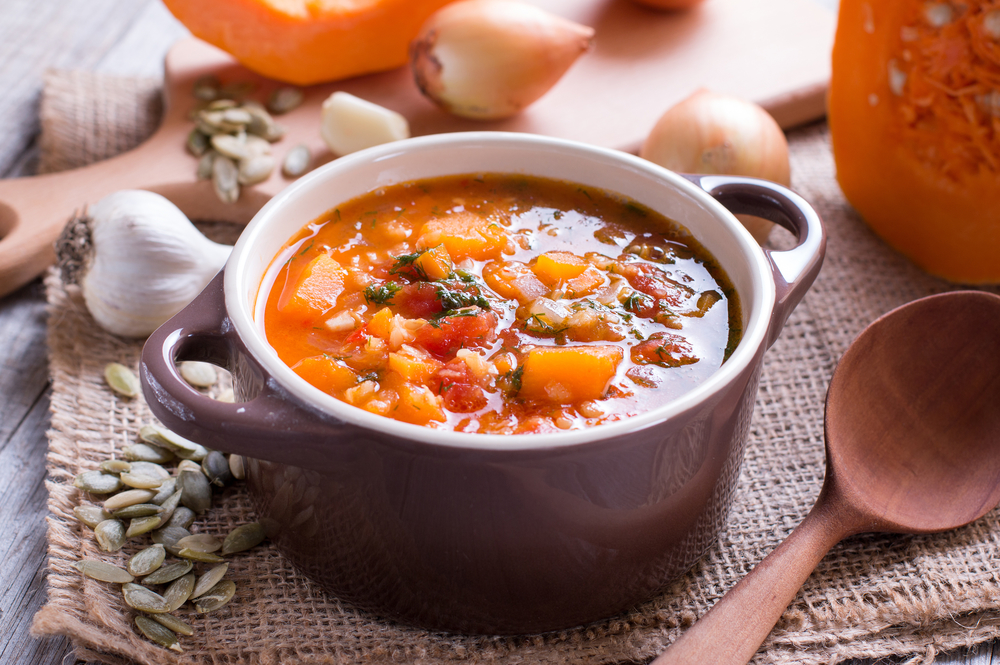 This Instant Pot Butternut Squash chili makes use of classic fall vegetable for a great cold weather soup.
Caldo de Camarón (or Mexican Shrimp Soup) is a bowl of hearty goodness. Shrimp and veggies swimming in a sea of deliciousness. What's not to love about that!
Easy and delicious fresh Tomato Soup made from scratch with garden fresh tomatoes. Our roasted tomato soup is comfort in a bowl along with grilled cheese!
Sweet-and-Sour Beef Cabbage Soup, a simple and comforting old world soup made with beef short ribs, cabbage, allspice, brown sugar and red wine vinegar.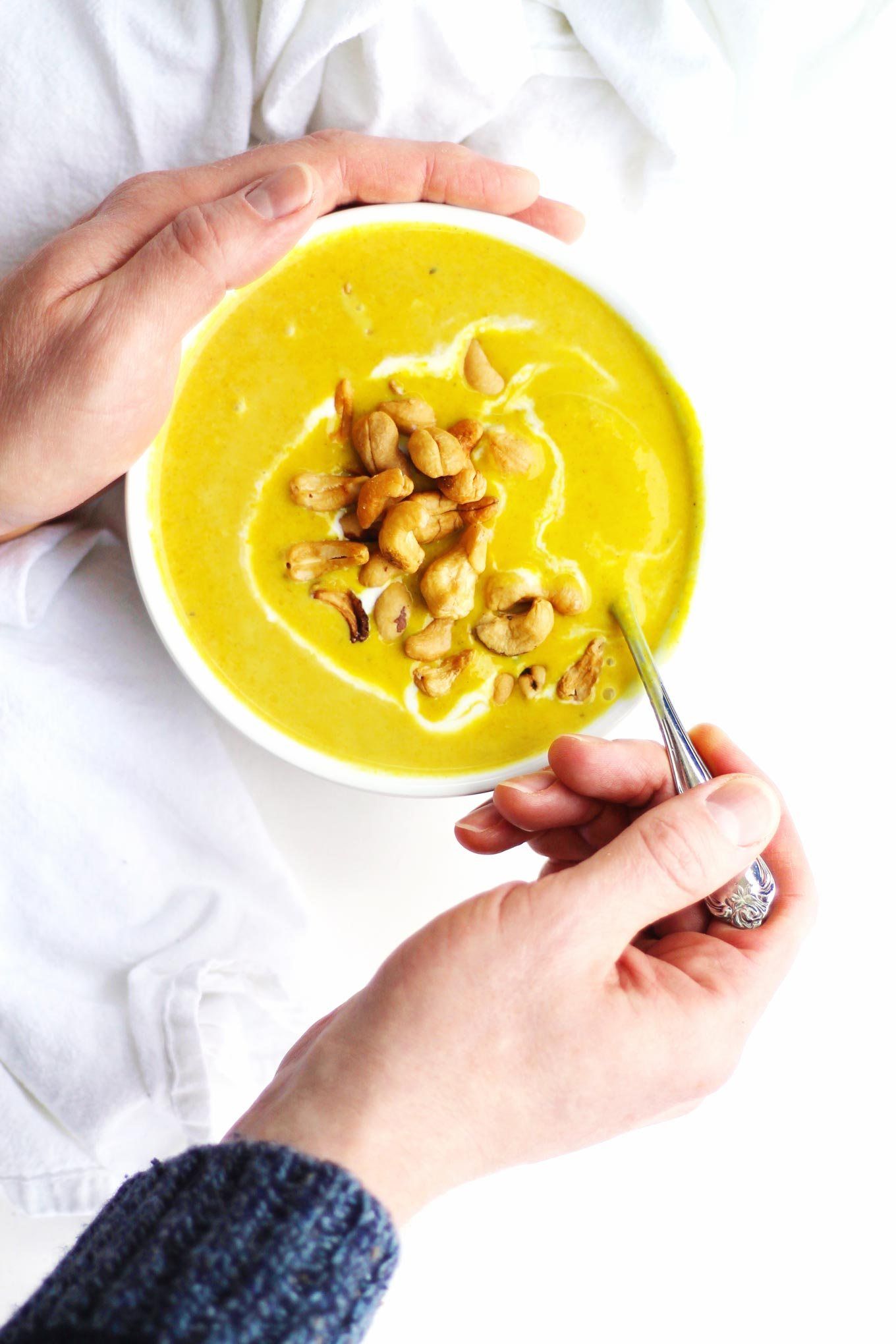 Coconut cauliflower golden soup with kefir recipe! A healing, turmeric golden milk soup with creamy cauliflower, sweet coconut, and tangy kefir. So much goodness in one bowl!
Easy Scottish lentil soup is the authentic healthy red lentil soup from Scotland. This simple soup is filling, comforting and perfect for cold weather days!
The easiest ever, best and creamiest Dump and Start Instant Pot Chickpea Stew is just a few ingredients and minimal effort away. Comfort food, quick weeknight dinners and lazy lunches is at your fingertips with this awesome Moroccan Harira.
A Jamaican vegetable soup that is bursting with all the Jamaican flavours. You will love this flavorful soup that is ready in under one hour.
This homemade Navy Bean Soup is super easy to make, protein rich and satisfying. The basic ingredients are soaked beans, onions, garlic, chopped tomatoes, and vegetable broth – with optional carrots and celery for extra flavor. An amazing one pot meal which is full of flavor and naturally vegan.
This Egyptian Red Lentil Soup is easy to make and full of flavor. Made with a spice mix which takes it to another level. So delicious and easy.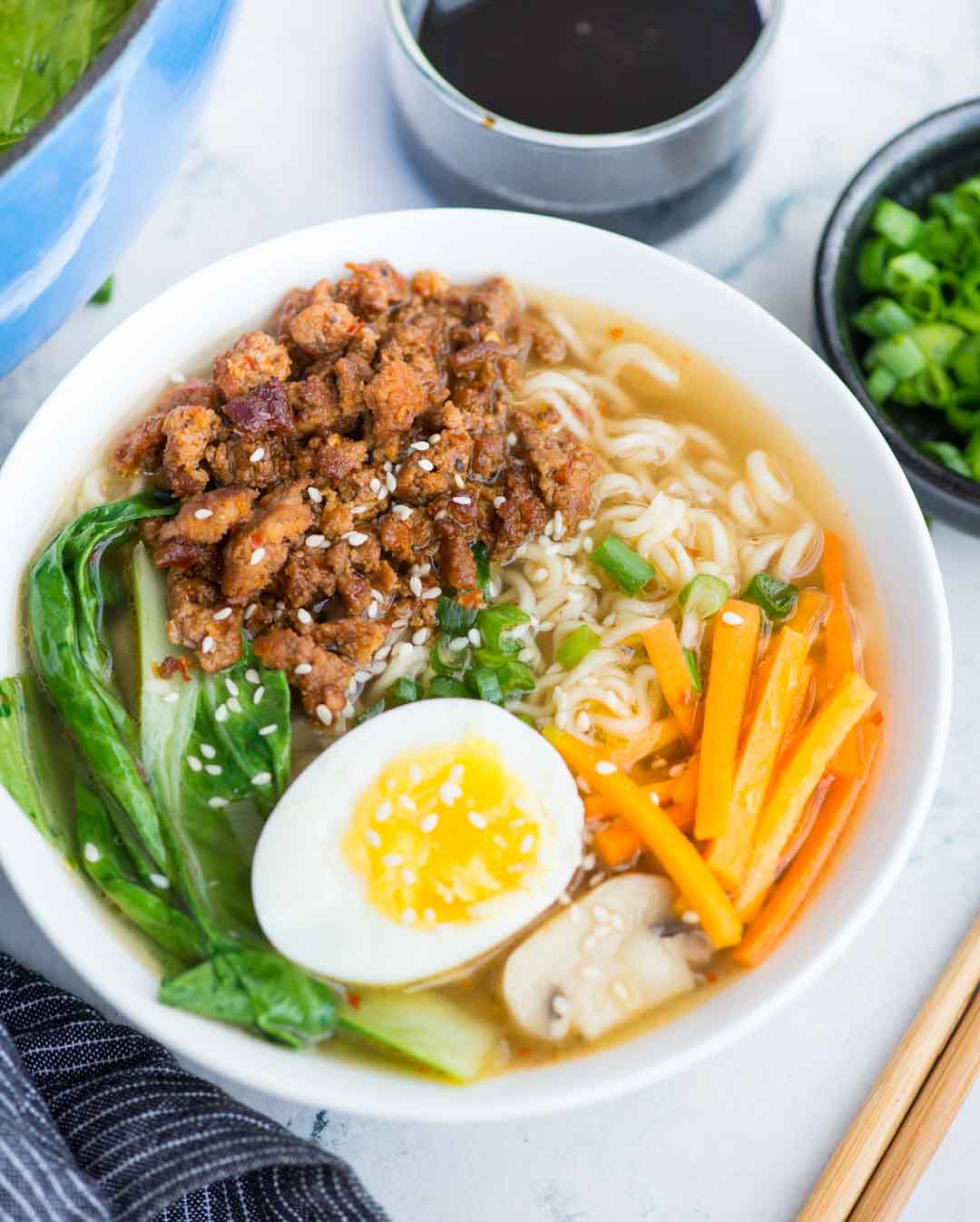 This spicy pork ramen takes less than 20 minutes to make, and has a really flavorful broth with a secret ingredient for extra depth of flavor. Spicy pork ramen is comfort in a bowl, especially for cold winter days.
Have you ever tried making chicken wild rice soup? Get this delicious recipe for homemade Chicken and Wild Rice Soup. Use leftover rotisserie chicken to cut down on cooking time. This creamy soup is the perfect way to warm up on a cold day!
Instant Pot Wild Rice Mushroom Soup is Vegan, Good for you, and just what everyone needs in winter. It is such a hearty and satisfying soup which will quickly become a new favorite to add into your rotation.
Chicken Sausage Soup is a quick and easy soup recipe that features time-saving ingredients including pre-cooked chicken sausage, frozen veggies, and pre-cooked rice to get a nourishing meal on the table when time is tight.
This warm and comforting Vegan White Bean Soup combines cannellini beans and fresh herbs to create an earthy flavor. This rustic white bean soup is rich and creamy without any of the dairy, gluten or oil! This veganized Tuscan-style soup tastes like it's from an Italian restaurant but it's really homemade!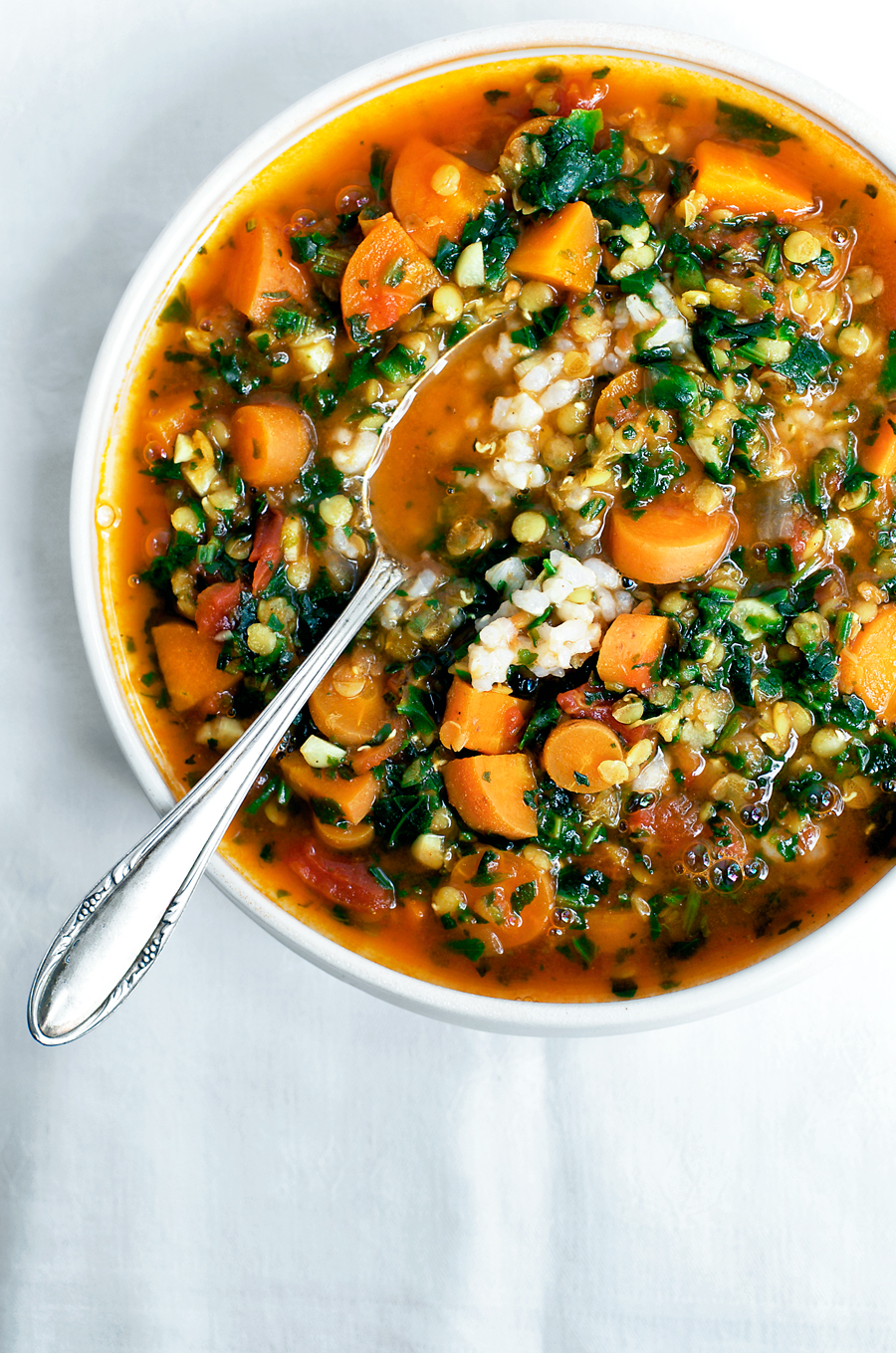 Vegan red lentil soup with carrots, lentils, and a tomato base. This simple soup is a weeknight staple and can be made with common pantry items like canned tomatoes, frozen spinach, and dried red lentils. It takes about half an hour from start to finish and freezes well.
This Spicy Sweet Potato and Lentil Soup with gentle warming spices, red peppers and coconut milk is nourishing, hearty and delicious.
This Creamy Root Vegetable Soup is warm and delicious and loaded with tons of nutrition from vegetables and more. Guaranteed to warm you on chilly days!
Tonkotsu ramen is rich, filling, and easy to make at home with a luscious slow-cooked pork and chicken broth, fresh noodles, soft yolks, and tender pork belly.
A little bacon, cheese and beer can warm anyone up. Just a few easy steps to happiness.
This Instant Pot Cauliflower Soup is QUICK, EASY, and hands-off thanks to the Instant Pot. Make it in under 30 minutes! Naturally gluten free – no flour required!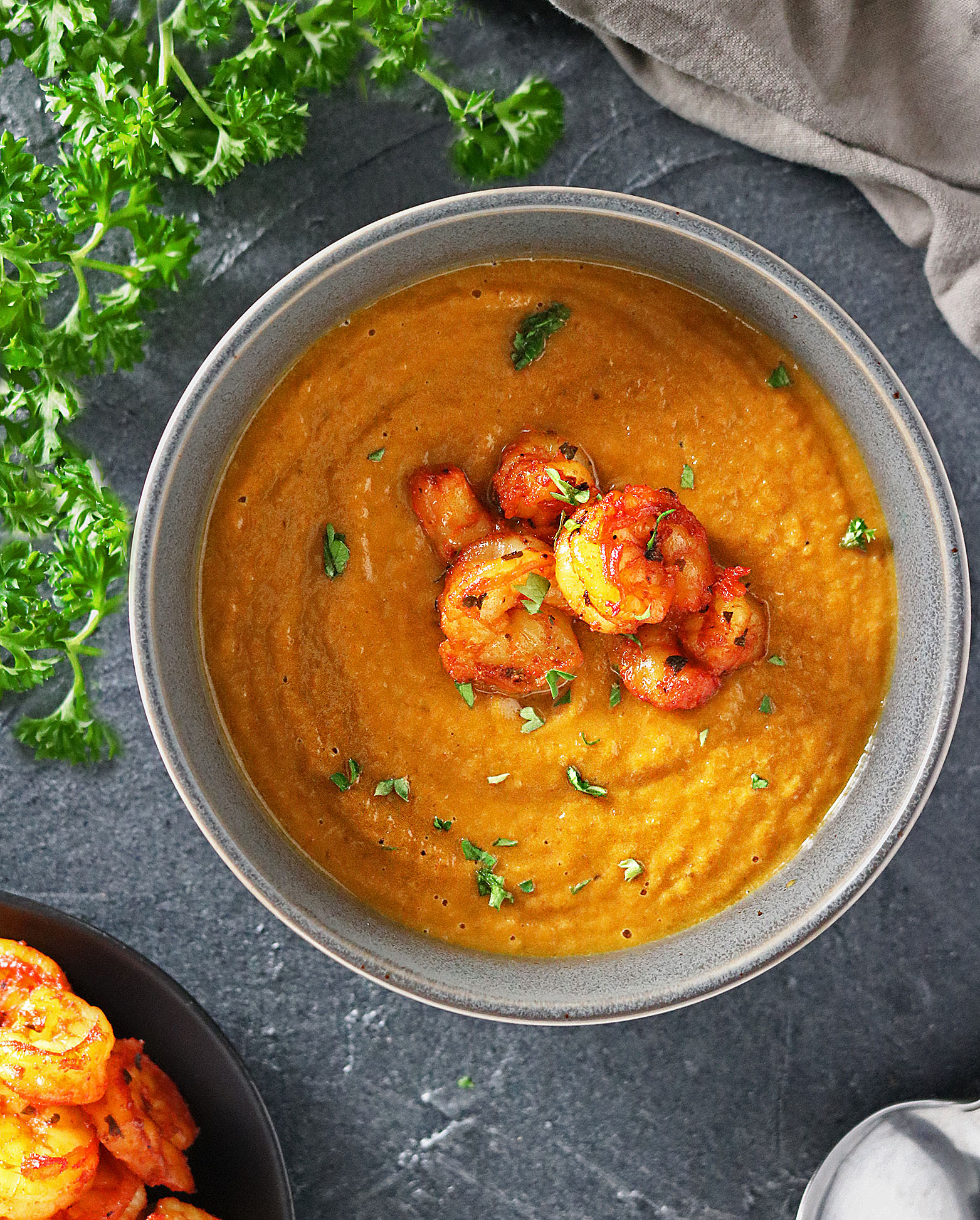 Simple ingredients like Onions, Butternut Squash, vegetable stock and a smattering of spices that you can easily find at your local grocery store, are what make up this Easy Curried Butternut Squash Soup that my daughter keeps asking me to make over and over again!
This homemade Chicken and Rice Soup is loaded with tender chicken, rice and vegetables in a flavorful broth. It's a delicious, cozy meal for a cold day.
A deliciously comforting Potato and Leek soup that gets its creaminess from a secret ingredient … cauliflower! NO-CREAM needed!
Want to know how to make pozole in less than 30 minutes? This pozole recipe combines pozole verde and pozole rojo.
This healthy vegan lentil and potato stew is full of comfort food goodness and seasonal ingredients, like carrots, greens, and wintery herbs. For instance, this lightened up stew is great for cold weather, quick & easy, and very budget friendly.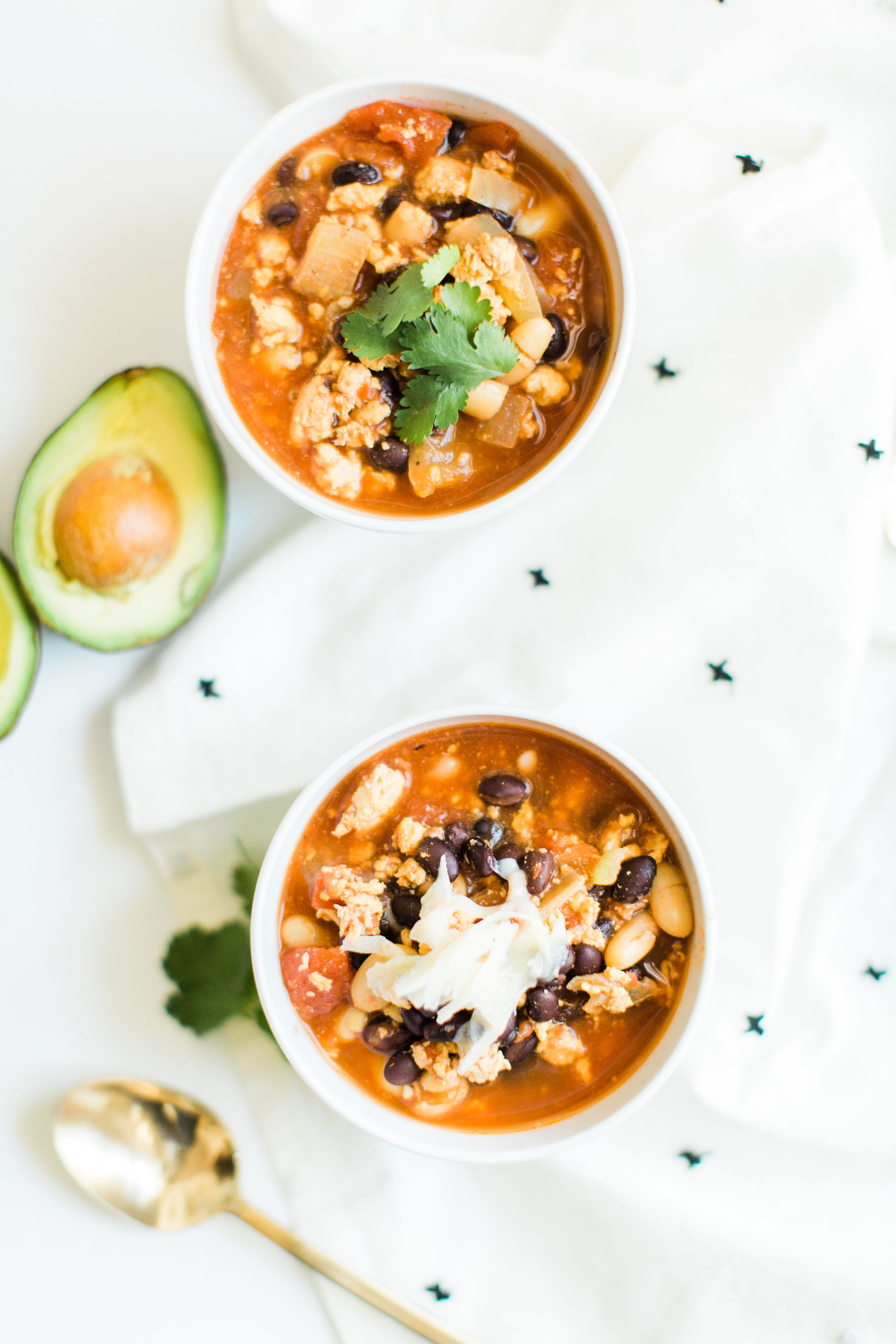 This super yummy ground chicken chili is one of our family's favorite meals. And the best part, it all comes together in an Instant Pot or crockpot. Serve this made ahead chili with yummy toppings and a side of cornbread and you've got yourself an incredible, hearty, healthy, and simple dinner.
What about you? What soup recipes does your family love? Do you read cookbooks or find ideas online? I'd love to hear what your favorite meals and hearty soups are! I'm always looking for new ideas to keep the family fed and happy.
Love these delicious soup recipes? Head to our recipe page to check out what else we're dreaming up in the kitchen!
SHOP THE SOUP POST | CLICK LEFT & RIGHT ARROWS TO EXPLORE
Cover image via Veronika's Kitchen