This post contains affiliate links, which means that if you click on one of the product links, I'll receive a small commission. Thank you so much for clicking through and helping to support this little blog business of mine! Read more about our site, privacy, and disclosure policies here.
This recipe for peaches and cream muffins with a cream cheese frosting is one for the books. Moist, delicate, fruity peach muffins topped with a decadent cream cheese frosting; it's the perfect breakfast pairing.
I've been on a bit of a summer dessert spree. I can't resist. The fresh summer fruit, coupled with the fact that I'm nearly seven months pregnant, is making it pretty hard to ignore that sweet tooth. And peaches are one of my absolute favorite summer fruits to bake with. (If you haven't tried this perfect peach cake, you're seriously missing out.) Fresh, peaches are delicious, but baked down, they're bursting with sweet and tangy, caramel-y goodness, and I want to eat them all.
Hubby and I have been obsessed with these peaches and cream muffins from the lodge where we got married in Maine for YEARS now. And since it's peak peach season, I decided to do a bit of experimenting in the kitchen. Migis Lodge, where our favorite peaches and cream muffins originated from, keeps their secret recipe pretty tight to the chest, so I had to play around a bit to come up with our own version.
After a few attempts, and combining recipes and flavors, I give you: our very own peaches and cream muffins with a cream cheese frosting.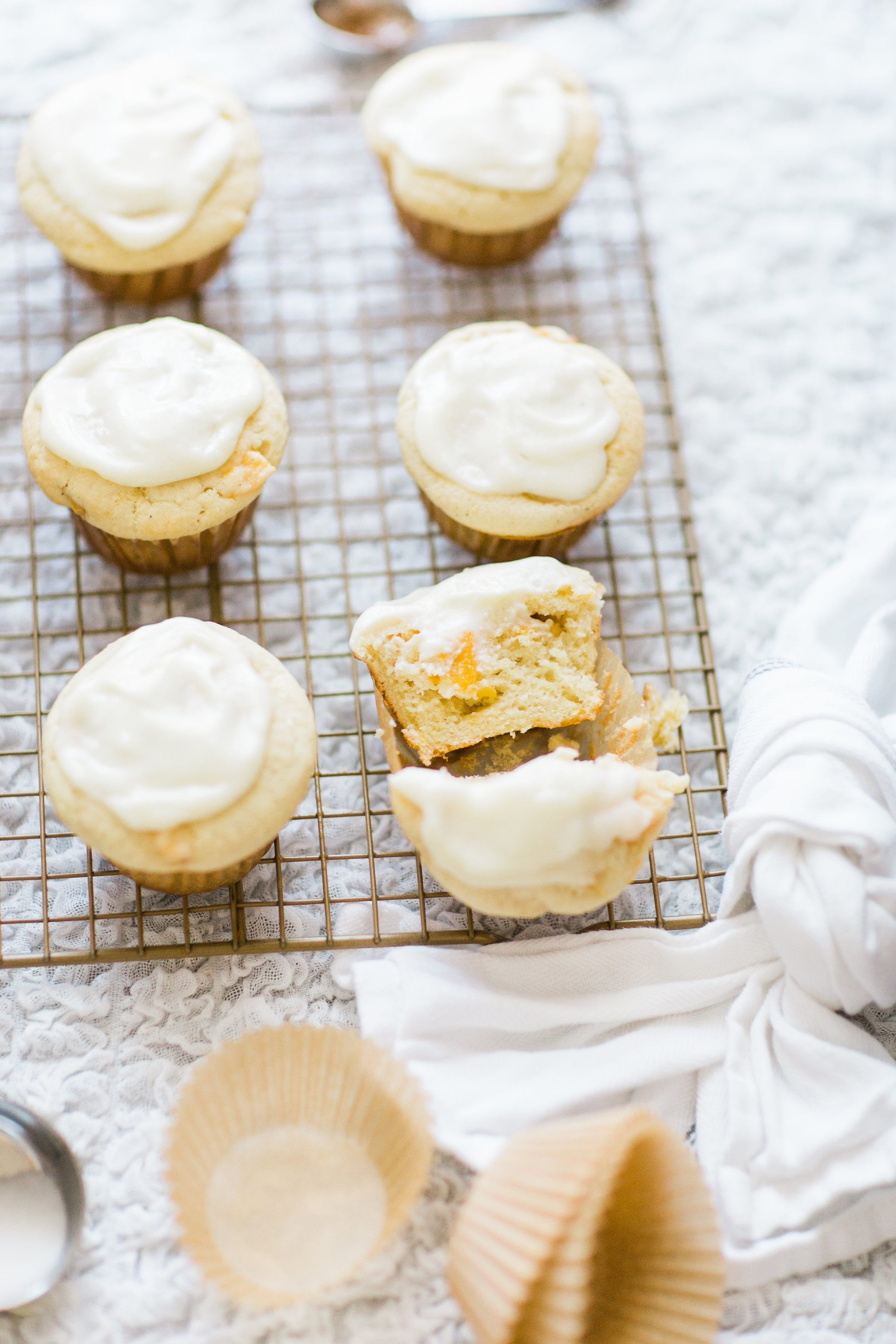 Peaches and Cream Muffins with Cream Cheese Frosting
These heavenly peaches and cream muffins are packed full of peach and vanilla; not too sweet, with the perfect doughy-meets-spongy bounce, and just the right amount of fluffy goodness. The decadent cream cheese frosting will have you singing at the perfect pairing.
Peaches and cream (cheese) were meant to be.
I love the sweet bursts of peach in each bite. The peaches are slightly mashed to release some of their natural juice, but there are still plenty of peach chunks in the muffins to remind you that these are most definitely peaches 'n cream muffins.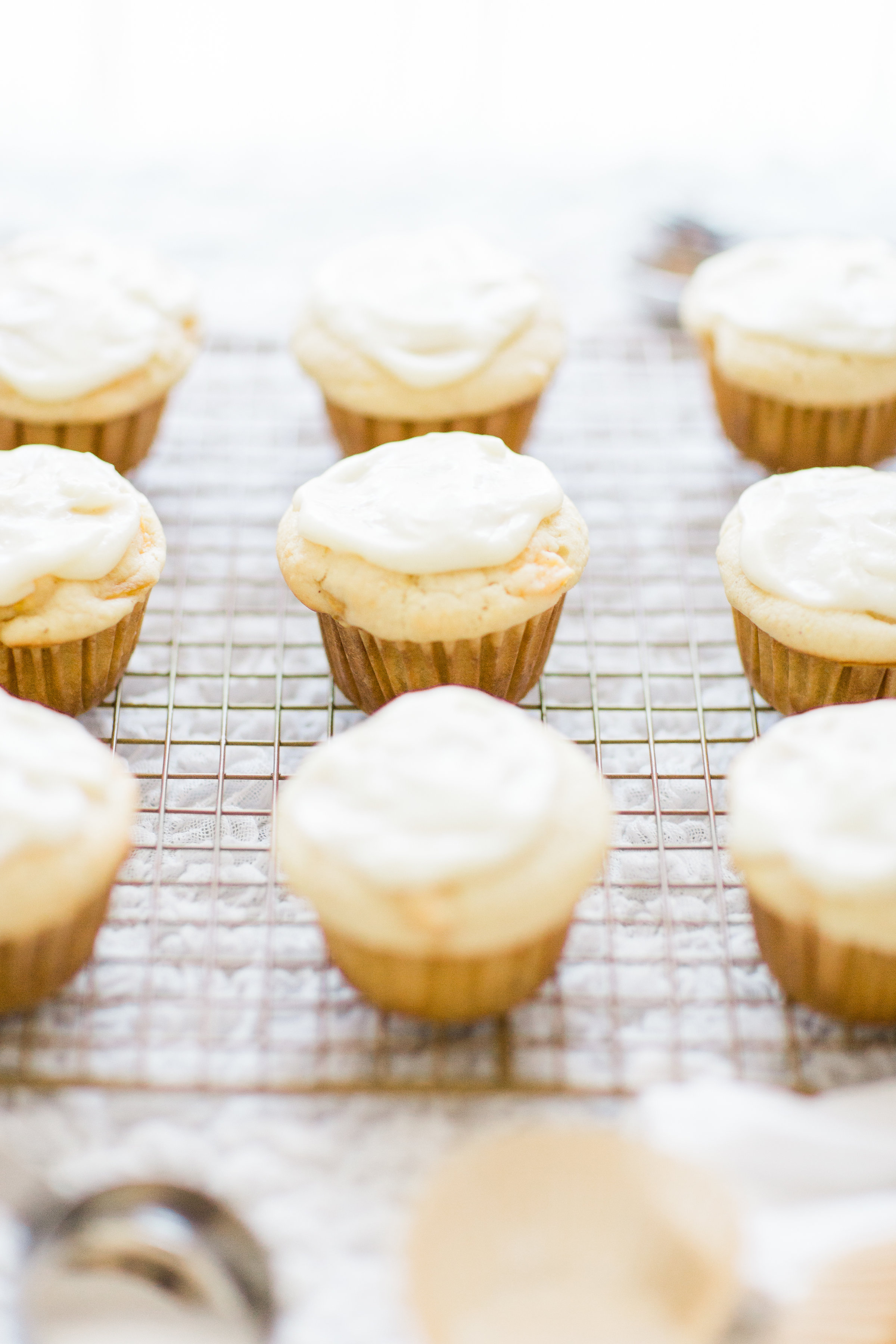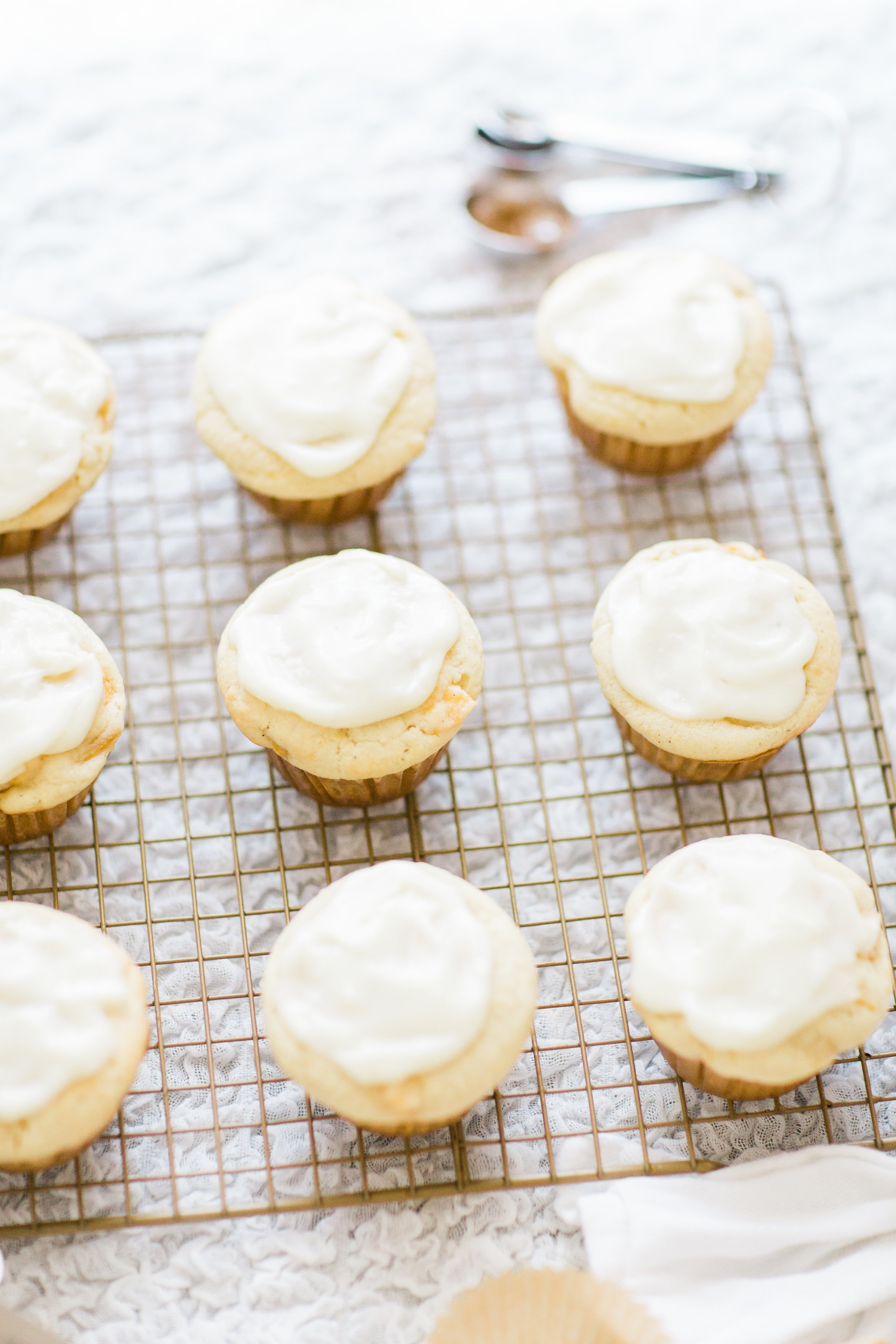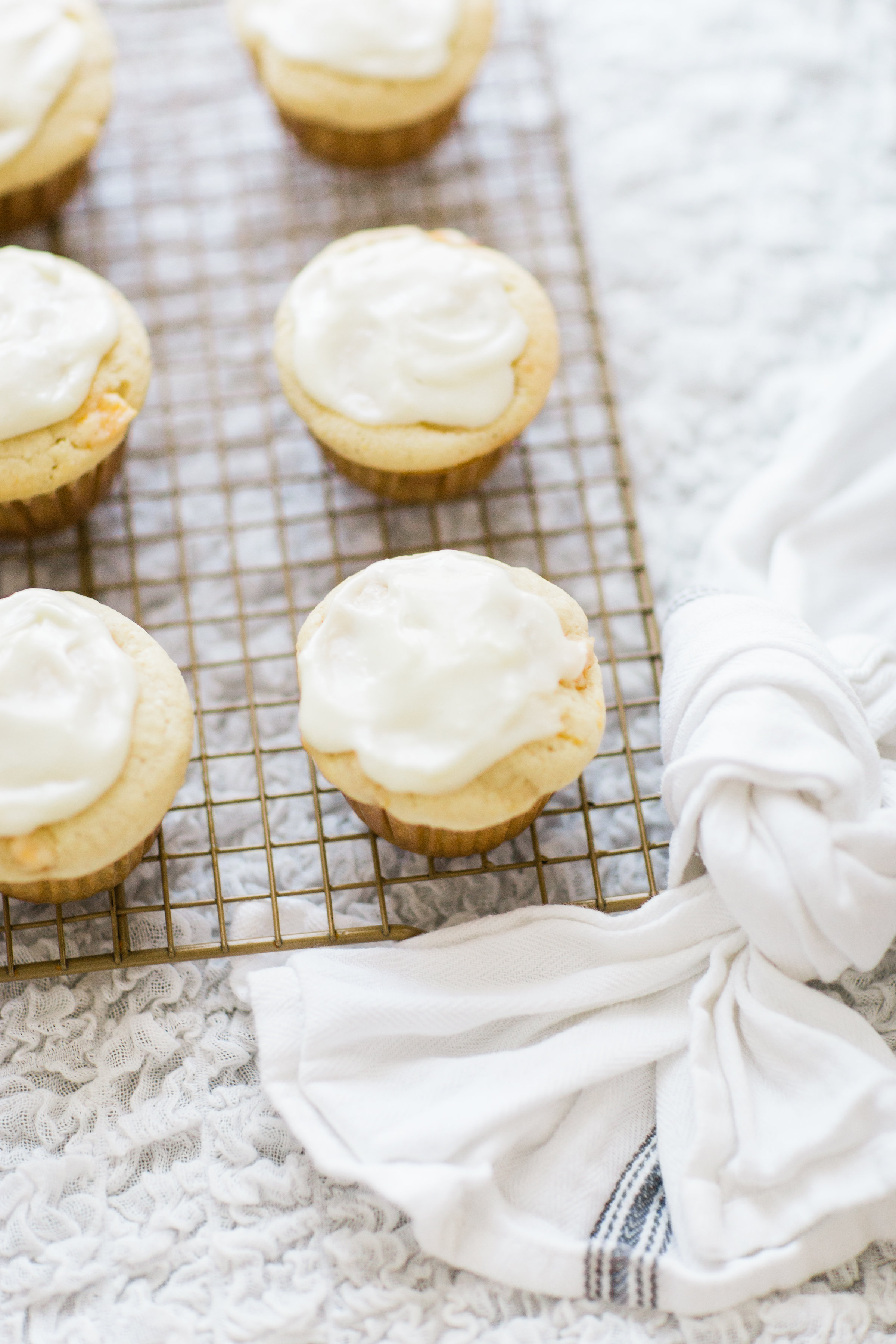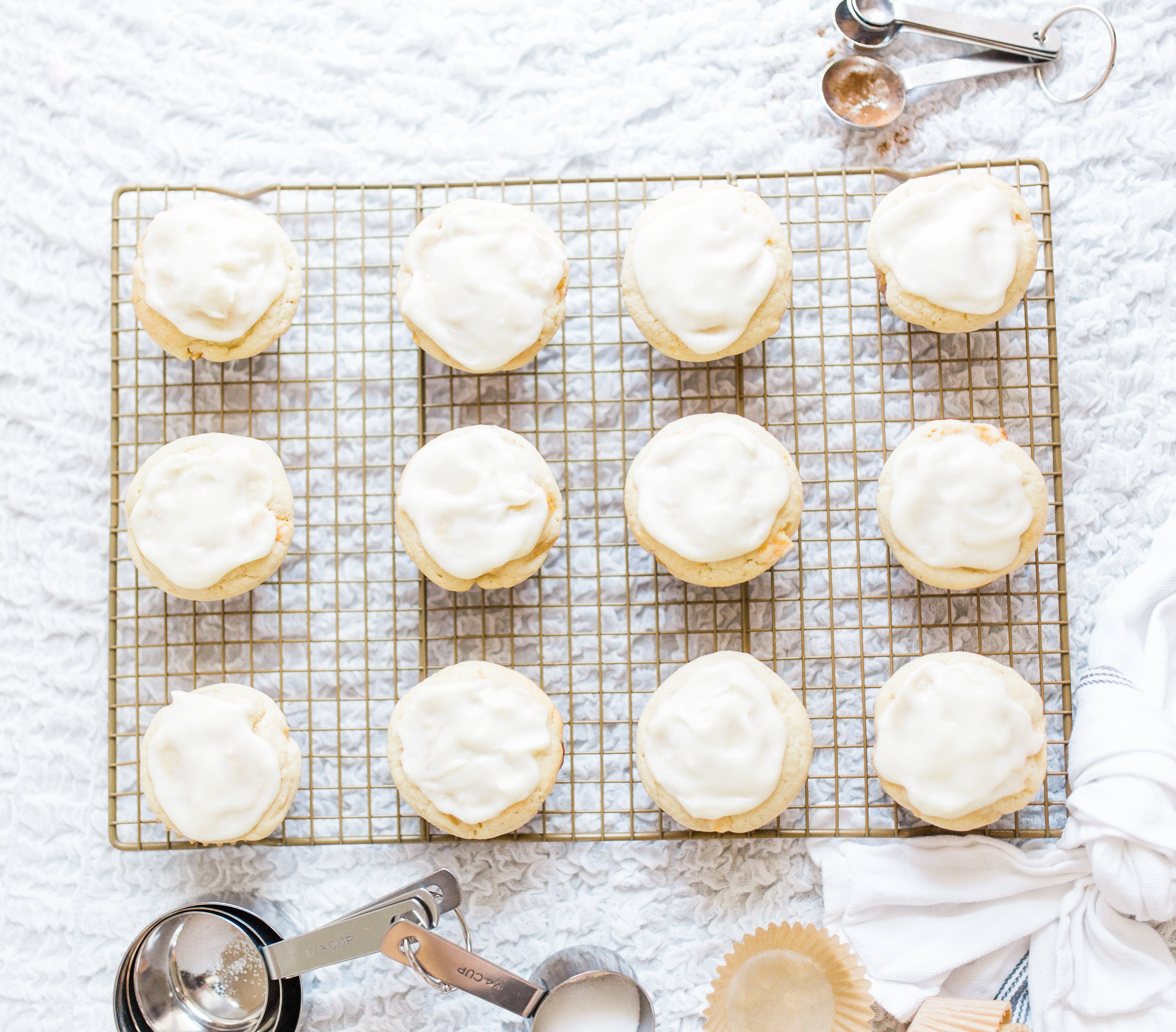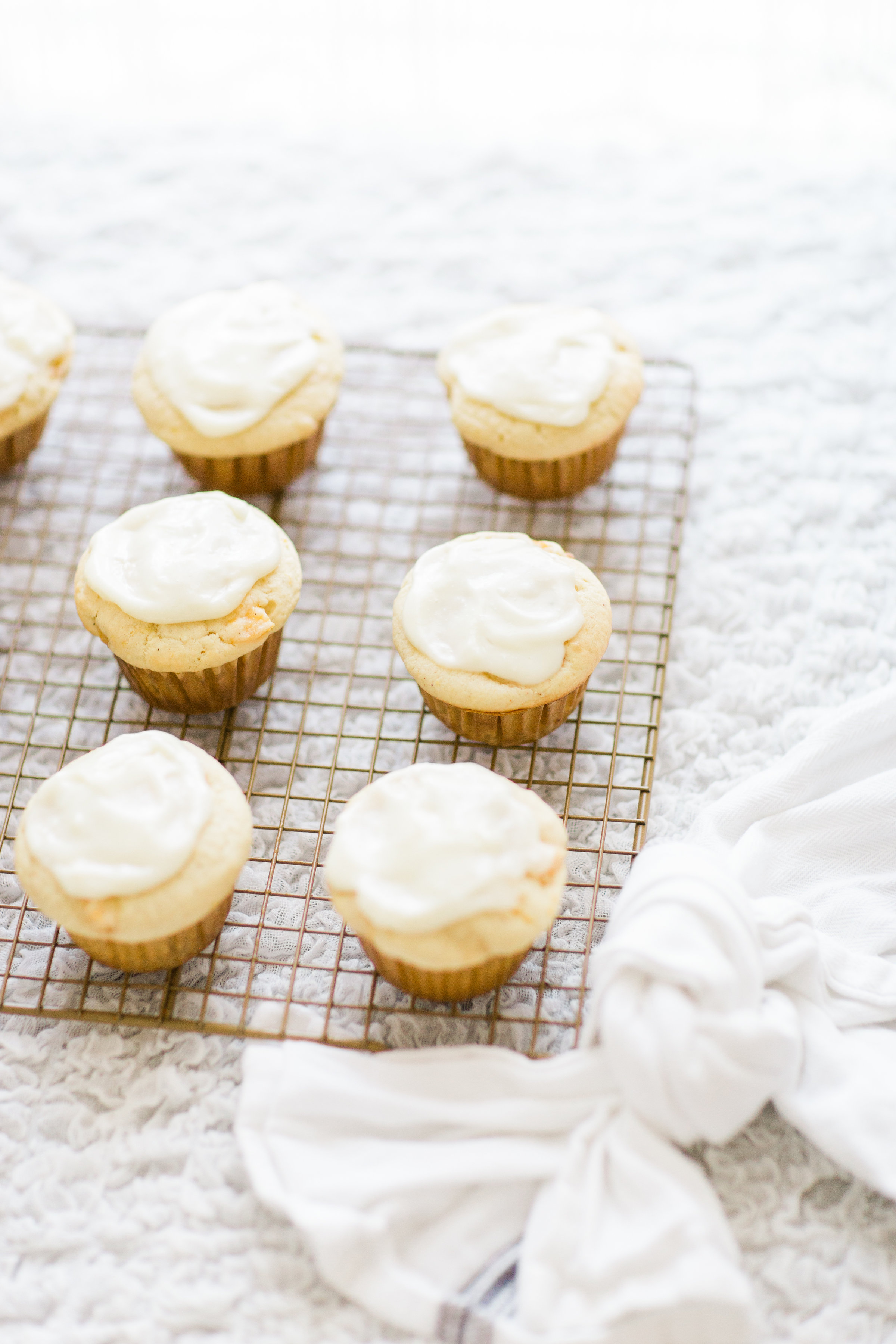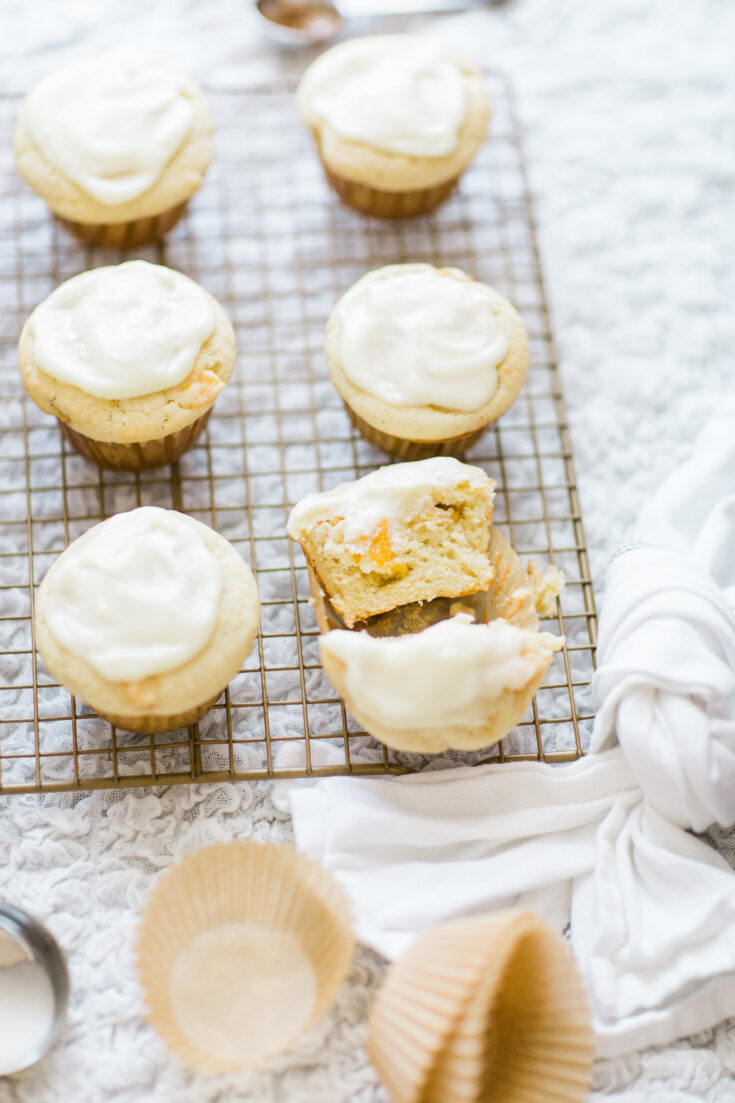 Yield: 1 Dozen Muffins
Peaches and Cream Muffins with Cream Cheese Frosting
These incredible peaches and cream muffins are packed full of peach and vanilla; they're subtly sweet, and strike that perfect balance with a decadent cream cheese frosting slathered on the top.
Ingredients
Muffins:
Baking Spray or Coconut Oil Spray
1 3/4 cups unbleached all purpose flour
1/2 cup granulated sugar + 1 tbsp sugar for the peaches
2 tsp baking powder
1/4 tsp baking soda
1/4 tsp salt
3/4 cup room temperature buttermilk or sour cream
1 large egg, room temperature
1 tsp vanilla
1 cup fresh diced and peeled peaches, lightly mashed with a fork (frozen and thawed work too!)
1/2 tsp cinnamon (optional)
pinch of nutmeg (optional)
6 tablespoons melted butter
Frosting:
6 ounces of cream cheese
3 to 4 tablespoons of powdered sugar
Instructions
Preheat the oven with a rack in the middle to 375 degrees F.
Lightly spray or grease the top of the muffin pan so that the muffin tops don't stick. Place muffin liners into the cavities of the pan.
In a large bowl, whisk together the flour, sugar, baking powder, baking soda, and salt. Set aside.
In another bowl, mix the buttermilk or sour cream, egg, and vanilla. Add it to the dry ingredients.
Using a fork, gently smash the diced peaches and then toss with tablespoon of granulated sugar, cinnamon, and pinch of nutmeg. Add the smashed peaches and melted butter to the dry ingredients, and stir until the dry ingredients are just incorporated.
Portion the batter among the muffin cups. The batter will fill the entire muffin cup. Bake the muffins until a toothpick comes out clean, about 18 to 20 minutes.
Cool the muffins in the pan on a rack for 10 minutes. Remove the muffins from the pan, and continue to cool on a wire rack. Top with cream cheese frosting and serve.
These muffins can be kept in an airtight container for up to two days.

For the frosting: melt cream cheese in a microwave-safe bowl (about 40 seconds). Stir in powdered sugar; keep mixing until your frosting is smooth.

Peach Muffin Recipe adapted via Karen's Kitchen Stories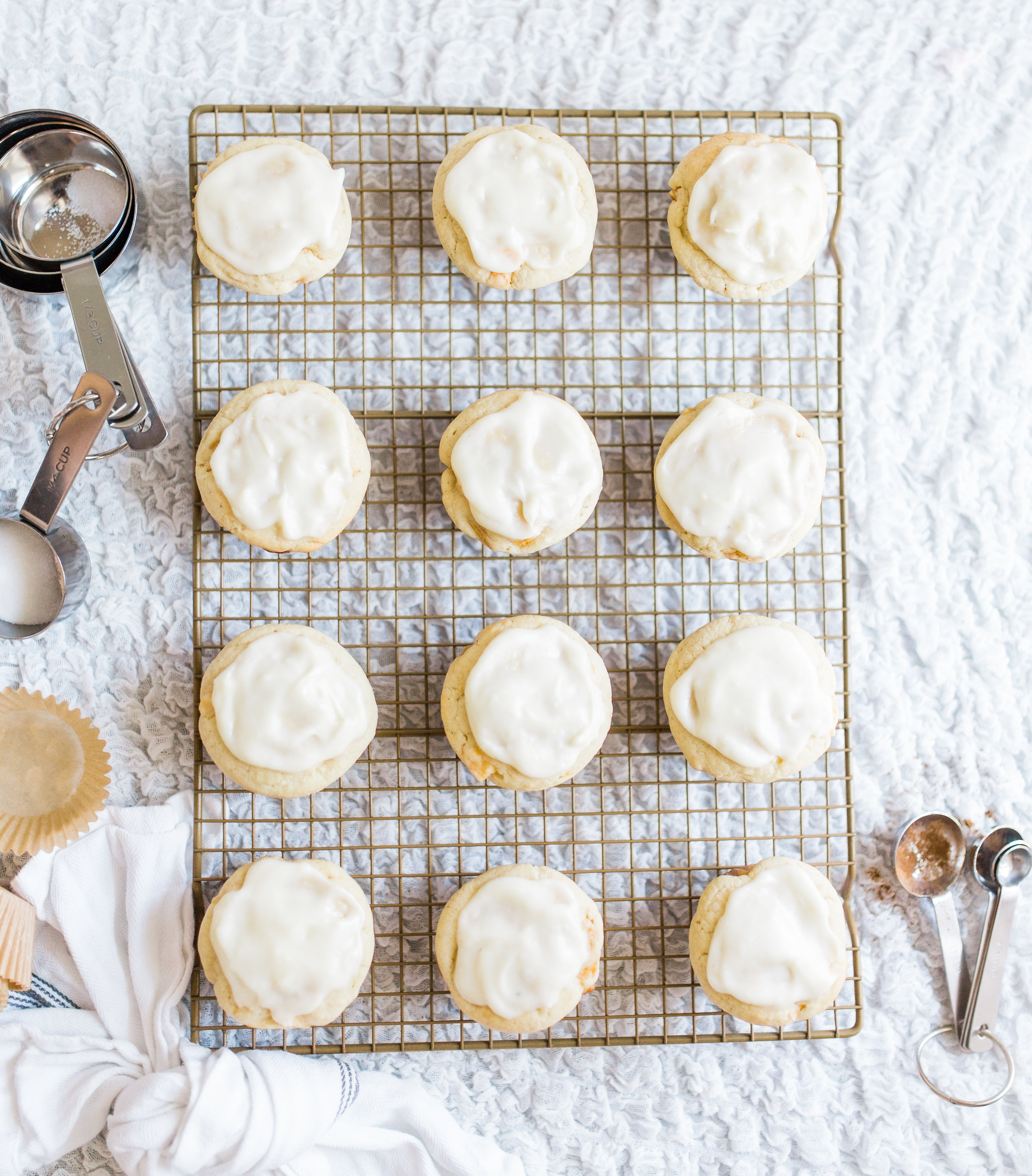 By the way, even if you find yourself craving peaches in the middle of fall, winter, or spring, frozen peaches (thawed), actually work really well in this recipe as well!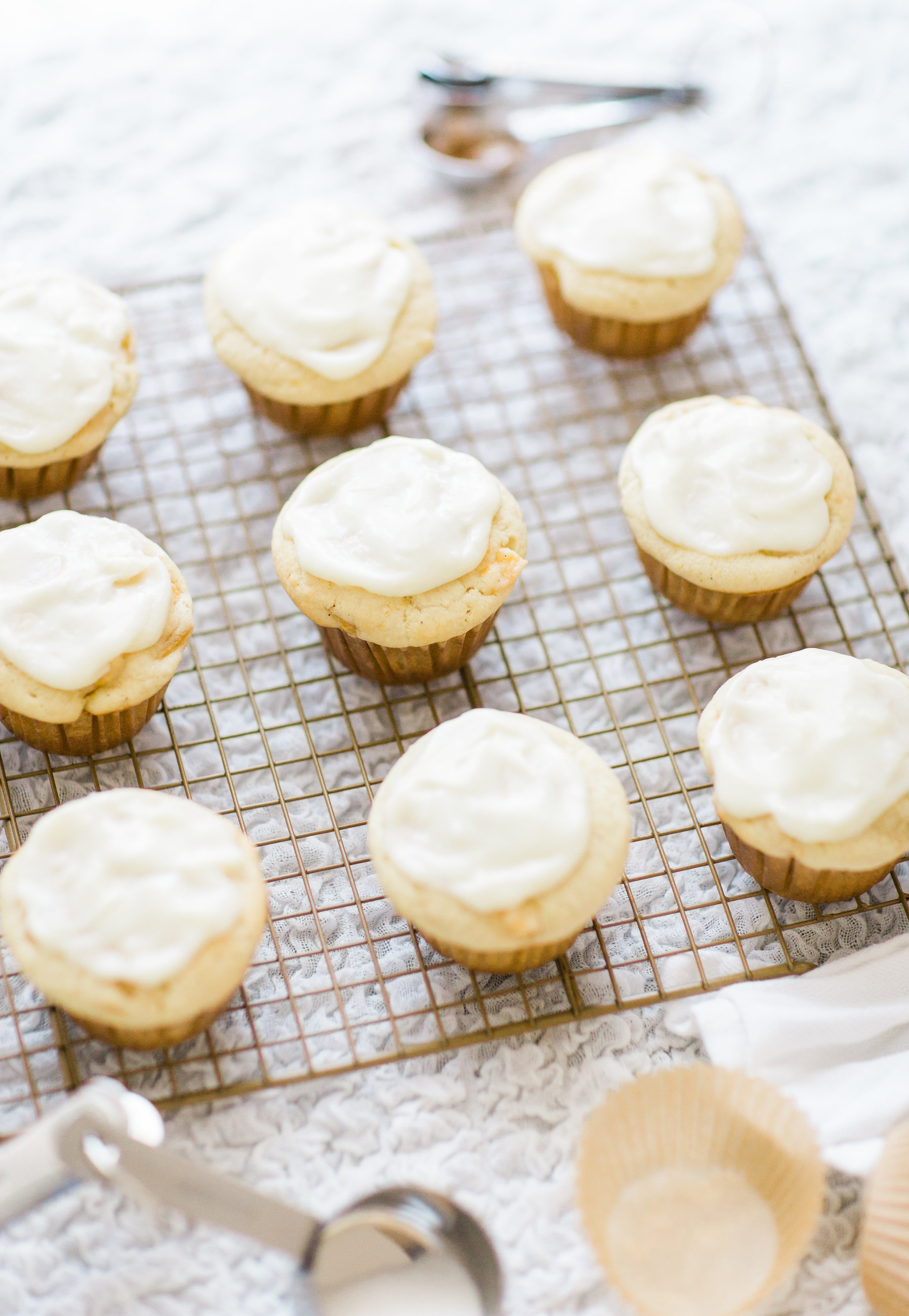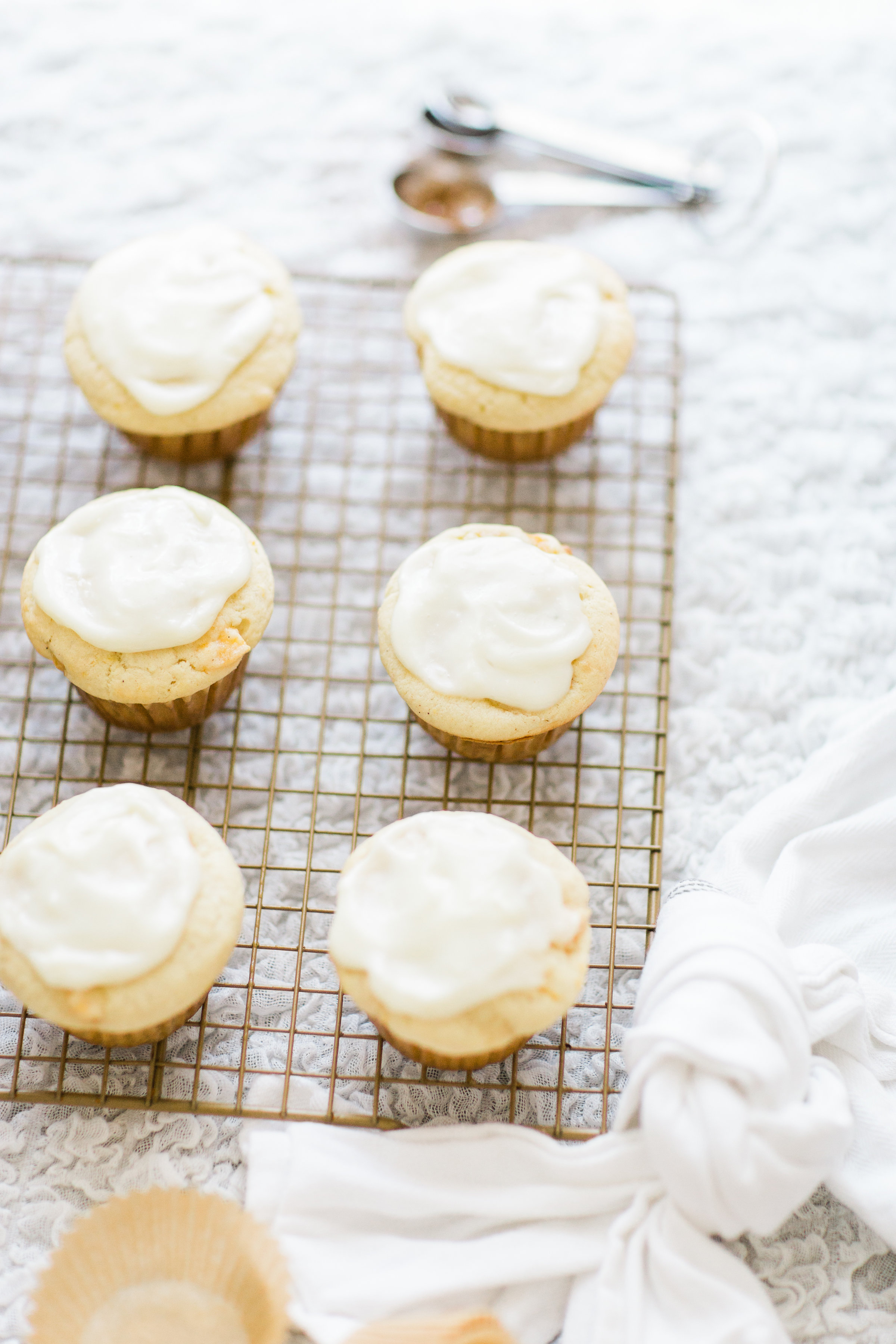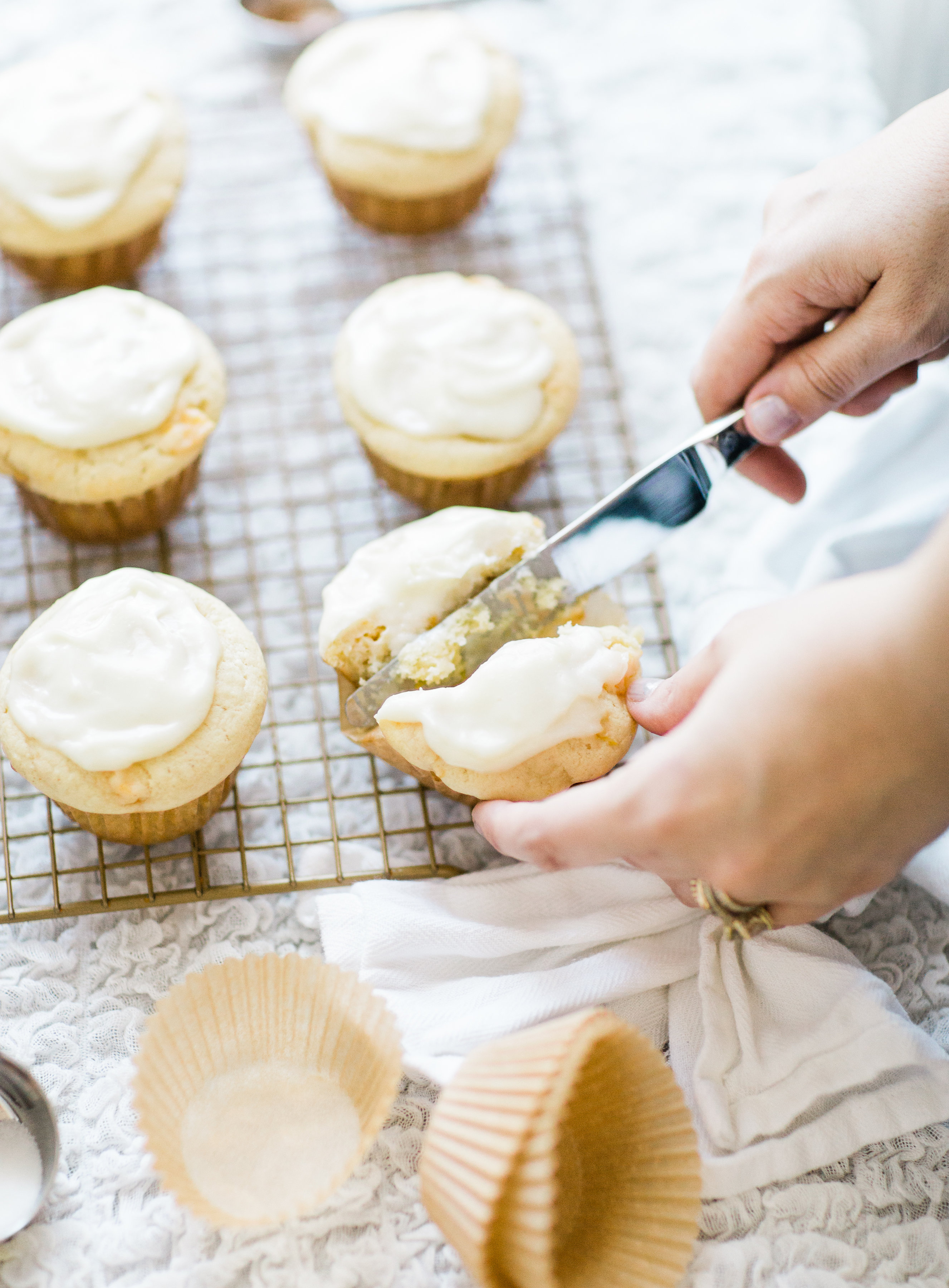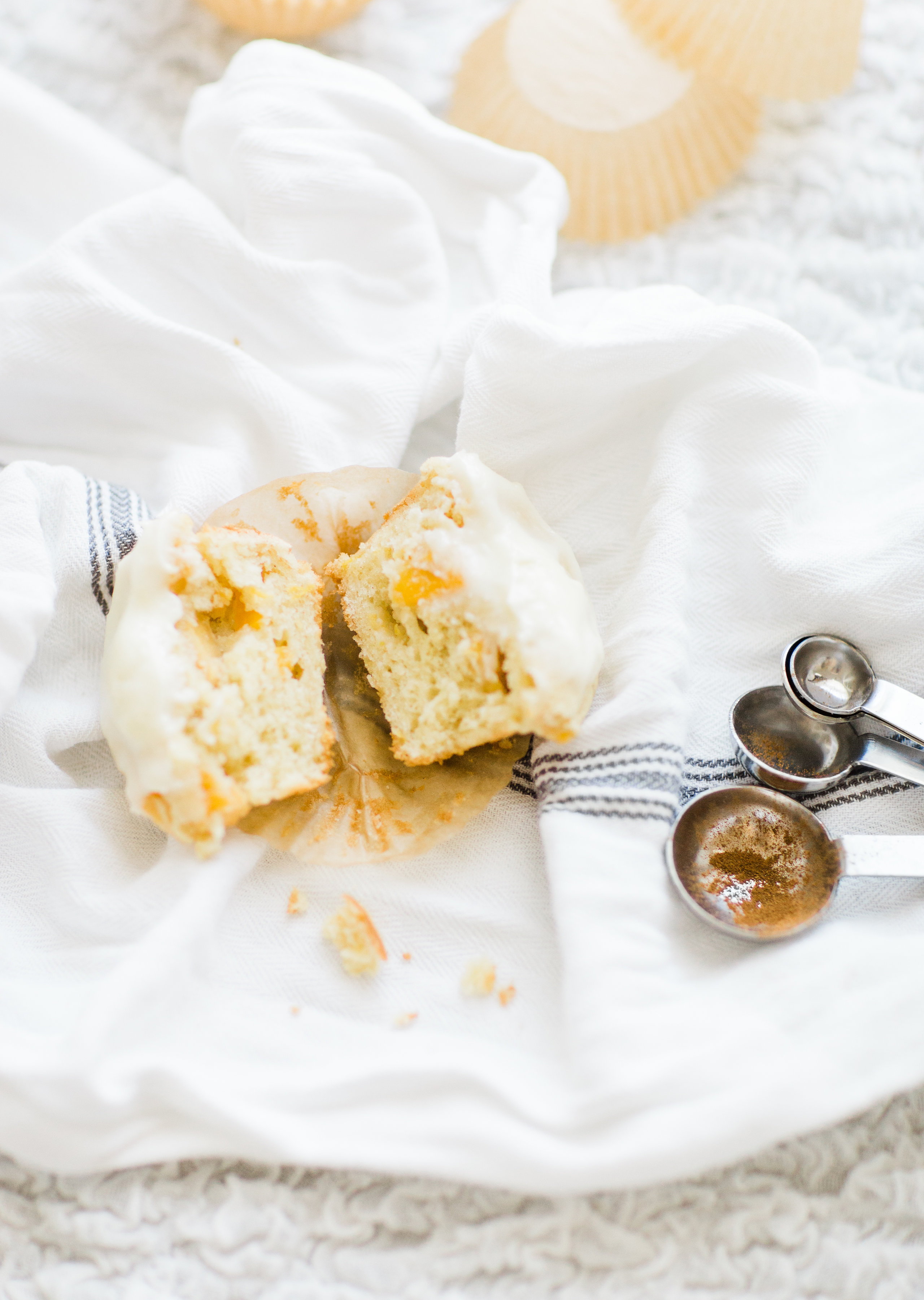 If you make your own peaches and cream muffins, be sure to tag me on social media (@glitterinclexi). I love to see your creations!
Photos by Annie Watts Photography for Glitter, Inc.
Love this recipe? See more of our favorites here.