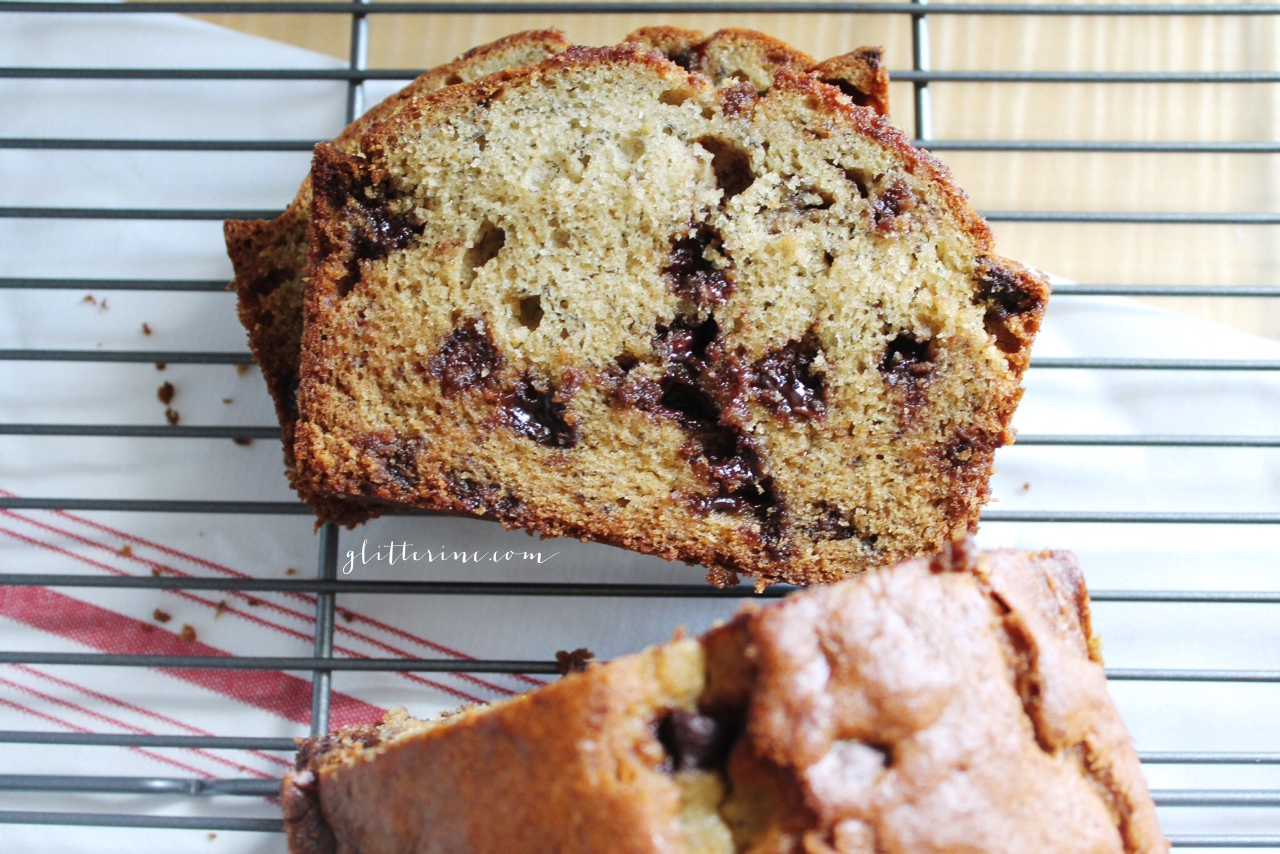 I debated whether or not to share my favorite banana bread recipe, because truth be told, banana bread feels so ordinary.  But really, what's wrong with ordinary?  Especially when it is this good.  This is comfort food at its finest.  And it's the recipe I use over and over and over again.  (I have this crazy aversion to overripe bananas … as in, the second I see a brown spot, I'm over it … so I bake.)  This banana bread is as moist as it gets.  The crust is buttery and toasted while the center remains unbelievably soft, moist and rich but still bread-meets-cake-like.  The texture is dense but soft.  The end result is utter perfection, and tastes like home.  The addition of milk chocolate chips makes it extra special (and decadent), though really, you could easily make this recipe without the chocolate chips … it is just that moist.
MILK CHOCOLATE CHIP BANANA BREAD
Makes 1 loaf.
Level: Easy
INGREDIENTS
1 cup granulated sugar
8 tablespoons (1 stick) unsalted butter, room temperature
2 large eggs
3 – 4 ripe bananas
1 tablespoon milk (any fat content)
1 teaspoon ground cinnamon
2 cups all-purpose flour
1 teaspoon baking powder
1 teaspoon baking soda
½ – 1 teaspoon salt (I stick with a ½.)
½ – 1 cup milk chocolate chips (depending on how chocolatey you want your bread)
DIRECTIONS
1. Preheat oven to 325°F.  Butter (or spray with baking spray) a 9 x 5  or 10 x 5 inch loaf pan.
2.  Cream the sugar and butter together in a large mixing bowl until light and fluffy.  Add the eggs one at a time, beating well after each addition.
3.  In a small bowl, mash the bananas with a fork.  Mix in the milk and cinnamon.  In another bowl, mix together the flour, baking powder, baking soda and salt.
4.  Add the banana mixture to the creamed mixture and stir until combined. Add dry ingredients, mixing just until flour disappears.  Then toss in your chocolate chips and mix one more time.
5.  Pour batter into prepared pan and bake for 1 hour, until a toothpick inserted in the center comes out clean (add ten minutes if the center still seems a bit raw).  Set aside to cool on a rack for 15 minutes.  Remove bread from pan, flip over onto rack and cool completely before slicing.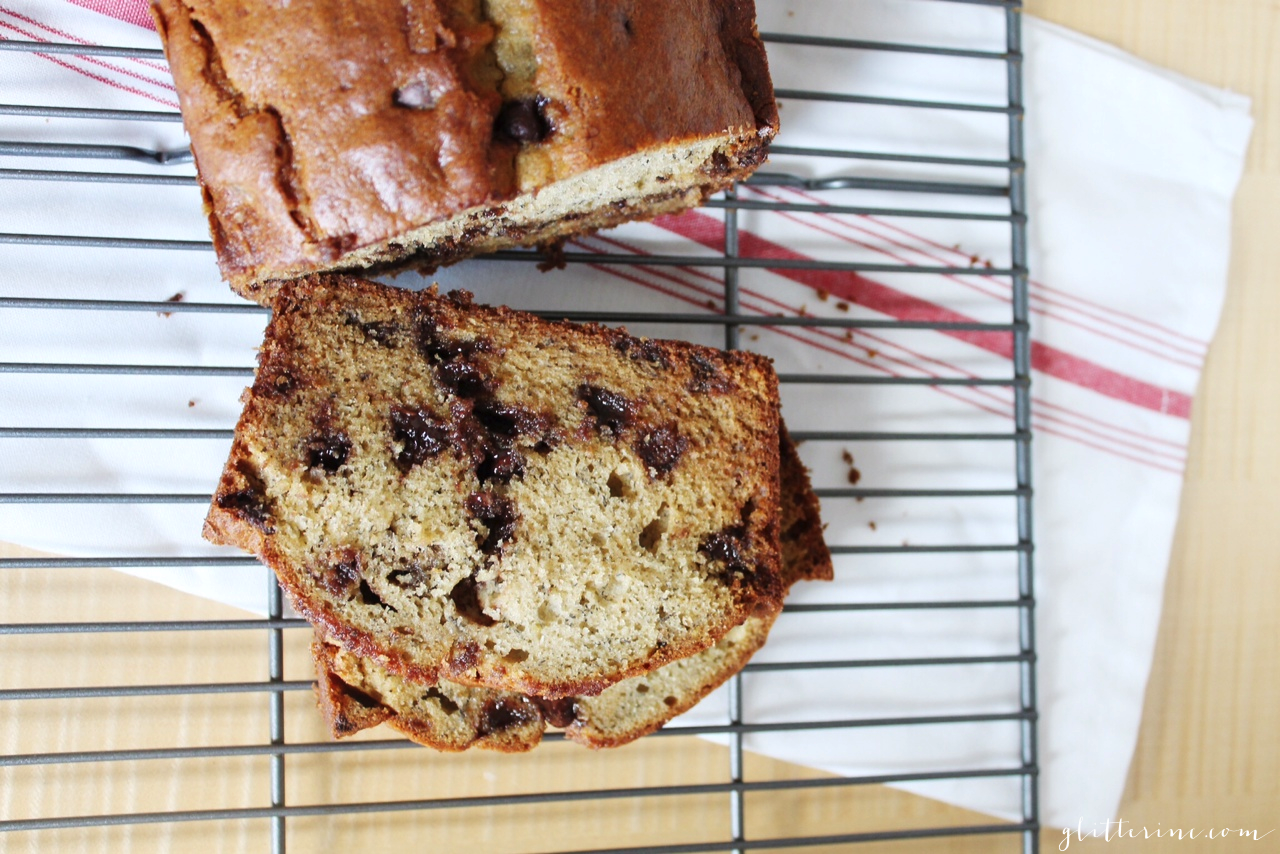 By the way, I wish I could capture the smell of this bread baking right into these pictures.  TIP:  If you ever have visitors scheduled to arrive, pop this banana bread mix into the oven about thirty minutes before your guests arrive and they will think you are a regular Martha Stewart (and will be begging you for a taste).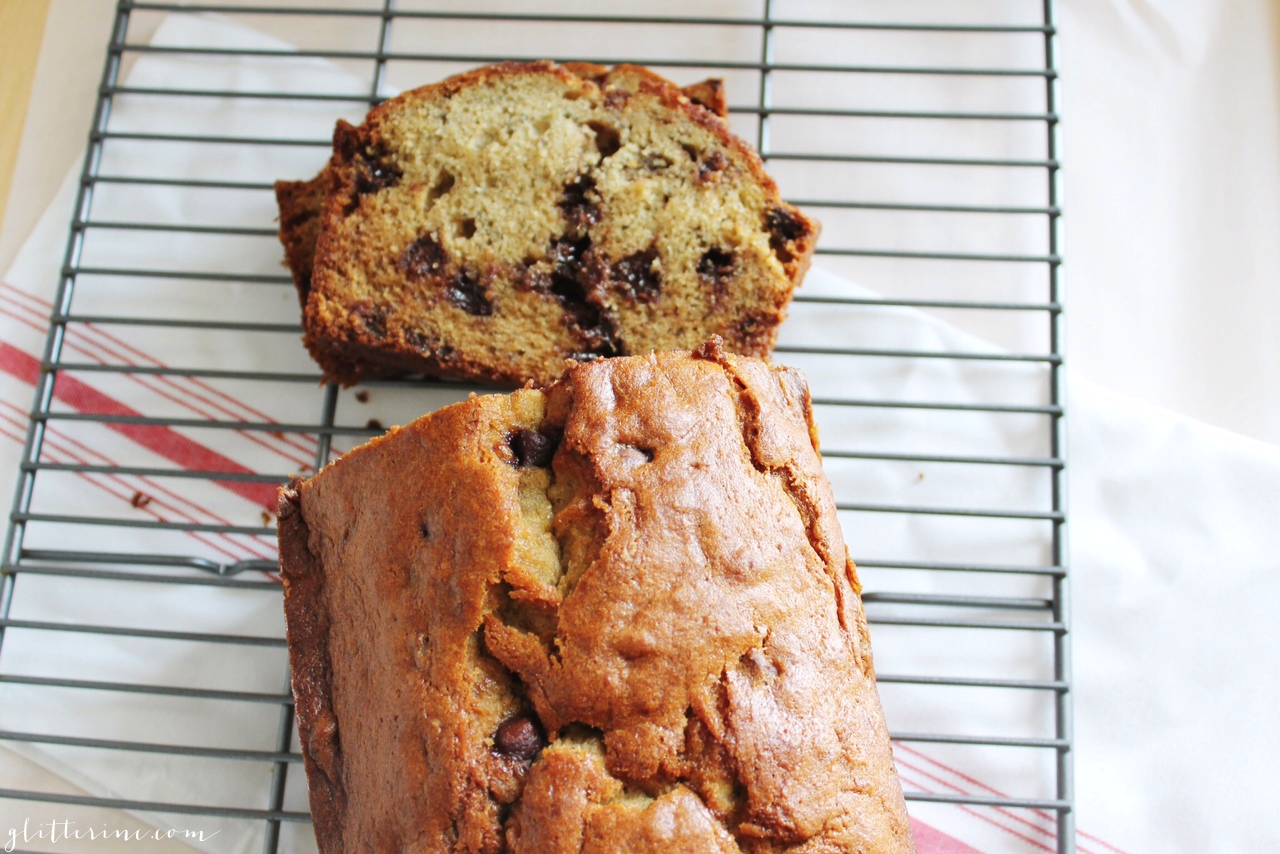 Recipe Adapted via Food Network