This post contains affiliate links, which means that if you click on one of the product links, I'll receive a small commission. Thank you so much for clicking through and helping to support this little blog business of mine! Read more about our site, privacy, and disclosure policies here.
With Valentine's Day just a few weeks away, I knew I wanted to make an adorable sugar cookie that could stand up to a bit of decorating. Because here's the thing: there are truly delicious chewy and soft sugar cookies, and then there are equally delicious sugar cookies that are meant to be rolled out, cut with cookie cutters of all shapes and sizes, retain their shape in the oven (rather than melting into a big puddle of cooked dough), and frost to perfection.
I researched like a true cookie-crazed woman, and tried several variations until I found THE PERFECT COOKIE. (One of the sugar cookie recipes was delicious, but too soft, and not really the kind of cookie that could be cut-through with a cookie cutter and hold up to a whole lot of frosting and sprinkles, or in this case, rock candy.) Then I stumbled upon this brilliant sugar cookie recipe, and with a few tweaks, we were in business! This recipe for sugar cookies you can decorate, is hands-down, such a perfect sugar cookie to make with cookie cutters, decorations, loads of frosting; a.k.a., truly pretty sugar cookies.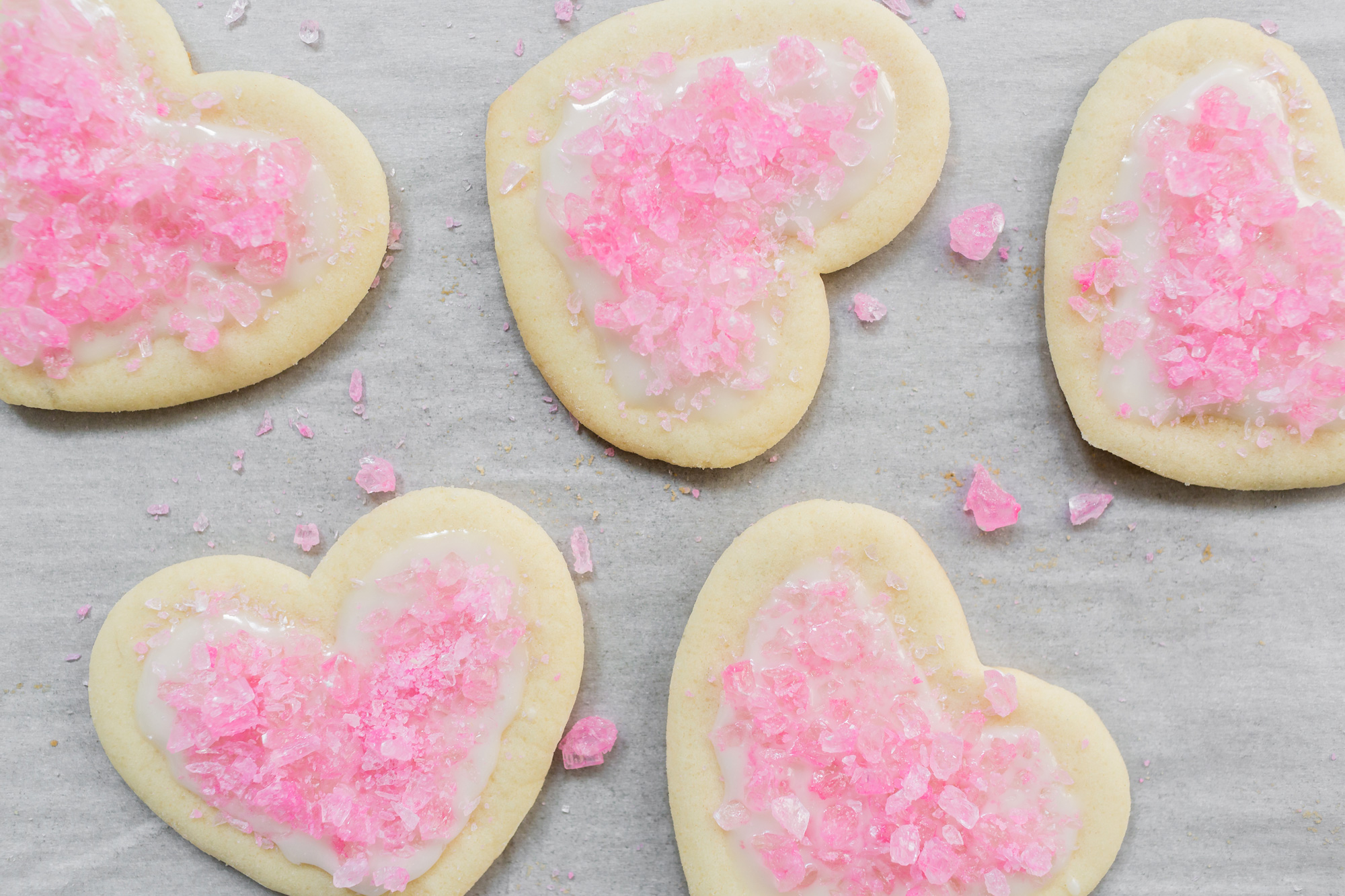 *Note: These sugar cookies are the crumbly, holds-up-to-frosting type. They are not ooey-gooey chewy sugar cookies. I was hunting for a sugar cookie that could hold up to decorations (frosting, sprinkles, rock candy), that also tasted great (not all decorating cookies are made equal), and these are it!

These sugar cookies also happen to have no dairy, which is great, since we've been on a bit of a vegan kick lately. (I mean, have you tried the incredible vegan chocolate chunk banana bread yet?)
Oh right, back to the sugar cookies …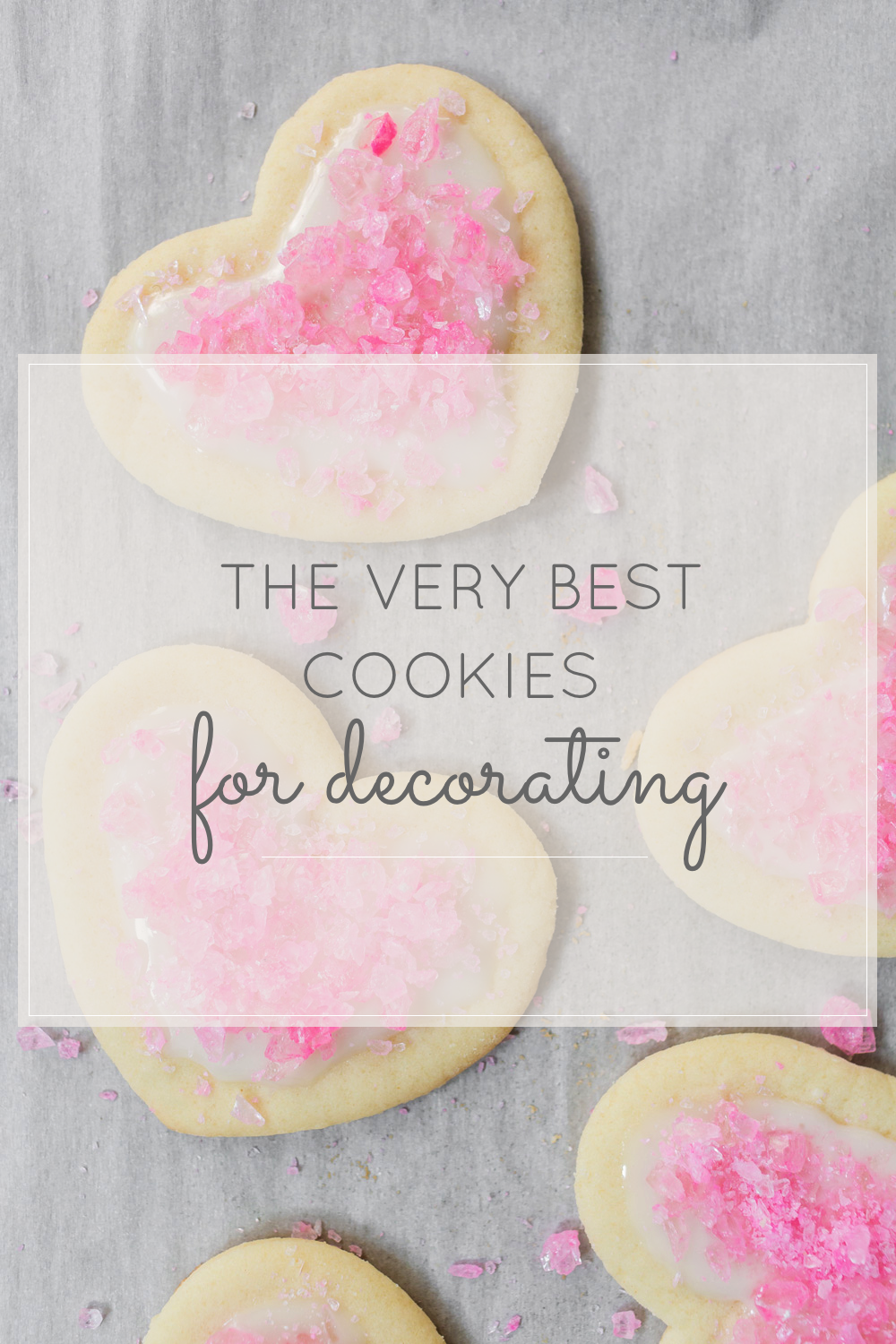 THE PERFECT SUGAR COOKIES (FOR DECORATING)
COOKIE INGREDIENTS
1 cup granulated sugar
1 cup powdered sugar
2 cups vegetable shortening
3/4 teaspoon vanilla
1 large egg, beaten
3 cups flour AND 1/2 cup cornstarch (You can add a little more flour, up to an additional 1/2 cup, until your dough is not sticky, but I found that the 3 cups flour and 1/2 cup cornstarch was just right!)
3/4 teaspoon baking soda
3/4 teaspoon baking powder
1/4 teaspoon salt
FROSTING INGREDIENTS
½ cup confectioner's sugar
1 ½ tsp light corn syrup
1 tbs water
DIRECTIONS
Put all dry ingredients and powdered sugar in a bowl and whisk. In a mixer cream together shortening and sugar. Beat in egg and vanilla. Slowly add the dry mixture until incorporated. Your dough will look very dry and not come together without smushing it together by hand. That's perfect!
You must chill your cookies. Trust me, I know how tempting it can be to pop that dough into the oven immediately (I mean, it's cookies we're talking about!), but the secret to a perfect sugar cookie you can decorate is to allow it to chill. You can either roll your dough into balls and store it in an airtight container or zip-top bag, or place about a third of the dough in-between two sheets of parchment paper and roll it out to about .5″ thick, so that the dough is sandwiched between the parchment, repeating for every third (and stacking them on a cookie sheet in the fridge to chill). The dough needs about an hour to chill, but I actually chilled mine overnight.
Bake at 350 on a parchment lined cookie sheet for 6-7 minutes depending on your oven. I take mine out when the tops start to look stiff. Don't wait for the edges to brown. Your cookies should look a bit underdone when you remove them from the oven.
Combine all the ingredients for frosting in a mixing bowl and beat for 1-2 mins. Place a sheet of tin foil underneath the wire rack of cookies, and use a spoon to spread an even glaze of frosting on each cookie.
Sprinkle on rock candy (or sprinkles) and allow to set.
By the way, totally got the rock candy decorating idea from Style Me Pretty Living. So much fun!
And of course, the cookies were a BIG hit with Scarlett!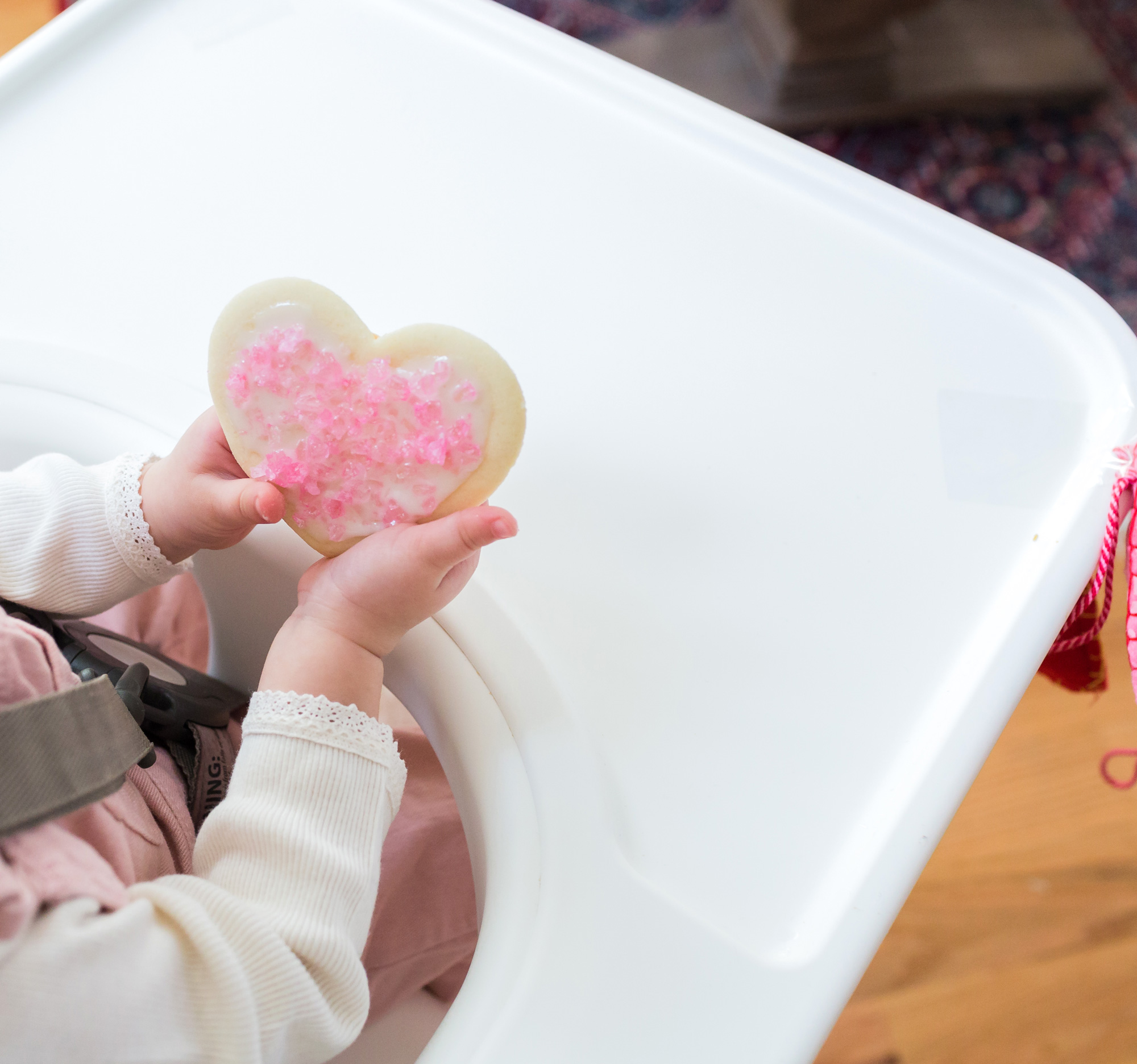 Psst … if you're looking for other Valentine's Day dessert ideas, why not try our strawberry cheesecake macarons, big and fluffy homemade raspberry marshmallows, Oreo macarons, nutella-chocolate covered strawberries, or the best ever red velvet cupcakes with cream cheese frosting?
Photos by Six Foot Photography // Sugar cookie recipe adapted via The Alison Show