This post contains affiliate links, which means that if you click on one of the product links, I'll receive a small commission. Thank you so much for clicking through and helping to support this little blog business of mine! Read more about our site, privacy, and disclosure policies here.
These shortbread crumble jam bars have a delicious shortbread base, a layer of fruity jam, and a buttery, crunchy crumble topping. Perfect for your next brunch!
I've always been a big fan of fruit crisps and crumbles. The combination of juicy cooked down fruit and that buttery, crumbly topping makes for the perfect dessert in my book. Make that fruit crisp or crumble portable and ZOMG, I'm all for it!!
These shortbread crumble jam bars are pretty much the best of both worlds – they have a shortbread cookie base, a layer of your favorite homemade or store-bought jam, and that signature crumble topping.
You don't need to have any fresh or seasonal fruit on hand, because these beauties are packed with jam. Which, by the way, means that if you're ever in a pinch for a dessert to make or bring, these shortbread crumble jam bars are a surefire win because you probably already have everything you need to make these right in your kitchen! Woo hoo!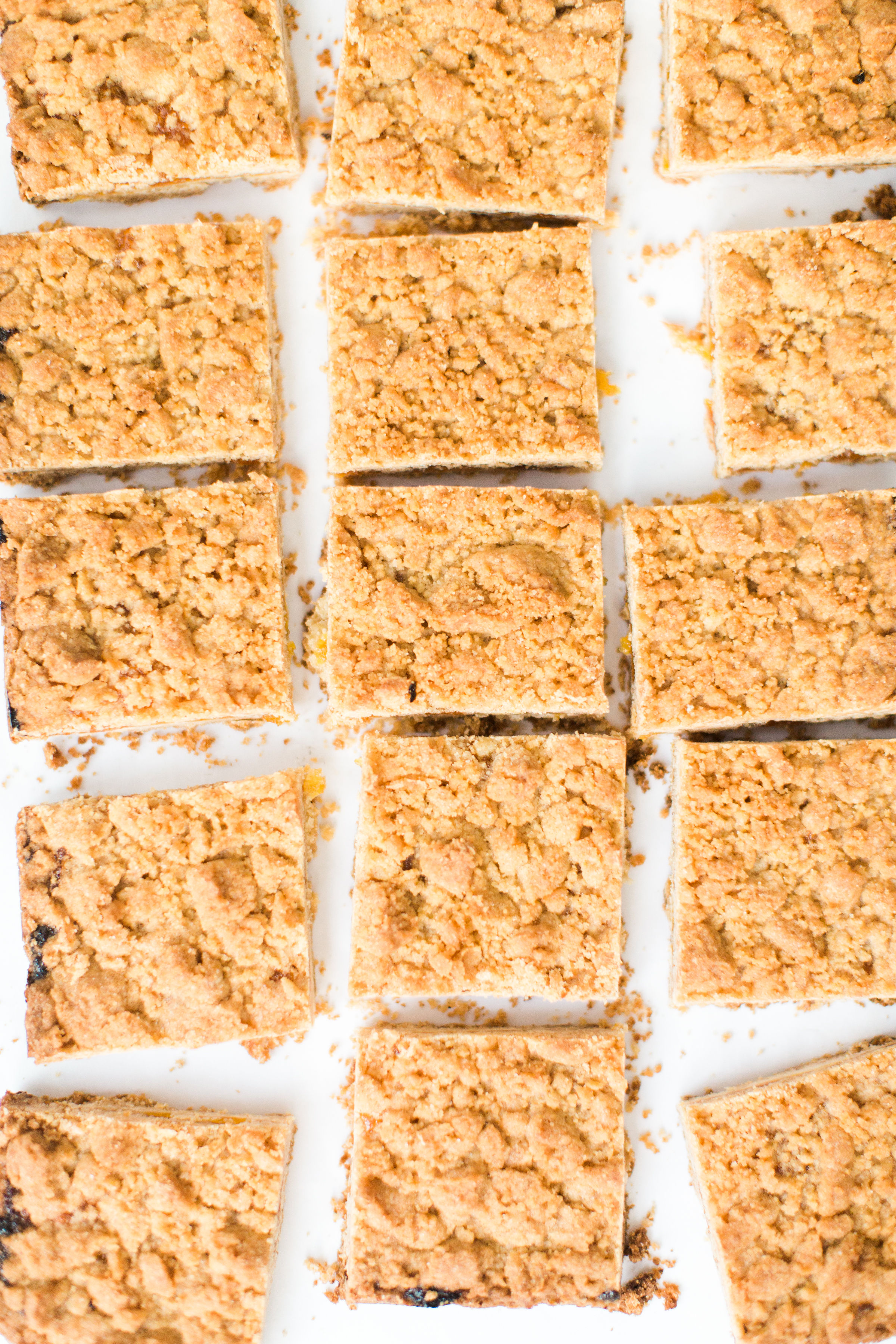 For these shortbread crumble jam bars, I filled mine with a thick layer of apricot jam – though you could easily add in whatever kind of jam or jelly you want (strawberry would be perfect for Valentine's Day, etc.) – and the end result was delicious!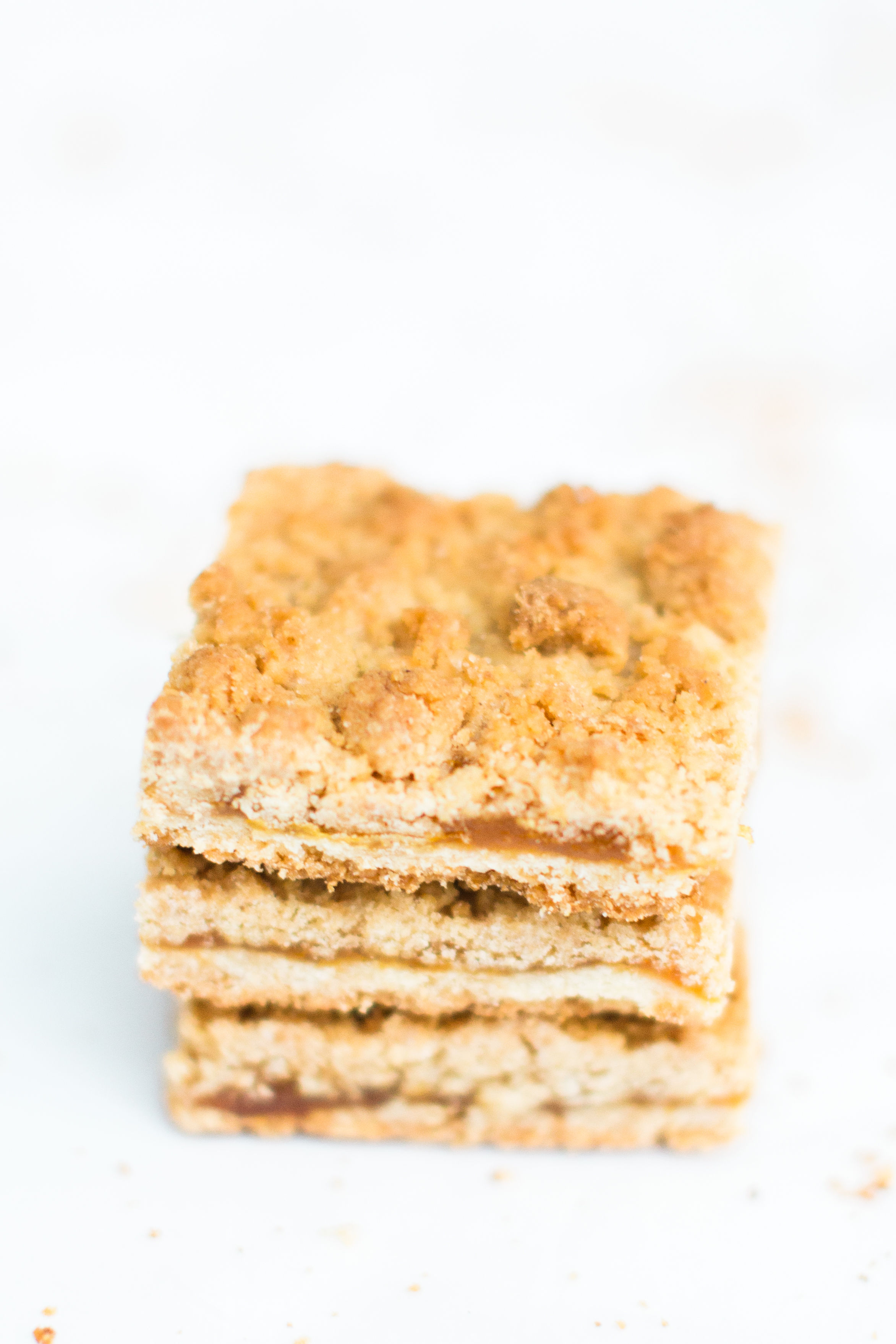 It's easy to make!
The best part about these shortbread jam crumble bars is that they're surprisingly easy to make, and in all likelihood, you have all of the ingredients sitting in your pantry right this very moment.
The shortbread cookie bar base – made by whisking together flour and sugar with a pinch of salt and a little baking powder, plus melted butter and one egg yolk – doubles as both the base and the crumble topping. How's that for less mess and fewer recipe steps?
Basically, after you mix up this magical "dough", you'll reserve about one cup of the mixture for the crumble topping, and the remaining mixture gets pressed into the bottom of the prepared pan.
Onto that pressed cookie layer goes your favorite jam. I'm a huge fan of Sarabeth's. (Sarabeth's Legendary Peach-Apricot Spreadable Fruit is what I used in this recipe, and it is, in fact, legendary, and tastes seriously homemade.)
Then to the leftover mixture – the part reserved for the crumble – you're just going to oomph up with a little extra sugar, flour and cinnamon to really make the crumble topping extra crunchy, giving it the consistency of wet, crumbly sand that you can easily squeeze and scatter in big crumbles over your shortbread cookie and jam layers.
The crumble topping gets sprinkled on top of the jam layer, giving you three beautiful layers, and your bars are ready to bake.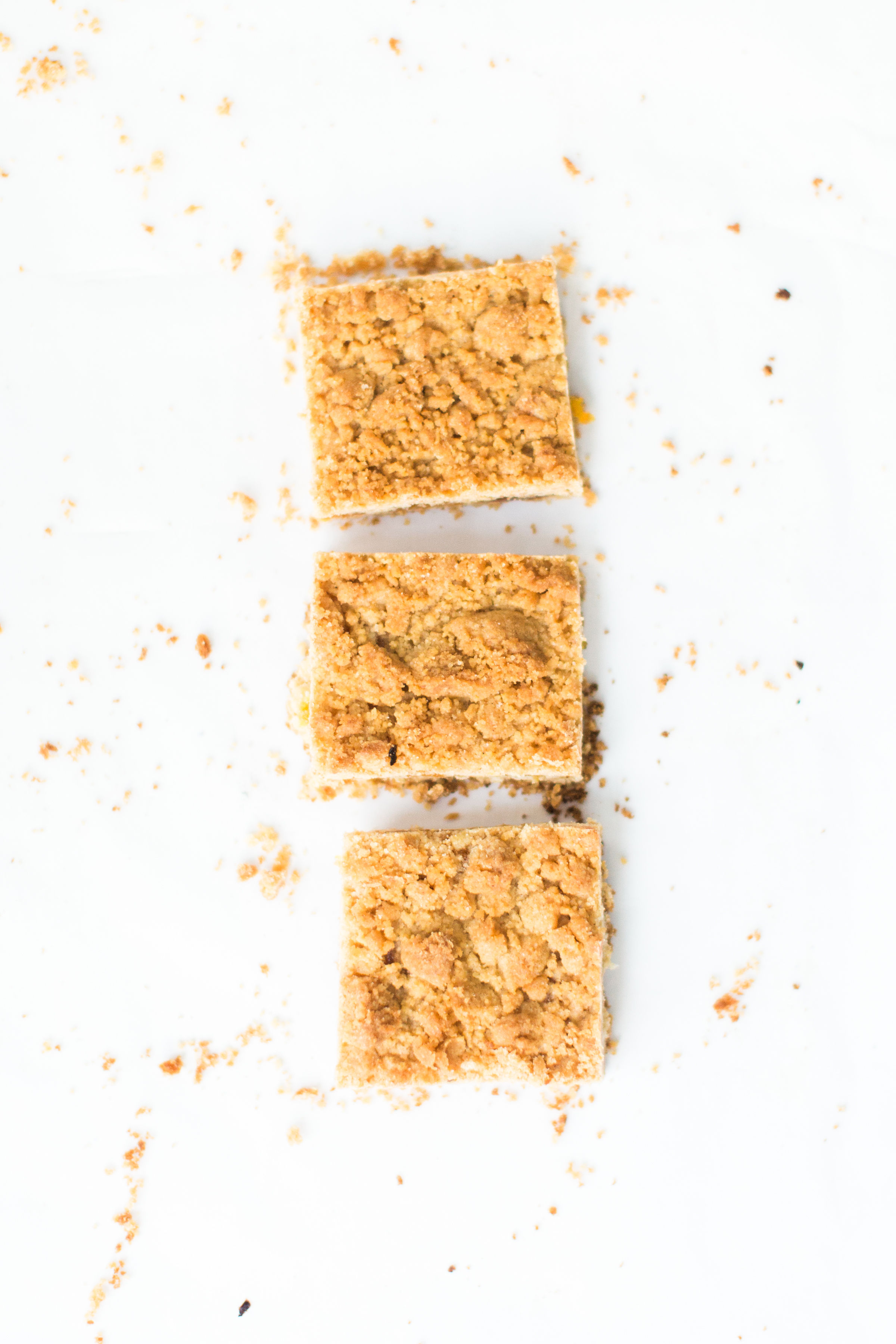 These shortbread jam crumble bars are especially great for parties, pot lucks, when you want to bring a dessert, etc., since bars are always easiest to cut up, transport, and serve.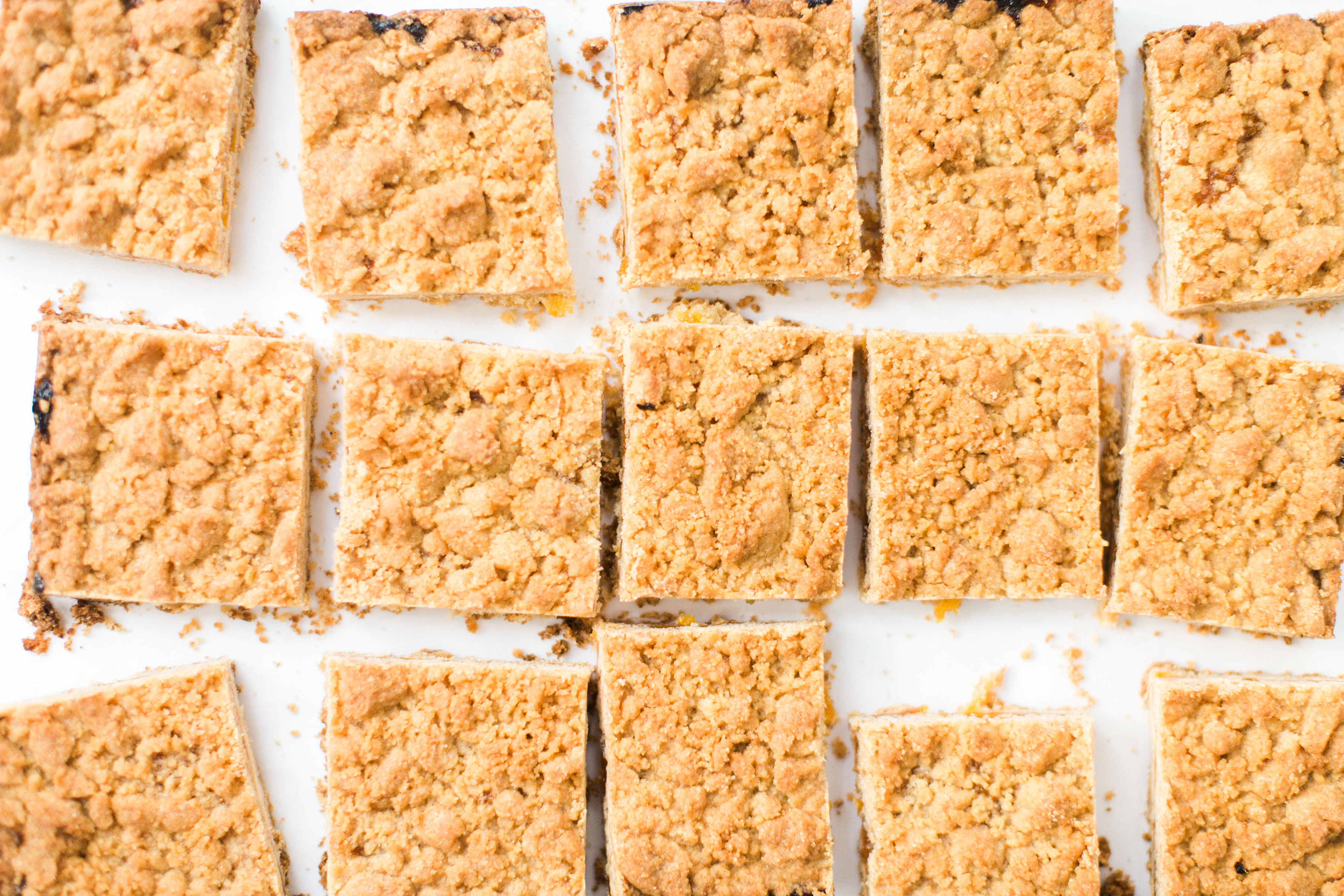 How to Make The Most Amazing Shortbread Crumble Jam Bars
Make these heavenly shortbread crumble jam bars for your next potluck, party, or brunch and watch them get eaten up in record time!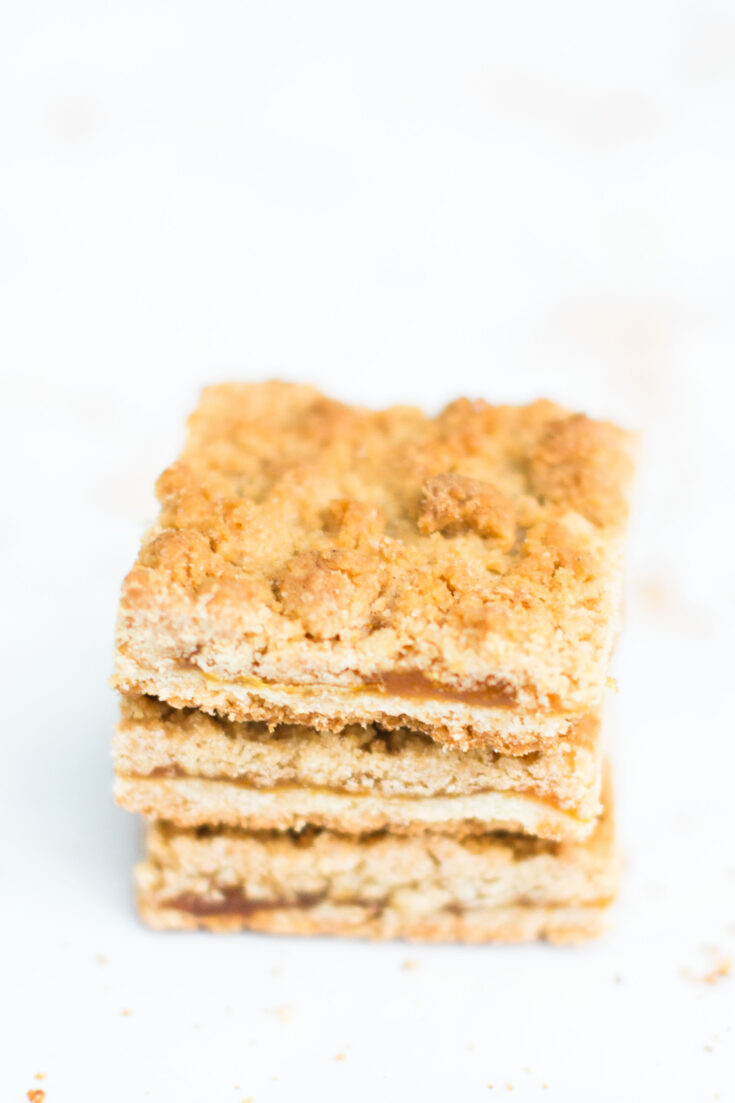 Shortbread Crumble Jam Bars
These shortbread crumble jam bars have a delicious shortbread base, a thick layer of fruity jam, and a buttery, crunchy crumble topping. Perfect for your next party or brunch!
Ingredients
1 and 1/4 cup all-purpose flour
1/2 cup granulated sugar
1/2 teaspoon baking powder
1/4 teaspoon salted
10 tablespoons melted butter
1 large egg yolk
1 tablespoon flour
1 tablespoon granulated sugar
1 tablespoon packed brown sugar
1/2 teaspoon ground cinnamon
jam or jelly
Instructions
Preheat the oven to 350F degrees.
Line an 8x8 inch pan with aluminium foil or parchment paper leaving an overhang on each side and spray with nonstick cooking spray.
In a medium bowl, whisk together the 1 1/4 cup flour, 1/2 cup sugar, baking powder and salt.
Stir in the melted butter and egg yolk.
Remove 1 heaping cup of the mixture. This will be used for the crumble topping.
Press the remaining flour mixture (what's left after you removed 1 cup) into the bottom of your prepared pan.
Spread a thick layer of the jam over the top.
To the reserved cup of the mixture, stir in the 1 tablespoon flour, 1 tablespoon granulated sugar, 1 tablespoon brown sugar and cinnamon.
Form the mixture into crumbles by squeezing it in your hand and sprinkling the crumbles over the jam layer.
Bake in the preheated oven for 40-45 minutes or until you see the topping begin to turn golden brown and the jam layer bubbling.
Allow the bars to cool well (for at least 2 to 3 hours) before cutting into them.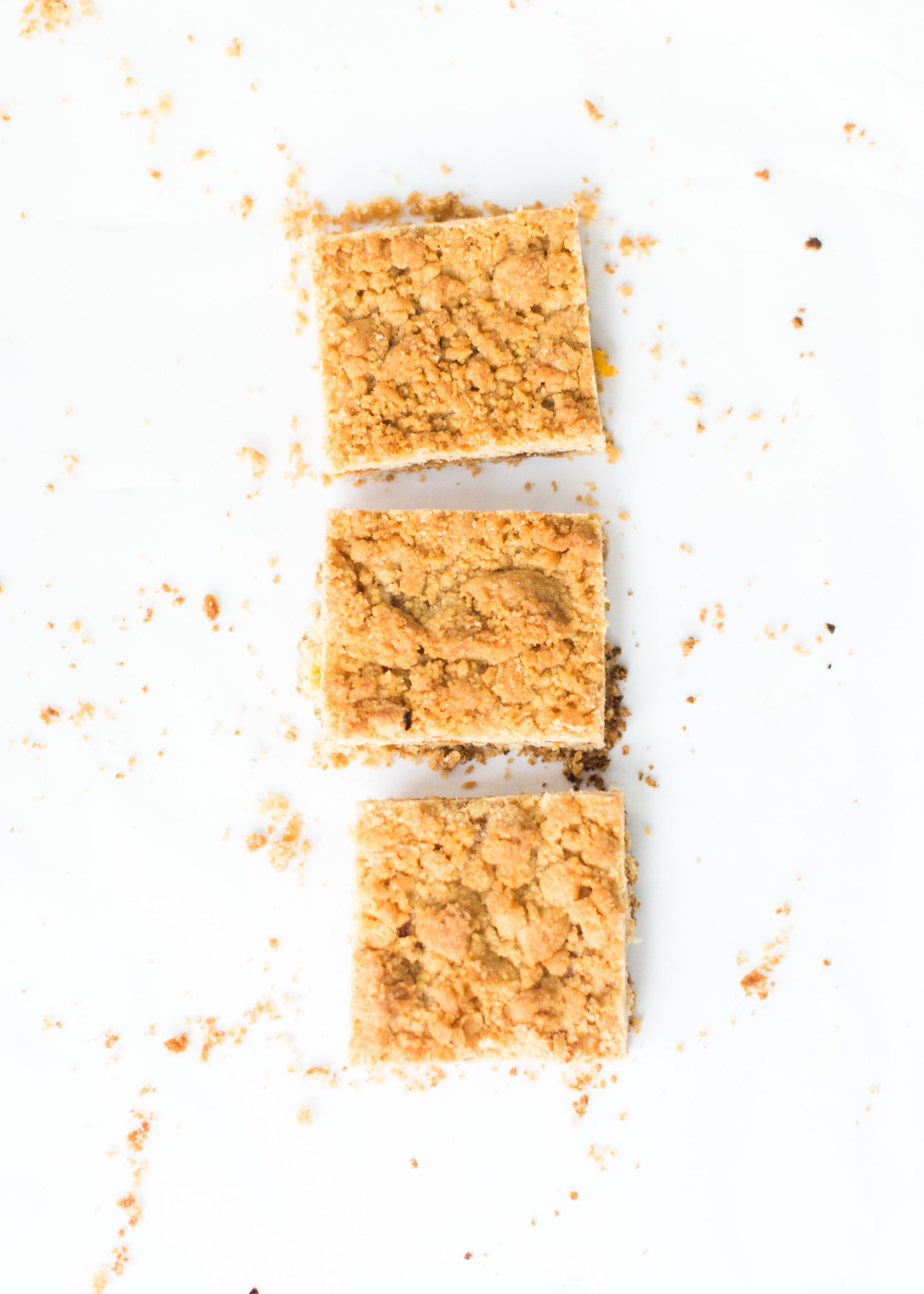 If you make your own incredible shortbread crumble jam bars, be sure to tag me on social media (@glitterinclexi) so I can live vicariously through all of your sweet creations!
More Delicious Dessert Recipes from Glitter, Inc.:
Quick Strawberry Bread with Strawberry Glaze (So good!)
The Most Incredible S'mores Cookie Cups
Red Velvet Cupcakes (This is my very favorite red velvet recipe!)
The Best Sugar Cookies for Decorating
Easy, Fudgy, Chewy, Cakey Better Than Box Mix Brownies
Raspberry Crumb Breakfast Bars (Another brunch hit!)
Marbled Graham Cracker Toffee Bark
Levain Bakery Chocolate Chip Cookies
SHOP THE SHORTBREAD CRUMBLE JAM BARS RECIPE POST | CLICK LEFT & RIGHT ARROWS TO EXPLORE

Love these yummy shortbread crumble jam bars? Head to our recipe page to check out what else we're baking up in the kitchen!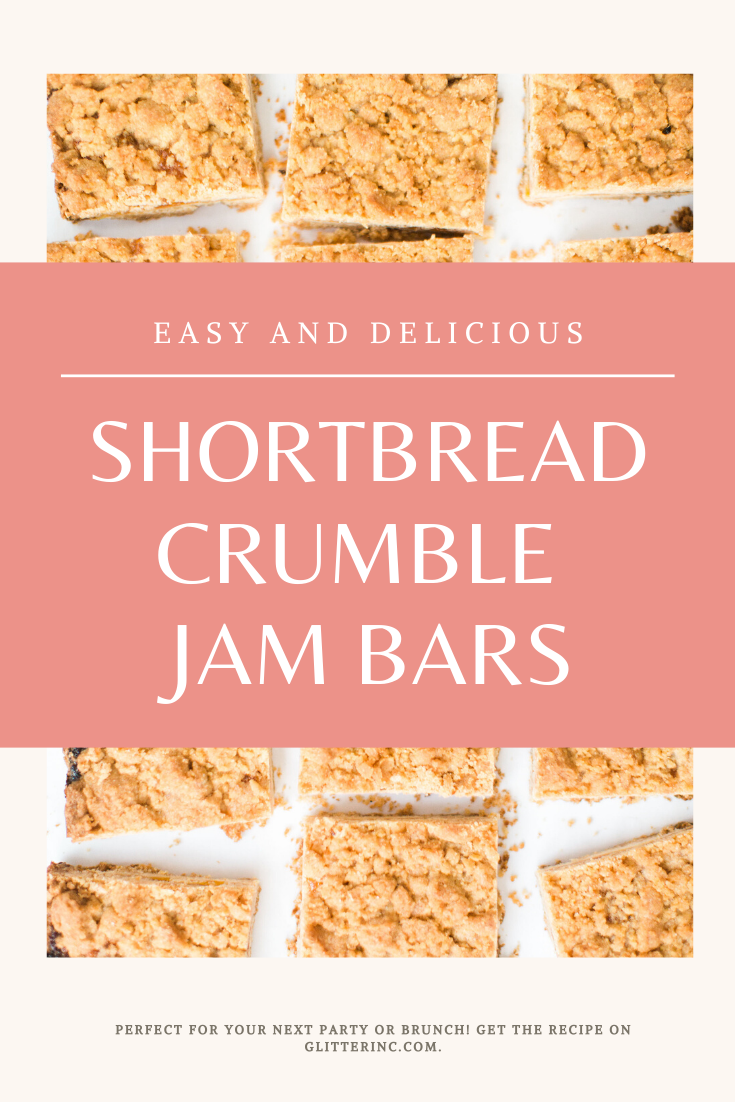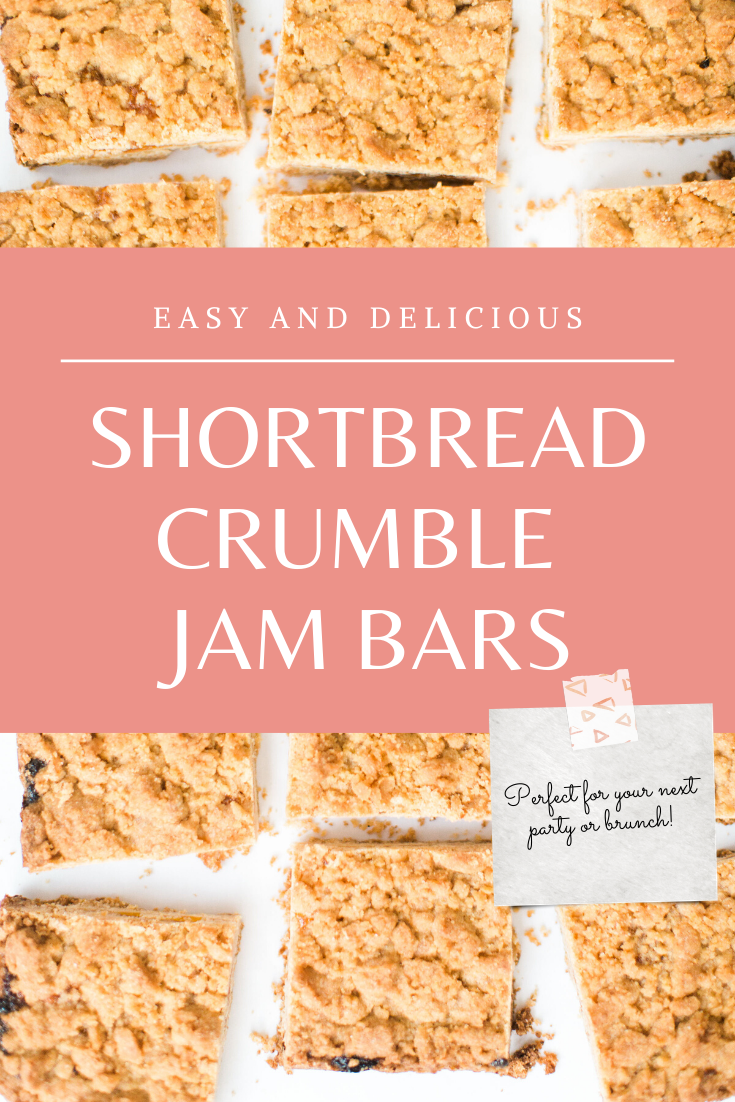 Photos by Annie Timmons Photography for Glitter, Inc.