This post contains affiliate links, which means that if you click on one of the product links, I'll receive a small commission. Thank you so much for clicking through and helping to support this little blog business of mine! Read more about our site, privacy, and disclosure policies here.
Say hello to marbled graham cracker toffee bark (a.k.a., graham cracker crack); your newest dessert BFF. It's beautiful, addictive, and ridiculously easy to make. That's my kind of dessert, and I'm guessing it's yours too!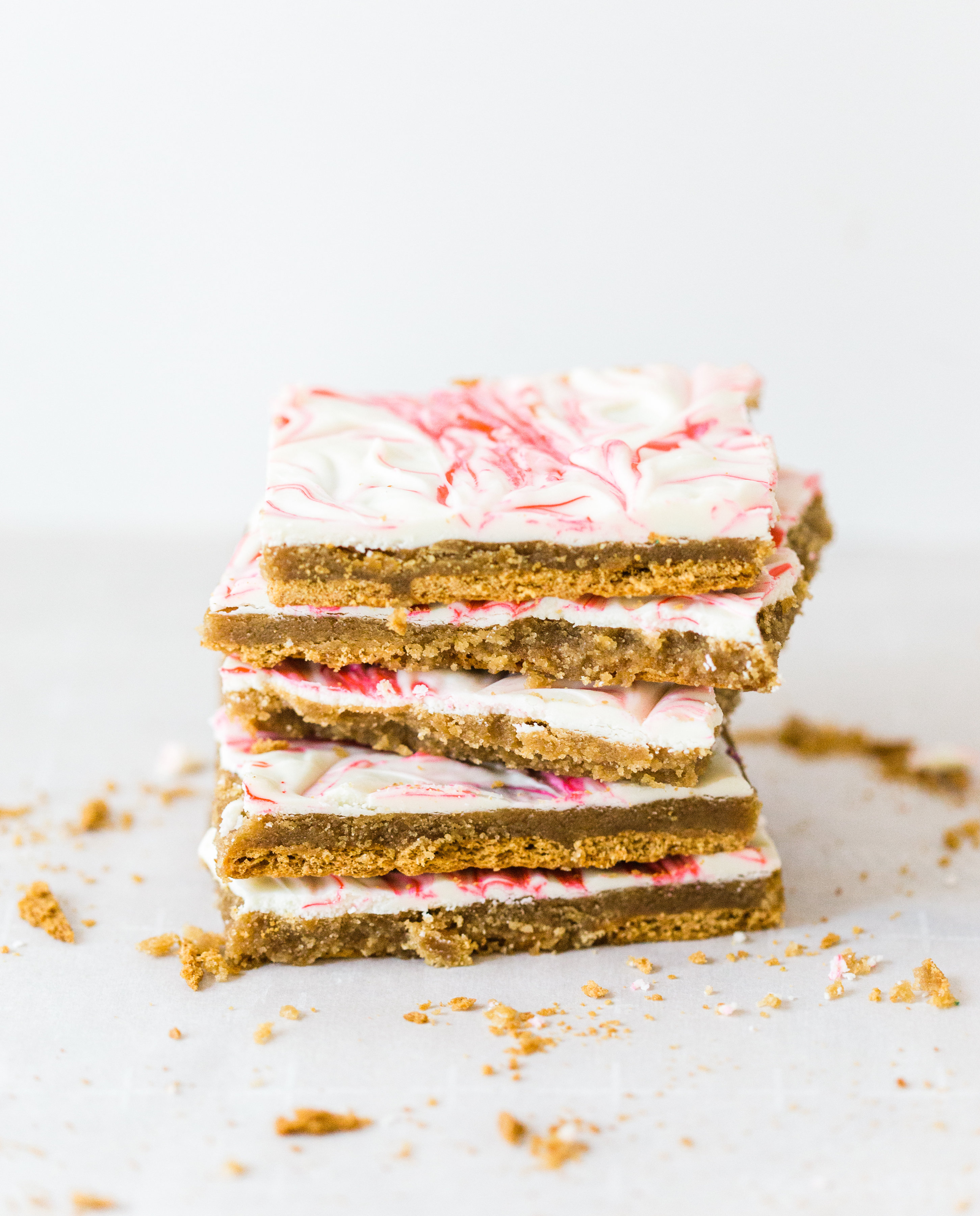 Now I'll admit that I'm on a bit of a marbling kick lately. It all started with those DIY marbled pumpkins I created back in the Fall, and then I spotted Amy's marble-dipped Oreos, and I knew I had to combine my love for marbling with my love … okay, obsession … with graham cracker toffee bark (a.k.a., graham cracker crack.) I mean, have you tried it? Come on. Graham cracker toffee bark is LEGIT. It's actually a variation on the classic toffee crack using saltine crackers, but here, the graham crackers replace saltines. Upgrade, if you ask me.
Graham cracker toffee bark is quick and simple to make and is totally addictive. Taste-wise, it's sweet, buttery, caramel-y (admittedly, not a word), crunchy, and chewy all at the same time. The graham cracker gives it the perfect crunch, and when soaked up with your homemade brown sugar caramel toffee, it tastes amazing. You'll be wondering why you haven't been caramelizing your graham crackers all along. What a waste.
Adding melted white chocolate is just the icing on the cake … errr, cracker.
Plus, Valentine's Day is right around the corner, so it's as good a time as any to make a decadently sweet, pretty in pink dessert.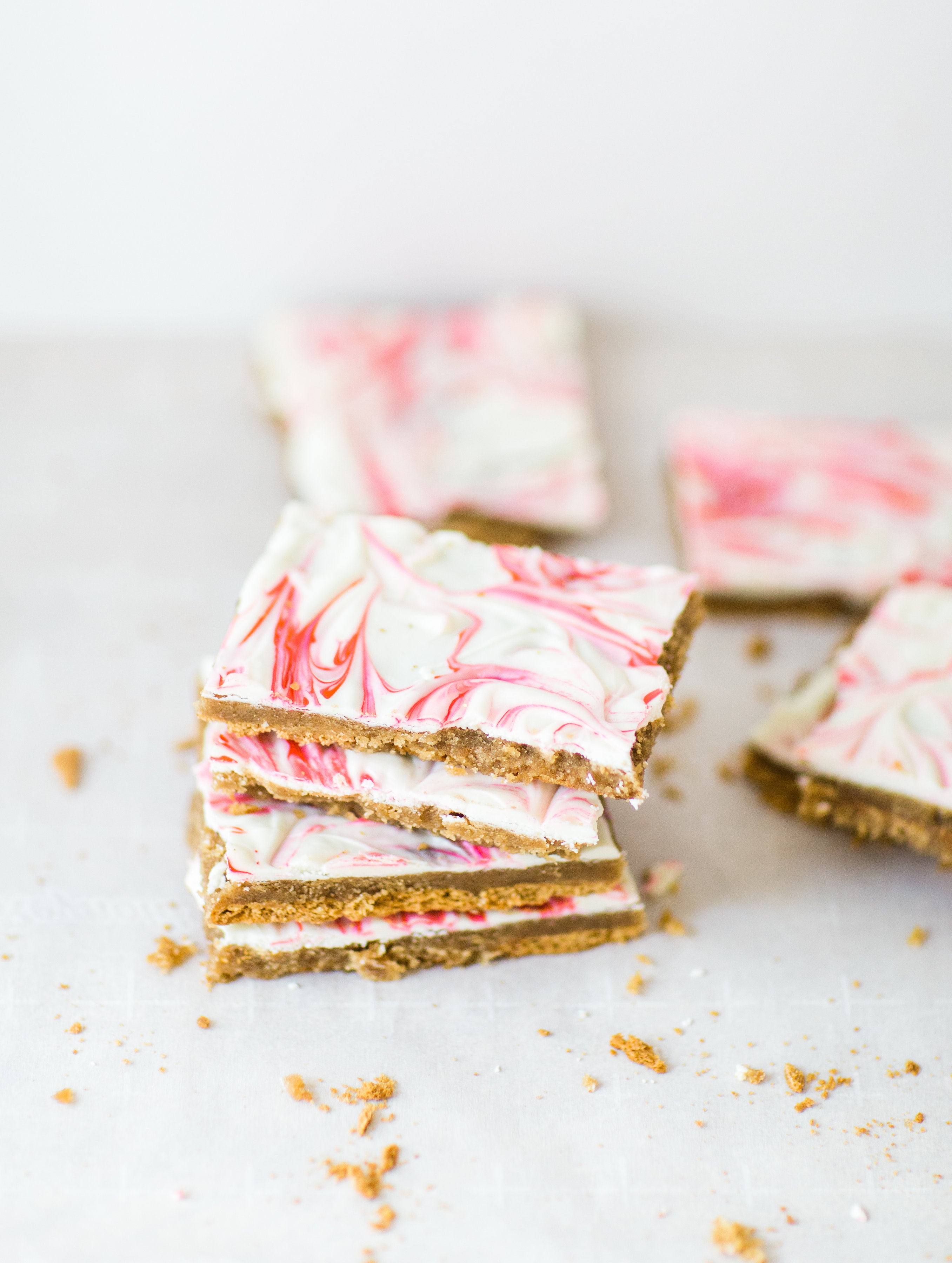 And don't feel limited to just Valentine's Day. This dessert is pretty much my secret weapon. If you're looking for a recipe that will disappear at holiday parties, birthday parties, cookie exchanges, book club, school bake sales, it even makes the perfect little "thank you" gift, this is your dessert. It's addictive. Addictive.

Marbled Graham Cracker Toffee Bark (a.k.a., Graham Cracker Crack)
INGREDIENTS
about 10 full-size honey graham crackers, or enough to cover pan
1 cup (2 sticks) unsalted butter
1 cup light brown sugar, packed
1/2 teaspoon salt, or to taste
2 cups white chocolate chips or white melting chocolate
red or pink food coloring
toothpick
DIRECTIONS
Preheat oven to 350F. Line a 9×13-inch pan with a non-stick silicone baking mat*, parchment paper or aluminum foil and spray with cooking spray. (*The baking mat you see in the pictures is a Silpat, and it's my absolute favorite for baking.)
Place graham crackers in pan in a single, flat layer so pan is completely covered with them. You will have to break some crackers to fill in the smaller spaces at the edges. It's ok if there are slight gaps; it doesn't have to be perfect. Set aside.
In a medium, heavy-bottomed saucepan with high sides, add the butter, brown sugar, salt, and heat over medium-high heat to melt. Stir constantly until butter has melted.
After butter has melted, allow mixture to boil for about 4 1/2 to 5 minutes at a medium-fast boil (lots of bubbles). Stir constantly to prevent burning. As you approach the 4 minute mark, mixture should seem thickened with the consistency of medium-thick caramel sauce. Don't overcook.
Evenly pour mixture over graham crackers.
Bake for about 7 minutes, or until there's bubbling around the edges.
While baking, melt white chocolate in a microwave-safe bowl, removing from microwave and stirring every 30 seconds until melted.
Remove pan from oven at the 7-minute mark. Pour melted chocolate evenly over the caramel-covered grahams. If needed, use a spatula to smooth it into an even, smooth layer of melted chocolate.
Drop one drop of food coloring at a time, every few inches apart, on your melted chocolate layer, and using a toothpick, swirl the food coloring drop to create a "marbled" effect. Don't worry if it doesn't look perfect, just spread it around gently with a toothpick in swirls and it will look like marble. (I was amazed at how easy it was to get the "marbled" effect just by swirling my toothpick around.)
Allow to cool for about 3 to 4 hours, or until chocolate has set and dessert is sliceable. Cut into squares once chocolate has completely hardened. Note: you can refrigerate this to speed up the cooling/firming process, but it will create a bit of condensation on the chocolate. This is merely a cosmetic issue, but obviously, you can avoid this by just allowing it to dry completely on your countertop. Your toffee bark will keep airtight at room temperature for up to 2 weeks, in the refrigerator for up to 1 month, or in the freezer for up to 3 months.
Recipe adapted via Averie Cooks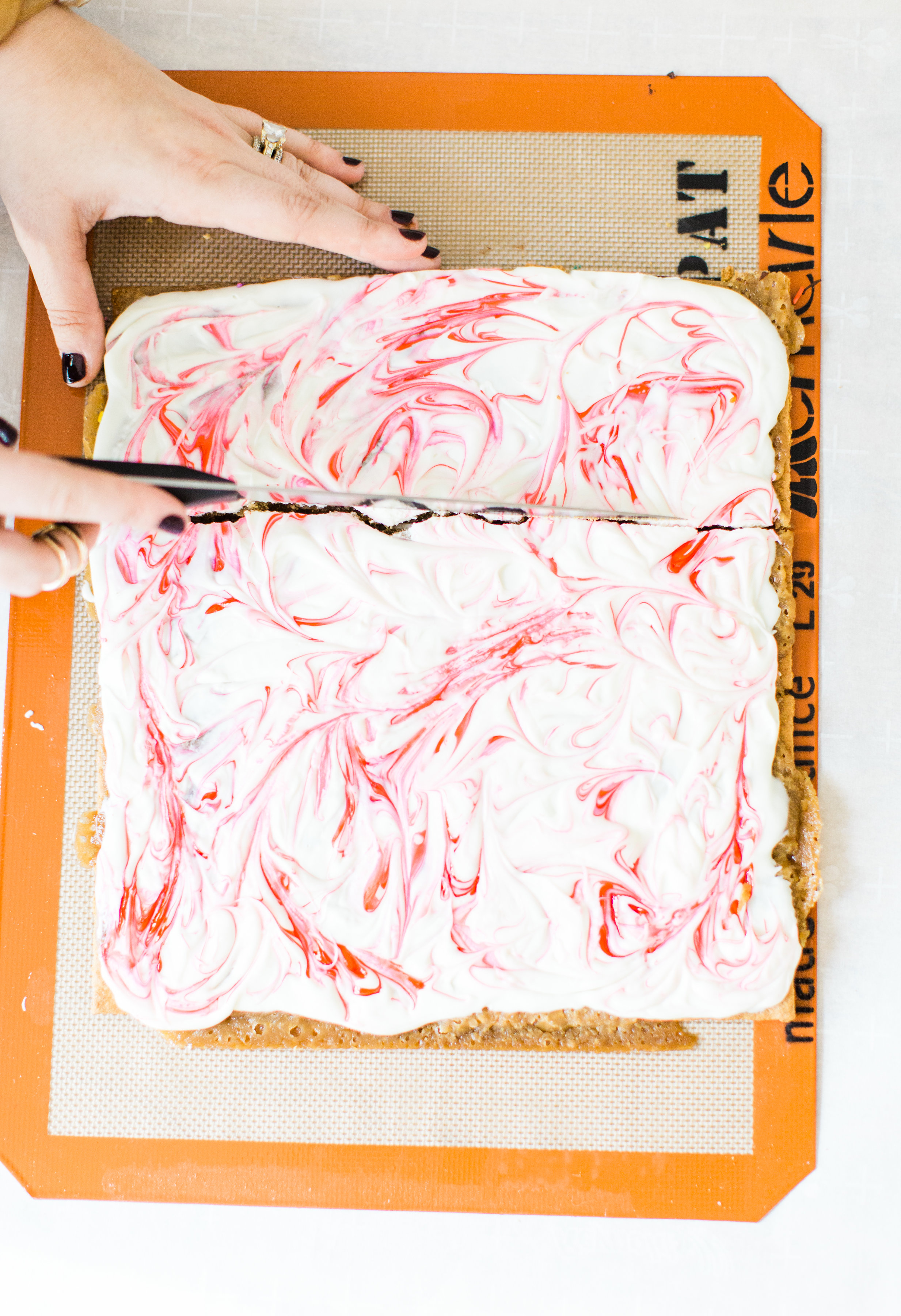 Some edges will break, but don't fret, it's all still delicious.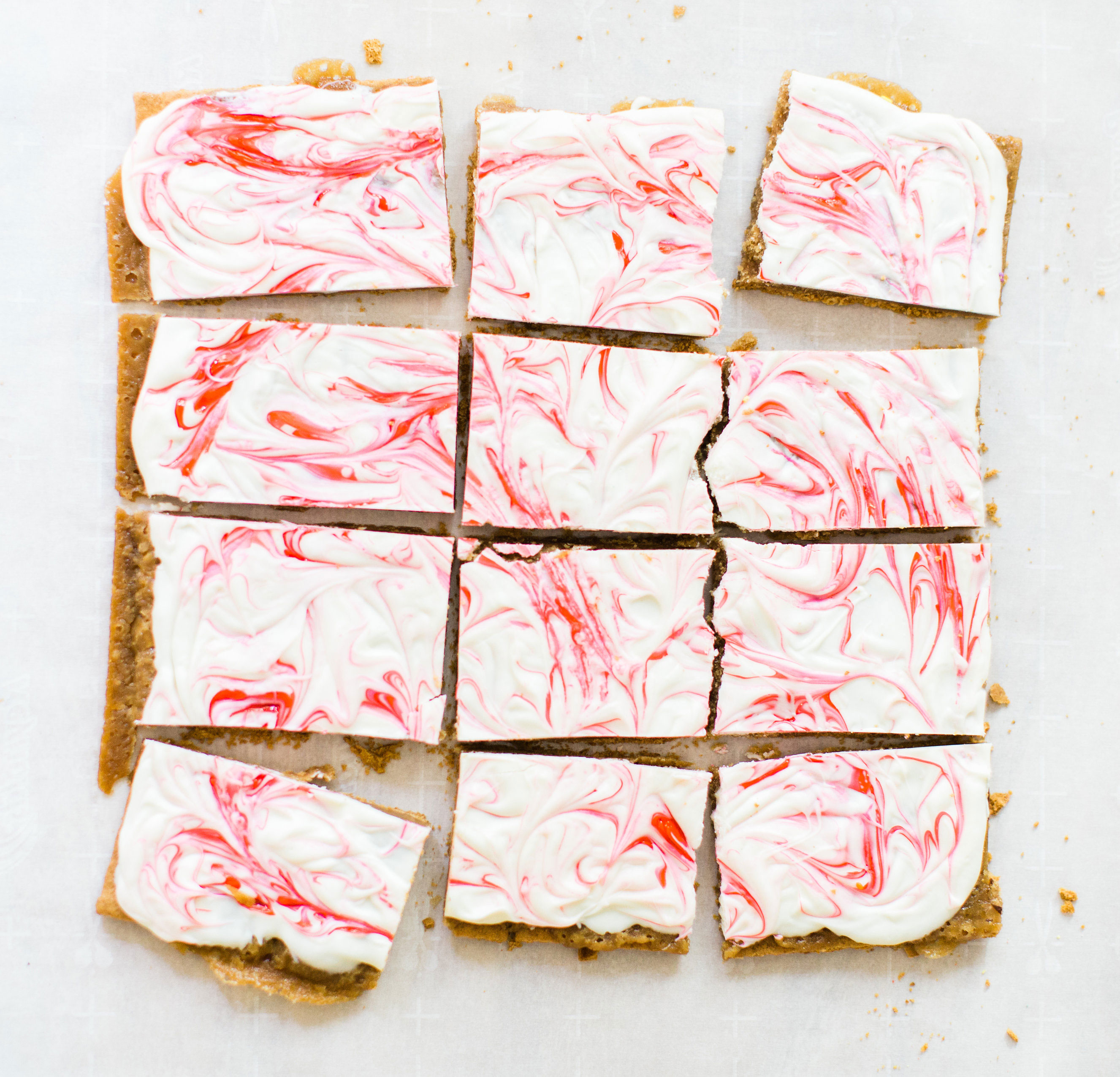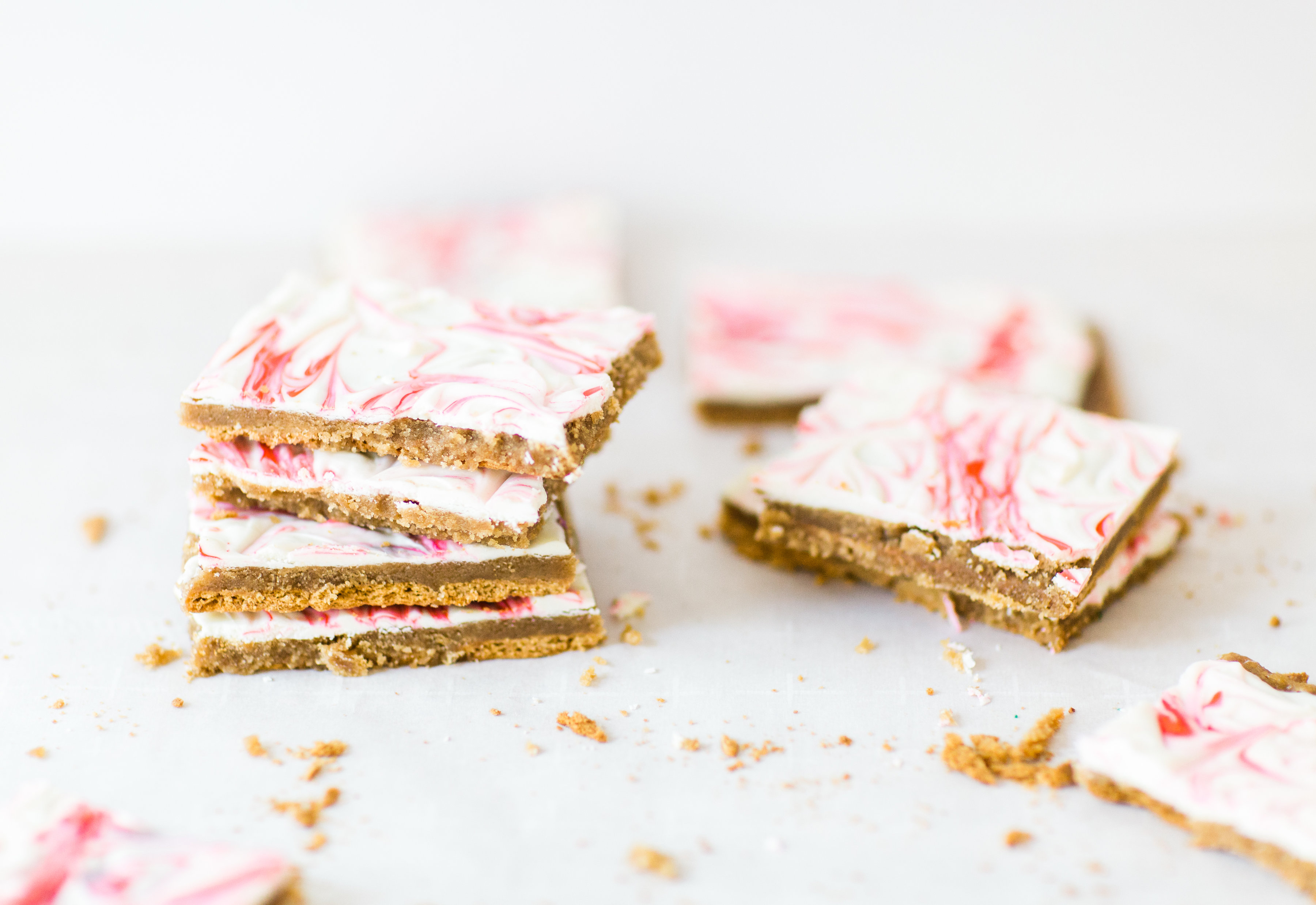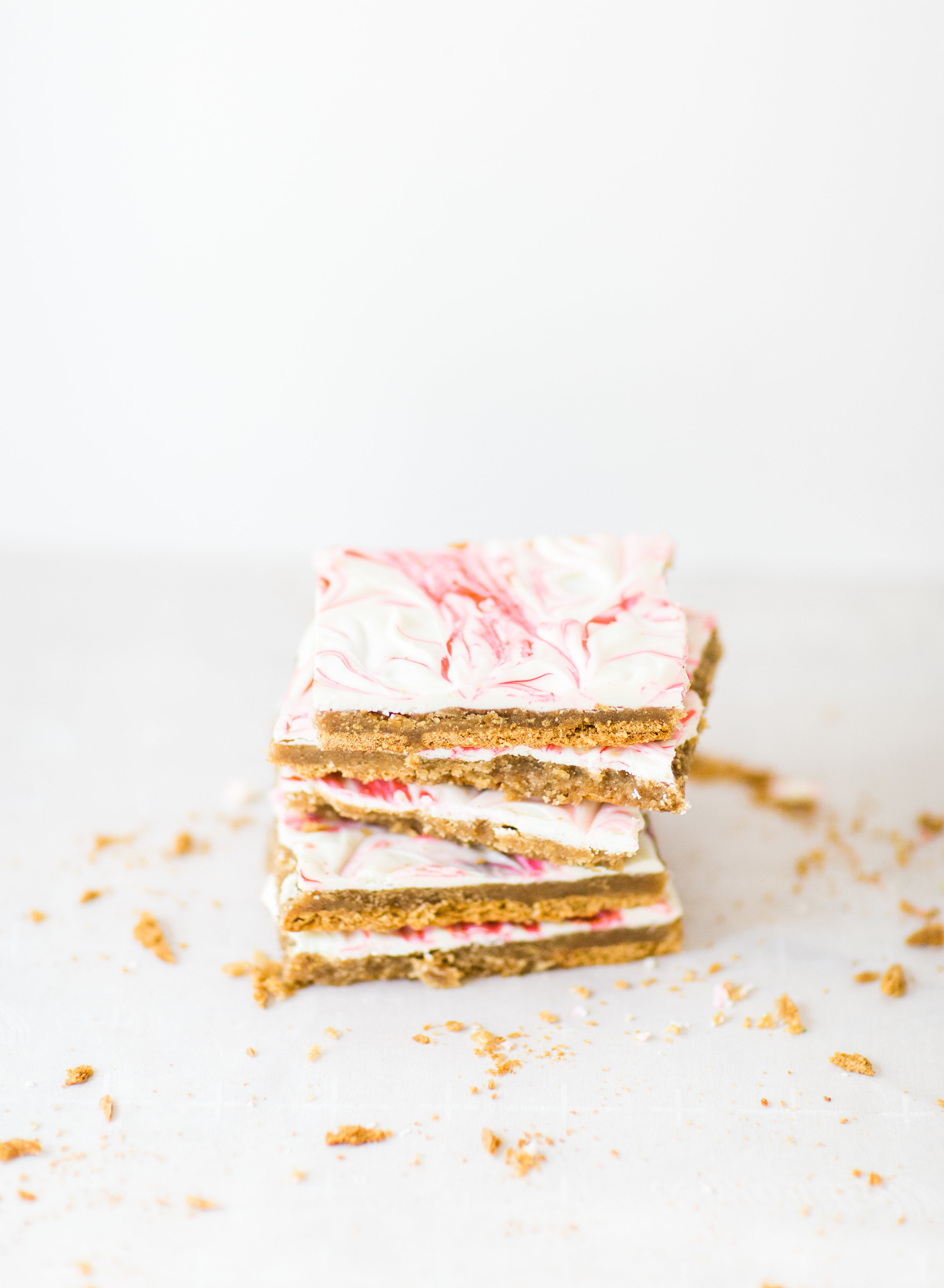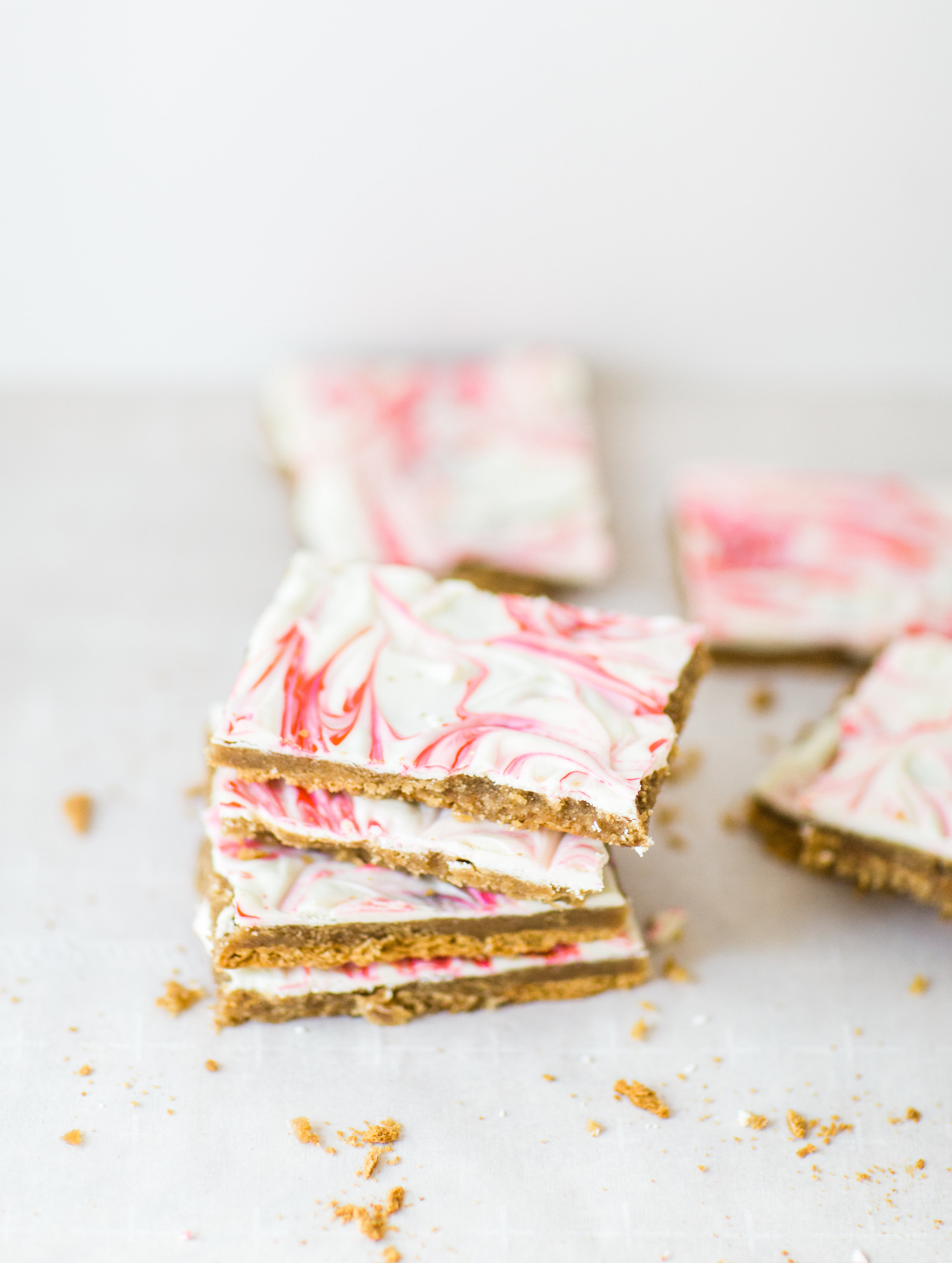 Any fun Valentine's Day plans this year? If you find yourself baking up a batch of marbled graham cracker toffee bark (a.k.a., graham cracker crack), be sure to tag me on social media (@glitterinclexi) so I can live vicariously through all of your fun parties and desserts!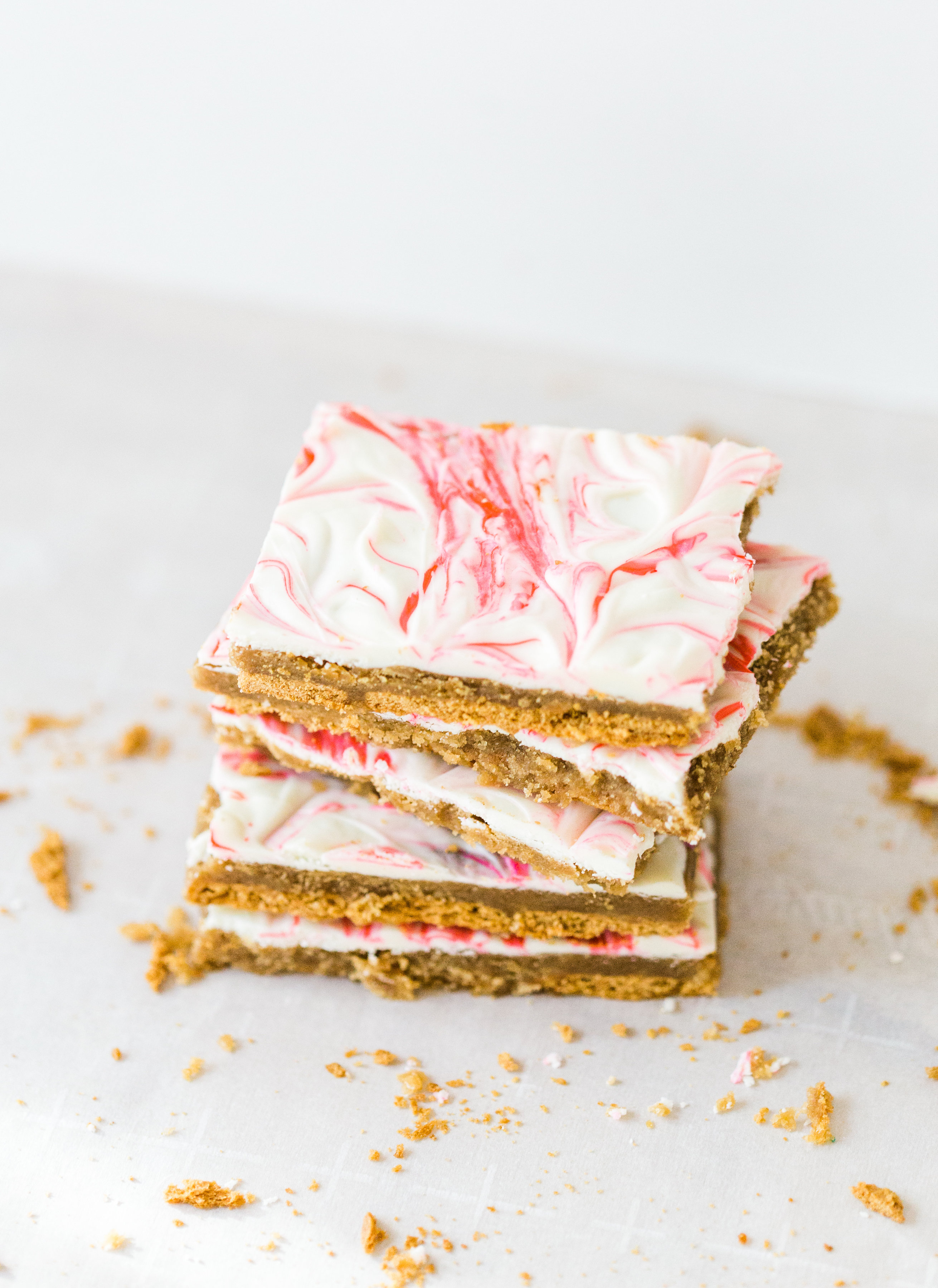 Psst … if you're looking for Valentine's Day inspiration, why not try the perfect sugar cookies for decorating (we used pink rock candy!), throw together a last-minute date night (from the comfort of your sofa!), DIY the cutest mess-free craft with your little ones, make strawberry cheesecake macarons, big and fluffy homemade raspberry marshmallows, Oreo macarons, nutella-chocolate covered strawberries, or the best ever red velvet cupcakes with cream cheese frosting, or any one of these 14 favorite valentine's day desserts?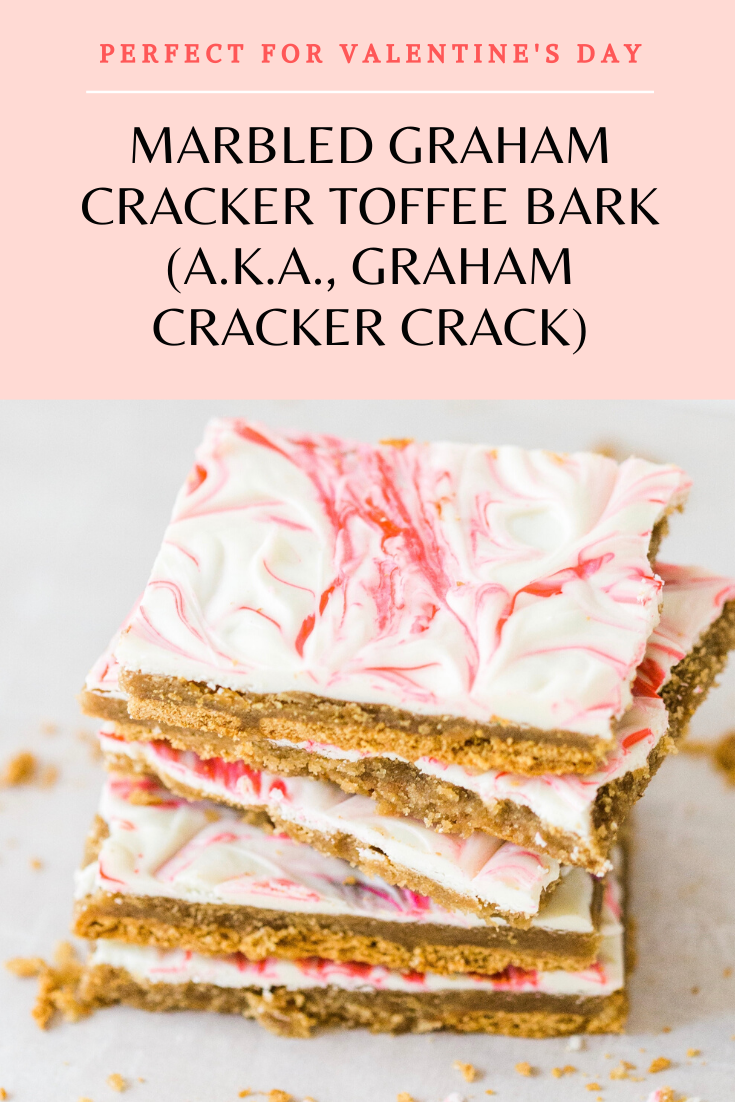 Photos by Annie Watts Photography