This post contains affiliate links, which means that if you click on one of the product links, I'll receive a small commission. Thank you so much for clicking through and helping to support this little blog business of mine! Read more about our site, privacy, and disclosure policies here.
Here it is!! The Famous Levain Bakery Chocolate Chip Cookie Recipe that all of New York City is obsessed with; plus a few little tweaks that had our whole family totally crushing on these.
Rumors of this amazing bakery in NYC, that churns out epic-sized cookies – Levain Bakery – have been stirring for years. I doubt a New Yorker exists at this point who hasn't heard of the famous bakery. And just as the way some recipes do here on the internet, the Levain Bakery chocolate chip cookies (or more specifically, the Levain Bakery walnut chocolate chip cookies) quickly became an internet sensation. (Cookies have really been making the rounds on Instagram these days. Remember the super famous salted butter chocolate chunk shortbread cookies that blew up on Instagram? By the way, if you looooove shortbread, you do not want to miss that recipe.)
Anyhoo, back to the Levain Bakery chocolate chip cookies.
I think they became SO popular in part because of their sheer size. These cookies are HUGE. We're talking at least an inch thick. They're also a tad under-baked by design, and thus, incredibly doughy, gooey, and decadent.
And of course, there has always been the classic and undeniable obsession with chocolate chip cookies in general. I suffer from the same addiction … errr, obsession. I can't tell you how many recipes for "the best ever chocolate chip cookie" I have saved, and tried. And truthfully, as I'm biting into the umpteenth chocolate chip cookie, warm out of the oven, I just might swear they are in fact the best ever chocolate chip cookie. Because, I mean, chocolate chip cookies are incredible. There's a mystique to the elusive "best" cookie too; and so, you know, for research sake, I feel compelled to try them all.
As for these giant-sized copycat Levain Bakery chocolate chip cookies, it was pretty much a given that I would try my hand at them. They're chocolate chip cookies, super-sized, and made just a little bit different, which might also account for some of their raging "cool cookie" status.
One never to miss any baking hype, particularly in the form of a cookie, I was not going to be left out of the cookie madness. I mean, hello?! CHOCOLATE CHIP COOKIES. So I went for it. Baking up a batch based on a great recipe I found online. And then I tweaked that recipe because you knoooooowwww I can't leave well enough alone.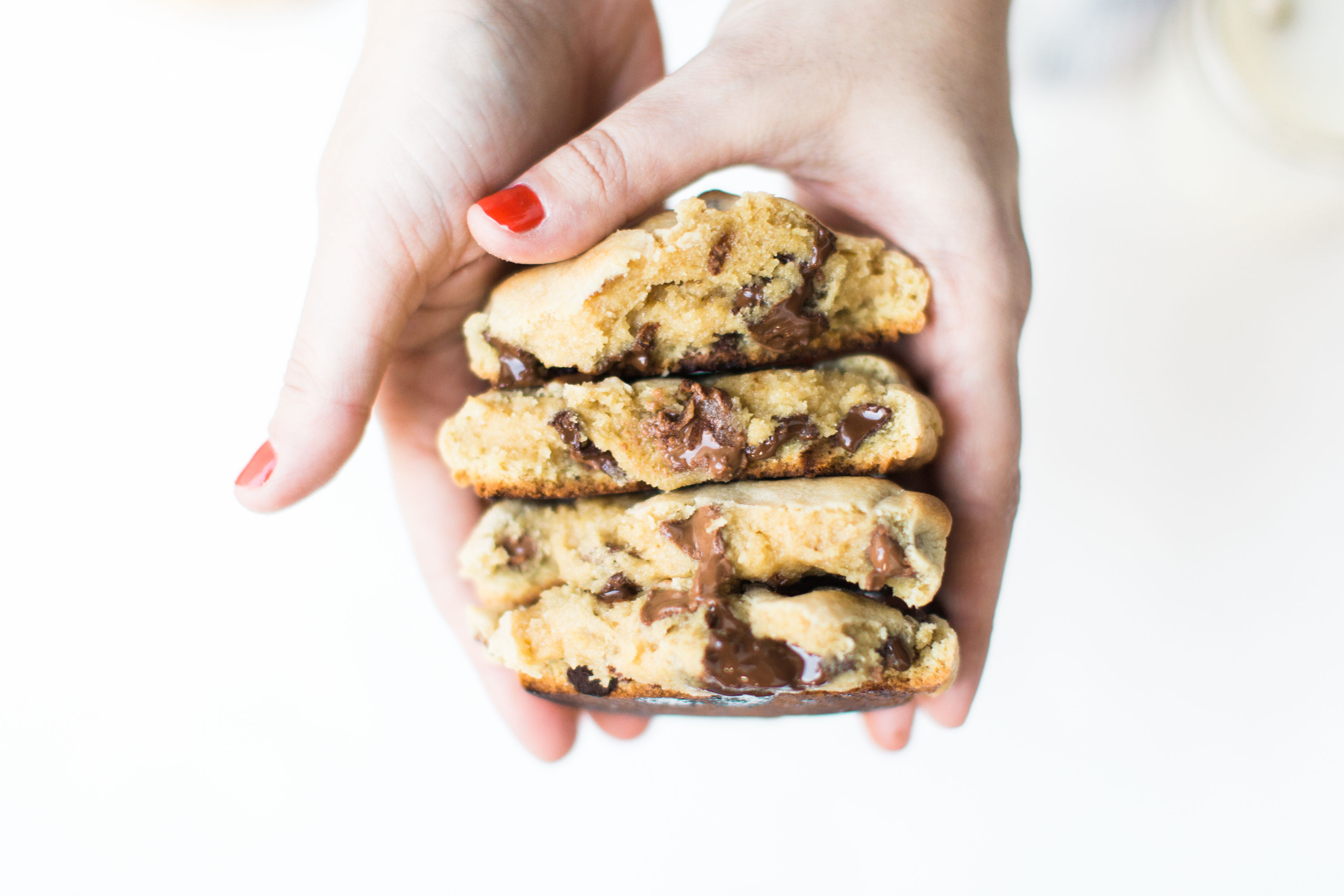 So were these Levain Bakery chocolate chip cookies as epic as they're made out to be?
Per my husband, who LIVES for a gooey chocolate chip cookie, the answer is a resounding YES. He's a man obsessed. He claims they're his new favorite chocolate chip cookie, and that's saying a lot.
This is one amazing recipe.
I still love myself a classic Tollhouse chocolate chip cookie, but I'll admit, these giant flying saucer sized doughy cookies are buttery, decadent, deliciousness. The recipe really just nails that delightful combination of butter and sugar … and so much rich, melty chocolate.
If a soft-baked, gooey, rich chocolate chip cookie is your jam, these cookies will be your new cookie BFF.
I think the real key to these huge chocolate chip cookies is to not over-bake. Remember: baking time is going to be super important here for keeping that decadent, gooey center.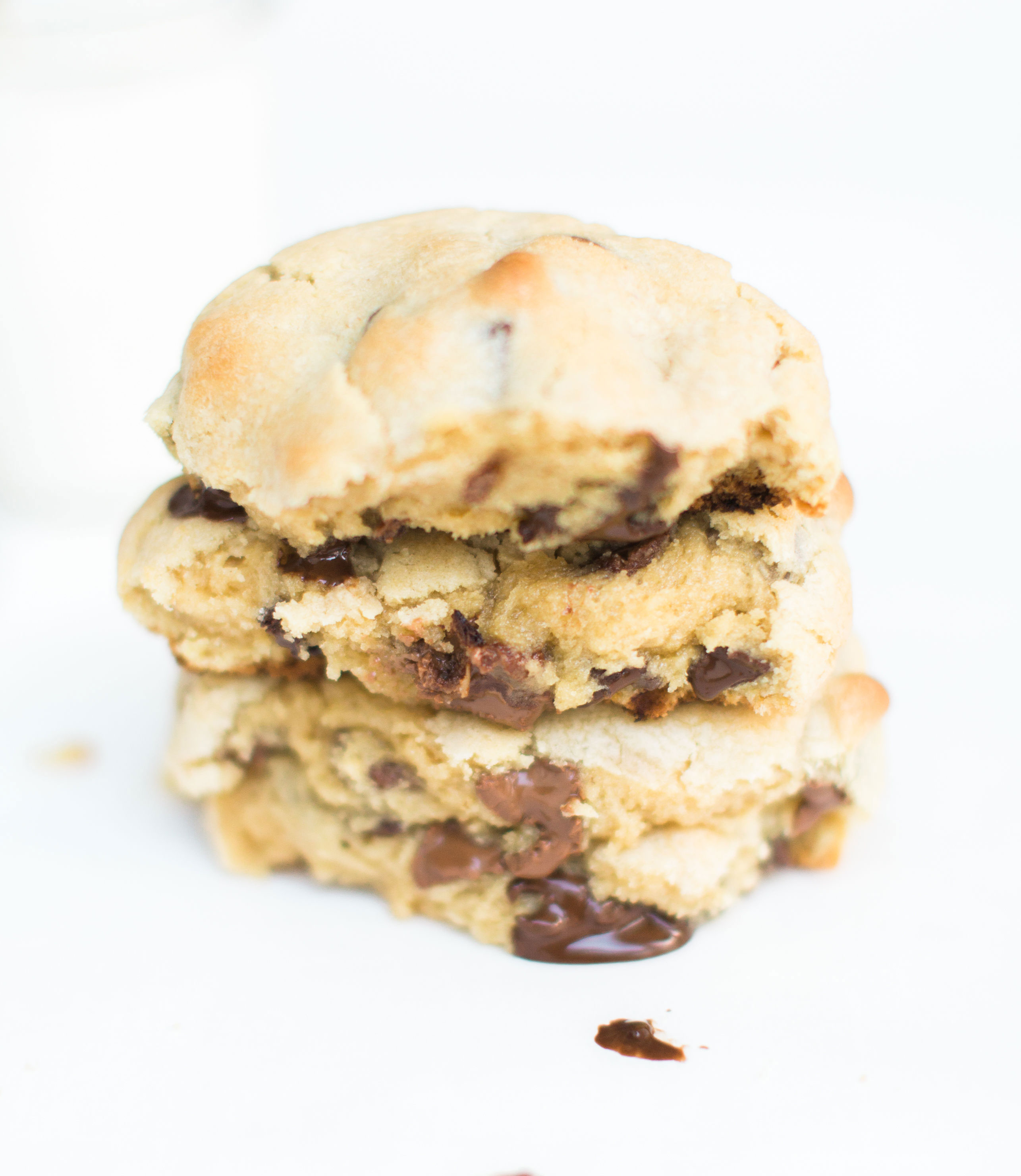 So let's get right to it, shall we?
How to Make Copycat Levain Bakery Chocolate Chip Cookies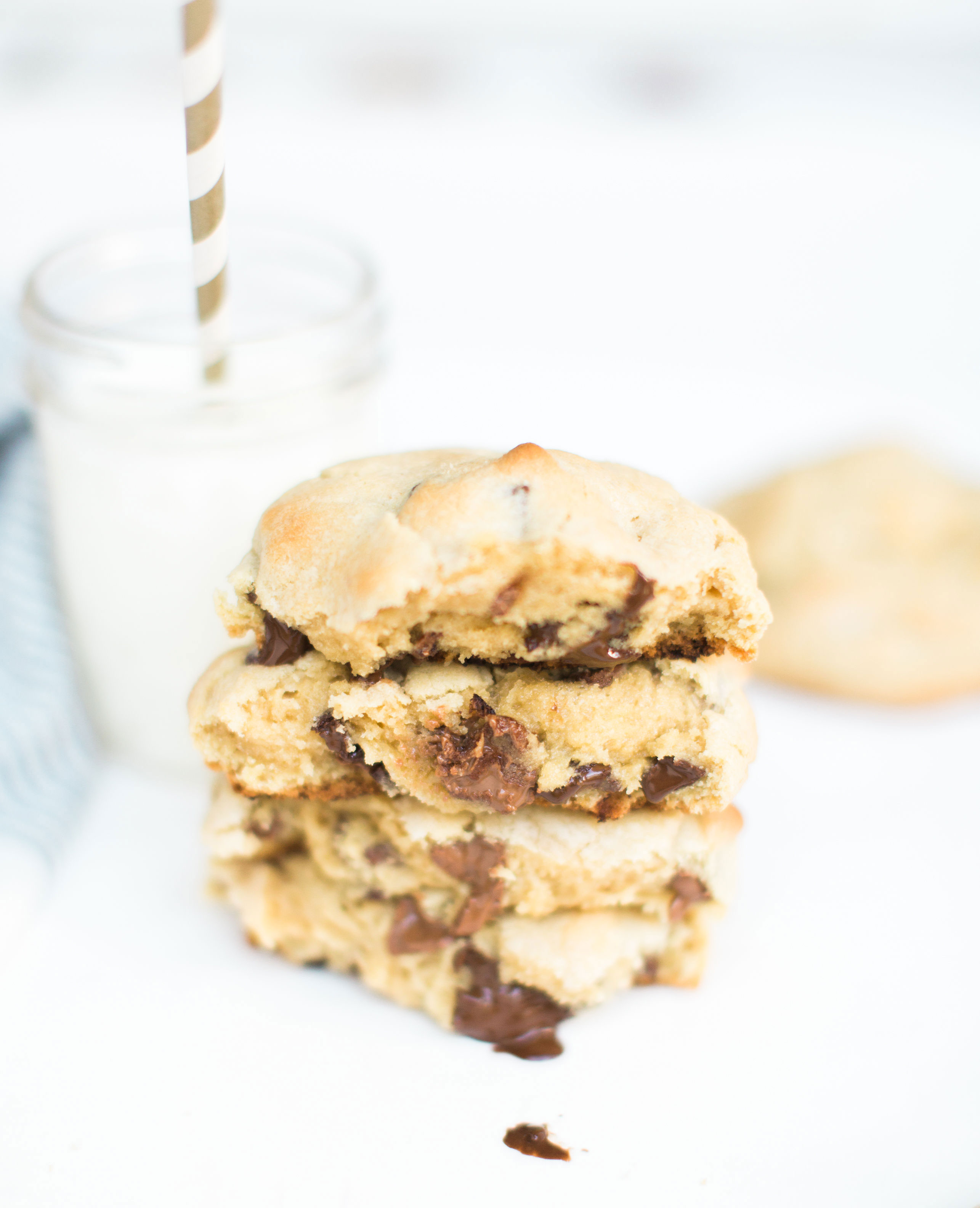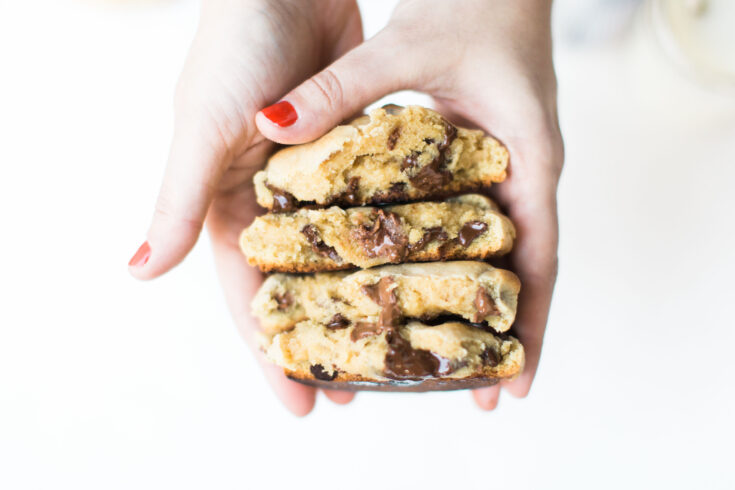 Yield:
Copycat Levain Bakery Chocolate Chip Cookies
Ingredients
1 cup cold butter, cut into small cubes
1 cup brown sugar
1/2 cup white sugar
2 eggs
1 1/2 cups cake flour*
1 1/2 cups flour
1 teaspoon cornstarch
3/4 teaspoon baking soda
3/4 teaspoon salt
2 cups chocolate chips or chunks (I used 1 cup milk chocolate chips + 1 cup semi-sweet chocolate chunks, mostly because it's what we had on hand. Dark chocolate would work really well in these as well.)
2 cups walnuts roughly chopped (optional; we skipped the walnuts)
Instructions
Preheat oven to 400 degrees and line your baking sheets with parchment paper.
In a large mixing bowl, cream together cold cubed butter (no need to get them to room temperature, just cut the butter right out of the fridge), brown sugar, and white sugar for about 4 minutes or until creamy.
Add eggs, one at a time, mixing well after each one.
Stir in the remaining dry ingredients, i.e., both the cake flour and regular flour, cornstarch, baking soda, and salt. Mix until just combined to avoid overmixing. Stir in chocolate chips and walnuts (optional).
Separate dough into large balls and place on lightly colored cookie sheet. They are bigger than you think! You will fit 4 to 6 cookies on one large cookie sheet. The dough makes 8 extra-large cookies or 12 medium/large cookies.**
Bake for 9 minutes or until golden brown on the top. Remove from the oven and give the baking sheet a good tap or two on the counter to help everything settle. Do not over-bake. Let them rest for at least 10 minutes to fully set.
Notes
*You can substitute all-purpose flour for cake flour.
**More details are in the post, just after the recipe, but I found that making large dough balls - maybe 3 inches tall - that fit about six dough balls per standard sized baking sheet, was the perfect number and size.
Recipe adapted via Modern Honey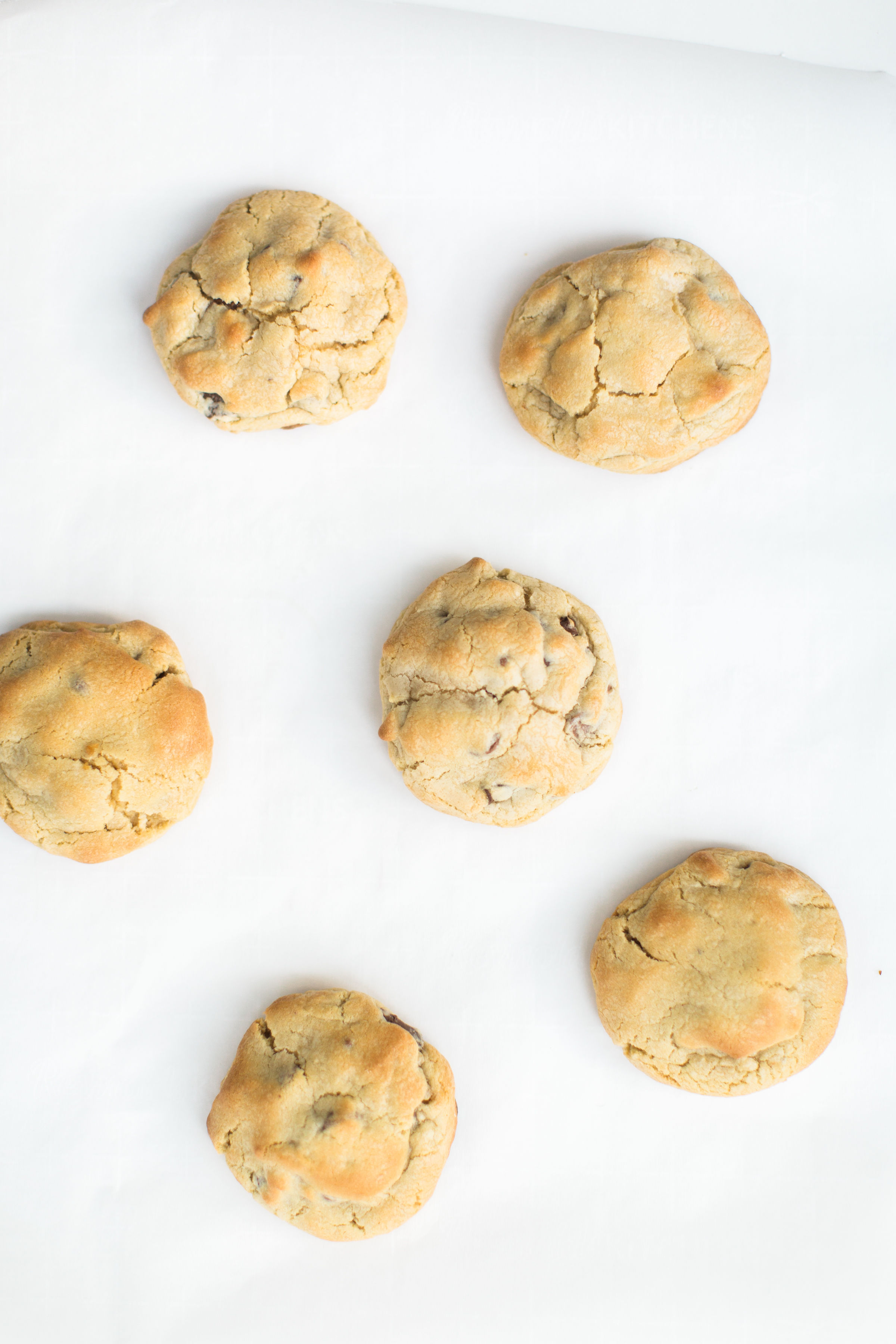 These cookies look pretty unassuming on first glance, but once you break one of these thick mounds open, you'll suddenly understand why everyone is so obsessed.
Ooey gooey, doughy, chocolatey goodness abounds.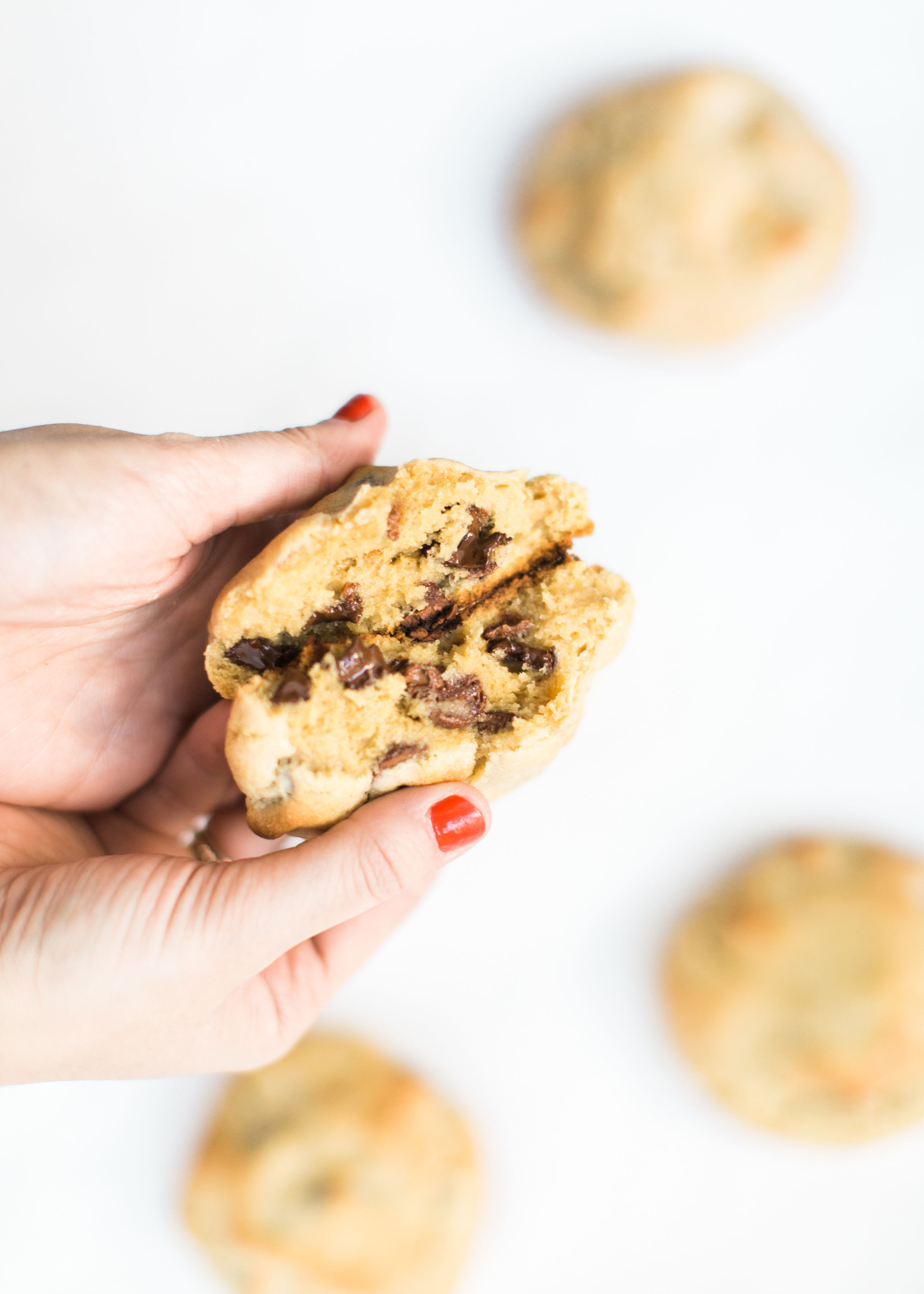 As for the changes I made, for starters – we nixed the walnuts. The classic Levain Bakery chocolate chip cookie recipe (found on Modern Honey)  uses chopped walnuts, but no one in our bunch likes the addition of nuts in their cookies, so we skipped out on those altogether.
I also used a combination of chocolate chunks and chocolate chips.
We had semi-sweet baking chocolate chunks and milk chocolate chips, so I just went for it!
Though I started by rolling my dough balls so big, only about four cookie dough balls fit comfortably (with room) on a baking sheet, I quickly switched to a size that allowed six dough balls to fit with room around them. The giant balls were ….dare I say … too big. Plus, when I made GIANT dough balls, they needed more time to cook, burning the bottoms. No bueno. So I say make dough balls that are big – maybe 3 inches tall – but not so big that you can't fit about six dough balls on a standard sized baking sheet.
I tweaked the heat on these a bit, lowering the original recipe I found on Modern Honey down to 400 degrees. Also, I take these cookies out right at the 9-minute mark. Any longer than that and I found the bottoms of the cookies were burning.
I like to give the cookies a good tap or two after removing from the oven. Basically, when your oven dings, pull the hot baking sheet out of the oven and give the tray a good one or two taps on the counter. This helps everything to settle and lets the chocolate really ooze through the cookie. After tapping the baking sheet, allow the cookies to rest at least ten minutes on the pan to fully set.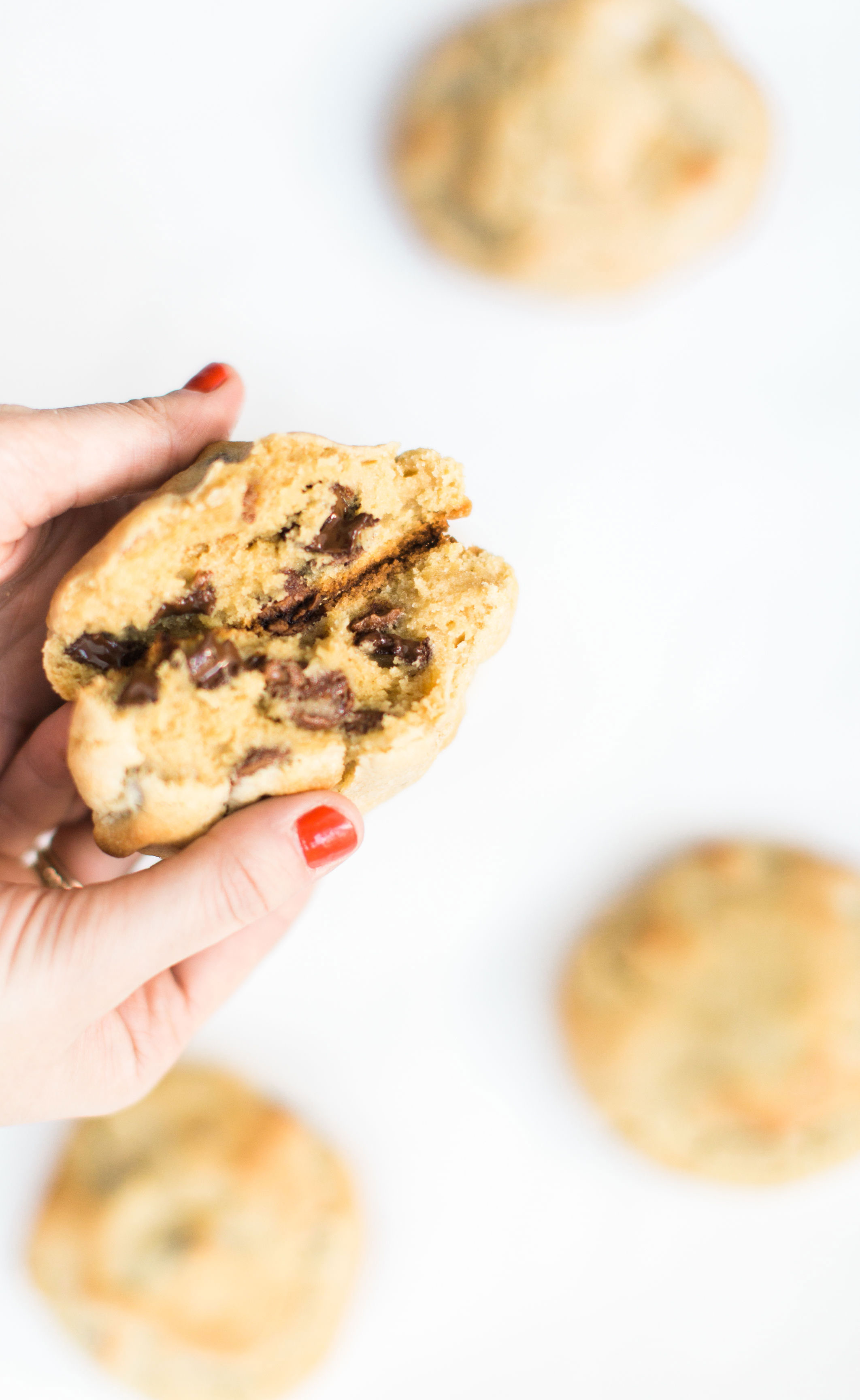 Also, a bit of advice:
Bake these copycat Levain chocolate chip cookies just before you plan to eat them. They're best straight out of the oven, as most cookies are.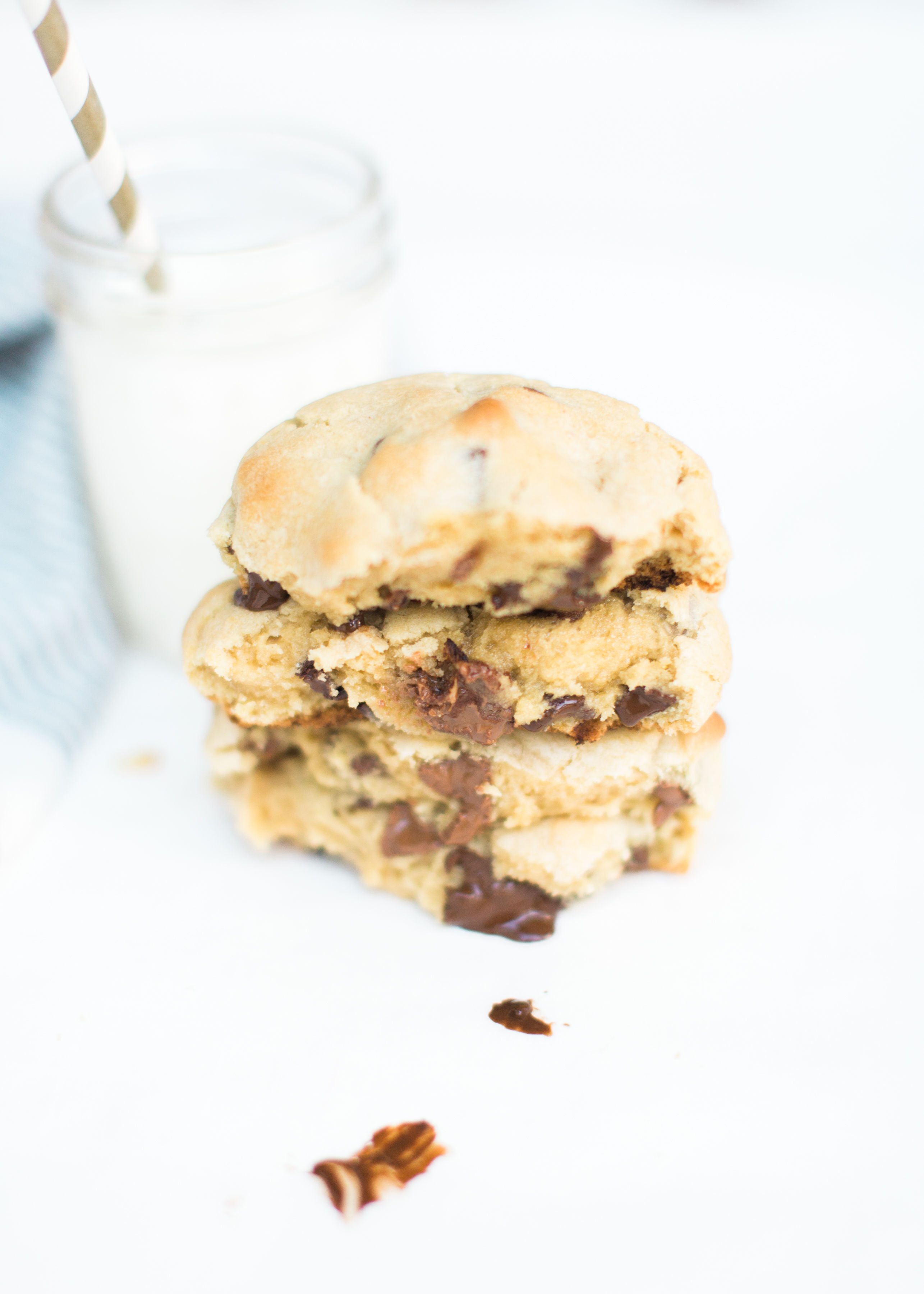 If you make your own copycat Levain Bakery chocolate chip cookies, be sure to tag me on social media (@glitterinclexi) so I can live vicariously through all of your sweet creations!
More Easy Cookie Recipes from Glitter, Inc.:
The Most Amazing Oatmeal Raisin Cookies
Salted Butter Chocolate Chunk Shortbread Cookies
Our Favorite Vegan Chocolate Chip Cookies
White Chocolate Snickerdoodles
3-Ingredient Peanut Butter Cookies
The Best Sugar Cookies for Decorating
SHOP THE COOKIE POST | CLICK LEFT & RIGHT ARROWS TO EXPLORE

LOVE THIS AMAZING RECIPE FOR COPYCAT LEVAIN BAKERY CHOCOLATE CHIP COOKIES? HEAD TO OUR RECIPE PAGE TO CHECK OUT WHAT ELSE WE'RE WHIPPING UP IN THE KITCHEN!
Photos by Annie Watts Photography for Glitter, Inc.