I make a lot of recipes. Some need tweaking, some totally flop, and some are so good that they become instant favorites in my family. The recipe for these red velvet cupcakes (a.k.a., red velvet cake) is one of those go-to recipes. We can't get enough. These red velvet cupcakes (in a jar) really are SO good. The red velvet (a.k.a., chocolate cake) in these cupcakes is moist and subtly sweet and the cream cheese frosting is decadent and the perfect addition to the red velvet cupcake.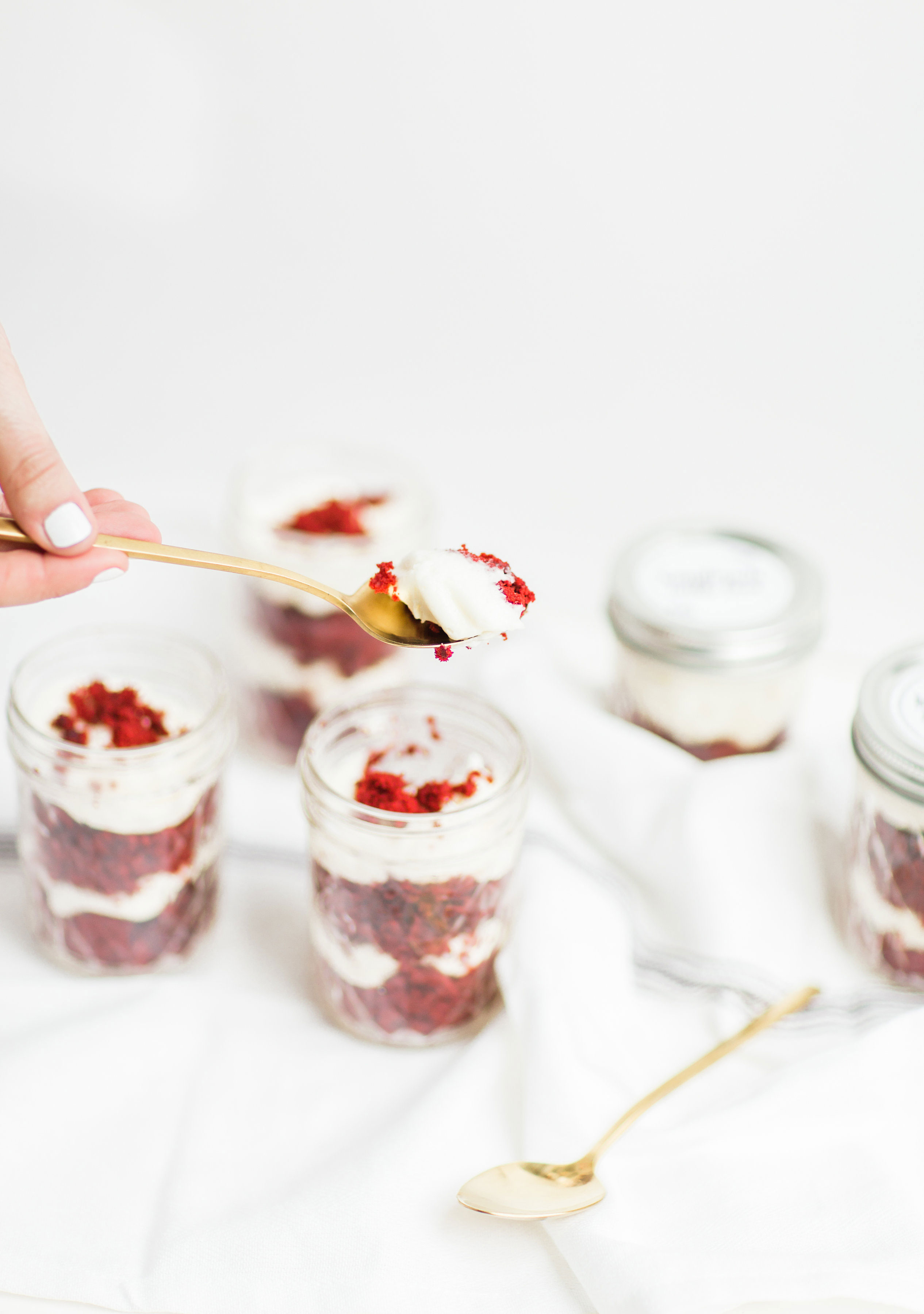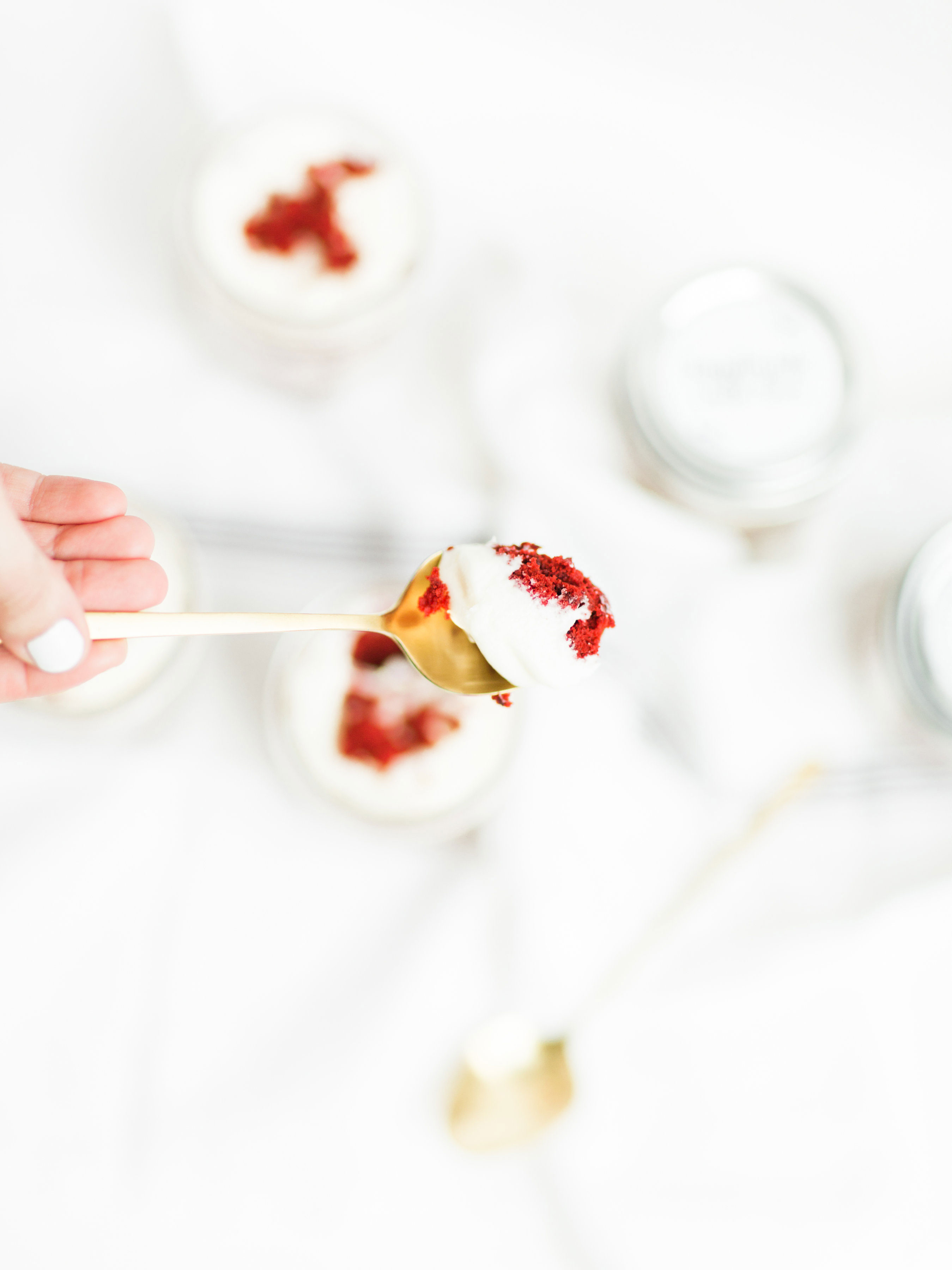 This amazing red velvet cupcake recipe is originally from The Hummingbird Bakery Cookbook. And I should probably explain how we stumbled upon these ridiculously amazing red velvet cupcakes.  We went to London many moons ago and took a trip to one of my favorite markets along Portobello Road. We just kind of fell into Hummingbird Bakery while there. Actually, we waited in a line that bordered on not-worth-the-wait; but you know, the bigger the line, the more worth the wait it must be.  Besides, we were American tourists, and if the locals were lined up at this tiny little bakery (when the market is full of street vendors and pretty yummy quick food to go), we knew it had to be good. It wasn't just good, it was amazing … like, hurt-your-face-it's-so-rich-and-sweet-and-delicate amazing.
We bought two cupcakes, much to my husband's dismay (he was definitely plotting to tackle at least a dozen or so), sat on a curb, and ate the sticky sweet cupcakes with our fingers. We had pigeons as an audience. And it was heaven. Clearly we weren't the only ones who thought so; clusters of people were all sitting on the curb scarfing down on cupcakes, cookies, pie, all from that tiny little bakery … which probably made my husband wish we had picked out at least ten other desserts. Long story short, the trip came to an end way too fast and we never got that chance to swing by for a second trip to the bakery. But trust me, it's on our list the second we find ourselves back in London.
Well hubby ended up hunting down The Hummingbird Bakery cookbook on Amazon, and to my front door it arrived! Years later and I've baked several awesome recipes from that cookbook. As for these red velvet cupcakes, I made minor alterations to the frosting, only because I like my cream cheese frosting with full cream cheese frosting impact, but other than that, I stayed very true to the very fabulous Hummingbird Bakery recipe.  A few secrets to these incredibly moist cupcakes: not too much cocoa (just the right amount!), buttermilk, and vinegar … plus the ever decadent classic cream cheese frosting. Like I said, these are the best.

THE BEST RED VELVET CUPCAKES, EVER.
Makes 12 cupcakes or one sheet pan of cake.
INGREDIENTS
For the Cupcakes:
4 tablespoons unsalted butter, at room temperature
¾ cup granulated sugar
1 egg
2½ tablespoons unsweetened cocoa powder
2 tablespoons red food coloring
½ teaspoon vanilla extract
½ cup buttermilk
1 cup + 2 tablespoons all-purpose flour
½ teaspoon salt
½ teaspoon baking soda
1½ teaspoons distilled white vinegar
For the Cream Cheese Frosting:
4 ounces butter, at room temperature
8 ounces (1 bar) cream cheese, at room temperature (Note:  The recipe calls for 4 ounces, but I'm a glutton!)
2½ cups powdered sugar, sifted
1 tablespoon vanilla extract
DIRECTIONS
NOTE: If you decide to make your cupcakes "in a jar," you'll actually be baking a red velvet sheet cake in a rectangular baking pan, and then scooping out the finished cake to create your cupcake layers. Both cupcakes and cupcakes in a jar taste delicious!
1. Preheat your oven to 350°F. Line a standard muffin/cupcake pan with cupcake liners or spray a rectangular baking pan with baking spray. (I'm a big fan of coconut oil cooking spray; it' doesn't have any weird aftertaste and it's made with 100% coconut oil.)
2. On medium-high speed, cream the butter and sugar until light and fluffy, about 3 minutes. Turn the mixer to high and add the egg. Scrape down the bowl and beat until well incorporated.
3. In a separate small bowl, mix together the cocoa powder, vanilla extract and red food coloring to make a thick paste. Add to the batter and mix on medium speed until completely combined. You may need to stop the mixer to scrape the bottom of the bowl, making sure that all of the batter gets color.
4. Reduce the mixer speed to low and slowly add half of the buttermilk. Add half of the flour and mix until combined. Scrape the bowl and repeat the process with the remaining milk and flour. Beat on high until smooth.
5. Again, reduce the mixer speed to low and add the salt, baking soda and vinegar.* Turn to high and beat for another couple of minutes until completely combined and smooth.
6. Divide the batter evenly between the cupcake liners or our all of the batter into a rectangular baking pan (if you're making the cupcakes in a jar) and bake for about 20 minutes, or until a toothpick inserted into the center of the largest cupcake comes out clean. (Be sure not to fill the cupcake liners with batter any more than 2/3 of the way up – these babies rise.)
7. Cool for 10 minutes and then remove cupcakes from the pan and place them on a cooling rack to cool completely before frosting.
8. To make the frosting: Using the whisk attachment, beat the powdered sugar and butter together.  Mix on slow-medium speed until it comes together, being careful to keep the powdered sugar in the mixing bowl.  Add the cream cheese all at once and continue mixing, scraping the bowl down as necessary. Add the vanilla and mix to combine. Increase the speed to medium-high and whip for a few minutes until the frosting is light and fluffy, scraping the bowl as necessary. Do not over-beat as the frosting can quickly become runny.
Recipe Adapted from The Hummingbird Bakery Cookbook by Tarek Malouf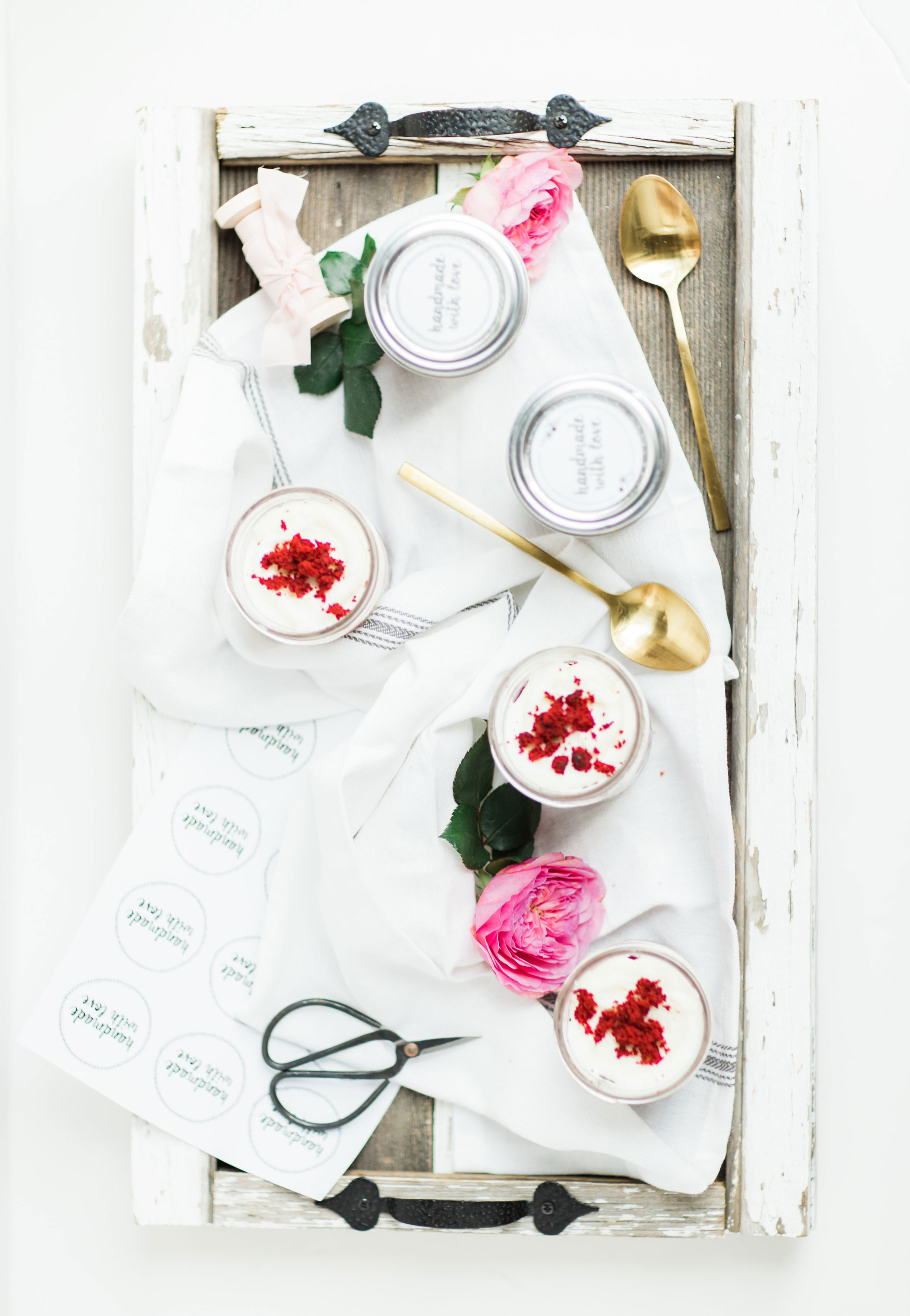 I love that cupcakes in a jar can act as the perfect sweet little gift to give to family and friends. I mean, who wouldn't want a cupcake in a jar on Valentine's Day?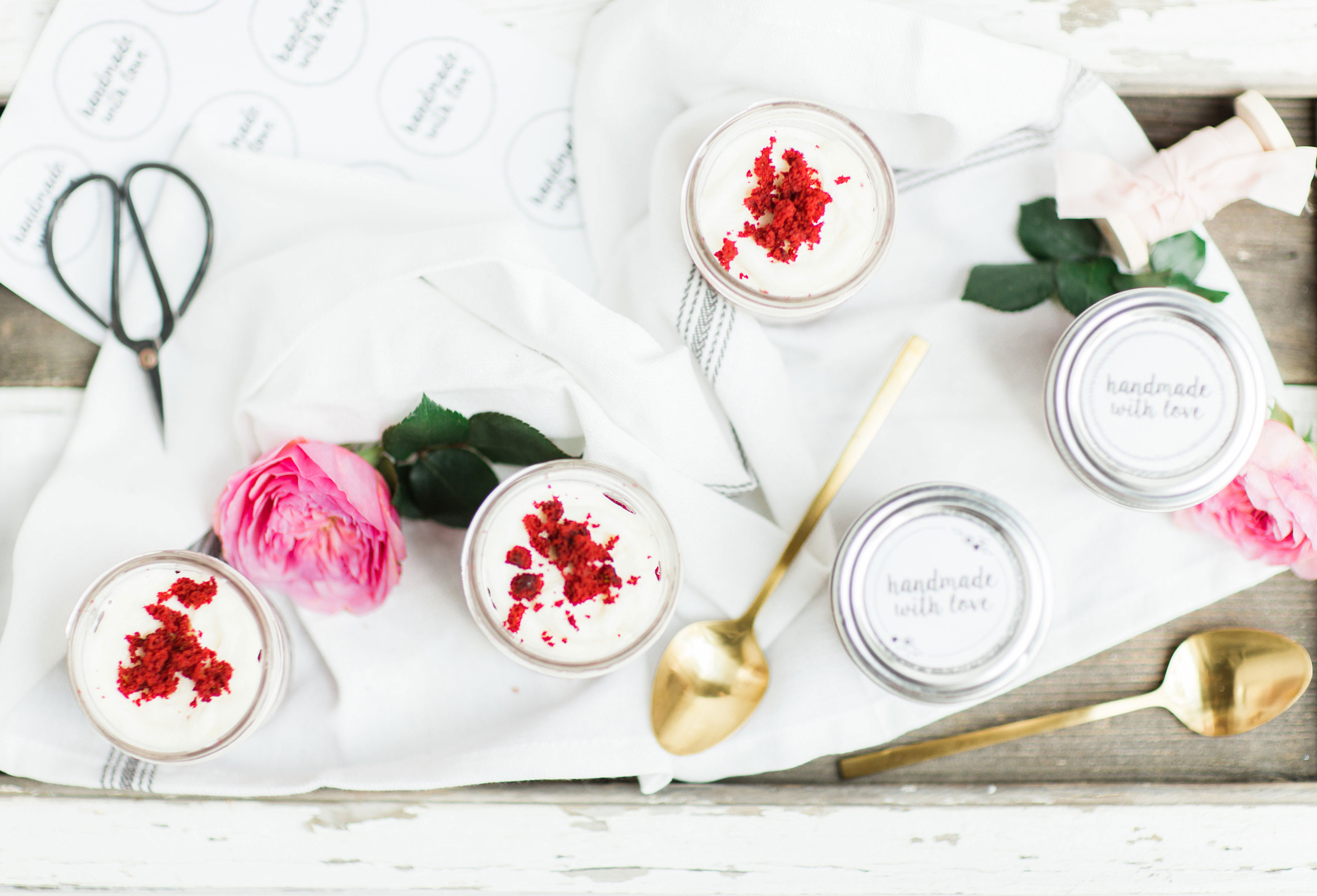 We made these fun little sticker labels – "handmade with love" – to top each of the jars!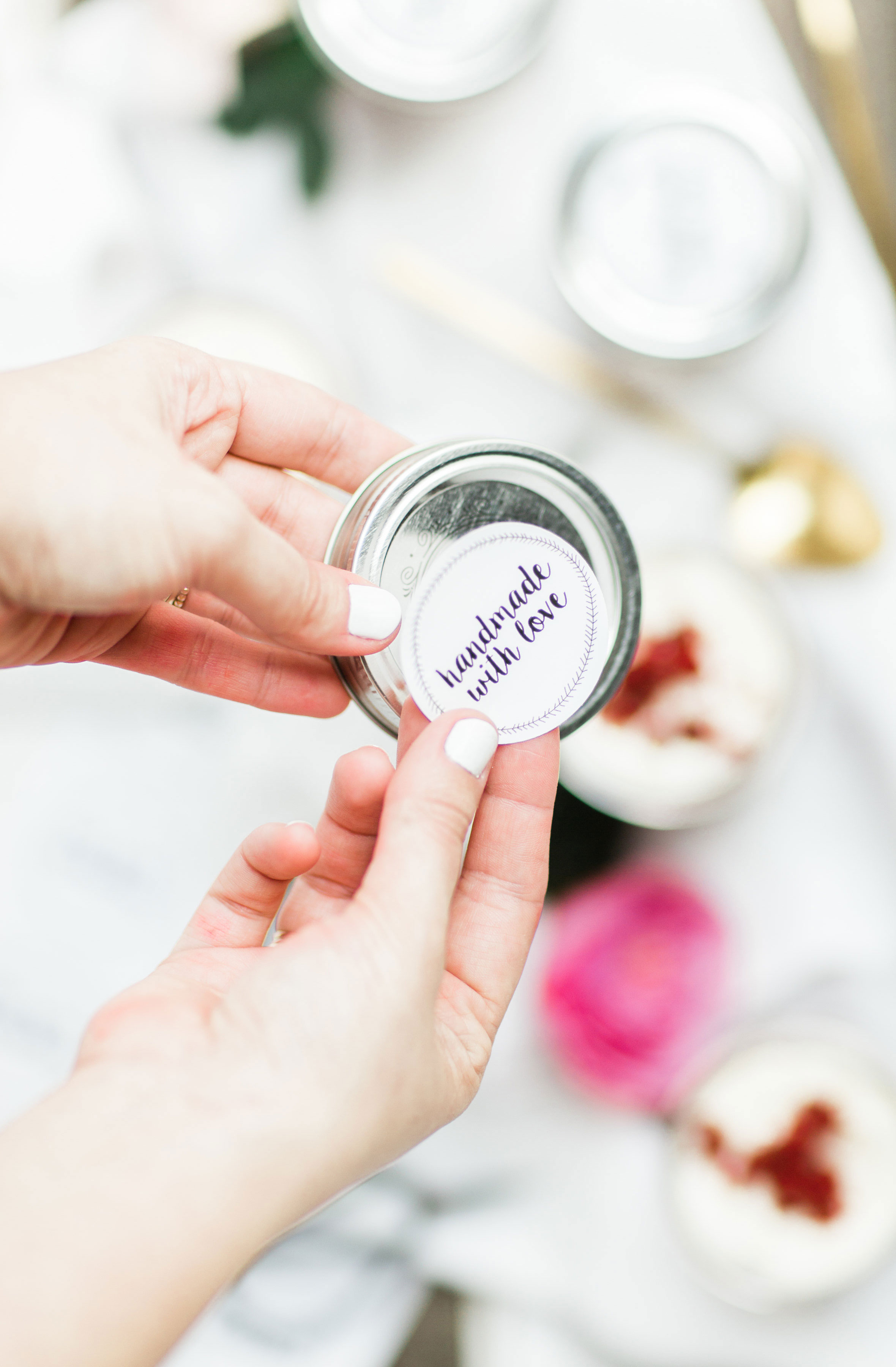 You can find the adorable hand drawn wreath vectors on Curly Made to create your own labels.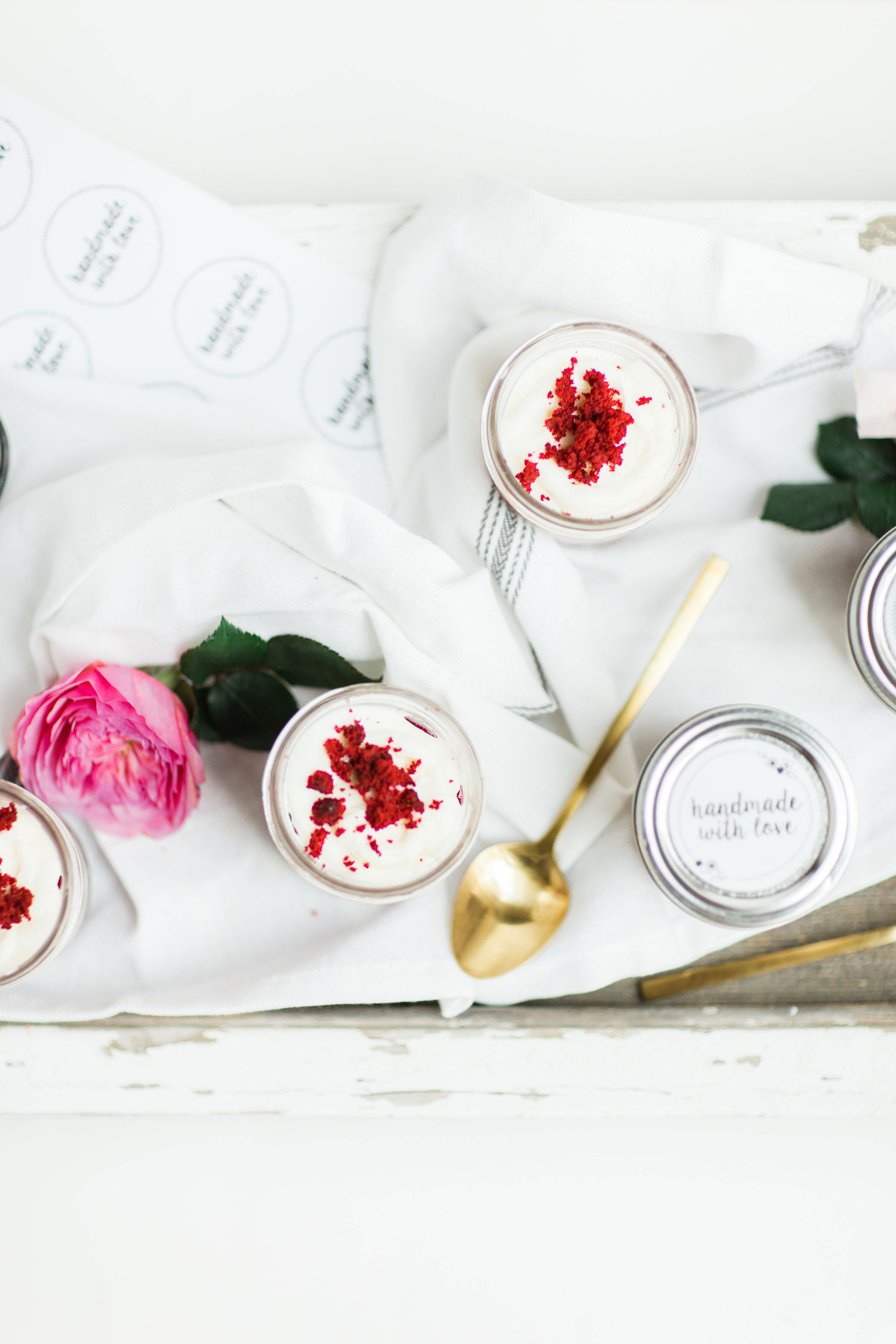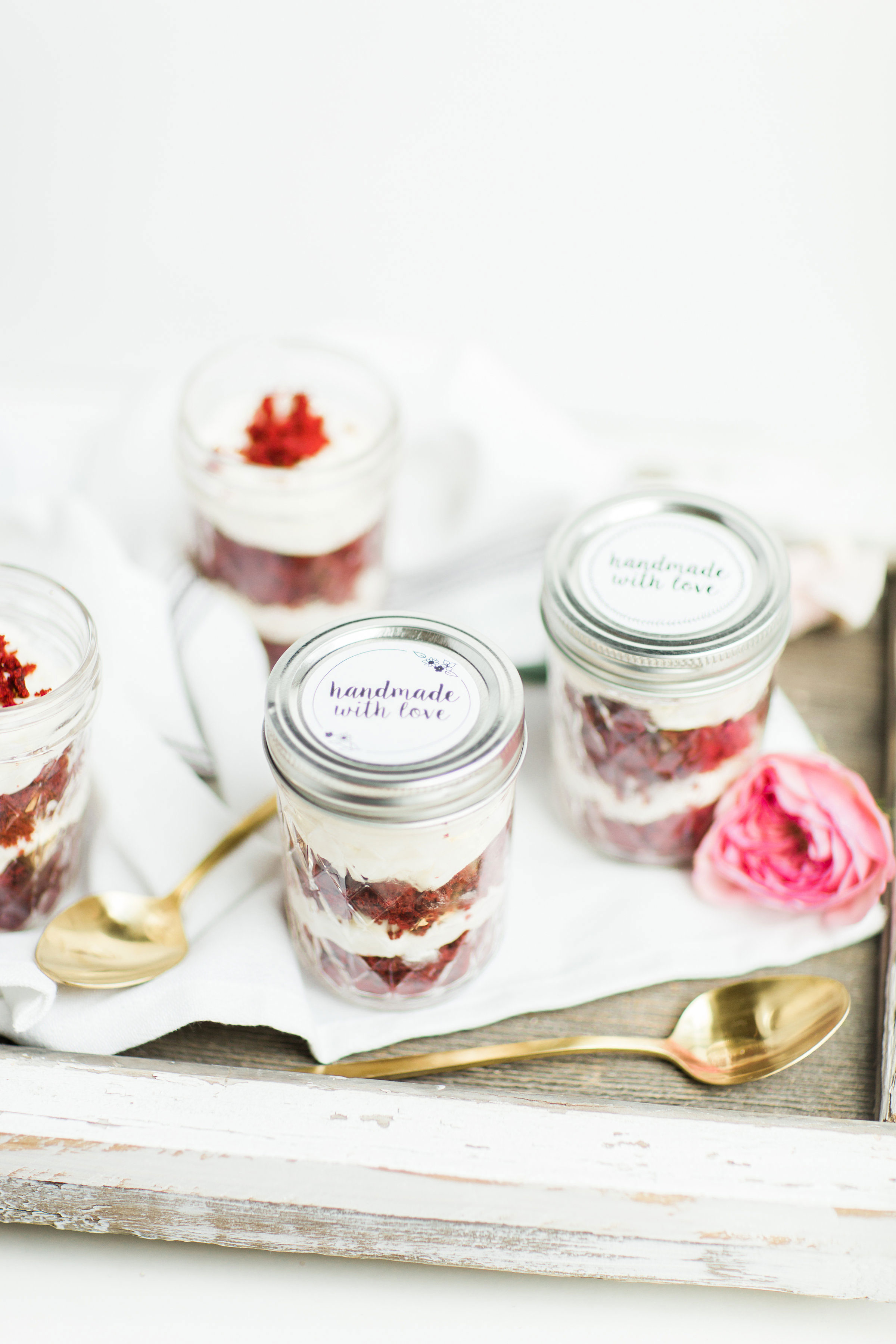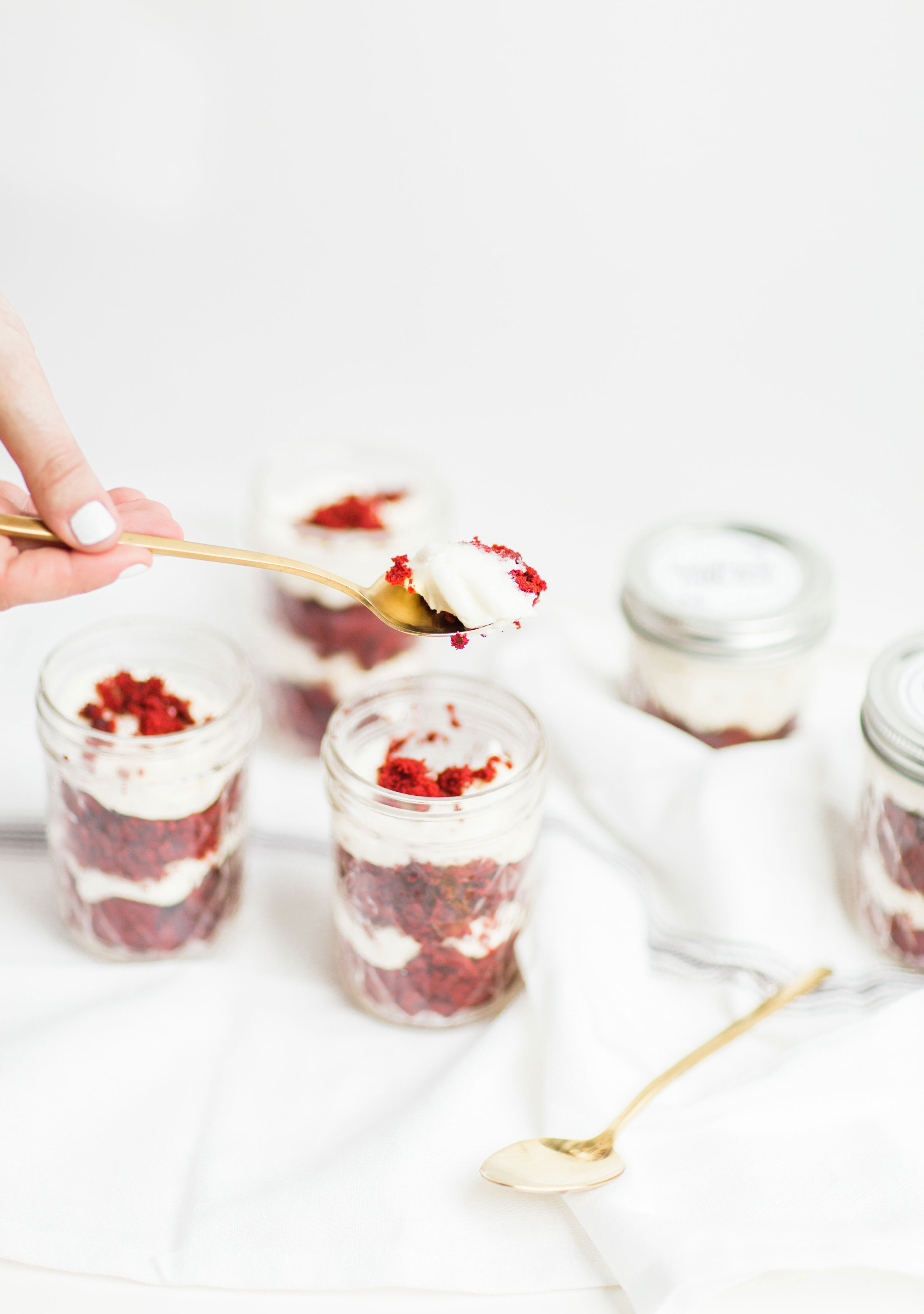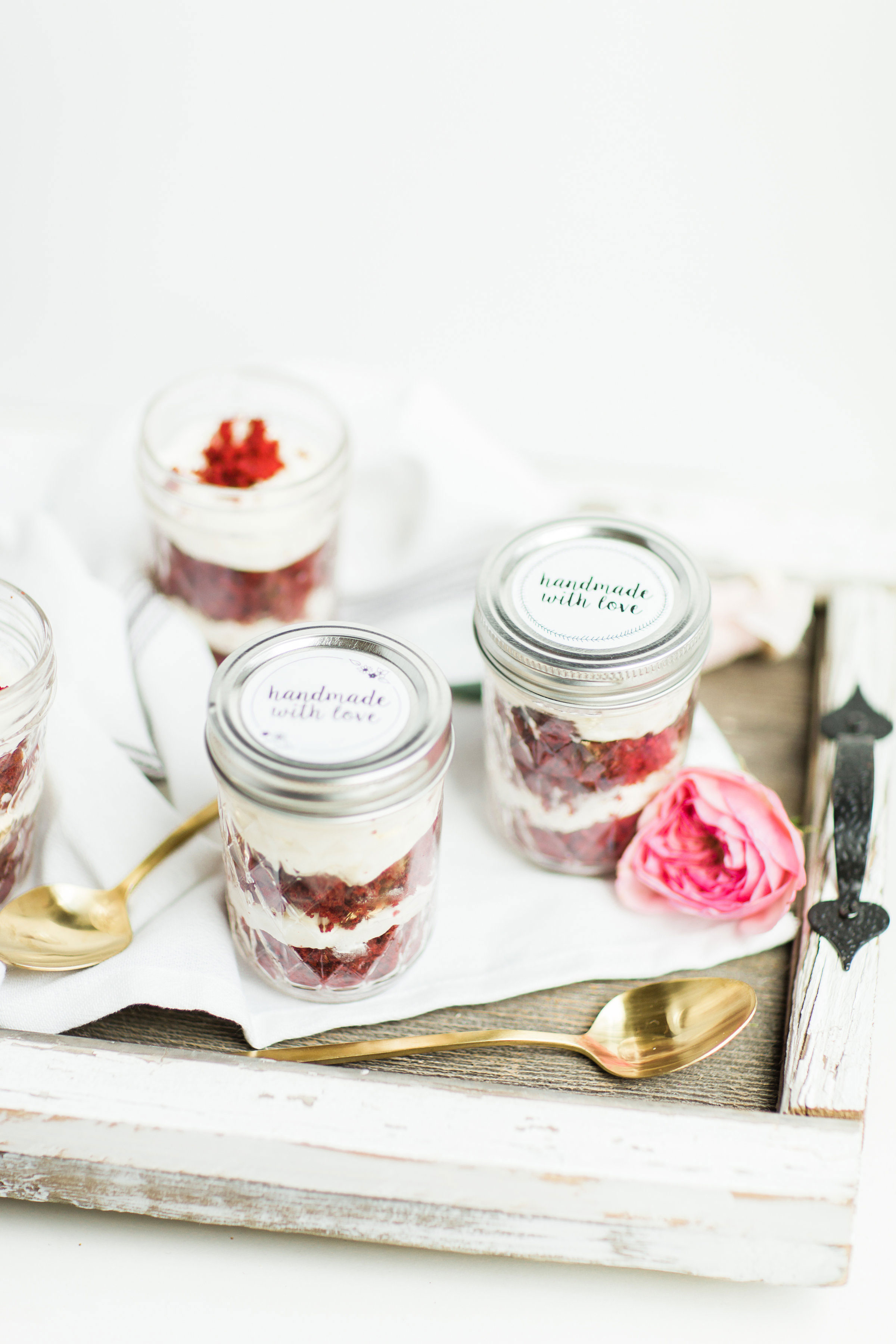 Psst … if you're looking for Valentine's Day inspiration, why not try the prettiest marbled graham cracker toffee bark, the perfect sugar cookies for decorating (we used pink rock candy!), throw together a last-minute date night (from the comfort of your sofa!) or Galentine's Day party, DIY the cutest mess-free craft with your little ones, make strawberry cheesecake macarons, big and fluffy homemade raspberry marshmallows, Oreo macarons, nutella-chocolate covered strawberries, boozy strawberry slushies, or any one of these 14 favorite valentine's day desserts?
SHOP THE POST | CLICK LEFT & RIGHT ARROWS TO EXPLORE

Photos by Annie Watts Photography
This post contains affiliate links, which means that if you click on one of the product links, I'll receive a small commission. Thank you so much for clicking through and helping to support this little blog business of mine! Read more about our site, privacy, and disclosure policies here.