This post contains affiliate links, which means that if you click on one of the product links, I'll receive a small commission. Thank you so much for clicking through and helping to support this little blog business of mine! Read more about our site, privacy, and disclosure policies here.
Forget boxed cake mix. This simple homemade vanilla sheet cake is moist, fluffy, incredibly yummy, and surprisingly dairy-free, is just as easy to make, can be made all in one baking pan, no mixing bowls required, and comes out perfect every single time.
Last week, Scarlett announced that it was Freckles' birthday. Freckles is a stuffed cheetah with big sparkly green eyeballs, and allegedly, a penchant for cake. Like any good cheetah-owning family, we hit the kitchen and baked up a birthday cake especially for Freckles.
In addition to being one excellent birthday cake, even if stuffed animals may or may not enjoy it quite as much as 4 year-olds, our favorite vanilla cake also happens to be the perfect vanilla sheet cake for any 'ol reason, including, if not limited to, celebrating a random stuffed animal's made-up birthday on a Tuesday.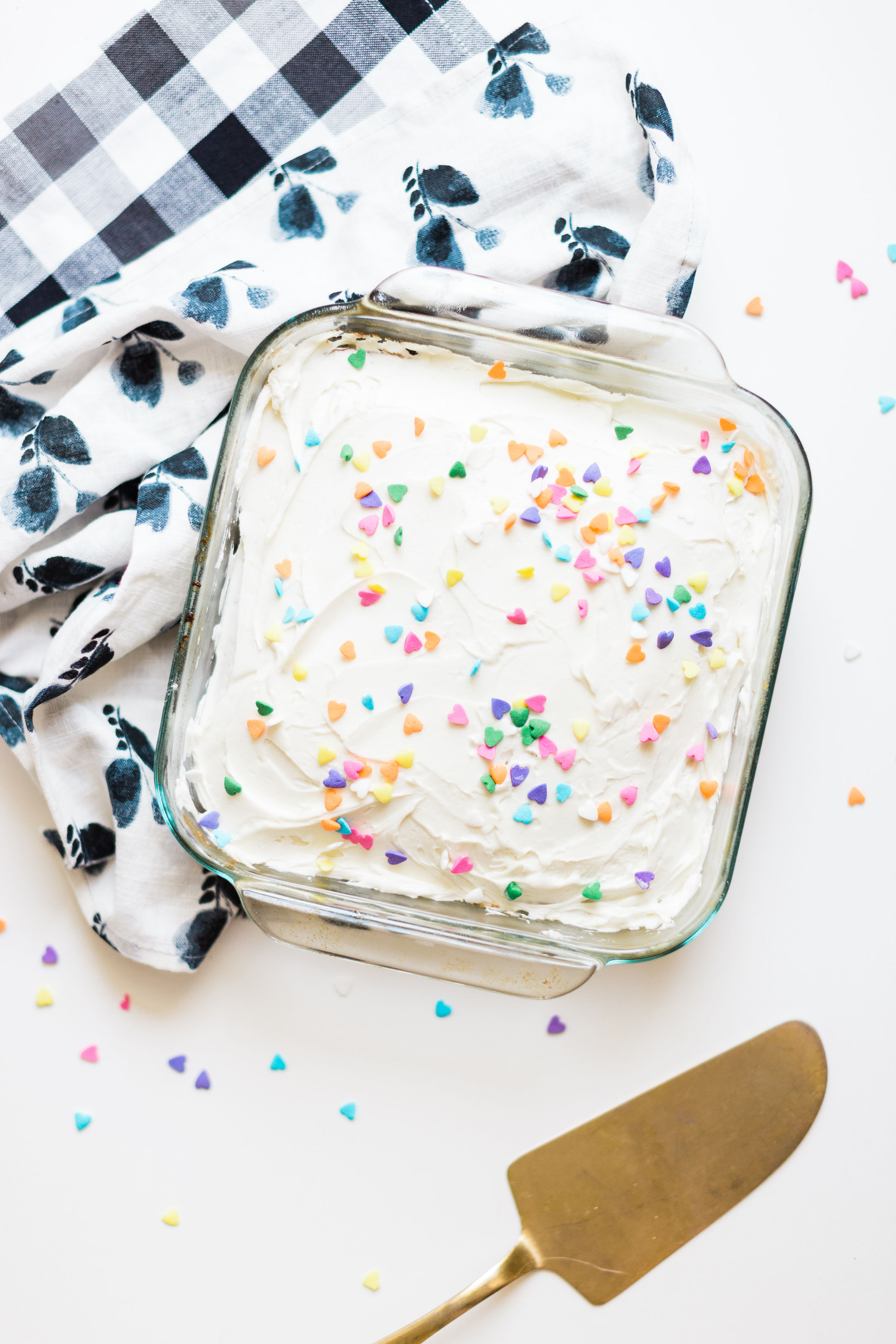 And guys, let me level with you:
Regardless of how often you bake up mid-week cakes, a delicious vanilla sheet cake should 100% be in your arsenal of easy cakes.
Because honestly, having the ability to bake up a rich, moist, and incredibly yummy cake in under thirty minutes is clearly akin to some kind of superpower; and at the very least, will make you the favorite parent. At least until the other parent gets home.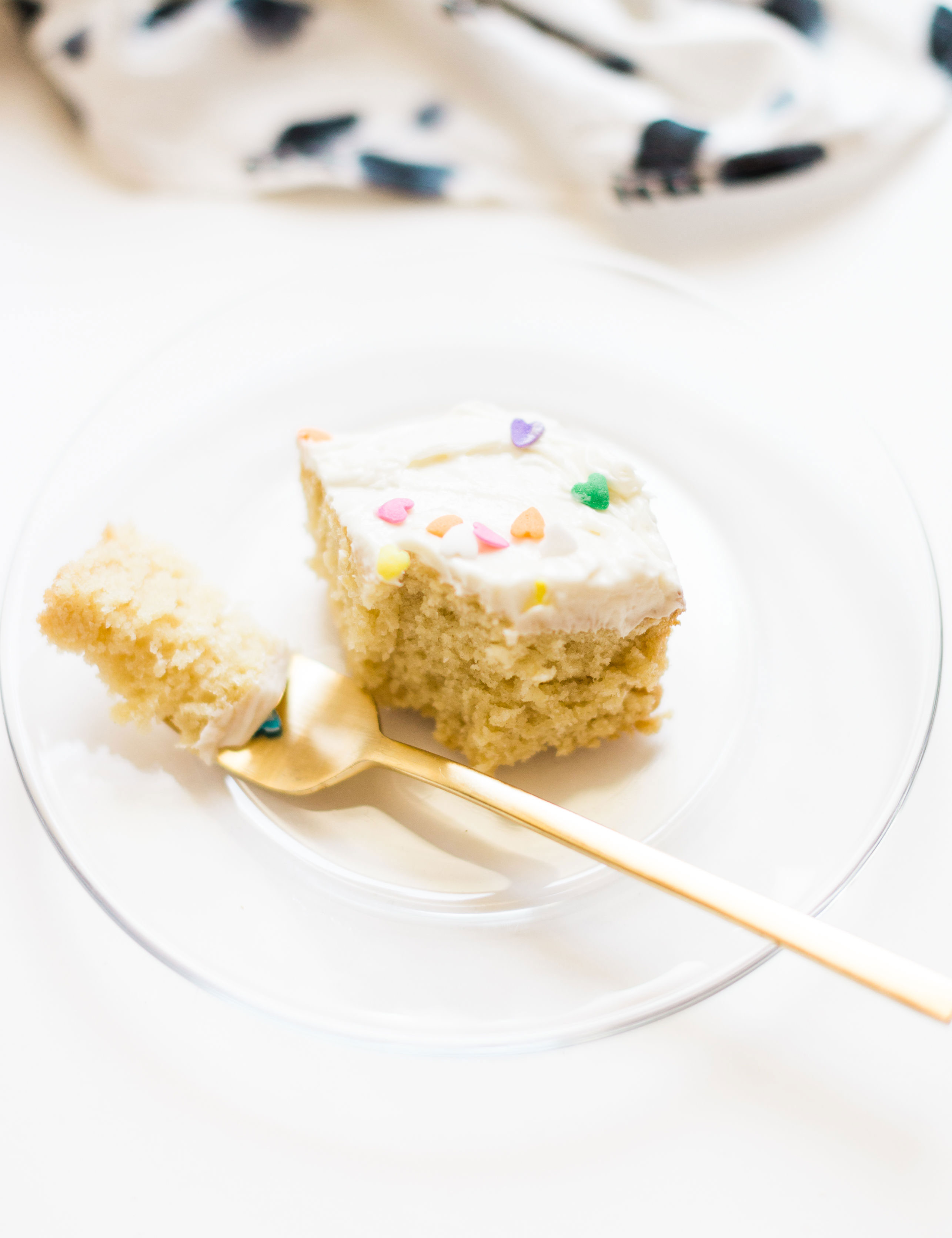 Now full disclosure, this vanilla sheet cake is basically just a variation of our favorite vanilla crazy cake recipe. Ever heard of crazy cake? Or depression cake? They're one and the same.
Crazy Cake, also commonly referred to as "Wacky Cake" or "Depression Cake" (because the recipe actually dates back to the Great Depression) – has no eggs, milk, or butter, can be mixed and baked in one pan, and still miraculously comes out super moist and delicious every single time. This is our go-to recipe for egg/dairy allergies and it's a really fun cake to make with kids. Also, because it's dairy-free, it's the perfect cake recipe to use for a first birthday smash cake. Need a pick-me-up? Just peep our sweet little Emmeline smashing into her first birthday cake. It's solid baby goodness gold.
And, fun fact:
My husband is OBSESSED with this cake. He says it's the best vanilla birthday cake he's ever tried, and that's saying something! (That man loves cake.)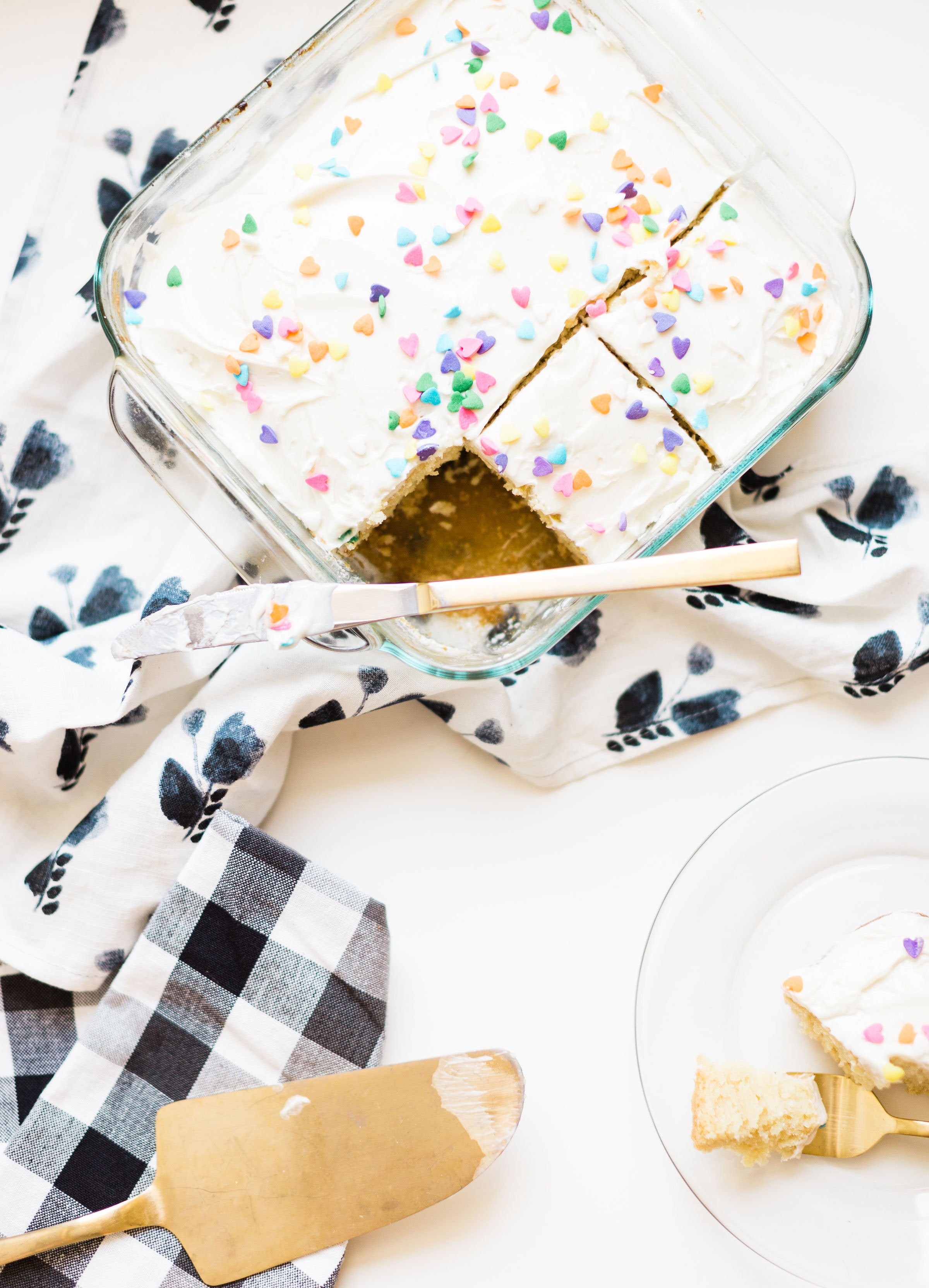 Now about this vanilla sheet cake … or crazy cake. This cake is crazy good and dairy-free. SUPER SIMPLE to make, wayyyyy better than a boxed cake mix (especially since it isn't full of weird ingredients), and all around just a really awesome sheet cake to make … you know, whenever you need cake.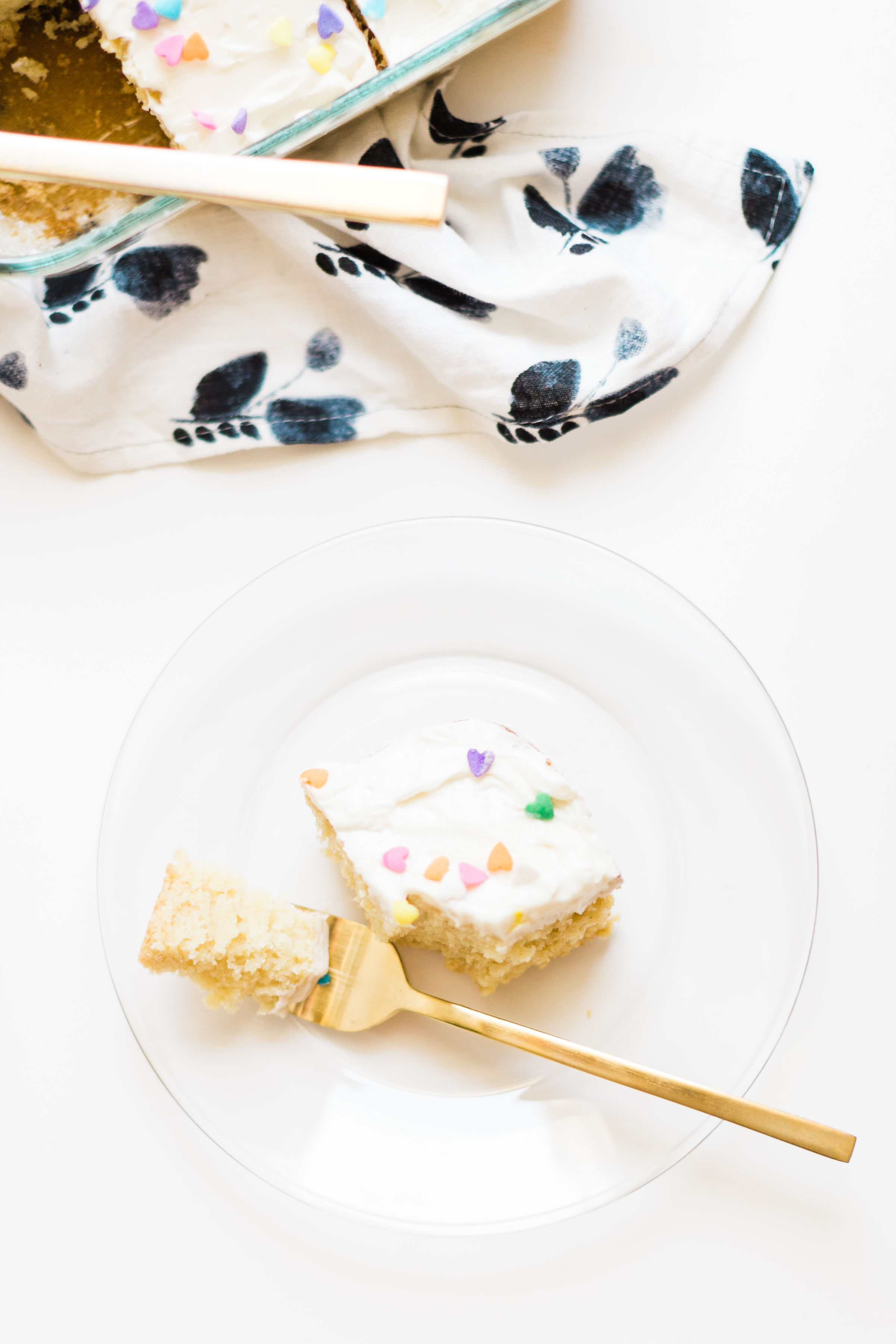 And speaking of boxed cake mix; don't make it ever again. This is better. And just as simple. Seriously. I promise. Stop. Do not pass go. Make only this vanilla cake recipe from here on out, and say sayonara to boxed cake mix for good. This vanilla sheet cake follows the same idea. Yummy, totally moist, yet still delicate and fluffy, perfect-every-time cake, minus the box mix. And it's just so dang good. And easy.
Are you sold yet? 😍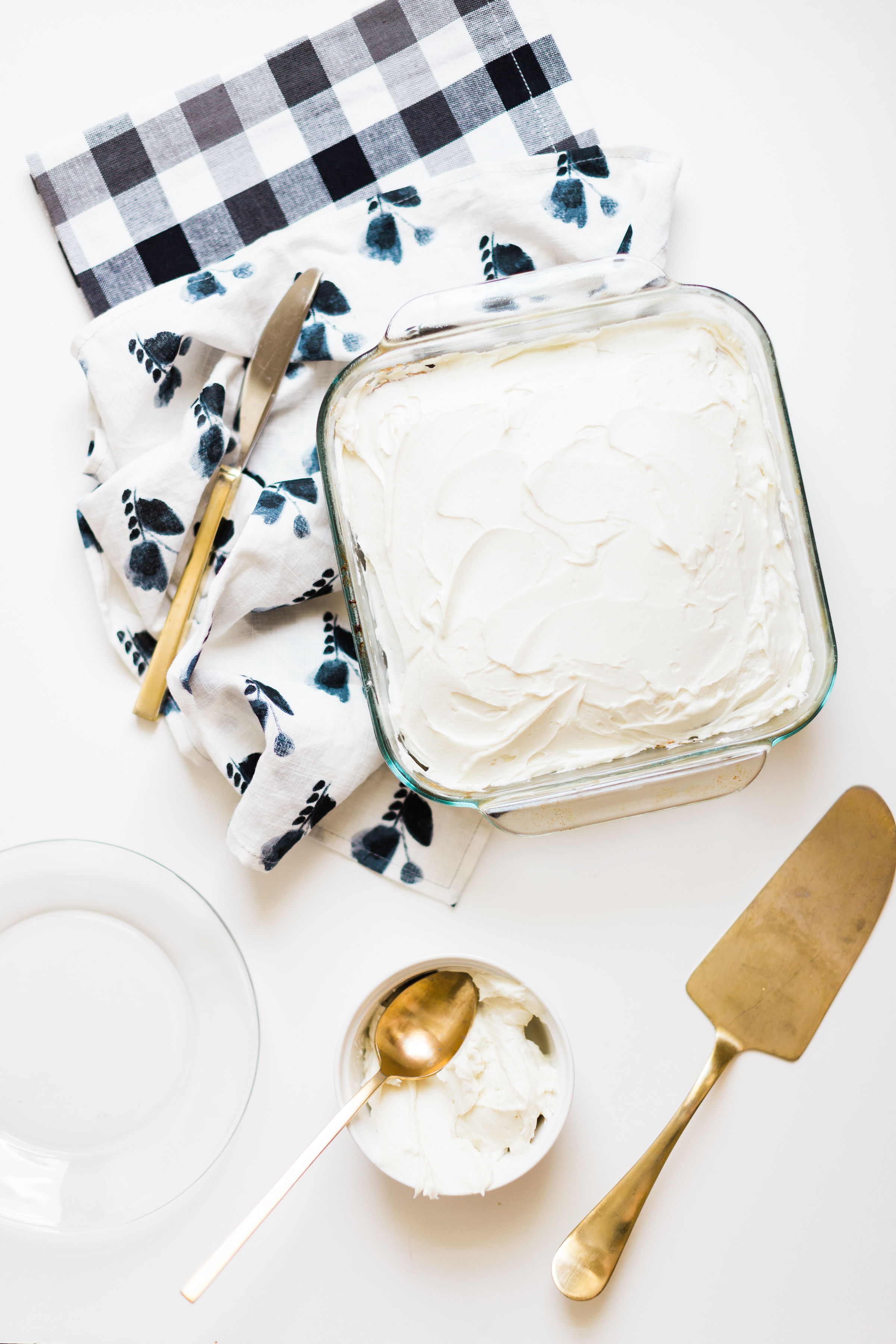 Oh, also, if you have kids, this is THE cake to make with them. They love making this cake, because not only is it simple to put together, if you choose to make it all in one baking dish, you can actually make the three "depressions" in the dry ingredients, and help them to pour all of the wet ingredients in and then mix it all together.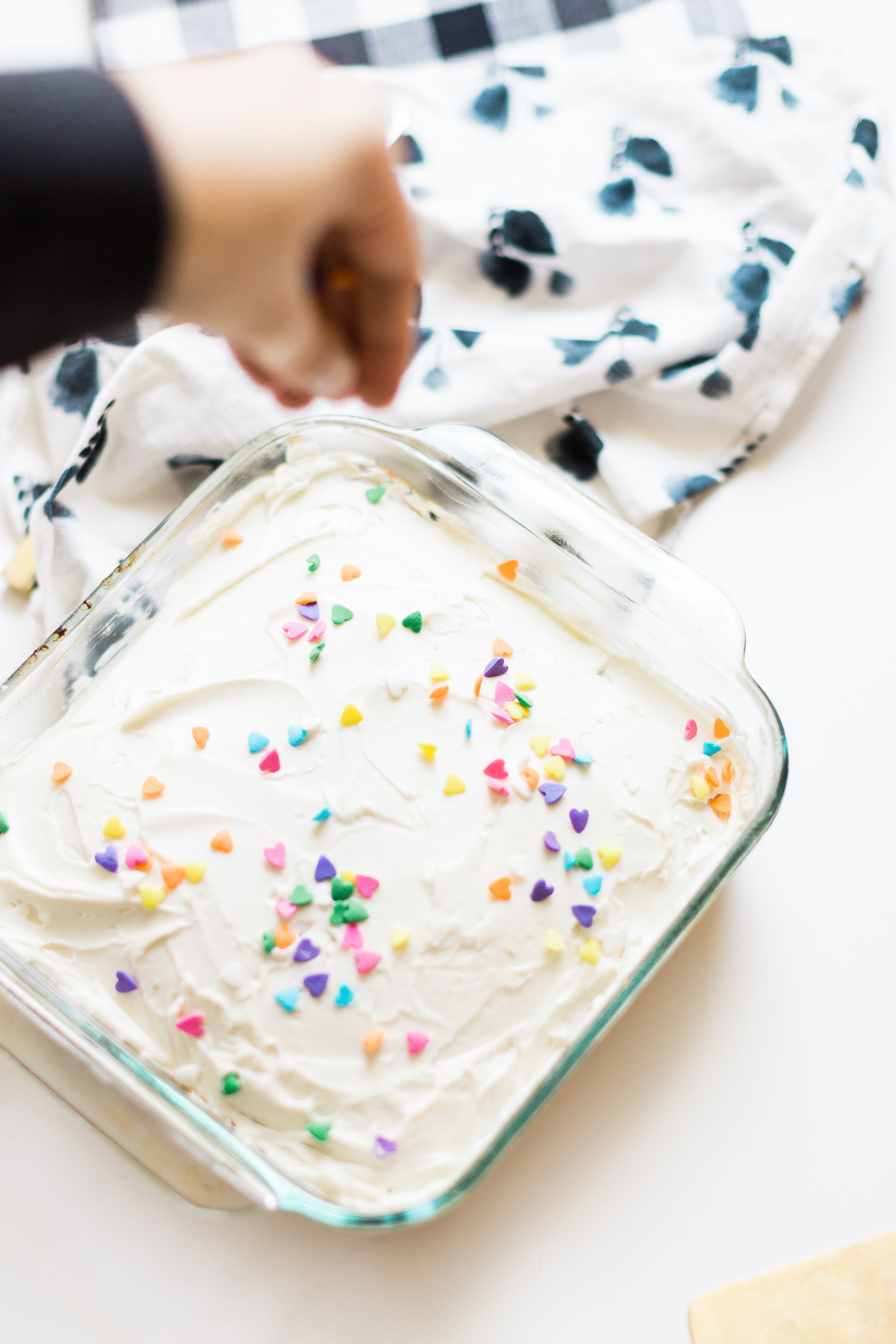 Plus, once the cake batter is mixed up, and then baked, the kids get to frost the cake and add their favorite sprinkles. (Sprinkles being a mandatory step, if you ask my girls.)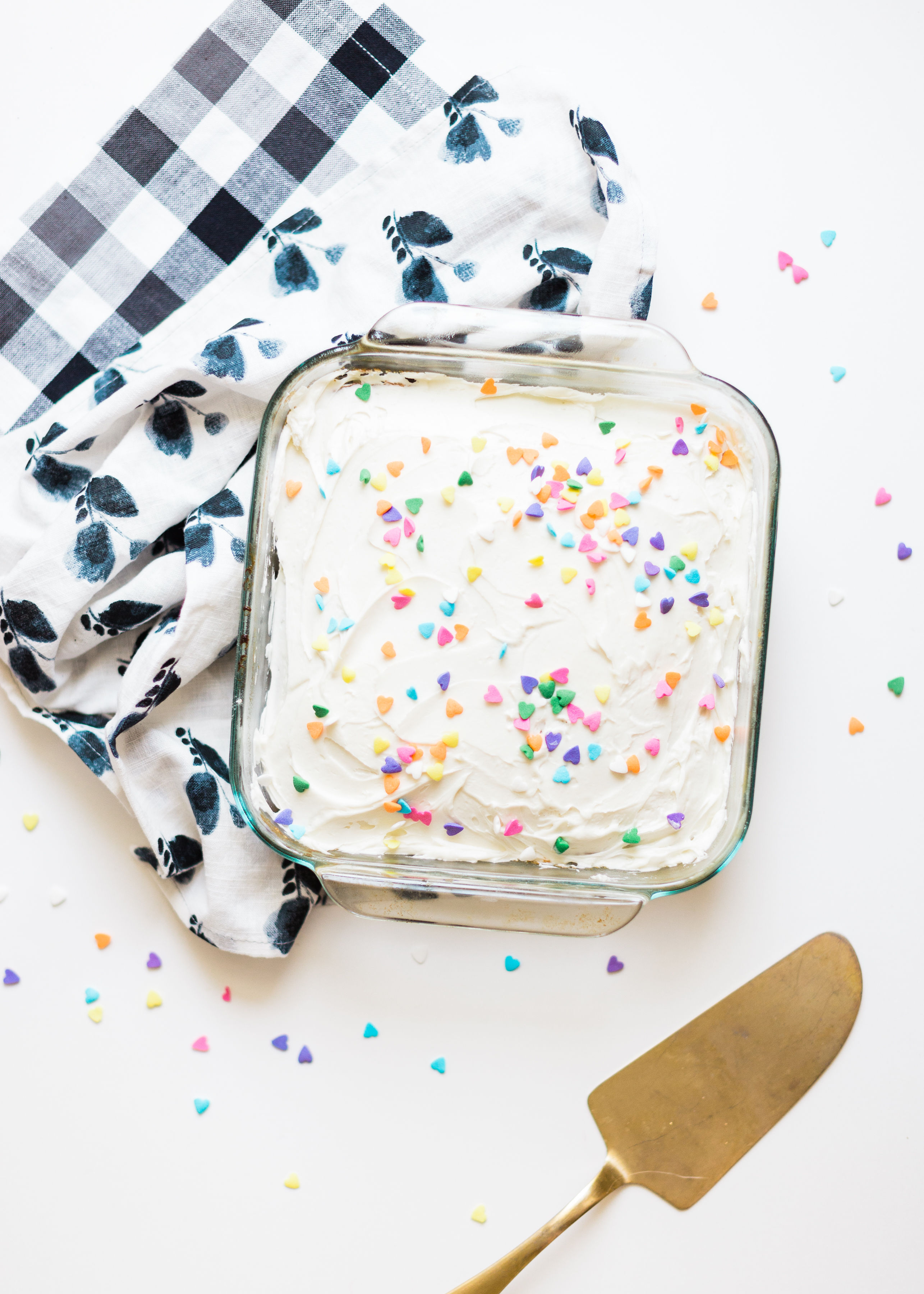 How to Make a Simple and Delicious Homemade Vanilla Sheet Cake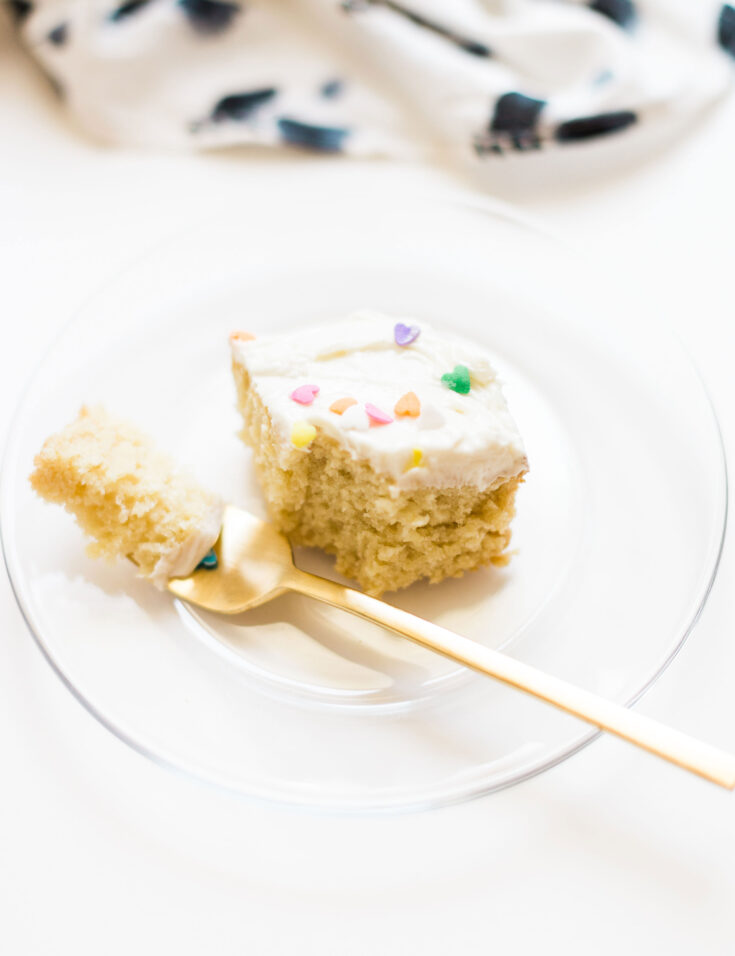 Yield:
Simple Vanilla Sheet Cake
Ingredients
1 1/2 cups + 3 tablespoons all-purpose flour
1 cup white sugar
1/2 tsp. salt
1 tsp. baking soda
1 tsp. white vinegar
1 1/2 tsp.  pure vanilla extract
5 tbsp. vegetable oil or canola oil 
1 cup water 
Instructions
Preheat oven to 350 degrees F.
You can either create this cake IN one 8″ square baking pan, or use a mixer or mixing bowl to make the batter and pour into a greased 8″ square baking pan. To make in a mixing bowl or mixer, mix the first 4 dry ingredients in your bowl. Make 3 depressions in dry ingredients – two small, one larger. Pour vinegar in one depression, vanilla in the other and the vegetable oil in third larger depression. Pour water over all of it. Mix well until smooth. (To mix everything in your baking pan, follow the same steps in a greased 8″ square baking pan, mix the first 4 ingredients in the greased pan, add the wet ingredients as above, pour water over everything, and mix.)
Bake on middle rack of oven for 35 minutes. Check with toothpick to make sure it comes out clean.
Allow to cool completely before frosting. Top with your favorite frosting* and enjoy!
Notes
*This is a classic (and very good) buttercream frosting.

**If you want to double this recipe, double all of the ingredients and bake in a 9×13 baking pan.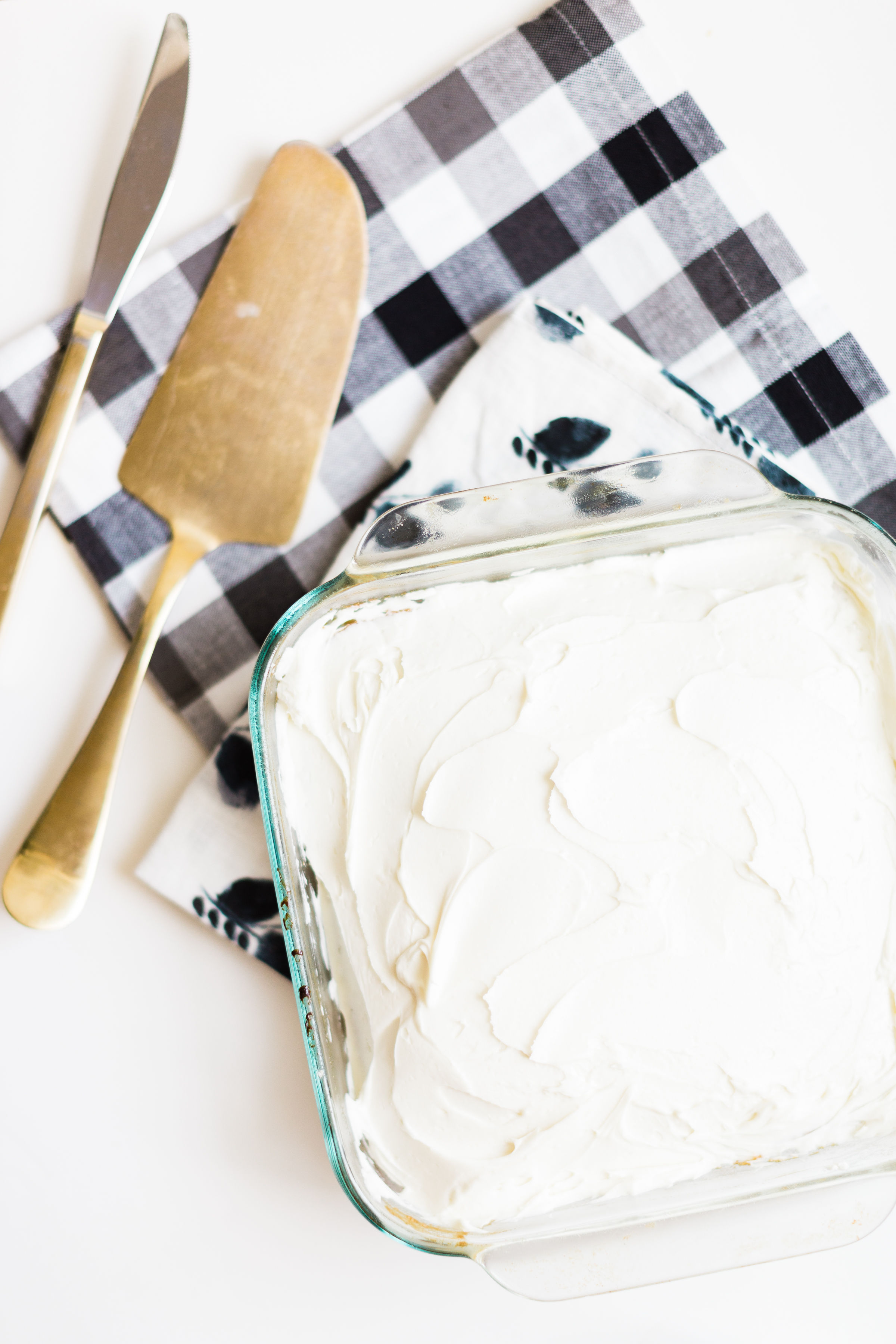 Top with your favorite buttercream frosting. This is a classic buttercream frosting recipe. And in case you're looking for something vegan, this is a pretty popular Vegan Fluffy Buttercream frosting.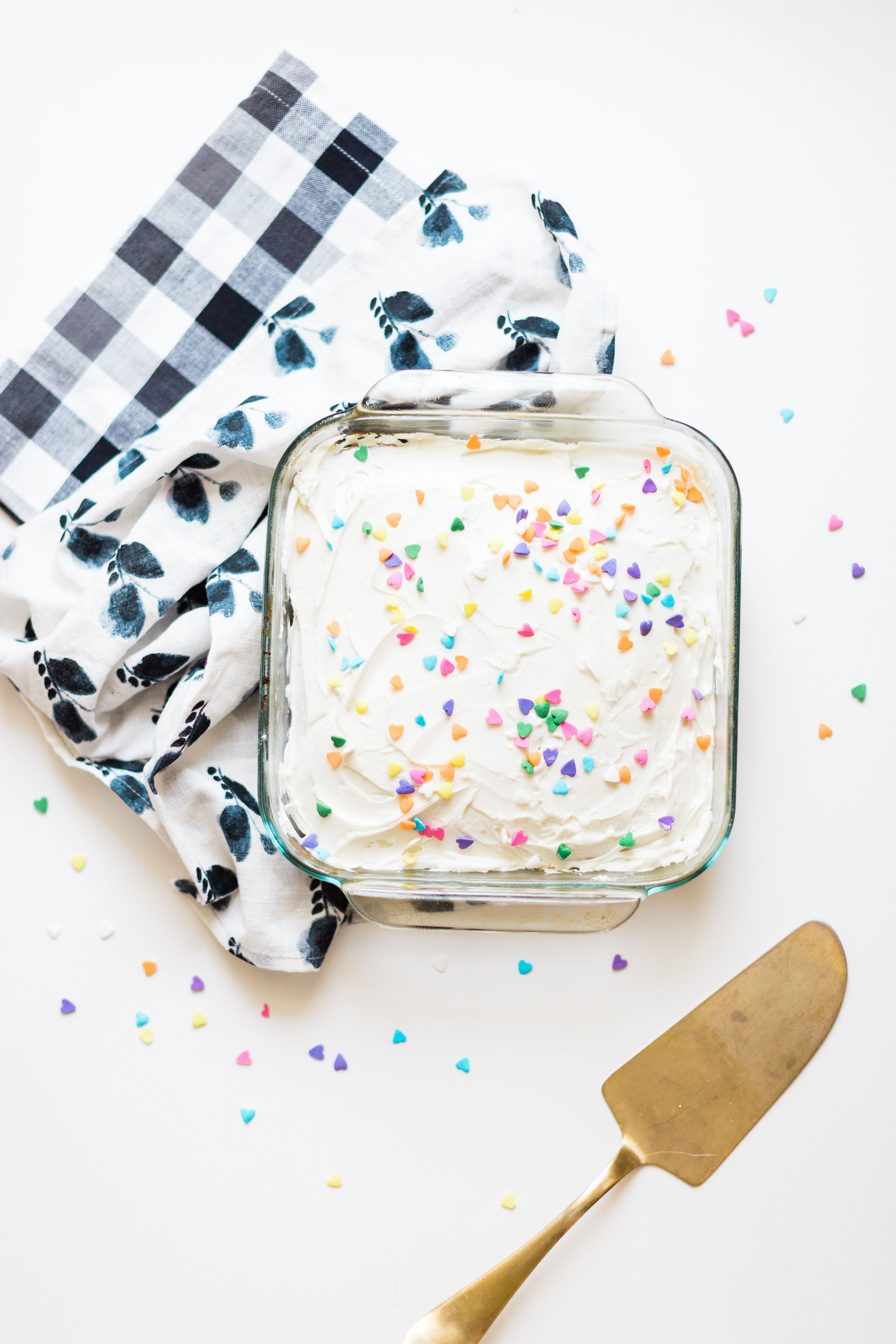 Have any reasons to celebrate with cake in the middle of the week? I highly suggest it. 😉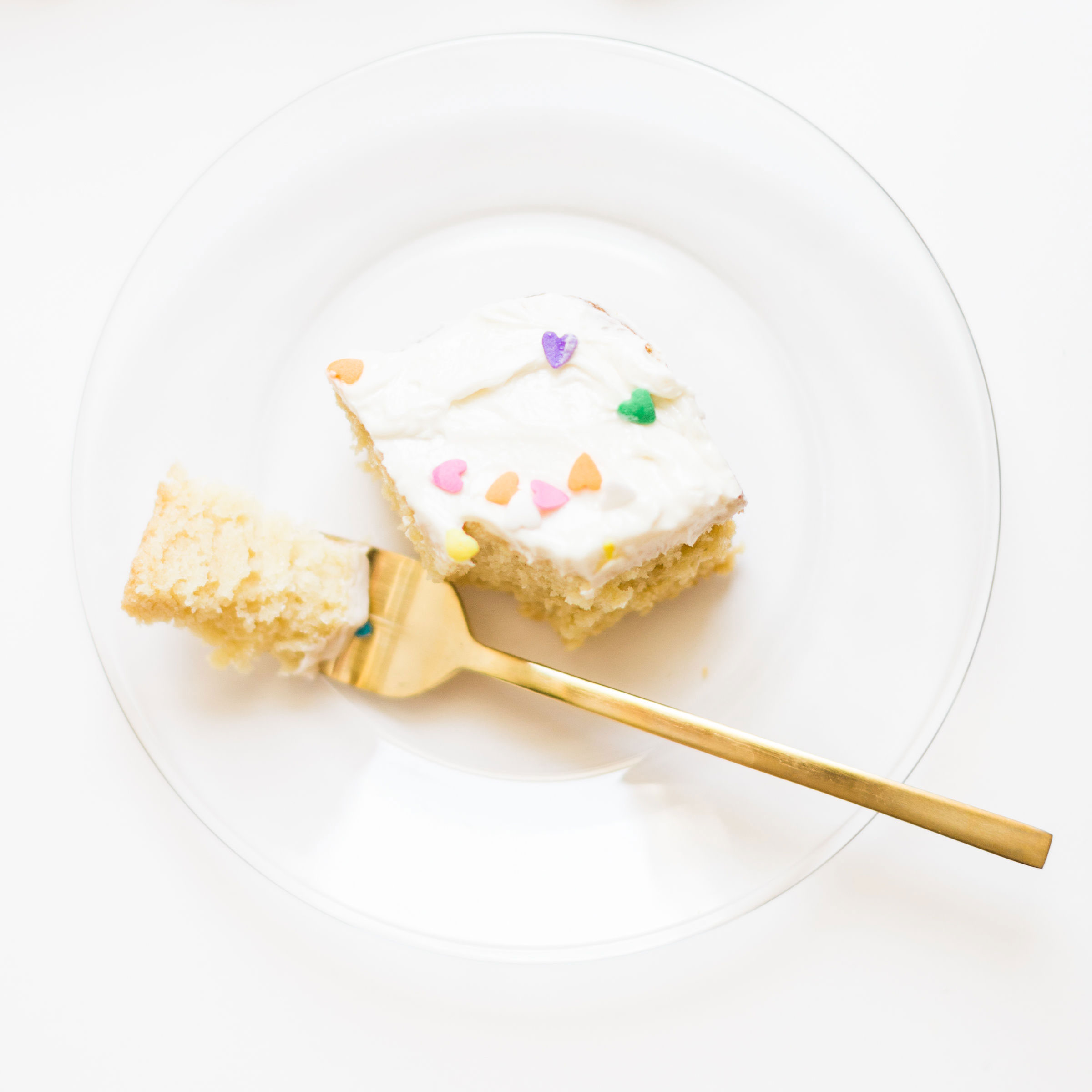 We like to celebrate! 🎉 Check out all of our parties here and head to our recipe page to check out what else we're dreaming up in the kitchen. If you make your own vanilla sheet cake, be sure to tag me on social media (@glitterinclexi) so I can live vicariously through all of your desserts!
SHOP THE VANILLA SHEET CAKE RECIPE POST | CLICK LEFT & RIGHT ARROWS TO EXPLORE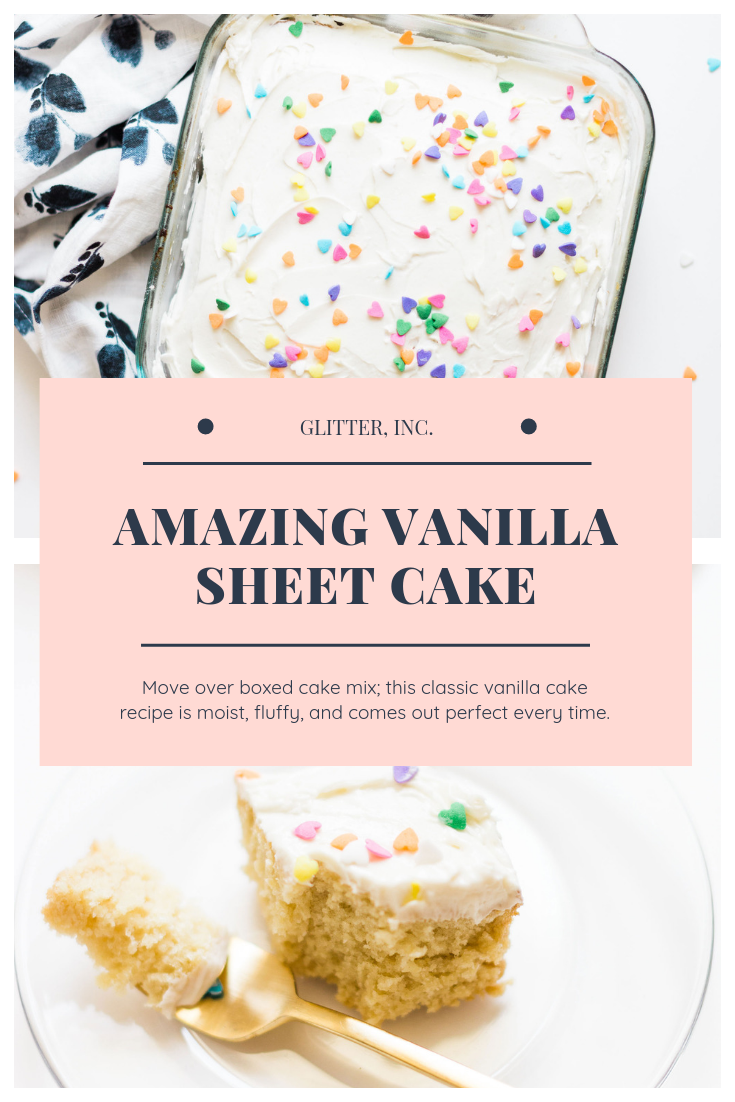 Photos by Annie Timmons Photography for Glitter, Inc.