This post contains affiliate links, which means that if you click on one of the product links, I'll receive a small commission. Thank you so much for clicking through and helping to support this little blog business of mine! Read more about our site, privacy, and disclosure policies here.
Want a brunch recipe to really impress your guests? Look no further than this insanely amazing overnight crème brûlée french toast casserole. This decadent dessert has been a staple at our family brunches for years, and with this one special tweak, we've managed to make it even better. Read on for the details! 
Guys, I don't know how to be chill about this recipe. Crème brûlée french toast casserole.
This decadent, magical, caramel-y sweet casserole is every bit as good as it sounds.
Crème Brûlée itself is a French dessert consisting of a rich custard base topped with a contrasting layer of hard caramel; mix that together with toasty, buttery bread, and you have yourself one winning brunch recipe. The dish is put together in a casserole. The "french toast" soaks up the rich Crème Brûlée sauce (buttery, sugary, and warm) and is super moist and custard-y and the bottom of the bread caramelizes. Also, the top toasts to just the right eggy crisp-ness.
This is caramelized heaven in a casserole.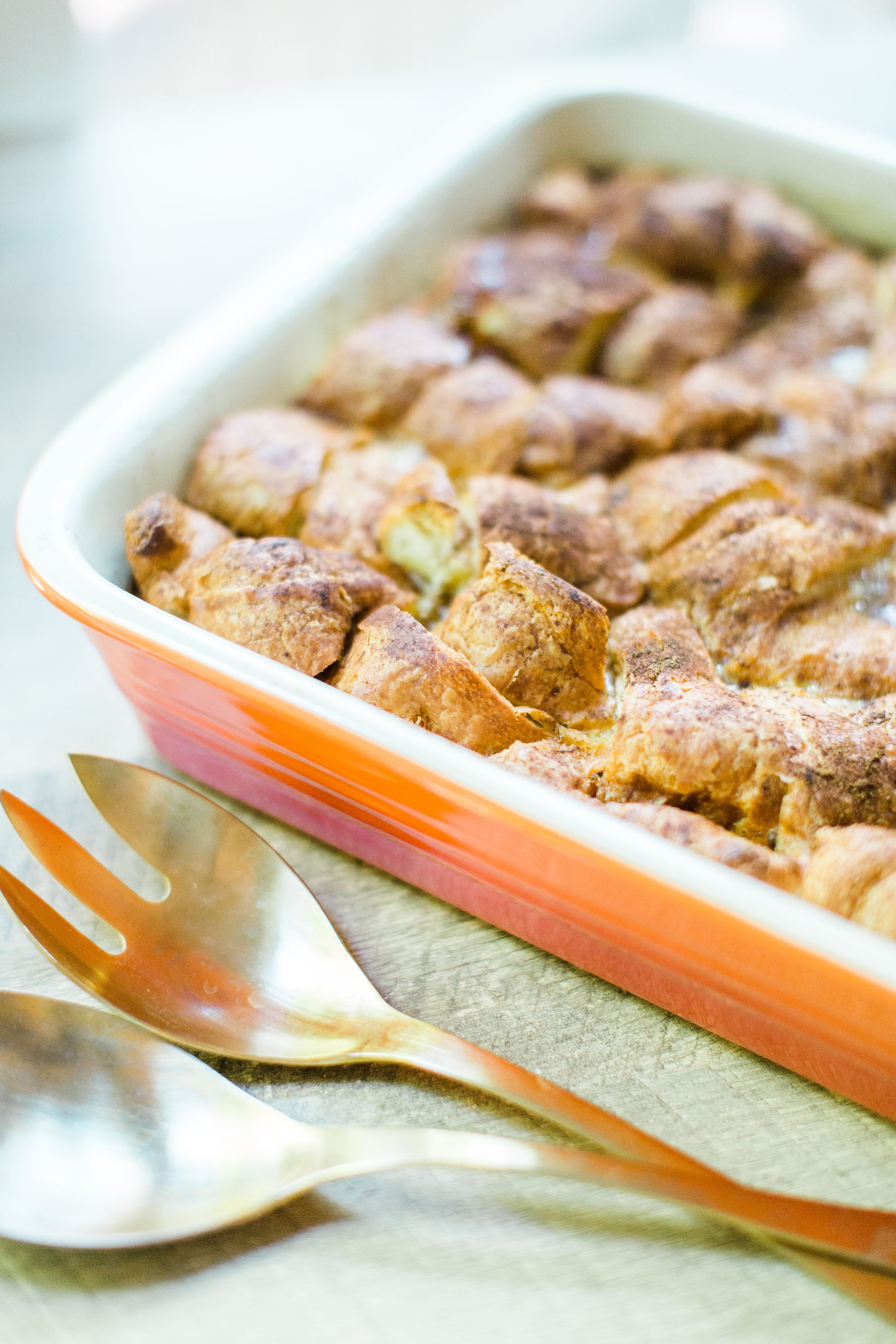 I have yet to meet a living soul who doesn't cry a little as they dive in for their first bite. It smells and tastes like butter and sugar made a love child. It's the perfect brunch dessert.
We serve it up on holidays and it is utter perfection for memorable get-togethers like Christmas morning, the morning after New Years Eve, Easter brunch, and everything in between.
This crème brûlée french toast casserole is also a great recipe for brunch because it's the kind of thing you can make a huge tray of the night before, and have an amazing warm dessert come morning.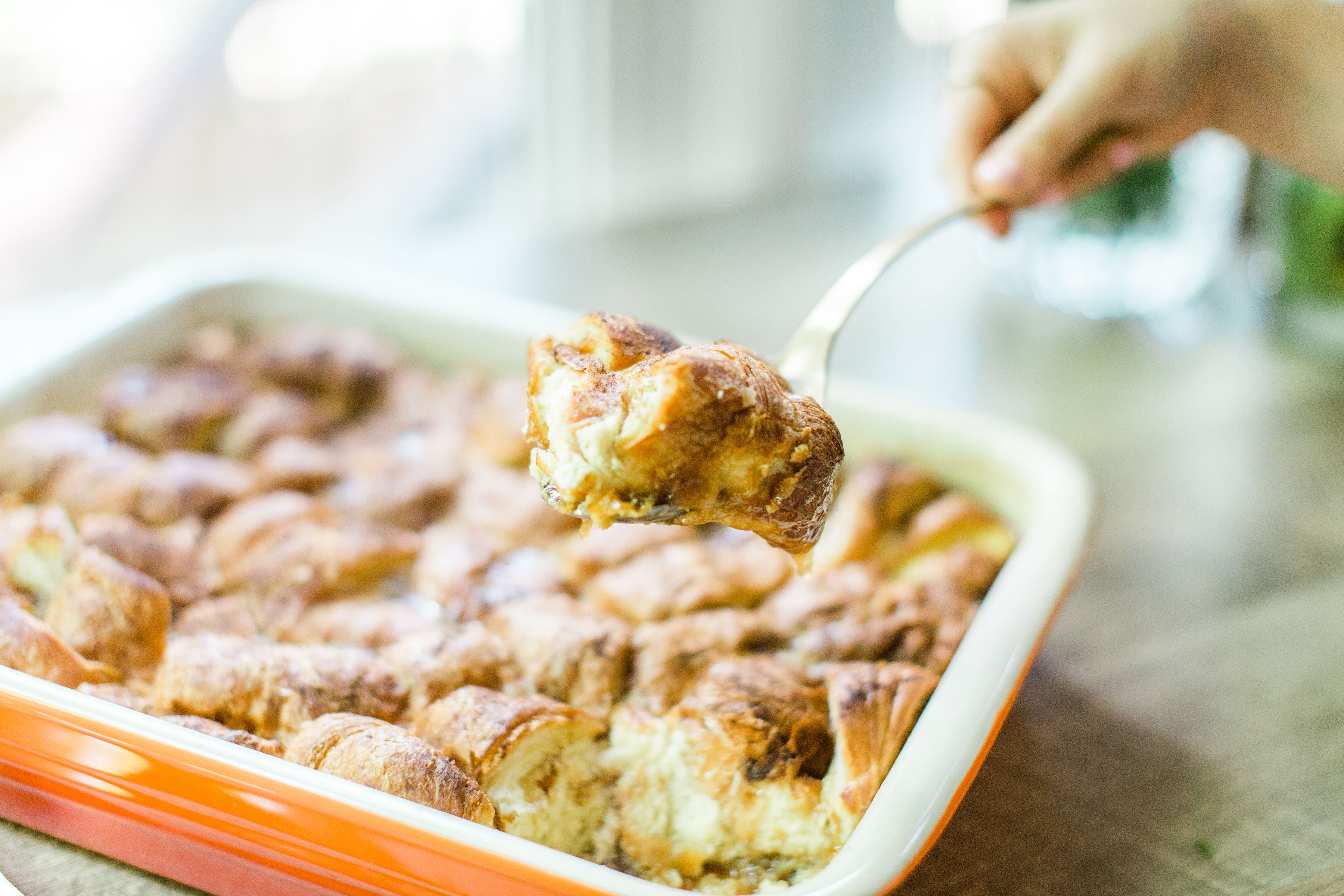 Actually, I made it with my mom for a recent party and there was not one bit left by the end of the festivities. I mean, guests were scraping the ooey gooey caramelized sugar off the sides and bottom of the pan.
As in, NO leftovers. Which is a real travesty. But I digress.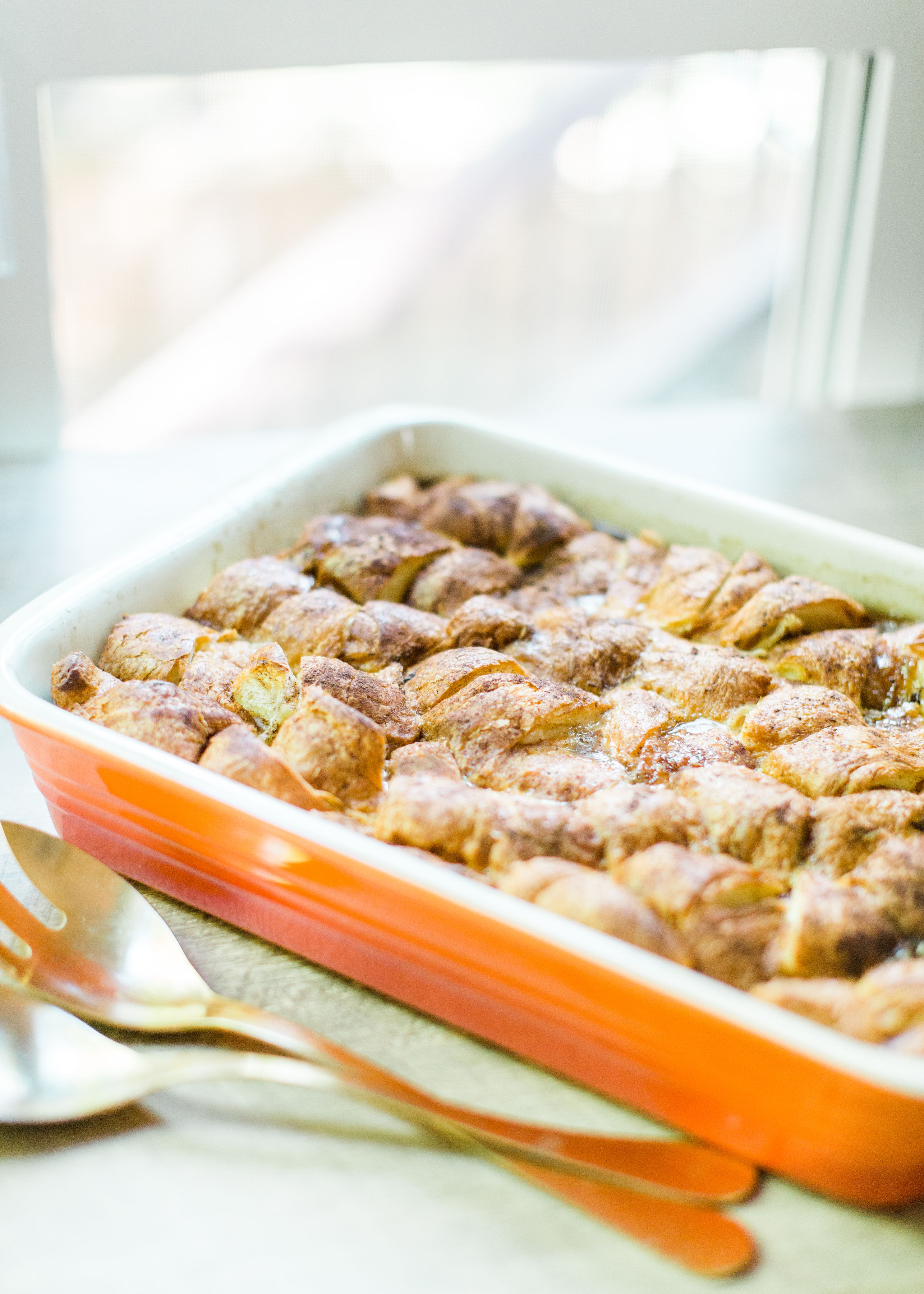 The amazing casserole has been a part of our family gatherings for years now.
After ages watching my mom break out the well-worn photocopy of this Crème Brûlée french toast recipe (which actually originated from the Inn at Sunrise Point in Camden, Maine, widely known for this decadent brunch dish), I have the recipe practically memorized myself.
Dare I say, this recipe is FAMOUS. At least in our family. And at a little Inn on the coast of Maine.
There's a version of this insanely good crème brûlée french toast casserole already on my blog, but that variation is actually made with thick slices of challah, though it also works really well with a crusty bread like french bread. My mom made a discovery though, that just completely knocks this recipe out of the park, so I HAD to share the new and improved crème brûlée french toast casserole.
The secret, you ask?
Well, you'll just have to keep on scrolling to get that extra special detail!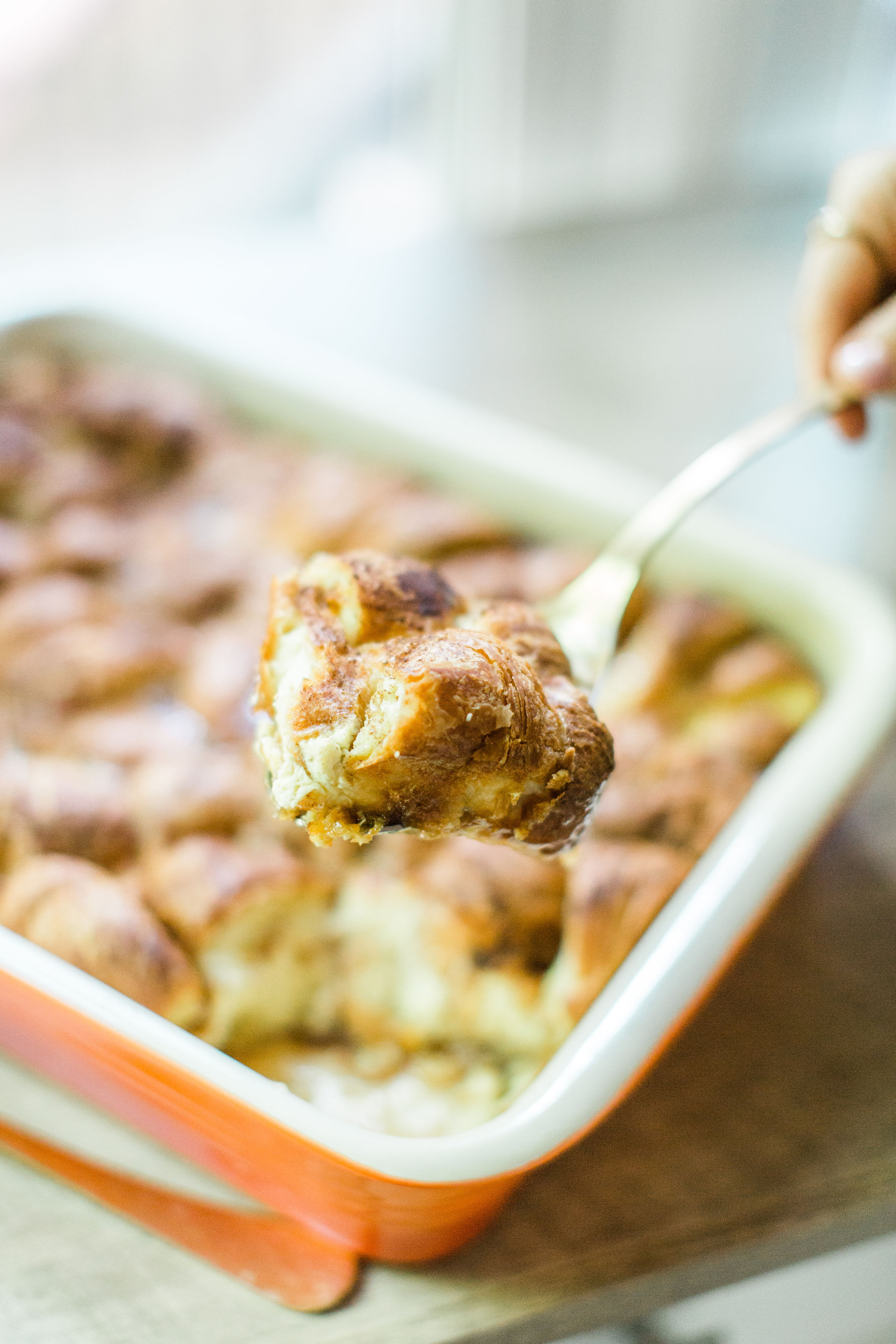 Okay, fiiiine, it's croissants. Store-bought croissants turn into something utterly magical when drowned in that divine crème brûlée sauce. Croissants are extra buttery and somehow become even more moist and creamy at the center, with that rich custard filling, and more caramelized, crispy, and buttery drowned in caramel sauce at the bottom.
And don't let words like "custard" and "caramel" scare you. So long as you follow the simple steps, and really let all of the ingredients – including fresh eggs, heavy cream, sugar, etc. – marinate overnight per the recipe instructions, magic sort of just happens, and the result, straight out of the oven, is all of that decadent goodness.
I love brilliant baking sorcery! Especially when what seems complicated is actually not that complicated at all. Aaaaaand seriously freaking delicious.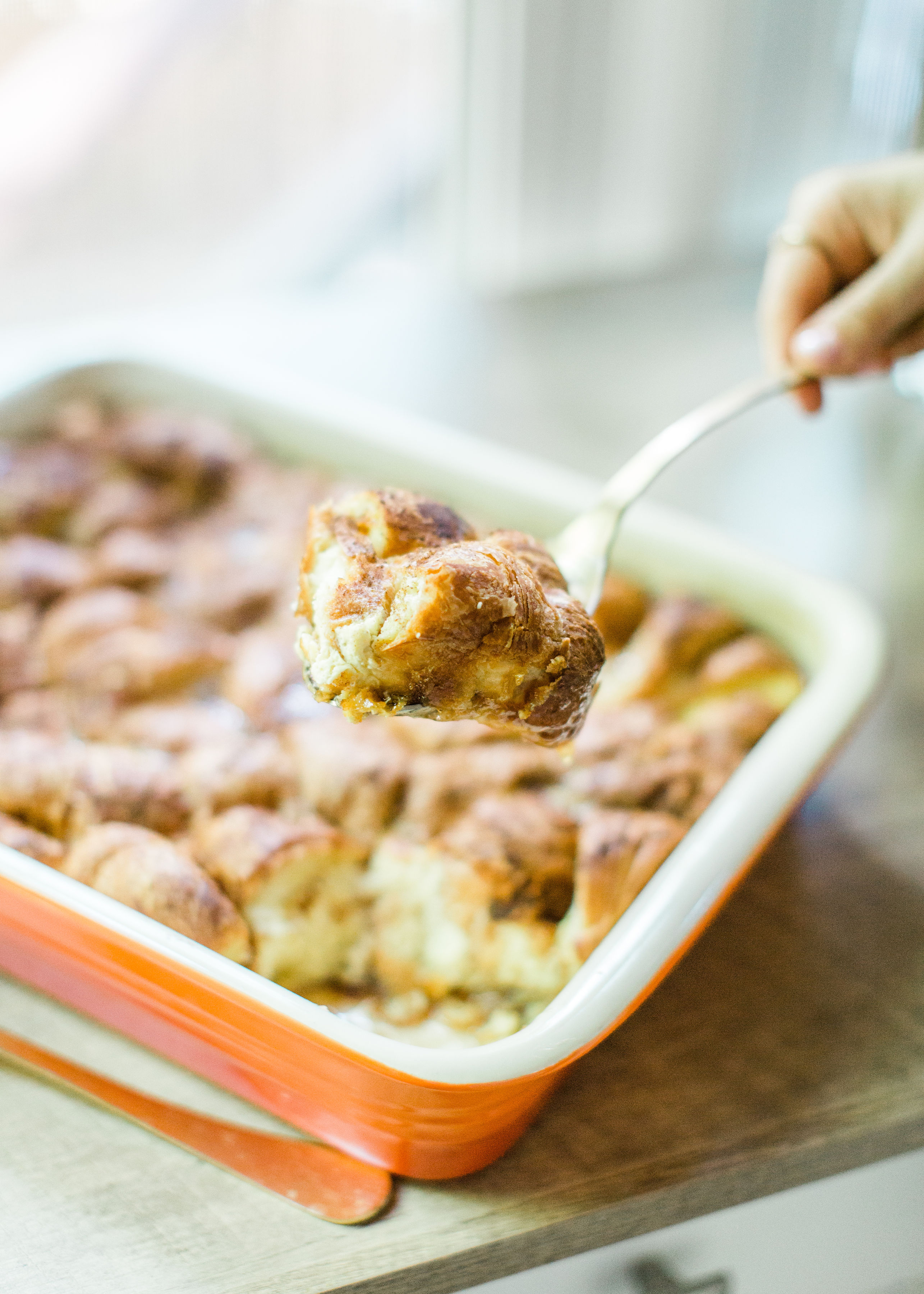 How to Make the Most Amazing Crème Brûlée French Toast Casserole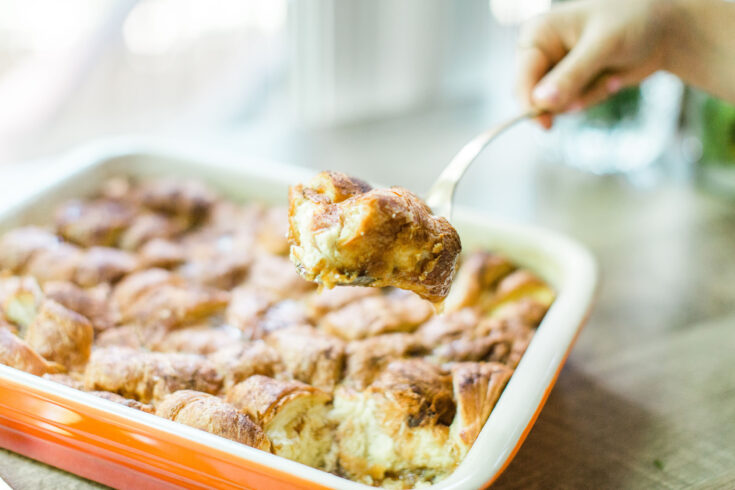 Yield:
Crème Brûlée French Toast Casserole
Ingredients
1 stick (½ cup) unsalted butter
1 cup packed brown sugar
3 tablespoons corn syrup
about 12 store-bought croissants (can also use 1 large challah, sliced into thick slices)
5 large eggs
1 ½ cups half-and-half or heavy cream
1 teaspoon vanilla
1 teaspoon Grand Marnier or Amaretto (optional)
¼ teaspoon salt
Cinnamon (to taste)
Nutmeg (to taste)
Instructions
In a small heavy saucepan melt the butter with the brown sugar and corn syrup over medium heat, stirring until smooth. Once smooth, pour into a 13x9 casserole/baking dish. Cut the croissants into thirds. Arrange the chunks of croissant in a single layer at the bottom of the baking dish and in the butter/sugar sauce, squeezing the bread slightly to fit.
In a separate bowl, whisk together eggs, half-and-half or heavy cream, vanilla, Grand Marnier or Amaretto, and salt, until well-combined, and pour evenly over the bread. Sprinkle cinnamon and nutmeg over the top. Chill the soaking bread, covered in your casserole dish, for at least 8 hours and up to one day. (This allows everything to get absorbed and really come together.)
When ready to bake, let your soaking bread in your casserole dish sit out for a bit to bring it to room temperature, then preheat oven to 350°F.
Bake bread mixture, uncovered, in the middle of the oven until the dish looks puffed and the edges are pale golden, about 35 to 40 minutes. You may even want to bake the casserole dish on top of a baking sheet, in case it bubbles up at all. Serve the dish warm. Enjoy!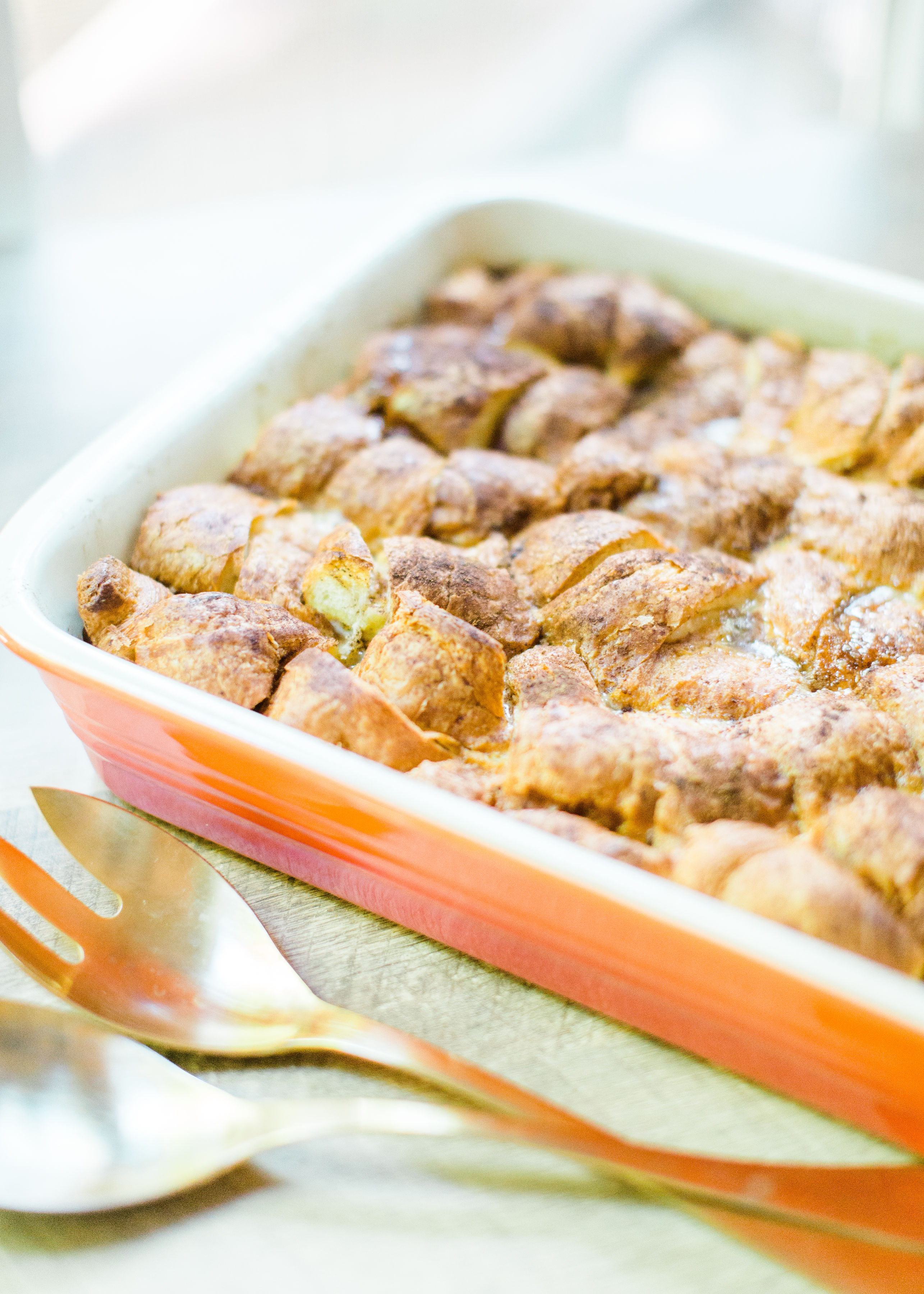 I like to serve our crème brûlée french toast casserole warm, but it also works at room temperature, or completely cold … standing in front of your refrigerator the next morning, eating ALL of the leftovers. (If there are any!) 🤣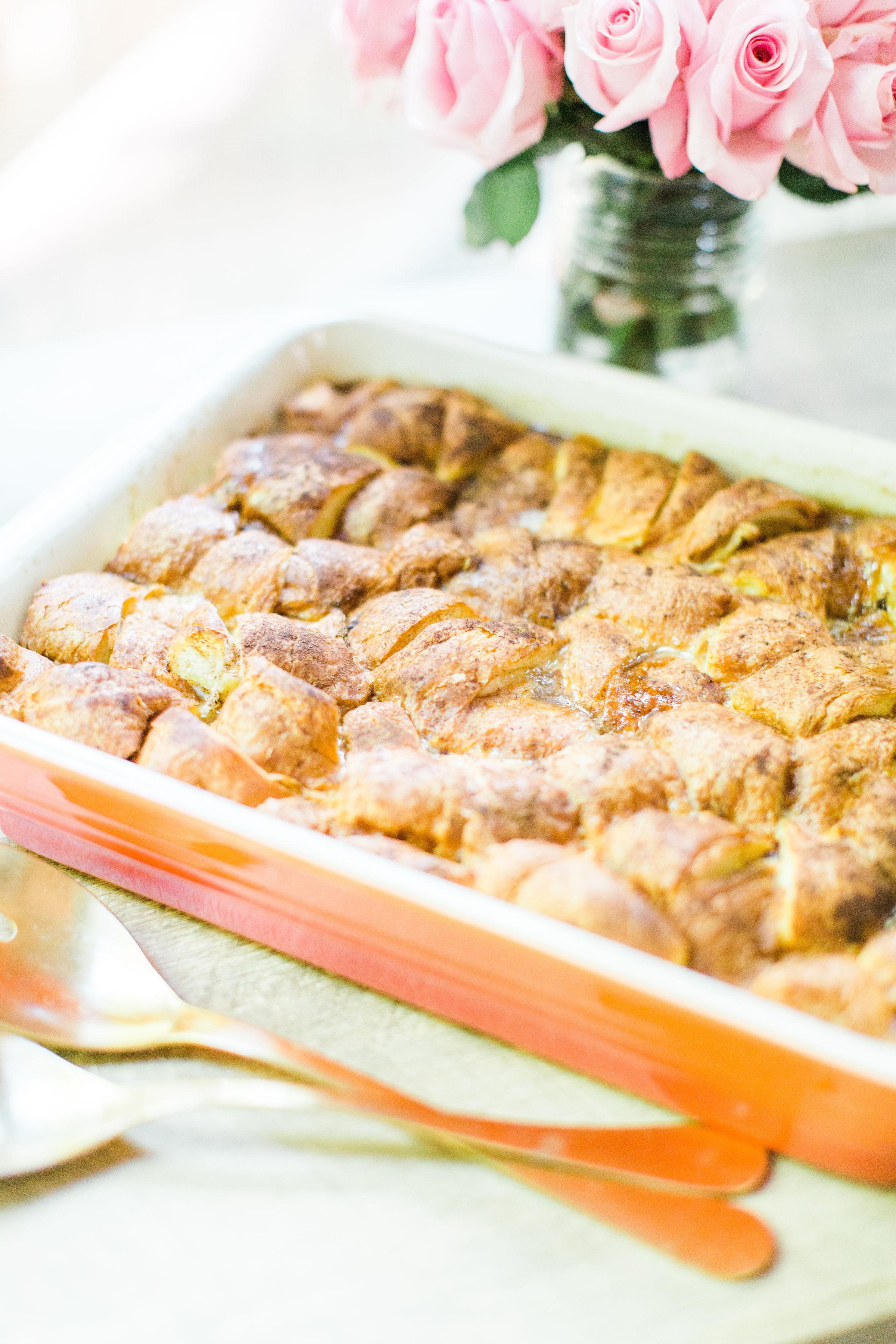 SHOP THE Crème Brûlée French Toast Casserole RECIPE POST | CLICK LEFT & RIGHT ARROWS TO EXPLORE
Love this great recipe for Crème Brûlée French Toast Casserole? Head to our recipe page to check out what else we're dreaming up in the kitchen!
Photos by Annie Timmons Photography for Glitter, Inc.