This post contains affiliate links, which means that if you click on one of the product links, I'll receive a small commission. Thank you so much for clicking through and helping to support this little blog business of mine! Read more about our site, privacy, and disclosure policies here.
This delicately sweet, buttery, and moist classic apple crumb cake with a heavenly chewy crust and the dreamiest cinnamon sugar walnut crumble topping is the perfect fall dessert! (And doubles as an amazing Rosh Hashanah apple cake recipe!)
I may love pumpkins and falling leaves and basically all things fall, but really, I'm in it for the apples. 🍎🍎🍎
My husband thinks I'm a complete weirdo for this, but, honestly, I'd take apple pie, apple cake, or apple crisp ANY DAY over cookies and frosted cake.
So you can imagine when we recently went to our first apple orchard here in New England, I was like a kid in a candy shop. Ripe, delicious, perfectly tart and sweet apples everywhere. And naturally, we came home with a heaping bag of apples. A heaping bag of apples just begging me to bake them up.
Rosh Hashanah is also coming up (the Jewish holiday starts on September 29th), and I've been looking for an excuse to try my hand at a new apple cake recipe. Here's a fun lesson is Jewish traditions, Rosh Hashanah is the Jewish New Year. We eat apples (dipped in honey) for a sweet New Year, and basically anything with apples in it. Thus, ALL of the apple cakes! Plus, Rosh Hashanah always lands in early fall, so it really is the perfect time to make apple things.
In years past, we've made these amazing apple crisp shortbread bars for the high holidays (Rosh Hashanah and Yom Kippur), but this year, cake felt just right.
A warm buttery cake filled with warm cinnamon apples and the most incredible chunky crumb topping sounds about right.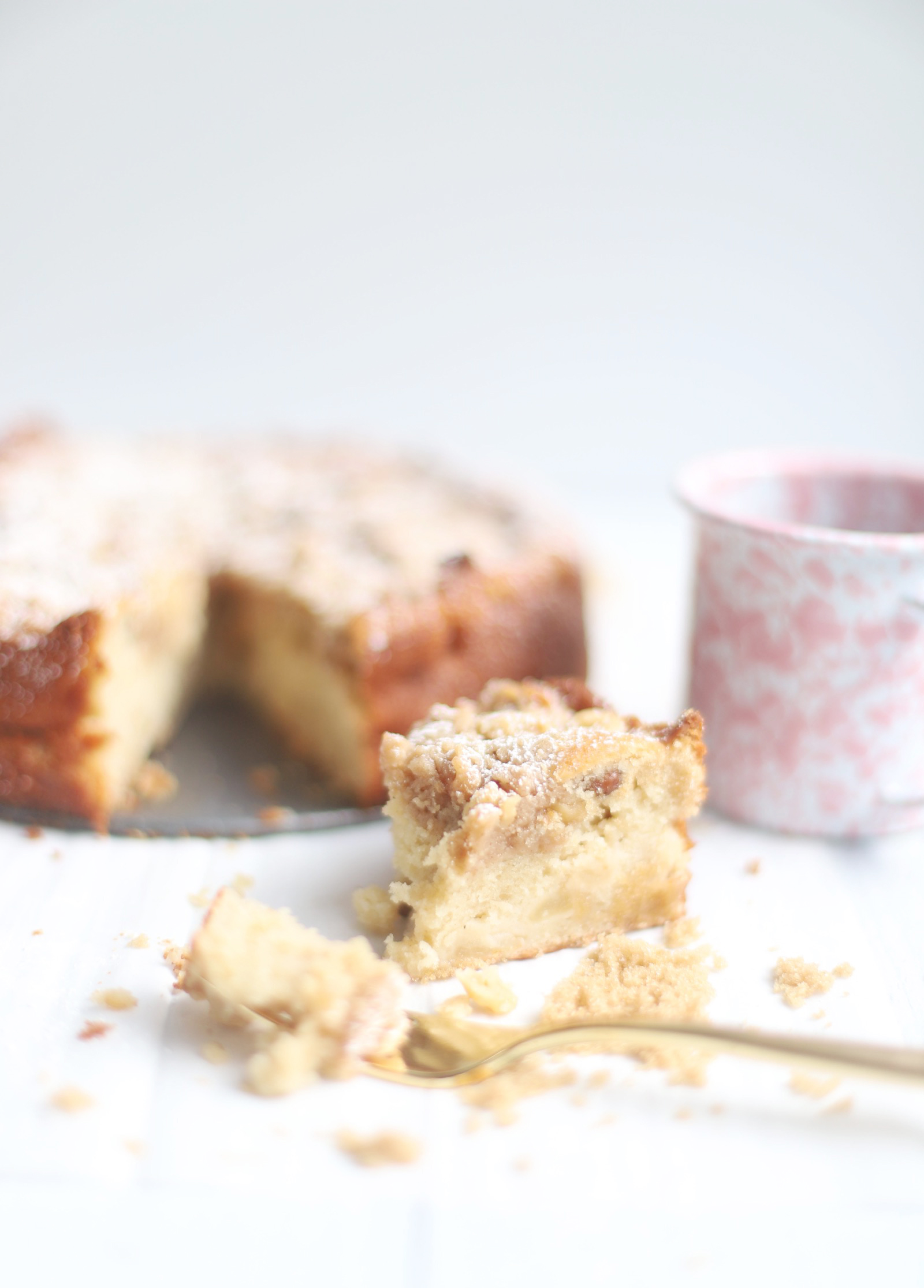 You guys, this classic apple crumb cake did not disappoint.
Heaven, I tell you.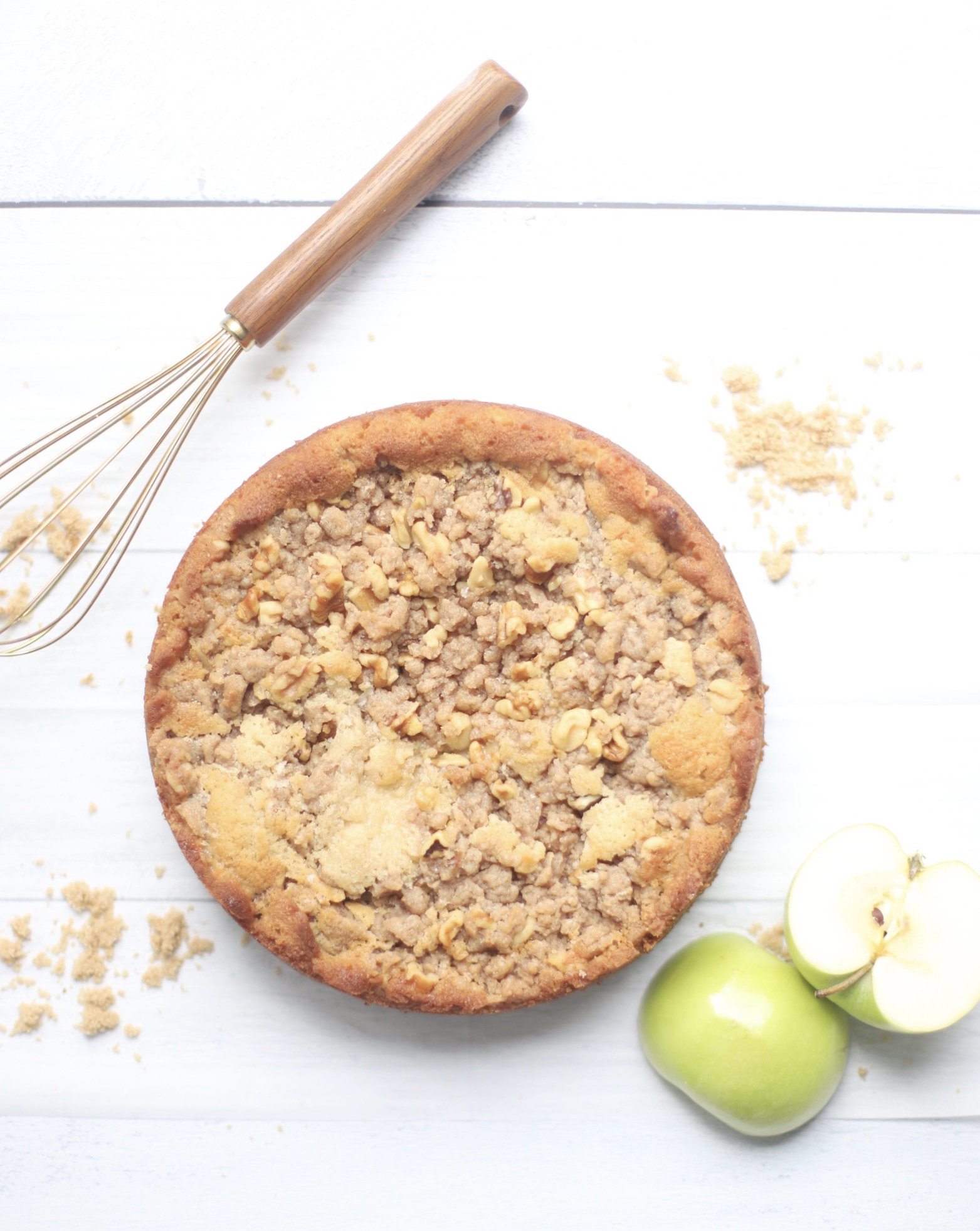 Meet my new go-to apple cake: the classic apple crumb cake.
This apple crumb cake is everything you'd hope it to be: the crust has just the perfect amount of crusty chew, the cake itself is buttery, yet still light and fluffy, so moist, and speckled with delicately sweetened cinnamon sugar apples.
And then of course, the entire cake is topped with the dreamiest cinnamon sugar walnut crumble with buttery sweet cookie-like crumbs nestled into the top of the cake; every bite is better than the last. I could probably just eat the crumble topping with a spoon.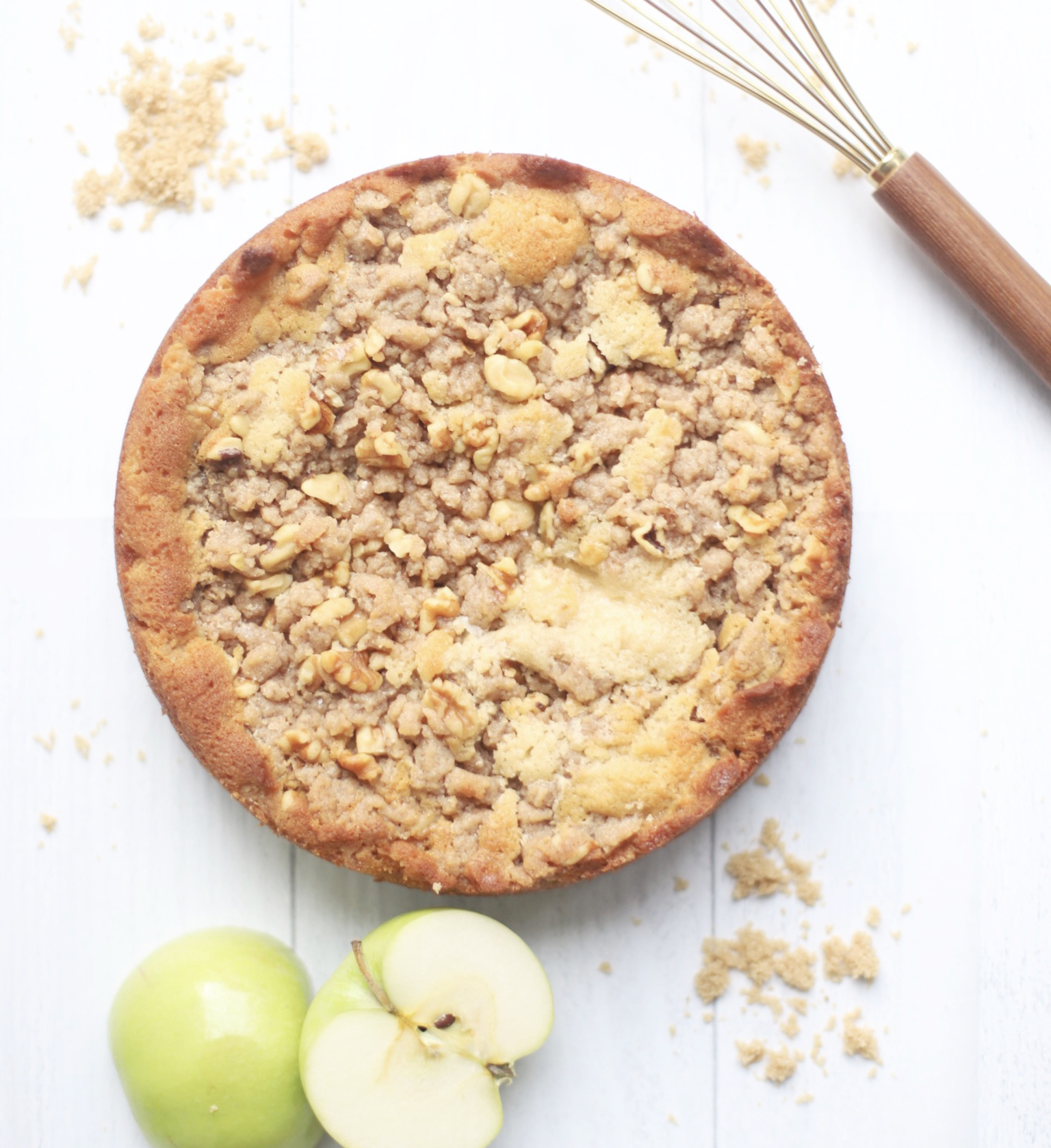 As a classic crumb cake should be, the base is made by creaming butter and sugar together. Sour cream is what really takes the cake itself over the edge; it creates an extremely moist crumb cake that's a little denser than a traditional, fluffier vanilla cake. The texture on this cake is so soft and moist with delicate crumbs.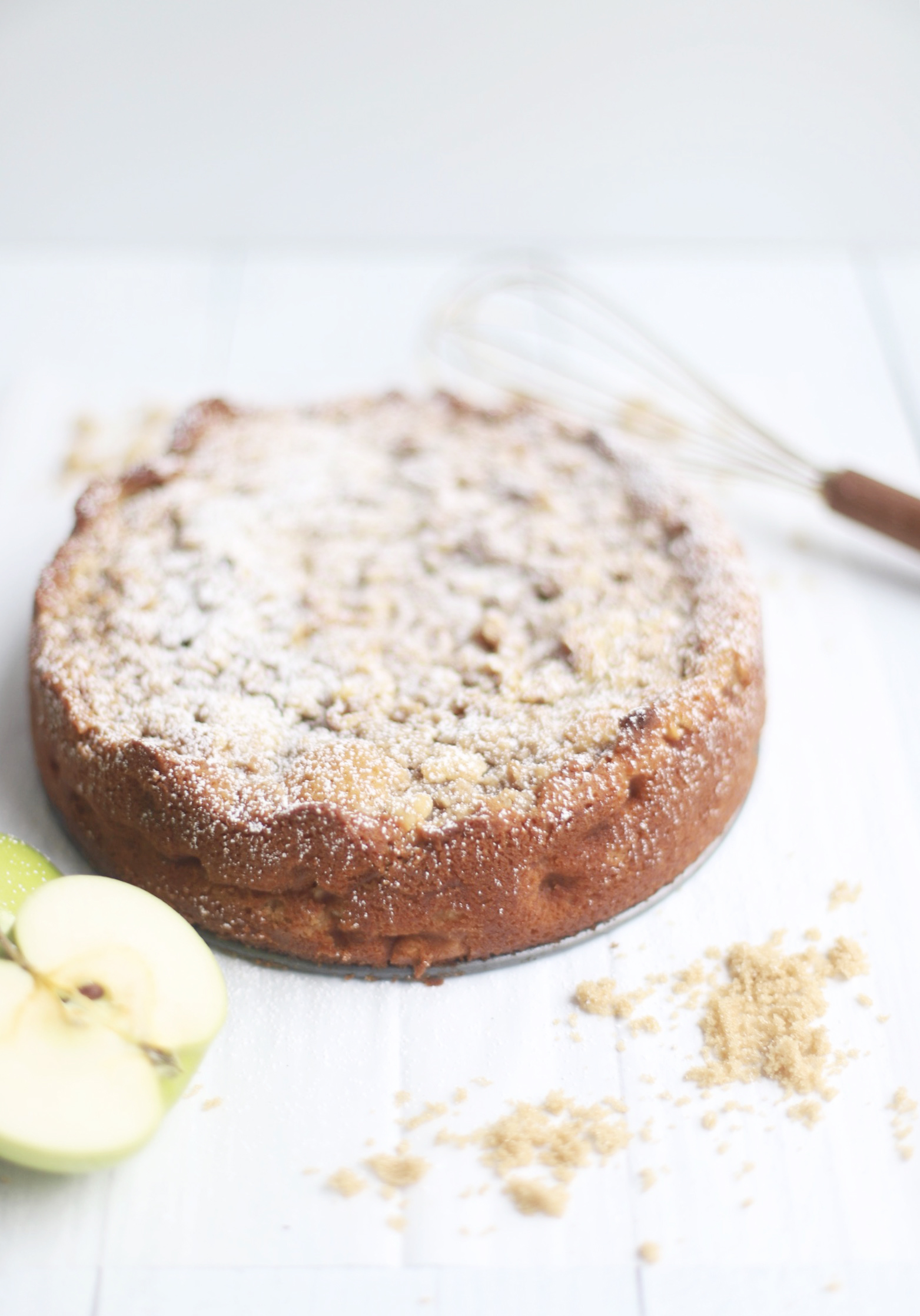 Seriously, look no further than this apple crumb cake.
It. 👏🏻 Is. 👏🏻 Perfection. 👏🏻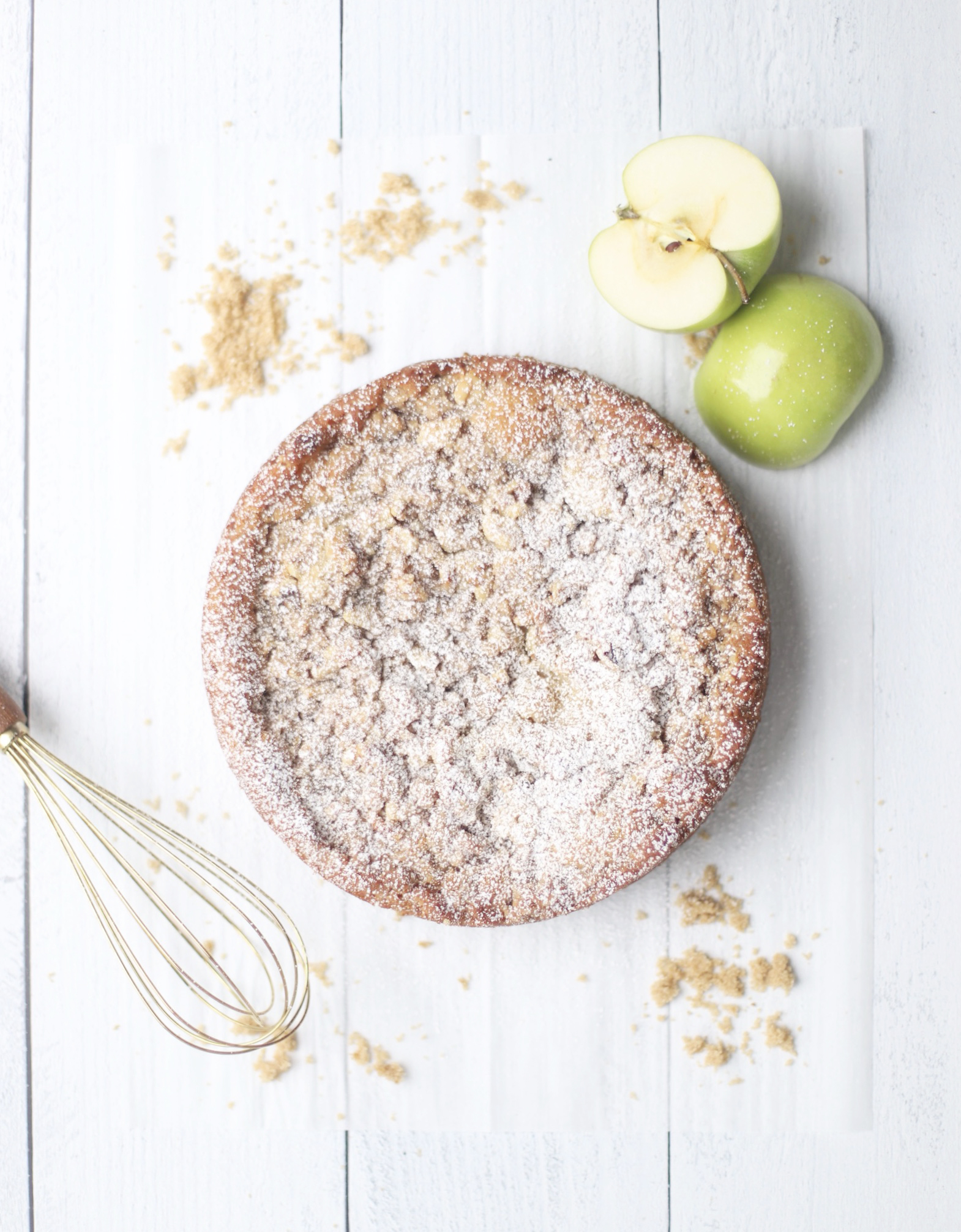 And since we're going for it here, I went ahead and topped my warm apple crumb cake with powdered sugar.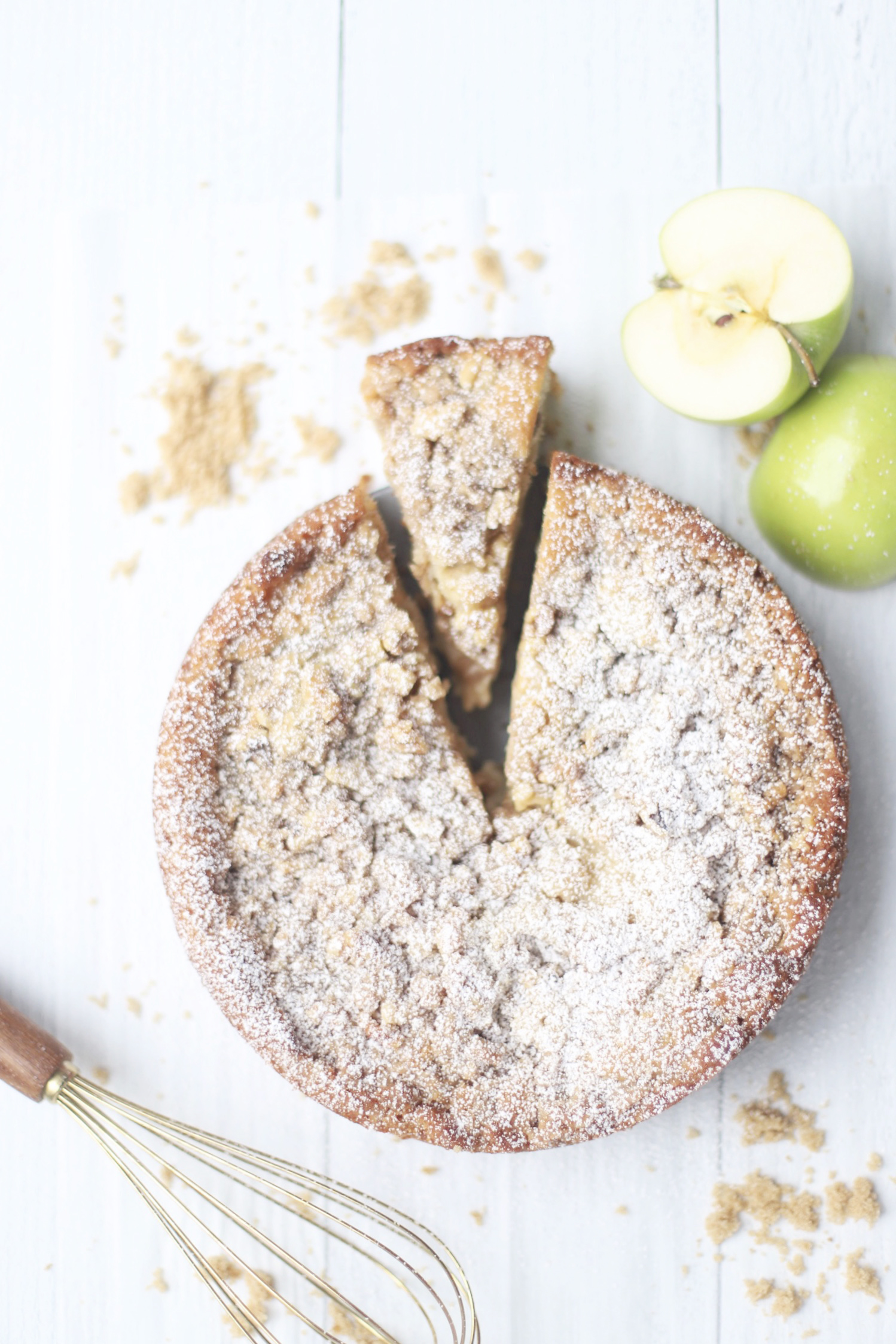 How to Make (The Most Incredible) Classic Apple Crumb Cake
So let's dive right into that recipe, shall we?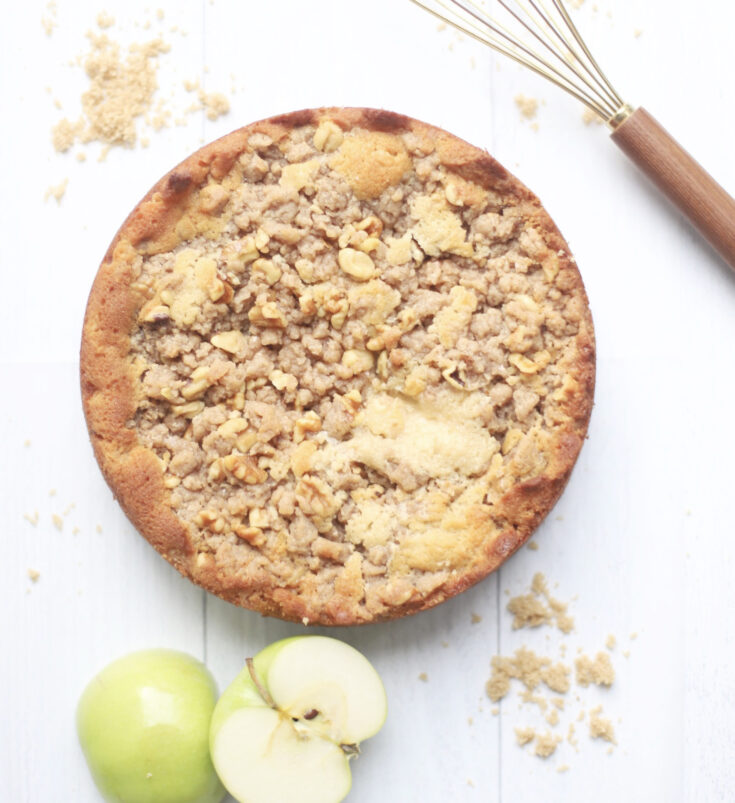 Yield:
Classic Apple Crumb Cake
Ingredients
FOR THE APPLE CAKE:
1-1/2 cups peeled and chopped Granny Smith apples (about 2 medium apples)
1/4 cup packed brown sugar
1 tsp. ground cinnamon
1/2 tsp. nutmeg
1-1/4 cups flour
1 tsp. CALUMET Baking Powder
1/4 tsp. baking soda
3/4 cups butter or margarine, softened
3/4 cups granulated sugar
2 eggs
2/3 cup BREAKSTONE'S or KNUDSEN Sour Cream
1 tsp. vanilla
FOR THE CRUMBLE TOPPING:
1/4 cup packed brown sugar
1/4 cup granulated sugar
1 tsp. ground cinnamon
1/2 tsp. nutmeg
1 cup flour
3/4 cups butter or margarine, melted
1/2 cup chopped PLANTERS Walnuts, toasted*
Instructions
Heat oven to 350°F. Grease and flour (or use a good baking spray) a 9-inch round pan. (I like to use a spring form pan because I find it much easier to get the cake out.)
Toss apples with 1/4 cup brown sugar and 1 tsp. cinnamon. Set aside.
In a medium bowl, combine 1-1/4 cups flour, baking powder, and baking soda. Set aside.
Beat 3/4 cup butter and 3/4 cup granulated sugar in large bowl with mixer until light and fluffy. Add eggs, sour cream and vanilla; mix well. Gradually add dry ingredients, mixing well after each addition. Stir in apple mixture.
Spoon apple cake batter into your greased and floured 9-inch round pan.
To Make the Crumb Topping: In a separate bowl, melt remaining butter. Add 1/4 cup packed brown sugar, 1/4 cup granulated sugar, 1 tsp. ground cinnamon, 1/2 tsp. nutmeg, and 1 cup flour; mix well. Stir in toasted nuts. (See NOTES for toasting instructions.) Sprinkle crumble over batter. It will be sticky, but should crumble easily.
Bake about 50 minutes or until toothpick inserted in center comes out clean. (Note: apples make the cake a bit wet, so if you need to add time because your toothpick comes out a bit wet at the 50 minute mark, cover cake with foil and bake for an extra 5 minutes.) Allow the cake to cool at least 10 minutes. Remove from pan to wire rack; cool completely.
OPTIONAL: Sprinkle cake with about 2 tablespoons of powdered sugar just before serving.
Notes
Adapted via My Food and Family
*Toasting nuts before adding them to your cake adds crunch and makes them taste even more delicious. There are a few ways to toast nuts -- MICROWAVE METHOD: Place up to 1 cup of nuts in a shallow microwaveable dish. Microwave on HIGH until fragrant and crisp, stirring every 30 seconds. STOVETOP METHOD: Place nuts in ungreased skillet. Cook on medium heat until golden brown, stirring frequently. OVEN METHOD: Spread nuts in single layer in a shallow baking pan. Bake at 350°F for 8 to 10 minutes or until golden brown, stirring occasionally. (The oven method is how I toast mine.)
**I used a 9-inch round pan for this recipe. (I really like using a spring form pan because I find it much easier to get the cake out once it has cooled.)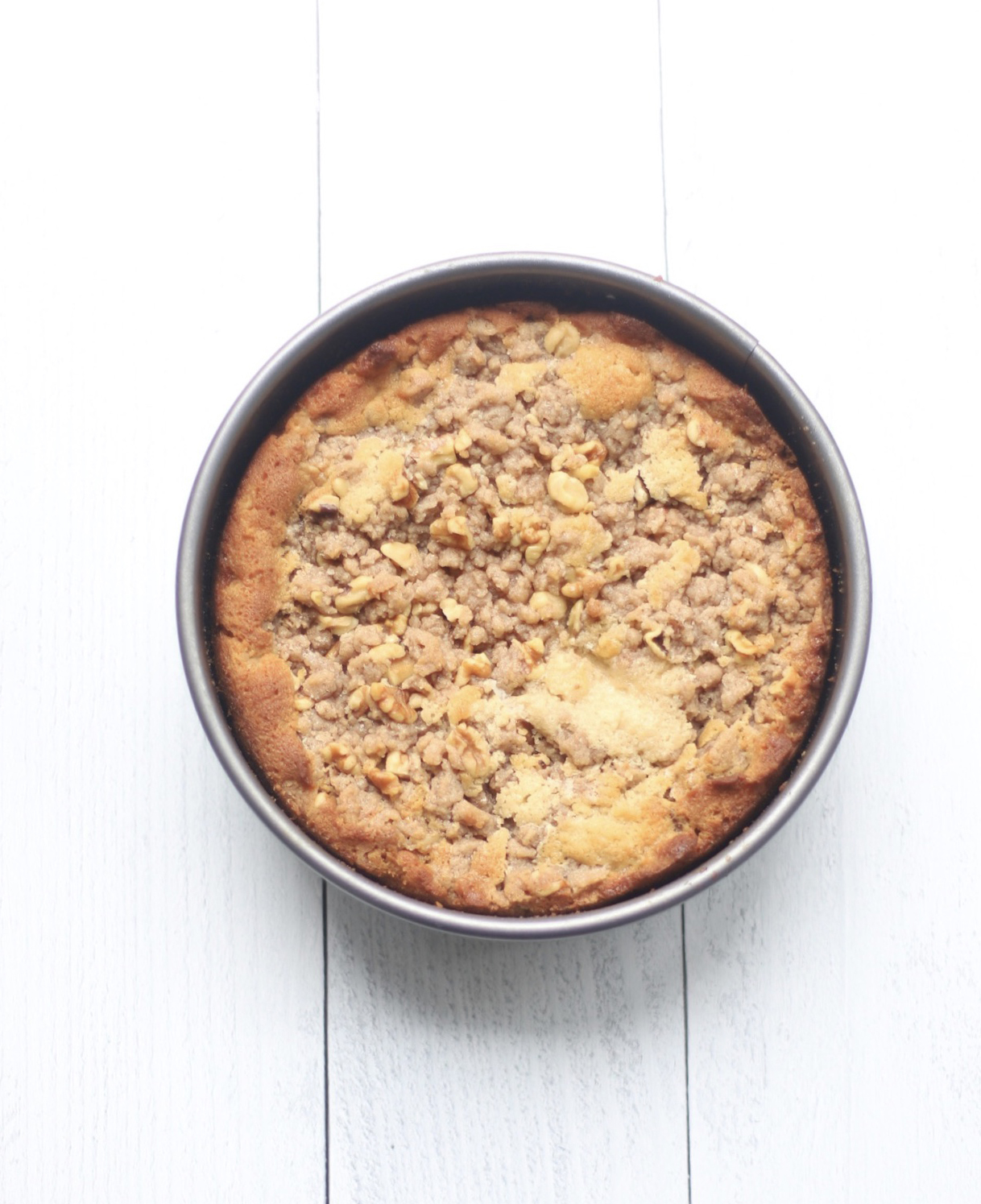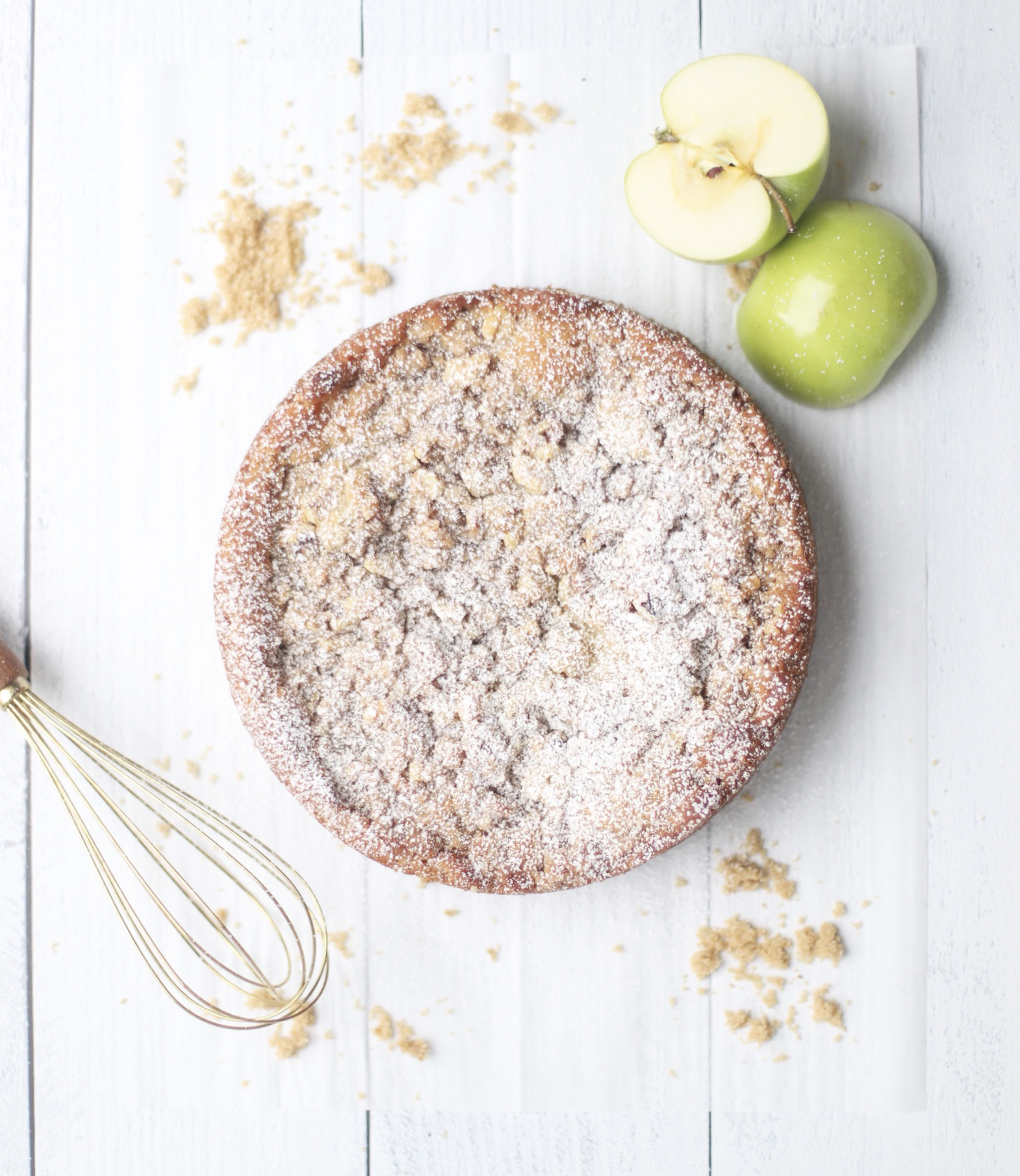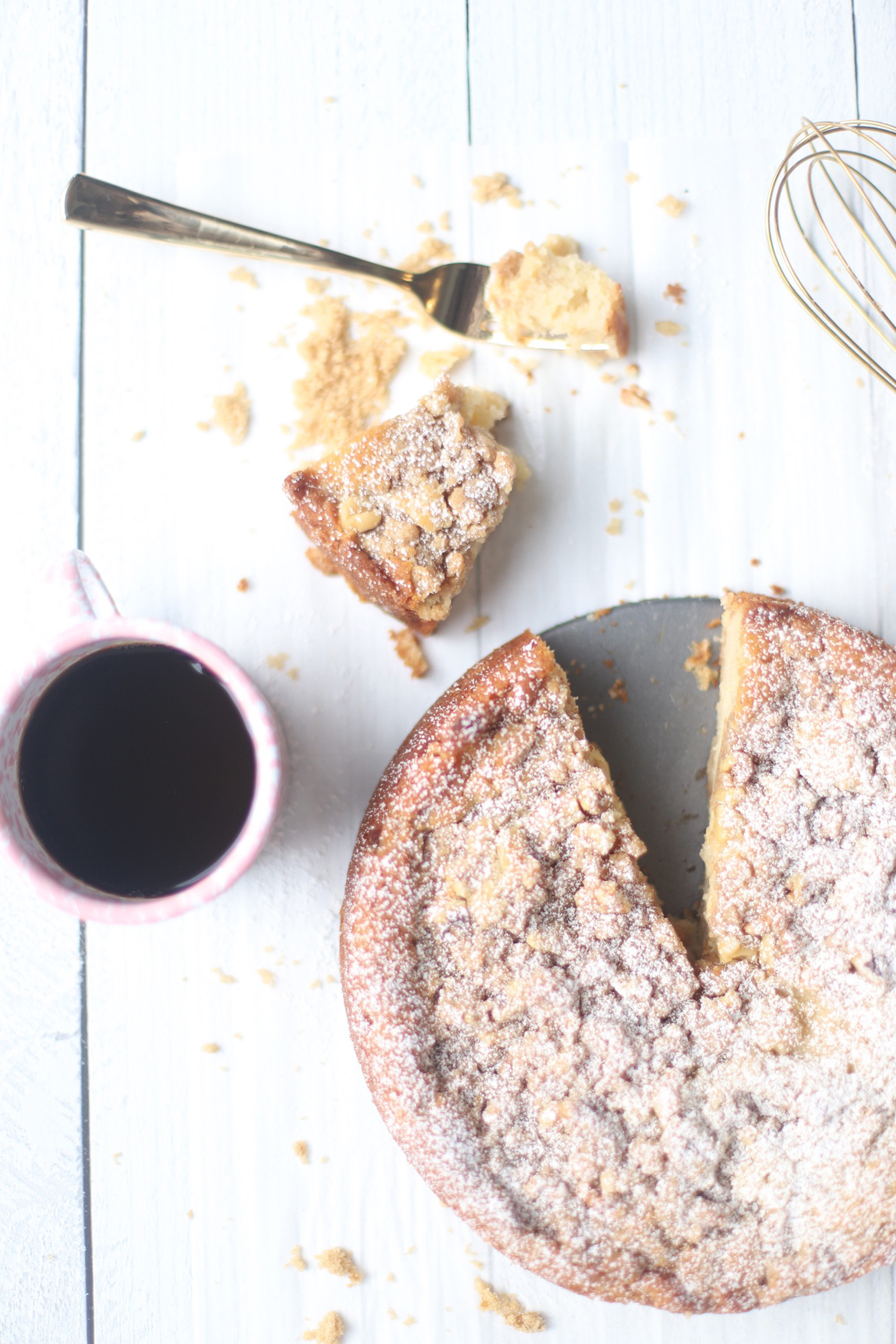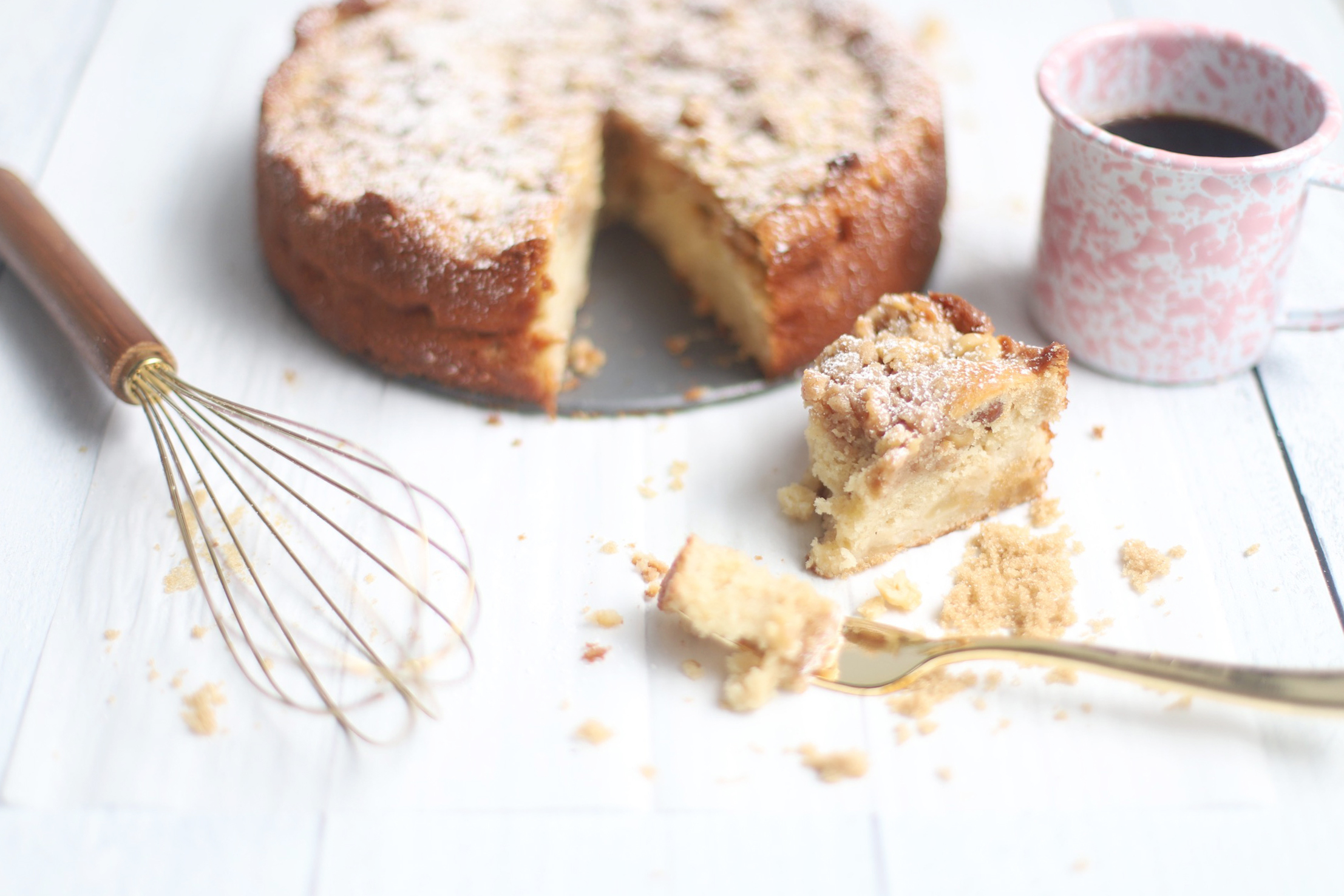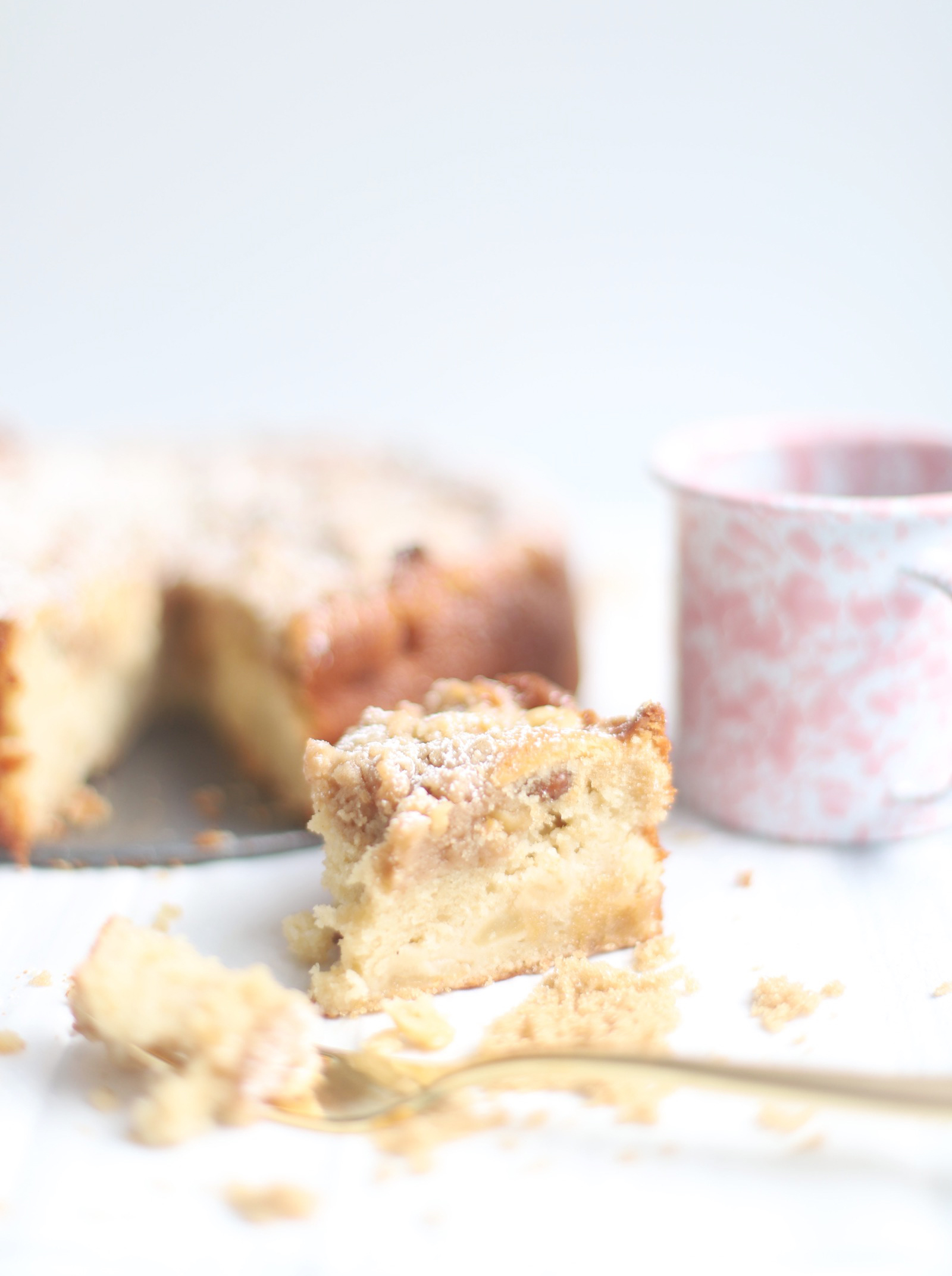 This incredible apple crumb cake is the perfect fall dessert and/or the yummiest fall breakfast with a side of hot coffee.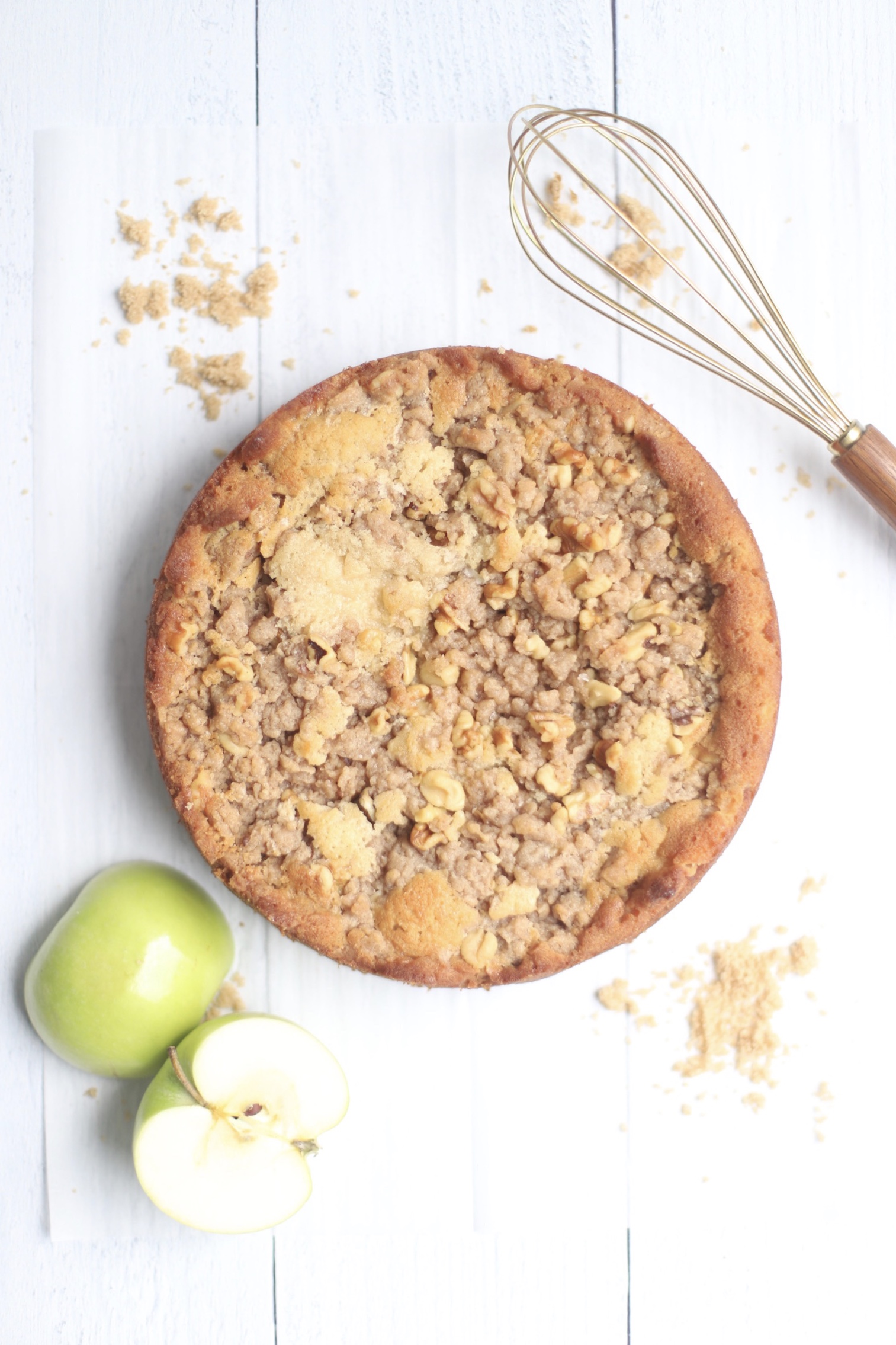 SHOP THE APPLE CRUMB CAKE RECIPE POST | CLICK LEFT & RIGHT ARROWS TO EXPLORE
Be sure to head to our recipe page to check out what else we're dreaming up in the kitchen. If you make your own apple crumb cake, tag me on social media (@glitterinclexi) so I can live vicariously through all of your delicious desserts! Plus, I'd love to hear how it turns out (and if you're just as obsessed as I am!)
More Delicious Dessert Recipes from Glitter, Inc.:
our favorite chocolate chip oatmeal cookie bars
everyone's favorite apple crisp shortbread bars
the most incredible s'mores cookie cups
copycat Levain Bakery chocolate chip cookies
applesauce snack cake with cream cheese frosting
salted vanilla caramel corn popcorn
the best ever oatmeal raisin cookies